Originally published on January 21, 2023, this article has been updated on October 10, 2023 to reflect the latest research and statistics. Our editorial team has ensured you're viewing the most current data on this topic. Need help or have a question? Email us.
The numbers are startling in America. The rate at which dogs and cats are impounded is astronomical, which isn't an exaggeration. It's a fact. But the only way to discuss animal shelter statistics is to be honest and factual, and this article will do both.
There is no governmental oversight of reporting shelter agencies' statistics, so no one has exact numbers. The government will devise reports and talk about trends, but the actual statistics are left to the devices of the shelters themselves and the people who care.
Fortunately, groups like Shelter Animals Count (SAC) have shouldered the responsibility of organizing data gathered from shelters. Now, let's delve deep into this topic… for the sake of the animals!
Why is it important to extract and organize data from animal shelters? Without it, we would have no idea how many animals are living and dying inside shelters. This information is paramount to control and (hopefully) abolish the need for animal shelters.
Simply put, it's so the animals can be served better.
Top 10 Most Disturbing Statistics
Animal Shelter Facts
Definition – An animal shelter is a brick-and-mortar establishment where lost, stray, abandoned, or surrendered animals (mostly cats and dogs) are housed. Knowing that "the pound" can also be called or recognized as an animal shelter.
The word "pound" is historically the term used by agricultural communities when livestock was impounded until they were claimed. These facilities are also known as "Animal control."
Nationally, there are nowhere near enough shelters reporting data on their animals which contributes to a problem of epic proportions. Fortunately, more information is being registered now than there ever has been.
Are Humane Societies the Same Thing as Animal Shelters?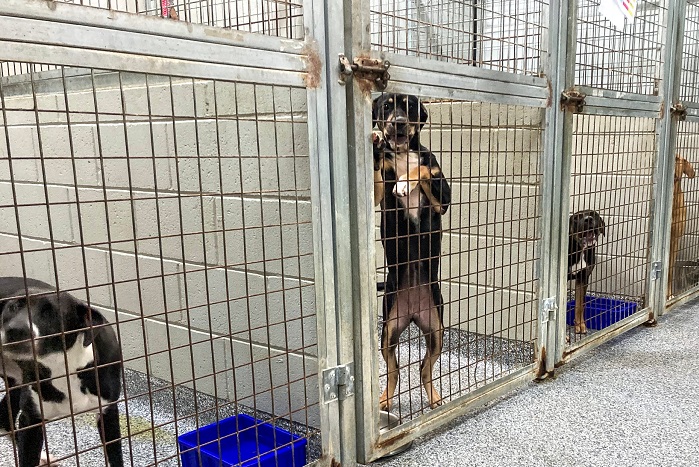 As Per Merriam-Webster, a humane society is a society concerned with the promotion of humane conduct or ideals or having charitable or philanthropic ends. They are not buildings where animals are housed. They are societies for the prevention of cruelty to animals.
The Humane Society of the United States (HSUS) and the American Society for the Prevention of Cruelty to Animals (ASPCA) are two of the most prevalent institutions that support humane practices towards animals.
The HSUS website states:
"As a national animal advocacy organization, the HSUS doesn't operate or oversee local shelters or rescue groups. We are neither a parent nor chapter organization for any group nor an inspection agency."
Animal Shelter Statistics
Below are some of the most shocking animal shelter statistics.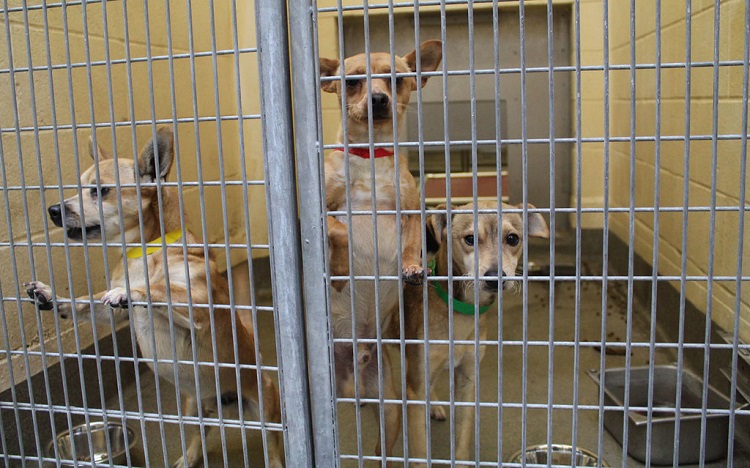 According to the Latest Stats, There Are 3,943 Animal Shelters in the US (Best Friends)
In 2022, the Humane Society cited over 3,500 animal shelters across the U.S., while Best Friends reported a figure of 3,943.
Although these shelters are the only ones that do report, the ratio of animal shelters available to house dogs and cats is sorely lopsided. "More shelters are needed" is an understatement.
People + shelters = help for animals, and it all begins with people.
Almost 6.3 Million Pets Enter US Shelters Yearly (ASPCA)
This number is derived from reports provided by establishments given to humane societies and the like, who then create animal shelter statistics.
Shelter Animals Count (SAC) stays on top of the numbers and says:
"The SAC Population Balance Calculation (PBC) is the formula we use to determine if a shelter's population is increasing, decreasing, or staying the same. It simply takes the total outcomes divided by the total intakes for a time period. Looking at January-June 2022, we are at a 94.2% PBC."
Animal Shelters Cost US Citizens up to $2 Billion Yearly (One Green Planet, Petmd)
If this money was funneled into spay and neuter programs, including TNR (Trap-Neuter-Return of feral cats), and also adoption/pet education with more Federal funding, we could save many millions of more animals.
Around 4.1 Million Shelter Animals Are Adopted Yearly (ASPCA)
Best Friends Animal Society, whose mission is to end the killing of shelter pets by the year 2025, has created a graph to show the numbers and facts of where people obtain pets.
The greatest number of these people rescue/adopt their cats and/or dogs (dogs–39% or 2 million), (cats–42% or 2.1 million). The least number of people had a litter (dogs–4%, cats–7%) or took one in as a stray (cats–24%, dogs–4%).
Approximately 810,000 Stray Animals Entering Shelter Homes Are Returned to Their Owners Yearly (ASPCA)
These animals and owners are fortunate, but considering that in April 2022, Best Friends Animal Society reported that 10 million are lost yearly, it's a dismal number.
By taking simple precautions like microchipping and keeping pets properly contained, we can help reduce the number of stray animals in shelters and ensure that more animals are reunited with their families.
Microchipping Increases the Animal Return Rate (ScienceDaily)
The good news is that each year sees more people registering and implanting their animals with a microchip. According to research after microchipping, the return to owner rate was 20 and 20 ½ times higher for cats and dogs respectively. The cost ranges from $25-$75 and can save you a lot of heartache.
Important note: Always make sure your current contact information is stored with the company.
In tandem with the valuable safety net provided by microchipping, advanced containment systems for dogs have also carved a significant niche in safeguarding our canine companions.
A more investment-heavy yet decidedly reliable alternative is seen through innovative technological solutions, such as those illuminated in our detailed Halo collar reviews and Spoton fence reviews.
These state-of-the-art containment methods not only present a formidable line of defense against possible escapes and wandering but also offer insightful monitoring and training features, ensuring that your four-legged friends are not only secure but also engaged within their boundaries.
During COVID-19, Dog Adoptions Rose to 10-13 a Day (The Washington Post)
More than 23 million American households — nearly 1 in 5 nationwide — adopted a pet during the pandemic, according to the American Society for the Prevention of Cruelty to Animals (ASPCA).
In June 2020, the SPCA Los Angeles, a nonprofit shelter, reported double the usual adoptions at 10-13 per day, said President Madeline Bernstein.
Having said that, in 2021, Best Friends Animal Society (BFAS) did a study and learned that 87% of shelters are understaffed. Other factors, such as fewer animals being transferred from the south to the north, have placed animal shelters nationwide at capacity again – their usual state.
Best Friends Animal Society Reports a 17% Increase in Households with Cats in the Past Ten Years (BFAS)
Some of this increase is due to the rise in adoptions during the pandemic. BFAS also has key stats about cats in US households on its website.
Overall, Pet Adoptions Decreased by 20% in 2020 (Dvm360)
But this statistic is tricky. As Dvm360 says, the overall pet adoptions from shelters in 2020 marked the lowest figure in half a decade.
Fewer people relinquished their cats and dogs, it took more time to adopt pets, and animal control picked up fewer animals. For these reasons and more, the percentage was affected. Information on how to adopt an animal is plentiful, and today, shelters are overflowing with available animals.
Shelter Animal's Irremediably (Impossible to Remedy or Cure) Suffering Is under 1% (No-kill Advocacy Center)
The fact says less than 1% of the animals in shelters are irremediably suffering. This means almost all pets that enter shelters are healthy and/or can be treated and are available to be adopted.
Approximately 52% of US Shelters Are Kill Shelters (Best Friends)
This statistic is sickening to animal advocates around the world and shows just how dire the state of animal overpopulation is in the US.
While this percentage may seem alarming, it's important to note that it represents a significant decrease from past decades. Furthermore, it's worth noting that the remaining 48% of shelters are often no-kill shelters, which means they do not euthanize animals for reasons other than severe medical or behavioral issues.
Animal Euthanasia Statistics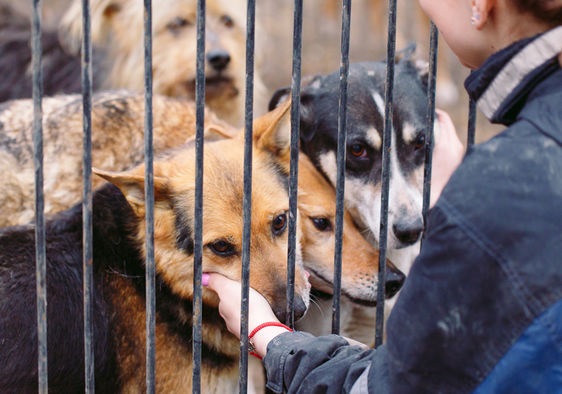 It is difficult to pinpoint the exact national euthanasia statistics because animal care and control agencies are not required to keep tabs on the number of animals adopted, euthanized, or reclaimed.
But putting animals to sleep in shelters and that too using inhumane methods is plain cruel.
About 390,000 Dogs Are Euthanized in Shelters Yearly (ASPCA)
This sobering statistic proves just how big the problem of overpopulation of animals is. How do we stop this travesty? Adopt, adopt, adopt!
625,000 Pets Were Euthanized in 2019 (Best Friends)
There is a significant annual decrease in animals killed in shelters, according to Best Friends Animal Society. (source)
In 1984, 17 Million Shelter Animals Were Killed in America (Best Friends)
These statistics prove we're moving in the right direction. This tells us how much progress is possible. The solution is solely up to us.
The Number of Cats Being Killed Is More than Dogs (American Humane, Best Friends)
More cats enter shelters yearly, so this statistic makes sense.
Five US States Involved in Almost 50% of Dogs and Cats Killing in the US (Best Friends)
"The five states in which the most animals are being killed are California (100,239), Texas (96,707), North Carolina (47,652), Florida (45,503), and Louisiana (32,150). Collectively, these states account for 52% of the animals killed in U.S. shelters during 2019." (BFAS)
3 out of 4 Americans Are Against Euthanizing Animals (No Kill Advocacy Center)
A greater number of Americans are against shelters killing animals, which tells us we need to put action behind our words.
Some Shelters Use Barbaric Methods to Euthanize Animals (Peta)
Some shelters in smaller communities euthanize their animals by shooting them. Also, the archaic method of using a gas chamber to kill dogs and cats is still alive in many states.
Latest Stats Reveal Using a Gas Chamber as a Method of Euthanasia Is Banned by 29 States (Humane Society)
Previously the number was 27, and now in 29 US states the gas chamber method of euthanasia is banned. In fact, this information flies in the face of those who state that pets are only being euthanized humanely by intravenous injection.
Delaware Became the First No-kill US State in 2019 (USA Today)
Fortunately, at least one state takes the problem of pet overpopulation seriously by taking positive action to care for animals. In other words, they do something about it.
The Brandywine Valley Society for the Prevention of Cruelty to Animals (BVSPCA) played a crucial role in this achievement. They introduced a number of innovative programs, such as low-cost spay and neuter services, pet adoption events, and a robust foster care program.
No-kill Shelters Try to save 9 out of 10 Animals (NPR)
No-kill shelters are allowed to kill 10% of their animals due to health issues. This statistic looks good, but hoping to save pets isn't the same as what's actually happening.
Animal Activists Want to Make the US a No-kill Zone by 2025 (BFAS)
Best Friends Animal Society started the movement to save all shelter animals decades ago. "It was 1984, and some said we were crazy." (BFAS) Ironically, the doubters are the ones who do very little to reach this goal.
Pet Overpopulation Statistics
Oops, litters (born to animals too young to have offspring) are the biggest cause of overpopulation and usually get dumped at shelters. Following are some pet overpopulation statistics for you.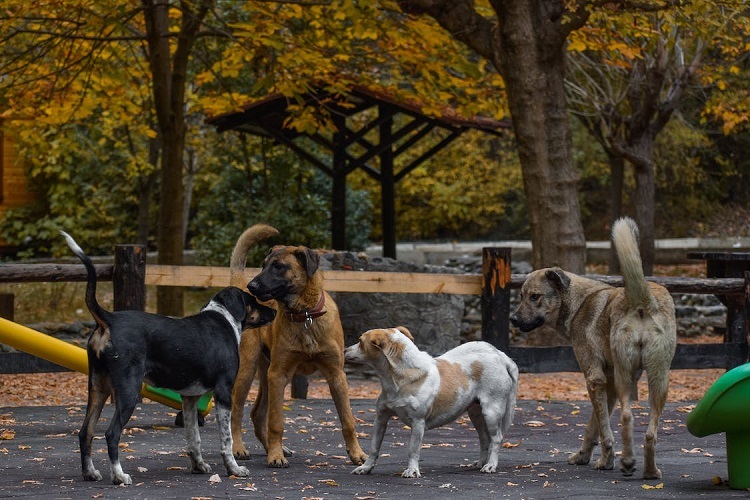 The Major Reason for Euthanasia Is Overpopulation (Animal Law)
The preliminary reason to euthanize animals in shelters is overcrowding as a result of overpopulation. There are simply too many homeless animals in America. Our response to the issue has been to get rid of them.
Only about 10% of Animals Brought to Shelters Are Spayed or Neutered (Do Something)
This statistic shows the intense ignorance and irresponsibility the greater population shows. If someone says they don't want their pet to have the surgery for whatever reason, SAY SOMETHING! If you need to, explain the numbers you've learned here.
Around 25% of Shelter Dogs Are Purebred (Best Friends)
It is reported that 25% to 30% of the shelter dogs are purebred. Here's another opportunity to SAY SOMETHING. If someone tells you they're going to breed their animal, kindly mention the overpopulation and kill rate our country deals with. I've never had an angry response when I mentioned the facts.
No-kill Shelters Can Become Overpopulated (PETA)
PETA has preached this for decades, and rightly so. Overpopulated shelters can lead to extremely poor conditions for the animals including: Neglect and abuse of them and even killing them.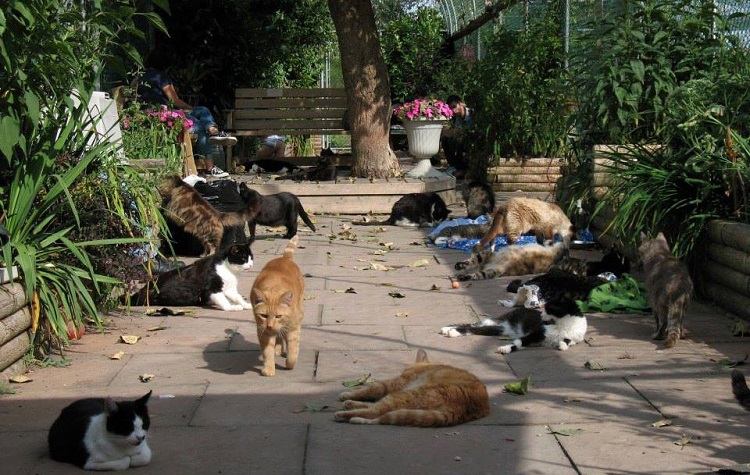 "No-Kill" doesn't necessarily mean that. I led a rightly-named no-kill animal sanctuary for 12 years and became aware of "No-kill" shelters that shouldn't have been called that.
Pet Abandonment Statistics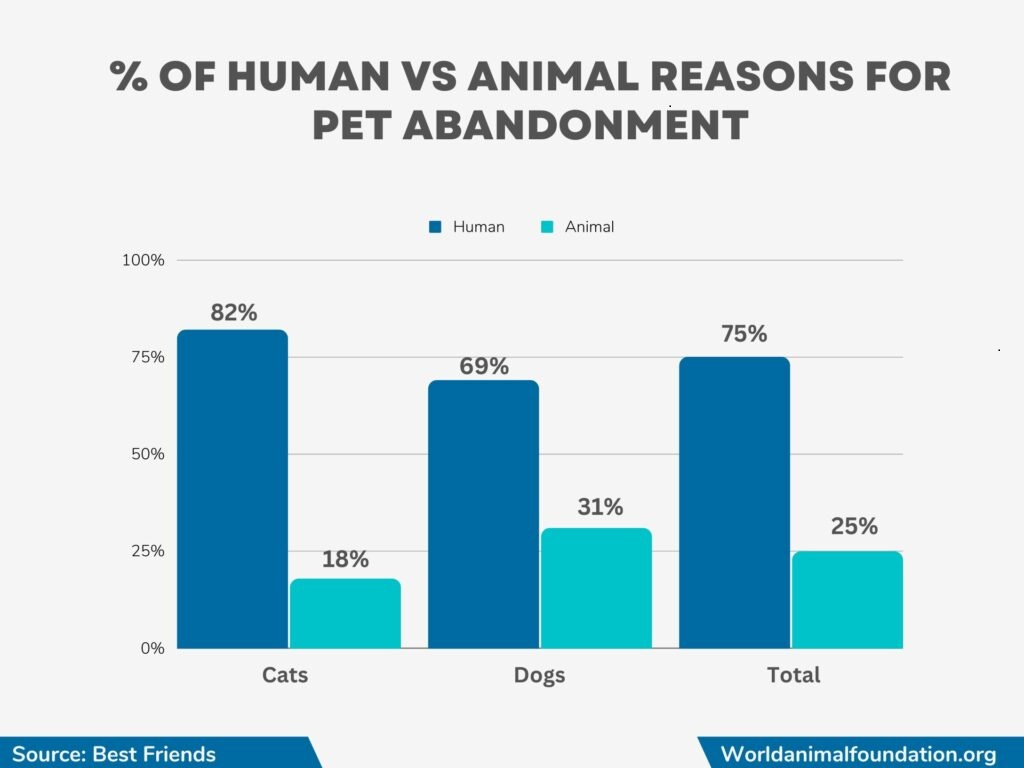 "Pets are relinquished to shelters for reasons related to the owner's circumstances at roughly a ratio of 3 to 1 as compared to reasons specific to the animal. Unlike what many may believe, the animal's behavior is not a leading reason for surrender." – BFAS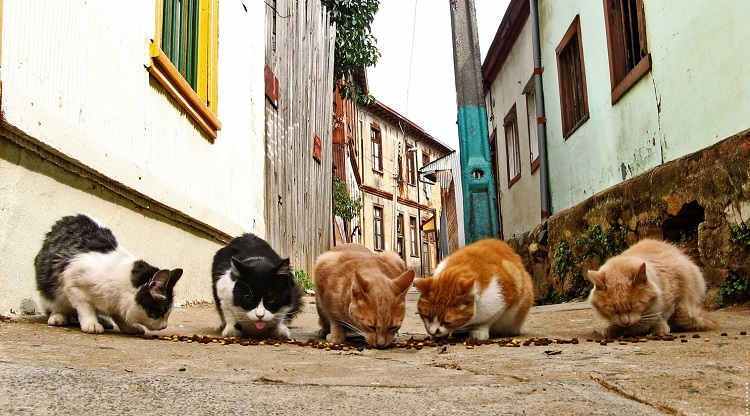 More than 2/3rd of US Households Have Cats and Dogs (BFAS)
This statistic leads people to believe there's not much of a problem with abandonment, but that would be a false belief, as seen by the statistics of those that are surrendered.
30% of Animals Are Left in Shelters by Their Owners (Animal Foundation Platform)
This is a significant number, and it can be due to various reasons such as financial problems, lack of time to care for the animal, moving to a place that doesn't allow pets, or a change in lifestyle.
Unfortunately, animals have become like trash to a lot of people to hand off and look the other way. Blunt, but true!
Having Too Many Animals Is the Primary Reason for Pet Abandonment (Best Friends)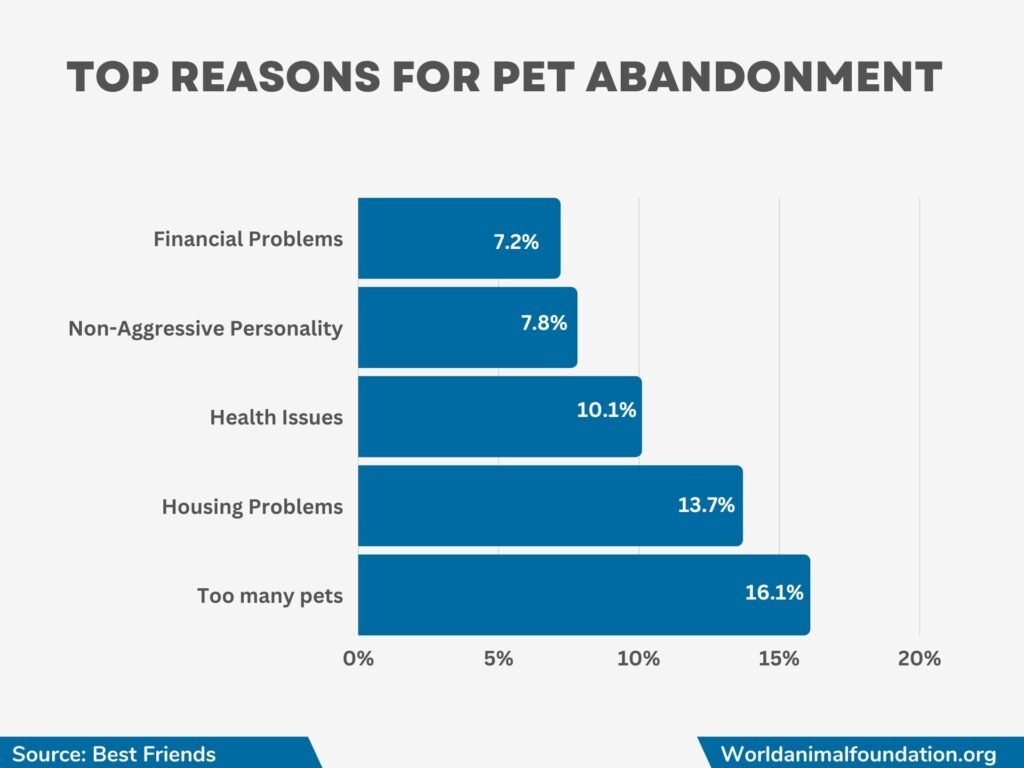 Many pet owners need a lot of education and some common sense when it comes to the commitment it takes to be the guardian of an animal. Animal hoarders take up too many pets without having the basics they need to care for them. As a result, pets are given up and end up at shelters.
8% of Owners Leave Their Pets When They Move to a New Place (Petfinder)
There are a number of reasons why pet people surrender their pets, and one of them is moving to a new place. People who shift their homes for work or any other reason are forced to give up their pets most of the time.
Many Pets Entering Shelters Have Been Owned for Less than a Year (Petfinder)
Most dogs need three days to get acclimated to being in a new place. They then need three weeks to get comfortable in that place. Then, it takes three months and sometimes longer to become accustomed to a new schedule, people, and other animals. Most pet owners don't give their pets time to adjust.
Pets as Gifts Are Most Likely to Be Abandoned (PawShake.co)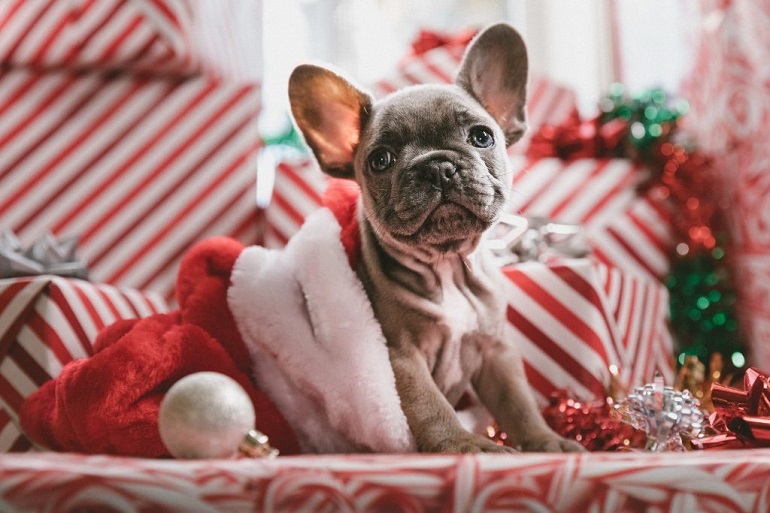 It is estimated that around 80% of rabbits purchased as Easter gifts end up being abandoned, surrendered to animal shelters, or rehomed to other families. It's a trend, experts say, they also see for chicks, ducklings, and other Easter animals.
This makes perfect sense. It's never a good idea to give someone a pet. Even if you know someone who wants a German Shepherd, she may not like the one you choose for her. A better idea is to take the person to a shelter to meet animals face-to-face.
What Can We Do to Help?
You can make a difference, even if only for one animal, by donating money, time, or in-kind donations (blankets, dog and cat toys, food) to any of the organizations listed in this article. I would urge you to also give to your local no-kill shelter if you'd like to start small.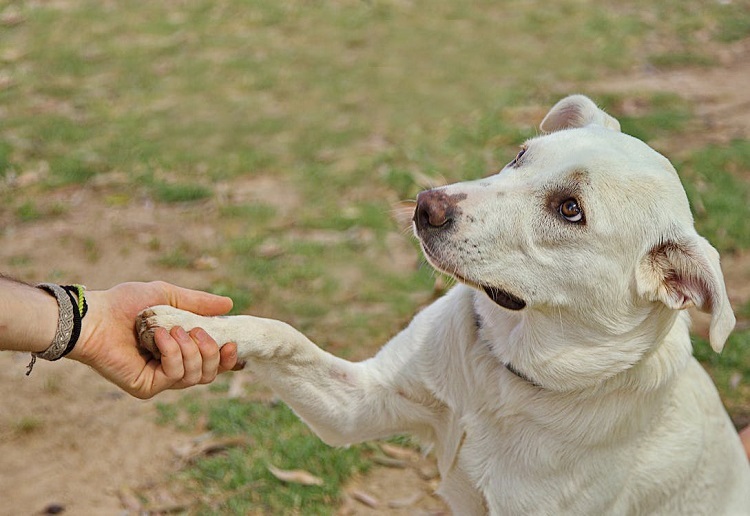 If you'd like to go big, sponsor a radio ad to support spaying and neutering or your local no-kill shelter. It starts with you, then communities get involved, and then the country can continue to move towards more answers to this terrible situation we're in. Here are additional ways to help shelter animals.
1. Never Purchase an Animal from a Breeder
You would be killing a dog in an animal shelter.
2. Community Cat Programs/TNR (Trap-neuter-return)
Visit the Alley Cat Allies site to volunteer or to educate yourself on all things TNR.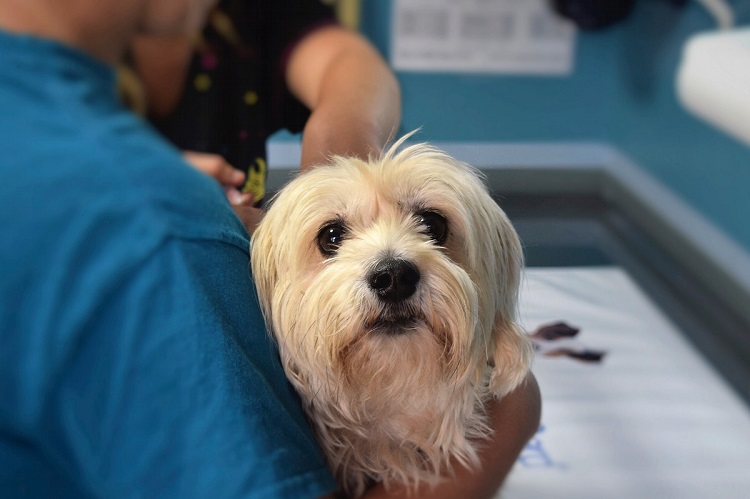 3. End Breed Discrimination
BFAS defines it clearly:
"Breed-specific legislation (BSL) bans or restricts certain types of dogs based on their appearance – usually because they are perceived as dangerous."
Breeds thought to be aggressive have been targeted. It's unfair legislation and something you can fight. Contact your state representatives to complain or write to places like Petsmart that ban bully breeds from their daycare service.
4. Stop Puppy Mills
Puppy mills are grotesque, brutal, and inhumane, and we must put an end to them. There is a list of seven powerful things you can do to stop puppy mills on HSUS's website. It only takes effort, so get involved.
5. Spay/Neuter Programs and Awareness
Check online sources for an incredible list of interesting spay/neuter facts. You can also become active right away by giving your time: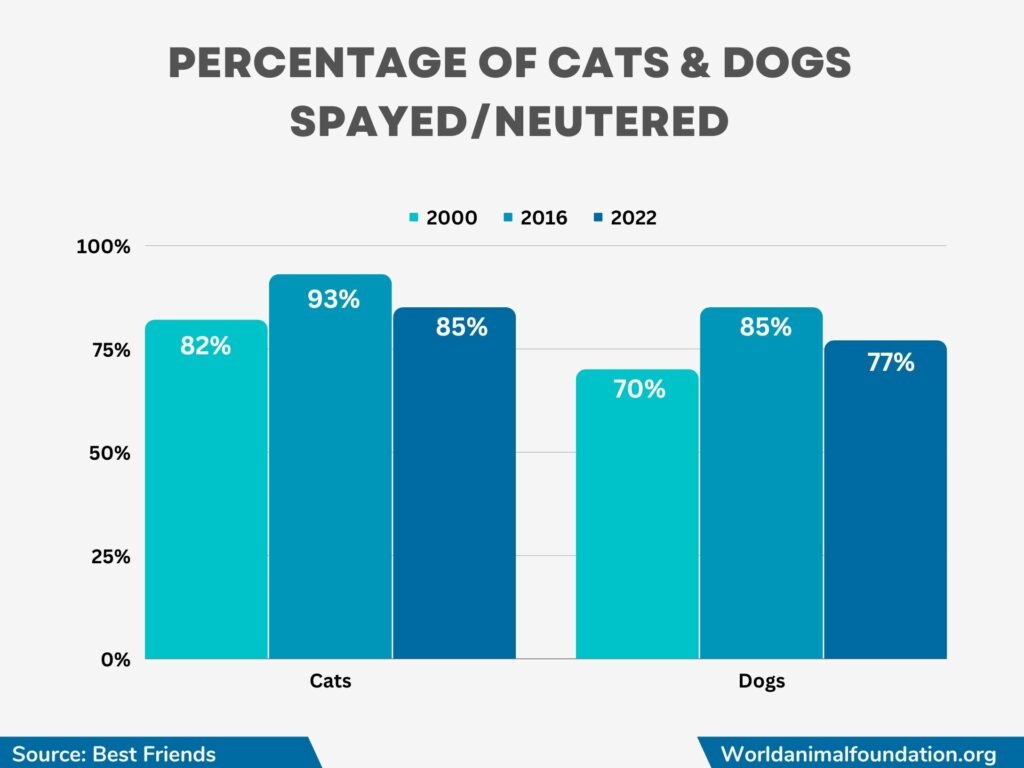 I. You can visit PETA and not only learn ways to promote spaying and neutering but also learn other (positive) ways to be an animal advocate.
II. Talk to your vet to find out who the spay/neuter, low-cost organization in your area is, and call them to see if you can hand out flyers or help in any other way. Ask your vet if they need help with shelter animal-related issues, too.
III. Contact the ASPCA Spay/Neuter Alliance.
FAQ's
How Much Time Do Animals Have Before Euthanization?
Although the numbers vary (counties, cities, states), generally, animals are given from a 48-hour holding period to 4 or 5 days before they're euthanized. In some places, chipped animals will be held longer. There's no sugarcoating it.
Animals deserve better than this. They're breathing sentient beings!
How Can I Start My Own Shelter or Rescue?
Opening an animal sanctuary is absolutely an option but not the best one. My years with the sanctuary were the most grueling and emotionally taxing years of my life. It was all worth it, but those are things you need to think about for such a taxing commitment.
It also takes weeks, sometimes months, to acquire a 501(c)(3) and become a nonprofit if that's your mission.
If you're still interested, do your homework. There's insurance, correspondence, volunteers, and so much more to manage at a sanctuary. Deeply research the subject. You might want to begin by checking out BFAS' information on how to open an animal sanctuary.
They have the most cohesive, organized, and exclusive workshop of its kind in the entire country. I trust them! I've spent time there and wouldn't go anywhere else if I were to start another animal sanctuary.
And don't forget one of the most important things I learned from being the founder/director of an animal sanctuary. You must work well with PEOPLE if you want to work with animals.
Are Animals Subjected to Domestic Violence?
Absolutely! Abusers usually don't stop their abuse at people. Animals are also abused and sometimes killed. All of us should be aware of animal cruelty statistics and animal cruelty laws.
The best information given on this issue is from RedRover, which partners with organizations to ensure no one who is suffering from domestic violence is forced to leave their pet(s) behind if they decide to leave. If you are in a similar situation, please reach out to them.
If you're wondering how to report animal abuse, it's a great start to a greater cause!
Do Animal Shelters Need Volunteers?
Desperately! Whether you can walk a dog, feed them, clean some bowls, or play with a cat, animal shelters are always looking for volunteers. Google your local one and go give of yourself. You may even find a new best friend!
In Conclusion
We'll never know exactly how many animals are dying at the hands of human beings. But we can be a part of the solution to help these wonderful creatures stay alive and find forever homes.
If you're a lover of animals, there's so much you can do to help those in shelters. Give, give, give to help homeless animals in your area. They've been forced into a situation they don't want to be in.
Let's help them ease the burden by giving them our hearts.