Getting an air pump for your aquarium is inevitable for the health and well-being of your beloved marine pals. However, picking the same can be tricky and you might miss out some important features while making the decision. To make the right decision, you have reached the perfect platform to help you in picking the best aquarium air pump.
Pumps are important gadgets without which your beloved marine animals will not survive as air pumps are responsible to clean and maintain the suitable environment of aquariums for your marine pets. Market is filled with myriad options to chose a good air pump with suitable features like rightful air volume and minimum sound.
Powerful Air Pump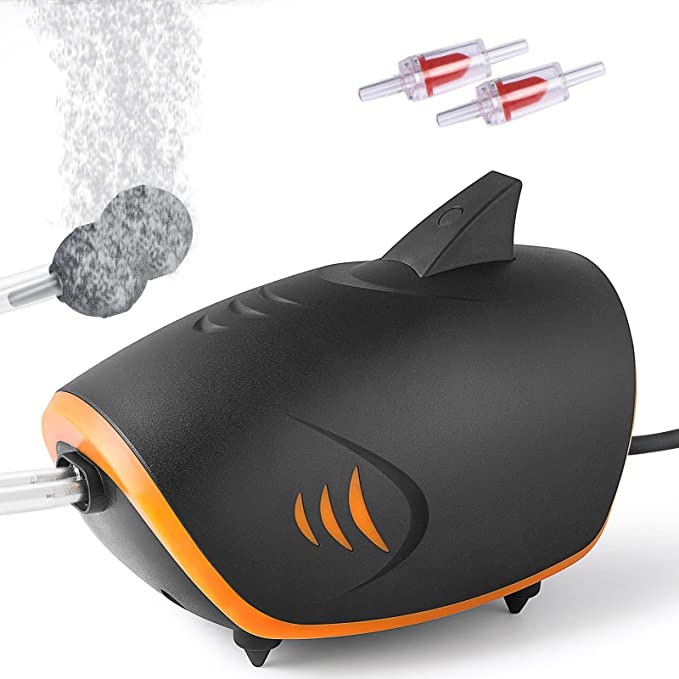 HITOP 4W Air Pump
Air Flow Capacity: 7 LPM
Shape: 4W-110GPH
Efficient Filtration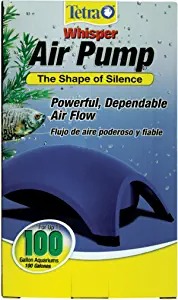 Tetra Whisper Air Pump for Aquariums
60-100-gallon

Material: Acrylic
Highly Powerful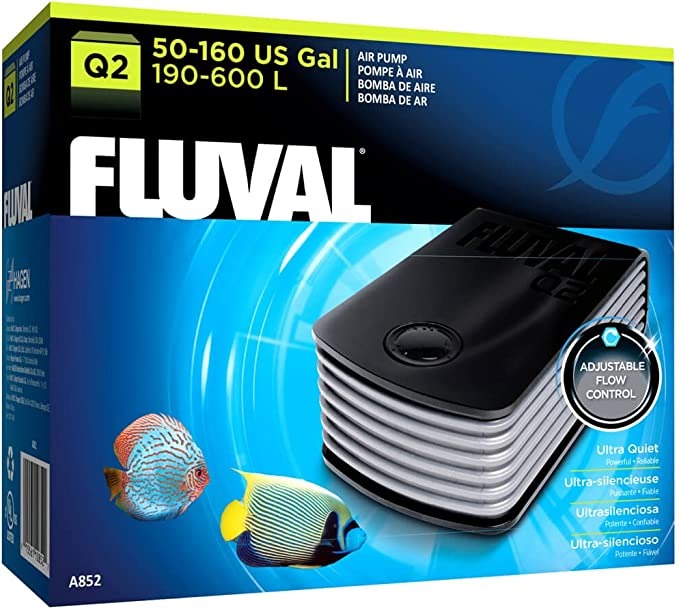 Fluval Q Air Pump
Size: Q2 (Medium)
Item Weight: 500 Grams
Silent Air Pump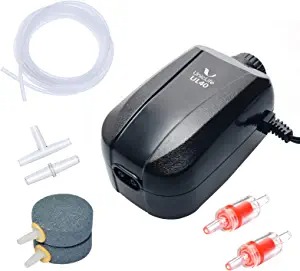 Uniclife Dual Outlet Air Pump
Size: 10 – 60 Gal
Power Source: Corded Electric
Adjustable Flow Rate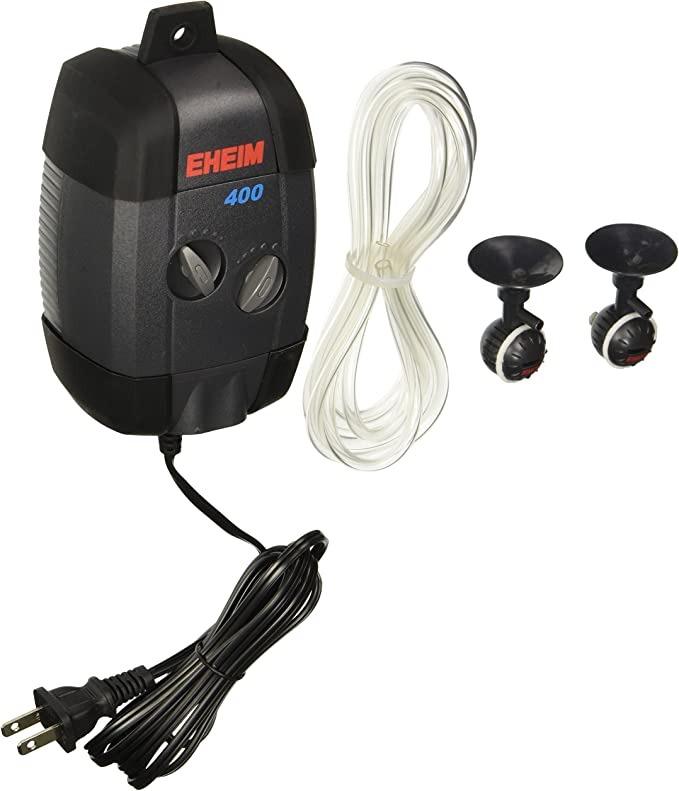 Eheim Air Pump
Size: 120 gallons
Item Weight: 1.9 Pounds
Hydroponics Bubbler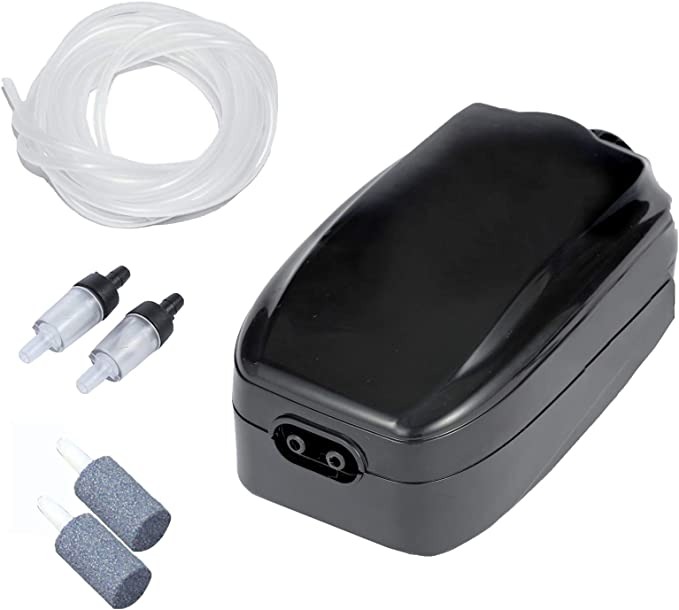 Aquaneat Aquarium Air Pump
Material: Rubber
Power Source: Corded Electric
Compact Design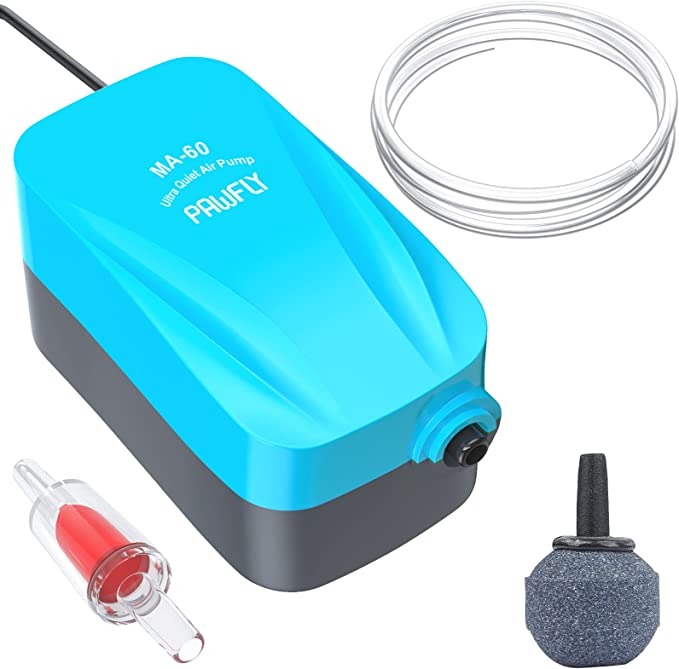 Pawfly Ma-60 Quiet Aquarium Air Pump
Material: Synthetic rubber
Power Source: Corded Electric
Lifetime Guarantee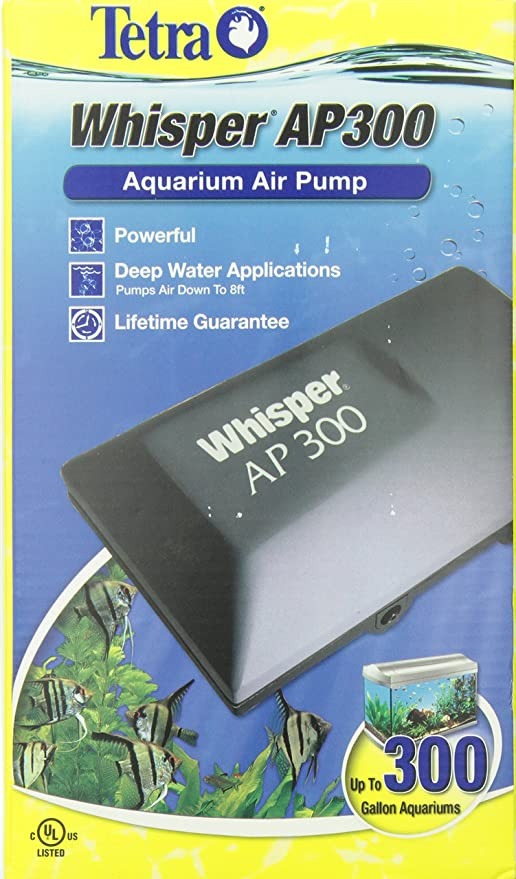 Tetra Whisper Ap300 Aquarium Air Pump
 300 gallons

Power Source: Corded Electric
Maximum options available in the market were tested and it was figured that the best ones are a few and can be summarized. This write-up contains a list of the top aquarium air pumps and you can easily pick out the best air pump for your aquarium, considering your requirement.
The Top 8 Aquarium Air Pumps
Read ahead to get the best idea of the most friendly air pump that you might require for your aquarium and the features it must contain.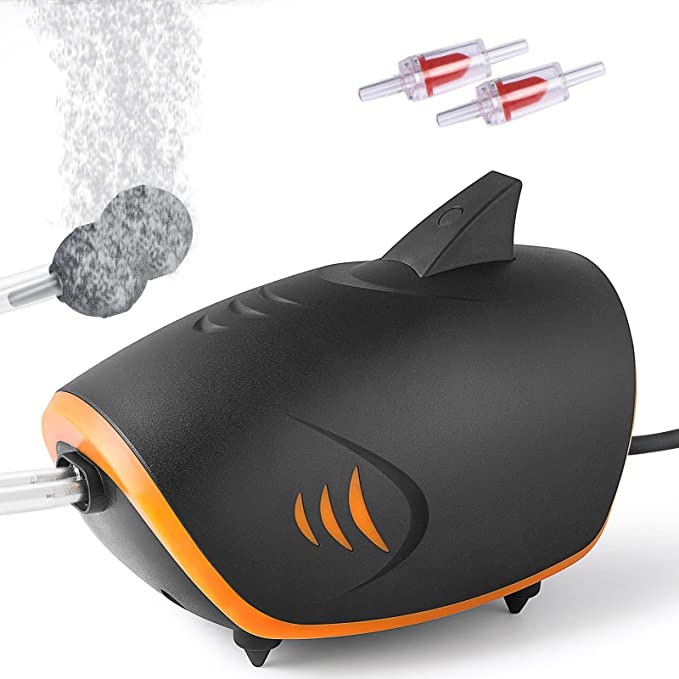 The Hitop brand produces most powerful yet comfortable air pumps in the market. The Hitop 4W air pump secured top pick owing to its impeccable and efficient operation. The air volume can be adjusted easily with the availability of 2 outlets, that can furthermore control even the gas exchange in the aquarium.
This aquarium pump can be used for wide range of 10-200 gallon size of aquarium tanks. It is powerful yet efficient with the peculiar option of an on/off button, which is rarely available in air pumps circulating in the market. The design is double layered to minimize sound emission to the lowest, securing it among the quietest air pumps available in the market.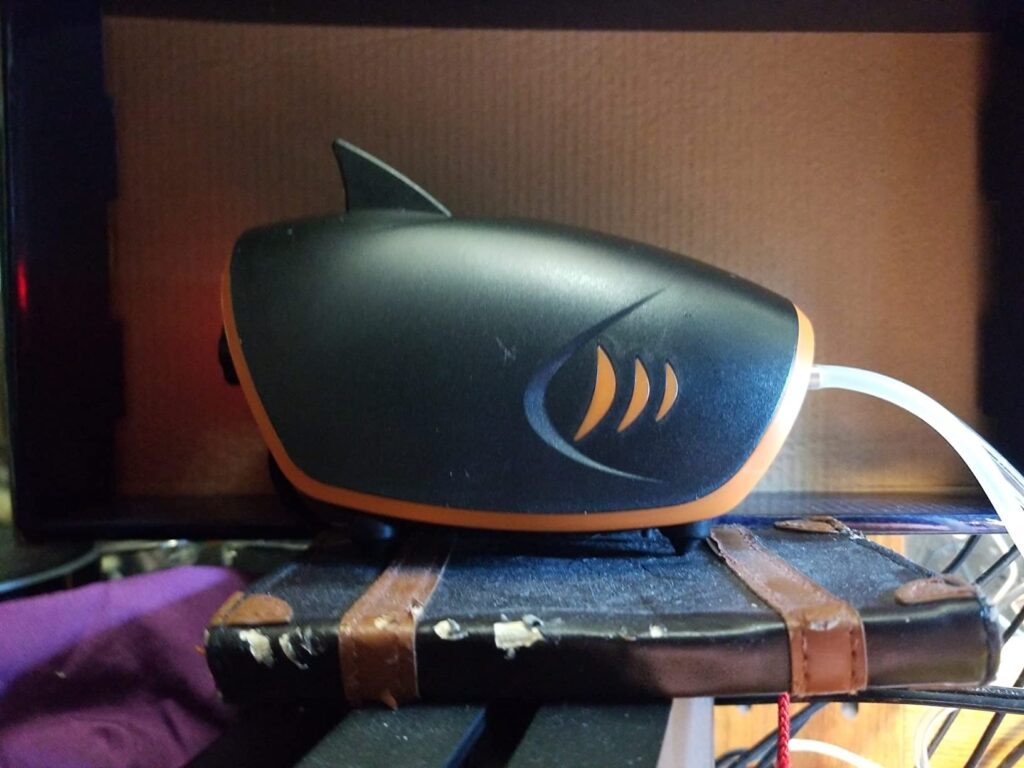 Features
110 GPH flow rate
Adjustable fish tank
Accessories included
For 20-200 gallons tank size
On/Off button
Double layer design
Powerful air pump: 4W
Pros
Perfect for medium and large tank size
Button for turning it off/on
Perfect for small to large tanks; technically any size
Powerful and adjustable
Double coated to minimize sound
Cons
Difficult to clean
Tester Verdict
Our testers loved this device owing to its powerful mechanism with adjustable features. The air volume as well as the gas exchange can be adjusted, that truly won their hearts. This one miraculous gadget worked in all sizes of aquariums tested and can safely be tagged as the best air pump available in the market.
The only problem reported was the difficulty to clean the mechanism. Rest, was a thumbs up by everybody.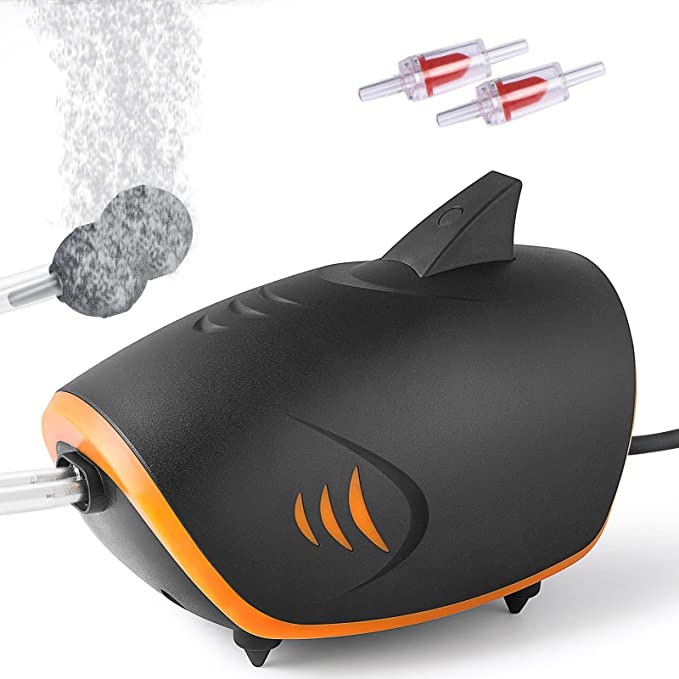 HITOP 4W Air Pump
The price of "HITOP 4W Air Pump" varies, so check the latest price at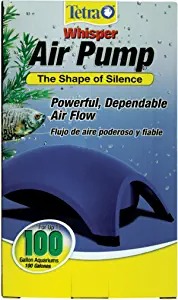 Tetra is known to be the most renowned and best known brand for producing high quality fish related and aquarium products. Tetra produces quietest air pumps in market and most air pumps are available at cheap and economical rates from the market.
Tetra whisper air pump, as the name implies, is the quietest air pump available in the market. The dome shape and thick walls conceal the pumping noises. If you are a peace lover and loves quiet surroundings, then this whisper quiet option is most appropriate for you.
There is a variation of sizes available to cater the aeration needs of sizes from 10-100 gallons. For larger aquariums, the tetra whisper offers two outlets for maximum airflow.
This product is efficient and the most stunning part is its low cost. The powerful motor ensures the airflow to all parts of the aquarium. So this option is seamless for practically all sizes less than 100 gallons.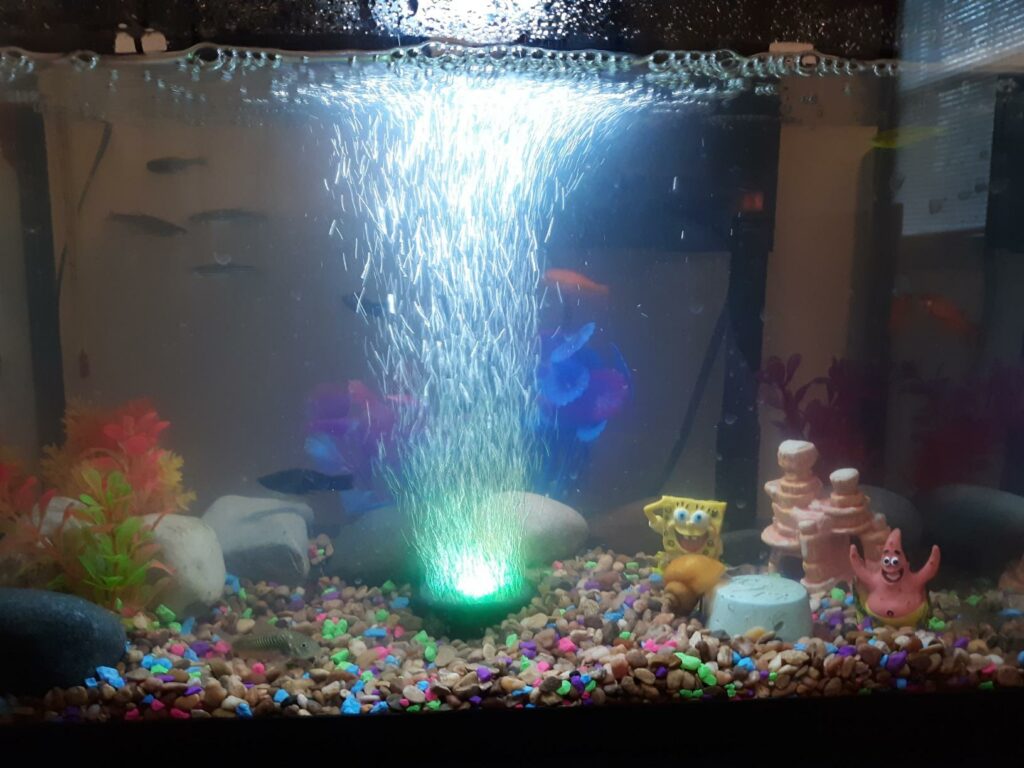 Powerful motor
Quiet air pump
Dome shaped
Variable sizes available
Efficient filtration
Features
Pros
Powerful pumping
maximum airflow
Economical
Lifetime Guarantee available
Cons
Lacks airline tubing and other required accessories
Testers Verdict
The quietest aquarium air pump stunned the team owing to its nil noise level even though the power of the pump is uncompromised. The continuous production of air bubbles add to the beauty of the aquarium and the shape also complements the operation of the pump.
However, they added that the tubing should be included in the packaging. But, overall, Tetra whisper air secured the highest score.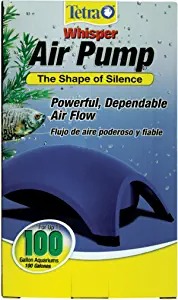 Tetra Whisper Air Pump for Aquariums
The price of "Tetra Whisper Air Pump for Aquariums" varies, so check the latest price at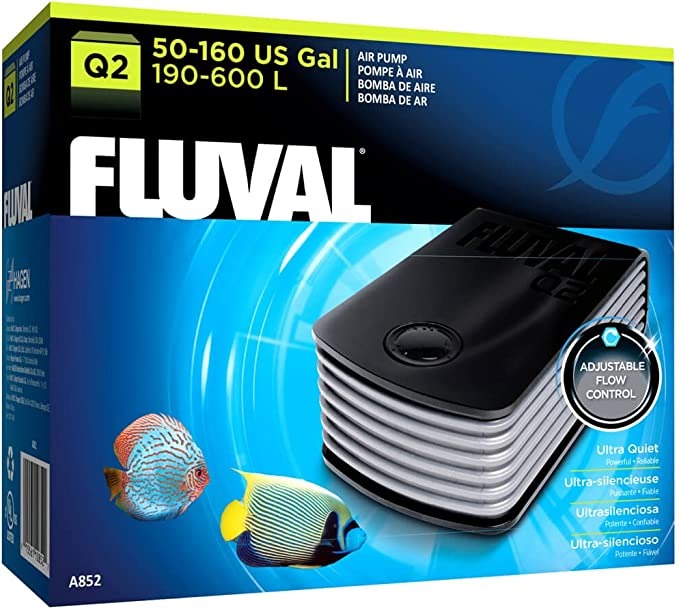 Fluval Q series air pumps are ideal for aquariums tank sizes ranging from 50 to 160 gallons. This marvelous piece of art will produce high oxygen levels to keep your aquarium inhabitants healthy and refreshed owing to its amazing design. The advance swing arm and diaphragm design establish continuous air flow.
The power drives enough air to the deepest parts of the aquarium as the flow rate reaches up to 120 GPH, responsible for maximum flow.
The operation becomes extremely quiet owing to the double walled casing of the pump. The Fluva Q air pump works quietly with maximum power, perfect for all types of aquariums less than 160 gallons.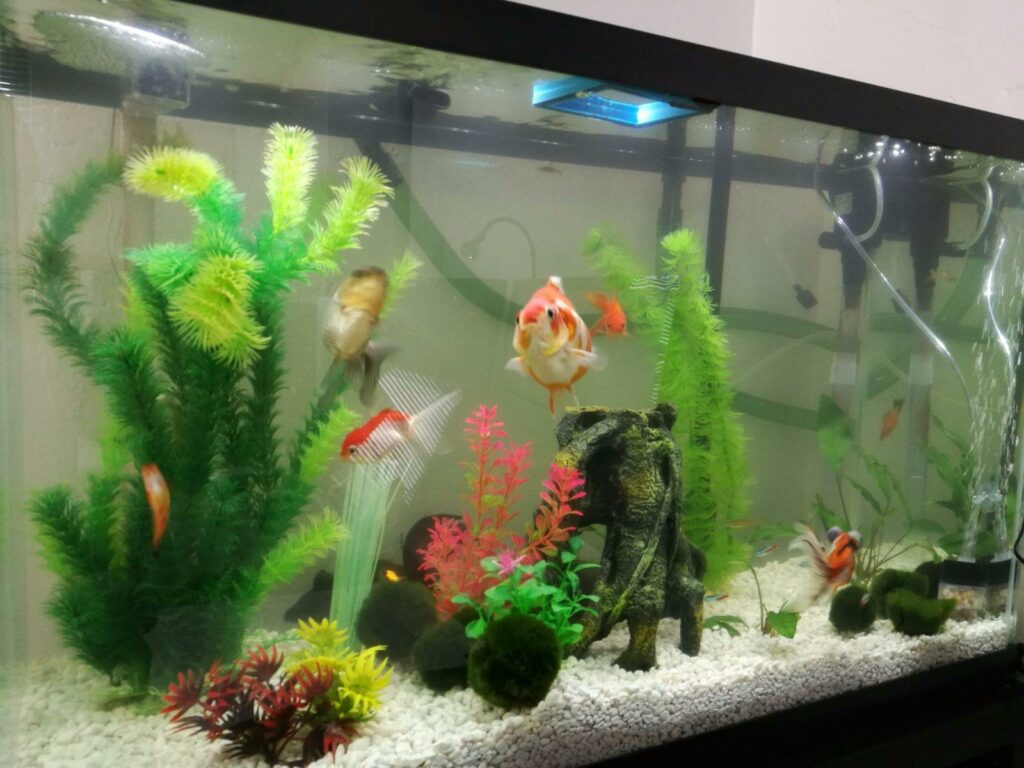 Features
Maximum outflow rate: 120 GPH
Highly powerful
Extremely quiet working
Thick outer casing
Advance swing arm and diaphragm design
Appropriate for aquariums up to 160 gallons
Pros
Consistent air flow ensured owing to its design
Double coated wall for extreme quietness
All required gadgets are included in the package
Reliable and long lasting
2 years guarantee
Cons
Only one output valve
Tester Verdict
It secured high marks with its highly efficient working even in deep tanks . The working is uncompromised thanks to its advance design. The provision of air supply was recorded to be uninterrupted. The noise level is minimum owing to the double walled structure, advance swing arm, and diaphragm design.
However, some members reported loudness with the increase in its working. But, overall, the Fluva Q air pump works amazingly.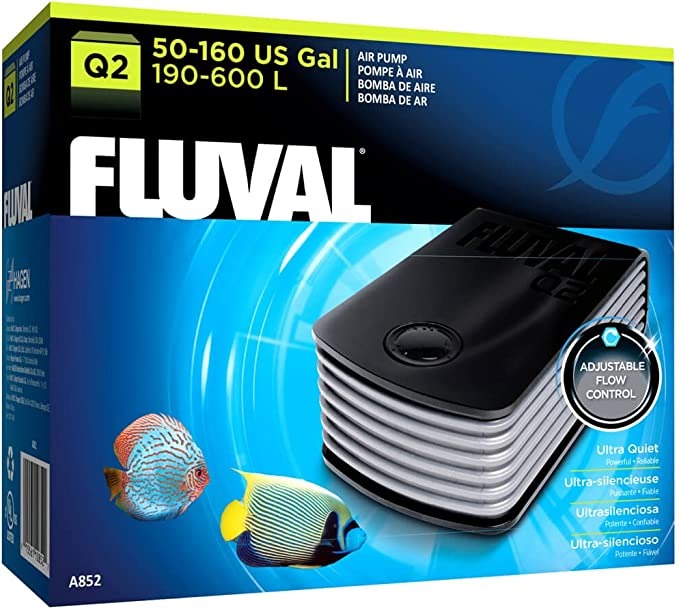 Fluval Q Air Pump
The price of "Fluval Q Air Pump" varies, so check the latest price at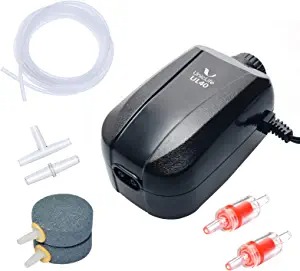 The uniclife dual outlet air pump, as the name implies, have two air outlets incorporated in its design. The best perk would be its adjustability of flow rate and provision of air stones. The pump can be useful for both marine and freshwater fish tanks.
This dual outlet air pump is best for medium sized tanks as it supports up to 60 gallons of water circulation. Two outlet ports allow for maximum circulation of water and air, making it perfect for filtration also.
Power consumption is minimum: 4 W, and the operation is highly energy efficient with its gadgets and features. The product comes with all the required accessories, making it one of the best pump in market at a cheap rate.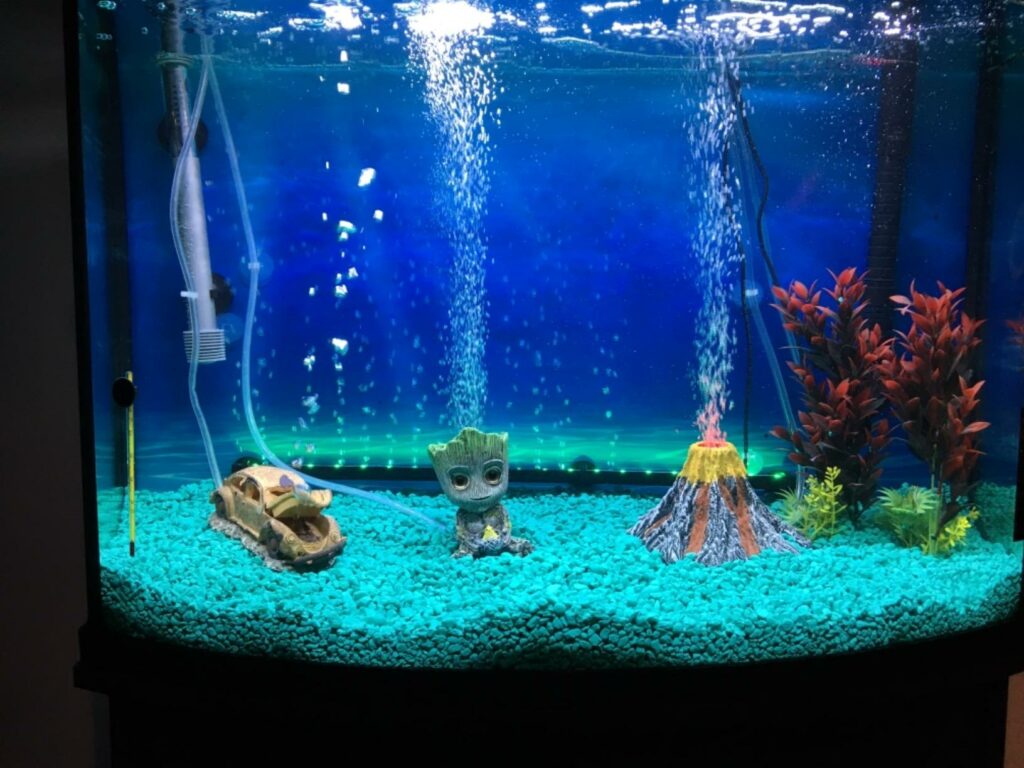 Features
Maximum outflow rate: 64 GPH
Perfect for 10-60 gallons of water
Adjustable flow rate
Two air stones discs
Includes pump accessories: two air stones, 6.5-feet airline tubing, two check valve , and two connectors
Silent air pump
Pros
Perfect for aeration in both marine and fresh water circulation
2 air stones
Includes all accessories
Adjustable air flow as desired
Maintain proper air pressure
Also supports saltwater aquariums
Compact design
Low power consumption: 4 W
Cons
No button to turn it on/off
Tester Verdict
The compact structure of the product without compromising its high efficiency and capability strike the team. The working is steady and the feature of adjustable flow rate makes it a must buy for domestic use as it can perfectly rotate air of medium sized aquariums. The power consumption is also minimal, making it even more attractive.
The product is flawless for its size, however, the same could be made better with increase power. However, it can safely be tagged as the one of the best air pumps available in the market with its high profile functions.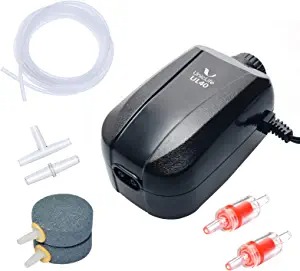 Uniclife Dual Outlet Air Pump
The price of "Uniclife Dual Outlet Air Pump" varies, so check the latest price at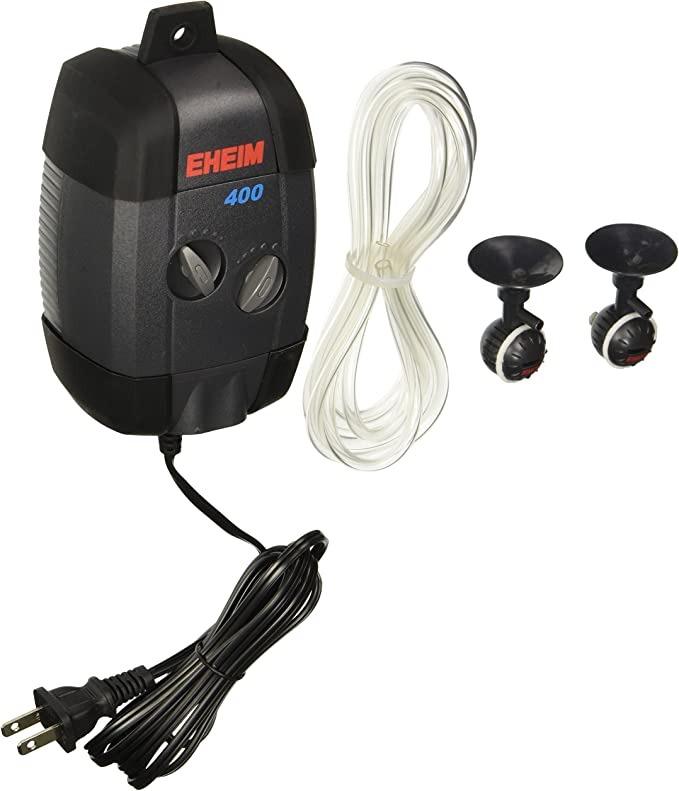 If you are looking for pumps credible for 8.5 feet deep tank, then this is the right product. The eheim air pump offers the adjustability feature through diffusers. Diffusers are available in the package that can control the air flow rate and also produce air bubbles for your marine friends.
The eheim air pump is quiet owing to the rubber suction pads installed in the machine. The air pump is best for aquariums possessing up to 120 gallons of water.
The attribute of dual outlet provision makes it unique as each of the two outlet can be controlled separately. The low cost pump can be the best low noise addition in your home with maximum efficiency in minimum power.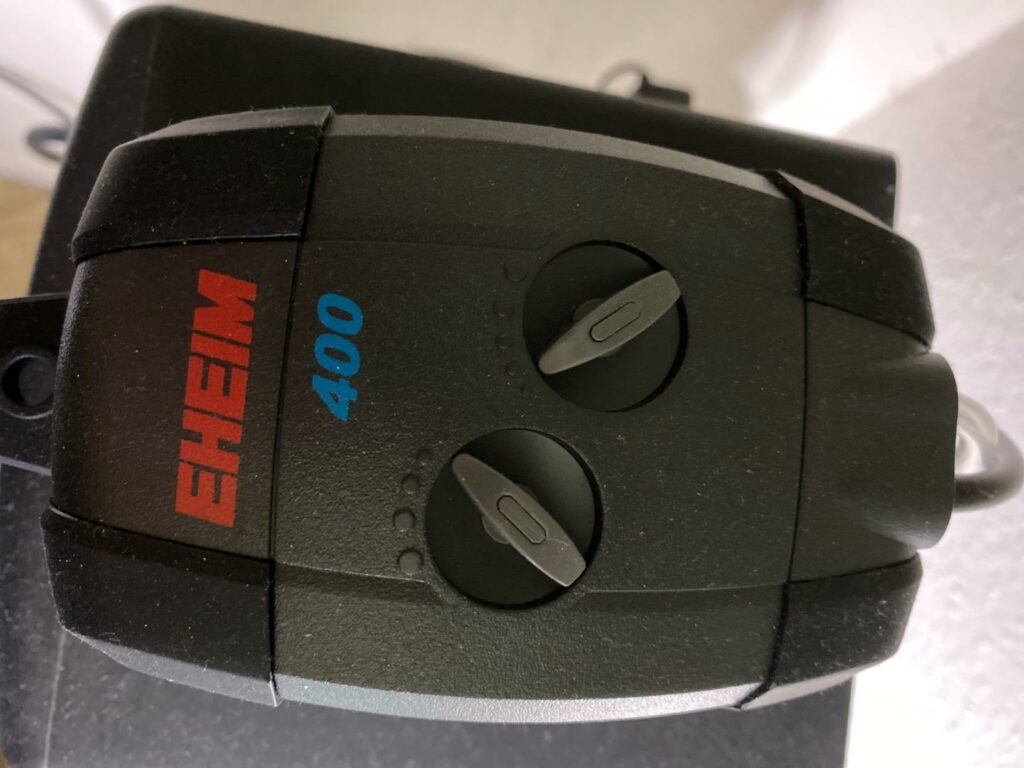 Features
Quiet air pump with rubber suction pads
Dual outlets; each outlet can separately be controlled
Appropriate for aquariums up to 120 gallons
Adjustable with the help of diffusers
delivers the required flow and bubbling effect
Includes a hook to hang vertically
Pros
Economical
Includes additional accessories
Adjustable flow rate
Silent Air pump
2 diffusers included
Cons
On/Off button unavailable
Tester Verdict
The team believes the eheim air pump to be the best addition in one's household with it sparking feature of additional diffusers. The diffusers work remarkably to control the air flow and produce the bubbling effect for the refreshing look of an aquarium. The team finds the air pump friendly for aquariums even up to 150 gallons. Furthermore, the inclusion of hook to hang it horizontally gave quite a unique impact.
Some members added that the pump is not as quiet as the company claims. But, they still loved the pump.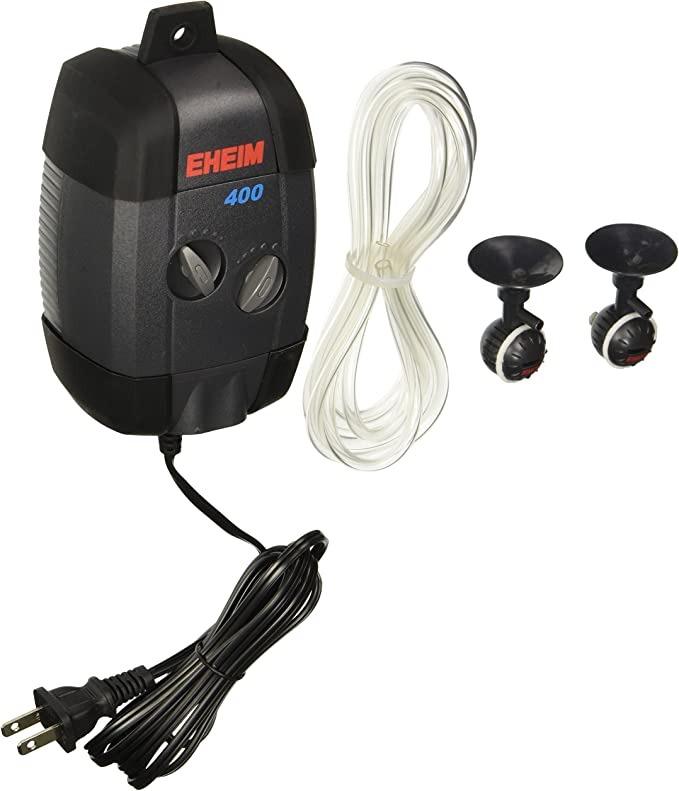 Eheim Air Pump
The price of "Eheim Air Pump" varies, so check the latest price at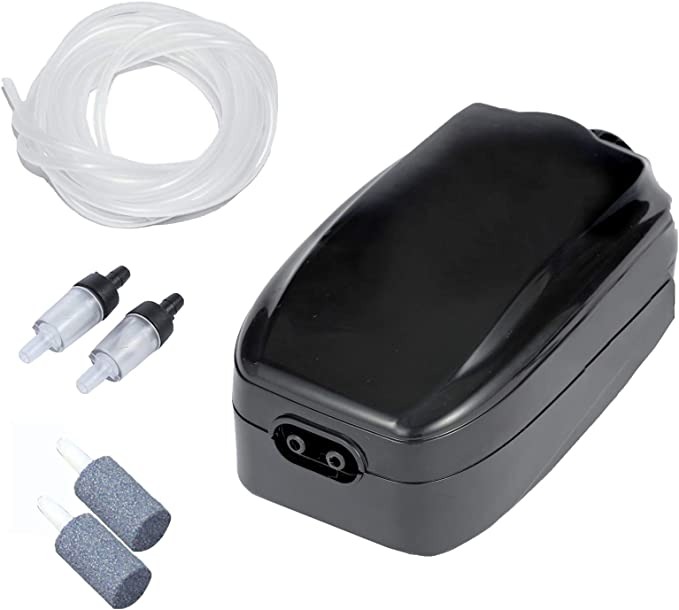 If your fish tank is equal or below 100 gallons, then this one is made for you. The working of this fish pump is spectacular with dual outlets and the feature of adjustability using the control knob. Good news is the addition of hydroponics bubbler to allow for maximum air flow in your aquarium. Furthermore, this ensures continuous production of air stones for your precious fish.
Dual outlets makes it convenient to run sponge filter and air discs for production of maximum air stones to entertain your aquarium inhabitants.
The package includes 8 feet tubing for air flow and check valves for easy installation. The whole package is available at cheap cost so your pocket will feel nothing after buying this piece of art but.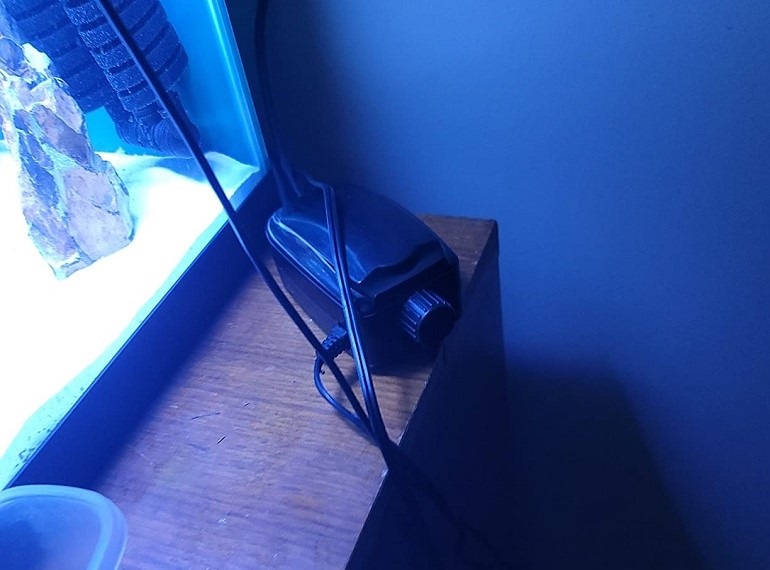 Features
Supports appropriate level of 100 gallon
100 GPH flow rate
Adjustable dual outlets
Control knob to adjust air volume
Hydroponics bubbler
Continuous air stones production
Check valves and tubing included
Pros
Arrives with additional accessories
Hydroponics bubbler for continuous air stone production
Adjustable flow rate
Maintains proper air volume
8 feet deep tubing
Cons
Power source is corded electric
Tester Verdict
Team found this air pump highly friendly with all possibly required accessories included in the package. The aquaneat aquarium air pump with adjustable dual outlet gives aquarium a neat and soothing look with maximum air volume. The marine animals enjoy enough air stones to play with and all the fish waste also gets cleared with such beautifully crafted air flow mechanism of this air pump.
Hydroponic bubbler and a knob in one product to control the flow is hard to come by. The team thoroughly loved this air pump with its utmost efficiency and durability.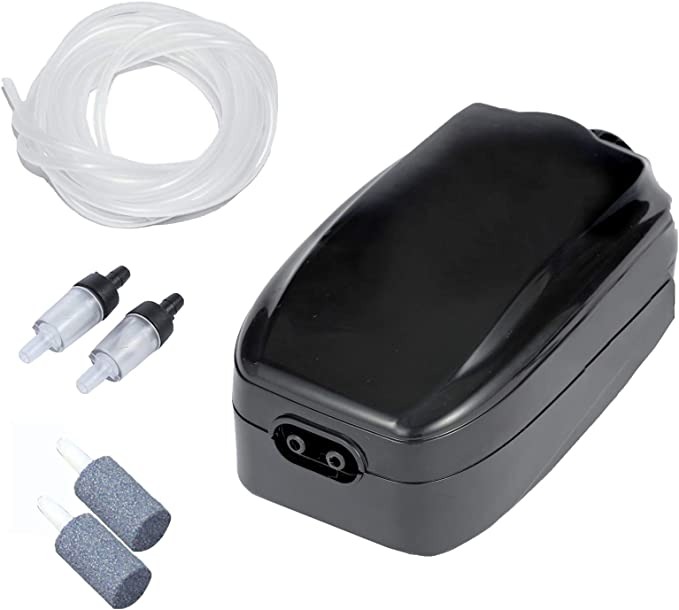 Aquaneat Aquarium Air Pump
The price of "Aquaneat Aquarium Air Pump" varies, so check the latest price at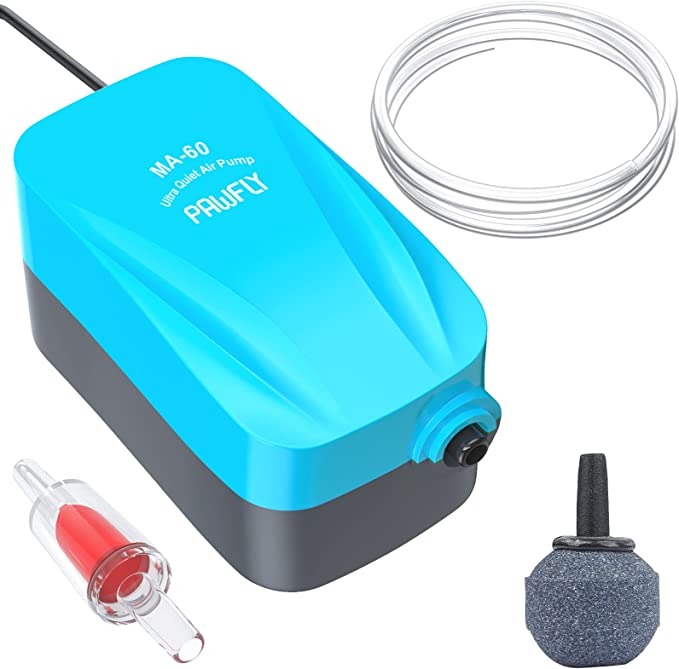 Own a small aquarium? then this is the best option to cater your need. The small air pump does wonder for small fish tanks with its efficient features. The Pawfly MA-60 aquarium air pump is light weight with compact design ensuring continuous flow rate in your aquarium.
It works perfectly for 5-20 gallon fish tanks and consumes low power range of 2W only. Availability of the red valve check monitors the flow rate and keeps aquarium water from back siphoning, protecting your air pump during power outage.
Addition of diaphragm and 4 shockproof rubber feet eliminate sound and vibration. This tiny air pump keeps flow rate constant at 40 GPH, keeping the oxygen levels in line with the requirement of your beloved buddies.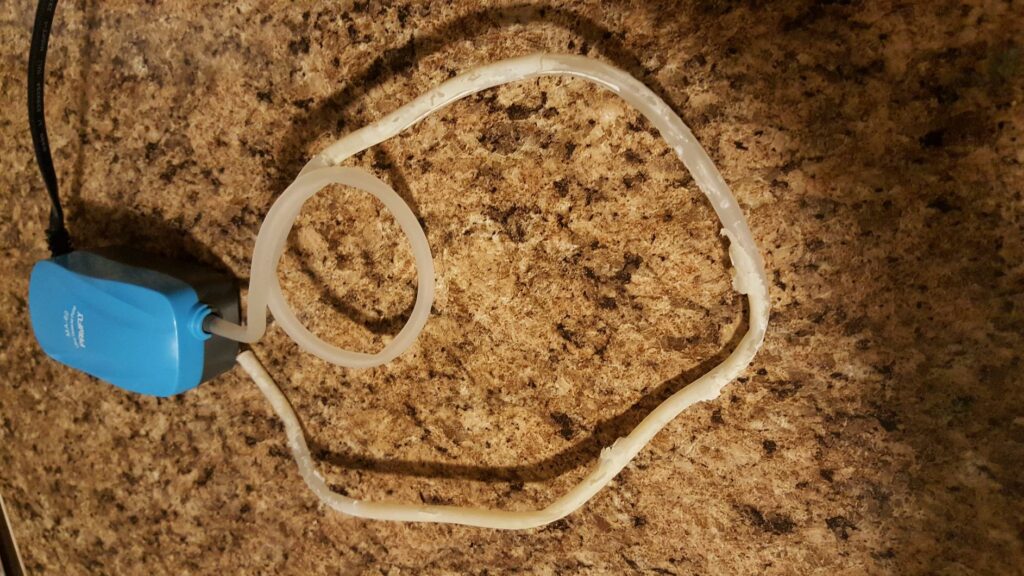 Features
Designed for 5-20 gallon small fish tank
Light and compact design
40 GPH flow rate
2 W power consumption
One air stone for bubbling
Hose and valve accessories included
diaphragm and 4 shockproof rubber feet to eliminate sound and vibration
Pros
Perfect for small fish tanks
Sound proof
4 low rubber feet to minimize vibration
Red check valve to monitor flow
Cons
Tester Verdict
The team loved the red valve to minimize vibration and to protect the air pump during power instability. Sound wave frequencies produced are minimum, causing no disturbance to the inhabitants of aquarium as well as your home.
The only bothersome thing reported was the unavailability of air flow adjustment. The rest is just impeccable.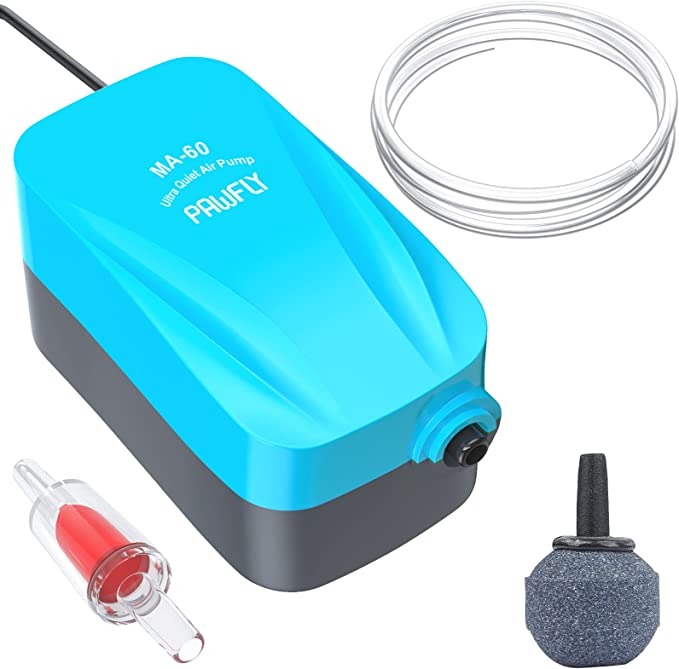 Pawfly Ma-60 Quiet Aquarium Air Pump
The price of "Pawfly Ma-60 Quiet Aquarium Air Pump" varies, so check the latest price at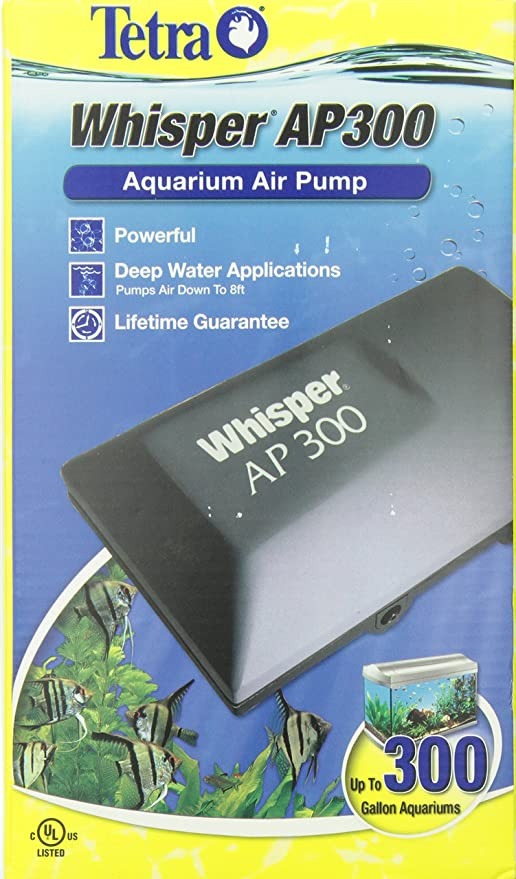 Tetra whisper air pumps are the lowest noise producing air pumps residing in the market, as mentioned before as well. This is another Tetra product that secured a place in the article. It is powerful and efficient that can result in rotation down to 8 feet deep. Additionally, Tetra air pump possesses enough power to combat back pressures in even deep water line.
It is cheap with efficient working capability to create dramatic bubbling effect in deepest corner of any size of fish tank. Tetra whisper air pump can also deliver air to all the available accessories in aquarium water. The tetra company offers life time guarantee so you do not need to buy any other aquarium air pump after this.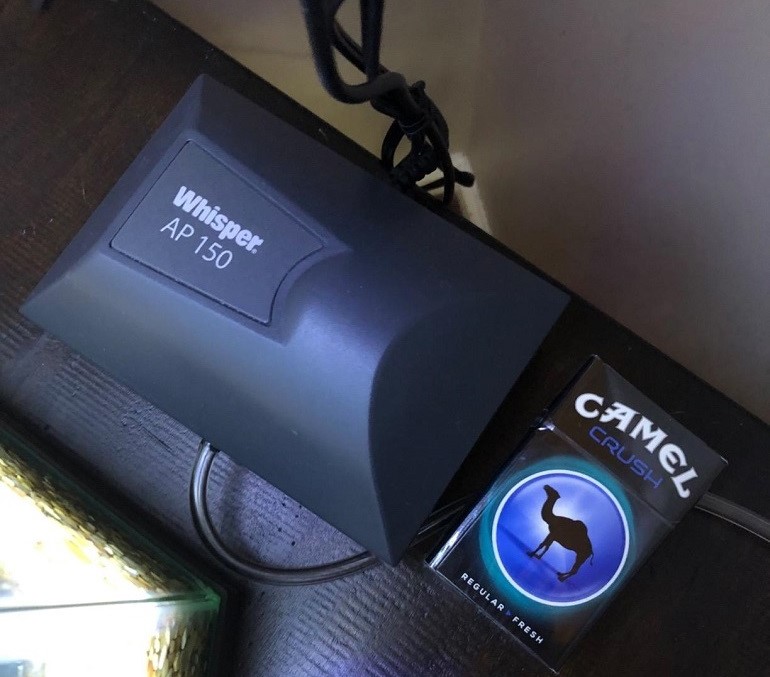 Features
Causes rotation to the deep water surface
Bubbling effect in all parts
Perfect for waters where back pressure is possible
Delivers gas to all accessories
Lifetime Guarantee
Pros
Includes lifetime guarantee
Efficient flow all around small to large tanks
Can combat greater back pressure
Friendly for the fish tank
Comfortable to use air pump
Cons
No air flow regulator included
Tester Verdict
The team found this air pump powerful to circulate gases all around the tank, crating a beautiful bubbling effect. Tetra whisper air pump is always quiet and peaceful. However, absence of a flow regulator is problematic.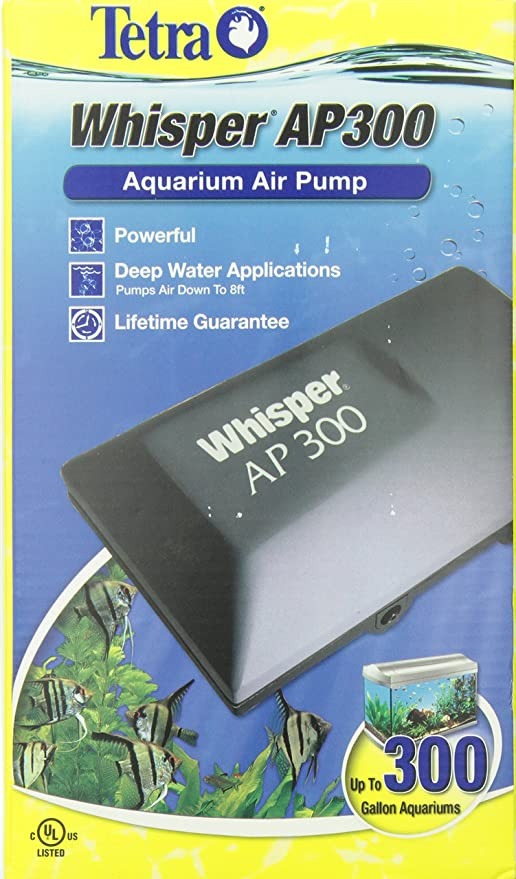 Tetra Whisper Ap300 Aquarium Air Pump
The price of "Tetra Whisper Ap300 Aquarium Air Pump" varies, so check the latest price at
Buying Guide for the Best Aquarium Air Pump
A number of special features must be considered before making the purchase like:
Power of the Air Pump
Power refers to the efficiency of an air pump to rotate the air according to the size and requirement of the aquarium tank. The air pump should also be highly energy efficient and should properly circulate the air all around the aquarium.
Quietness of the Air Pump
Air pumps with noise can be really annoying and such continuous noises might tire and upset you. Consider buying the air pump that can pump air with nil sound and utter quietness. Most of the options in market possess this feature so this might not be a much difficult-to-get attribute.
Size That Aquarium Air Pump Supports
Mostly the size of aquarium that air pump supports ranges from 3-150 gallons. But options are available in market that work air for 300 gallons size aquarium air pump. So, keeping the size in mind is a significant requirement while choosing the best aquarium air pump.
Number of Air Outlets
Keeping the size of aquarium in mind, you should carefully pick the air pump with suitable numbers of outlets. Dual outlet air pump is best for sizes bigger than 100 gallons whereas for lesser sizes, single air outlet is best.
Bubbler with Air Stones
Pumps packaged with air stones produces bubbling effect of air in water, giving a refreshing look. Large aquariums require air pumps capable of bubbling large air stones and vice versa for the small aquariums. So keep this feature in mind before buying aquarium air pump.
FAQs
Is an Air Pump Required in Aquarium?
If your aquarium has a good circulation, then an air pump is not required. However, if the same is absent in your aquarium then it becomes inevitable to get an air pump.
Can Fish Survive Without an Air Pump?
Yes fish can survive without an air pump given that the circulation of water is ensured in your aquarium.
What Is the Best Aquarium Air Pump?
It is the one that produces enough power to circulate water and gases all around you aquarium. The pump should operate quietly and best would be the one that comes with all additional accessories.
How Do I Choose an Air Pump?
First of all, consider the size of your aquarium tank and then look for possible options. Then find the product with the best possible features, as discussed in the article. The top pick would be the perfect buy.
Are Fish Okay with Excess Air Bubbles?
Too much oxygen levels can lead to the lethal gas bubble disease, in which gas penetrates inside fish's eyes and skin, creating bubbles in the eyes.
Conclusion
The market is filled with myriad numbers of air pumps to choose from. However, the best available air pump is the HITOP 4W Air Pump owing to its high power and the availability of an on/off button. This option is best for any size of a fish tank so no need to think much about the tank size. Other air pumps lack this feature so therefore, one has to unplug/plug the device for this operation.
If you possess a small tank, then the best option would be the Pawfly MA-60 Quiet Aquarium Air Pump with its remarkable features of compact design with minimum noise production. If you own a medium sized aquarium then the best option would be Uniclife Dual Outlet Air Pump with 4 W power. It offer 2 power outlets and enough gas circulation for the best aquarium environment.
More generic options for all sizes of tanks are the Tetra whisper air pump and the Fluval Q Air Pump, both are available in a variety of sizes and guarantee.
While making a decision for buying the best pump for your aquarium, you must consider the major features and keeping all possible things in mind; as discussed in the article, buy the best product in town. A powerful, double outlet, alterable, along with an on/off button air pump, would be the best decision.