Thousands of people fight daily to protect our environment, our animals, and our aquatic habitats and call out industries and politicians to take responsibility for continuing to ignore a gigantic problem. Humans are 'literally' pooping in their drinking water!
We depend on our water to survive. US residents are lucky to have 7% of the world's drinking water. Yet, America has a long list of the most polluted lakes in the world. This post isn't about pointing fingers. It's about creating awareness about polluted lakes in your state and backyard.
We'll discuss a long string of polluted lakes like Oneida Lake, New York, and Utah Lake, Lake Lanier, the Great Lakes, and Lake Onondaga in central New York, which are virtual cesspools that put the entire lake's fish population and human health at risk.
America is a beautiful country. It's been battered for centuries and needs intervention to return healthy aquatic life to our rivers and streams.
Most Polluted Lakes in the US
Looking at this list of most polluted lakes, New York State takes the proverbial cake. It has three lake entries–New York isn't even the most populated state.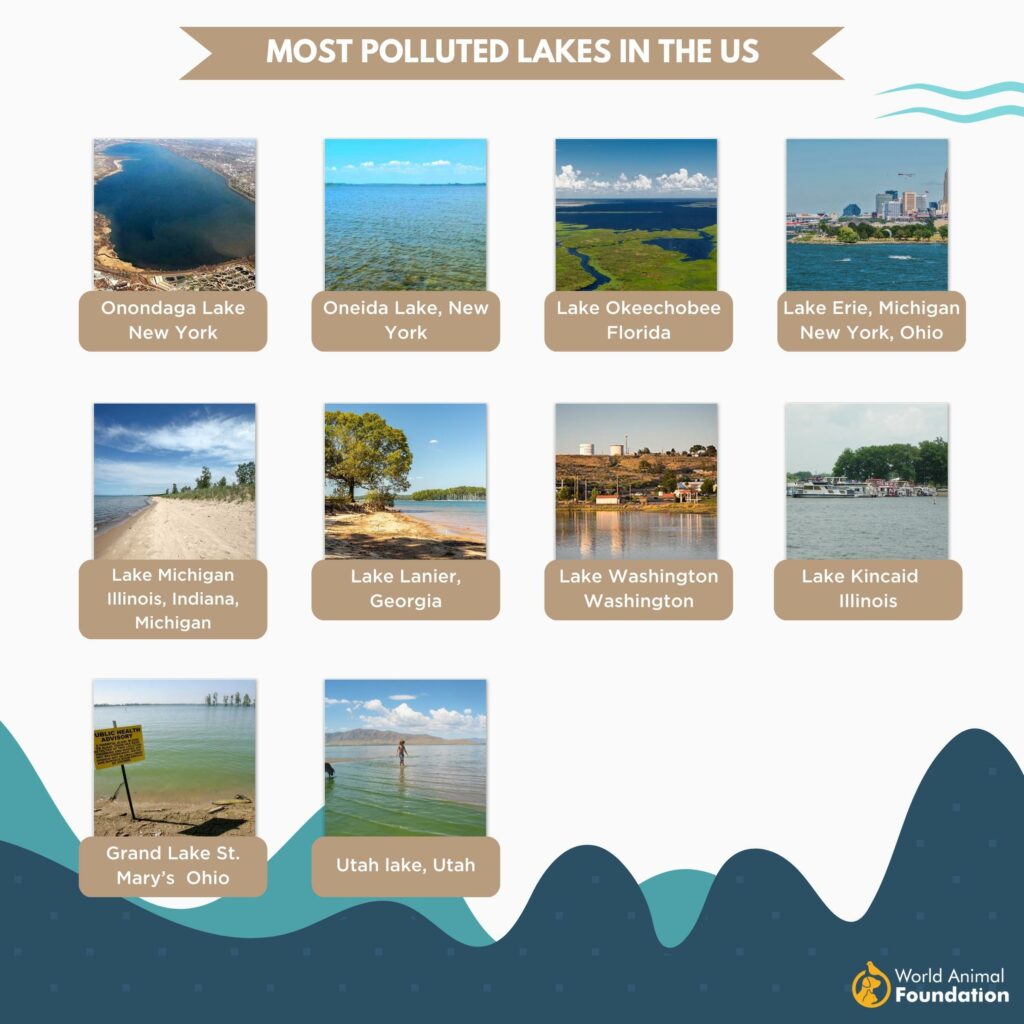 Onondaga Lake, New York
Surely the people of the long house, or Ondondaga, must be devastated. Native Americans have long fought to protect the waterways. Onondaga is located in Central New York and is listed as the dirtiest lake in the US despite being cleaner in the last 100 years.
Onondaga Lake ranks among the world's most polluted lakes. The problem stems back to the Industrial Revolution when it was common to dump waste material like mercury, ammonia, organic (think poop), and PCBs without liability. Multiply that by 100 years, creating a lake that can no longer defend itself.
As early as 1940, swimming was banned in Onondaga Lake. Marine life and waterfowl in Central New York didn't get the memo, and millions died because they couldn't escape the high mercury content and the raw sewage that created high nitrogen and algae blooms. The delicate balance that nature thrives on was upset.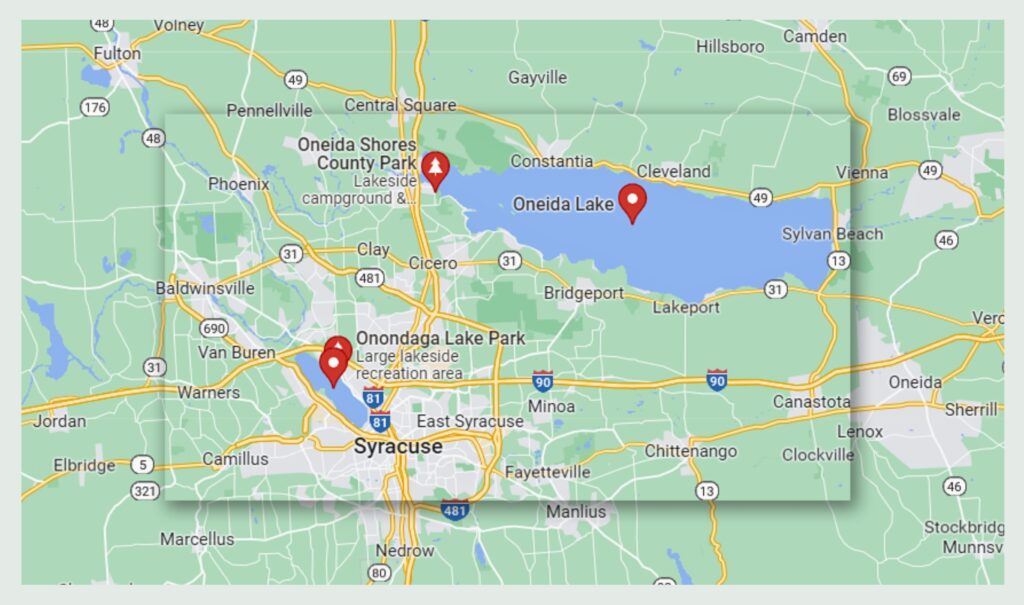 New York will spend an additional $1.2 billion on clean air and clean water programs on top of a $4.2 billion budget in the Bond Act. To date, there's been a reduction of up to 95% of 'certain' contaminants, and the Audobon Society reports sighting Mergansers, Buffleheads, and Bald Eagles.
Oneida Lake, New York
Number 2 is also in New York State, and despite being the largest lake, it didn't take the number 1 spot since it came under the Clean Water Act in 1998. Northeast of Syracuse and within reach of the Great Lakes, Oneida started to sprout algal bloom and rooted vegetation in revolt against a century of abuse.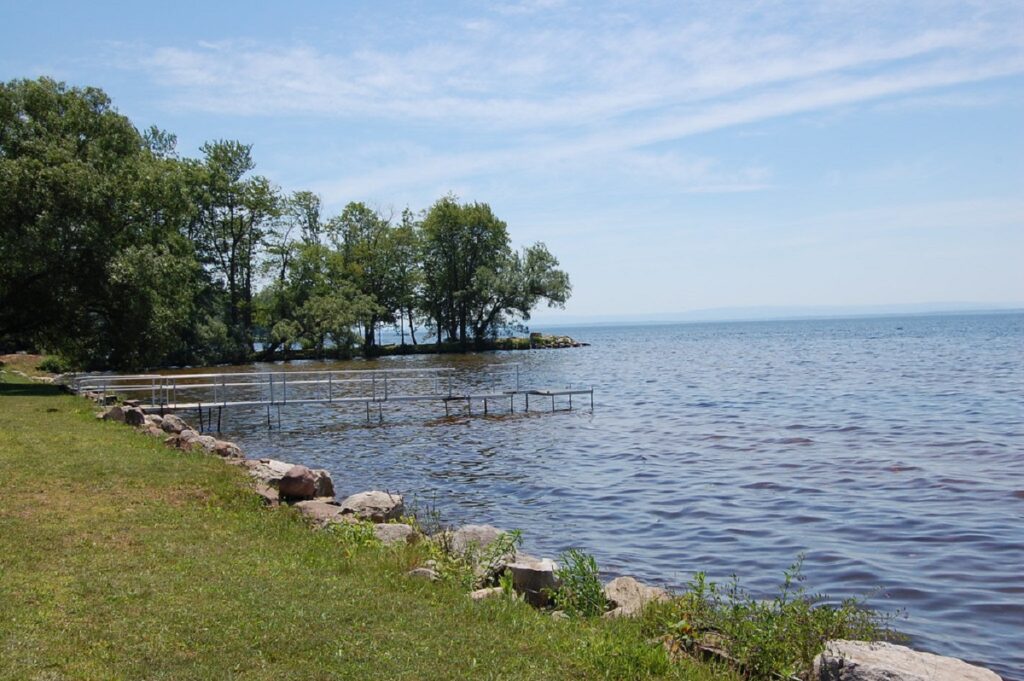 Oneida Lake bore the brunt of agricultural and suburban runoff for centuries until the local authorities improved barnyard runoff management systems and manure storage and initiated nutrient and sediment programs that reduced phosphorus that creates algae blooms and decimates wildlife.
Most recently, New York State Environment Conservation Department declared Oneida Lake safe for its improved phosphorus levels and aquatic life returned. From an aerial view, the lake is a rich shade of iris blue; up close, it can be murky, turbulent, and gray.
The lake supports walleye, bass, pike sunfish, burgot, goby, and other fish. It's also an essential habitat for mammals, reptiles and amphibians, fauna and insects, as well as waterfowl and birds.
Lake Okeechobee, Florida
It seems like a race to the top of the highest toxin concentration in our lakes; however, there isn't a winner. Lake Okeechobee, Florida's Inland Sea, is the largest freshwater lake in the state. Florida has a massive water pollution problem from stormwater and algae blooms from fertilizer that seeps into soils, groundwater, rivers, and lakes.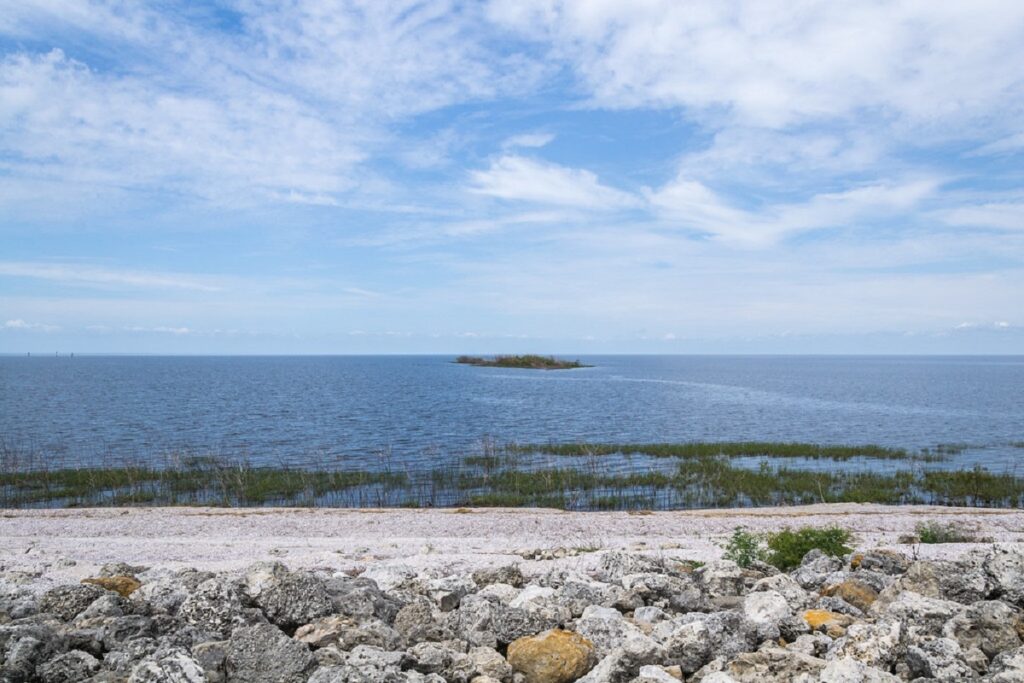 This constant contamination eventually becomes ocean pollution facts that all states ignore.
Okeechobee means big water. The definition doesn't include filthy in its description. Florida is the champion of most polluted lakes, too degraded for swimming and support a natural balance for healthy aquatic life. High concentrations of bacteria and low volumes of oxygen are destroying fish populations and marine life and harming surrounding wetlands and wildlife.
Politicians, environmentalists, and lobbyists finally responded and pumped clean water to flush toxins and boost wildlife and flora. This enormous lake is only 9 to 10 feet deep and home to snail kites, wading birds and waterfowl, important reptile species, and mammals.
Lake Okeechobee has the highest density of alligators in Florida.
Lake Erie, Michigan, New York, Ohio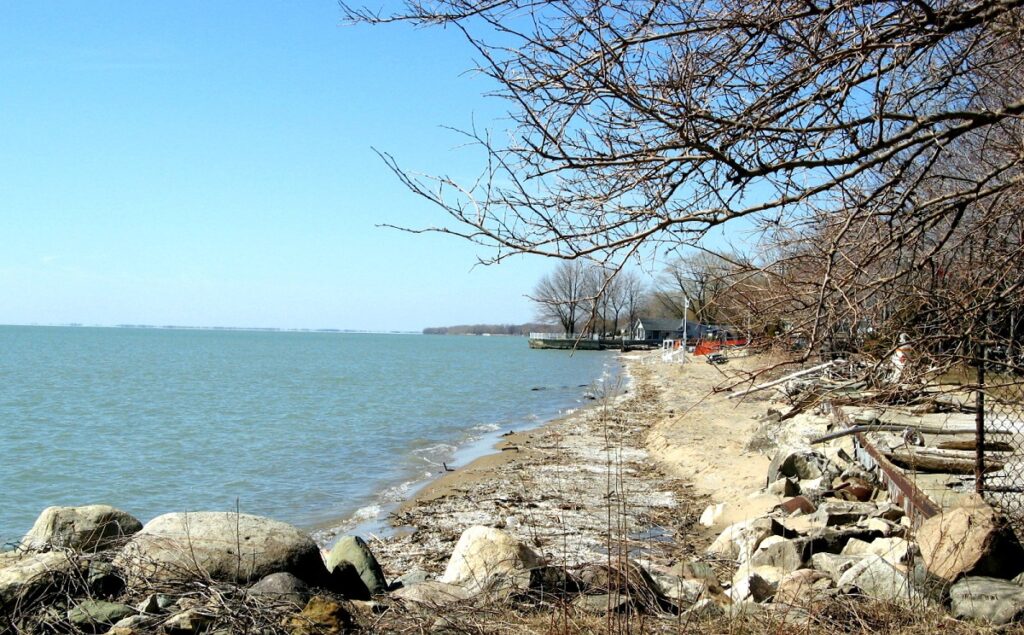 Each New Year's Day morning, hundreds of Canadians and Americans participate in the annual polar bear dip on the frosty shores of Lake Erie–yuck! Lake Erie is the fourth in the Great Lakes chain and is polluted.
As early as 1960, environmentalists recorded high levels of pollution. Lake Erie is home to approximately 12 million residents, and constant interference and contamination from industrial and agricultural runoff into the watershed wreak havoc on the natural balance. Contaminated rivers end up depositing the toxic cocktail into the lakes and harm fish.

With conservation and continuous efforts to clean up the lake and prevent the culprits from dumping waste, the lake has improved since the 1970s. Walleye and other marine and wildlife species are returning.

The lake and its islands, wetlands, surrounding forests, and pasture lands are vital for amphibians like the American frog and reptiles like Blandings Turtles and at-risk snake species.
Conservation is making an impact on flora and fauna survival rates.
Lake Michigan, Illinois, Indiana, Michigan, Wisconsin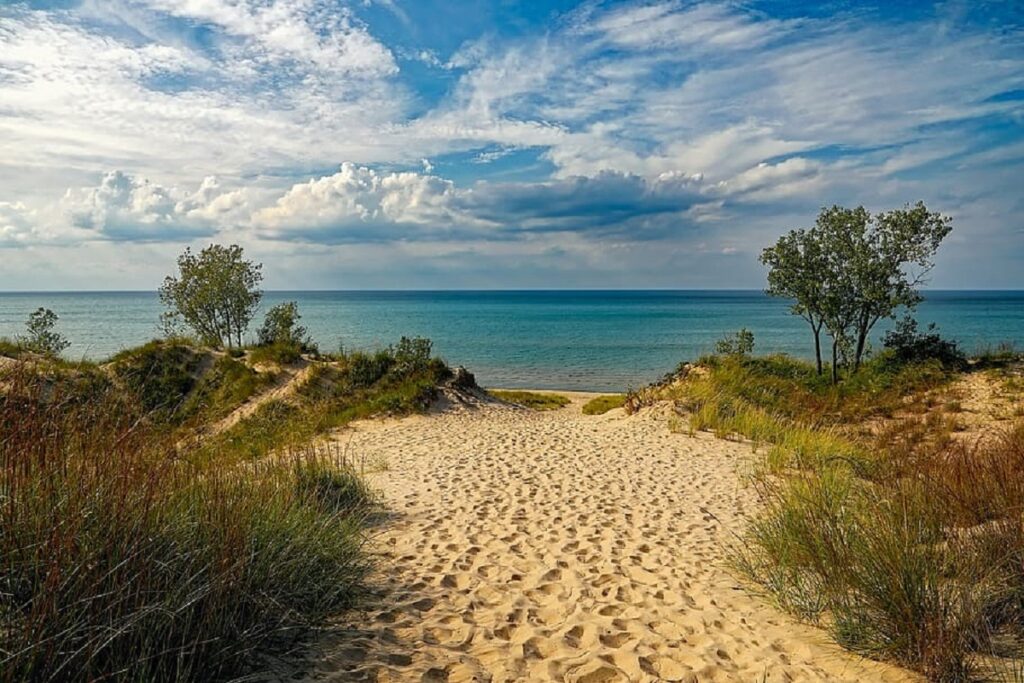 Lake Michigan leaves a big impact on 30 million residents in four states and Canada. It's part of the Great Lakes and a vital habitat for fish, marine life, and other fauna and flora. Michigan is also listed as one of the clearest lakes in the US.
Michigan produces vast volumes of water in the Great Lake Basin. It is vital to the economy of the cottage industry, the fishing and tourism hub, and shipping essential goods like ore, coal, and agricultural goods.
However, as early as 1968, early conservationists claimed Lake Michigan would die without intervention. The constant influx of toxic chemicals from agriculture, factories, and untreated water would promise to destroy this vital source of drinking water.
New federal regulations were initiated to control industries from dumping hazardous waste and leaching chemicals from further poisoning the lake. The EPA is enacting measures to improve the quality of Michigan Lake.
Lake Michigan and the Great Lakes hold one-fifth of the world's freshwater resources and are the largest lake system in the world. It's also teaming with wildlife like the gray wolf, lynx, moose, and bald eagles. Whitefish, walleye, trout, and bird populations rely on it. Native American have called this region home for 10,000 years.
Lake Lanier, Georgia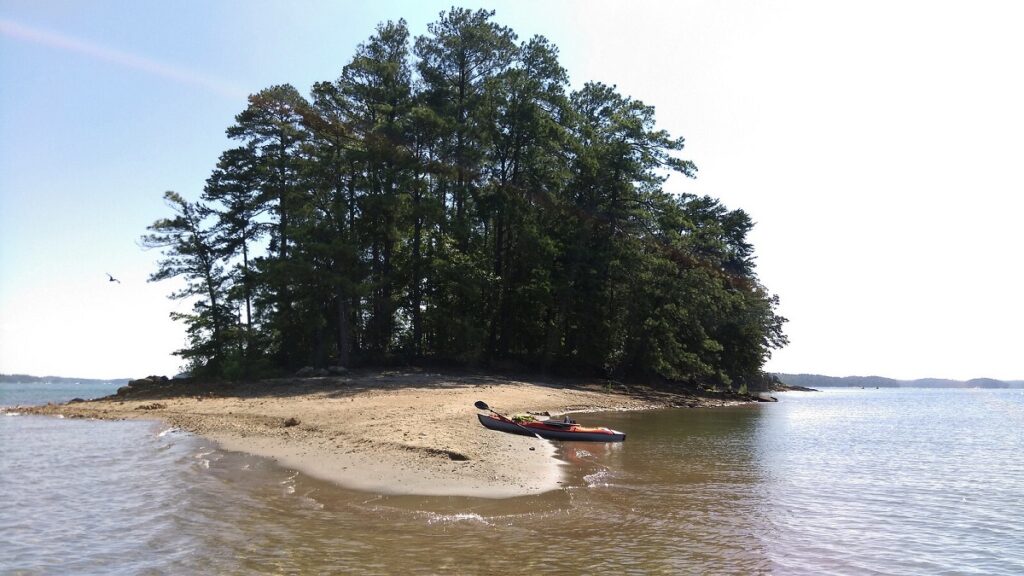 Lake Sidney Lanier isn't a lake but a massive 38,000-acre reservoir built for flood prevention and control. The water rights are shared among Florida, Alabama, and Georgia, and they must meet the federal standards under the Endangered Species Act and downstream species.
High demand for suburbanization has depleted water levels, forcing regions and counties to enforce water restrictions. This demand also comes with a higher cost of treating drinking water.
Animals and plants suffer the consequences as oxygen levels are depleted. The culprit of poisoning the lake is a long list. Stormwater runoff that dumps lawn and farm fertilizer and untreated sewage into the water is but one. Algae bloom prolifically because people clog the sewage system by flushing non-disposables like sanitary goods, fats, and oils.
It's safe to assume that the drinking water from Lake Lanier stinks and has an unusual taste. Local government and conservation groups battle the problem and enforce the federal government-mandated clean-up action.
The reservoir also experiences a constant flux of drought and heavy rainfall cycles that push treatment facilities to the brink.
Aside from its problems, Lanier Lake presents amazing diving opportunities. Despite being man-made, Lainer is home to migrating songbirds, geese, herons, kingfishers, osprey, and many mammals and types of bass, crappie, and trout.
Lake Washington, Washington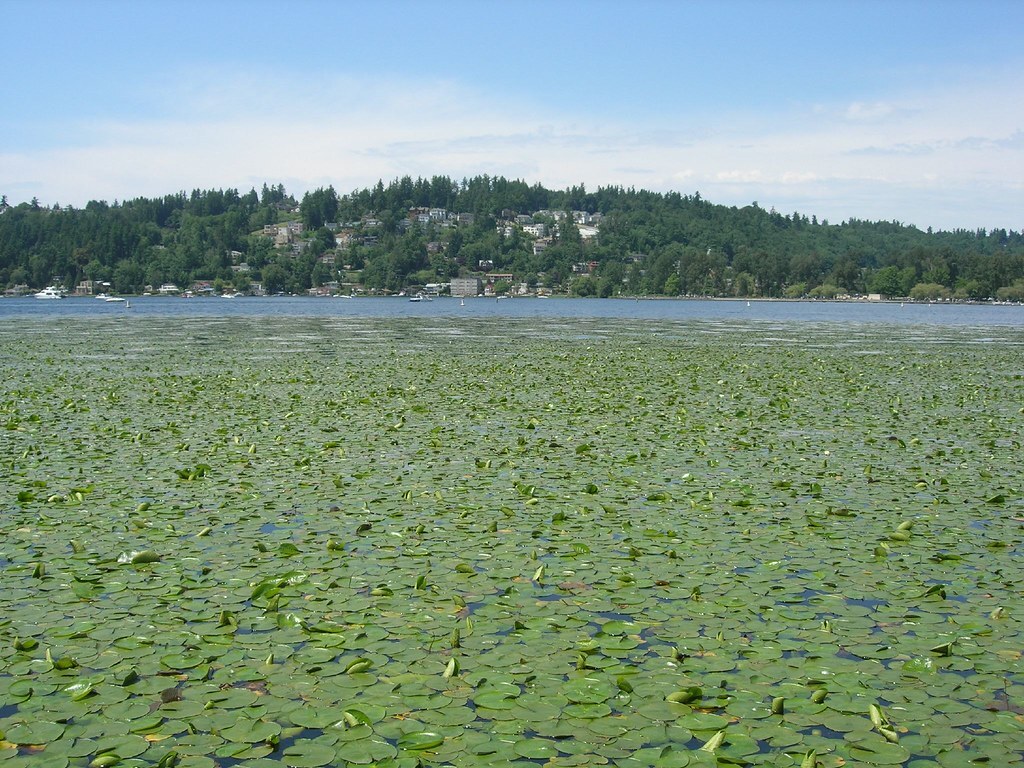 Lake Chelan in Washington tops the list of cleanest lakes, while Lake Washington vies for the most polluted. People around Seattle have a long history of dumping untreated sewage into the river and lake system. As the largest lake in King County, the lake received around 20 million gallons of poop.
In 1955, water tests revealed large traces of cyanobacterium Oscillatoria rubescens. It was proof of the infiltration of toxic amounts of phosphorous, typically from sewage fertilizer, commonly used on crops.
Efforts from the scientific research community and public involvement to rescue Lake Washington from its demise are seeing positive results. The substantial size of 21,500 acres means the lake is home to a wide range of wildlife. It's shallow at 214 feet and is a mesotrophic lake with clear water and intermediate support for aquatic life.
The ecosystem around Lake Washington is ancient and evolved after the glacial recession some 13,000 years ago. Fish like black crappie, brown bullhead, salmon, and sunfish delight fishermen. Large mammals, waterfowl, and migratory birds also call the area home.
Lake Kincaid, Illinois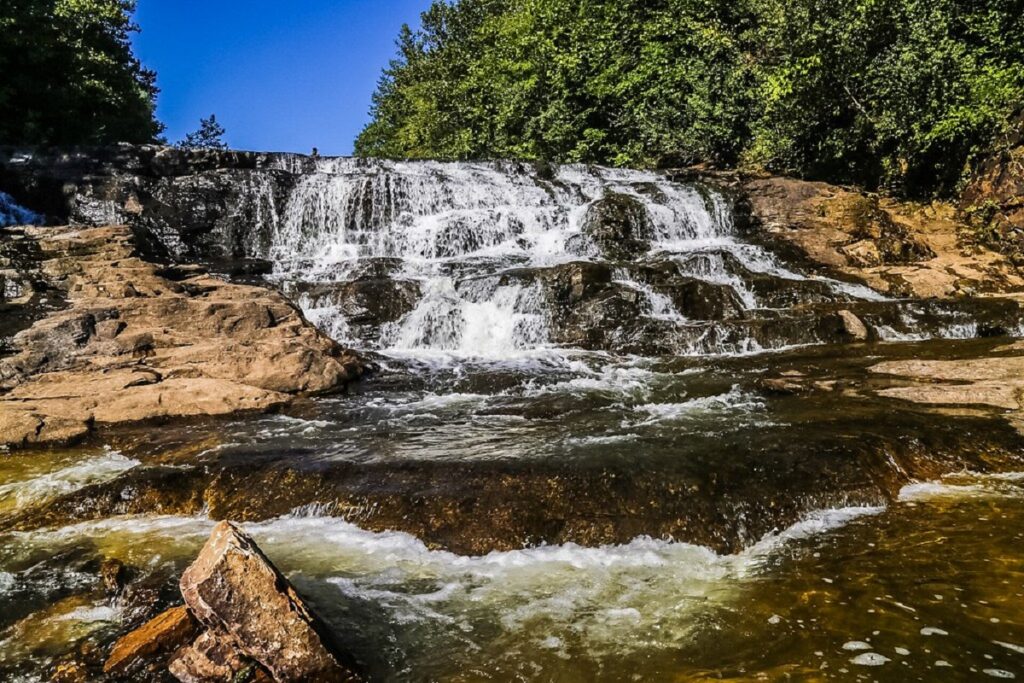 Mercury is a dangerous toxin to humans and animals. It damages the nervous system, kidneys, liver, and immune system. It's also abundant in Lake Kincade, Illinois's most mercury-polluted lake, and prevalent in every waterway in the state. Mercury poisoning stems from coal-fired power plants, which release it into the atmosphere and it then falls into the water.
Mercury ends up in fish, and consuming fresh-caught fish in Lake Kinkaid isn't advisable. So much so that the government issued an advisory. The pressure to mandate all power plants to implement modern emission control standards is ongoing (good luck!).
Lake Kincaid is also a reservoir and offers its community spectacular scenery and breathtaking waterfalls. With its changing topography, which includes sandstone bluffs, prairie grassland, rolling hills, and oak and hickory trees, it's become a critical wildlife habitat.
Fish like bass, bluegills, crappie, walleye, and muskie attract fishermen and animals that consume them. Deer, turkey, small mammals, migratory birds, and waterfowl are residents at Lake Kink
Grand Lake St. Mary's, Ohio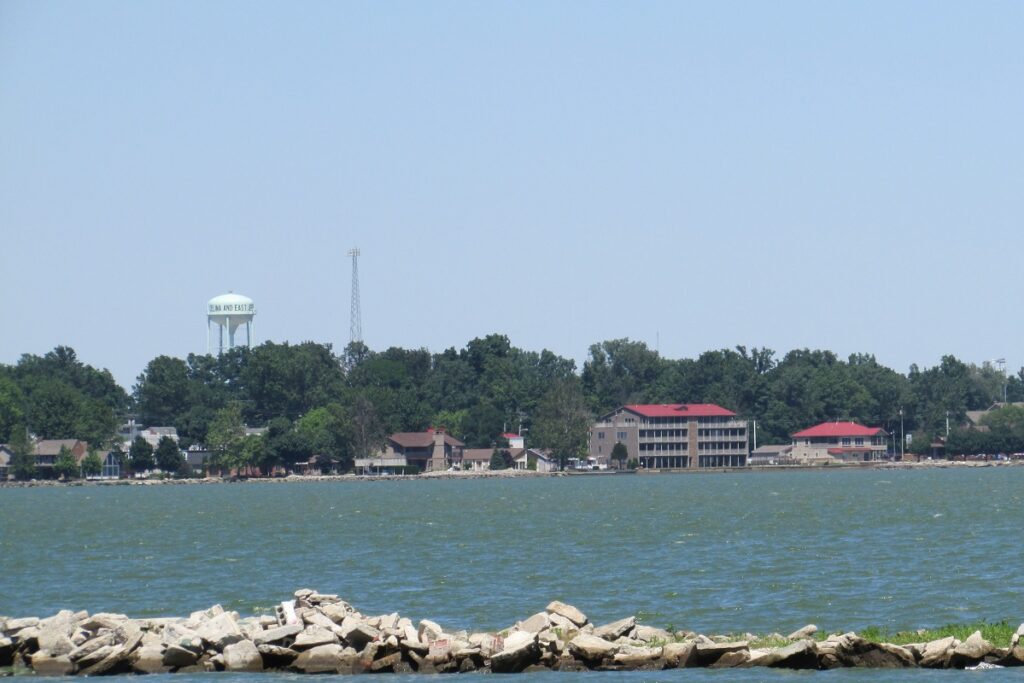 Grand Lake St, Marys State Park is a shallow reservoir built in the early 1900s for the Miami and Erie Canal and had the distinction of being the world's largest manmade lake.
HAB or Harmful Algal Blooms are of great concern in all US waters. As the largest lake in Ohio, Grand Lake, an important drinking water resource, once suffered from the label 'the most polluted lake in the US.' This event came to light in 2009 with prolific algal blooms.
Nutrient runoff raised algal microcystin toxins to unacceptable levels. It failed the permitted criteria for over a decade despite trying to influence farming restrictions on fertilizer and manure runoff. Stricter regulations and dredging massive amounts of lake silt, and increased water filtration through improved wetlands are helping to raise the lake's water quality levels.

Despite the plastic pollution and reclamation, it's always been an important recreation area for all-season activities like boating, fishing, swimming, hunting, and residential homes.

St. Marys was a grassland and is a vital migration route for many birds and waterfowl like grebes, ducks, swans, egrets, herons, and American white pelicans. Mammals like mink, muskrat, eastern coyote, and deer are resident animals.
Utah Lake, Utah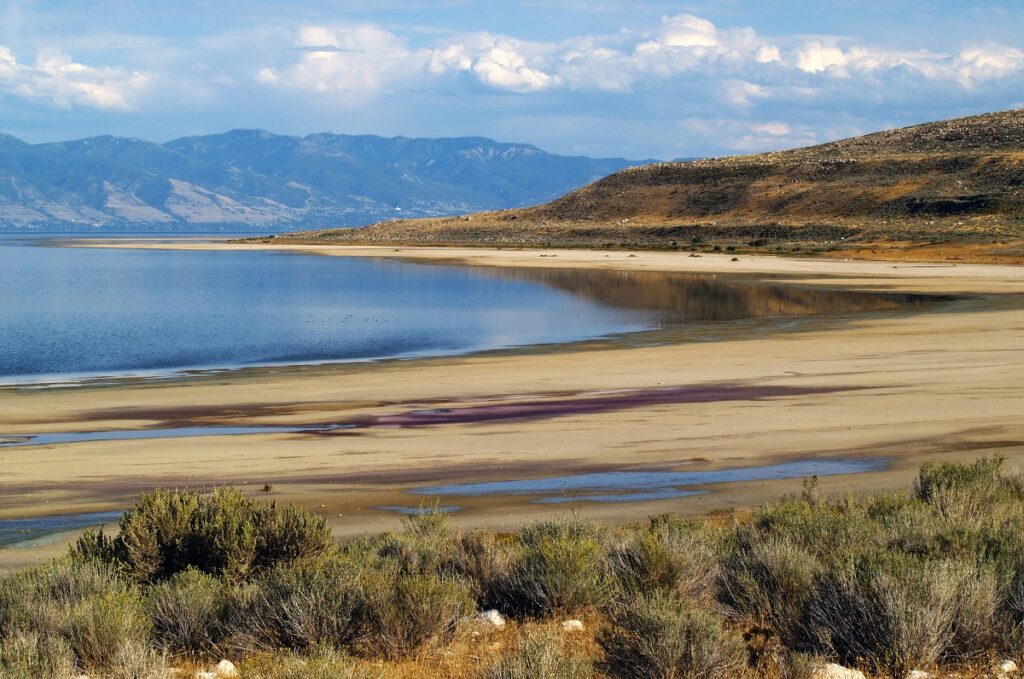 Lake Utah is a large and shallow freshwater lake in the middle of Utah County. The lake has a high saline property and is 4489 feet above sea level. Its Shosone name means Water Sitting.
Urbanization and runoff from stormwater, wastewater, and industrial contributions have increased annual algal blooms, pH levels, and cyanotoxin from an excessive amount of nutrients. Other hypertrophic conditions, which means highly supersaturated and fertile conditions contribute to excessive phytoplankton and reduce water clarity and fish habitat.
Further, only two of the original 13 fish species remain, the Utah sucker and June sucker. The high population density of an introduced species contributes to the loss of native fish species and the fragile ecosystem of many lakes in the United States.
Anchored by the Wasatch Mountain Range, Utah Lake is the residual of Lake Bonneville, a Pleistocene lake that existed from 75,000 to 8,000 years ago. The lake is an important wildlife corridor for migrating birds like sandhill cranes, cormorants, owls, golden eagles, and cinnamon teal ducks.
What is the Dirtiest Great Lake
Through conservation efforts and stricter laws and regulations, efforts are in place to reclaim lakes. The dirtiest Great Lake today is Lake Erie; despite ongoing efforts, it will take decades to restore this lake.
Most polluted lakes in NY
New York has many of the most polluted lakes in America and on world rankings. Remember, lake water is a source of drinking water, yet Lake Onondaga is far from being recovered. Likewise, Cayuga Lake has faced environmental pollution from agricultural runoff, sediment, and other pollutants.
Most polluted lakes in Florida
The Sunshine State is home to the most polluted lakes in Florida and the entire Star-Bangled Nation. Lake Okeechobee and Lake Apopka are teaming with pollutants.
While not a lake, the St. Johns River is a significant water body in Florida that has faced pollution challenges due to industrial discharges and nutrient runoff. Located in the Florida Panhandle, lake Seminole also faced issues with pollution from agriculture and other sources.
Which Animals and Birds Live Around These Lakes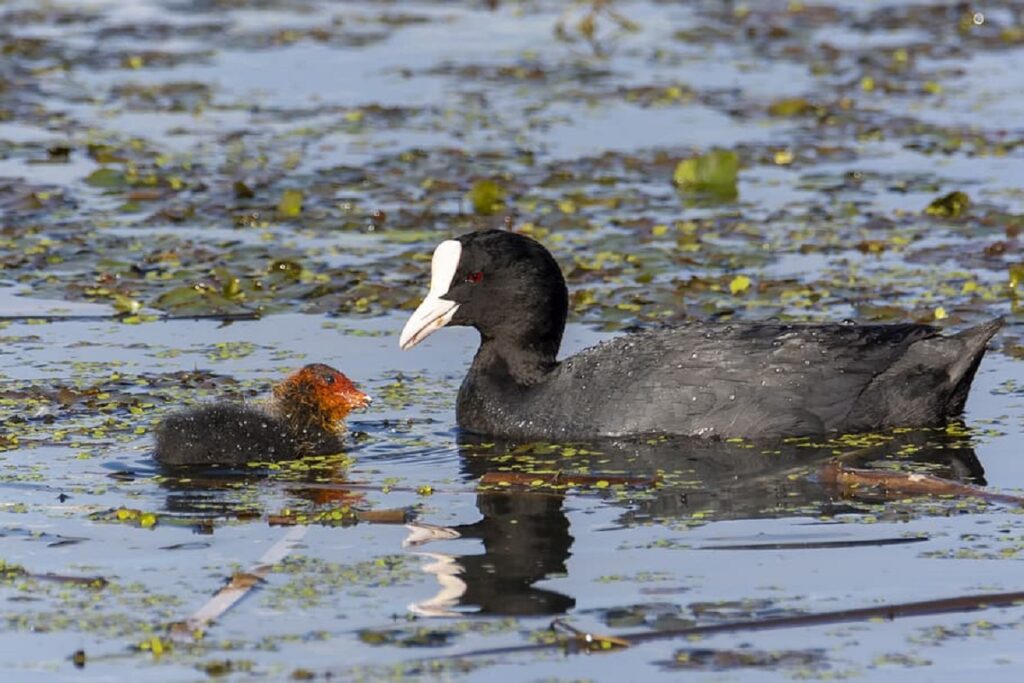 America has a diverse geography and animal population. In Florida, alligators, snakes, turtles, tortoises, fish, toads, frogs, and many magnificent migratory birds like cranes, flamingos, pelicans, and swans exist.
In northern states, bears, large feline predators, and canines, as well as deer, moose, elk, and small mammals, roam the territory along the shores of the most polluted lakes.
Lakes are an essential stop for migratory birds and waterfowl.
What Is the Impact of Polluted Lakes on Human Health
Native Americans fighting against the pollution of waterways sounded the warning bell decades ago. Our rivers, which drain into lakes and oceans, carry pollutants long distances.
Pesticides from numerous sources are deposited into our watershed. Nitrates, phosphates, raw sewage, and heavy metals like lead and mercury contaminate our lakes and rivers, which are our primary sources of drinking water.
Microbes can cause typhoid and cholera, which are now rare in the USA. However, viruses, bacteria, and parasites cause a host of health conditions and diseases like hepatitis. The total effect of unclean water is open for debate.
FAQs
Polluted lakes cause health concerns and are detrimental to wildlife.
Why Is Oneida Lake so Dangerous?
Aside from being a polluted lake, it's also shallow, which makes it dangerous for boaters.
Is Lake Michigan Clean?
Many efforts are underway to help clean Lake Michigan, and it's substantially cleaner now than 20 years ago.
Why Is Onondaga Lake so Polluted?
Several factors compound the pollution problem in Onondaga Lake. Industrialization, population growth, and the dumping of untreated sewage and industrial waste are the main causes.
What Is the Most Polluted Lake in the World?
Lake Karachay in Russia is the most polluted lake. It's a dumping ground for radioactive material.
Most Polluted Lake in the United States Final Thoughts
It's sad. Onondaga Lake, New York, and Oneida Lake shouldn't be on the most polluted lake list and should never have been allowed to get to this stage. People and aquatic animals depend on these 10 most polluted lakes in the US to survive.