The USA is blessed with a diverse geography. The majestic Atlantic Ocean barricades its eastern borders and the Gulf of Mexico, cradling its south anchors its islands to the Caribbean Sea. The glorious Pacific runs along its shore to the west, stretching its body from the south and north, where it meets the Arctic Ocean and the Bering Sea.
The interior contains riverways and some of the world's clearest lakes in the USA. Famous lakes like Lake Tahoe, a popular holiday destination and one of the deepest lakes in the U.S., aren't just freshwater lakes. They're often a vital source of drinking water along with rivers, groundwater, and reservoirs.
The USA has over 102,000 lakes, a large percentage in Alaska. The largest freshwater lake in the USA and the world is Lake Superior which it shares with Canada.
Here are the most breathtaking and crystal clear lakes in the USA for people to enjoy.
Clearest Lakes in the USA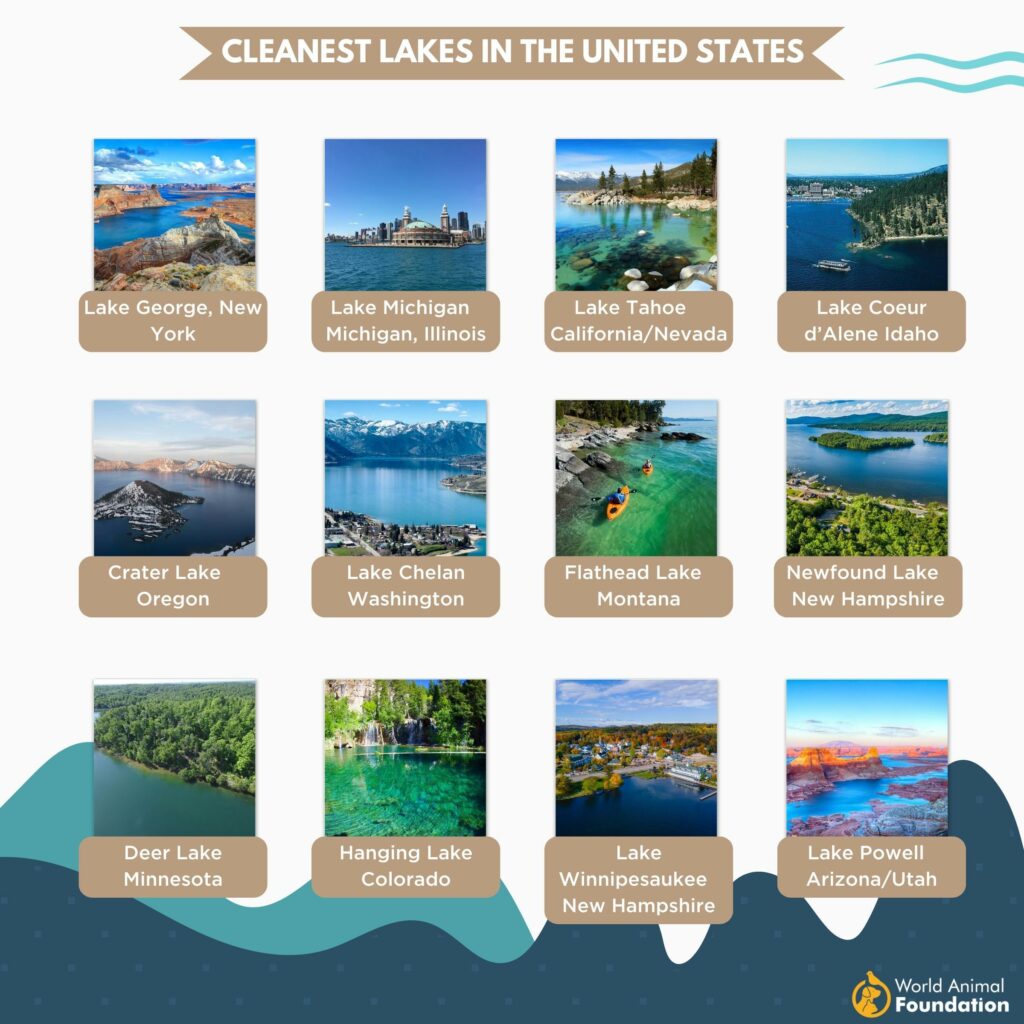 Lakes are a vital part of America's tourism industry, ecosystem, and drinking water source. The USA has 4.3% of the population yet has access to close to 7% of global freshwater.
Lake George, New York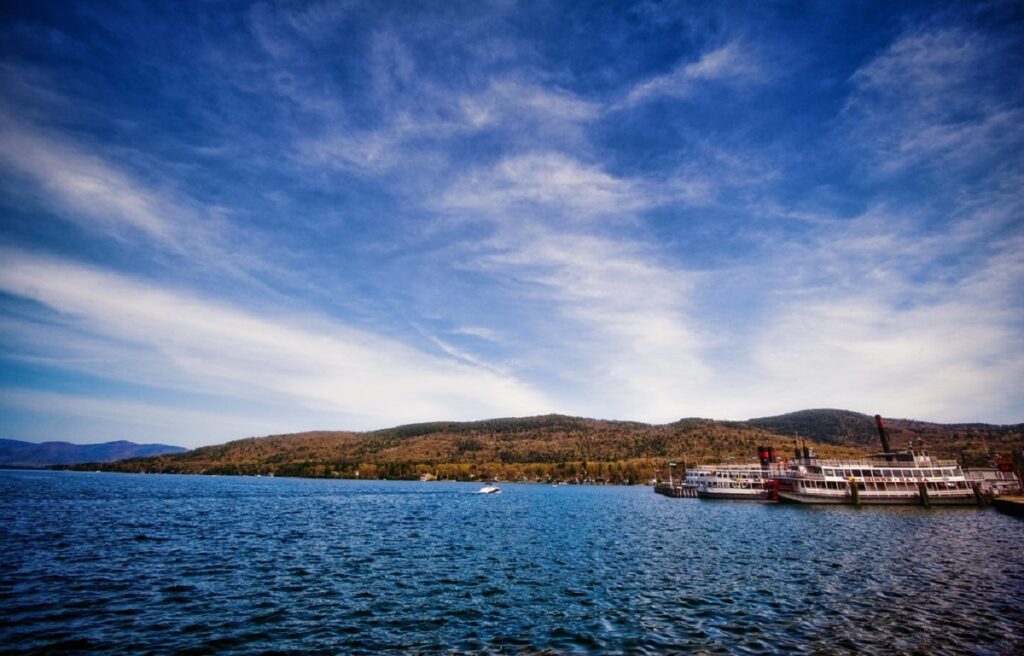 Our list of the clearest lakes begins with the Queen of American Lakes, nestled in the arms of the Southeastern Adirondack State Park among sweeping mountains and old-growth protected forests. Lake George shares its border with New York State and Vermont and tips its toe into Canada, and is an essential contributor to the St. Lawrence Watershed.
Lake George is aptly named the Queen as it has 300 islands in its crown. It's a summer tourist mecca where people enjoy jet and water skiing, rafting, canoeing and kayaking, hiking, and other outdoor activities like bird watching at Lake George RV Park.
The first European to visit was Samuel de Champlain in 1609, and it became a significant battleground in the 1757 French and Indian War. Over 3 million tourists visit the historic and scenic landscape yearly. It's a popular summer destination but has a massive appeal for winter fest enthusiasts who ice fish, cross-country ski, or dog sled.
The watershed is shared with moose, black bears, coyotes, raccoons, red and gray foxes, white-tail deer, raccoons, skunks, mink otters, weasel beaver, muskrat, hare, waterfowl, important fish species, and bird species.
The lake has six invasive species, the Asian clam, zebra mussels, Eurasian watermilfoil, Chinese mystery snail, curly-leaf pondweed, and spiny water flea that disturb the natural balance.
Lake Michigan, Michigan, Illinois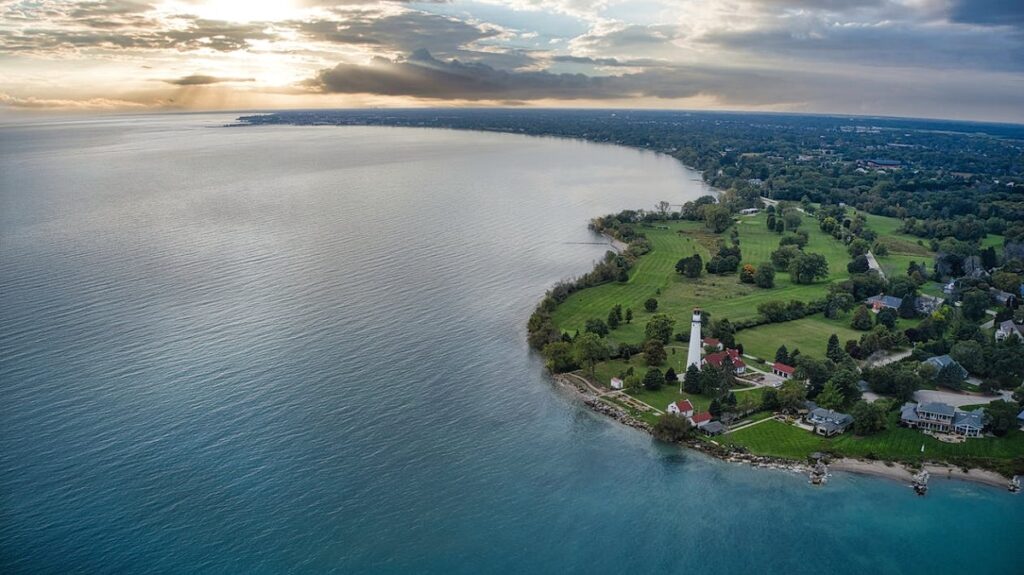 Lake Michigan is the little sister to Lake Superior and third in surface size among the Great Lakes that border the USA and Canada. Michigan, Illinois, Wisconsin, and Indiana State claim their share of this deep crystal blue lake.
The most famous city on its shore is Chicago, the Windy City (this moniker has nothing to do with the wind), Milwaukee, and Green Bay. Standing on the sandy shores of Lake Michigan is akin to facing an ocean.
Regions around Lake Michigan were an integral part of Native American inhabitants like the Hopewell and Late Woodland tribes. They were part of the massive fur trade that dominated early American pioneer history.
At its deepest, Lake Michigan is 923 ft deep and only has islands, 46 of them, in the northern portion.
Nearly 20 million visitors pilgrimage to Lake Michigan for seasonal sports, from boaters to anglers and jet skiing. Lake Michigan has a thriving fish population, including salmon, elk, moose, gray wolf, Canada lynx, black bear, and smaller mammals, significant waterfowl like mute swans and herons, and migratory birds.
The sea lamprey, an invasive species, and blue-green algae are common problems. The occasional bull shark finds its way inland. Snapping turtles are prolific, and even piranha have been found.
Lake Tahoe, California/Nevada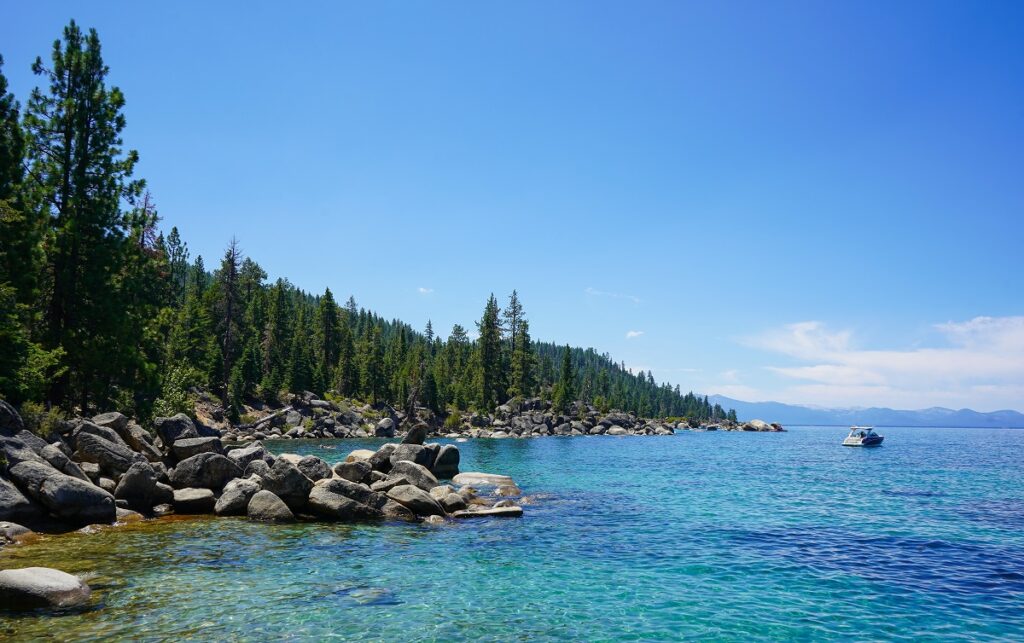 Lake Tahoe is perhaps the USA's most important lake posterchild and tourist attraction for the wealthy and elite. Not only is it famous for its beautiful lake, but it's also a vital ski tourism hub.
Shared between California and Nevada, Lake Tahoe anchors the Sierra Nevadas and is the largest alpine lake in North America. The Lake Tahoe Basin, at its deepest, reaches 1645 feet below the surface and is 6225 feet above sea level. This location contributes to its breathtaking marine blue and keeps the water at a refreshing average of 52°F (44 to 70°F).
This pristine lake is the jewel of an all-season tourism industry and boasts about 15 million visitors yearly (more than Disney Land or Yosemite Park). It caters to hikers, winter sports, biking, or cruising to appreciate the breathtaking scenery.
Lake Tahoe has a significant mammal wildlife population that includes cougars, coyotes, bears, mule deer, marmots, martens, squirrel species, porcupines, beaver, and many other important species, such as insects, fish, and waterfowl and bird populations.
Lake Tahoe was an integral part of Native American territory and was discovered by an American-European explorer in 1844.
Lake Coeur d'Alene, Idaho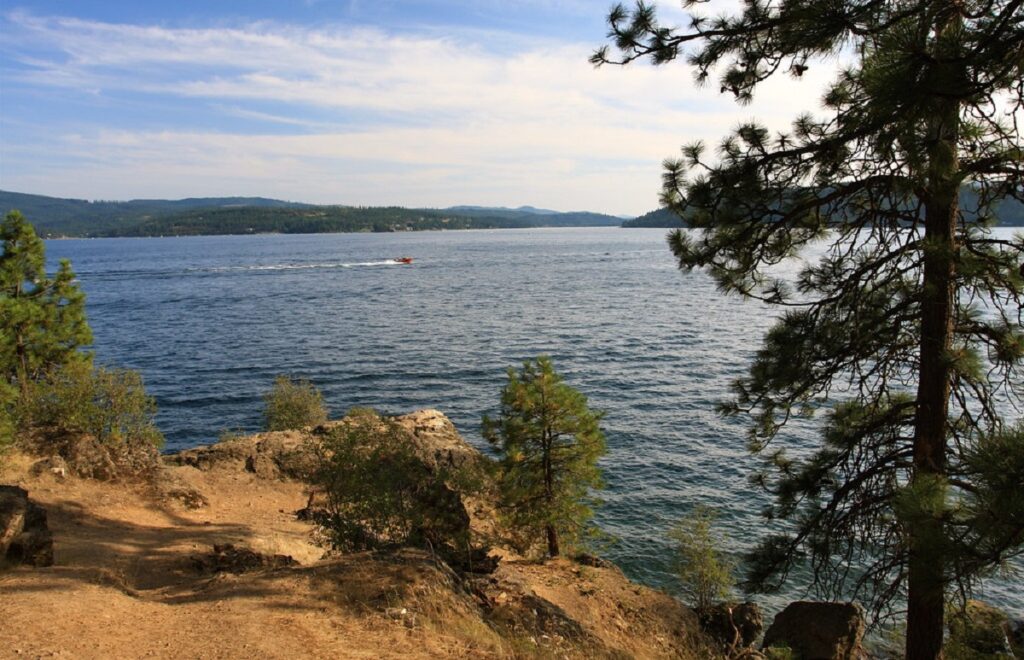 The unique geography of Idaho consists of the long spine of the Rocky Mountains, 55 lakes, grasslands, undulating foothills, and rolling plains and forests. This terrain is part of Ice Age Glaciers.
Lake Coeur d'Alene is 25 miles long, and its shoreline attracts thousands who appreciate water sports, hiking, biking, boating, and fishing. Many more people are drawn to the area to experience wildlife activities like birdwatching and hunting.
Lake Coeur d'Alene formed between 12,000 to 15,000 years ago during the Missoula Floods. David Thompson arrived in the region in 1807, but it's long been a critical area for Native Americans. Perhaps the first visitors to carve the North Idaho Centennial Trail.
Although the lake remains a breathtaking body of water, pollution from mining and smelting is causing grave concerns. Heavy metals like lead are devastating ecosystems.
The lake, woodlands, and mountains around Coeur d'Alene are home to moose, elk, white-tailed deer, coyotes, beavers, otters, and chipmunks. The area also draws fishermen and hunters, and duck hunting is common.
Crater Lake, Oregon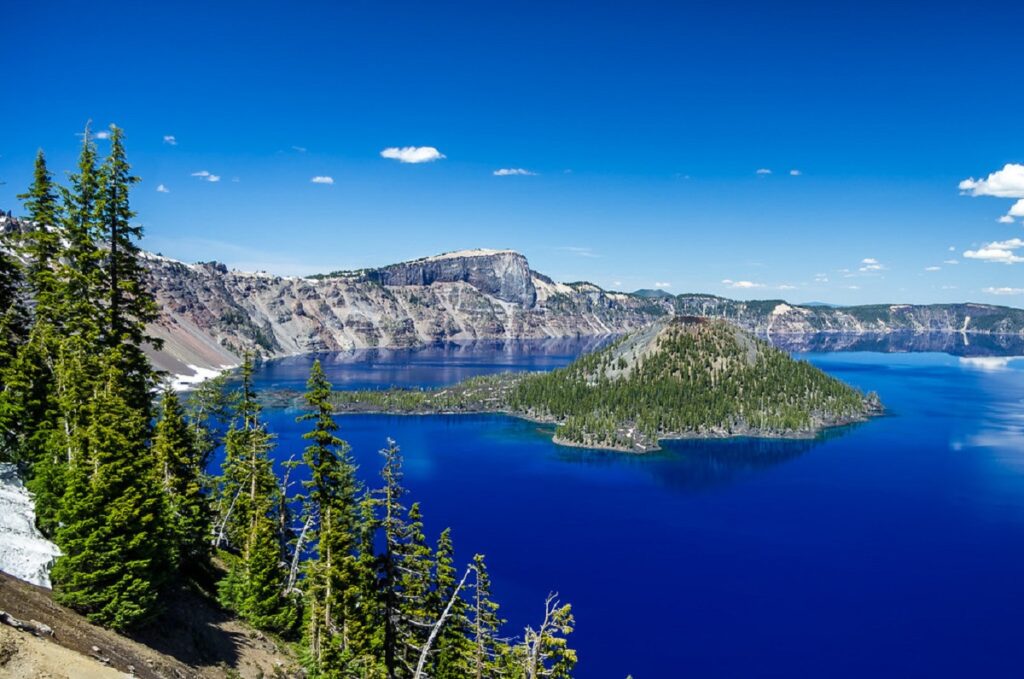 Oregon Crater Lake is a popular destination in Crater Lake National Park. The intense-blue circular lake is the deepest in the USA at 1943 feet. It was formed inside a caldera, a remnant of Mount Mazamea Volcano, about 7000 years ago.
Crater Lake is a rain and snow-fed lake, one of the cleanest lakes, and a haven for nature enthusiasts. Visitors to the area enjoy one of the world's most scenic road approaches and spectacular scenery from snow-capped mountain tops and a parade of white clouds.
Significant sights on Crater Lake include Wizard Island, a cinder cone deposited after the violent eruption. Old Man of the Lake is a 30-foot white crusted hemlock stump that has bobbed in the water since 1896 and is a unique photo-op for visitors.
Nearly half a million visit the iconic Crater Lake region yearly, though off-season makes visiting more challenging. Visitors come to hike, swim, fish, camp and enjoy guided programs and boat tours.
This photogenic icon is home to endangered bull trout and Mazama newt. Visitors can also encounter bears, coyotes, elk, amphibians, and birdlife—recorded sightings of nesting bald eagles on Wizard Island.
A helicopter tour would be one of the most spectacular ways to visit and photograph this beauty.
Lake Chelan, Washington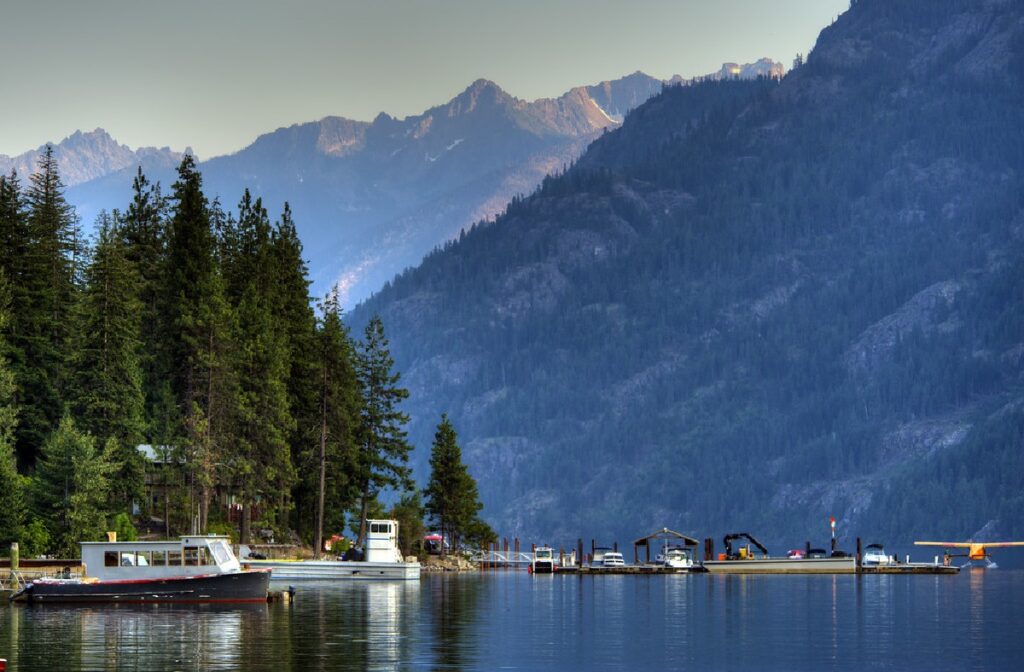 Aptly named Chelan, a traditional Wenatchi People name, translating into deep water. This lake is a favorite destination for water sports fanatics, outdoor adventurists, and sunbathers. Lake Chelan enjoys 300 days of sunshine annually.
The lake has depths of up to 1486 feet and runs 50 miles, and has its beginnings in the glaciers that formed and melted during the Ice Age. Surrounded by rugged mountain shores and inlets, it resembles a fjord. It's the third deepest lake and formed roughly 21,000 years ago.
Over 2 million visitors spend approximately $417 million annually enjoying boating, hunting, fishing, hiking, and resort amenities. Visitors enjoy the emerald waters that blend into navy blue, surrounded by steep slopes and mountain peaks.
Fishermen come to catch salmon, bass, trout, tench, burbot, and others during regular seasons.
Lake Chelan is also home to a diverse set of species within the North Cascades National Park from the bird, mammal, reptile, and insect families. This fragile ecosystem is constantly threatened by diminished habitat, climate change, and disease.
Flathead Lake, Montana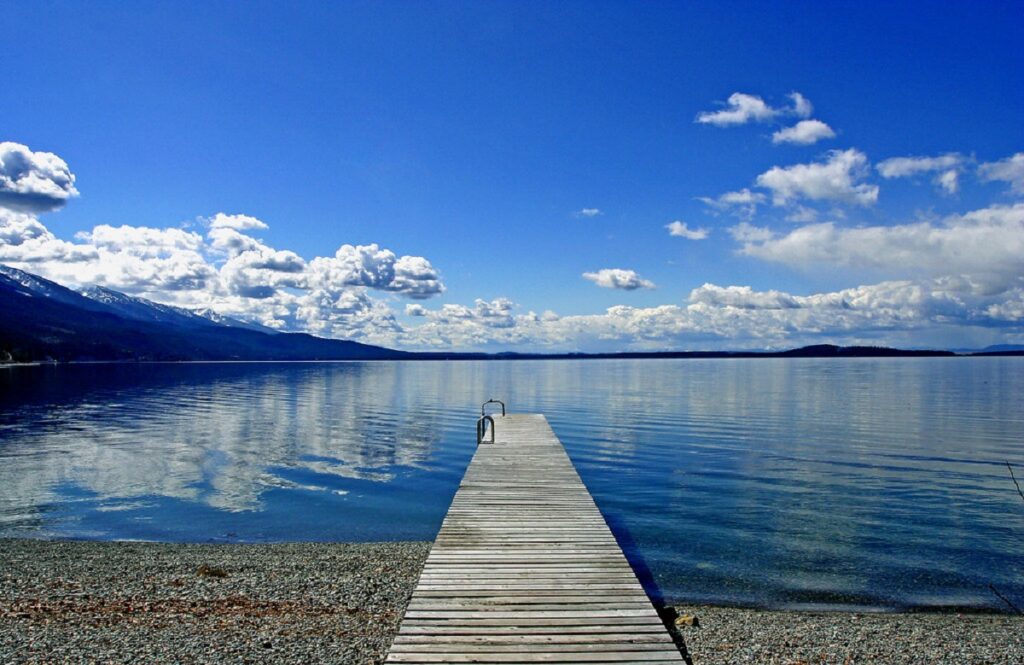 Flathead Lake is also a David Thompson journal entry described as a 'fine sheet of water.' This freshwater lake is 28 miles long and 15 miles wide, anchored by Swan and Mission Mountains. Flathead Lake is part of the Glacier National Park and is a significant Montana tourist attraction.
As many as 3.4 million visit the area to experience boating, sailing, fishing, hiking, and biking. Family outings with picnic baskets in this stunning location are also popular. Rife with beautiful cherry orchards, vineyards, golf courses, and a wildlife refuge, the area draws a crowd.
Wild Horse Island is home to numerous species of birds, deer, bears, coyotes, bighorn sheep, and other mammals and waterfowl. The lake is shallow at only 371 feet, and the summer temperature hovers at 65.1°F.
During the winter months, tourists and locals partake in this glorious winter wonderland for cross-country skiing, snowshoeing, snowmobiling, and other fun outdoor adventure activities.
Newfound Lake, New Hampshire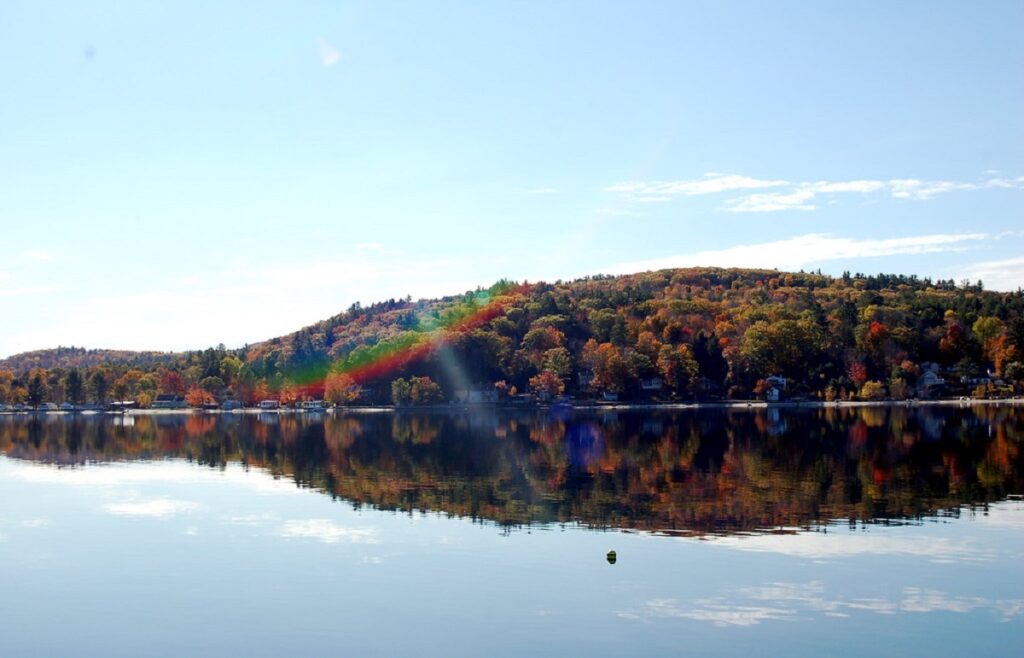 Newfound Lake is one of several stunning lakes in the New Hampshire Lakes Region and within the Wellington State Park region. What sets Newfound Lake apart is its pristine freshwater fed by eight underground springs.
The lake is small compared to others on this list, at only 6 miles long and only 183 feet deep, and has spectacular beaches. The water is so clear it's easy to see to a depth of 25 feet below the surface.
Native Americans named the Lake Pasquaney, an interesting name that means 'where birch bark for canoes is found.' Gently sloping hills surround the idyll lake, and docile waves frolic on its sandy and pebble beaches. There is also a 100-year-old lighthouse, once vital to the steamboat industry.
Plenty of fish like landlocked salmon, bass, trout, pickerel, and perch make it a favorite spot with sports fishermen. Boating, swimming, sunbathing, and a vast network of hiking trails surround the lake region and nature preserve.
The 43-acre sanctuary is home to birds like bald eagles and waterfowl. The watershed around the lake is 98% forested, providing shelter for black bears, coyotes, deer, and small mammals.
Deer Lake, Minnesota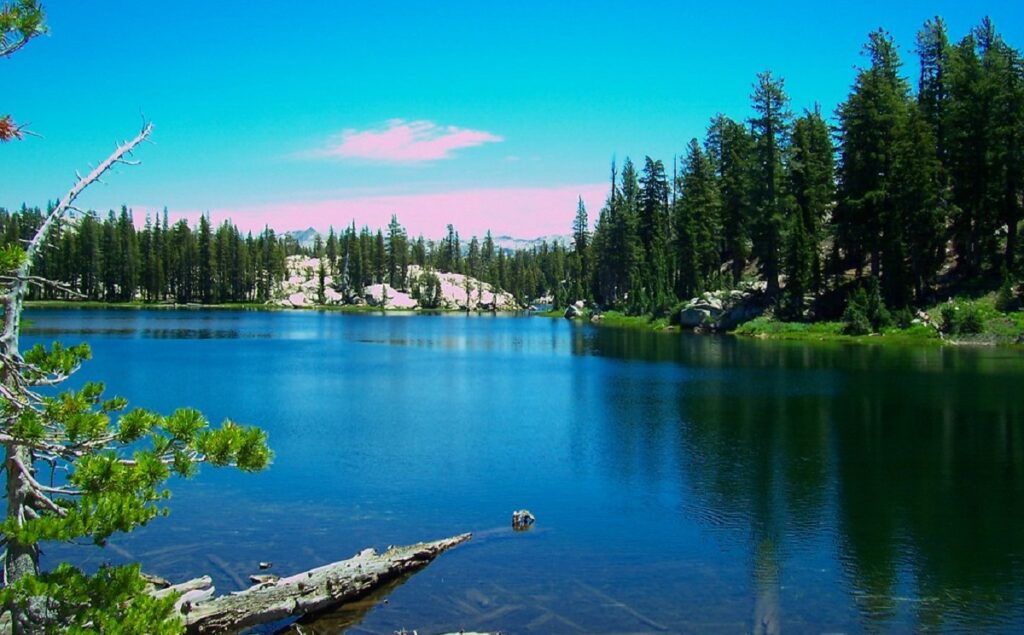 Throughout the states, many lakes share the name Deer Lake. What sets Minnesota's Deer Lake apart is that its cleaner since its water source comes from rain and a supply of surface and underground springs that feed the 5-mile-long lake. The depth reaches 121 feet, and the lake is fraught with potential risks for boaters due to its rocky reefs and low water shores.
Visitors to Deer Lake have quick access to Grand Rapids, and the lake provides 4100 acres to explore while boating, fishing, canoeing, swimming, or sailing. The unique mineral composition changes the watercolor to vibrant bluish and greenish hues. It's nicknamed Lake of the Changing Colors.
Deer Lake is home to a diverse ecosystem and fish like muskie, northern pike perch, bass, and ducks and Canada goose and mammals like bears and deer.
Hanging Lake, Colorado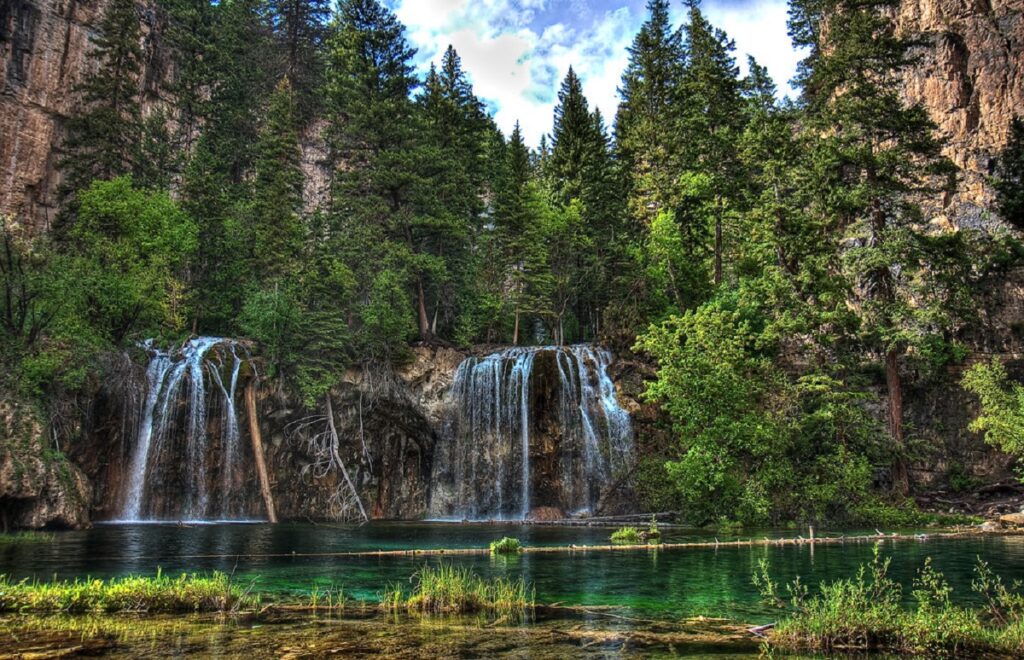 Hanging Lake is a National Natural Landmark located at the precipice of Glenwood's Canyon's Cliff and formed by limestone deposits. Over an acre of the lake fell away from the fault line, creating a spectacular setting that is only accessible on an energetic 2-3 hour hike.
Despite its remoteness, it's still one of Colorado's most popular destinations. Visitors enjoy the scenery of the Bridal Veil Falls and the soothing heat of the hots springs.
Staggering cliff sides and a delicate travertine shoreline surround the tiny emerald-green Hanging Lake. These layers of terrestrial limestone surrounded by mineral springs create a unique effect similar to Mammoth Hotsprings in Yellowstone.
Visitors require a paid permit to use Hanging Lake Trail and the extremely sensitive area. Dogs, drones, swimming, fishing, off-trail activity, or touching the water are strictly forbidden. Despite preservation efforts, the high volume of visitors, and trash deposits, the area has suffered significant destruction to its ecosystem.
Lake Winnipesaukee, New Hampshire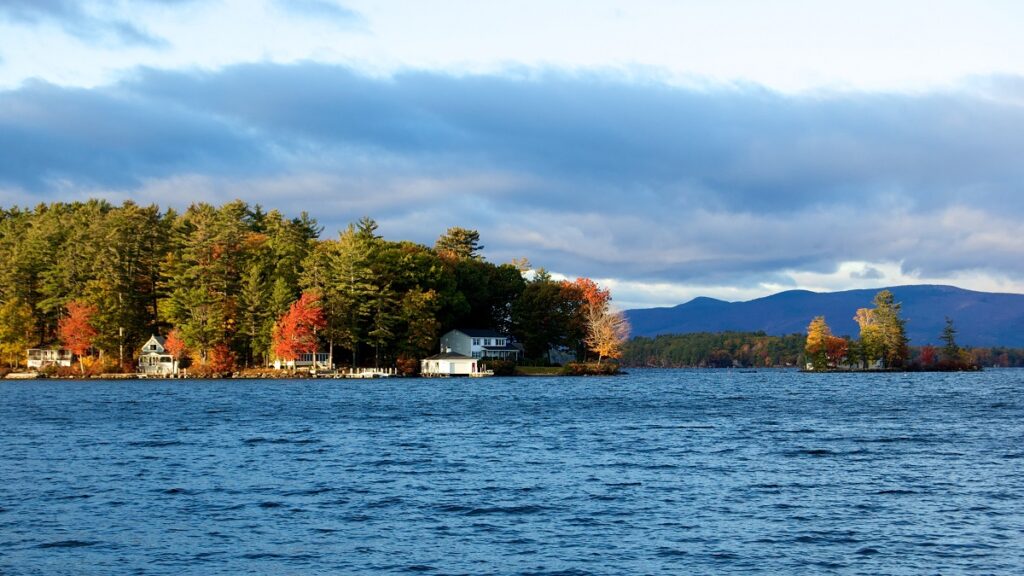 The largest lake in New Hampshire and part of the Lakes Region, Winnipesaukee, runs 21 miles long and reaches 180 feet deep. In Native American tradition, Lake Winnipesaukee means smile of the Great Spirit or beautiful water–a translation that couldn't be more true.
This stunning natural beauty of the lake is worth $249 million in tourism; fishing and boating contribute to the local economy.
Ellacoya State Park is a prime location with convenient amenities, camping, and a sandy shoreline. Visitors enjoy lake cruises, four monumental castles, water and outdoor activities, and breathtaking scenery.
Winnipesaukee is home to a 200-acre sanctuary of forests, marshland, ponds, and streams. Flora, fauna, and a strong presence of wildlife make it a favorite attraction to visit. Beaver, deer, bears, mink, muskrat, moose, bobcats, and many species like loons make Winnipesaukee home.
Lake Powell, Arizona/Utah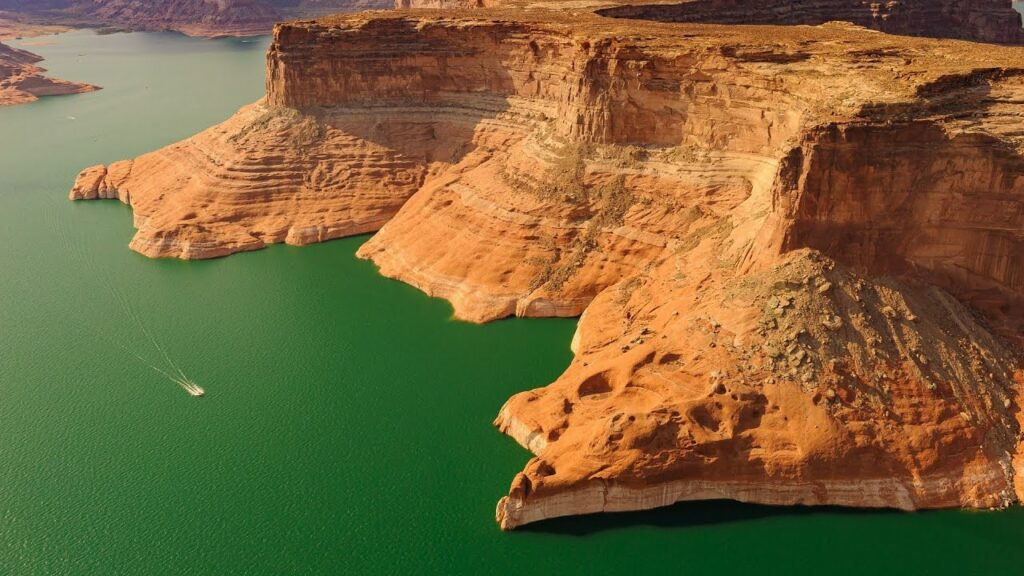 Lake Powell is not a lake but an artificial reservoir on the corners of Utah and Arizona fed by the Colorado River. Over 2 million visitors flock to the area, and the reservoir is second only to Lake Mead (though Lake Mead is shrinking).
Lake Powell is part of the Glen Canyon National Recreation Area and is the result of flooding from Glen Canyon Dam.
Despite not being a proper lake, Powell Lake is one of the most dramatic settings, surrounded by landmarks carved by the Colorado River over 5 million years ago. The Colorado Plateau is over 11 million years old, and many unique rock formations dot the landscape.
One of the most spectacular is the Moenkopi Formations which is part of the Triassic Period that dates to 230 million years ago.
Like its sister Lake Mead, Lake Powell is shrinking due to rising temperatures and continuous dry conditions. Seven states draw on its water.
Blue Water Lakes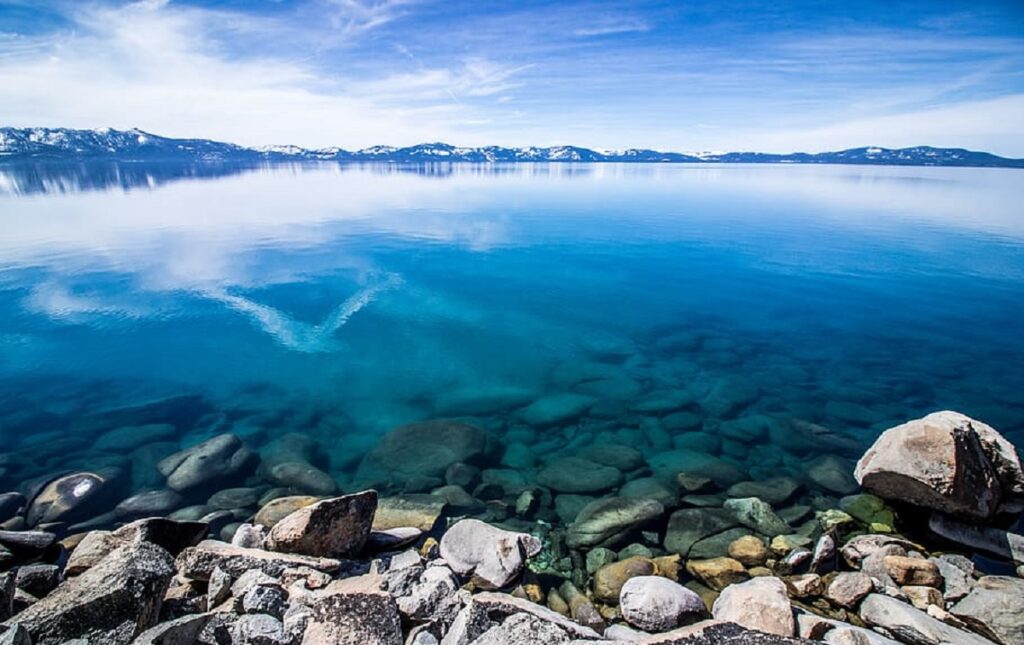 North America has plenty of beautiful and serene lakes with deep blue waters. Some American lakes, like the Great Lakes, are a serene shade of navy blue and banked by pine trees and mountains.
Michigan Torch Lake is a tropical turquoise blue that can mislead one into believing they're swimming in the Caribbean. Torch Lake also has an incredible sandbar.
Tenaya Lake in California is an oasis among Yosemite National Park peaks. This glacier lake's surface measures 8150 feet in elevation and is surrounded by jagged granite rocks and part of the Native Americans' territory before the European invasion banished them.
Grand Teton National Park's majestic peaks are reflected in the clear waters of Jenny Lake, a popular vacation hotspot on the Wyoming landscape. This gorgeous deep-blue lake is ideal for catching a sunrise or catching the rippling waves while skimming across the surface while paddle boarding.
Which Animals and Birds Live Around These Lakes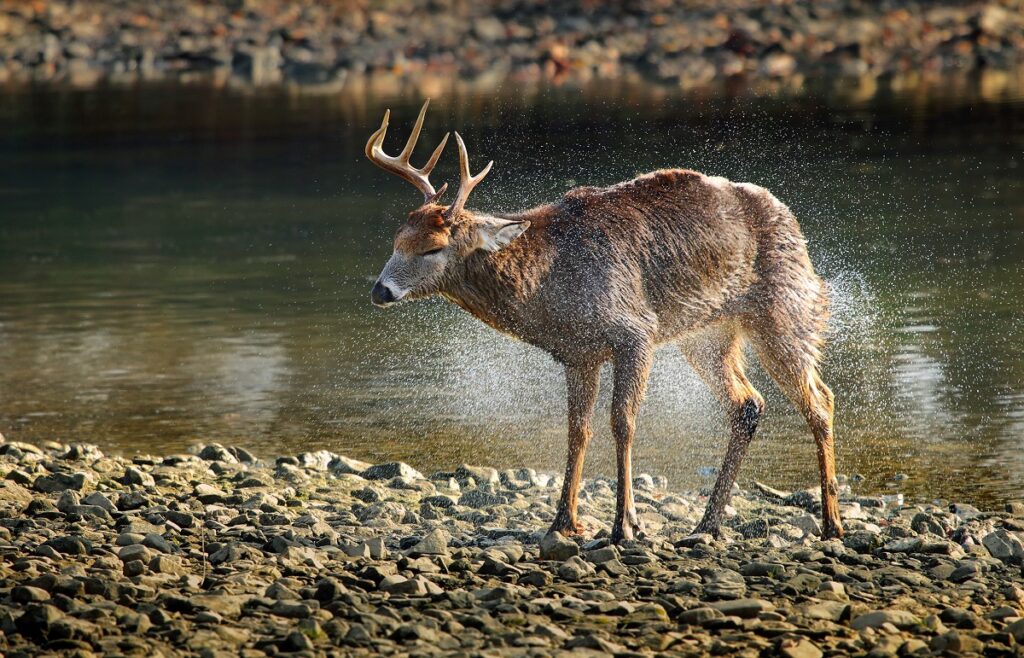 America is the land of plenty, and many mammals, birds, reptiles, and fish call the rugged and urbanized terrain surrounding forests and rolling hills home.
Deer like white-tail or mule
Elk and moose
Apex predators like Grizzly, black, and brown bear
Felines like cougars or mountain lions, lynx, bobcats,
Canines like coyotes, wolves, fox
Bighorn sheep and mountain goats
Small mammals like hares, skunks, raccoons, marmots, chipmunks, squirrels
Aquatic animals like beaver, marten, mink, weasel, muskrats
Raptors like bald and golden eagles, hawks, Peregrine falcons, owls
Small local birds like fishers, chickadees, woodpeckers
Migrating birds like waxwings, blackbirds, hummingbirds, cardinals
Waterfowl like mute swans, mallards, coots, Canada geese, and loons
Reptiles and amphibians like snapping turtles, snakes, newts, frogs, and toads
Fish like brook trout, rainbow trout, brown trout, bass, pikes, and others
And a thousand species of beneficial insects
What is the Impact of Clean Lakes on Human Health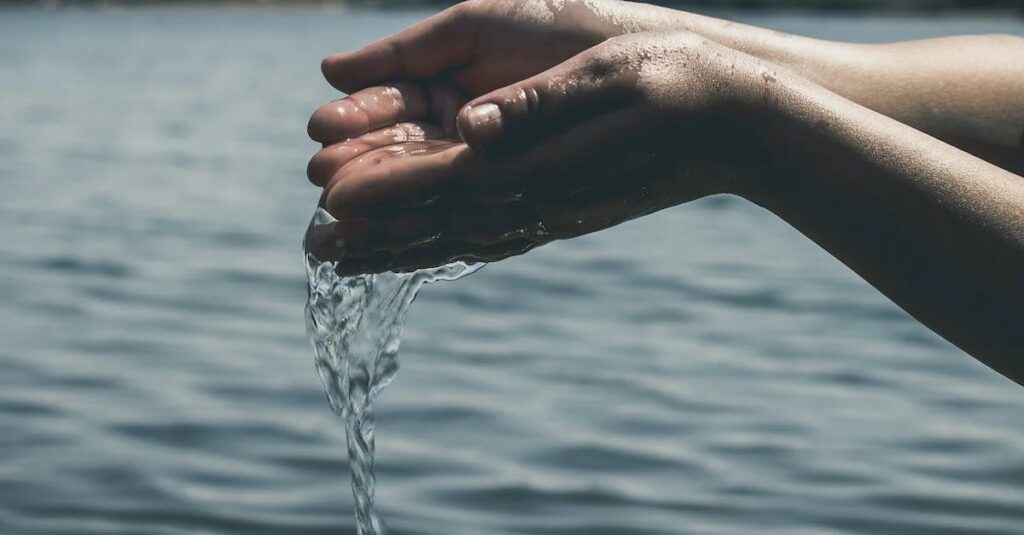 Although we use most of our lakes for recreational activity and to generate electricity, freshwater lakes are a primary source of clean drinking water for thousands of communities. Polluted water isn't just affecting humans; it's destroying aquatic habitats.
Managing potable water is becoming more challenging, and water reserves like Lake Mead, the Colorado River, and Lake Powell are shrinking. Freshwater from lakes contributes to many industries like oil and gas and farming. Without water, we can't grow food.
FAQs
Alpine lakes fed by snow, rain, and natural underwater streams can form the most beautiful lakes in the world.
What Is the Cleanest Lake in the United States?
Lake George and Crater Lake are among the cleanest lakes in the USA.
Why Are Lakes in the US Polluted?
According to the EPA, pollution in US lakes comes from many sources like industrial and agricultural waste, city wastewater, direct atmospheric pollutants (rain, snow, dust), and gases. Lakes worldwide have been contaminated through population growth and industry for hundreds of years.
You can also check our list for most polluted lakes in the US.
How to Clean Polluted Lakes?
One of the best ways to clean a polluted lake is to stop dumping pollutants into rivers that feed lakes and lakes. Bodies of water can replenish themselves, and extraordinary measures by environmental agencies that control dumping and enforce ecological laws are vital and expensive to endorse.
Agencies must fight to prevent more polluted runoff like nitrogen, phosphorus, and sediment from entering these fragile ecosystems.
Why Is Lake George So Clear?
Lake George is unique in many ways on a small watershed and is protected by sheer slopes. This watershed system keeps the water clear.
Lakes in the United States and Stunning Scenery Conclusion
The deepest and cleanest lakes in the US are also enjoyed for recreational activities. Some lakes are as high as 6225 feet above sea level, and others mimic the turquoise waters of the Mediterranean.
Regardless of where they're located and their purpose, they should be protected for future generations. Ocean pollution facts are similar to what's destroying our lakes and rivers.