Originally published on March 27, 2023, this article has been updated on October 10, 2023 to reflect the latest research and statistics. Our editorial team has ensured you're viewing the most current data on this topic. Need help or have a question? Email us.
For most of my life, I was a typical carnivore, and I ate a diet that included red meat, white meat, fish, eggs, and dairy, in addition to vegetables and fruits. When I decided to drop meat and only eat fish, eggs, dairy, veggies, and fruits, I didn't know that this was but one of many types of available vegetarian diets.
My diet lies somewhere between what would be considered as lacto ovo vegetarian and pesco vegetarian. Confused?
That's right, several vegetarian diet types are available, and each has a name based on what the diet includes.
Before we dive into the statistics of just how many people have converted to a vegetarian type of diet, let's see just what this could include:
Vegans — People who eat no animal products such as meat, milk, poultry, cheese, eggs, fish, or honey.
Lacto Vegetarians — People who don't eat meat, poultry, fish, or eggs but will still use dairy products.
Lacto-Ovo Vegetarians — People who don't eat meat, honey, fish, or poultry but will consume eggs and dairy products.
Ovo Vegetarians — Those who eat eggs but refrain from all other animal products such as meat, milk, fish, poultry, or honey.
Pesco Vegetarians (Pescatarians) — Those who will eat fish but no other sources of meat or dairy.
Pollo Vegetarians — People who can consume poultry but refuse red meat consumption.
Now you know just how many diverse plant-based diets are around, and we're not even talking about the more delicate ones like fruitarians or insectarians (#BiteThatBug), it's time to check out some interesting statistics on vegetarians.
Top 10 Most Astonishing Stats
Vegetarian Statistics
People have been choosing to live a vegetarian lifestyle for many centuries. Monks and other spiritual leaders have often lived without eating meat or partaking in animal slaughter. In our modern world, some people have changed to vegetarianism for dietary preferences, health benefits, and more.
According to Latest Stats, There Are 1.5 Billion Vegetarians Around the Globe (British Council).
For some, meat is too expensive or simply not available, which may prompt them to follow a vegetarian diet. Other vegetarians choose the vegan or vegetarian diet due to a moral factor or taste preferences. (source)
Worldwide, there are over 1.5 billion vegetarians, of which 75 million are vegetarians by choice and around 88 million vegans in the world.
In 2023, 700,000 People Worldwide Signed Up for a Veganuary (Veganuary)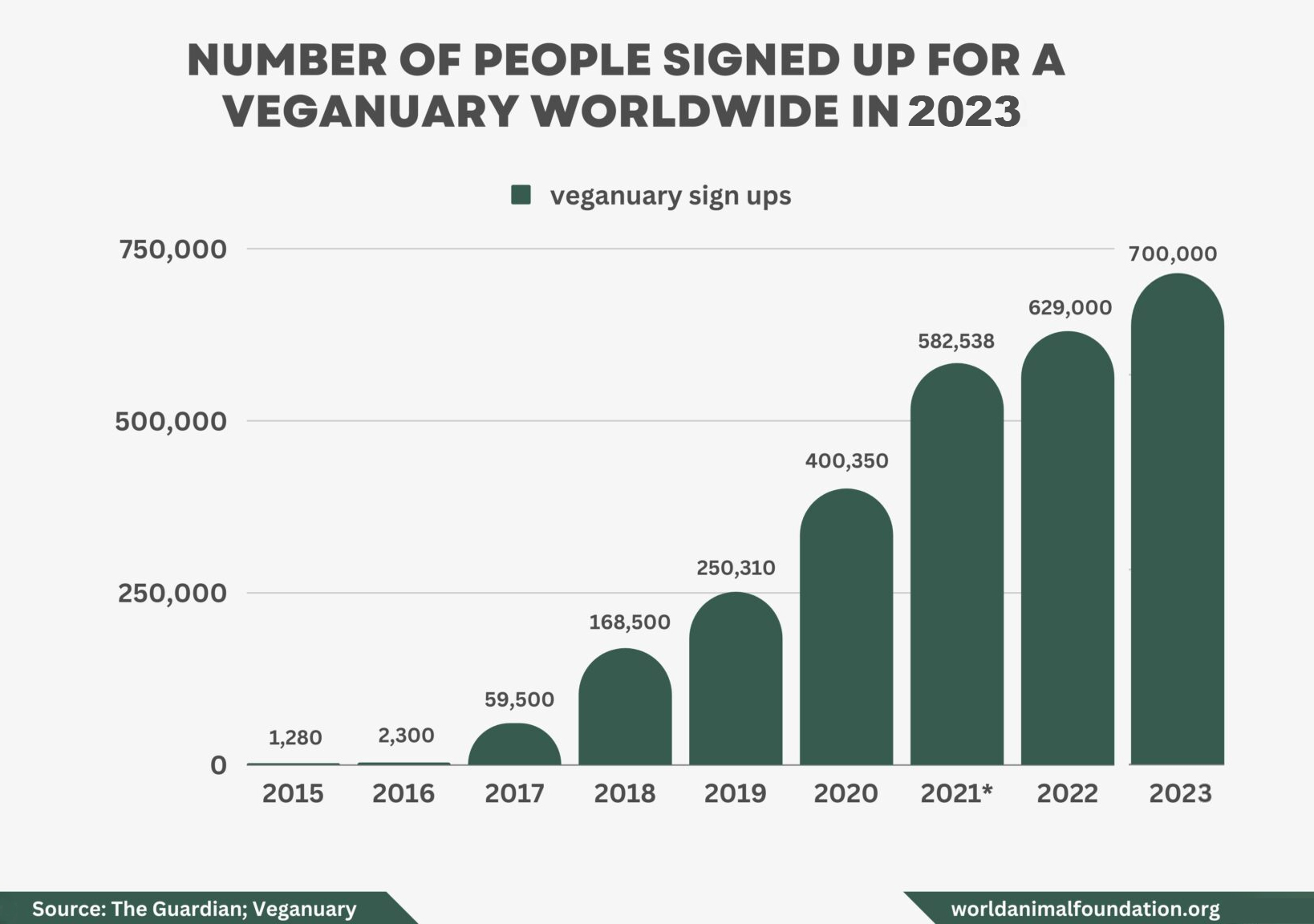 700,000 people signed up to try the vegan diet during January (#Veganuary). This month, more than 1,610 new vegan products were placed on the shelves, while restaurants added over 75 new vegan meal options. (source)
Plant-Based Food Market Crossed Sales Worth $7.4 Billion in the US in 2021 (Winsight Grocery Business)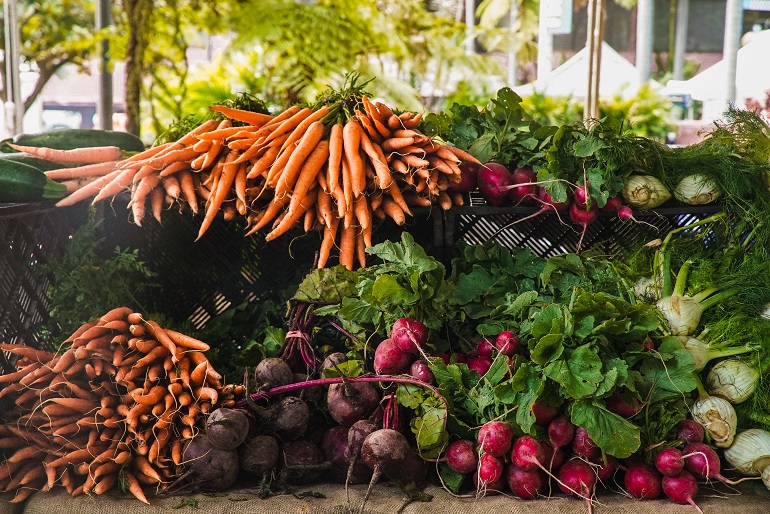 Plant-based dietary preferences have increased in popularity, and the market for plant-based foods and meat alternatives has increased by 74% over the last three years. The final market figure for our leafy-only foods reached record highs of $1.4 billion. (source)
A Study Conducted in 2013 Showed Vegetarians Experienced a 32% Less Chance of Hospitalization Due to Cardiovascular Diseases Compared to Meat Eaters (NCBI)
In a study of 26,346 men, dietary preferences were considered a contributing factor to prostate cancer. The study found that men who were vegetarians had 32% less risk of hospitalization from health-related illnesses such as cardiovascular disease.
According to Stats for 2022, India Has the Highest Vegan Share of 13% (Statista Consumer Insights)
Due to its Tamil and Hindu religious convictions, India has a higher-than-average share of the vegetarian market. Additionally, India is an impoverished country, so many of the population can't afford meat and rely on plant-based foods. India scoops the mash with 13% of the vegan diet market share.
Approximately a Quarter of Indians Follow a Vegetarian Lifestyle (Statista Consumer Insights)
Of India's population, Indians who are vegetarian constitute about a quarter of the population. Other members of the Indian population may not consume meat daily, which may not rank them as vegetarian (other than being Pollo vegetarians).
However, many Indians have a month of fasting, where they don't eat meat for religious reasons, which means more people would be vegetarian during those months.
After India, China Has the Highest Vegan Share of 6% (Statista Consumer Insights)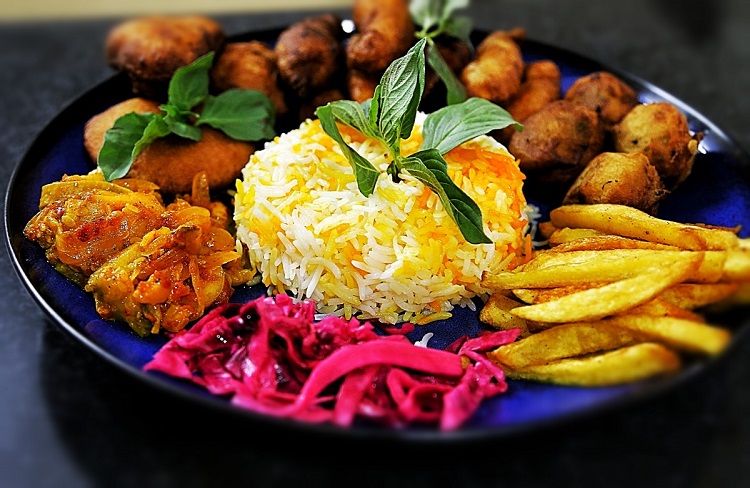 Following in India's "foodsteps" is China, with 6% of the vegan market share. The similar socio-economic status of the population in China may explain this large percentage of a vegetarian or vegan diet.
The US Has a Total Vegan Share of 4% (Statista Consumer Insights)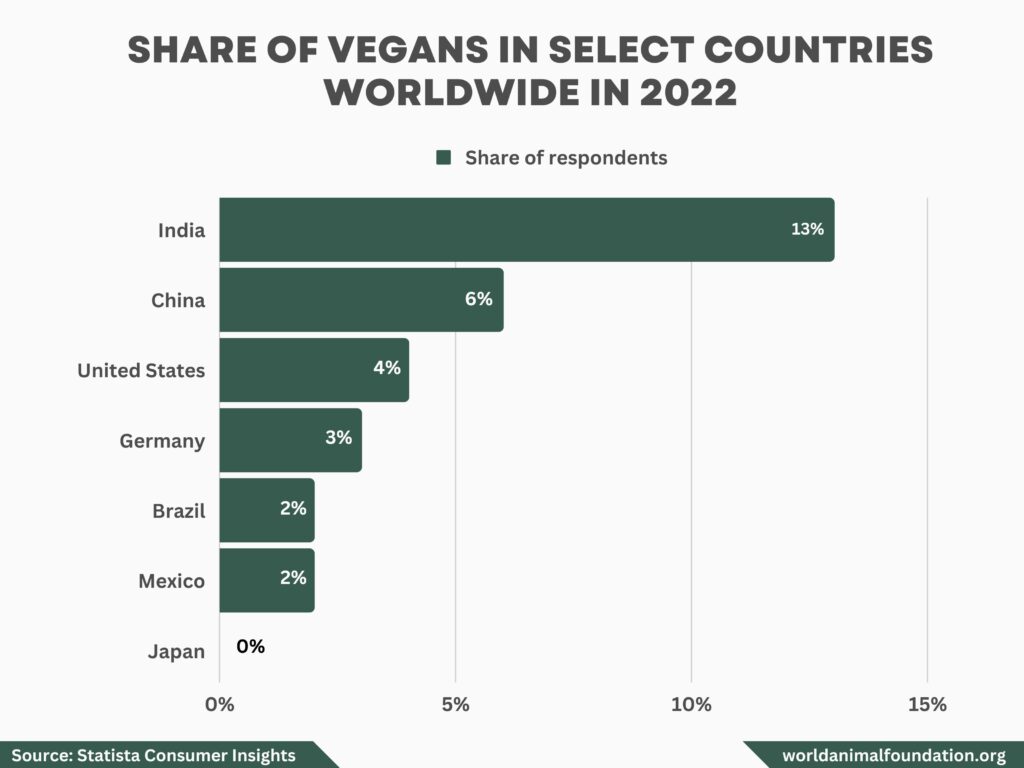 Choosing vegetarian meals is about 4% of the global market when considering vegetarians in America. Vegetarian dishes are being served in American restaurants more often, which has helped increase the move to veganism.
In Europe, Almost 3.2% of the Population Is Vegan (The Vegan Society)
Europe, despite being composed of many different countries, is not a highly vegetarian continent, with only 3.2% of its population following a vegan lifestyle.
Europe's relatively low percentage of vegetarianism can be attributed to a variety of cultural, historical, and dietary factors.
While the overall percentage of vegetarians may be relatively low, certain regions or cities within Europe may have higher concentrations of vegetarians and vegans due to factors such as education, urbanization, and accessibility to plant-based options.
In 2023, Almost 8.12 Million People in Germany Classified Themselves As Vegetarians (AWA)
Over the last two years, Germans have avoided their "wurst" and other meat-based dietary choices. However, 8.12 million Germans have classified themselves as either vegetarians or those who have largely forgo meat.
Meat alternatives are said to increase in market weight to 100 pounds per person on average.
What Percent of the World Are Vegetarian
I like to have numbers in percentages, so I sorted all this information logically.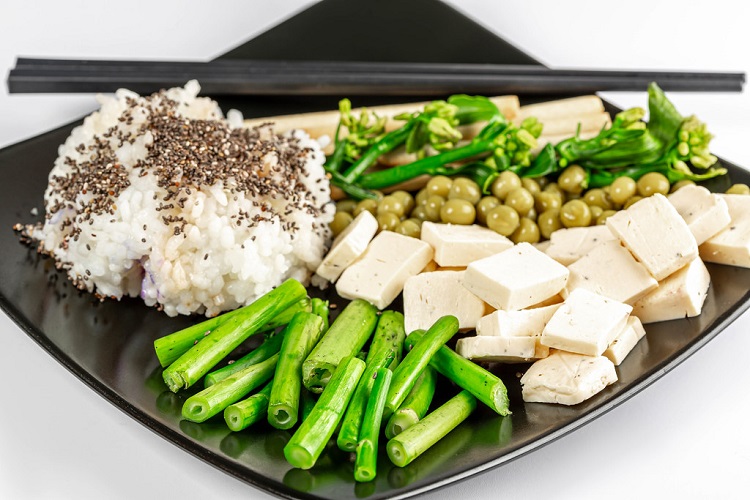 22% of the Global Population Is Vegetarian (The Research Gate)
There are vegetarians in most countries, but did you know that 22% of the world's population is vegetarian? This number is also growing. (source)
Despite the demand for meat increasing by 250% in the last half-century, the number of vegetarians has increased dramatically.
31 to 42% of the Indian Population Is Vegetarian (Rferl)
India leads the vegetarian charge, with almost 42% of the population following vegetarian diets either full-time or seasonally. Close behind is Mexico, with bean burritos and soy tacos at 19%. (source)
3.6% of the Chinese People Are Vegetarian (China Briefing)
According to SOS Free Vegans, 3.6% of Chinese people are vegetarian, which doesn't seem meaningful, but it translates into 50 million people because of China's large population.
According to Different Surveys, Almost 5 to 8% of US Adults Consider Themselves Vegetarians (GALLUP, Forbes)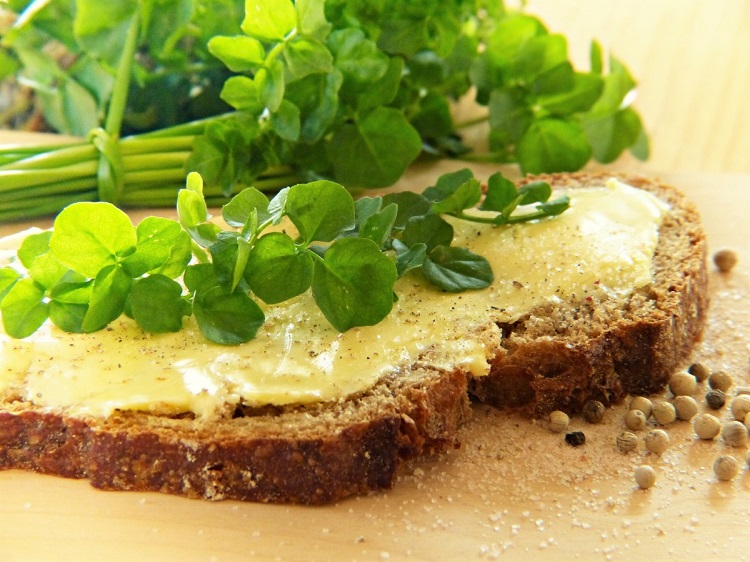 Many Americans (23%) have been recorded as eating less meat, with 5% that consider themselves vegetarian. (source)
Forbes found that as much as 8% of Americans are either vegetarian or follow a vegan diet (5% and 3%, respectively).
According to Stats of 2019, Approximately 2–3% (2 Million People) of the UK Population Is Vegetarian (Science Direct)
The National Diet and Nutrition Survey results found that 2-3% of the British population identifies as vegetarian. (source)
Almost 17% Less Meat Was Eaten by the UK Population in 2019 As Compared to 2008 (MedicalXpress)
The UK population has shown a decrease in meat consumption by 17%. Meat consumption dropped from 103.7 grams to 86.3 grams in 2019. (source)
You can also learn about US meat consumption here.
Vegetarians in the US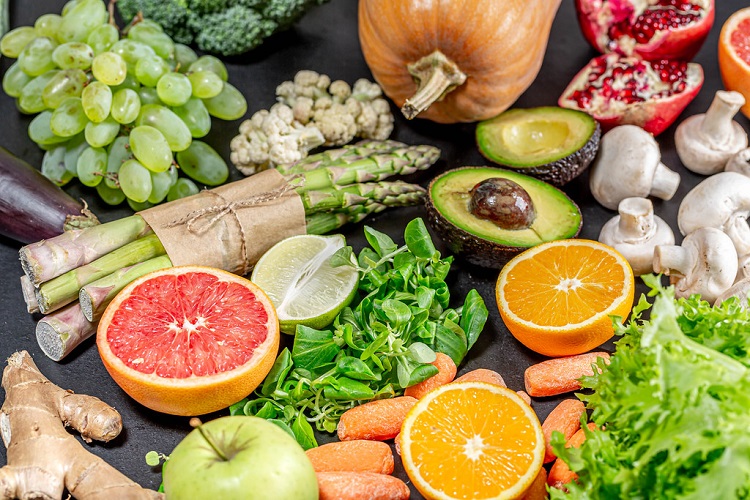 I wondered about vegetarians in the US, and these were some prominent statistics.
According to the Latest Study, There are 9.7 Million Vegetarians in the US (Vegconomist)
The study indicating 9.7 million vegetarians in the U.S., as reported by Vegconomist, highlights a significant trend, but it's important to remember that statistics can vary across different sources and methods.
Almost 8 Million Adults in the US Don't Consume Meat, Among Which 3.7 Million Are Also Vegans (VRG)
3.3% of all adult Americans self-report (in a Harris Poll) as being vegetarian, which translates into 8 million adults. Of the eight million vegetarians, 3.7 million people reported as being vegan and ate no animal products. (source)
Approximately 22.8 Million People in the US Follow a Vegetarian-Inclined Diet (Vegetarian Times)
10% of Americans follow a largely vegetarian diet, which is 22.8 million people. I know that my friends tend to prefer ordering vegetarian dishes when we eat out. (source)
74 to 79% of Vegetarians Are Female in the US (Vegan Bits, Women's Media Center)
American women prefer a vegetarian lifestyle, and 79% of vegans are women, which indicates that women are more predisposed toward vegetarian diets. (source)
37% of US Citizens Eat Vegetarian Food When They Dine Out (VRG)
Surprisingly, more people who aren't vegetarian in their day-to-day lifestyles are ordering vegetarian food when they eat out, to the tune of 37% of Americans. Just think of those yummy, refried bean tacos you order.
Almost 1 in 12 Black Americans Are Strict Vegans or Vegetarians (BBC)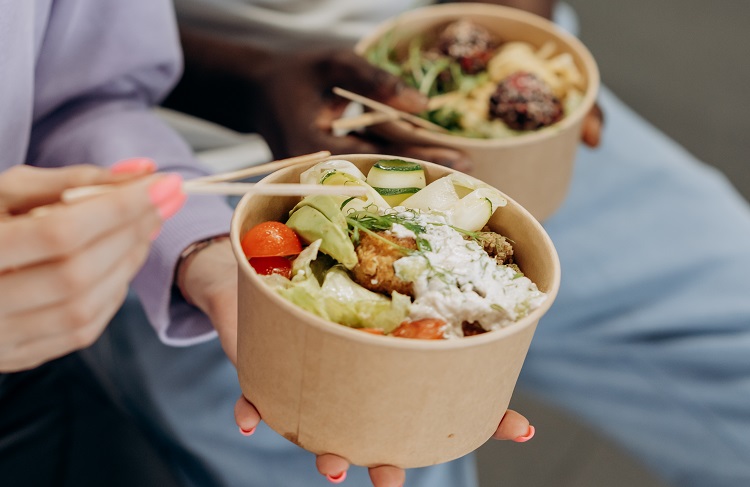 While black Americans throw a curve ball by being as much as three times more likely to become vegetarian than other American demographic groups. In fact, BBC reported that 1 in 12 black Americans is vegetarian or follows a vegan diet. (source)
The health benefits of being vegetarian or following a vegan diet appeal to black Americans as it helps manage health conditions like high blood pressure and diabetes, which black Americans are prone to.
The Fastest-Growing Vegan Population in the US Is African Americans (APEX Advocacy)
To believe that being vegan is a white or European idea is misinformed, as many African cultures have a long history of veganism. Because African Americans are learning more about their roots and their cultures, they are discovering veganism.
Rastafarianism and Islam appeal to a large percentage of the African-American population, and being a "rasta" comes with respect for life and not eating animal products. Being Muslim doesn't mean you must be vegan, but many Muslims prefer to follow a vegan diet when they can't source Halal food.
Vegetarians Vs. Meat Eaters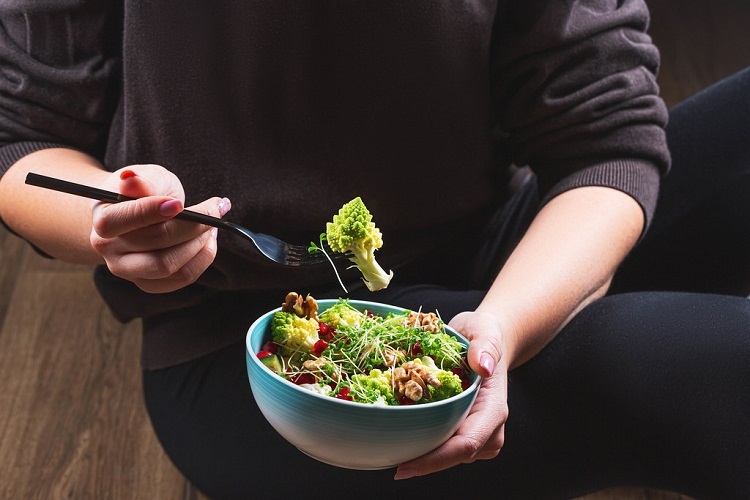 As a vegetarian, I don't judge my friends who are meat eaters. All do not always share my concerns over the environment and animal rights, but there are health benefits to following a vegetarian or vegan diet.
Vegetarians Have 14% Less Risk of Cancer (WCRF)
The World Cancer Research Fund has found that those who follow vegetarian or vegan diets are 14% less likely to develop certain forms of cancer than those eating meat as part of their daily diet. The WCRF's UK-based study published that bowel, breast, and cancer of the prostate have definitive links to dietary preferences. (source)
A Study Conducted in 2016 Showed People Who Followed a Vegan Diet Experienced a 35% Lower Risk of Prostate Cancer (NCBI)
The benefits of a vegan diet for cancer risk reduction are as much as 35% due to vegan diets being richer in nutrients and beneficial for better overall health, contributing to a reduction of cancer risk factors.
With prostate cancer accounting for 27% of cancer incidents among male subjects, the decrease in prostate cancers is significant.
There Is a Significantly Low Prevalence of Type 2 Diabetes in People Who Follow a Plant-Based Diet (HSPH)
Following a plant-based diet will significantly reduce your risk of developing type 2 diabetes or help reduce the impact of type 2 diabetes if you already have the disease. (source)
A Study Conducted at Oxford University Revealed Vegetarian Diet Is Comparatively Cheaper Than a Meat Diet (University of Oxford)
Oxford University's study found that vegetarian or vegan dietary preferences are more affordable than those favoring meat consumption. However, a diet that contains fish, such as a pescatarian diet, had a 2% increase in cost. (source)
A Study in 2021 Compared the Cost of Plant Based and Meat Based Diet in 150 Countries and Showed by Following a Plant-Based Diet, Consumers Can Cut Their Food Bills by One-Third (The Lancet)
The Lancet's study published that changing from a meat-rich diet to a vegan diet can cut your meal costs by a third. That's a huge saving for me, and I have found my meals to be much more budget-friendly since I became vegetarian. (source)
Benefits of Eating Meat Vs. Vegetarian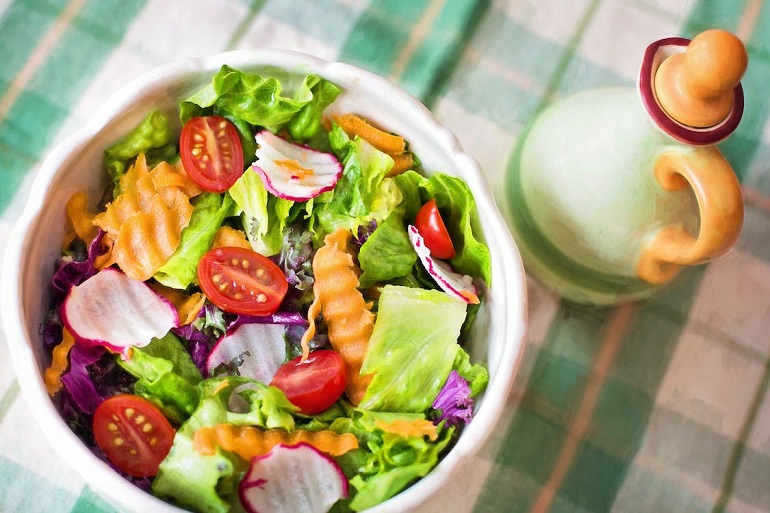 As I've already hinted, there are several benefits to eating vegetarian as opposed to meat. However, I wondered about the risks of being vegetarian instead of following a meat-based diet. After all, the focus seems to be on a keto-friendly diet, and while this is possible on a vegan diet, it's much easier when you eat meat.
A Study Conducted in the UK on 10,000 Participants Showed Vegetarians Are Twice More Likely To Develop Depression and Anxiety (Journal of Affective Disorders)
While vegans are less likely to develop cancer, they are twice more likely to develop depression and anxiety than those who follow meat-based diets. (source)
Now, before you put aside your super-sized beef burger to gloat, the main reason for the increase in depression is when vegans or vegetarians follow a diet that's not balanced with enough B vitamins.
Being vegan is healthy, but it comes with the burden of eating a broad spectrum of foods to prevent deficiencies resulting from a drop in B vitamin and iron intake.
50% of Vegans and 7% of the Vegetarian Diet are Deficient in Vitamin B12 (Journal of Affective Disorders; MedicalXpress)
Vegans are less likely to get enough iron and vitamin B12 from a plant-based diet than vegetarians and meat eaters.
50% of vegans tend toward a vitamin B12 deficiency and an increased inflammation count due to the increased intake of omega 6 from eating nuts. (source)
In contrast, vegetarians, who may eat meat or animal products such as salmon and eggs, are less likely to contract mental health conditions triggered by vitamin B12 deficiency.
An Elevated Risk of Allergies Is Associated With a Vegetarian Diet (NCBI)
While vegetarian or vegan dietary preferences are considered healthier, some risks may affect your predisposition to allergies and mental health conditions if your diet is not balanced and rich in B vitamins or lack certain minerals. (source)
Vegetarian Market
As with all things that become popular, vegan and vegetarian dietary preferences have given rise to a booming vegan or meat-alternative product market.
The Global Vegetarian Market Is Expected To Grow From $5.4Bn USD in 2021 to $10.8Bn in 2028 (Currency.com)
There is growing health awareness, raising interest in plant-based diets, and concern about the environmental impact of animal agriculture. Furthermore, the influence of cultural and ethical factors cannot be overlooked.
Meat-alternative products have resulted in a thriving industry that caters to the vegan and vegetarian market. The market is said to double from 5.4 billion dollars in 2021 to 10.8 billion dollars by 2028.
In 2021, the Sales of Plant Based Food Increased by 6% (GFI)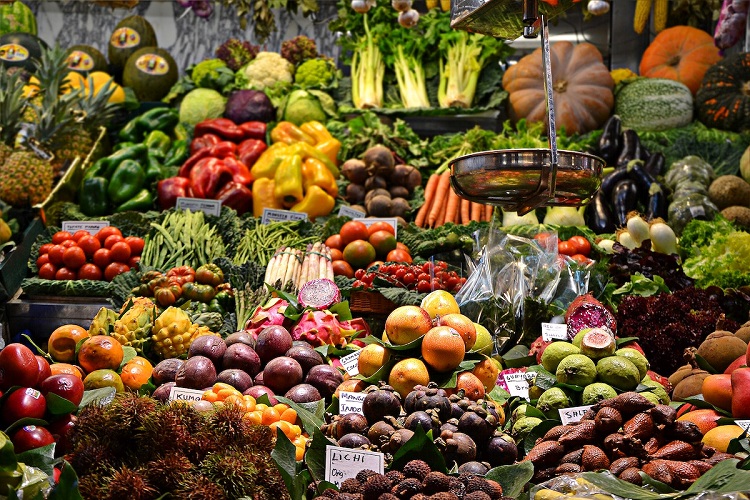 With some meat markets slowing their growth, it's interesting that the plant-based food market has grown by 6%, according to the Good Food Institute. (source)
Factors responsible for this is the increase in the number of people who alternate between meat meals and plant-based meals. The rising cost of meat has also made vegetarian food more price-friendly.
People in the UK Spent £600 Million in 2020 on Meat-Free Food Products (The Grocer)
If you're wondering whether the plant-based food sales boom can continue, the answer is yes. While the meat market is still substantially bigger than the plant-based dietary market, the continued rise in sales of vegetarian food is likely to continue growing as meat sales shrink.
In the UK, the sale of meat alternatives and meat-free food has increased to a whopping £600 million in 2020.
In 2019, the UK and Europe Vegetarian Market Grew by €4.4Bn and Is Expected To Grow by €7.5Bn in 2025 (ING)
The market share of meat alternatives, vegetarian meals, and dairy substitutes will continue expanding into 2025, with projections indicating the growth percentage to remain at 10% for a market yield of €7.5bn from €4.4bn in 2019. (source)
Impact of Vegetarianism on the Environment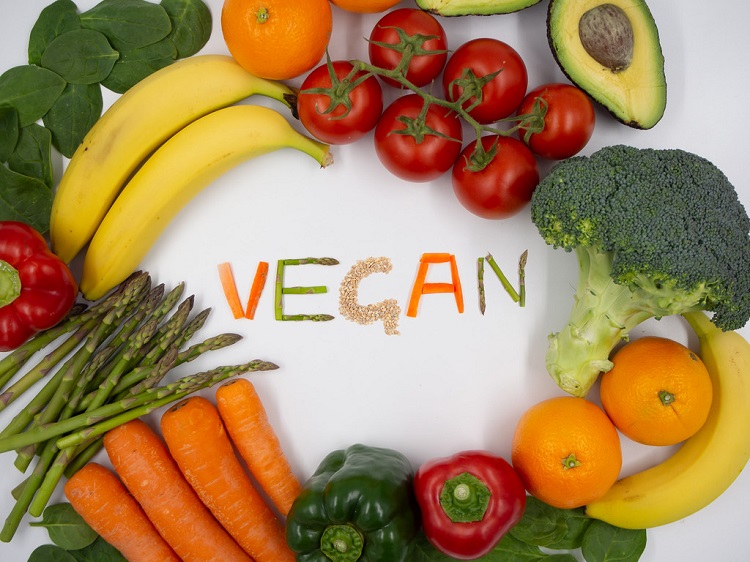 With the environment suffering severely under the production of meat at the scale that animal farming currently produces the protein, it is important to consider the impact of vegetarianism on the environment.
According to the National Food Strategy Report of 2021, We Should Be Consuming Less Meat by 2030 (National Food Strategy Report)
With people consuming more and more meat in some countries and with the continued growth in the human population, there is an increasing demand for animal sources of protein.
However, with raising more animals comes the burden of increased methane production, damage to water sources, and a drain on natural resources such as farmland, water, and oxygen.
To curb this, we must rethink how we eat and our reliance on meat. According to the WHO report on meats if we don't cut back on how much meat we consume by 2030, we are likely to cause irreparable damage to the environment.
A 30% Reduction Equals Just 2 Meat-Free Days in a Week (Sky News)
If you believe you can't go without your bacon and egg and hamburgers each week, consider that a reduction of 30% is as easy as having two meat-free days per week—and that's doable. (source)
The benefits of following a partial meat diet instead of a complete carnivore diet include a better environment, less animal cruelty from the factory farming industry, and improved health—it sounds like a win-win to me.
By Switching to a Vegetarian Diet, a 75% Reduction in the Global Agricultural Land Would Be Achieved (Our World in Data)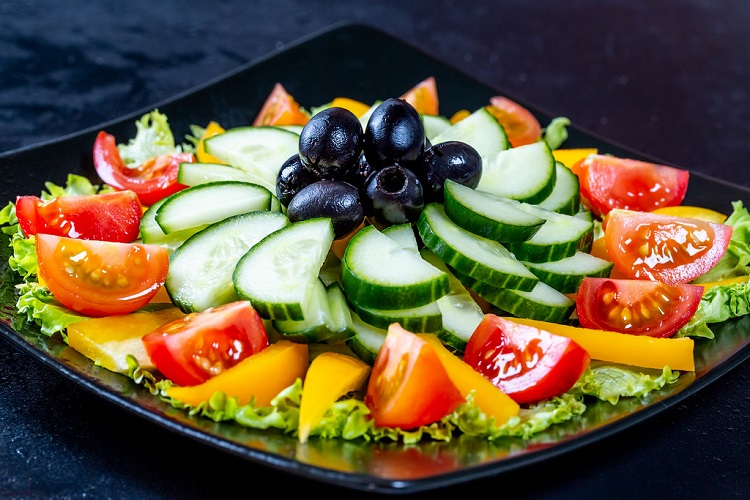 To produce more and more meat (because animal farms require more space for grazing and for supporting farms that grow corn and produce hay), we have engaged in a destructive program of deforestation, cutting down huge chunks of natural forests to make room for cows, sheep, and pigs.
By becoming partially vegetarian, we can reduce the need for farmland by 75%. Instead of needing 4 billion hectares for keeping animals, we can grow enough food to sustain the human race on 1 billion hectares. (source)
According to the National Food Strategy Report of 2021, 70 Times Less Greenhouse Gas Is Produced by Plant-Based Proteins Than an Equivalent Amount of Beef and Also Consumes 150 Times Less Land. (National Food Strategy Report)
Vegetarian meat alternative produce requires 150 times less land and less water to grow. Likewise, plants produce oxygen, not methane. So, growing plants as protein sources instead of relying on cows will cut methane production by 70 times. (source)
Vegetarian Facts
My friends often ask me my reasons for becoming a vegetarian, and I like to share some interesting facts about vegetarians.
Vegetarianism is as old as Plato and the earliest philosophers who already theorized that animal flesh isn't as healthy.
People become vegetarians due to moral choices to save living costs, animal rights, conservation efforts, and health benefits.
The most popular type of vegetarianism is lacto ovo vegetarians.
FAQ's
What Are the Controversies Associated With the Health of a Vegetarian?
Most people believe a vegetarian diet can't supply enough iron and vitamins because it's said to be protein deficient.
Are Vegetarian Diets Nutritious?
Vegetarian or vegan diets are high in nutrients and offer many health benefits if the diet is wholesome and complete.
What Are the Plant-Based Protein Alternatives?
Soy is the main protein alternative, but there are other alternatives, such as mushrooms, nuts, grains, vegetables, and nutritional yeast.
How Can I Combat My Iron Deficiency With a Plant-Based Diet?
Eating foods rich in iron, such as beet and spinach, can help increase your iron intake. With a plant-based diet, you have options for improving your iron intake, whereas meat diets are less flexible.
What Is the Life Expectancy of a Vegetarian?
Some believe that vegetarianism can increase your life expectancy by seven years while veganism can add ten years to your life. The fact is that reducing your red meat intake adds 3.6 years to your life.
Wrap Up
Will I go back to being a carnivore and eat a meat-based diet? Nope, never, no chance in hell. I am healthy and happy, and I feel I positively contribute to the world with my vegetarian diet.
What do I have to lose by being vegetarian? I will lose weight, decrease my risk of developing cancer, and help chip away at the global demand for animal protein.
I have health benefits to gain, and I know that I am doing my bit for the planet. So, when you finish chewing on your quarter-pounder oil-dripping-beefy-burger, I'd love to hear your reasons for thinking that being vegetarian means I'm weak and sickly!