I think it's fair to say that my dog's a little spoilt. Whether it's fancy food, a new toy, or even a Christmas jumper, if I spot something I think she would like, I can't help buying it for her… But that's for small purchases. Big purchases are another matter entirely.
When you're buying a smart collar with GPS location tracking and virtual fence capabilities, these are often big purchases.
Although smart dog collars are often the best things you could get for your dog, it's best to take things slow and do your research first.
Two of the top smart dog collars in the marketplace are the Fi and Halo collars. So, here's how the Fi and Halo collar compares and which one is best for you and your dog.
Features Comparison: What Fi and Halo Both Offer Your Pups
For a dog owner, keeping your dog safe and protected is the highest priority. Fortunately, smart dog collars are the ultimate solution for your dogs' safety. You can track their location at all times and encourage them to stay within the boundaries you determine.
The Fi dog collar and Halo dog collar are some of the top options out there. They're both leading options when it comes to optimal security for your dog and are some of the best dog fences out there.
So, what exactly can they do, and how do they compare?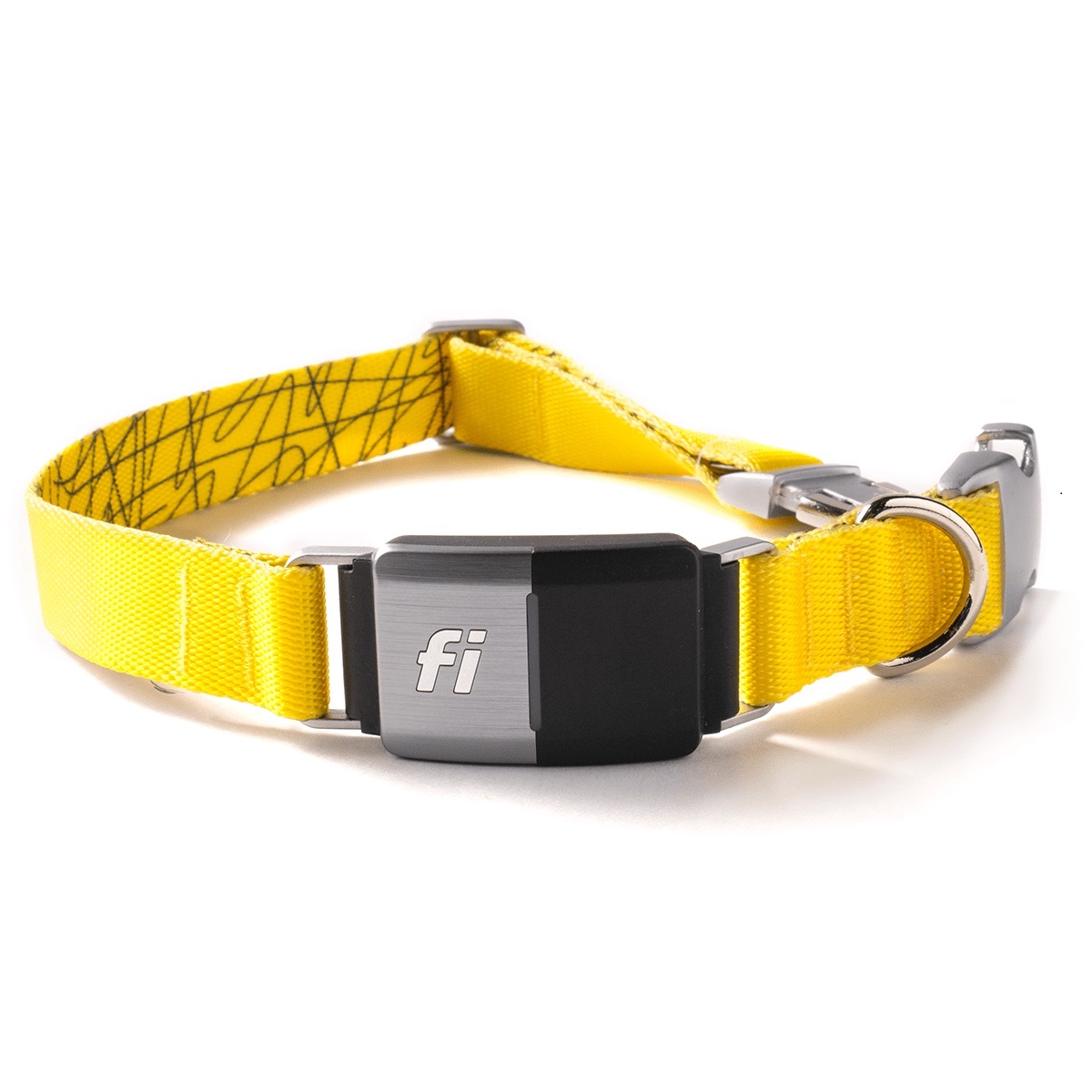 Fi Collar Series 2
The price of "Fi Smart Dog Collar" varies, so check the latest price at
Fi Collar: Notable Features and Benefits
GPS Tracking
Tracking is arguably the Fi collar's main focus, allowing you to track and locate your dog if they run off somewhere with its geo-fencing ability.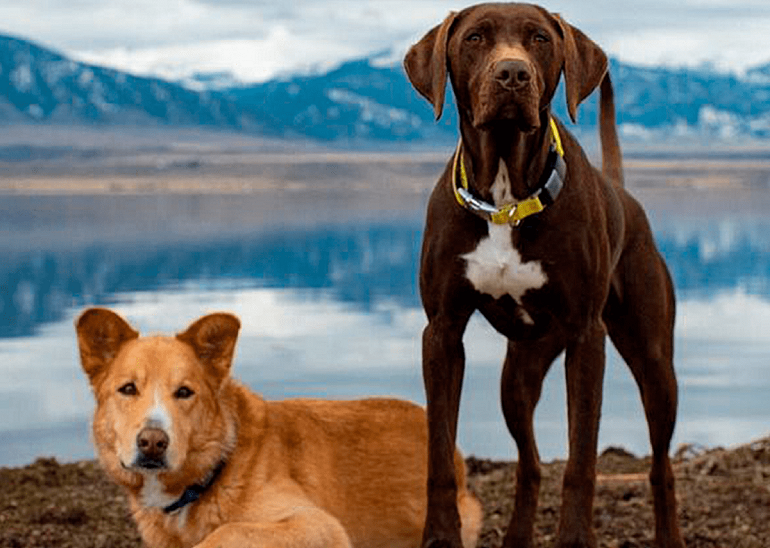 It all starts with creating a virtual dog fence. The Fi smart collar allows flexible geofences where you can set up multiple safe zones. Since you can set up safe zones all over the place, it's perfect for dog lovers who like to travel with their dog.
However, they can be fiddly to set up, so it's not something you can pop up in an instant wherever you are.
Once an invisible dog fence is set up, whenever a dog with a connected Fi smart dog collar strays outside the preset boundaries, an escape alert is sent to your smartphone. Fi collar uses proprietary technology and algorithms to detect when your dog escapes from the boundary.
The collar then goes into 'Lost Dog' mode, sending location updates and activating a flashing red LED light to make it easy to find your dog in the dark.
None of this works by magic though – you need an AT&T cell signal. The Fi smart collar uses LTE-M, an advanced network with multiple satellites, for more regular location updates and enhanced accuracy up to 7 feet.
Battery Life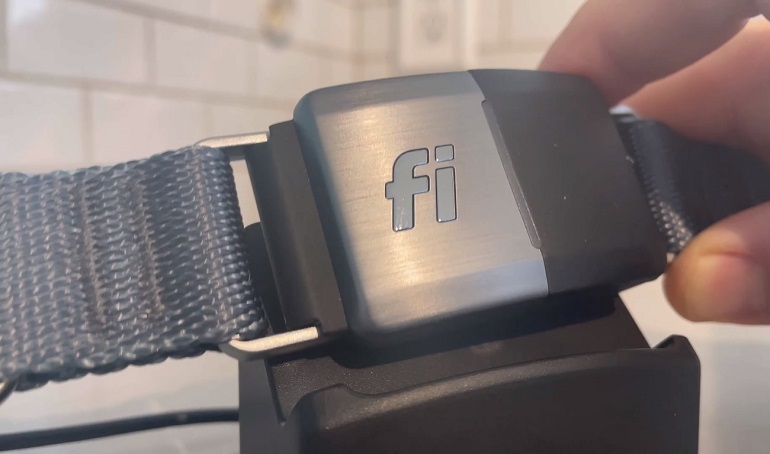 Some smart collars don't last long at all. Fortunately, this smart tracker does, meaning you don't need to worry about the battery dying while looking for your lost pup.
The fully rechargeable battery can last up to three months. However, this depends on how it's used; the 'Lost Dog' mode drains the battery life more, only lasting up to two days. Still, it's nevertheless a long-lasting and reliable battery life.
Bluetooth and Wi-Fi
Despite a long battery life, the best way to make it last as long as possible is to avoid using GPS wherever possible. That's why Fi collar has Bluetooth and Wi-Fi connections.
Where possible, the smart device can dynamically connect to your Android or iOS smartphone via local WiFi points or Bluetooth beacons, draining the battery less.
Works All over the Us
There's no point splashing out on a smart dog collar if it won't work wherever you go. That's why the Fi collar has a reliable GPS connection with the LTE-M network, an advanced one that's guaranteed to work all over the US – so feel free to travel around the country with your pup!
Durable Design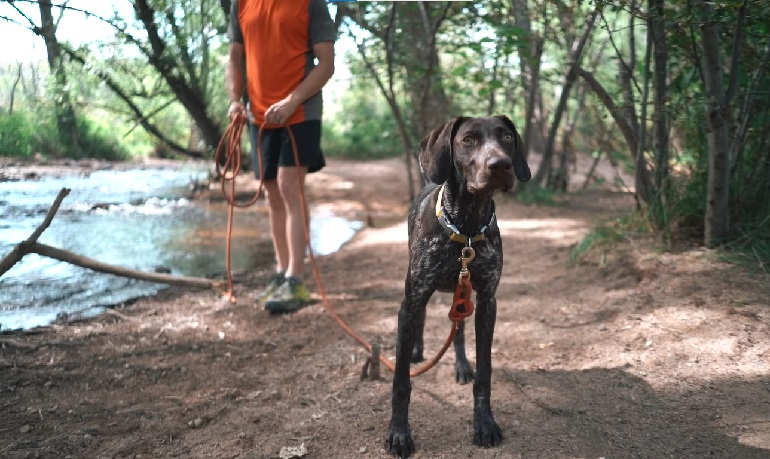 The Fi collar is designed for a range of dogs: the Series 2 has four different sizes, fitting neck sizes as small as 11.5" and as large as 34.5"; the Series 3 has four sizes, fitting neck sizes as small as 9.75" and as large as 30.5".
Although you're strapping an expensive bit of technology around your dog's neck, it's durable enough not to worry. Its aluminum faceplate and metal armor are central to its chew-proof design that can withstand up to 300 lbs of pull resistance.
It even has an IP-68 waterproof rating, meaning your dog can splash in a lake without the risk of damaging its collar.
Subscription Plan and Warranty
Technology isn't always perfect, and that's why Fi offers a one-year warranty to protect you in case anything goes wrong with your Fi collar.
You'll also need a subscription for the GPS tracking functionality to work. This may be an extra cost, but it's important to bear in mind that there's a range of subscription options depending on which version of the collar you purchase.
Series 2
With the purchase of a Series 2 Fi collar, you have a 30-day free trial and a choice of three subscription packages:
1-year plan costs $99
2-year plan costs $186
3-year plan costs $248
Series 3
With the new Series 3 Fi collar, the subscription is even easier. Their membership subscription includes not only the collar and any upgraded hardware but connection to the AT&T LTE-M network.
There are four packages to choose from:
Monthly plan costs $19
6-month plan costs $102
1-year plan costs $192
2-year plan costs $336
Pros
Durable design
Excellent battery life
Waterproof
Allows multiple geofences
Rapid escape detection alerts
Advanced technology for accurate GPS tracking
Can add multiple users to the Fi app
Built-in LED light for visual tracking at night
Ability to track sleep and dog's activity levels
Cons
Requires a network subscription
Not for dogs under 10lbs
Health and activity data has limited detail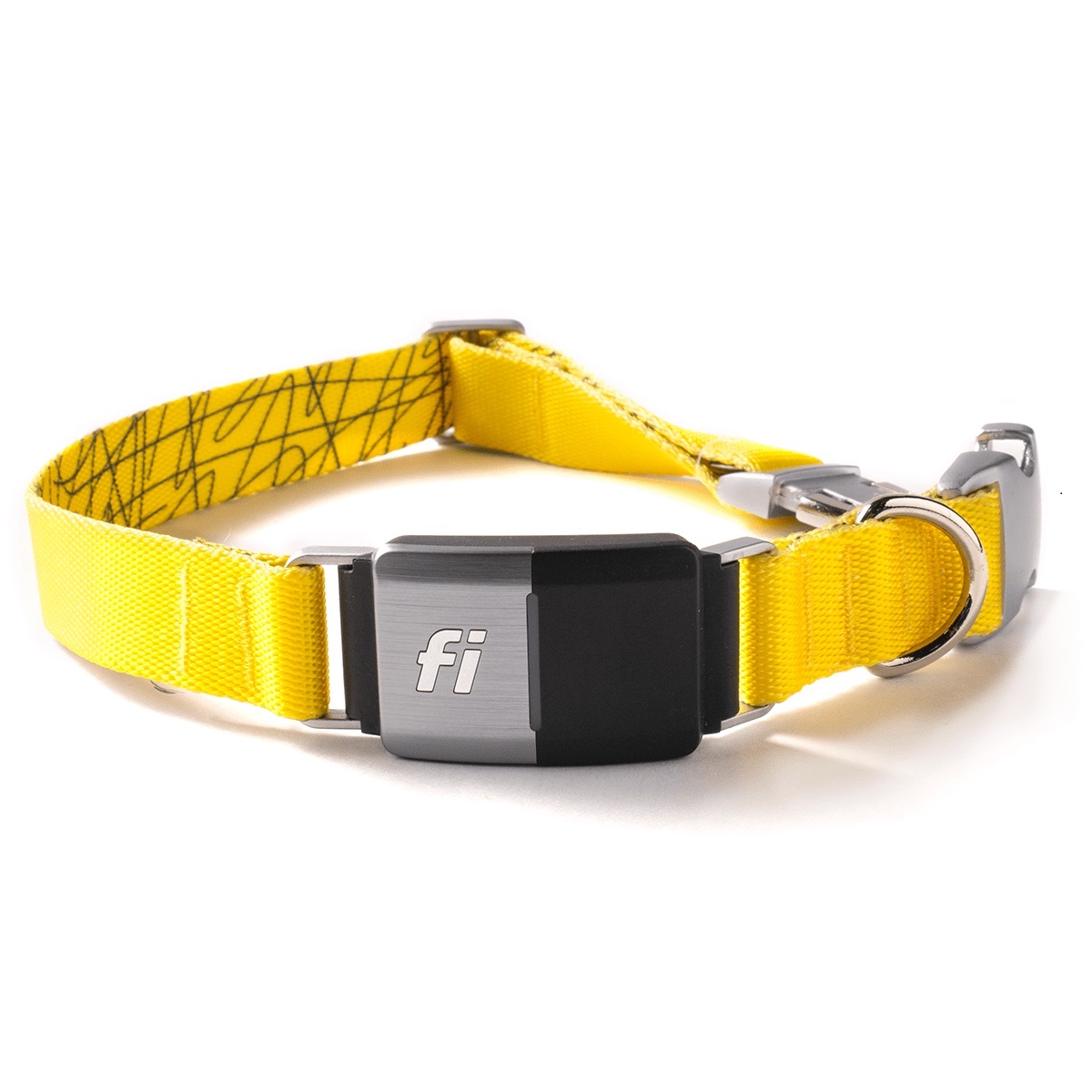 Fi Collar Series 2
The price of "Fi Smart Dog Collar" varies, so check the latest price at
Halo Collar: Notable Features and Benefits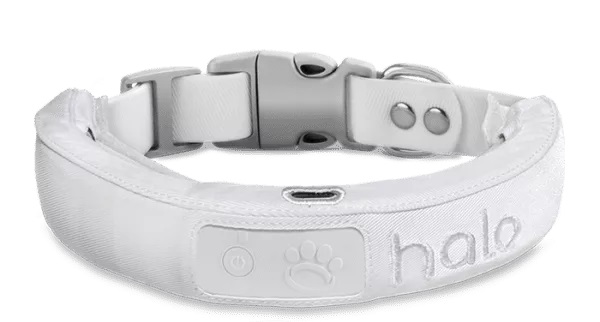 Smart Fences
Like Fi smart collar, you can set up virtual fences to surround designated safe zones for your dog to stay within.
These can take any shape and size you want; fence posts can be as far apart as 6.2 miles from each other, with a safe zone covering a maximum of 1,200 square miles. However, you also need a minimum space of 30 by 30 feet and can only have 20 active virtual fence posts.
Since it's quick and easy to set up a geofence, the Halo collar is perfect for portability – something you can't get from wired fences.
With customizable feedback, you can choose between 15 levels of sound, vibration, and static correction, ensuring you have the best feedback for your pup.
If your dog ever strays from the virtual fence, the Halo collar uses GPS/GNSS smart technology to keep track of its location, using over 50 satellites for the most accurate location possible.
But with encouraging feedback trying to coax them back home, you might not even need the GPS tracking feature after all!
Activity Tracking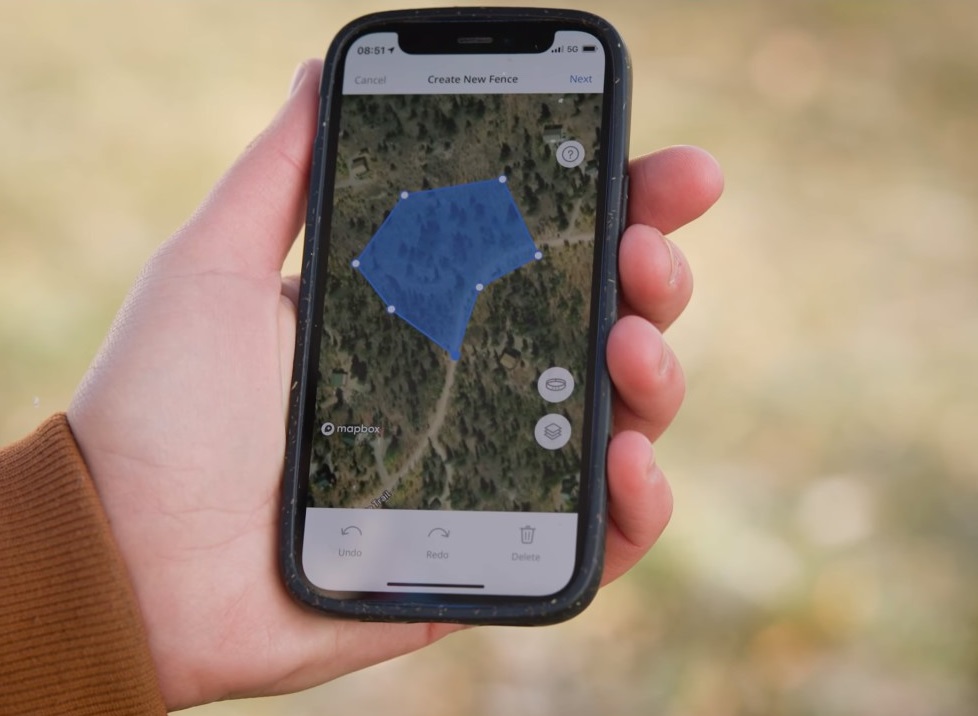 Similar to others, the Halo collar monitors the health and outdoor activities, and exercise habits of your dog, tracking how many walks your dog has and how much time they spend active vs resting. This helps you ensure they have a balanced, active lifestyle to stay healthy.
Training Modes
Halo collar makes it particularly easy to train your dog – after all, that's precisely what you'd expect from a product from dog expert Cesar Millan!
The feedback teaches dogs to stay away from boundaries and reduces the risk of them straying outside the safe zone, made more effective with the customizable feedback.
Of course, if there are any issues, help is always on hand from Halo to make training an easy process. Just pick Halo collar, and you're good to go.
Halo Collar Subscription Plan
Not only is the collar itself expensive, but having to pay for a subscription plan on top of that can put a lot of people off. The subscription enables data storage for fences, GPS location services, and activity tracking – so it's certainly worth it!
Wondering what plans Halo collar offers? To make things more affordable, it offers three packages to suit a range of budgets.
Basic Plan
The basic plan costs $4.49 per month and offers basic functionality, including 20 virtual fences, location tracking, and basic training guides.
Silver plan
This costs $9.99 per month and offers the same functionality as the basic package, but also more customized features and advanced activity tracking, including access to your dog's historical data and logging how your dog responds to feedback when close to fence boundaries.
Gold Plan
This costs $29.99 per month and offers the same functionality as the silver package but with more perks. It includes premium training classes every month as well as live sessions with experienced trainers, offering expert guidance for individualized training support.
Pros
Uses GPS/ GNSS, Bluetooth, Wi-Fi connection, and LTE-M technologies
Enhanced location accuracy
IP-67 waterproof rating
Easy-to-use app
Choice of subscription plans
1-year limited warranty
Customer service and tech support
Excellent training services
Cons
Expensive collar
Need a minimum space of at least 30'x30'
Low battery life – doesn't last over a day
Requires monthly subscription
Not for small dogs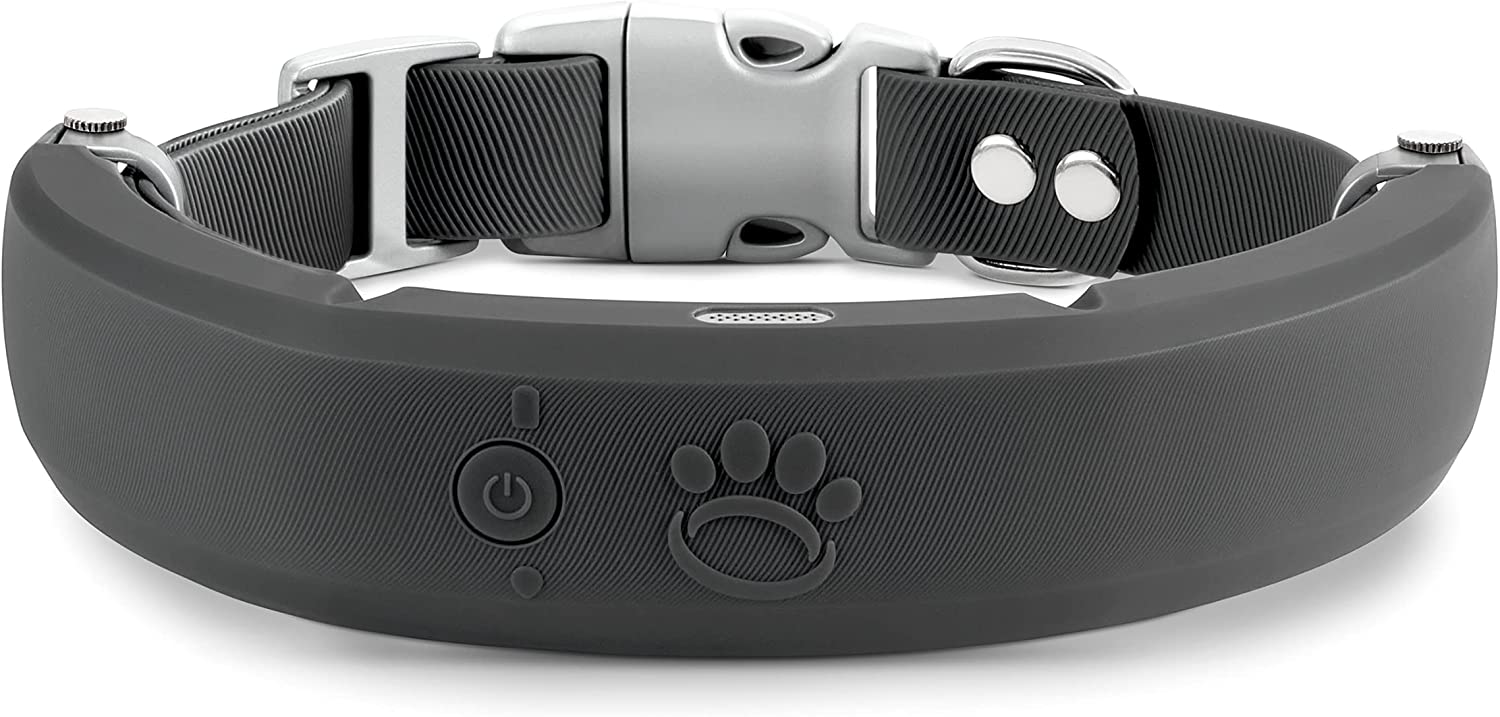 Halo 2+ with Cesar Millan
Use Code: CELEBRATE to get $375 off your new Halo Collar
GPS Location Tracking
At their basic level, both Fi and Halo dog collars are predominately virtual fences. They connect to Bluetooth and WiFi to monitor where your dog is and make sure that they're within the preset boundaries.
But if your dog ever leaves the boundaries of the geofence, you'll need a subscription plan to access the GPS location tracking capabilities – arguably the most important part!
This means that, with these GPS dog trackers, you can always track both your dog's activity and its location in real-time. While this drains the battery faster, you should have enough time to relocate your pup and bring them home.
App and Design Comparison
These types of dog collars tend to have similar functions, but they're not all built and designed the same way. There is a variety of differences in the collar's specifications, design, construction, and durability, as well as what their apps offer.
Fi Smart Collar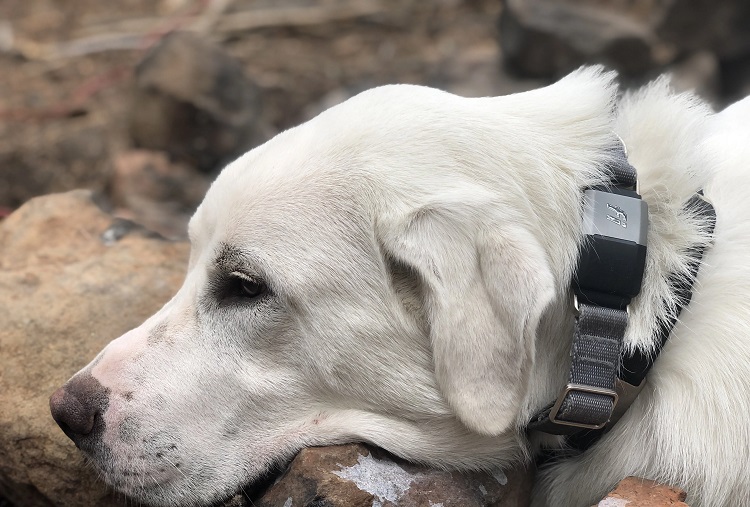 Fi Collar Built for the Outdoors
Usually, you don't want expensive tech taken outside. But it's totally fine when it comes to this GPS dog collar – in fact, it's actually been built to take outside. It's more than just a pretty face with four color options and two color styles.
With an armored aluminum faceplate and metal armor, it's incredibly durable. This is also a waterproof collar, meaning you can let your dog splash about and get wet to their heart's content.
Easy Activity Tracking on the App
Although the Fi collar's main function is as a virtual fence and location tracker, it also tracks the dog's health and dog's daily activities as a bonus.
The app shows your dog's daily, weekly, and monthly step goals, as well as how many dog's steps have been taken each day – along with how long they've spent napping! It tells you the time spent active by your pup.
The app also offers connections with the wider community. The ranking page lets you compare your dog's activity and step goals to others nearby, allowing some healthy competition. Just make sure not to overexercise your dog!
Multi-User Access
They say "it takes a village to raise a child…" It might not take a village to look after a dog, but it often includes a few people, from pet owner and family to dog walker and sitter.
That's why Fi lets you add multiple users to the app, giving anyone full access to check in on your dog.
Task Monitoring
Being able to keep an eye on your dog at all times gives dog parents the ultimate peace of mind. The Fi dog collar tracks more than just your dog's location – it also monitors health.
The app shows your dog's stats and step count, highlighting how active they are and if they need to walk more often.
It even includes a sleep tracker too to monitor sleep habits; if there's ever a sudden change in sleep patterns, it's worth looking into and consulting with your vet.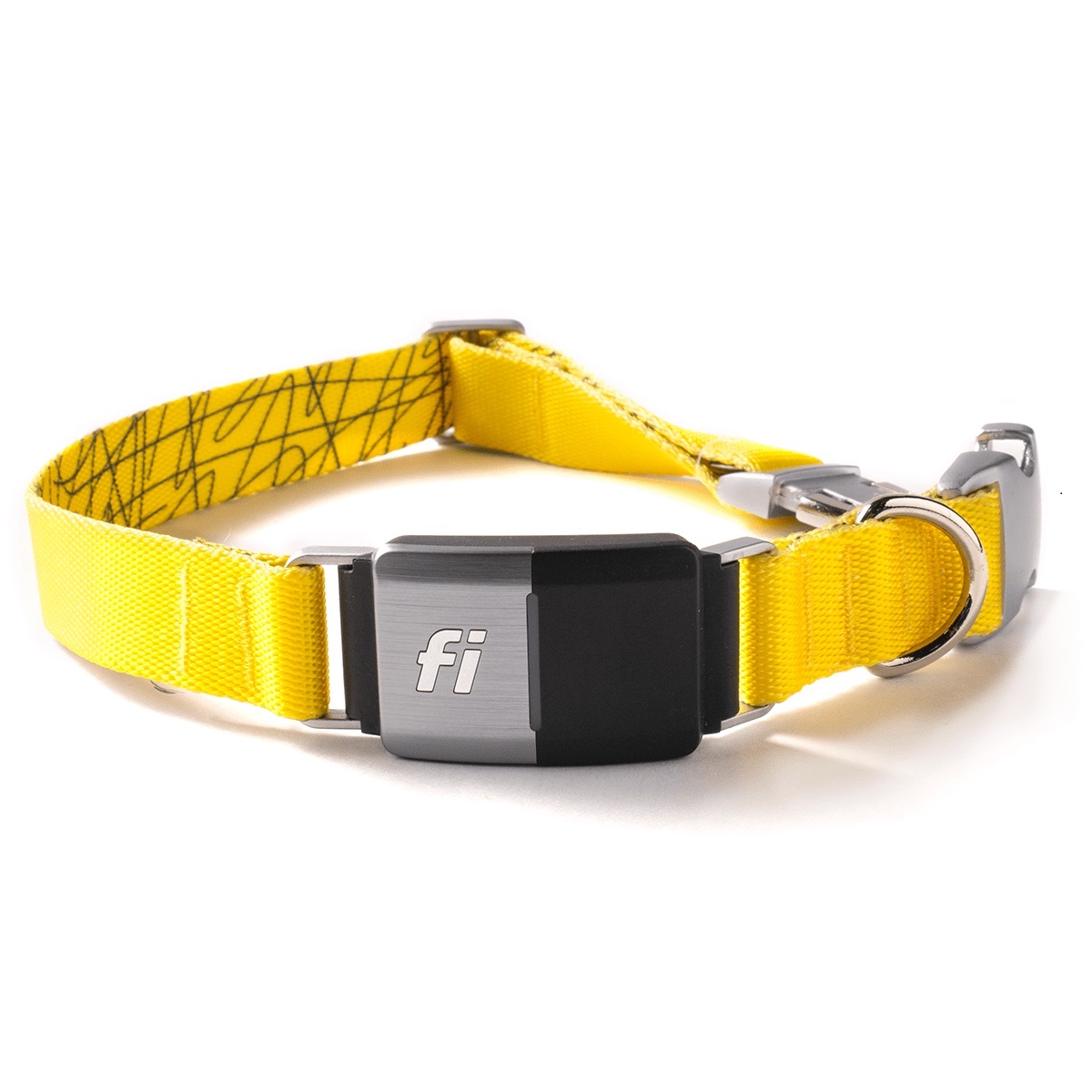 Fi Collar Series 2
The price of "Fi Smart Dog Collar" varies, so check the latest price at
Halo Collar
Track Activity in the App
The Halo collar app does more than just alert you whenever your dog escapes the geofence and tracks their location. Like the Fi collar app, it also tracks their physical activity.
This lets you know what they're getting up to and can help you decide if they ought to be getting more exercise.
One Size Fits All
The actual device with all the technology is the same size and weight regardless of the collar. While it might be too heavy for tiny dogs, it's suitable for most dogs over 20 lbs.
The custom strap has a flexible fit with a clasp and no-slip grip. It can be adjusted, making it a one-size-fits-most, if not all.
But you can narrow it down to get a strap size ideal for your dog's neck, and necks as small as 11" and as large as 30.5" can be easily fitted.
Built for the Outdoors
Halo collar is very expensive, so it's difficult to trust your dog to go outside with it strapped around its neck. However, the Halo smart collar is built to last; it's fully waterproof and made of sturdy, durable material, making it resistant to chewing.
Training
Virtual fences don't work by magic – they require training for your dog to understand the system.
Halo collar offers a three-week dog training program taught by acclaimed dog expert Cesar Millan as he guides you in helping get your dog used to the new system. Videos make it simple to follow the training, and it's effective for all your furry friends, regardless of age or breed.
Connectivity and Accuracy
The range of connectivity options helps both the battery's life and reliability. The GPS collar connects to the Halo collar app via Bluetooth or WiFi, only using cellular data when outside the range of others.
This is important since it means that the Halo collar is always working, even if it loses connection to Bluetooth or Wi-Fi.
Encouragement Feedback
Virtual fences won't work all the time and sometimes your dog will stray outside of the boundaries. But whereas other collars activate corrections when your dog reenters the virtual fence (effectively discouraging them from doing so), the Halo collar instead offers encouraging feedback.
You can choose between a whistle or feedback saying 'Come back home' or 'Good dog.'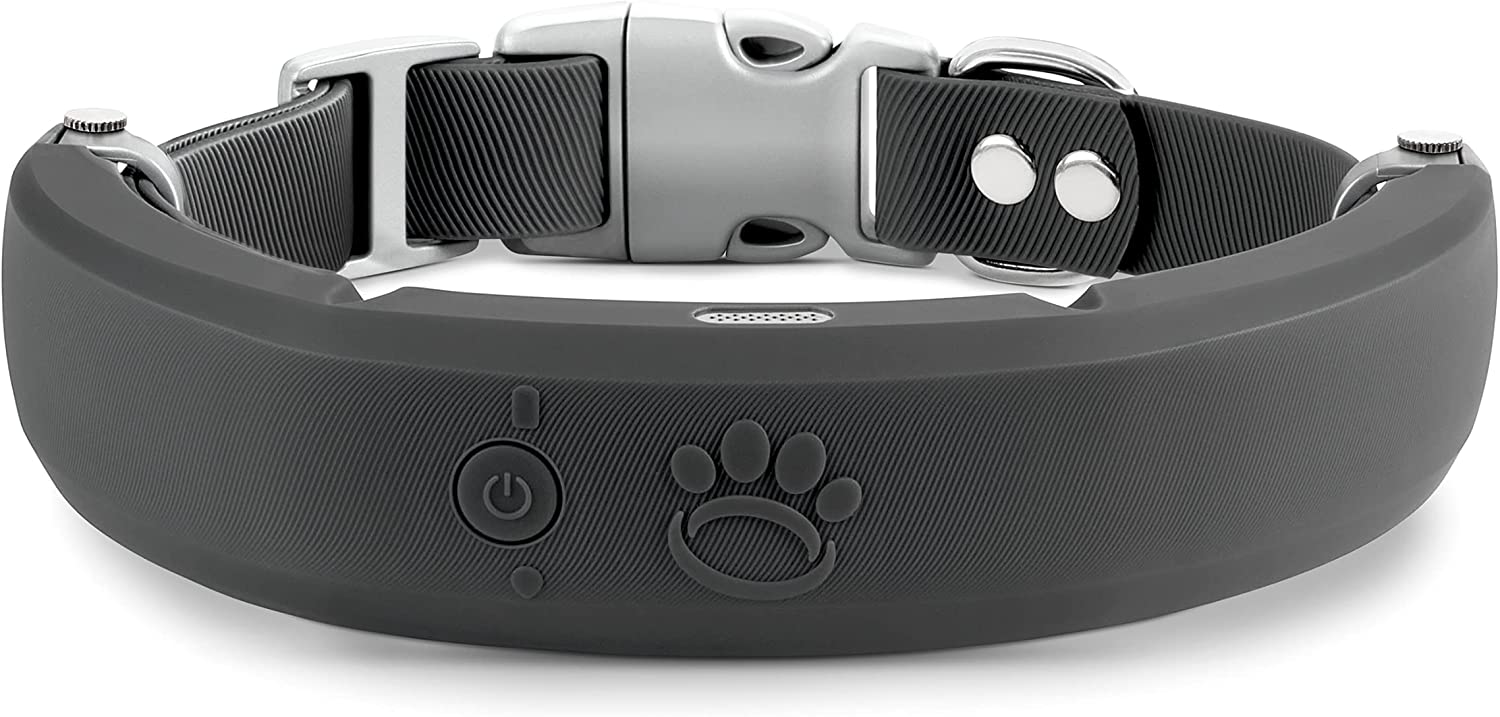 Halo 2+ with Cesar Millan
Use Code: CELEBRATE to get $375 off your new Halo Collar
Tips for Picking the Best Collar for Your Dog
If budget is your main concern, after reading this Fi vs Halo collar review, it's easy to know which one to pick – the Fi is much more affordable. But if you could potentially afford the Halo smart dog collar, it might make the decision more complex.
Why Fi Might Be Best for You
Fi's activity tracker helps you spot issues before they become problematic. It tracks your dog's exercise habits and ensures that there's no sudden health change that might require a trip to the vet.
But its main focus is security. Escape alerts are rapid and the LTE-M network tracks your dog's location reliably and accurately.
The new membership option makes Fi even more simple and an affordable smart collar, even sending you updated hardware at no extra cost. Although Fi is a more budget-friendly option, it has everything you need to ensure your dog's getting enough exercise and won't get lost.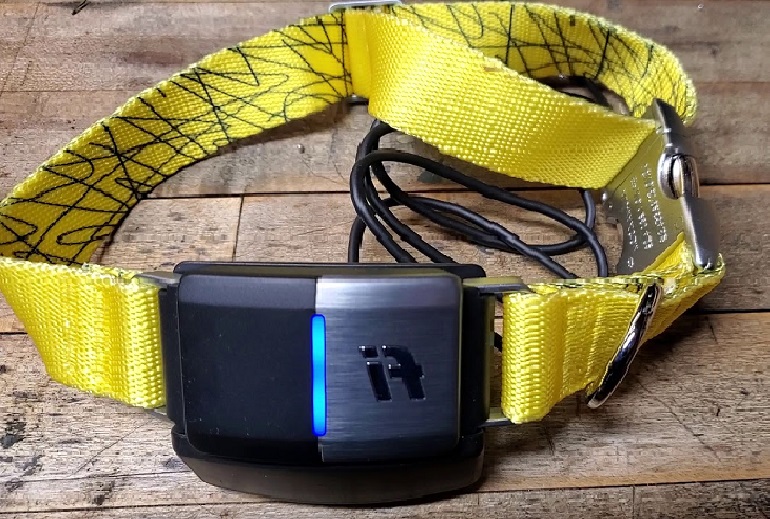 Why Halo Collar Might Be Best for You
Halo collar training alone makes it worth the higher pricing. Additionally, the GPS/GNSS tracking is efficient and highly accurate, making it a cinch to track your dog down. And like the Fi, the Halo collar can also track activity and how much exercise your dog is getting.
As an extra positive, the Halo collar allows more flexibility with virtual fences. So if you have lots of areas and a huge space for your furry friend to enjoy, pick Halo collar as it might be more reliable to keep them safe.
Conclusion
It's not easy to say definitively which collar is best – it's all down to your individual needs and budget, as well as your dog's habits.
So all you dog owners, whichever smart collar you choose, ensure it fits your budget and go through the dog training steadily.
Before you know it, your pup will understand, allowing them to run free and live life to the full while you have peace of mind.