Dog owners all over the world know the struggle. Whether you're trying to watch TV, have a nap, or get some work done, there's one sound that's guaranteed to ruin everything – your dog's excessive barking.
It's a nuisance behavior that hundreds of dogs are guilty of, and it's not an easy one to correct. Half the time, they don't even listen!
But we no longer need to rely on just a collar and leash anymore. As technology develops, we get more and more ways to train our dogs. So, which is the best dog collar to stop bad behaviors?
Citronella dog training collar has emerged as an innovative option! The main purpose of a citronella spray collar is to stop a dog's nuisance barking. If they never seem to stop barking, this is the best way to communicate to them that it's not acceptable behavior.
How Do Citronella Bark Collars Work?
Whenever your dog barks, the collar simply squirts out a fine mist of citronella liquid near the pooch's face, right under their nose.
Don't worry, though – it's a harmless essential oil from lemongrass. But while we might find the smell pleasant, the citronella scent stinks for pups and irritates their nose.
This distracts them from barking and so dissuades them from doing it again. Over time and with training, they eventually learn to associate excessive barking with the citronella spray.
Although citronella collars are gentler and more humane than shock collars, they're still controversial. Instead, use them as a last resort. It might be better to investigate why your dog is barking; maybe they're bored or alerting you to something.
Best Quality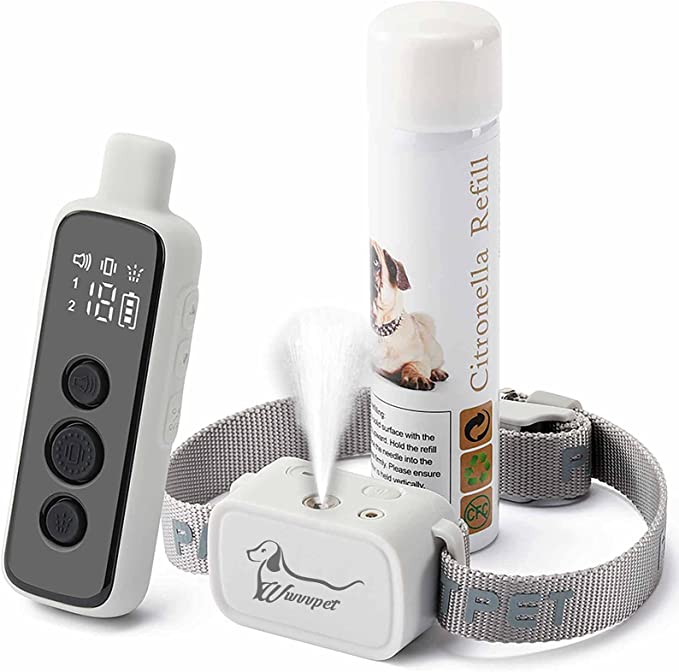 WWVVPET Citronella Collar
Material: ABS Plastic + Nylon
Closure Type: Snap
Best for Small Dogs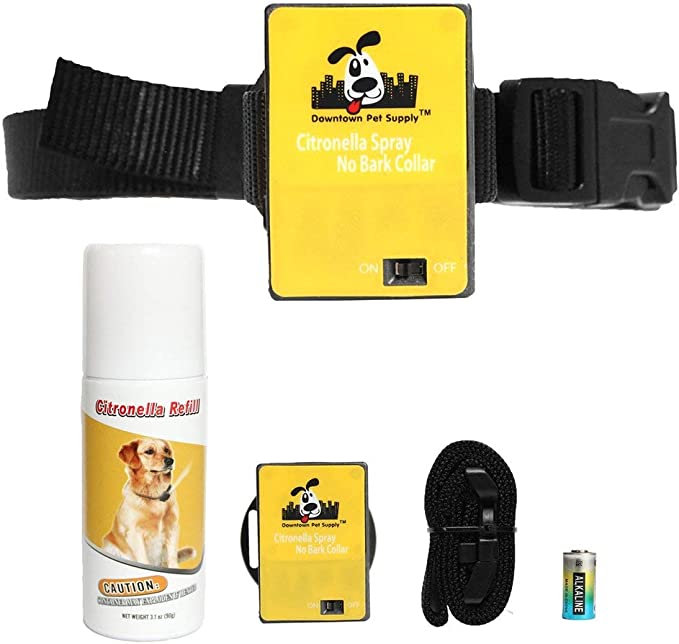 Downtown Pet Collar
Material: Nylon
Closure Type: Snap
Best Brand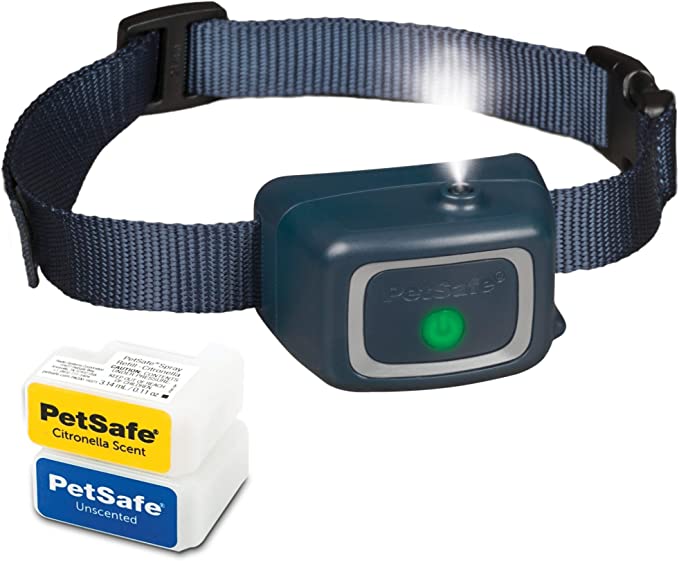 PetSafe Spray Collar
Material: Nylon
Closure Type: Snap
Best Value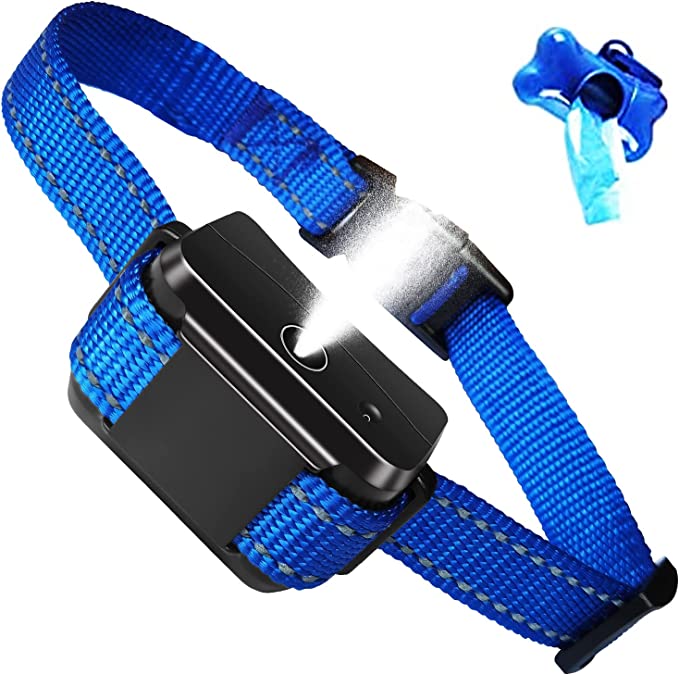 TSWTECH Citronella Collar
Material: Polyester
Closure Type: Button
Best Battery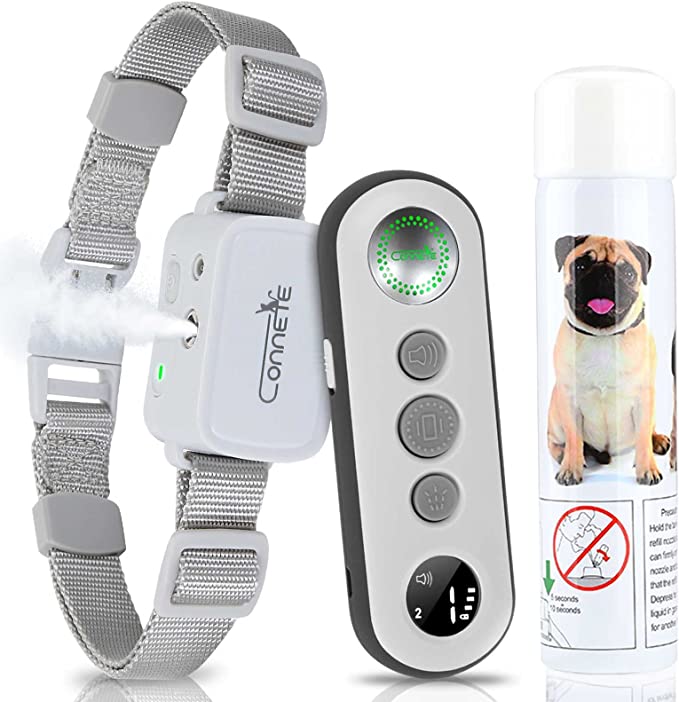 Connete Citronella Collar
Material: Nylon
Closure Type: Button
Best for Outdoor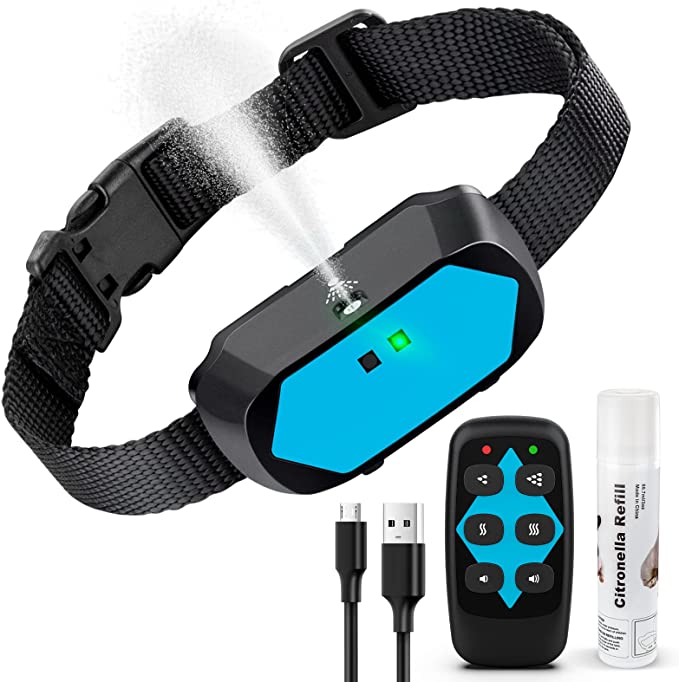 Kaiertcat Citronella Collar
Material: Nylon
Closure Type: Button
Best Citronella Bark Collar – Top 6 Picks
You can find collars for everything these days: a prong dog collar or no pull dog collar will help stop your pup from pulling at the leash, whereas a reflective dog collar or GPS dog collar will help you locate them if they get lost.
But if you want a more humane version of a shock collar that corrects bad behaviors and will stop barking, look no further than a citronella dog collar.
Whether you're on the hunt for a remote or automatic bark collar, we've got six of the best citronella bark collars to consider.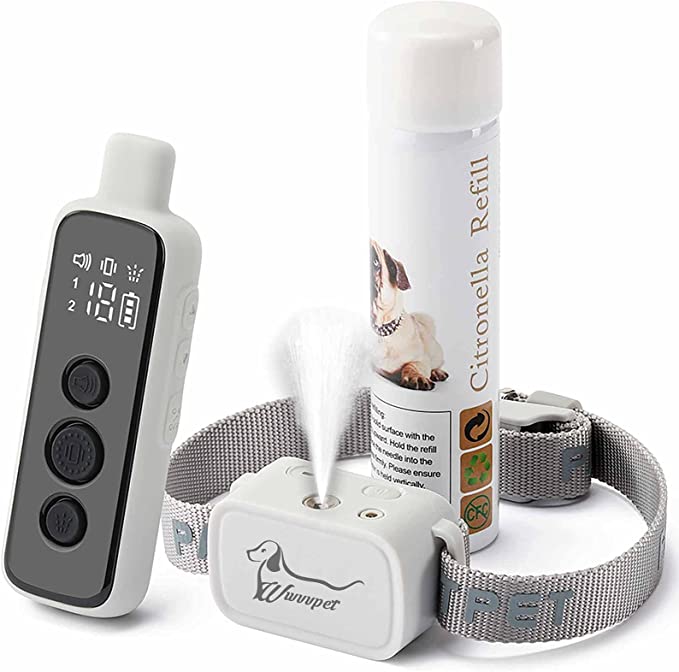 Imagine your pup's behaving themselves and being a perfect angel… and then they suddenly get squirted in the face for no reason.
'False sprays' are always a danger with automatic collars – sadly, the convenience isn't risk-free! However, collars like the WWVVPET citronella collar are manual and only spray when triggered by remote control. Don't worry about being too far from your dog, though, since the remote control has a range of up to 1,000 feet.
The collar has a capacity of up to 35 sprays before it needs refilling and has a range of customization options. Besides choosing between high or low spray settings, you can also choose to combine the citronella spray with an audible tone or a vibration.
The rechargeable battery lasts up to 11 days and takes 2 to 3 hours to recharge. The collar is also adjustable, able to fit dogs with a neck size between 8" and 27". Although it's suitable for dogs 8lbs and over, because of the collar's weight, dogs should ideally be over 15lbs.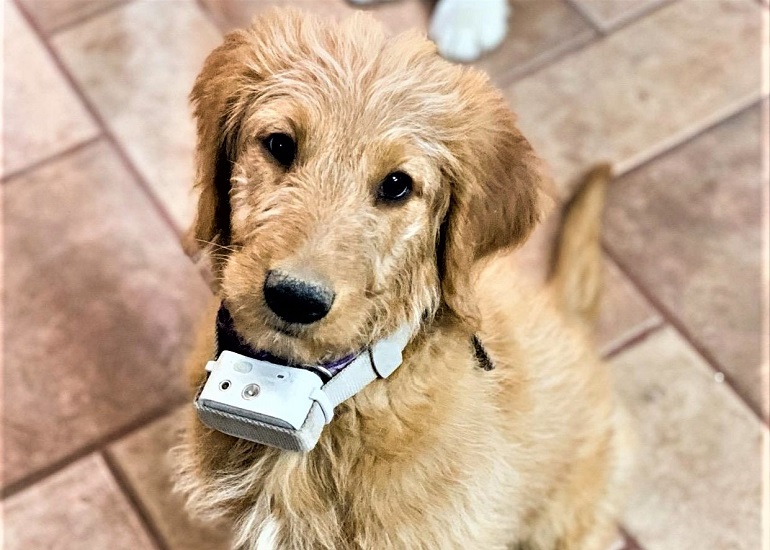 Features
Includes citronella spray, charging cable & remote control
3 different dog training modes
Charges in 2-3 hours
Long-lasting battery
Flexible spray settings
Adjustable collar
Pros
No accidental discharges that may confuse the dog
Remote control has a high range
Audible and vibrating correction modes for more effective dog training
Quick battery charging
Cons
Must be around dog for corrections; dog can't be alone
Too heavy for dogs under 15lbs
Not waterproof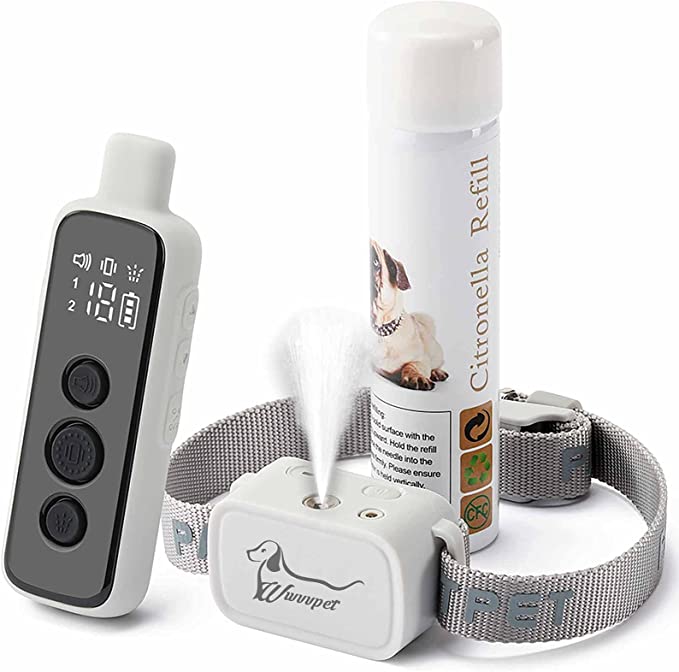 WWVVPET Citronella Bark Collar with Remote
The price of "WWVVPET Citronella Bark Collar with Remote" varies, so check the latest price at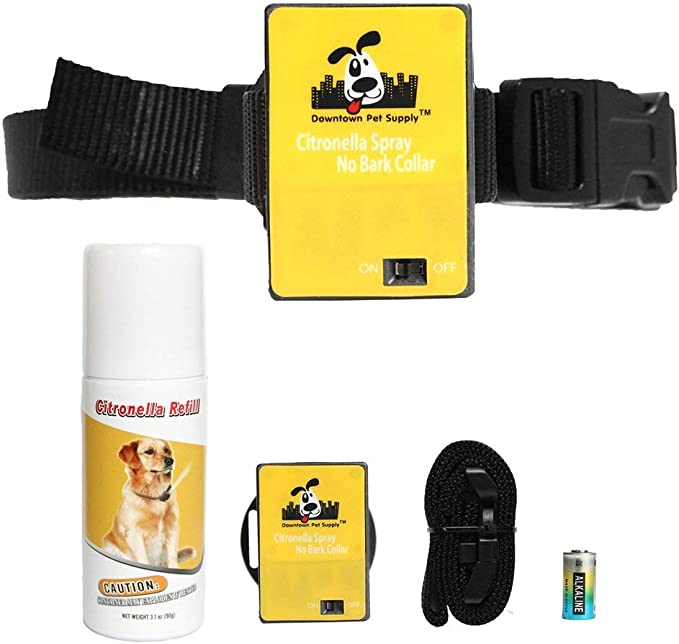 Since citronella bark collars can be a little on the heavy side, what if you've got a particularly small dog? In that case, the Downtown collar might be a better choice thanks to its adjustable nylon collar that fits dogs from 6lbs and up.
Although an automatic spray collar, the Downtown citronella collar is more careful than others. Instead of responding to any hint of a bark, the collar only sprays when the bark sensor detects both audible barking and throat vibrations.
This is a genius way of avoiding 'false sprays' and making sure your dog only gets sprayed at the right times.
This two-criteria correction function isn't flawless, though. For example, if your dog sneezes or makes an innocent whine, it might set off the spray.
The other downside of this citronella spray collar is that each time you refill the cartridge, it only holds a maximum of up to 15 sprays at once. As well as that, there's no rechargeable battery; instead, you have to replace it with another disposable 6-volt battery. Still, a battery is included, so you can get started right away without having to stock up!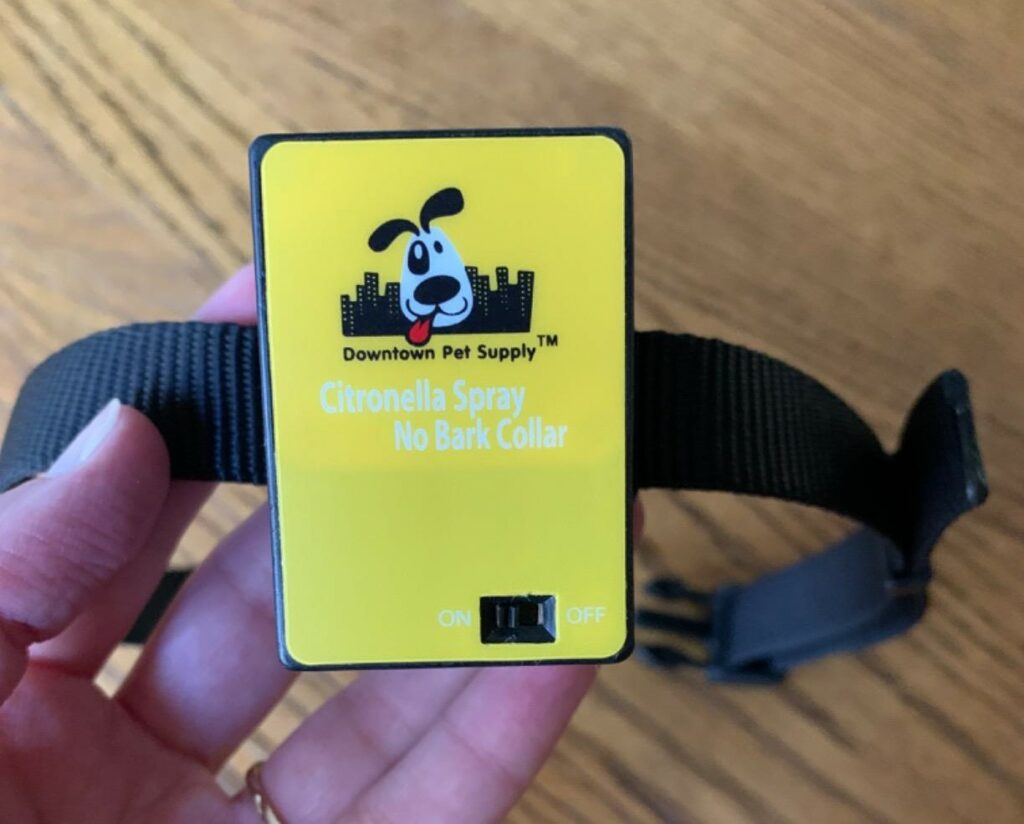 Features
6-volt disposable battery
Suitable for dogs 6lbs+
Comes with a spray refill and dog training manual
Made of nylon
60-day moneyback guarantee
Pros
Better for smaller dogs than others
Fewer accidental discharges
Citronella can and battery included
Moneyback guarantee for a risk-free purchase
Cons
Not rechargeable
Two-criteria discharge can activate with sneezes and other innocent noises
Only 15 sprays in each canister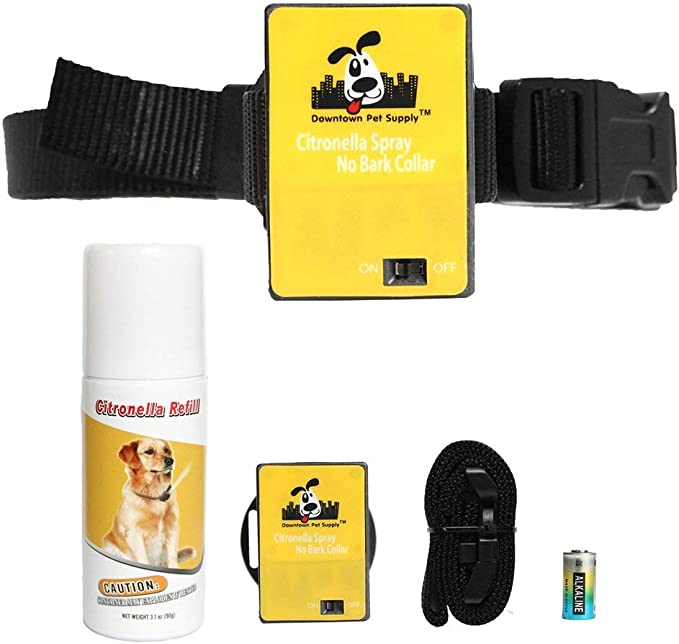 Downtown NO BARK Collar
The price of "Downtown NO BARK Collar" varies, so check the latest price at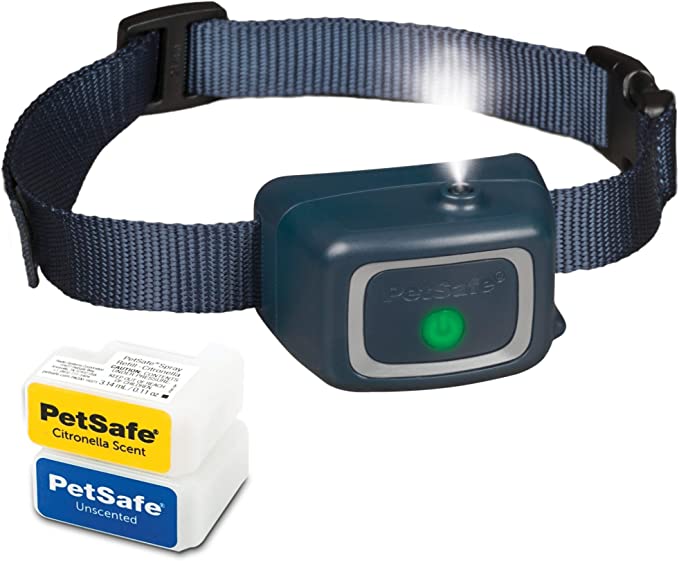 With an adjustable collar for neck sizes up to 24", this is a lightweight collar that can be carried by dogs from 8lbs and over. But the immediate advantage of the PetSafe citronella bark collar is that it's made by PetSafe, one of the most well-known and widely recognized brands in the pet-care industry.
This citronella spray collar even boasts research that shows it reduces nuisance barking by up to 88% – an impressive claim! It's an automatic collar that delivers a quick and immediate spray when it detects your dog's barking.
The automatic element makes it convenient for you, but the convenience is only enhanced by its rechargeable battery lasting up to 40 hours.
The spray cartridges also last a while, holding up to 25-30 citronella sprays at once. And when it's running low, it flashes a low spray indicator light to make it as easy as possible to know when to fill it up.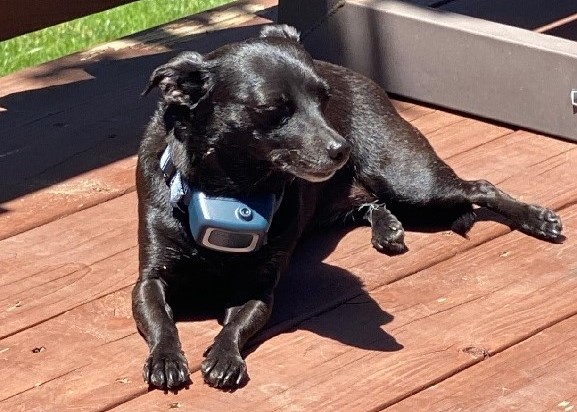 Features
Rechargeable battery
Includes unscented & citronella spray cartridges
Each cartridge lasts 35 sprays
Suitable for dogs 8lbs+
Adjustable collar
Low spray indicator light
Pros
Cartridge levels easy to monitor with an indicator light
Comes with two sprays – citronella and unscented
Reputable company
Cons
Newer product from the brand
No remote option
Shorter battery life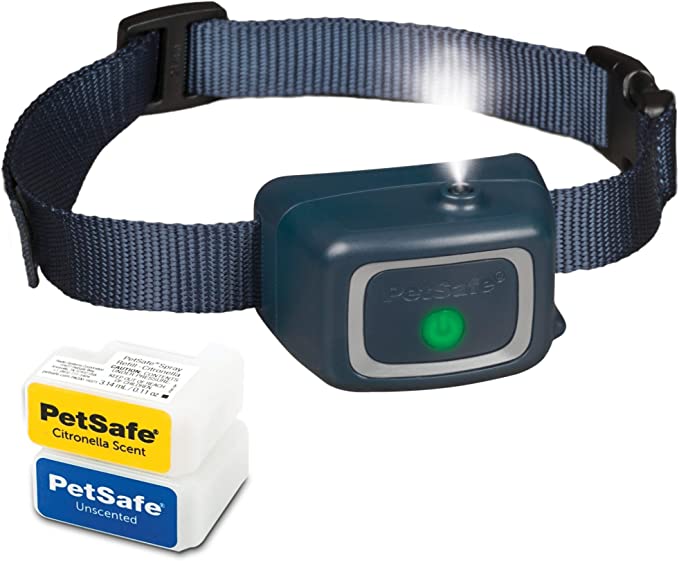 PetSafe Spray Bark Dog Collar
The price of "PetSafe Spray Bark Dog Collar" varies, so check the latest price at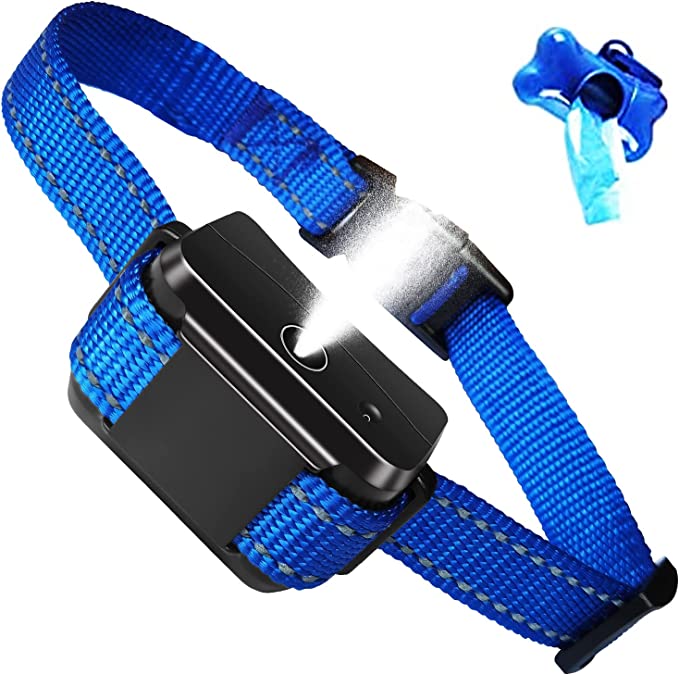 The TSWTECH citronella bark collar is another automatic collar, allowing you to take a backseat while it does the dog training for you. Using a particularly sensitive microphone, the collar senses when the dog barks, releasing a spray immediately to stop them, along with a loud pop noise to surprise them.
You can adjust the collar's volume sensitivity to avoid false sprays and even choose between two spray volumes: a high one or a low one.
In fact, choosing a low spray setting might make the canister last even more than 32 sprays. However, this won't affect the rechargeable battery, although this already has an admirable life expectancy of about a week.
Part of what makes this the best spray collar for value is what comes with the collar. Aside from the charging cable and collar, you also get a poop bag dispenser to match your brand-new citronella collar.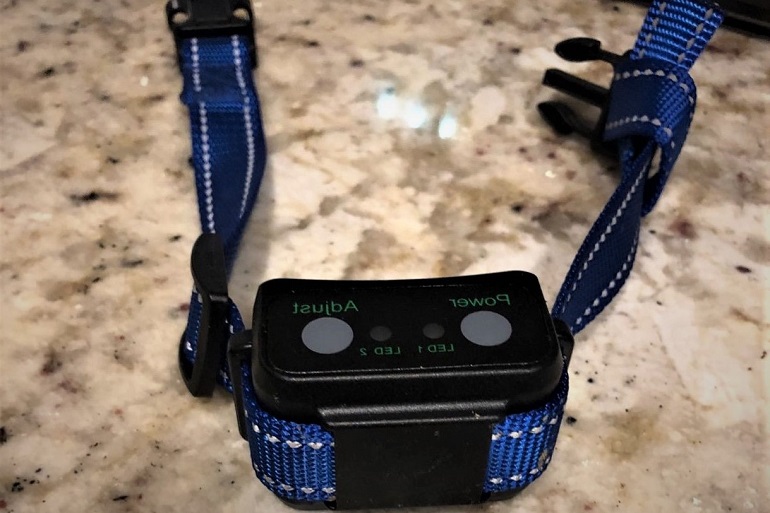 Features
Automatic spray corrections
Microphone to sense dog's barking
Rechargeable battery
Comes with a poop bag dispenser
Canister last 32 sprays
Adjustable strap up to 23"
Pros
Long-lasting battery
Affordable
Adjustable sensitivity on the microphone to reduce false corrections
Comes with extra gifts
Cons
Loud pop sound might scare nervous pups.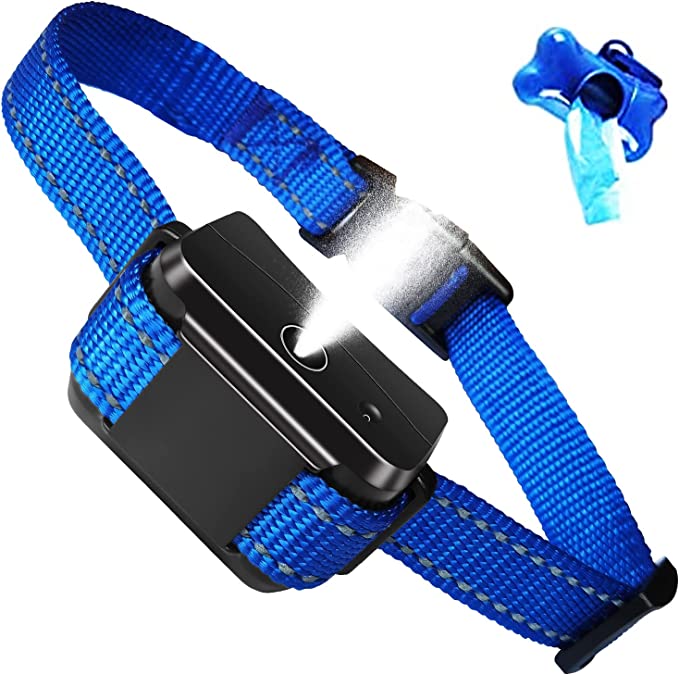 TSWTECH Citronella Bark Collar
The price of "TSWTECH Citronella Collar" varies, so check the latest price at
The Connete citronella bark collar is a standard, reliable spray collar you can trust to help train your dog. Suitable for pups over 8lbs, it even comes with two reflective nylon collar straps, adjustable between 10" and 21".
As an automatic anti-bark citronella spray collar, this works much like similar ones. However, one advantage this has is, it has to detect two or more barks within 10 seconds to activate a spray correction. This has a drastic reduction in the number of false sprays your dog might experience.
Similar to other models, this collar also has two spray volumes (high and low), as well as two volume sensitivity options, and a rechargeable battery that lasts up to 10 days.
Features
Automatic spray after two consecutive barks
Two spray volumes and sensitivities
Two reflective nylon straps
Rechargeable battery
Includes a refill
Pros
Long-lasting battery
Quick battery charging
Fewer false sprays thanks to the 'two-bark' rule
Cons
Not waterproof
Not a good fit for dogs with long necks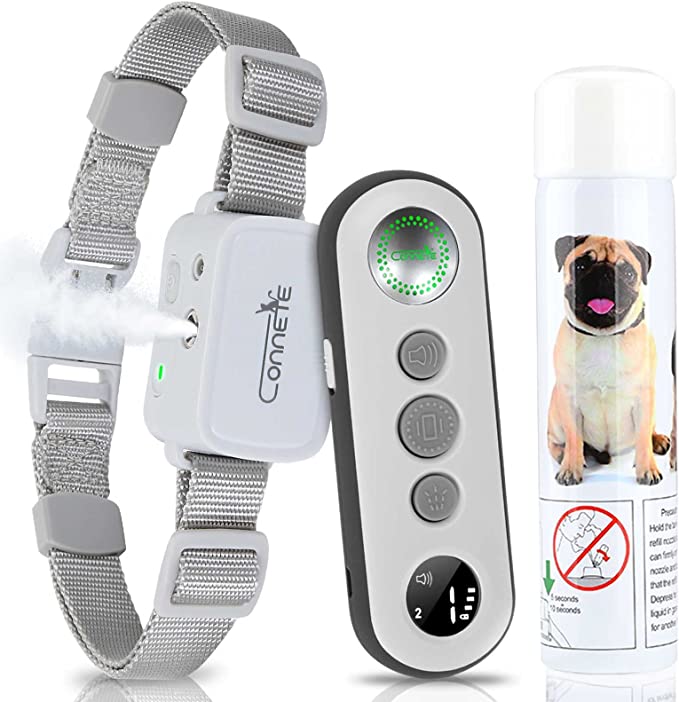 Connete Citronella Dog Bark Collar
The price of "Connete Citronella Dog Bark Collar" varies, so check the latest price at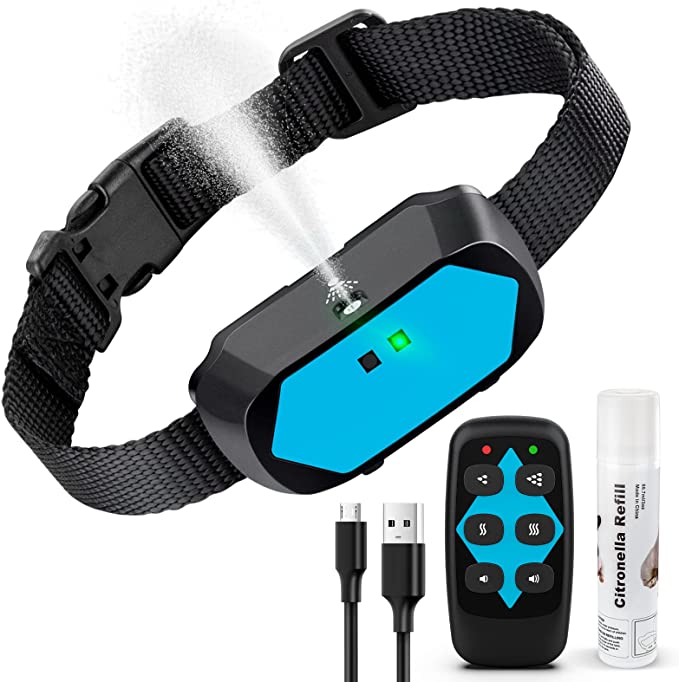 Like the WWVVPET citronella bark collar, the Kaiertcat collar is controlled via remote, uses audible tones and vibrations as well as spray corrections, and has two levels of spray correction. It even has a similar range to its adjustable nylon collar, fitting dogs with a neck size between 6" and 25".
However, the Kaiertcat falls short in its remote range, requiring you to be within 500 feet of your pup for the remote-controlled correction to work.
Still, the Kaiertcat does have its own advantages. It has a slightly improved battery life, lasting up to 12 hours and needing only 2 hours to fully charge. The Kaiertcat is also fully waterproof, unlike all other citronella bark collars on this list. This makes it the perfect collar to use when your pup is out and about near water.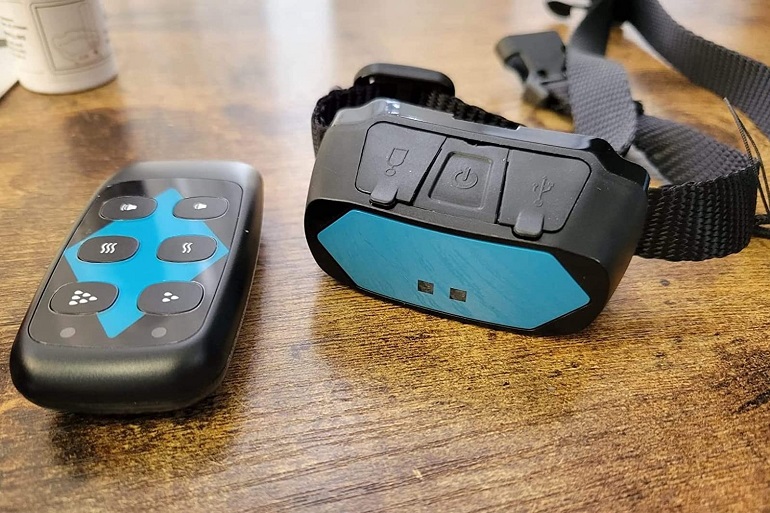 Features
Includes a refill can
Remote controlled with a range of 500ft
2 correction levels
Choice of spray, audible or vibration corrections
Rechargeable battery lasts up to 12 days
IPX7 waterproof
Adjustable nylon collar
Pros
Varying correction options
Manual means no false sprays
Fully waterproof collar for use outdoors
Long-lasting battery
Cons
Must be within range of 500 feet of the dog for corrections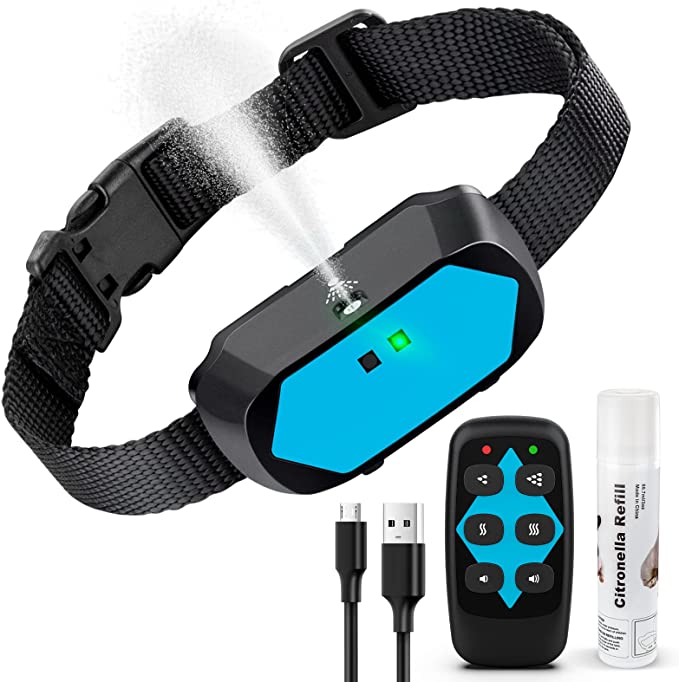 Kaiertcat Citronella Bark Collar
The price of "Kaiertcat Citronella Collar" varies, so check the latest price at
Factors to Consider Before Purchasing a Citronella Bark Collar
There are lots of citronella spray collars on the market that promise to rid your pup of nuisance behaviors. Some are good, some not so much… But here are a few things to look out for when you're searching for your dog's new collar.
Battery
Whether you prefer a collar that uses a rechargeable battery or disposable batteries is entirely up to you – there are pros and cons to each. Although it's convenient to always be able to charge a battery, what if you lose the cable? And if you don't need to keep track of a charging cable, what if you run out of disposable batteries?
Whichever your preference, there are still a couple of other things to look out for.
If you want a rechargeable collar, make sure it has a decent battery life compared to other options and charges at a decent speed.
If you want a collar with disposable batteries, check that these batteries are easy for you to find and not too expensive to buy.
Spray Capacity
When it comes to citronella bark collars, there's nothing more annoying than having to constantly refill the spray canister.
That's why we'd recommend checking how many sprays each citronella dog bark collar can store. We'd say at least 20 should be good enough, but more is always better!
Weight
Unlike some collars, you don't need to accurately measure for a dog collar when it comes to a bark collar. Most have adjustable straps that suit most dog sizes. But you do have to pay attention to weight.
Since the spray comes out of a box attached to the collar, this adds a fair bit of weight to the collar. You need to make sure it's not too heavy for your dog, and your dog is big enough not to be weighed down by it. That's often why spray collars aren't suitable as a puppy collar.
Automatic or Manual Corrections?
This is one of the main decisions when it comes to a citronella bark collar – automatic or manual? Automatic collars spray whenever they detect a bark, whereas manual collars require you to activate the spray via remote control. Each option has its own pros and cons, and it comes down entirely to personal preference.
Automatic collars are convenient and allow you to sit back and let the collar do the training for you – but you run the risk of the collar getting it wrong and giving your dog a false spray unnecessarily. This might confuse or upset your pooch.
But a manual remote-controlled collar means that the spray is only ever activated when you want it to be, and there's no danger of false sprays. However, it means that you always have to be around and require more focus on your part.
Then again, manual citronella spray collars also give you the opportunity to solve other problem behaviors, like chewing your shoes or looking through the trash!
Conclusion
Even if you love your pup more than words can ever say, nuisance barking doesn't fail to irritate pet owners. If you want the bond between you and your pooch to be as strong as possible, it's best to get them to stop this behavior as soon as possible.
There's no substitution for positive reinforcement and regular training, but if you need a little helping hand, a citronella bark collar might be the answer.
Of course, the results of using citronella dog collars differ between breed and the individual dog, but it might get you that one step closer to peace.
It's not a permanent collar – just a temporary training collar that helps them become the perfect pup you know they can be.