My friend Archer has the most well-behaved dog! His name is Max, and he even understands Archer's eye cues. The more interesting thing here is that Max is deaf. And that's why it always made me curious how Archer managed to train his canine so well.
When I couldn't control my curious nature anymore, I finally asked Archer about that magic spell with which he forged such an enviable relationship with his deaf dog. And guess what, that magic spell came out to be none other than vibrating dog collars! If you don't know, then let us quickly brief you about these collars.
Vibrating dog collars are considered one of the most humane, painless, and safest training collars, which thousands of dog owners use to correct their dog's bad behavior and nuisance barking.
Although the vibrating collar works with a battery, it makes corrections solely by vibrations – Instead of painful shocks, nasty citronella puffs, or sharp rubber or metal prongs.
In the market, two types of vibrating collars are available; automatic and remote control collars. Both of these options perform differently in different conditions. Which type will suit you best and which product you should opt for, read the article to know!
Best Overall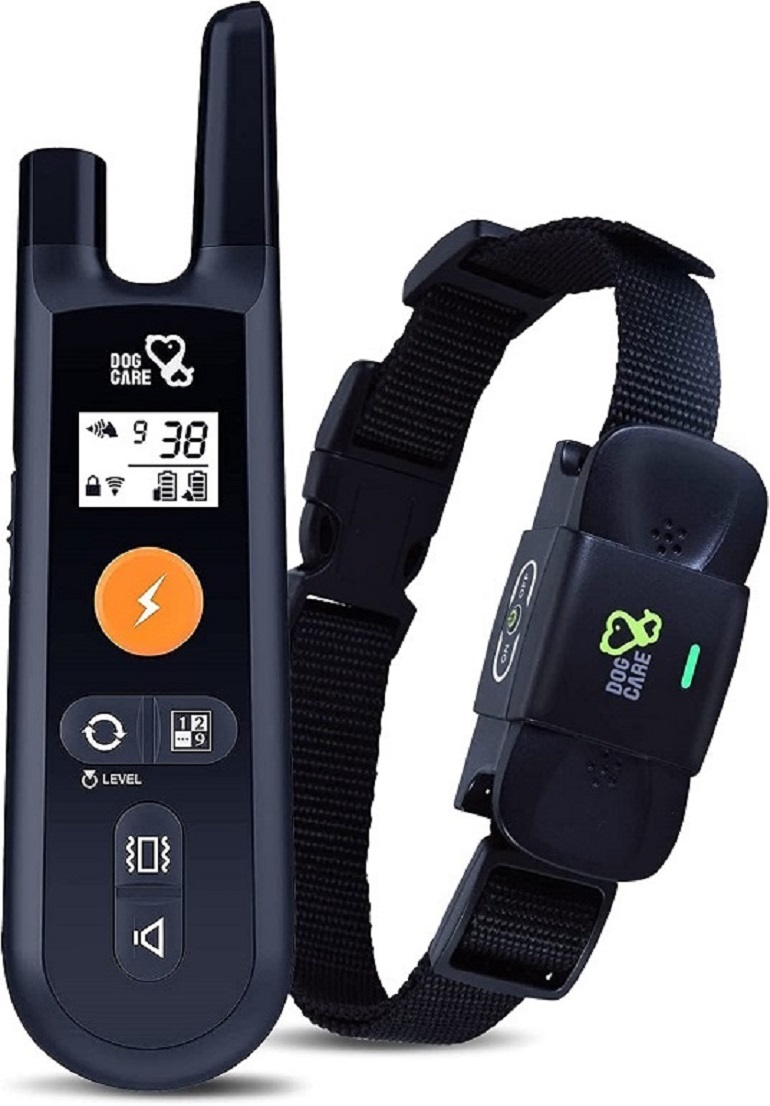 DOG CARE Dog Training Collar
Material: Nylon
Special Feature: Safety 4 Training Modes 

Best No-shock Option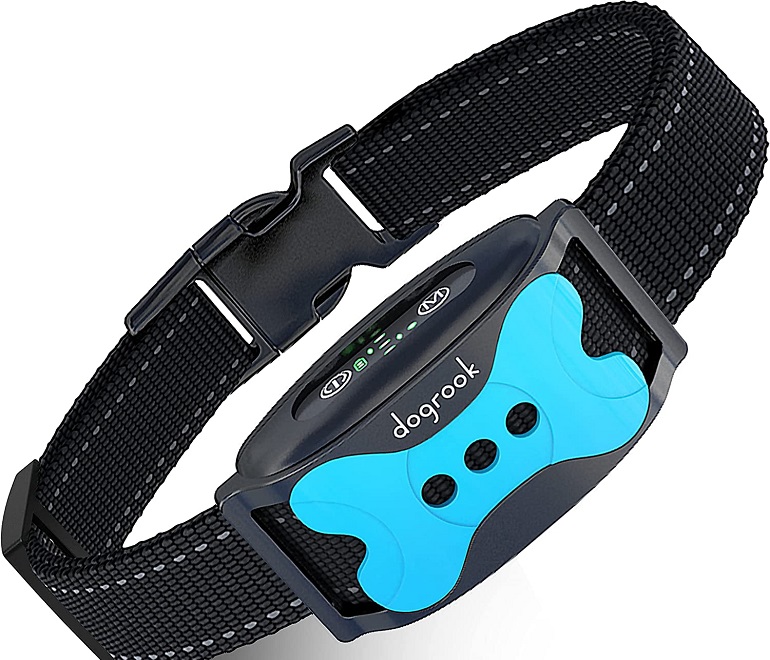 DogRook Rechargeable Dog Bark Collar
Material: Nylon
Special Feature: Vibration & Beep
Remote Vibrating Dog Collar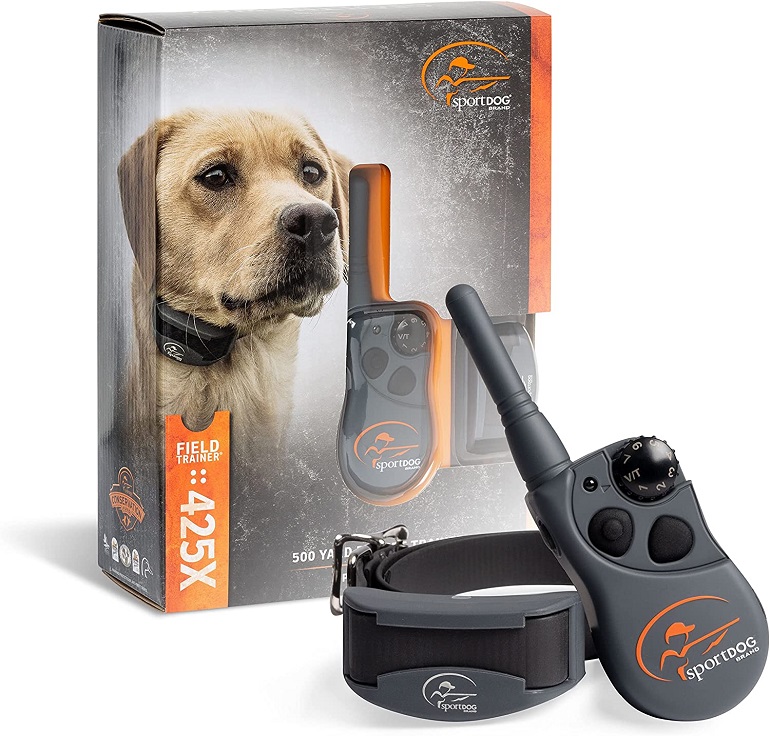 SportDOG Brand 425X Remote Trainers
Material: Plastic
Special Feature: 500 Yard Range
Collar for Small Dogs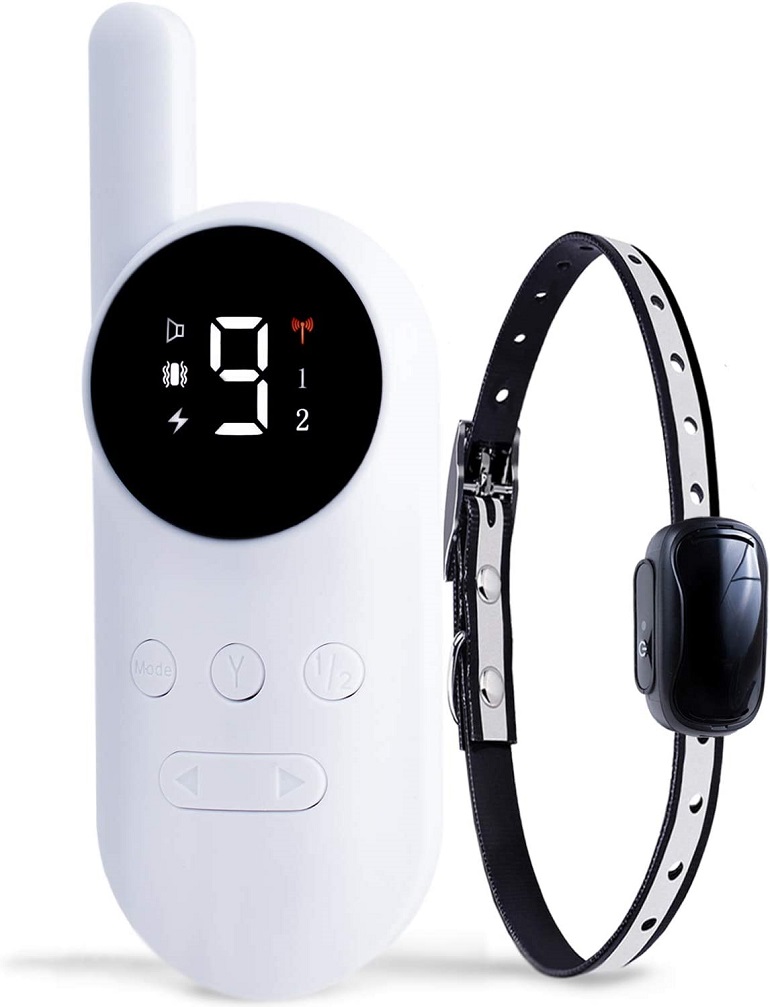 GoodBoy Mini No Shock Remote Collar
Material: Plastic
Special Feature: Waterproof Collar
Collar for Sensitive Dogs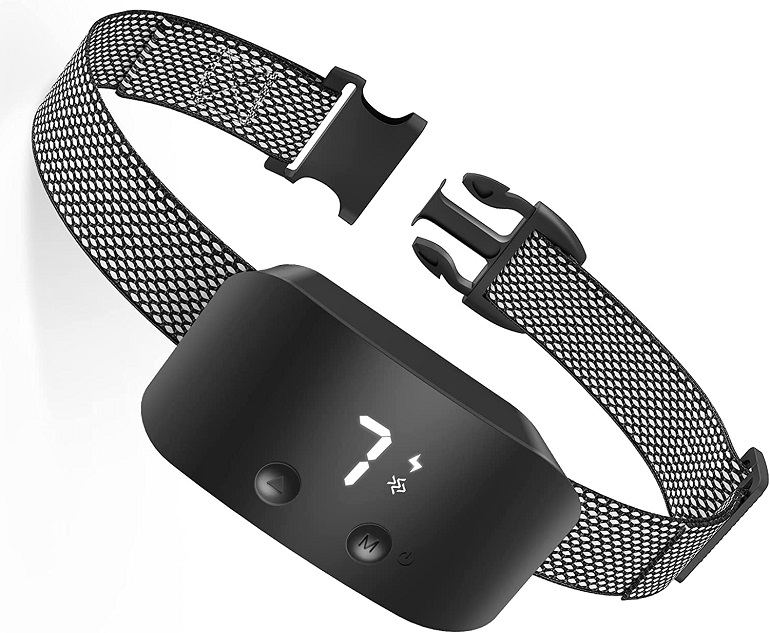 NBJU Bark Collar
Material: Leather
Special Feature: Protection silicone function
Most Affordable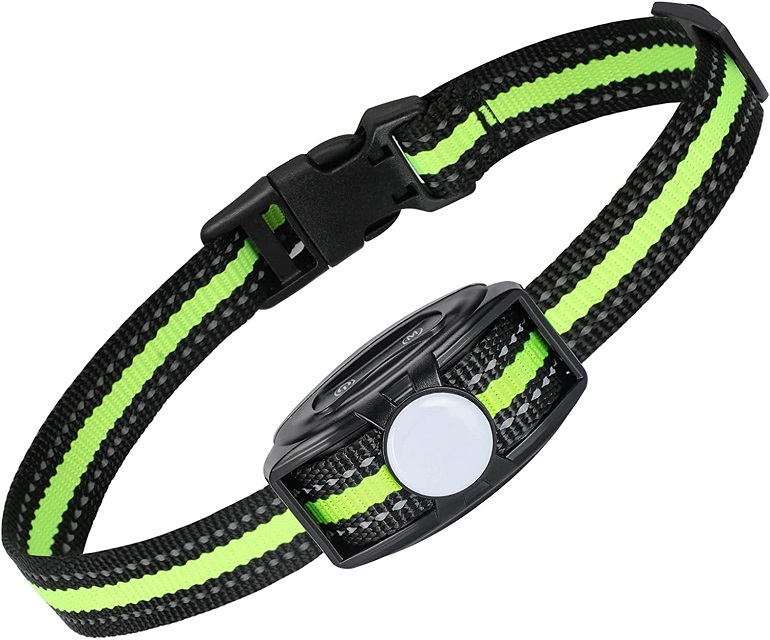 Trulrox Bark Collar
Material: Nylon
Special Feature: Waterproof with rechargeable battery
The Longest Running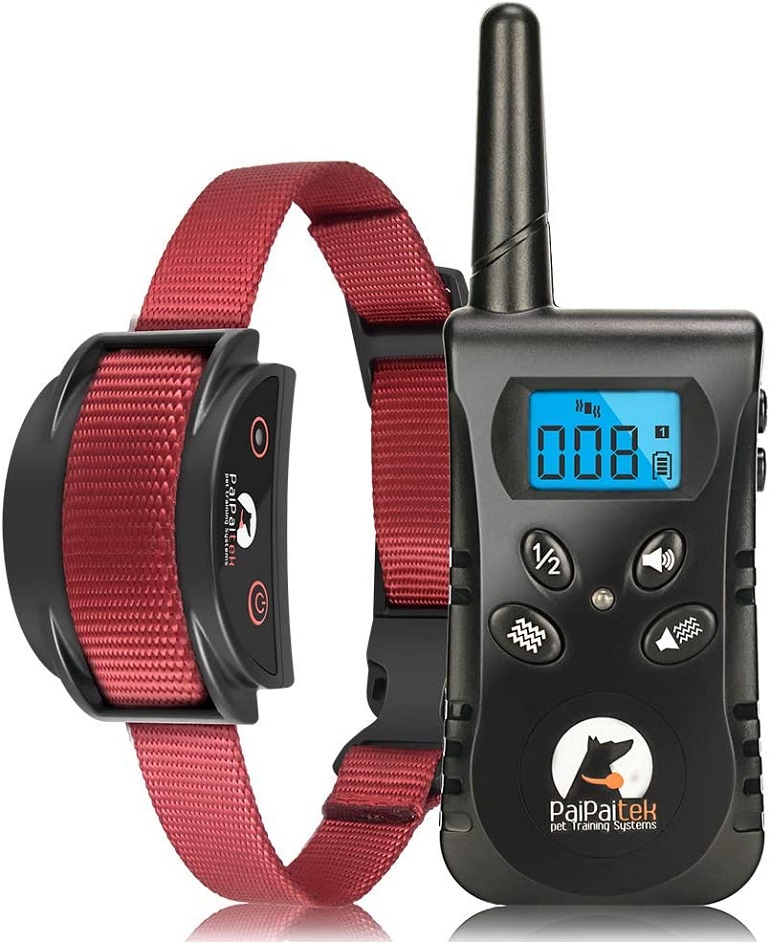 Paipaitek No Shock Dog Training Collar
Material: Acrylonitrile Butadiene Styrene
Special Feature: Safe vibration collar no shock with remote
Top 7 Picks of the Best Vibrating Dog Collars
Even though the vibrating collars are safe to use, they still come with batteries and sometimes, with shock function, which may overwhelm many pet owners while trying to find the safest option.
We understand that no one wants to hurt his fragile pup, and therefore, we've made this list of the best vibrating dog collars, considering all the user's concerns, expert opinions, and veterinary advice.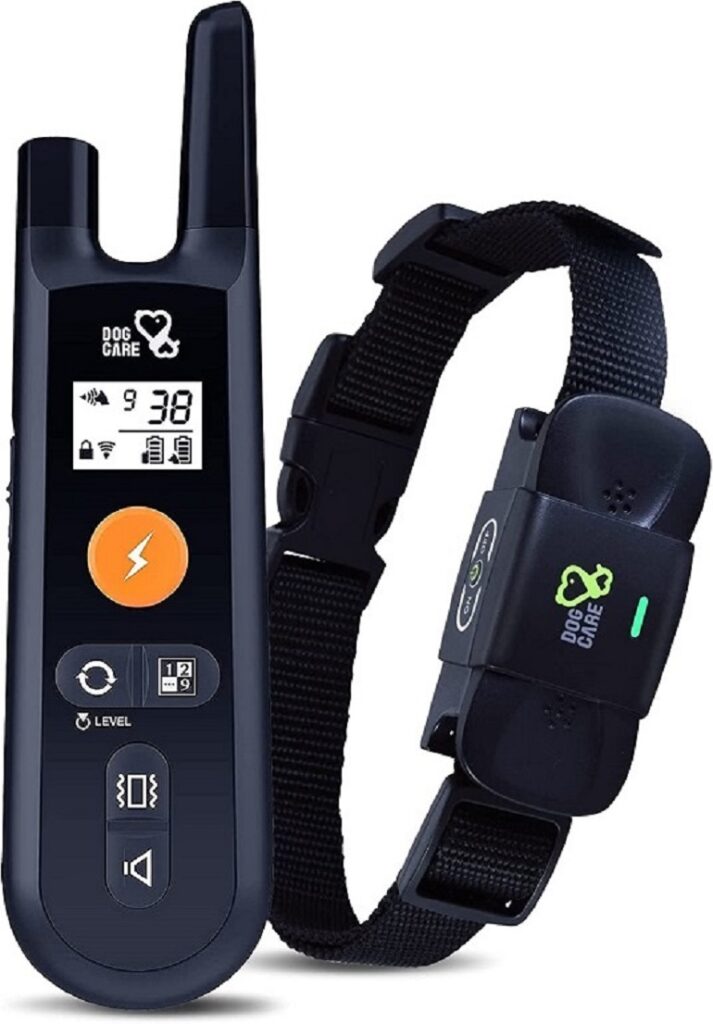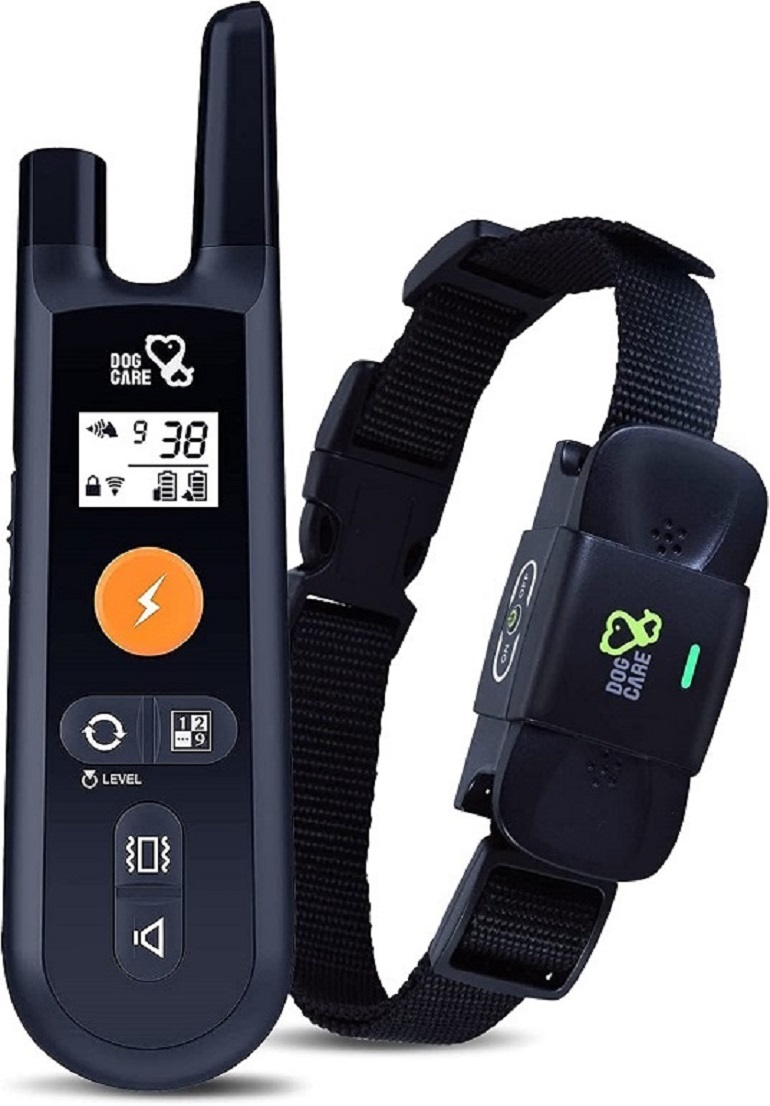 The very first collar on our list is for those having multiple dogs to train but don't have enough time to train each one separately. Its remote can support up to nine different collars, so you can train all the dogs at the same time.
Unlike average vibrating collars, this one features nine different sensitivity levels for three training modes; vibration, beep, and shock, so you can treat each dog as per his temperament and level of aggressiveness.
Besides three training modes, the collar offers NINETY-NINE different shock levels so you can train dogs of varied breeds and sizes.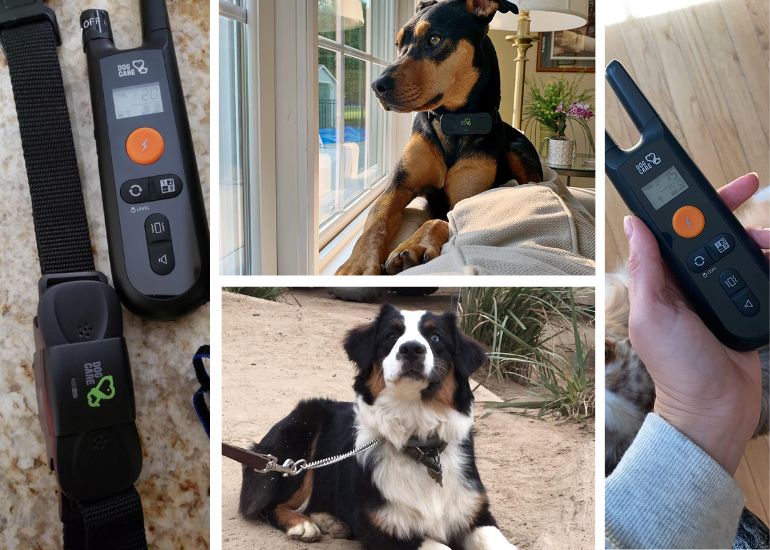 Don't worry about accidental shocks since the gadget comes with a specialized security keypad lock. With this secure keypad, no one can train your dog unless they know the lock pattern. This feature is specifically great for those having naughty kids in their homes.
Hey, the brightest part is yet to come; this dog care training collar features an independent speaker which makes your dog listen to your commands more clearly, without any confusion.
In other words, even if you are standing hundreds of yards away from your pooch, he still can hear your commands as you are standing just beside him. Isn't that amazing?
Specifications
Material: Nylon
Type: Manual
Color: Black
Collar Runtime: 15 days
Range: 1-300 ft
Pros
Even though the collar can't withstand being completely submerged in water, it won't stop working on being exposed to downpours or splashes.
The 1″ wide nylon webbing strap is adjustable and can easily fit dogs weighing from 15-150 lbs.
Cons
The green LED screen of the receiver can't be turned off.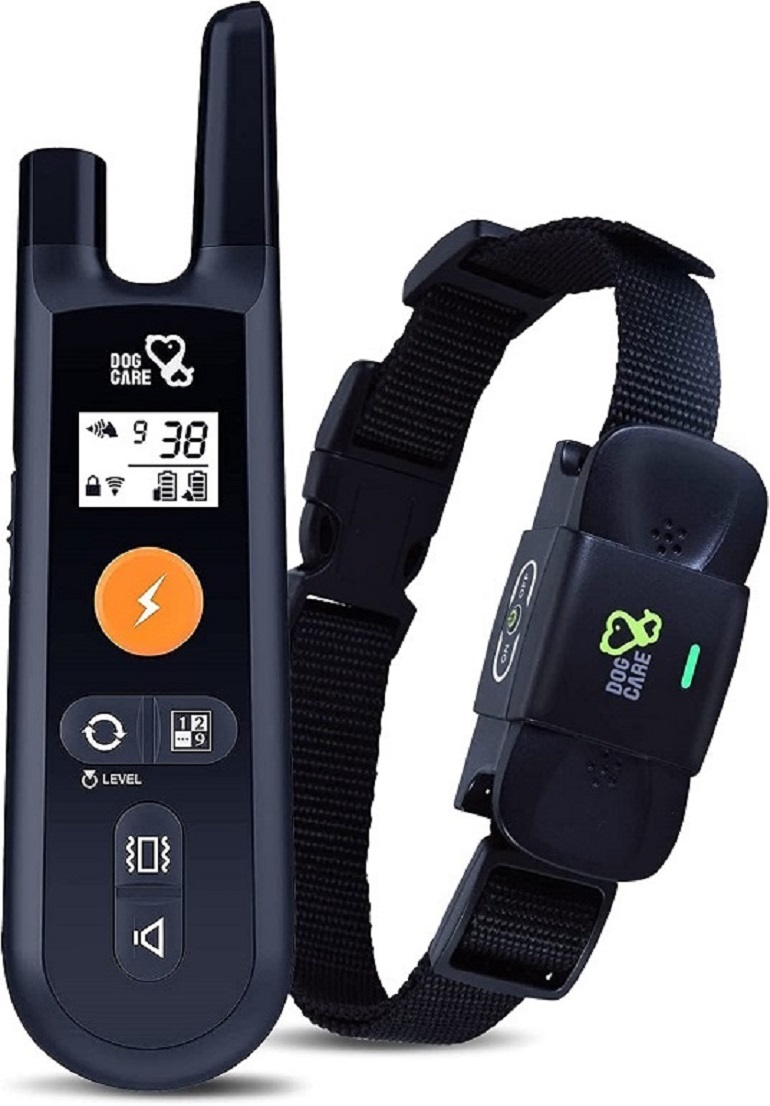 DOG CARE Dog Training Collar
The price of "DOG CARE Dog Training Collar" varies, so check the latest price at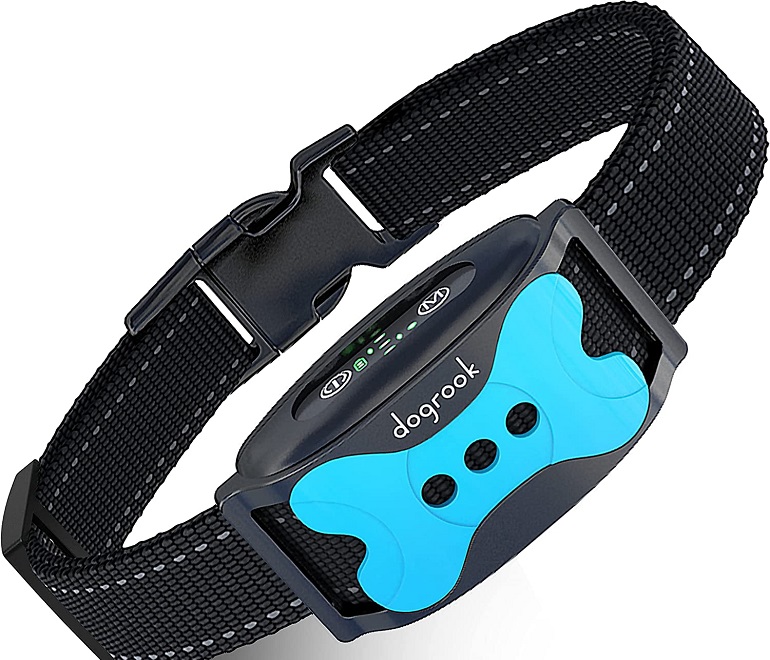 If you don't want your dog to disturb your neighbors with his excessive barking, when you are not at home, this is the collar you should buy. Since this collar doesn't feature shock mode, making your dog wear it without any supervision is completely safe.
To make your furry friend learn his lesson, this vibrating dog bark collar features sound and vibration stimulations with two vibration and seven beep settings. You just need to adjust the volume of your dog's barks with specific sensitivity levels to induce an automatic correction.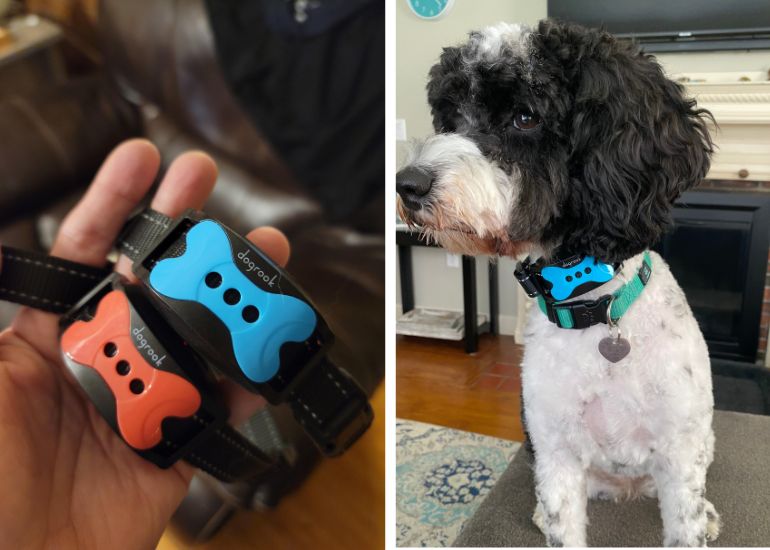 A major problem with automatic anti-barking collars is that they often induce correction on catching the barks of other dogs, making your innocent dog suffer from unfair punishment.
However, this Dogrook rechargeable vibrating collar features an advanced microphone that detects the barks of your dog only, discarding the chances of unnecessary corrections.
Lastly, unlike the previous shock bark collar, this one is 100% waterproof, so your pooch can play freely in rain and puddles, without damaging his vibrating training collar.
Specifications
Material: Nylon
Type: Automatic
Color: Four different color options
Collar Runtime: 14 days
Pros
For long-haired canines, this Dogrook rechargeable waterproof collar comes with prong covers that enhance the effectiveness of stimulation.
It can be considered a reflective collar due to having reflective stitching throughout the collar length.
Cons
The strap might fray if your dog is a great chewer.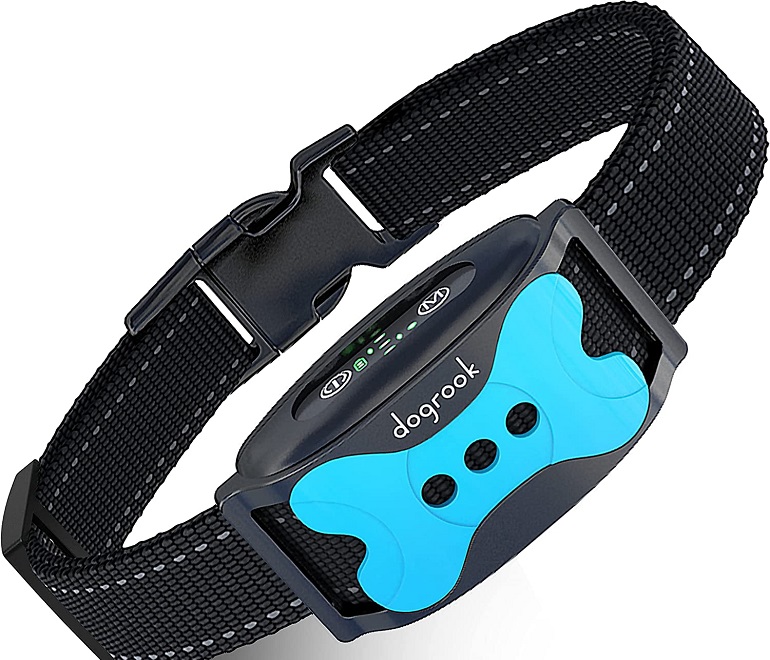 DogRook Rechargeable Dog Bark Collar
The price of "DogRook Rechargeable Dog Bark Collar" varies, so check the latest price at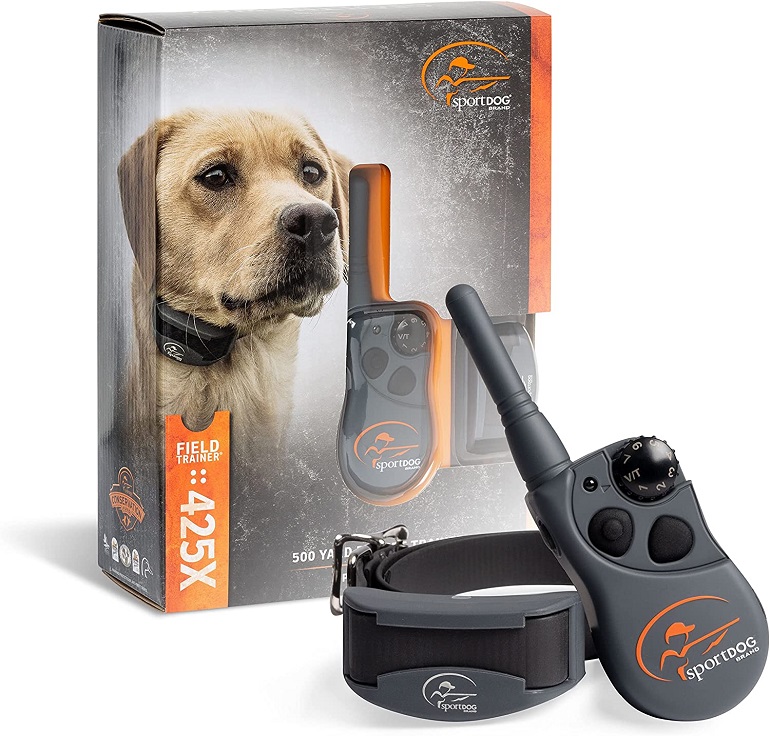 Looking for a more advanced training collar to train your field or sporting dog? If so, then this is the training gadget you need to purchase.
The main selling point of this collar is its unbeatable design and incredible construction. For instance, unlike other training collars, this one feels featherlight, so it won't intervene in your hunting dog's efficiency.
The best part is, despite being small and lightweight, it's super durable and equally effective for large and small dogs. This shock dog collar features three training modes; sound, vibration, and static shock, whereas the static simulation comes with 21 different levels with high, medium, and low continuous & momentary stimulation.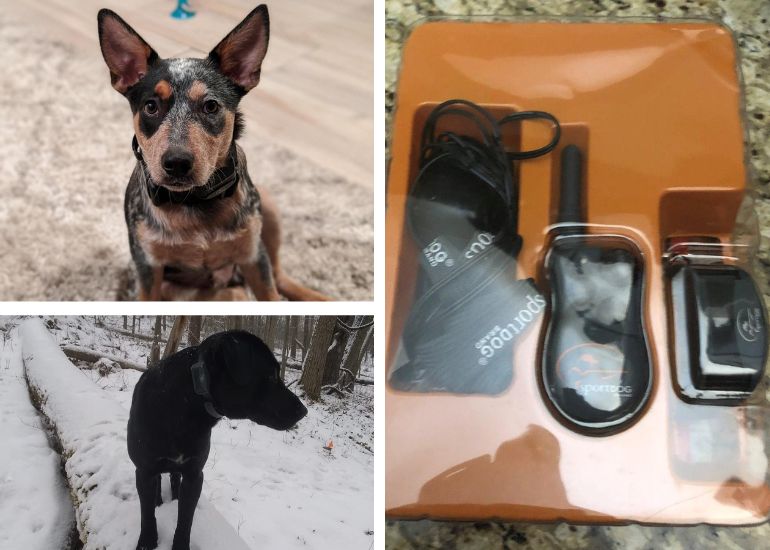 To make this e-collar versatile and usable for different dogs, the manufacturer provides interchangeable contact points. And due to the presence of Dry Tek Technology, the collar can function brilliantly even when submerged in water up to 25ft.
The remote control is super straightforward and can be used to control the transmitters of three dogs.
Specifications
Material: Plastic
Type: Manual
Color: black and camouflage colors
Collar Runtime: 50-70 hours
Range: 500 yards
Pros
Transmitters catch the smooth radio signals from the remote without any delay.
The collar comes with a very comprehensive user guide.
Cons
Even the lowest shock strength might be too strong for very small dogs.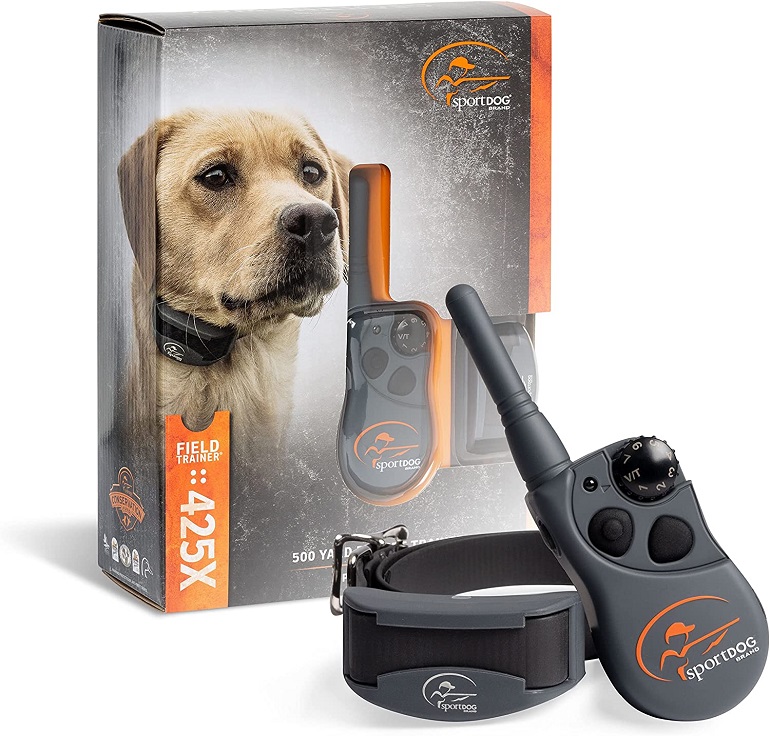 SportDOG Brand 425X Remote Trainers
The price of "SportDOG Brand 425X Remote Trainers" varies, so check the latest price at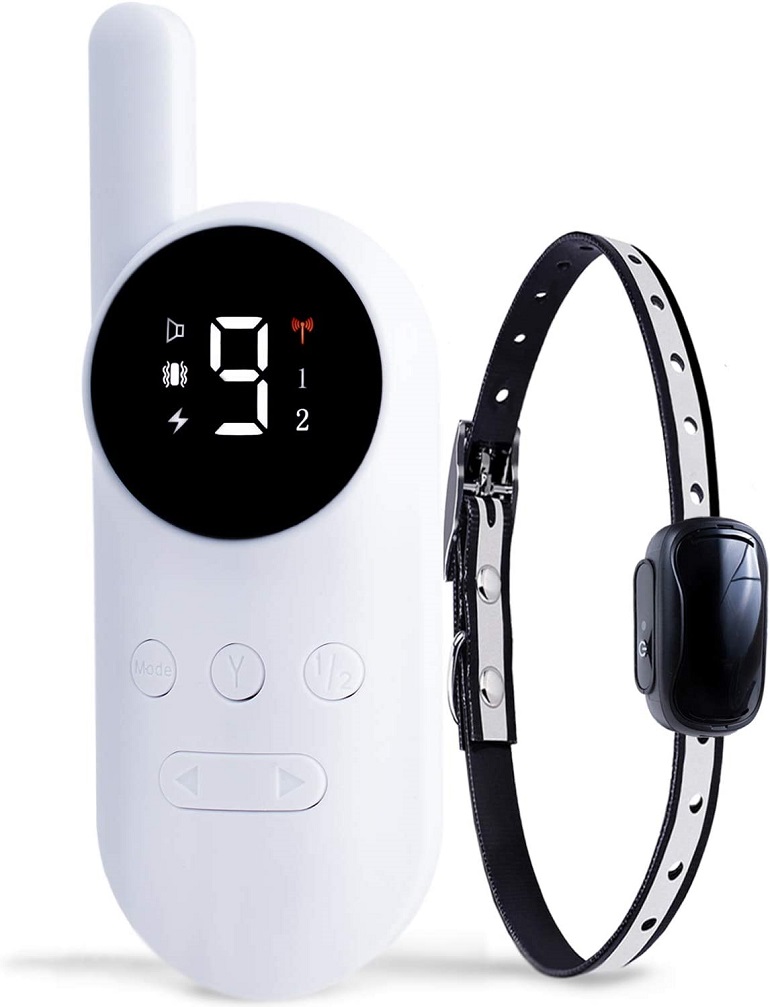 The yapping of your small pups might sound cute right now, but if you won't start training for his endless barking, it might come out to be a great hassle for you and your neighbor. So if your puppy is quite naughty and doesn't listen to your command, try this Mini No-Shock collar.
The manufacturer paid special attention to making this collar super suitable for pups and dogs of medium size. For this, they offer two tightly sealed rubber plug electrodes.
This rubber coating prevents the prongs from coming directly into contact with your dog's skin. These electrodes work to induce corrections in long-haired pups and at the same time, act as sensors to collect barks.
As the name implies, it doesn't feature any shock mode to frighten your small or pregnant pups. The only training modes these collar offers are vibration modes (with nine intensity levels) and sound mode (with one intensity level).
Another interesting part of this collar is its nylon strap which is washable and super breathable to keep your little pooch at utmost comfort and presentable all the time.
Specifications
Material: Plastic & Nylon
Type: Manual
Color: Black & white
Collar Runtime: 16 hours
Range: 1000 ft
Pros
With belt clip closure, taking the collar on and off your fiddle is super easy.
When not used for five minutes, the battery-saving mode gets activated automatically.
Cons
The battery is not rechargeable.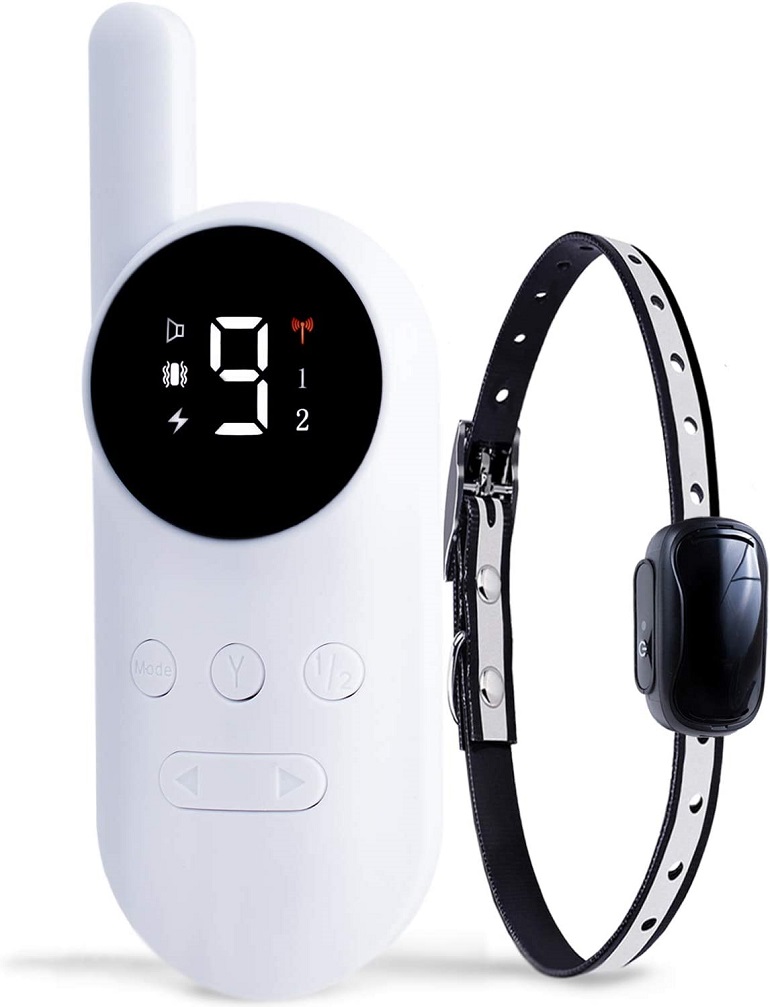 GoodBoy Mini No Shock Remote Collar
The price of "GoodBoy Mini No Shock Remote Collar" varies, so check the latest price at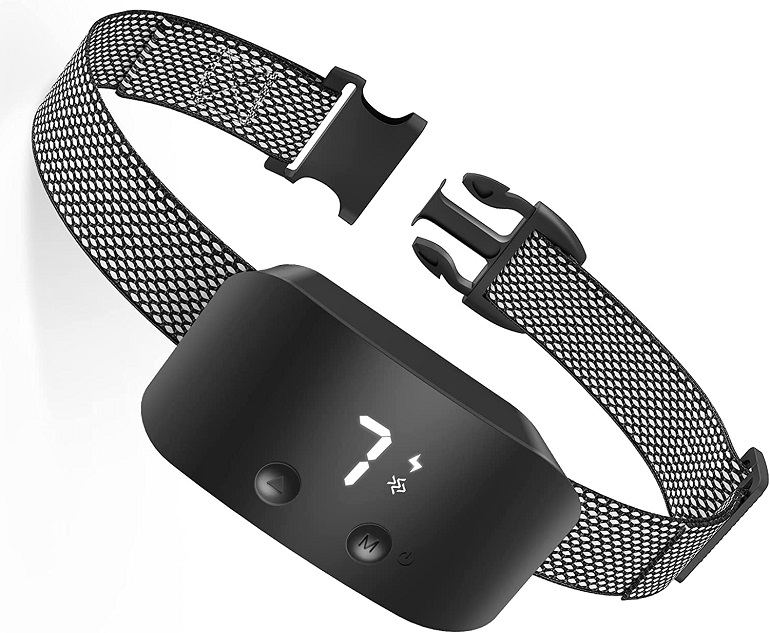 If your dog is allergic to nylon and plastic, you need to get a collar for him, made up of natural hypoallergenic material. NBJU is a specialized collar for dogs with sensitive skins, and for this very reason, it features a leather strap.
Not only this, but two silicone sleeves are also a part of this leather strap which protects your canine's fragile skin from abrasions and chafing. In other words, it doesn't matter how long your dog wears this collar, he won't end up with painful sores and burns.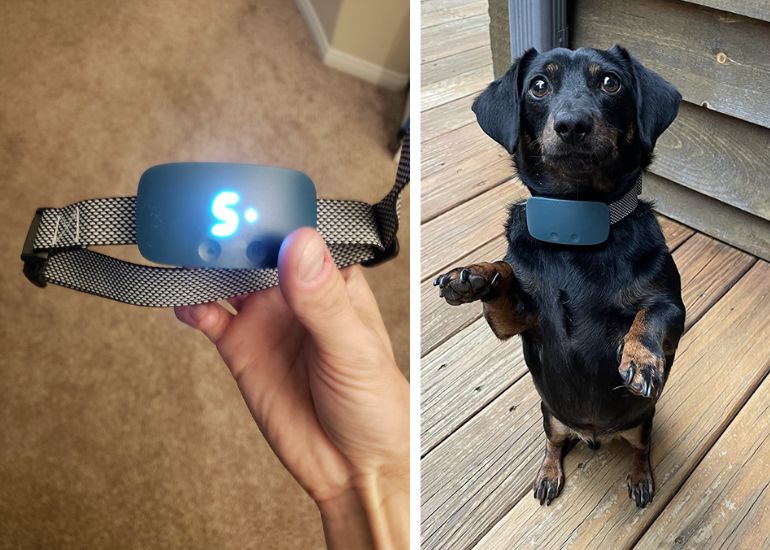 Now come to this collar's main function; training! This vibration collar comes with correction modes; Sound, vibration, and shock. However, the more exciting aspect of this collar is that it offers about sixty-four different sorts of training methods.
Just charge the collar for only thirty minutes, and it will be enough to train your doggie for a whole week. And if you are one of those fashion-conscious pet parents, its appealing color range will surely be too hard to resist!
Specifications
Material: Leather
Type: Automatic
Color: Six different colors
Collar Runtime: 12 days
Pros
Its sleek design saves you from passersby's angry looks for torturing your pet.
The transmitter contains a large LED display, showing sensitivity levels from a far distance.
Cons
The collar should come with a D ring for on-leash training.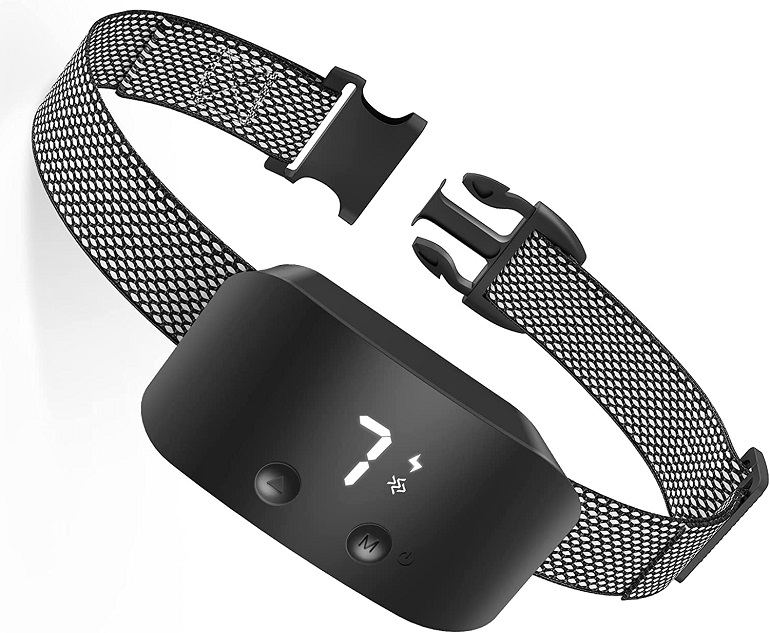 NBJU Bark Collar
The price of "NBJU Bark Collar" varies, so check the latest price at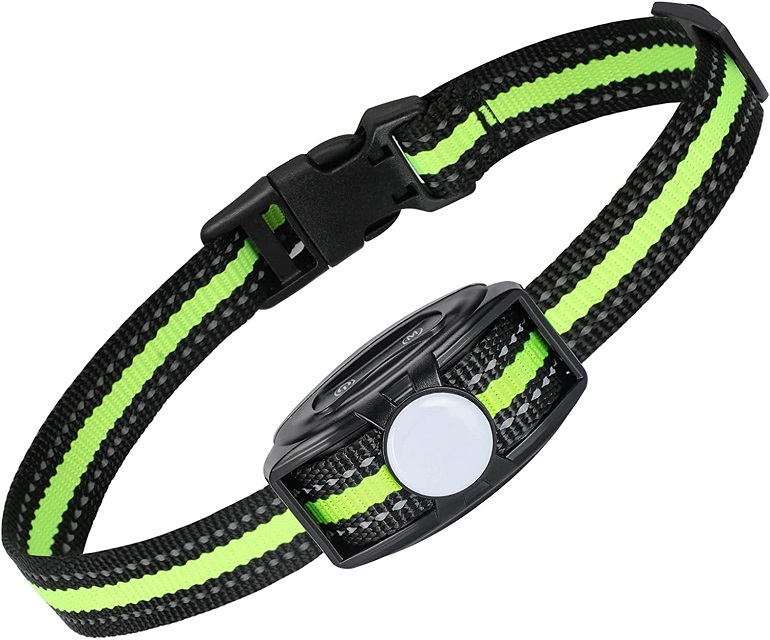 Mostly the low-end e collars come with the precision problem, which makes them a complete failure. Due to the very same reason, pet owners have to stretch out their budgets to buy a high-end and more precise training collar.
But with this Trulrox bark collar, you don't need to spend your hard-earned bucks on an overrated tool, just to gain precise correction.
This collar is specially developed to suppress your dog's incessant barking with its two corrections modes; sound and vibration. However, the feature which makes this collar different from others is its dual vibration motor. This strong motor will enable you to choose between strong and gentle vibration modes, as per your pet's needs.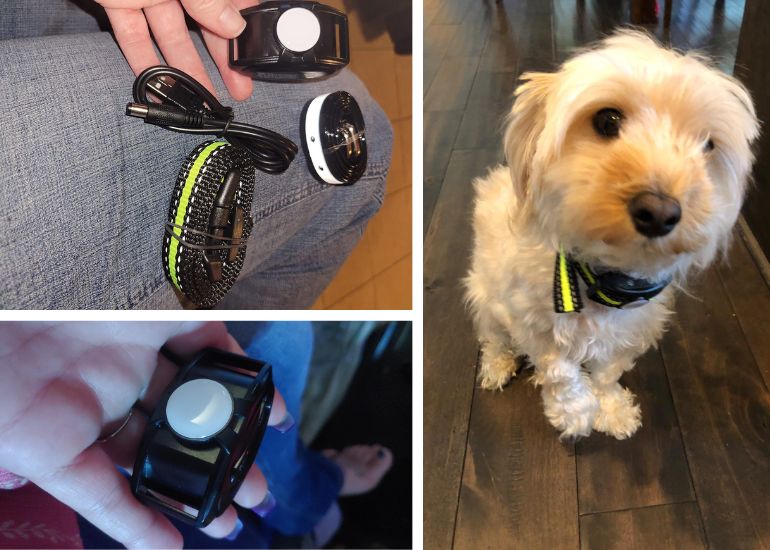 You can select shock or no shock mode without getting stressed over accidental shocks since the system induces simulation only on capturing barks at the frequency of 1000-2000 kHz.
A unique safety feature is also implemented into the collar, which turns the device on, getting activated 7 times in a minute.
Specifications
Material: Nylon
Type: Automatic
Color: Black/Lime Green
Collar Runtime: 12 days
Pros
A reflective adjustable belt enables you to locate and protect your pooch at night.
Some customers claim that using this collar two times brought them desirable results.
Cons
It often misses low barks.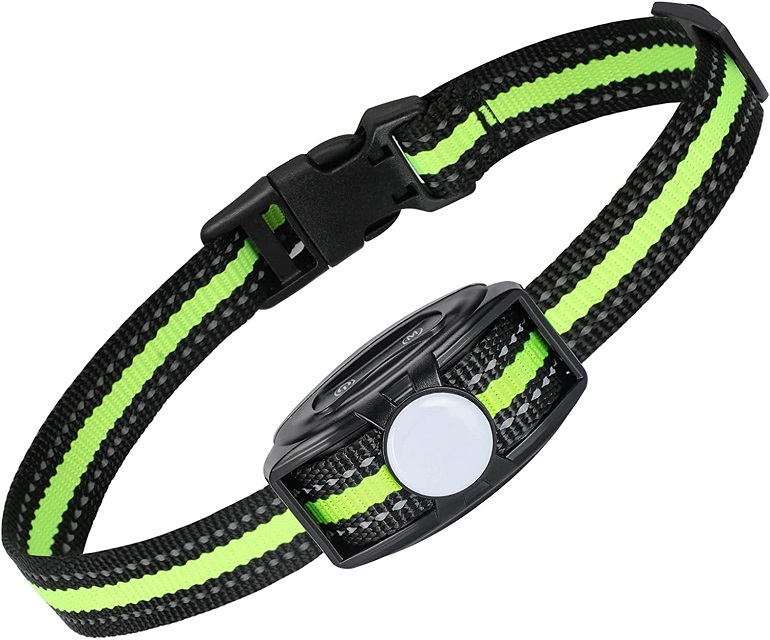 Trulrox Bark Collar
The price of "Trulrox Bark Collar" varies, so check the latest price at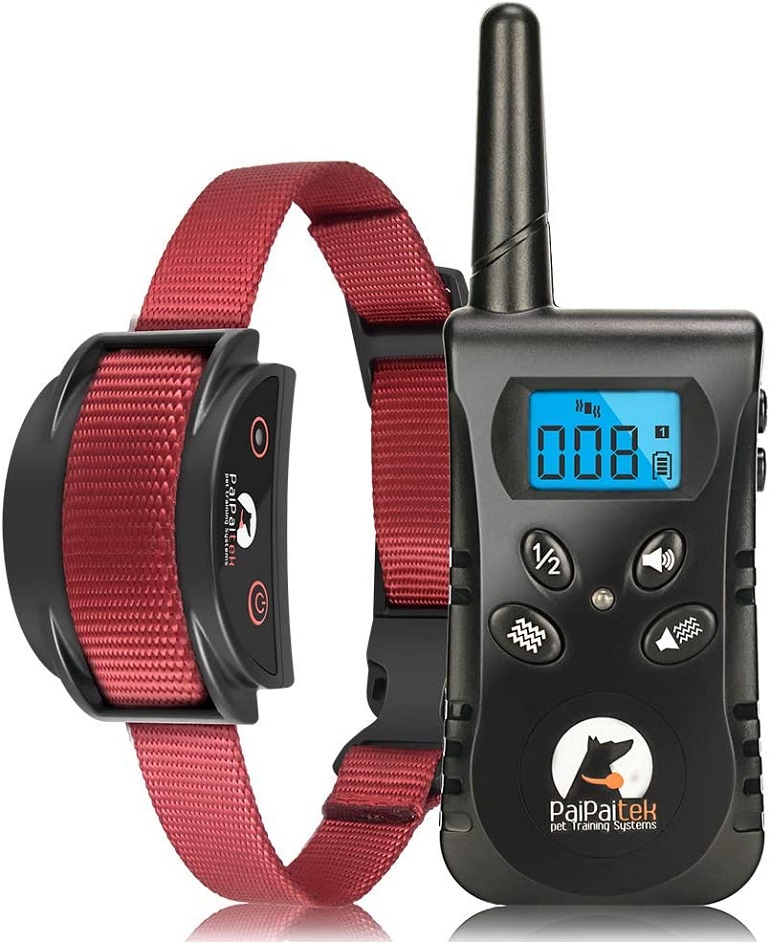 The last dog training collar of ours is this Paipaitek collar which is best to train your dog using positive reinforcement methods. Like most other collars on the list, this one also features three modes; sound mode, vibration mode, and sound + vibration mode.
This third mode works incredibly to regain your dog's attention – even if he is insanely stubborn or has become accustomed to vibration simulations. All the training modes come with ten intensity levels which can be adjusted via the uncomplicated remote control.
Despite being a cheap training collar, it is 100% waterproof – Thanks to its IPX7 waterproof rating, which enables you to correct your dog's undesirable behaviors even while swimming. Unlike other shock dog collars, this one comprises a strap of ABS material.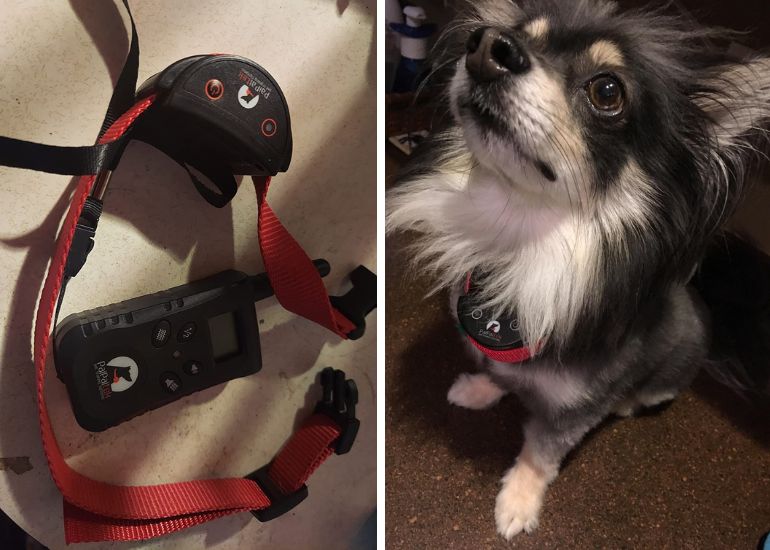 This material is considered much better than both plastic and nylon due to plenty of reasons. For example, it's highly rigid and possesses impressive impact resistance. In addition to being resistant to mechanical stresses, it is also resistant to chemical elements of the environment, including acids, alkali, and aromatic compounds.
Most importantly, the material is completely harmless and non-toxic, so even if your dog tries to chew it out, he won't be prone to suffering from chemical poisoning.
Specifications
Material: Acrylonitrile Butadiene Styrene
Type: Manual
Color: Red, Orange, Black
Collar Runtime: 20 days
Pros
Snap buckle closure prevents the collar from slipping over your dog's neck.
The collar can be used as a regular dog collar after detaching with the transmitter.
Cons
Buttons may get pressed accidentally due to being too smooth.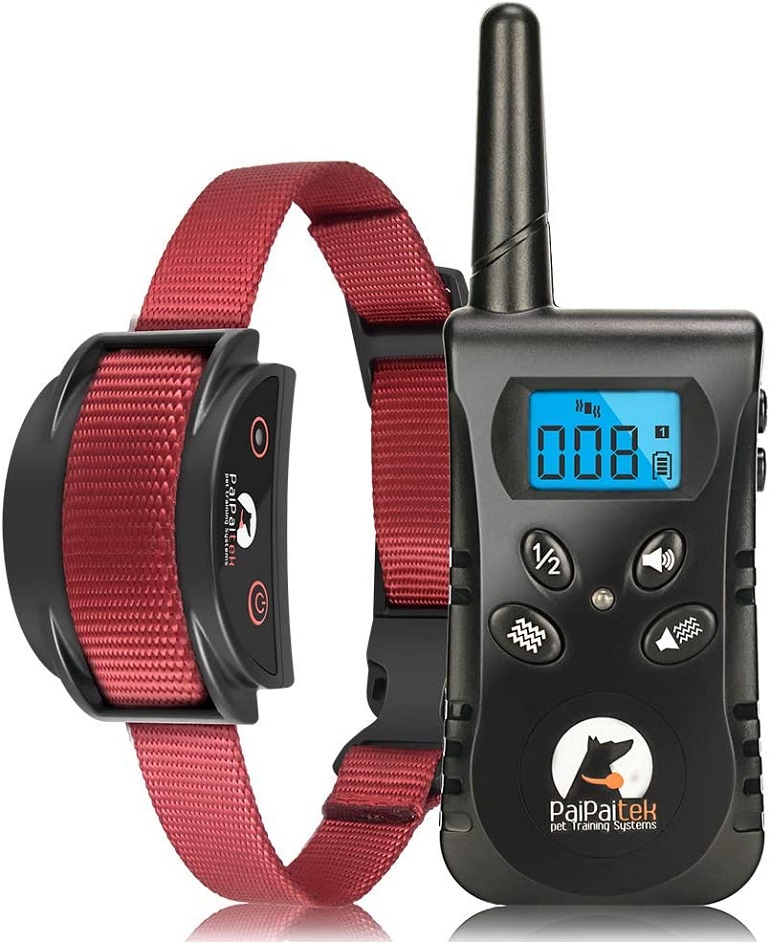 Paipaitek No Shock Dog Training Collar
The price of "Paipaitek No Shock Dog Training Collar" varies, so check the latest price at
Buyer's Guide: What to Look for in a Vibrating Dog Collar
Even though vibrating dog collars are super safe to use, here are some features you should never forget to consider while shopping. This, in turn, will make the whole training method more comfortable and painless for both you and your pooch.
Size
Even if you purchase a regular collar for your dog, it's mainly the size that determines whether your dog will like the collar or not. And since you are going to buy a training collar, you need to make sure it is perfectly fit and 100% comfortable.
To measure for the dog collar, get a measuring tape and wrap it around your dog's neck. Place two fingers in between the tape and neck and note the size. This two-finger technique will ensure that the collar is neither too loose nor too tight.
Range
If you are planning to purchase a remote-operated collar for your pup, check for its range. You don't need to buy a high-range collar if you are going to use it in your small yard. However, if you want to train your dog outside or in your wide yard, get the long-range collar.
Luckily, vibrating collars are offered with a range of as low as 300ft and as long as 2000ft. So, consider the area where you are about to use the collar to conclude the range.
Battery
Battery life determines whether you'd enjoy training your dog or not. How? Let us explain! If you choose a low-grade vibrating dog collar with low battery life, most of your time will be wasted swapping the batteries or recharging them.
Not only will this be full of hassles, but also break your budget. Besides battery life, also check for the time both the collar and remote take to recharge. If a collar gets recharged in two to three hours, it's worth a shot!
Features
Various exciting features are added to the vibrating dog collar options to keep the whole process fluid. For example, the weatherproof and waterproof dog collar will allow you to train your dog even in unfavorable weather conditions.
Also, such water-resistant dog collars don't show any decline in performance when coming into contact with water. Besides, some collars offer multiple vibration settings, so you can use a single collar to train multiple dogs, of different sizes and weights.
And more importantly, with these multiple vibration levels, you can correct various undesirable behaviors of your furry friend, by associating each level with a certain behavior.
FAQs
How Do Vibrating Dog Collars Work?
The automatic vibrating collar comes with sensors that detect the movement of your dog's vocal cords and emit vibrations. Due to this very reason, these collars can be used only as a no bark collar. Even if such collars offer multiple levels, the gadget selects the level automatically according to the intensity of barking.
On the other hand, the manual vibrating dog collar vibrates only when you press the remote button, so you need to supervise your dog all the time. The good part is, you can switch between modes and levels to correct many unwanted behaviors simultaneously.
How to Train Your Dog with a Vibrating Collar?
You can train your pooch with a vibrating collar just as you train your dog with a shock collar. For instance, if you are using the vibrating collar to suppress your pet's excessive barking, press the button to induce simulation every time he barks endlessly.
If the bark collar has a shock feature too, press the shock buttons once or twice, during the very first training sessions, after pressing the vibration button. This will help your dogs learn that if they bark too much, they'd have to bear slight static shock followed by vibration.
However, we recommend opting for this training method only for giant or super-aggressive dogs. Whereas, to train smaller dogs, go with only vibration and beep modes.
Are Vibrating Collars Cruel?
When compared with citronella bark collars, prong collars, and shock collars then vibrating collars are the safest and most humane option out there. That's also a reason why these collars are considered widely acceptable among trainers and vets. Still, before going with vibration collars, don't forget to seek veterinary advice!
Conclusion
So by now, you've read about our top nominees for the best vibrating dog collar and hacks to buy the most fruitful training collar. Before rounding up the article, here are some things which you should know about training with vibration collars.
These collars are not great for long-term use since your pooch may grow habituated to these stimulations. This, in turn, will stop dogs from responding to these vibrations over time.
Sometimes dogs don't stop barking even when trained heavily with the best vibrating dog collar. There might be several reasons behind this lack of response, like your dog's temperament, skin irritation, or environmental factor causing your dog to bark excessively.
So if your dog's barking is not seeming to stop, you better stop the training and go for veterinary guidance. And lastly, we are always here to answer your curious queries, so feel free to contact us in the comment section.