Who doesn't love watching puppies? They enter the world full of wonder and excitement, looking to us to help them understand and navigate this exciting new world…!
Whether it's a puppy or an older dog who just needs a bit of training, this can be a lot of pressure. Still, it's perfectly manageable, and there's no shame in looking for help to make the process easier.
A training collar makes training a simpler task and even deepens the bond between you and your dog.
Depending on the collar, they can do all sorts of things: some emit sounds or vibrations to communicate and redirect attention; others stop unwanted behaviors, be they pulling on the leash or ignoring basic commands.
No matter the difficulty you're having when training your dog, there's a training collar out there to make it easier. But which one do you need?
Top-of-the-line
Halo Collar
Material: rugged thermoplastic
Closure type: brass buckle
Awesome Customization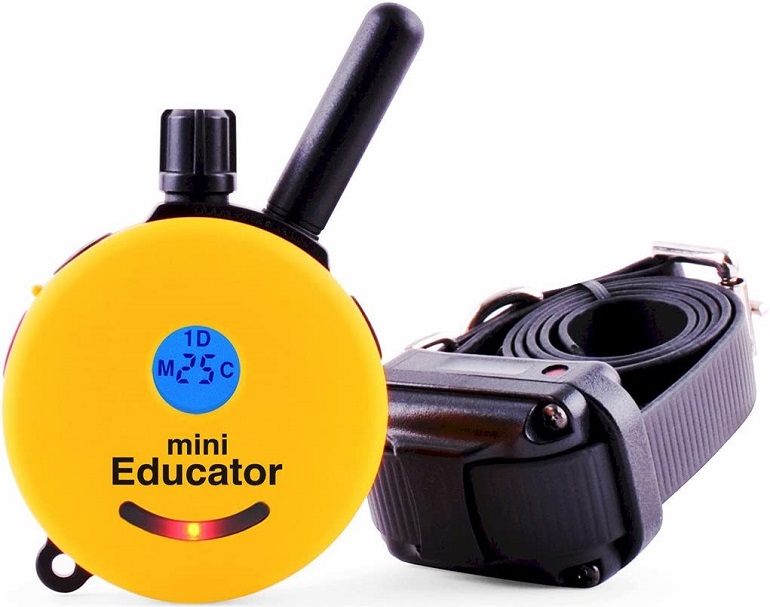 Educator E-Collar
MATERIAL: BIOTHANE COLLAR STRAP
CLOSURE TYPE: BUCKLE
Simple & Effective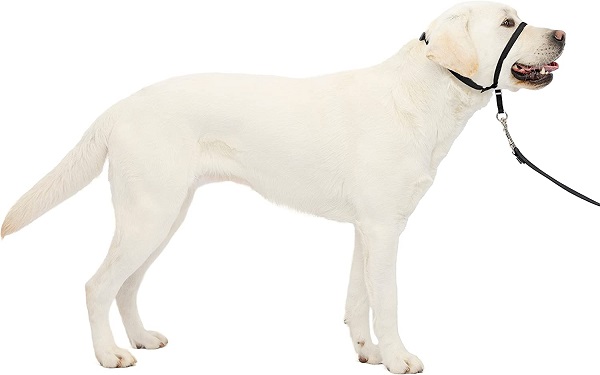 PetSafe Gentle Leader Head Collar
Material: Nylon

Closure type: Snap

Comfortable Alternative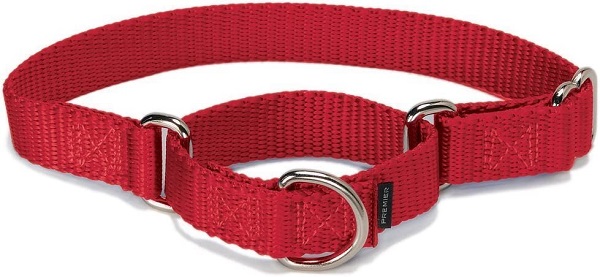 PetSafe Adjustable Martingale Collar
Material: Nylon

Closure type: QUICK-SNAP BUCKLE
Great Alert Signs
Dexil NERVOUS Clip Collar
Material: Nylon
Closure type: buckle
Lightweight & Comfy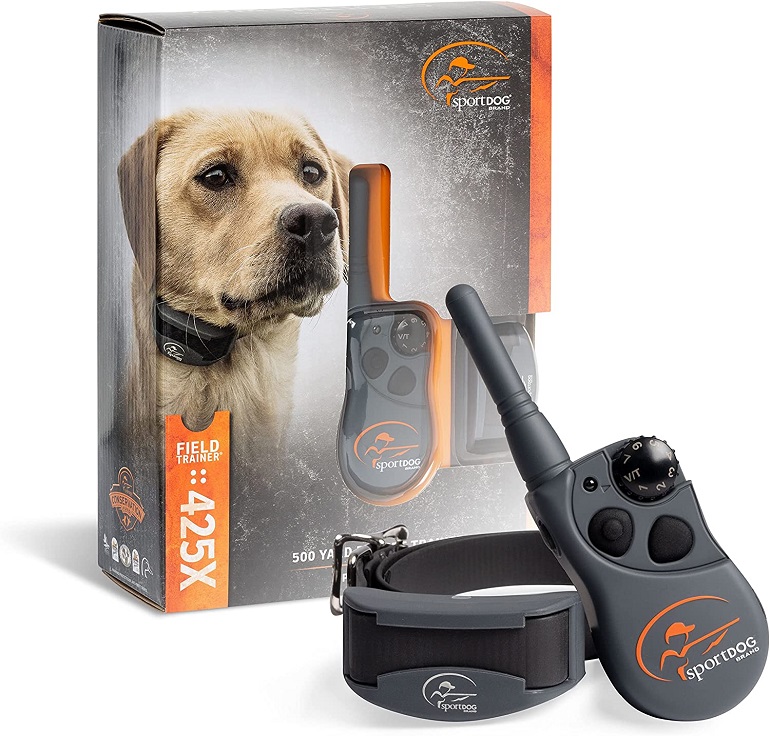 SportDOG 425X Remote E-Collar
MATERIAL: PLASTIC
CLOSURE TYPE: BUCKLE
Super Versatile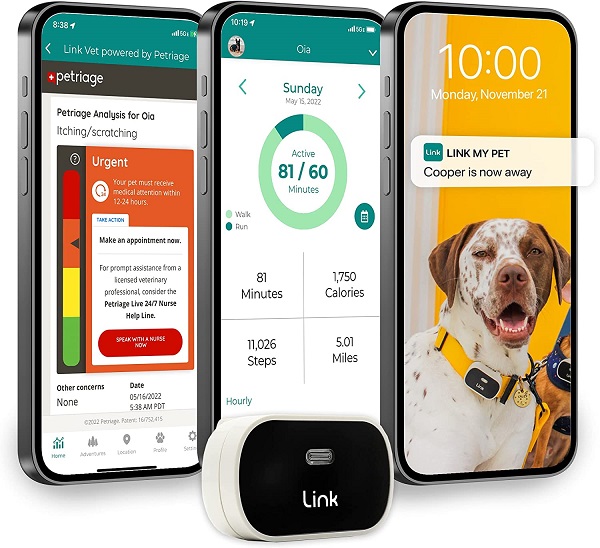 Link GPS Dog Tracker + Activity Monitor
Material: Synthetic Fabric
Closure type: Snap
Best for Convenience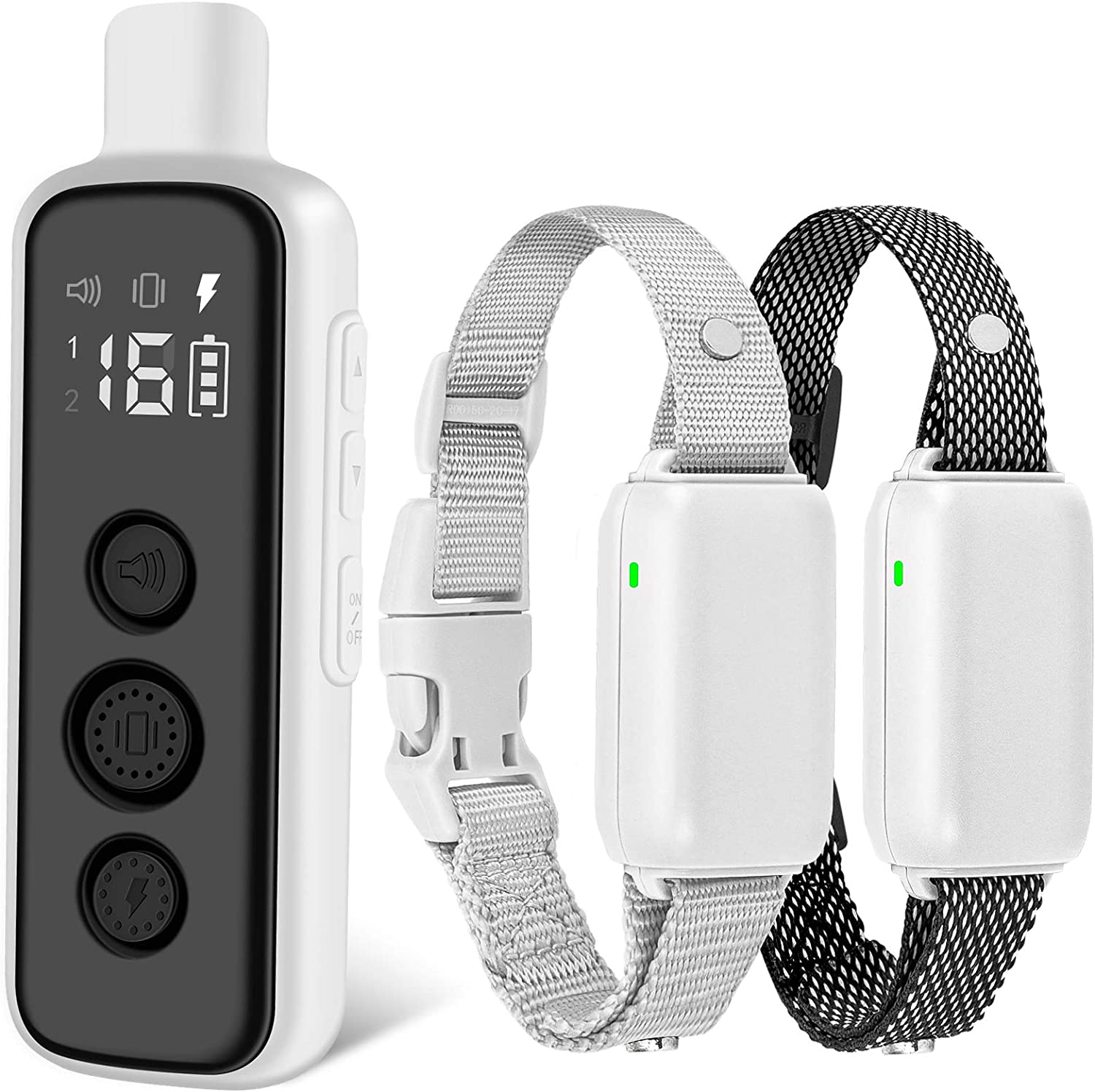 Bousnic Dog Shock Collar
Material: Nylon
Closure Type: Buckle
Compact Design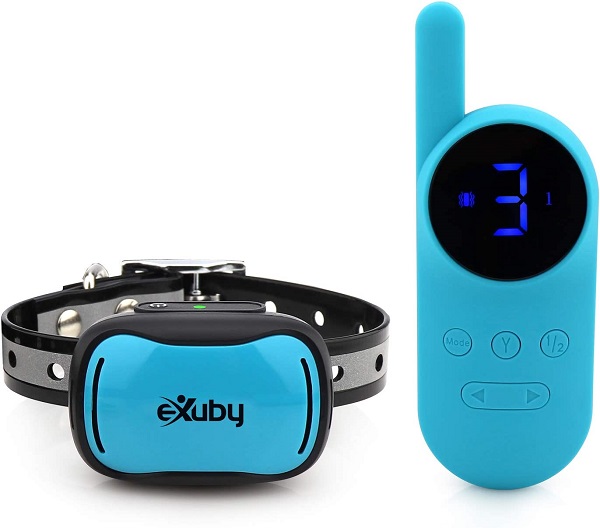 eXuby Tiny Shock Collar
Material: Nylon

Closure type: Buckle
Best Dog Training Collars
Below are the best dog training collars to consider when training your dog.
Some are trackers that monitor your dog's activity or location, some include correction feedback, and some are simple collars that are more effective at training than regular ones.
One of the top smart collars out there is the Halo 2+. While it might be more expensive than others on this list, it's worth it when you consider the vast amount of tech packed in.
If you prefer to give your dog more freedom or train them off-leash, it might be worth using Halo's geofences. Using a virtual fence is the ideal way to encourage your dog to stay within boundaries.
It's simple to set up – you can do it all on your phone via the easy-to-use app. The invisible dog fence creates virtual borders that allow you to turn any space into a safe playground for your pup to enjoy.
These borders can span up to 1,200 square miles of fence; however, it also requires a minimum space of 30 by 30 feet.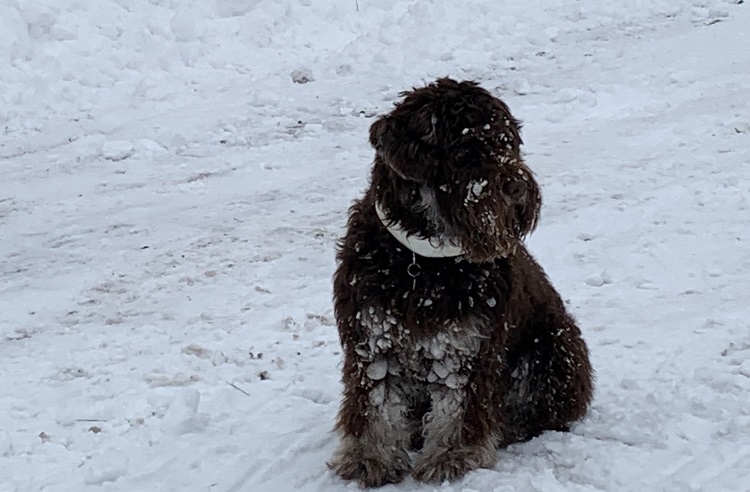 If your dog gets too close to the border, the collar warns them to stop with either sound, vibration, or static correction. All of these feedback options are fully customizable – so you don't even need to use the static option if you prefer not to.
If your dog doesn't listen to the warnings, it sends an escape alert to your phone as the GPS tracking system kicks in. You receive a GPS location update every 15 seconds, using GPS/GNSS satellite networks for accurate and reliable location tracking.
Since the mastermind behind the Halo collar is acclaimed dog expert Cesar Millan, it's perfect for collar training. It comes with a training manual by him as well as regular training videos, depending on the subscription package you select.
However, the sheer amount of tech does result in the collar being on the heavy side and not suitable for small dogs. And it has a battery life that lasts for almost 20 hours and requires charging every day.
Still, it's durable and waterproof, so it's still worth it! For more information, check out our Halo collar reviews page.
Pros
Uses GPS/ GNSS, Bluetooth, Wi-Fi, and LTE-M technologies
Enhanced location accuracy
Tracks health and activity
IP-67 waterproof rating
Easy-to-use app
Choice of subscription plans
Excellent training services
Cons
Expensive collar
Need a minimum space of at least 30'x30'
Battery doesn't last over a day
Requires monthly subscription
Not for small dogs
Halo Collar
The price of "Halo Collar" varies, so check the latest price at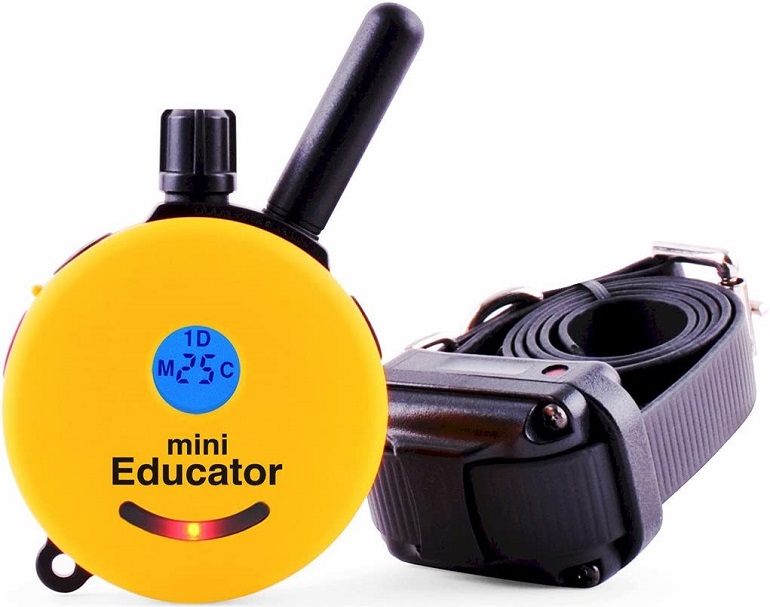 Like the Halo collar, the Educator e-collar has correction feedback that you can fully customize, offering 100 levels of stimulation and allowing your dog to make associations with the feedback to adjust their behavior.
The stimulation options include sound, vibration, and 'tapping.' Some describe 'tapping' as the same as a static shock, while others disagree, arguing that it's more intense and comparable to a 'blunt' vibration.
Regardless, if you use this, we'd recommend low levels first to provide a safer, more humane training session. It's also wise to use the lock feature to ensure that you don't accidentally increase the strength of stimulation.
The remote comes in five colors and includes an easy-to-use LED screen. The range depends on which model you purchase; they range from 1/3 mile, ½ mile, ¾ mile, and 1 mile. There's even an option of controlling two dogs with just one remote.
Made from biothane, the collar is suitable for dogs over 5 lbs and comes with an LED light to maximize your pup's visibility at night. It comes with two sets of contact points, depending on whether your pup has short or long hair.
There are other contact points available for dogs with even shorter hair or hypoallergenic titanium points for nickel sensitivities.
Since there's a fair bit of tech on offer here, it's no surprise that it's quite costly and that the battery drains quickly, requiring a recharge each day. However, it does come with a 2-year warranty to ensure that there are no defects.
Pros
Effective for off-leash training
Hypoallergenic contact points
LED safety light
Lock feature
Works at great range
Customizable feedback
Multi-dog capabilities
Cons
Unclear definition of shock vs tapping
Expensive
Drains battery quickly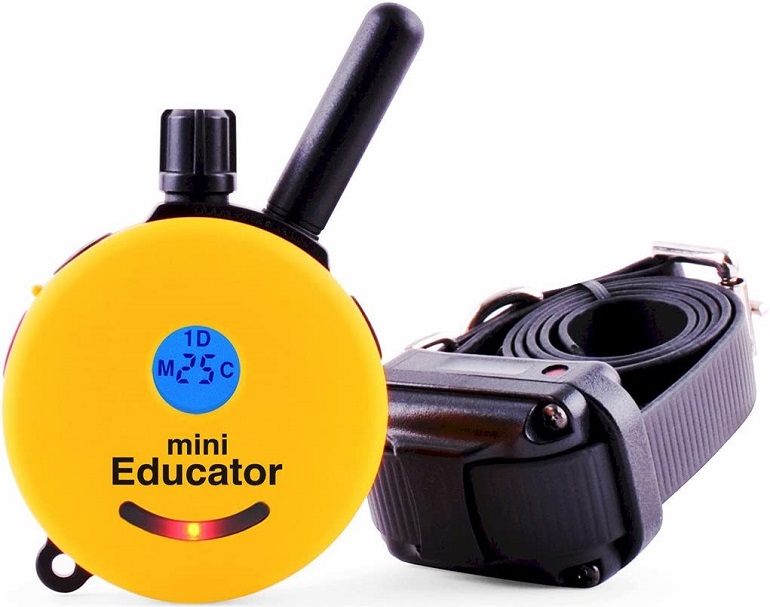 Educator E-Collar
The price of "Educator E-Collar" varies, so check the latest price at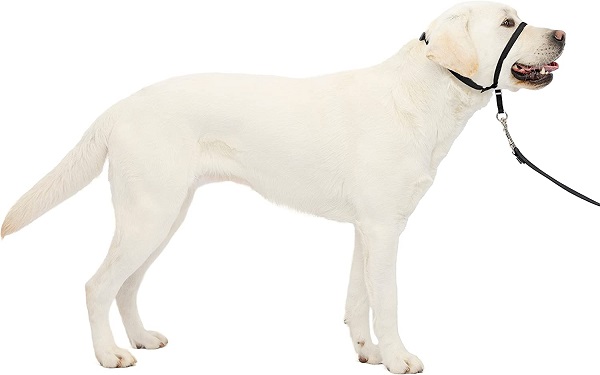 Unlike others on this list, not all the best dog training collars are expensive and tech-heavy; for example, this simple but effective nylon headcollar. Since it's designed by PetSafe, rest assured your dog is in safe hands since it has 30 years history of innovation, making them a trusted brand.
Walking doesn't come naturally to all dogs. Some prefer to take charge, jumping a lot and pulling all the time. If you need help stopping this behavior, this sort of headcollar is ideal.
It's designed to stop dogs from pulling and dominating the walk, making it one of the best collars for dogs who pull.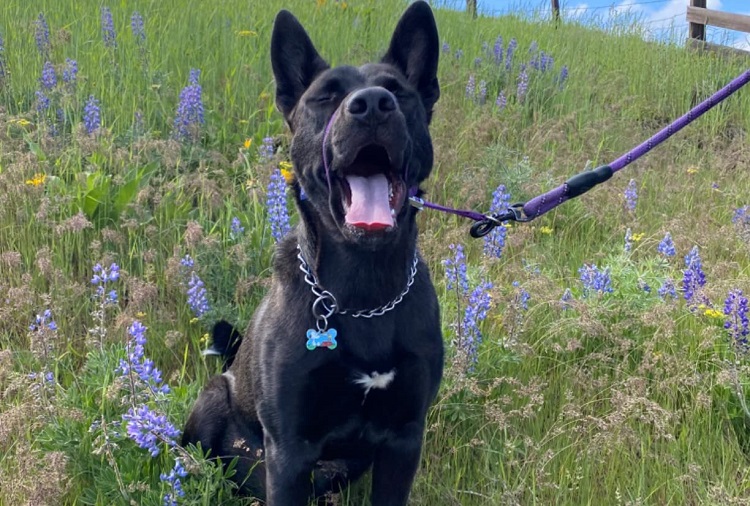 The adjustable loop goes around the back of your dog's head and around their snout – but not nearly tight enough to keep their mouth squeezed shut; they can still eat, drink, play, and lick you to their heart's content. Once secured around their head, simply attach the leash underneath the chin.
Whenever the dog pulls, it puts pressure on its snout, stopping the behavior and redirecting your dog's attention. Essentially, it's the same principle as a choke collar, only without any choking.
In fact, there's no risk of choking or damage to the neck at all. It's fully adjustable, and the nose loop is even padded to ensure it's comfortable.
You'll certainly be able to find one available for your dog since they come in all sorts of colors and sizes, from petite dogs under 5 lbs to large dogs over 130 lbs. There are even matching harnesses and leashes available too.
Pros
Affordable
No complex tech
No shock corrections
Range of sizes and colors available
Design avoids risk of choking
Cons
Some dogs dislike it
Fiddly to put on at first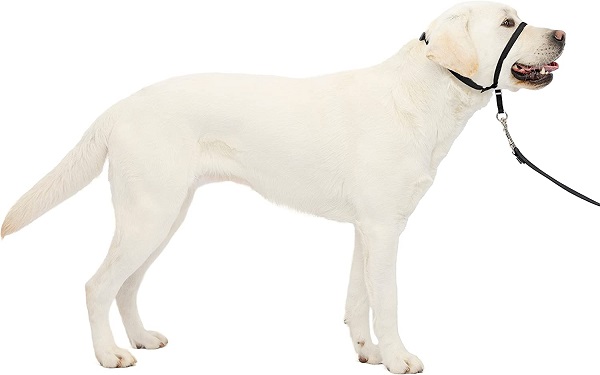 PetSafe Gentle Leader Head Collar
The price of "PetSafe Gentle Leader Head Collar" varies, so check the latest price at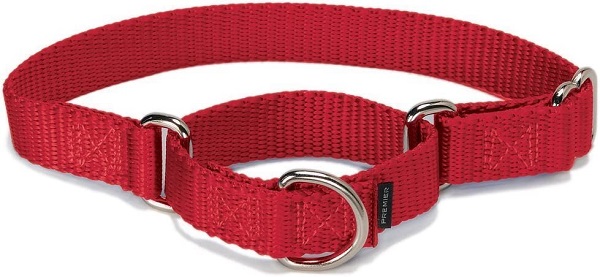 If you have a dog breed with a slender neck, such as a greyhound or whippet, you might have noticed their cheeky habit of wiggling out of their collars.
Fortunately, a Martingale-style collar ought to solve this problem as well as stop them from pulling when out on a leashed walk, making it one of the best no-pull dog collars.
A Martingale collar has a loop that tightens when the dog pulls to stop them from escaping. It doesn't tighten nearly enough to provoke choking or cause discomfort, and it even loosens when your dog stops pulling.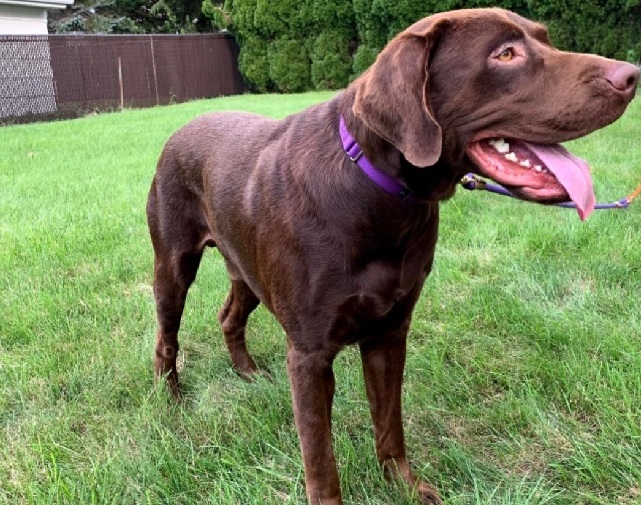 Many see it as a comfortable alternative to a choke collar and comes both dog trainer and vet-recommended.
PetSafe's Martingale collar is made from high-quality, durable nylon, that's both comfortable enough and very lightweight. They have lots of colors and sizes available but make sure to get the right size.
Sizing can be an issue with Martingale-style collars, with setting up and putting them on for the first time a frustrating hurdle for some dog owners.
Pros
Affordable
Adjustable
Stops dogs wiggling out
Nylon is lightweight
Available in various sizes and colors
No complex tech
Cons
Can be fiddly to put on the first time
Too simple for dog's that need a lot of training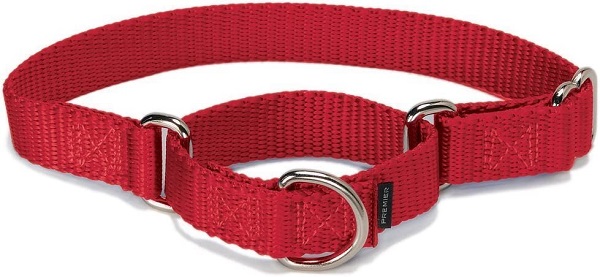 PetSafe Adjustable Martingale Collar
The price of "PetSafe Adjustable Martingale Collar" varies, so check the latest price at
Dogs are sociable – especially when they're young; they get excited and want to bound over to say hello to other dogs. But if you have a nervous dog, that sort of encounter might be the bane of your life.
This dog collar is ideal for nervous dogs you'd rather weren't interrupted by excitable pups. It stands out with its bright yellow color and has big, bold letters that say 'NERVOUS.'
Although the collar doesn't do anything specific to help training per se, it helps avoid anything that might distract or upset your dog during training sessions. By alerting other dog owners to your own dog's needs, it helps avoid any triggers or unwanted encounters that disrupt training.
If you want, there are other collars that have other warnings; 'CAUTION' indicates that the dog shouldn't be approached, 'NO DOGS' shows they don't get on well with other dogs, and 'FRIENDLY' is a clear open invitation for socializing.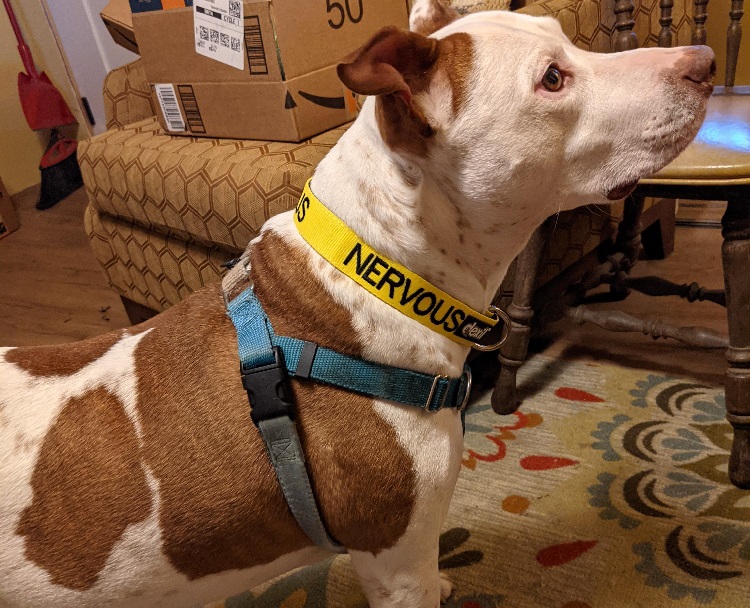 There are also options that say 'TRAINING,' 'WORKING,' 'BLIND DOG,' 'DEAF DOG,' and 'ADOPT ME.'
Each collar is durable, made from metal D-rings, nylon, and quick-dry neoprene. It's padded to be comfortable around your dog's neck, but the buckle isn't necessarily sturdy enough to withstand particularly strong and heavy pullers.
On the other hand, the collar is highly adjustable. Even though there are just two sizes to choose from, they'll likely fit most breeds of dog, apart from very small ones.
If you're interested, they even have matching leashes available; not only do these look good, they can help the dog's needs stand out even clearer.
Pros
Highly adjustable
Clearly highlights dog's needs
Padded for comfort
Machine washable
Matching leash available
Cons
Buckle not as sturdy as rest of collar
Doesn't fit very small dogs
Dexil NERVOUS Clip Collar
The price of "Dexil NERVOUS Clip Collar" varies, so check the latest price at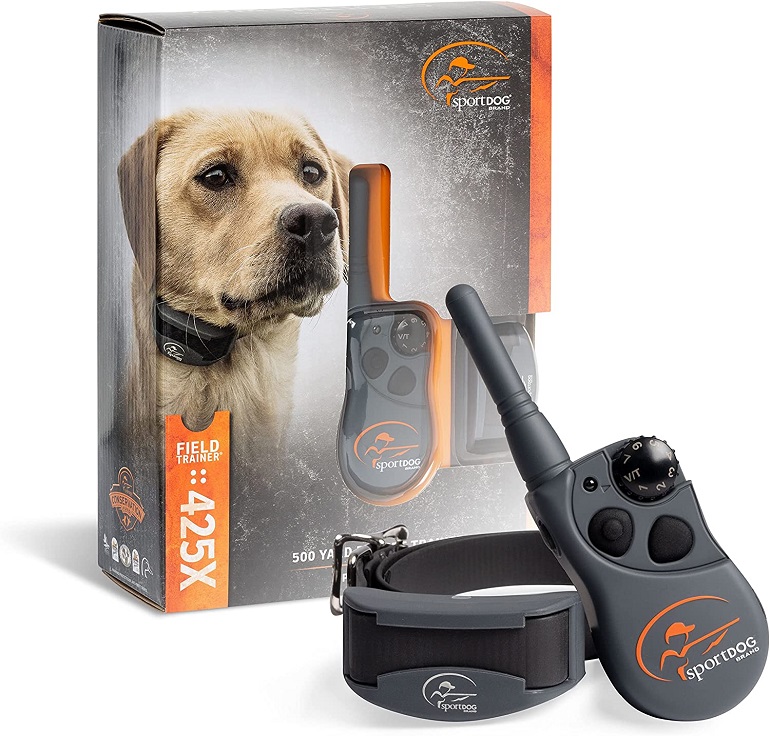 This is the best dog training collar for working dogs who need to pick up skills quickly, especially for outdoor sports. The remote is easy to use and able to activate its corrections at a simple press of a button.
However, there's no locking feature, so you have to make sure you're using the correct stimulation level. It has a range of 500 yards and can even connect to up to three dog training collars.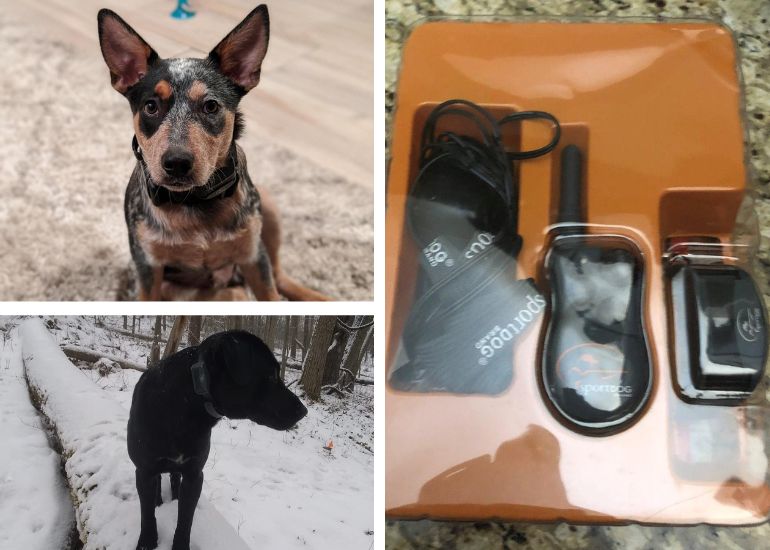 The remote dog training collar itself is small and light, but still best for dogs over 8 lbs. It's comfortable enough, able to fit snugly around their neck without the probes rubbing against their skin. You should make sure you can still slip one finger under the strap though.
It's a durable collar, and its DryTek technology means it's waterproof up to 25 feet. Three correction modes are on offer; sound, vibration, and 21 levels of static. The rechargeable battery has a battery life of about 50 to 70 hours and takes just two hours to recharge.
Pros
Long range
Lightweight
21 correction levels
Connect to three collars from remote
Waterproof
Cons
Includes static shock corrections
No lock feature
More costly than others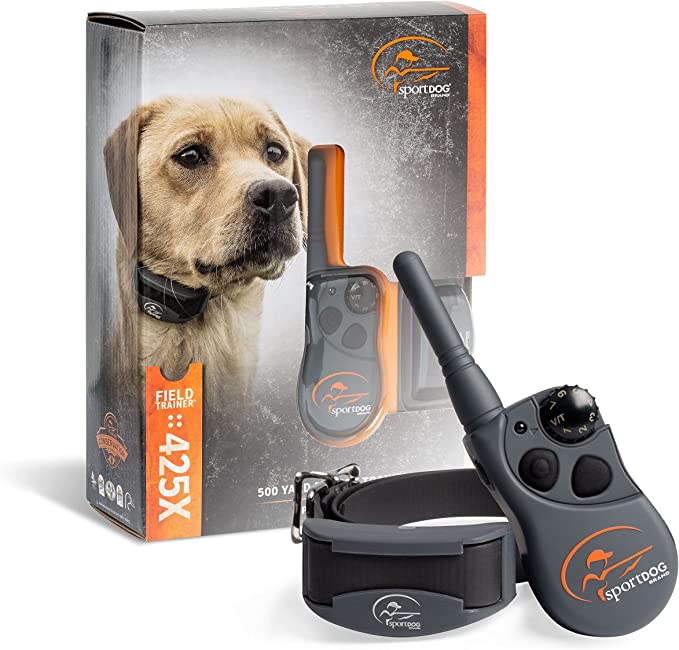 SportDOG 425X Remote E-Collar
The price of "SportDOG Brand Trainers" varies, so check the latest price at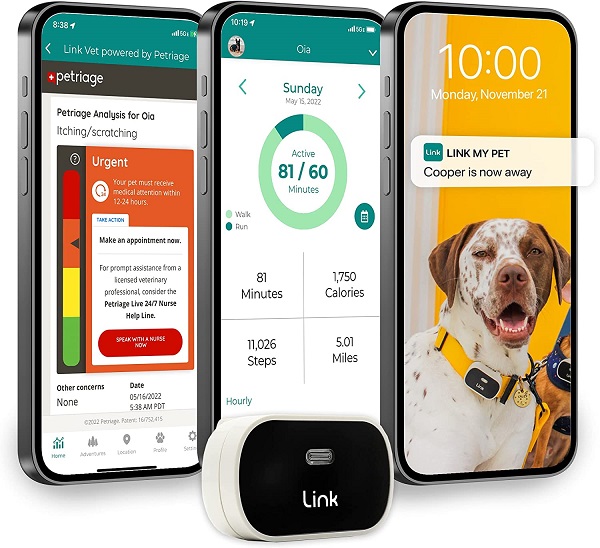 Although just a collar attachment, the good news is you can use this with any collar you would like. Although the attachment is lightweight, it can still check your dog's real-time location via GPS, Bluetooth, or Wi-Fi. However, it requires a GPS service plan; fortunately, there's a range of packages to suit various budgets.
Besides location, it also tracks your dog's activity to ensure they're healthy. It monitors daily activity to make sure they reach customized step goals based on your pet's age, size, and breed.
It monitors temperature too; if like me, you worry about soaring temperatures and your dog overheating, then this attachment monitors your dog's temperature and sends alerts if they're too hot.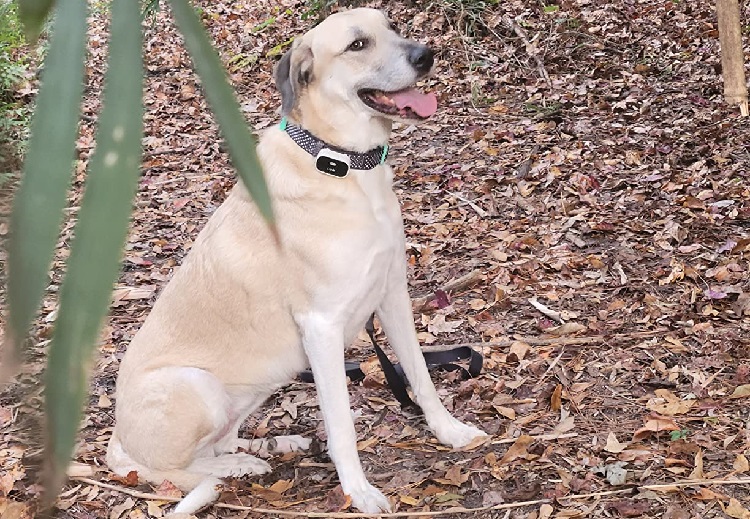 It also has corrections for training, including built-in tones and vibrations to help with positive reinforcement training. And don't worry about it suddenly running out of charge since it has a battery life of up to 14 days.
Besides a YouTube channel with tutorials, you can also use the app's training tools, as well as LinkVet's symptom analysis tool to assess whether or not you need to see a vet, hopefully alleviating some panic if they ever eat something they shouldn't!
Pros
Tracks dog's location if they run off
Lightweight
Monitors health and activity
Help with symptoms
Monitors dog's temperature
No shock corrections
Device works with your own collar
Long-lasting battery
Cons
App required for training
Expensive
Only a collar attachment
Location tracker but no virtual fence capabilities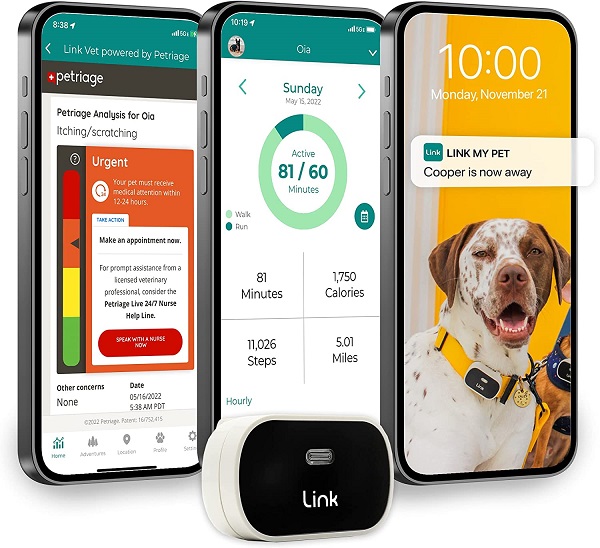 Link GPS Dog Tracker + Activity Monitor
The price of "Link GPS Dog Tracker + Activity Monitor" varies, so check the latest price at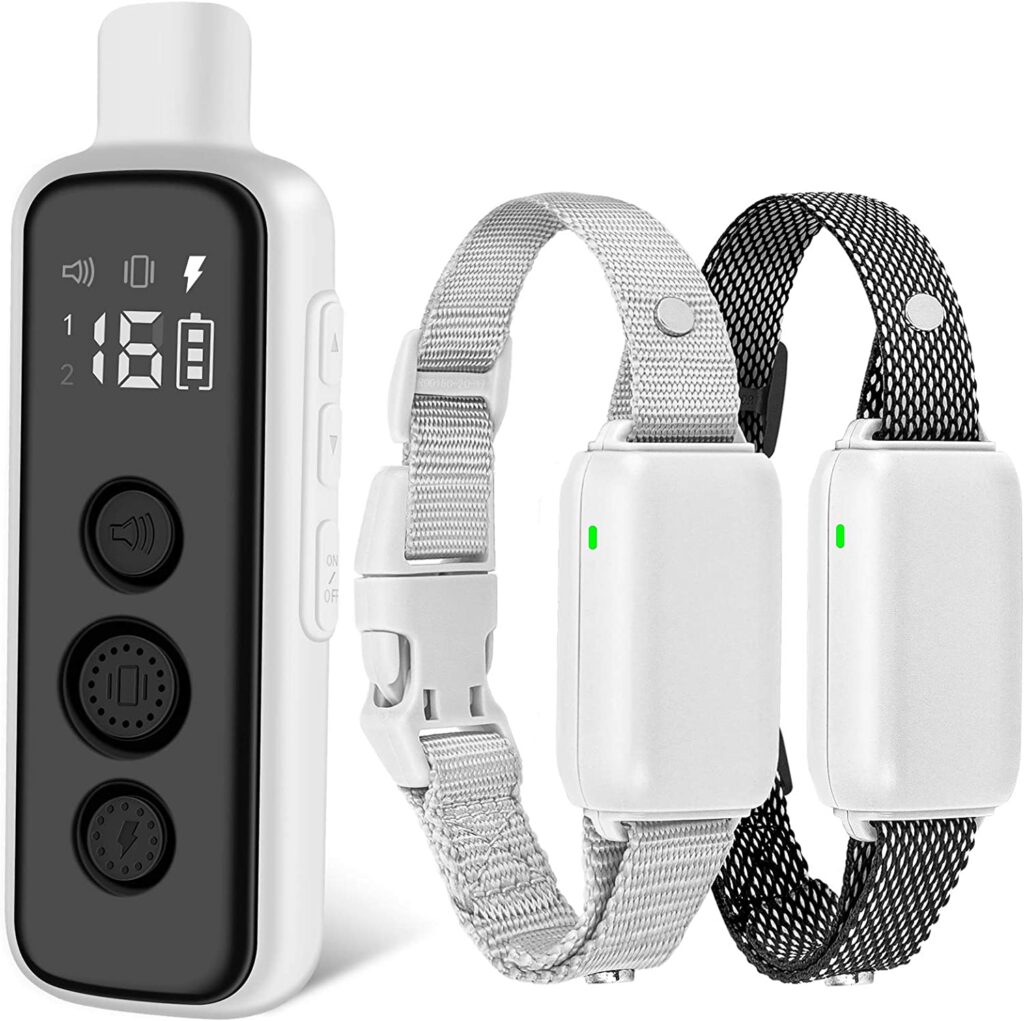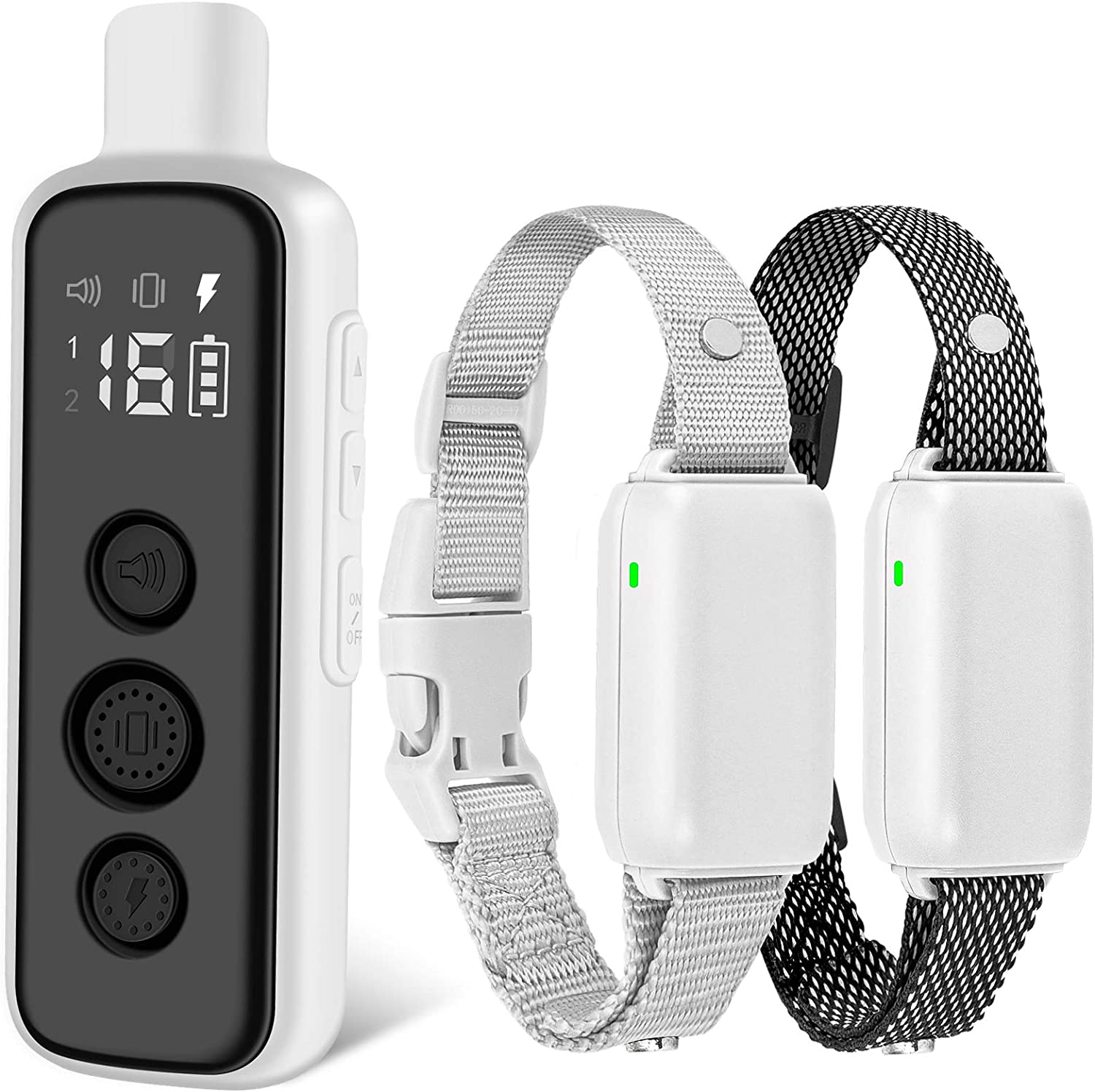 Bousnic's collar is primarily used to deter problem behaviors, from chewing and digging to growling and barking. Its sound and vibration options can communicate to the dog to stop these behaviors, as can the 16 levels of static.
Whilst it requires metal prongs, they do have silicone covers to stop irritating skin.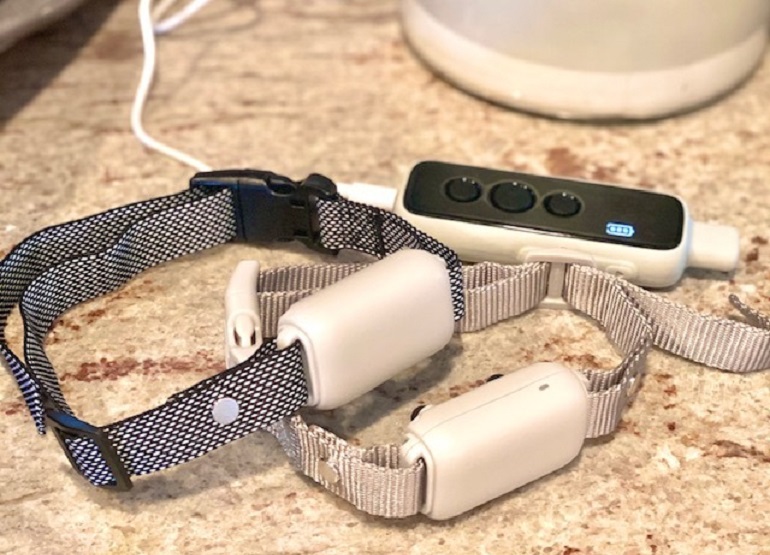 The remote is easy to hold and use, and it even has a keypad lock to prevent any accidental use. It has a range of 1,000 feet and a dual channel, allowing you to connect to two shock collars with just one remote.
The collar is lightweight and highly adjustable, one size fitting neck sizes between 6" to 27". It also has a waterproof rating of IPX7 and a battery life that lasts between 11 to 15 days.
Pros
Long-range remote
Dual channel controls two collars with one remote
Three correction options
Shock has 16 levels
Highly adjustable
Waterproof
Rechargeable
Long battery life
Keypad lock stops accidental corrections
Cons
Uses shock corrections
Not particularly durable or long-lasting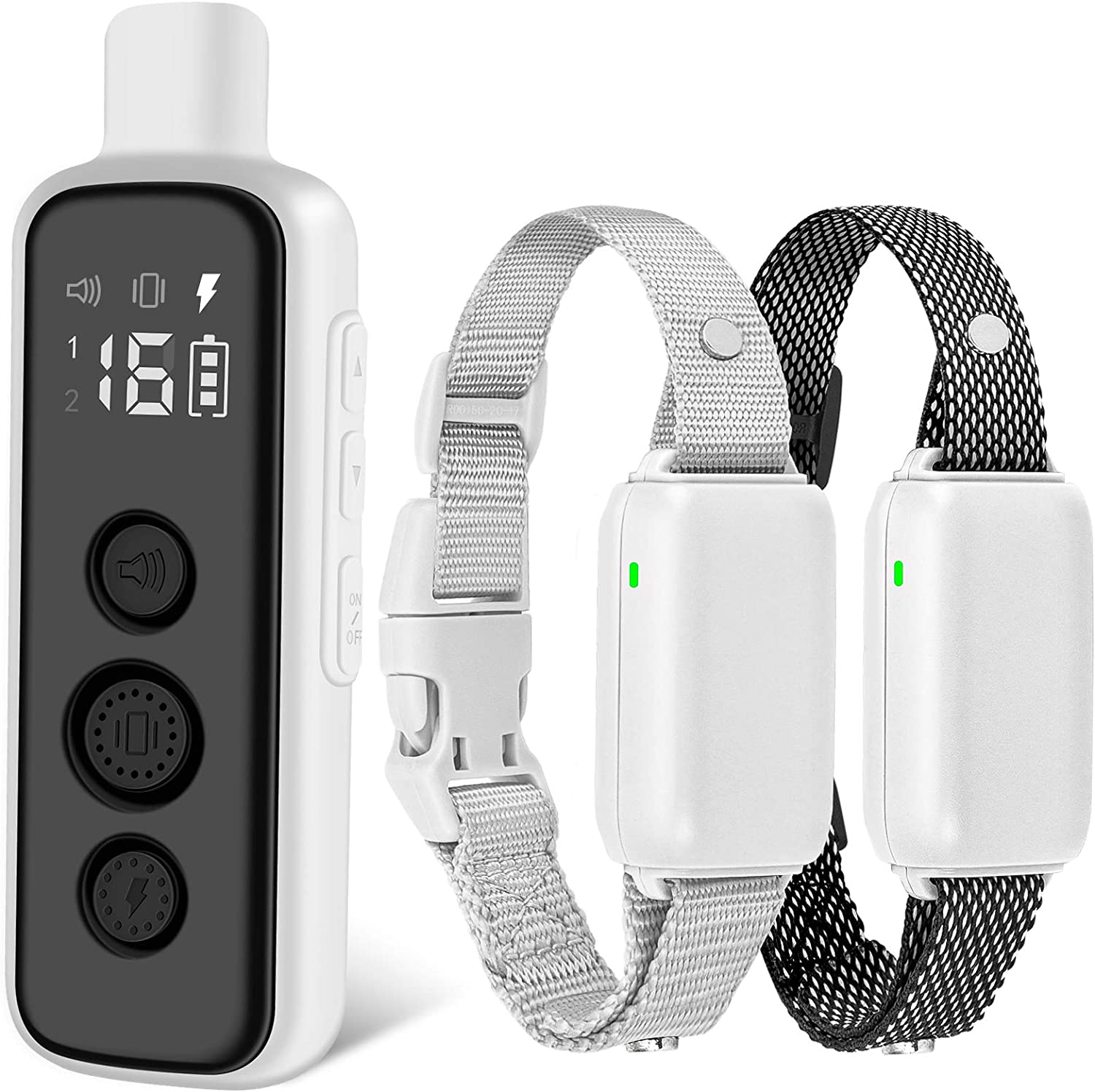 Bousnic Training Collar
The price of "Bousnic" varies, so check the latest price at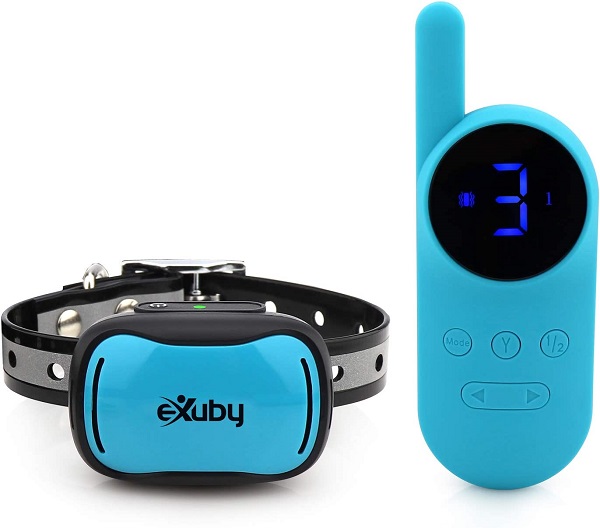 Lots of training collars are too bulky or heavy for small dogs, but eXuby call theirs the "smallest dog shock collar in the world," since it's at least 30% smaller than others.
Since it's designed for small dogs, there are only nine static levels. Still, you should make sure you start low to make sure it's not too aggressive for your fur baby.
The collar's straps are reflective, making it easy to spot at night, and is even waterproof, making it highly durable.
The device itself is highly customizable depending on your dog: you can choose between blue and pink faceplates to keep them looking cute; and you can choose between short and long prongs, depending on their hair length.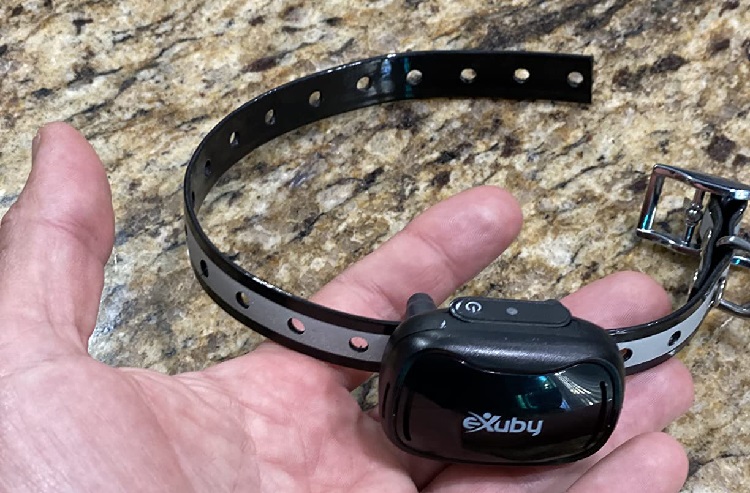 The small LED light lets you check power and battery, although it has an auto shut-off feature to conserve as much battery as possible. If low on battery, there's a split-charging cable so you can charge both collar and remote simultaneously.
The remote has a range of 1,000 feet and is well-designed; it's easy to hold with large buttons that are easy to access. The large, illuminated screen makes it easy to read even in bright daylight or at night.
Pros
Ideal for small breeds
Reflective strap
Waterproof
Nine static correction levels
Choice of blue or pink faceplates
Long range
Cons
Includes shock correction
Correction levels might be too low for larger dogs
Don't include silicone covers for metal prongs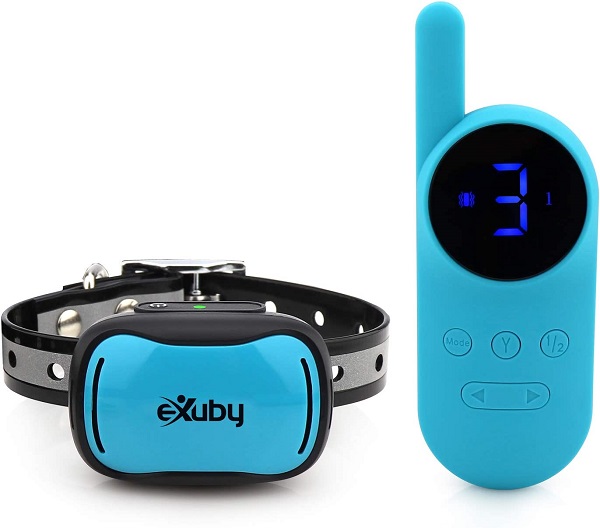 eXuby Tiny Shock Collar
The price of "eXuby Tiny Shock Collar" varies, so check the latest price at
Are Training Collars Ethical?
Let's look at different types of training collars normally used by dog parents and see whether they are considered ethically correct or not.
Shock Collars
Shock collars are considered by many to be the least ethical type of training collars. They make use of negative reinforcement, punishing the dog when they behave badly.
Negative reinforcement ironically often has the opposite of the desired effect; it can sever the bond between you and your dog.
Negative reinforcement can also make them aggressive, defensive, or anxious, and even exacerbate issues some reactive dogs already have. That's why it's important to never use a shock collar on old dogs with medical problems or puppies under 6 months old.
There's also a risk that the shock collar might not work properly, either through a malfunction or you make a mistake, accidentally delivering a harsher shock than intended. This can both frighten and confuse your dog, making training less effective.
It can even cause physical and psychological harm, with some users discovering that a shock collar is defective and burning their dog's skin.
Ethical Training Collars and Positive Reinforcement
Training collars that don't cause harm are ethical and recommended, but still require positive reinforcement to be most effective. This means praising your dog when it does the right thing and encouraging them to do it more often.
This makes them respond more positively towards you and more receptive to training.
Don't worry if want to use a training collar with static corrections. Many have concerns about these collars, but often the static corrections are completely optional; you can just use sound or vibration instead.
If you like the concept of a choke collar, but want a more ethical option, you can opt for a Martingale-style collar. These collars also tighten when a dog pulls, but never so tight that it chokes them.
Choosing the Best: What to Look For
Let's look at all the essential factors worth considering before buying the best dog-training collars.
Material
Training collars need to be sturdy, something that's particularly important if your dog pulls a lot on the leash. It also needs to survive various environments – for example, it's best to be waterproof, so your dog doesn't accidentally damage it.
Nylon is often the best material for training collars. Not only is it durable and reliable, but it's usually affordable too.
Size and Fit
Training collars always come in various sizes, but you need to ensure it fits your dog properly. Often the size depends on your dog's breed and age, but you should make sure to measure your dog beforehand and check how to adjust a dog collar.
Weight can also be a factor to keep in mind too since you should avoid placing heavy collars on dogs that are too small.
FAQs
Are Training Collars with Stimulation Safe to Use on Dogs?
While they're not too dangerous, many don't condone or recommend against using collars with any shock stimulation. After all, when used poorly, it's negative reinforcement.
If you want to use any collars with shock stimulation, we'd recommend avoiding static, and instead opting for sound and vibration.
Too much stimulation can be worse for young or sensitive dogs too; if they know there's always a danger they'll be punished, it makes them more nervous and anxious around others.
What Is Positive Reinforcement Training for Dogs?
Positive reinforcement is praising a dog when it obeys a command, praising them verbally, or giving a reward. This encourages them to continue obeying, associating that with rewards.
This can be reinforced with negative punishment, where you just ignore them until they obey, after which you give them praise. This is considerably better than negative reinforcement, where you punish a dog to warn them to stop.
This can ruin your bond with your dog and have psychological and emotional consequences.
Can a Dog Training Collar Help Stop Pulling on Their Leash?
A training collar can stop a variety of unwanted behaviors, including pulling on the leash. Anything can set your dog off, whether it's other dogs, interesting smells, or a squirrel.
It can be difficult to communicate with your dog to get them to stop, and often when you pull back, they just pull harder. However, a no-pull collar or harness can help communicate to your dog not to pull and teach them that pulling won't get them results.
Final Thoughts
Training your dog is a hugely fun and exciting part of owning a dog – but it can come with its own difficulties and stressors.
Fortunately, there are lots of things you can use to make it easier. Besides treats and clickers, training collars can make it a much smoother process.
Whether it's a costly, hi-tech one or a simple, affordable one, the right training collar can be the best way to communicate with your dog.