First things first: are training collars even good for dogs? The answer is yes. Training collars are indeed beneficial for dogs when used properly.
There is a difference of opinion among veterinarians and dog owners about the effectiveness and use of training collars for dogs. But, most of them agree that as long as these collars are used adequately and do not harm the dogs, they are a good training tool.
Let's be honest, training your dog can be quite a struggle. As dog owners, many of you might be able to train your pet without any external help, while others look for supporting tools and methods.
However, when using dog training collars, one should act responsibly and combine their use with other training techniques such as positive reinforcement. When choosing a dog training collar, be sure to keep in mind its size, training set, range, and battery power.
Best Overall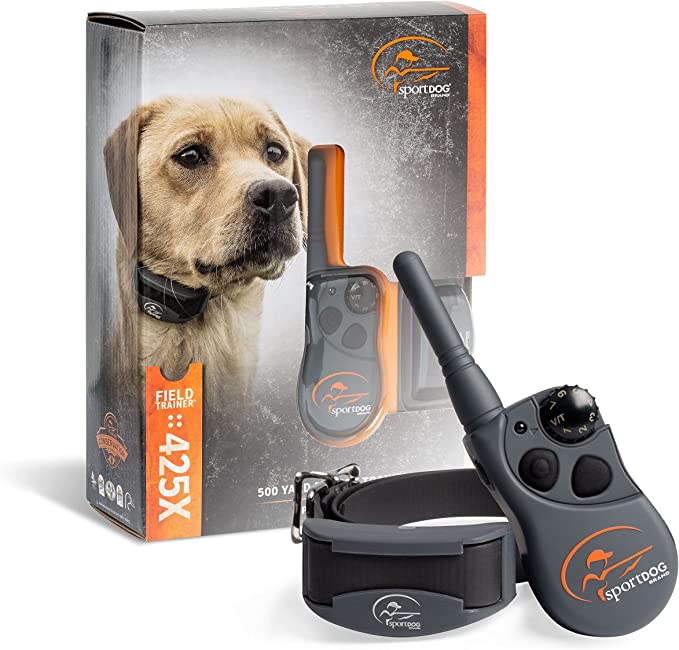 SportDOG Remote Trainers
Material: Plastic
Closure Type: Buckle
Premium Choice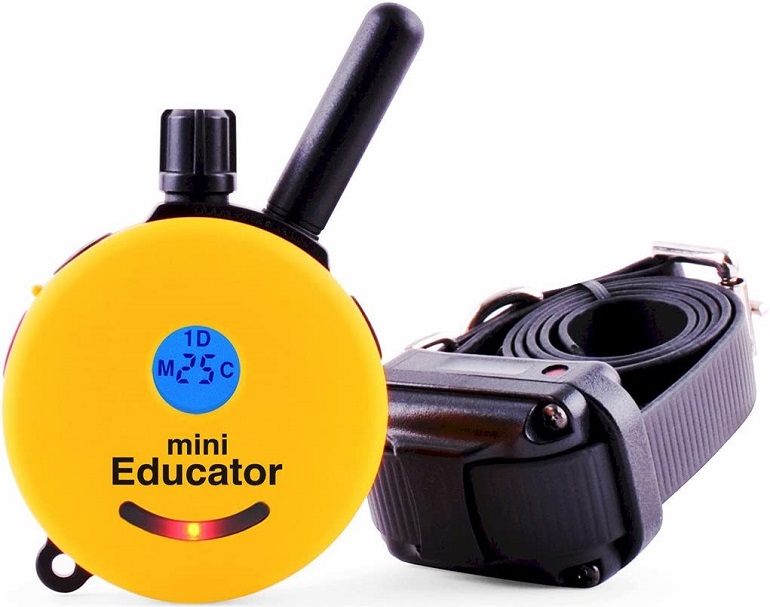 Educator Dog Training Collar
Material: Biothane Collar Strap
Closure Type: Buckle
Great Value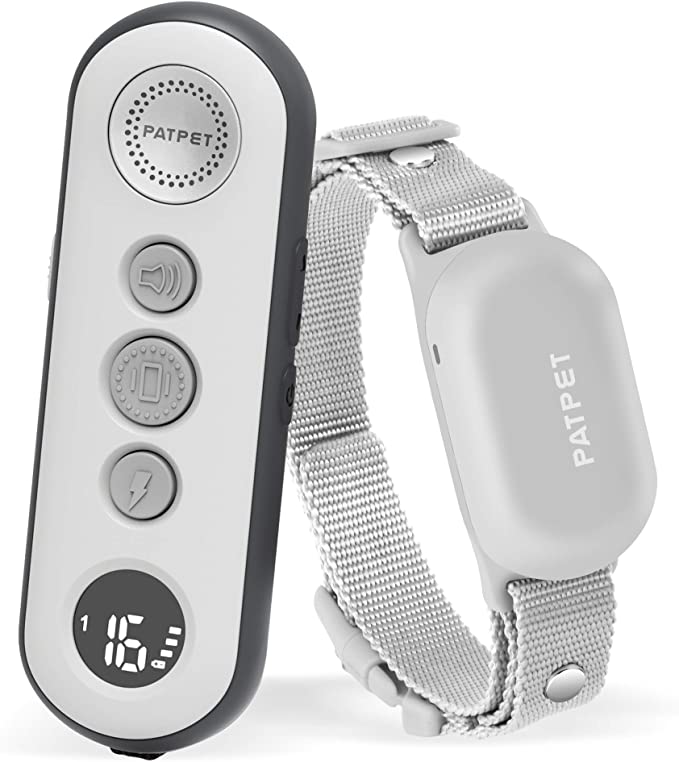 PATPET Dog Training Collar
Material: Plastic, Nylon
Closure Type: Buckle
Best Versatile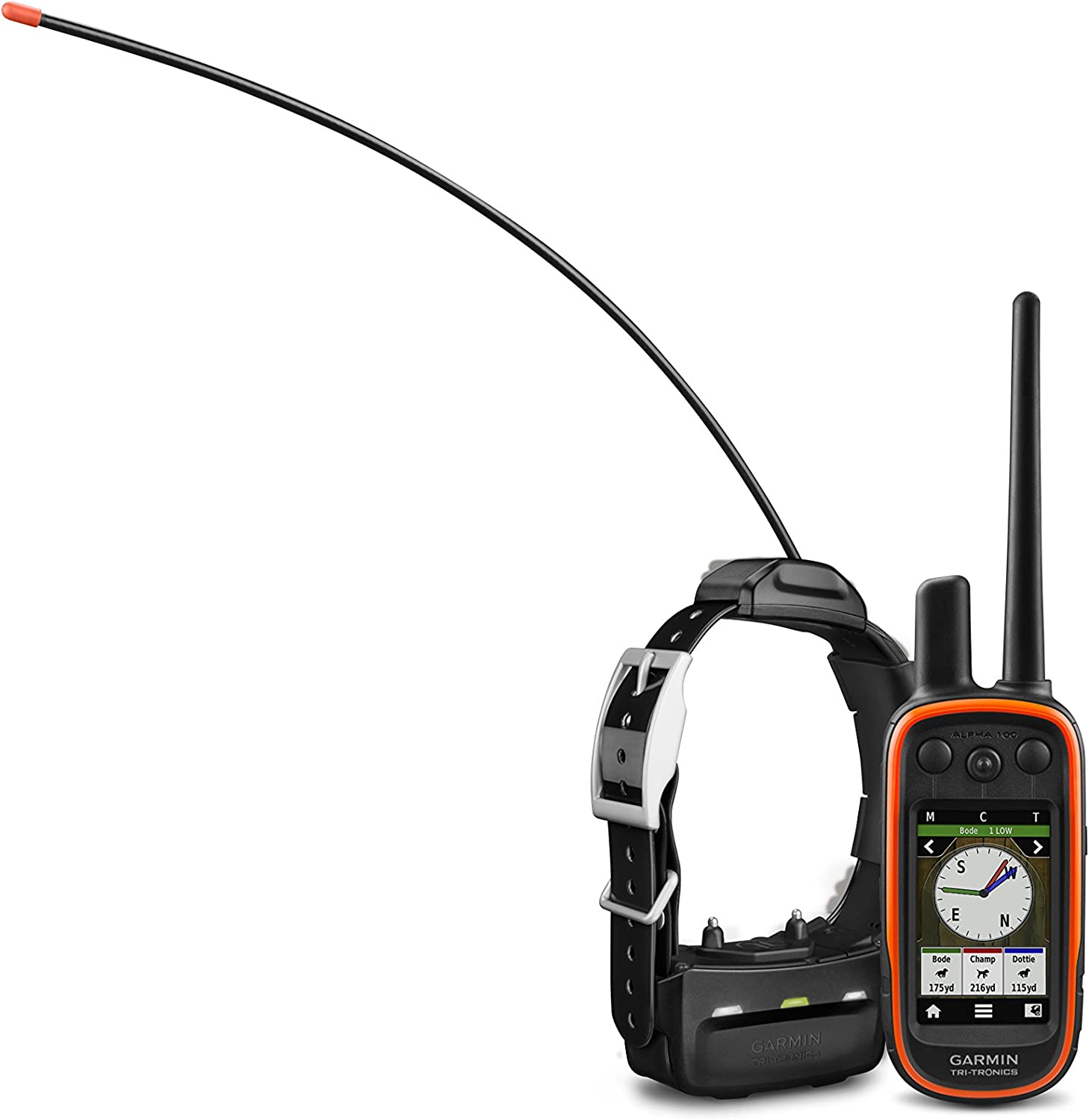 Garmin Alpha 100
Material: Plastic
Closure Type: Button
Best for Small Dogs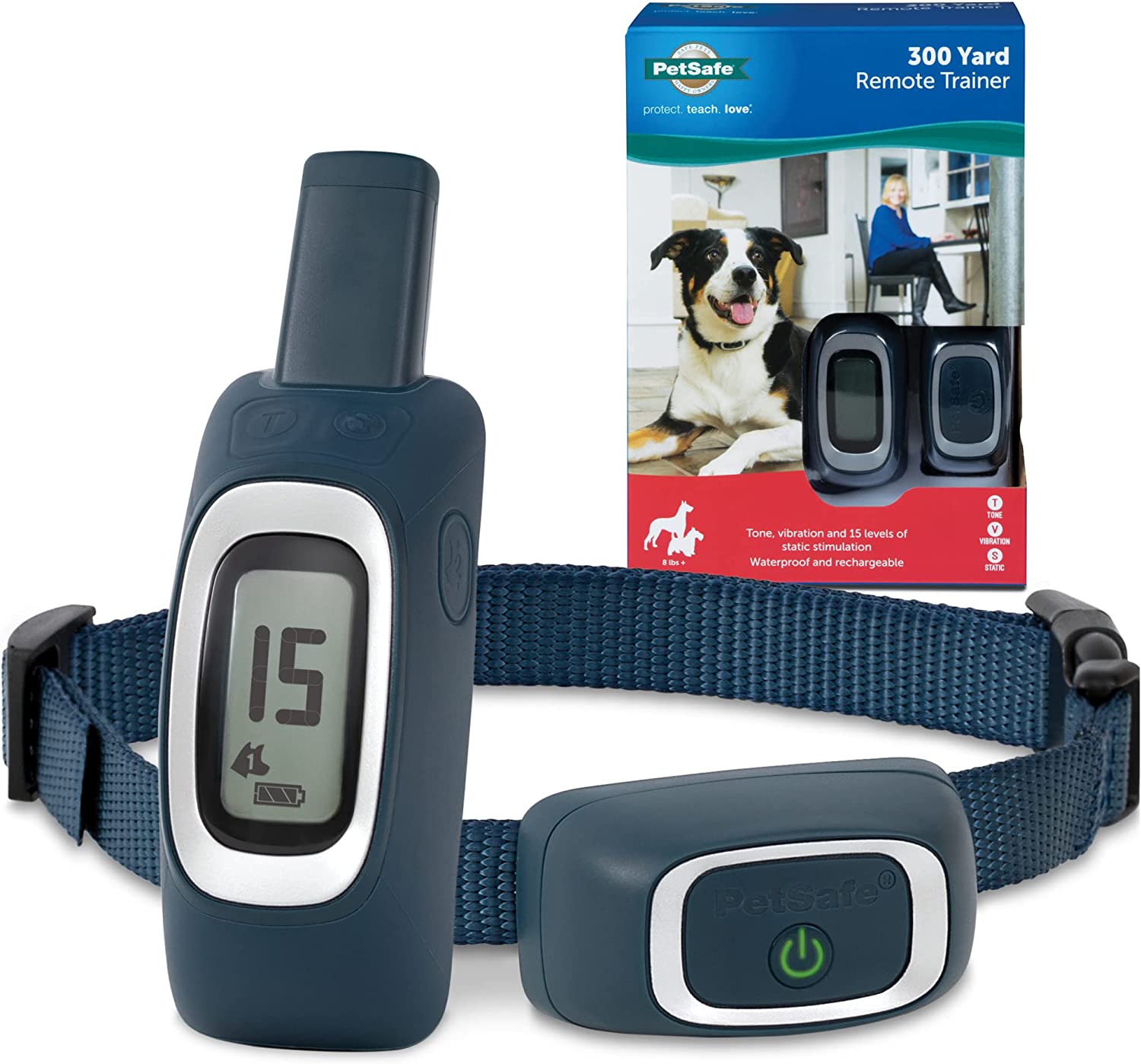 PetSafe Remote Training Collar
Material: Plastic
Closure Type: Button
Best for Professional Trainers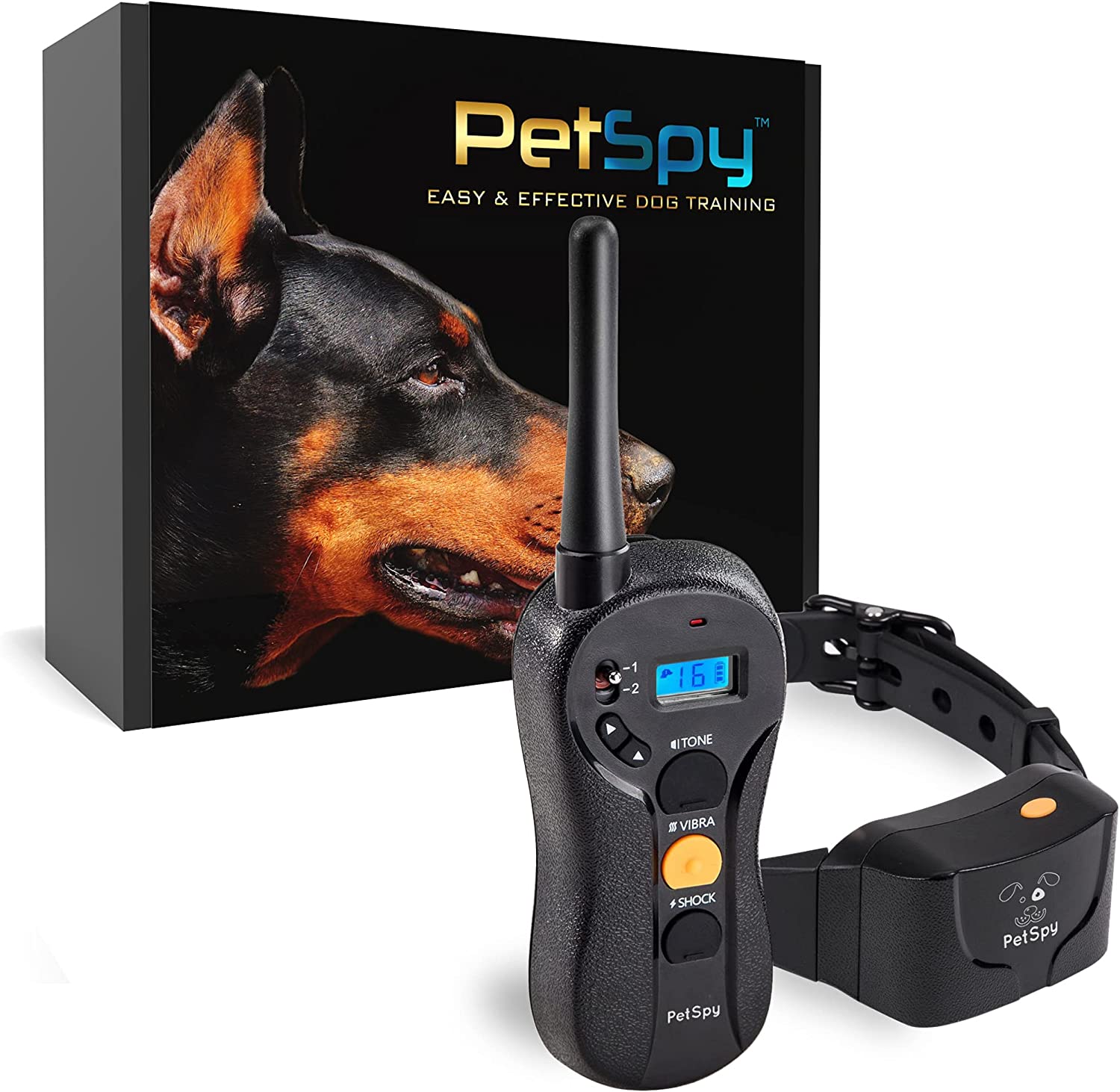 PetSpy Dog Training Collar
Material: Plastic
Closure Type: Buckle
Best for Convenience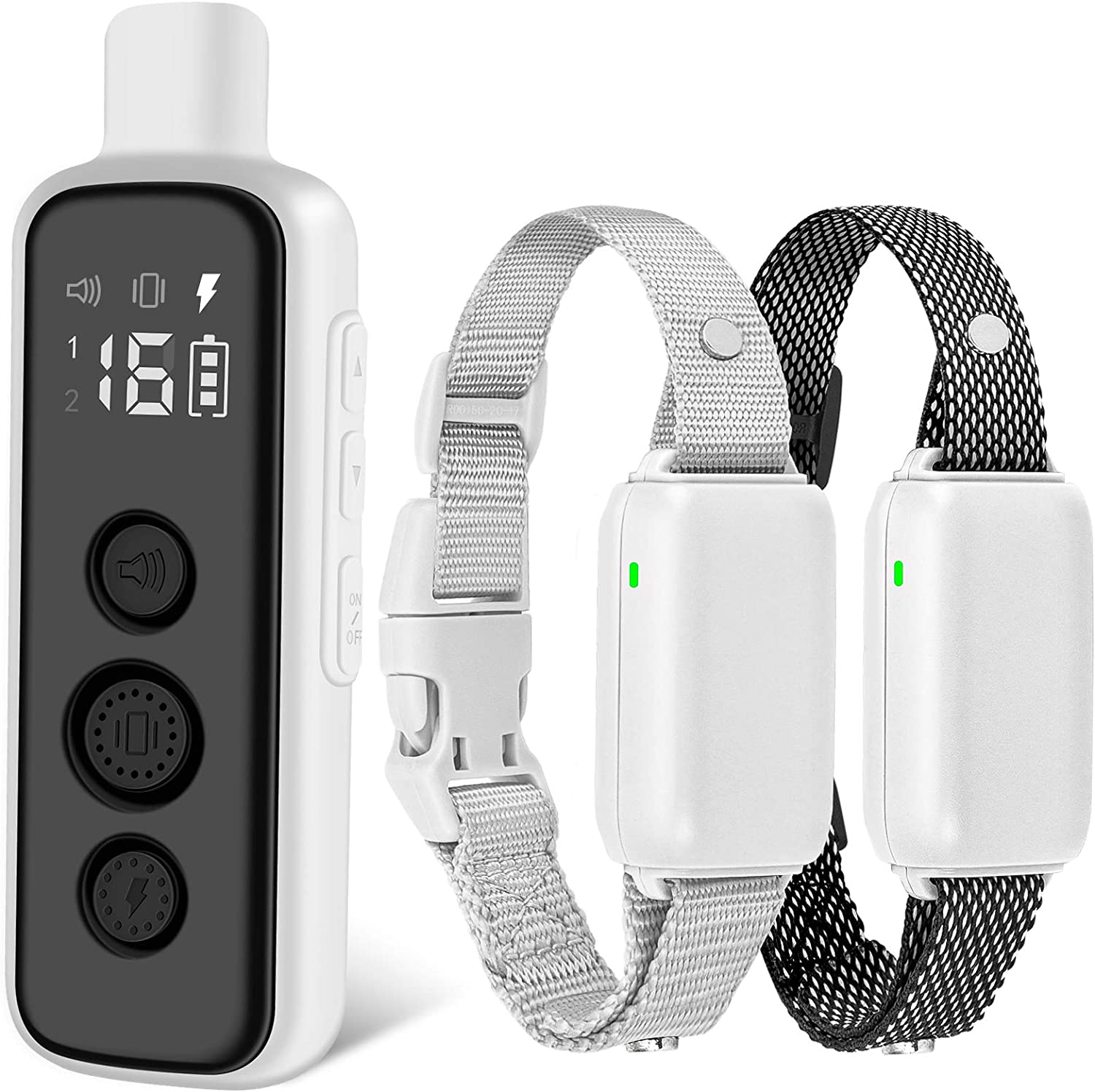 Bousnic Training Collar
Material: Nylon
Closure Type: Buckle
Best Battery Life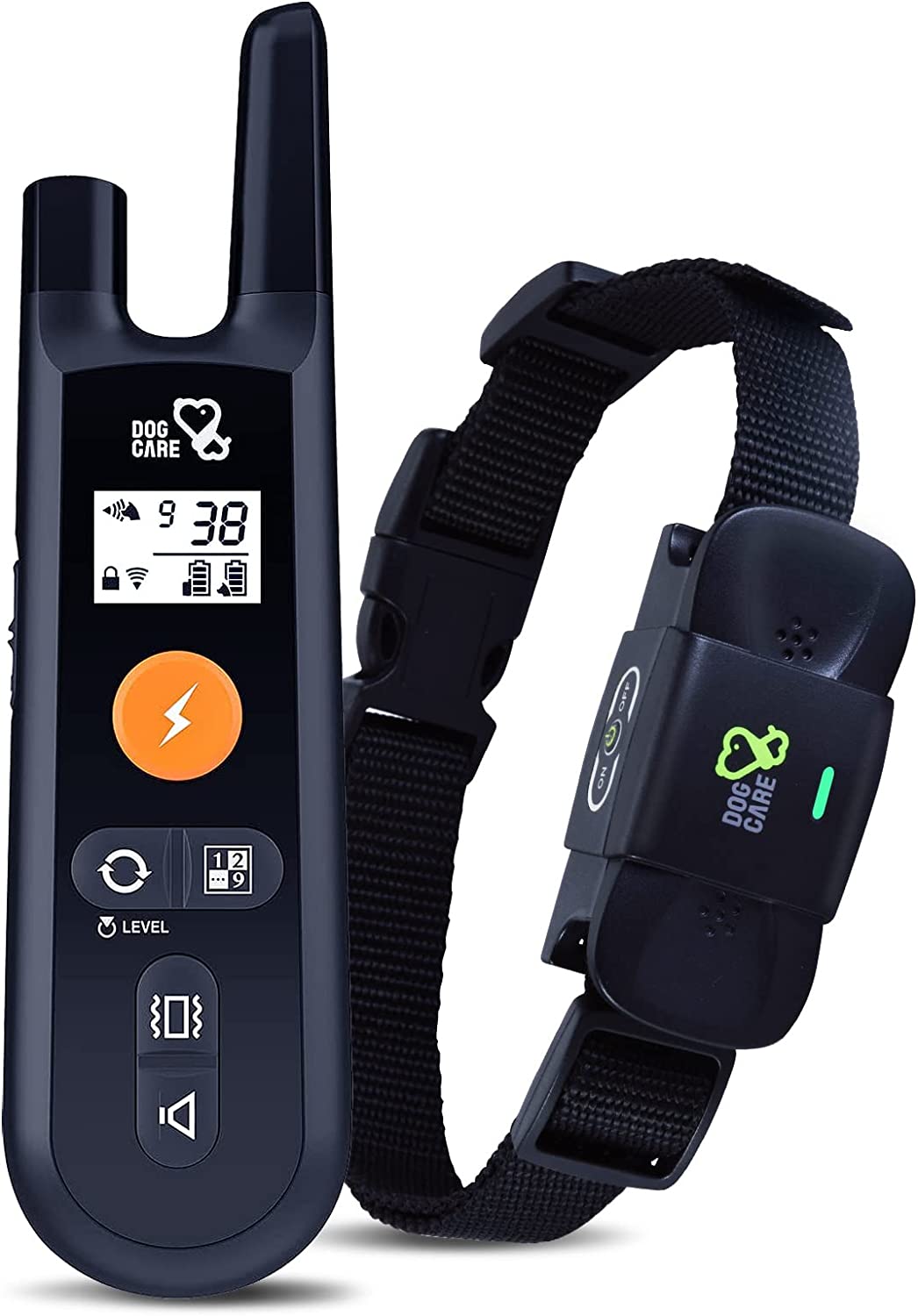 DOG CARE Training Collar
Material: Nylon
Closure Type: Buckle
Best Dog Training Collar – Top 8 Picks
When it comes to dog training collars, with so many options in the market, we understand it may get overwhelming for you to pick one. Therefore, we bring you our top 8 best dog training collars, picked on the basis of range, stimulation level, and durability. So, read more to find out!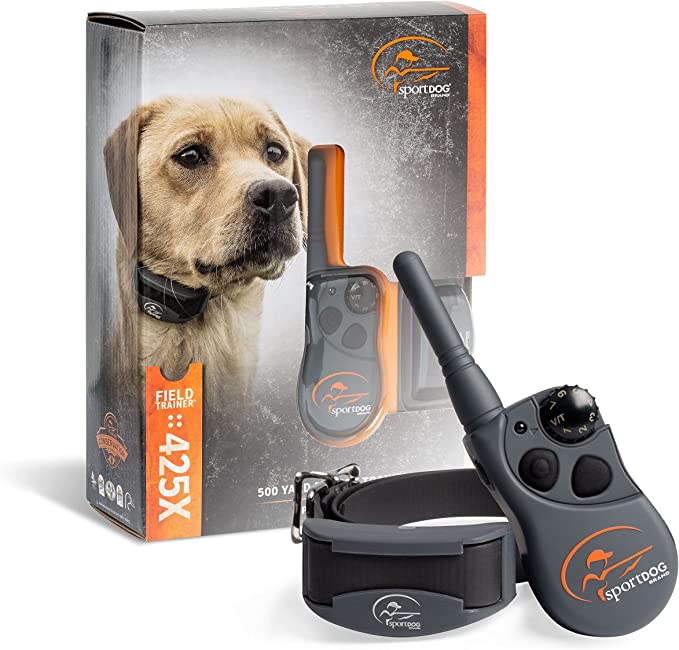 Number one on our list is the SportDOG 425X Remote Trainers, which is the best dog training collar and ideal for sporting or hunting dog owners.
This model has been upgraded and designed to suit the needs of much more active and stubborn dogs. The best thing about this e-collar is that it is one of the lightest and smallest dog training collars of the X-400-series.
This is one of my favorite designs as far as the transmitter goes, because it is a very comfortable fit in the hands.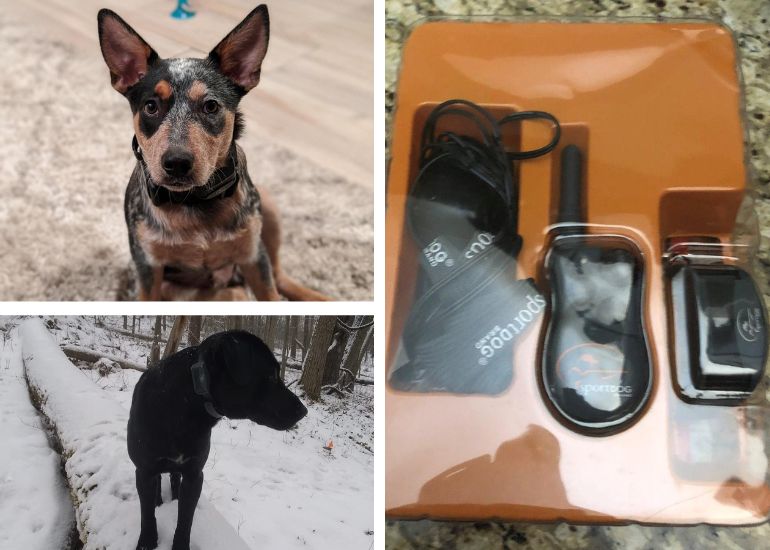 This training collar has a range of up to 500 yards, so it's designed for pet owners who're not looking for an excessive range and can be used for dog obedience training. Hunters can also use this e-collar, in fact, my friend used this to train his Labrador retriever, and it was perfect for that.
Features
DryTek waterproof transmitter and receiver to ensure that your dog's training isn't at the weather's mercy.
Rechargeable lithium-ion batteries.
Battery life of up to 50 to 70 hours.
Can support up to three dogs.
Receiver dimensions (without strap): 2.60″L X 1.30″W 1.23″D
21 stimulation levels along with tone and vibration.
Pros
Great battery life. Batteries can last up to 3 to 5 years.
Almost painless for your dog if used on low settings.
A wide variety of static stimulation makes it ideal for both, large and small dogs and leaves more room for customized training.
Cons
Limited Range of up to 500 yards.
Expensive.
It doesn't have a toggle switch so when you move into a multi-dog mode, you start to lose some features such as one button per dog and lower simulation levels.
Complicated design and controls.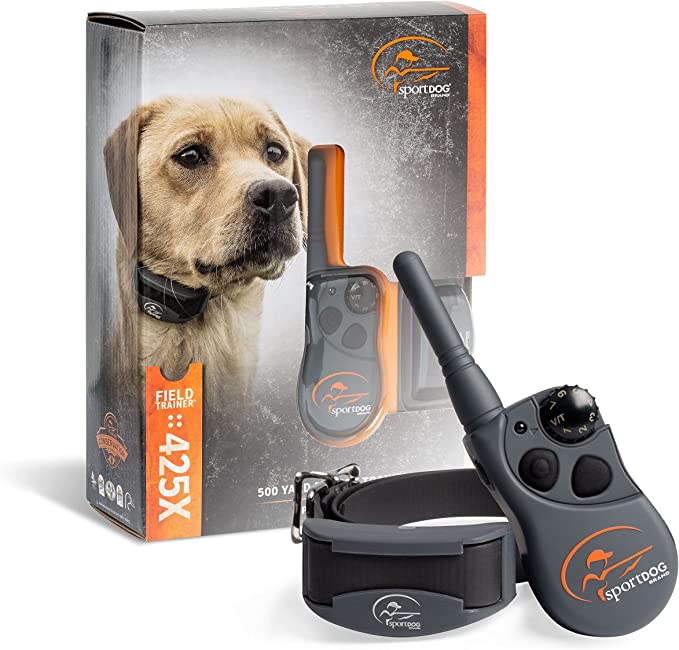 SportDOG Brand Trainers
The price of "SportDOG Brand Trainers" varies, so check the latest price at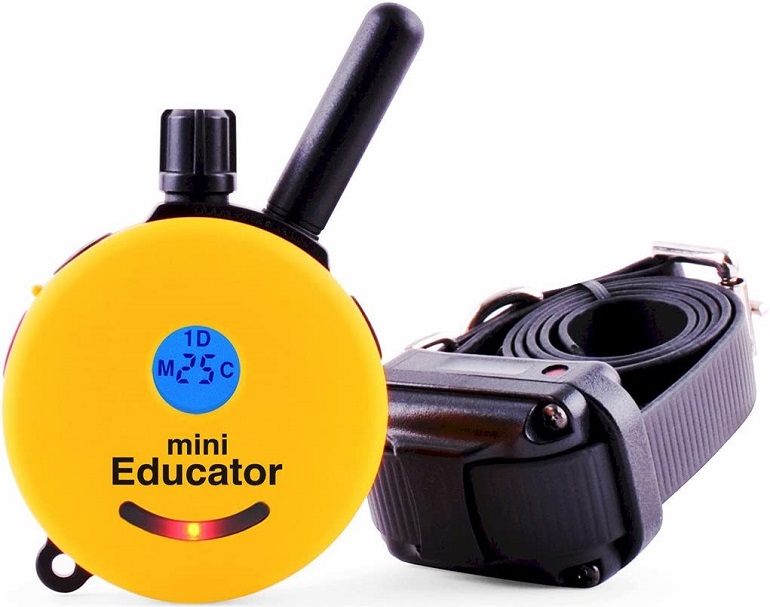 Next, we have the Educator E-Collar Humane Dog Training Collar, which was assembled in Indiana and is the ideal collar for training small dogs. This collar is made of a one-of-a-kind polyester webbing and covered with polyester, which makes it extremely durable and long-lasting.
What I love about this remote dog training collar is the level-locking feature which ensures that even if you accidentally bump the dial, the working level will stay the same.
This offers peace of mind knowing that you will be communicating at the right level with your dog until you change the level on your own.
You might consider opting for a cheaper e-collar, but those usually have only 7-15 levels of stimulation compared to the 100 levels of the Educator e-collar. This means that level 1 is already pretty high, and by the time you reach level 3, it gets very intense.
With the Educator e-collar's 100 levels of simulation level, 20 is equal to level 1 of the cheaper e-collars. This means you don't have to yell at your dog all the time and can use lower levels of stimulation to get your dog's attention.
Features
A range of 880 yards, almost ½ a mile.
100 levels of momentary and continuous stimulation, a boost level ranging from 1-60 to be at par with your dog's mood.
Waterproof transmitter
Sound and vibration: Yes
Remote and collar battery life: 72 hours
Composed of synthetic fabric, plastic, and nylon.
Pros
Suitable for all sizes of dogs weighing 2.2kg or more.
Easy to use button layout
Can be cleaned easily
Cons
Expensive
Needs to be charged quite often.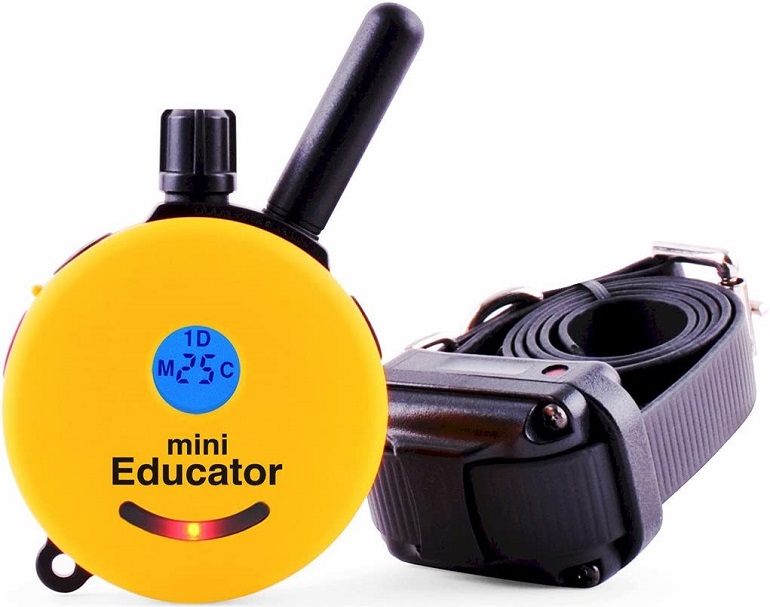 Educator E-Collar Dog Training Collar
The price of "Educator E-Collar" varies, so check the latest price at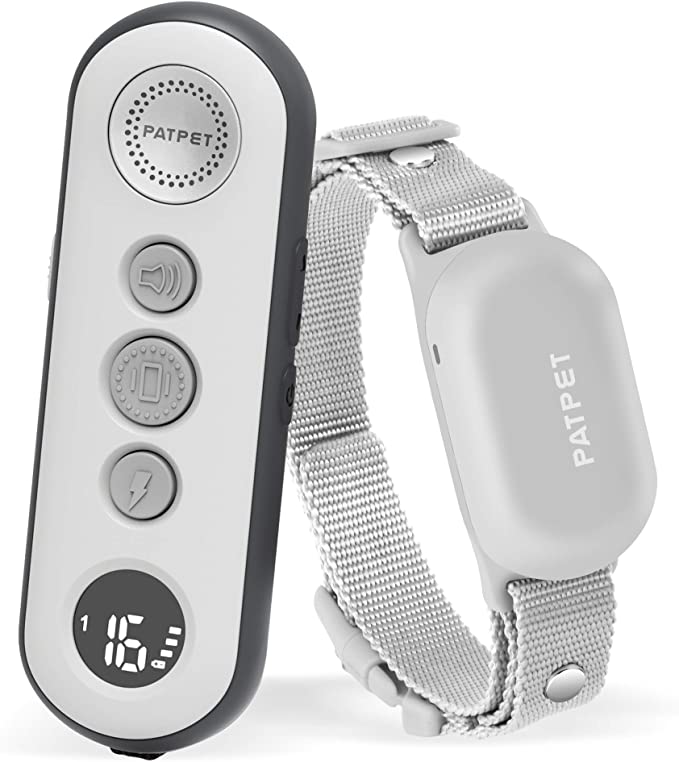 On number three we have PATPET Dog Training Collar, which has been designed for those dog owners who would like to train their dogs but without being harsh with them or harming them in any way. If you're looking for a training collar with great features and that too at a reasonable price, then this should be your pick.
This e-collar comes with two channels, so it is ideal for pet owners with two dogs. My favorite thing about this collar is the charger that is similar to an Android phone charger, so even if you lose the collar's charger you can easily replace it with a phone charger in your home.
With this dog training collar, you can only adjust the levels of shock and not the levels of vibration. The shock adjustment allows the training of dogs with a thick coat as you can choose higher shock levels for them or plug in the longer electrodes that come with the package.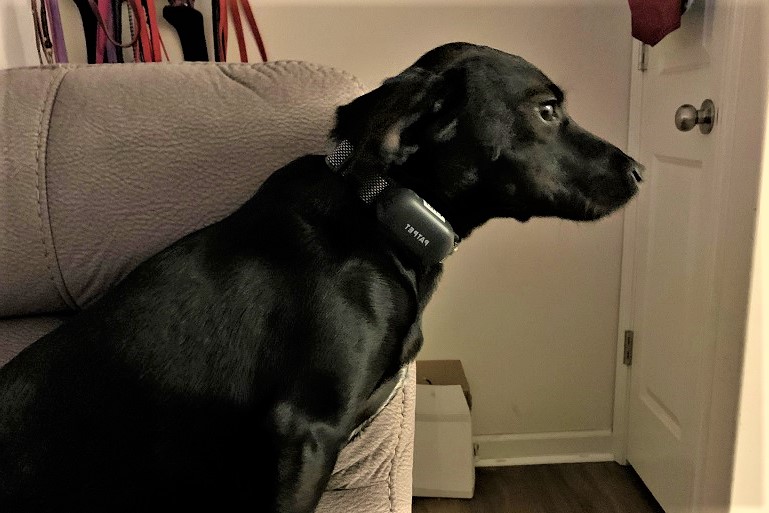 So, you don't have to be the bad guy in the eyes of your dog, this e-collar can assume that role for you. It's also recommended to properly learn how to train a dog with a shock collar before initiating a shock dog training session.
Features
Comes with a range of 450 yards or ½ a mile.
Lightweight receiver (approximately 0.12 lb.) which makes the collar very comfortable for your dog.
Vibration and Tone: yes
1- 16 levels of adjustable stimulation levels.
Shock stops within 5-10 seconds to make the experience less painful for your dog.
Waterproof and dustproof
Charging time: 2-3 hours
Pros
Best for all dog sizes with neck measurement of 20-58 cm.
Customizable tone which can be adjusted as per your dog's hearing ability.
Contact points are composed of stainless steel and come with an insulated cover so that your dog isn't harmed by rust.
90-day money-back guarantee.
Cons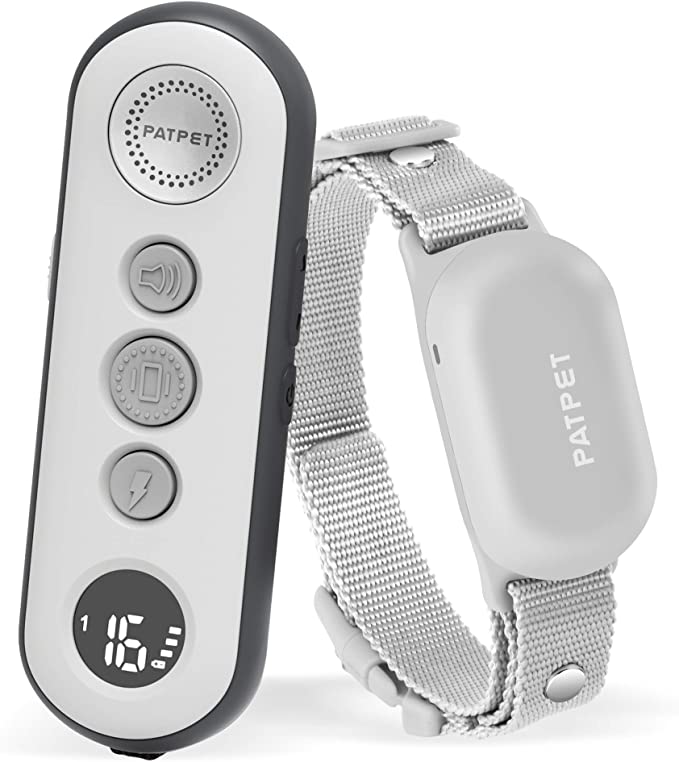 PATPET Dog Training Collar
The price of "PATPET Dog Training" varies, so check the latest price at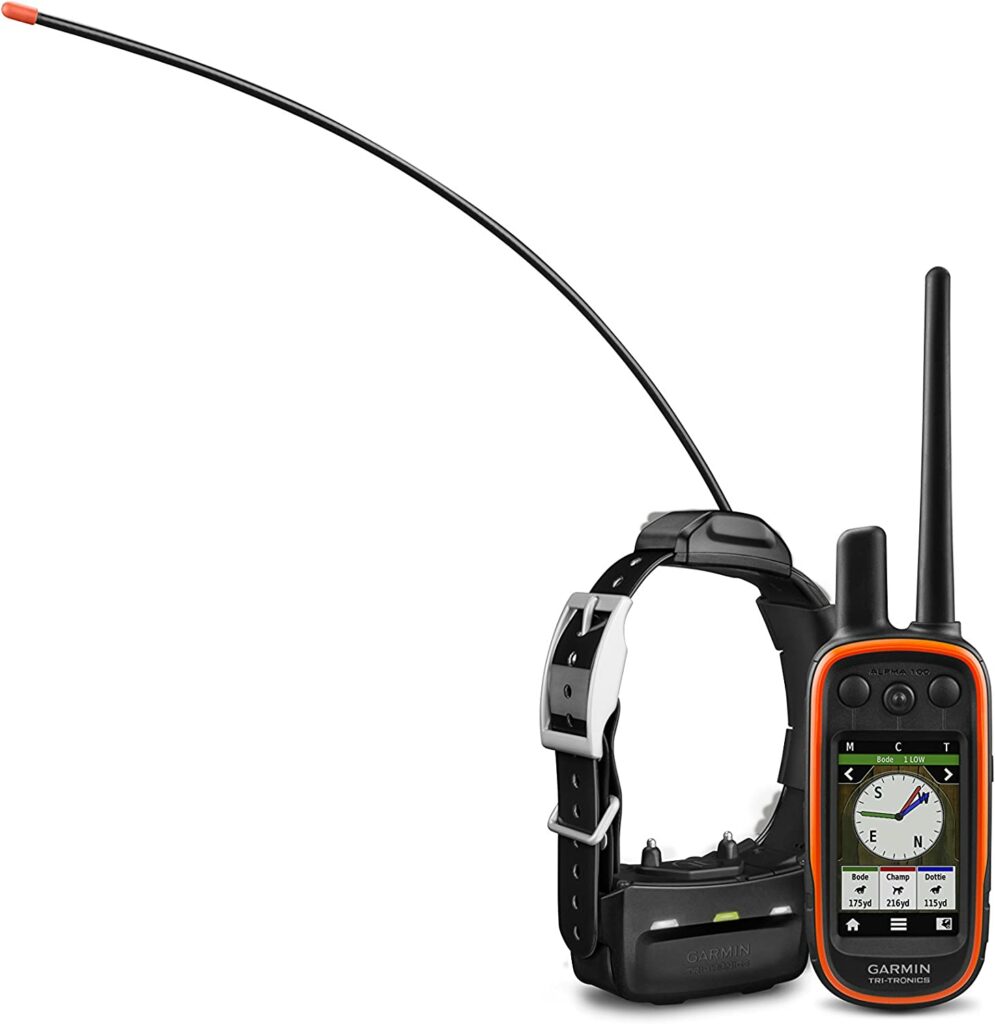 The Garmin Alpha 100 is not just a dog training collar, but also a tracking collar. Yes, you read it right! If you're one of those dog owners who's constantly living with the fear of their pet's whereabouts, then this is the best dog training collar for you.
The Garmin Alpha 100 gives you the real-time location of your dog via GPS. All you need to do is press 'Go', and boom!
You won't just know where you are, but it will also share with you your dog's location, the approximate current distance between you and your dog, and the shortest route to your dog. You also can view maps, organize them, track routes, and take advantage of the free trip-planning software that comes with it.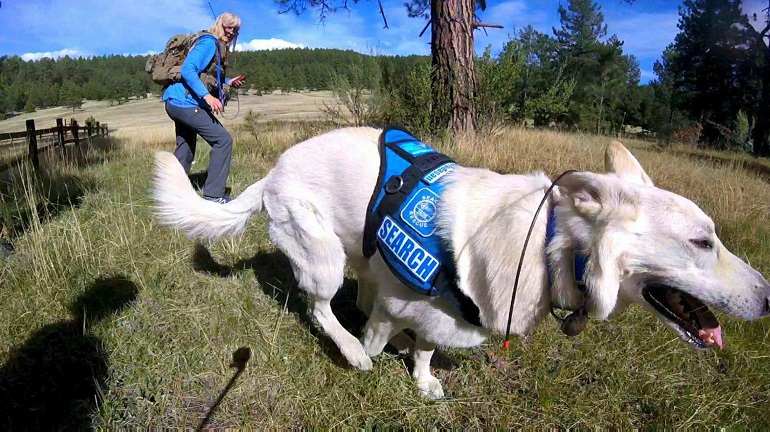 The Garmin Alpha 100 comes with a touch screen that works even if you have gloves on and can train up to 20 dogs with the same system. Like GPS dog trackers, these electronic dog training collars can be used on hunting dogs too!
Features
Tone and Vibrate: Yes
Waterproof
Tracking radius of up to 9 miles
Comes with 18 different, adjustable levels of stimulations, vibrations, and tone.
Up to 20 hours of rechargeable battery life.
Pros
Easy setup
Real-time tracking
Sends you emergency alerts when needed.
Cons
The collar might get a little heavy for some dogs.
Relatively expensive.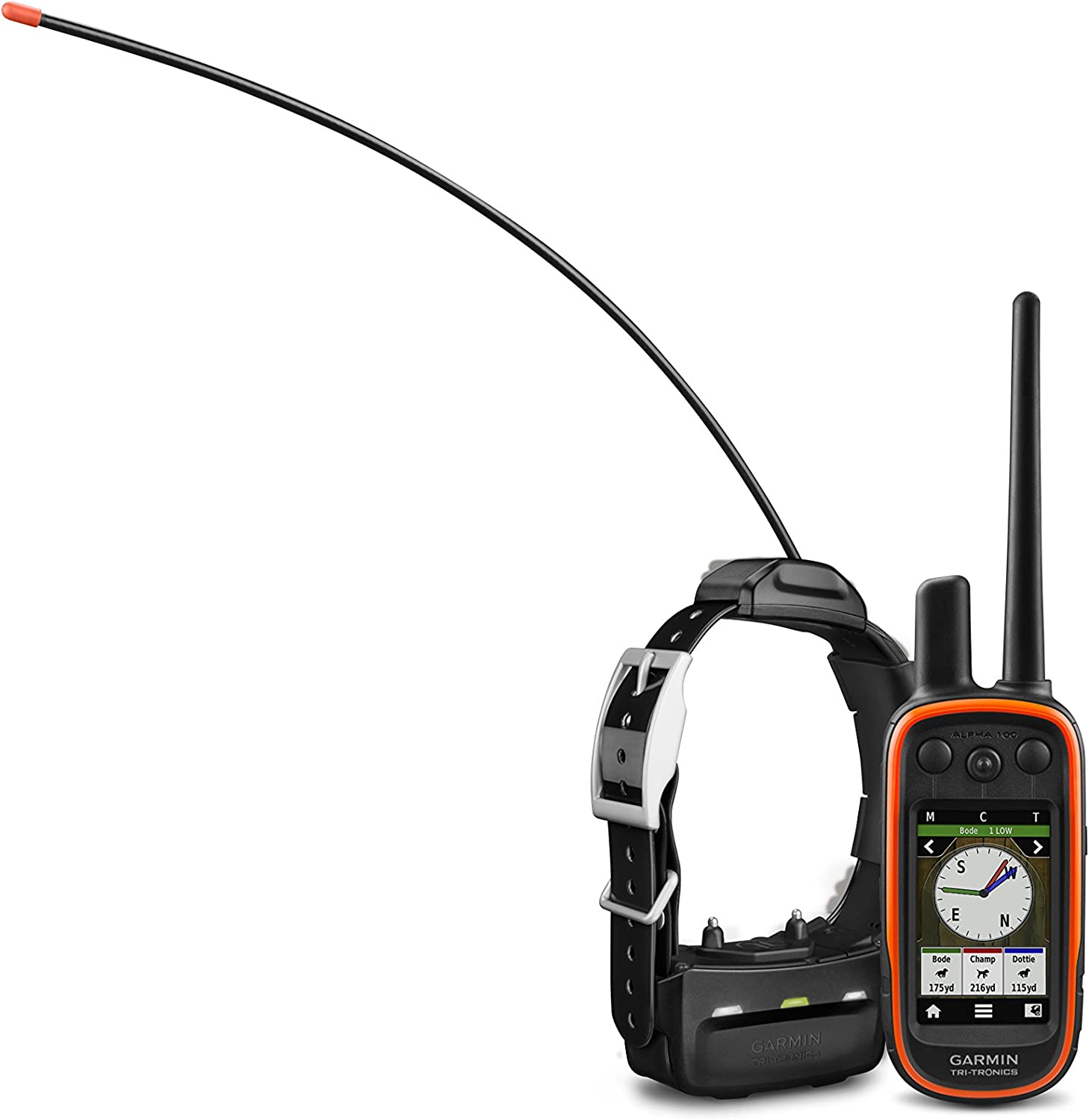 Garmin Alpha 100
The price of "Garmin Alpha 100" varies, so check the latest price at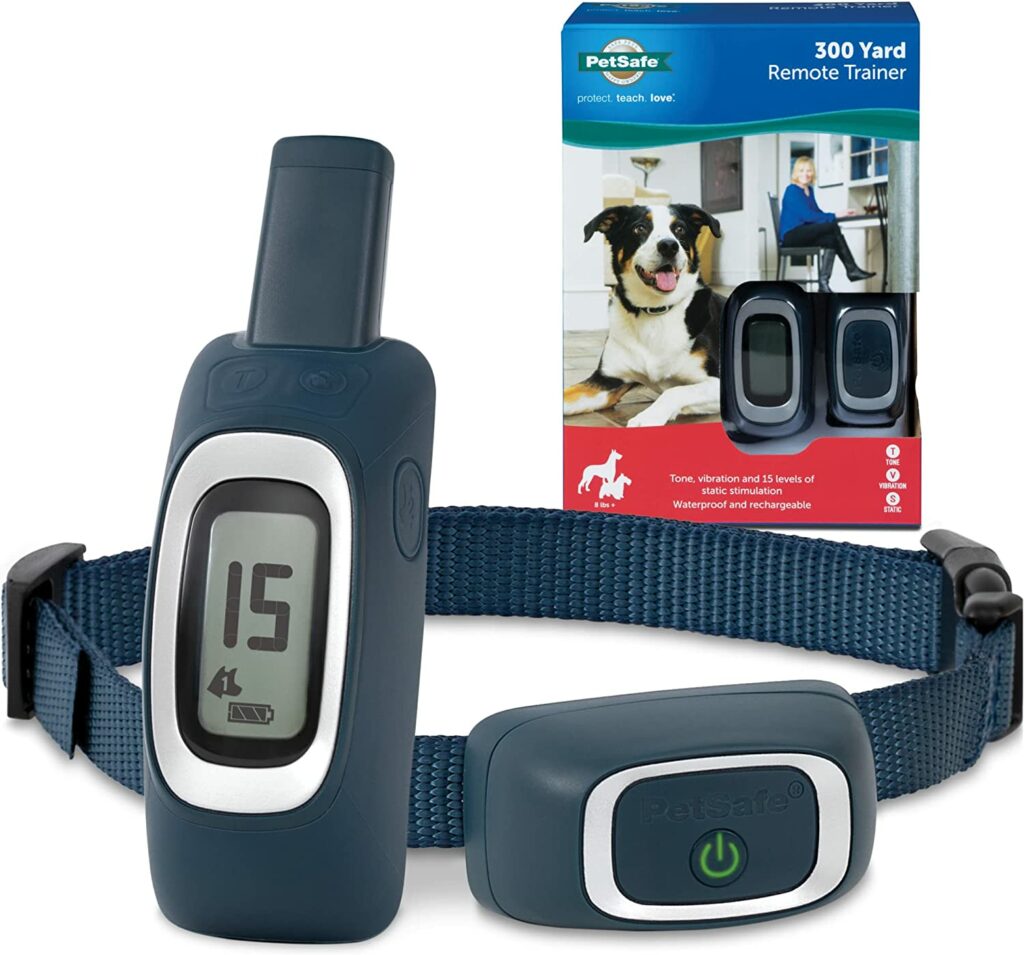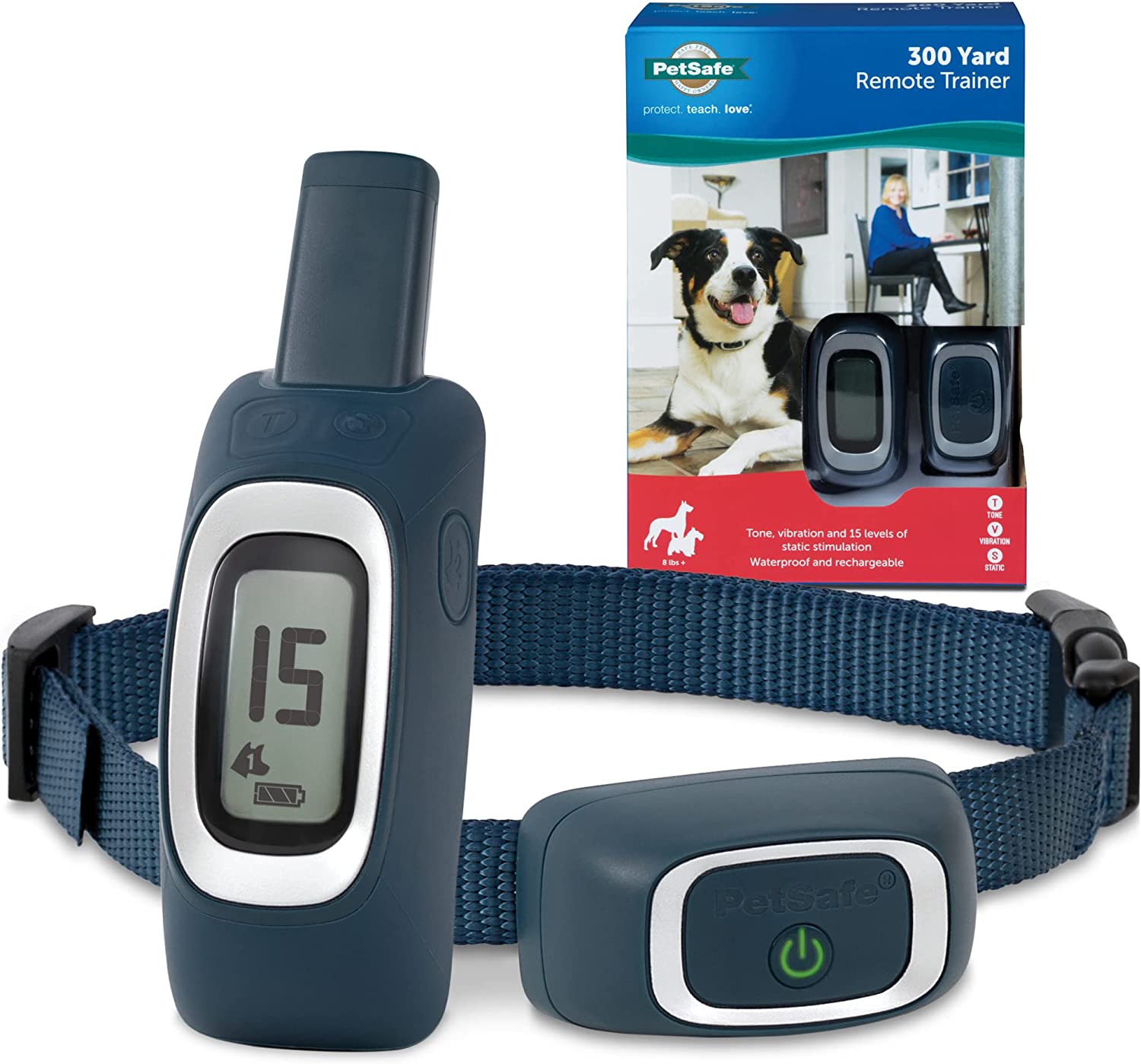 If you've got a small dog and you're looking for a gentle collar, then PetSafe Remote Training Collar on our list is designed for dog owners like you.
One thing that really sets this collar apart is that it comes with a variety of ranges, i.e., 100, 300, 600, and 900, yards that you can adjust as per your needs. For instance, while training your dog at your place, select the 100-yard range. However, if you're going out on a trek or a swim, then choose the 900 yards range.
These training collars are ideal for dogs who do not respond well to commands as they work as an invisible dog fence for your pet. This can prevent your dog from being hurt or involved in an accident.
Features
Comes with three different modes, which are tone, vibration, and static simulation which can be adjusted from levels 1-18.
Battery health of more than 40 hours.
Comes with a safety lock feature
Pros
Customer care service exclusively by PetSafe that lets you email, text, or call all your queries regarding the training collar directly to them.
Batteries are charged within 2 hours.
Can be used on multiple dogs.
Cons
Collar may get disconnected from your remote if you shut down your phone.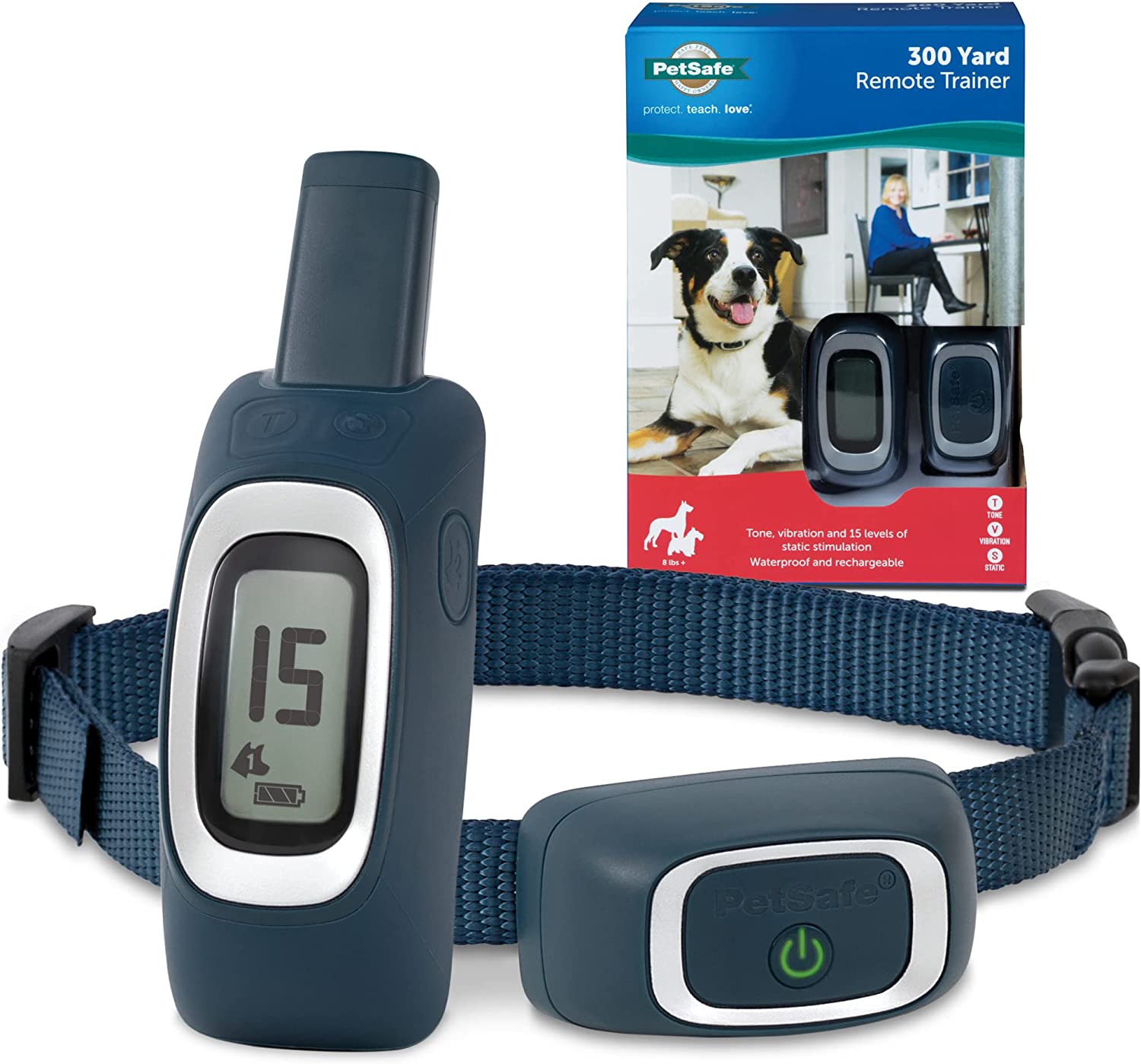 PetSafe Remote Training Collar
The price of "PetSafe Remote" varies, so check the latest price at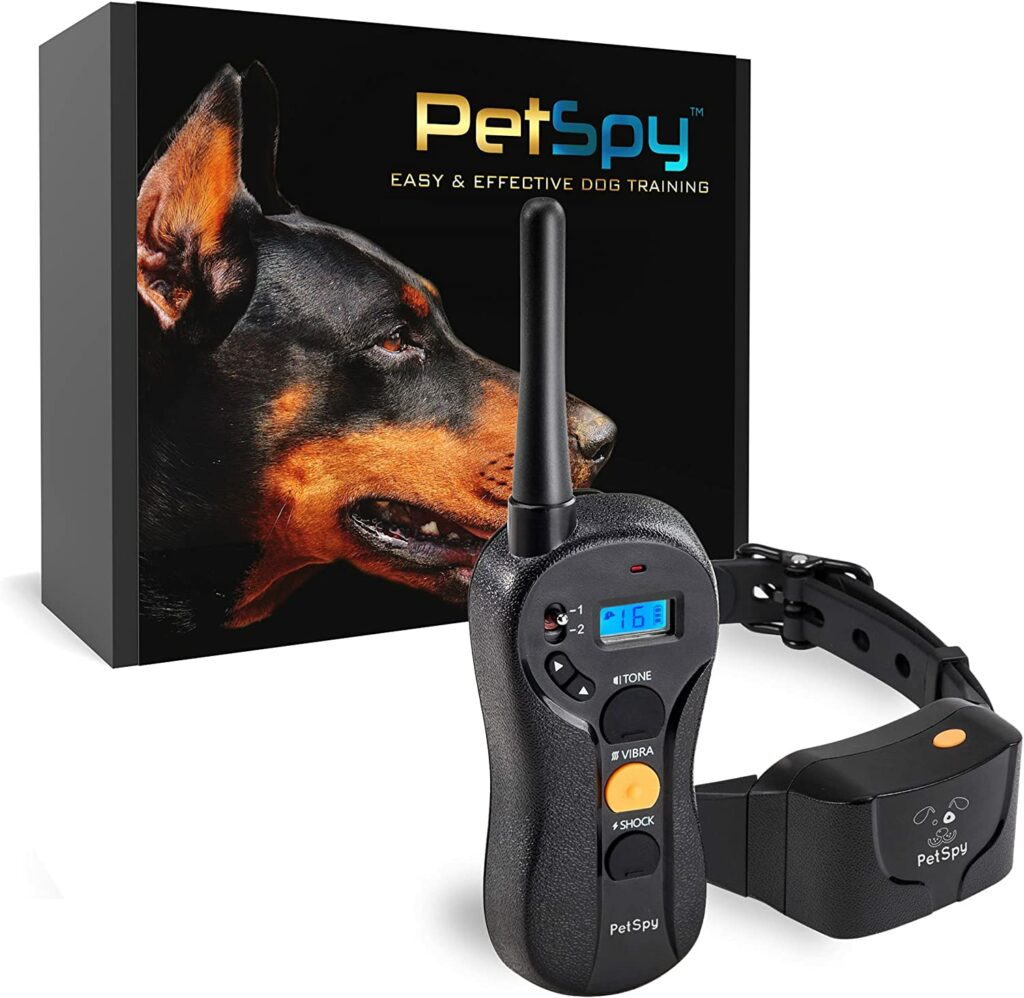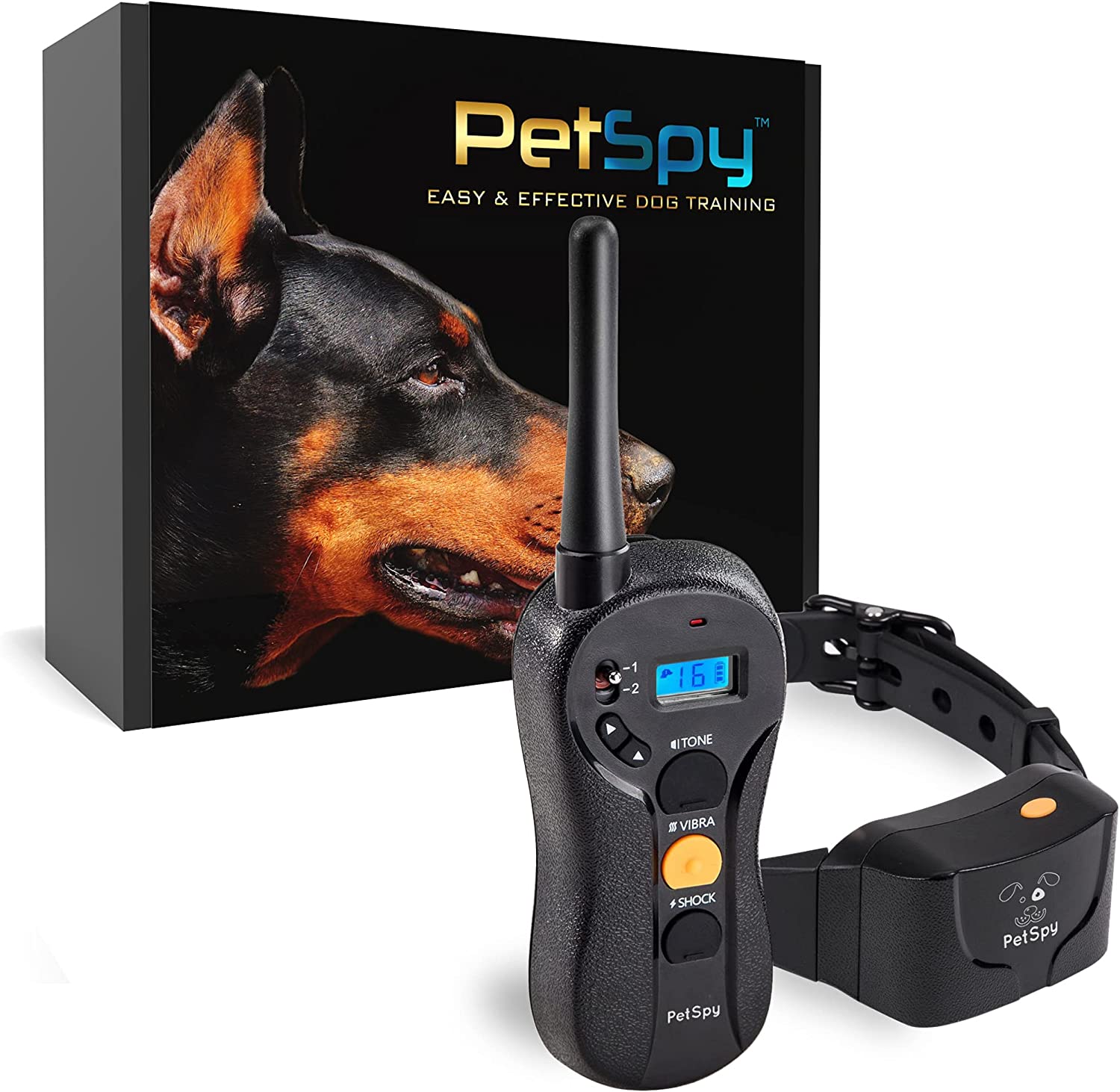 Now, we have the PetSpy P620 Dog Training Shock Collar which has been specifically designed for professional dog trainers who are looking for an easy-to-operate and navigate e-collar.
One of the best aspects about ordering these shock collars is that they comes with a split cable so you can charge both, the receiver and remote at the same time and save valuable time.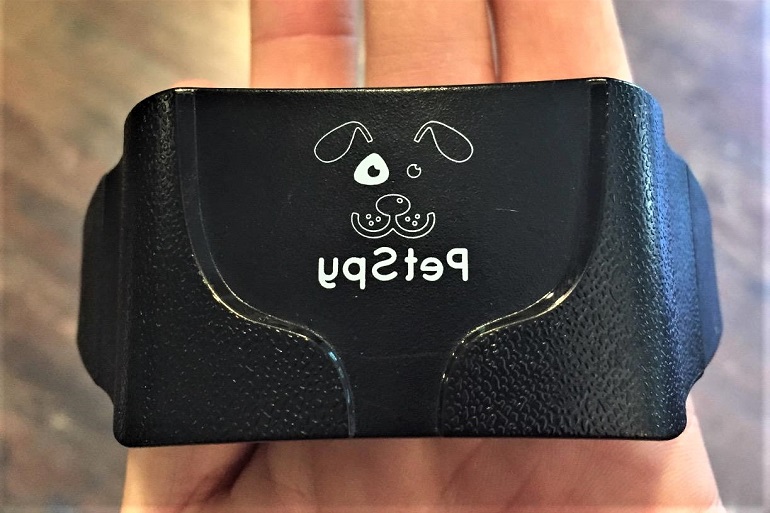 Imagine spending 2-3 hours to charge the remote and then the receiver too. The split charger really proves to be a live saver for professionals who are already on a tight schedule.
Lastly, another thing that really sets this collar apart is how pocket-friendly it is. At a reasonable price, you're getting the same features and functions that you would get from an exorbitantly priced gadget by some other brand. How cool is that!
Features
Made from high-quality material which makes it durable and waterproof.
Has a maximum range of 650 yards.
For dogs with weights ranging from 10 to 120 pounds.
100% waterproof
Pros
Comes with a lifetime warranty
Lights on the collar lets you know when the battery needs charging.
Sound or vibration is sufficient to correct the dog's behavior.
Cons
Range might be inadequate for some dog trainers.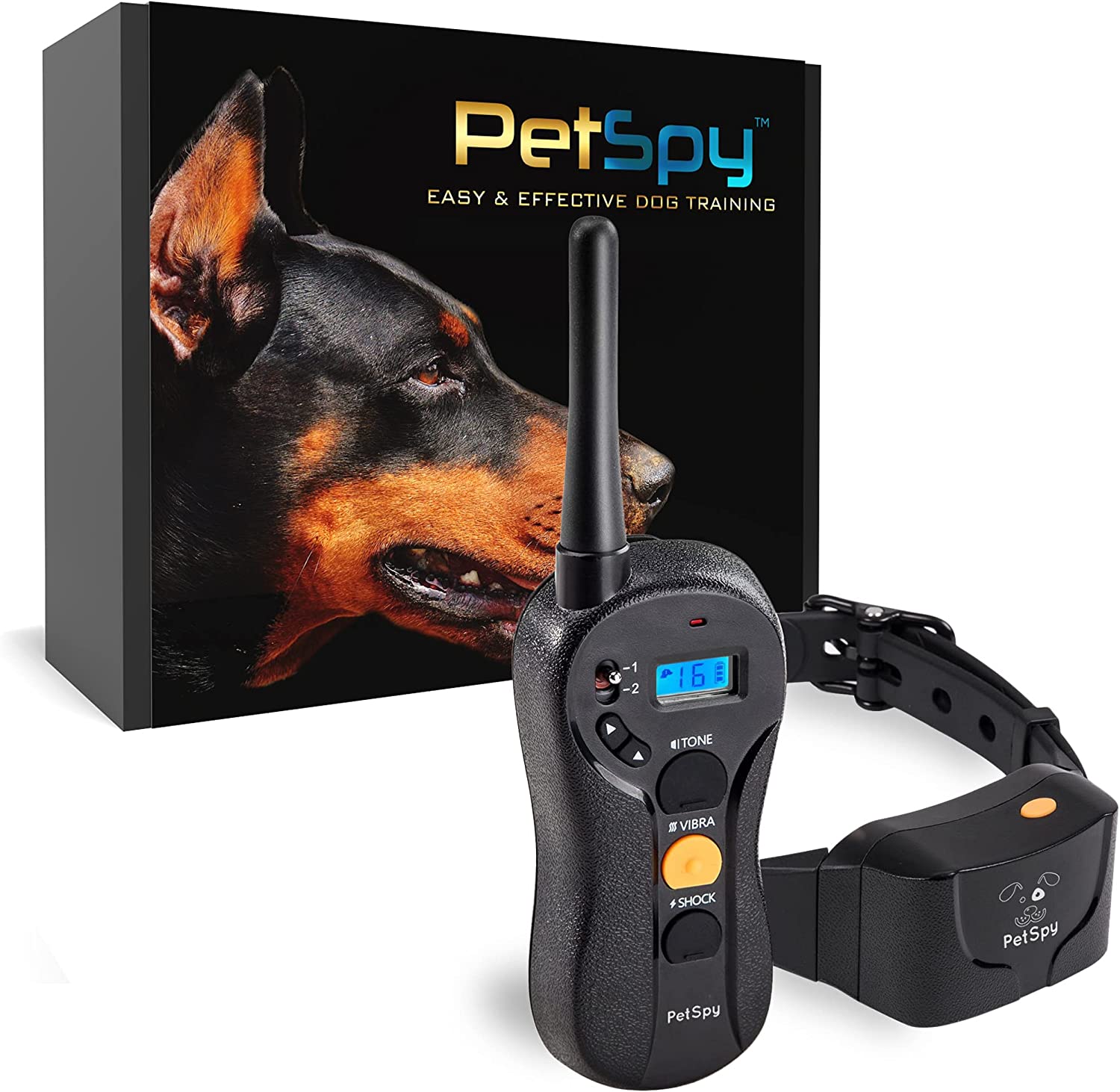 PetSpy P620 Training Shock Collar
The price of "PetSpy P620" varies, so check the latest price at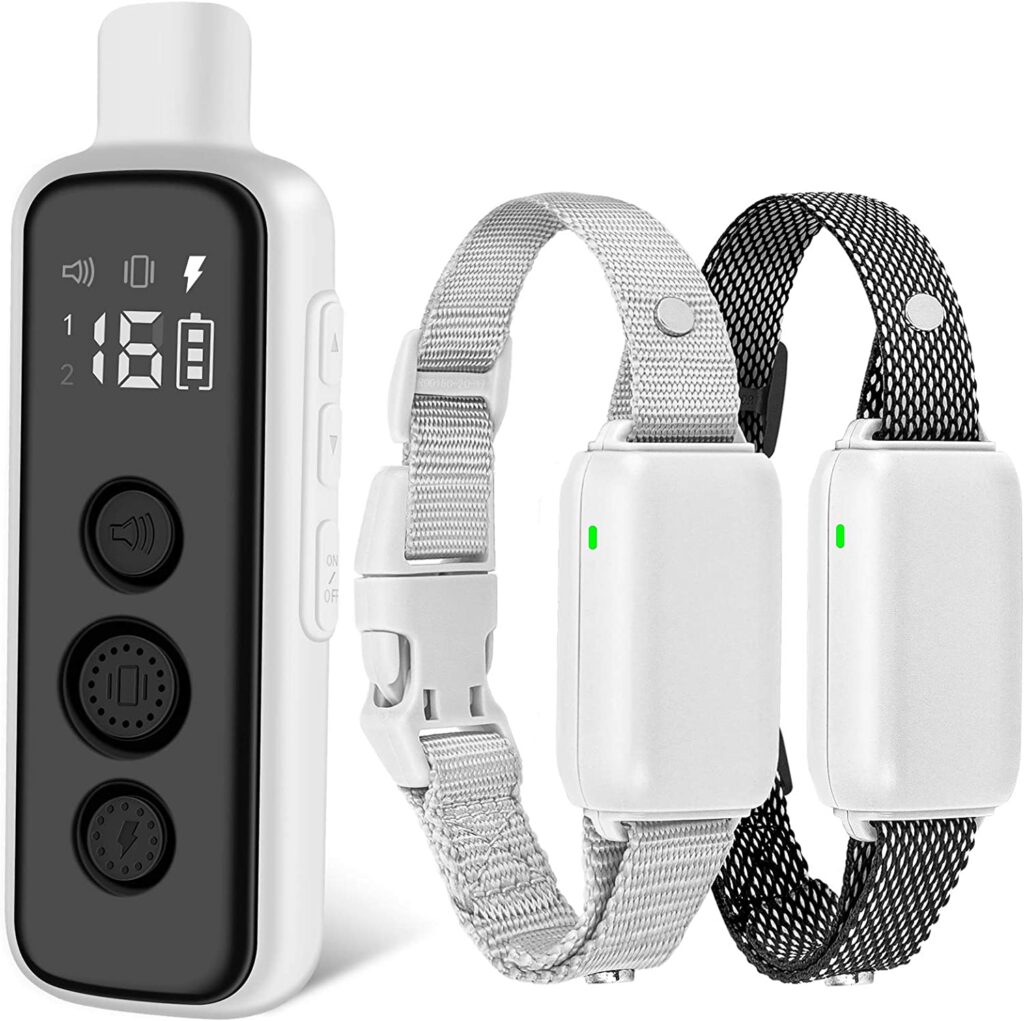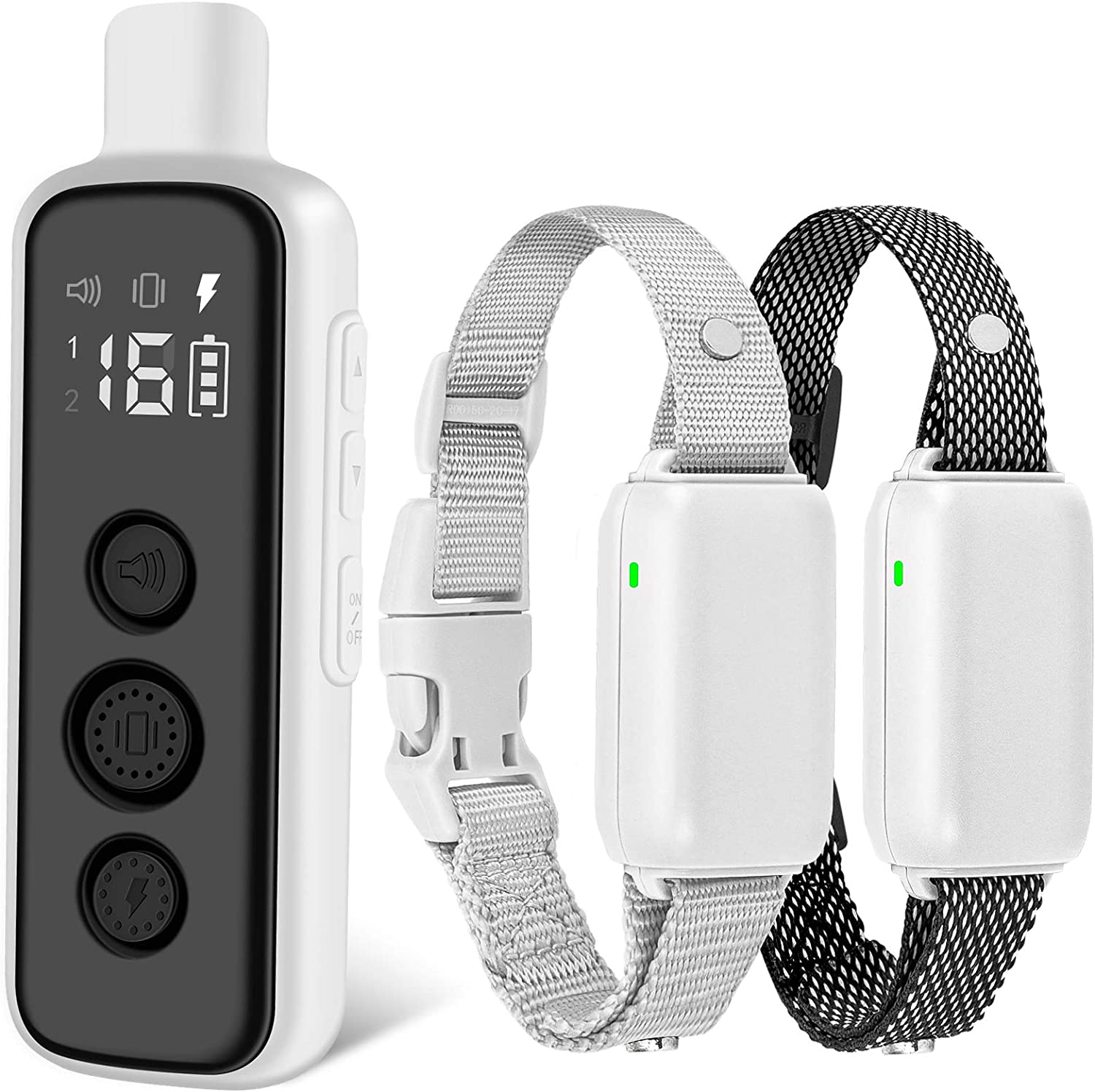 Another easy-to-operate training collar on our list is the 620 Dog Training Shock Collar. Its console is composed of different mode buttons, which enable its users to switch between modes without pressing different buttons.
An adjustable rotary dial lets you identify and switch between various simulation levels. So, if you're not a tech genie and you're looking for a super easy console that you can use to train your dog in your house's backyard, then this is the perfect choice for you.
The remote features a dual channel to support training two dogs simultaneously and can fit all sizes of dogs. The battery for the receiver last 11-15 days, while that of the remote last for more than a month. This means it is ideal for dog trainers or pet owners who anticipate making excessive use of the e-collar.
This training collar is also completely waterproof which means you can use it while your dog is swimming, bathing, or simply running in the rain.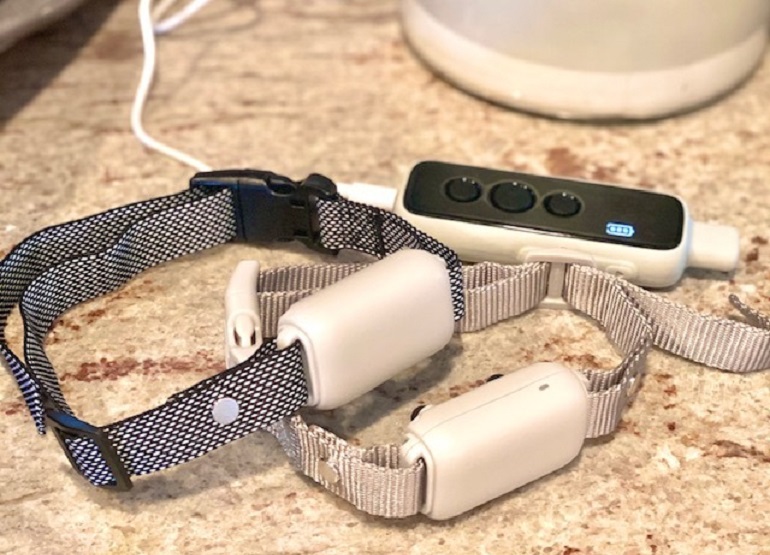 Features
The collar has been designed using the RF434Mhz technology and comes with a range of 330 yards.
100 different levels of vibrations and shocks with a single level of simulation.
Water-resistant
Pros
Automatic standby mitigates the battery from getting drained quickly.
Recommended for off-leash training.
Cons
The range is very less- not suitable for training in large places.
Remote has no contact point to attach a wristband.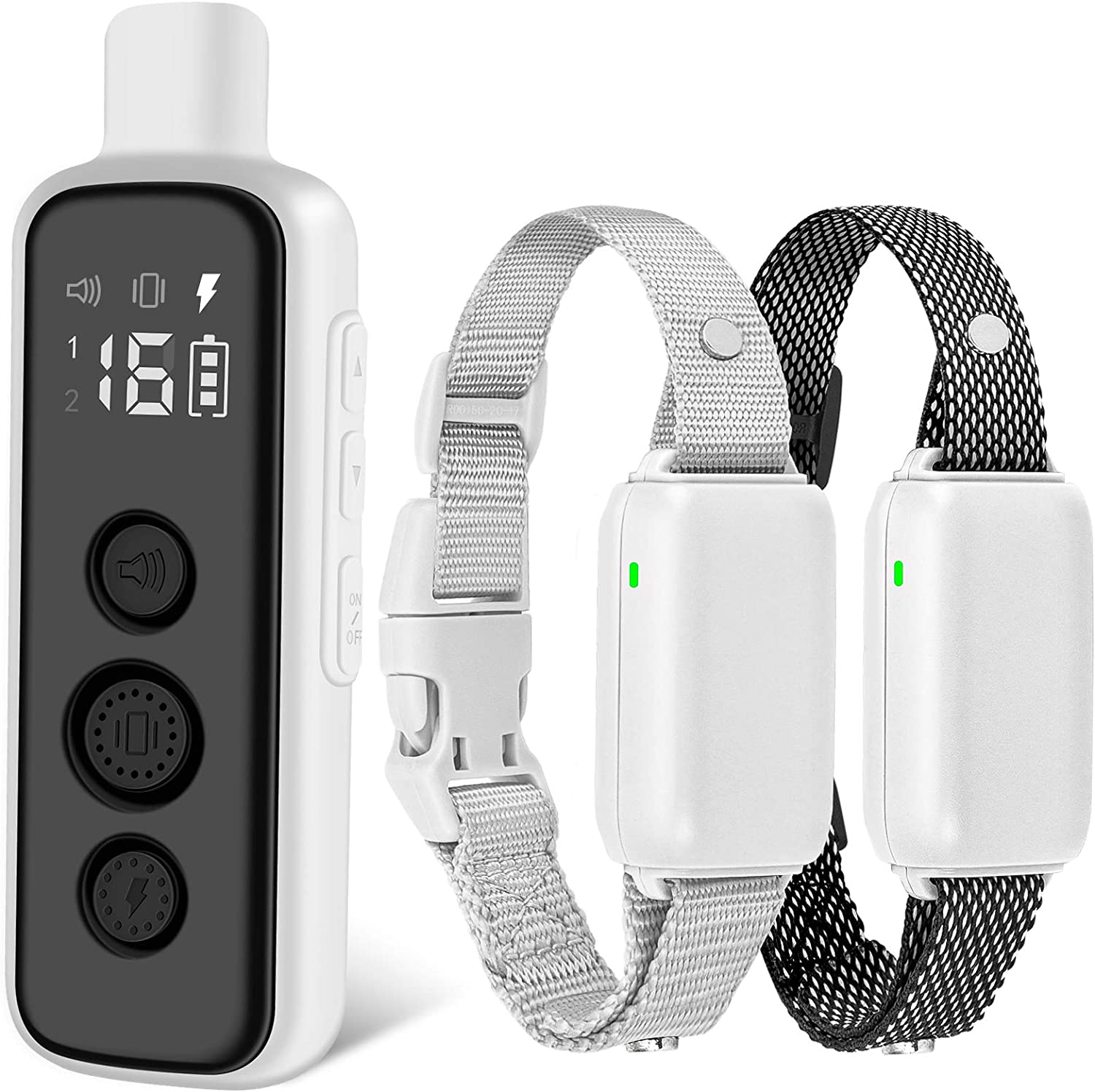 Bousnic Training Collar
The price of "Bousnic" varies, so check the latest price at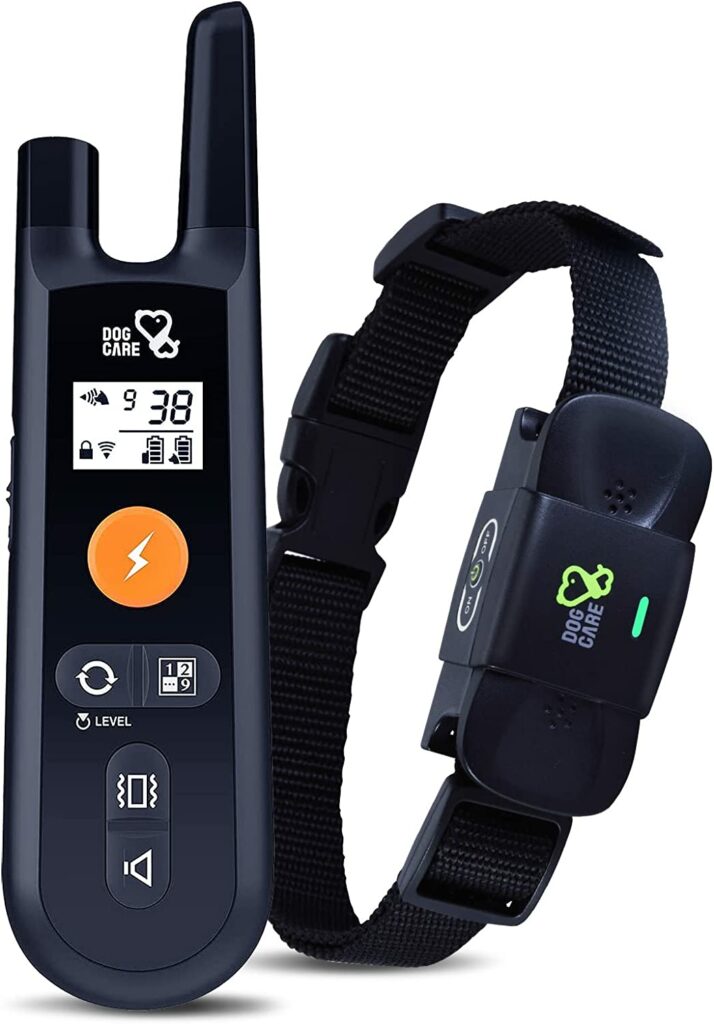 The Bousnic Dog Shock Collar has been designed for all dog trainers who are sensitive and don't want their fur babies too much while training them. So, this dog collar comes with a special feature that switches the static mode to protection mode within 10 seconds so that the dogs wearing them are exposed to very little pain.
This e-collar can allow you to train up to 9 dogs simultaneously with a single remote all at once, so you don't have to run around to look for which remote controls which dog.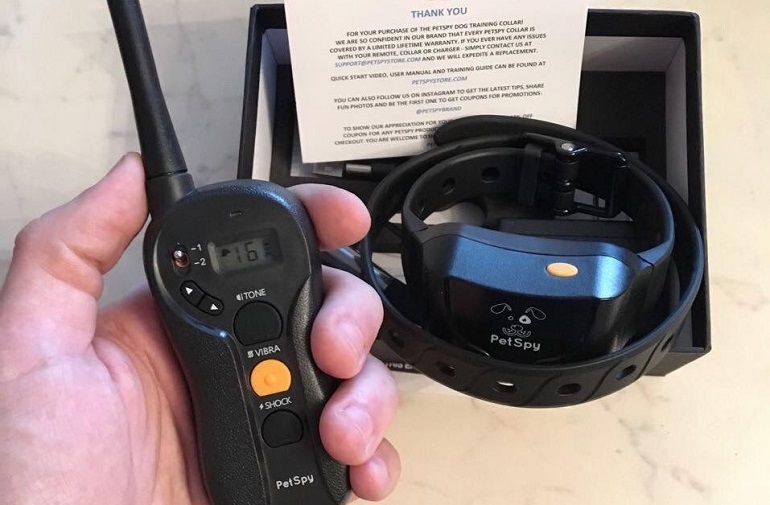 The remote also comes with a security keypad lock, so while you are running around with your dog, there are no accidental shocks being sent.
Features
Batteries are composed of lithium which gives them a battery runtime of a maximum of 15 days.
Has a maximum range of 330 yards or 3 football fields.
Shock levels range from levels 1-16 whereas vibrations range from 1-8.
Pros
Great battery life
Ideal for sensitive dogs.
Cons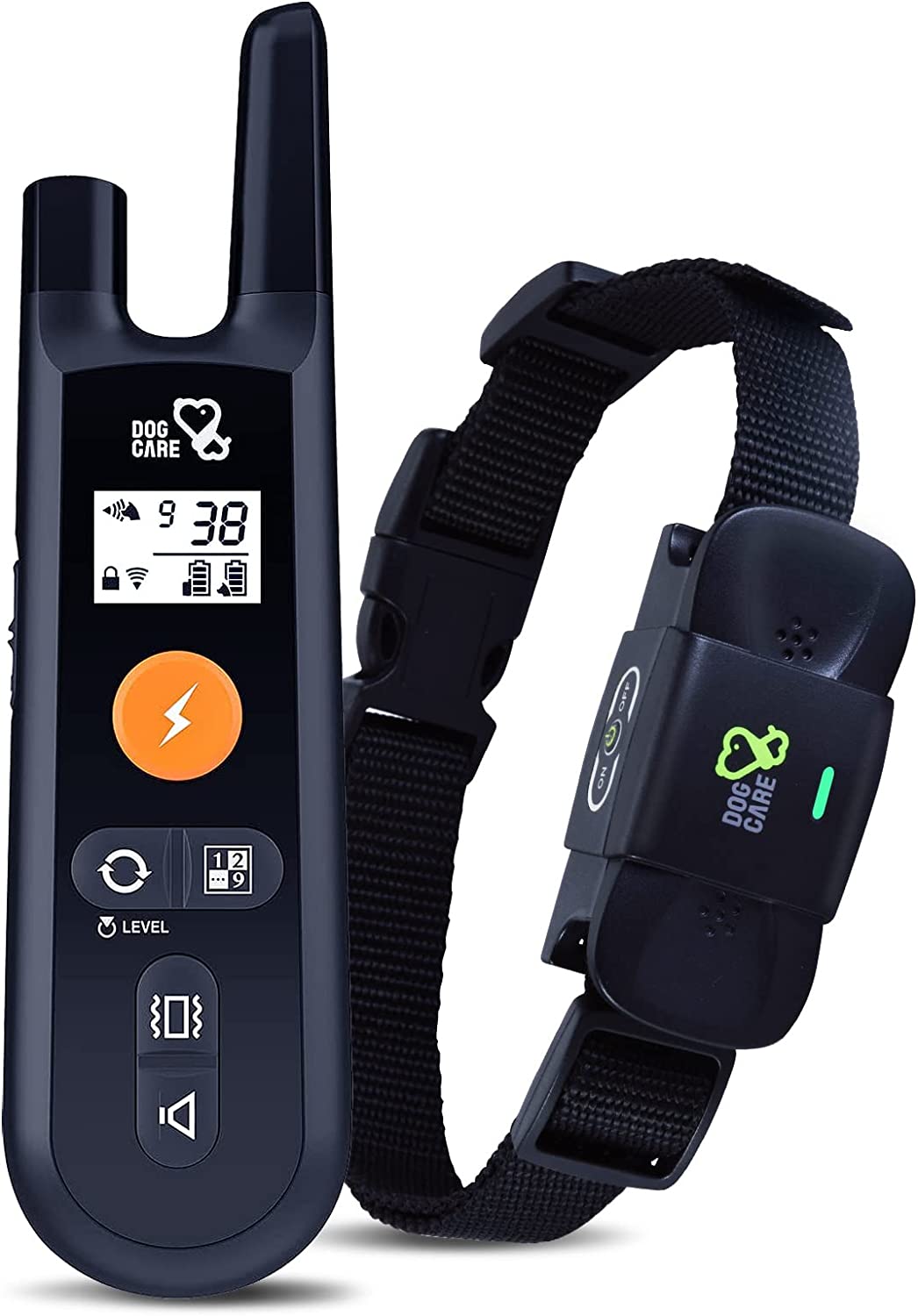 DOG CARE Collar
The price of "DOG CARE Collar" varies, so check the latest price at
Buyer's Guide: What to Look for in a Dog Training Collar
Let's check the essential factors worth considering before buying the best dog training collars.
Size
Ideally, a dog collar should be a couple of inches looser than the neck's measurement. For smaller dogs that weigh less than 10 pounds the collar should be at least 2 inches looser than the dog's neck.
In addition, for larger dogs weighing more than 80 pounds, the collar's size should be 3 inches more than the neck's size.
Training Modes / Settings
E-collars come with a variety of ranges starting from the (lowest) to up to 9 or 10 (highest). These ranges are designed as per the dog's temperament and usually come with a beep sound or static shock on the collar.
For dogs with a mid-temperament, a low stimulation range of 1 beep is sufficient. Similarly, for dogs with a moderate and stubborn temperament, go for e-collars with a medium and high stimulation range respectively.
Range
No one would say no to a higher range on a dog collar. The higher the collar's range the better it is, as it'll ensure a strong connection between you and your dog even if your dog goes far.
Usually, e-collars come with a range of ½-1 mile, with 1 being ideal. Lastly, it is always advisable not to buy collars having a range of less than ½ a mile.
Battery
An ideal battery should be fully charged in 2 hours and have a long battery life. Your e-collar's battery should last up to 5-6 years with minor fixes and replacements.
FAQs
How Do Training Collars Work?
You need two basic components i.e. the collar receiver and remote transmitter to operate a training collar. The remote transmitter's job is to activate stimulation by sending radio signals to the receiver which ultimately helps you train your dog. The stimulations are either tone or vibrations and can be adjusted.
What Age Should You Start Training Collars?
According to the majority of the training collar manufacturers, 6 months is the ideal time to use a training collar. However, sometimes it is wiser to wait for at least a year or so.
Another approach is to familiarize your dog with the collar. Put the training collar on your dog for at least a week or maybe even a month without using simulations. Then, when you feel your dog has become acquainted with the collar, start training.
What Type of Dog Collar Is Best for Training?
Dogs that don't require a lot of training have a low temperament. Similarly, martingale collars are made for narrow-headed dogs such as Greyhounds.
A basic flat collar has always been a trainer favorite along with the occasional use of a harness and harness while taking your dog out for a walk.
Conclusion
When it comes to collar training your newborn pup, don't rush into it. Train them when you feel they are emotionally and physically ready.
Dog training collars are a great training tool if used correctly, many of the horror stories are from user error/negligence so don't write them off because of it. Do the research and if you think it'll help, give it a shot.
As we mentioned before, it's always wise to not train your dog with a shock collar instantly. Let them get used to it. Lastly, go for collars that have GPS trackers for dogs, especially if your pup is young.