There are some forms of technology that seem a little bit like magic to me — basically any kind of technology where I can't see how it's working. Electric fences definitely used to fall into that category because they are all about invisible signals being transmitted.
You bury a wire in the ground (or even more mystifying, plug in a wireless transmitter) and magically it lets your dog know where to stop.
More than once I've been out walking my dogs, nervously watching a neighbor's dog to make sure that he's not going to chase after us, only to realize that he must be staying within the boundary line of an invisible fence.
If you're curious about how an invisible dog fence works, allow me to break it down for you, one non-techy pet parent to another. Then we can talk through the pros and cons so that you can decide if an invisible fence might be right for you.
How Does an Invisible Electric Dog Fence Work?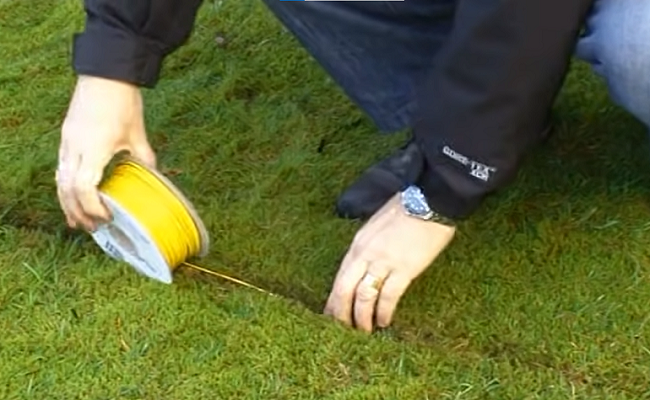 There are three essential elements at play when it comes to successfully using an invisible fence with your pooch:
The fence itself, either uses buried wire or a wireless fence transmitter.
The collar that your dog wears.
The training is required so that your dog understands what's happening.
Electric Dog Fence Perimeter
There are two types of boundaries available for invisible dog fences.
Wired Fence
For underground fences, you bury wire a few inches deep all around the perimeter of your property. This wire forms a loop and is then plugged into an indoor transmitter, something most people plug in, in their garage.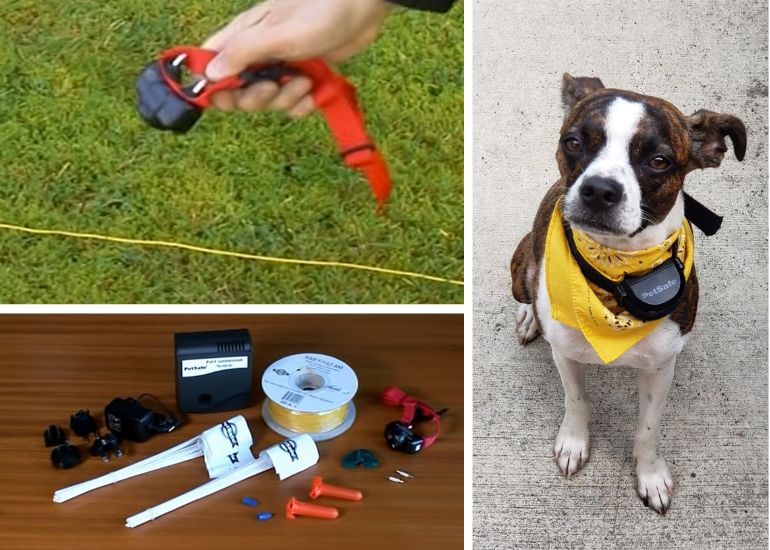 In most cases, you can run this wiring above ground. However, you run a major risk of it being tripped over or a lawn mower snapping it, so it is not recommended.
The transmitter sends a signal through the wire to create an invisible barrier that the collar receiver can sense (more on that in a minute).
An underground fence has a few nice benefits. You can completely customize the shape of the boundary with the wired fence. You can also bury a wire around a pool or garden that you don't want your dog to have access to, which means your dog can be in their yard but closed out of certain spots.
You can also twist wires to cancel out the signal. If you have a gate that you want your dog to be able to go through without having to turn off the receiver collar every time, this is a plus.
Wireless Fence
With a wireless system, you plug a transmitter into an electrical outlet indoors and it creates a circular-shaped boundary zone in a certain diameter around it. This diameter is adjustable up to a maximum range that differs with each fence system. The center of the boundary is always the spot where you have the transmitter plugged in.
A wireless invisible fence is convenient because it is portable. You can bring it to your in-law's house or plug it in inside of your RV when you go camping to keep your pet close.
Receiver Collar
The next part of the system is the invisible fence collar. Your pet wears a collar that acts as kind of an AM radio and picks up the small signal from the invisible fence transmitter.
When your pet approaches the boundary line of the invisible fence, they will receive some sort of feedback from the collar to get their attention and cause them to go back inside of the boundary zone.
Invisible fence systems each come with a slightly different variety of correction levels, usually some mixture of tone, vibration, and static shock.
Generally speaking, the pet's collar is programmed to give a warning sound when the dog approaches the boundary and then static shock if they continue to leave. You get to set the level of correction that your pet receives.
As you shop for invisible fences, it is important to pay attention to the features of each system's collar. Some use rechargeable batteries while with others, you will need to purchase replacement batteries.
If you have a very small dog, you will also want to look at the size and weight of the collar to make sure that it can be worn comfortably. You may also need to learn how to measure your dog for a collar.
Provide Your Pet Proper Training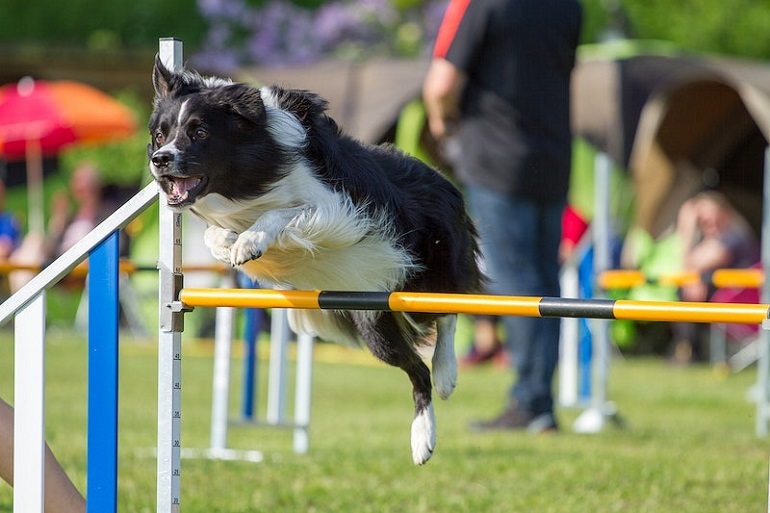 Invisible dog fences require more training at first than traditional fences where you can essentially let your pup run free from day one. Without proper training, your dog will not understand why their collar is shocking them.
It can take about two weeks of regular, short training sessions before your pet is ready to have free reign of the backyard.
Underground fence systems come with little boundary flags that you can stick in the ground during training to help your dog learn where the boundary line is. This is a nice visual cue since everything is invisible!
Step 1:
Each day for a short training session, you will set your dog's special collar to a warning tone only and walk them around the yard on a leash. As they approach the fence line, they will hear the beep and then you can call them back toward you away from the invisible boundary. Give them lots of praise when they turn away from the fence and head back to the safe zone.
Step 2:
Eventually, you can set the collar to the lowest level of static correction and repeat the process above. If your dog doesn't seem to notice the static shock at all, double-check that the collar is fitting correctly. Then you may need to raise the intensity. Only do this one level at a time.
Step 3:
Once they seem to understand where the barrier is, you can introduce some distractions. Keep your dog on a loose leash and have a family member walk across the line (do not call to your dog across the line as this will lead to barrier frustration and confusion).
You can also ask a neighbor to walk their dog past or roll a ball across the line for other real-life forms of distraction.
If your dog stays in the yard and does not try to cross the line, give them lots of praise and treats. If they seem stressed, fearful, or frustrated, go back to the first few levels of training again.
Step 4:
Before you leave your pup alone in the yard unsupervised, spend some time with them in the yard while they are not on a leash to make sure that they are staying safely inside the boundary. Give them praise when you see them stay in the yard when a distraction occurs. This is the final stage of training.
Each invisible fence system usually comes with a training guide. Be sure to read through this and follow each step. Never set your pet loose in the backyard with the invisible fence on without training.
How To Decide if You Should Install an Electric Dog Fence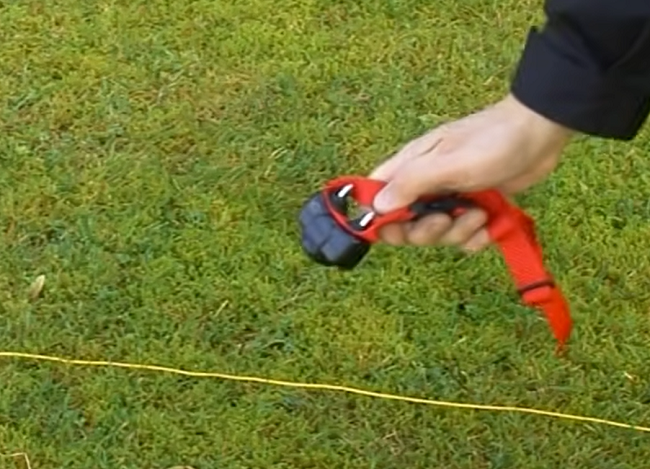 An invisible fence might be the best option for you if:
You are not allowed to install a traditional fence because of renting or neighborhood regulations.
You have an extremely large area that you want to fence in. In this case, invisible fences are likely the most cost-effective.
You don't have the budget for a traditional fence. Invisible fencing is quite affordable.
Another consideration is your dog's personality. If you have a dog who is already quite anxious, the collar feedback when your dog approaches the boundary wire may be too much for them and increase their anxiety.
Alternatively, if you have a dog with a high prey drive or that has exhibited aggression, it may be difficult to train them to stay within the safe zone or it could increase their aggression.
There are invisible fence success stories for every dog breed out there. Consider your unique pet more than you worry about the breed.
Pros of an Electric Dog Fence
Invisible fences are inexpensive.
The setup time for a wireless fence system is minutes.
An underground fence can be installed in a customized shaped and used for massive spaces (often up to 25 acres or more).
People have had success using invisible fence systems on many pets other than just dogs, like cats or even goats. If you have a variety of pets, you could potentially use one system for all of them.
Invisible fences can be used in situations where there are no other options for containing your dogs.
Cons of an Electric Dog Fence
If you have an invisible fence professionally installed, this can raise the cost significantly.
As Dr. Jennifer Summerfield notes, invisible fences work to keep your pet contained but cannot keep anything else out. Other animals or unscrupulous people will still be able to enter your yard, so this could be a concern for your pet's safety.
Some ultra-stubborn pets will still break through the boundary to chase after an interesting distraction.
An invisible fence will not work if you don't put in the time to train your pet. If your dog doesn't fully understand where the safe zone is, they can become fearful, anxious, or even aggressive.
Final Thoughts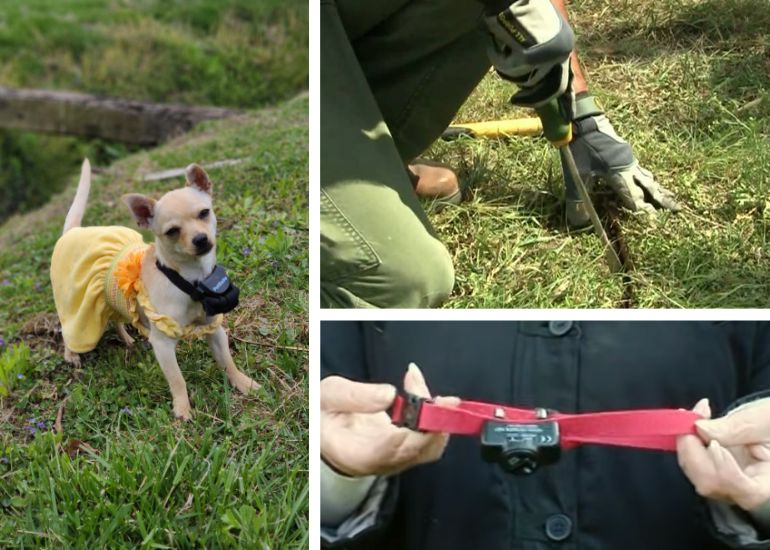 OK, so it's not really magic. The electric systems of the invisible fence work by sending and receiving signals from the transmitter to the invisible fence collar. This is how the invisible fence collar knows if your pet has gotten close to the boundary and can give them some sort of feedback so that they return to the safe zone of their yard.
While my own personal preference will likely always be for traditional fences, I understand that is often not a viable option. At the end of the day, we want to keep our pets safe, and keeping them close to home with the use of an invisible fence is a good option.
Just be sure to schedule in time to train your dog to make sure that this kind of system is a success.