Is your pet an expedition lover, a restless pup with immense curiosity to discover the universe? Keeping track of such relentless beings without technical help is practically impossible with the increasing population and forever developing landscape. The quick escapist can be located with the use of a tracker.
Since technology is advancing with each passing day, new trackers to keep track of your pooch are emerging too. The variety is enormous, but amongst the many options, GPS tracking devices are the most accurate with multiple features.
The market is filled with a myriad variety of dog GPS tracking collars, and their types are not alike: some only monitor the dog's location, and other trackers also monitor the health and activities of your dog. Furthermore, some require a monthly subscription, while some are free for life.
Top Rated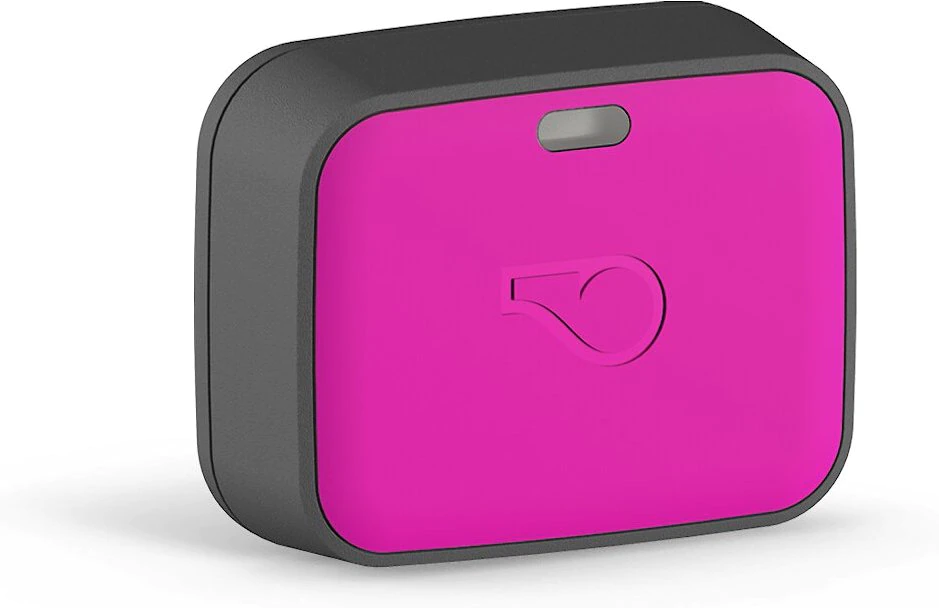 Whistle GO Explore GPS Tracker
Special Feature:  Lightweight, Waterproof

Magenta
Highly Affordable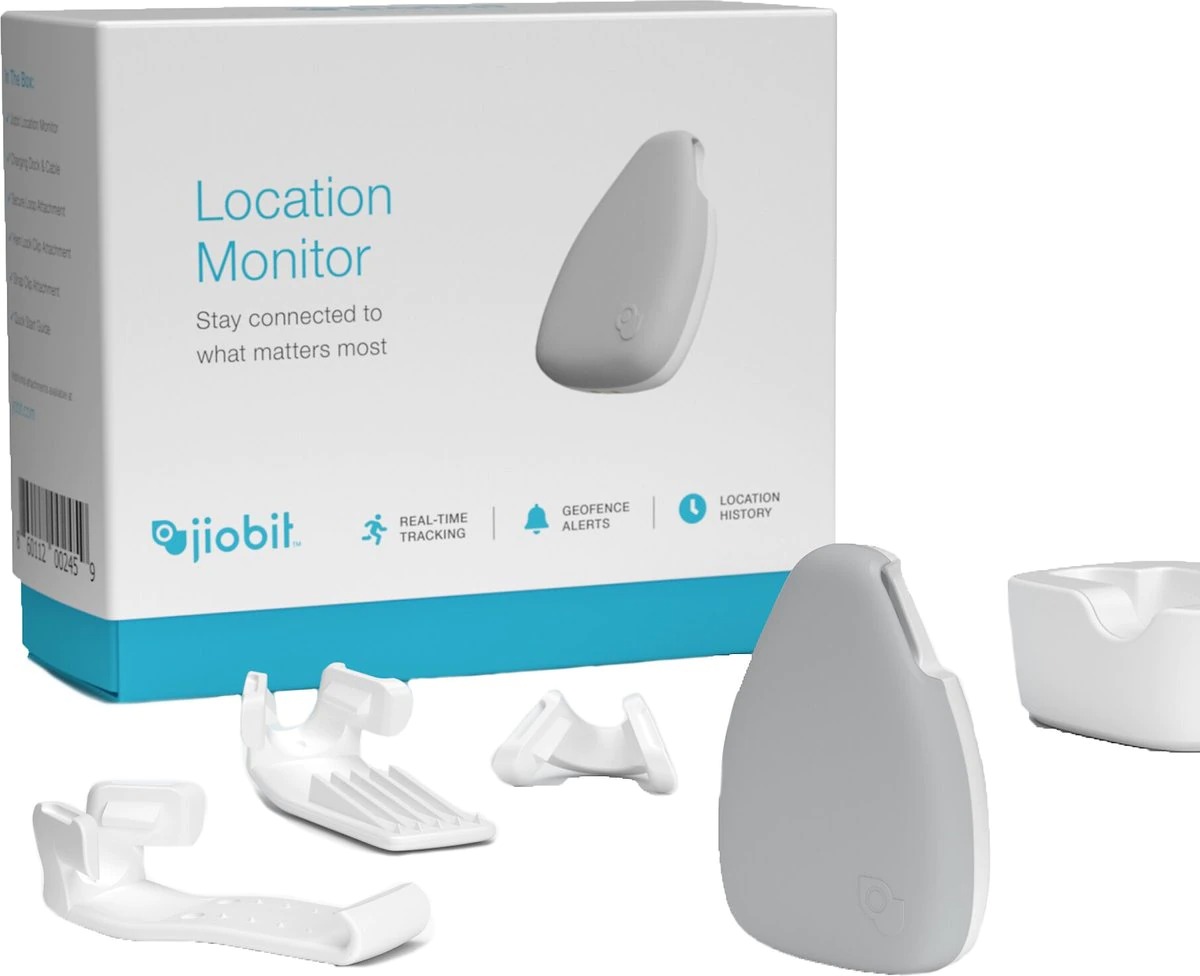 Jiobit GPS Dog Tracker
Special Feature: Shock resistant and water resistant
Weight: 0.040 lbs
Smart Fencing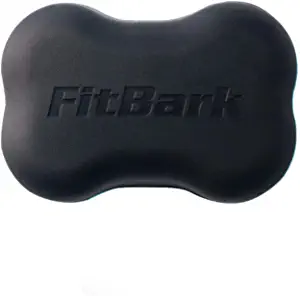 FitBark Dog GPS Tracker
Special Feature: Lightweight, Waterproof
Color: Black
Safest Product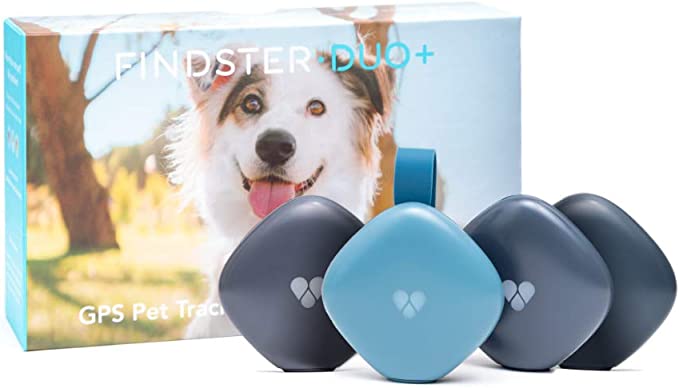 Findster Duo+r
Special Feature: Lightweight, Stylish
Color: Black, Sky-Blue
All In One Device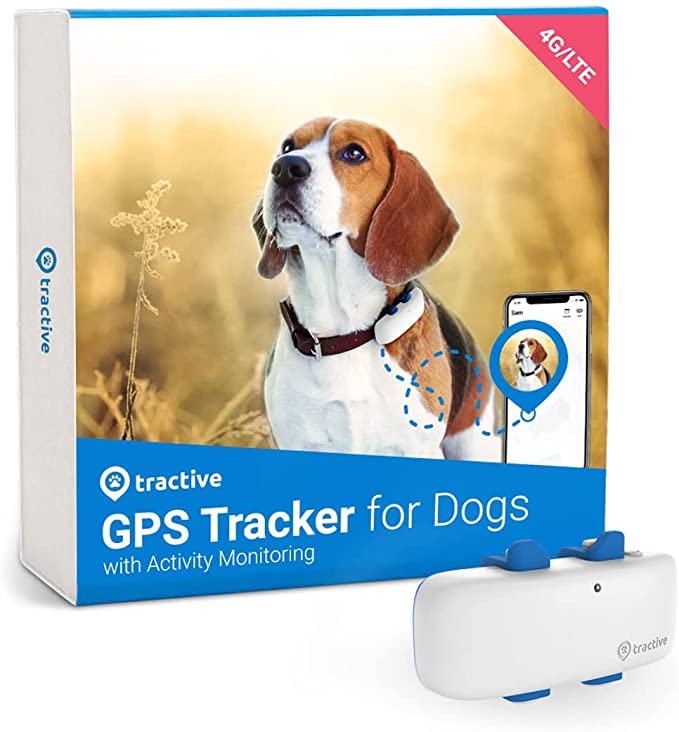 Tractive LTE GPS Dog Tracker
Special Feature: Lightweight, Waterproof
Weight: 1.23 Ounces
International Tracking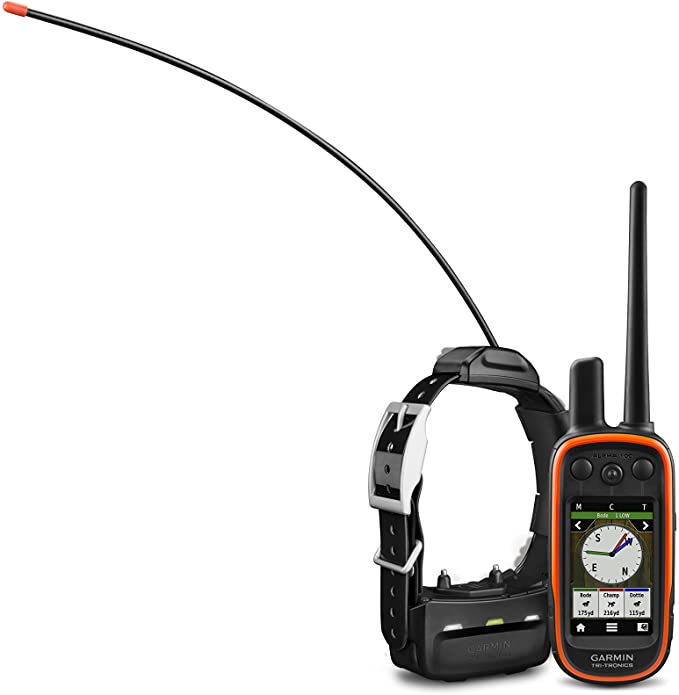 Garmin TT 15 and Alpha 100 Handheld
Special Features: TFT touchscreen
Color: Black
Not Network Dependant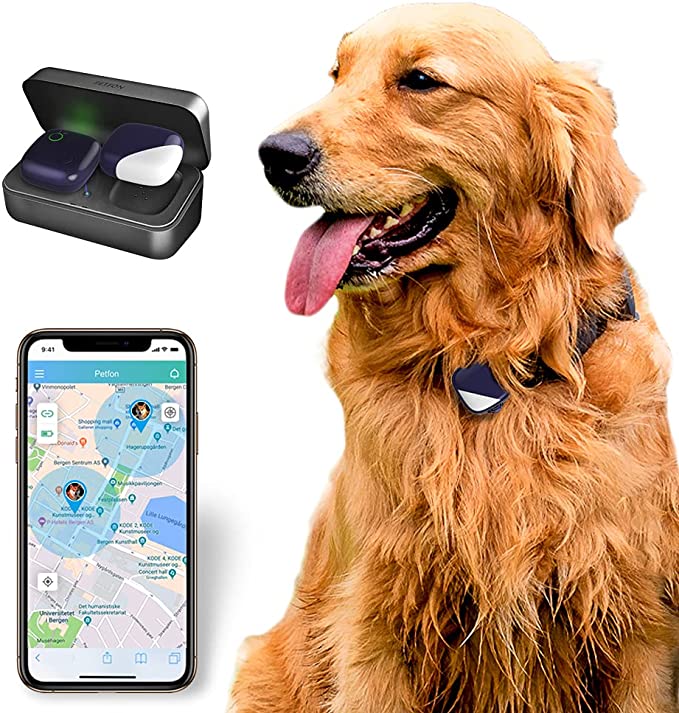 PETFON Pet GPS Tracker
Special Feature: Live Tracking
Color: Blue
It entirely depends on you and your preference. If you worry a lot about your muff's health and your beloved dog's activities, then you will have to consider the dog tracker accordingly.
After much deliberation and testing of dozens of products, experts came up with a list of the best dog GPS trackers for your convenience. Read ahead to find the best available options of GPS dog trackers to add to your dog's collar.
Top 7 GPS Dog Trackers
All the possible features in each pet tracker are discussed below to make your decision easy, and keeping your requirements and budget in mind; you can make the best choice in picking the most appropriate GPS tracker for your four-legged buddy
Owing to its most extensive distance coverage of 3000 miles, this GPS dog tracking collar secured the top pick in this article. It is small, lightweight, and can easily be attached to your mutt's collar. This GPS pet tracker monitors the positioning of your canine and its health and behavioral sequences and sums it up in a weekly report.
Utilizing the AT&T nationwide network and Google maps technology, the whistler tracker will instantly give the location of your pup when it leaves the safe zone. With a battery lasting for 20 days and the peculiar addition of a built-in light, this is undoubtedly the most accurate pet tracker on the market. A yearly subscription of $8.25/month must be bought to stay connected to the cell service and for an undisturbed result.
Features
Uses AT&T nationwide network and Google maps for dog's location
Small and lightweight
Weekly reports of your pet's health data
Monitors location up to 3000 miles distance
Food portion calculator
20 days long battery life
Detects the activity and behavior of your dog
Subscription required at a low rate of yearly $8.25/month
Available in a variety of colors
Built-in light for visibility
For dogs 25lbs and above
Pros
With a subscription, you can avail the feature of chatting with a vet through the dog collar at any time you might require.
This dog tracker keeps you informed of the activities and behavior of your dog at even long distances up to 3000 miles apart.
This dog tracker will notify upon dog's escape to no-go areas instantly.
The long-lasting battery life frees you from worrying about charging for 20 long days.
Cons
This GPS pet tracker requires a yearly subscription to enjoy all its features.
It is not workable for small dogs less than 25lbs
Tester Verdict
The testers found its functions flawless, accurate, and durable. The tracking device works with utmost consistency even at longer distances. They could keep track of the dog's health and activities and share the data with vets.
Getting a yearly subscription is the only drawback, but with the several perks offered for the dog owner, this subscription cost is nothing.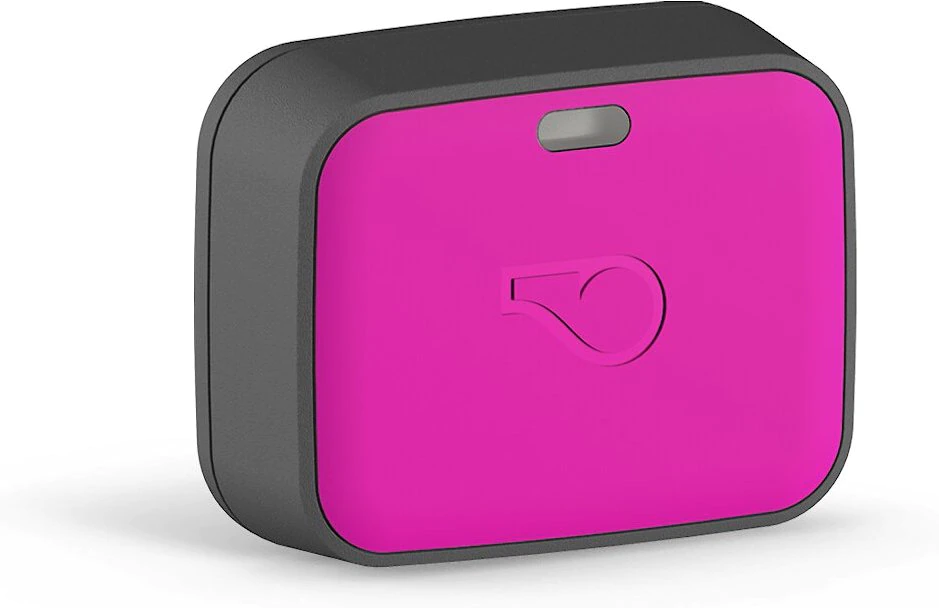 Whistle GO Explore GPS Tracker
The price of "Whistle GO Explore GPS Tracker" varies, so check the latest price at
Jiobit attaches to your pet's collar and pairs with a smartphone app to track at any distance. It's so lightweight and small that basically, any dog can wear it. Jiobit will last for 7 days and will consistently give real-time alerts. It is durable and water-resistant and will keep up with your dog's aggressive activities.
Jiobit is suitable for all ages and requires no subscription for proper working. Safe zone areas can be prescribed so that you will get an instant notification upon your pet's exit from the safe zone.
Features
7 days battery life
Real-time tracking
Suitable for all ages and types
Small and lightweight
Durable and water-resistant
Easily attaches to the pet's collar.
Compatible with wi-fi, Global positioning system, Apple iOS and android
Includes all required gadgets
Features progressive beaconing technology
It does not require a subscription.
Pros
The powerful tracking technology can monitor your active dog of any age.
You can quickly locate the wandering enthusiast at practically any distance.
This dog GPS tracker reliably offers unlimited range tracking with a long-lasting battery.
This offers real-time alerts, live tracking, and location updates at the earliest.
You can also get weekly data on the activities and health of your pooch.
Cons
The company claimed no proper distance range, so one might not fully stay comfortable leaving their partner in the open.
Tester Verdict
The team found this device seamless with its efficient and accurate functioning. This is the best dog tracker with durable and long-lasting battery provision and utmost accuracy. They just could not estimate the exact distance the dog could go up to. The rest is just a tale of perfection.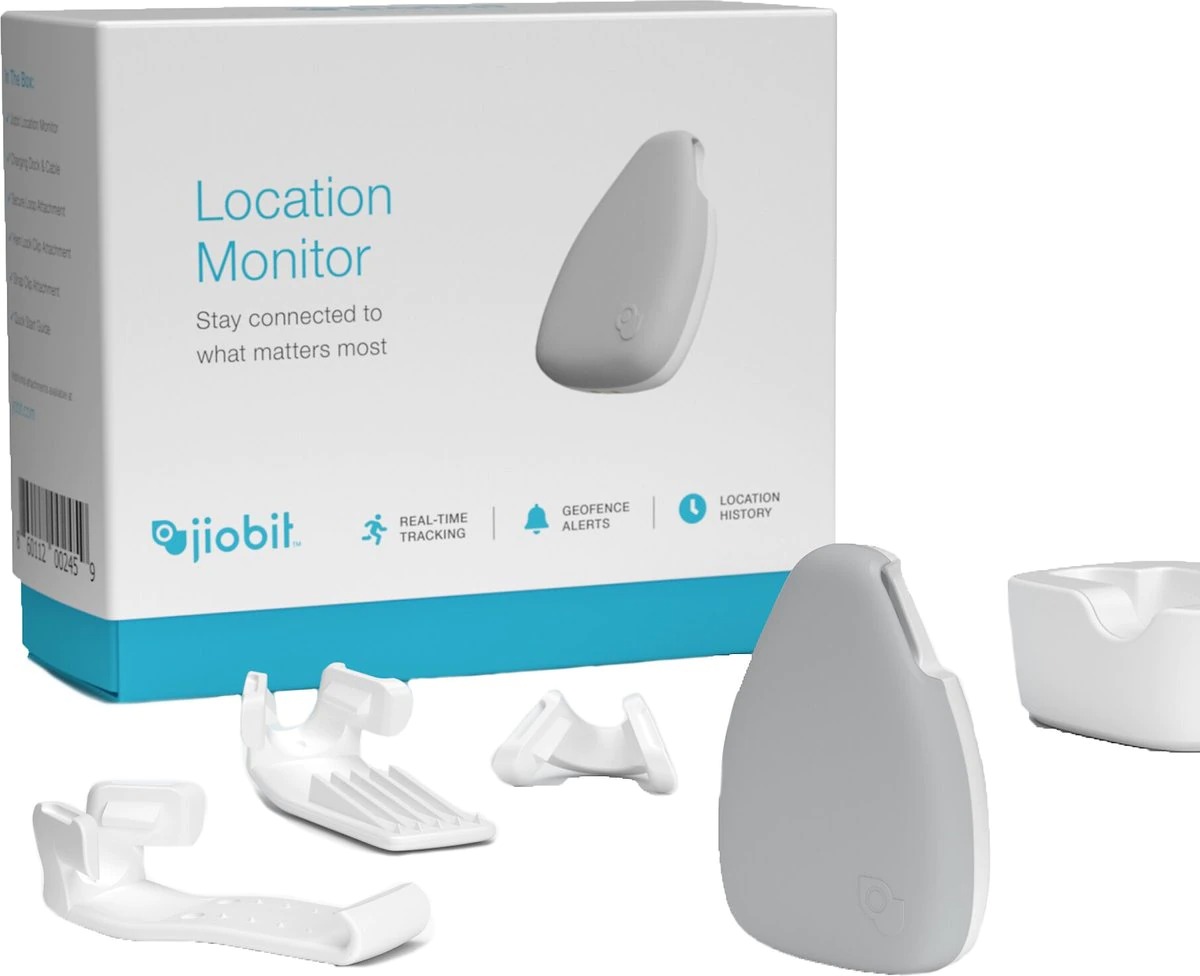 Jiobit GPS Dog Tracker
The price of "Jiobit GPS Dog Tracker" varies, so check the latest price at
Shaped like an attractive bone, the Fitbark GPS dog tracker is a tiny and lightweight tracker that easily gets attached to your furry friend's collar. It offers an unlimited tracking range with a long-lasting battery that lasts 10-20 days depending on Wi-fi availability and other required conditions.
It instantly alerts pet owners upon their pets' digression from designated zones. Finding the missing dog is a piece of cake with the accurate and reliable results of the FitBark GPS tracker. Tested and trusted by 150+ veterinary schools & research institutions makes it the most special among the many GPS pet trackers on the market.
Features
Shaped like an attractive bone
Requires Wi-Fi, Verizon LTE-M coverage in your town
Tiny and lightweight; only 17 grams weight
Supports dog sizes of 5lb to 240lb weight
Alerts upon dog escape
Optionally link your Fitbit, Apple Watch, Apple Health Kit, or Google Fit wearable device or smartphone.
Tough, rugged & waterproof
Battery lasts 10-20 days depending on Wi-Fi, Bluetooth & Verizon availability.
Trusted by 150+ veterinary schools & research institutions
Monthly fees or yearly plans for subscription
Pros
The bone-shaped, lightweight, tiny GPS tracker can attach to your dog's collar causing no discomfort; in fact, your pooch will love it.
Your pet's location can easily be monitored through your smartphone and several other gadgets.
The health condition and routine behavior habits will be notified 24/7, and you can monitor the health conditions of your dog and can accordingly take any required actions whatsoever.
You can motivate and train your dog, keeping in view the unhealthy activities your canine might possess
Cons
The monthly subscription fee is refundable but expensive, so you might need to look for yearly plans, but the same will not be refunded upon any complaint
Tester Verdict
The testers pronounced it among the best GPS trackers owing to its fast and seamless functioning upon your dog's escape. The way it can easily be connected to the dog's collar is fantastic, and the dog feels no discomfort.
However, they found the monthly subscription plan offered unfairly expensive, leaving no choice for the buyer but to buy a yearly subscription.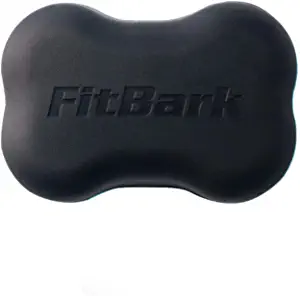 FitBark Dog GPS Tracker
The price of "FitBark Dog GPS Tracker" varies, so check the latest price at
Weighing only 0.8 ounces, the Findster GPS tracker and activity monitor can best keep you aware of your pet's location over a distance of 3 miles. Also, it keeps you informed of your pet's health and the possible problems it may cause beforehand. It is a small and lightweight dog tracker that easily connects to the collar of pets of any size.
It need not be connected to a SIM card or cell coverage for its operation. Furthermore, a one-year subscription is also included in the package. The battery can last for 12 hours on a single charge. The Findster dog tracker is an actual real-life tracker perfect for keeping a close watch on your dog's activity.
Features
GPS tracking
Waterproof
The range of coverage is 3 miles.
For all ages of dog
It weighs only 0.8 ounces.
Connects with phone
No SIM card or cell coverage is needed.
Can set a safe zone
12 hours of battery time
Accurate real-life GPS dog tracker
One-year subscription included
Pros
This pet tracker can seamlessly notify the dog's location up to 3 miles distance.
You can set several safe zones, and this GPS dog tracker instantly notifies if your naughty canine leaves a safe zone.
The device does not require continuous GPS or a SIM card to work; it can still work without these requirements.
The battery can last for days if the GPS is not used continuously.
Cons
The cost is higher for the range it offers.
The waterproof ability is only up to 3 feet deep.
Tester Verdict
The members realized this GPS tracker was perfect for dog owners who take short walks daily. The weight is nil, and the quick notifications ensure a dog's safety.
The cost is a bit high, and the range offered limits the usage of the device as you cannot go camping with this GPS tracker. But, for domestic use, this is the best dog GPS tracker.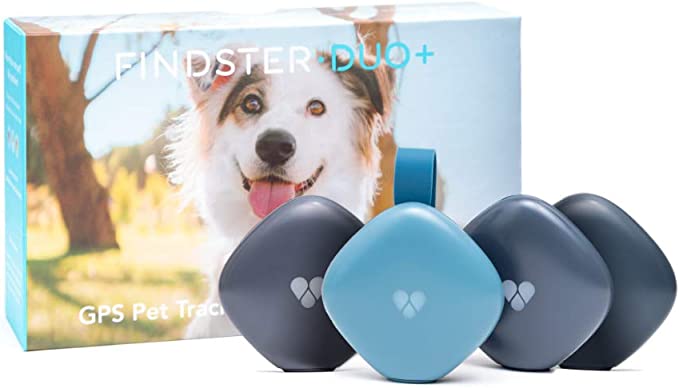 Findster Duo+r
The price of "Findster Duo+r" varies, so check the latest price at
Tractive LTE GPS Dog tracking device finds a lost pet with ultimate effectiveness owing to its sensitive tracking ability. One of the best dog trackers with its compatibility with worldwide location tracking with a free tractive GPS app for iOS and Android, allowing it to access location tracking of 150+ countries to reach your pet's location. Small and lightweight with 100% waterproof ability ensures its durability and efficiency.
Treat includes geofencing features to set safe zone areas and the weekly history of your pet's activities for your comfort. It is shock-resistant to bear your pet's vigorous activities with a built-in light and sound provision to seamlessly locate your lovely pooch. Different plans for monthly and yearly subscriptions are available to access these features.
Features
Dog GPS tracker
Monthly and yearly subscription plans; $12 per month
1.2 Oz weight
Small, lightweight, and 100% waterproof
Shock-resistant
Compatible with worldwide location tracking with a free tractive GPS app for iOS and Android or in any browser.
Monitor activities all-day
Weekly history of activities and behavior is recorded.
30 days money-back guarantee ensured
Live mode notifies the position every 2-3 seconds.
Built-in light and sound
Pros
The location history of your pet over the week is available for you to figure out the best safe zones and set geofencing areas.
You can quickly figure the positioning of your beloved canine through light and sound.
The working is so flawless that even with your pet's vehement and aggressive movements, the result will stay seamless.
Cons
The monthly subscription cost is high, and only with a monthly plan can you return the product in case of any malfunction
Tester Verdict
The team was amazed by the ability of this GPS tracker to fetch the dog's exact location every 3-4 seconds. The GPS device worked as claimed, and they found no reason not to buy this brilliant tracker.
The only problem was the high monthly fees, but this dog tracker's flawless accuracy and efficiency leave no room for any doubt.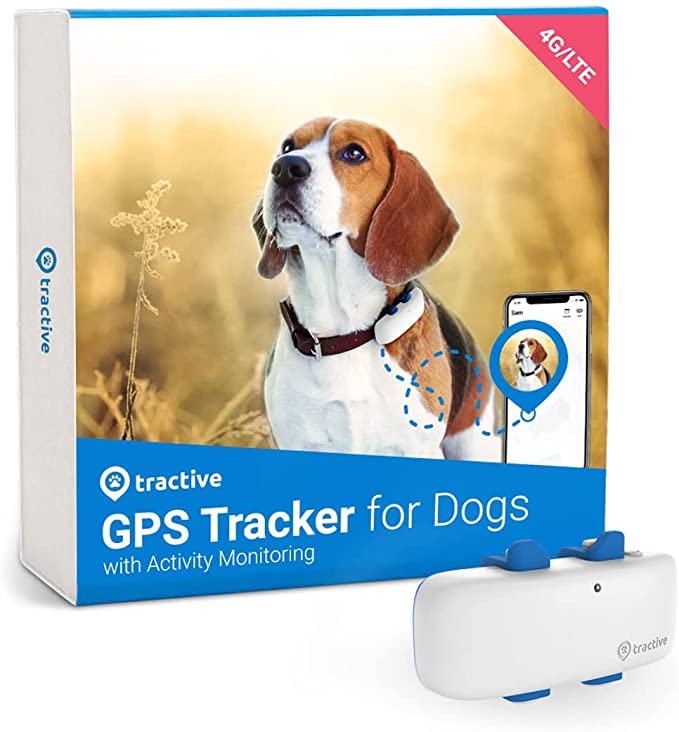 Tractive LTE GPS Dog Tracker
The price of "Tractive LTE GPS Dog Tracker" varies, so check the latest price at
Garmin TT 15 GPS pet tracker in collars is a unique gadget residing on the market with its distinct training features. With the ability to track 20 dogs at a time over a distance of 4-9 miles, dog trainers can track the number of dogs' locations and activities at a time. Organizations responsible for training hunting dogs can best work with this marvelous piece of art. Garmin tracker can also measure a dog's speed and the distance covered, a feature available in only this device.
Garmin devices are used mainly by those who love to hunt or love the company of multiple dogs. The package includes a handheld device and multiple GPS dog collars. Battery life is relatively low and lasts up to 20 hours, so you might need to charge it daily. Highly accurate using 100K maps, this tracker does wonders during camping, hiking, or long traveling.
Features
Tracks up to 20 dogs
Covers distances ranging from 4 miles to 9 miles tracking range
Can measure dog's speed and the distance traveled
Tone and vibration alerts
Preloaded with TOPO U.S. 100K maps: to ensure the highest accuracy
Alpha TT bundle includes handheld, TT 15 dog device with collar strap, and field bag.
The handheld features a 3″ glove-friendly touchscreen.
Battery life lasts for 20 hours.
Pros
This package includes multiple GPS devices for the training of up to 20 dogs.
Multiple dogs can be tracked seamlessly with the advanced features of GPS collars and long-distance ranges up to 9 miles.
This is the best dog GPS tracker for multiple dog trainers.
This GPS tracker also monitors the speed and the distance traveled by each dog.
This is a perfect GPS tracker for training your hunting dogs.
Cons
The cost is very high and more suitable for the owners having several dogs.
Tester Verdict
The team was satisfied with the working of the straightforward GPS tracking collar that they connected with this device. They favored this GPS dog tracker for dog owners having multiple partners. But this device might not be suitable for domestic use, so do not consider this if you do not own many dogs.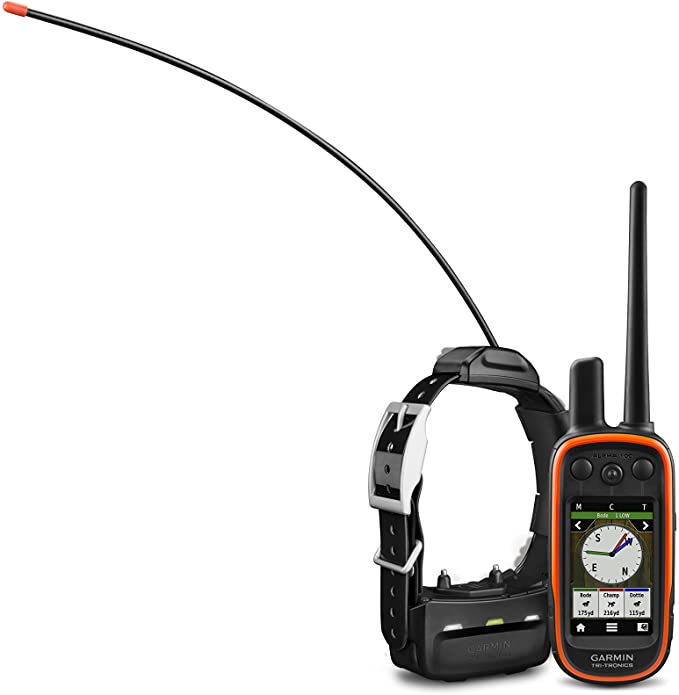 Garmin TT 15 and Alpha 100 Handheld
The price of "Garmin TT 15 and Alpha 100 Handheld" varies, so check the latest price at
Petfon tracker is free of charge for life. It is durable enough to withstand the reckless activities of your pup and lightweight for easy installation to your canine's collar. Available in multiple colors, this small waterproof device weighs only 27.6 grams that cause no discomfort or harm to your pup's daily activities. The battery life ranges from 8-16 hours depending on the environment and activities.
The tracking distance is minimal, ranging from 0.65 to 3.5 miles, depending on the landscape. This allows for short-distance mobility, so this tracking device should be used during daily short walks. This is best for outdoor activities in town, and the feature of e-fencing allows you to set safe zones to keep your pet from escaping to extended distant areas by giving sound and light signals to alarm both the dog and the owner.
Features
No monthly fee required
Durable, small, and waterproof
0.65 miles range tracking in dense areas and 3.5 miles in an open environment
Available in multiple colors
Includes geofencing to tag safe zones
weighs only 27.6 grams
Battery life from 8-16 hours
Best for pets' outdoor activity
Sound and light alarm
Includes accessories: 1 Controller, 1 Tracker, 2 Loops, 2 Bands, and 1 Portable charging box
Pros
It is free for life.
It is lightweight with long battery life.
It offers E-fencing for setting both the safe and danger zones. It will instantly alarm if your pup reaches any unrequired zone.
Cons
Not compatible for tracking long-range distances
Tester Verdict
The team quickly installed the tracking device on the dog collar and the operation was observed to be miraculous, especially according to the synchronized zones. However, the distance was too small for it to work. This can be tagged as the best GPS tracker for domestic use.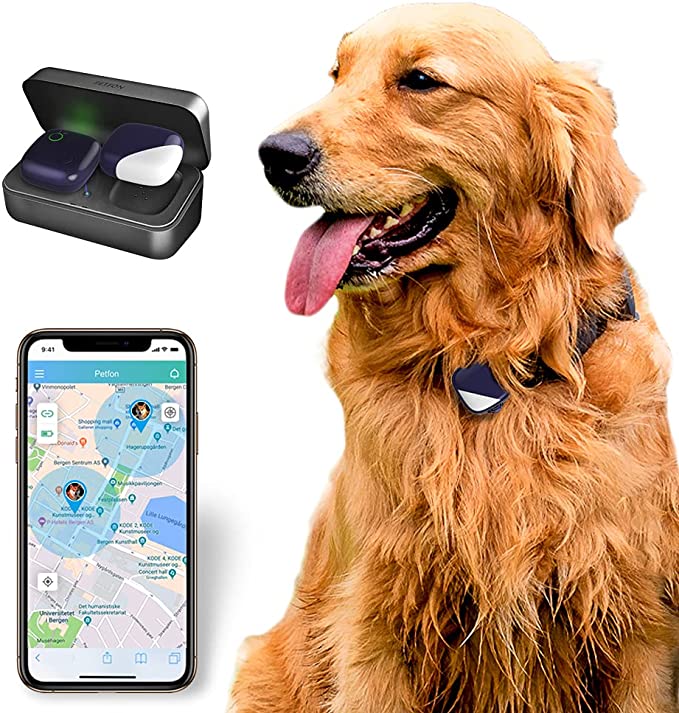 PETFON Pet GPS Tracker
The price of "PETFON Pet GPS Tracker" varies, so check the latest price at
Buying Guide for Choosing the Best Dog Gps Tracker
When deciding on the best dog tracking collars, keep the following features in mind and choose accordingly.
Waterproof and shockproof
A tracking device attached to a canine's collar is subjected to continuous and rugged movement according to the dog's nature. Consider buying a waterproof and shockproof dog GPS tracker to avoid any disaster.
Geofencing
Those GPS pet trackers are the best that includes the feature of geofencing, the ability to define distant safe zones for your dog's mobility. Such GPS trackers instantly notify you to quickly reach your canine and keep them safe from any catastrophe.
Distance range and accuracy
GPS trackers that cover long-distance ranges are always the best choice. However, if your mobility is limited to your small town, then you can check for a GPS tracker that covers a low distance range.
Lightweight and small
The tracker has to be connected to your pup's collar, and it is evident that the same should be lightweight and small for your dog's comfort.
Battery life
The more the battery life, the merrier. Sometimes you can forget to charge your tracker device, and your dog gets lost on such an unfortunate day that might turn into a disaster. So, consider getting a tracker offering long battery life.
Health Monitoring
Maximum options available on the market have this feature of health monitoring incorporated in them. Try to get such a pup tracker to keep track of not only the position of your pup but also its health and activities.
FAQ's
Do I Really Need a Dog Tracker?
Yearly a million pets get lost, and most never make it back home. This is a serious nightmare that you would never want to live. To avoid this, a dog tracker is a must-have to keep tracking your dog's movement.
How Can I Track My Pet's Activity?
Try getting a tracker to monitor a pet's activity and behavior. Such a tracker will notify you of the pet's health condition and activities on your device.
What Is the Best Gps Tracker for Dogs?
The ones that include essential features like geofencing and long-distance range and are economical, durable, waterproof, lightweight, and compact.
How Can a Tracker Help in Finding a Lost Dog?
GPS trackers provide location notification of the pup to the dog's owner every few seconds. This tracker uses a robust GPS system to keep track of your dog's position.
Conclusion
The American Humane Association estimates over 10 million dogs and cats are lost or stolen in the U.S. every year. Each year, 1 out of 3 dogs are lost, and finding them is a challenging task; and is not always successful.
Here arises the need of getting proper gadgets to keep track of the whereabouts of your dog and the best option is definitely a dog GPS tracker. These GPS tracking devices can easily be installed on the dog's collar and works seamlessly with the GPS satellites.
The dog tracking devices are a perfect addition to your dog's accessories to not just monitor their whereabouts, but also their health and behavioral patterns. The market has an overwhelming collection of different types of GPS dog trackers and you can choose the best considering your requirements and the features discussed above.
Related Guides:
Post