If your dog gets loose during a walk, it's like being punched in the gut. You watch in seemingly slow motion as your dog rushes forward, finally free from their leash.
It only takes one heart-stopping instance of this happening for most dog owners to say never again!
An escape-proof dog harness will prevent even the wiliest of pups from getting loose when they see a squirrel or just feel like running sans owner. 
The best escape-proof dog harnesses need padding for a comfortable experience, a multitude of sizes to fit various breeds, and reflective material surfaces for walking after dark.
Ahead, I'll look at 6 escape-proof dog harnesses that fulfill these requirements and more!
Best Overall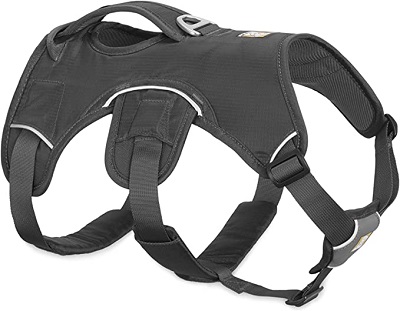 Ruffwear Web Master Harness
Size: XX-Small

Material: Nylon

Premium Choice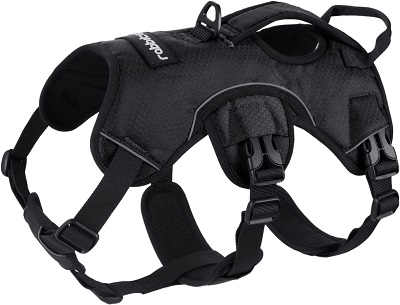 Rabbitgoo Escape-Proof Dog Harness
Size: Large

Material: Polyester

Great for Small Dogs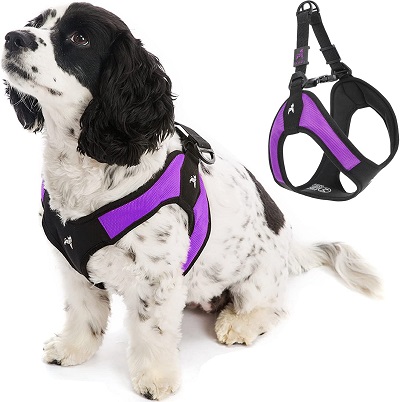 Gooby Escape-Free Easy-Fit Harness
Size: Medium 

Material: Neoprene

Super Sturdy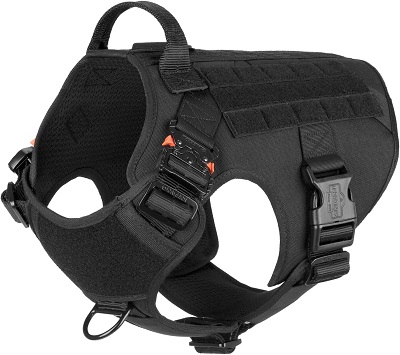 ICEFANG Tactical Dog Harness
Size: Large

Material: Mesh


Best Budget Option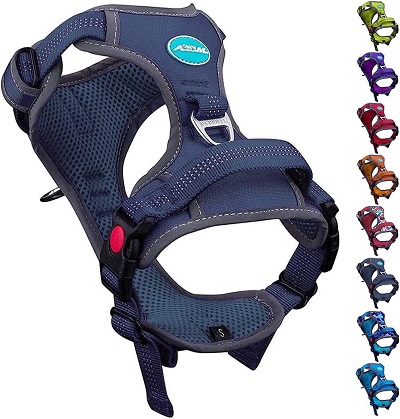 ThinkPet No-Pull Escape-Proof Harness
Size: Large

Material: Oxford Fabric, Soft EVA

Ultra Comfy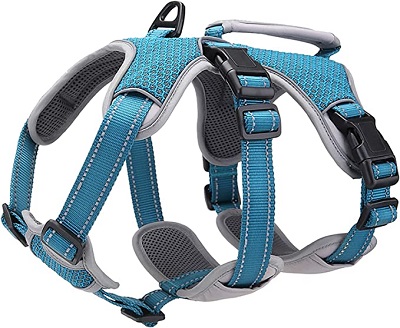 BELPRO Escape-Proof Dog Harness
Size: Medium 

Material: Mesh

Our Top Picks of the Best Escape-Proof Dog Harness
Our list of escape-proof harnesses takes into consideration a few key features based on the needs and dog sizes to help you narrow down your search for the best option.
The buying guide will also assist you in streamlining your needs to secure your escape-prone dogs.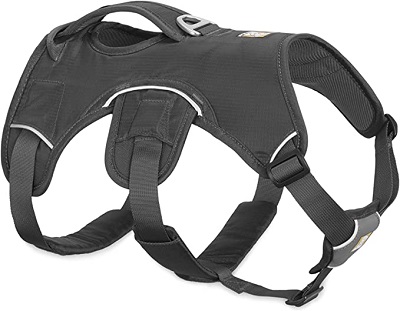 Dogs come in all shapes and sizes, and I love how the Ruffwear Web Master Harness takes that into consideration. The harness is designed for amputee dogs, service dog handlers, working dogs, and the everyday pet canine.
But wait, there's more!
If your dog is prone to getting loose, then they're going to pull. You don't want them to develop painful skin abrasions, which is why the Ruffwear harness features foam padding in all the major contact areas.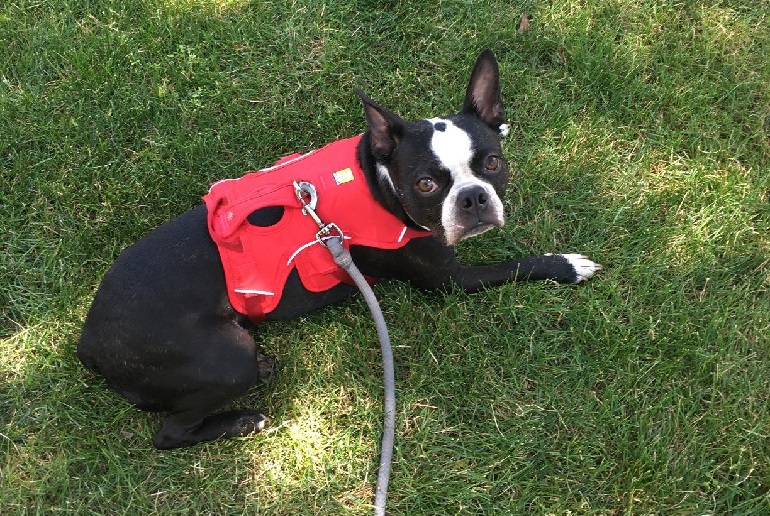 You have to take your dog out day and night, rain or shine. The reflective trim on this harness should help you feel far more comfortable walking your pup in inclement weather or after dusk.
I also quite appreciate how the Ruffwear Web Master harness has so many customization options!
You can adjust it at five unique points and connect the leash in two different ways so that no matter how you like to walk your dog, this harness works with you, not against you.
Pros
An included carrying handle is reinforced, so you feel confident picking up your dog before they go chasing after that rabbit.
The heavy-duty nylon construction is enough that even a rough-and-tumble canine can't chew their way out of this one.
You can choose from sizes starting from XXS to XL. Three colors are also available.
Cons
If you have a bigger dog breed, they won't be able to fit in this Ruffwear harness.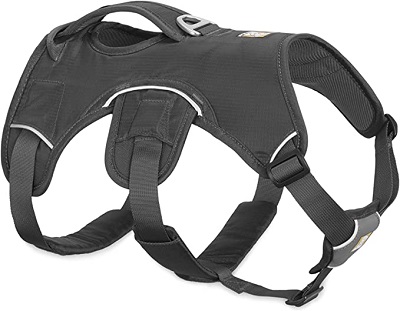 Ruffwear Web Master Harness
The Price of "Ruffwear Web Master Harness" varies, so check the latest price at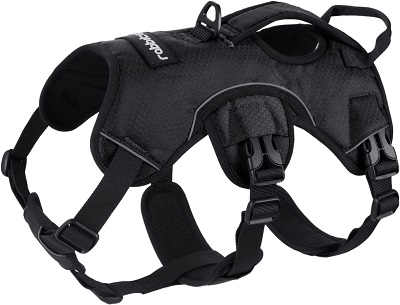 Is your dog like a Houdini? They won't be when wearing the Rabbitgoo escape-proof dog harness.
Truly living up to its name, this anti-escape harness features three abdomen and chest straps for keeping the harness on your dog.
I love that peace of mind, as it seems sometimes like a motivated dog can get out of nearly anything, but not anymore!
And here's the best part!
Worn like a vest, part of this harness fits comfortably over your pup's chest while the rest is across their back. Rabbitgoo chose this efficient design to prevent your dog from feeling choked, even if they get excited on walks (which dog doesn't?), and to prevent any easy escapes.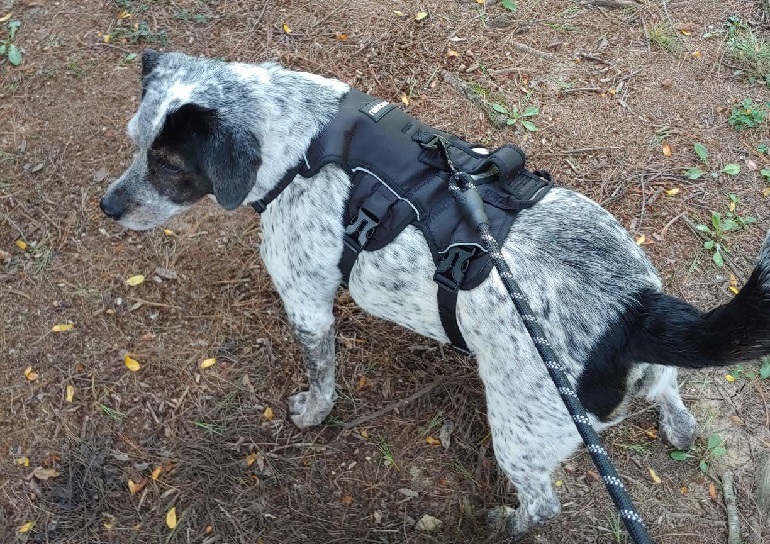 During those walks in the sweltering summertime, you might worry about a harness making your dog feel smothered. Not here! The fabric used to make this harness is anything but flimsy yet remains breathable thanks to the polyester webbing.
Five straps across the harness will make you feel secure about its escape-proofing quality. You can adjust the harness at two points at your dog's chest and then another three around their neck.
When you finally get home after your latest vigorous romp in the park or walk around the neighborhood, the quick-release buckles unleash your pup for sweet, sweet freedom.
I also quite like the back D-ring, as you can connect your pup's favorite leash and never worry about them being choked or pulled again. Your dog will avoid neck pain and breathing issues so your walks are more enjoyable for both of you.
Pros
The D-ring is sealed so that a large, heavy dog who pulls with some force during a walk won't rip the ring right off the harness!
Snapping together with buckles, it's easy to put on a dog harness like this. You and your dog can finally enjoy that walk they've been clamoring for.
The harness fits medium and large dogs, as well as extra-large canines.
Cons
The reflective strips, although they're present all over the harness, are a little on the skinny side!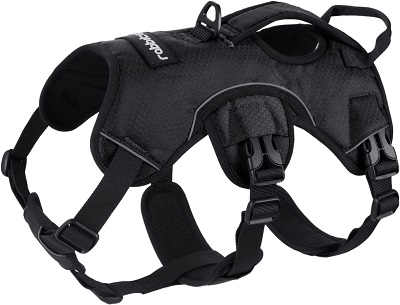 Rabbitgoo Escape-Proof Dog Harness
The Price of "Rabbitgoo Escape-Proof Dog Harness" varies, so check the latest price at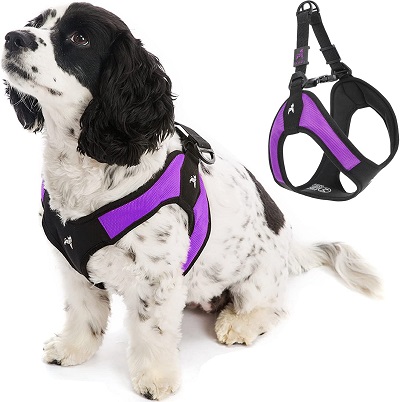 If you have a small dog, then finding a no-escape harness that fits their stature is a challenge. Well, it was a challenge, as the Gooby Escape-Free Easy-Fit Harness is an excellent harness for small dogs!
No more will you have to worry about your tiny pup slipping free from a harness that's two sizes too big for them, even with all the adjustments.
It gets even better!
Gooby created the Escape-Free Series for those escape artists that just don't like the confines of harnesses. It includes a patented Easy Fit design that's a Gooby exclusive.
Once you slip this escape-proof harness on your dog's body, there's no space around the back so, even if your dog pulls, escape is impossible.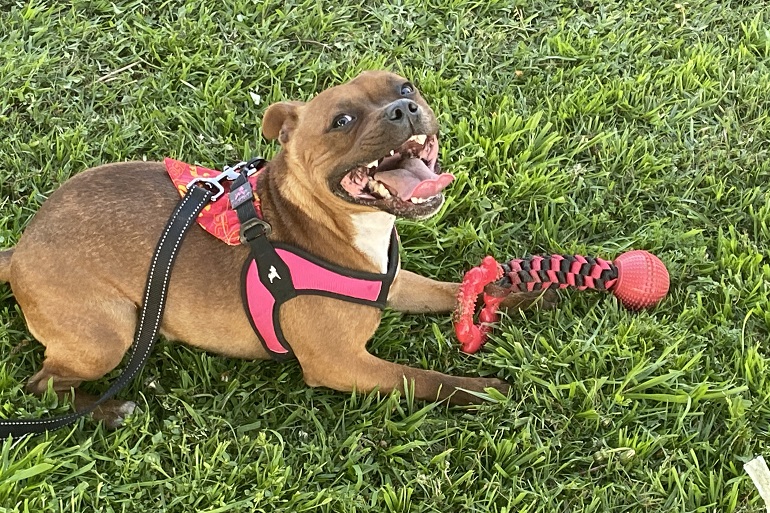 Ideal for all seasons, the Gooby escape-free harness is made of a combination of breathable, soft, lightweight microsuede and neoprene. You won't have to worry about your small pup panting when you're two blocks from home, as that always tugs on my heartstrings.
Gooby dog harness takes small dogs seriously. The POM plastic hexagonal attachments and leash ring are made of the same durable material that goes into seatbelt buckles. Your dog won't be able to easily chew through it.
Pros
Hiding inside the harness is compressed foam across the shoulders that gently cradles your small dog's joints and bones, sparing both. Your pup's delicate skin is also safeguarded.
Adjustments are really easy to make thanks to a series of rubber tabs for setting the chest firmness and snug fit.
The harness is available in four sizes according to your dog's chest size, with the largest size for dogs up to 35 pounds. You can also choose from fun colors like purple and neon pink.
Cons
Large dogs need not apply for this harness, as it's for small pups only.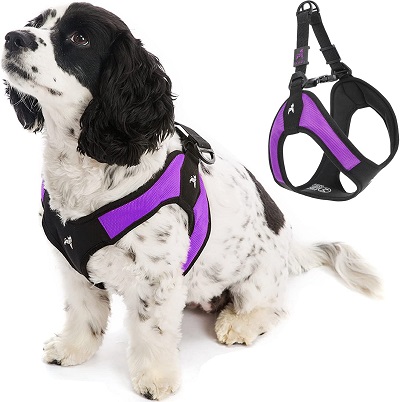 Gooby Escape-Free Easy-Fit Harness
The Price of "Gooby Escape-Free Easy-Fit Harness" varies, so check the latest price at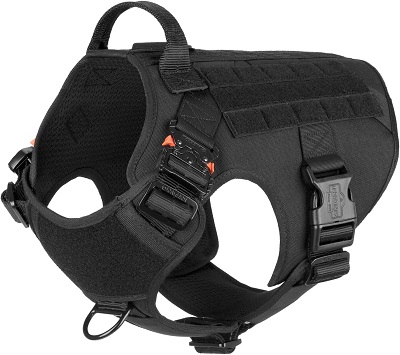 Nylon and neoprene are good materials for a dog harness, but do you know what's even more durable? MOLLE, which is short for Modular Lightweight Load-Carrying Equipment. You know, like what the military uses!
You need not have served to use the ICEFANG Tactical Dog Harness, which is great considering this harness passes a proof-load test for 10,000 pounds. That's the greatest load-point capacity when a dog is pulling, so it's safe to say no pup is getting free.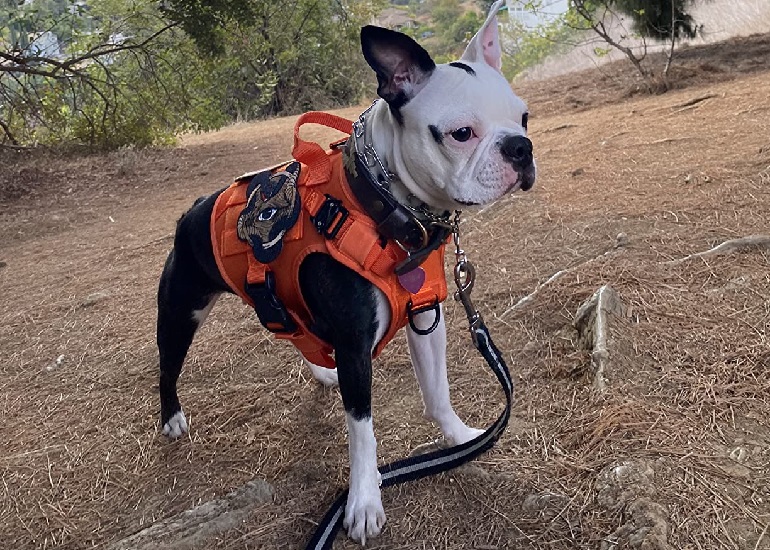 Need to grab your dog on the fly? ICEFANG designed the harness handle to be large enough for swift grabs at a moment's notice, such as when your dog is about to have a showdown with another pup at the dog park.
The handle is sewn durably enough that you can rely on it to get your dog home.
You have the option to hook up your dog and walk them your way with two double D-rings. The first is on the front of the chest, and the other is around the back. Neither will pull on your dog.
Pros
MOLLE strips across the harness are sewn into either side and can connect all sorts of gear if you have a D-shaped carabiner, including toys, water bottles, and even a PALS/MOLLE pouch.
Five adjustment points promote a comfortable and secure fit that's attuned to your dog's shape and size.
Choose from all sorts of cool and rugged colors, including gray, tan, and orange.
Cons
The ICEFANG Tactical Dog Harness is not reflective.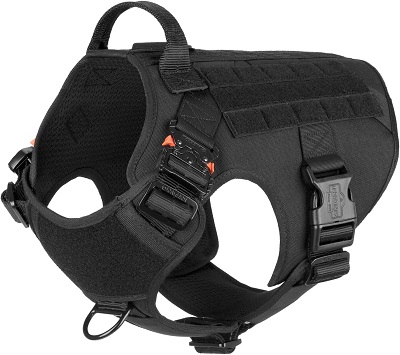 ICEFANG Tactical Dog Harness
The Price of "ICEFANG Tactical Dog Harness" varies, so check the latest price at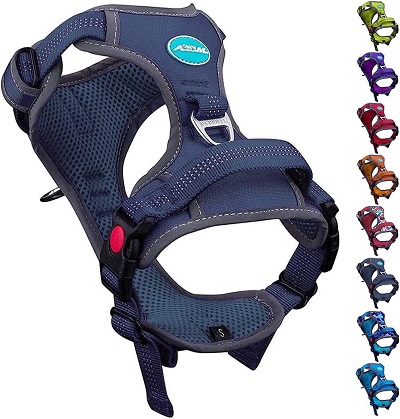 I think it's no secret that caring for a dog is expensive. If you need a budget harness for under $30, the ThinkPet No-Pull Escape-Proof Harness is perfect for your pup!
Paying less for an escape-proof dog harness like this one doesn't mean scrimping on quality, not one bit.
ThinkPet's no-pull design utilizes a front clip leash attachment that allows you to remain in control of your dog on walks, not the other way around.
If you'd rather clip up your pup's leash to the back of the harness, that's fine too, as the ThinkPet harness has a back D-clip as well.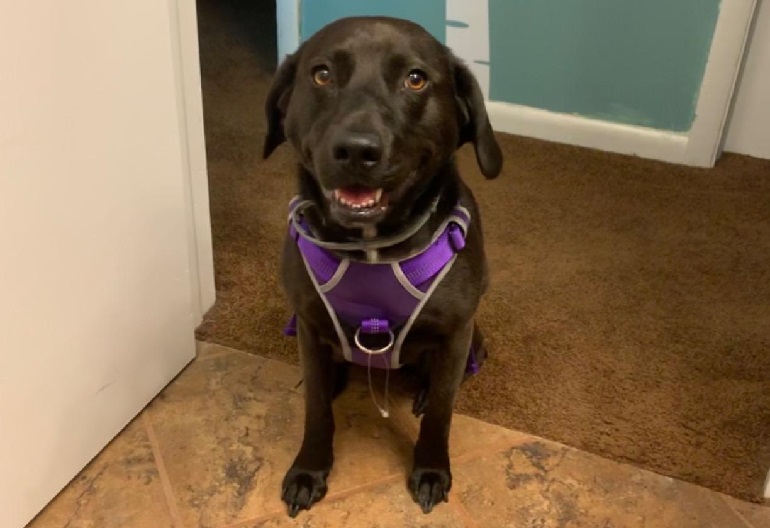 You won't feel like you're torturing your favorite four-legged friend when you slip this harness on them in warmer weather, as the inner layer is open and breathable, so your pup won't trap heat close to their body.
When the days turn dark and cold, the thicker outer layer is enough to keep breeds like the Collie, Shiba Inu, Labrador, Pug, Corgi, or Havanese nice and toasty.
Pros
A combination of soft EVA, dual-layer nylon, and Oxford fabric make for one appealing, breathable, and durable escape-proof dog harness.
The rainbow of colors you can choose from gives your dog the freedom to express themselves. The size variety is also exceptional, with sizes between small and 2XL available.
Adjustable straps, a locking quick-release buckle, and a nylon padded handle are great features for easy-on, easy-off!
Cons
Dogs with an especially voracious appetite might be able to chew through the fabric.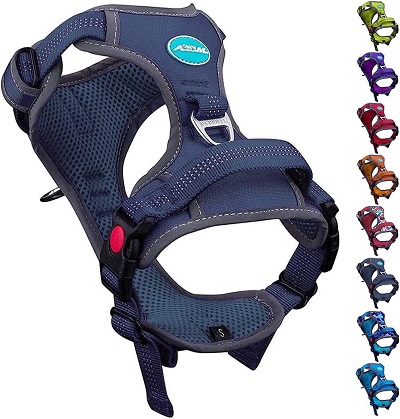 ThinkPet No-Pull Escape-Proof Harness
The Price of "ThinkPet No-Pull Escape-Proof Harness " varies, so check the latest price at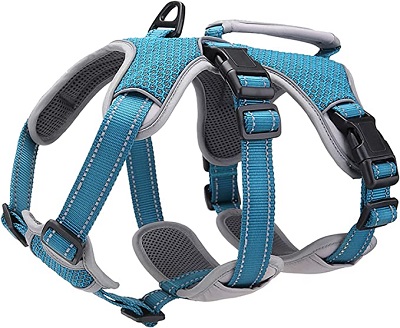 The standard dog strategy is to back up and wriggle free of a dog harness. The BELPRO Escape-Proof features belly webbing that tightens around your dog if they try this common escape trick.
The exceptional amount of padding throughout this harness will make your dog feel cradled by a fluffy canopy of clouds rather than a dog harness. The chest and stomach panels are also made ultra-soft, so friction is no issue here.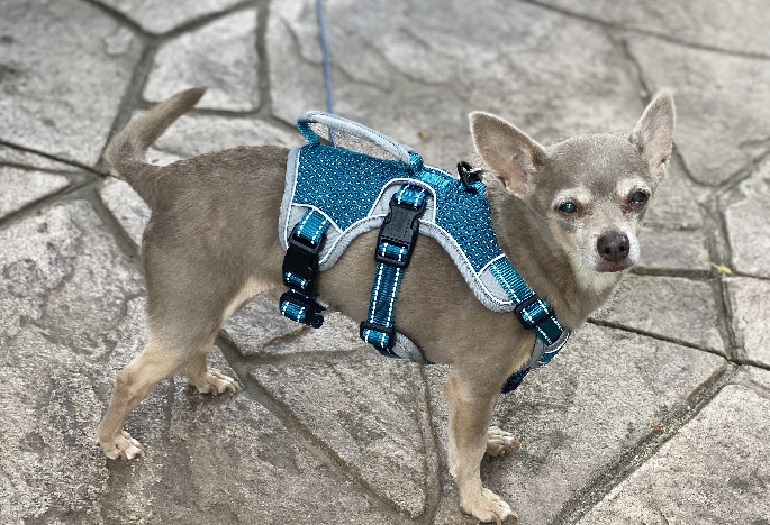 Need to grab your dog in a pinch? You can spare your hands thanks to the reinforced padded handle.
The handle is especially recommended for amputee dogs, service dog handlers, and working dogs, but it's good for any other situation as well!
When BELPRO designed its harness, the manufacturer had active dogs in mind. That's why the adjustment points, five in all, can be set individually to allow your dog as much mobility as their busy lifestyle dictates.
Pros
Select sizes between small and XL and pastel colors that make it easy to spot your dog from afar.
Reflective surfaces throughout won't easily let your dog slither into the night.
The combination of polyester and mesh for breathability is lightweight.
Cons
Your dog might be a little cold when wearing this harness in chilly weather.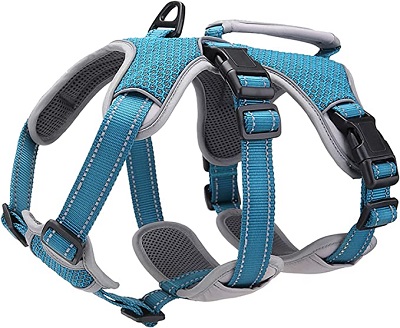 BELPRO Escape-Proof Dog Harness
The Price of "BELPRO Escape-Proof Dog Harness" varies, so check the latest price at
Buyer's Guide: Things to Consider Before Buying an Escape-Proof Dog Harness
Now that you've seen my selection of the best escape-proof harnesses, you have some thinking to do. All six harnesses from the last section are great in their own ways, but you only need one.
Before you narrow down your choices, make sure you keep these considerations in mind.
Material Durability
Escape-proof dog harnesses run the gamut when it comes to materials, but all boil down to two main factors: breathability and durability.
You don't want your pup to easily be able to chew through their harness, as then yes, even an escape-proof harness becomes easy to wriggle out of.
Heavy-duty materials that a dog's chompers can't penetrate will give you the most bang for your buck, as you won't have to replace the harness anytime soon.
Adjustability
You should always measure a dog for a harness before choosing a size. Even then, you might not get the perfect fit.
That's what adjustments are for! All the escape-proof harnesses I looked at feature at least five points of adjustments, usually around the back and neck but sometimes on the chest and belly as well.
Each adjustment point should offer individual adjustments so that if you need a tighter fit in the front and a looser fit in the back or vice-versa, you can fit the harness to your dog specifically.
Padding
Not to be overlooked in the slightest, padding is what goes between your dog's skin and the harness itself.
Since a harness can rub against some sensitive areas such as underneath a dog's arms and across their belly, soft material might not be enough to prevent friction. Breathable mesh padding keeps your pup comfy so they can walk longer and play harder.
Multiple Attachment Points
Some dog owners prefer a harness with a front leash attachment point while others like the back attachment point better.
Neither chokes your dog, but some leash attachment points offer greater degrees of control than others.
Rather than have to make you choose, the ideal escape-proof dog harness should have both front and back attachment points.
Extra Handles and Straps
Imagine this scenario: you're at a dog park with your favorite four-legged friend and here comes this strange, unleashed dog that looks aggressive.
With a carrying handle, you can quickly sweep your dog up before disaster strikes!
The handle should be reinforced to support the weight of your dog.
Carrying straps are a nice feature to have as well.
FAQs
Do Escape-Proof Dog Harnesses Work?
An escape-proof dog harness only works as well as it fits.
If the harness is too large for your dog, then they're given more than ample room to easily slip right out of the harness the moment you're not looking.
The adjustments only work so much since the harness itself doesn't fit.
The harness needs to fit properly to your dog according to their measurements, offering little space at the back so the pup can't slip free.
What Makes a Dog Harness Escape-Proof?
Escape-proof dog harnesses include a number of features that separate them from your average harness.
The higher-quality, more durable materials hug the dog and are difficult (although admittedly not impossible) to chew through.
Multiple attachment point D-rings put you, the dog owner, in control.
Body straps can be adjusted firmly as well so that even if your dog started to get loose, removing the harness completely would prove very difficult!
How Do I Measure a Dog For an Escape-Proof Harness?
The find the optimal fit for an escape-proof dog harness, you need to measure your dog. You can use a flexible measuring tape for this.
Here are the areas to measure:
Chest
Place the flexible measuring tape around your dog's torso at the widest point.
Lower neck
A harness sits lower on the neck than a dog leash, so there's no need to measure the upper neck. A dog's lower neck is closer to their front chest bone.
Length
How long is your dog? Pull out the flexible measuring tape and find out!
If your dog falls between two harness sizes, the best bet is to size up, so their escape-proof harness isn't too tight.
Conclusion
Escape-proof harnesses can solve the dilemma that many dog owners face of their pups managing to get out of every harness and leash they've ever used.
For an escape-proof harness to be effective, it needs to fit your dog. Adjustments allow for a more refined fit from there, but the harness itself should be secure.
With one of these harnesses, you can finally take your dog camping or go for walks around other canines without worrying about potentially disastrous consequences such as losing your dog.
If you enjoyed this article, be sure to check out the resources on harnesses on our site!