Originally published on July 26, 2023, this article has been updated on October 21, 2023 to reflect the latest research and statistics. Our editorial team has ensured you're viewing the most current data on this topic. Need help or have a question? Email us.
Meat, including beef, is a major part of most people's diets, but the amount of beef the US produces each year will truly shock you. And among the states, Texas takes the lead for being the largest beef-producing state.
From burgers and meatballs to meatloaf and casseroles, Americans truly love their beef, with the country producing over 28 billion pounds each year. I bet you didn't expect that figure, did you?
I personally have never been a huge meat eater, and I tend to stay away from meat products as much as possible, eating a more plant-based diet for various reasons.
With so many vegetarian diet options out there, the need for meat in our daily lives has reduced significantly. However, that hasn't stopped the world, including America, from eating more beef than ever before.
Top 10 Most Surprising Stats
What State Produces the Most Beef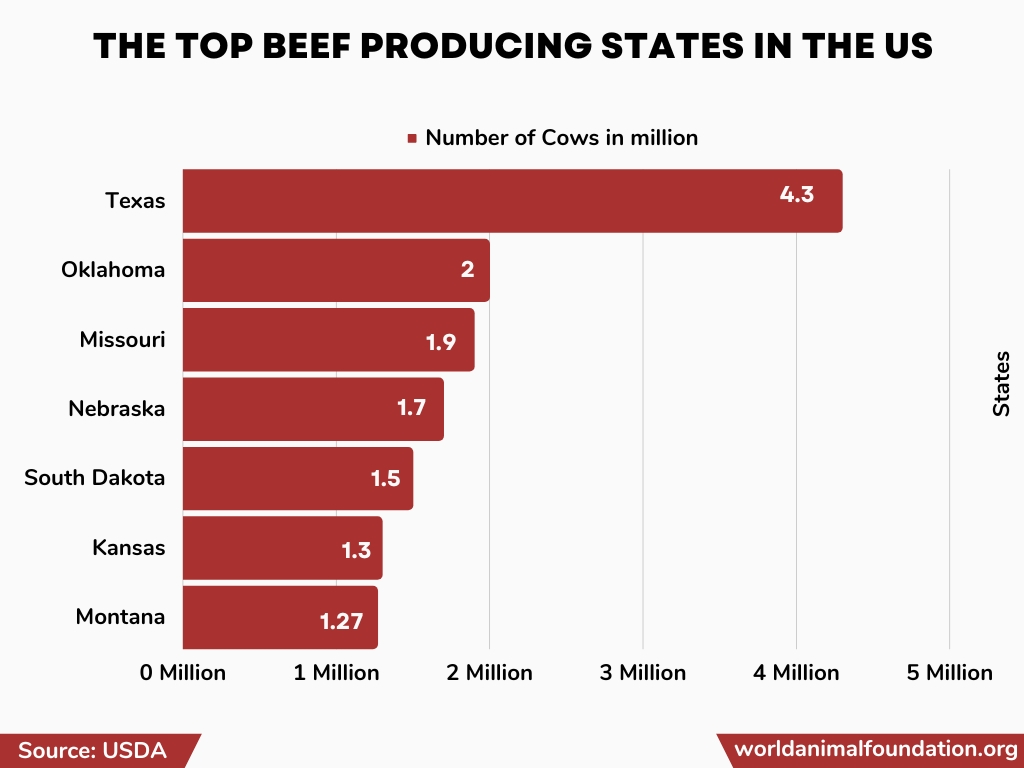 There isn't a single state that doesn't produce beef, but of all 50, there are some that take it to the next level. How do you think your state ranks?
According to Stats of 2023, Texas Has the Highest Number of Beef Cows in the US (USDA)
Out of all 50 states throughout the US, Texas has the highest number of beef cows, as in 2023, the state had 4.3 million heads. But why Texas? What makes it different from any other state?
Well, Texas has a huge amount of pasture land perfect for cattle as the beef cows can graze to their heart's content on grass and other foliage.
The Total Number of Beef Cows in Texas Is 4.3 Million (USDA)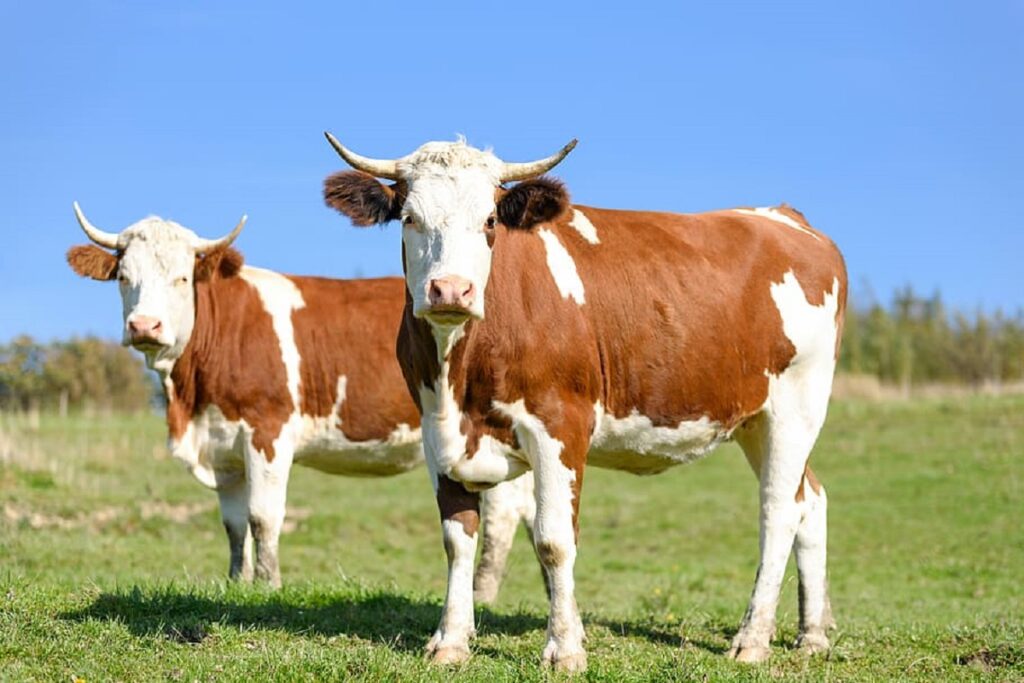 Although the 2023 cattle Texas figure of 4.3 million beef cows seems like an extortionate amount, just the year prior, that figure was even higher as, in 2022, Texas was home to 4,425,000 beef cows.
Texas Shares a Total of Almost 15% of the Beef Cows in the US (USDA)
In total, for 2023, the United States has roughly 28,917,900 beef cows, meaning Texas, with its 4.3 million, is home to almost 14% of the entire country's inventory, according to the USDA. How crazy is it that one state accounts for around 15% of America's beef?
In Texas, the Individual Feedlot Houses Have Almost 26,000 Cows (the Guardian)
Feedlots, if you didn't already know, are areas where cattle are fed to help them grow body fat and muscle. A single Texas feedlot can be home to a staggering 26,000 cows at a time, and as an average feedlot is 300 square feet per cow, I think you can only begin to imagine how big these areas can be.
Panhandle Is the Cattle Feeding Country in Texas, With Approximately 88% of the Feedlots (the Guardian, Progressive Farmer)
The Texas Panhandle area is just over 67,000 km2, and thanks to its easy access to feed and ideal cattle conditions, it accounts for 88% of the state's total feedlots.
Largest Beef Producing States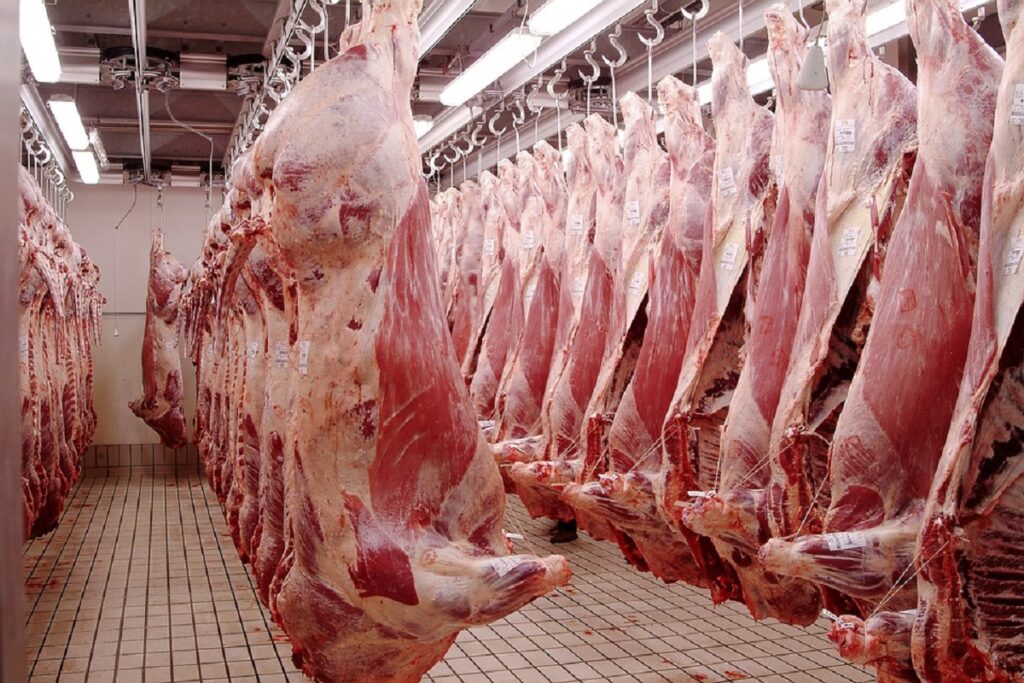 Texas undoubtedly has the most beef cows of all 50 US states, doubling the amount of the country's second-largest beef producer. Any guesses about which state comes second?
Texas Is the Largest Beef-Producing State in the US (USDA)
Did you know that people refer to Texas as the U.S. beef state? Well, the state has truly earned that title as, year after year, Texas produces far more beef than anywhere else in America. With a population of roughly 29 million, there is 1 cow for every 7 people.
The Second Most Beef-Producing State in the US Is Oklahoma, With Approximately 2 Million Beef Cows (USDA)
Hearing that Oklahoma, the United States' second largest beef-producing state, has roughly 2 million beef cows is astonishing. Still, when you compare that figure to Texas' 4.3 million, it doesn't seem that many, does it?
The approximate beef cows total number in Oklahoma in 2023 is 1,981,000. However, the year before, in 2022, that number was considerably higher, as the state had 2,121,000 beef cows to its name.
Missouri Comes Third With a Total Number of 1.9 Million Beef Cows in the US (USDA)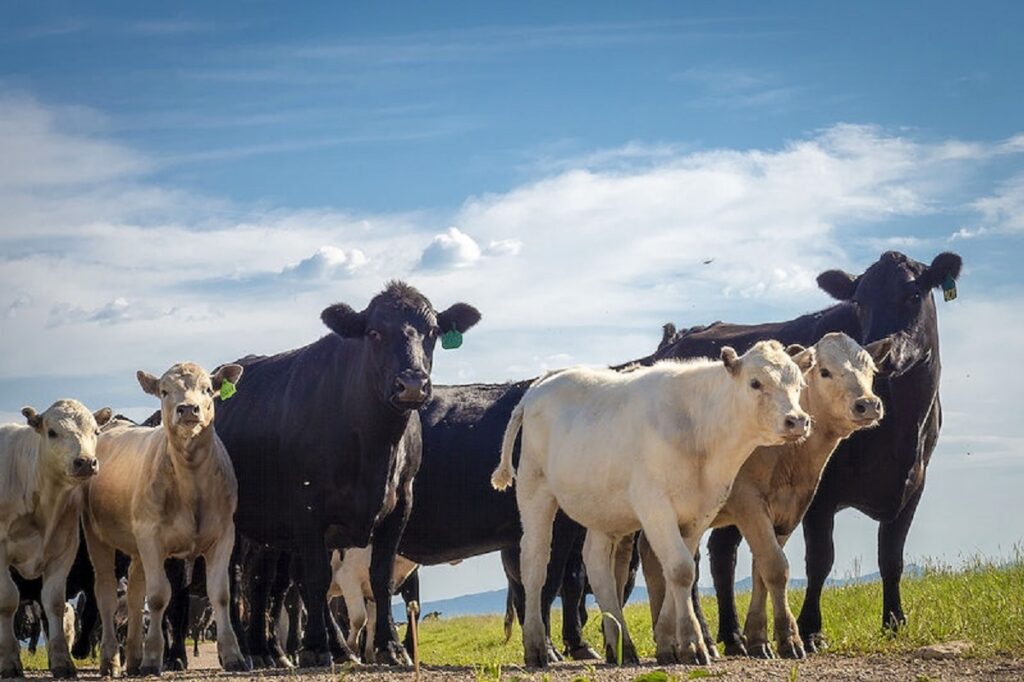 Missouri is one of few states whose beef-producing rates have increased from 2022 to 2023, granted, it's only by 4,000, but this brings their total number of cows up to 1.9 million, putting them just behind Oklahoma.
Nebraska Accounts for 5.89% of the Total Beef Cows in the US (USDA)
Missouri is then followed by Nebraska, which is home to just over 1.7 million beef cows. It's still a pretty impressive number, but nowhere near Texas' record, right?
Nebraska's favorable climate, expansive grazing lands, and robust agricultural practices contribute to its prominence in beef production, making it an essential region for the country's overall beef supply.
South Dakota Has 1.5 Million Cows and Accounts for 5.3% of the Total Beef Cows in the US (USDA)
Another of the top leading states for beef cows is South Dakota, which saw a decrease of 67,000 cows from the year prior.
Despite the slight decline, South Dakota's sizable cow population showcases its significance in the overall landscape of beef production in the United States.
Kansas Accounts for 4.5% of the Beef Cows, With a Total Number of 1.3 Million (USDA)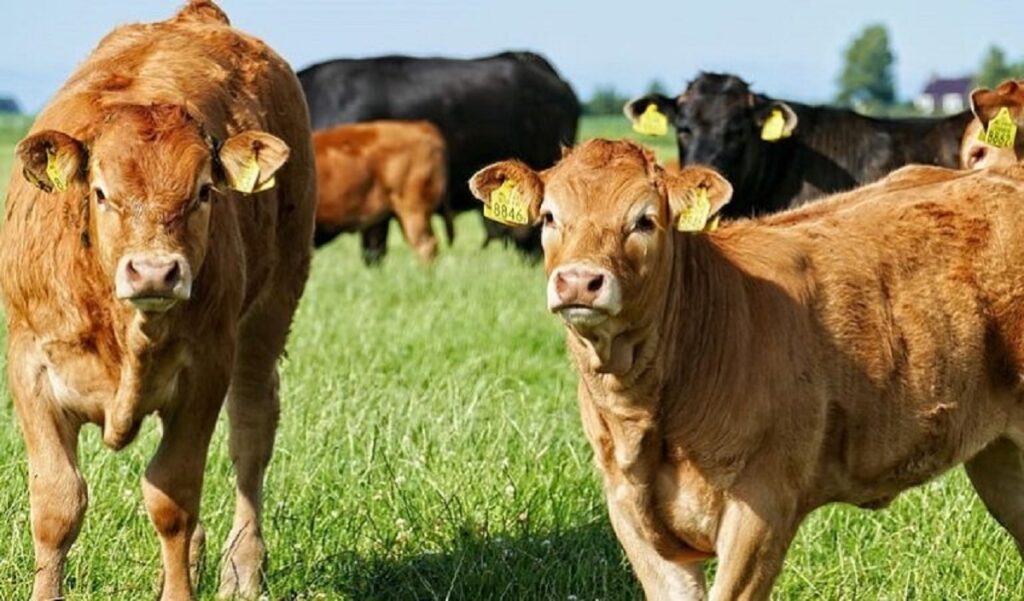 Kansas saw one of the biggest decreases in beef cow inventory from 2022 to 2023, which could result from drought as the state's beef cows dropped from 1,421,000 in 2022 to 1,315,000 in 2023.
1.27 Million Beef Cows Live in Montana, Which Accounts for Almost 4.4% of the U.S. Beef Cows (USDA)
And coming in at number 7 for the most beef-producing states in the US is Montana, which saw a decrease of 27,000 beef cows from 2022, meaning the state still produces roughly 370,000 more beef cows than the state in eighth place, Kentucky. Did your state make the top 7?
Top Cattle Producing States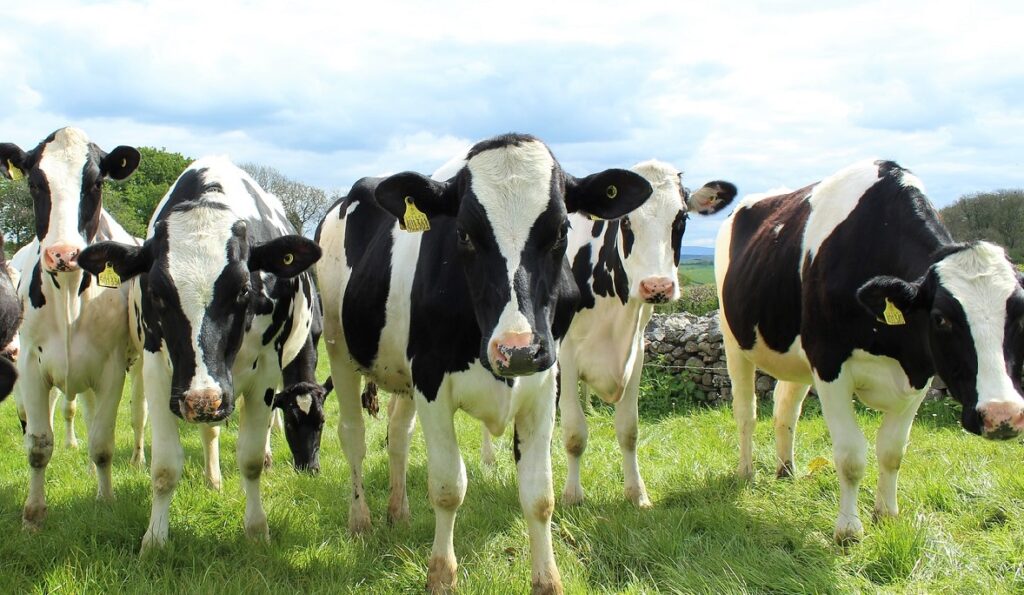 Did you know that beef cows and dairy cows are two very different breeds? Beef cows have a higher muscle and fat percentage, whereas the meat from dairy cattle, which we first use for milk production, gets turned into low-quality ground beef.
You learn something new every day, don't you?
Texas Ranks First in Cattle Production With a Total Number of 12.5 Million (USDA)
Texas ranking first in the most cattle production doesn't surprise me one bit, especially after I learned that they have 4.3 billion beef cows alone.
Being from England, it shocks me just how many cows Texas, let alone America has, as in my tiny country, we have just 5.1 million cattle. It doesn't really compare, does it?
In 2023, Texas Accounted for 14% of the Cattle Production in the US (USDA)
You already know the substantial amount of cows that call Texas home, but hearing it as a percentage makes the figure even more unbelievable. Texas produces 14% of the United States' total cattle production, with Nebraska producing a further 7.28%, according to USDA.
Nebraska Comes Second With 6.5 Million Cattle in 2023 (USDA)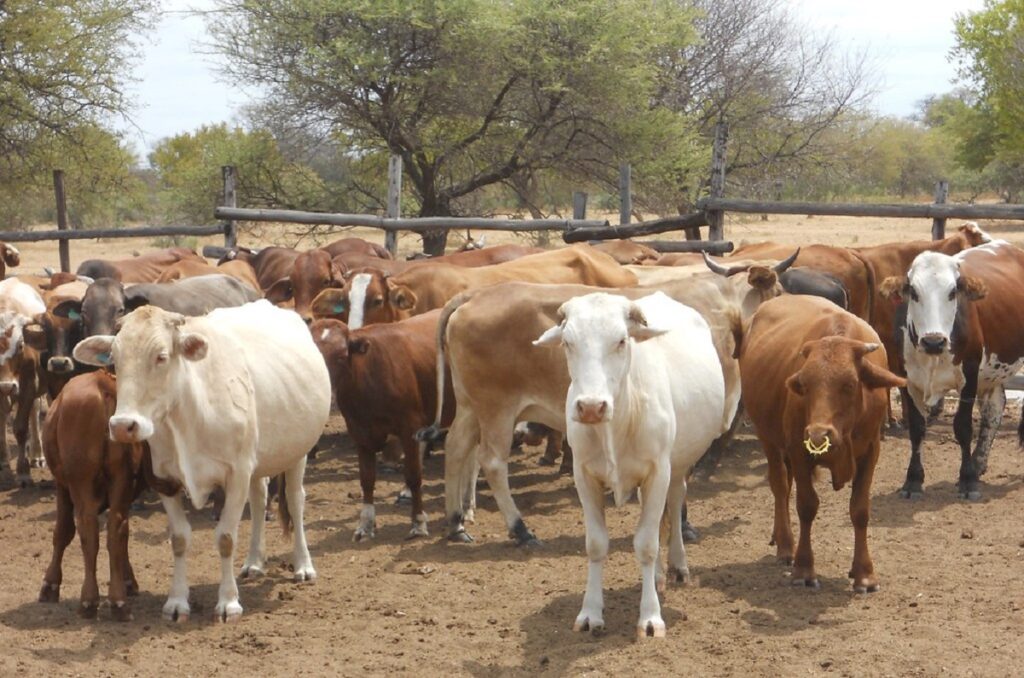 The midwestern region of Nebraska isn't just the home of corn because its farmlands also house the country's second-largest population of cattle, which is just over half the amount of Texas' extravagant 12.5 million.
Kansas Has a Total of 6.2 Million Cattle in the US (USDA)
The large cattle numbers continue south of Nebraska, as Kansas comes in a close third for the top cattle-producing states, as 7% of the country's cattle live and graze their way through the state's prairies and rolling hills.
With 5.2 Million Cattle Heads, California Accounts for 5.82% of the Cattle Production in the US (USDA)
The Hollywood sign, the Golden Gate Bridge, and the Napa Valley aren't the only things you'll find in California, as California residents share the state with over 5 million cattle. Seeing cows probably wasn't on your Cali bucket list, was it?
Oklahoma Accounts for 5.15% of the Total Cattle Production in the US, With a Cattle Population of 4.6 Million (USDA)
Sandwiched between Kansas and Texas, it isn't a shock that Oklahoma ranks up in the top 5 for the top cattle-producing states. A major reason for Oklahoma's thriving in the cattle industry is because of its nutritious grass and productive grain farms that make farming cattle far easier than other states in the US.
Almost 4.1 Million Cattle in the US Reside in Missouri (USDA)
Missouri takes the sixth spot for cattle-producing states as its vast amount of fertile pastures house 4.6% of the country's total cattle population.
Iowa Accounts for Almost 4.1% of the US Cattle Production, With a Total Number of 3.6 Million Cattle (USDA)
And in seventh place for top producing states in the US is Iowa, which has a total of 3,650,000 cattle as of 2023. Combining the percentages of Texas, Nebraska, Kansas, California, Oklahoma, Missouri, and Iowa leaves us with 47.94%, meaning just 7 states make up almost half of the entire country's cattle population.
Beef Production in the US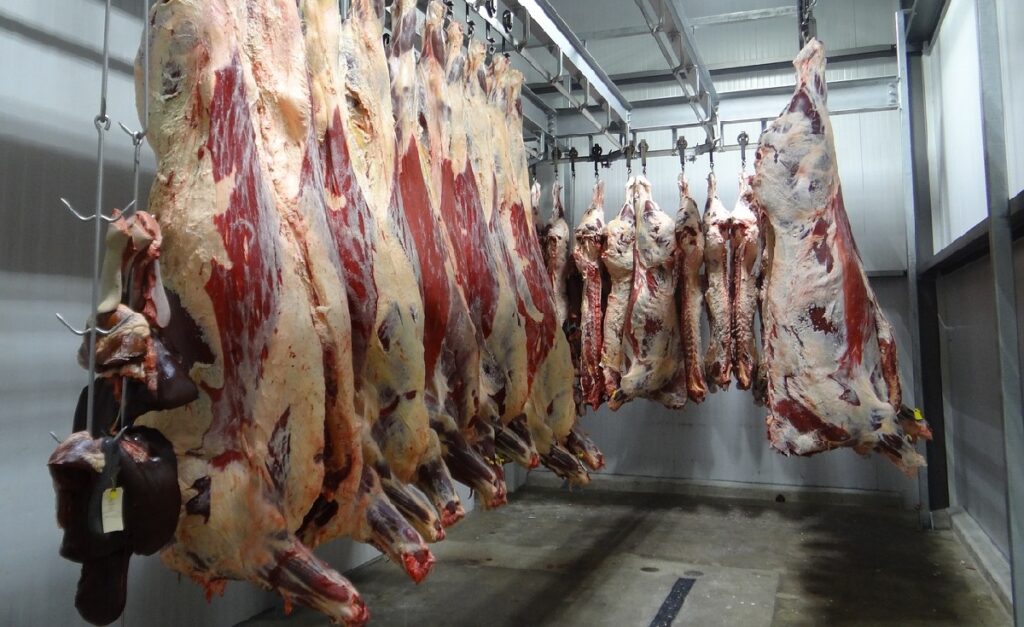 The United States is the world's largest producer of beef, generating billions of pounds of dark meat each and every year. How much of those billions of pounds do you think you consume?
According to Stats for 2022, the Total Beef Production in the US Is Approximately 28.29 Billion Pounds (USDA)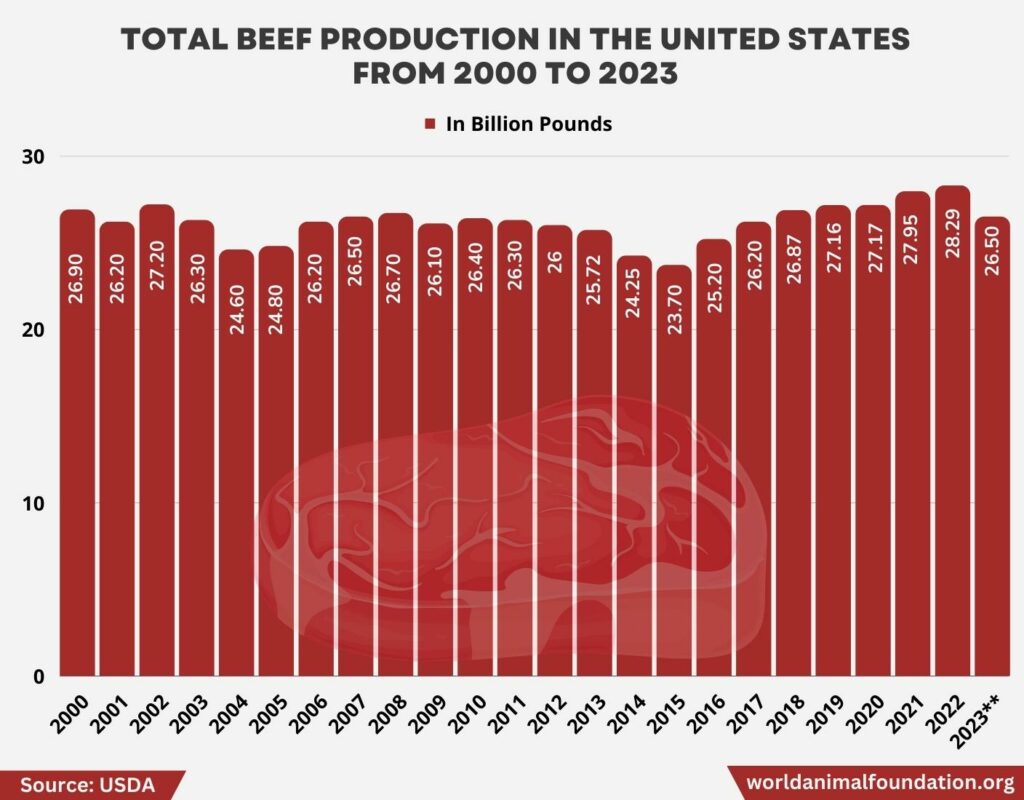 The USDA states that the US produced roughly 28.29 billion pounds of beef in 2022, followed by Brazil, China, and India. Despite India having the highest cattle population of 305.5 million, due to religious beliefs, many Indians consider cows sacred. Therefore, they only consume their milk.
According to Stats of April 2023, the US Produced Over 12.2 Million Tons of Beef and Veal (Net Carcass Weight) and Topped the List of Leading Veal and Beef Producing Countries Globally (Source: FAO, USDA)
As per new stats of USDA from April 2023, the total beef and veal production in the US reached 12.2 Million Tons. Remember the pandemic that locked many of us in our homes?
Well, during its final year of 2022, the total production of beef and veal worldwide amounted to 58.7 million metric tons, with the United States contributing just over 21% of that with a staggering 12.6 million tons.
It seems staying inside really makes you hungry, doesn't it?
In 2022, Almost 1.47 Million Tons of Beef Was Exported, Worthy of $11.68 Billion (USMEF)
In 2019, the meat industry exported 1.39 million tons of beef, which is impressive in itself, but just two years later, in 2022, USMEF statistics show that figure was even higher, with beef exports reaching 1.47 million metric tons at a record value of $11.68 billion.
I bet you didn't see that figure coming, did you?
Largest Beef Processing Companies in the US
Of all the beef processing companies in the US, five really stand out: Cargill, Sysco, JBS, Tyson Foods, and Smithfield Foods. Have you ever heard of them?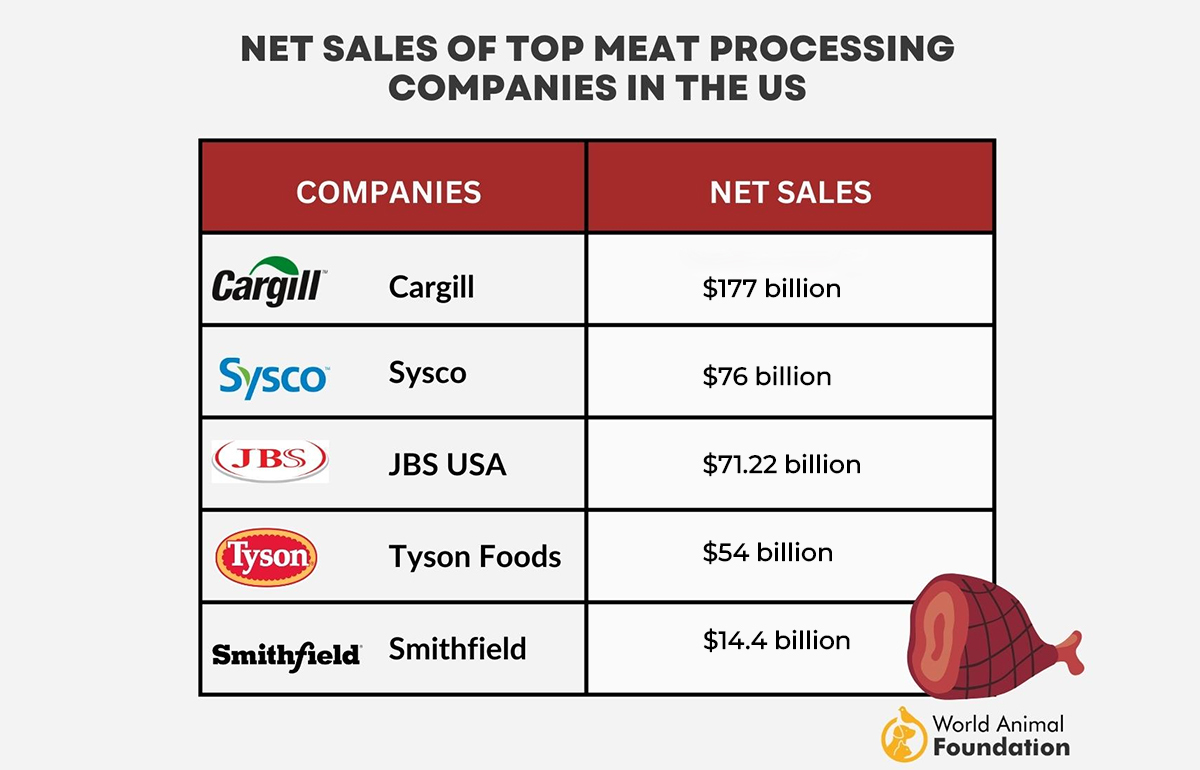 Cargill: $177 billion
Sysco: $76 billion
JBS USA: $71.22 billion
Tyson Foods: $54 billion
Smithfield Foods Inc.: $14.4 billion
Almost 8 Million Cattle and 8 Billion Pounds of Boxed Beef Are Processed by Cargill Throughout Its Plants in the US and Canada (Cargill)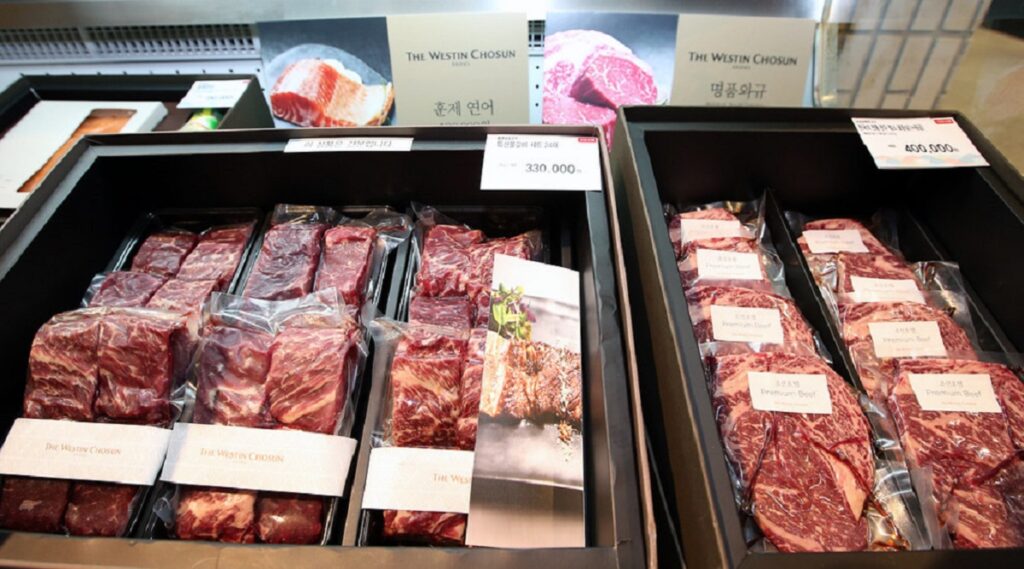 The United States' largest beef processing company, Cargill, made over $177 billion in 2023. However, that's not all that Cargill trades, purchases, and distributes, as its total revenue in 2022 was $165 billion.
Sysco Corporation, With Headquarters in Texas, Is Among the Top Beef Processing Companies With Net Sales of More Than $76 Billion in 2023 (Investors Sysco)
It probably comes as no surprise that the United States' second largest beef processing company, with net sales of $76 Bn, has headquarters in Texas, given that Texas is the beef state, after all.
Sysco Corporation made just under half of the leader's net sales in 2022 with a total of $68 billion, according to Investors Sysco, in food products, equipment, and supplies for food service.
JBS USA in Colorado Has 9 Functional Cattle Operating Plants Across the Midwest and Has Net Sales of $71.22 Billion in 2023 (Macrotrends)
Have you ever heard of the meat-producing company JBS? Well, with 9 plants across the US and 12 more plants in Canada and Australia combined, JBS had sales of over $71 billion in 2023. When you compare that figure to their previous year, they made a whopping $7 billion more.
Tyson Foods in the US Holds a Reputable Place Among Top Meat-Producing Companies, With an Annual Sale of $53 to $54 Billion in 2023 (Tyson Foods)
The fourth leading meat-producing company in the US is Tyson Foods, which, according to their website, produces 1 in every 5 pounds of chicken, pork, and of course, beef that American citizens like to eat every day.
In 2023, the company made around $54 billion, providing protein to restaurant chains, schools, hospitals, and grocery stores. You've probably eaten their meat without even knowing it.
Of their total 2022 annual sales, the largest percentage, which was 36%, was solely due to beef, with chicken coming in at number two with 32%.
Smithfield Foods Inc. Had a Net Sales of $14.4 Billion in 2022 in the US (The National Provisioner)
Like other meat companies I mentioned previously, Smithfield Foods Inc. also produces a range of beef products (the name's a dead giveaway, isn't it?), and in 2022, the company made over $14.4 billion from net meat sales.
Best States for Cattle Ranching
Not all states are good for cattle ranching, as you need certain criteria to ensure your cattle are healthy, happy, and getting an adequate amount of food.
Factors that play a part in which state is best for beef farms and cattle ranching include land size, amount of farm workers, monthly precipitation, and cost of farmland, amongst many others.
LawnStarter ranked the Best States to Start a Farm or Ranch in 2021 by comparing 50 states across 42 metrics. The ranking considered factors like existing farm communities, viability, infrastructure, cost, climate, overhead, and ROI potential.
According to Overall Viability, Infrastructure, and Climate, Montana Comes First on the List To Start a Ranch (Lawnstarter)
According to Lawnstarter, the best state in the US to start a cattle ranch is Montana, as farm sizes are some of the largest in the country, and the prices per acre are some of the lowest.
Have you ever thought about opening a cattle ranch?
Kansas Is the Second Most Favorite State To Start a Ranch in the US, With an Overall Score of 58.78 (Lawnstarter)
If you live in the State of Kansas, then you may already know how great it is for ranches. I've only traveled to Florida in the US, and I can honestly say I don't know too much about any other states.
However, now I know that Kansas is a great state for a cattle ranch, with a score not far off Montana's.
North Dakota Has an Overall Score of 57.35, Which Makes It Suitable for Cattle Ranching (Lawnstarter)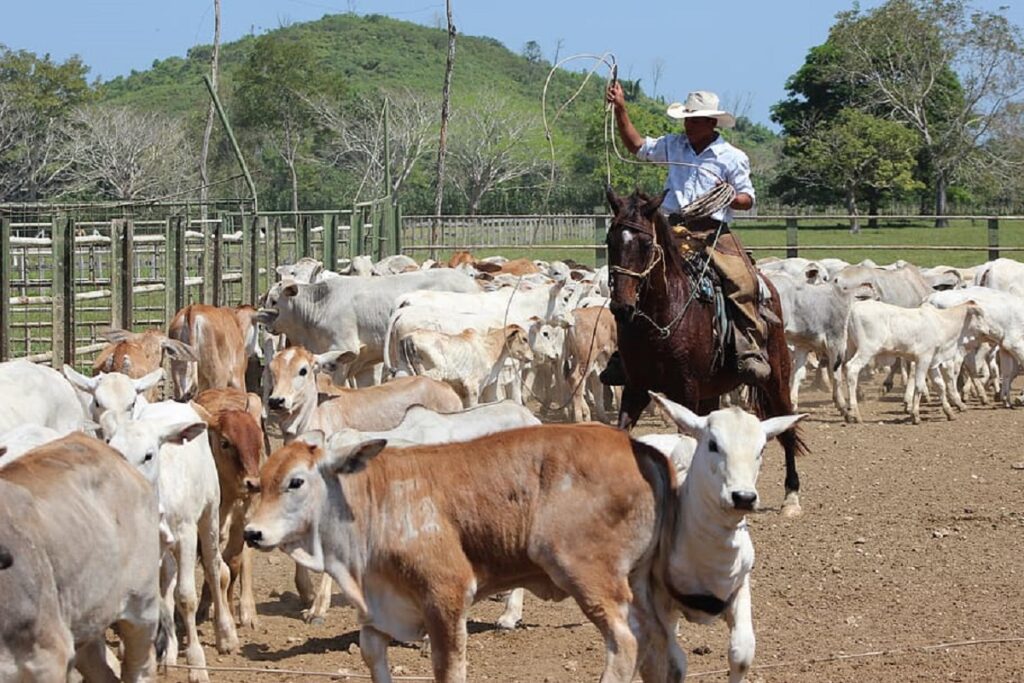 Do you live in North Dakota? Because if you do and you've thought about opening your own cattle ranch, then the Flickertail State is up there with one of the best.
If you (like me) aren't too familiar with the layout of the 50 states, then by looking at a map, you can see why North Dakota is favorable, as it borders Montana. You're welcome for the mini geography lesson.
With an Overall Score of 57.32, Texas Also Comes in the List of Best States for Cattle Ranching (Lawnstarter)
The country's largest producing state when it comes to beef is Texas, so you were probably expecting it to rank very high up in the list, weren't you?
Well, surprisingly enough, Texas didn't come in first place, as the beef state ranks fourth on Lawnstarter's best states to farm or ranch. Weird, right?
Oklahoma Has an Average Score of 57, Which Makes It Appropriate for Cattle Ranching (Lawnstarter)
And fifth on the list is America's second-largest beef-producing state, Oklahoma, which scored well for viability, infrastructure, and low costs per acre of land.
How Many Cattle in the US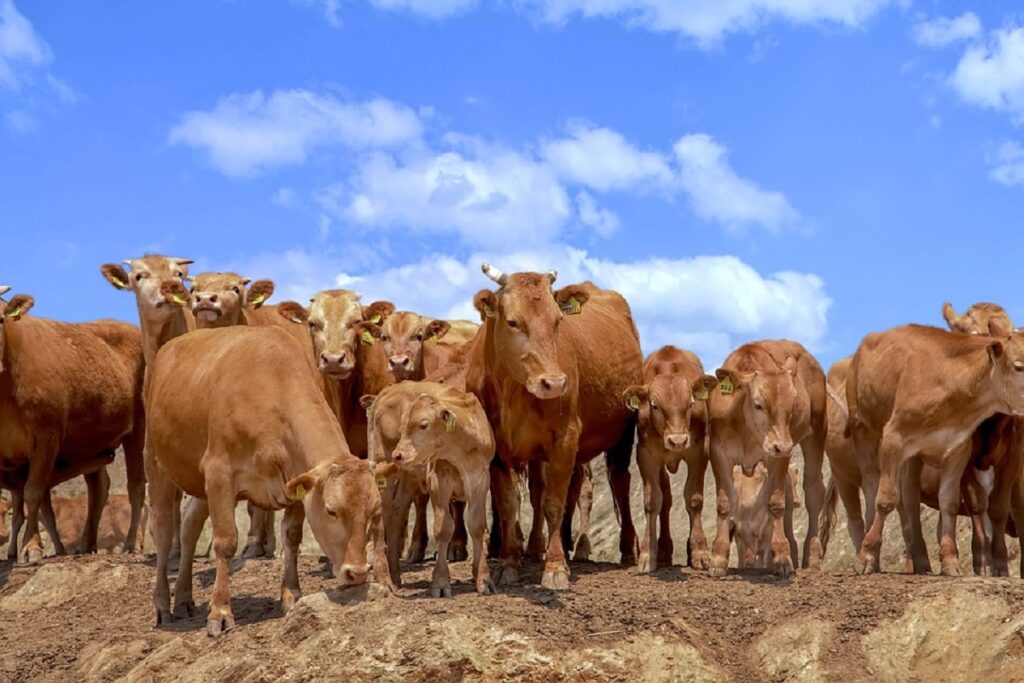 There are over 334 million people in the United States, but how many cattle are there? Keep reading to find out!
According to the Latest Stats, the Total Number of Cows in the US Is 89.3 Million (USDA)
In the US, there are a whopping 89.3 million heads of cattle, and although that number made my jaw drop, in 2022, the numbers were even higher. Did you know that 99% of that 89.3 million cattle live in factory farms?
According to Stats of 2023, the Number of Beef Cows in the US Is 28.9 Million (USDA)
Although the US has 89.3 million heads of cattle, only 28.9 million are beef cows. I say only, but 28.9 million is still a substantial amount of cows, isn't it?
I've never been a big meat eater, and I prefer to stick to plant-based meals whenever I can, so it shocks me that just a year prior, 4% more beef cows were being slaughtered for human consumption.
The Number of Milk Cows in the US Has Increased to 9.4 Million (USDA)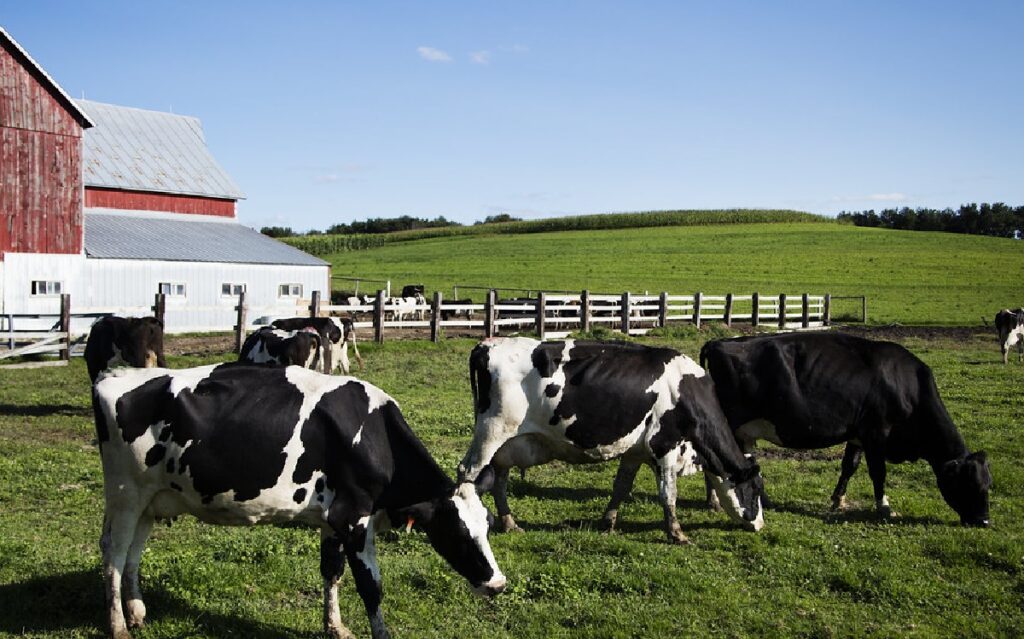 So, there are 89.3 million cattle in the US, and only 28.9 million are beef cows, so what are the remaining 60.4 million? Well, 9.4 million are dairy cows, which provides America with its milk.
The Number of Calves in the US Is Estimated To Be 33.8 Million (USDA)
To keep the beef industry in business, calves need to be born, and in the US for 2023, the USDA estimates that there are 33.8 million baby cows who will grow up to become your next dinnertime meal. Sad to think about, isn't it?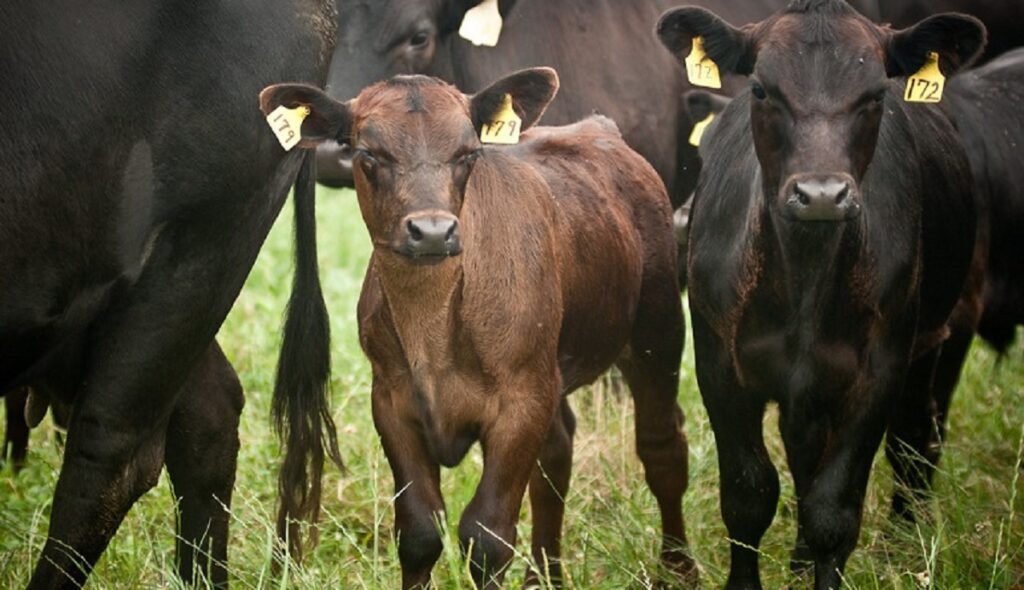 In the US, There Are Three Times More Beef Cows Than Milk Cows (USDA)
Surprisingly enough, there are only 9.4 million milk cows compared to 28.9 million beef cows in the US.
FAQs
What State Has the Most Cows?
Of all the US states, Texas is the state with the most cows, as in 2023, the state has 12.5 million cattle.
What Is the Leading North American Producer of Cattle?
Texas is the leading North American producer of cattle, contributing 12.5 million to the country's total.
What Are the Top 3 Beef-Producing Countries?
The United States, Brazil, and China are the top beef-producing countries.
Wrap Up
I think it goes without saying that meat consumption in the US will always be high, and it would take more than a miracle for the number of cows we slaughter each year to reduce.
It makes me sad knowing that these cows grow up in factories, living unfulfilling lives before ending up on our dinner plates without much thought from us.
By limiting the amount of meat we eat, we can help reduce the unnecessary amount of cows who give up their lives to feed us.