Originally published on May 29, 2023, this article has been updated on October 18, 2023 to reflect the latest research and statistics. Our editorial team has ensured you're viewing the most current data on this topic. Need help or have a question? Email us.
For many readers, it might be surprising to learn that Americans cook up to 80 pounds of beef meat annually.
The country has 89 million heads of inventory to satisfy the average American hunger for meat, milk, cheese, and other dairy products.
America is currently at a total population of 333,287,557, a 0.4% increase. It has the fourth-largest bovine population globally. Other countries like India and Brazil also have a substantial cow population, although, in some cultures, the cow is considered sacred. China has almost 100 million cows.
Beef cows are the biggest percentage of cows. Several million heads end up in the feedlot. Once they reach their target weight, they become meat at our dinner table.
At WAF, we strive to bring you relevant and accurate statistics. However, numbers and resources often contradict themselves.
We weed through the data for our reader-supported website to extract the truth.
Top 10 Most Captivating Stats
How Many Cows Are in the US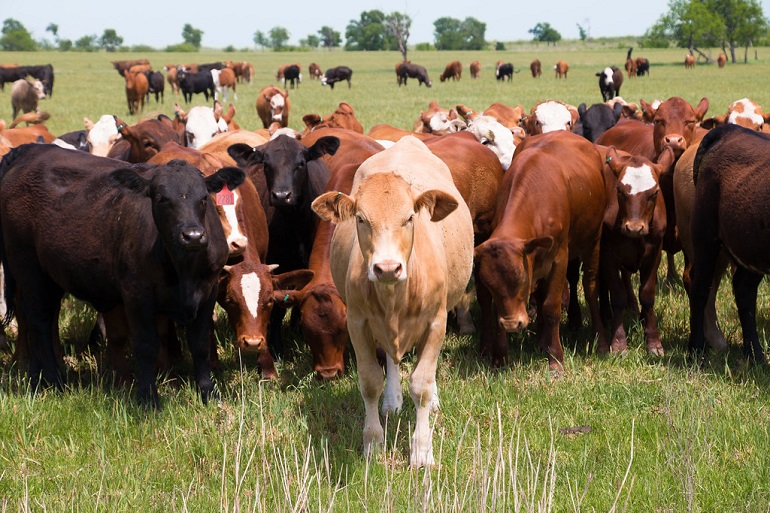 The worldwide demand for agriculture to feed the growing human population means cattle and calves become statistics in economics and the cruel farming methods they're treated with and slaughtered.
So, let's see how many cows are in the US:
The Latest USDA Report of September 2023 Suggests There Are a Total of 89.2 Million Heads of Cows in the US (USDA)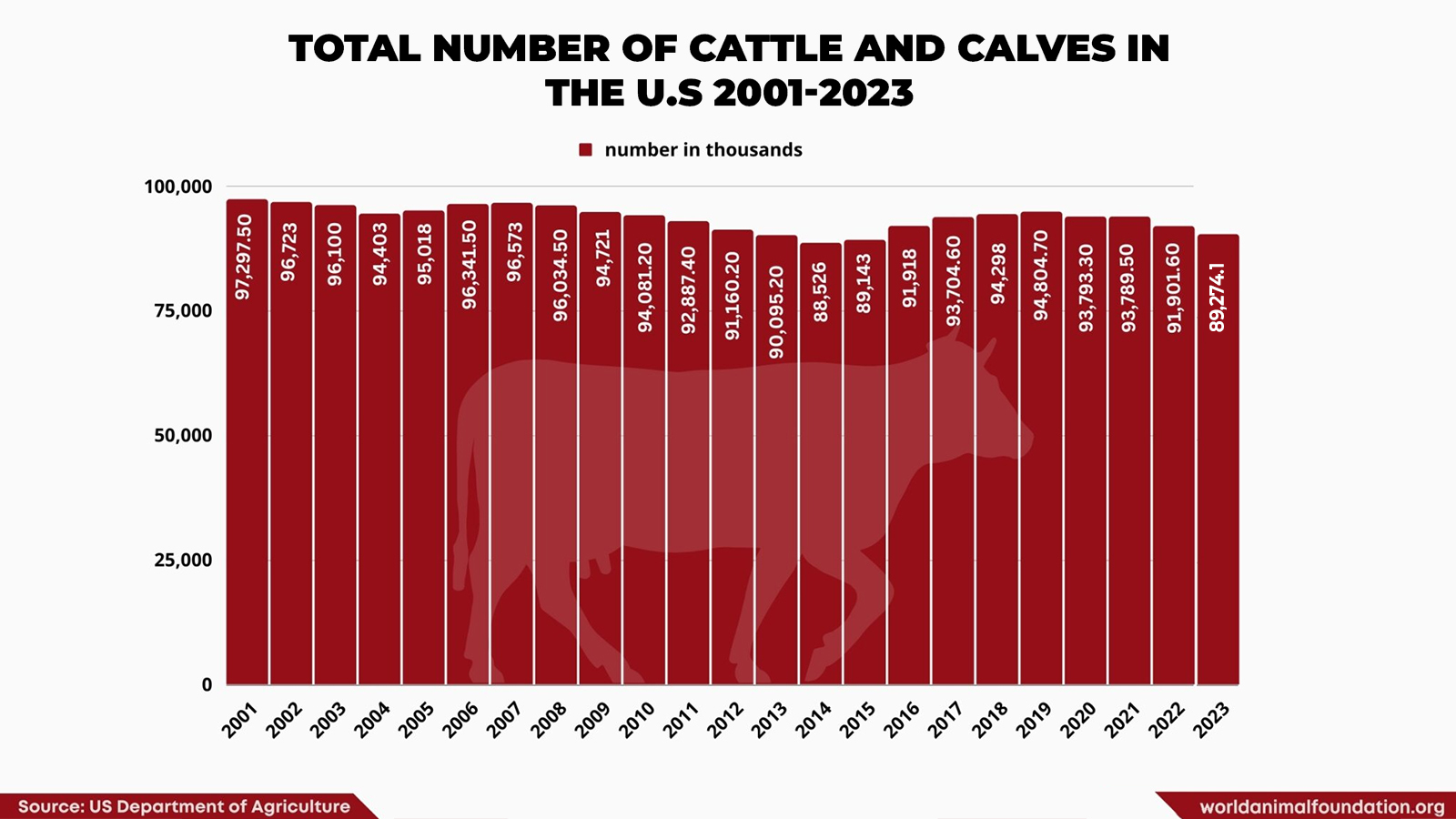 The figure from the USDA's September 2023 report, indicating 89.2 million cows in the U.S., shows the significant size of the country's cattle industry.
This latest estimate is a notable decrease from the previous year. This drop by 2.8 million cows in a year underscores shifts and potential challenges in the country's cattle industry.
According to Stats From 2022, There Were 92 Million Cows in the US (US Department of Agriculture)
Although people are eating more now, according to Washington stats from 2022, released by NASS (US Department of Agriculture's National Agricultural Statistics Service), there was a 91.9 million cattle inventory.
This represents a 2% decrease over the previous year, and 30.1 million are beef cows. Dairy cows decreased to 9.38 million.
Factory farming is now at 99% of all farming, and small-scale farmers and their long list of farm animals are replaced with mass-scale agriculture producers.
In 1996, the Number of Cows in the US Was 104 Million (US Department of Agriculture)
Plant-based foods and the constant pressure to reduce greenhouse gas emissions continue to strain the beef industry. Farmed cattle have cyclical populations, and herds are getting smaller.
Historically, 2014 data saw the smallest inventory with only 88,234,000 head, followed by an 11-year high of 94,804,700 but still significantly lower than in 1996.
In 1975, the US had a record high of 132,027,700 head. Profitability or loss are the main drivers of population cycles. Drought has a significant impact and reduces feed supply, raising the cost worldwide. Currently, the US is in a rebuilding stage.
The average American consumes 274 pounds of meat for food per year, and it's a lot more than average world meat consumption.
As of 2023, the Number of Beef Cows in the US Is 28.9 Million (NASS USDA)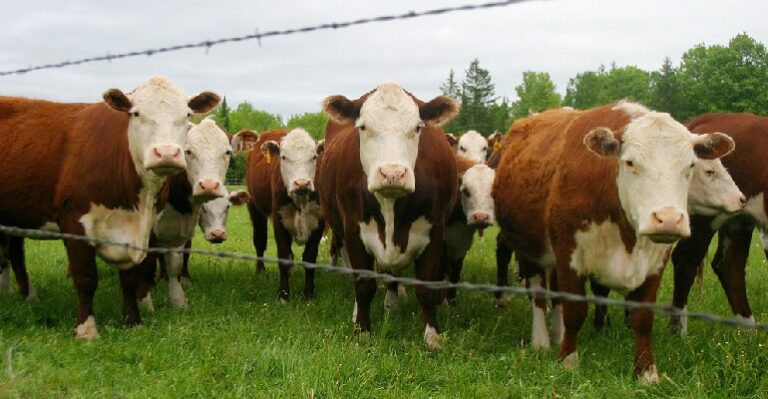 The beef industry designates animals into categories. We've always raised cows for meat, dairy, leather, and other products.
Beef cows have a primary purpose of being fed to the market weight and then sold and slaughtered.
The beef farming industry keeps these breeds that we've all seen on our trips to the country: Black Angus, Charolais, Hereford, and Holstein.
Some farms benefit from maximizing cows that produce milk by selling their three-year-old milk cows for slaughter. This practice sometimes skews the real number of beef cows in the US market.
Dairy Cows in the US Make a Total of 9.4 Million (NASS USDA)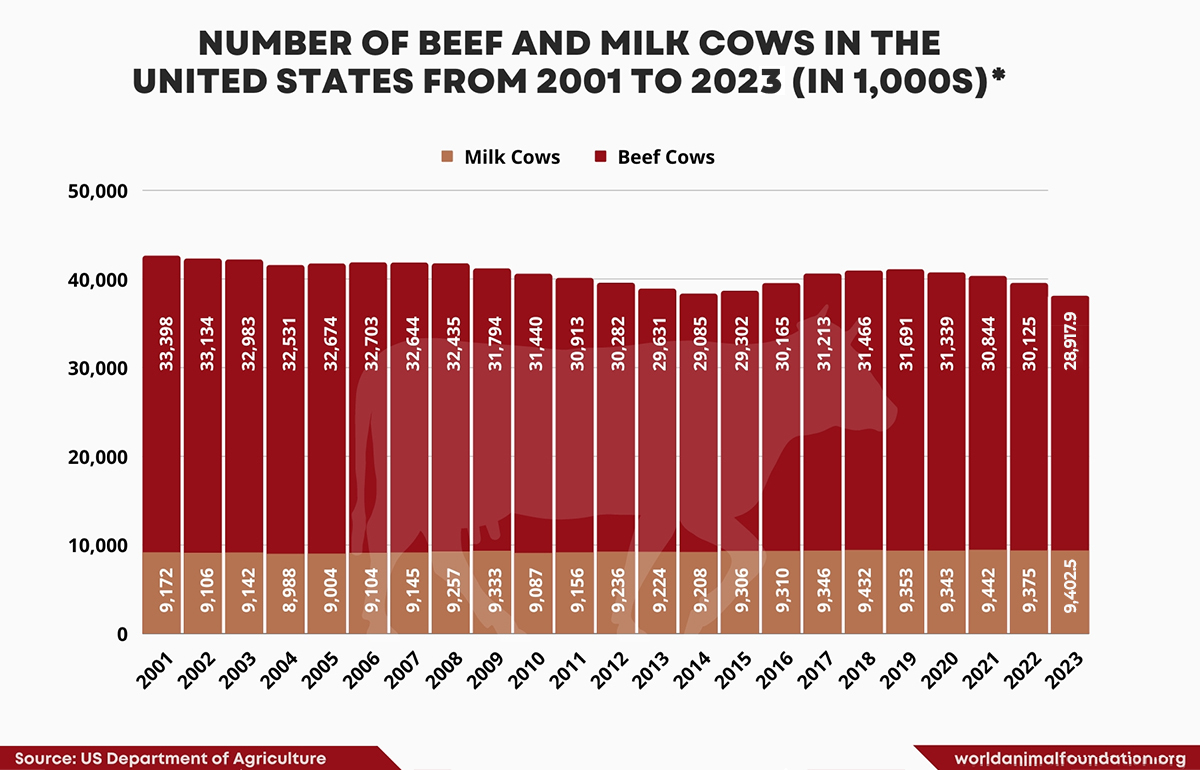 Dairy or milk cows don't have an easy life. Holstein, Jersey, and Brown Swiss milk cows are churning out millions of pints of milk that we consume as milk, cheese, butter, yogurt, and ice cream to the tune of $58.9 billion.
Fluid milk consumption has been trending downward for 70 years.
While technology has come to the dairy farm, life for dairy cows hasn't improved. Holsteins produce 10 gallons of milk daily, which makes them a popular choice. Approximately 90% of dairy cows are Holstein.
The 2023 Annual US Calf Crop Is Estimated to be at 33.8 Million (NASS USDA)
Many factors determine the rise and fall of cattle populations, and the US calf crop is down 2% from last year. Remember that 2% is still 33,800,000 animals. America also imported 365 million pounds of meat so far in 2023.
The NASS derived these numbers for the US beef industry by surveying farms and their stock as of January 1, 2022.
The Stats for 2023 Show the Number of Cattle on Feed Is Approximately 11.1 Million (NASS USDA)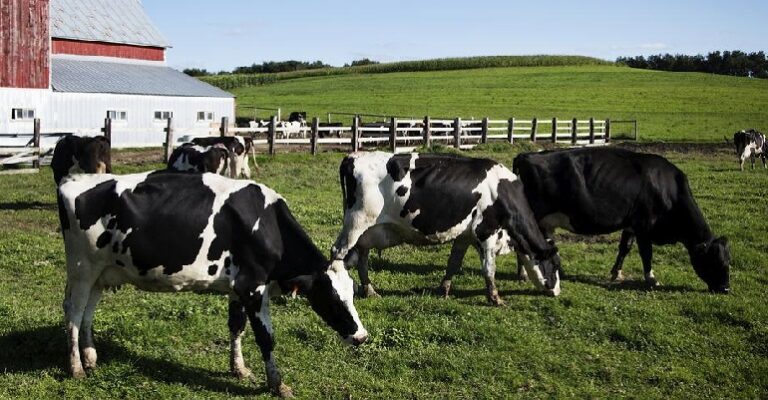 To make sense of the 11.1 million NASS USDA figure, one must understand what the phrase on feed means.
Cows undergo prep to raise their grade value by feeding them grain, silage, hay, and supplements and, therefore, fetch a better market price. They are then herded off, shipped to the auction, or sold online for slaughter.
On July 1, 2022, there were more than 11.3 heifers, steers, and calves in large capacity (1000+) feedlots, slightly increasing over 2021. The number of steers and steer calves was down over 2021 at 6.9 million head and 61% of inventory.
Heifers and heifer calves were up 3% over 2021 at 4.45 million head. Total June 2022 feedlot numbers were up 2%. However, total cattle and calf on feed inventory was down 2% as of September 2022.
Overall, it means feedlots processed more heifers (females) than steers.
Top US States With Highest Number of Cows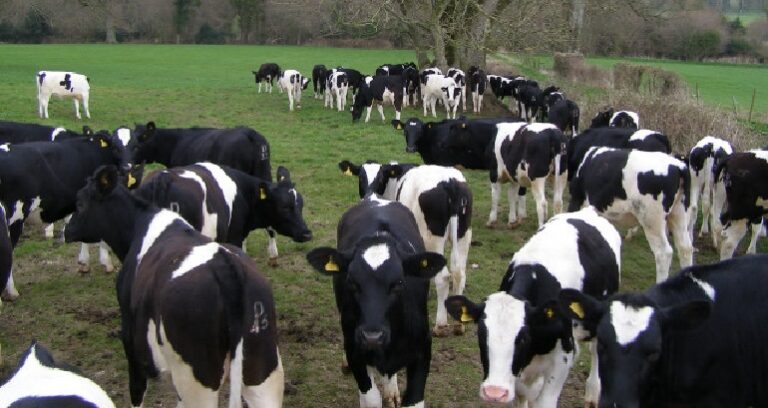 That is how the West won. Settlers arrived en masse and brought their worldly belongings in a wagon to forge the American dream.
Most used oxen and mules as horses were too expensive. By the 1850s, Texas had developed into a primary cattle industry.
Fun Fact: A recent genetic study found that cows stem from the domesticated wild ox bred alive some 10,500 years ago. It only took about 80 animals to grow into today's 1.5 billion.
Texas Has the Highest Number of Cows, With a Population of 12.5 to 13 Million (USDA, Texas Agriculture.gov)
The Lone Star State has a long ranching history. Perhaps it's become its legacy. According to USDA, the number of cattle in Texas is 12.5 Million, and as per the Texas government, the number of cattle is 13 million.
Texas has a strong cattle industry and an ideal landscape. The most iconic cattle in Texas is the Texas Longhorn.
Fun Fact: The Texas longhorn is not native to Texas. It is a hybrid of Spanish and English cattle imported during the great settlement era of the US during the 1820s and 1830s.
Nebraska Has a Total Number of 6.5 Million Cows (USDA)
Nebraska is synonymous with farming, raising 6.5 million cows and massive corn fields. Known as the Cornhuskers and Beef State, the beef economy impacts everyone in Nebraska.
Nebraska's vast open landscapes provide the perfect backdrop for its thriving cattle industry. With cattle outnumbering people, it's clear how integral the bovine business is to the state's identity.
The state's dedication to sustainable farming practices and innovative cattle-rearing techniques has solidified its reputation in the national beef market.
The Number of Cows in Kansas is 6.25 Million (USDA)
Kansas is famous for two things: cattle and the Wizard of Oz.
You're still in Kansas if you see cattle grazing in the field. Kansas ranks in the top 15 for milk production and 16th for dairy cows, all living (unhappily) on 260 dairy farms.
There Are 5.2 Million Cows in California (USDA)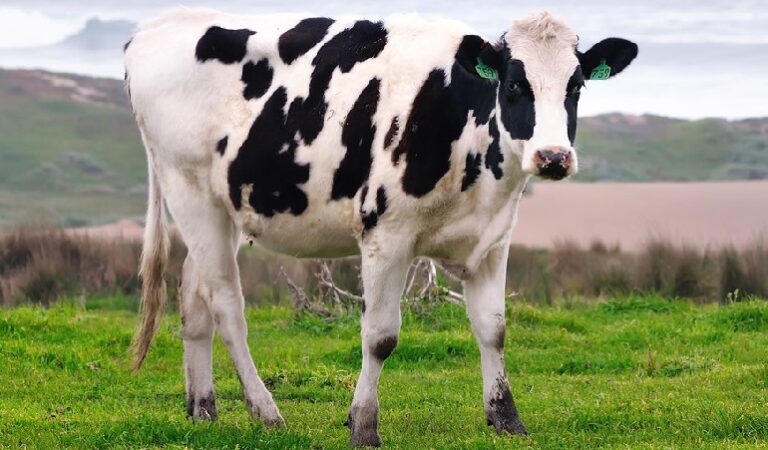 Many iconic celebrities live in California for the vibe and climate but so do 5.2 million cows. California is fifth in milk and dairy production, alongside Wisconsin, Idaho, Texas, and New York. Combined, these five states produce 50% of the milk supply.
Fun Fact: Dairy cows prefer dry, cool weather. (Not sure what cows specifically were consulted in this survey.)
The Number of Cows in Oklahoma Is 4.6 Million (USDA)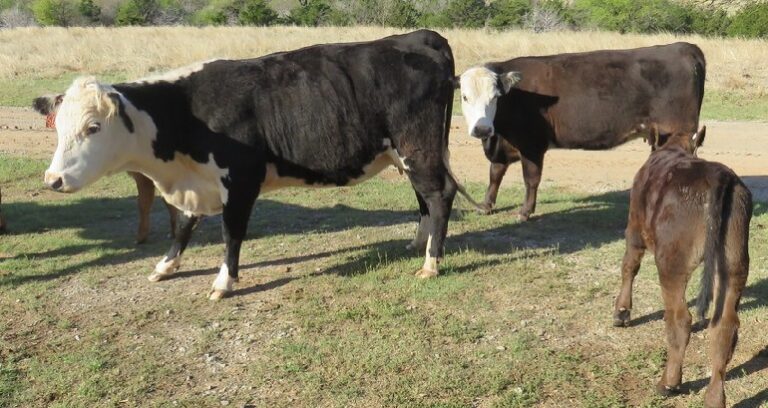 There are more cows than people in Oklahoma. Oklahoma ranks fifth in beef production, and the beef industry is the leading source of agricultural income.
Perhaps that is why Oklahoma is known for its influential Native culture and cowboy lifestyle–someone has to rustle up all them cows.
Top 5 States With the Highest Number of Beef Cows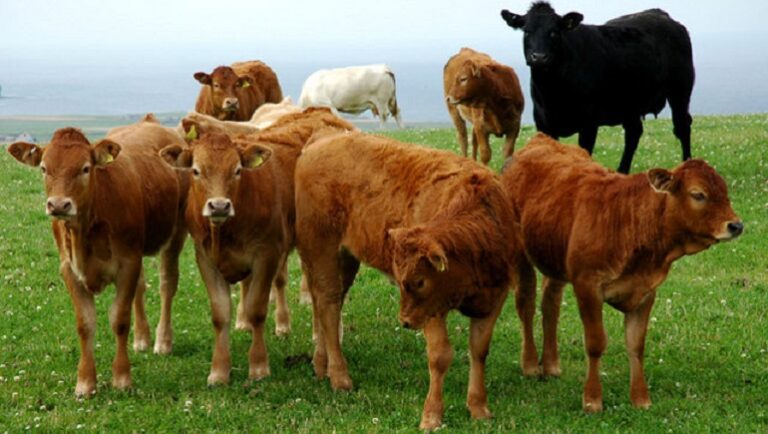 The industry keeps tabs on most dairy cattle and beef cow inventory, which might make it look like the numbers need to be corrected.
Texas Has the Highest Number of Beef Cows, With a Population of 4,300,000 (USDA)
Texan farmers produce $10.5 billion in cash receipts, making it a leader among giants. The total headcount for cattle in Texas is between 10.9 and 12 million head, including calves, cows, bulls, heifers, and steers. Beef cow totals hover around 4.3 million.
Oklahoma Comes Second With a Total Number of 1,981,000 Cows (USDA)
Cowboy country Oklahoma cashes in with $3.6 billion in total cattle production or 5.2% of the beef industry share.
The Number of Cows in Missouri Is 1,945,000 (USDA)
Cattle producers in the US are constantly jokey for production rankings, and according to 2014 statistics, Missouri had the second-highest beef cow inventory, and total cattle inventory rose by 4%.
The entire inventory ranks Missouri in 6th with 3.8 million head.
There Are 1,703,000 Cows in Nebraska (USDA)
Nebraska is no shrinking violet in the cattle industry and ranks second with 6.15 million cattle and a 1.797 million head count for cows. They're also third for corn production and gross over $10 billion for cattle sales.
The Number of Cows in South Dakota Is 1,533,000 (USDA)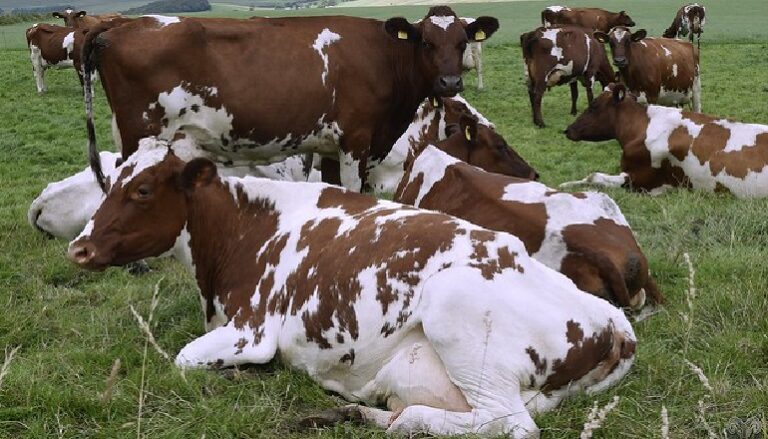 States continually change their cattle production numbers; drought can impact the total livestock count.
Recent figures suggest that South Dakota cattle inventory dropped by 5%, down from 1.635 million for beef, and all cattle as of 2014 were at 3.65 million head.
States in Which Cattle Outnumbers Human Population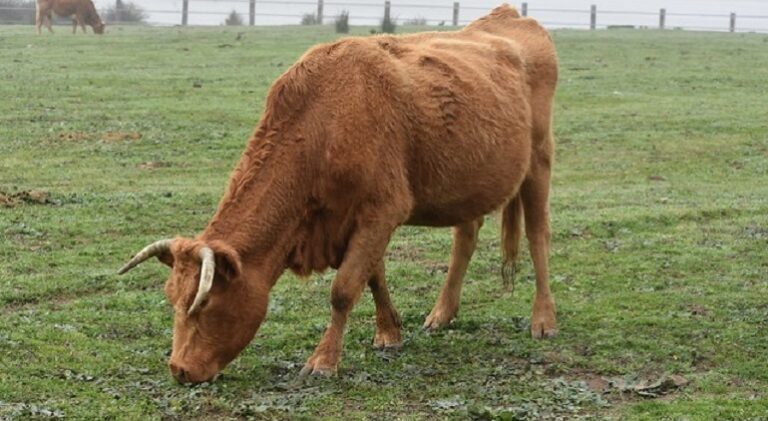 Below are statistics about states where the cattle industry surpasses the homo-sapien populations:
Cattle Outnumbers the Human Population With a Ratio of 4.32 in South Dakota (Beef2live)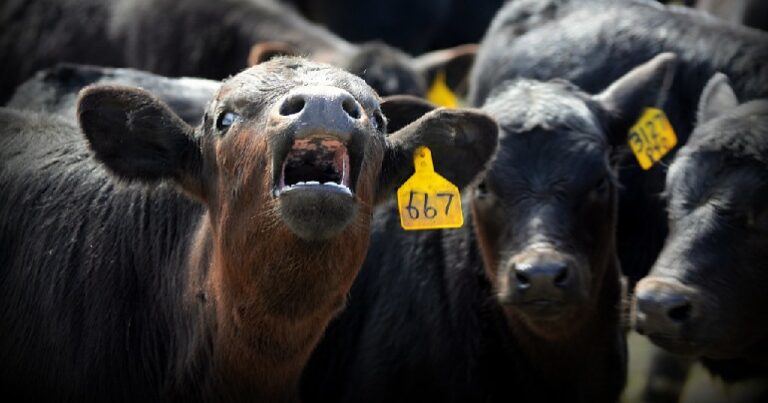 The population of cattle vs. humans is four to one in favor of moo cows! In South Dakota, there are 844,887 people vs. 3.7 million cattle. South Dakota is number five on the least densely populated state scale.
Fun Fact: A cow (not a bull) weighs about 1500 lbs (720 kg). The average weight of an American woman is 170 lbs (77 kg).
The Cattle to People Ratio in Nebraska Is 3.29 (Beef2live)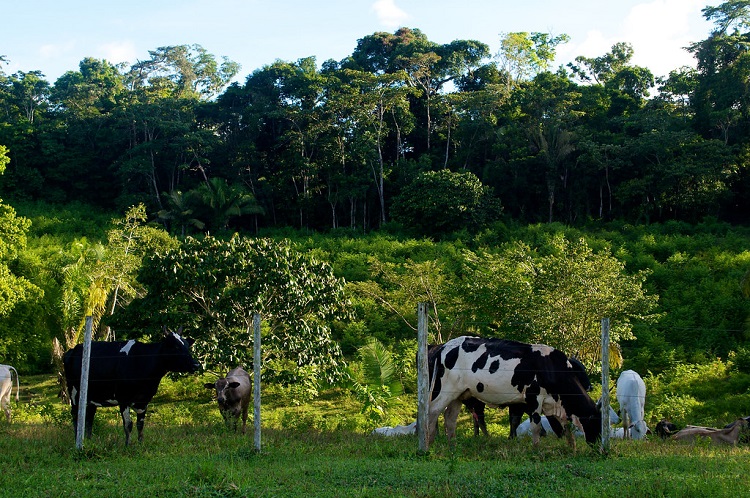 In Nebraska, you'll have to walk a few miles before you can say howdy to your neighbor. It ranks number eight in population density.
For every person, there are three cows and a baby calf (3.29) at 1,868,516 vs. 6.2 million cows. Too bad cows don't pay taxes.
In Montana, the Cattle to People Ratio Is 2.51 (Beef2live)
The overall people and cattle population is lower in Montana than in many states. Montana is the third least densely populated state after Alaska and Wyoming.
Fun Fact: This mountain state has over 300 peaks over 9600 ft tall, and its moniker is The Treasure State.
In North Dakota, Cattle to Human Ratio Is 2.45 (Beef2live)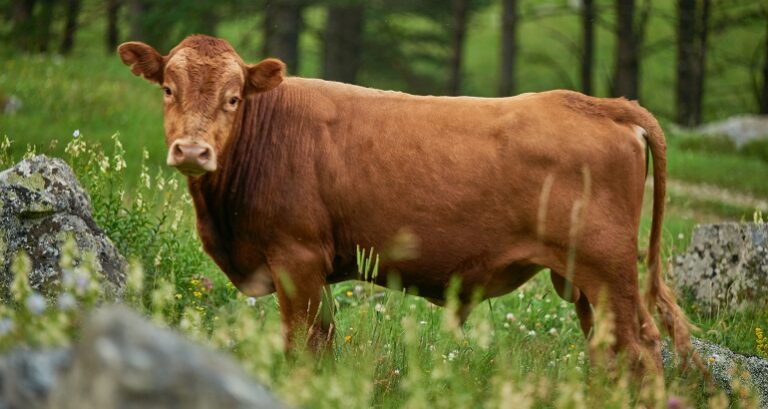 North Dakota is number four for population density. It has a thriving market and 1.8 million cattle lying on the prairies.
Fun Fact: This state is a mixed grass prairie with over 200 grass species. It's a vital ecosystem balanced between forests, wetlands, and grasslands.
Wyoming's Cattle Population Is Higher Than Humans, With a Ratio of 2.18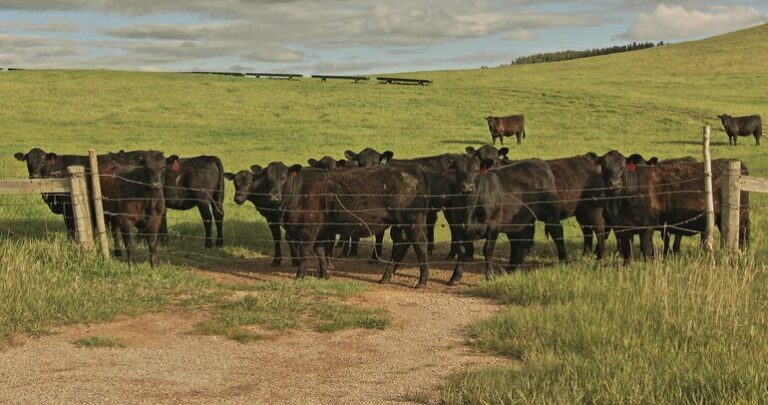 Wyoming doesn't just have a massive cattle population of 1.3 million. It has many beautiful state parks, including the iconic cowboy landscape of Yellowstone National Park.
The state has a long aboriginal history and the largest intact temperate-zone ecosystem, which is vital for the survival of many species.
Fun Fact: Despite the cowboy culture, Wyoming was the first to grant women the right to vote. HeeHaw!
The Cattle Population in Kansas Is Higher Than the Human Population by a Ratio of 2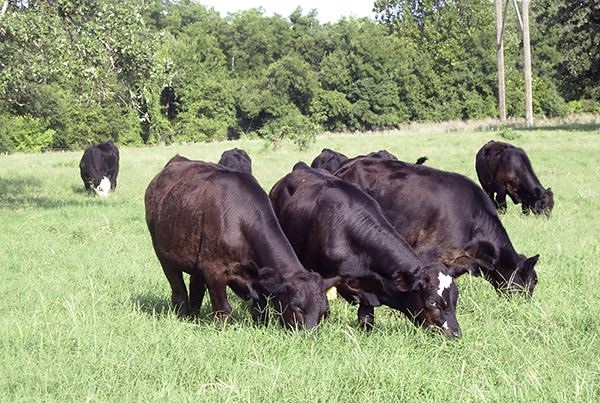 For every person, there are two cows–you pick bull, heifer, cow, or calf. Tough bulls might be harder to come by because cowboys value them for bull riding, which is the sport of cowboys.
Kansas also has important ecosystems that are shared with 90% farmland. There are 2.9 million peeps to 5.8 million cattle.
The Sunflower State is flat as a pancake, and there is a saying, "You can watch your dog run away for a week." Expect cattle grazing on the high plains and home on the range. Don't step on a rattlesnake–it's gonna hurt.
In Idaho, the Cattle to People Ratio Is 1.36
Idaho is famous for potatoes. The Gem State has a strong ranching community and produces nearly twice as many cattle at 2.2 million as humans at 1.6 million.
Idaho is a mix of forests and deserts within the grassland areas. The Panhandle forests are essential ecosystems for woodland caribou, grizzlies, bald eagles, salamanders, and hummingbirds.
The Cattle to People Ratio in Iowa Is 1.20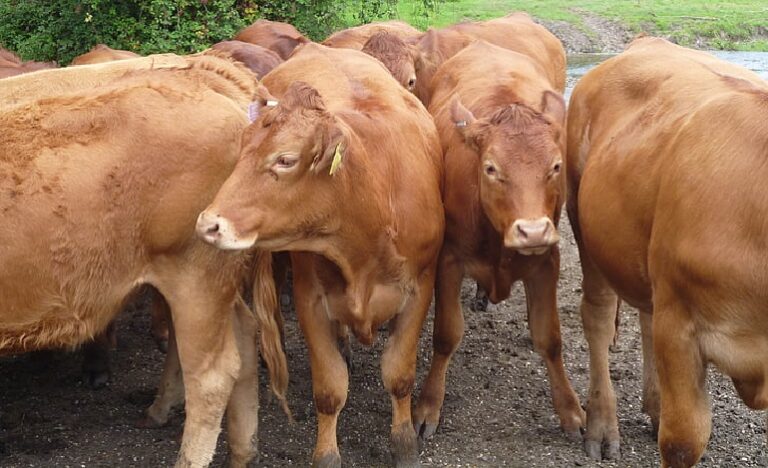 Iowa has an almost balanced ratio of 3.1 million people vs. 3.7 million cattle. That low ratio is perhaps affected by Iowa juggling the leading pork industry in the US.
Fun Fact: They sure like to grow their corn in Iowa. GMO corn–that is. According to the US Department of Agriculture, 95% of Iowa corn is modified (93% nationally).
The Cattle to People Ratio in Oklahoma Is 1.12
Oklahoma balances its cattle economy of 4.3 million with the energy sector–both produce gas.
This state is home to 3.85 million cowboy culture residents and has a significant Native American history.
Oklahoma isn't a one-trick pony when it comes to geography. It has a wide open prairie and forest and sits mid-continent anchored to the foothills range of the glorious Rocky Mountains–all home to essential ecosystems and animals.
Interesting Facts About Cows in the US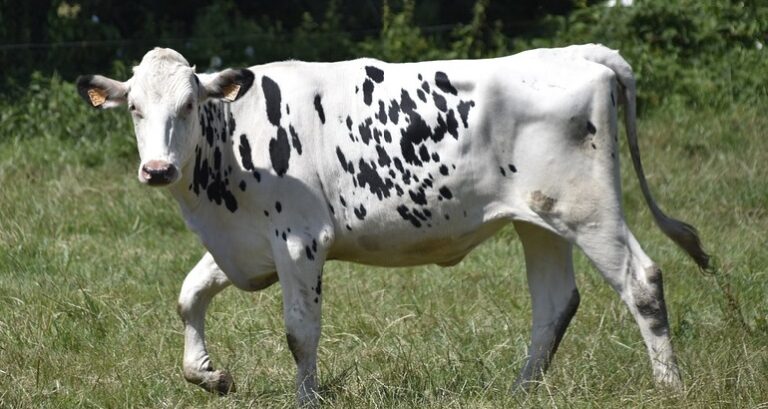 America is the fourth largest cattle producer, with a 9.35% share of the cow pie at 1 billion.
There is Almost 1 Cow for Every 3.5 People in the US (US News)
America is a big country with over 332 million people and almost 90 million heads of cattle.
One of the reasons cattle numbers fluctuate, aside from environmental impacts like drought or financials like profitability, is that the USDA only does a head count every five years. They poll cattle farmers who must legally report the number on their farms.
There are approximately 913,250 farms with cattle. Based on the numbers collected, people outnumber cattle at a 3.5 ratio.
The Number of Black Angus Cows in the US Is 330,761 (Angus.org)
Farmers are always looking to develop the best of their breed, and Black Angus became a favorite in the 1800s because of their hardiness. These cattle are also favored for their beef value.
Also known as Aberdeen Angus, they are an import from Scotland.
The Most Advertised Milk Producing Cow Is Holstein Friesian (Science Direct)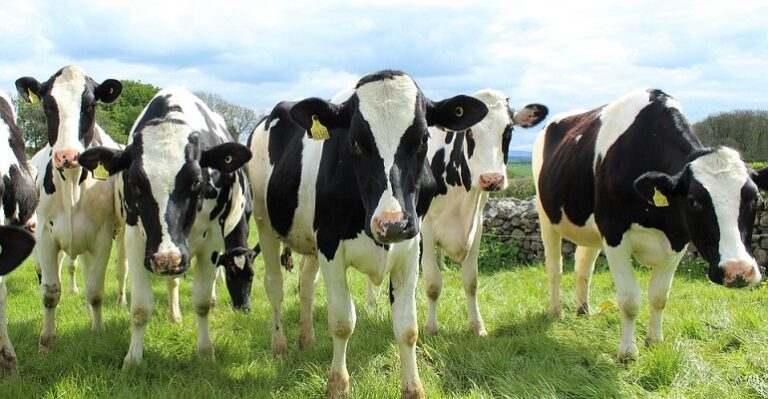 A Holstein is a European import sought after for its high-volume milk production.
Holsteins are large bovines from the Netherlands that had most of their red and white coloring bred out of their genetic pool, though it still makes an appearance. The preferred black and white cow is what sells the image.
Fun Fact: The record for these milking machines is 27,000kg (60,000 lbs) in 305 days.
Stat Shows the Most Adaptable Cow Breed in the US Is Hereford (Scawfell Genetics)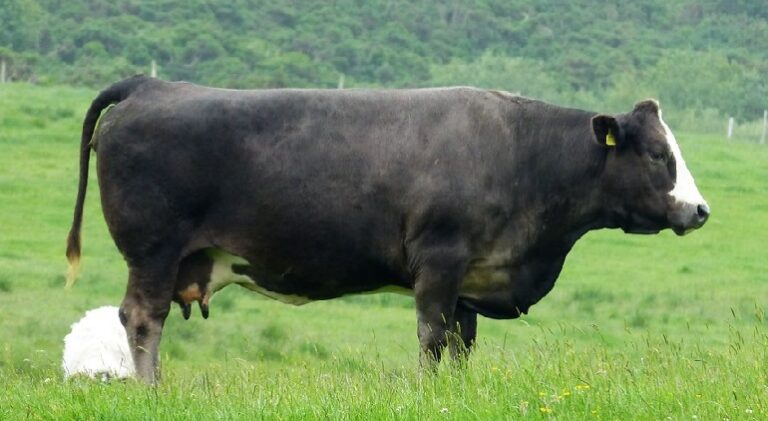 Farmers like to show off their best farm animals at local and state fairs to win the prestigious blue ribbon.
Herefords are British imports with a hearty, docile, and long-living disposition. Farmers like them for their ability to breed longer than most cows. They also maintain weight on grazing.
Herefords have predominately white heads and super cute curly hair.
Since the 19th Century, Farmers Employ Simmental Breed in the US (Science Direct)
Simmental is mountain breed cattle from Central and Eastern Europe and improved in Switzerland in the latter half of the 1900s. This breeding improved the animals' purpose, including milk, beef, and draught value.
Simmentals have well-developed shoulders and hindquarters. Aside from good milk production, Simmental breeds also deliver on meat per pound value.
Overall, Texas Accounts for Around 14% of the Cattle Population in the US (Beef2live)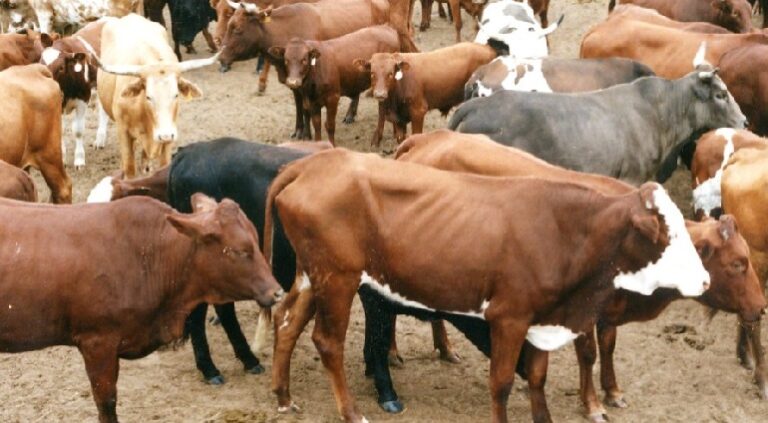 According to 2023 figures released by USDA, Texas had a dominating cattle market with 12.5 million head and nearly twice as many cows as the next biggest beef-producing state, Nebraska.
In South Dakota, the Cattle Population Outweighs Humans by a Ratio of More Than 4 (Beef2live)
As we mentioned earlier, Americans weigh, on average, 170 lbs for females and 197 lbs for males. In South Dakota, cattle still outnumber people, at four to one.
FAQ's
How Many Cows Are on Earth?
The best estimate for the total number of cows is over 1 billion.
Which Country Has the Most Cows?
India has the most significant cattle inventory. However, cows are considered sacred. China, Brazil, the European Union, and the US are in the top five.
Which US State Has the Least Number of Cows?
Rhode Island only has 5,000 cows and, therefore, the smallest number.
Which US State Has the Highest Maximum Number of Cows Slaughtered?
It's not Texas. Nebraska kills the most cattle, while Texas might have the largest population. Iowa kills more pigs, Georiga has it in for chickens, and they gobble up turkey in Minnesota.
You can also learn about how many people are killed by cows annually.
Wrap Up
Cows are intelligent animals that form strong relationships. At WAF, we want to share all the statistics on cow populations and how these animals impact the economy and cultures.
America has strong roots in ranching, although it might have become more urbanized since the early settlers arrived and conquered the West.
Cows are a relatively new domestic animal. Recently, cows have become a target as methane producers that affect global warming. That isn't so. People are methane producers.
Cattle and calves endure horrific cruelty, and we must fight against the reality of factory-farmed animals.