Just because you live in a small apartment or have limited space to work with doesn't mean that you and your cat can't be totally comfortable in your area. There are many cat litter boxes custom designed for this very situation.
Some are simple corner litter pan designs. But there are others that are really unique and innovative. Who would think at first sight that the nice planter by the window actually serves as a litter box?! Some have a sleek, modern aesthetic that looks like a regular piece of furniture.
Working with limited space can be challenging, but luckily, one cat owner has so many options for cat boxes. So whether your cat prefers the confines of closed or top-entry litter boxes or the open feeling of an uncovered design, you won't have to hunt too long to find the perfect fit.
Best Overall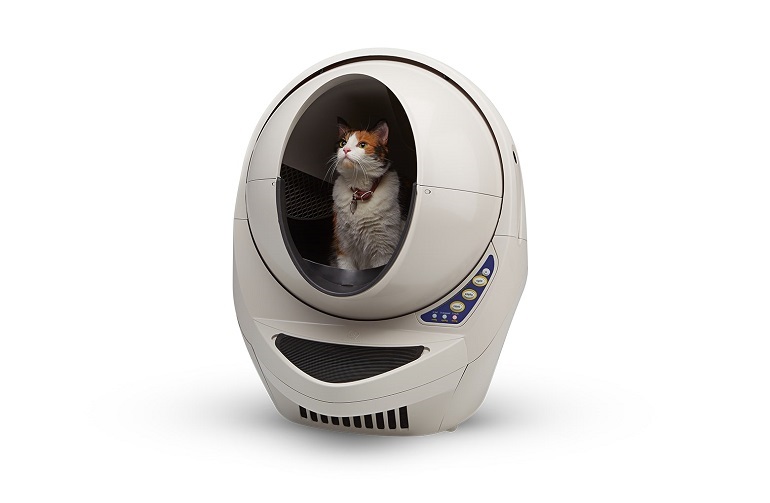 Litter Robot 3
Size: Large
Item Weight: 10 KiloGram
Sleek Enclosed Layout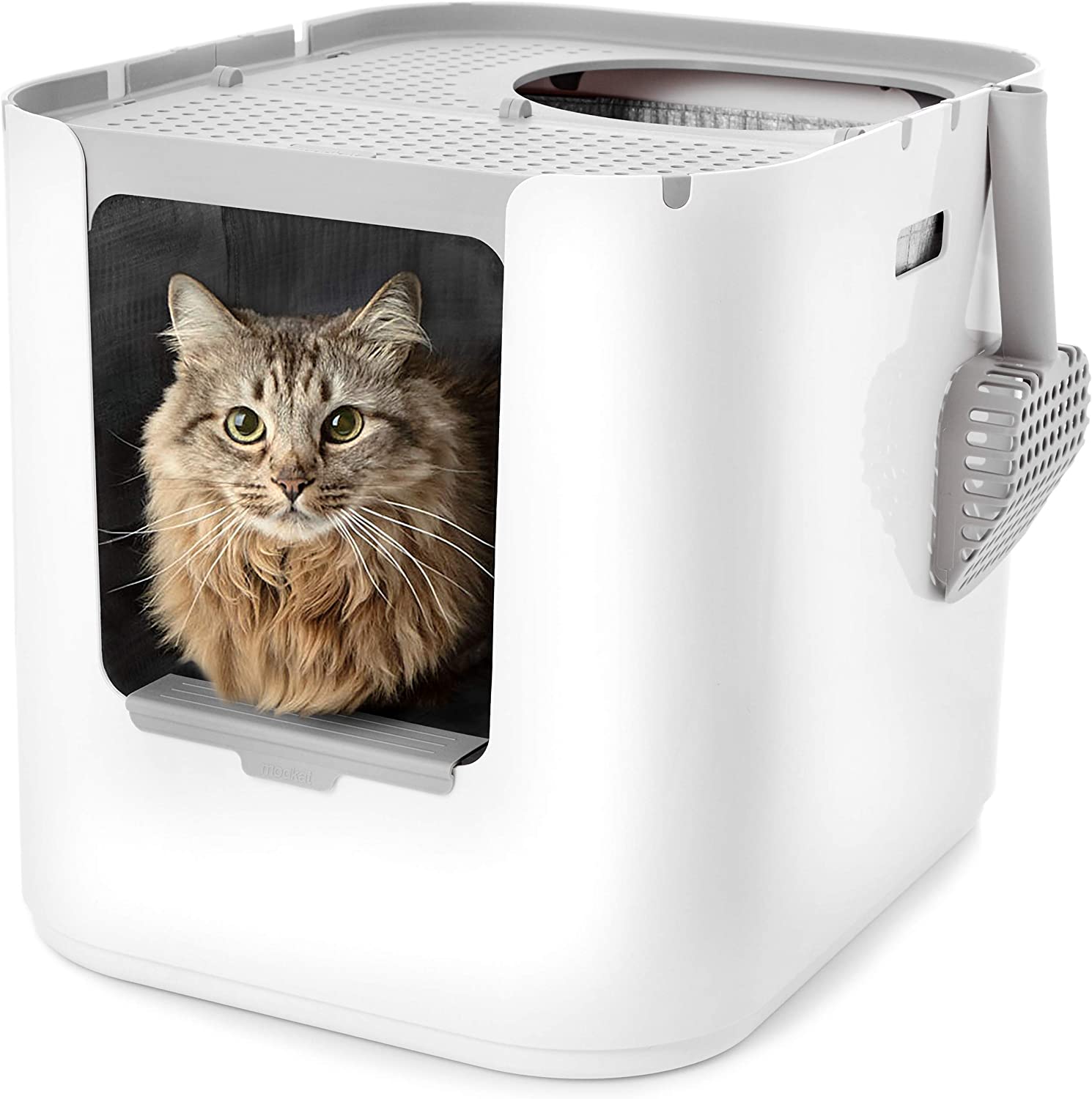 ModKat XL Litter Box
SIZE: X-LARGE
ITEM WEIGHT: 4.3KILOGRAMS
Ergonomic Design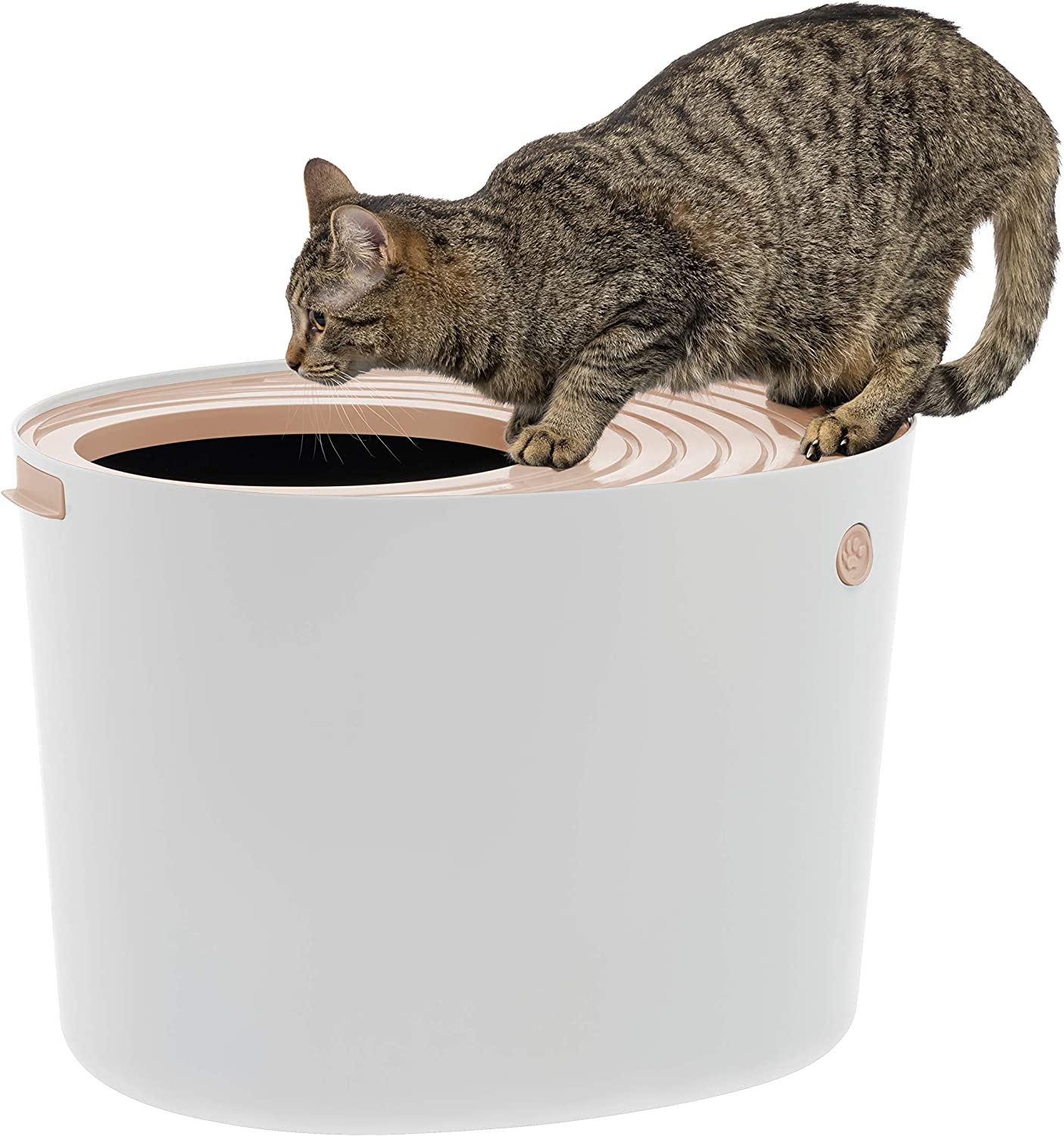 IRIS Top Entry Cat Litter Box
SIZE: LARGE
ITEM WEIGHT: 2.06KILOGRAMS
Simple and Sleek Design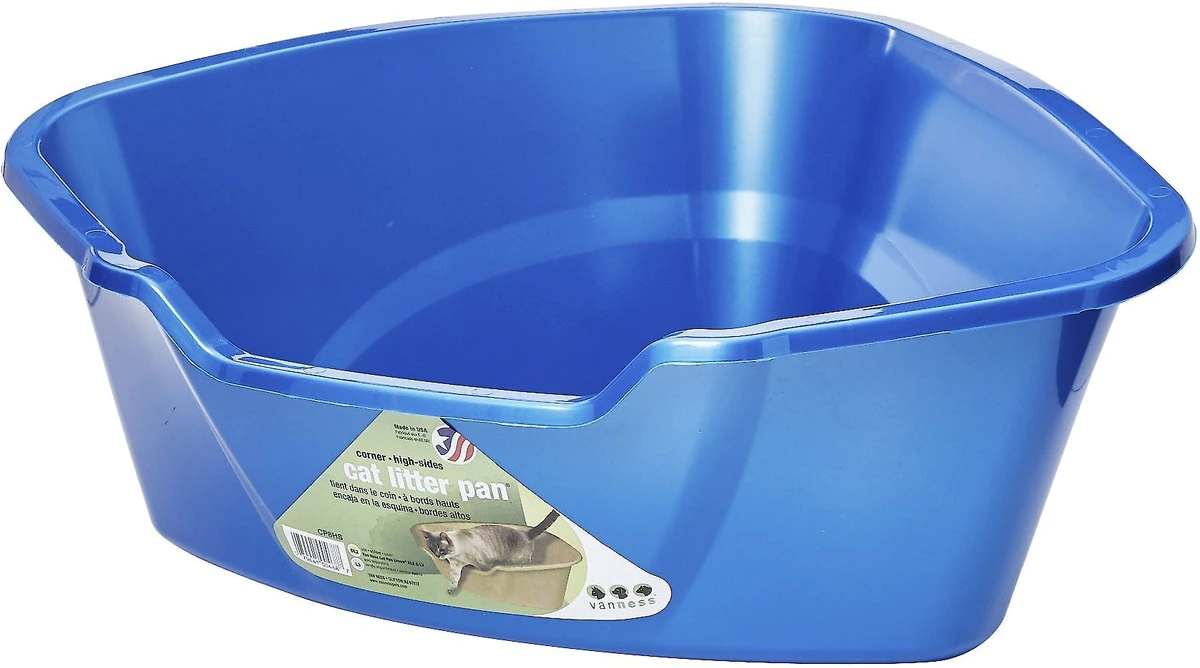 Van Ness High Side Corner Cat Litter Pan
SIZE: LARGE corner
ITEM WEIGHT: 0.45KILOGRAMS
Aesthetically Pleasing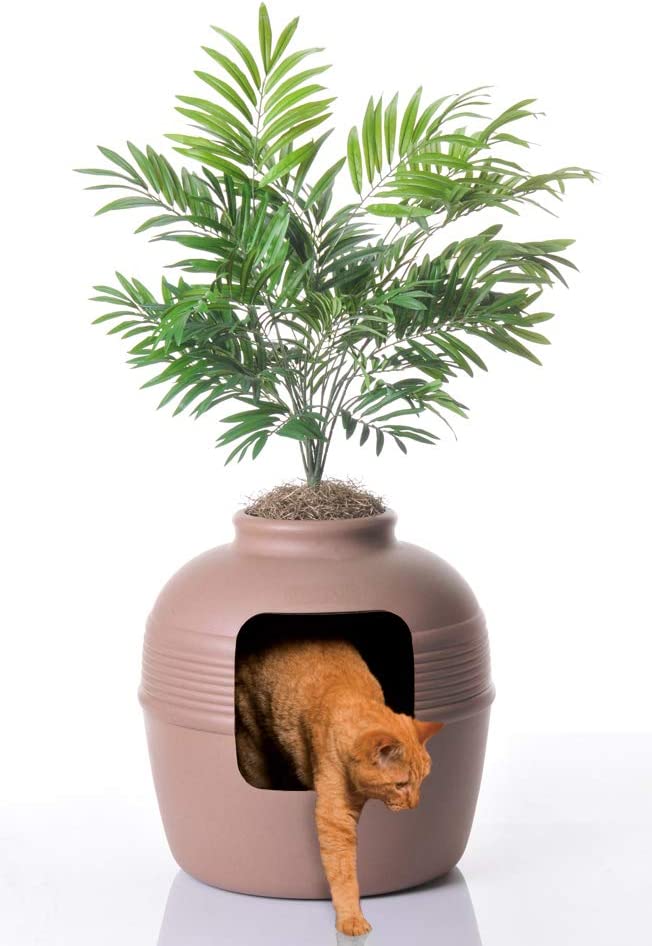 Good Pet Stuff Plant Hidden Litter Box
SIZE: LARGE corner
ITEM WEIGHT: 0.45KILOGRAMS
Most Versatile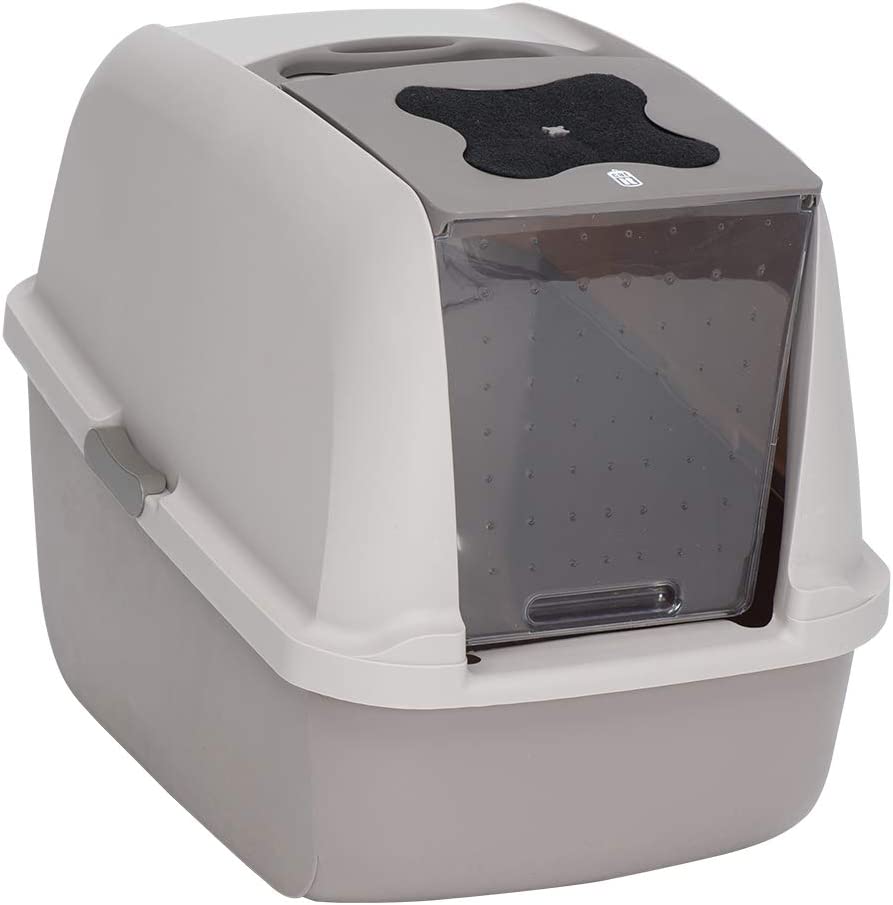 Catit Hooded Litter Pan
SIZE: LARGE
ITEM WEIGHT: 2.721KILOGRAMS
Easy-to-Use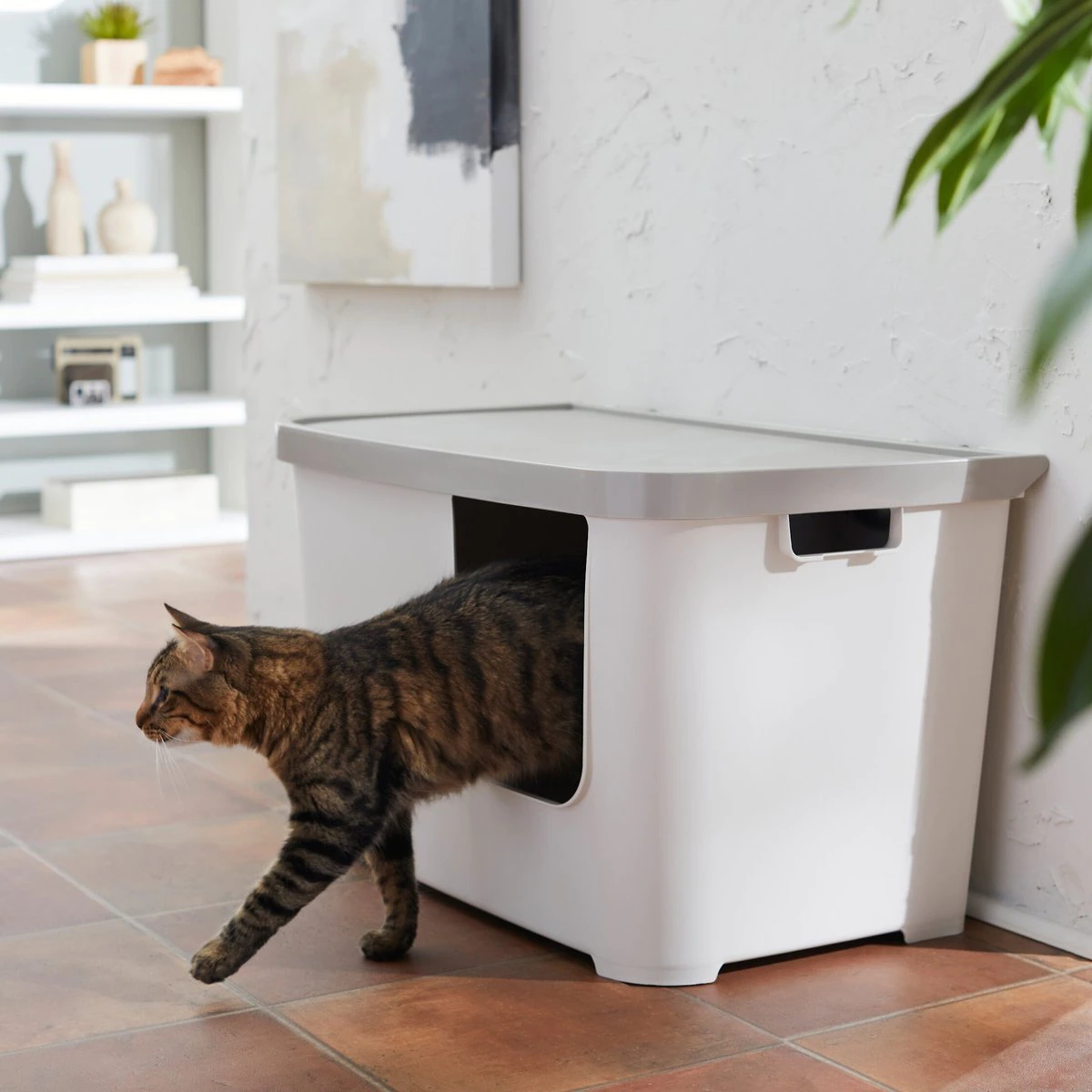 Frisco Multi-Function Covered Litter Box
SIZE: LARGE
ITEM WEIGHT: 3.75KILOGRAMS
Best Litter Boxes for Small Apartments in 2023
Here are the top picks for cat litter boxes allowing a hassle-free fit in your confined space.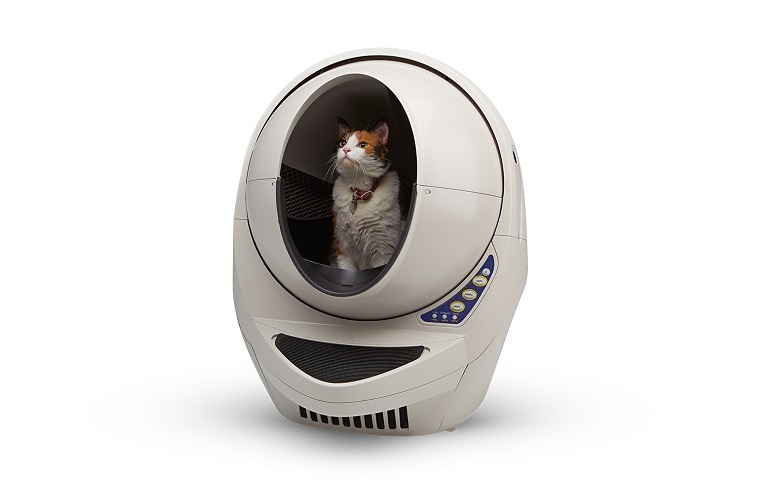 Despite the introduction of the more recent Litter-Robot 4, cat owners, especially the ones living in tiny apartments, still prefer the Litter-Robot 3. Ease of use and a more reasonable price compared to the newer version are the main factors contributing to its popularity.
The Litter-Robot 3 sorts through litter and, after automatically separating clean litter from unclean clumps and waste, discards it in a carbon-filtered waste drawer. The waste drawer is essential since it contains smells, keeping your house from smelling like cat poop.
Another great thing is that the indicator on the waste drawer lets you know when it is full and is time to replace the bag with a new one, so you don't need to check it manually. The standard model doesn't connect to the app, but if your pocket allows, you can get a wifi version at a higher price.
Your cat will always have a clean bed with Litter Robot, further preventing lingering odors. Although it is suitable for almost all clumping litter, using an odor-controlling litter may prove more efficient.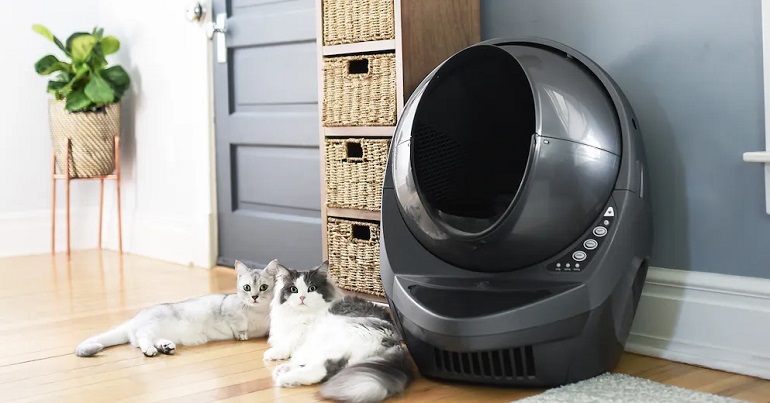 Pros
Carbon-filtered drawer to prevent odors
Easy to use and doesn't require frequent emptying
Less noise
Ledge prevents litter scatter
Great customer service
Cons
It is pricey
You need a Wi-Fi model to connect to the app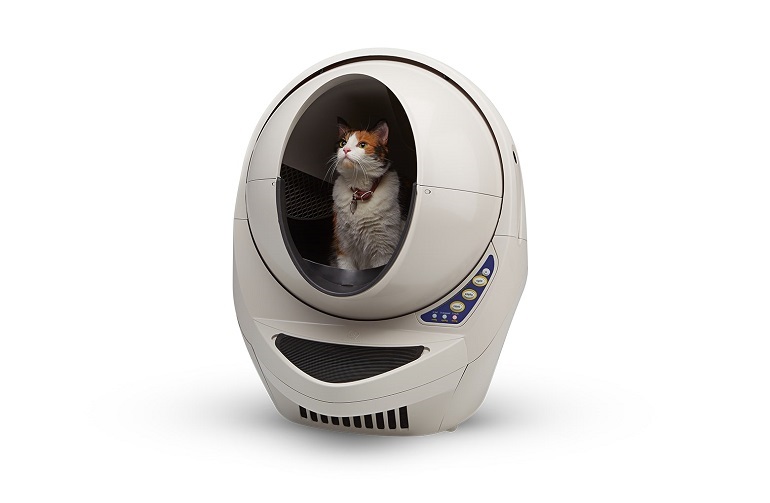 Litter Robot 3
The price of "Litter Robot 3" varies, so check the latest price at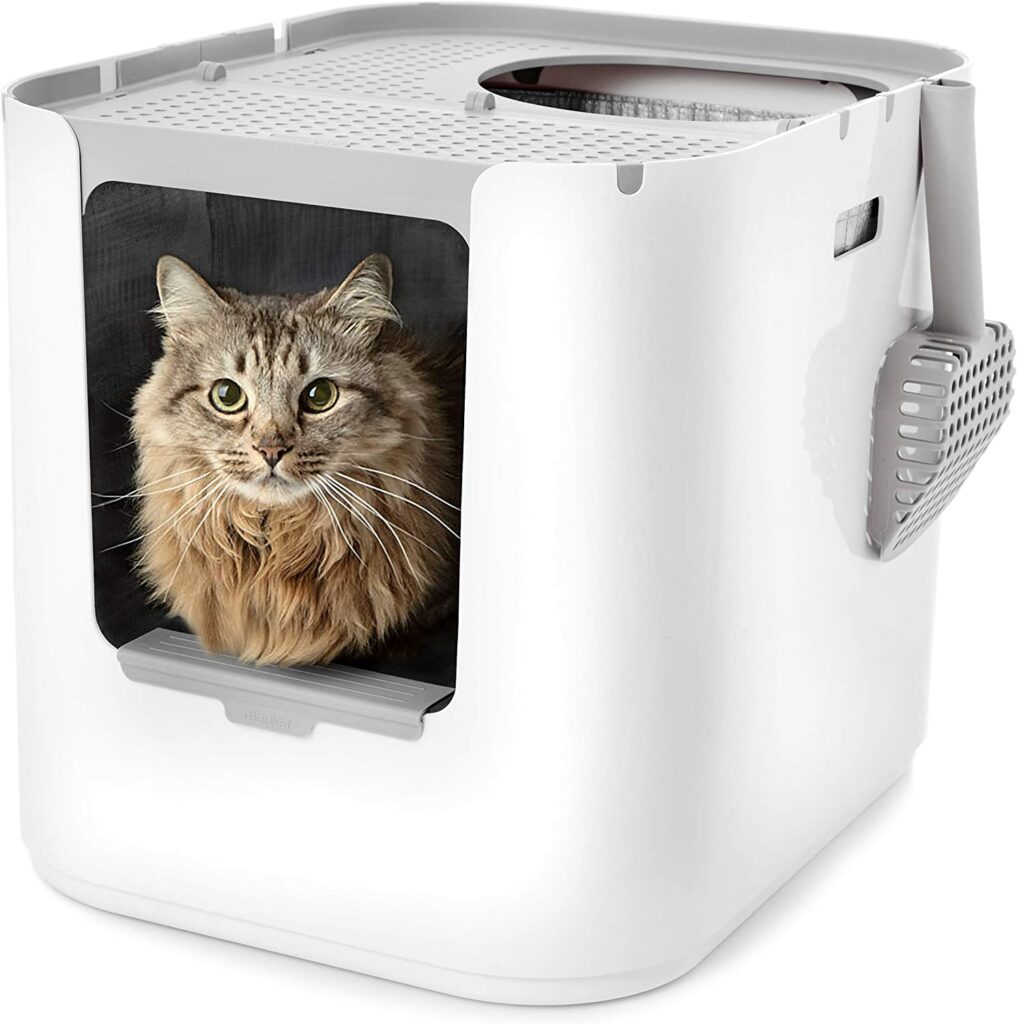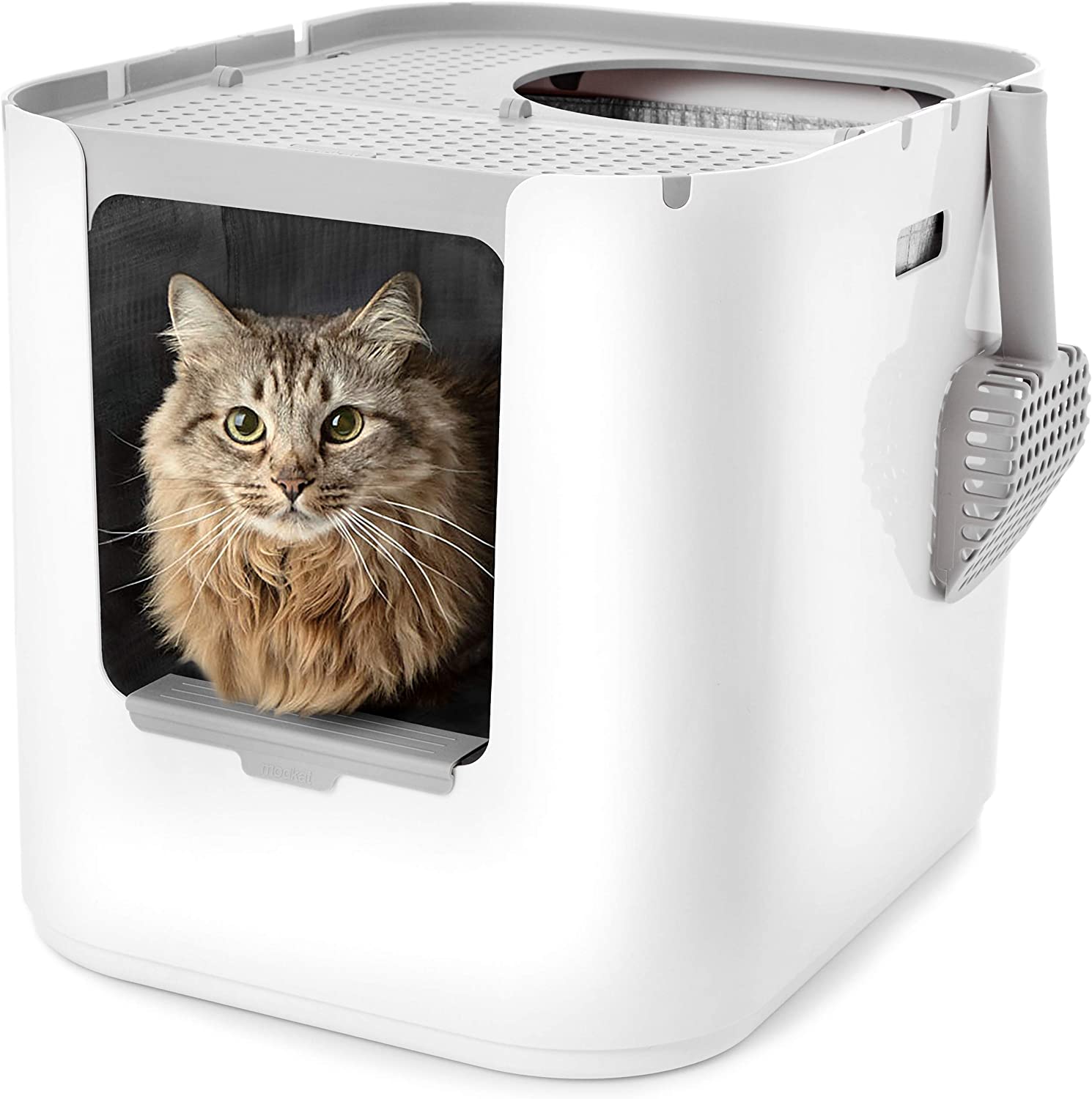 The XL from ModKat is a sleek, square litter box design for which you'll have no trouble finding a place if you have limited space. It's perfect for a smaller apartment, with an enclosed design that helps to contain odors and keep stains out of sight.
Cats can be picky about how they enter the litter box, as they treat the process like a ritual. This best cat litter box offers a front and top entry point, making it a great choice for large cats and multiple cats while avoiding the extra cost and space of using more than one litter box.
What's more? Both entries can be closed, preventing your cat from using one or the other if you'd like. And if your cat uses the top to enter the litter box, the versatile, patented design helps to eliminate litter tracking.
The top is a type of walk-off litter mat that removes excess litter buildup on your cat's feet. If you only have the front entrance open, it's still useful, but your cat might not think to get on the top or even use it if they don't have to.
It's easy to clean too. The lid works on a swivel mechanism that lets you simply move it aside to remove the soiled litter or add new litter. It also uses the ModKat durable, reusable liners.
These liners are resistant to tearing from your cat's claws and are easy to clean. This makes getting the most out of their lifespan almost effortless.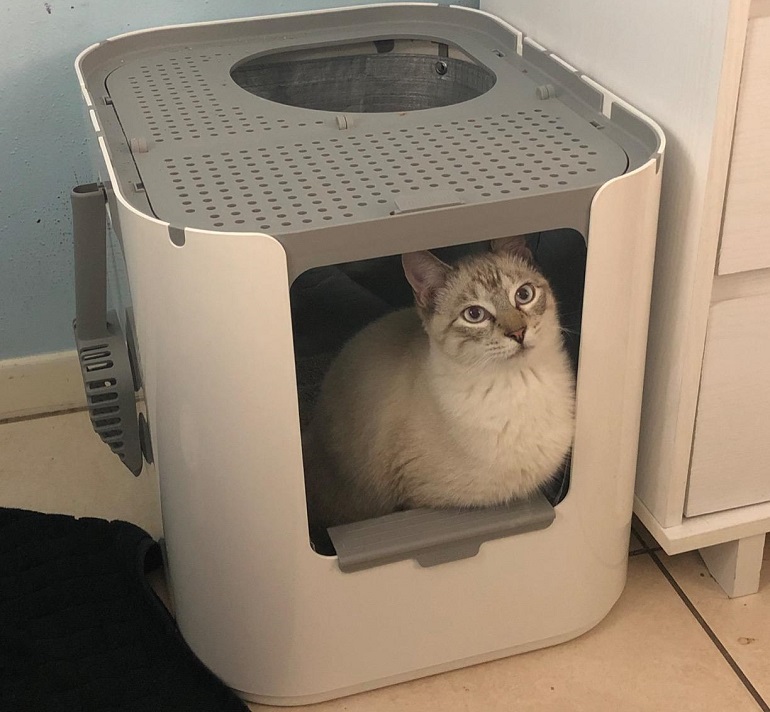 An upright, square design provides space-saving convenience and is a great corner shape that's easy to fit in tight areas. In addition, the enclosure helps to keep the litter area clean, and the vertical dimensions are a great fit for a smaller space.
The XL Litter Box is a full-featured model that comes with everything you need. It's designed to contain leaks and reduce litter scatter, the lid swivels to aid in easy cleaning and scooping there's a place to hang the litter scoop, so you don't misplace it, and the reusable tarp liner is well-made and can handle any scratch your cat throws at it.
It's great for small apartments and is one of the best corner boxes available. It's one of the best cat litter boxes for any age and size; even multiple cats can use it. And with the dual entry points, your cat(s) won't hesitate to use the litter box again.
Pros
A great litter box for small apartments and smaller spaces
Upright, enclosed litter box design prevents litter scatter
Swivel lid mechanism for easy cleaning
Cons
One of the more expensive cat litter box options
Even with dual entry points, some cats don't like an enclosed litter box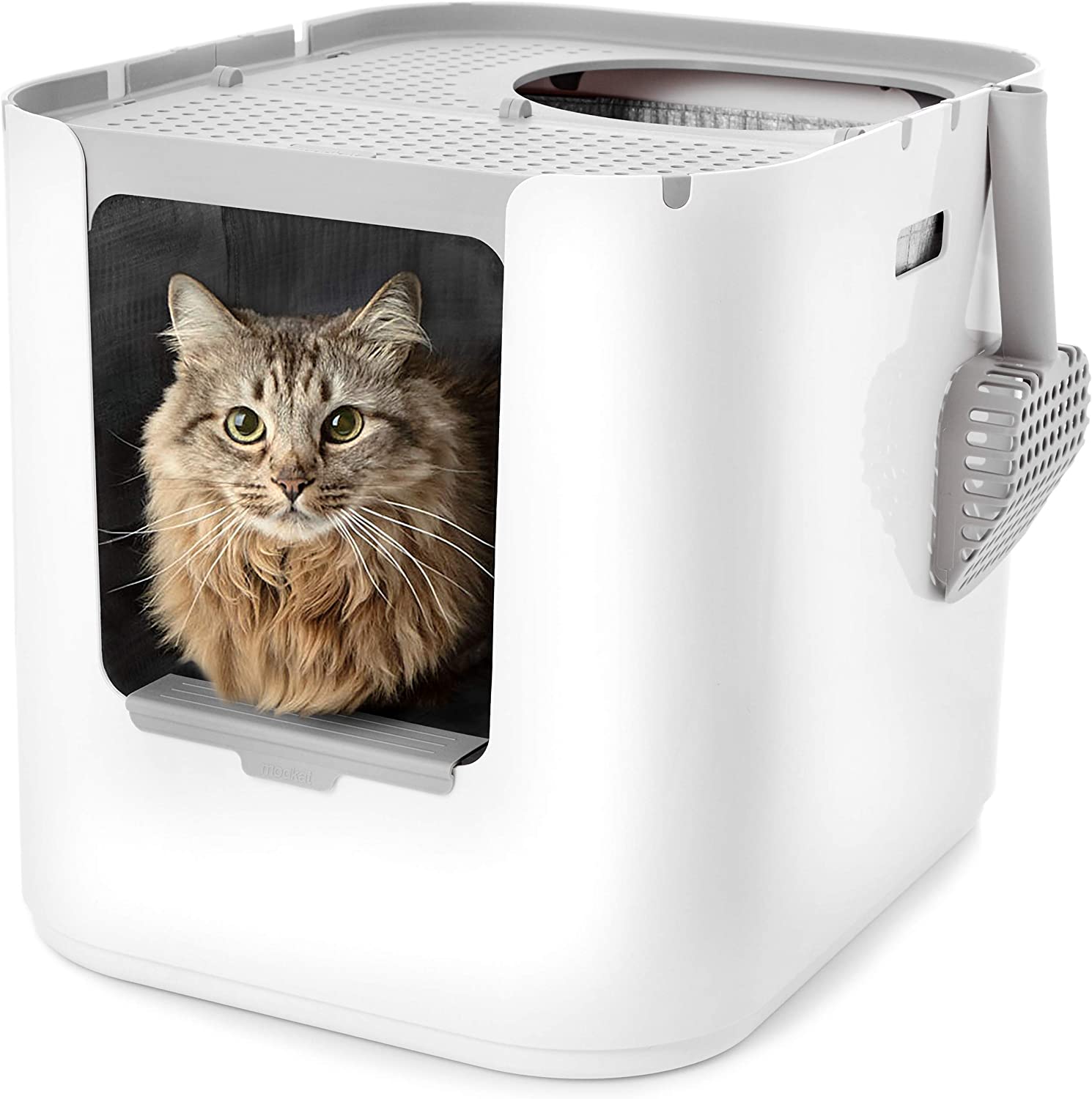 ModKat XL Litter Box
The Price of "ModKat XL Litter Box" varies, so check the latest price at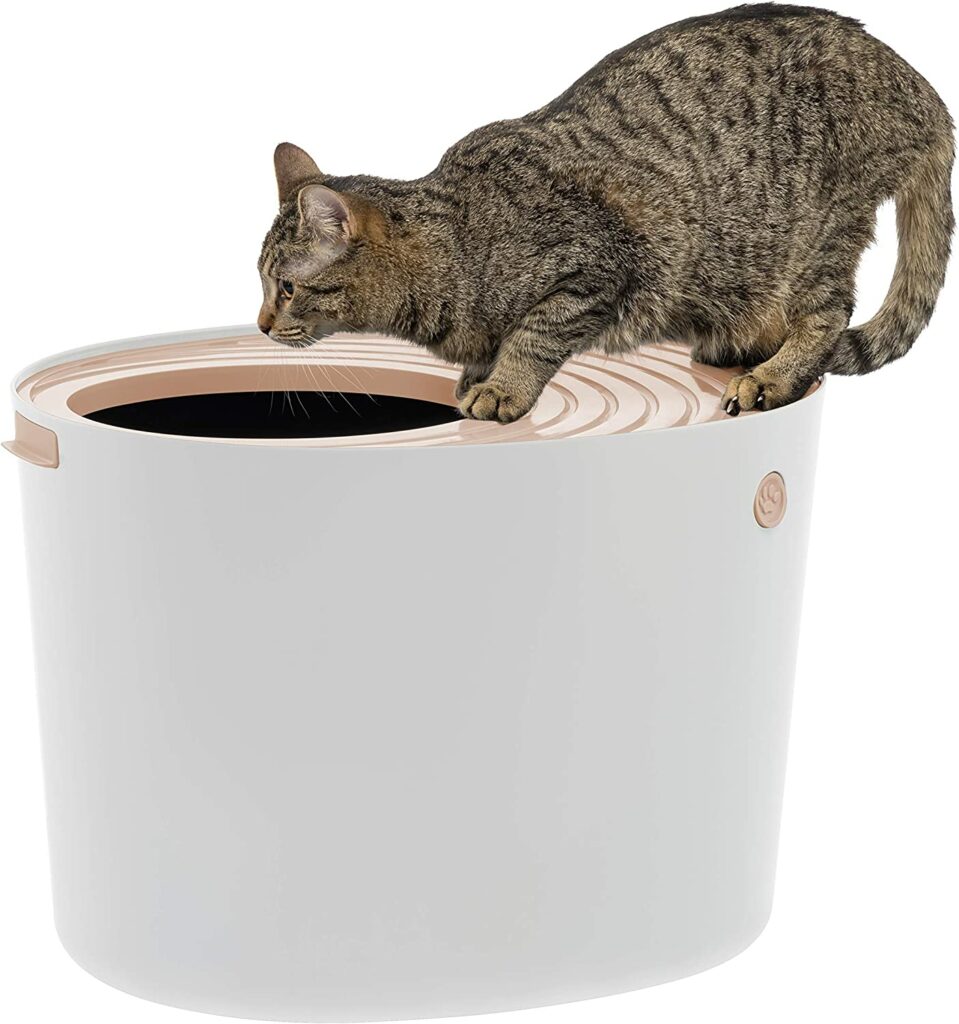 Another top-entry option comes from IRIS. Its small format makes it one of the best boxes for small spaces, and the enclosed design almost eliminates litter scatter. So if you're looking for a small litter box, don't miss this one.
One of the features that makes it a contender for one of the best cat litter boxes for small spaces is the lid. It provides holes to help remove litter dust accumulation from your cats' paws to avert litter scatter from invading your space.
Another great aspect of this model is the compact, ergonomic, top-entry design. This makes it great for cats that like privacy when using the litter box or for cats that tend to make a mess and create litter scatter as they use it.
At 20.5″ x 14.74″ x 14.38″ dimensions, it's fairly roomy. But it might be a tight squeeze for large or overweight cats. And it weighs just 2.78 pounds when it's empty, adding to the ease of cleaning or moving it around the house.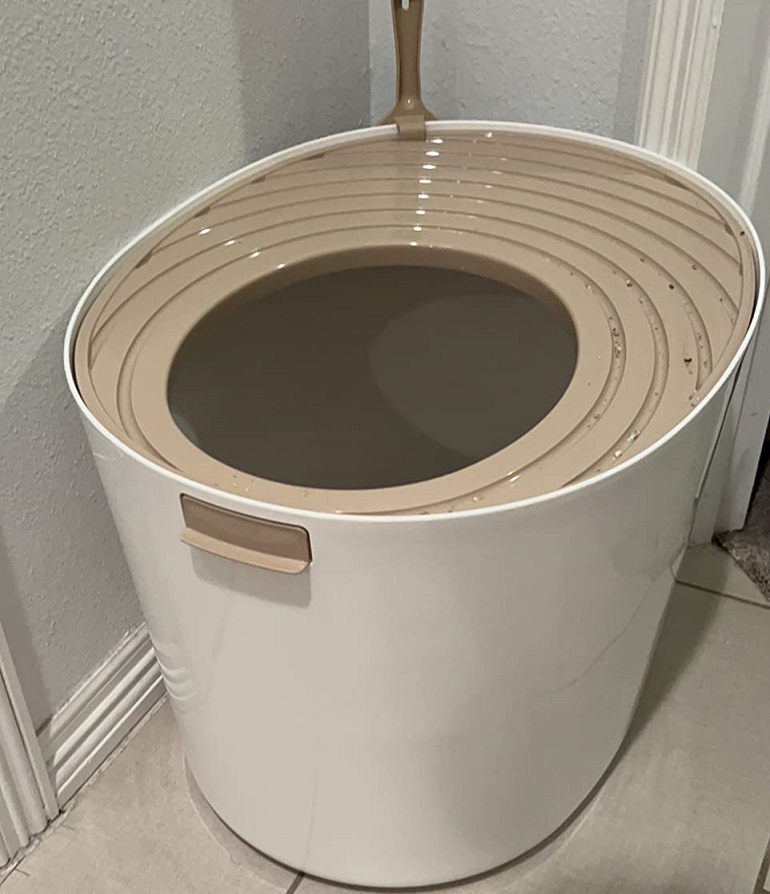 The included scoop attaches to the litter box, so there's no risk of losing it and having to hunt for it. This easy access reduces cleaning time and makes the whole process quick and efficient.
There are a lot of reasons for this box being a top choice that provides great value for small apartments or a small house. A top entry box is a fantastic way to prevent a mess while keeping odor control in check.
The perforated top functions as a built-in mat to keep the paws of your cat clean and litter free, and the rubber feet help prevent the litter box enclosure from moving. All these things work together, making it a solid contender for the best litter box for small spaces.
Pros
Minimized, ergonomic design is great for small apartments
Enclosed design, top entry box helps to contain odors and keeps things out of sight
A large opening can accommodate cats of various sizes
The grooved lid works as a mat to reduce litter collection on your cat's feet
Affordable and high-quality plastic design makes it a terrific option for every cat owner
Cons
Not the best choice for larger cats or cats that don't like to use the litter box in a confined space
Some cats don't like a top-entry litter box enclosure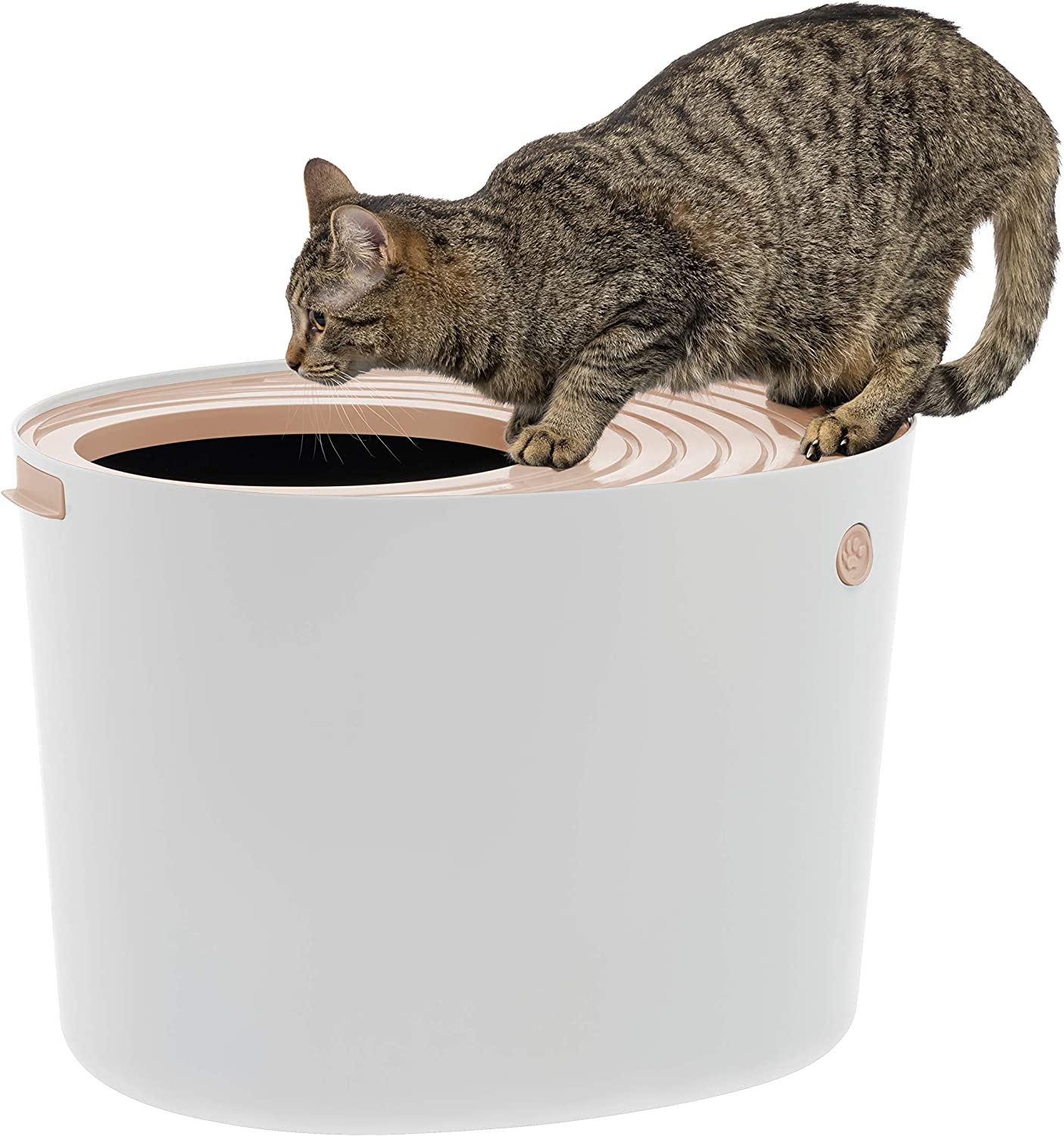 IRIS Top Entry Cat Litter Box
The Price of "IRIS Top Entry Cat Litter Box" varies, so check the latest price at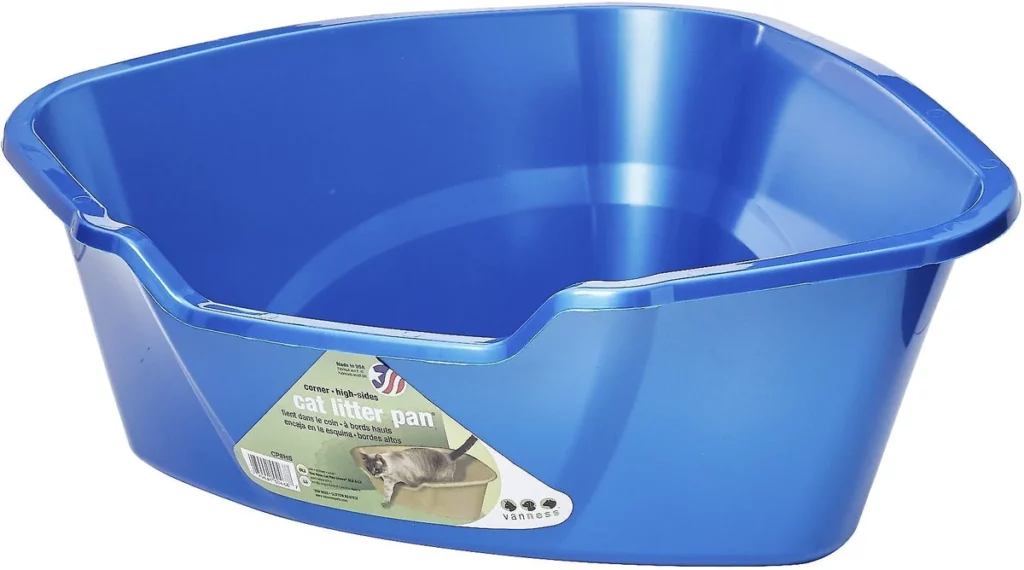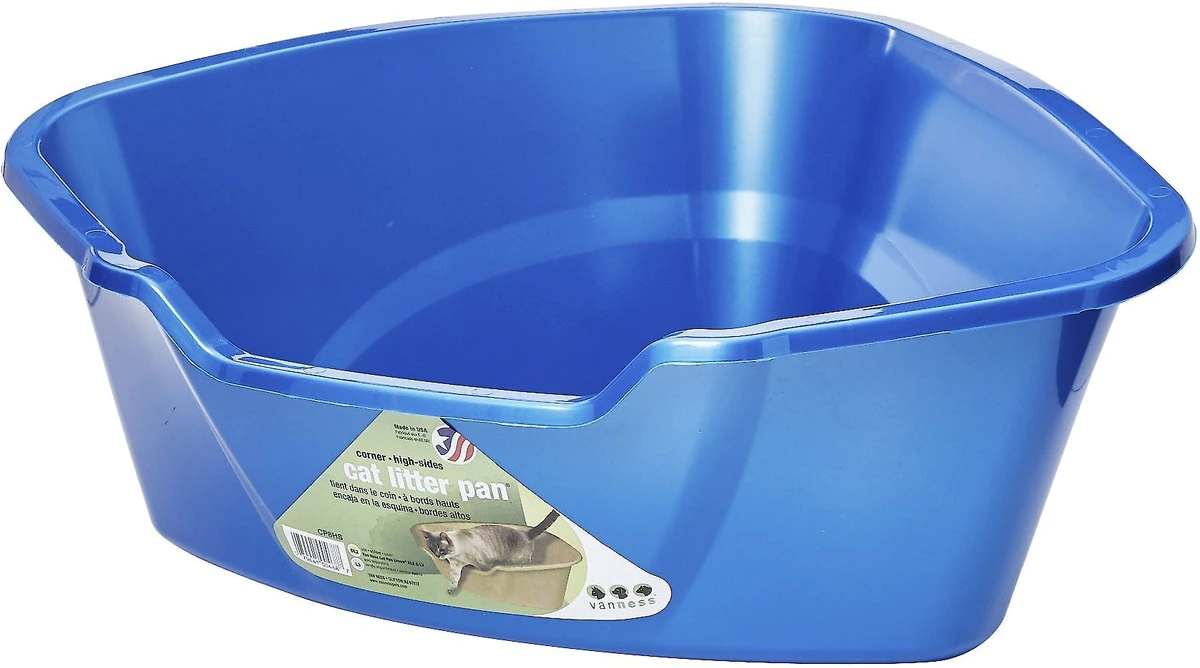 Van Ness offers a variety of products for the modern pet owner. Their corner cat litter pan doesn't offer any fancy features, but it's sleek, affordable, and a great open litter box option for small spaces.
The triangular shape is a great space saver that fits well into any corner. In addition, it's a high-sided litter box that helps to prevent additional mess for pet owners.
It's constructed of an FDA-approved plastic resin. The polished finish and non-stick coating help fight stains and provide odor control, so clean-up is easy-breezy. The litter box area is a good size, too, making it comfortable for almost all sizes of cats.
The litter box does have high sides, but there is a somewhat recessed entrance lip. Though it is rated for adult cats, which means kittens and smaller cats will feel right at home using it.
Van Ness offers several unique litter box designs for the cat parent and cats with specific needs. The open design gives it an advantage over a covered litter box by giving your cat a sense of space.
The plastic is easy to clean and fights odor. But perhaps the angular corner design is its biggest selling point. This allows the litter box to fight neatly and easily into even the smallest space. Not all cats like enclosed litter boxes, but with this option, they'll have all the room they need.
Pros
Affordable enough for any cat parent
The corner design is meant to fit into tight spaces
Can be used with any kind of litter
Polished finish fights stains and odors
Cons
The open layout won't suit cats that prefer privacy
High-sided litter boxes help prevent litter scatter, but some might still get out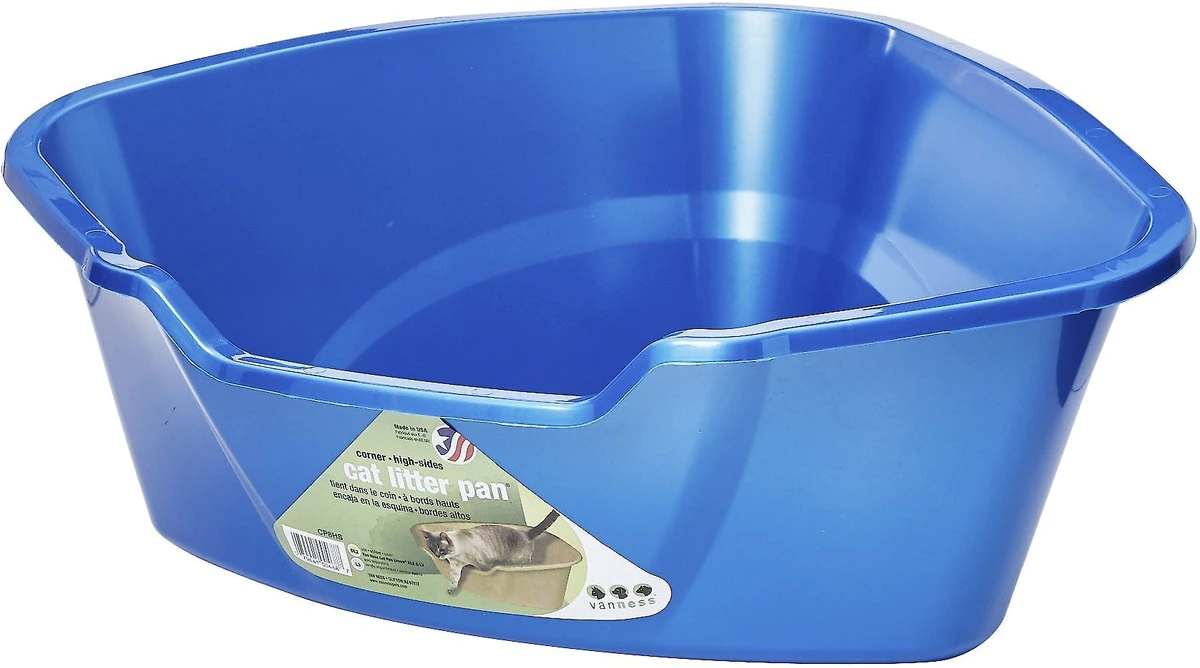 Van Ness High Side Corner Cat Litter Pan
The Price of "Van Ness High Side Corner Cat Litter Pan" varies, so check the latest price at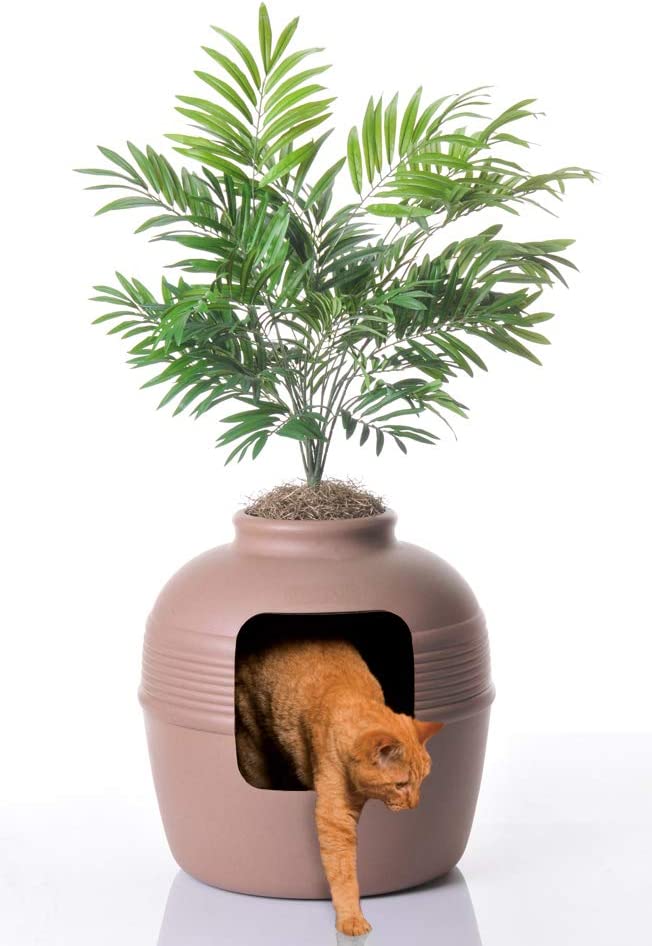 What if your cat's litter box looked like an artificial potted plant? This would make it easier to place in a small space and go well with the decor of your room. It might even take a few glances to realize that this model is actually a litter box.
While it's streamlined to look like a normal clay pot room decoration, the Good Pet Stuff Hidden box does have pretty good capacity. This litter box measures 19″ in length, 19 3/4″ in width, with a height of 20″. The plants sit on top in a small circular area.
It's made of very durable polypropylene and features a filtered and vented system that helps collect and control odors and litter dust particles. What's more, it's tailor-made for large cats and homes with more than one cat.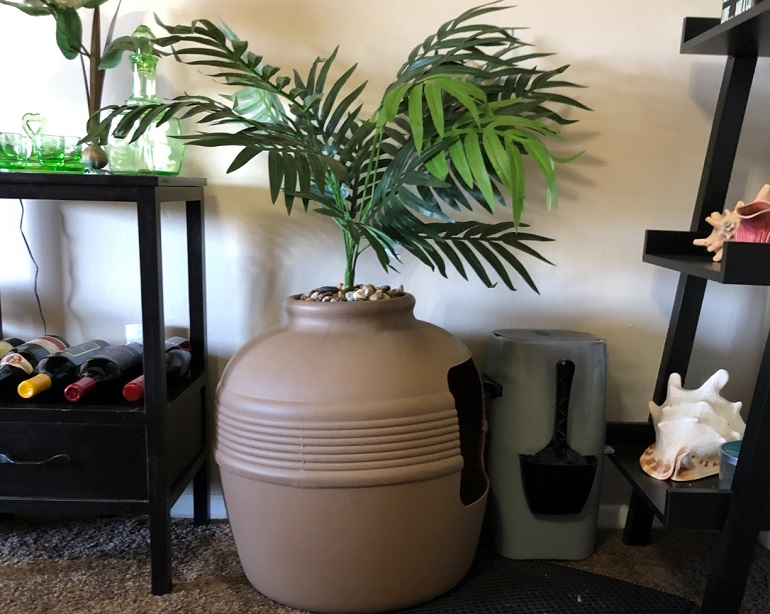 The ratings on the Good Pet Stuff Hidden Litter Box are raving. It's rated as easy to assemble, clean, and move and is a fantastic choice for small spaces. There's little doubt that most pet owners will find this option appealing. It comes in two useful colors – Tuscany brown and matte gray.
It's a great box for small spaces, helps control odors, and offers an aesthetic that easily fits into the decoration of any room. The simple two-piece design is easy to assemble, and it even comes with a high-quality artificial plant, florist moss, and a filter.
Pros
Unique planter design works with any type of room
Two-piece construction is easy to assemble
Comes with an artificial plant and moss, or you can select your own
Perfect choice for large cats and households with multiple cats
The litter area stays out of sight, and dust filtered vent system prevents particles from escaping
Cons
More expensive than other litter box options
It might take some time for your cat to get accustomed to using it, as it doesn't look like a standard litter box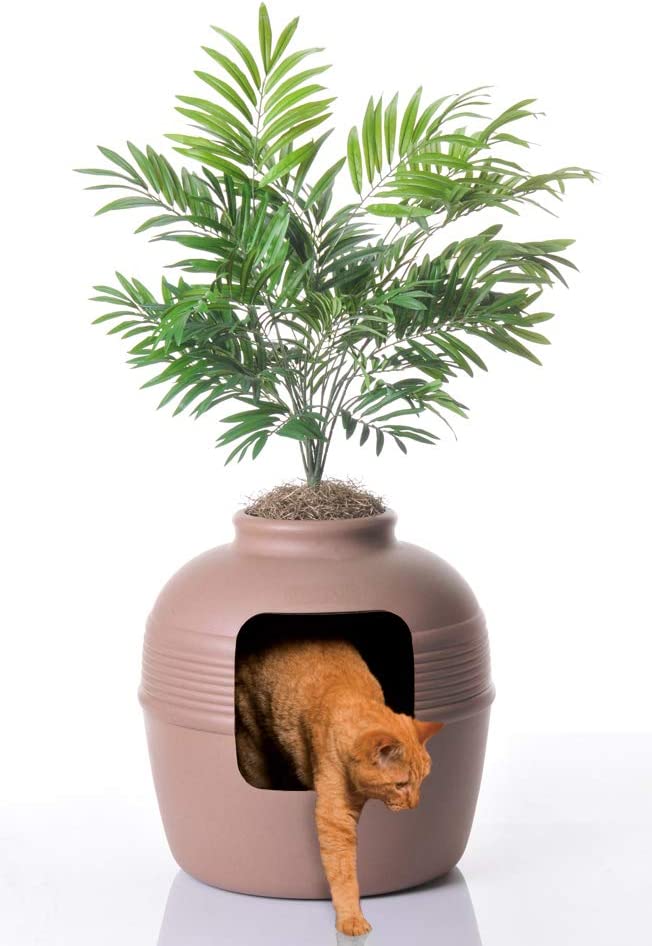 Good Pet Stuff Plant Hidden Litter Box
The Price of "Good Pet Stuff Plant Hidden Litter Box" varies, so check the latest price at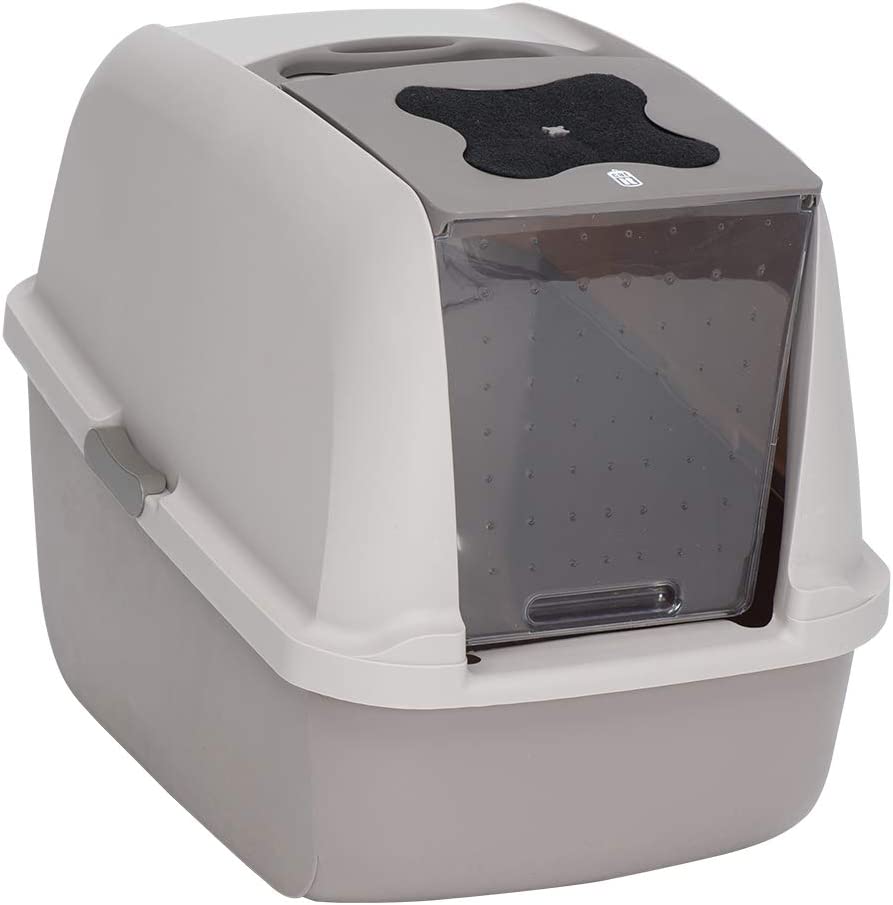 Whether your cat prefers the comfort of privacy or you're looking to contain as much mess and odors while keeping everything as out of sight as possible, there are many reasons to choose an enclosed litter box.
One of the biggest benefits is the raised back of the litter pan. An overlapping mechanism helps prevent cat urine leaks and contains liquid if your cat happens to be an oversprayer. The built-in liner bag anchors to the enclosure. This makes cleaning and refilling a simple process.
Everything is made of BPA-free plastic. A transparent front door helps prevent litter tracking while giving you a clear view to let you know if it needs to be cleaned or if the litter needs to be changed.
Cleaning it still takes some work, but Catit tried to make the process as easy as possible. The top hood lifts to provide easy access, and it doesn't take much elbow grease to clean the plastic. You can simply hand wash it with mild soap and water.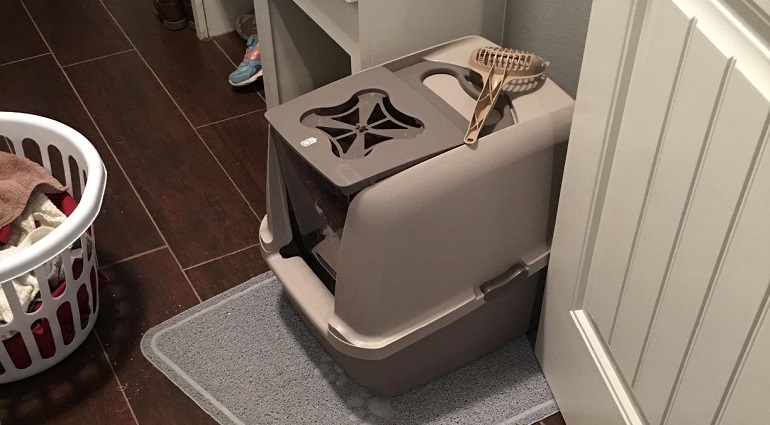 There's an easy-to-use maintenance door specifically for adding new litter when the time comes. A carrying handle makes transporting it easy, and slider locks on the sides ensure everything remains in place.
An integrated carbon filter works to deodorize the litter. It also comes with a Magic Blue Litter Box Filter sample for additional protection.
The litter box comes in various colors, including grey, blue and white, pink and white, and white tiger, with an interesting design on the top and side latches. There are also two sizes to choose from – regular and jumbo. So you can select the perfect size for you and your cat.
All things considered, this Catit Hooded Litter Box has a lot of appeal. Multiple colors, two sizes, and several design features make it a clean and easy-to-use litter box option for small apartments and spaces.
Pros
The overlap design mechanism makes it leak-proof
A special top door makes the cleaning process easy
The litter liner bag anchor keeps everything in place
Comes in a variety of colors to fit into the decor of any room
A transparent front door makes it easy to see when it needs to be cleaned, or litter needs to be changed
Carbon filter provides odor control
Cons
Not the best choice if your cat doesn't like an enclosed litter box
Most suitable for a single cat.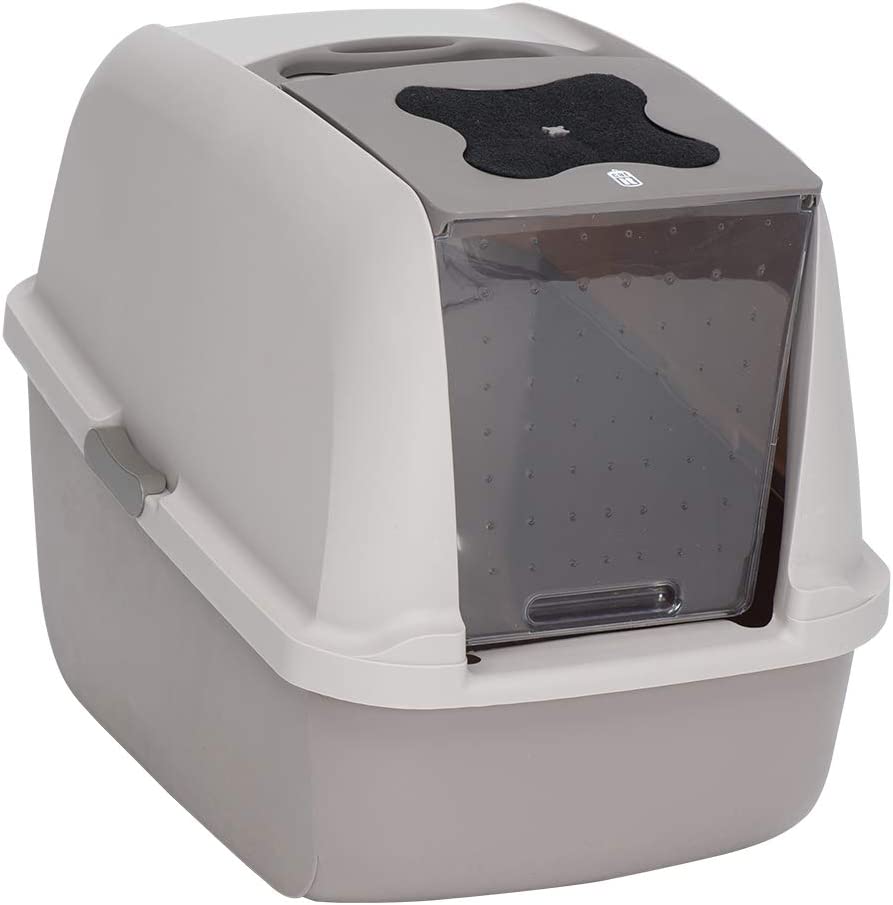 Catit Hooded Litter Pan
The Price of "Catit Hooded Litter Pan" varies, so check the latest price at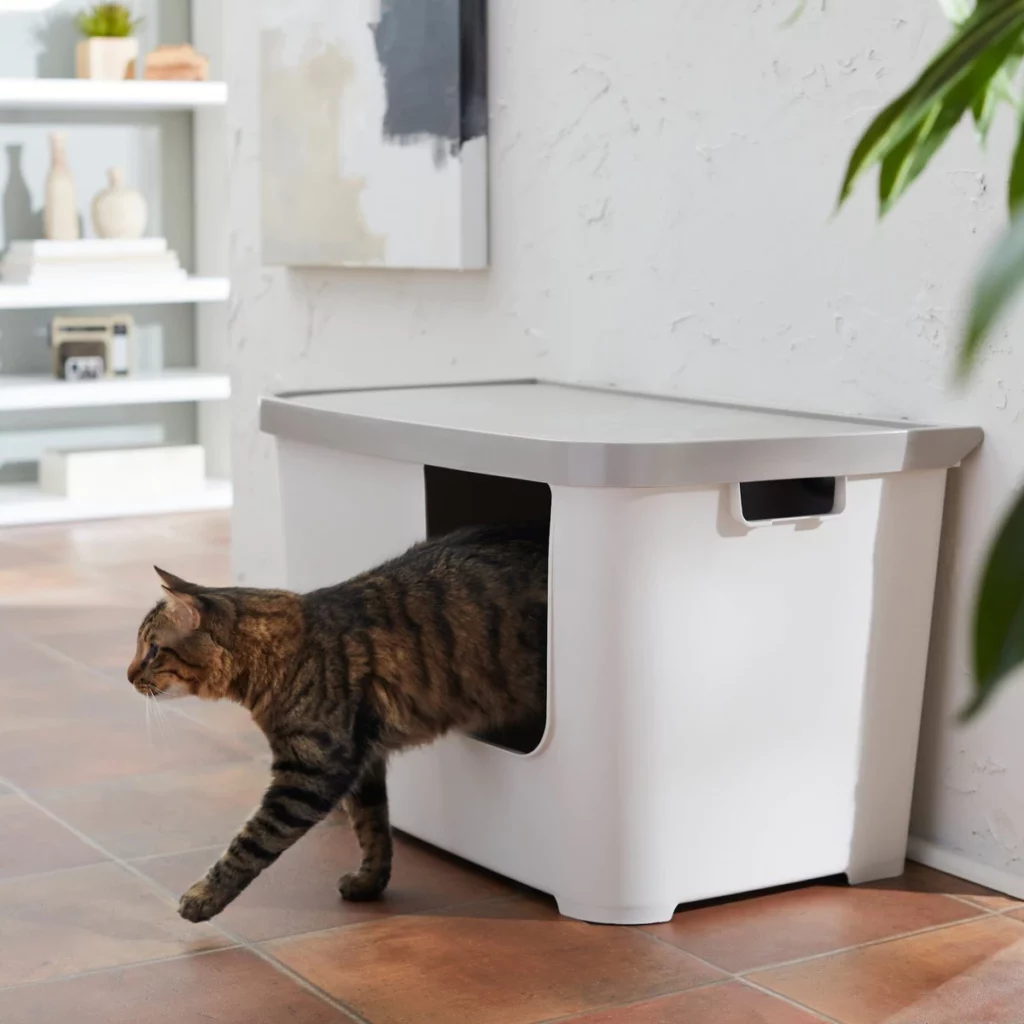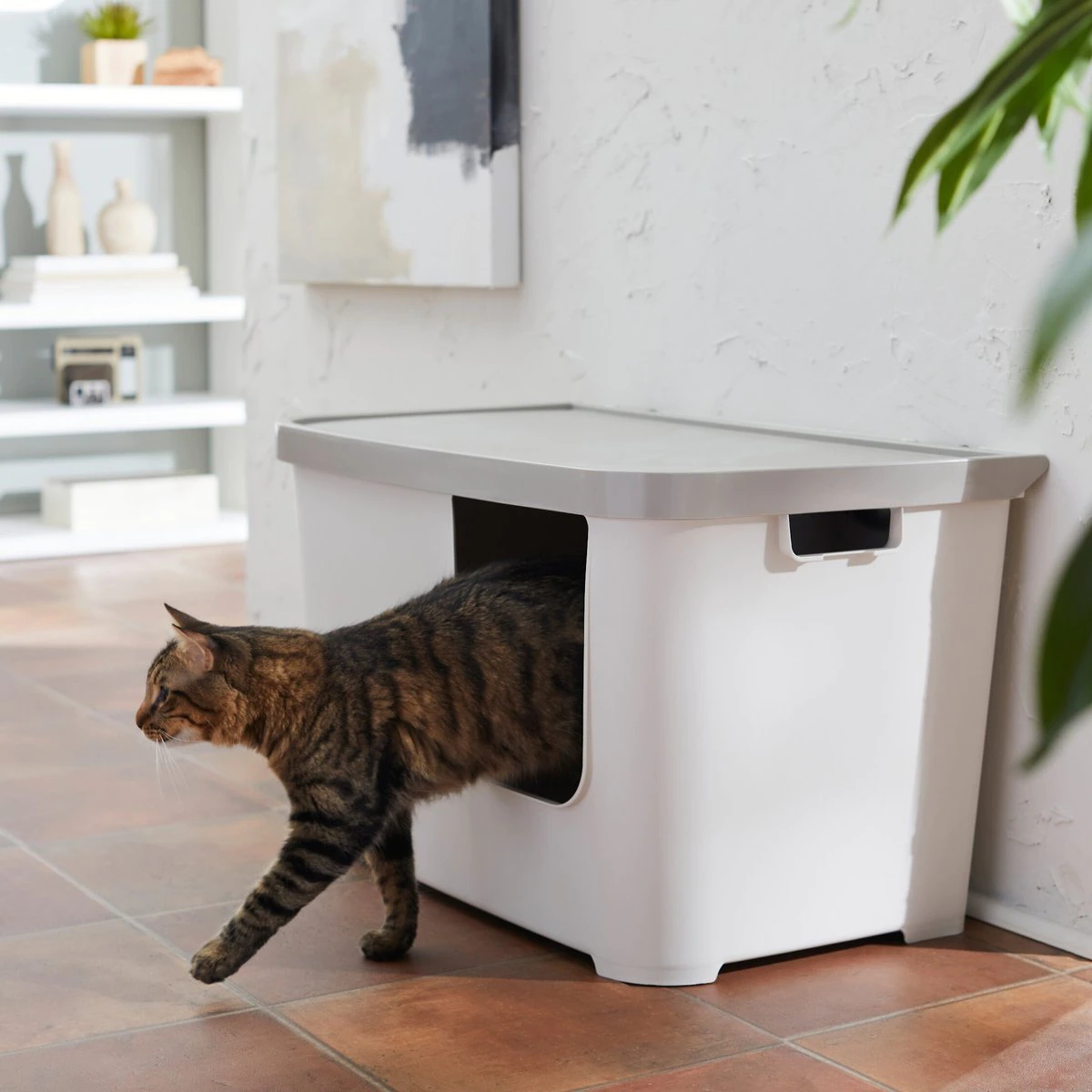 Another option that doesn't really look like a litter box until a second glance comes from Frisco. This enclosed litter box provides reduced cleanup and odor control in an ergonomic shape that can fit easily into any room.
The design is sleek, to say the least. As a top choice for one of the best litter boxes for small spaces, its high walls and covered tape provide several benefits for you and your cat. If they like privacy, it doesn't get any more private than this. It also keeps things like litter scatter and spraying contained within its walls.
With a wide, low-profile entrance, every cat can find it easy to access when it's time to use it.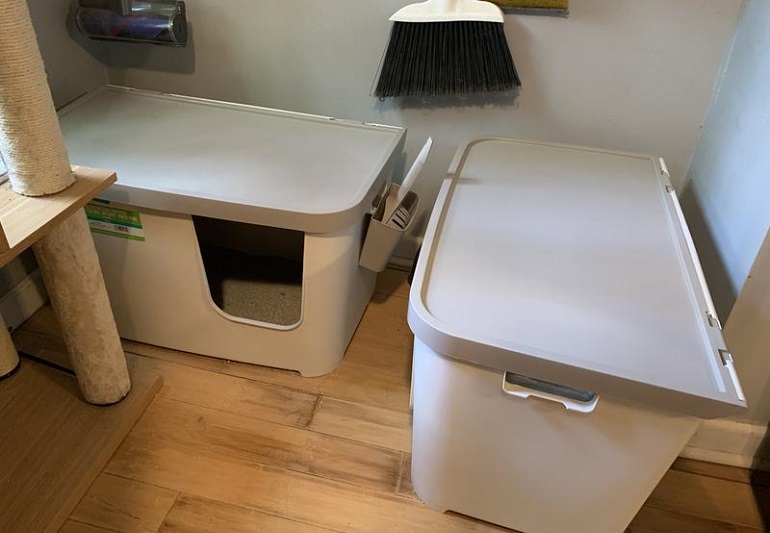 A removable lid makes cleanup headaches a problem of yesterday. You can quickly scoop and clean up what needs to be discarded, and the included litter scoop attaches to the unit, so there's no more misplacing it. There's an inner litter tray to help make cleanup even easier, and there are models available with and without it.
There are many reasons to love this option, making it one of the best litter boxes for tiny spaces. One of the best reasons is that it will fit into the look of your space. With neutral color options, it looks like a familiar piece of furniture.
The high-sided, covered concept keeps the mess and odors in while providing a comfortable place for your cat to use the restroom. In addition, the scoop attaches to the unit, so the days of hunting for it are over.
With a lid that makes regular cleaning and changing out the litter easy, there's no concern with keeping things fresh for your feline friend. In addition, it has got easy entry access, even for the biggest cats. You can choose between a model with a litter tray or get one that allows you to use your own. You can even use the top to place things like pictures and plants!
Pros
Neutral color options easily go with the aesthetics of your room
A removable lid makes scooping and maintenance easy
Wide and low entrance is great for senior and disabled cats
Additional space inside is great for storing items like fresh litter until it's needed
Cons
Some cats won't like the enclosed build
No included mechanism to reduce litter buildup on your cat's feet
Cleaning takes a little more effort and consideration than other litter boxes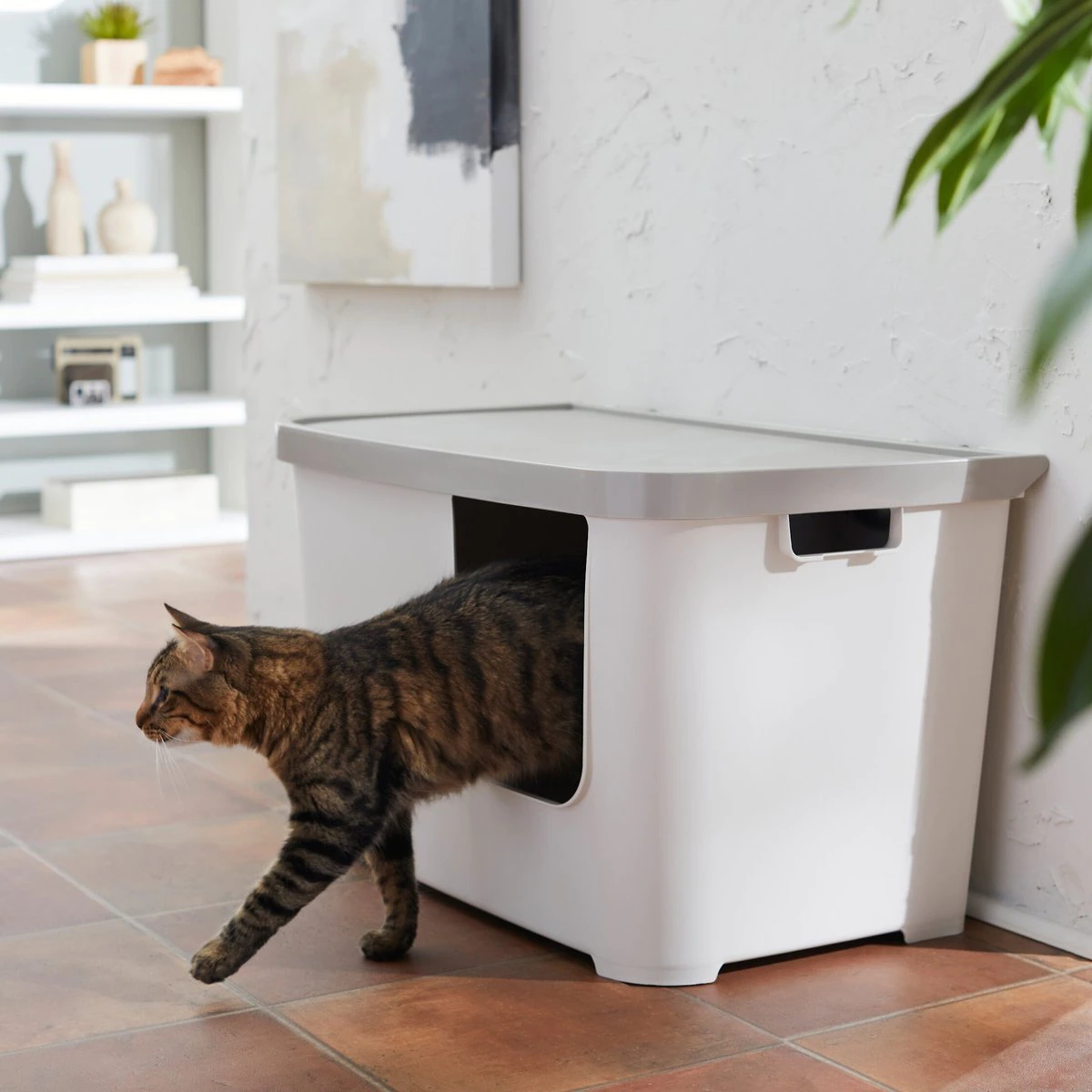 Frisco Multi-Function Covered Litter Box
The Price of "Frisco Multi-Function Covered Litter Box" varies, so check the latest price at
Choosing the Best: What To Look For
While looking for a litter box for small spaces, you may want to consider the following things.
Single or Dual Purpose
Some litter boxes offer flexibility with how you use them. Some blend into the room well and look like standard furniture; some are hidden in a planter that lets you use your own real or artificial plants for decoration.
Tracking Precautions
Litter tracking is a concern regardless of the type of litter box you select for your cat. What good is a clean litter box that's easy to use if your cat can't help but collect litter on its paws and distribute it throughout the house?
A lot of litter boxes have ways to prevent this. For example, it might be a top entry litter box with a grooved top or a front entry door meant to wipe off their paws as they exit. In addition, you can purchase a separate litter mat.
These mats are placed by the litter box entrance and help remove anything that collects on your cat's paws as they use it. They're affordable, and refreshing them can be as simple as taking them outside and shaking them off.
Ease of Cleaning
Litter box cleaning is a concern for every cat parent – especially those in small apartments or working with limited space. Everyone wants a litter box that cleans up fast and is made up of a material that doesn't allow staining and odors to build up.
It's not just about making life easier for the owner. If a litter box is easy to clean, and cat owners are diligent about keeping it that way, each cat will be more inclined to use it. This reduces the possibility of messes around the house, which can be a specific concern if you live in a smaller apartment.
Size
Cats come in all shapes and sizes. Age, diet, genetics, health issues, and their resulting medications are some factors that play into your cat's overall weight.
But regardless of your cat's size, you need to choose a litter box that makes them feel comfortable and secure. This is where the litter box size area comes into play. They need to want to use it and have nothing that stops them from doing so.
Litter and Odor Control
There are many reasons that most cat owners choose the litter boxes that they do. Controlling litter and drifting odors are two of the most important features.
Luckily, several litter boxes offer features like high sides, odor filters, and mat mechanisms that help prevent the unpleasant elements of maintaining a litter box.
FAQS
Do Cats Prefer Covered or Uncovered Litter Boxes?
It's really up to each cat! Some like the comfort and privacy provided by a covered litter box. Covered litter boxes also do a good job of containing messes and odors, so you have more options for placing them around the house. This becomes even more important if you live in a small space.
And some cats need the open feeling of an uncovered litter box. This style doesn't necessarily mean more mess. They are many different types, with features like taller sides or a low entry point depending on your cat's needs.
Are Automatic Litter Boxes Good for Small Spaces?
An automatic litter box is great for any type of space. They can greatly reduce cleaning time, and since they work on their triggers (usually every time the cat uses it and steps out of the box), they also help reduce odors.
There are some things to consider if you're looking to invest in a self-cleaning litter box. First, they usually have a weight limit, so they're not ideal for kittens. Some use a specific type of litter or have a singular way they dispose of the waste.
But overall, an automatic litter box is a great investment and definitely worth looking into.
Final Thought
Just because you live in a small space doesn't mean you or your cat have to sacrifice comfort or style when it comes to litter box selection. There are plenty of great options that will make both of you happy as you select the best litter box option for your small space.
Whether you're looking for a hidden litter box design or something as basic as a corner litter pan, the options on this list have many benefits worth considering.