Autumn is just around the corner, and so are Halloween, Thanksgiving, and many other festivities. Like most Americans, fall is my favorite part of the year too. After all, nothing can beat putting on cozy sweaters, starting a bonfire, and making unforgettable memories with your family and friends – and, of course, the furry friend.
However, we dread sharing, but it's also a fact that most pet owners report their lost canines during autumn. It directly means that if you aren't careful enough, the most serene outdoor activities may leave you with an unmendable broken heart.
Of course, that would be too selfish to leave your dog behind, at home, while going for fun activities or keep him on the leash all the time. Thus, the best possible solution to keep your dog safe, without ruining his adventure, is to get the best portable dog fence for him.
So today, we are going to discuss some of the best portable dog fences below, along with their all brightest and dullest points. So, just plunge in and see what would work out for you!
Portable Dog Fence With Door

YAHEETECH RV Dog Exercise Fence
Style: Indoor
Material: Iron
Most Secure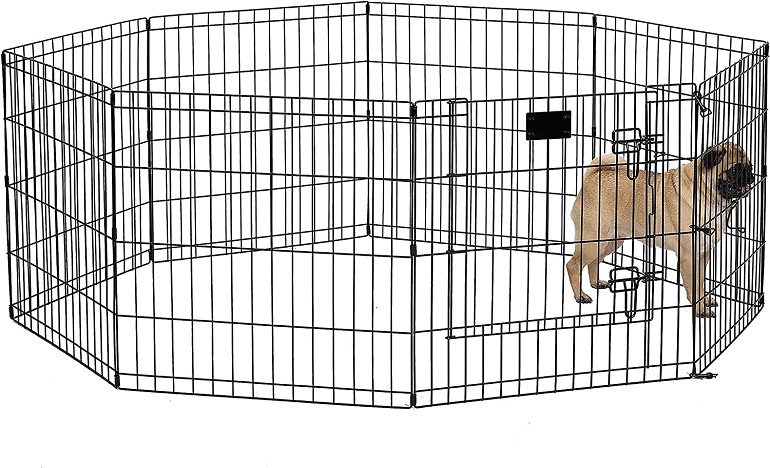 MidWest Foldable Metal Dog Exercise Pen
Style: Outdoor

Material: Steel

Best Traveling Playpen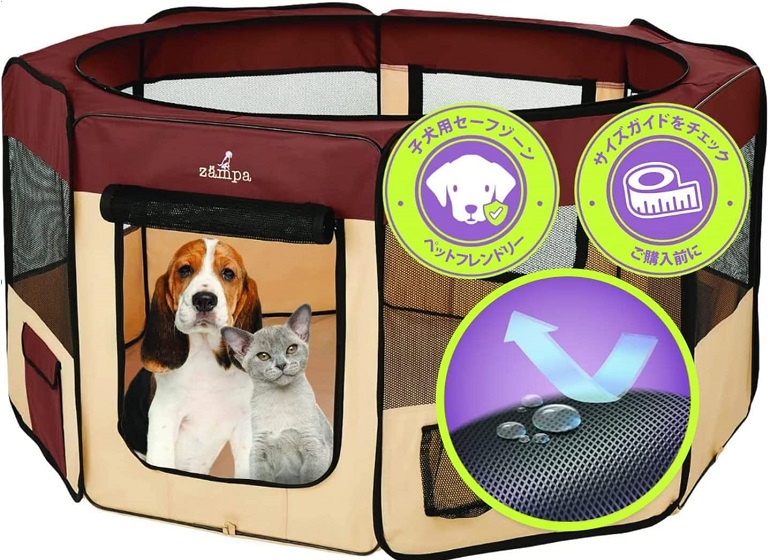 Zampa Dog Pop Up Portable Playpen
Style: Large
Material: Metal
Most Affordable Metal Playpen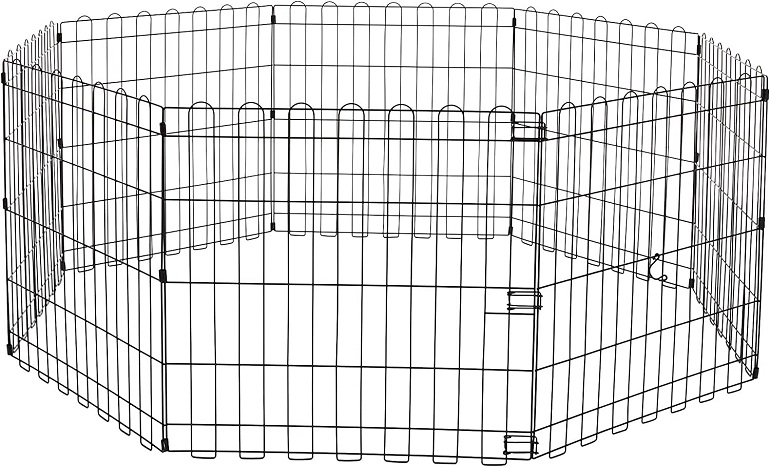 Amazon Basics Foldable Dog Exercise Playpen
Style: Without Door

Material: Metal
Easiest to Install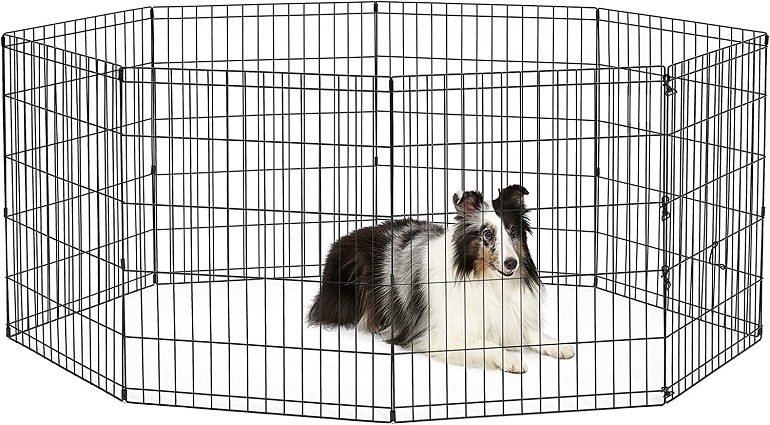 New World Dog Exercise Pen & Playpen
Style: Medium Dog Pen
Material: Metal
Best indoor portable fence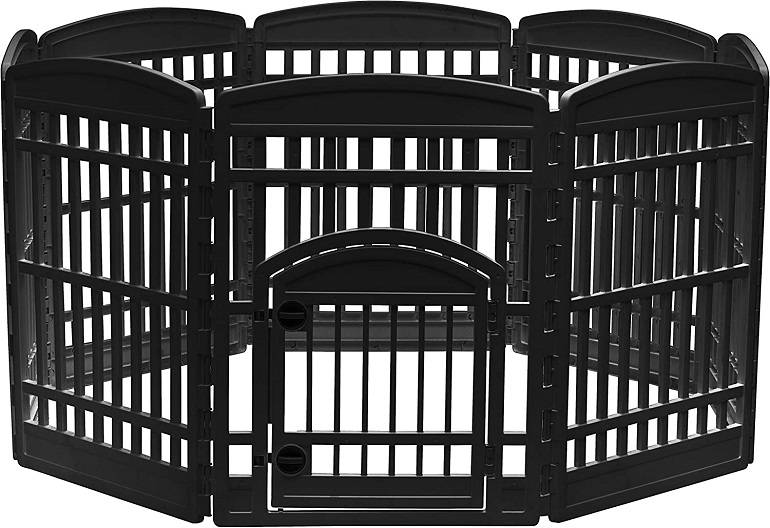 IRIS USA Dog Playpen
Style: 8 Panel
Material: Plastic, Rubber

Most Versatile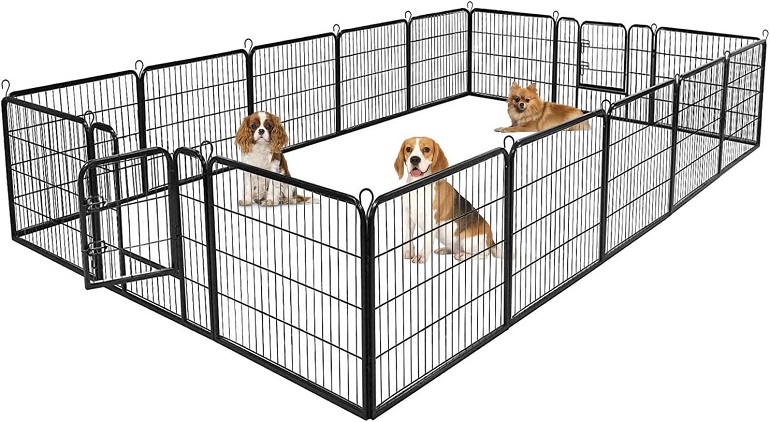 BestPet Dog Playpen Pet Dog Fence
Style: 16 Panels

Material: Metal
7 Best Portable Dog Fences -Top Picks
From the term portable dog fence, the very first thought that comes to mind is that it must be something for outdoor use, but that's not the case. Indoor portable dog fences are equally popular and are used for a variety of purposes, including potty training, injury recovery, and keeping adult dogs separate from pups.
Considering their variety of uses, we've tried to add all types of portable fences to the list below – from the playpen to the RV pet fence, from affordable to high-end, and from foldable to easy storage ones!

Yaheetech RV dog fence is our top pick because it is exceptionally perfect in all aspects! There's not even a single right box this iron fence doesn't tick.
For instance, it's made up of the toughest material; metal stakes & wire panels, which are further painted to make it both unchewable rust proof.
In addition to this, unlike other metal fences, this one is super easy to assemble, disassemble, and store. Even if you go with the largest size and pattern, the whole fence can be folded into a manageable pile that can be easily hauled onboard your RVs.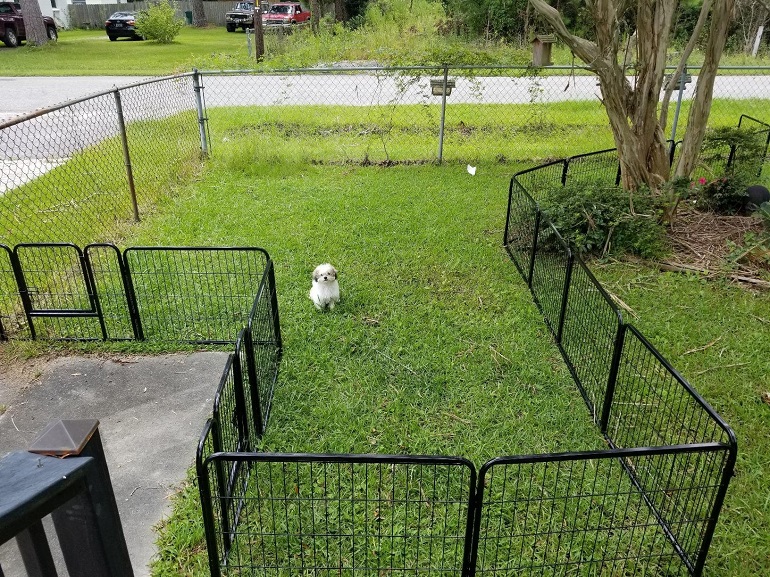 The most interesting feature of this fence is its door and lock system which adds further to the safety. Although the fence is advertised to work indoors, its multiple configurations and size options enable you to use it as an outdoor portable dog fence.
Specifications
Material: Iron tubing
Style: Indoor
Closure type: Latch, foldable
Size: Three different sizes
Color: Black
Pros
Even the biggest-sized fences are super easy to install for two adults + No tools are required.
The gate has a 7.5 inches step-up design to keep the puppies inside.
Cons
Paints may come off, dirtying your hands and clothes.

YAHEETECH RV Dog Exercise Fence
The price of "YAHEETECH RV Dog Exercise Fence" varies, so check the latest price at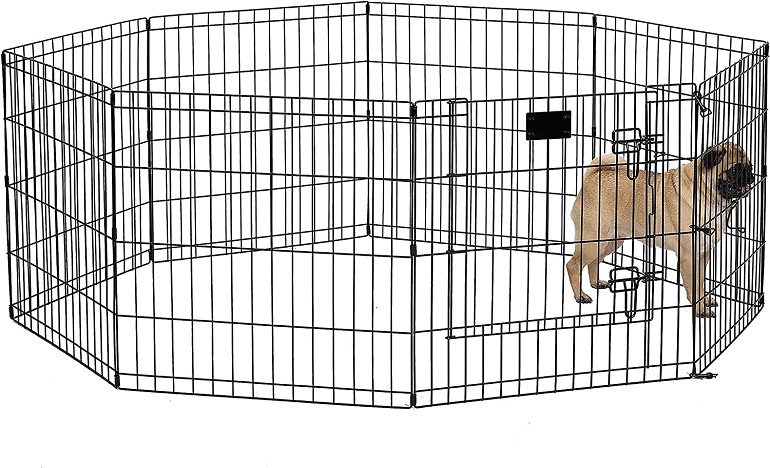 For all the people whose dogs are talented escape artists, this portable playpen is a life savior. It doesn't matter how big, how energetic, or how smart your dog is because this fence features everything to keep it in.
For instance, it comes with a Pivotal design which ensures that your dog can't topple it over. In addition to this, the manufacturer provides special ground anchors & corner stabilizers which stabilize and hold the fence firmly in its original space.
Worried that you've got the wrong size? No problem at all since all you have to do is to purchase another fence and join these two with the given clips, to expand the play area.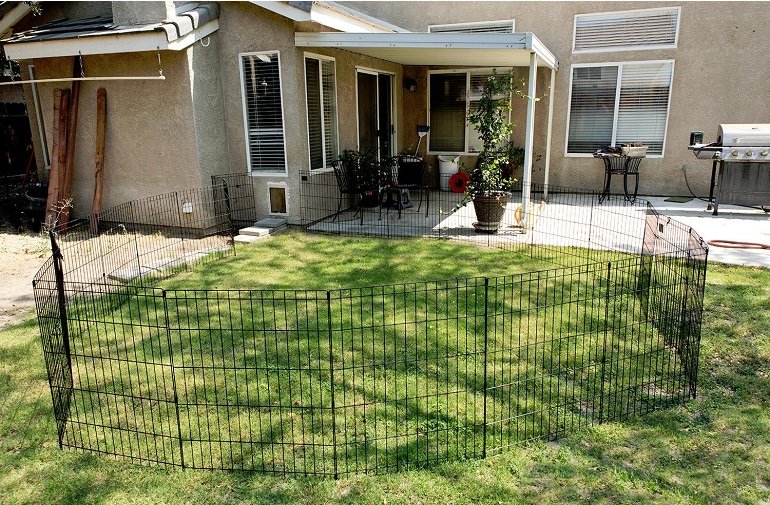 Last but definitely not least, the e-coating ensures a prolonged service life, by keeping rust and other harmful decaying elements at bay.
Specifications
Material: Steel
Style: Outdoor
Closure type: Latch, foldable
Size: Six different sizes
Color: Four different colors
Pros
You can choose to get the fence with or without a door – the dog door comes with double latches.
You don't have to take down the whole fence to change shape or size.
Cons
Welded clamps have sharp edges, which might be dangerous.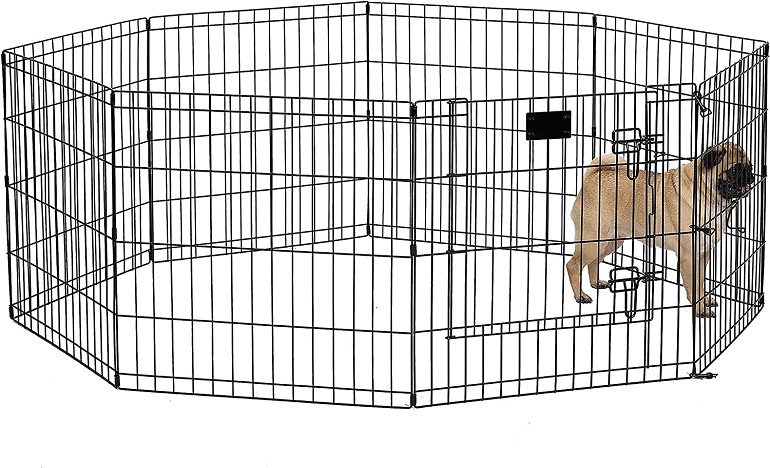 MidWest Foldable Metal Dog Exercise Pen
The price of "MidWest Foldable Metal Dog Exercise Pen" varies, so check the latest price at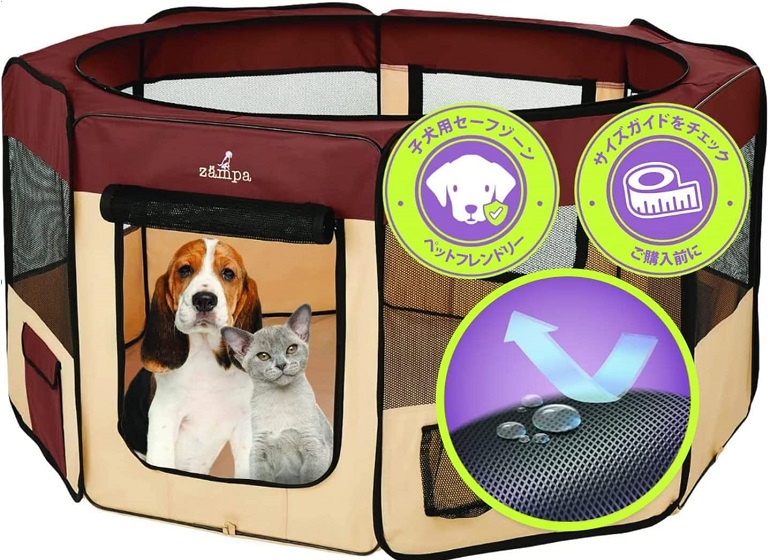 During hiking, camping, or any other activities where you can't drive around, you'd need a fence that not only keeps your pet safe but also doesn't make him anxious or trapped. For this purpose, such playpens are the best as they feature the lightest yet extremely stable build.
And don't think of it as a dog camp since it offers much room to play in, chew toys, eat, drink, and sleep calmly. Even big dogs can have peaceful naps and relaxing stretches within this playpen. To install, all you have to do is to unfold the kennel and secure it with the grounding stakes.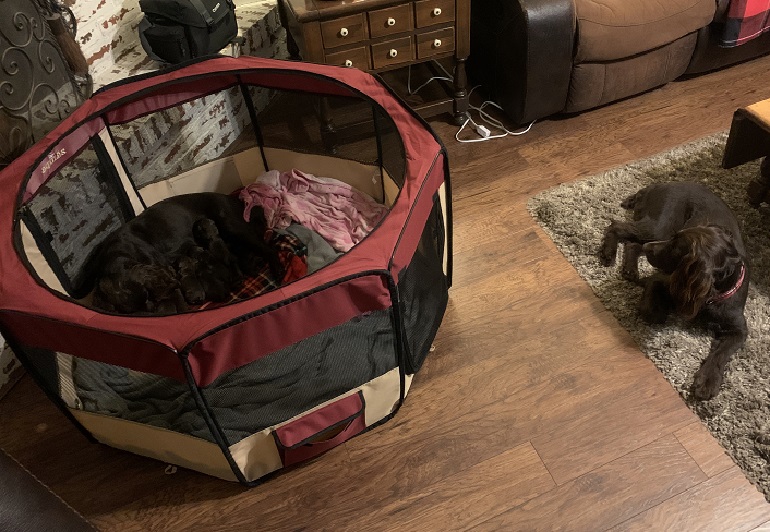 Recently, the manufacturer has made a modification to the design by replacing the detachable floors with permanent ones. It, in turn, will stop your dog from digging under the fence, preventing your digging animal from breaking out.
Zip closure and see-through mesh panels keep both you and your pet at peace by reassuring each other's safety.
Specifications
Material: Fabric and metal
Style: Outdoor/Travelling pen
Closure type: Zip, foldable
Size: Five different sizes
Color: Four different colors
Pros
This pet playpen doesn't require any assembly at all.
It features special components like a water dispensing hole, a water bottle holder, and a detachable roof.
Cons
This playpen may be a bit small for bigger dogs to play in.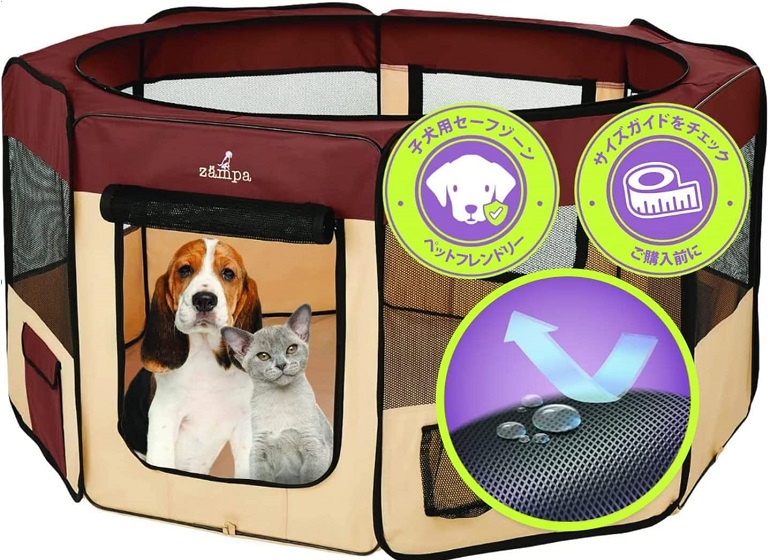 Zampa Dog Pop Up Portable Playpen
The price of "Zampa Dog Pop Up Portable Playpen" varies, so check the latest price at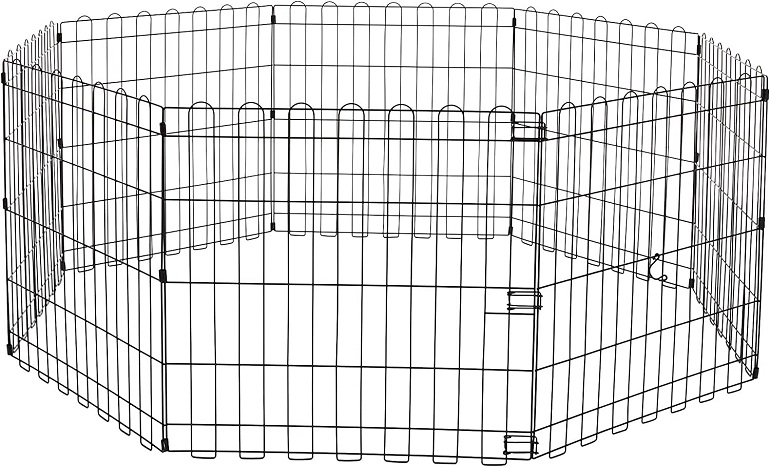 If you are not satisfied with a fabric playpen and want something sturdier with durable construction yet a compact build, then you should give this rust-resistant metal playpen a try. The whole fence constitutes durable iron wire construction with a rust-resistant finish.
This iron fence is roomy enough for all the small and medium dogs. The fence can keep a dog of about 26′ inside the fence.
At the same time, the thumb clips and ground anchors keep your pet's temporary play area stable, preventing toppling over by hopping on the wire fence.
Many customers confirmed the high-quality materials and their performance in the long run.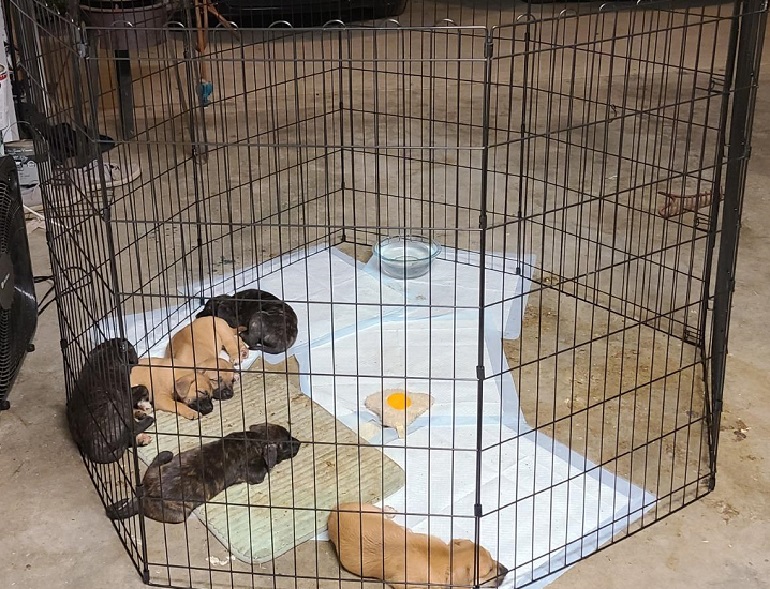 Specifications
Material: Metal
Style: Outdoor & indoor
Closure type: Foldable
Size: Six different sizes
Color: Black
Pros
The fence can make an awesome makeshift cage.
It features a strong and secure door.
Cons
One thing which may need to be improved is its door latch since even a small dog can open it easily. However, you can secure the gate with metal wire or binder clips.
Since the pen is featherlight, some dogs can lift it to escape.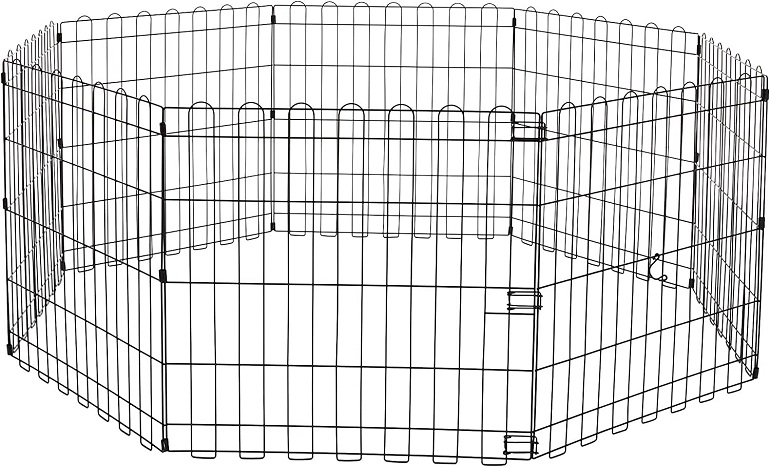 Amazon Basics Foldable Dog Exercise Playpen
The price of "Amazon Basics Foldable Dog Exercise Playpen " varies, so check the latest price at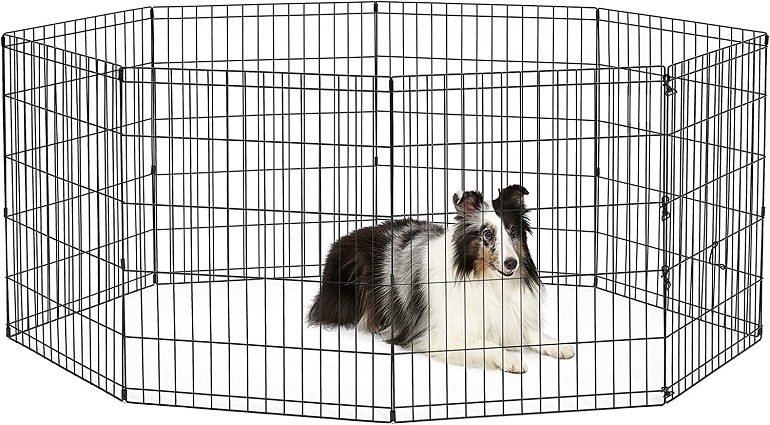 This exercise pen is a must-have for all dog owners having toy breeds or other small dogs who are not larger than 20 inches. The best part of this dog fence is that it can be put into use after taking straight out of the box. You don't need to call for help, nor do you need to find any tool to assemble and install the exercise pen.
Almost all the things required to install the fence are provided by the manufacturer, including thumb clips and ground clips. The best part is that the entire fence is not only coated with rust-proof, but it can gracefully withstand a terrific level of water exposure.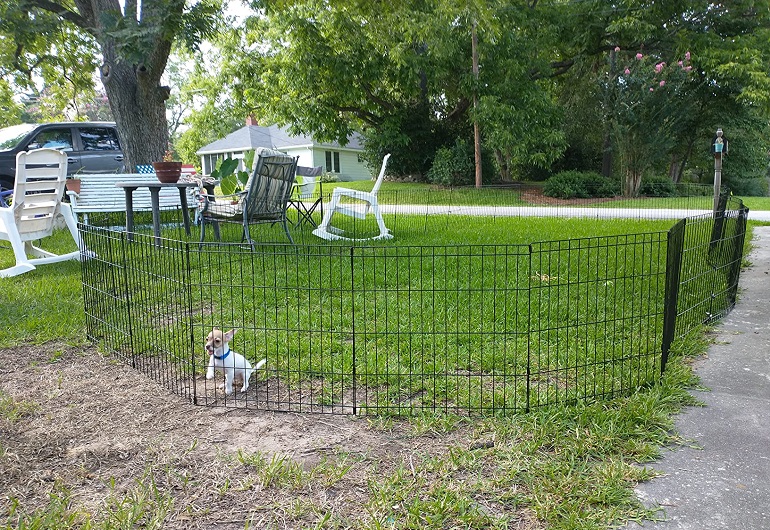 Some people say that the playpen doesn't show any sign of corroding even after leaving it out in heavy rain for the whole night – credit goes to the premium grade water and weather-resistant finishing tough.
When not in use, just fold the panels onto each other and store them in your garage or car trunk. All the assembling and dissembling process hardly takes a few seconds!
Specifications
Material: Metal
Style: Outdoor/Indoor
Closure type: Foldable
Size: Six different sizes
Color: Black
Pros
Besides dogs, the fence can also be used to keep ducks, turtles, rabbits, and guinea pigs inside.
Eight panels create a play area of around 16 square feet which means it can be used as a dog crate and indoor playpens too.
Cons
It doesn't come with a gate.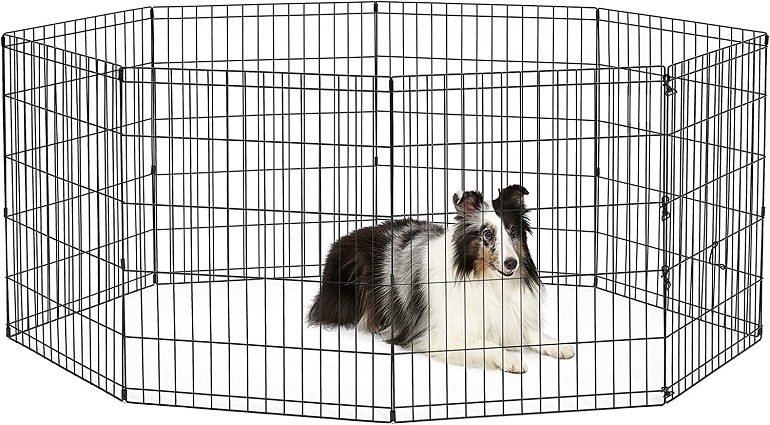 New World Dog Exercise Pen & Playpen
The price of "New World Dog Exercise Pen & Playpen" varies, so check the latest price at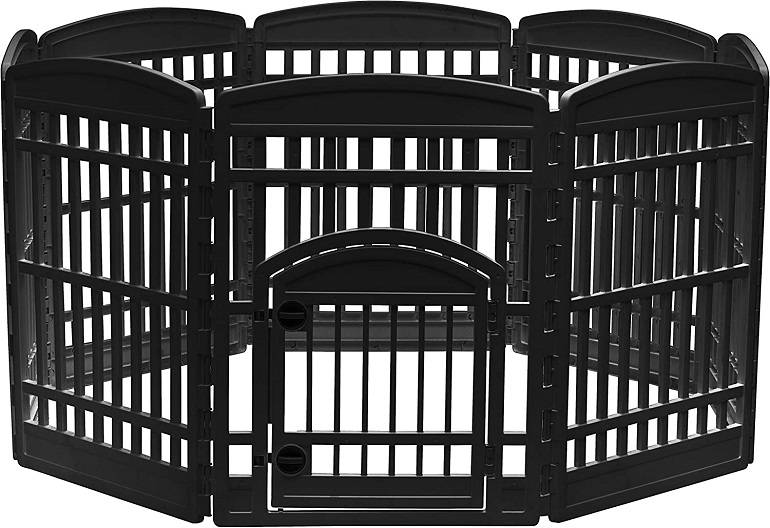 Whether you want to train your dog to behave correctly at home or punish him gently for fighting with new pups, this indoor fence is best for you. It's most probably the only option in the list that comprises a plastic build.
Although plastic is not as durable as metal, it's still strong enough to withstand the in-house mischievous antics of your pooch. However, the best part is that, unlike with metal fences, you don't need to stress over rusting with this molded PVC fence.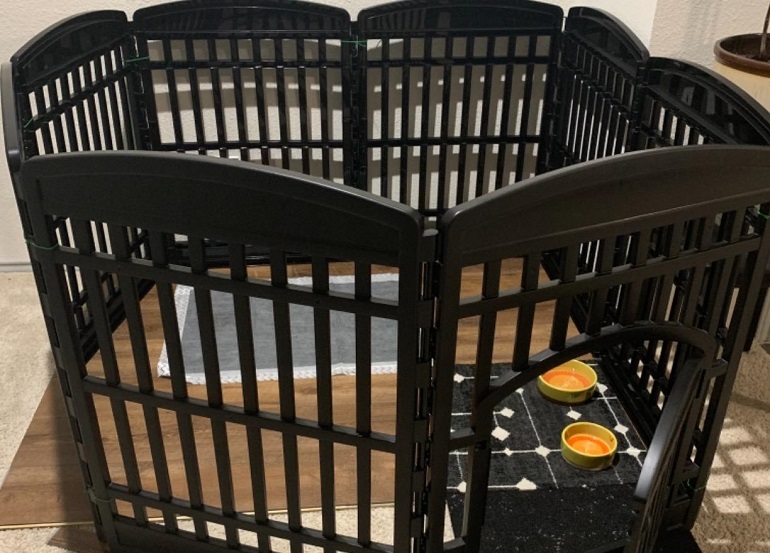 Don't think of this indoor fence like some flimsy plastic junk since some of its parts are made up of metal to make it sturdy enough. For example, the swing latch which imparts easy access to the door is of metal.
In addition to this, plastic panels are also connected through a full-length metal rod which ensures a sturdy design.
Specifications
Material: Plastic and rubber
Style: 8 panels
Closure type: Latch
Size: Two sizes
Color: Black, white
Pros
Nonskid rubber feet keep the pen stable and protect the flooring from scratches.
Due to the roofless top, cleaning the playpen from the inside is super easy.
Cons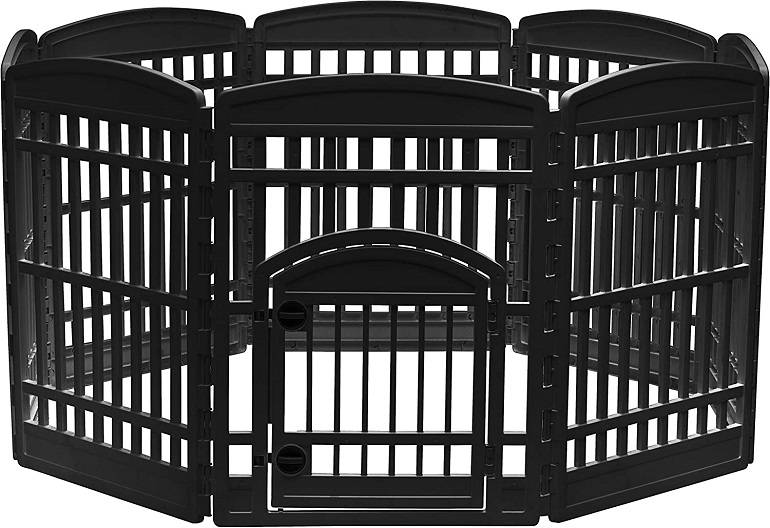 IRIS USA Dog Playpen
The price of "IRIS USA Dog Playpen" varies, so check the latest price at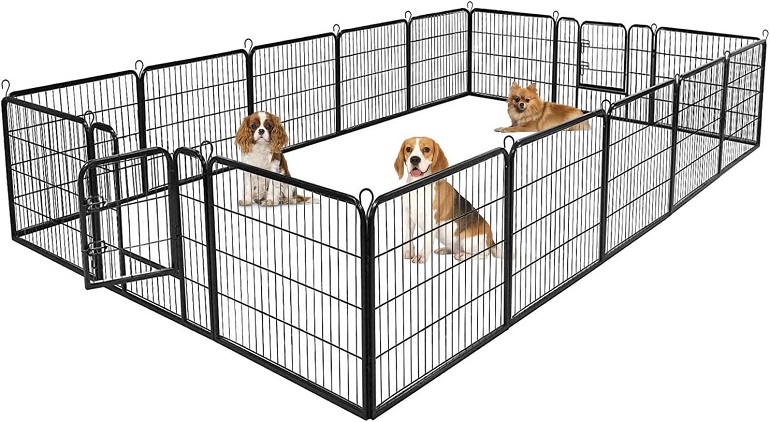 The final product on our list is the most versatile, which can be used everywhere; outside your home; outside someone else's home, on a campsite, on a hiking trek, and anywhere you want it. Since it comprises foldable panels, you can configure it in three shapes, rectangular, square, and octagon.
Likewise, the size is also manageable, and you'll decide whether you want it in the form of a wide playfield around your house or as a dog crate, in your living room. To ensure utmost security, a large metal gate is mounted on one side with two latches.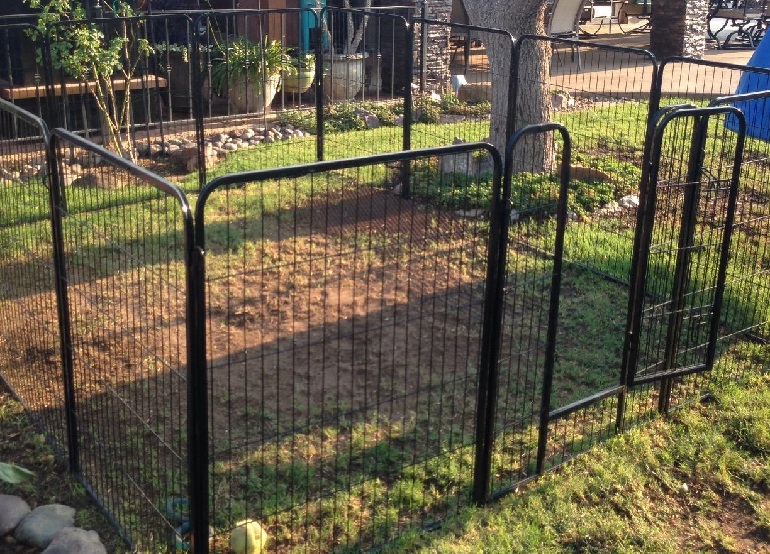 The best part is that these latches are way too heavy-duty that not even a pitbull can tow them out. The entire pen is made up of heavy-duty metal with a rust-proof coating, so the fence will never fail to serve you for years after years.
Despite consisting of wide panels and covering a huge area, this fence comes with an easy setup, with no need for advanced tools.
Specifications
Material: Metal
Style: 8 & 16 panel
Closure type: Door and latch
Size: Multiple sizes
Color: Black
Pros
It offers plenty of room for two large dogs to play freely around.
The package comes with easy-to-understand assembly guidelines, which mitigate the whole assembling process even further.
Cons
When used inside the house, the metal poles may scratch the floor.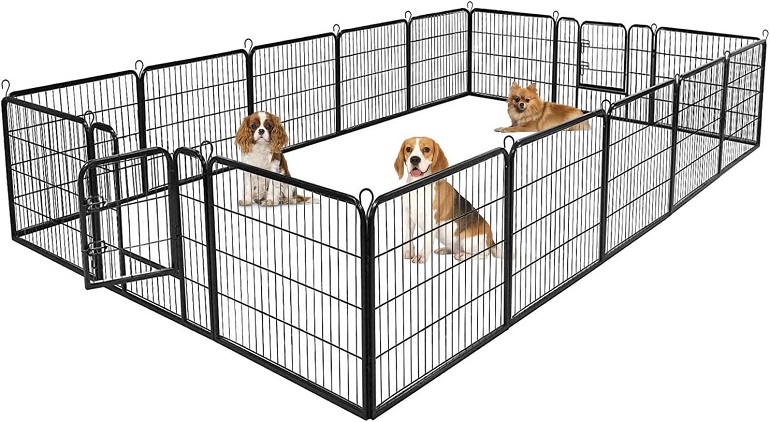 BestPet Dog Playpen Pet Dog Fence
The price of "BestPet Dog Playpen Pet Dog Fence" varies, so check the latest price at
Things to Look for When Picking a Portable Dog Fence
Still not sure which one of the eight portable fence options you should go for? Look for these features since they will help narrow down the list even further!
Materials
Portable fences are available in all types of materials, including wood, metal, plastic, composite, etc. Plastic is the most portable material out there as it doesn't require too much upkeep, and is lightweight, affordable, & compact.
On the other hand, wood fences are prone to chewing and also quite heavy to carry around while camping. Speaking of metal fences, then they undoubtedly offer the most durable and heavy-duty construction, but they also come with a huge potential of getting corroded under unfavorable conditions.
Size
Based on the size of your dog, you can get a portable dog fence accordingly. For example, if you have small dogs like a chihuahua, poodle, or pomeranian, then you shouldn't purchase a too wide and large fence.
On the other hand, for more energetic and large dogs, get wider fences in which they could feel enough freedom. Besides, consider the place of installment, too, to have a better idea about the size.
For example, if you are looking for an indoor portable dog fence, consider the room size or area of the yard. For outdoor fences, you can go with as wide fence options as you can easily haul around.
Height
To get the best idea about the size of your dog's fence, you need to consider your dog's height and how high he could jump. However, even though your pooch is not so large, we'd recommend you to get a large fence since it will not only protect your dog inside but also keep the other wild animals from breaking in.
On the other hand, if you own a breed that makes super talented jumpers, like greyhounds, border collies, etc. then you'd need to get help from some other restraining tools tostop your dogs from jumping over the fence like lean-ins, and L footers.
Stability
Stability is one of the most important factors when it comes to choosing a dog fence. If your fence is not stable and sturdy enough, it will put your dog's safety at risk. For example, for energetic dogs, you need to get a fence that won't trip or topple over, on pushing.
To evaluate stability, you should consider the sturdiness and strength of the material. Since plastic is lightweight, it's a good option only for smaller breeds, whereas for bigger dogs, never settle for anything less than wood or metal.
Ease of Collapse & Storage
Generally, a camping dog fence is compact, foldable, and easy to collapse & store. Whereas the fences which are designed for indoor use or as temporary fences around homes, are heavier and grab a huge storage space too.
So, if you are looking for a portable dog fence to use during road trips or on the go, go with the camping fences and vice versa.
Price
Lastly, go with the fence that suits your budget well. However, remember that expensive doesn't always mean the best. It's possible that you get a high-end portable dog fence, and it won't serve the job as you expected it to.
So, it's wise to go through the online reviews before locking a deal. Generally, plastic fences cost the lowest, whereas wood and metal fences may cost hundreds to thousands of bucks.
FAQs
Why Do You Need a Portable Dog Fence for Camping?
The simple answer is to enjoy your camping trips to the fullest. When you have a portable dog fence, you won't be worried about your pet getting lost in the woods, running into the lake, or getting injured. At the same time, your four-legged friend will be able to roam freely and happily on the camping adventure.
How Do I Store a Portable Dog Fence?
Storing the portable dog fences is easy peasy since all you have to do is uninstall all the fence panels, tie them in the form of bundles, and then put them in your garage or vehicle.
How does Portable Dog Fence work?
A portable pet fence works by acting as a temporary fence that you can install anywhere, around your home, at a campsite, beside the road, in a park, and anywhere with solid ground.
They are available in different shapes and multiple configurations, so you can choose the one as per your purpose and intended area of usage. Assembling and dissembling these fences also takes only a few minutes.
How Do I Install a Portable Fence for a Dog?
The installation method of portable dog fences varies from one fence option to another. In case of fence kits, no tools are required as all you need to do is to adjoin the panels, mark a boundary, and install the fence, without digging it into the ground. Whereas, for more complicated fences, both digging and tools are required.
Conclusion
If you live in a rental property, going with the option of a portable dog fence will be much more beneficial than investing in a wireless dog fence. How? Because with wireless dog fences, you can only keep your dog inside but not the other animals outside.
Similarly, finding a break in the wireless dog fence is also a hassle. On the other hand, with portable dog fences, you can not only make your play yard the safest place for your dog but can also take this fence with you, when moving out – a win-win situation though!
We hope you've found this article helpful in finding the best portable dog fence. If you are confused about something, feel free to ask!