Global hunger statistics have been decreasing, but it's now increasing because of global warming, conflict, and COVID-19. Approximately 10% of people globally are food insecure. From 2019 to 2022, the number of undernourished people grew by approximately 150 million. Vegan diets can help end hunger because individuals eat the plants that cows consume and use less resources.
The majority of worldwide hunger exists in developing nations. Five main causes are inequity, destitution, climate change, conflict, national disasters, and emergencies — making global hunger an incredibly complex concept. We must raise awareness of the malnutrition emergency to remedy the problem.
Climate change causes a global hunger emergency because the extreme weather kills crops and drives people out of their homes. Drought, floods, fires, heatwaves, earthquakes, other climate shocks, and any natural disaster destroy livelihoods and cause sustenance insecurities. It contaminates water and impacts the quantity and nutritious quality of nutrients around the world.
Top 10 Most Disturbing Hunger Statistics
World Hunger Facts
As per Stats of 2023, to Date, Almost 6,026,610 Have Died Worldwide From Hunger (the World Counts)
According to The World Counts, a baby dies from hunger every 10 seconds, and a total of 6,026,610 people have already died this year. But the number keeps getting higher!
According to FAO Stats of 2021, There Are 828 Million Hungry People in the World (FAO)
There are 828 million food-insecure people in the world. The Food and Agriculture Organization (FAO) links forced migration and social upheaval to famine/humanitarian catastrophe.
Since the Beginning of the COVID Pandemic, This Number Has Increased by 150 Million Hungry People (FAO)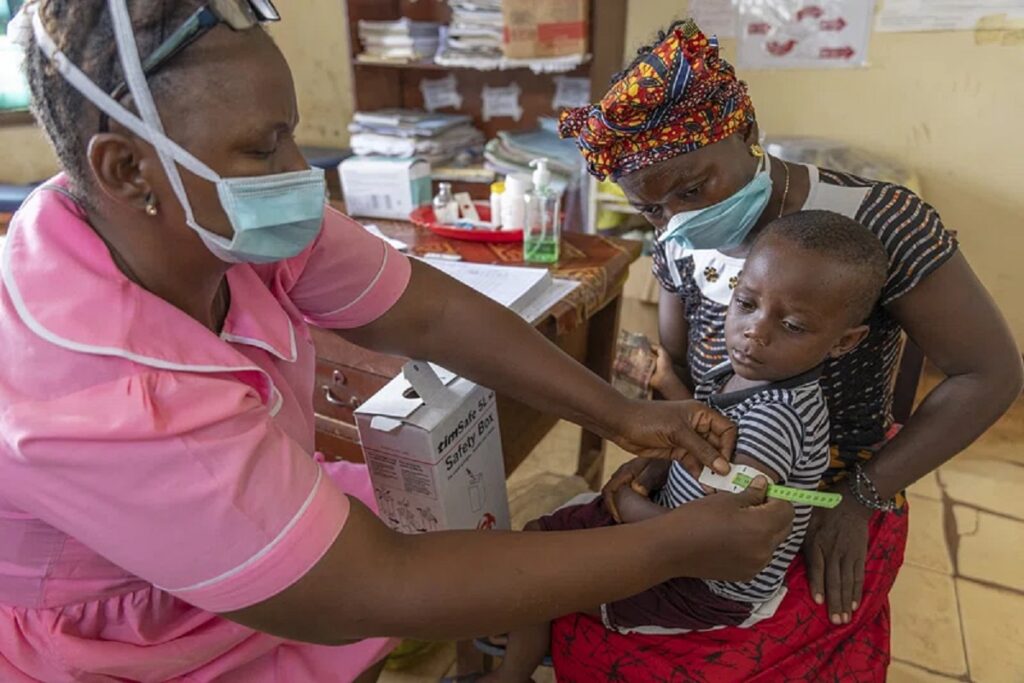 COVID-19 increased the number of people suffering from food insecurity by 150 million people. Many lost their jobs. World Food Security (WFS) estimates that food insecurity more than doubled the 2020 numbers due to COVID.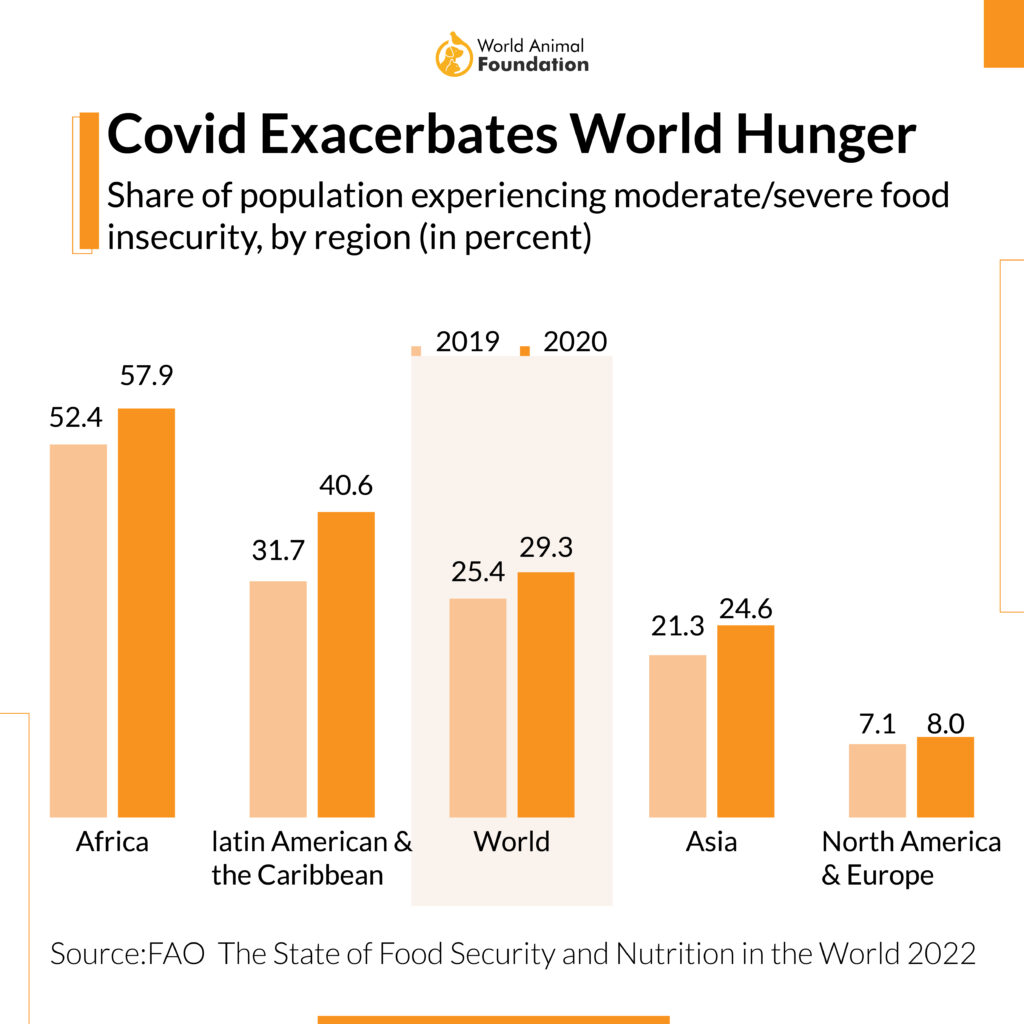 By the End of 2021, Almost 193 Million Experienced Acute Hunger (WFP)
By the close of 2021, nearly 193 million people worldwide endured the severity of acute hunger, as reported by the World Food Programme. This distressing number underscores the pressing need for concerted efforts to address food insecurity and provide vital support to those in crisis.
According to the Latest Stats, More Than 345 Million People Worldwide Face High Levels of Food Insecurity (WPF)
345 million people worldwide face high levels of nutrient insecurity and experience acute hunger. The FAO helps small food producers, improves the resilience of food production systems, provides humanitarian assistance, offers financial empowerment, helps keep livestock well maintained, and encourages sustainability.
Almost 194 Million People Globally Faced Severe Food Insecurity Levels (FAO)
According to the Integrated Food Security Phase Classification (IPC), the five phases of food insecurity are minimal/none, stressed, global malnutrition crisis, emergency, and famine/catastrophe.
FAO's defining contours of famine measure hunger by three criteria: generally food-secure communities with a nutritious diet and healthy lifestyle, moderately food insecure communities with a borderline reliable source of sustenance (not enough money for healthy food, skipped meals, ran out of nutriment) have recurring high risk, and severe food insecurity which means running out of food.
Almost 194 million people fell into the severe category, which is an emergency level sustenance insecurity. Feeding America reported that every nine people are food insecure, and this is the most severe emergency.
Livelihood crisis situations happen when undernourishment, in which a person's consumption isn't sufficient to maintain enough calories for dietary energy, is common in nutrient-insecure regions. It's not an emotional or metaphoric effect, and it's just their current circumstances until we end hunger through agricultural support and humanitarian assistance.
If circumstances continue and lack of nutrient access results in higher-than-normal levels of malnutrition and loss of livelihoods, the crisis will become a famine. Three main types of malnutrition are moderate acute, severe acute, and chronic malnutrition.
The National Institute of Health links food security to good outcomes for children and adults, who are more likely to live a creative life spent learning new skills. The objective is to ensure that temporary losses don't carry permanent ramifications.
Local leaders offer indigenous knowledge of local communities' hungry season and other community information. Hunger seasons, the time between planting and harvesting crops, cause a family's food supplies to dwindle.
According to the FAO, Around 2.3 Billion Individuals Experience Food Insecurity at Levels Less Severe Yet Still Perilous (FAO)
2.3 billion individuals may not be able to afford a nutritious diet and sometimes skip a meal or run out of nutrition due to acute food insecurity.
The World Bank identifies four areas of food availability–meaning a sufficient amount of quality nutrients, access, utilization, and stability. The intersectional nature of sustenance security includes non-food elements like potable water, and health systems are critical to solving sustenance insecurity.
Sustenance access means having an adequate amount of food even during sudden shocks or cyclical hungry seasons.
In 2020, a Healthy Diet Was Unaffordable for 3.1 Billion Individuals Globally (FAO)
78 million people in Asia were unable to afford a healthy diet. In Africa, 25 million more people couldn't afford it. In Latin America and the Caribbean, as well as Northern America and Europe, 8 and 1 million people, respectively, were able to pay for a healthy diet. In 12 African countries, over 90 percent of the population could not afford a healthy diet.
Of the 345 Million People Who Are Severely Hungry in the World Right Now, Nearly 60% Are Females (WFP)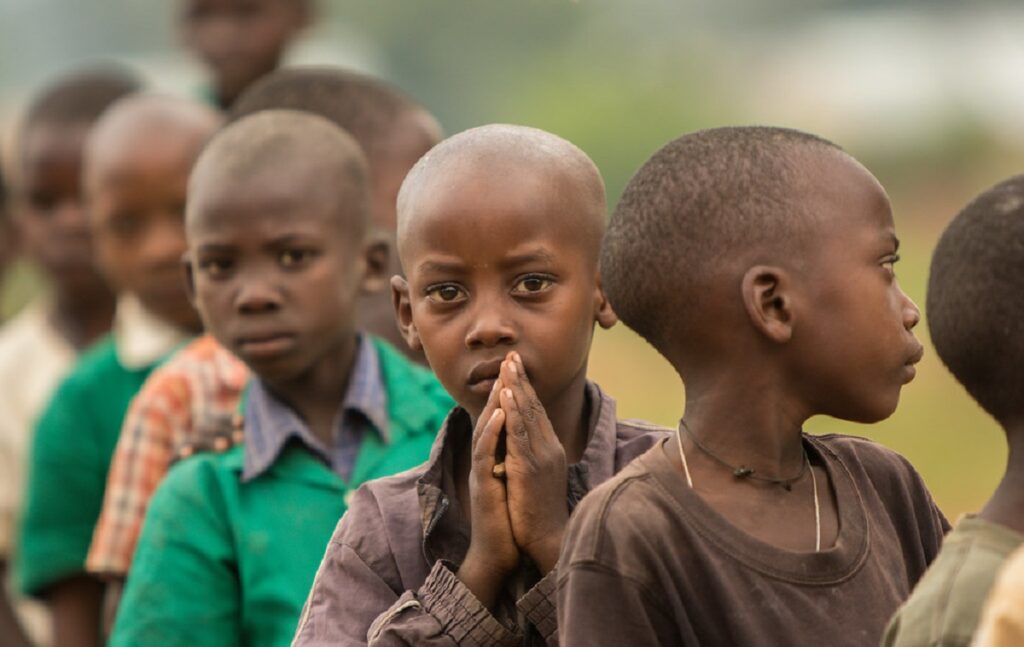 60% of females suffer from nutriment insecurity. The difference between females and males has grown since the COVID-19 pandemic. Moreover, In nearly 2/3 of countries, women are likelier to report food insecurity than men.
Almost 45 Million Children Under the Age of 5 Worldwide Suffer From Wasting (UNICEF)
Practically 45 million children under five suffer from wasting — also known as acute malnutrition — if their weight is too low for their height. It's a sign that a child has experienced short periods of undernutrition, causing wastage of fat tissue and muscle.
Due to Malnutrition, More Than 149 Million Children Under the Age of 5 Suffer From Stunting (WHO)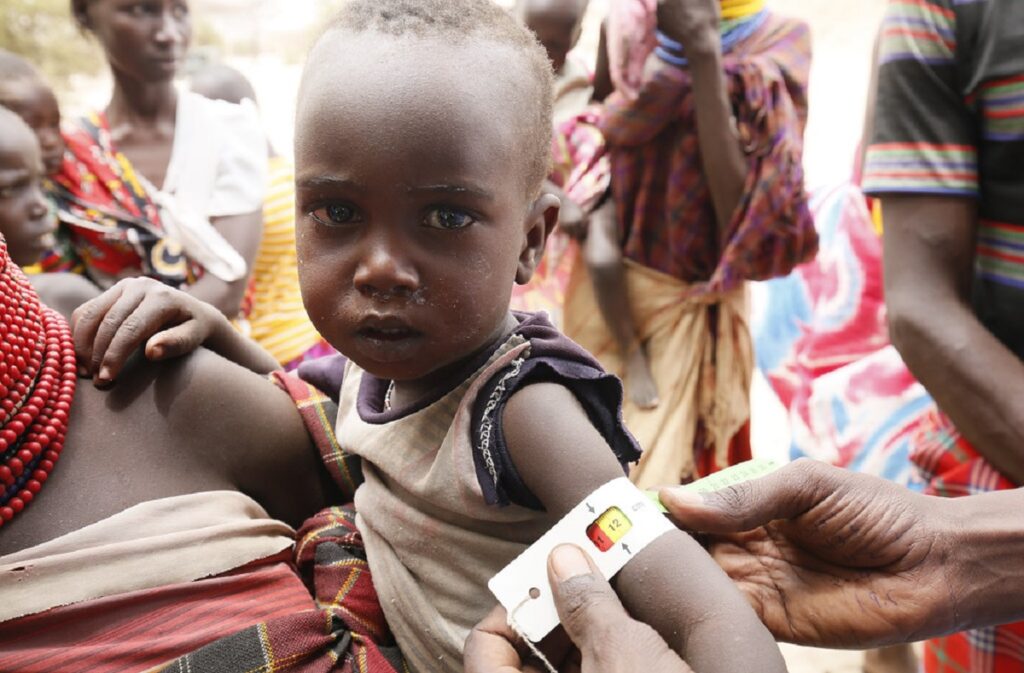 The World Health Organization explains that childhood stunting is caused by chronic malnutrition. It's one of the leading measures used to assess childhood malnutrition, indicating that a child has failed to reach their growth potential as a result of disease, poor health, and malnutrition. Stunted children are too short for their age.
Stunting affects cognitive and physical development, and a child may not recover from stunting, but sometimes the impact can be reversed.
Annually Almost 9 Million People Die From Hunger (WFP)
The United Nations World Food Program told world leaders that they must "build a stronger, healthier planet through better food systems." 9 million people dying from hunger annually is 24,000 per day.
Projections Indicate That by 2030, Roughly 8% of the World's Population Will Still Be Confronting Hunger (FAO)
Due to the continuing increase in global population, experts estimate that 670 million people (8% of the world population) will still be facing hunger in 2030, even if there's a global economic recovery.
World Hunger Statistics
Globally, Around 1 in 10 People Don't Get Enough Food To Eat (Our World in Data)
We have a long way to go before reaching an end to hunger; nearly one in ten people still don't have enough sustenance.
In Sub-Saharan Africa, Rates of Hunger Are the Highest (Action Against Hunger)
Sub-Saharan Africa faces the highest rate of undernutrition in the world — one in five people there face hunger. Ongoing conflicts, drought, rising nutriment prices, inequity, and weak infrastructure increase hunger in many communities across Africa.
The Majority of Global Hunger Is in the Developing World, Where Poverty and Limited Access to Nutritious Food Lead to Malnutrition (Action Against Hunger)
Due to the severe drought in Somalia, there's little to no sustenance and no breast milk for nursing babies.
Almost 70% of the People Suffering From Hunger Are Living in War and Violence-Affected Areas (WFP)
70 percent of the world's hungry people live in areas with war and violence. News coverage of Ukraine shows how conflict causes hunger by forcing people to flee their homes, ruining the country's economy, and increasing unemployment.
According to the Global Hunger Index (GHI) 2022, Yemen, the Central African Republic, Madagascar, the Democratic Republic of Congo, and Chad Have Alarming Hunger Levels (Global Hunger Index)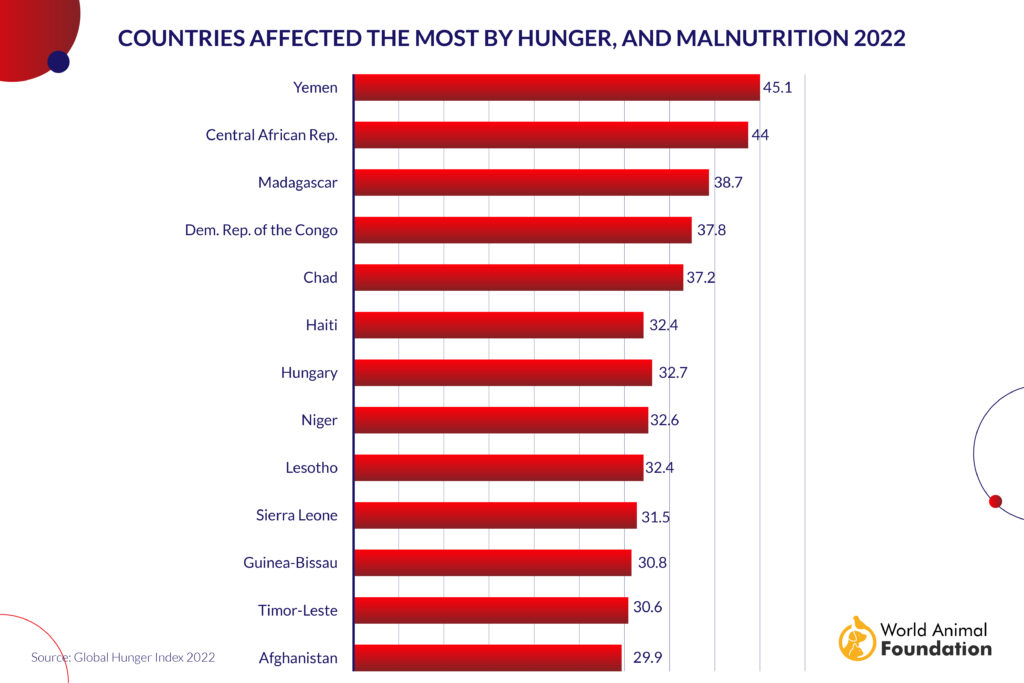 Yemen, the Central African Republic, Madagascar, the Democratic Republic of Congo, and Chad are suffering from acute malnutrition. There's a lack of data for Burundi, Somalia, South Sudan, and Syria–but residents of those countries are also acutely nutriment insecure and need adequate food and a sufficient amount of quality food.
Globally, 45% of Child Deaths Are Attributed to Hunger and Related Causes (WFP)
Around 45% of deaths of children under five are caused by undernutrition. Around 45 million young children around the world experience severe malnutrition each year – child mortality from starvation is almost one in every three children.
The UN states that people need protein, fats, and micronutrients to prevent micronutrient deficiencies. Malnutrition in mothers and children is a leading risk factor for illness and death.
Daily, 700 Children Die From Diseases Linked to Dirty Water and Poor Hygiene Services (UNICEF)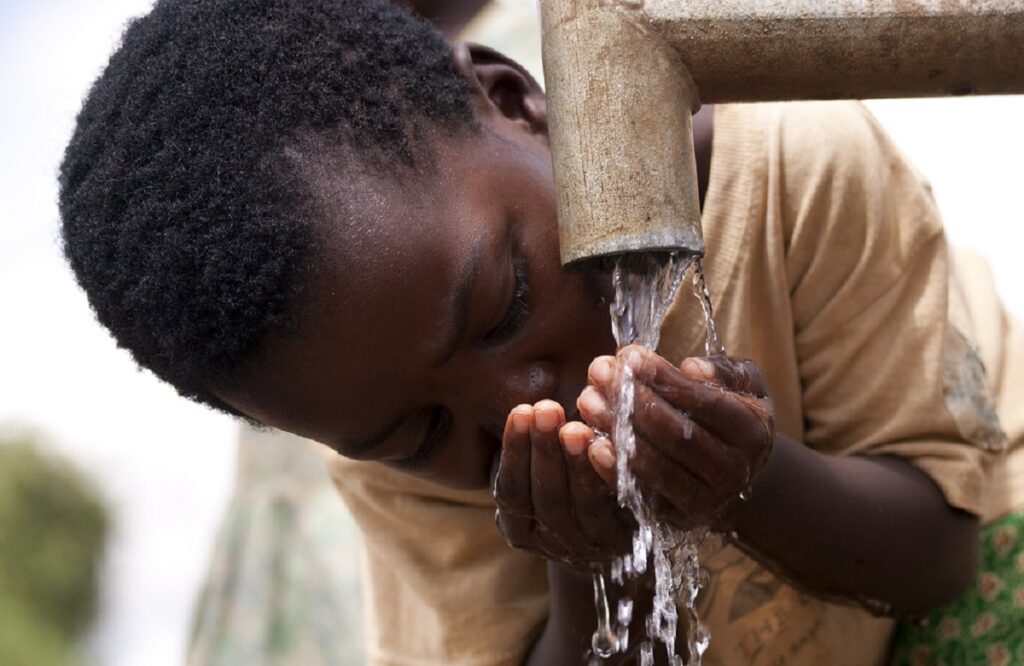 The number of individuals without access to clean water and good hygiene resources is shocking.
2.2 billion people don't have potable water.
Over half of the global population doesn't have safe sanitation.
Three billion people don't have soap.
673 million defecate in open areas.
Communities need access to clean water and hygiene services for their crops and livestock and also to prevent waterborne illnesses.
Global Food Shortage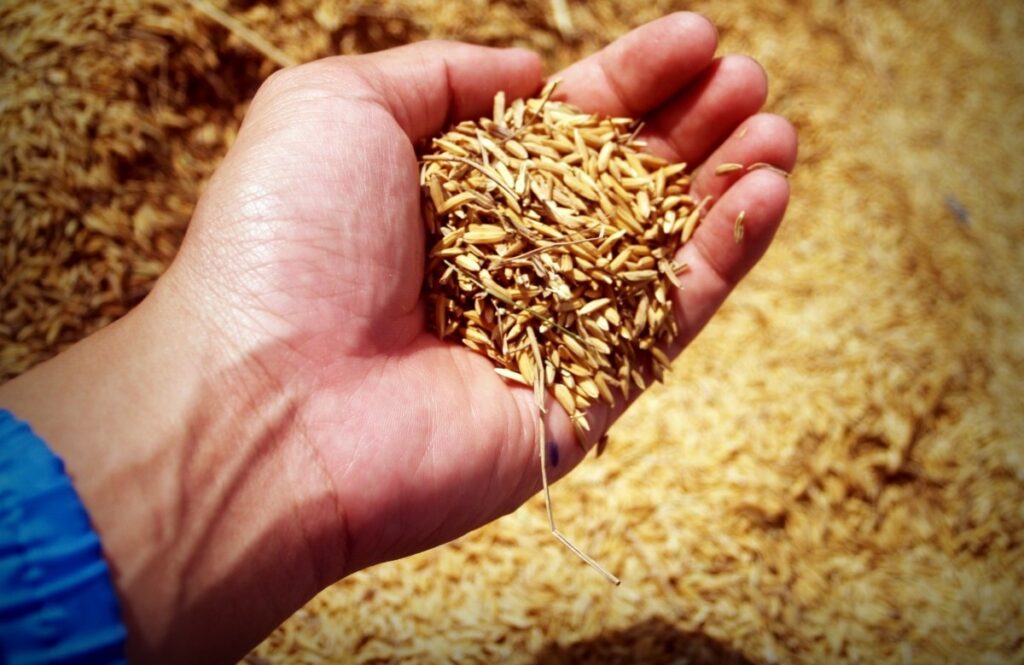 The World Food Programme reports that after COVID-19, food insecurity escalated from 135 million in 53 countries pre-pandemic to 345 million in 79 countries in 2023 due to a combination of the COVID-19 pandemic, conflict, and climate shock.
The war in Ukraine increases the costs of fuel, nutriment, and fertilizers. Millions of people are sustenance insecure and threatened with starvation. 171.5 million people in 2023, a great increase from 128 million in 2021.
Worldwide, Agricultural Activities Provide Livelihood and Sustenance for 65% of Impoverished Working Adults (World Bank)
9.7 billion people will need sustenance by 2050, and experts hope to expand agriculture because it's two to four times more effective in increasing the incomes of the poorest compared to other sectors. In some developing countries, agriculture is critical to economic growth and is 4% of global gross domestic product (GDP), sometimes accounting for more than 25% of GDP.
Rising Fertilizer Prices Could Escalate the Food Affordability Crisis to a Food Availability Crisis, Leading to Decreased Production of Key Crops in 2022 (WFP)
Around the world, sustenance prices reached a new record by increasing ten times from five years ago. Very high fertilizer prices and other economic shocks are intensifying the problem.
Costs Have Reached Record Levels, With the WFP's Monthly Operating Costs Surging by 44%, Totaling $73.6 Million Above the 2019 Average (WFP)
WFP's monthly operating costs increased 44% and are $73.6 million higher than its 2019 average. Money is spent on operating costs rather than feeding 4 million individuals for a month.
The Ukraine Conflict Is Intensifying Global Food Supply Chain Disruptions, Leading to the Largest Food Crisis Since World War II (UNO)
The war has had a devastating impact on worldwide sustenance supplies. Ukraine, a leading grain distributor, has had a dramatic decrease in its exports, making millions of people around the world sustenance insecure. The European Union and the United Nations have acted to increase Ukrainian exports, but it's more expensive than in 2021.
What Is Famine?
A UNICEF study focused on 15 developing countries and discovered that each minute, a child suffers from severe malnutrition. Members of the World Food Program describe food crises as 345 million humans suffering from sustenance insecurity in 2023.
Concern Worldwide reports, "A famine is declared when 20% of a population is suffering extreme food shortages, and 30% of children under the age of five are suffering acute malnutrition." Also, if the death rate of an area has doubled, or if two people (or four children) out of every 10,000 people die each day.
Individual governments declare the beginning (and end) of a famine. It's difficult in many of the world's hungriest countries because famines occur in areas with a lack of infrastructure, which makes the data points hard to verify.
Measures to Stop World Hunger Crisis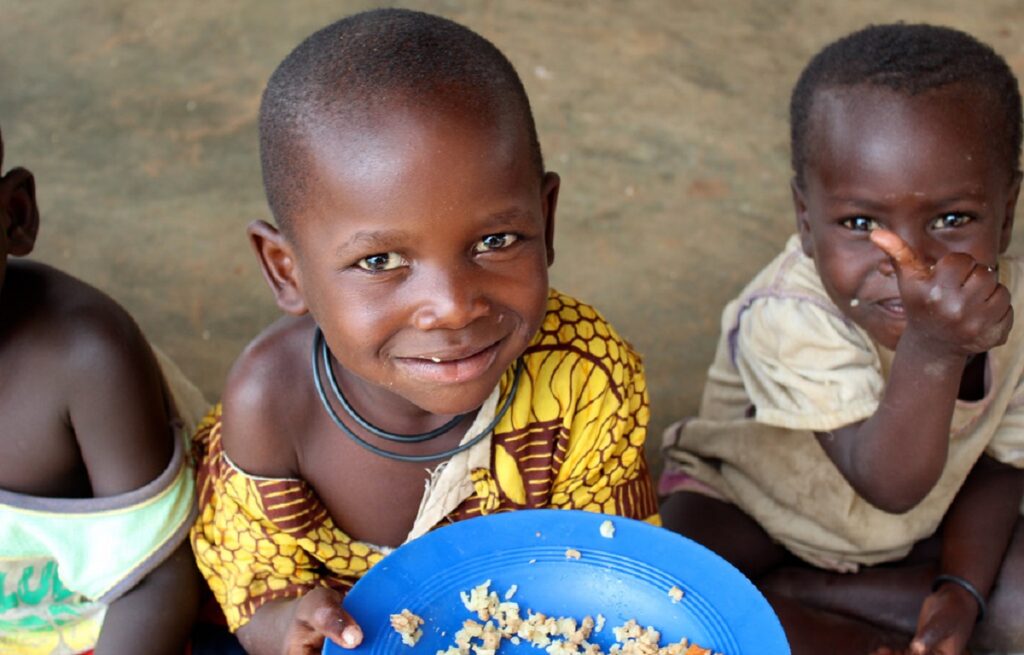 Extreme food shortages put children at risk for life-threatening illnesses, death, stunted intellectual development and academic performance, gender-based violence and abuse, child labor, and child marriage — because girls can be married for dowries to feed their families. Severe acute malnutrition can be a deficiency of one specific nutrient or a few key nutrients.
Let's take a look at some world hunger facts.
Sustainable Development Goal 2 Aims To Eliminate Hunger Globally by 2030 (UNO)
The "zero hunger" Sustainable Development Goal 2 aims to achieve a world without hunger by 2030. It's part of a global effort to eliminate hunger, improve food security, ensure better nutrition, and promote sustainable agriculture practices to provide enough food for everyone.
A Donation of $6.6 Billion Will Probably Help 42 Million People Globally Who Are Facing a Food Emergency, Hunger, or Food Shortage (UN WFP)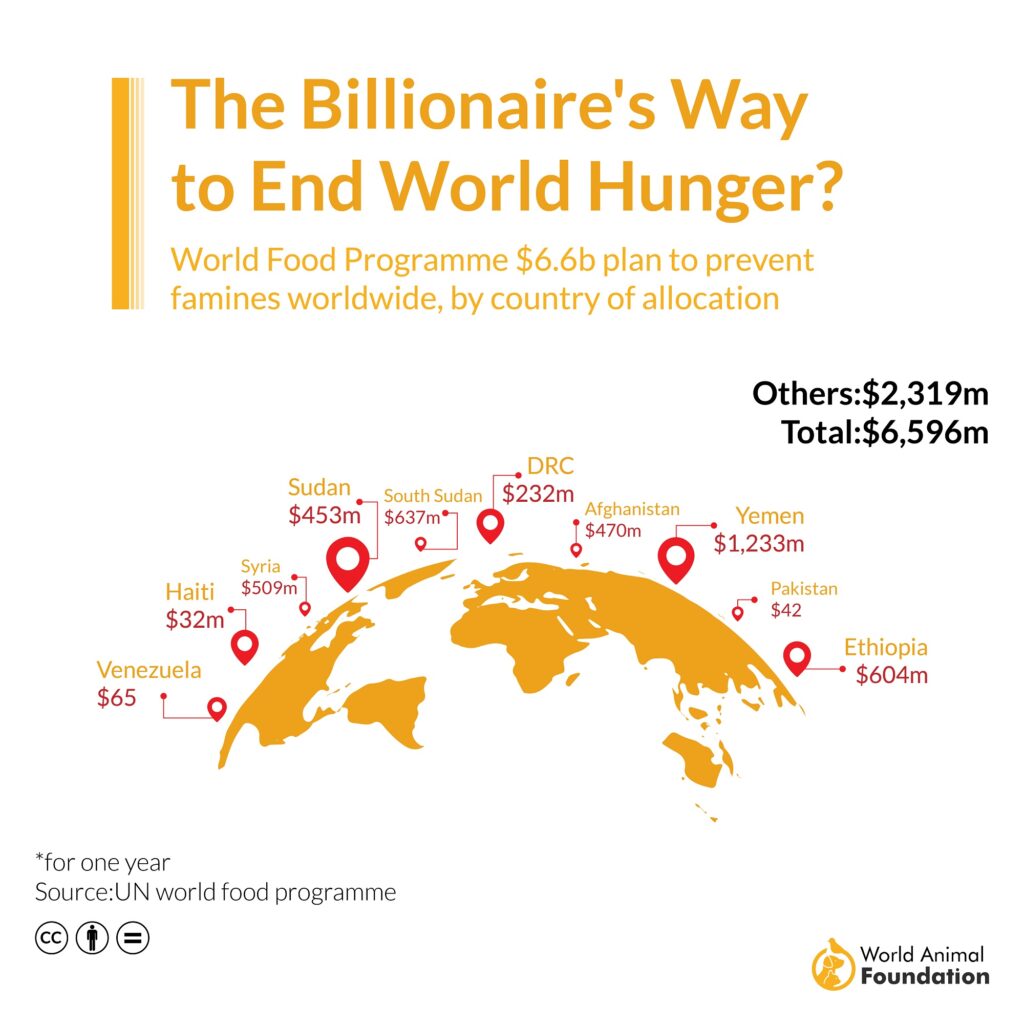 A budget of US$6.6 billion could provide essential sustenance – one meal daily at a cost of US$0.43 per person per day – to those in dire need. This allocation could feed 42 million individuals for a year, preventing the threat of famine across 43 countries.
In Just 4 Years, WFP and Local Communities Converted 158,000 Hectares of Sahel's Barren Land Into Productive Farms Across 5 African Countries Through the Sahel Resilience Scale-Up (WFP)
WFP is working on ending hunger in the Sahel in Africa by creating community infrastructure, restoring land, providing education, improving health and nutrition, and creating jobs for women (tightening the gender gap) and youths in Burkina Faso, Mali, Chad, Niger, and Mauritania. In 2022, WFP helped 3 million individuals in over 2,750 villages by rehabilitating more than 220,300 hectares of land by Sahelians since 2018.
From 2019 to 2022, the number of undernourished people grew by as many as 150 million. By addressing global hunger levels, WFP gave many participating families food access, and saved them from severe acute malnutrition, and helped some with sudden shocks.
In Sierra Leone, another organization called the LANN project teaches people how to identify nutrient-rich wild foods that are safe to eat, such as palm nuts (used to make oil). Hunting animals for food is not sustainable.
The Resilience Monitoring and Measurement framework is helping the economy, nutrition, natural regeneration, food security, and social services access, decreasing hardships and creating social cohesion. A second phase of the Sahel Integrated Resilience Programme will be implemented from 2023-2028.
R4 Rural Resilience Shields 360,000 Families' Crops and Livelihoods in 14 Countries From Climate-Related Threats (WFP)
R4 participants in Burkina Faso, Madagascar, and Kenya received $452,000 distributed in payouts in 2021. WFP paid $7.9 million of premiums under risk transfer mechanisms to fight hunger hotspots and save people from severe acute malnutrition, and work on ending hunger.
WFP reached 395,000 households through supported micro-insurance programs in Bangladesh, Burkina Faso, El Salvador, Ethiopia, Fiji, Guatemala, Kenya, Madagascar, Malawi, Mozambique, Nicaragua, Senegal, Zambia, and Zimbabwe. Compassion International in Kenya offers cash transfers for sustenance.
Programs like Graduation and ReGRADE in Malawi were established specifically to help with the business end of agriculture in hot spots in communities and link food security to financial empowerment. Around the world, 65% of working adults living in poverty earn a living through agriculture.
WFP's goal is to reach zero hunger by providing food aid. A family's eatable supplies can run out during hunger season, leaving them with no food access, making it one of the most consistent forms of food insecurity. A natural disaster is always a possible threat.
Unfortunately, the UN predicts that the economic fallout of the pandemic will contribute to failure to reach the Zero Hunger goal by 2030 despite cash transfers, food drops, and more.
Students Against Hunger also works to raise awareness about the hunger crisis.
Nearly 44% of infants under six months old were exclusively breastfed worldwide in 2020, indicating progress (WHO)
The WHO promotes breastfeeding babies until they are at least six months old. International campaigns have resulted in 44% of babies being breastfed until that age in 2020. Pregnant and lactating women need more nutrient-dense crops to pass essential nutrients along to their babies.
FAQs
How Many People Die of Starvation Every Year?
9 million people die from hunger each year.
How Many People Are Starving in the World?
Approximately 193,000,000 people experienced severe hunger in 2021. FAO estimates that there are 2.3 billion people with dangerous food insecurity, which makes it a hunger crisis.
Will World Hunger Be the Next Pandemic?
811 million people in more than 80 countries around the world are acutely food insecure. The WFP says that world hunger will be and already is the next pandemic. Conflicts, climate extremes, and the COVID-19 pandemic have exacerbated the hunger catastrophe. With so many acutely hungry people and the world population increasing, we have to fight hunger now.
How Many People Die of Hunger Every Day?
24,000 people die each day from hunger.
Is There Enough Food in the World To Feed Everyone?
Relief Web reported that there's enough sustenance to feed everyone on the planet, but not everyone has access to it. One example of a lack of access is regions in the Middle East and Africa that rely on wheat imports from Ukraine and Russia and have not received them since the war began.
Why Is World Hunger a Problem?
Action Against Hunger explains that hunger results ininequality, extreme poverty, gender discrimination, conflict, climate change, and inadequate health systems, and governments deprive millions of families globally of nutritious eatables. Strong health systems are needed to end the hunger catastrophe.
What Causes World Hunger?
According to Concern Worldwide, the 10 causes of global hunger are
Poverty
Food shortages
War and conflict
Climate change
Poor nutrition
Poor public policy
Bad economy
Food waste
Gender inequality
Forced migration
When Did World Hunger Start?
Although bad crop seasons, wars, and other incidents resulted in regions suffering from hunger crises, the 21st-century hunger crisis began between 1929 and 1945 during The Great Depression and World War II because of nutrient shortages and people being unable to afford sustenance.
How Many Children Die of Starvation Every Day?
10,000 of the 25,000 people who die from hunger daily are children.
What Is Food Security?
The World Bank said that the definition of food security was established at the 1996 World Food Summit, food security. "When all people, at all times, have physical and economic access to sufficient safe and nutritious food that meets their dietary needs and food preferences for an active and healthy life."
Conclusion
Awareness of the growing global food crisis is essential.
Together, let us raise our voices against the persistent cries of empty stomachs. By embracing unity, compassion, and innovative solutions, we can transform the harrowing statistics of hunger into a story of triumph over adversity.
Through shared effort, we pave the way to a world where every belly is full, every child dreams without hunger's shadow, and every life flourishes with the abundance of nourishment.