California…The land of glitz and glamour, the Hollywood sign, blockbuster movies, and… wildfires! The United States has its fair share of devastating wildfires, and CA seems to attract them like bad movies.
Why is that? We'll explore the answers and will also dig into the campfire that changed CA's history. Studying California wildfire statistics helps everyone, from the residents to the person in Nashville, TN, who needs to understand what chaos seemingly small actions can create when conditions are right.
Whether caused by lightning, arson, or negligence, wildfires can obliterate lives, livelihoods, and more. So let's talk about what the facts are with California wildfires. There's a lot on the line.
Wildfires in California
There's no point in talking about California wildfires unless we mention the role climate change plays in them. Wildfires are the actors of this saga, but climate change is the movie.
The dire circumstance has controlled our storyline for the last 100+ years. Mankind and our use of fossil fuels are the antagonists, and responding to inclement weather conditions is bringing our world to its knees. Does that mean more intense and a higher number of wildfires are hitting CA? Absolutely!
So to recap: Climate change is a primary cause of increasing wildfires in CA. But the movie's not over yet. There's still hope for a happy ending.
California Fires
Extreme temperatures and dry air are the "matches" waiting to be ignited into a wildfire in CA. The epic room-temperature coastal townspeople rush to for vacations aren't even safe.
A study published in the International Journal of Wildland Fire, from state and federal firefighting data, reported that due to climate change, winter precipitation is being forced into a shorter amount of time which contributes to a longer fire season. Additionally, the Sierra Nevada has experienced accelerated snowmelt since the mid-20th century.
Causes of Wildfires
Whether a wildfire is human-induced or naturally ignited, there must be three elements present for one to start:
Fuel: A flammable material surrounding a fire, such as live or dead trees, dry vegetation, and other organic matter
Air: An abundance of oxygen supply
Heat sources: To ignite and burn the fuel. Examples would be lightning strikes or human sources like campfires or cigarettes.
Top 10 Most Horrifying California Wildfire Statistics
California Wildfire Statistics
Let's Venture into the fiery heart of California, a state that bears witness to both the majestic beauty of its landscapes and the devastating wrath of wildfires.
From 2022 to 2023, Wildfires Caused Over $3.2 Billion in Damages Across the US. (Ncei.noaa.gov)
Between 2022 and 2023, a series of wildfires wreaked havoc across the United States, resulting in a staggering $3.2 billion in damages. There have been 363 weather and climate disasters since 1980, where damages reached or exceeded $1 billion. In the US's 2022 wildfire season, over 7.5 million acres burned.
According to NIFC (National Interagency Fire Center), California Has the Highest Number of Wildfires and Burned Acres in the US. (NIFC.gov)
The total land area of CA is 163,696 sq. miles which makes it the US's third largest land state after Alaska and Texas. There are many "perfect storm" conditions in CA that cause it to be so greatly affected by wildfires.
A Total of 4,176 Wildland Fires (YTD) Have Occurred in California in 2023. (Fire.ca.gov)
California has been hit by more than 4,176 wildland fires to date. There have been three fatalities – all firefighters. Plus, twenty structures were damaged or destroyed.
In 2023 Alone, 141,765 Acres of Land Have Been Destroyed in California. (Fire.ca.gov)
CAL FIRE has eight wildfire prevention programs, including vegetation management and fuel reduction, among others. One of their main goals is to mitigate the risk of wildfire.
In 2022, a Total of 7,477 Wildfires Occurred, with Damage of 331,360 Acres. (Fire.ca.gov)
There were nine fatalities – all civilians – and 876 structures were either damaged or destroyed. There were 554,342 total emergency responses.
The Mean Average of the Past 5 Years of Wildland Fires in California Is 5,353, with a Total of 754,894 Acres of Land Damage. (Fire.ca.gov)
Comparatively speaking, CA's largest fire in recorded history was the 2020 August Complex Fire. It was comprised of 38 individual fires that were considered to be one massive 418,000-ha fire.
Camp Fire in 2018 Has Been Known to Be the Most Destructive One in the History of California. (ABC7 News)
This statistic is based on the number of structures it destroyed, 18,804, and most of them were homes. It is also the deadliest in state history.
According to Stats for 2021 and 2022, Most of the California Wildfires Occurred in June. (San Francisco Chronicle)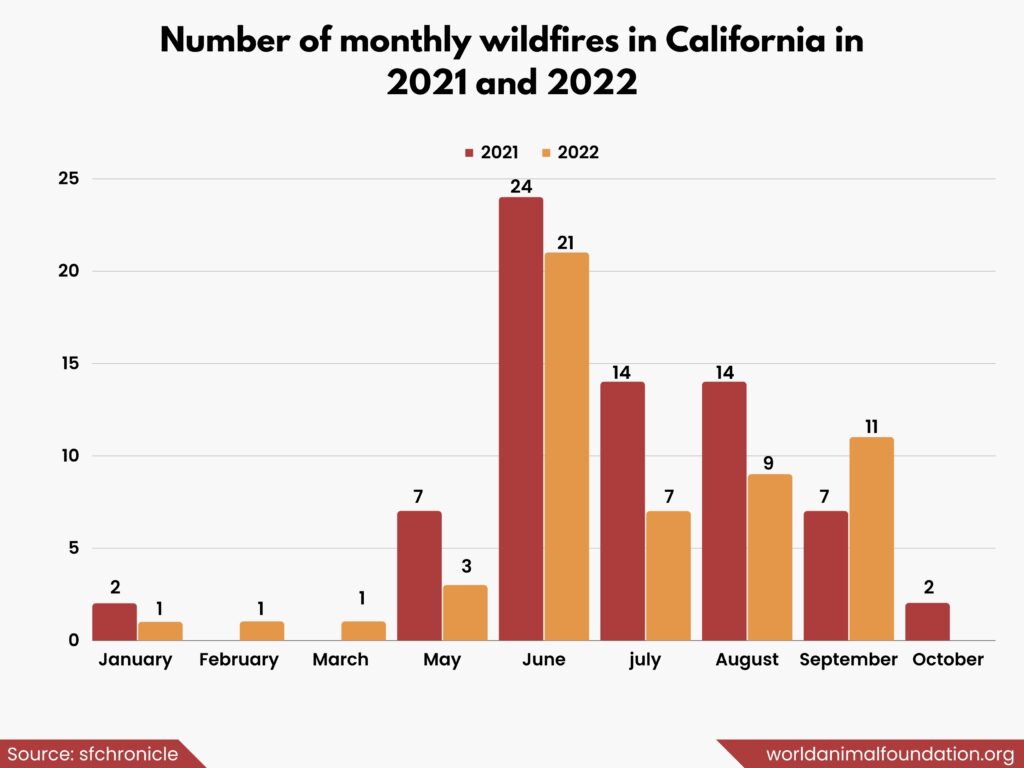 Although CA experiences year-round fire seasons, most of its fires occur from April–October. When there is moderate weather, more rainstorms, and effective forest management, such as in 2022, fire seasons can be less consuming.
Over 350,000 Californians Inhabit Towns Situated Entirely Within Zones Classified as Extremely Susceptible to Fires. (KRCR)
Practically the entire town of Paradise, CA, the 28,000 people-town that was practically obliterated in November 2018, was at severe risk in a fire zone. Eighty-five people died in the fire.
As per Stats of 2022, Almost 1,265,435 Houses in California Are in Danger Because of Wildfire. (CoreLogic)
CoreLogic Wildfire Risk Report covers:
A. How drought conditions heighten wildfire risk
B. The number of single-family homes at risk of wildfire
C. The evolution of wildfire insurance regulation
The Top Four Ignition Sources for Wildfires on CAL FIRE-Protected Lands Are Equipment Use, Powerlines, Arson, and Lightning (The San Diego Union-Tribune)
More than 90% of wildfires are ignited by people or their equipment. From Sonoma to San Diego (coastal counties), almost all are human-related.
Current Fires in California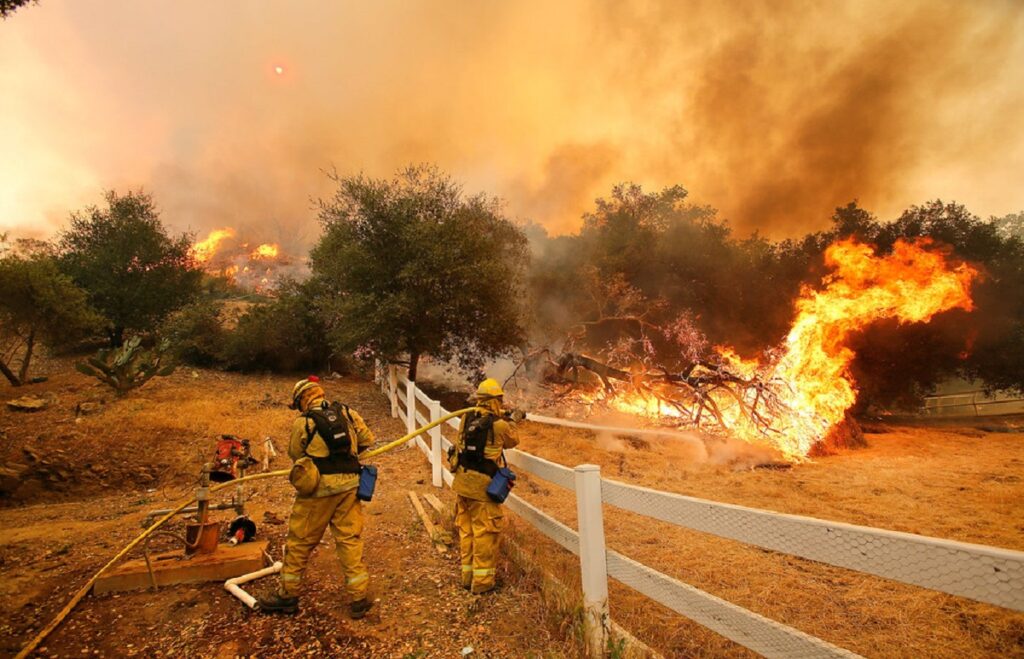 Let's step into the heart of California's ongoing high-risk battle with the flames as we explore the current fires scorching the landscape. From rugged mountains to bustling neighborhoods, these number of fires paint a vivid picture of the state's resilience and the tireless efforts of firefighters:
Head Fire
Started: Aug. 15, 2023
Acres burned: 2,700
Containment: 0%
SKU August Lightning Complex
Started: Aug. 15, 2023
Acres burned: 646
Containment: 20%
York Fire (Burning Across CA and NV)
Started: Reported August 1, 2023
Acres burned: 80,000+
This wildfire was so intense it created "fire whirls," which are flames and smoke that form and look similar to tornados. It started in CA's Mojave National Preserve and was called the state's largest fire of the year.
California Wildfires History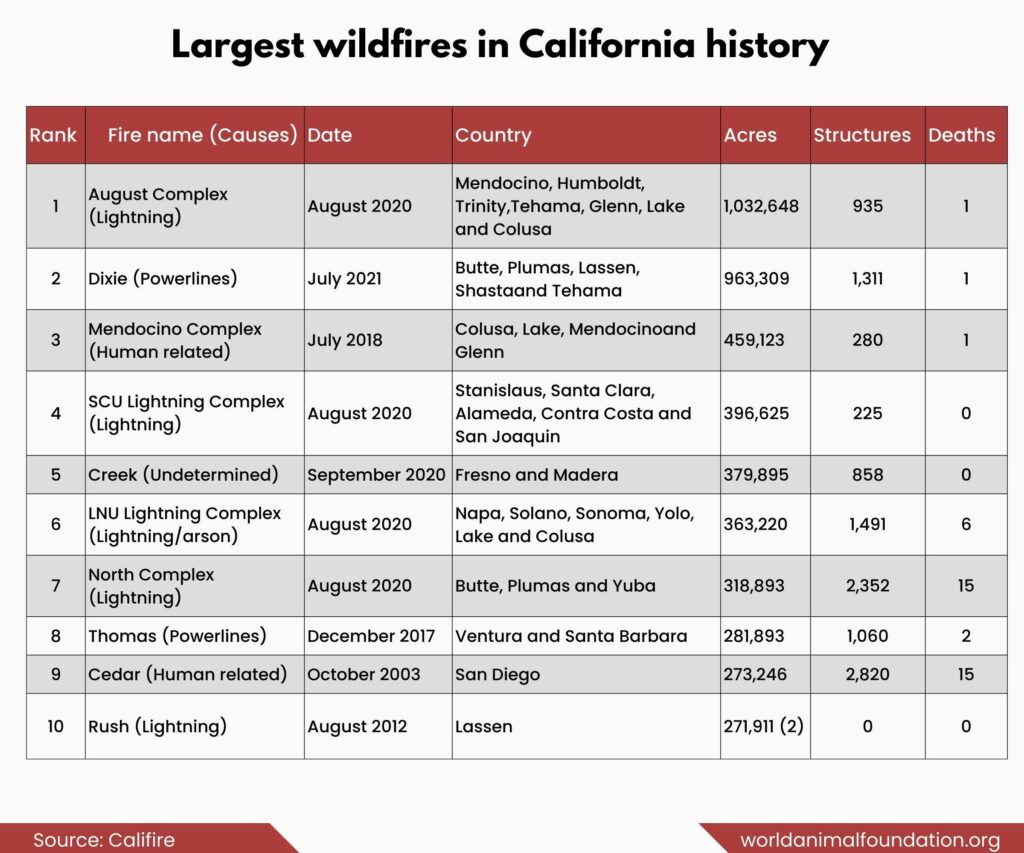 California's wildfire history leaves a burning reminder of the relentless impact on landscapes, communities, and ecosystems.
Largest Wildfires in California
Let's unveil the colossal fury of the largest wildfires in California's history as nature's flames reshape landscapes on an unprecedented scale:
August Complex Fire in 2020 Is Reported as the Largest Wildfire in California History. (Cal Fire)
This was described as the first "gigafire" which means the area burned was more than 1 million acres. Seven counties were affected, and it was larger than the state of Rhode Island.
Dixie Wildfire in July 2021 Was Also a Huge One That Burned Around 963,309 Acres of Land. (Cal Fire)
This wildfire was active for 104 days. It takes planning, manpower, and stamina to battle a fire so large.
Mendocino Complex Wildfire of 2018 Burned More Than 459,123 Acres of Land. (WFCA)
This blaze was made up of two fires – the River Fire and the Ranch Fire. The wildfire caused at least $257 million dollars in damages.
In August 2020, SCU Lightning Complex Created a Huge Impact by Burning 396,625 Acres of Land. (Cal Fire)
Started on 08/16/20, this fire covered five counties and was active for 46 days. The Suppression Repair Plan was worked on in the aftermath.
The Creek Fire of September 2020 Burned Around 379,895 Acres. (Cal Fire)
The Sierra National Forest was the main location for it. Hundreds of people were rescued by National Guard helicopters.
Most Destructive Wildfires in California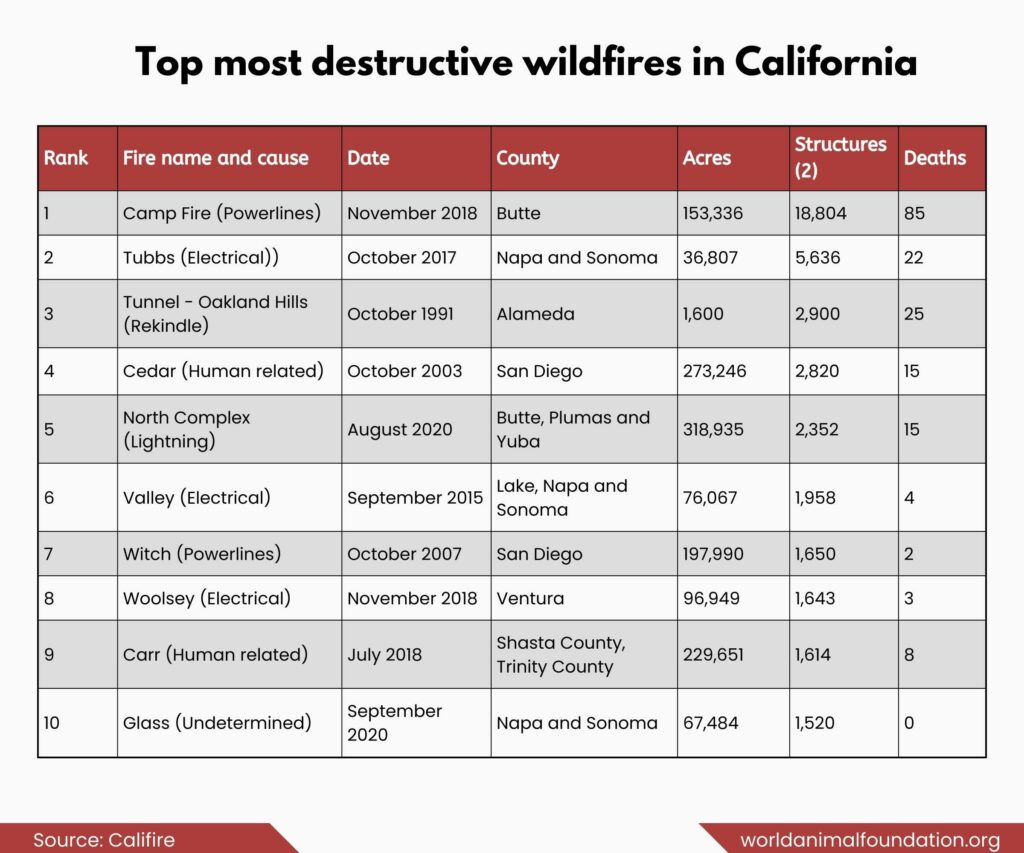 Let's explore the scorching annals of California's wildfire history, which highlights the state's struggle against nature's fierce infernos and its quest for resilience and restoration:
Camp Fire of 2018 Killed 85 People and Burned 153,336 Acres of Land. (Calfire)
Enveloping a vast expanse of 153,336 acres, this devastating fire left a trail of destruction in its wake. In a mere four hours, over 18,000 structures succumbed to its fury, with the towns of Paradise and Concow bearing the brunt, losing nearly 95% of their buildings to the relentless blaze.
Tubbs Wildfire in 2017 Burned 36,807 Acres of Land, 5,636 Structures, and 22 People Lost Their Lives. (NPR)
This fire occurred in Sonoma and Napa counties and was one of the deadliest fires in the history of CA. It was caused by a private electrical system next to a residential structure.
In Alameda County in 1991, the Tunnel – Oakland Hills Wildfire Burnt 1600 Acres of Land. (Newsweek)
Twenty-five people lost their lives, and 2,900 structures were destroyed. The tragedy is often called the Oakland firestorm. Eucalyptus trees are known to be highly flammable.
The Cedar Fire in San Diego in 2003 Destroyed 2,820 Structures and Killed 15 People. (Sandiego.gov)
The Fire-Rescue Department worked the scene with 50 engine companies,11 brush rigs, 9 truck companies, and two airport firefighting rigs. An estimated $204 million was the dollar loss.
North Complex Wildfire of 2020 Burnt 318,935 Acres of Land. (WFCA)
One of the top 20 wildfires in CA history destroyed 2,352 structures, and 15 lives were lost. The aboveground biomass lost 75-100%, and the town of Berry Creek was destroyed.
States With the Most Wildfires
Outlining the hotspots of nature's fury: states with the most wildfires face a burning challenge to fight wildfires and win against relentless blazes:
California Has the Highest Number of Wildfires Than Any Other State in the US. (University College London)
Besides, too many lives lost and millions of dollars worth of property damage, CA wildfires have created subsequent air pollution that has caused people's health to deteriorate. The services industry has suffered the greatest total losses indirectly, at 45.1%.
The Second State With the Highest Number of Wildfires Is Texas. (Austin American Statesman)
This is largely due to triple-digit temperatures and dry conditions. Many Western states see wildfires, and Texas has similar weather.
With a Total of 5,151 Wildfires, North Carolina Ranks Third. (Context News)
Global warming and climate change are bringing new threats to areas that previously weren't hotbeds for wildfires. The threat has spread from the West to the East Coast.
Montana Comes Forth With a Total of 2,573 Wildfires. (National Interagency Fire Center)
One of the largest fires in Montana was the Mann Gulch Fire in 1949. The Forest Service dispatched fifteen smokejumpers to battle the blaze. The fire covered 3,000 acres in 10 minutes.
The Number of Wildfires in Florida Is 2,262. (Munich Re)
Wildfires in FL are so prevalent they have a website devoted to communicating with authorities about wildfires. Not only are lightning, arson, and debris burning potential dangers but there are also more people moving into areas that were previously wildland.
States with Highest Numbers of Acres Burned
Now let's explore the landscapes scarred by nature's flames as we explore the states bearing the weight of the highest numbers of acres burned:
California Has the Highest Number of 2,233,666 Burned Acres Due to Wildfires. (World Atlas)
Soil moisture is reduced after two years of drought making it conducive for wildfires since vegetation becomes dry. In 2021, this was the case which made for the perfect environment for wildfires.
The Second State With the Highest Number of Burned Acres in the US Is Oregon. (III)
They had 2,202 total fires that burned 828,777 acres.
Number of properties at risk: 147,500
Housing units at risk: 9%
With a Total of 747,678 Burned Acres, Montana Ranks Third. (III)
In 2021, MT had 2,573 fires. In 2022, there were 80,000+ homes at risk for extreme wildfires.
Washington Comes Forth With a Total of 674,222 Burned Acres Due to Wildfires. (III)
In 2021, there were 1,863 wildfires. In 2022, the number of properties at risk for extreme wildfires: 51,841.
The Number of Acres Burned in Arizona Is 524,428. (III)
In 2021, there were 1,773 wildfires in AZ. In 2022, the number of properties at risk for extreme wildfires: 119,231.
FAQs
How Many Wildfires in California?
As of Aug 19, 2023, there had been 4,662 wildfires in CA.
How Many Forest Fires Happen a Year?
Since 1983, the National Interagency Fire Center approximated there had been 70,000 wildfires per year. They also reported that the total could be higher for the early years of wildfire documentation.
How Often Do Wildfires Occur?
Since 1983, the US has had 60,000–70,000 wildfires per year, according to the National Interagency Fire Center and the Environmental Protection Agency. And that number is rising. What people tend to forget is the wildlife that is imperiled due to wildfires.
Where Do Wildfires Occur the Most?
Due to the more flammable vegetation – pine needles, grasses, and dry shrubs – California, and other Western states of the US, are particularly prone to wildfire.
How Many Acres Have Burned in Montana?
Currently, year to date (Aug 2023), there have been 58,676 acres burned in MT.
How to Get Prepared for Wildfire?
Create defensible space – This is a buffer between a structure on your property and the grass, shrubs, trees, and other vegetation surrounding it.
Strengthen your home – Use ember-resistant building materials.
Create an emergency supply kit.
Create a personal wildfire action plan for your family.
Prepare for "Now" – Be ready to go by knowing when to evacuate and what to do if you become trapped.
Get "Ready, set, go" materials – Request campaign materials and graphics.
When Is the Wildfire Season in California?
As of July 2023, the season ran from July–October however, in recent years, due to drought, wildfires have begun as early as January.
Conclusion
California wildfire statistics could make a person scared to death, but being aware of inclement weather in the US is the first step towards improvement.
Lots of progress has been made with wildfire prevention and response which is due to the collection and research of facts.
Those of us who aren't in that area hope they can eventually prevent wildfires completely. Until that day, uncontrollable fires wreak havoc on the state.
The way we can help is to know the facts about the weather conditions and how climate change plays a major role in the situation. Education is the key to saving lives!