It's hard to imagine a time when we didn't have cell phones and apps for everything. In today's world, you can even use apps to help train your furry friend. While reading a dog training book can be helpful, it is sometimes best to have a more hands-on approach to training.
So many features help make training apps so helpful, such as convenience and affordability. It can be as helpful as hiring a professional trainer to train your eight-week-old puppy, as long as you do the work.
Top Pick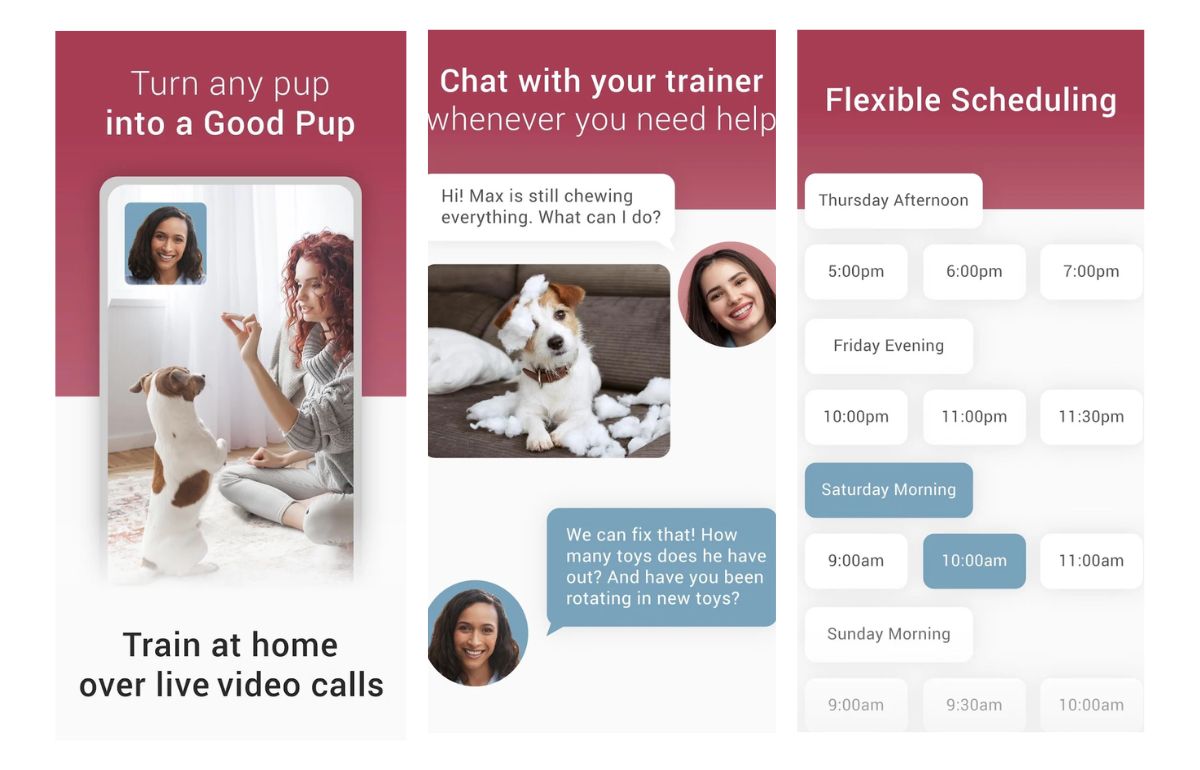 GoodPup
Free trial:  7 days
Training Made Fun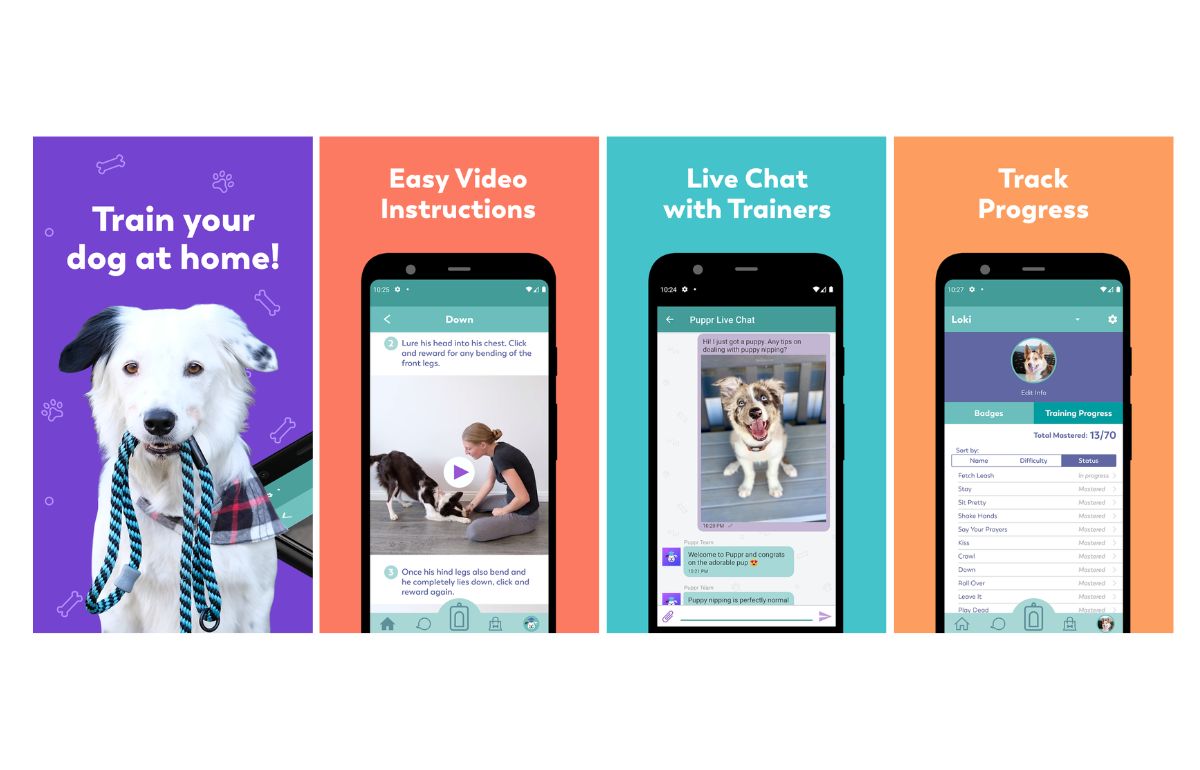 Puppr Dog
Free trial:  7 days
For Trick Training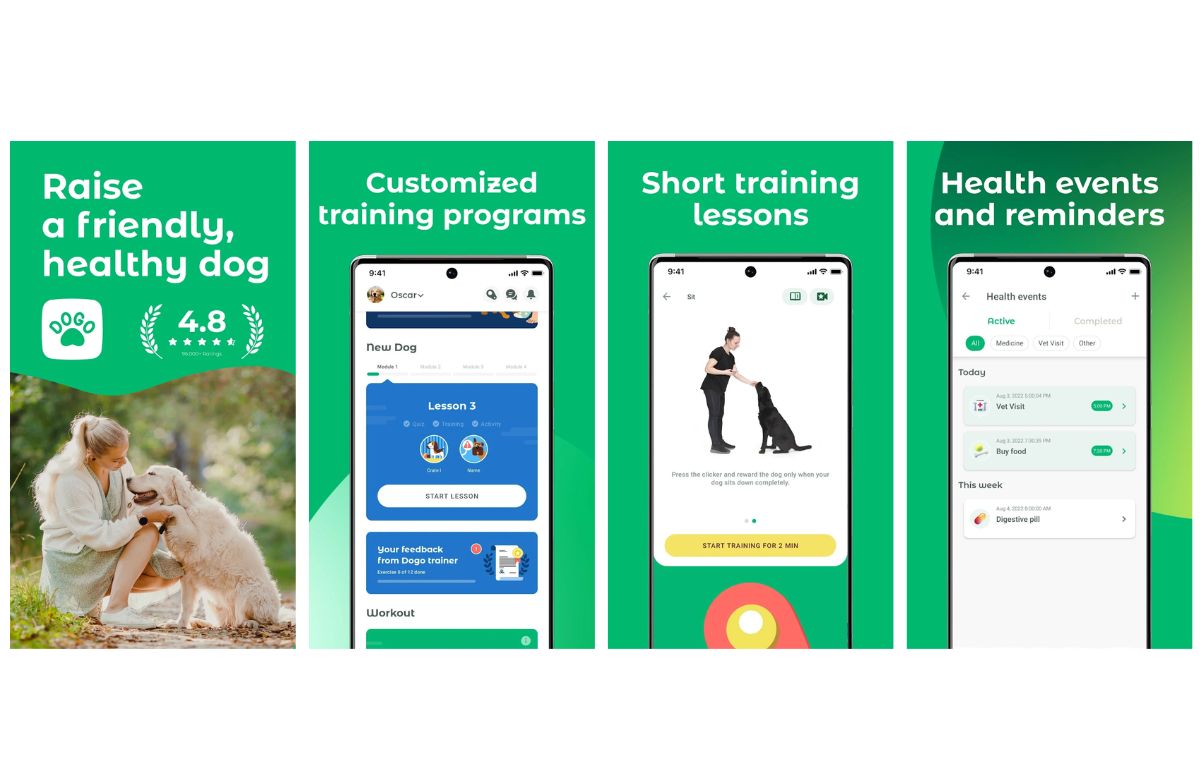 Dogo Dog
Free trial:  7 days
Focused Training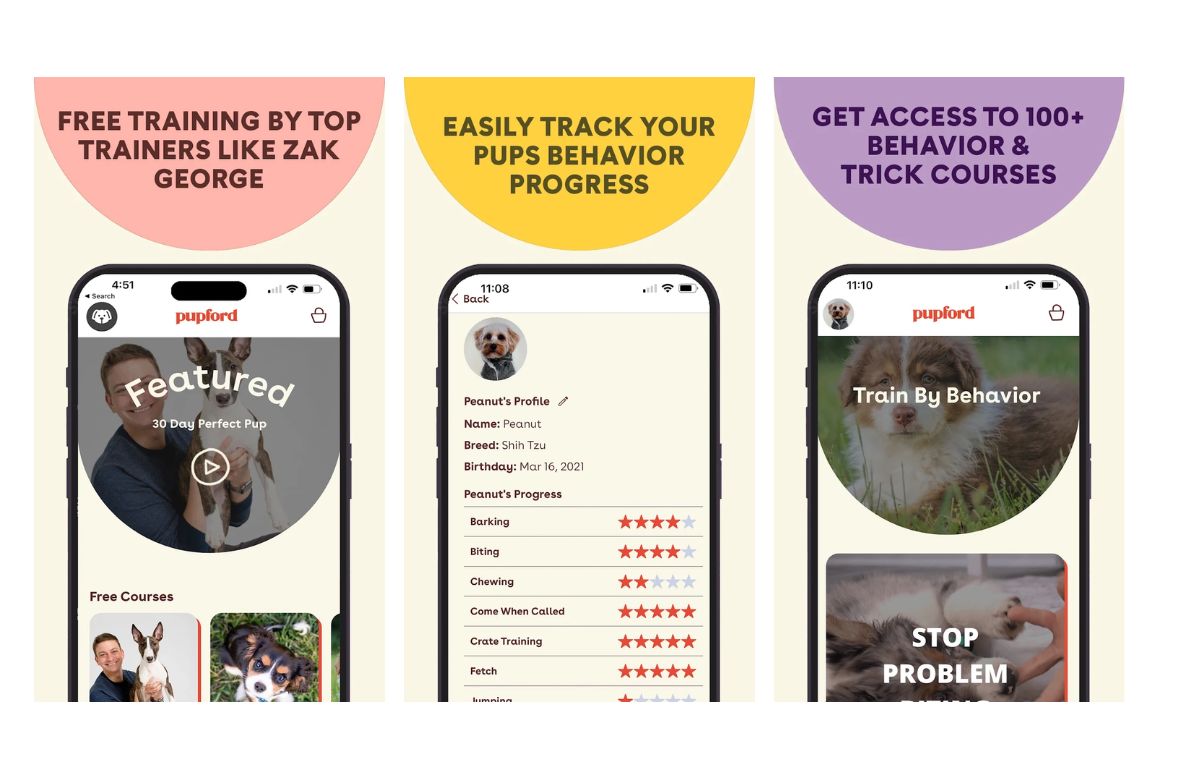 Pupford Dog
Free trial:  Free app
Multifunctional Option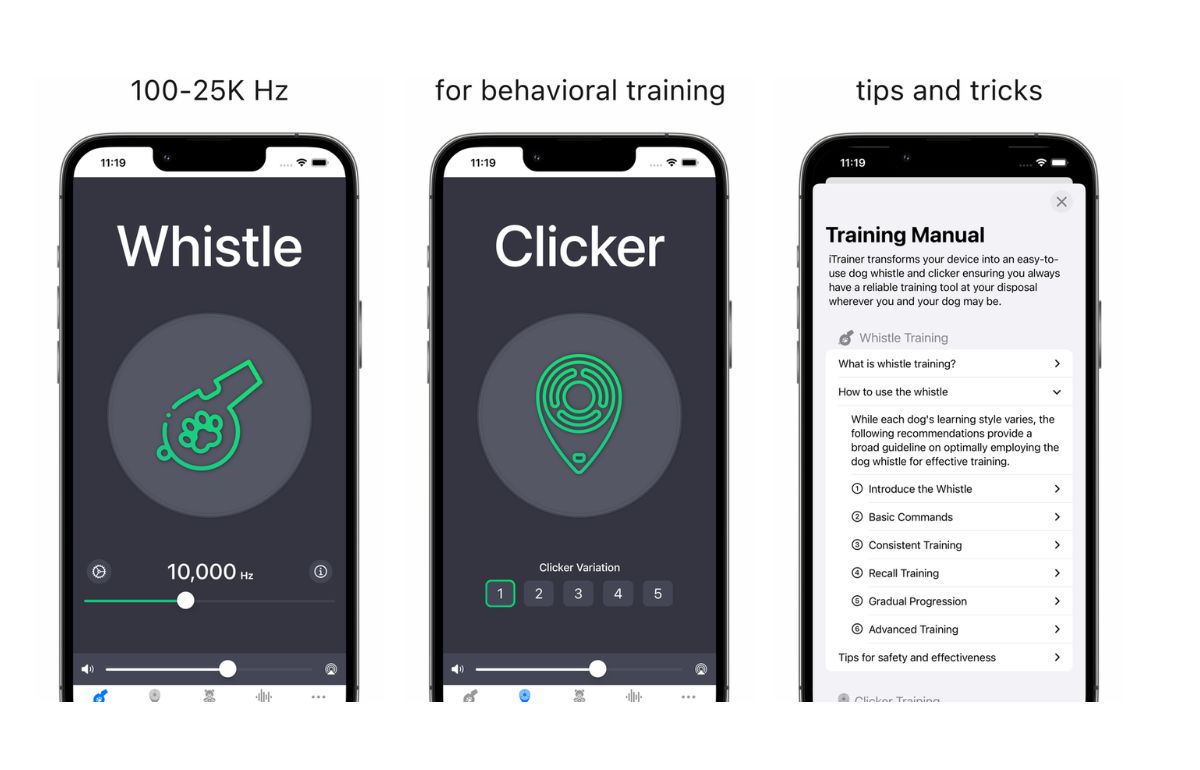 Trainer
Free trial:  Free app
For Energetic Pups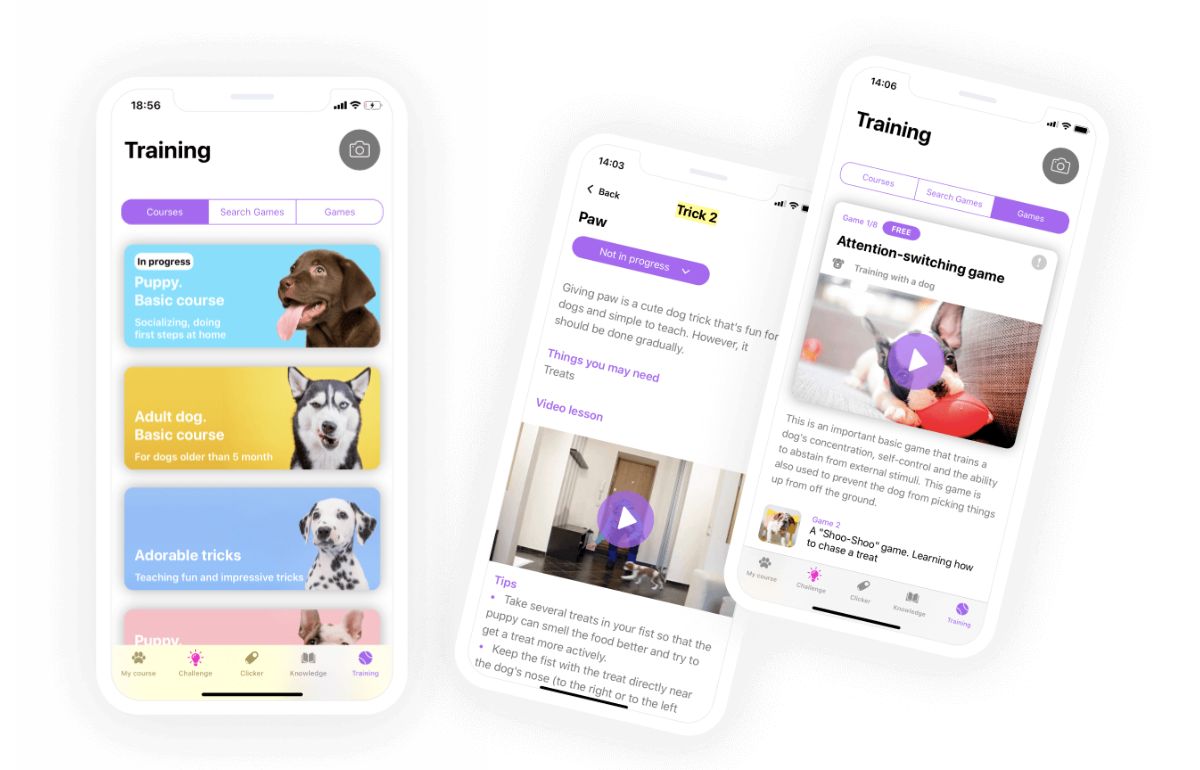 Every Doggy
Free trial:
Option to subscribe
Fitness Training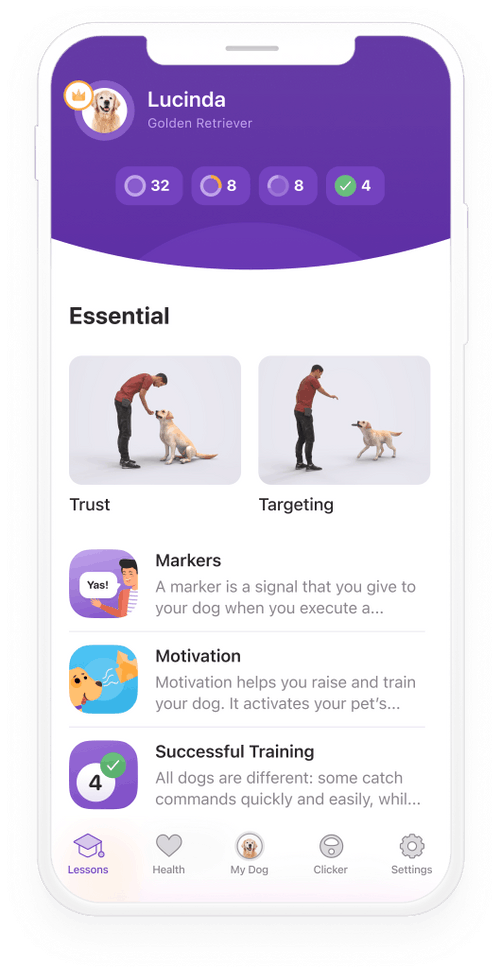 Go Dog
Free trial: Start for free 3 days trial
Streamlined Progress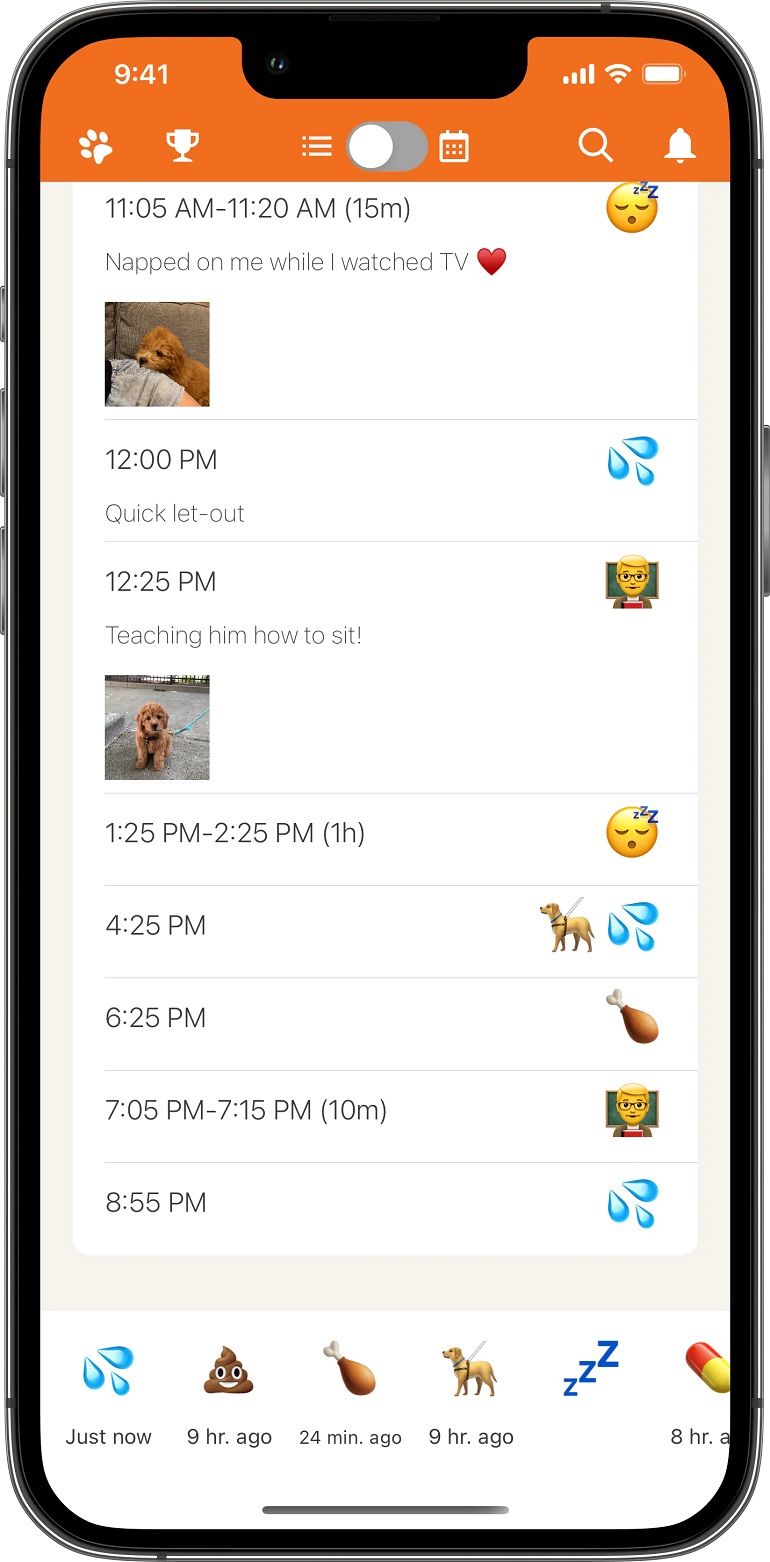 Pup to Date
Free trial: Free app
Best for Schedules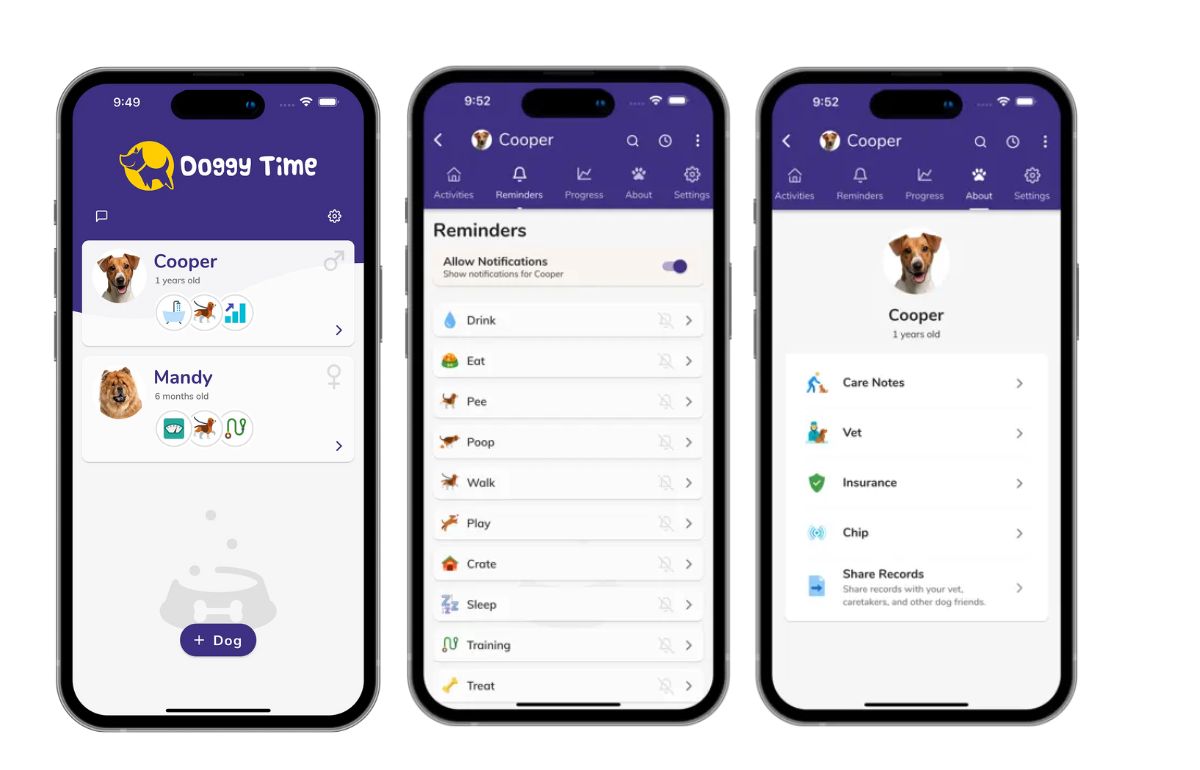 Doggy Time
Free trial: Free usage with option to subscribe
Best Dog Training Apps
Let's transform your smartphone into a powerful training tool with the best dog training apps of 2023. From basic commands to behavioral mastery, discover the top apps for a well-trained, happy pup.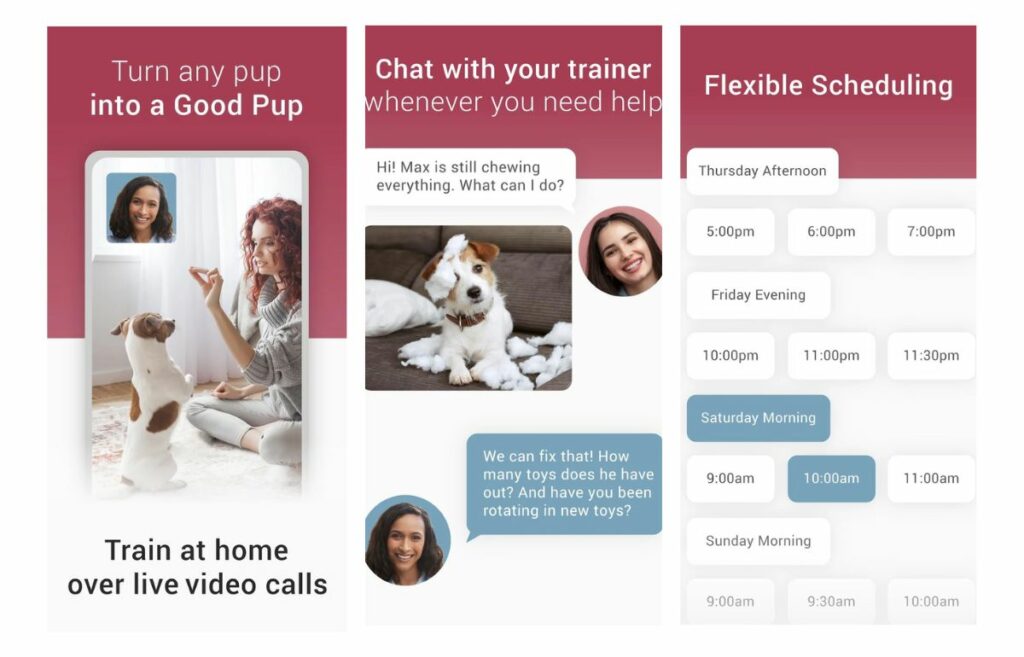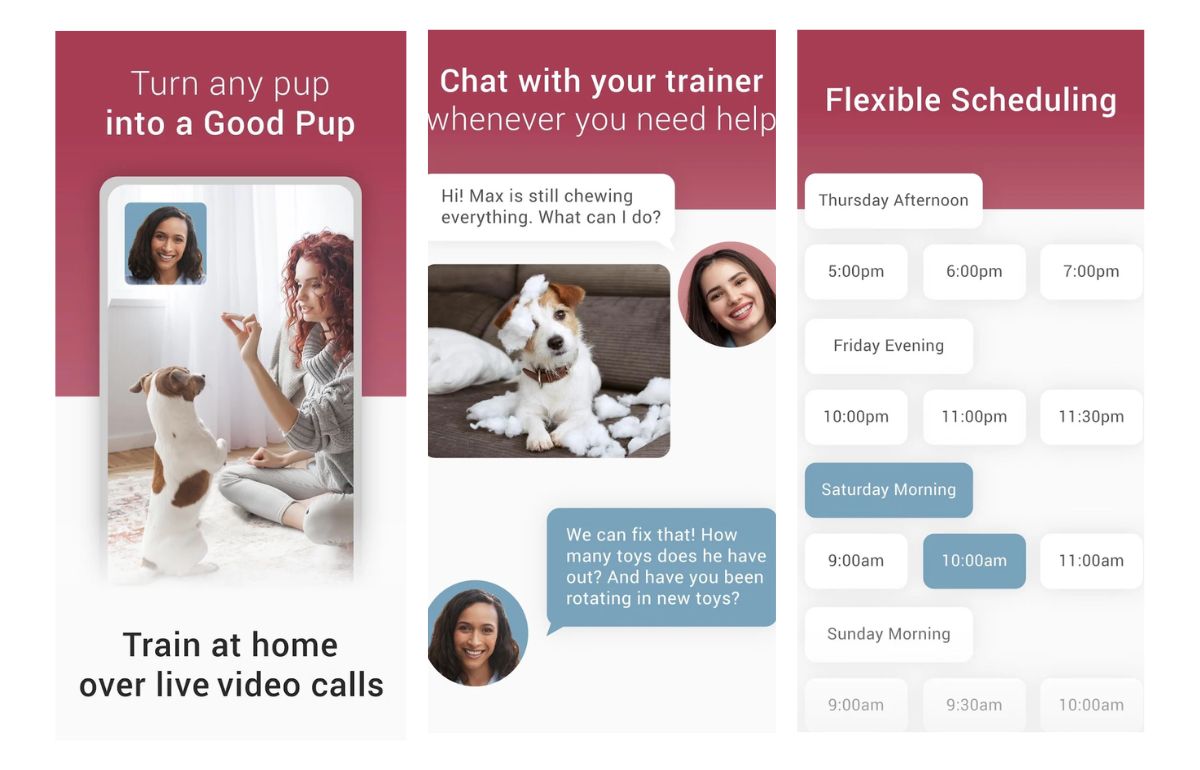 GoodPup is my favorite dog training app. GoodPup offers live one-on-one coaching sessions, which is a total game changer for training. Instead of offering general training information, you get advice that is tailored specifically for your doggo.
The app also offers video lessons to ensure you stay on top of training. It costs $29 per week, which seems expensive, but it is affordable if you are solely using the app instead of hiring a dog trainer. You can try it out for free before purchasing a subscription plan.
Whether your pooch needs to work on getting used to potty training, staying within his GPS fence, crate training, or basic obedience training, or you want to get your pup used to wearing his smart collar, GoodPup can help.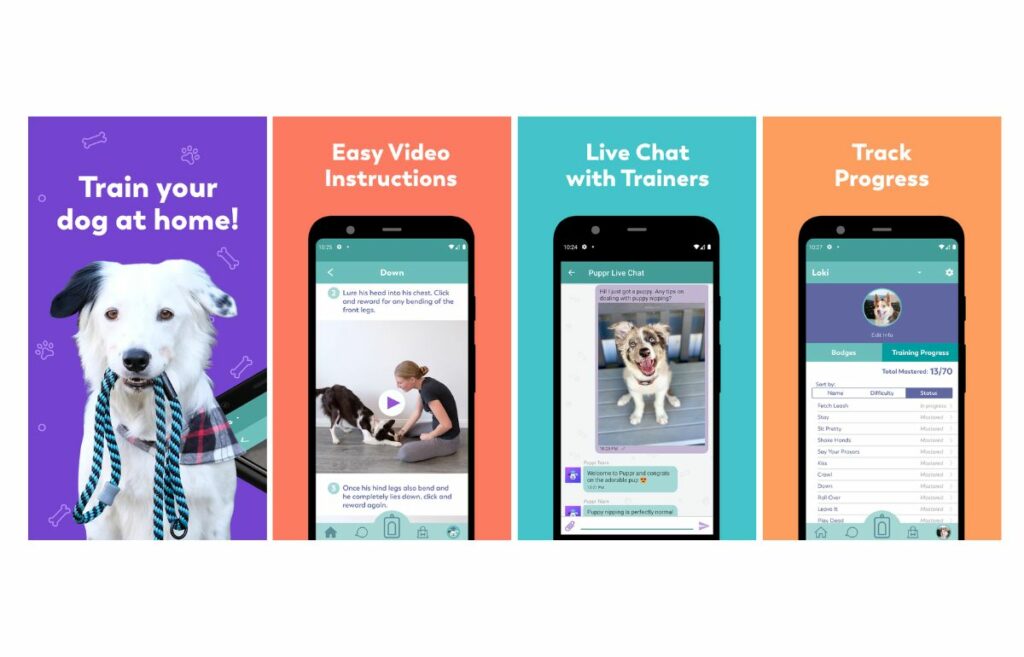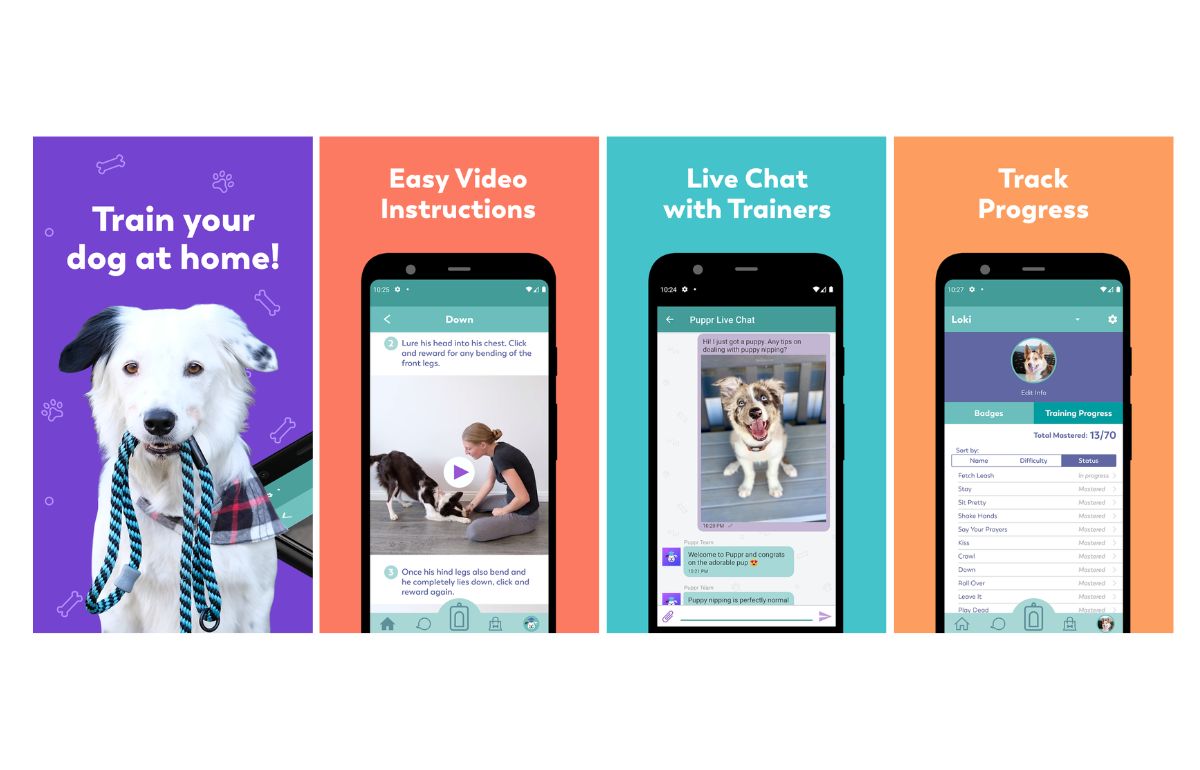 Puppr Dog is a fun dog training app that can be helpful in teaching your pup new behaviors and tricks. While a training session can sometimes feel like a chore, the Puppr Dog training app makes dog training seem more like a fun and exciting game.
You might prefer to work on positive reinforcement training or basic training lessons with this dog training app instead of hiring a personal dog trainer. It offers step-by-step photo instructions, which can make a huge difference if you are more of a visual learner.
Another reason that Puppr Dog is one of the best dog training apps is because of its built-in clicker feature. If you have never tried the clicker training method, this is the perfect opportunity to try this training material and work on dog training using a clicker and a smart dog collar.
With the clicker's consistency paired with treats for positive reinforcement, your pooch will get fast results during his dog training. If you have ever seen America's Got Talent, you might know that celebrity dog trainer Sara Carson contributed to lessons on the app.
If you want to progress further with training, there are in-app purchases for teaching advanced tricks or working further on your dog training. Whether you want to work on staying within his wireless dog fence, leash training, collar training for safety, address car anxiety, or work on positive reinforcement techniques, Puppr Dog is an excellent dog training app. Puppr Dog is free to download but costs $9.95 per month to subscribe.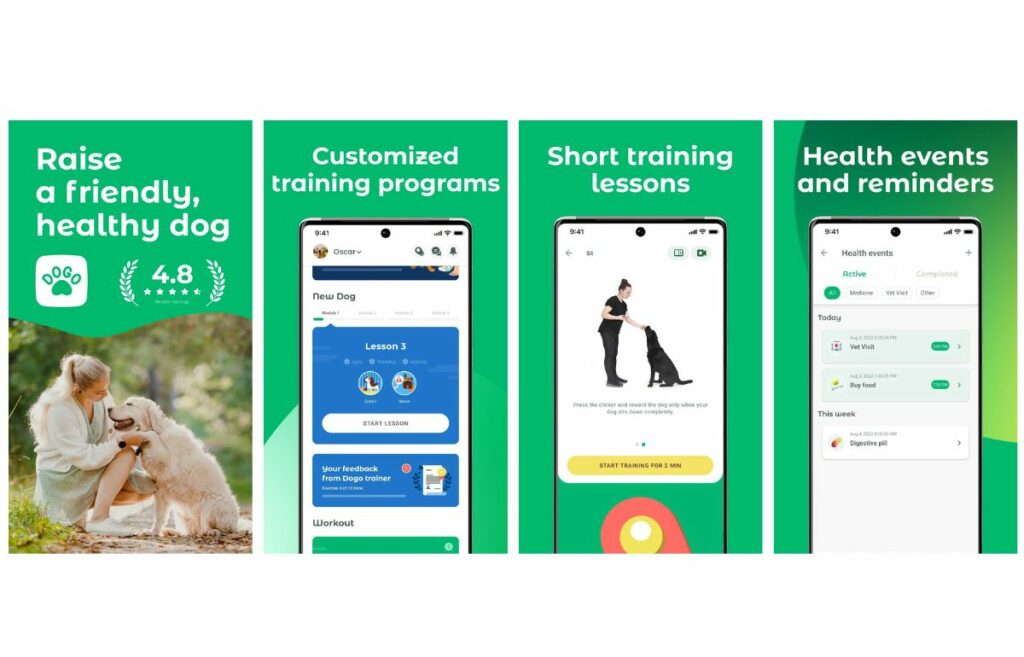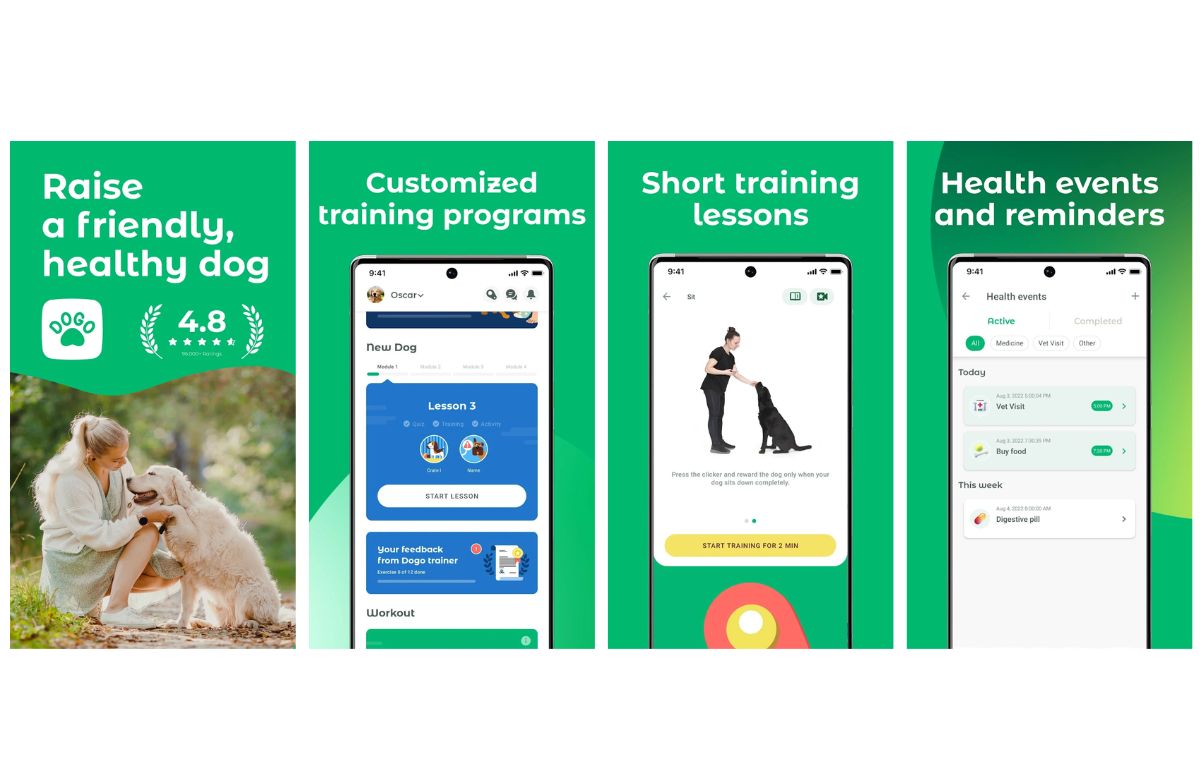 As a professional trainer, I believe that the Dogo Dog training app is excellent to help teach dogs a wide variety of tricks. While my pup has experience with basic commands, Dogo Dog successfully helped teach my pup party tricks, like shaking hands, playing dead, rolling over, and spinning.
I had to try out the Dogo Dog app in order to give it an honest opinion. The Dogo Dog app has daily challenges, which is great to incorporate into your daily routine. You never know which challenge you will get for the day, and the anticipation is exciting. The daily challenges are great for keeping both you and your pooch engaged and eager to learn.
While the basic version of the Dogo Dog app is free, advanced courses require dog owners to upgrade the app to the premium version for $9.99 per month. The premium version is affordable and unlocks tons of challenges for you and your furry friend to work on. You can get a 7-day free trial first before committing.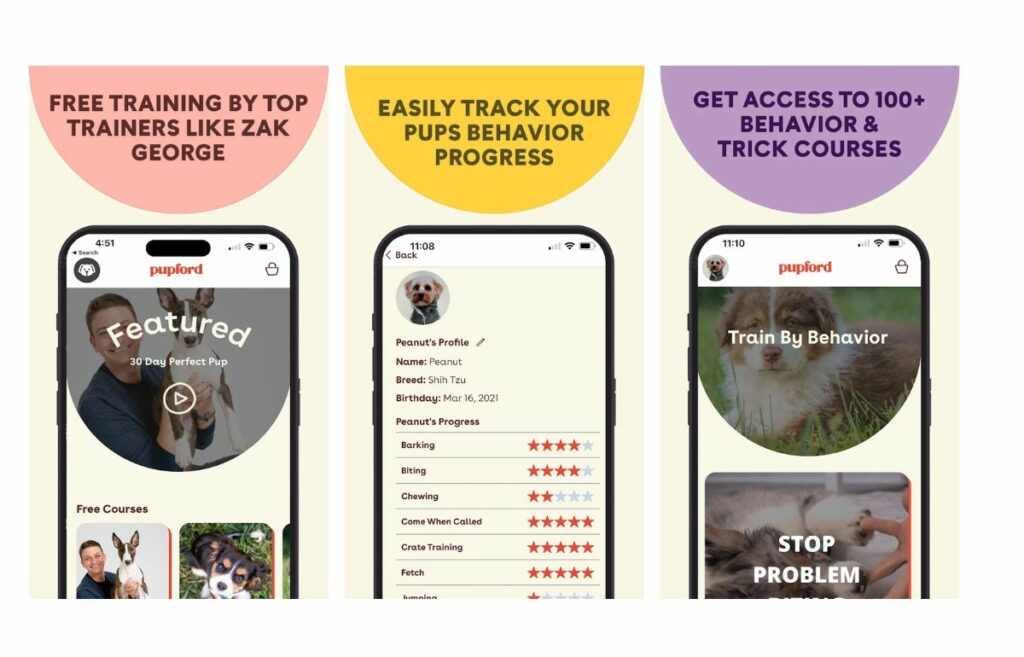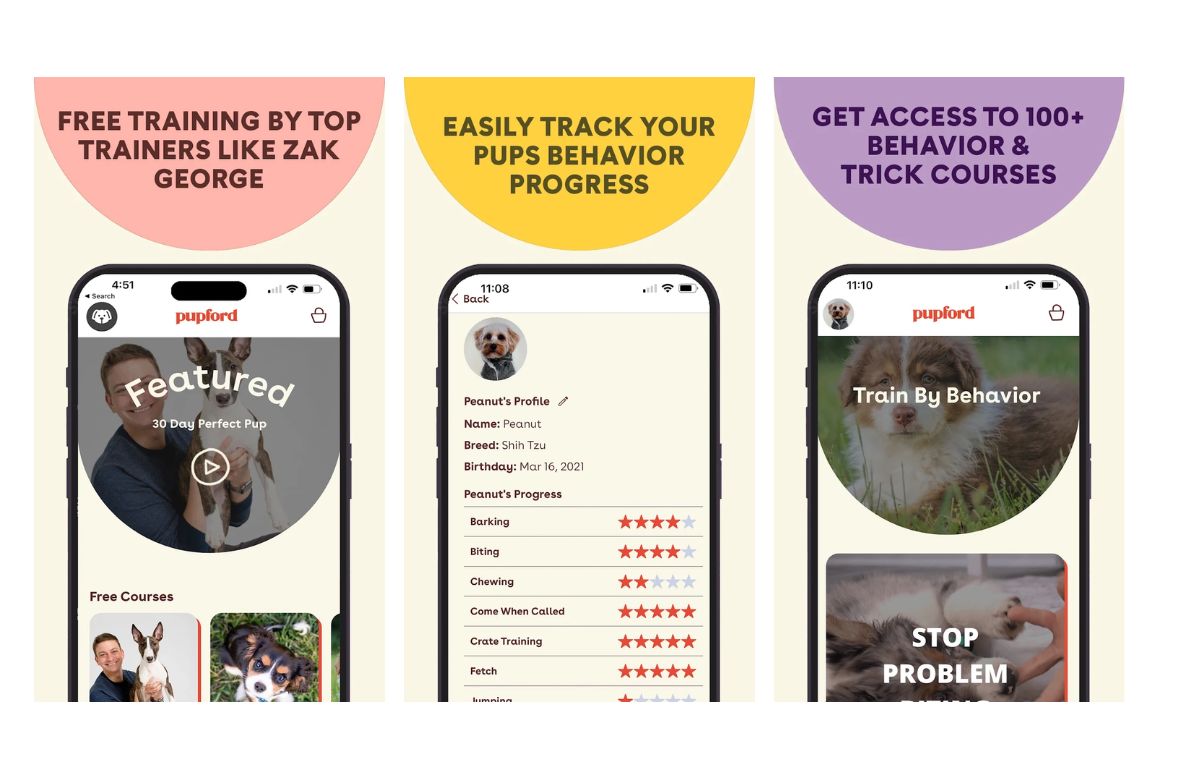 The Pupford Dog training app allows you to access a 30-day training course for free, which is led by well-known dog expert Zak George.
I love that the Pupford Dog training app focuses on engagement-based training. When using Pupford, it isn't all about getting your pup to follow the commands. It is about connecting with your dog, understanding her, and developing a relationship with her that has mutual respect and trust.
By following the step-by-step instructions in the Pupford app, you can work on your pup's separation anxiety, leash walking, correcting behavioral issues, staying within the invisible fence, jumping, sitting, and more.
With the help of professional trainers like Zak George, you can be the best pet parents to your pup and follow all of the help in training app to help train your dog or multiple dogs. The Pupford app costs $17 per month, which might be out of the budget. However, the lessons taught in this app can be effective for your pup.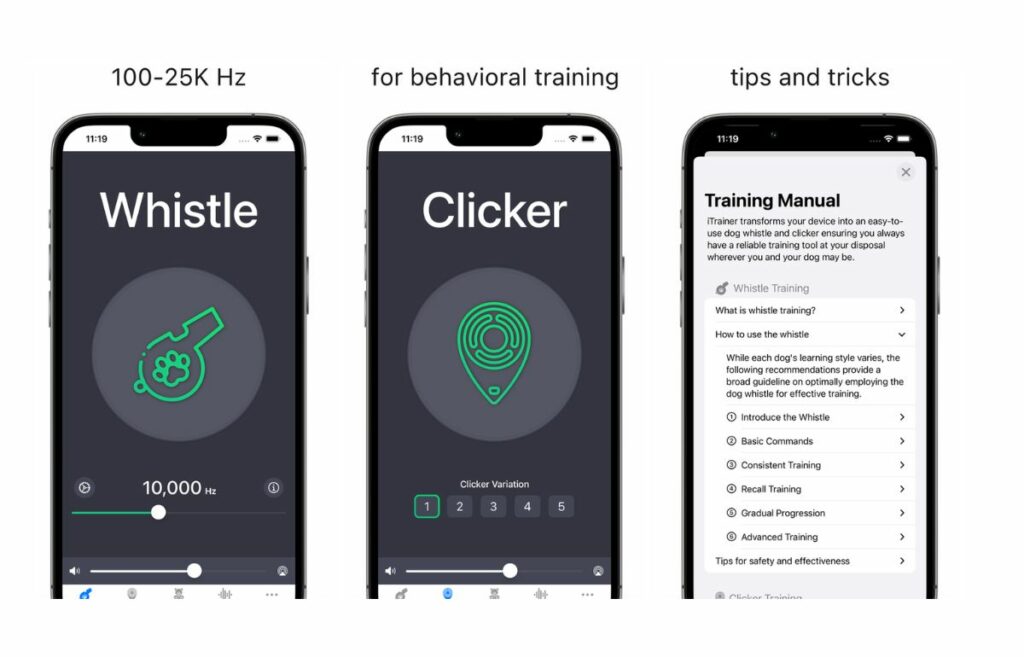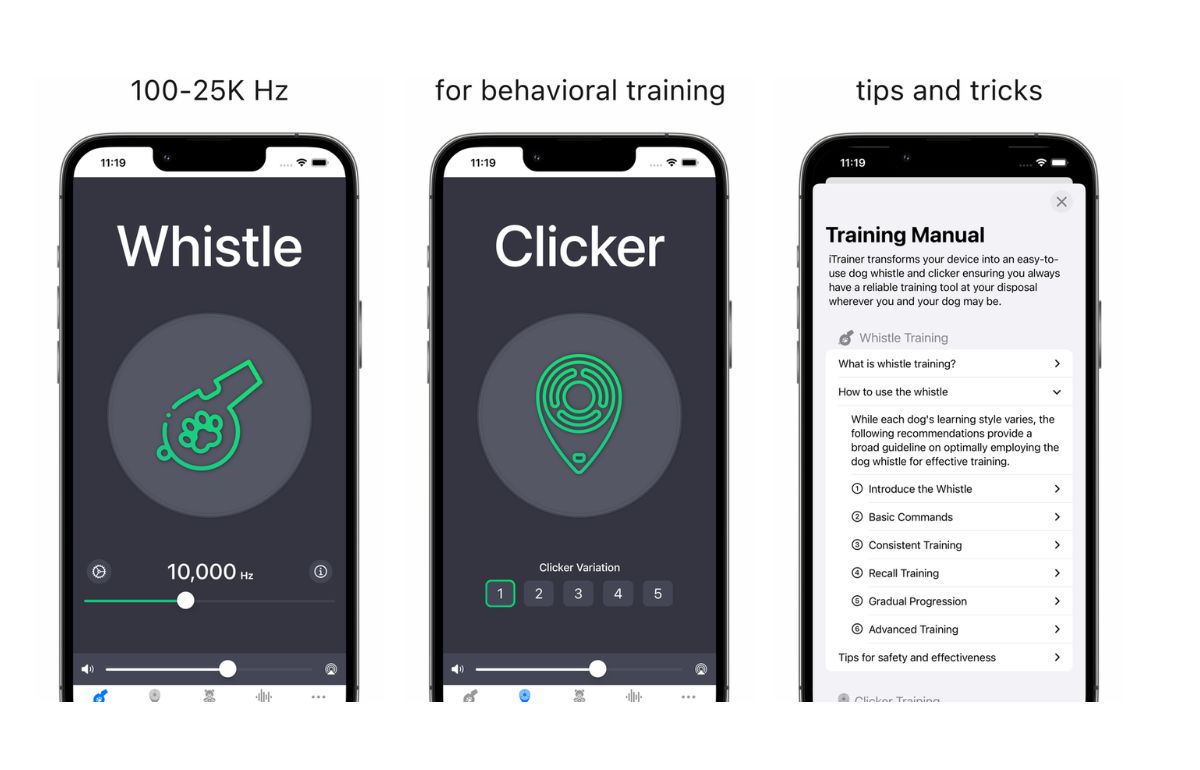 The iTrainer is one of the best dog training apps that offers a built-in whistle and clicker. It is easy to use, bundling a dog whistle, a training clicker, squeaky toy sounds, and over 100 other animal sound effects to help assist in training your furry best friend. The built-in iTrainer dog whistle is a game changer.
While many dog parents have heard about the wonders of clicker training, many have not tried it. Using the iTrainer app, your phone doubles as a multifunctional tool and allows you to use the in-app clicker.
There are some pups that prefer lower tones, and others prefer higher pitches. The high frequency of the clicker can help your pup understand training better than when you vocalize commands, as it eliminates distractions. The iTrainer app itself is free, and you get an impressive array of basic features for free.
If you upgrade to the premium version for $3.99 (one-time fee), you get even more features, benefits, and tools to help during training sessions.
As a professional dog trainer and a dog parent myself, I know how difficult it can be to get an energetic dog to listen during training. The Every Doggy dog training app features a built-in whistle and offers over 80 games and tricks for your pup to learn.
These games and tricks are taught to your pup in his personalized training plan, which helps track his growth and accomplishments throughout training. The Every Doggy app uses a progressive lesson structure, so your pooch doesn't just learn new tricks but also builds on previous ones.
A community feature on the app allows you to share your pup's milestones (like learning to wear his dog training collar) with other pet parents, helping build a support system with which you can share your pup's accomplishments. This app costs $12.99 per month for premium use, but the cost to download is free.
The Go Dog training app focuses mainly on agility and fitness. Go Dog offers customizable training schedules so you can tailor your pup's sessions according to their specific needs.
The tailored agility programs can teach your pooch step by step to understand speed, precision, and synchronicity. It will begin using basics, like tunnel training and weave poles, and eventually progress to more complex courses. Your pup can even wear an activity tracker so you can track his progress more.
I appreciate that you can offer feedback and that the app gives suggestions based on your feedback. Incorporating Go Dog into your dog's fitness training can help your pup feel excited and interested in training. Go Dog is free to download but costs $7.99 per month to subscribe.
If your pup is lacking structure and guidance, the Pup to Date app can help. Pup to Date offers calendar integration to help keep track of everything in your dog's life, such as training sessions, vet appointments, and playdates.
The personalized training modules are extremely helpful, allowing you to customize your training sessions specifically for your pup's personality and progress.
You can use the journal feature to track progress and capture every milestone towards your pooch's progress. The Pup to Date app is free to download, but in-app purchases begin at $4.99.
Doggy Time is the perfect app for pet parents who struggle to keep up with all the appointments and responsibilities that come along with dog parenting. The Doggy Time app does some of the best tracking, as it can track your dog's vet appointments, eating habits, sleep time, medications, walking schedule, and more.
It then uses this tracked information to create a schedule for you, reminding you when each new activity begins and helping you to plan for training. Once you begin training, you get timed training modules to help with various aspects, like socialization skills, leash training, house soiling, and more.
The app created a montage of your weekly training sessions at the end of each week, showing all progress, triumphs, and stumbles. The app itself is free to download on iOS or Android and costs $14.99 per month for training. In addition to its features, you have the ability to take advantage of in-app purchases.
How to Select the Best Dog Training App
There are certain things to look out for when choosing the best dog training app.
Subscription Plans
Some of the best dog training apps are free, and others cost a monthly or annual fee. Always check to see what is included in the subscription. If you only need basic training, you might be able to get that without subscribing,
If you need a more personalized training program, you will likely need to subscribe. My advice: opt for apps that allow a 7-day free trial. It's like letting your dog sniff around before they settle – it ensures they're comfortable!
Positive Reinforcement
While some trainers insist on dominance-based training, I believe positive reinforcement is best due to my experience and training. Ensure the app promotes this method, as it fosters a loving and trusting relationship between you and your pet.
Compatibility
Whether you have an iPhone or an Android, it is important to make sure that the app is compatible with your device. Be sure it is available on either platform before purchasing to avoid any hiccups.
Features
While my doggo might need help with basic commands, your pup might need to work on leash training. Try looking for an app that offers a variety of training modules, video demonstrations, and even progress tracking.
Benefits of Home-Based Dog Training
Here are some ways you and your pup can benefit from using a dog training app:
Familiar environment
Flexibility
Personalized approach
Cost-effective
Strengthened bond
Less distraction
Immediate reinforcement
Safety
More inclusive
Integration with daily routines
FAQs
1. Which App Has the Most Suitable Subscription Plans?
The GoodPup, Doggo Dog, and Doggy Time are the training apps with the best subscriptions. While all of these apps offer helpful training sessions, these apps offer the most for your money.
2. How Do Online Dog Training Apps Compare to Traditional In-person Training Classes?
Online dog training apps allow you a more convenient option for training. Unlike in-person training, you can train your pup from your own home on your own time.
Additionally, your pup gets more attention from you. Your pup does not need to wear a GPS tracker because he is with you at all times. Most apps are more affordable than hiring an in-person trainer, but in-person classes offer more of a hands-on approach with an experienced trainer.
3. Is There Any Free Dog Training App?
Yes, the Puppr Dog app is free and offers many training lessons without a subscription plan. You can make in-app purchases to upgrade, but the free version of this app can be helpful, especially for younger pups without any training. Most other apps can be downloaded for free but require in-app purchases or subscriptions to advance, like the Doggy Time app.
Final Verdict
Choosing the best dog training app can be difficult, but it is also exciting. Using a training app is convenient and allows you and your pup to develop a deeper bond throughout training. Whether you're a first-time puppy parent or you are looking to teach an old dog new tricks, there's an app out there tailored just for you.
My advice is to choose the app that best aligns with your pup's personality and training objectives. Training should be a time of bonding, mutual respect, and fun. Happy training to you and your furry friend!