Automatic litter boxes surely have an advantage over traditional ones. Not only do they save you time, but also eliminate the need to scoop, and control odor by self-cleaning and refilling on their own.
As busy cat owners, it's not something you want but something you need. And with unlimited options available in the market, it can be a little overwhelming to choose from.
Worry not, we got your back! In this article, we are going to discuss and compare the features of two renowned automatic boxes of litter; Leo's Loo too vs. Litter Robot. Scroll down and find yourself which litter box will be more suitable for your cat.
Design Elements
First, let's look at the distinctive design features that set them apart!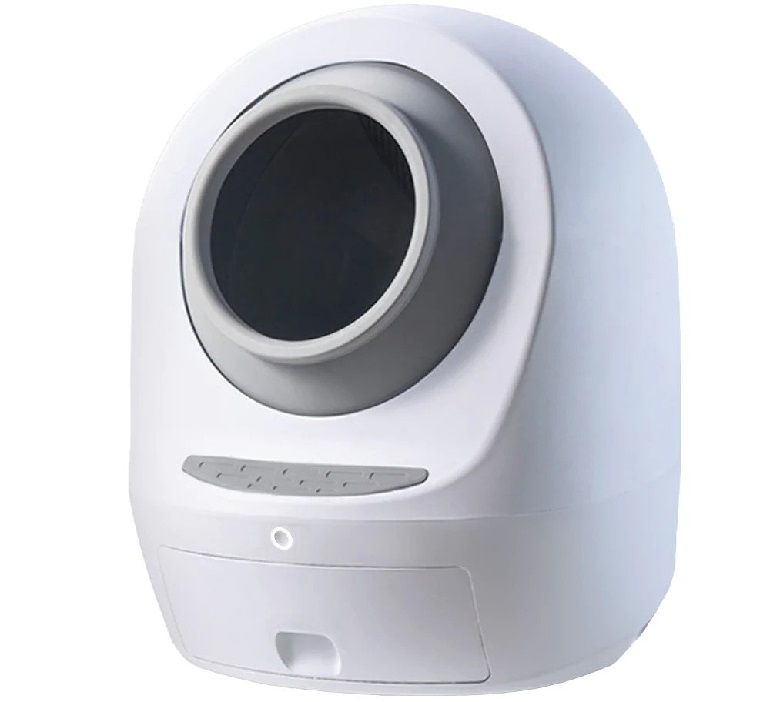 Leo's Loo has a gorgeous design and is smaller in height but wider, with an opening slightly narrow. Your chubby cat might feel a slight difficulty in entering, but it ensures less litter gets kicked out of the litter robot.
It's available in cute color options: Leo's gray, baby blue, avocado green, and pretty pink, which fits well with your overall minimalistic setting.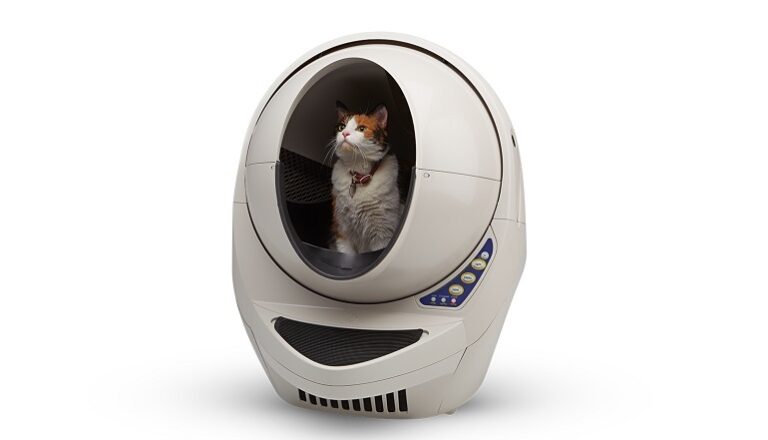 Litter Robot three has a tall opening and an elegant build that gives off a robotic feel. The elongated oval shape opening of the Litter Robot makes it comfortable for cats to enter. Although, it might make cat litter residue sprinkle on the floor.
The Litter Robot-4, on the other hand, has the best entrance, both in terms of width and height. It has a unique look and classy vibe to its appearance that cats tend to like, with its improved interior and lower step for hassle-free climbing.
Plus, the ergonomic style of this automatic box makes the cat safer and more relaxed.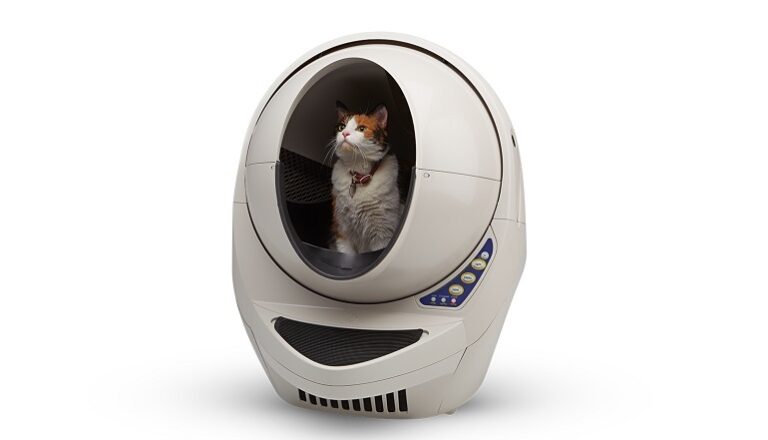 Litter Robot
The price of "Litter Robot" varies, so check the latest price at
Ease of Cleaning
Now let's discuss the user-friendliness of these boxes.
Leo's Loo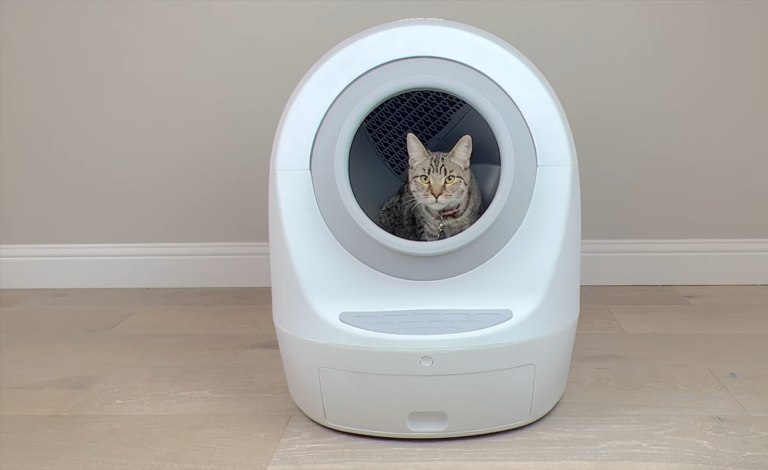 Leo Loo's fixed wait time of three minutes for the automatic cleaning cycle might not be ideal. As it can be too short of a time interval for the waste clumps to harden up, resulting in sticking to the sifting screen and ending up jamming.
But it varies from cat to cat. Leo Loo Too's waste tray is bigger than most cat litter boxes and offers smoother sliding.
Its waste bin bag attachment liner can be a litter tricky at first. The sifting screen of Leo's Loo has slightly big holes which might not be able to catch on smaller clumps.
The audible alarmlets you know when the waste drawer is full and needs to be emptied. Moreover, this self-cleaning cat litter box can be dismantled without any difficulty, making deep cleaning easier.
The best part is that it makes the least amount of mechanical sound, often not noticeable, a feature worth considering. All the litter of clumping sort goes well with it.
Robot Litter Box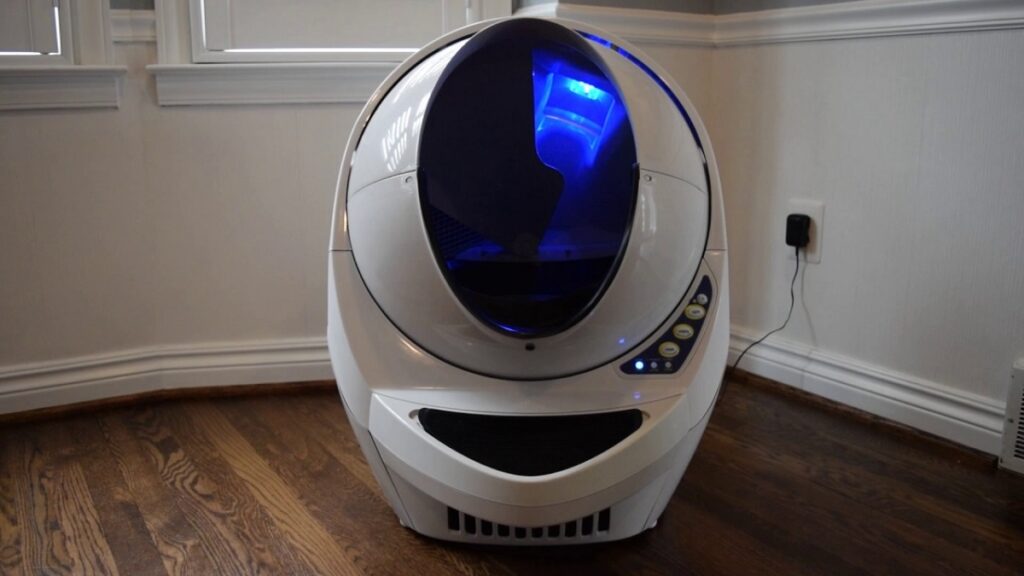 The Robot Litter 3 allows you to choose between the wait time of three, seven, and fifteen minutes for an automatic self-cleaning cycle. Being able to choose what works best for your cat definitely gives it an edge over Leo's Loo.
The mesh of the sifting screen of the Robot litter box 3 is smartly designed not to let any waste clumps escape.
Both Litter Robot 3 and Litter Robot 4 take some time to complete the cleaning cycle. However, Litter Robot 4 works super quietly than Litter Robot 3, it stays below 30 decibels.
Apart from constantly offering new clean litter, Litter Robot-4, with its tightly sealed drawer and carbon filer, minimizes odor to large extent. For maximized odor reduction, you can get Odortrap packs.
Phone App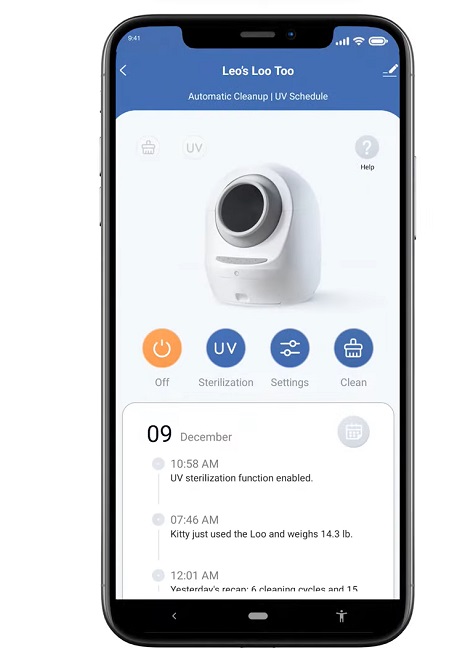 With Leo's Loo Too app by Smarty Pear, keeping track of the litter box is easier than ever, regardless of where you are. It has a user-friendly interface and is available on both Android and iOS. By connecting it to google assistant or Alexa, you can enable voice control and command the settings accordingly.
use the phone app for Litter Robot-3, the compatible version with the mobile app is Litter Robot-3 Connect. Simple Robot-3 doesn't connect to the Whisker app.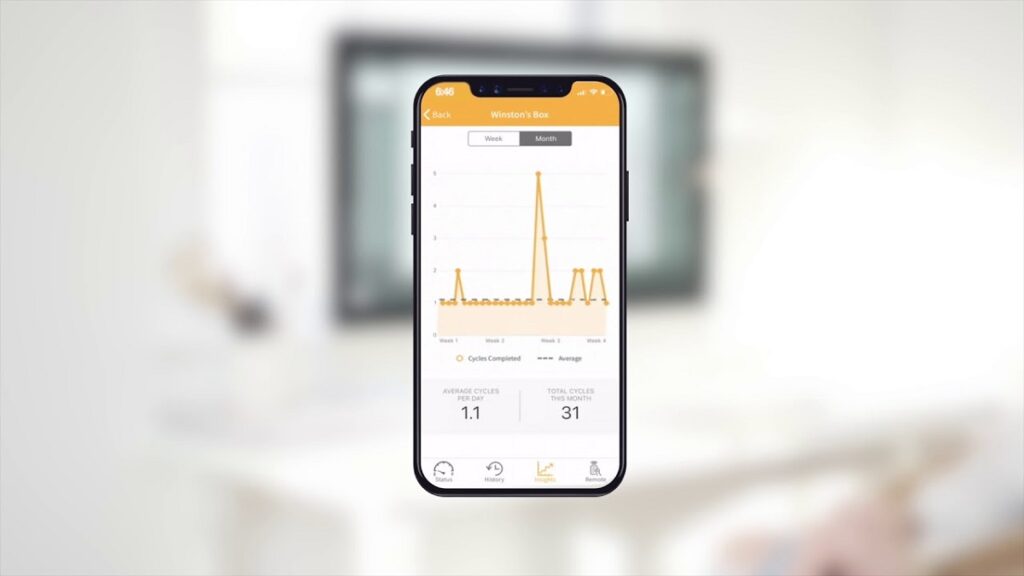 Litter Robot-4 cat litter box, on the other hand, allows you to monitor the cleaning cycles and habits from the screen display of your phone and is a compatible whisker app. It makes your life simple by giving you actionable insights, and reminder alerts, and allows you to adjust/set timer dealt settings.
Material Composition
Leo's Loo cat litter box is made of high-quality plastic that is sturdy and long-lasting. Which is perfect for smaller cats weighing 2 lbs to 4 lbs. The inside of the globe is made of silicone.
The Litter Robot-3 is also made of heavy-duty plastic, making its body solid and robust. It has a sort of more durable rubbery surface on the interior, as compared to Leo's Loo.
The material in Litter Robot-4 is also premium quality material that tends to have a longer life than most automatic boxes. Although, proper maintenance is an essential requisite for this cat litter box's longevity.
Space Requirements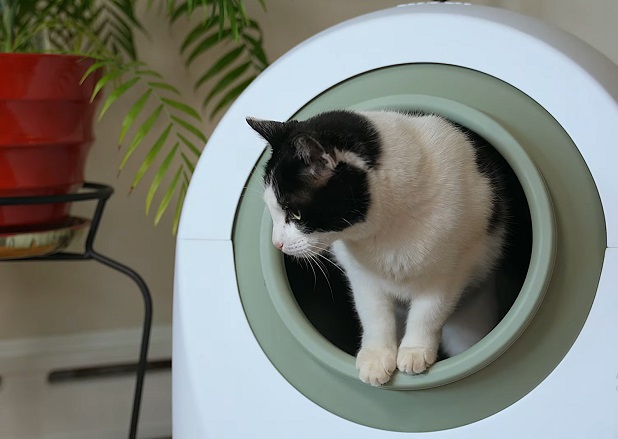 To make Leo's Loo sensory functions work properly, try to put it on an uncarpeted floor. Its size is compact, short, and doesn't take up much space. And its super-quiet cleaning makes it suitable to be placed in your bedroom too. A socket near is a must, as it has plugged requirement.
Litter Robot-3, is comparatively bigger than most litter boxes out there, has dimensions 24 x 22 x 27.6, and weighs about 24 pounds. Before getting this, make sure you have enough space in your home to store it, as you can't slip it under the table due to its height.
Considering the relatively high noise production of Litter Robot 3, a bedroom or living area might not be ideal.
Litter Robot-4 is 15H x 12.5D x 13W; a good-sized litter box. It isn't bulky or noisy. So, yes, it might take up some space, but it doesn't matter where. It will fit any corner, but make sure it doesn't touch the walls.
Smart Features
Check out the advanced features of both these options.
The triple-layer protection system in Leo Loo too, stops the cycle of cleaning when senses cats near it, ensuring kitty safety. The four weight sensors make up a smart radar system.
It stops any kind of movement; forming an internal protective wall if detects the presence of a cat inside the drum. The UV light of Leo's Loo kills bacteria and germs from the surface and can be monitored through the Smarty Pear app.
Moreover, Leo Loo keeps track of kitty visits which is beneficial in keeping a check on your cat's health.
Litter Robot 3 has a smart night light feature, that turns on automatically when it's dark outside. This blue light illuminates the interior of the box, which makes it easier for your cat.
And to stop your smarty pants cat to stop experimenting with buttons, you can enable the lockout feature in Litter Robot three, which disables the control panel. Sleep mode postpones the automatic spin cycle after each use.
Litter Robot-4 is extremely efficient, smart, and accurate in terms of informing you about the litter waste drawer level, the cat's weight reading, and overall activity. It has an anti-pinch safety feature and is wifi-enabled. Plus, LR-4 is compatible with the Whisker app, so you can get health insights about your cat on the go.
Besides that, Litter Robot 4, with its calm yellowish light, is even more perfect for nighttime, especially if you keep it near you.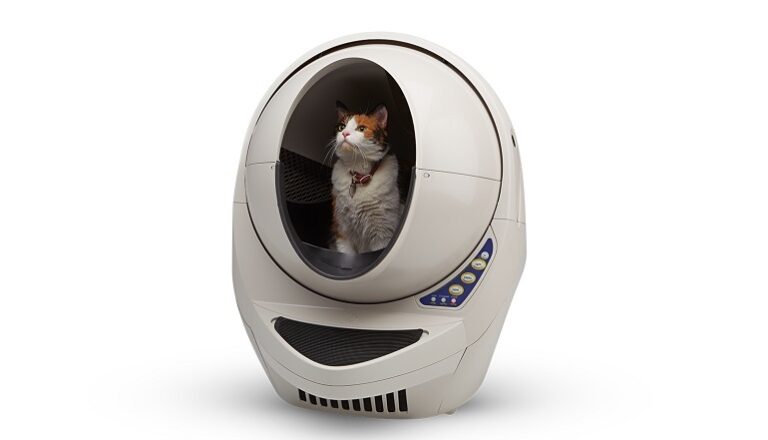 Litter Robot
The price of "Litter Robot" varies, so check the latest price at
Interior Size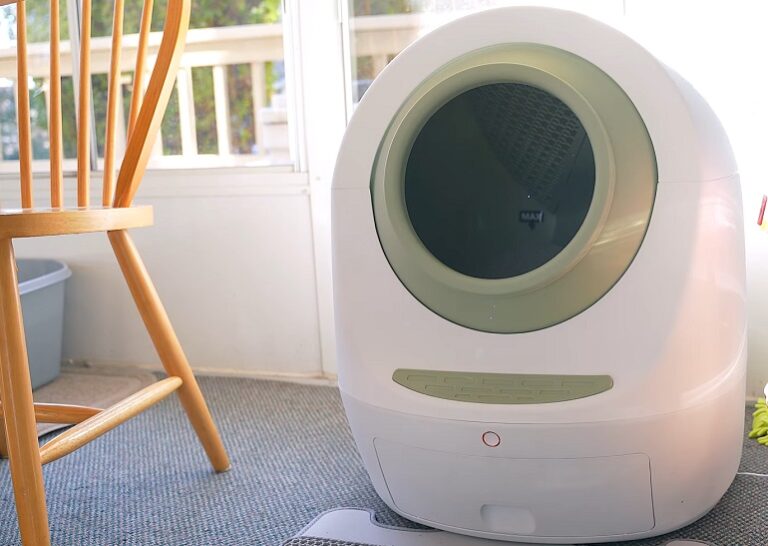 The interior size of the Leo Loo is significantly smaller, ideal for average-sized cats but not suitable for big cats or multiple cats. Its opening is slightly narrow, so big cats might find it irritating and feel cramped inside too.
Litter Robot-3 has an interior that is roomy compared to Leo's Loo. The elongated oval entrance gives a royalty vibe (of course, your cat is king/queen). The inside drum is spacious, and less cramped, so your cat can do its business without feeling agitated.
The Litter Robot-4 is multi-cat friendly, and almost every domestic cat can fit in easily. The dimensions of the interior globe of Litter Robot 4 are 15″-17″ H, which can vary with the amount of litter present. It has a perfect entrance opening so your fur baby can move in and out without having to struggle.
Conclusion
To sum it all up, the Litter Robot has been out in the marketplace for years living up to the cat owner's expectations and offering excellent quality. And the Litter Robot-4 is an even more improved version of the previous series with advanced features.
Leo's Loo, on the other hand, is more of a recent automatic box that has a competitive edge with its functional & smart features and great quality.
Hopefully, from all the listed qualities and specifications, you were able to decide what works best for your cat.