What small dogs lack in terms of size, they more than makeup for in character and personality. It doesn't take much for them to become a lot to handle, pulling at the lead and desperate to play. That's where a dog's harness comes in handy.
Harnesses for small dogs are often recommended by vets and trainers, particularly for brachycephalic dogs like pugs, bulldogs, and Boston terriers.
But while a harness for a large dog helps combat their strength, there are a couple of other reasons why they're equally useful for small dogs.
Small dogs are particularly keen on running about and exploring. And when they're on a leash, they can often pull and strain against a collar.
But if you attach the leash to a harness instead, the pressure is distributed over the whole body, protecting their delicate necks.
But that's just one reason. The other is that small dogs can be excellent escape artists – but harnesses are more secure than collars. So if your fur baby pulls when you take them for a walk or likes slipping out of their collar, a tactical harness will make life much easier.
Best Basic Harness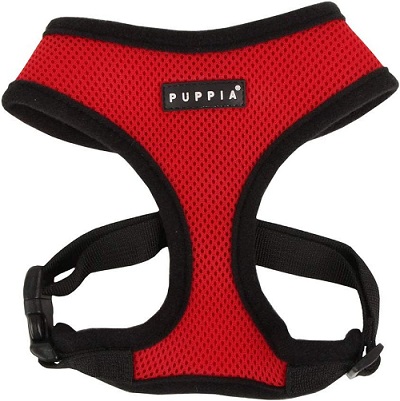 Puppia Soft Dog Harness
Size: Small
Material: Polyester

Best for Toy Dogs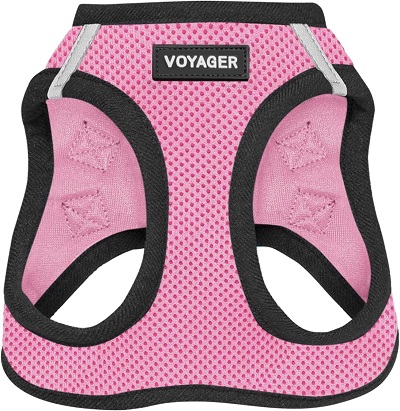 Voyager Step-In Air Dog Harness
Size: Small
Material: Breathable Mesh Fabric 

Best No-Pull Dog Harness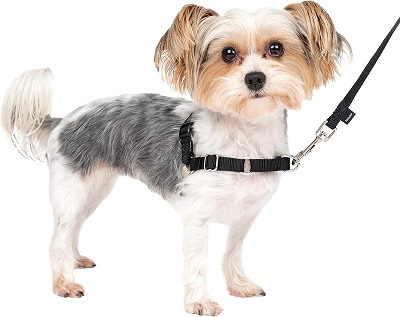 PetSafe Easy Walk Dog Harness
Size: Small
Material: Nylon


Best Value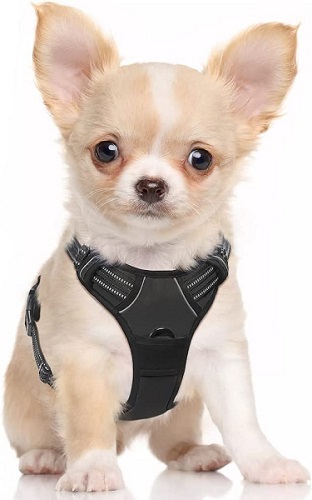 Rabbitgoo Dog Harness
Size: Small
Material: Polyester, Nylon



Best Overall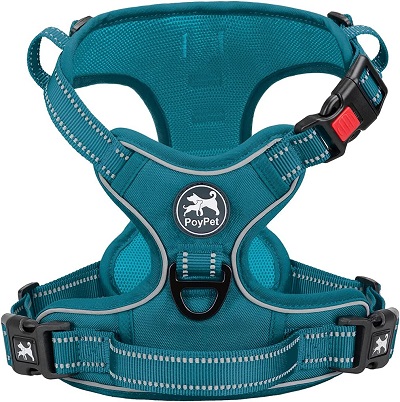 PoyPet No-Pull Dog Harness
Size: Small
Material: Nylon & Breathable Air Mesh



Best Premium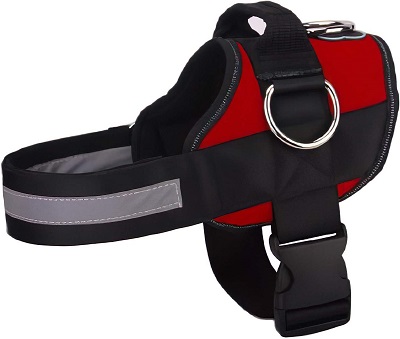 Joyride Harness for Small Dogs
Size: Medium
Material: reflective & tough stuff



Best for Style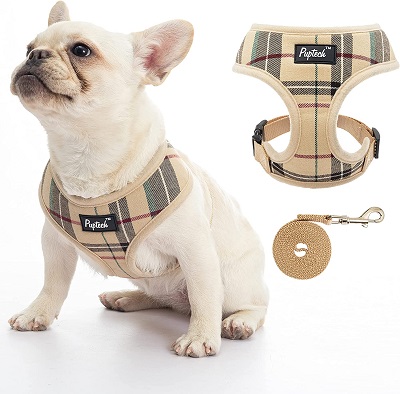 PUPTECK Soft Mesh Dog Harness
Size: Small
Material: Polyester, Breathable Mesh




Best Nylon Harness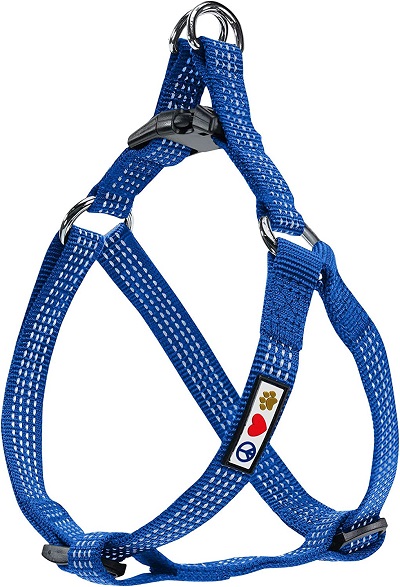 Pawtitas Pet Reflective Step-In Dog Harness
Size: Small
Material: Mesh




Best Dog Harnesses for Small Dogs – Top 8 Picks
It can be hard to narrow down the options when small dog owners look for the best harness for a small dog. So here are eight of the best small dog harnesses to start your search.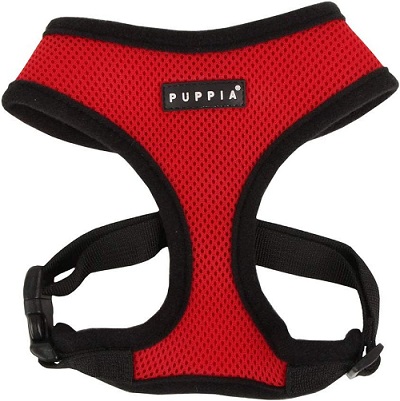 Affordable and reliable, the Puppia dog harness is certainly very popular. It's simple to put on – just tug it over your pup's head through the padded neck opening.
It's then secured with a quick-release buckle. Although lightweight, the buckle is surprisingly sturdy; in fact, it's the same type of buckle used in professional mountaineering equipment – so it's certainly secure!
The harness itself is lightweight too, thanks to its soft mesh fabric. With a triple layering of high-quality breathable air mesh, it's comfortable for your pup and is sure not to chafe or rub when they walk.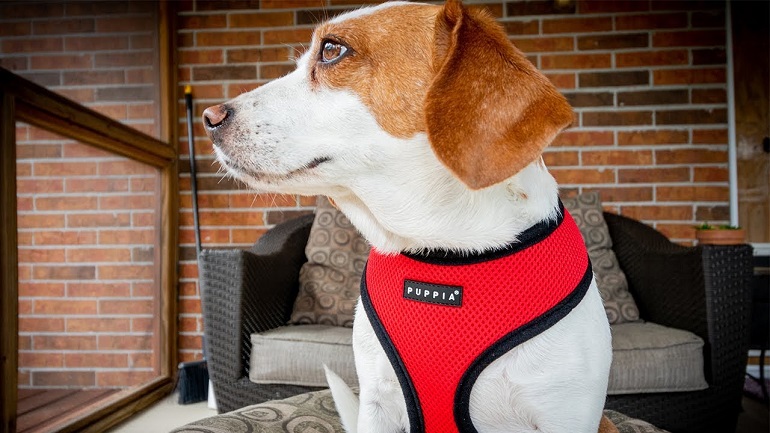 It's still a durable harness though thanks to the double-coated D ring and webbed polyester material, helping to distribute pressure across the chest if your dog pulls. It's machine-washable too, so no need to panic if your dog sprints through a load of mud.
When picking out your harness, there's a wide range of fashionable colors to choose from. In terms of size, both small and X-small sizes are available, fitting necks down to 7.5" and breast girths down to 9".
Pros
Soft but durable material
Secure to stop tiny dogs from wiggling out
Wide range of colors available
Cons
Not very adjustable
Doesn't stop pulling on a leash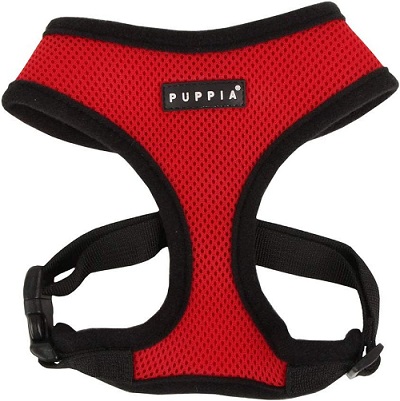 Puppia Soft Dog Harness
The price of "Puppia Soft Dog Harness" varies, so check the latest price at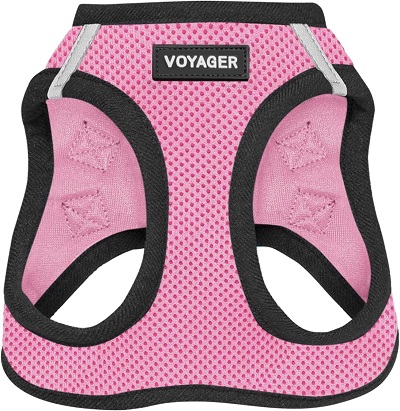 There's a whole host of colors to choose from in the Voyager step-in harness, and it even gives you the option of ordering a matching leash.
But it's especially ideal if you have a particularly small dog; sizes go down to XXX-small, fitting necks down to 8" and chest girths of 10" and up. Make sure to measure your dog carefully though, since some customers have had problems with sizes.
Size issues are made easier with the use of Velcro though, making this fit highly adjustable. But despite the Velcro, security is a top priority for this dog harness; after all, we know how mischievous little dogs are and what good escape artists they are.
That's why it includes three safety features: a hook and loop fastener, a buckle, and double D-rings.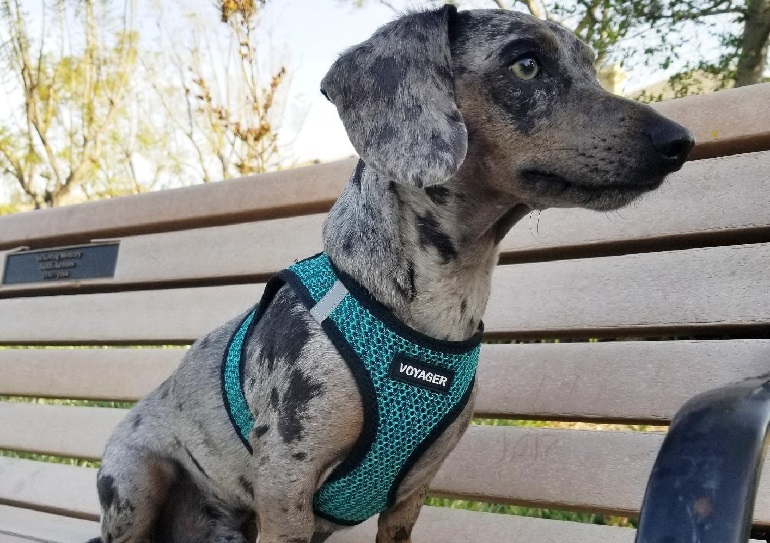 As you'd hope from a harness for small dogs, it's made from a lightweight material with reflective bands on the side to enhance visibility at night. The soft and breathable mesh is suitable for all weather, and while the harness is durable enough, the straps can be worn through by the leash ring if there's too much pulling.
It's easy to put on – as a step-in harness, your dog simply has to step in and you clip it shut. But you might need to fiddle with the placement since it can sit high up on your dog and tug on its neck a bit too much.
Pros
Highly secure
Range of sizes and colors available
Durable but comfortable
Reflective strips for improved visibility
Cons
Lead attachment can wear down straps
Sits high up near dog's neck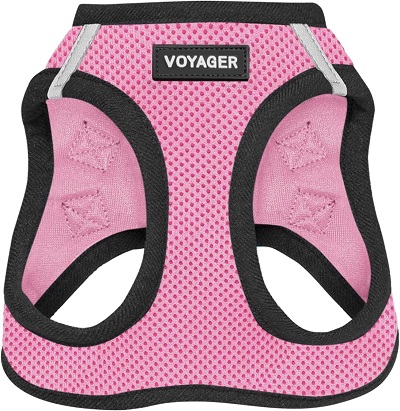 Voyager Step-In Air Dog Harness
The price of "Voyager Step-In Air Dog Harness" varies, so check the latest price at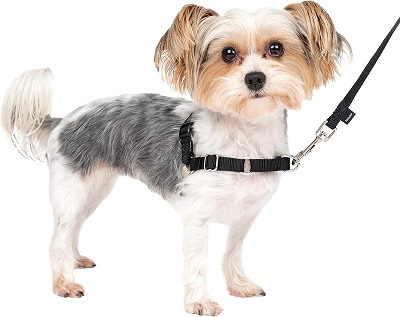 PetSafe's Easy Walk dog harness has been recommended for years by trainers to help train puppies and young dogs. Since it's for younger dogs, there's a range of sizes sure to fit your small dog, with options to suit chest sizes down to 7".
This is the perfect dog harness for pulling if your dog gets a bit too eager and strains against the leash. With a front loop on the chest, you can correct this behavior easily and turn them back towards you whenever they pull.
This helps train them to walk nicely on a leash and reduce pulling. This one stands apart from other no-pull harnesses by including a martingale loop to prevent any twisting.
With quick-snap buckles, the harness is easy to put on and take off. There are four adjustment areas so you can find that perfect fit, as well as different colored straps to help you know which parts go where and put the harness on easily.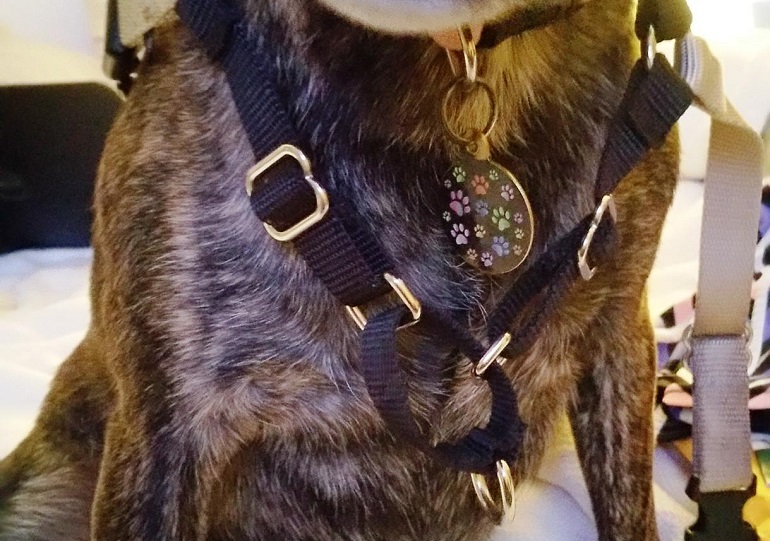 If you don't like the idea of a bulky harness, this is the one for you. Made up mainly of straps, it's a simple design. However, the absence of padding means that if it's not fitted properly, the straps can dig into your dog's skin.
The front chest strap can sag after some time and get caught in your dog's legs, so be sure to adjust the harness properly and tighten the straps regularly.
Since it's mainly composed of straps, the harness is fairly durable. It's fully waterproof, so you can let your dog jump into a lake while wearing it, and since it's made of nylon, it's easy to clean too.
Although it's durable, some customers have reported that it can wear down quickly, so this harness should mainly be used for training while they're young.
Pros
Easy to put on and take off
Quick-snap buckles
Adjustable for a comfy fit
Discourages leash pulling
Waterproof
Simple design
Cons
No padding
Thin straps can rub and dig into skin.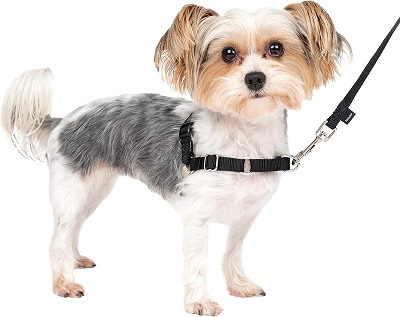 PetSafe Easy Walk Dog Harness
The price of "PetSafe Easy Walk Dog Harness" varies, so check the latest price at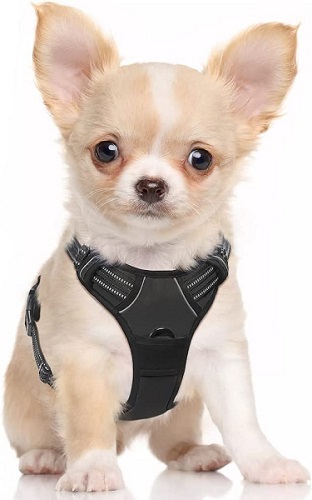 Although it might be more suited to larger dogs, the Rabbitgoo dog harness might still be a good harness for your dog. It comes in a range of colors and sizes, but it only goes down to a small size that fit a minimum neck and chest girth of 13".
Its straps are made of advanced polyester webbing, making it highly durable. However, they can also loosen quite easily, requiring you to tighten them frequently to maintain a good fit.
Also on the exterior, you can find ultra-bright reflective stitching so you can keep an eye on your pup when they're out for a nighttime walk.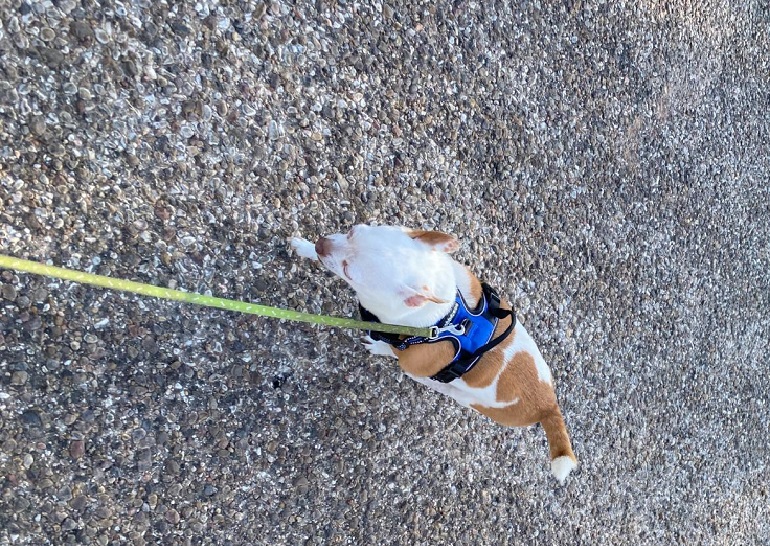 While it's durable on the outside, it remains cozy and comfy on the inside thanks to its padded and breathable mesh fabric, giving your pup extra comfort.
Its vest-shaped design also helps protect your dog's neck even if they tug on the leash. Just be aware that this can also cause the harness to twist to the side when they pull.
Hopefully, they shouldn't pull too much – after all, this is a no-pull harness. As well as a back clip for normal walks, it includes a front clip to help with training and offer versatility. And just in case your pup gets a little too excited, there's a top handle to grab hold of too.
Pros
Comfy and breathable material
Easy to put on and take off
Dual clips and top handle for extra control and versatility
Bright reflective stitching
Cons
Twists to the side when pulled
Straps need frequent tightening
No X-small size is available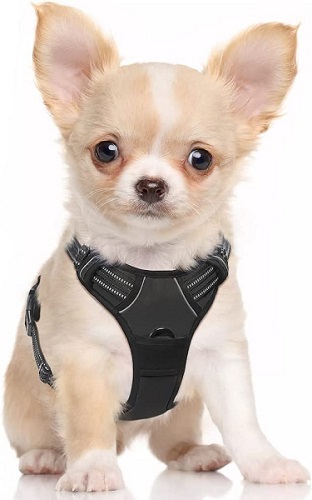 Rabbitgoo Dog Harness
The price of "Rabbitgoo Dog Harness" varies, so check the latest price at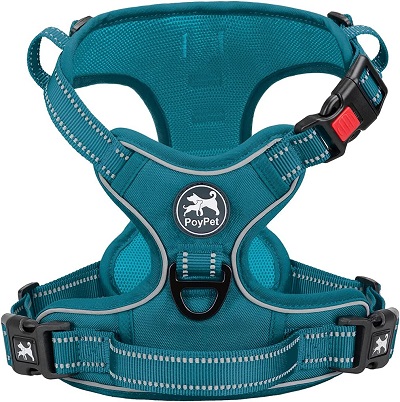 The PoyPet no-pull dog harness is an effective piece of equipment to dissuade your pup from pulling on the leash.
Like the best no-pull dog harnesses, it includes two metal D-rings; one on the front to stop pulling and one on the back for traditional walking, offering versatility. And a top handle is included to give you maximum control.
It's a stylish dog harness too, with a huge range of colors, from mint blue to checkered red. And with X-small sizes accommodating necks and chests as small as 10", there's bound to be one for your pup.
It even includes a mesh pocket at the front to store some ID, as well as a reflective strip to keep them visible during nighttime walks.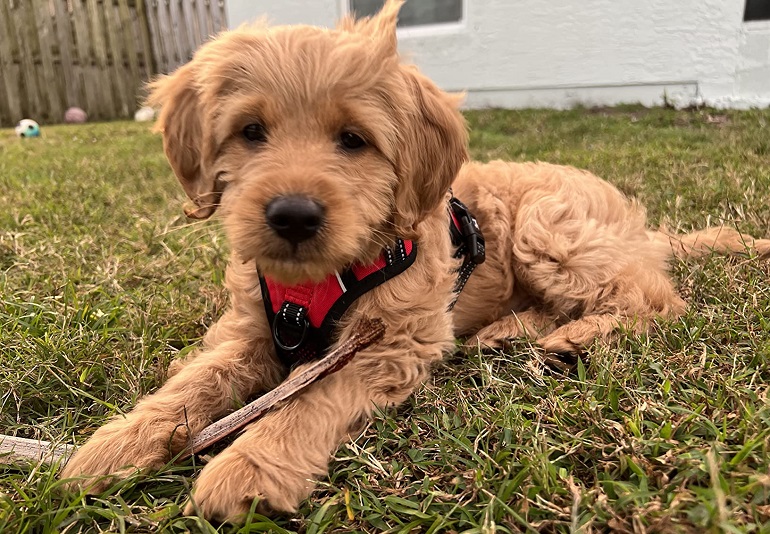 It's easy to slip on and off quickly, using three sturdy quick-release buckles – one on the pup's neck and two on the chest. This means that you don't need to place the harness on over the dog's head; instead, you just wrap it around. This makes it perfect for nervous pups who don't like things going over their head.
It boasts four adjustable straps to allow you to get a perfect, custom fit for your dog. However, these adjustable straps can be a little fiddly and may need some tightening after a while to ensure the fit is still snug for your dog.
While its nylon exterior is durable, it's worth checking on it occasionally to make sure it's not getting frayed. Inside is a breathable mesh to keep your dog cool and comfortable, as well as soft padded cushioning to prevent any chafing.
Pros
Dual clips for versatility
Includes top handle for extra control
Range of colors
Reflective trim for low-light visibility
Comfortable but durable material
Easy to put on and off
Cons
Requires regular tightening
Stitching can become frayed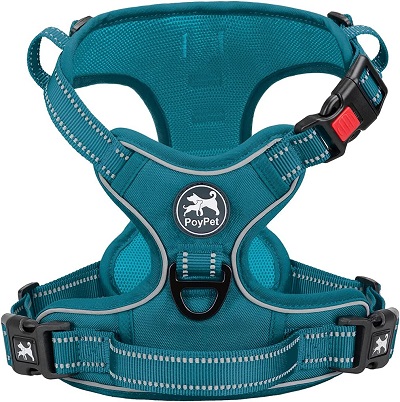 PoyPet No-Pull Dog Harness
The price of "PoyPet No-Pull Dog Harness" varies, so check the latest price at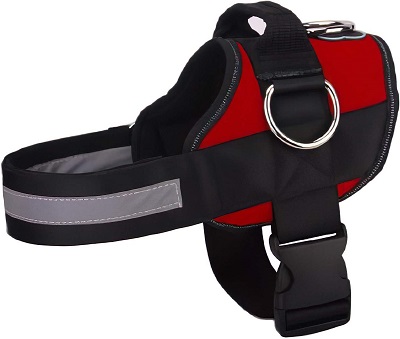 The Joyride Harness may carry a more expensive price tag than many other harnesses, but it's a high-quality product that's worth it if you can afford it.
The interior has a breathable soft mesh for your dog's comfort, while the exterior is made of high-quality and durable material that makes it resistant to rips and tears. The reflective strips and stitching boost visibility for walking in lowlight conditions.
While there are many color schemes to choose from, be aware that the harness is still dominated by black, so it's not particularly colorful.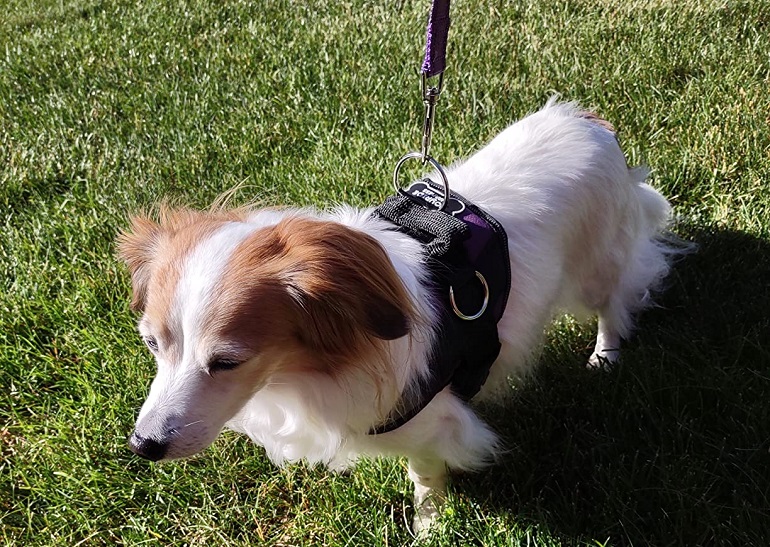 One of Joyride's strengths is the level of control it gives small dog owners. Besides a grip handle on the back, it also includes a revolutionary side-ring anti-pull technology by using three sturdy leash attachment rings.
Besides the usual back clip for traditional walking, there are also two side rings, making this no-pull design ideal for dog training and behavior control.
With small and X-small sizes available, it can fit dogs down to chest girths of 12". However, with adjustable belly and chest straps, you'll be able to find a perfectly snug but comfortable fit for your pup. Once adjusted, it's quick and simple to put on with secure buckles and easy on-off technology.
As a special bonus, a portion of each and every sale goes to a dog rescue. Over the years, Joyride has donated nearly $250,000 across three shelters, helping save thousands of dogs.
Pros
Soft and cushioned interior for comfort
Durable exterior with reflective stitching
Fully adjustable straps
Portion of all sales donated to charity
Cons
Expensive
Dominated by dark material; not colorful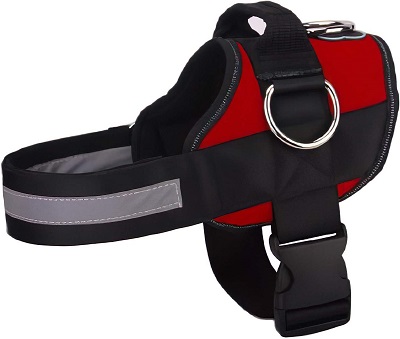 Joyride Harness for Small Dogs
The price of "Joyride Harness for Small Dogs" varies, so check the latest price at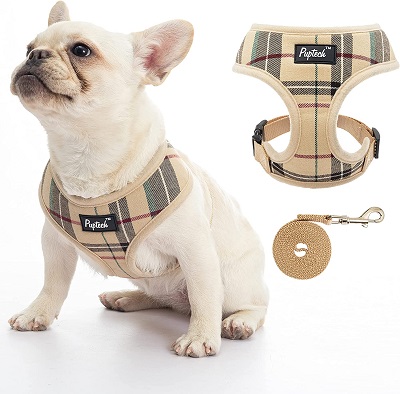 PUPTECK's affordable dog harness offers a huge range of vivid and colorful styles and patterns, along with a range of sizes. With both small and X-small sizes on offer, they can accommodate sizes as small as an 8" neck and 10" chest.
Both lightweight and breathable, it's a super soft harness boasting a comfortable air mesh to keep your pup cool and comfortable on their walks.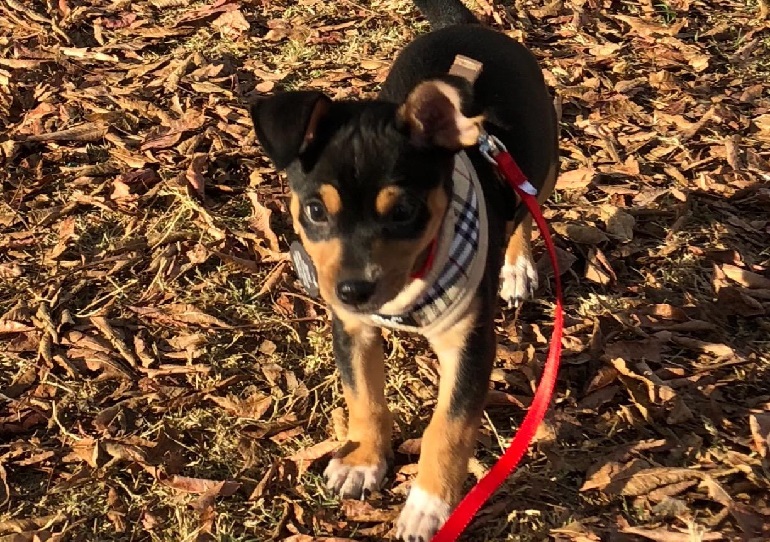 It's easy to put on too by slipping it over your dog's head and securing it with a quick-release buckle. Just be aware that while you can adjust other parts of the harness, you can't adjust the neck size.
As an added bonus, each harness also comes with a free 4.9ft leash to match with whichever one of the many colors or patterns you select.
Pros
Affordable
Range of classic and colorful styles available
Soft, comfortable, but durable
Free 4.9ft leash included
Cons
Can't adjust the neck size
Some customers report issues with sizing.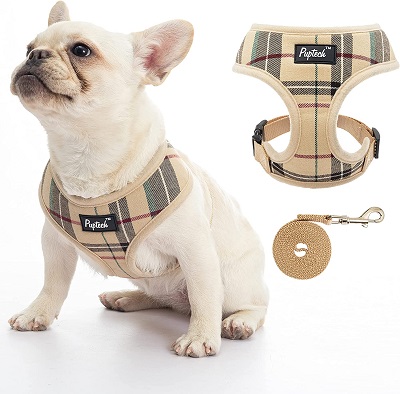 PUPTECK Soft Mesh Dog Harness
The price of "PUPTECK Soft Mesh Dog Harness" varies, so check the latest price at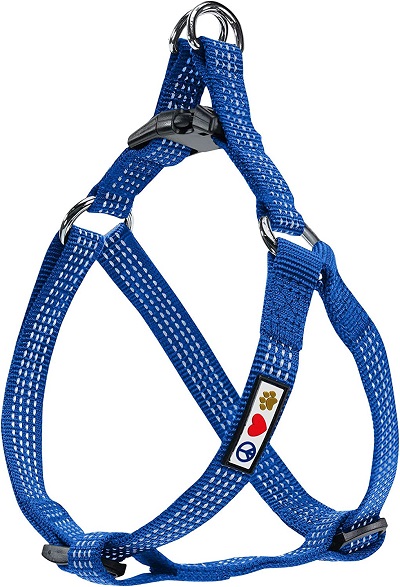 You know, sometimes simpler is better. And you can't get much more simple than the Pawtitas step-in harness. Not that it's a bad thing; although it can be difficult to work out how to put on the simple ergonomic design, it can be adjusted to fit well and be comfortable for your dog.
Made of strong nylon and with two stainless steel D-rings, it's a durable and secure harness that even reflects the ambient light in low-light conditions to keep your dog visible when the sun goes down. But while it's durable, it's not resistant to chewing, so you should keep it away from your dog's teeth.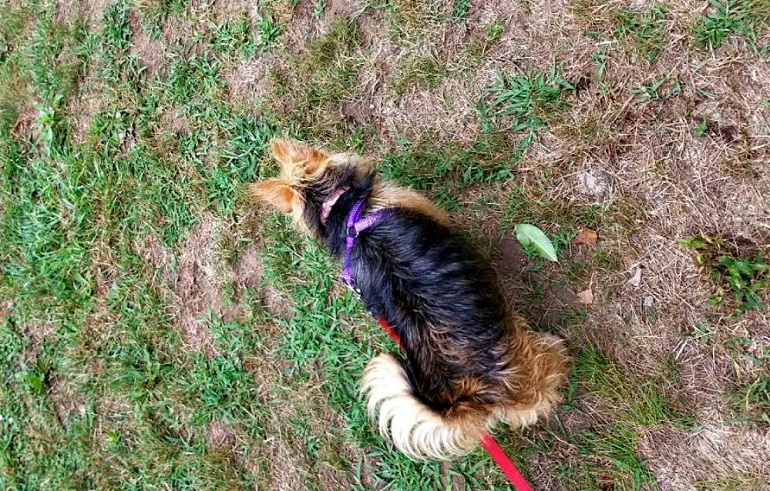 This is a prime example of how small dog harnesses can protect your dog's neck. Its style is specifically designed to protect your dog's chest and prevent trachea collapse – at least when it's fitted correctly; if not, the adjustable straps might be too tight, causing them to dig into your dog's skin and rub.
The Pawtitas dog harness offers several colors and patterns, along with matching leashes and collars available too.
The X-small size fits dogs as small as 5lbs with chest girths down to 11", so you're bound to find a harness that fits even the smallest of pups.
Pros
Simple design
Reflective material for nighttime visibility
Two stainless steel D-rings for secure leash attachment
Several colors available
Cons
Fiddly to know how to put it on at first
Not resistant to chewing
Thin nylon straps can dig into dog if too tight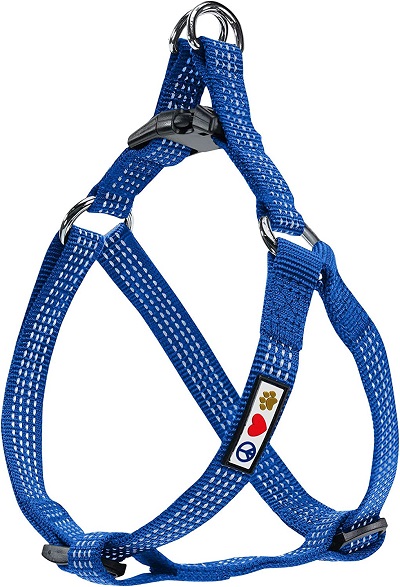 Pawtitas Pet Reflective Step-In Dog Harness
The price of "Pawtitas Pet Reflective Step-In Dog Harness" varies, so check the latest price at
Buyer's Guide: Things to Consider Before Purchasing a Small Dog Harness
Every small dog has their own specific needs; what might be spot on for one dog, might not necessarily be right for yours.
But some of the things you should decide on when looking for a light dog harness are the size of your dog, the clips you want, and the materials it's made of.
Size:
You need to get the right size for your dog, so make sure to measure your dog for a harness. If you're getting a lot of gear for your dog anyway, you might as well do when you measure for a dog collar too.
The fit is important for both their comfort as well as their safety since it ensures there's no pressure on their neck. It's unlikely any size is going to fit your dog when you first get it though, so it's important to adjust it when you put on the dog harness.
Clips:
Clips usually come in three styles: back clips, front clips, and dual clips.
Back clip:A back clip harness is the most common type, with a leash attachment at the back of the harness. While this keeps the leash clear of your dog's legs, it can result in pulling with untrained dogs.
Front clip:A front clip harness is another name for no-pull dog harnesses. The leash attachment is at the front of the harness by the dog's chest, redirecting them to face you when they pull and discouraging pulling. Just keep an eye out on the leash to make sure it doesn't get caught up in their legs.
Dual clip:A dual clip harness eliminates the need to choose between back clips and front clips. Dual clips include rings on the chest and back, allowing choice, versatility, and even extra control.
Materials:
You need your harness to be durable and difficult to chew through – after all, small dogs love chewing on anything they can get their teeth into! But it's also worth getting a comfortable harness with a soft mesh and plush fabric to avoid chafing.
Nylon is a popular choice since this can be both durable and comfortable, although would still need additional padding to avoid chafing. Nylon is also usually a machine washable fabric and tends to have reflective stitching, so you can take them for nighttime walks too!
Conclusion
It's not easy to say definitively what the best dog harness is for your dog – only you know what your dog needs in a harness and what they would benefit from.
Whichever dog harness you choose, make sure you get the right fit, the leash attachments your dog needs, and a harness with durable and comfortable materials.
Any of these eight small dog harnesses will do the trick and will make a world of difference to your walks – your dog will be forever grateful!