Going out for a walk with their beloved owner is the highlight of the day for many dogs. And it can be a highlight for dog owners too… but not when their dogs pull and start to drag them around.
Too much pulling can turn a pleasant and relaxing walk into a stressful slog – but you don't have to put up with it! If your dog tends to pull a bit too much, don't just get a dog harness; look out for a dog harness for pulling.
If you're clever, you can also snag a tactical collar or harness that stops the behavior altogether. Designed to discourage pulling, no-pull dog harnesses have a font-clip leash attachment that pivots the dog towards you whenever they pull.
Although it won't magically stop the behavior straight away, it communicates to your dog to stop the behavior.
Lots of dog owners tend to look for the best dog collar, so why not get the best dog harness too? After all, it's always better to attach a dog leash to a harness rather than a collar – it takes the strain and pressure off the dog's neck, gives you more control, and stops them from pulling.
Best Overall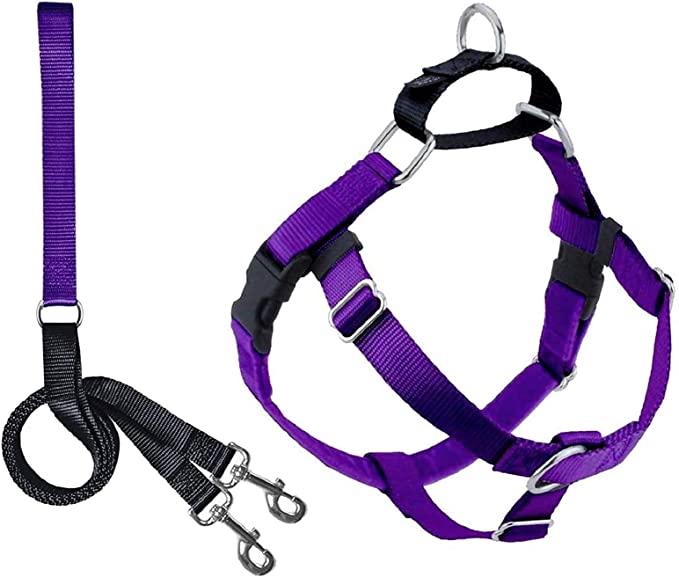 2 Hounds Design Harness
Color: Purple
Material: Velvet
Affordable Option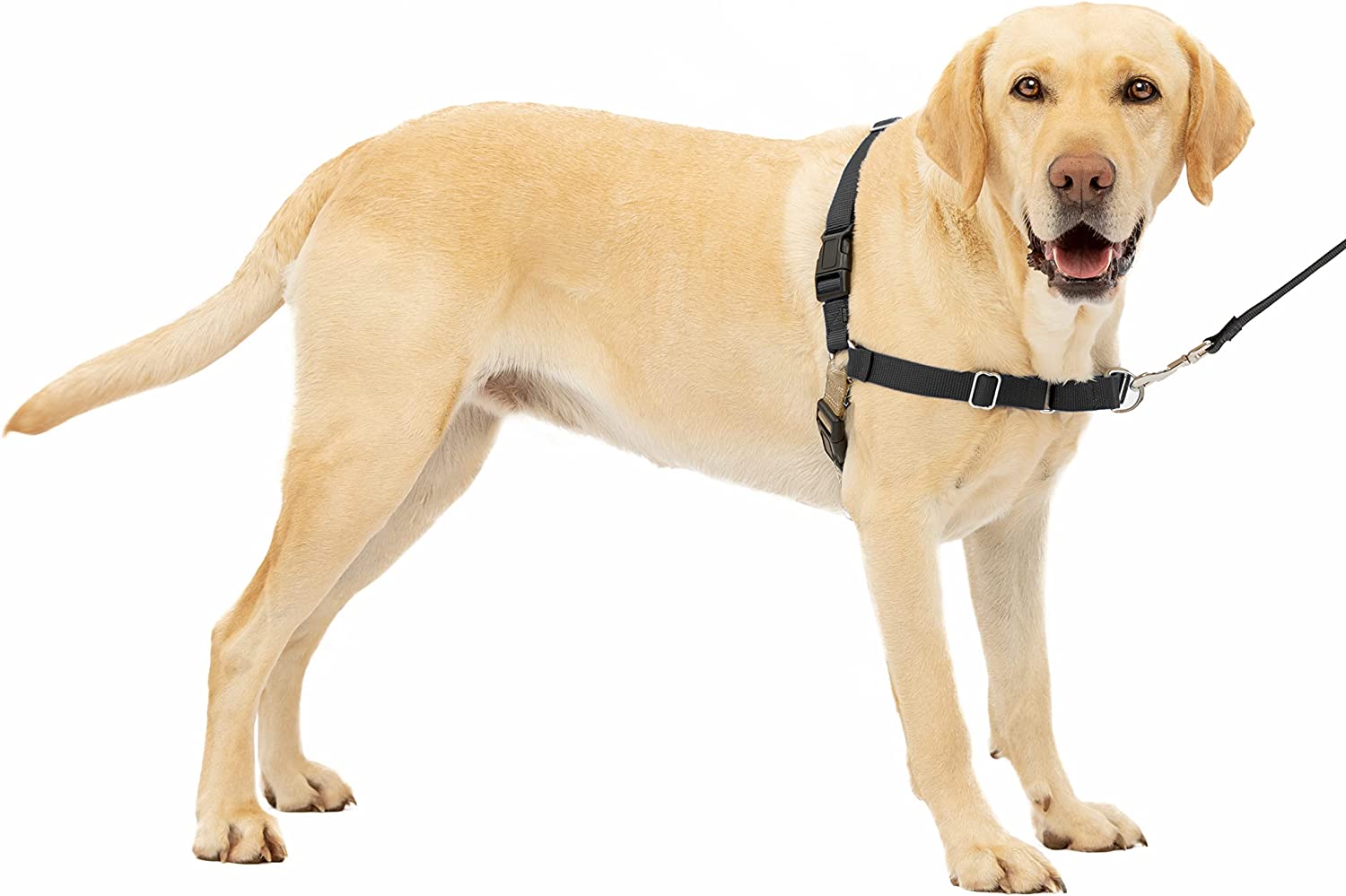 PetSafe Easy Walk Harness
Color: Black/Silver
Material: Nylon
Best for Larger Dogs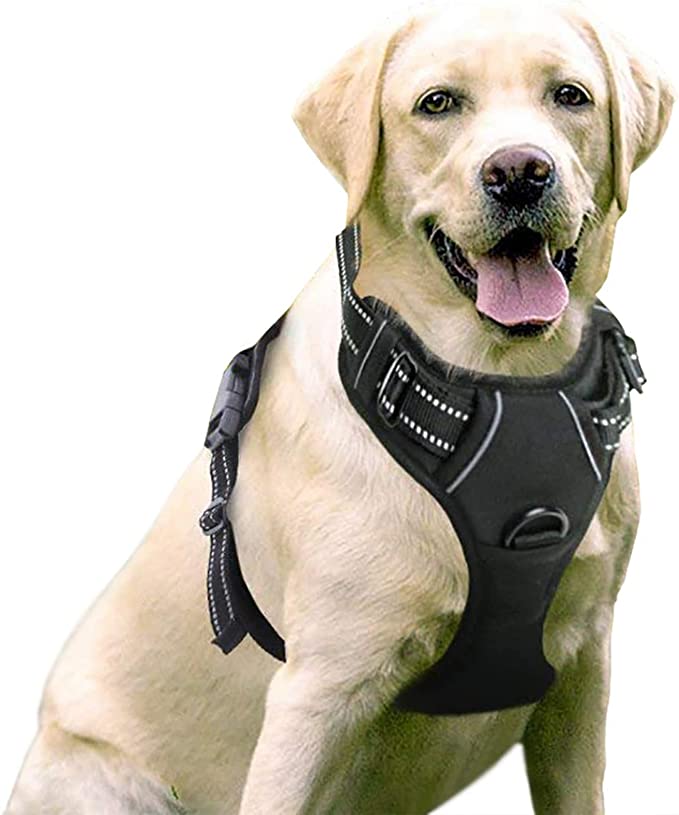 Rabbitgoo No Pull Harness
Color: Classic Black
Material: Polyester, Nylon
Premium Choice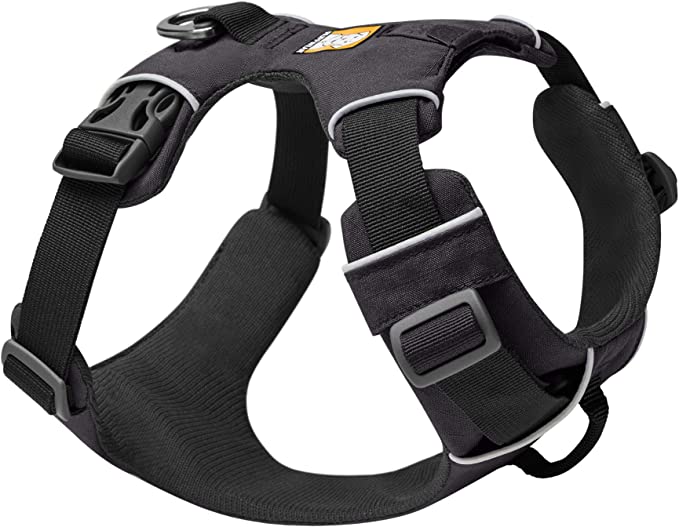 RUFFWEAR Harness
Color: Twilight Gray
Material: Fabric
Stylish Pick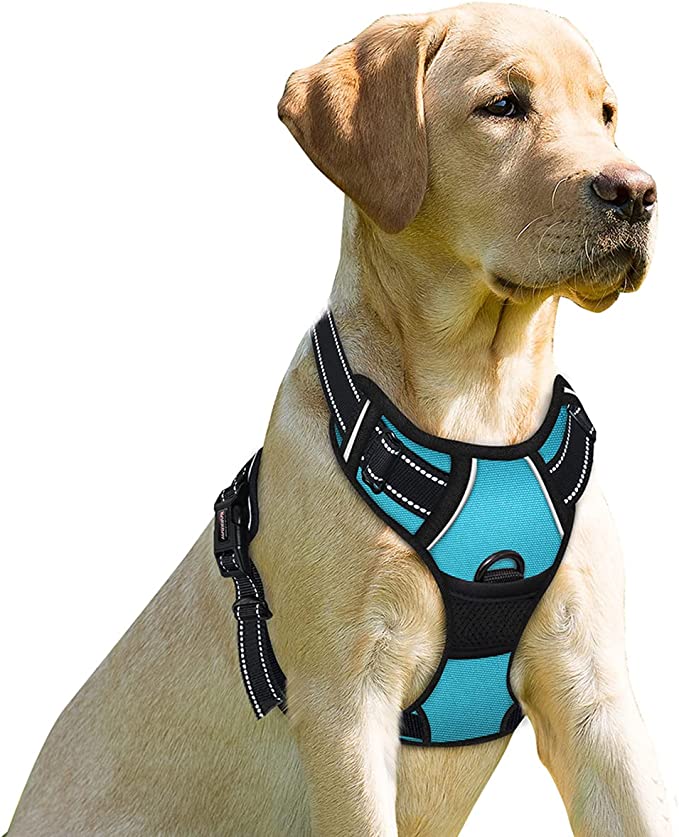 BARKBAY No Pull Dog Harness
Color: Blue
Material: Nylon Webbing
Range of Colors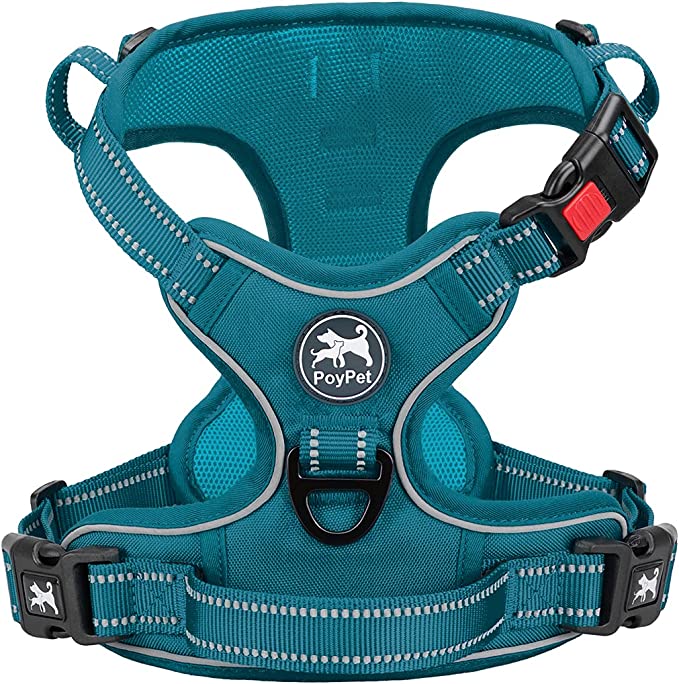 PoyPet No Pull Dog Harness
Color: Tumalo Teal
Material: Nylon
Best for Convenience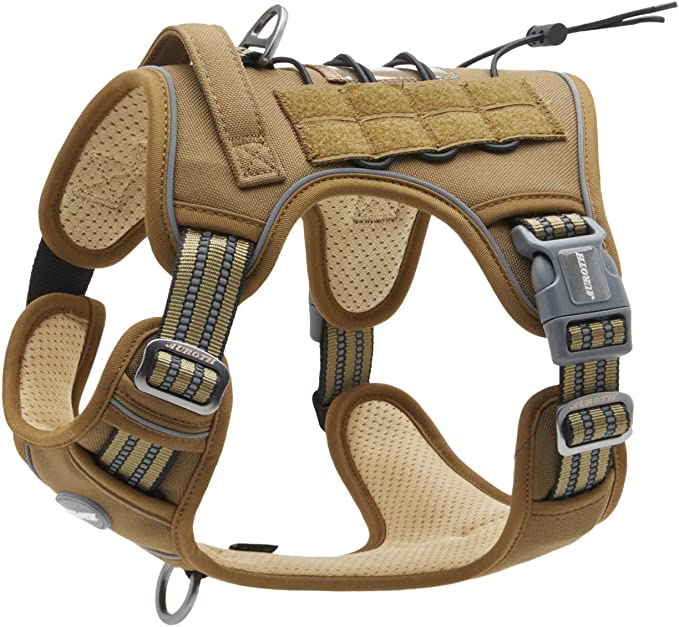 Auroth Tactical No Pull Dog Harness
Color: Army yellow
Material: Nylon
Best for Durability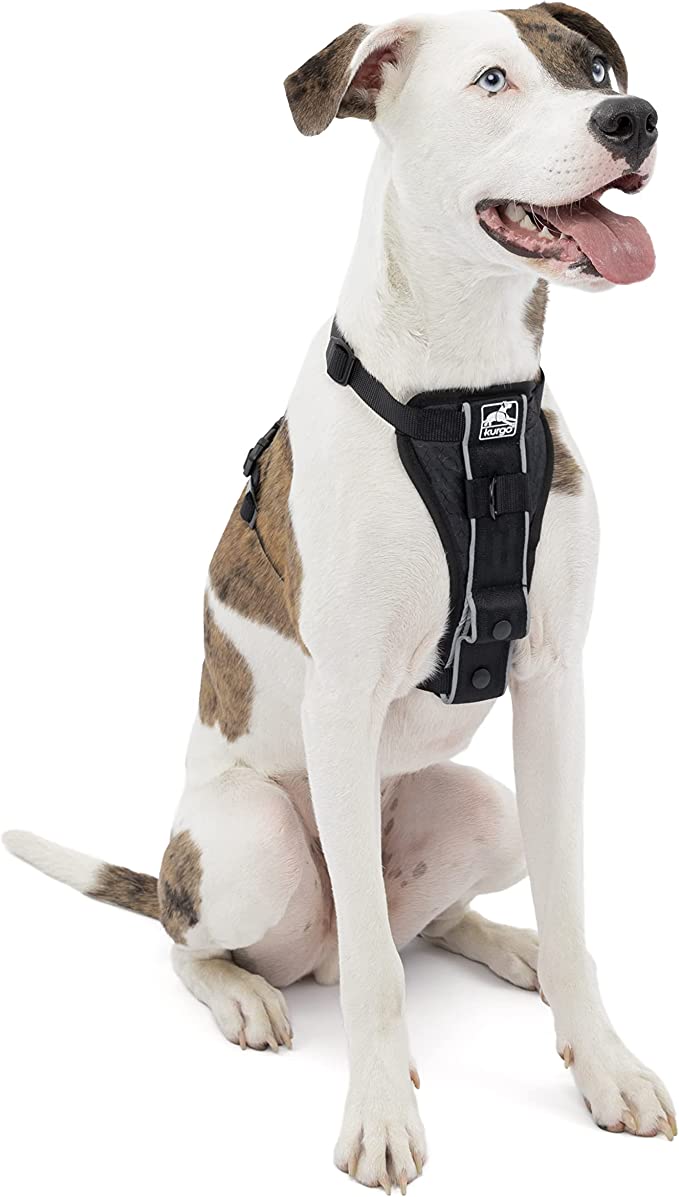 Kurgo Smart Harness
Color: Black
Material: Made with seatbelt webbing
Best No-Pull Dog Harnesses – Top 9 Picks
Although there are hundreds of different dog harnesses available, it's best to opt for a no-pull harness if your dog needs a bit of training. With a fair few options out there, here are some recommendations for the best no-pull dog harness for your pup.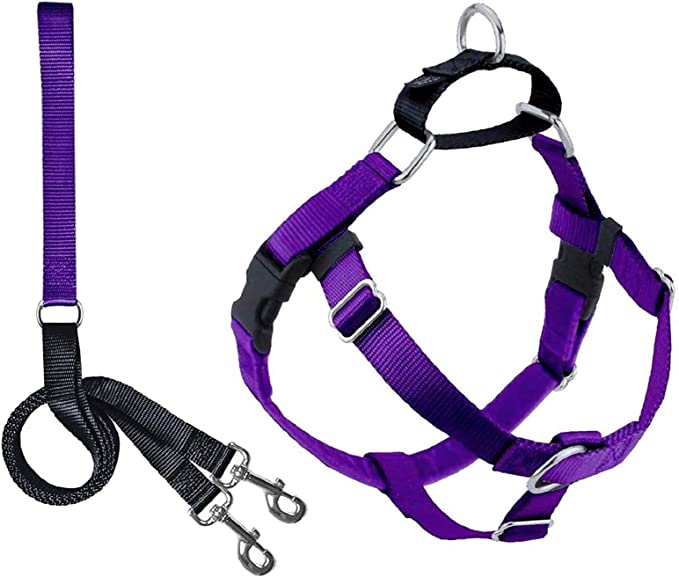 An expensive but impressive bit of equipment, the 2Hounds Design Freedom dog harness is recommended by veterinarians, trainers, and dog behaviorists alike. So, it's hard to go wrong with this one!
As a front clip harness, it stops dogs from pulling, but it also comes with a back clip for versatility, allowing you to choose. You could even attach a leash to both clips; this distributes pressure evenly to prevent discomfort and also allows you to 'steer' the dog.
With four adjustment points, you can find a snug and comfortable fit for your dog, however, it can be fiddly to adjust and tighten the fit at first.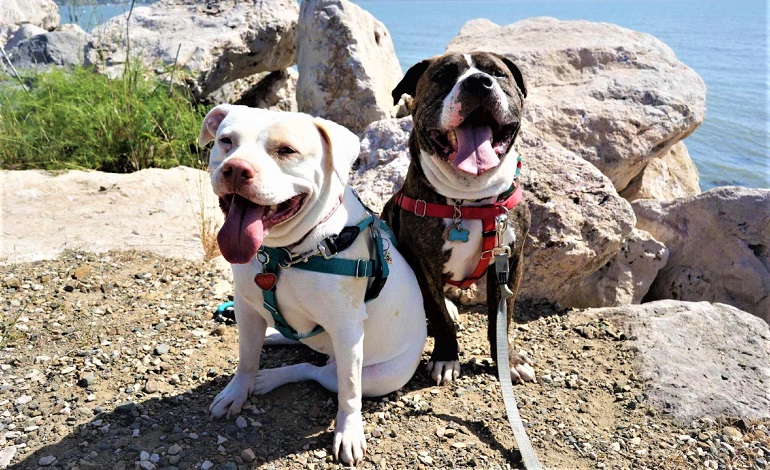 Still, the straps under their armpits have a soft Swiss Velvet lining; this prevents chafing and adds comfort for your dog, but it also makes the strap too thick for the buckles, making adjusting even more finicky.
Even if you have a big dog that likes to pull, this dog harness is far from weak; the material is strong and durable, able to withstand pulls from even the strongest dogs. Security is a priority with this dog harness; it includes a Martingale strap at the back that tightens if the dog starts to pull, preventing them from worming their way out.
Pros
Vet and trainer-recommended
Stylish options available
Front and back clip for greater control and versatility
Four adjustment points for a custom fit
Comfortable under dog's armpits
Withstands strong pulls from big dogs
Machine-washable
Wide range of colors available
Martingale strap adds extra security
Cons
Can be confusing to strap onto your dog
Straps are fiddly and hard to adjust
More expensive than other similar no-pull dog harnesses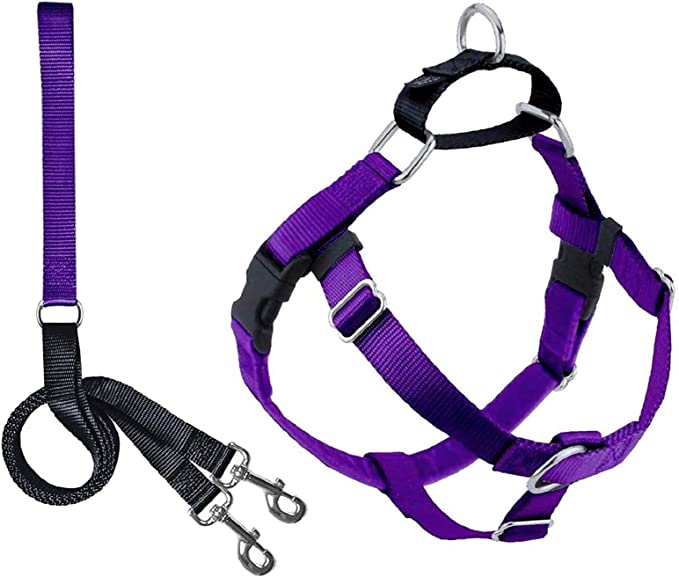 2 Hounds Dog Harness
The price of "2 Hounds Dog Harness" varies, so check the latest price at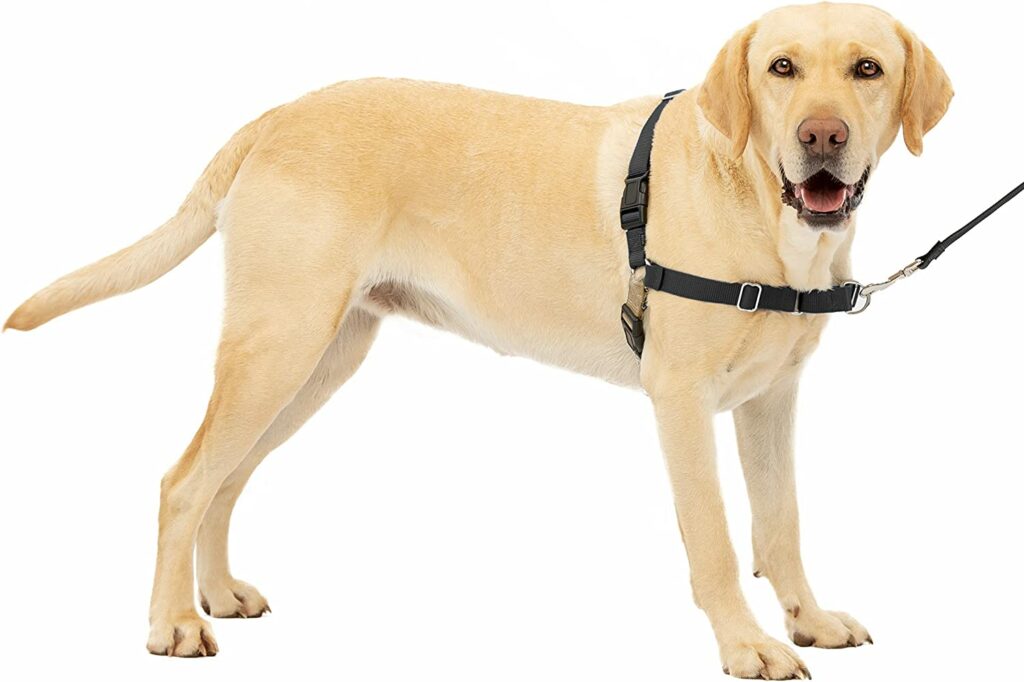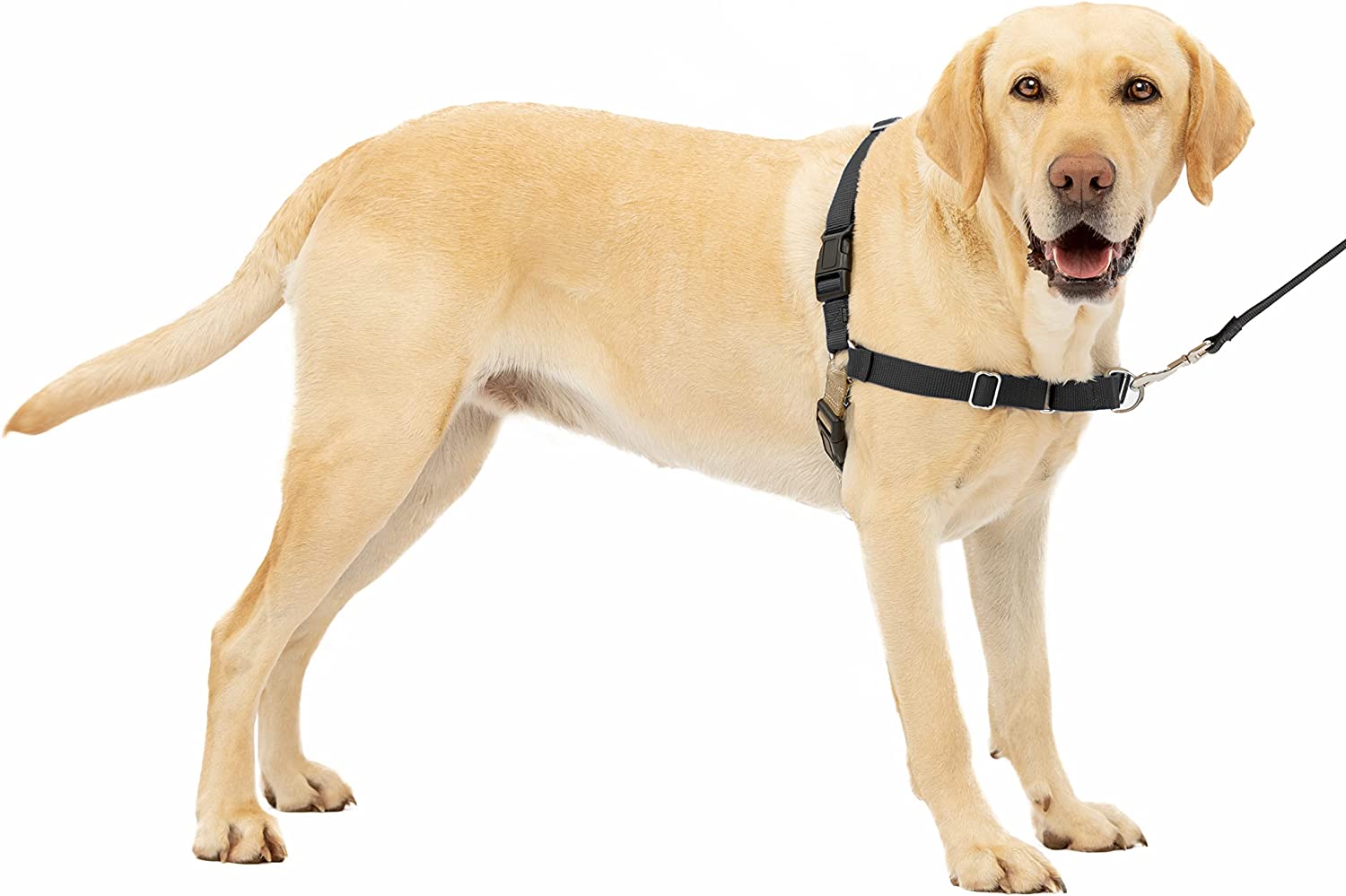 PetSafe's Easy Walk dog harness comes as a top recommendation from many dog trainers, largely because of its affordable price, as well as how effective it is when training puppies and young dogs.
Like others, it includes a front clip that pulls the dog towards you to stop pulling. Unlike most no-pull dog harnesses, it includes a Martingale leash loop, similar to the 2 Hounds Freedom harness. This makes it easier to give your dog a quick correction when they start pulling and makes them more likely to pay attention.
The PetSafe dog harness comes in a range of sizes, making it a good harness for a small dog. The straps are adjustable and even come in different colors, making it easy to know how to put it on correctly.
It can be particularly fiddly to get the right adjustment and fit at first, but once you do it becomes quick and easy to put on.
Make sure you take time to adjust the harness to get the right fit though. If you don't adjust it properly, the harness can slip to the side when you pull at it. Similarly, the front chest strap can sag and get in the way of your dog's legs. But with the right adjustment and regular tightening, it should be comfy enough.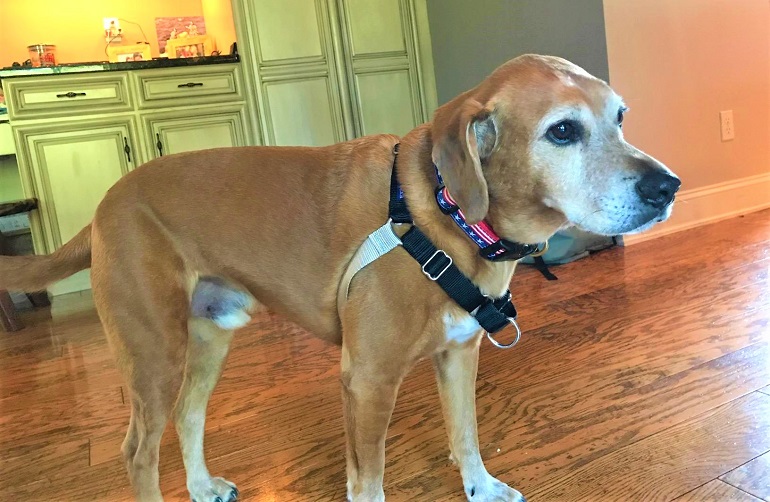 The material is strong but soft nylon, making the harness secure and easy to clean. However, with no padding and thin straps, it can rub against your dog's skin if it pulls. But since the harness is designed to eliminate pulling, it shouldn't be a problem in theory.
Pros
Adjustable for a snug but comfy fit
Affordable
Easy to put on
Strong but soft material
Wide range of size options available
Straps different colors to help put on correctly
Cons
Chest strap can hang over legs
No padding on chest plates
Thin straps and buckles under armpits can rub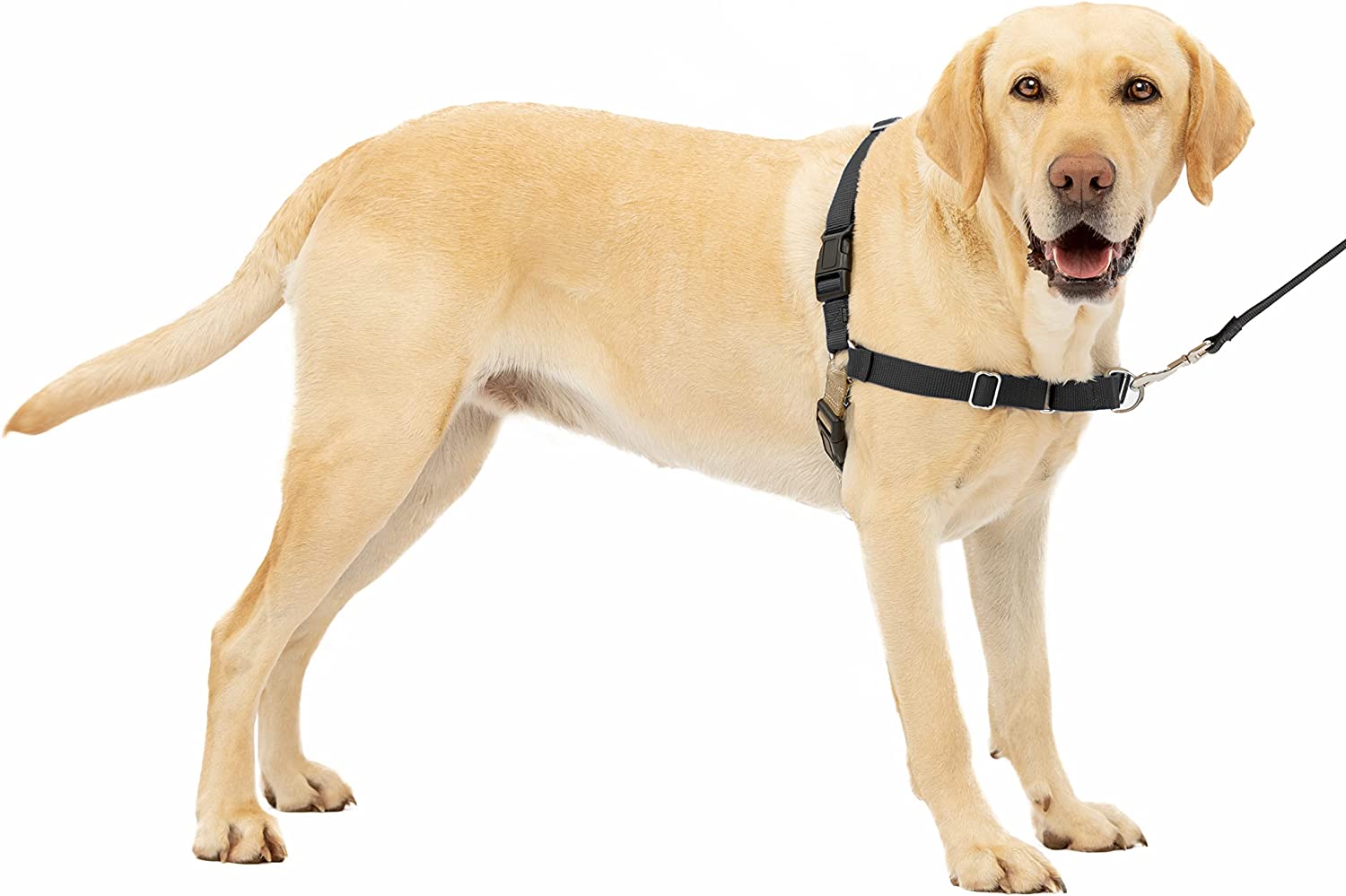 PetSafe Easy Walk Dog Harness
The price of "PetSafe Easy Walk Dog Harness" varies, so check the latest price at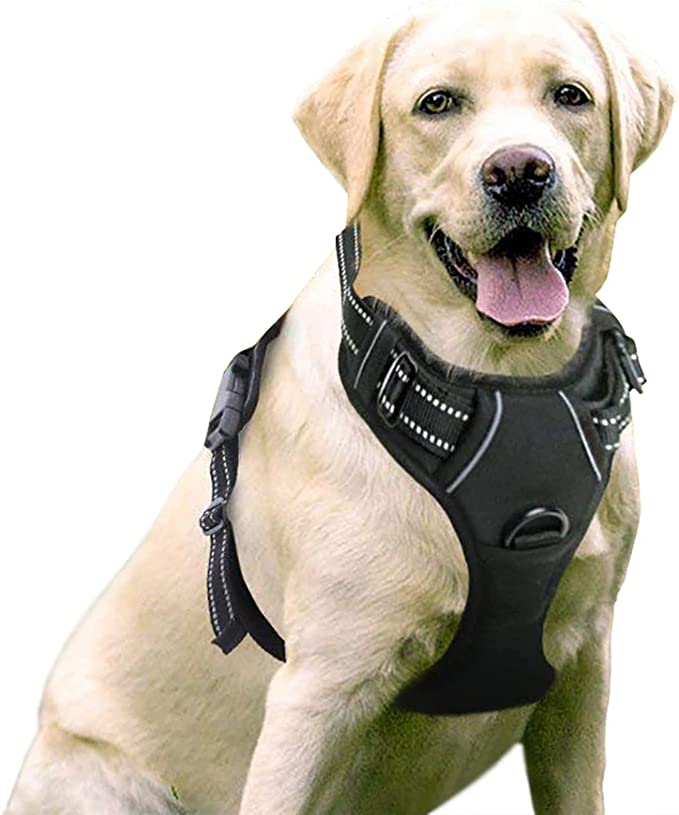 Although perhaps intended as more a harness for large dogs, the Rabbitgoo harness still comes in a range of sizes and colors. However, even if your dog is an ideal fit for the size, the straps can loosen easily, so it's worthwhile tightening them frequently.
Despite that, the straps are made of advanced polyester webbing, making them particularly durable, while the interior is made up of padded and breathable mesh fabric.
This should add more comfort to your dog's walks; so should the vest-shaped design that protects its neck, although this tends to twist to the side whenever your dog starts to pull at the leash.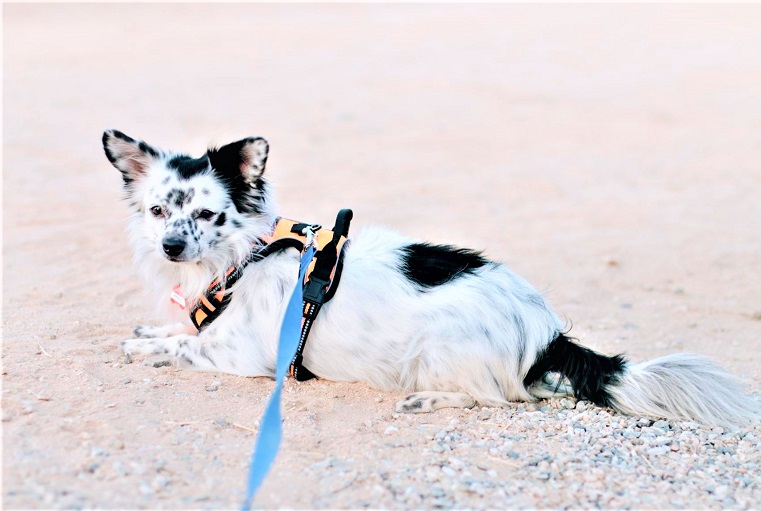 The design does include ultra-bright reflective stitching though, making it an ideal harness if you like taking your dog out on nighttime walks.
Front clip harnesses like this give you extra control by dissuading your dog from pulling, but this still includes a back clip for more versatility. It even includes a sturdy top handle to give you even more control where needed.
Pros
Ultra-bright reflective stitching ideal for nighttime walks
Back and front clips for versatility
Back handle for added control
Quick and simple to take on and off
Comfy and breathable, yet durable material
Cons
Best for large or medium-sized breeds only
Twists to the side when the dog pulls
Straps need frequent tightening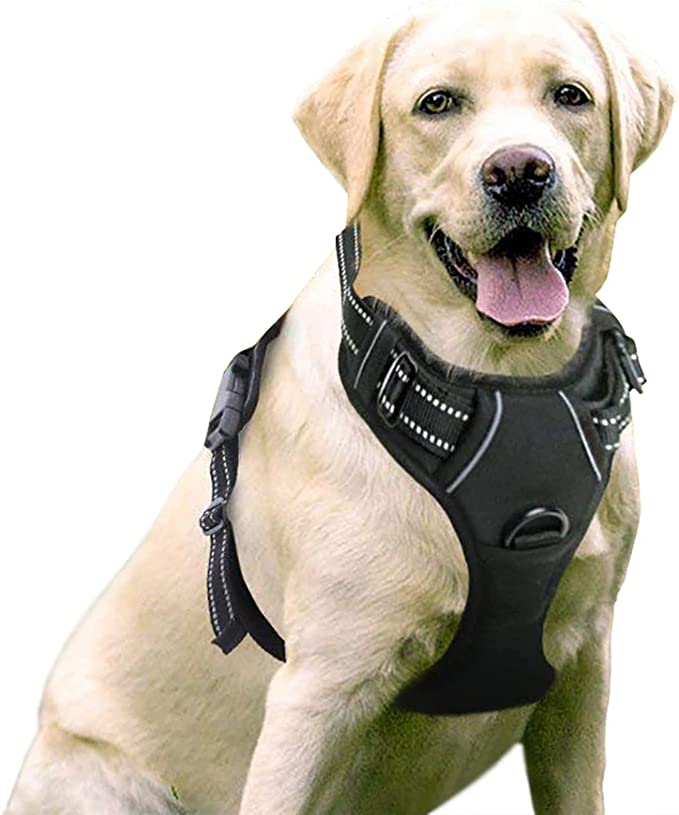 Rabbitgoo Dog Harness
The price of "rabbitgoo Dog Harness" varies, so check the latest price at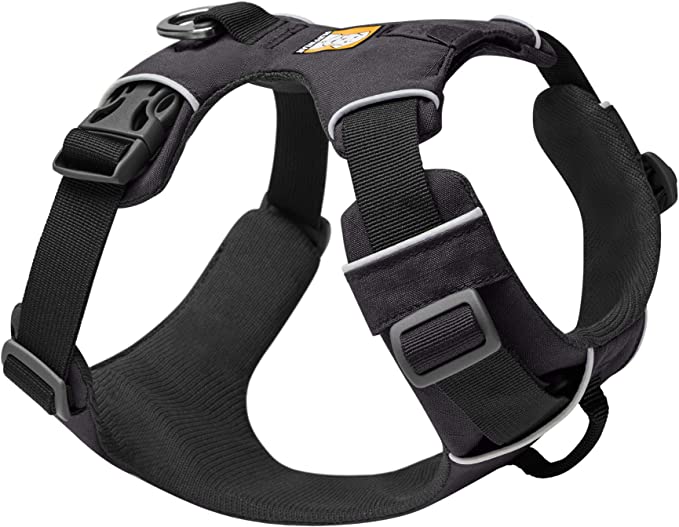 The first aspect most people notice when it comes to RUFFWEAR's harness is its expensive price tag, mainly because it costs more than twice the price of most others on this list. Nevertheless, this is still a sturdy and dependable harness that delivers results.
Like the other no-pull dog harnesses, it has two leash attachments: an aluminum V-ring on the front to discourage pulling, as well one on the back.
Made of stiff polyester, a material that withstands heavy use, it's likely to last after years of use and hundreds of outside adventures. And the reflective trim means the adventures don't have to stop once the sun goes down!
But durable doesn't mean uncomfortable. The foam padding on the chest and belly panels adds comfort, but the padding here is minimal and could do with a bit more. Still, the built-in clasps and wide straps mean there's no risk of chafing or rubbing.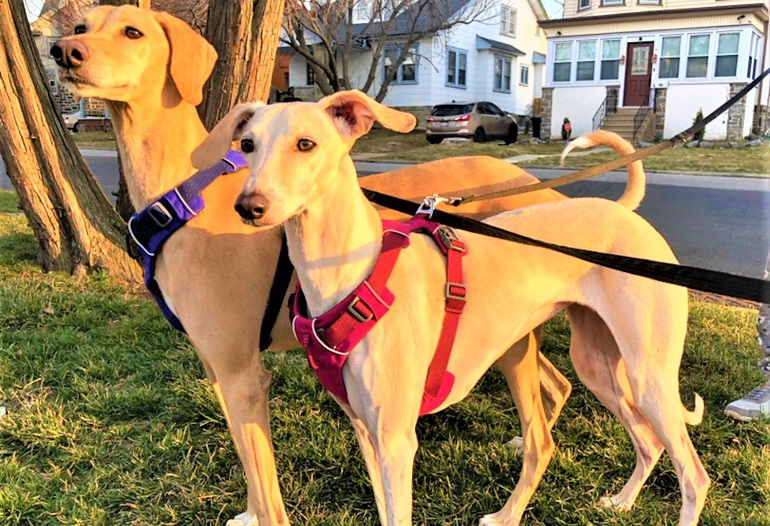 It's best to make sure the harness fits as well as possible to eliminate any danger of rubbing against your dog's skin. Fortunately, the harness's design is highly-adjustable to allow for a custom, snug fit. There are a range of sizes, but if your dog is in the middle, it's best they go for the larger size.
Pros
Strong fabric withstands pulling
Durable
Padded with wide straps
Very adjustable for an ideal fit
Reflective stitching increases low-light visibility
Wide range of sizes
Cons
Serious pullers can twist the chest strap
Doesn't dry quickly
Expensive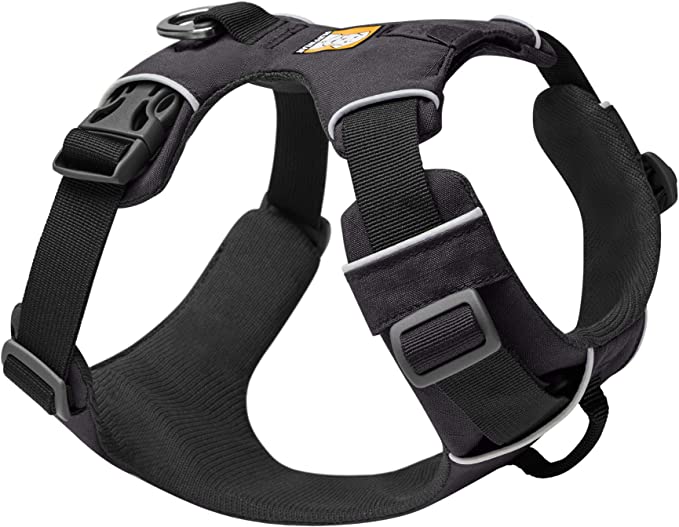 RUFFWEAR Dog Harness
The price of "RUFFWEAR Dog Harness" varies, so check the latest price at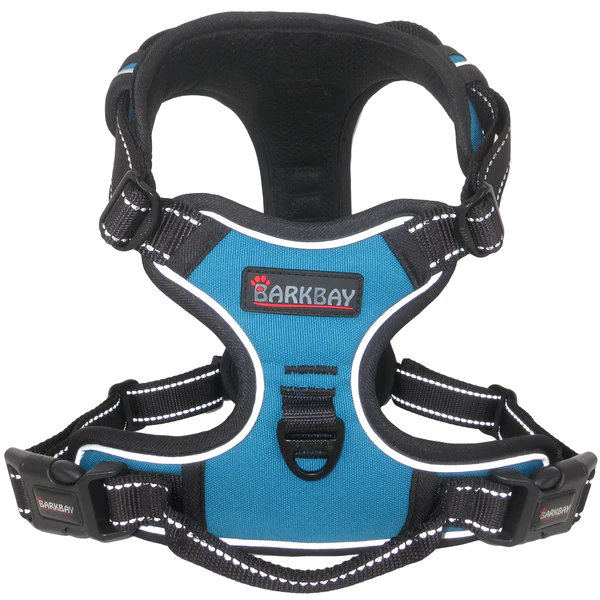 Harnesses aren't quite as discreet as collars, and this makes a lot of people quite picky when it comes to picking a harness that actually looks good. If plain colors aren't your thing, BARKBAY not only has a range of colors, but multiple patterns to make sure your dog still looks stylish with its harness strapped on.
Like other no-pull dog harnesses, there are front and back leash attachments, as well as a top handle for grabbing onto them quickly. It's not the most effective harness for stopping pulling though and is better for dogs who already have an idea of what to do.
But even if your dog pulls a lot, its buckles are strong and durable enough to withstand up to 450lbs of force. But it's best if the harness is strapped tightly to fit your dog properly. Fortunately, there are four adjustment points, making it easy to get the best fit possible.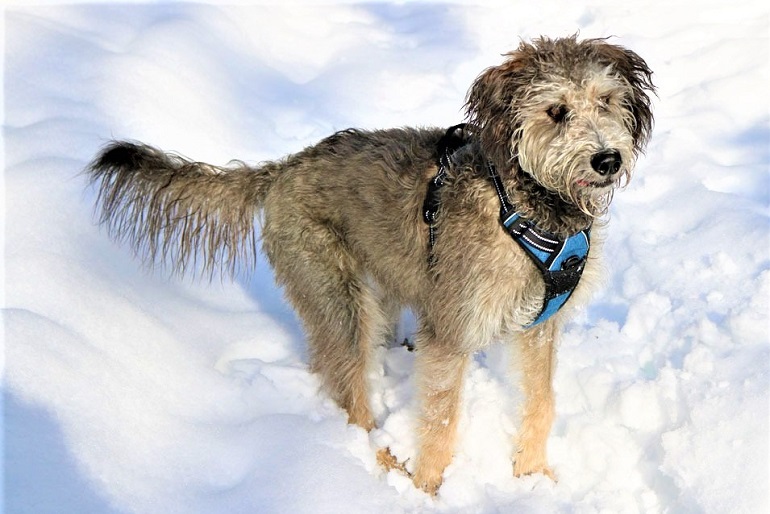 The harness itself provides a good level of comfort for your dog. Its vest-style shape protects your dog's neck, while the padded air mesh interior is comfy and breathable, and the exterior is made of no-rip nylon, making it durable and weatherproof.
However, there are some issues with the padding. There isn't enough in the bone-shaped chest plate to stop it from rubbing. Similarly, the straps aren't padded at all, which can cause friction under a dog's legs when they pull.
Pros
Secure straps that are easy to adjust
Front and back clips as well as a handle
Reflective trim for low-light visibility
Padded chest plate
Great selection of colors and patterns
Cons
Chest plate too narrow to stop abrasions
No padding under straps can cause friction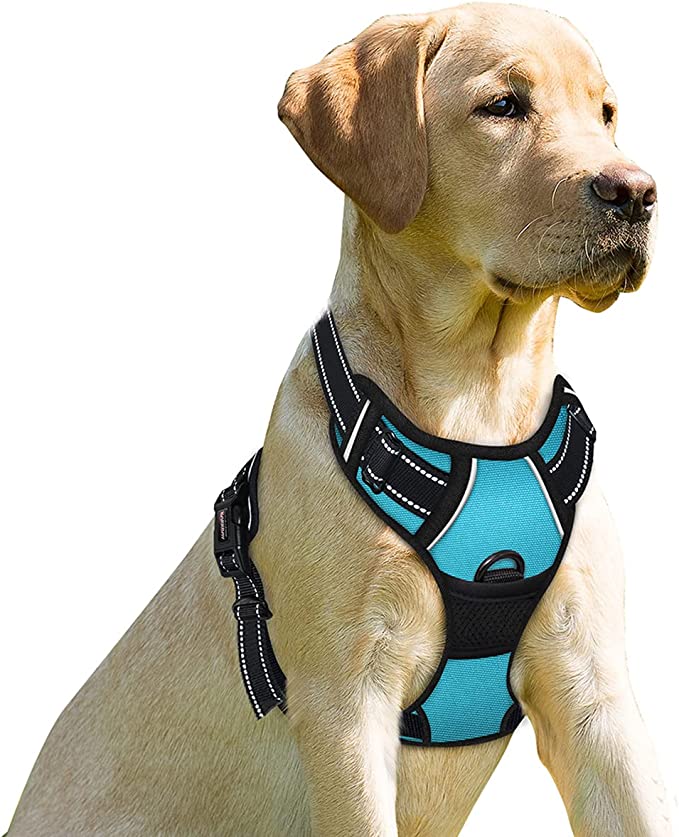 BARKBAY No Pull Dog Harness
The price of "BARKBAY No Pull Dog Harness" varies, so check the latest price at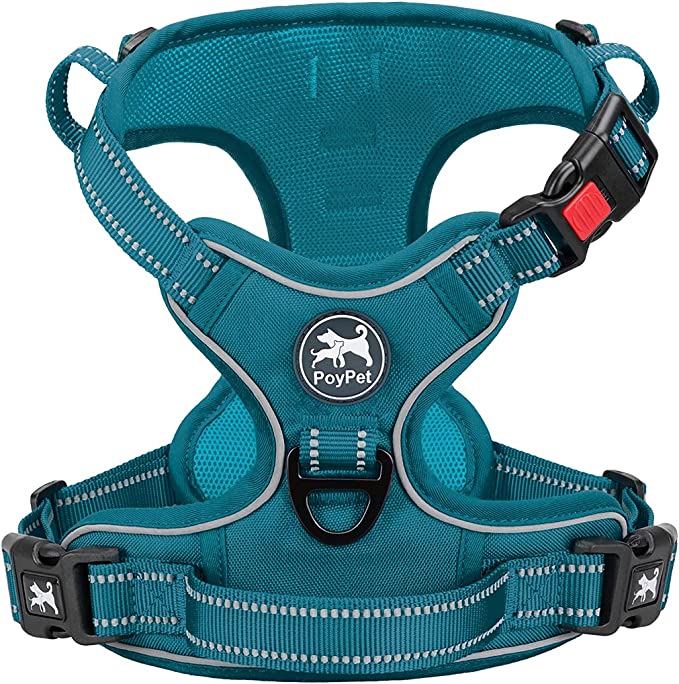 With two metal D-rings on the front and back, the PoyPet harness discourages your pup from pulling while evenly distributing pressure around the dog's body to stop them from choking. It even has a top handle to grab if they want to lunge after squirrels or to help them up the stairs.
But like the BARKBAY harness, it's perfect for style thanks to its huge range of colors. From tumalo teal and mint blue to checkered red and plain old black, there's bound to be a color that suits your dog.
It even comes with a reflective strip to let you go out for nighttime walks and a mesh pocket to keep their ID in, just in case they manage to run off.
With three sturdy quick-release buckles on the neck and dog's chest, PoyPet's no-pull harness is both reliable and easy to put on. And unlike other no-pull dog harnesses, you don't have to pull it on over your dog's head; instead, you can just wrap it around them.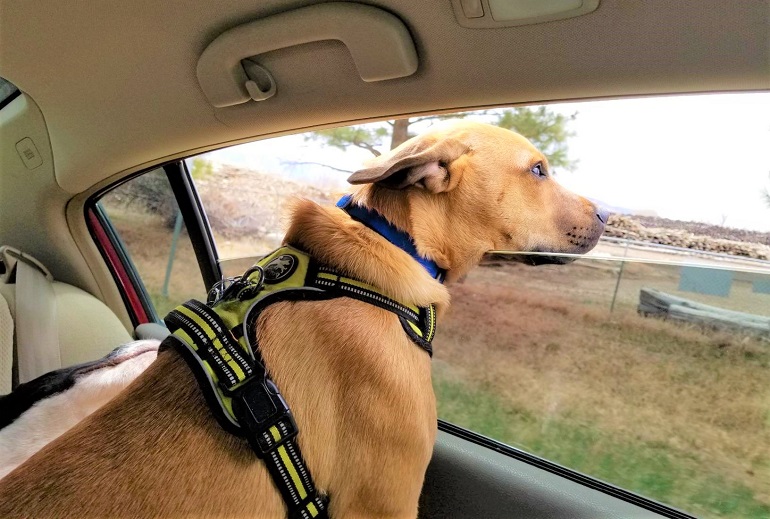 Made of lightweight nylon with wear-resistant Oxford Surface, the exterior is fairly durable, although you should check the stitching after a few months to make sure it isn't frayed.
On the inside, there's a breathable air mesh to keep your dog cool and comfortable on walks with a soft padded cushioning to protect it from rubbing.
However, for it to be really comfortable, you have to pay attention to all four adjustable straps to get a perfect fit. These do require tightening after a while, and you have to precise with the adjustments and fitting, otherwise your dog's legs can get caught up in the leash.
Pros
Front and back clips for versatility and control
Top handle to keep you in charge
Range of colors
Reflective trim
Fully adjustable and padded for comfy fit
Durable material
Cons
Straps need regular tightening
Reports of issues with stitching coming undone
Precise fit required to stop tripping over leash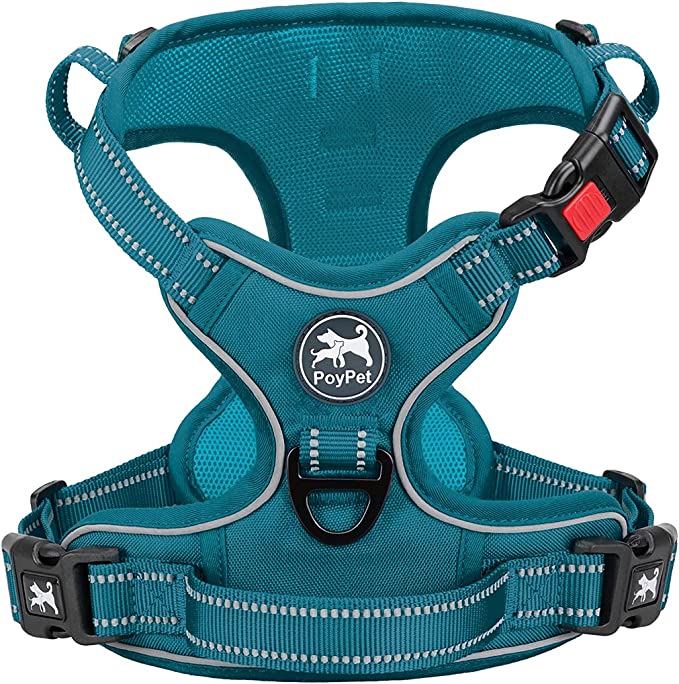 PoyPet No Pull Dog Harness
The price of "PoyPet No Pull Dog Harness" varies, so check the latest price at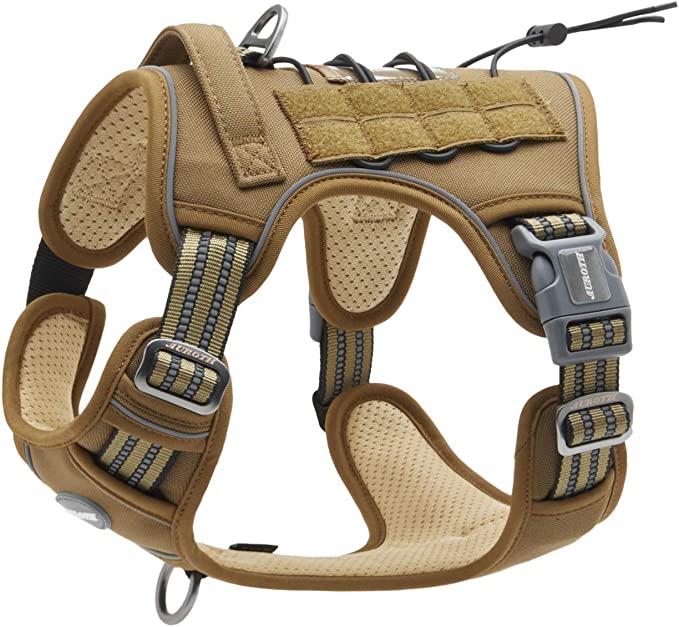 With a top handle and metal leash attachments on the dog's chest and back, the Auorth no-pull harness is simple to put on and take off. The quick-release buckles are made of durable and secure heavy-duty plastic.
However, the harness goes over your dog's head and many have been able to wiggle their way out of it.
There's no chance of them breaking the harness itself though. Made out of super-tough 900D nylon, this is a military-grade material with reinforced stitching for added durability and even fluorescent edging to spot them at night.
That doesn't mean it's uncomfortable though. In fact, it's cushioned on both the top and bottom, protecting your dog against abrasions and rubbing on its front legs. And with lots of different colors and camo patterns available, you can make your pup look stylish too!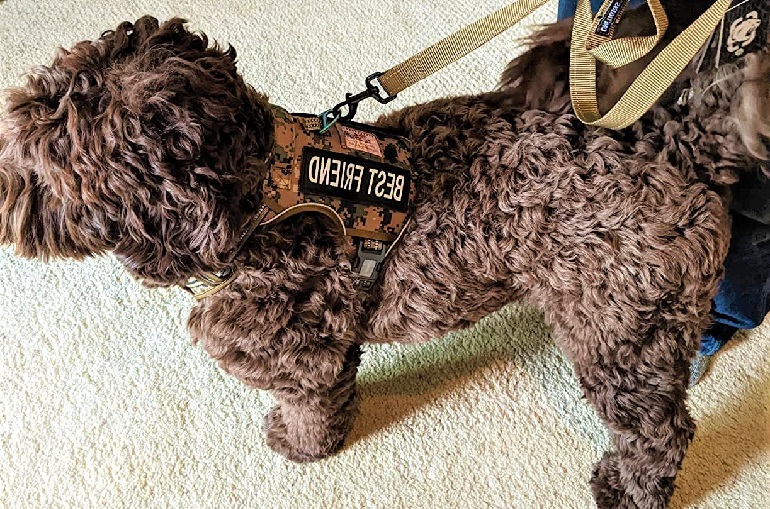 But the best advantage of the Auroth no-pull harness is the adventurous side. With strips of Molle (Modular Lightweight Load-carrying Equipment), you can attach pouches for your pup to carry, such as a bowl, water bottle, or even toys! Never leave your best friend behind on an adventure again!
Pros
Easy to put on and take off
Simple straps to adjust for snug fit
Durable but padded material for comfort and security
Choice of back and front clips
MOLLE strips included for optional pouches to attach
Cons
Would be more secure with an extra buckle
Some dogs have wiggled out of the harness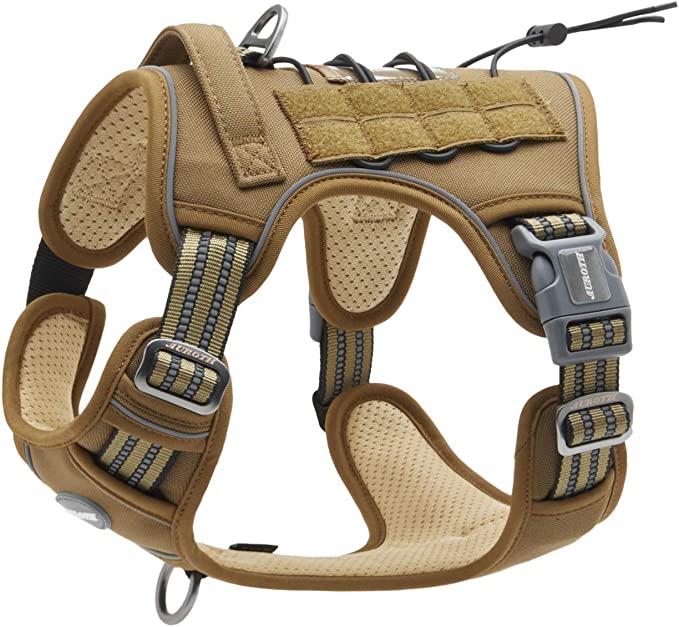 Auroth Tactical Dog Harness
The price of "Auroth Tactical Dog Harness" varies, so check the latest price at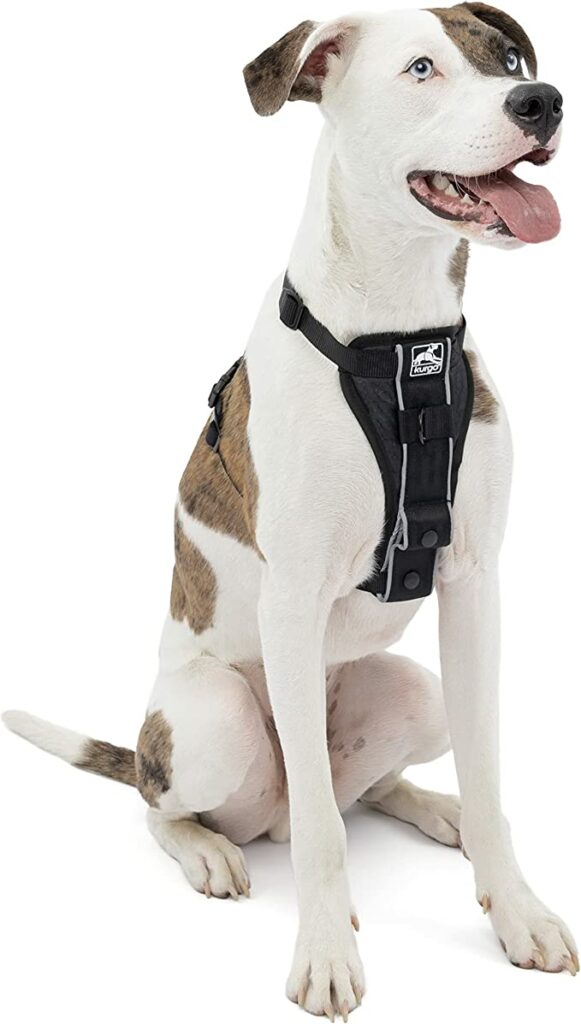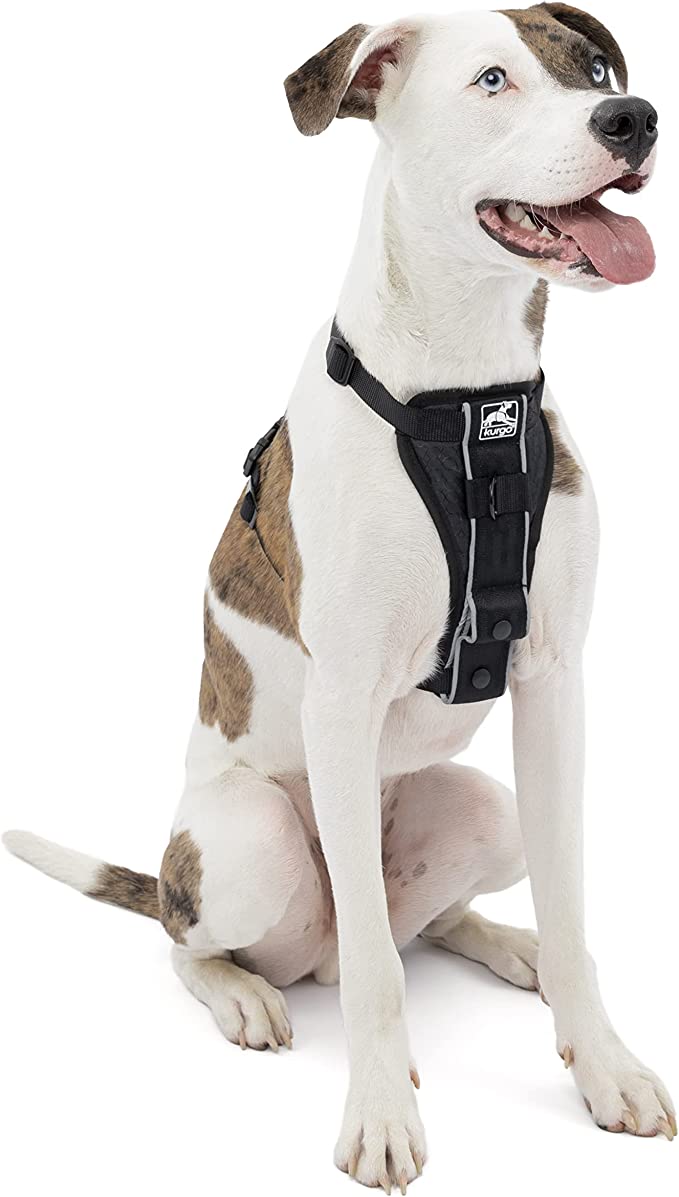 With a front clip to stop pulling, the Kurgo Tru-Fit harness also offers a back clip for more traditional walking. But the best part is the chest loop included that helps control your dog's pace, ensuring they don't race ahead and enhancing the "no-pull" function.
However, these straps have no protective covering, meaning they get twisted and can rub against your dog's legs.
Of course, rubbing is less likely with a more secure fit. That's why the Kurgo includes several adjustment points; but with five straps, it takes a long time to adjust it to get it right.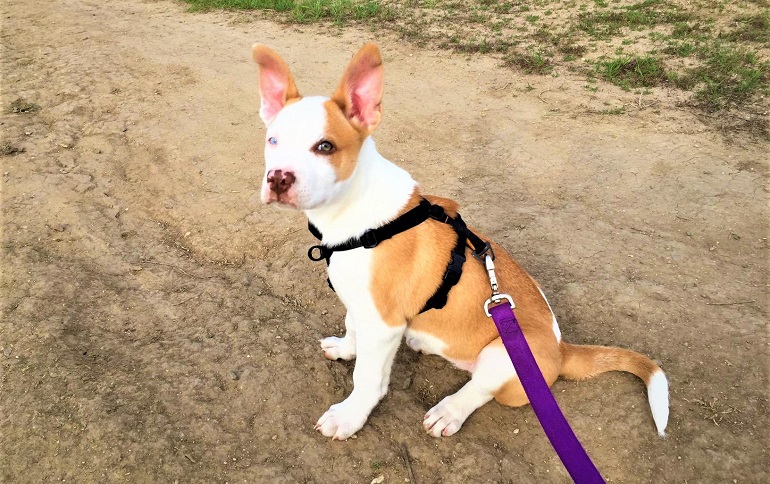 Fortunately, the interior of the no-pull harness is still comfortable, thanks to its wide and padded chest plate. It's also durable due to its use of extra-strong nylon webbing. This makes it ideal for large dogs since it can withstand the intense force of their pulling.
And as an added bonus, it even comes with a seatbelt tether, so you can keep them safe when you take them along for a car ride!
Pros
Affordable
Durability makes it ideal for big dogs
Padded plates for comfort
Front and back clips for more versatility
Great customer service
Comes with a seatbelt tether
Cons
Lots of straps mean it takes a while to adjust
Sizing can be an issue for some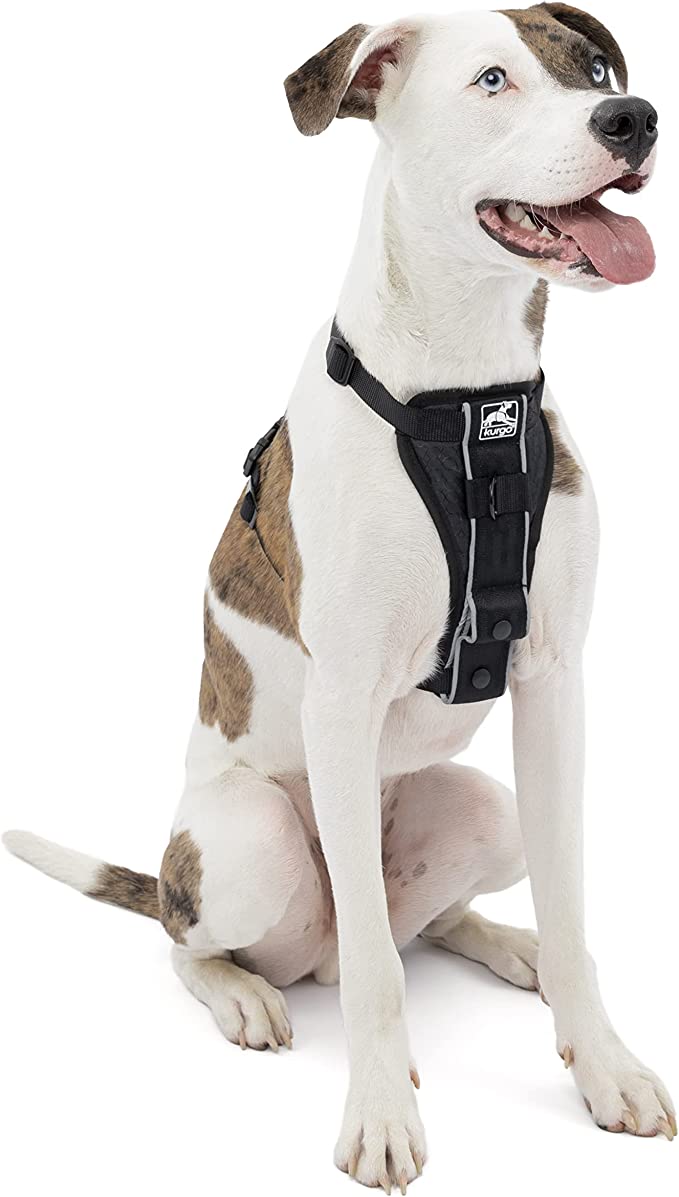 Kurgo Tru-Fit Smart Harness
The price of "Kurgo Tru-Fit Smart Harness" varies, so check the latest price at
Things to Consider Before Purchasing a No-pull Dog Harness
With a range of necessary features to consider before buying a no-pull harness, it can be a bit complex. You know what your dog needs in a no-pull harness, but here are some things to keep in mind.
Size and Fit
Just like a pair of shoes, you want the perfect size and fit. This is important for three reasons.
It stops chafing which can be painful.
It stops dogs from wiggling out and escaping.
It allows dogs to walk freely without a sagging harness getting in the way.
Most no-pull harnesses come in a range of sizes from X-small to X-large. Just like you measure for a dog collar, you should also measure your dog for a harness by checking the size of their neck and chest in inches.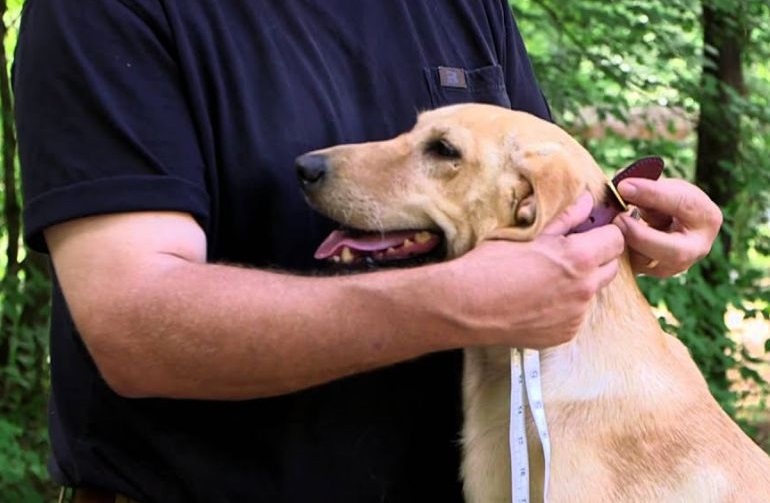 Material
The material a harness is made from is important for its comfort and durability. You don't want it rubbing against their body, nor do you want them to chew through it and escape.
Sadly, chew-proof harnesses don't exist, but the right materials can make it harder or even discourage them from wanting to chew it in the first place.
Adjustable Straps
It's perfectly normal to adjust a dog collar, and you'll likely have to adjust the no-pull harness too, unless it's a perfect fit when you get it.
Putting on and adjusting the no-pull harness should be easy though. Ideally, you only want to do it once in a while, with just occasional tightening necessary. Some design try to hide straps and buckles for a more sleek design, but we'd recommend against these because they can make it too fiddly to adjust.
Comfort
When you put on the dog harness, you want your pup to be happy and comfortable at all times. That means your no-pull harness needs two things; to be soft and padded to ensure no chafing, and to not have sagging straps or anything that might get in the way. Check it's nice and soft and lets your dog move freely and it ought to be perfect for them.
Durability
You don't want to keep having to buy replacement harnesses over and over, so make sure they're durable and built to last. It helps if a no-pull harness is washable and easy to dry, but more than that it's crucial that it's built with materials that dogs can't chew through!
Conclusion
If you've ever gone for a walk with your dog and thought even for a second that you wish they'd stop pulling, then you need a no-pull harness. They make a world of difference and can help train your dog.
So long as it's a good fit, comfortable, and durable, any of these no-pull harnesses are game-changers when it comes to going on adventure with your pup.