Have you ever seen your dog's disappointed face when you leave to go to the gym? They're your best friend and just want to come along.
It sucks you can't exercise with them. But why go to the gym and leave your dog at home, when you can run outside with them?
Running is a great way for both of you to exercise and stay healthy – and it's an ideal way of bonding with your fur baby!
Besides, who makes a better motivator than your dog? They'll help you go that extra mile!
Your dog will be overjoyed to go running with you, but there's a bit of preparation to do beforehand.
To get the most out of each run, a tactical harness can take your runs to the next level.
Best Overall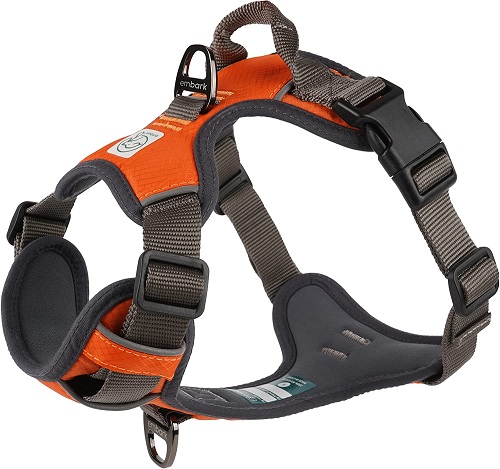 Embark Adventure Dog Harness
Size: Small
Material: Nylon
Best Range of Colors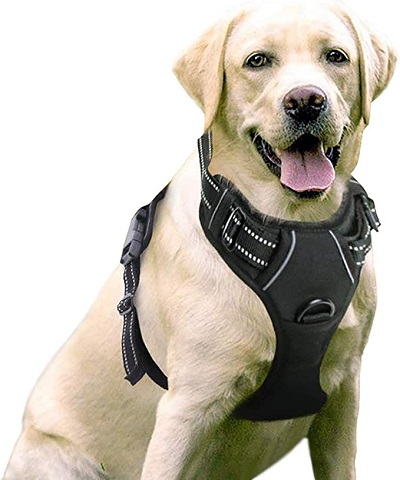 Rabbitgoo Dog Harness
Size: Large
Material: Polyester, Nylon

Great Custom Fit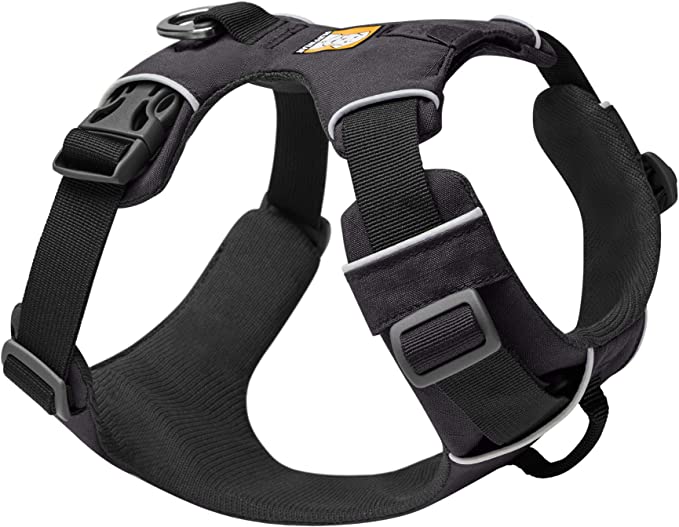 RUFFWEAR Front Range Dog Harness
Size: Medium

Material: Nylon
Super Functional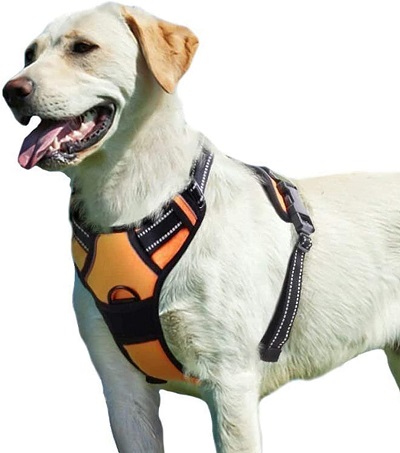 Eagloo Dog Harness
Size: Large
Material: Other

Ultra Comfy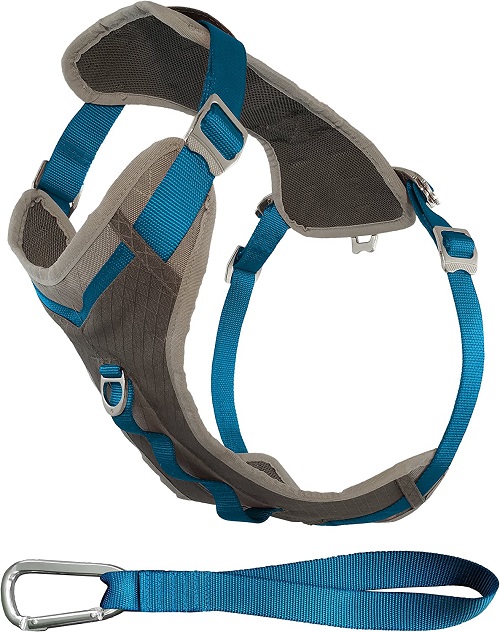 Kurgo Journey Dog Harness for Running
Size: Large
Material: Neoprene
Affordable & Durable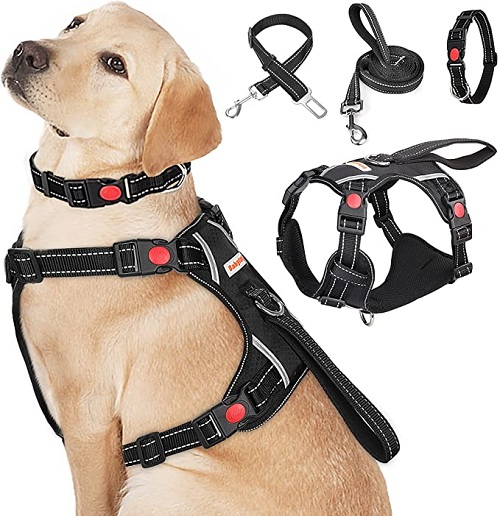 BABYLTRL Dog Running Harness
Size: LARGE
Material: Nylon

Lightweight & Adjustable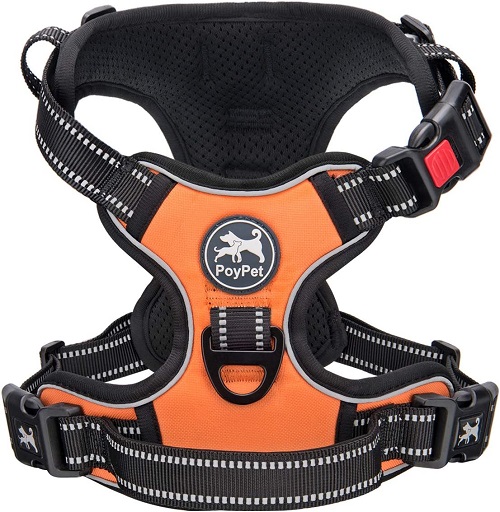 PoyPet No-Pull Dog Harness
Size: Large
Material: High Reflective Nylon
Our Top Picks of the Best Dog Harnesses for Running
It's possible to use most dog harnesses to go running with your dog. But you don't just want any old dog harness – you want the best dog harness for running.
So here are the top dog running harnesses to start your search.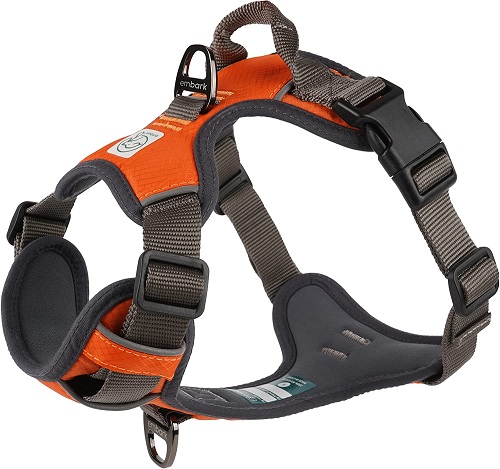 Embark was founded by five friends; two of them are dogs, all of them love the outdoors. Embark's known for creating comfortable yet durable products that take adventures with your dog to the next level.
Even better, they donate thousands of their best dog harnesses, leashes, and collars to animal charities – so they're worth supporting!
Embark's Adventure dog harness is durable, made of strong military-grade 'ripstop' nylon, and supported by reinforced stitching. Together, the harness exceeds the national pulling strength guidelines by over 130 lbs! It's unlikely your dog will rip this one anytime soon.
But it's still a comfortable dog harness. Made of lightweight materials, it includes soft padding to reduce chafing.
Security is important when running with your dog, and this dog harness is guaranteed to keep them safe. The back handle allows for extra control while the heavy-duty buckles keep them strapped in.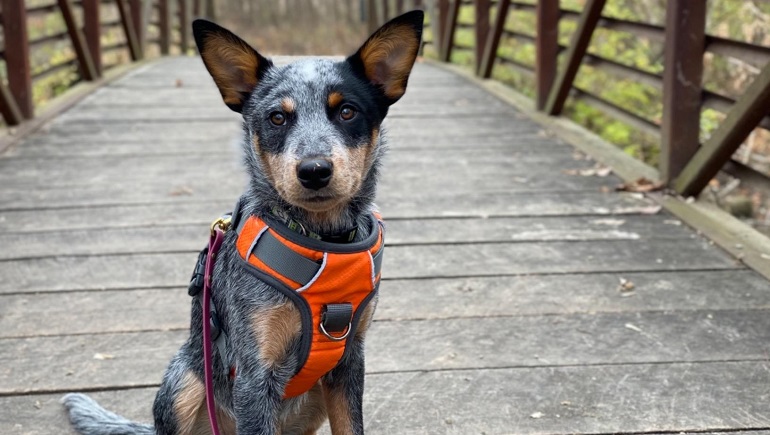 The sliders help to prevent the foam padded straps from loosening; however, they'll inevitably start to loosen over time. Still, it's a highly adjustable harness, making it one of the best escape-proof dog harnesses.
It's also one of the best no-pull dog harnesses with a design that prevents damage to its trachea. With two leash attachment points made of reinforced metal, there's one on the front for no-pull training, as well as one on the back.
There are five colors to choose from as well as four multiple sizes, from small to X-large. However, some customers have found the harness runs a little big, so it might be worth rounding down your dog's measurements.
Pros
Durable with reinforced stitching
Back handle for extra control
Dual clips stop pulling
Comfortable and cushioned
Range of colors and sizes
Cons
Neck hole not adjustable
Straps loosen over time
Sizing issues mean measuring is important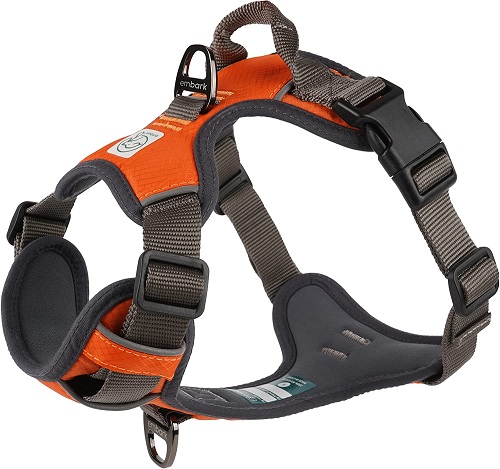 Embark Adventure Dog Harness
The Price of "Embark Adventure Dog Harness" varies, so check the latest price at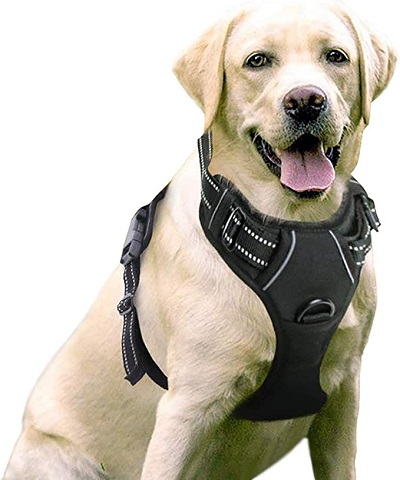 Rabbitgoo's dog running harness offers a huge range of 14 colors, allowing you to find one that suits your pup's style. And with four sizes from small to X-large, there's likely an available correct size for them.
Like many of the best dog running harnesses, this is a dog harness for pulling, with two leash attachment points: a front clip for more control and to discourage pulling, as well as a back clip ideal for jogging.
Safety is a priority with this dog running harness, boasting multiple features to keep your pup secure. There's a top handle for you to grab if you need extra control and bright reflective strips to keep them visible in the dark – perfect for a nighttime run!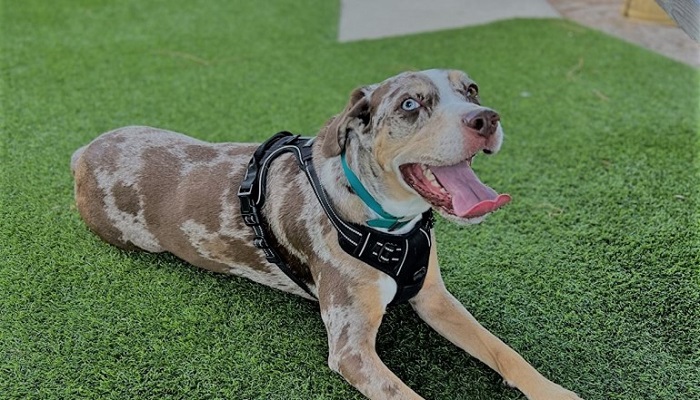 Made of Oxford nylon, it uses resistant material that makes it durable and weatherproof – so feel free to run through the rain without risk of damage!
This doesn't mean it's not comfortable; this running harness features a padded air mesh to make it breathable and lightweight, as well as four adjustable straps on the neck and chest to find a perfect fit.
Pros
Highly adjustable
Durable and secure
Reflective stitching for visibility
No pull design
Comfortable
Wide range of vibrant colors
Cons
Sizes can run small
Regular tightening necessary
Edges fray after a while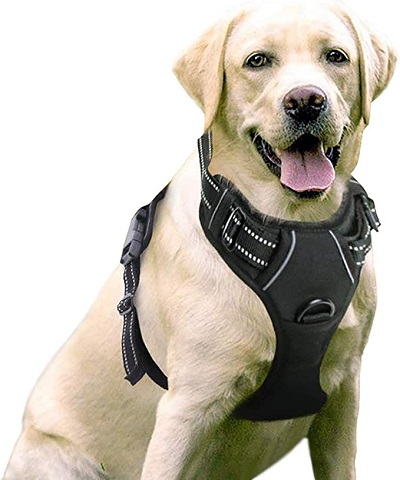 Rabbitgoo Dog Harness
The Price of "Rabbitgoo Dog Harness" varies, so check the latest price at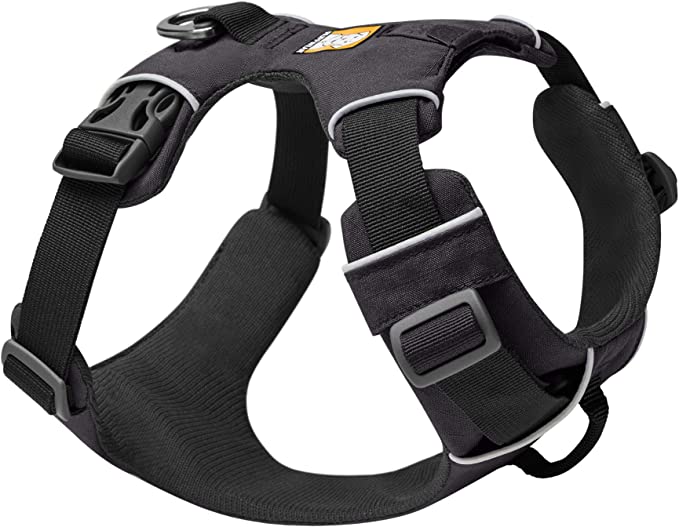 With a range of 10 colors, there's bound to be a RUFFWEAR dog running harness that fits your pup's personality. And there are five sizes ranging from XX-small to large, so you'll likely find one that fits their size too.
RUFFWEAR's Front Range harness may be lightweight but is nevertheless durable, made from resilient nylon. However, it's still comfortable; the sturdy nylon doesn't restrict any movement, while the interior is foam-padded and comfy for your dog to wear even if you're running a marathon!
With multiple points of adjustment, it's easy to find a custom fit. However, the adjustable straps can be difficult and fiddly to use. It's worth checking the final fit isn't too snug since some customers notice straps digging in and causing discomfort if too tight.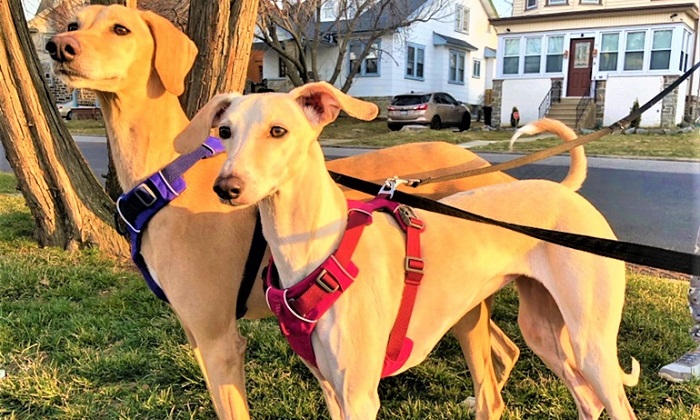 There are plenty of features to keep your dog secure. For example, its no-pull design includes two leash attachment points with strong connections; the aluminum V-ring on the back is for everyday walks and runs, while the front clip is made of reinforced webbing to redirect your dog when they pull.
The reflective trim enhances visibility to keep you safe at night, and it even includes a loop for you to include a dog light. There's an ID pocket to store your dog tags; so if it keeps bouncing and jingling when running, this is a convenient spot to keep them.
Pros
Very reflective for added visibility
Good range of sizes and colors
Back handle for added security
Very adjustable
Durable and secure
Cons
Fiddly to adjust
Expensive
Tight straps can dig into chest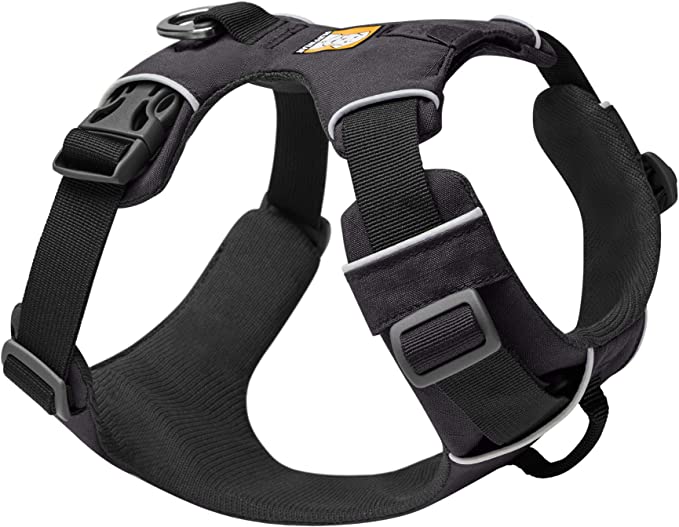 RUFFWEAR Front Range Dog Harness
The Price of "RUFFWEAR Front Range Dog Harness" varies, so check the latest price at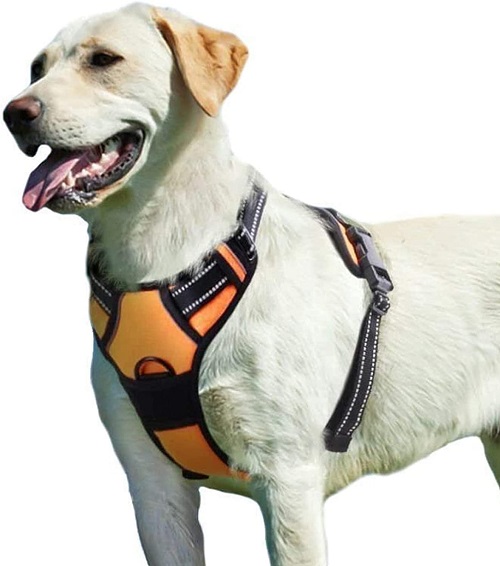 Eagloo offers an exemplary dog running harness with a bit of everything. It gives you great control with two durable metal leash attachments; the chest's O-ring allows better control and discourages pulling, while the back's V-ring distributes pressure across the body.
But if you need extra control, there's a sturdy back handle you can grab in an instant. In fact, this padded handle can be used with seatbelts to strap your pup into a car – useful if you ever drive anywhere for a run.
Made from sturdy Oxford fabric, its exterior is durable and has reflective nylon webbing for added visibility. Its straps are thick, rugged, and made from premium polyester fiber.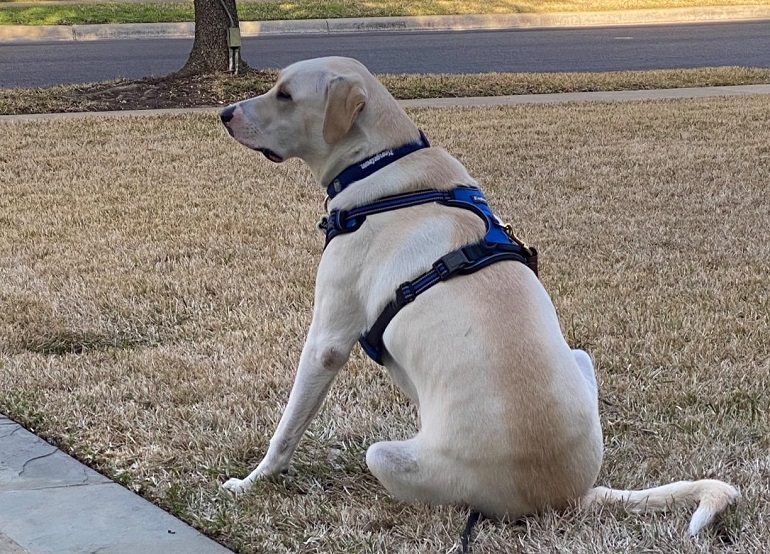 The straps come with four buckles for good adjustment, but since they loosen over time, they need regular tightening. Make sure the straps aren't too tight since polyester tends to chafe if you're not careful.
Although the exterior is sturdy, the interior is still comfortable, with a breathable padded plate to keep your pup comfy and cool. But it's the elastic included around the edges that adds an extra level of comfort as they bend with every movement your pup takes.
Pros
Affordable
Comfortable
Built-in loop for seatbelts
Adjustable
Range of sizes and colors
Reflective trim for added visibility
Cons
Straps need tightening regularly
Front leash attachment less durable
Tight straps rub against legs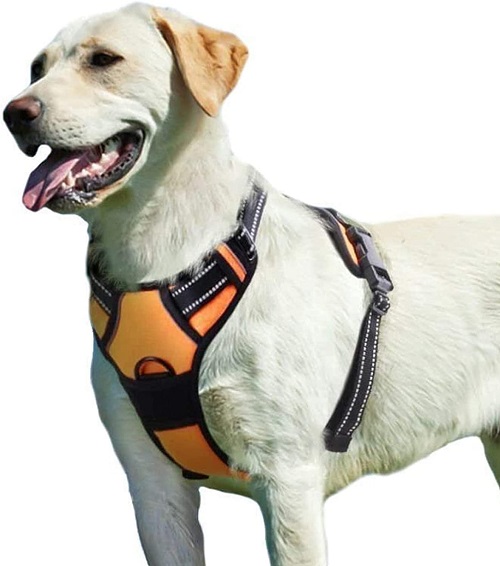 Eagloo Dog Harness
The Price of "Eagloo Dog Harness" varies, so check the latest price at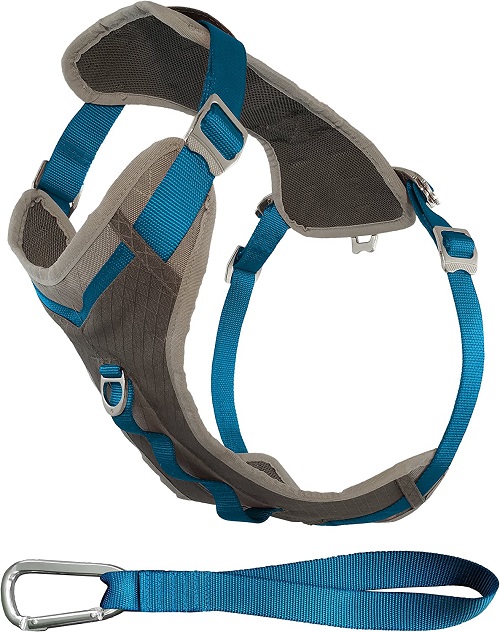 Kurgo designed this dog running harness specifically for active dogs who love leading the way. It's an upgraded version of the original with plenty of improvements – so if you've got the old model, it might be worth updating.
With a breathable mesh on the interior, it's a comfortable dog harness and allows full ventilation to keep your dog cool even when it's sprinting beside you. The areas where it's padded provide plenty of comfort, but not all parts of the harness are padded.
Still, the deep V-neck design frees up their shoulders. This makes it comfier and reduces strain on the neck if they pull. And it feels even better when you use the four adjustment points for a near-perfect custom fit.
Its exterior includes a reflective trim for visibility on nighttime jogs, as well as ripstop fabric to keep it sturdy and reliable. Its hardware is made from rust-free aluminum and steel, making it even stronger and more durable.
This dog running harness comes with a free tether for a car restraint, but Kurgo also recommends their Quantum Leash, a hands-free dog leash design that makes running with your dog much easier.
Pros
Adjustable
Comes with a free car restraint
Dual clips reduce pulling
Designed specifically for comfort
Durable fabric and hardware
Cons
Expensive
Some areas not padded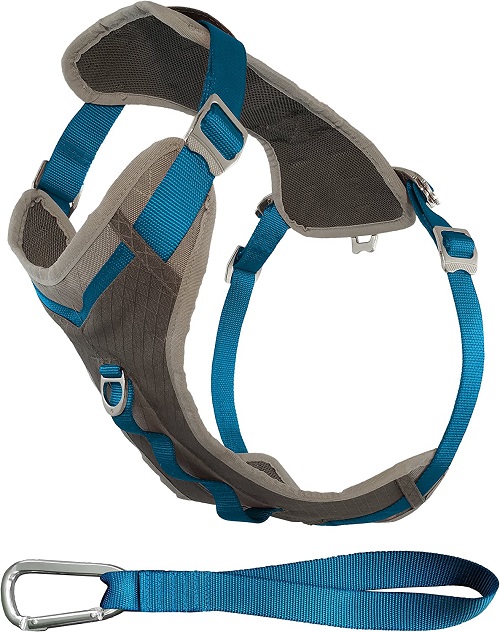 Kurgo Journey Dog Harness for Running
The Price of "Kurgo Journey Dog Harness for Running" varies, so check the latest price at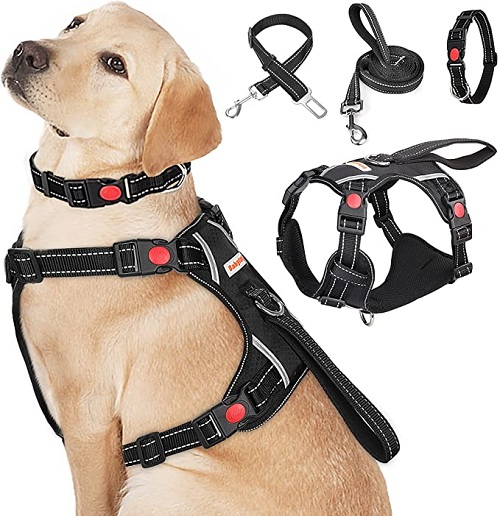 When going for a run with your fur baby, a harness's security and durability is your top priority. BABYLTRL's dog running harness is made from lightweight nylon Oxford as well as reflective stitching for extra safety and visibility at night.
Don't worry about the buckles ripping open since the quick-snap buckles have a simple locking feature.
Obviously, you'll want easy control over your dog when out for a run. This running harness includes two leash attachments on the front to discourage pulling and on the back to prevent choking and distribute pull pressure around the body.
It's your choice which to use – you can even use both! For extra control, there's a durable nylon back handle to grab if you need it.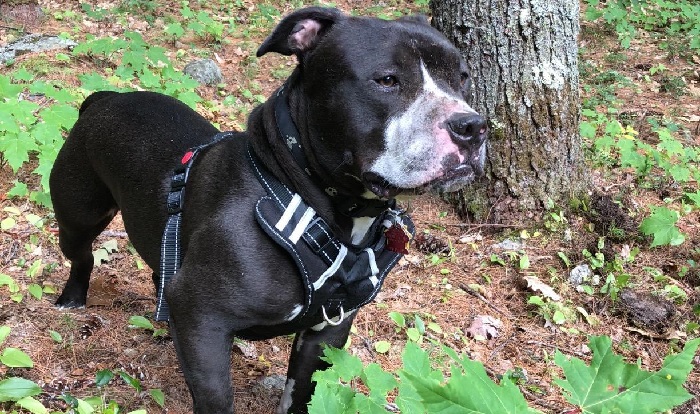 Not that the harness forgoes comfort in place of control and safety. It includes breathable and soft padding, both of which are fast-drying – so feel free to let your dog take a quick splash to cool down after a long run.
It's even more comfortable when you consider how customized you can make the running harness. As well as 14 colors to choose from, there are also four sizes, all of which can be adjusted thanks to the straps on the neck and chest.
Pros
Affordable
Reflective for best visibility
Back handle adds extra control
Reflective strips
Wide range of colors
Cons
Some reports of chafing
Some problems with sizing, so measure carefully
Plastic buckles not suitable for large pups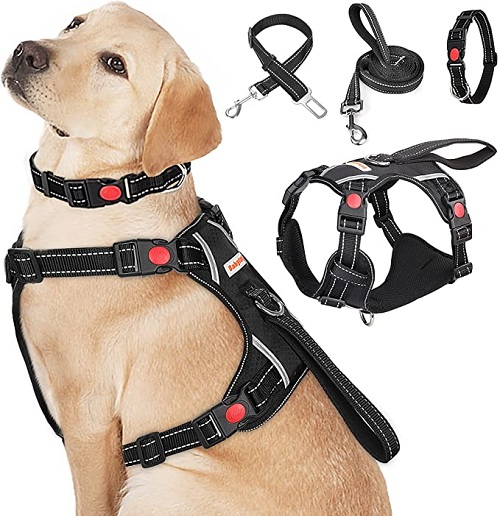 BABYLTRL Dog Running Harness
The Price of "BABYLTRL Dog Running Harness" varies, so check the latest price at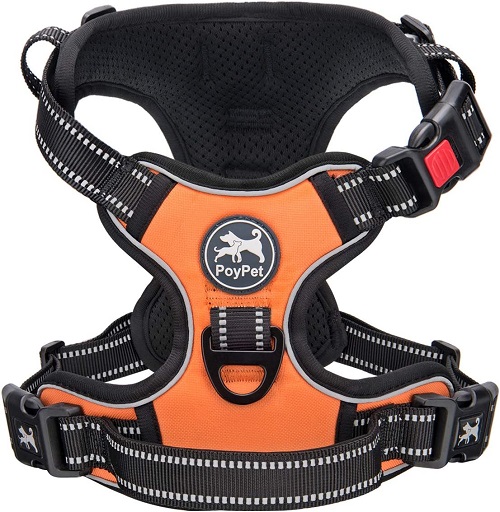 PoyPet gives lots of options to make their running harness your own. Besides a huge range of colors and patterns, they also offer four sizes, from small to X-large, all of which are adjustable.
There are reports of issues with sizing, but with adjustable straps on the neck and chest, you can get a custom fit. Just bear in mind that the chest straps can be fiddly and difficult to work with.
Some dogs might prefer this style of running harness. There are three snap buckles: two on the padded chest and a lockable one around the neck. This means you don't need to put the harness over their head; instead, you just wrap it around your dog.
Besides the lockable buckle adding an element of added safety, there are also 3M reflective strips to boost visibility on nighttime runs.
Dual leash attachments offer plenty of control, with a metal D-ring on the chest to reduce pulling, an aluminum alloy back leash attachment, and a neoprene-padded top handle. It's all durable too, with lightweight but sturdy Oxford nylon. Even better, you don't need to wash it – just wipe it down!
But durability and control don't mean it forgoes your dog's comfort. The interior includes a breathable mesh lining, and there's elastic on the belly straps, allowing them to stretch with your dog's movement to reduce any strain.
If your dog gets annoyed with its ID tag bouncing on its collar as they run, you can tuck it in the black mesh pocket instead.
Pros
Back handle doubles up as a seatbelt loop
Affordable
Adjustable
Highly secure
Huge range of colors and patterns
Cons
Some issues with sizing
Straps are fiddly to adjust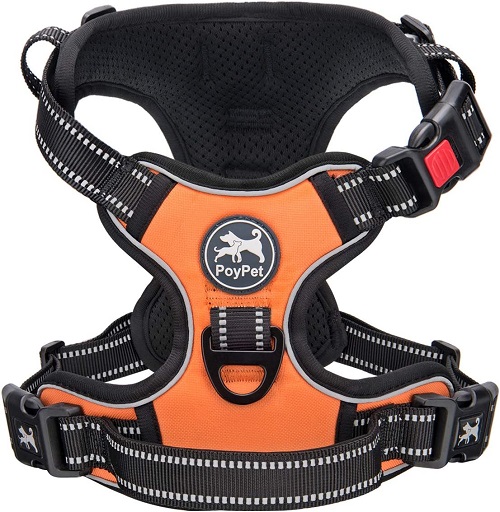 PoyPet No-Pull Dog Harness
The Price of "PoyPet No-Pull Dog Harness" varies, so check the latest price at
Things to Consider Before Purchasing Best Dog Harness for Running
When buying a running harness, there are a few things to keep in mind to get the best for your dog.
They are factors that not only keep your dog safe and secure but keep your dog comfortable too – after all, you want them to enjoy running with you!
Adjustability
No two dogs have precisely identical shapes. So, it's unlikely a running harness will fit perfectly when you first put on the dog harness. That's why adjustability is essential – each harness needs to fit a dog's unique shape.
The adjustability doesn't just keep your pup secure but also makes sure it's comfortable to wear, without chafing or hindering their movements.
Sizing
Like with collars, you need to measure for a dog harness first. Don't assume what size they are based on the breed.
A proper fit is important; you don't want it to be so loose the dog slips out, or so tight it rubs and stops your dog from moving comfortably.
Durability
Durability is vital for any harness. Since you'll use it a lot, you don't want regular use to damage it. After all, if it's prone to break at any moment, it puts your dog in danger.
Since dogs chew and pull, the harness needs to be durable, so it doesn't break easily. You don't have to buy a new harness every time your dog gets its teeth into the harness!
Comfort
Since you're taking your pup out on a run with you, you want them to enjoy putting their harness on. So aside from picking the right size and adjusting it to the perfect fit, ensure it has a good design and is made from a comfortable material.
A V-neck harness keeps their neck protected, while padding and breathable meshes make the best running harnesses even more comfortable.
FAQs
Dogs make perfect running companions; they have bounds of energy and love spending time with you. But to make running their new favorite hobby, you need to understand what they need for a safe and comfortable jog.
What Should Dogs Wear When Running?
Regardless of whether you use a harness or not, your dog should always wear something for visibility. It should have a reflective strip on its reflective collar, leash, or harness. Alternatively, you could invest in a light-up harness or LED dog collar, or perhaps an additional LED safety light.
If you use a harness, it should be as lightweight and breathable as possible. Remember, they'll get hot after a big run; and a harness can be like wearing a sweater, so make sure it doesn't keep the heat in or weigh them down.
You won't need dog shoes for short, occasional runs, but it might be worth it if you run with them often or in specific environments. All-terrain dog shoes are available, designed to stop slips and protect their paws from hard or hot pavements.
Should I Run with My Dog on a Harness?
If you want, you can run with the leash connected to either a collar or harness – it's up to you.
However, if your dog is prone to pulling, a harness is recommended. Especially since when running, your swinging arms might pull more aggressively than usual, leading to an unintended neck injury for your pup.
But if you do run with a harness on your dog, make sure it's breathable and lightweight, so they don't get too hot.
Conclusion
Have you seen your dog when they're happy? They zoom all over the place with a mad, excited look on their face. It's obvious that running is a joy for dogs – so imagine how pleased they'll be if you join in with their hobby and run with them.
Not only is running enjoyable for you and your four-legged friend, but it can help motivate you, and it's a healthy hobby to keep you both fit.
But to make the most from it and keep both you and your pup safe, it's worth getting a harness; this helps keep your dog safe, secure, and under control, letting you focus on running.