When I take my little cockapoo out for a walk, sometimes I feel like I'm cheating. If she pulls, it's not too difficult to hold on and get her under control – after all, she's comparatively quite petite.
German Shepherds are a different matter altogether.
Considering their size and sheer strength, it's no surprise that German Shepherds are a popular choice of breed for law enforcement and the military.
But as useful as their strength can be, an untrained German Shepherd is a mighty beast to wrangle.
That's where getting the best dog harness can come in handy. A tactical dog harness gives you the upper edge, making it easier to keep a German Shepherd under maximum control while you train them to become a practically perfect pooch.
Best Overall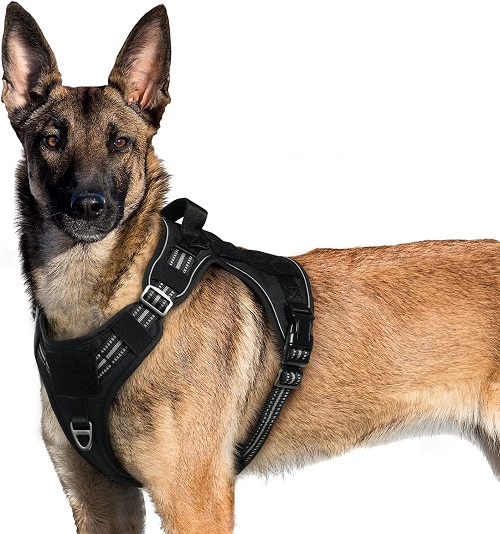 Rabbitgoo No-Pull Dog Harness
SIZE: X-Large

MATERIAL: Polyester
Simple & Easy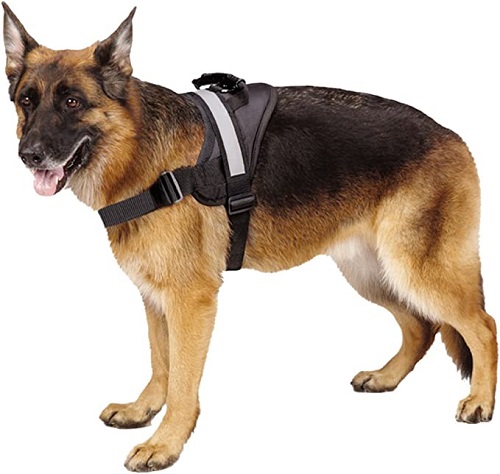 EXPAWLORER No-Pull Vest Harness
SIZE: LARGE
MATERIAL: Nylon

For Absolute Control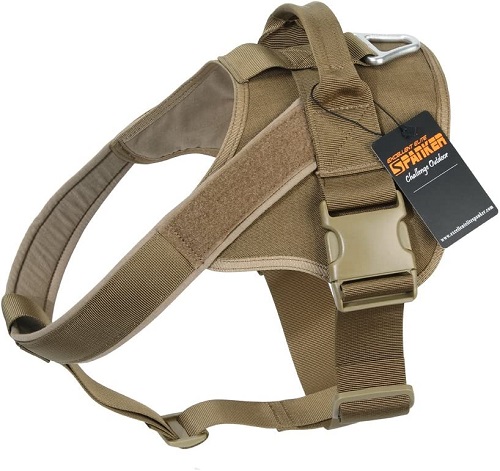 Excellent Elite Spanker Tactical Dog Harness
SIZE: LARGE
MATERIAL: Nylon
Super Lightweight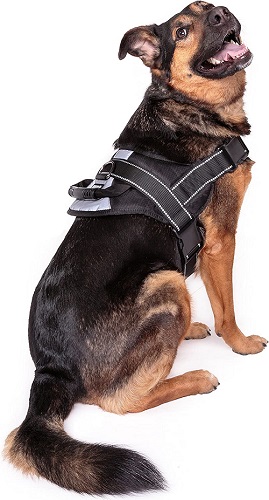 Friends Forever Dog Harness
SIZE: X-LARGE
MATERIAL: Polypropylene

Customizable Fit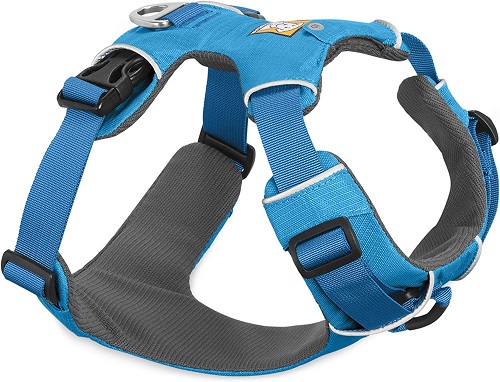 RUFFWEAR Front Range Dog Harness
SIZE: Medium
MATERIAL: Aluminium
Stylish & Affordable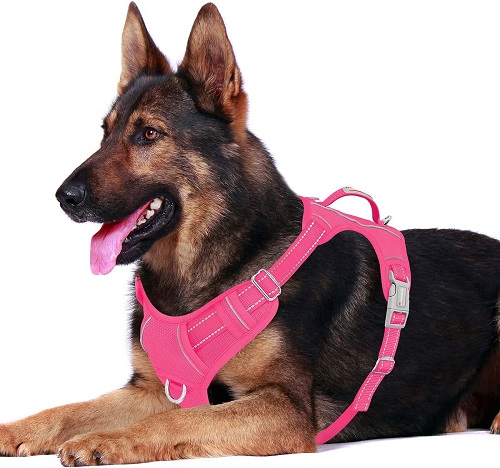 BARKBAY No Pull Dog Harness
SIZE: X- LARGE
MATERIAL: Nylon Webbing
Best Harness for German Shepherds
So, you've decided that it's easier to invest in a harness to keep your German Shepherd under control – good idea. But which one?
With so many various harnesses available, how do you know which is the best harness for a large dog like a German Shepherd?
Here are six top recommendations for you to start off your search.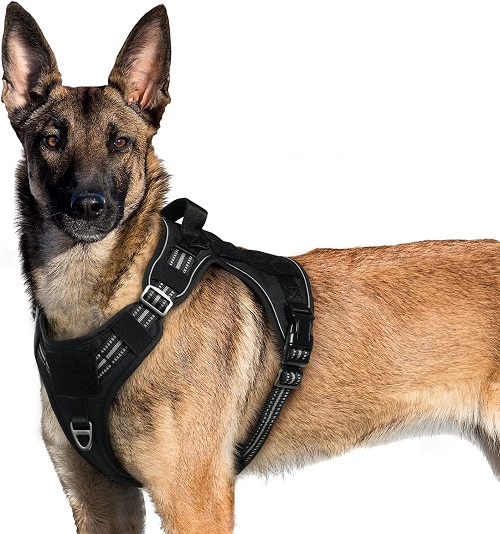 Bit fussy when it comes to a harness's aesthetics? It might be worth looking into Rabbitgoo's dog harness and its choice of 14 colors – there's bound to be one that suits your German Shepherd.
There are four sizes too, including large and X-large, going up to German shepherd's neck size of 35" and a chest girth of 38".
Most importantly, the Rabbitgoo harness is an ideal dog harness for pulling. Since German Shepherds can drag you down the road if you're not careful, this dual-clip design ought to come in handy.
Besides the standard leash attachment on the back clip, there's also a front clip to give you more control and discourage your dog from pulling, pulling them right back towards you.
Safety is a top priority with this Rabbitgoo brand tactical dog vest harness, and it boasts multiple features to keep your pup secure.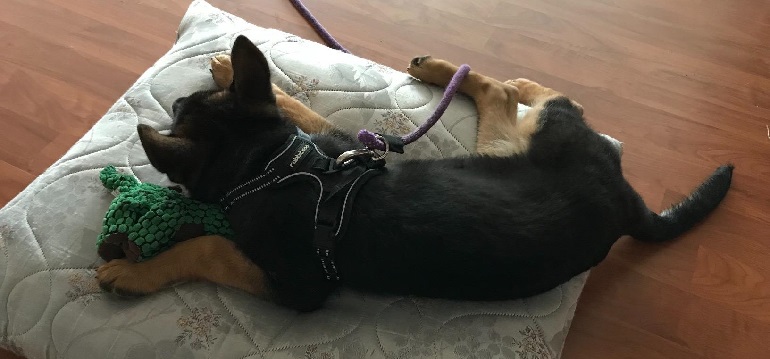 From the reflective strips to give you added visibility during nighttime walks to the top handle, perfect to grab onto if you need to get extra control of your dog in an instant. There are even two fast-release buckles on the side to keep them from wiggling out.
Durability is important too, using nylon Oxford, a resistant material that should withstand a degree of pulling. It's even weatherproofed, so feel to go for rainy walks too!
It's still a comfortable one though, including a padded air mesh that's both breathable and light. And with four straps to adjust the neck and chest, you're sure to find a perfect fit.
Pros
Highly adjustable
Durable and secure
Reflective stitching for visibility
No-pull design
Comfortable
Wide range of vibrant colors
Cons
Sizes can run small
Regular tightening necessary
Edges fray after a while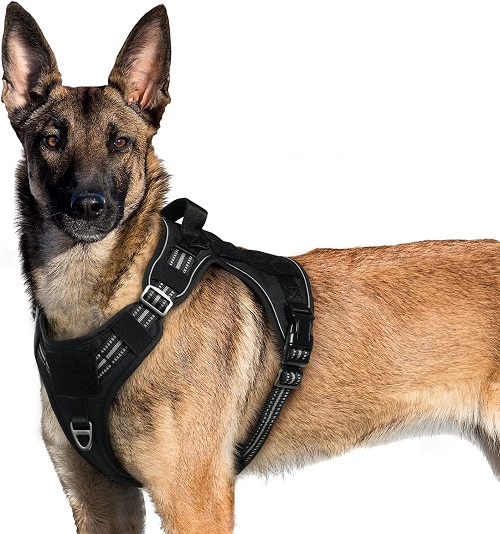 Rabbitgoo No-Pull Dog Harness
The Price of "Rabbitgoo No-Pull Dog Harness" varies, so check the latest price at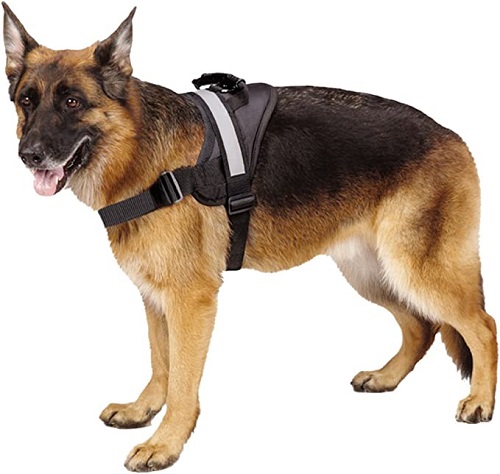 The next harness EXPAWLORER does precisely what it says on the tin: it lets your dog put their best paw forward as they explore the world with you by its side, offering you better control while keeping them safe and comfortable.
There are five colors to choose from (pink, black, red, purple, and blue), but the thick straps always come in black, so it's not the most bright and colorful German Shepherd harness around. But it does come in large sizes, fitting dog's chest girths up to 46".
It's an easy harness to put on too, with simple heavy-duty buckles that allow you to adjust the fit. All straps are adjustable, but even with a snug fit, the harness tends to move around your pup's body when they pull hard.
With a good fit, you can count on the German Shepherd harness offering a fair bit of comfort to your dog, thanks to its thick layer of breathable nylon. In fact, it's a fast-drying material too, making it easy to wash and safe to take out in all types of weather.
The durable nylon material on the exterior is sturdy and durable, including wide reflective bands for extra visibility at night, and a welded D-ring to keep your leash secure.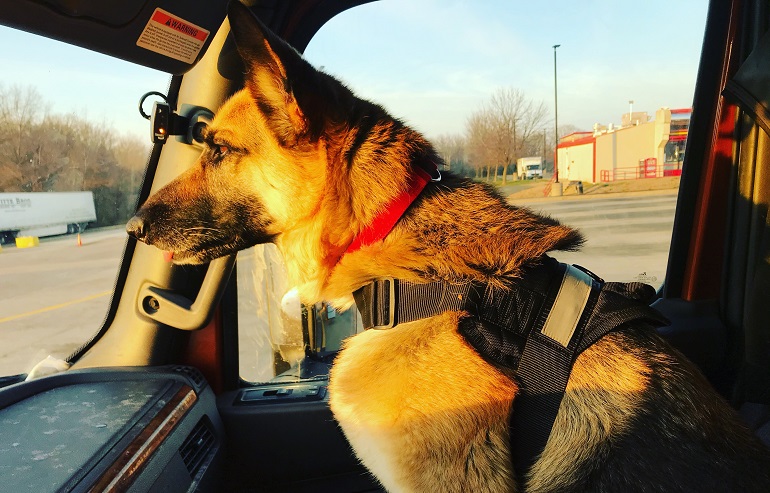 When it comes to control, there are ups and downs. The rubber handle on the back is easy to hold and offers a great amount of control when training.
As a no-pull harness, its design is made to distribute pull tension all over your dog's body, preventing damage to its neck. However, there's no front leash attachment point, meaning it doesn't do much to discourage pulling.
Pros
Accommodates large chest sizes
Comfortable and breathable
Fast-drying
Durable and sturdy
Strong carry handles for extra control
Easily adjustable
Cons
No front leash attachment
Not as effective as others in eliminating pulling behavior
Shifts position when dog pulls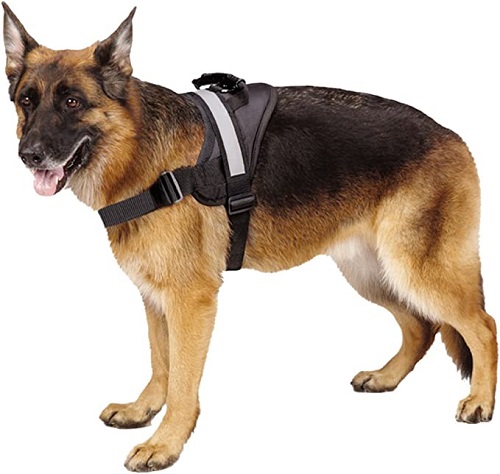 EXPAWLORER No-Pull Vest Harness
The Price of "EXPAWLORER No-Pull Vest Harness " varies, so check the latest price at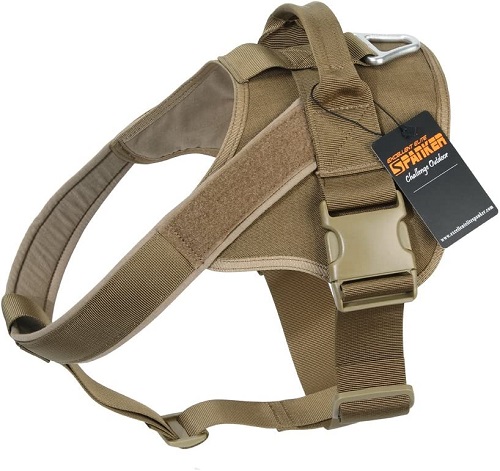 Since the Excellent Elite Spanker is primarily intended as a service dogs' harness, the range of colors isn't as bright, vivid, or colorful as you might hope. Still, while they may not be ideal colors to show off your dog's personality, black, brown, grey, green, or camo all suit a German Shepherd.
On the other hand, there is a good range of sizes, including XL fitting chests up to 43.5".
With a dog as powerful as a German Shepherd, this tactical harness ensures you retain absolute control when it matters. It includes a control handle to grab onto, as well as an aluminum alloy V-shaped buckle capable of withstanding even strong pulls.
This everyday harness includes two Duraflex UTX quick-snap buckles that are easy to put on. While they are durable overall, there are some reports of them breaking when faced against powerful German Shepherds.
However, this great harness itself is made from high-quality 1000D nylon material; not only is it water-repellent, but it's certainly durable enough to take on your dog.
Despite its durability, it still includes a soft padded lining to avoid chafing and provide as much comfort to your dog as possible. This padding protects your dog's neck when they pull and it's breathable to keep them cool even on hot days when they're running around.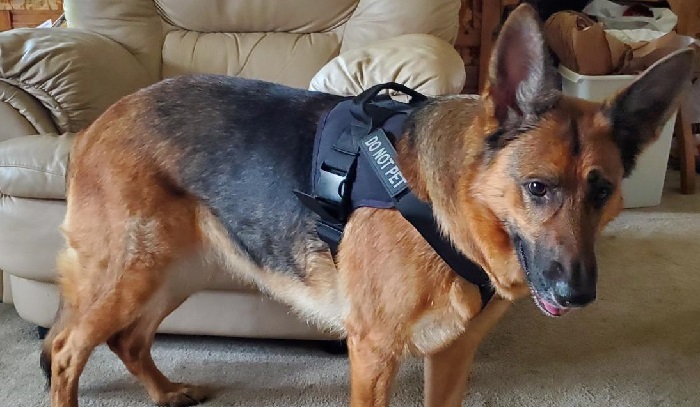 There's also an adjustable chest strap with two sliders for a comfy fit – just make sure it's not too tight because this strap can be uncomfortable if you're not careful.
And if you're looking for something to make this no-pull harness stand apart, it has areas on both sides where you can stick a variety of patches on.
Pros
Fits large dogs
Durable enough to offer control
Adjustable
Soft padding for added comfort
Areas to stick patches on
Cons
Dull range of colors
No padding on straps makes them uncomfortable when too tight
Some reports of buckles breaking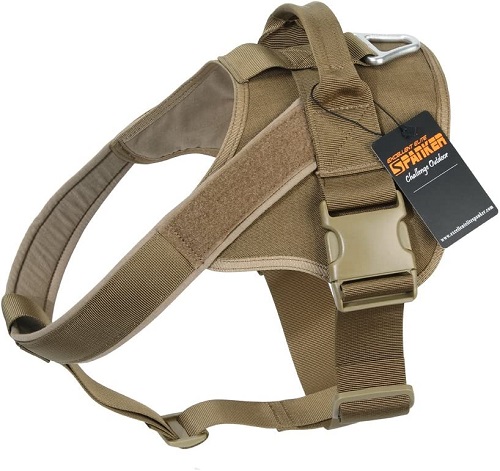 Excellent Elite Spanker Tactical Dog Harness
The Price of "Excellent Elite Spanker Tactical Dog Harness" varies, so check the latest price at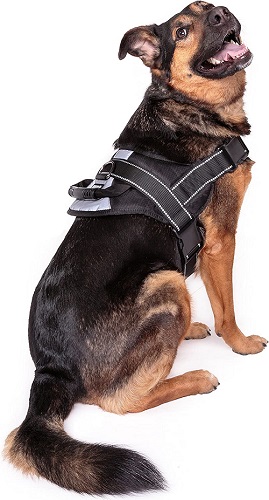 With both large and X-large sizes fitting chests up to 46" and necks up to 36", the Friends Forever dog harness is bound to fit even your German Shepherd puppy, especially with straps you can adjust for a tailored fit.
But even better, it's made of polypropene; that means it's so lightweight there's no chance of weighing your dog down, and it's very durable. In fact, it's waterproof and suitable for all seasons, but we'd still recommend keeping it away from dog teeth!
This dog harness is a particularly secure one too. It includes 3M reflective material stitched into the exterior, a particularly bright material that reflects any light and keeps you and your pup safe at night.
It even has a design to distribute pulling pressure across your dog's body to avoid choking and a strong lockable buckle that's easy to put on and off.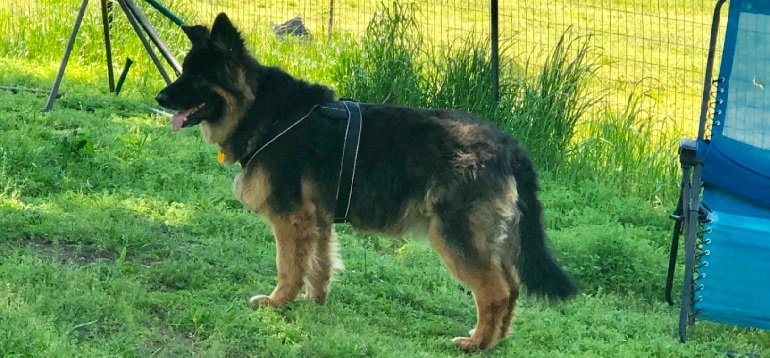 The heavy-duty D-ring also adds an element of security by keeping your dog attached to the harness, but particularly heavy pulling might rip the ring off the harness itself. Along with the sturdy top handle, this ring helps control your dog.
However, there's no front leash attachment point meaning it's hard to discourage your dog from pulling.
Pros
Affordable
Good fit for large dogs
Lightweight
Adjustable
Reflective stitching
Cons
No front leash attachment option
Limited durability against strong dogs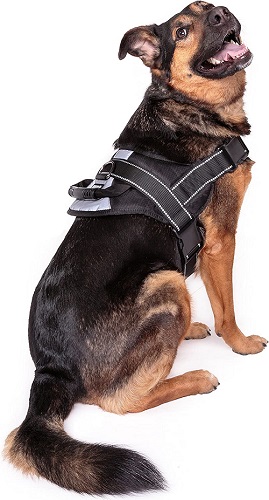 Friends Forever Dog Harness
The Price of "Friends Forever Dog Harness" varies, so check the latest price at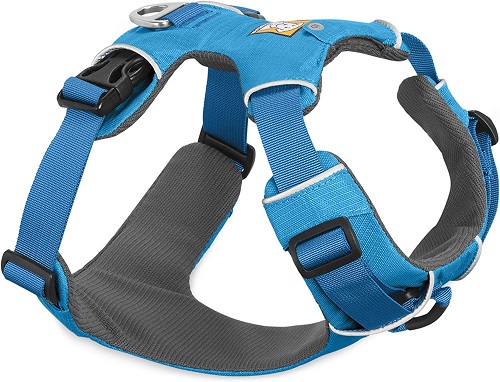 RUFFWEAR's Front Range dog harness boasts a huge amount of personalization, with 10 colors to choose from and five sizes fitting chest girths up to 42". There's even a matching collar and leash available to buy as well!
Despite feeling lightweight, it's nevertheless a durable harness thanks to its resilient nylon. The material won't hinder your dog's movement either and is sure to be comfortable to wear for long periods of time.
The foam padding adds extra comfort, and it has multiple adjustment points for a snug fit. However, these straps can be fiddly to use and if too tight can dig into your dog.
The exterior also includes a reflective trim and a loop for you to attach a dog light for extra visibility and safety at night.
The ID pocket to store dog tags adds some extra security but is ideal for running since it stops the tags from jingling as they bounce up and down.
With two leash attachments, RUFFWEAR's dog harness has an effective design as a no-pull harness. The aluminum V-ring on the back is perfect for everyday walks and runs, while the reinforced webbing on the front is an ideal clip for redirecting your dog whenever they try and pull.
Pros
Very reflective for added visibility
Good range of sizes and colors
Back handle for added security
Very adjustable
Durable and secure
Cons
Fiddly to adjust
Expensive
Tight straps can dig into chest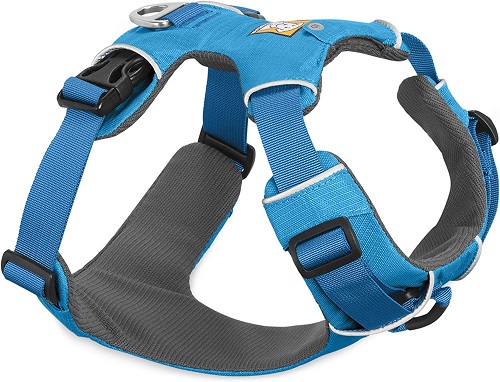 RUFFWEAR Front Range Dog Harness
The Price of "RUFFWEAR Front Range Dog Harness" varies, so check the latest price at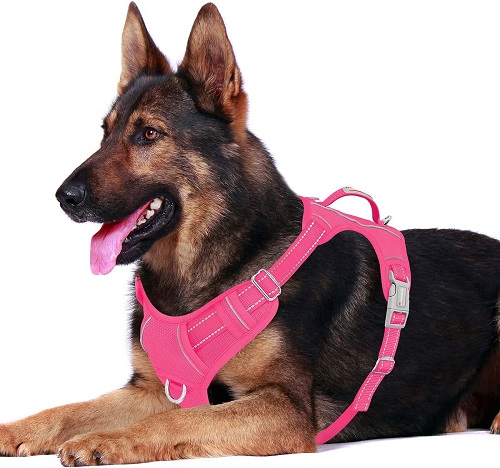 The BARKBAY no-pull dog harness is an affordable one whose stylish design comes in a range of colors and patterns to choose from.
But it's not all fashion over function; the two leash attachment points on the front and back add versatility and stop your German Shepherd from pulling. There's even a top handle to give you extra control when your dog wants to lunge.
With buckles that withstand up to 450 lbs of force, this is a particularly durable harness. This is helped by being made from no-rip nylon, able to survive strong pulls and all types of weather.
It's still a comfortable harness though, with a breathable padded air mesh.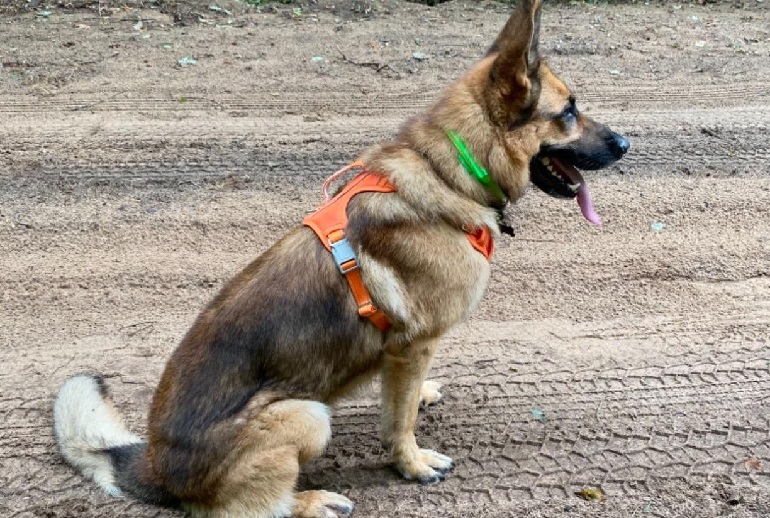 However, there's no padding on the neck strap, and the chest plate can be quite narrow, both possibly leading to chafing if you can't find a perfect fit. But with a range of sizes that suits chest girths of up to 38" and allow good adjustability, this isn't likely.
Pros
Affordable
Stylish colors and patterns
Comfortable material
Durable with fully adjustable straps
Reflective stitching
Cons
Top handle has no padding
Straps have no padding
Narrow chest plate can contribute to chafing risk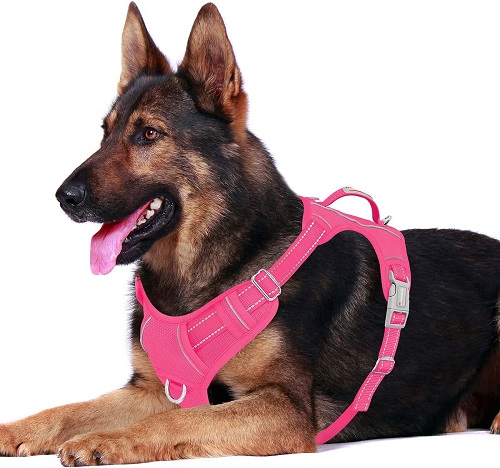 BARKBAY No Pull Dog Harness
The Price of "BARKBAY No Pull Dog Harness" varies, so check the latest price at
Things to Consider Before Purchasing Best Harness for German Shepherd
With so many different brands and types of dog harnesses for German Shepherds out there, it can be daunting when buying one for your German Shepherd.
After all, you want the best for your canine companion. So, what do you need to consider to ensure you get the best dog harness for your German Shepherd?
Comfort
Whenever a dog is reluctant to put on a harness, it's usually because they associate it with being uncomfortable.
But seeing how much easier a harness can make walking with a German Shepherd, it's important that they don't resist putting on their harness. Besides, you want your dog to enjoy their walks, so it's important that it's comfortable.
The easiest way to ensure comfort for your German Shepherd is to pick one made of the lightest material available. Ideally, the best dog harnesses are so lightweight that your dog isn't even aware they're wearing them half the time.
The material used on the interior of a harness is important for comfort too. Aim to pick a harness with padding on the inside, and make sure it's breathable to stop them getting hot on warm days when they're running around.
We would also recommend picking a harness with a vest design since these tend to give the neck better protection by not tugging against it and relieving it of any pressure.
Durability
There's no way around it – German Shepherds are strong dogs. Because of that, you need to make sure that the harness won't rip when pulled by your dog.
After all, with their sheer size and strength, it can be a nightmare getting them back under your control when they escape from a harness.
That's why it's best to avoid particularly cheap harnesses for German Shepherds. While their price might be appealing, they're often more likely to rip.
The material the clasps are made from is important too. You need a strong V or D-ring as a leash attachment for a strong and reliable connection. It's best not to have one made of thin plastic, especially with a dog as strong as a German Shepherd.
On the other hand, plastic quick-release buckles are reliable – after all, they're made from the same thick industrial-grade plastic as buckles used in rock climbing gear!
Proper Fit
Before buying a harness, you need to know what size fits them. That's why you should always measure for a dog harness beforehand, paying close attention to the widest part of the chest.
But that's just half of it. When you first put on a dog harness, it's unlikely to fit perfectly. So use all the adjustable straps available, making it bigger or smaller until you get the proper fit.
Ideally, it needs to be snug enough to keep them secure, but loose enough to be comfortable. A general rule of thumb is to be able to leave room for two fingers to fit between your dog and the harness.
Budget
A good-quality harness will inevitably cost a fair bit. While they're not usually too expensive, they're still more costly than the budget options. Consider a harness a long-term investment.
Ironically, budget harnesses end up being more expensive in the long run since you'll have to keep buying replacements.
FAQ's
Buying your dog a harness can be challenging at the best of times, but when you've got a dog like a German Shepherd, you might have a few more questions than other dog owners.
What Is the Best No-pull Harness for German Shepherds?
A no-pull harness is ideal for large breed dogs – the less they pull, the easier and more pleasant walks will be.
Some German Shepherd harnesses that claim to be no-pull harnesses simply distribute pressure across the whole body. This is fine when your dog is already trained, but when they're still learning to walk calmly, this isn't overly effective.
If your German Shepherd is still learning the dos and don'ts of walking on a leash, we would recommend getting a no-pull dog harness with dual metal leash attachment points – one on the front and one on the back.
The front leash attachment point discourages your German Shepherd from pulling by redirecting them towards you whenever they tug at the leash.
Out of the German Shepherd harnesses on this list, the Rabbitgoo and RUFFWEAR harnesses are ideal no-pull harnesses since they include front clips to dissuade pulling and help train your dog.
What Dog Harness Will Work for Your German Shepherd?
The dog harness that's best for your German Shepherd depends entirely on your dog and its temperament.
If they ever tend to pull, it might be best to pick a no-pull dog harness to train them not to pull. If they don't tend to pull as much, it's best to pick the comfiest one you can.
Regardless of which harness you pick though, you need to make sure that you get the right size and can adjust it to the best fit.
Why Should I Choose a Harness Over a Collar?
Collars are ideal for a convenient place to keep your dog's ID tags. But when it comes to walking, collars are never as effective or as safe as a harness.
Because of German Shepherd's strength, when their leash is connected to a collar, any pulling can cause injury to their neck.
This isn't so bad with smaller dogs because they're less strong but can be potentially dangerous for German Shepherds.
A harness can also help you as the dog owner control your German Shepherd and discourage them from pulling, making walks much more pleasant for both of you.
Conclusion
Out of all the dog breeds out there, let's face it – German Shepherds are some of the best dogs there are.
But nothing's perfect, and all German Shepherd owners would benefit from investing in a dog harness.
Dog harnesses help control a German Shepherd's strength to keep them under control and protect their neck if they tend to pull frequently.
So get yourself a comfortable but durable one that suits your dog's needs, and you'll soon find a harness boosting your walks to the next level.