Keeping a fish is undoubtedly an overwhelming experience and you must have realized that for keeping the best health of your fish, an appropriate temperature is required. If you own a Nano aquarium then this article is for your assistance.
Fish are inhabitants of sea or ponds and a natural temperature is present in these homelands and if not provided with the same temperature and conditions in your Nano aquarium, your fish may die. Hence, getting a Nano heater for your Nano tank is inevitable.
The best way to provide for the appropriate conditions in a Nano aquarium is by installing a small aquarium heater in the fish tank. Fish usually requires cold temperature conditions and attaining the same is almost impossible in Nano aquariums. Innumerous Small heaters are available on the market and getting the right one for your aquarium is made easy by this article.
Waterproof Aquarium Heater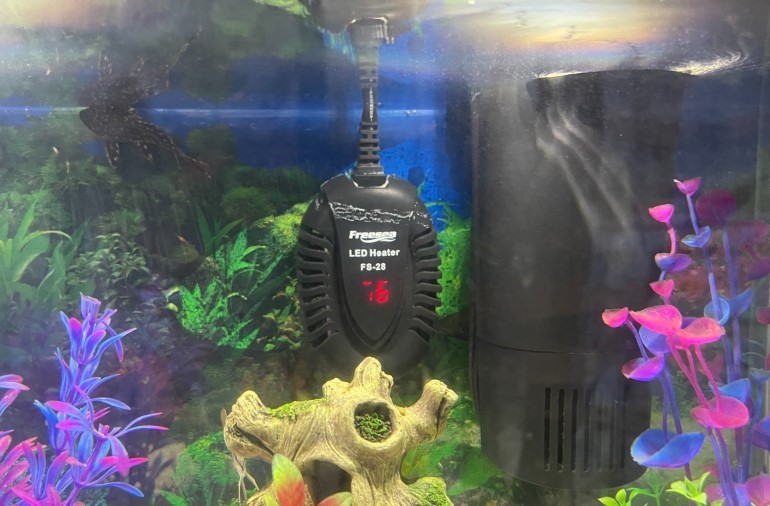 FREESEA Aquarium Heater
50Watt

Temperature: range: 59-94°F
Best Shock Resistance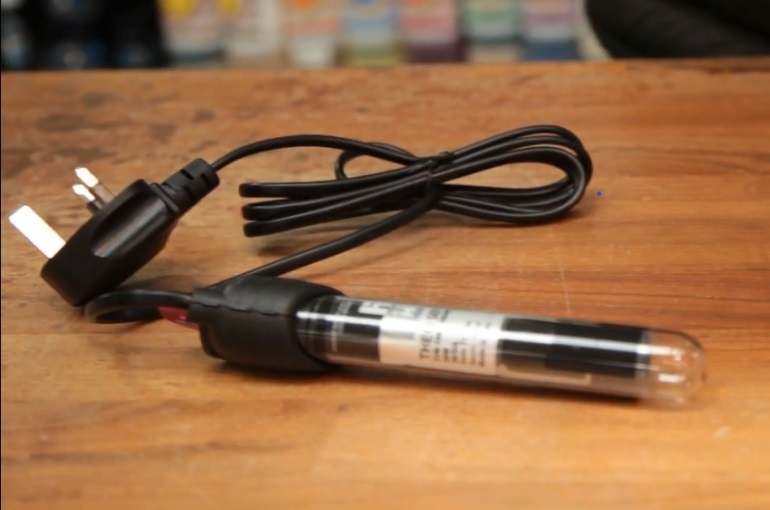 Hydor Submersible Glass Aquarium Heater
Best Resistant To Chemical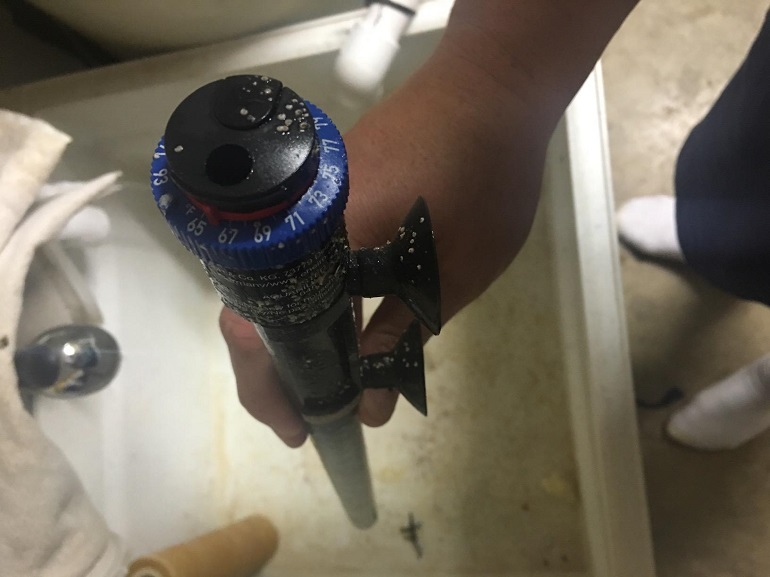 Eheim Jager Aquarium Heater
Size: 25-300 Watt
Temperature: 65-95°F
Easy To Install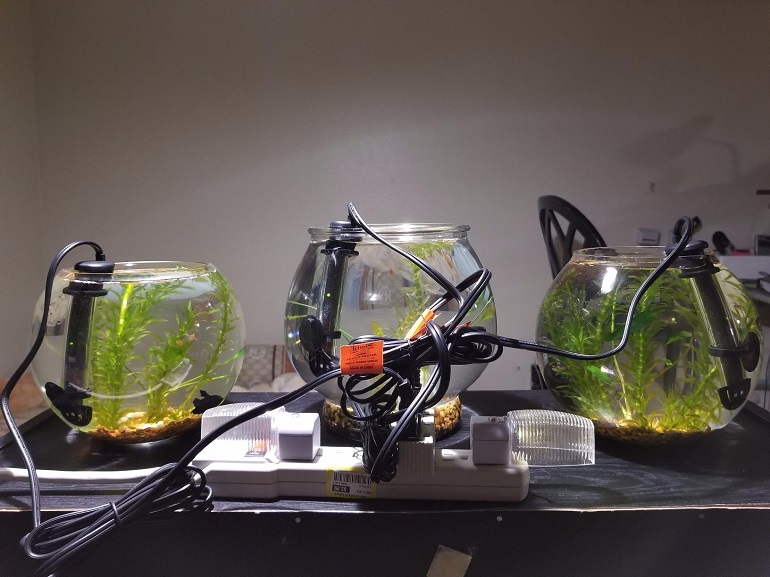 Tetra HT Submersible Aquarium Heater
Size: 50 Watt
Temperature: 78°F
Adjustable Aquarium Heater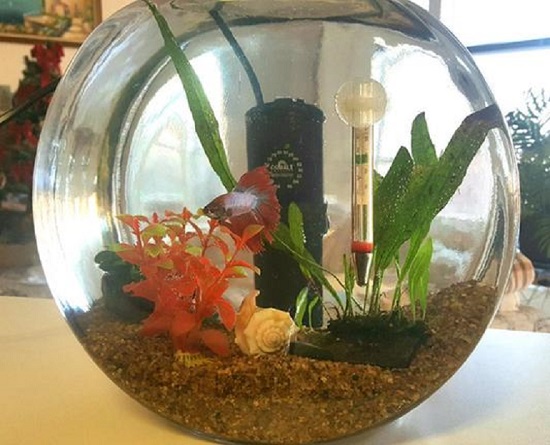 Cobalt Aquatics Adjustable Aquarium Heater
Size: 25 Watt
Case: Shatterproof
Best Small Heater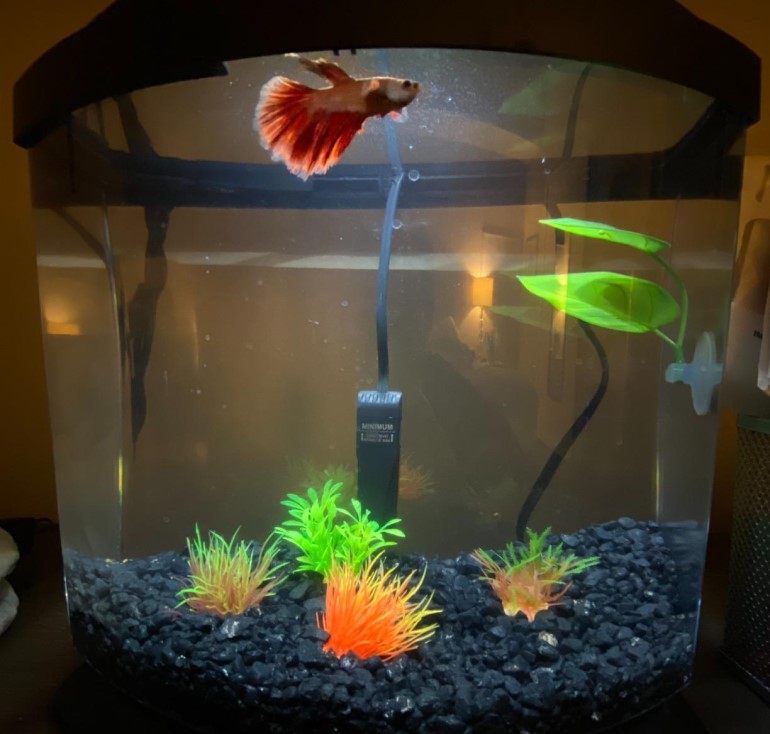 Aqueon Mini Heater
Length: 5.75 Inches
Temperature: 78°F
Minimalistic Design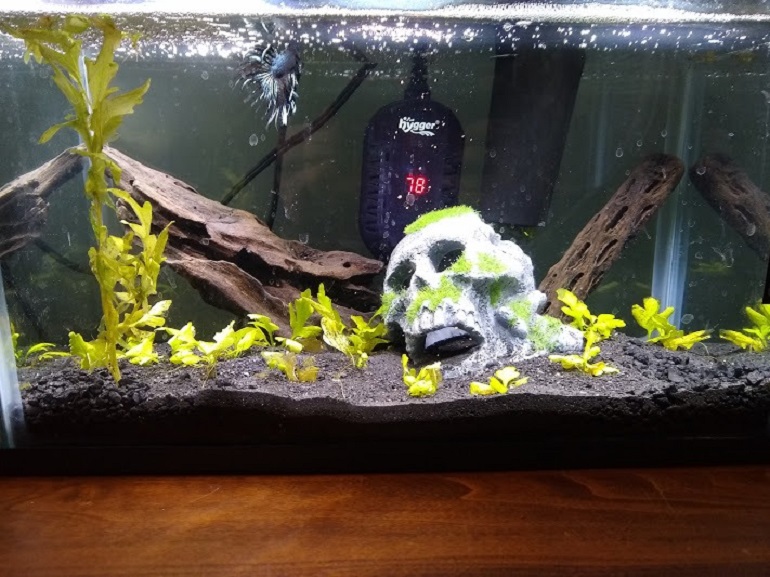 Hygger Submersible Heater
Size: 100 Watt
Length: 4.5 Inches
Our team tested on various heaters and came up with a list of 7 best heaters for Nano aquariums. Your homework is just to make sure about your requirements which especially includes the size of your small tank and the type of the fish you have got. The different Nano aquarium heaters have similar yet unique features and getting the best will be discussed in this write-up.
7 Best Nano Aquarium Heaters
Among the various options in the market, our team loved the below discussed nano aquarium heaters the most. The features for each best aquarium heater are discussed below.
The FREESA is an oval shaped Nano heater that works with 50W power and is best for aquariums that are round in shape and are of 1-10 gallons size.
The Nano aquarium works at temperatures ranging from 59-97°F and contains an automatic temperature controller. You can easily set up your desirable temperature and the aquarium heater has the ability of constant temperature function.
The controls are monitored through a touch pad that is really easy to control. The small heater has a red light indicator to show the temperature and a thermometer is also attached to keep you informed of the current temperature in the small tank.
The longest dimension of the small heater is 3.7 inches, making it perfect for even the smallest of Nano tanks.
The suction cups hold the Nano heater in position at all times. The Nano heater has to stay submerged in water all the time and if not, then it stops working until it is inside water again.
This submersible aquarium heater is waterproof with rating of IPX8 and is the top pick of this article owing to its capability of working in even the smallest aquariums.
Features
LED digital display heater
Oval appearance
50W power
Temperature range: 59-94°F
Designed for 1-10 gallons tank
Automatic constant temperature function
Touch button to monitor
Thermometer included
Highest waterproof level: IPX8
Small size
100% submersible use only
Durability and safety ensured
12 months warranty
Pros
The heater automatically shuts off when it is out of water and turns on when inside water
Easy to use with smart touch buttons
Size is small and it is highly user-friendly
Cons
You have to turn off the power supply 10 minutes before cleaning, which can be a hassle
The heating coil is exposed at the back which could harm fish
Tester's Verdict
The team loved the functionality of the small aquarium heater, particularly the continuous temperature display, which we found to be a great feature. The heater performed exactly as claimed by the company, making it our top pick among the best small aquarium heaters.
However, it's important to note that the heating coil is exposed, which could potentially harm your fish. But this risk can be easily mitigated with proper care and attention.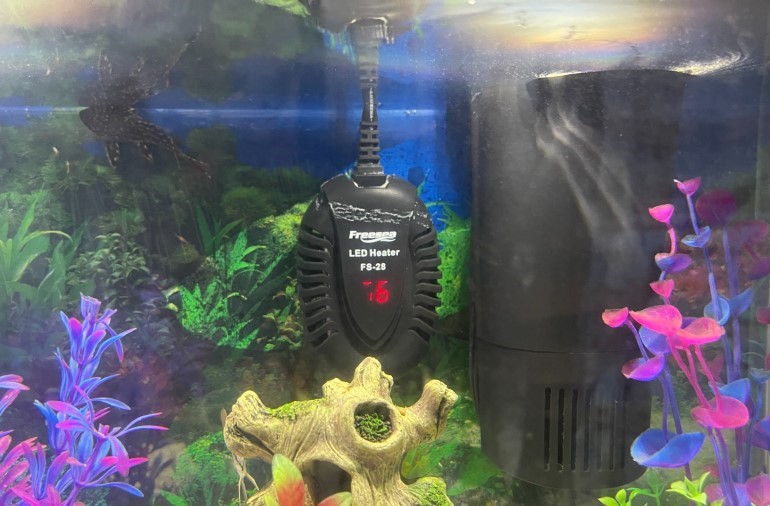 FREESEA Aquarium Heater
The price of "FREESEA Aquarium Heater" varies, so check the latest price at
This submersible heater from Hydor is among the best small aquarium heaters owing to its ultimate shock resistance and shatter proof glass tube.
The small Nano heater is so tiny with supplied suction cups that it can be placed both horizontally or vertically in 2-7 gallons fish tanks. This 25 Watt heater has a lean shape like a tube, and is 7 inches long allowing it to get fixed on edges of your small tanks.
The most peculiar function of this minimalistic Nano heater is its self-control technology which instantly detects abnormal functioning of the heater.
The Nano heater is the best among the glass heaters and seamlessly maintains the desired temperature in the Nano aquarium and has nil possibility of hurting the inhabitants of your tiny aquarium.
This mini aquarium heater has the best structure to fix into small aquariums easily and its monitoring ability leaves no reason to not buy this amazing Nano heater.
Features
25 Watt aquarium heater
Ideal for 2-7 gallon tank
7 inches long
Maximum safety aquarium heater
Shock resistant
Shatterproof glass tube
Fully submersible
Free positioning in aquarium with supplied suction cups
Self-control technology
Precise and safe maintenance of temperature
High quality components with 2 years warranty
Pros
It is a universal aquarium heater for use in both freshwater or Marine water fish tanks
The temperature control system is adjustable
Cons
The temperature dial can be a bit stiff and unreliable
Tester's Verdict
The testers loved every bit of the Nano heater, especially the shape that easily attaches to small sized aquariums. However, the temperature control dial was a bit stiff but careful handling eliminated this issue.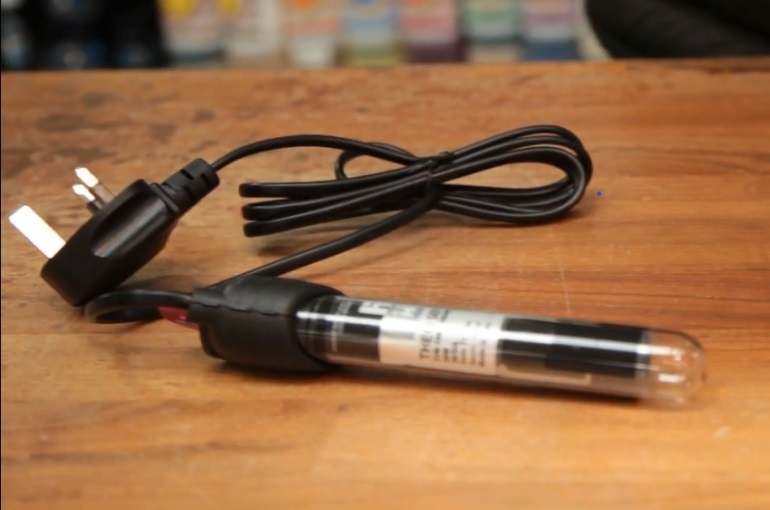 Hydor Submersible Glass Aquarium Heater
The price of "Hydor Submersible Glass Aquarium Heater" varies, so check the latest price at
This is another fully submersible aquarium heater and automatically turns off when water level is too low. This shatterproof glass construction is made with laboratory-grade resistant glass making it withstand extreme temperature fluctuations.
This piece of wonder is fully resistant to chemical or biological substances and ensures even distribution of heat even in larger tanks. It is available in a variety of sizes ranging from 25-300 Watt for different tank sizes accordingly.
Furthermore, you can easily adjust temperature from 65-95°F using the TruTemp dial with the adjustment ring. The smart system keeps the temperature at the desirable level to the accuracy of +/- 0.5°C so you need not worry at all as the Nano heater will never get too warm.
The On/off indicator light enables you to stay informed about the temperature of the aquarium water seamlessly.
The shape is yet another small tube and therefore, this can easily gets fixed in Nano aquariums with the suction cups included in the package. The working of this small heater is flawless so rest assured and let these Nano heaters do the work for you.
Features
For small tanks between 1-10 gallons
1.4″ diameter
Fully submersible
Thermo safety control protects against running dry
Shock resistant
Made from shatter proof glass
For both fresh or marine water
On/off indicator light for quick monitoring
300 Watts power
Temperature ranging from 65-93° F
Control accuracy is +/- 0.5° C
Pros
It includes the running-dry mechanism in which heater shuts off when removed from the water, and resume functioning when again submersed in water
The advance technology is able to withstand extreme temperature fluctuations
You can choose from a variety of sizes: 25W to 300W, each for different sizes of tanks.
Cons
The cost is higher than other options on the market
Tester's Verdict
The team found it perfect to install in long structured aquariums as it is shaped like a glass tube. The high cost at night be a problem but this smart system containing a thermostat is best to keep your aquarium at the correct temperature.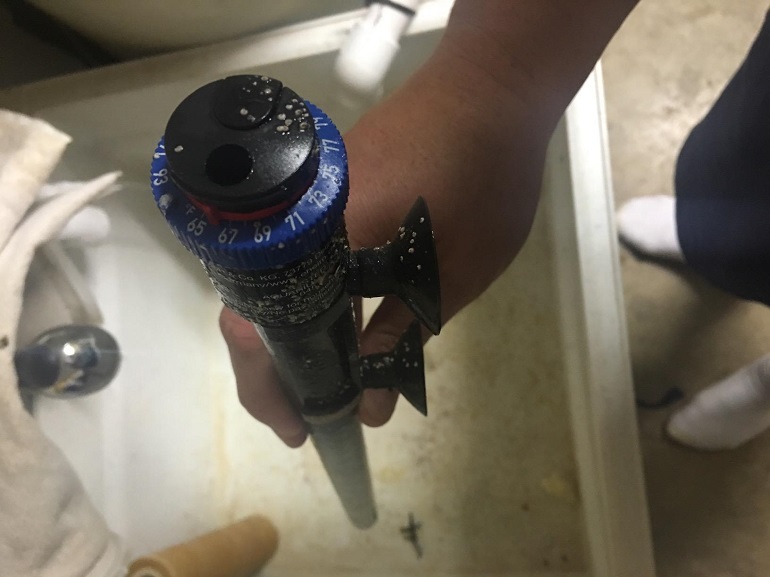 Eheim Jager Aquarium Heater
The price of "Eheim Jager Aquarium Heater" varies, so check the latest price at
Tetra HT submersible aquarium heater is a 50W compact design wonder that maintains temperature at 78°F at all times without any temperature control. Your Nano tank up to 10 gallons tank size will be most suitable with this heater.
Tetra HT submersible aquarium heater is an easy to install small sized heater and best works for the owners keeping tropical fish. The specific temperature cannot be altered as the system contains no adjustable temperature dial to change the temperature and this temperature best suits tropical fish.
The best part is the availability of a red indicator light that will show the temperature of the fish tank at all times to keep you at ease.
Once the specific temperature is reached, the heater will disconnect with the help of the built-in thermostat that will keep the Nano heater from overheating the fish tank.
With all the amazing features, this low cost minimalistic design heater easily fits into tiny tanks and when fully submerged, this small piece of art does wonders.
Features
Compact design
Built-in electronic thermostat
Maintains temperature at 78°F
Indicator red light
50 Watts power
Best for 10-gallon tanks
Easy to set-up
Sufficient for most tropical fish
Perfect small fish tank heater for small aquariums
Pros
It seamlessly maintains temperature at 78°F with no temperature control required
The size is small and can easily be placed horizontal or vertical with utmost ease
Cons
The unit does not come with adjustable temperature controls
The maintenance of temperature is not always reliable
Tester's Verdict
The team loved the working overall but the reliability was a bit compromised as temperature control is not available, limiting the usage of the product to tropical fish.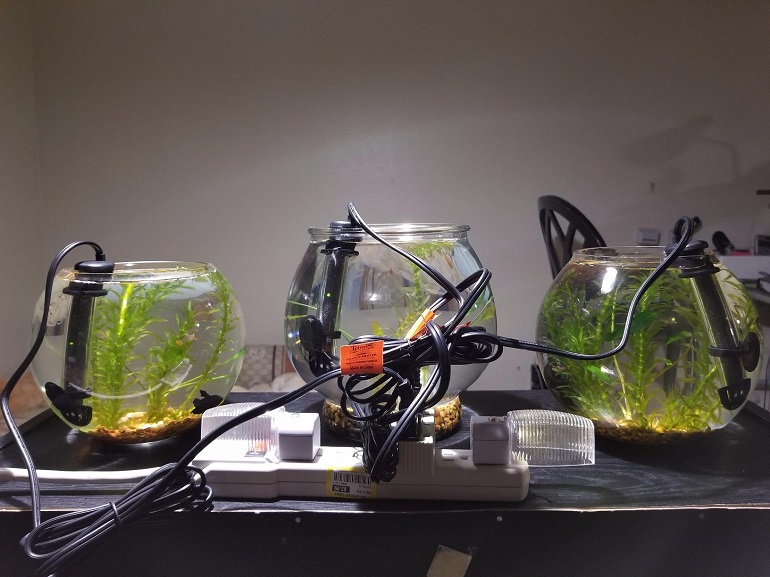 Tetra HT Submersible Aquarium Heater
The price of "Tetra HT Submersible Aquarium Heater" varies, so check the latest price at
The cobalt aquatics adjustable aquarium heater has an installed thermostat controller that allows you to set the temperature of your aquarium at any time according to the breed of aquatic animal you possess.
The Nano heater is expensive and the price is justified for the amazing features it contains.
The aquarium heater has an innovative and sleek look which looks perfect in an aquarium.
Furthermore, the product is made of a shatterproof thermoplastic, which keeps it from malfunctioning. The heater's flat design allows it to fit in every fish tank with no problem.
The submersible aquarium heater is available in different sizes with the smallest one being the 25W suitable for 2.5 gallons tank size.
The modern thermostat attached with the adjustable aquarium heater has a high accuracy range of +/- 0.5° giving you an edge in keeping the temperature at the accurate level of your desire.
Additionally, it includes an LED temperature display to indicate the current temperature of your aquarium at all times. Hence, it is an all-in-one temperature regulator with a built-in thermal protection circuit that disconnects upon reaching the desired temperature to keep the aquarium from overheating.
Features
25-Watt power
Suitable for 2.5-3 gallons tanks
Modern and flat design
Shatterproof case with one-touch system
Fully submersible electronic aquarium heater
Electronic thermostat with high accuracy range of +/- 0.5 degrees
Includes an LED display to set temp and aquarium temp simultaneously
Built-in thermal protection circuit
Pros
The minimalist design ensures supreme safety for all the aquatic inhabitants of your aquarium
A thermal protection circuit shuts down the heat upon overheating
The thermostat is reliable to control temperature with a small variation
Cons
It is expensive compared to other small aquarium heaters on the market
Tester's Verdict
The team loved the working of the Nano heater that worked smoothly with high accuracy and durability. The high cost seemed justified for the amazing features this heater has.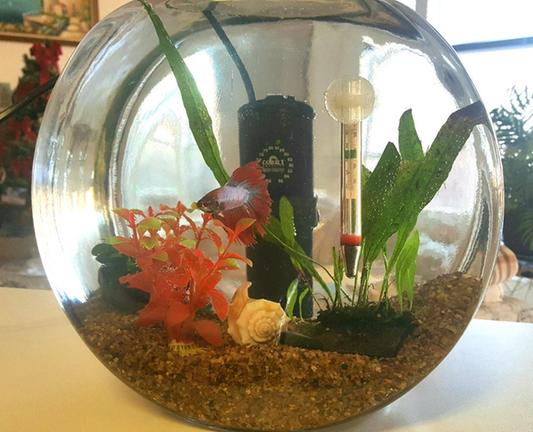 Cobalt Aquatics Adjustable Aquarium Heater
The price of "Cobalt Aquatics Adjustable Aquarium Heater" varies, so check the latest price at
The Aqueon Preset Aquarium Heater is reported to be the best small aquarium heater for beginners. The 50W heater is most durable to heat a 5 gallons tank of Betta fish and other tropical fish types.
The Aqueon heater comes with a preset thermostat set at a temperature of 78°F with the expected variation of only 1 degree, which highly depends on the size of the tank and the temperature in the room.
The design lacks a thermometer so it is recommended that you get a small Aquarium thermometer to stay informed of the temperature of your aquarium to stay assured that it does not boil your fish by overheating.
The smallest size is only 5.75 inches in length that easily fits into your Nano aquariums.
The low cost heater is a preset device that needs no customization and you just have to install it and forget it.
It operates only when fully submerged in water and you can place the heater horizontally and vertically as per the design of your aquarium.
The tiny heater contains a 12-month long warranty so you can rest assured for any possible malfunctioning, which seldom happens.
Features
Extremely small aquarium heater
Preset heater to a temperature of 78°F
90 days warranty period
Available in 5 & 10 Watt power
3.1-5.75 inches length
Best for 2.5-5 gallons water tanks
Budget friendly
Shatterproof material
Pros
Available in two sizes and both are compact making it easy to set it up vertically or horizontally
The product comes with suction aquarium pumps to hold it in place
Cons
It does not work in water tanks more than 3 gallons
Tester's Verdict
The team praised the preset heater for its accuracy and reliability available at such a low cost. However, unlike the claims of the company, it does not work well in tanks more than 3 gallons size. The rest is just perfect.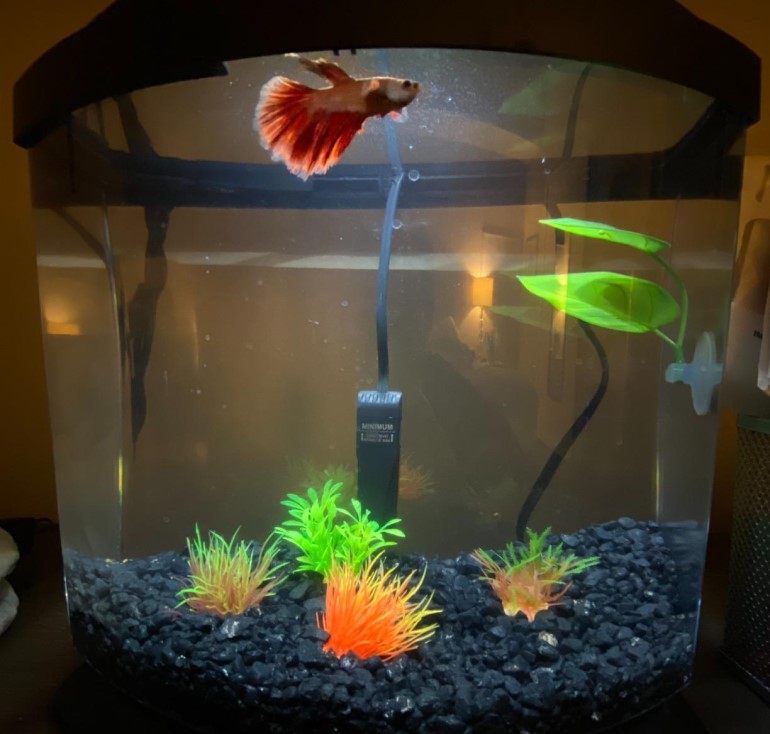 Aqueon Mini Heater
The price of "Aqueon Mini Heater" varies, so check the latest price at
Hygger submersible heater is a compact, oval-shaped, small heater that easily submerse in small round tanks. The round shape is the best for round aquariums.
The longest dimension of the heater is 4.5 inches which is easily submersible in tank sizes ranging from 1-6.5 gallons. The Nano heater contains an external heater controller with a reliable thermostat that best keeps constant at the desired temperature.
Available sizes on the market for this product are 50W and 100W, each for different tank sizes. The submersible heater cannot work out of water so it automatically stops working when not fully submerged in water. There is a built-in thermometer with high accuracy and the maximum temperature that the heater supports is 95°F.
This tiny heater has a plastic cage look which feels good to the eyes and enhances the decoration element in your aquarium.
This can be tagged as the best heater among the smaller aquarium heaters with its minimalistic design and amazing features.
Features
The Nano heater warms tanks temperature ranging from 63-94°F
External Controller with Reliable thermostat
For 1-6.5 gallon tank
Available in 50W & 100W sizes
Fully submersible in tanks
Digital display aquarium heater for small fish tanks
Compact, small shape with plastic guard, & fast heating thermostat
Built-in thermometer with external controller
Shuts off when out of water
Package includes 2 strong suction cups
Stops heating when water temperature is higher than 95°F
Pros
It has a compact, oval-shaped heater that best works in small tanks between 2.5-6.5 gallons
It has its own protection to stop working when it is out of water at such low cost price
The plastic cage look gives it a cool look
Cons
The product has no warranty offering
Unlike the claims of the manufacturers, the aquarium heater does not work in more than 3 gallon aquariums, as per reports
Tester's Verdict
The team really appreciated the shape and size of the heater that make it easily submersible in 3-6.5 gallon tank sizes. However, it hardly works in less than 3 gallon tanks, unlike the claims of the manufacturers. But, the working of the thermostat and the temperature control makes it one of the best small aquarium heaters on the market.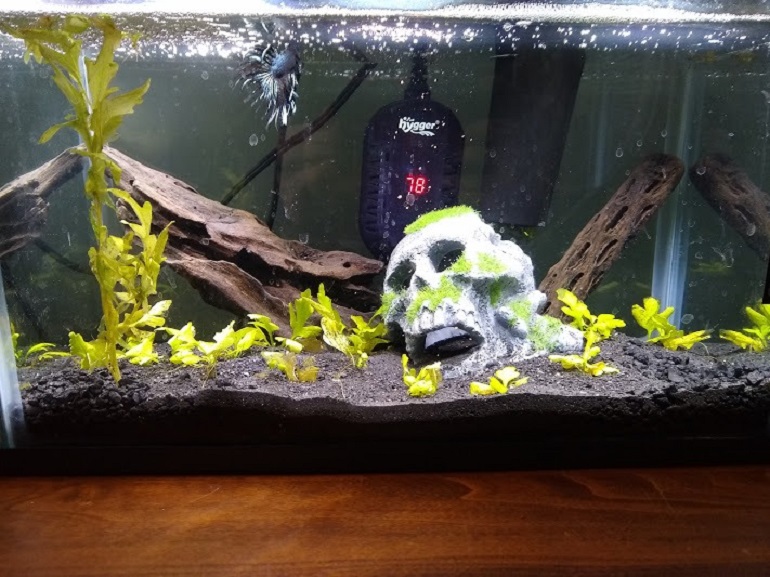 Hygger Submersible Heater
The price of "Hygger Submersible Heater" varies, so check the latest price at
Buying Guide
With the huge library of aquarium heaters available on the market, choosing the best can be hard as you have to consider several aspects in mind before making the decision. Such important aspects are discussed below that will assist you in making the right choice.
Adjustable Thermostat
Different breeds and types of aquatic animals require unique temperatures according to their homeland environment. Thus, it is best to consider buying a Nano heater with an adjustable thermostat through which we can adjust and monitor to set the right temperature.
Shatterproof Glass
If your room's temperature is low, get a more powerful heater with shatterproof glass. Such structure will not break upon high heating which will be required in locations of low temperature. So consider this aspect in mind for an ensure reliability of your heater.
For instance, usually the glass heaters come in the shape of a tube and such shapes are easy to crack so it's better to get shatterproof glass to avoid such mishaps.
Size & Shape of Your Aquarium
Small aquariums not only require lower heat outputs but can also need a small or compact design. This is due to many smaller aquariums coming in weird but wonderful shapes. Shapes that your normal everyday heater just won't fit.
Therefore, it is important to select the heater with suitable size and shape that complements the aquarium. The tube-like heaters best attach to the edges of your Aquarium.
FAQs
What Is the Smallest Aquarium Heater?
Aqueon Mini 5W is the smallest aquarium heater available on the market and is best durable for small fish tanks of 1 gallon size.
Are Aquarium Heaters Safe?
Yes, aquarium heaters are safe if the chosen heater has all safety features of being shatterproof, having a thermostat, containing an adjustable temperature control, and is small in size to not hurt your beloved fish in any way possible.
Do I Need a Heater for a 1-gallon Tank?
In such small tanks, temperature changes quickly and might not require electric heaters. If you possess tropical fish like Betta that require high temperature, in this regard, getting a heater is unavoidable.
Can Fish Die If the Water Is Too Cold?
This is true for tropical fish that require high temperatures to survive. In this case, at low temperatures, your fish may die. However, a heater will help avoid this from happening.
Conclusion
Fish are sensitive beings that die when not in suitable temperature conditions as their natural habitat: a sea or a pond. Nano heaters are best to keep a constant temperature in your small fish tanks.
There are many different types of Nano aquarium heaters designed for temperature regulation in different shaped aquariums. However, before making the purchase, make sure to check for the right size and shape of the heater according to your aquarium. Round heaters will best fit in round Nano aquariums and tube-like glass heaters will best work in peculiar shaped aquariums having edges or long structures.
Also, Keep in mind to get heaters having a thermostat to seamlessly regulate temperature and keep it constant. Nano heaters are a wonderful solution to provide safety features to your fish tank with the most appropriate temperature provision. However, keep the above discussed options and conditions in mind before making the choice of buying the best nano heater.