Disclaimer: The information provided in our articles is for educational purposes only and should not be considered a substitute for professional veterinary advice. It is essential to consult with a veterinarian before starting any CBD products for your dog's health and well-being.
Having an anxious dog can make life incredibly difficult. Dogs with fear issues and anxiety often have behavioral problems that can make it difficult to leave the house—or even find some peace inside the house.
CBD calming treats and oils are one effective option for helping your dog find a little calm. But finding a high-quality, effective product can be difficult with so many to choose from.
One company that has made it incredibly easy is King Kanine and its long line of King Kalm CBD oils and treats.
What is King Kalm?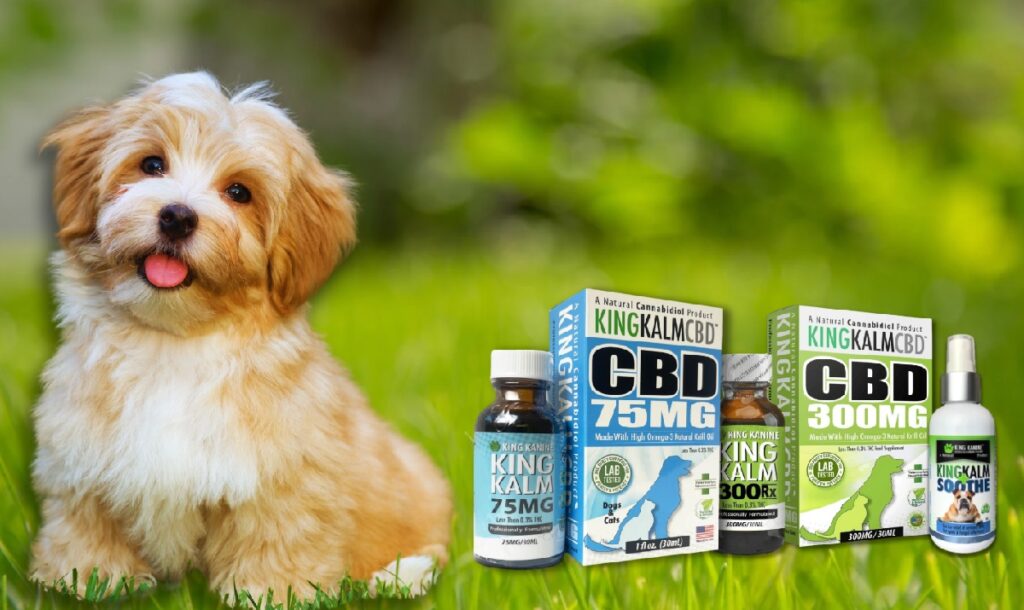 King Kalm is a line of hemp oil CBD products created by King Kanine.
King Kanine, founded by Jeff Riman, got its start in 2015 when it released King Komb, an effective shedding tool for short-haired breeds like Great Danes. In 2019, the company received ISO9001 FDA approval for their new CBD pet product manufacturing facilities.
Since then, they have launched multiple CBD hemp oil supplements, treats, and topicals under the name King Kalm.
These quality products are made with CBD extract and other healthy ingredients to help dogs find some calm while supporting overall health.
King Kanine's products have been featured on ABC, in Pet Business Magazine, and in many other pet-related publications.
Sourcing and Manufacturing
King Kalm sources all of their broad-spectrum hemp oil from industrial hemp grown in the USA. Their products are manufactured in US-based facilities that are ISO-9001 and GMP-certified by the FDA and comply with all appropriate manufacturing regulations.
All other ingredients used in the products are naturally derived. While these products are not certified organic, the oil extracts are tested for impurities and are certified pesticide and solvent-free.
All CBD and hemp oil that goes into these products is made using CO2 extraction, which produces a pure, consistent product.
King Kalm CBD Product Reviews
King Kanine has a long list of products that come in treat, oil, and topical form. The website gets a little gimmicky by advertising "different" products by state, city, and breed.
There is no difference between the Alaska CBD oil and the Florida one. Likewise, the German Shepherd CBD and Great Dane CBD are identical. Where King Kalm products do differ is in form and concentration. Below, you'll find the five most popular King Kalm products and our full King Kanine CBD review.
1. KING KALM CBD 300mg – Large Pet Formula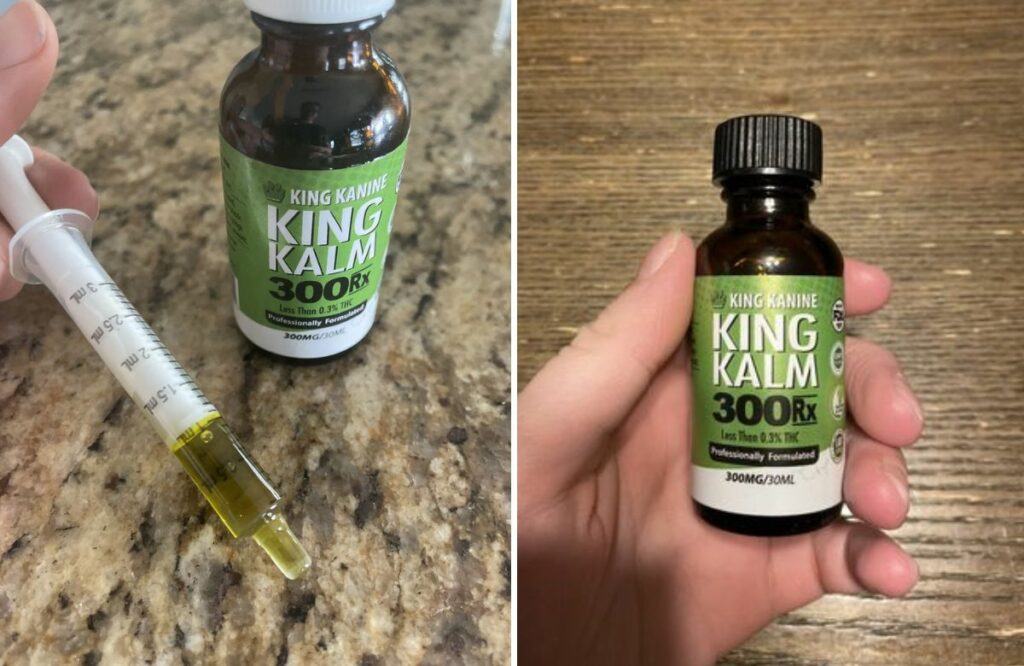 Ingredients
300mg CBD
Hemp Seed Oil
Krill Oil (3%)
Product Facts
There is a lot to love about this simple CBD oil product. For one, it is made with just three simple, healthy ingredients.
In addition to CO2-extracted CBD, which is pure and safe for dogs, it also contains hemp seed oil. This oil, which is made from the seeds of hemp, does not contain CBD. But it does contain a long list of nutrients and polyunsaturated fatty acids, including linoleic acid.
Each bottle is also made up of 3% krill oil. This healthy oil is loaded with omega-3 fatty acids that help dogs fight inflammation and support heart and brain health. As a carrier oil for CBD, krill oil has the potential to enhance CBD's anti-inflammatory properties.
All this makes this product a wonderful choice for large dogs who need help with anxiety as well as inflammation. It is a great option for those suffering from arthritis, joint pain, and hip dysplasia.
King Kalm 300mg CBD oil is formulated for large dogs between 45 and 65 pounds. Each bottle contains 300mg of CBD, which breaks down to 10mg of CBD per 1 mL. The recommended dose for dogs in this size range is between 0.5ml to 2ml.
For extra large dogs in need of anxiety and inflammation support, I recommend the King Kalm 600mg formula. This big dog formula contains added copaiba for extended anxiety relief and DHA for joint support.
Pros
Broad spectrum CBD
Easy dose syringe
Krill oil to fight inflammation
Perfect concentration for large dogs
Cons
Not THC-free (contains less than 0.3%)
Not as many useful ingredients as the extra large dog formula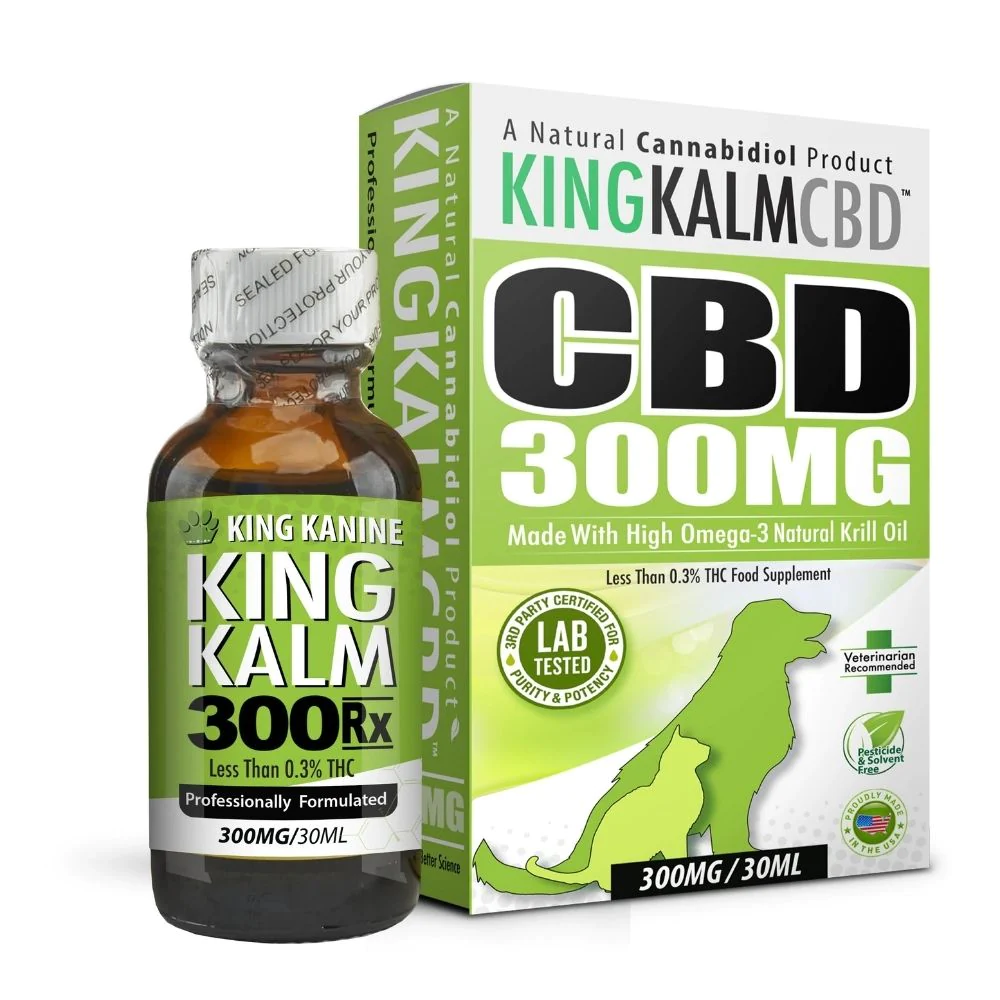 KING KALM CBD 300mg – Large Pet Formula
The price of "KING KALM CBD 300mg – Large Pet Formula" varies, so check the latest price at
2. King Kalm CBD 75mg Small Size Dog & Cat Formula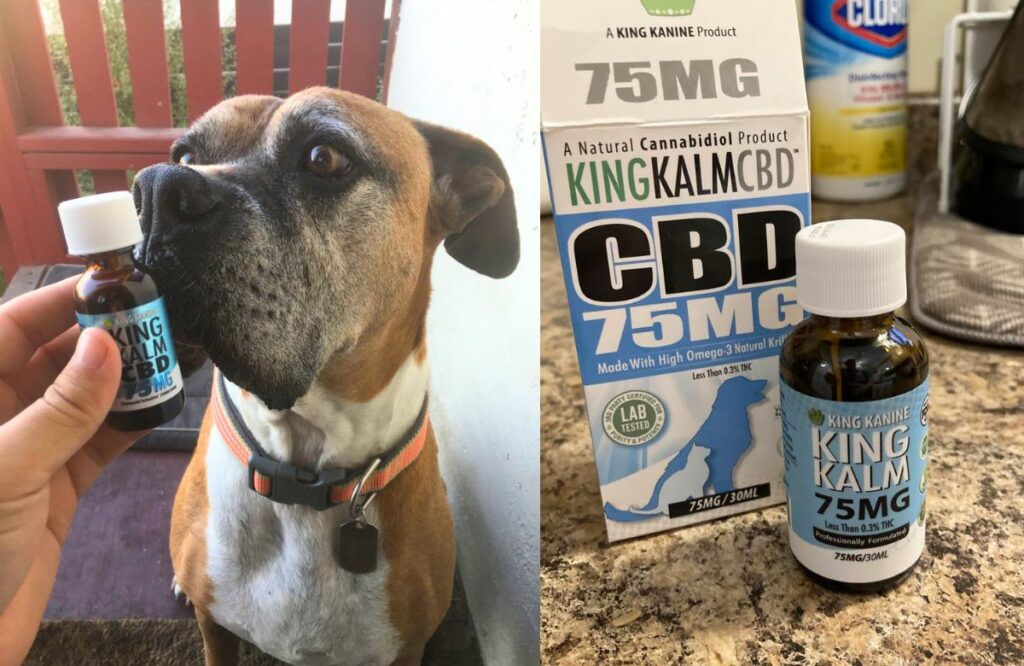 Ingredients
75mg CBD
Hemp Seed Oil
Krill Oil (3%)
Product Facts
If your little dog struggles with anxiety, fearfulness, or reactivity, this King Kalm formula can help.
Like the large dog formula, this one contains CBD, hemp seed oil, and krill oil. But the concentration of cannabidiol in this one is lower, making it easier to dose small pets under 20 pounds.
For this formula, each 1 ml dose contains 2.5mg of CBD. The recommended dosage for dogs and cats below 20 lb is 0.2ml to 1.2ml.
While each dose contains less CBD, your dog still gets the same healthy boost of krill oil as that provided by the larger dog formulas. While small dogs are less prone to joint pain, they can still suffer from back pain, knee problems, and other inflammation issues that krill oil can help with.
I also love that this formula comes with a syringe for dosing rather than the standard dropper. Not only does the syringe make it easier to get the exact dose your dog needs, but it is also cleaner. I find the oil is much less likely to make a mess of the bottle using this setup.
Pros
Supportive carrier oils
Broad spectrum hemp oil
Small-dog specific concentration
Cleaner, more accurate dosing
Cons
May cause digestive upset
Not organic
Contains trace amounts of THC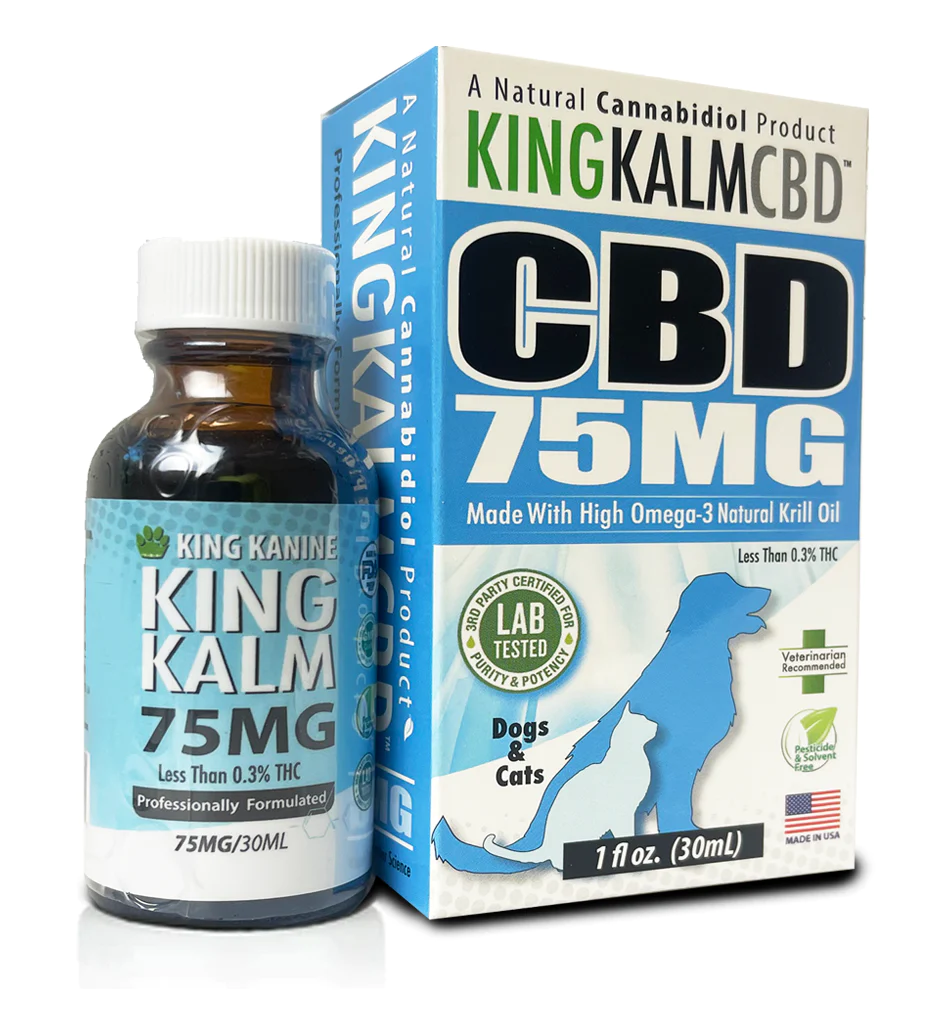 King Kalm CBD 75mg Small Size Dog & Cat Formula
The price of "King Kalm CBD 75mg Small Size Dog & Cat Formula" varies, so check the latest price at
3. King Kalm CBD 150mg Medium Size Pet Formula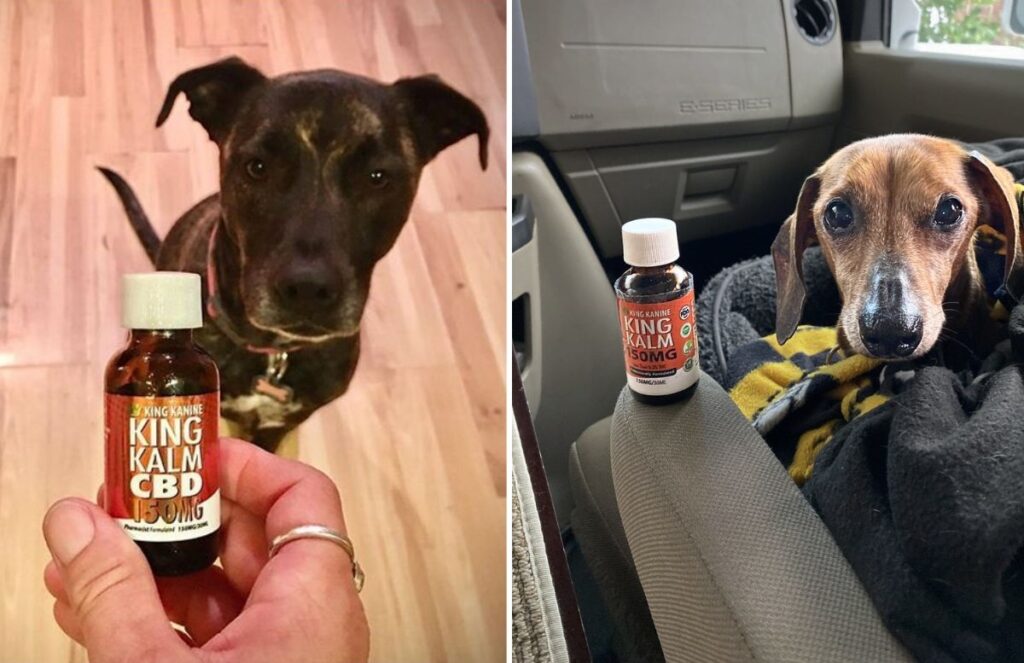 Ingredients
150mg CBD
Hemp Seed Oil
Krill Oil (3%)
Product Facts
For dogs between 20 and 45 pounds, this medium pet formula is perfect. It contains 150mg of CBD per bottle. This breaks down to 5mg of CBD per 1ml dose. The recommended dose for medium dogs is between 0.2ml and 1.75ml.
Like the other King Kalm oil products, this one comes with an accurate and easy-to-dose syringe.
The addition of krill oil along with hemp seed oil makes this supplement a wonderful option for medium dog owners who want more than just calming effects.
The broad spectrum CBD oil, along with the many cofactors found in hemp seed oil, will help your dog overcome anxiety and fear. Meanwhile, krill oil provides omega-3 fatty acids to support optimal brain health for more balanced reactions and behavior. Plus, it helps fight inflammation throughout the body for better overall health.
Pros
Easy to dose and administer
All natural ingredients
Perfect CBD concentration for medium dogs
Good price point
Cons
No flavor enhancers
Contains trace amounts of THC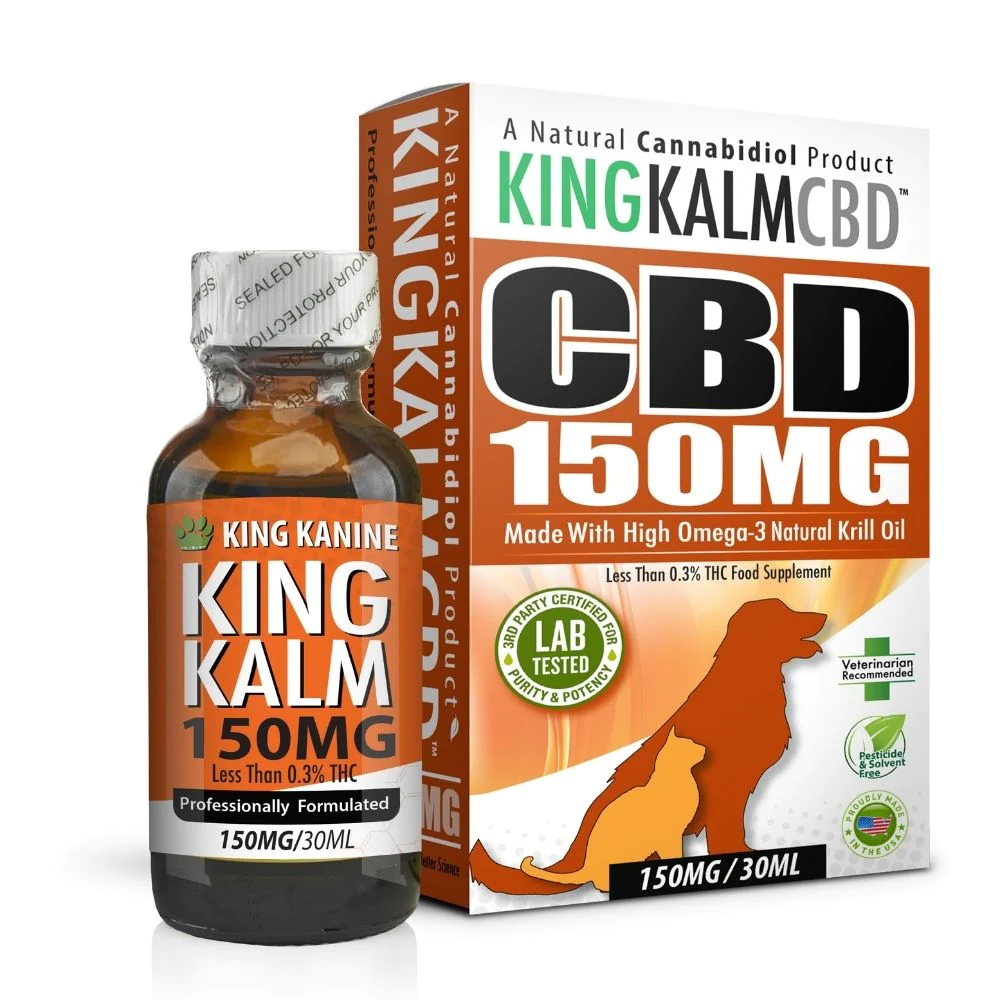 King Kalm CBD 150mg Medium Size Pet Formula
The price of "King Kalm CBD 150mg Medium Size Pet Formula" varies, so check the latest price at
4. King Kalm Soothe for Pets Spray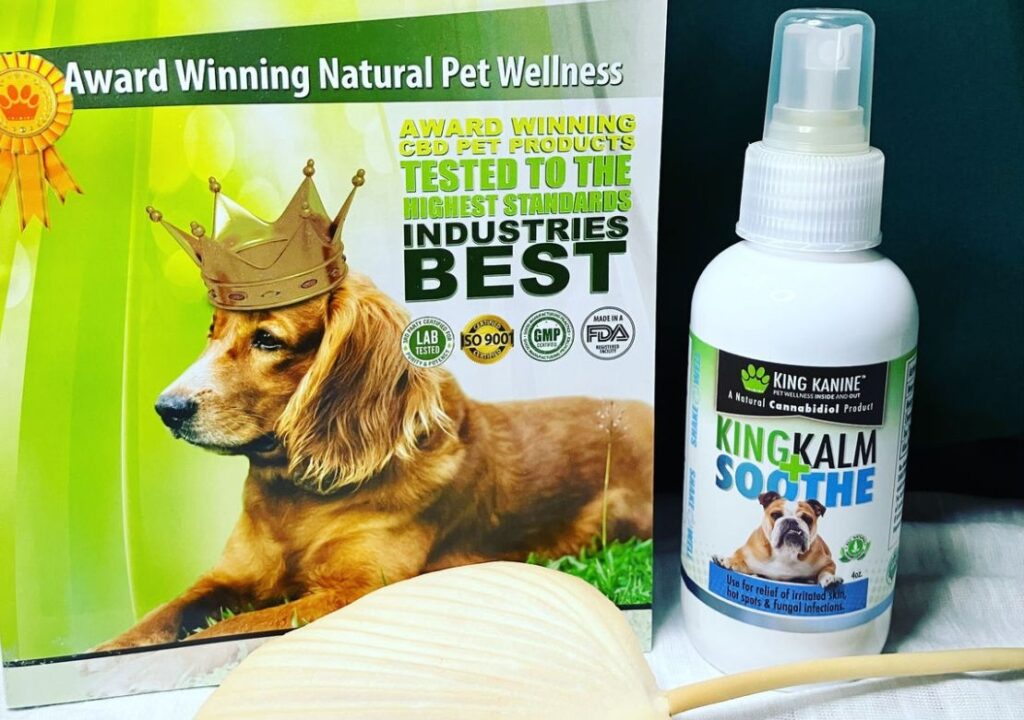 Ingredients
Hemp seed oil
CBD
Copaiba oil
Chamomile
Aloe vera
Tea tree oil
Product Facts
If your dog suffers from itchy skin, topical allergies, hot spots, or even fungal infections, King Kalm Soothe is an effective topical product from King Kanine is what you need.
Skin problems can be just as debilitating as anxiety when they get out of control. With CBD and herbs, like chamomile, to help reduce inflammation and fight infection, this spray is formulated to help your pup find fast relief.
Natural hemp seed oil is loaded with compounds proven to help skin heal. Copabai, a medicinal oil traditionally used in Brazil, has been proven to help wounds heal faster. It has anti-inflammatory, antimicrobial, and other healing properties that are beneficial for our furry friends with skin issues.
Another thing I love about this product is that it is safe to ingest. Since dogs often lick their wounds, this is a very important feature.
It's super easy to use, too. Simply spray the affected area one to four times a day as needed to reduce itchiness and promote healing.
My only gripe about this product is that it does not list how much CBD is in each bottle. There also appear to be some inaccuracies in the marketing information concerning how much active vs. inactive ingredients are present.
Pros
Great for skin health and healing
Effective, natural ingredients
Easy-to-use spray application
Safe to ingest
Cons
No CBD concentration listed
Some inaccuracies on the label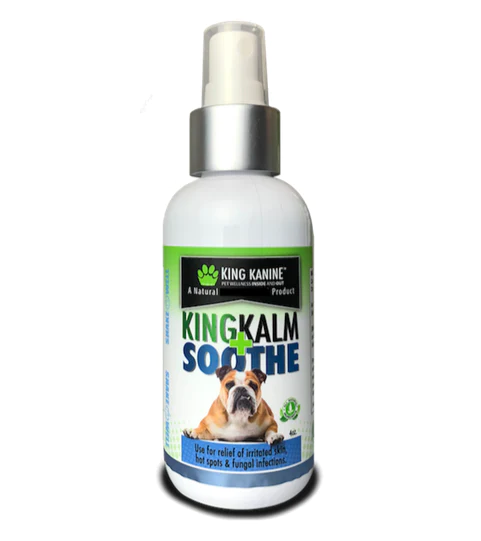 King Kalm Soothe for Pets Spray
The price of "King Kalm Soothe for Pets Spray" varies, so check the latest price at
5. King Kalm Dog Paw Balm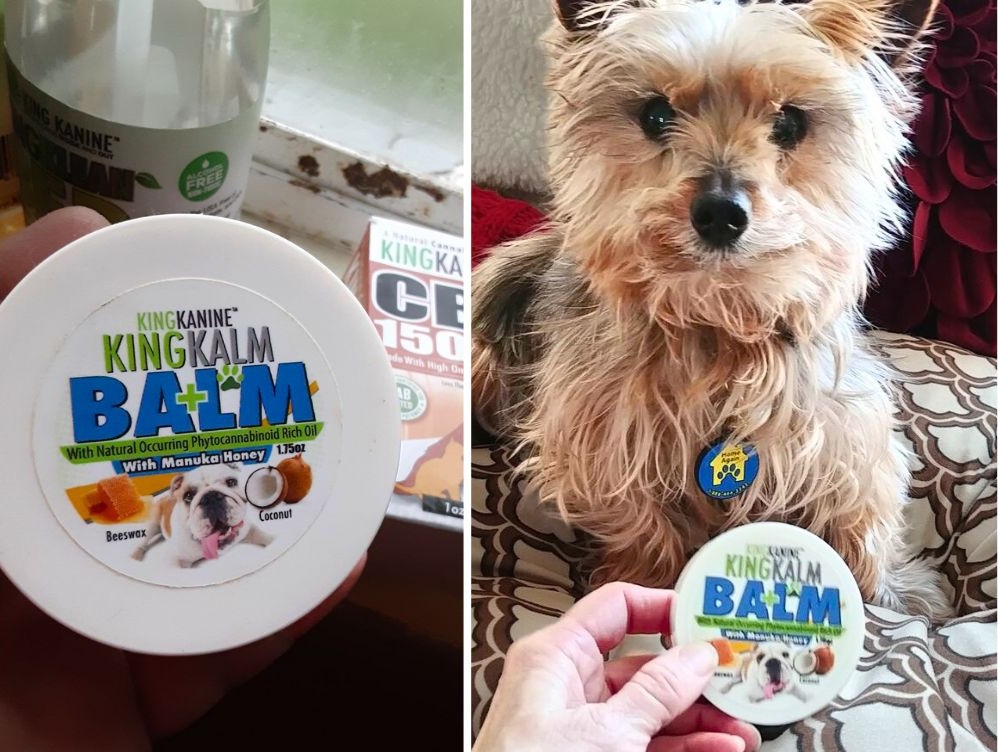 Ingredients
CBD oil
Natural beeswax
Coconut oil
Manuka honey
Product Facts
King Kalm products aren't just effective for keeping your dog calm; they are also great for calming angry, dry skin. At least, this is true of their Dog Paw Balm.
This highly effective balm contains four all-natural ingredients to help keep your pup's paws hydrated. The CBD oil in the balm works to reduce inflammation while helping to hydrate to prevent painful cracks.
Coconut oil doubles down on this hydration effort while providing antimicrobial compounds to prevent infection and promote healing.
Manuka honey, which is made by bees that pollinate tea tree flowers, is loaded with antioxidants that support skin health. Research has proven its ability to help with wound healing, as well.
All these wonderful ingredients are mixed with natural beeswax to create a hydrating, easy-to-apply balm to support healthy paws. I especially love to use this product in the winter when cold weather and sidewalk salts leave my dogs' paws cracked and painful.
It is worth noting that King Kalm Paw Balm is meant only to support skin health. If you're looking for a solution for joint pain, check out CBD for dog arthritis and joint pain relief.
Pros
Easy to apply
Effective, natural ingredients
Heals cracks and fights infection
Cons
CBD concentration is not listed
Must clean paws before use for best results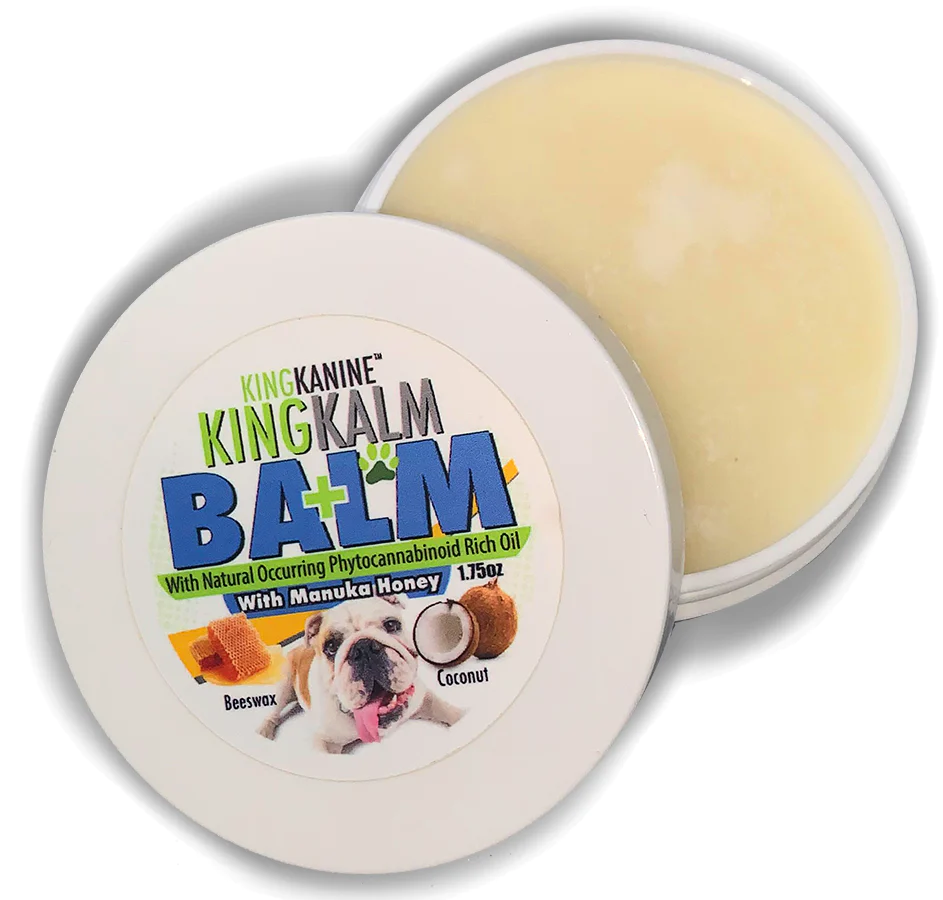 King Kalm Dog Paw Balm
The price of "King Kalm Dog Paw Balm" varies, so check the latest price at
Is King Kanine CBD Oil Worth It for Your Pet?
King Kanine has a wide variety of CBD products to choose from. The effectiveness, cost, and overall customer satisfaction vary with each product.
Effectiveness of King Kalm CBD Oil
When it comes to King Kalm's straight CBD oil products, I've found them to be incredibly effective.
I contribute much of this to their simple but thoughtful ingredients. Both hemp oil and krill oil have been shown to enhance the effectiveness of CBD oil. Using these as the carrier oils in these products means there are no inactive ingredients to speak of.
Everything in the bottle is there to help your pup stay calmer while supporting overall health.
You can also learn how long CBD products like this take to kick in to get an idea about the efficacy and positive effects of pet CBD products.
Other King Kanine products, such as their topical line, work very well. But how much of this is due to their CBD content is hard to say. The other ingredients included are all well-studied for their ability to improve skin health and help with wound healing.
These items are priced higher, as most CBD products are, but their CBD concentration is not listed. Without an amount listed on the label or ingredient list, it's hard to know if you're getting what you paid for.
Cost of King Kalm Products
Overall, I believe King Kanine products are well-priced. The lower concentration options, such as the Medium Size Pet Formula and Small Size Dog & Cat Formula, especially, are very affordable considering what you get.
As the concentrations increase, the price also jumps up. This is most evident in the extra large dog formula, which contains extra ingredients as well as more CBD.
For most of the supplements on the website, you can opt to purchase them just once or subscribe to save an additional 10%.
Customer Reviews on King Kalm CBD Products
Personally, I can attest to the effectiveness of King Kalm Dog Paw Balm and King Kalm CBD oil. I have used the former myself and have recommended the latter to many of my training clients with good results.
But what are other users saying about King Kalm?
Many are quick to comment on how well these CBD oils worked to chill their pets out.
One pet owner used the 150mg formula for their rescue dog, who suffered from separation anxiety, thunderstorm phobia, and noise phobia. They said after a few weeks on the product, she was much more "zen" and no longer destroying things when spooked or left home alone.
Other users note how effective these products are not only for anxiety but also for joint pain, sleep problems, and even seizures!
Most of the negative reviews for these products note issues with shipping and long delivery times. A few complain about their dog not being willing to eat the hemp oil products because they do not contain flavor additives.
Where Can You Purchase King Kanine Products?
Currently, the only place you can reliably purchase King Kalm products is on the King Kanine website.
Here, you can choose to buy your CBD supplement just once or sign up for a subscription at a discounted price. The website also has product bundles that will save you extra money.
Our Experience with King Kalm Products
My personal experience with King Kalm is limited to their Paw Balm. However, I have recommended these fantastic CBD products to many of my training clients and received great feedback.
The oils do an amazing job of calming dogs down. I see their effects every day in my obedience classes. The dogs who take these products go from whining fidgety messes to calm and astute after just a few days on the oil.
The owners also report other beneficial side effects. Most often, I hear about how their dog's mobility has improved and how they are sleeping better at night. One of my clients was even able to stop crating their dog when they left the house because she had calmed down so much.
The biggest complaint I get from owners about the oil products is that their dog won't eat their food if they put the oil on top.
But, thanks to the syringe delivery system, it is super easy to dose dogs directly with these products. After I show my clients how to squeeze the syringe into the back of the mouth, they no longer have problems giving it to their dog.
Plus, giving CBD oil without food has some advantages too!
FAQs
Which Type of Dogs Are Suitable for King Kalm Products?
King Kanine CBD products come in four different concentrations, making them perfect for small, medium, large, and extra-large dogs. And since all dogs, whether Huskies, Goldens, or Chihuahuas, can benefit from CBD, any breed of dog can take advantage of these well-priced supplements.
Even humans can take the pet CBD products made by King Kalm. Though, the company advises against it.
Is King Kalm Safe?
King Kalm products are made with natural CBD that is extracted safely without solvents. It is third-party lab tested for purity and certified pesticide-free. This all makes it very safe for dogs and cats.
As long as you follow the dog dosage guidelines put out by the company and recommended by your veterinarian, your dog should be safe.
Side effects of CBD in dogs are generally mild. The most common issue is diarrhea. You can avoid this by introducing the supplement slowly over a week.
What Is the #1 CBD for Dog's Anxiety?
The best CBD for dogs with anxiety depends largely on your dog's size and needs.
King Kalm has many concentrations of CBD oil to choose from, which makes it easy to find the best product for your dog. They also have King Kalm crunch CBD treats that are perfect for finicky eaters. King Kalm Crunch treats are convenient for easy daily CBD dosing as well.
Final Verdict
King Kalm CBD products offer a range of options for pet owners looking to provide relief for their anxious or fearful pups. With four different oil concentrations and some wonderful topical CBD products, it is easy to find the right option for your pet.
Each product is carefully crafted with natural ingredients that work together to support your dog's health and promote calm in all situations. And you can be confident that they're safe since all King Kanine products are made in FDA-approved facilities using hemp grown in the USA.
To learn more about King Kalm or to find the right product for your dog, you can visit their website!