Disclaimer: The information provided in our articles is for educational purposes only and should not be considered a substitute for professional veterinary advice. It is essential to consult with a veterinarian before starting any CBD products for your dog's health and well-being.
HempMy Pet is one of my favorite hemp oil companies for dogs. And not just because they're based in my home state of Colorado.
This company goes above and beyond to ensure their products are made of the purest, highest quality CBD and hemp oil possible. In fact, they are so good that when Colorado State University's vet school did a study on CBD oil use for dogs with osteoarthritis-related pain, they chose to use HempMy Pet's product.
The study proved what thousands of satisfied customers already know: HempMy Pet's CBD oil is an effective option to help relieve your pup's pain. It's also a great choice for dealing with anxiety, seizure disorders, and more.
Keep reading to find out why HempMy Pet is a class above most CBD pet products out there.
HempMy Pet Review
HempMy Pet has a long line of products for dogs, cats, horses, and more. Hempmy Pet's products include treats, oils, and hemp-infused coconut oil.
Key Features
Single-strain hemp
Seed-to-oil product control
Only USDA Certified Organic ingredients
Veterinarian formulated and recommended
Full-spectrum hemp oil
Less than 0.13% THC
Every batch is quality-tested
Pros
Safe and effective
Scientifically studied and verified
Multiple concentrations available
Oils and treat options
Bundle and subscription pricing available
Cons
High price tags
Contains trace amounts of THC
No flavor additives
HempMy Pet CBD Products
HempMy Pet has two main lines for dogs: their CBD oils and hard treats.
CBD Oils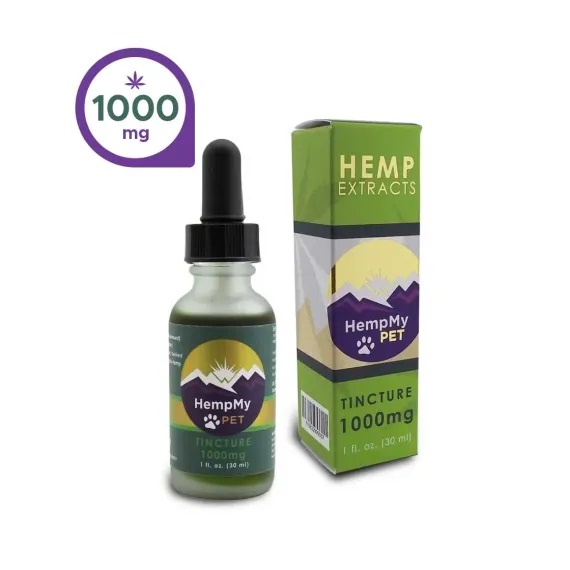 One of the company's most popular products is their full-spectrum CBD hemp oil. This concentrated product contains just two ingredients:
Full-spectrum hemp oil extract
Certified organic hemp seed oil
It comes in two concentrations: 1000mg (32 mg per ml) and 250mg (8 mg per ml).
The cost per mg of CBD ranges between 9 cents and 19 cents. If you opt for the subscription option, you can save 5% on each purchase.
Customers love HempMy Pet's full spectrum CBD oil for its impressive ability to help dogs overcome pain. Many users have seen improvement in pain caused by hip dysplasia, Wobblers disease, and arthritis.
Other customers can't say enough about how much this product has helped their dogs relax. It is wonderful for supporting quality sleep, lowering anxiety, and helping dogs overcome fears.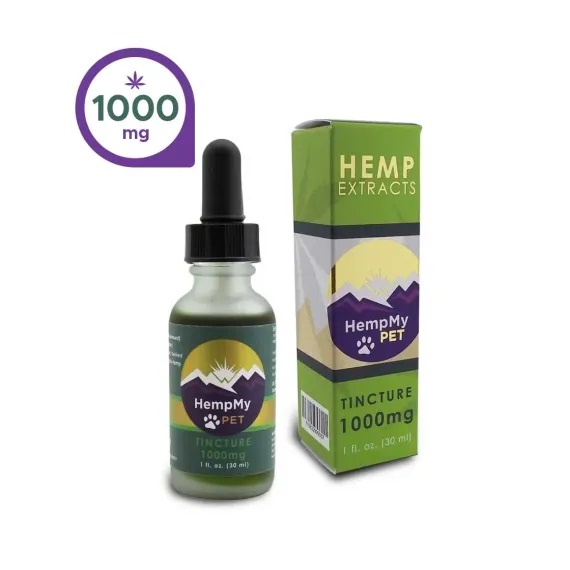 HempMy Pet Organic Full Spectrum CBD Oil
The price of "HempMy Pet Organic Full Spectrum CBD Oil" varies, so check the latest price at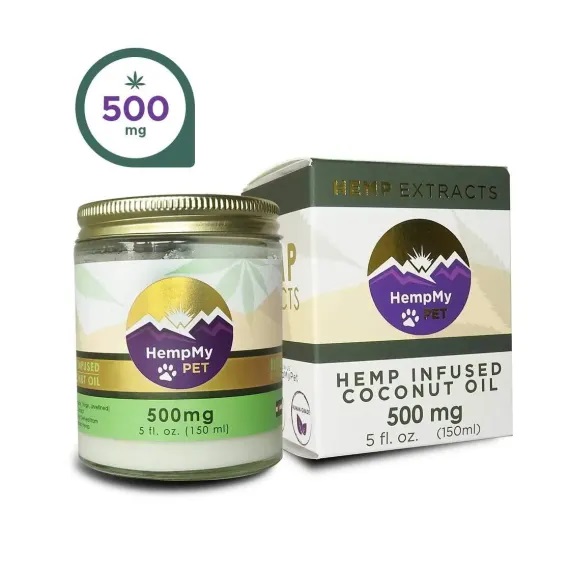 One of HempMy Pet's most unique products is their coconut oil infused with hemp extract.
HempMy Pet coconut oil combines the celebrated health-supporting features of coconut oil with the powerful pain and anxiety-relieving effects of CBD. Each jar contains just two ingredients:
Organic, unrefined virgin coconut oil
Full-spectrum hemp extract oil
This product comes in two concentrations: 100 mg (4 mg CBD per tsp) and 500 mg (20 mg CBD per tsp).
The cost per mg of CBD ranges between 17 cents and 37 cents. But don't forget, you're paying for the benefits of the coconut oil, as well.
Coconut oil is packed with medium-chain fatty acids with many known health benefits. It may help reduce seizure activity, boost metabolism, and is great for skin, coat, and joint health.
Combining these two powerful oils does wonders for dogs and pet owners alike. Many users report that their dog's arthritis pain improved significantly after adding this CBD coconut oil to their diet. In fact, many owners were so impressed with the results that they started using it themselves.
Other users have found it works wonderfully to reduce seizure activity in dogs with epilepsy.
Because of the wide-ranging health benefits of both coconut oil and hemp oil, this is a great product for all dogs and breeds.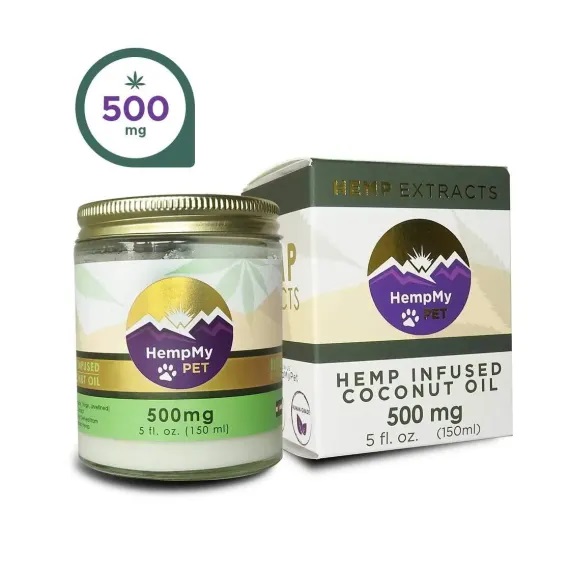 HempMy Pet Infused Organic Coconut Oil
The price of "HempMy Pet Infused Organic Coconut Oil" varies, so check the latest price at
CBD Treats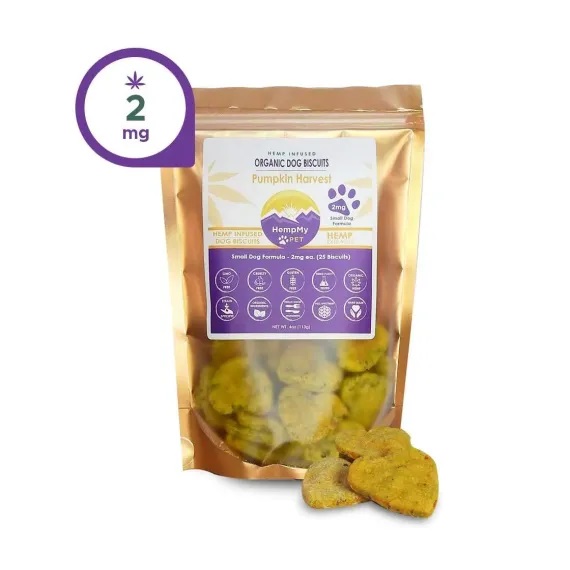 For dogs that are sensitive to oils or have a very refined pallet, HempMy Pet offers CBD-infused dog treats.
Like their other products, these are made with only natural, organic ingredients. Each treat contains:
Pumpkin
Garbanzo Bean Flour
Rice Flour
Tapioca Starch
Apples
Eggs
Unrefined Coconut Oil Infused with **Hemp Extract
Mint
Parsley
Baking Powder
HempMy Pet dog treats come in two sizes: small dog and large dog. The small dog treats contain 2mg of CBD per treat, and each bag contains 25 treats. The large dog treats contain 5mg of CBD per treat, and each bag contains 15 treats.
For this product, the cost per mg of CBD ranges between 40 and 47 cents. As with many other CBD dog treat options, you are paying a premium for the ease of use.
The amount of hemp oil in each treat is fairly small compared to the concentration of CBD, cannabinoids, terpenes, flavonoids, and other hemp oil features in HempMy Pet's other products. Not surprisingly, users have found these treats to be less effective for easing pain, anxiety, and seizures.
However, many users rave about how much their dogs love these treats. Most dogs seem to eat them right up, and few users report digestive issues.
While they are not the best option for therapeutic use, they do appear to help dogs relax and sleep better.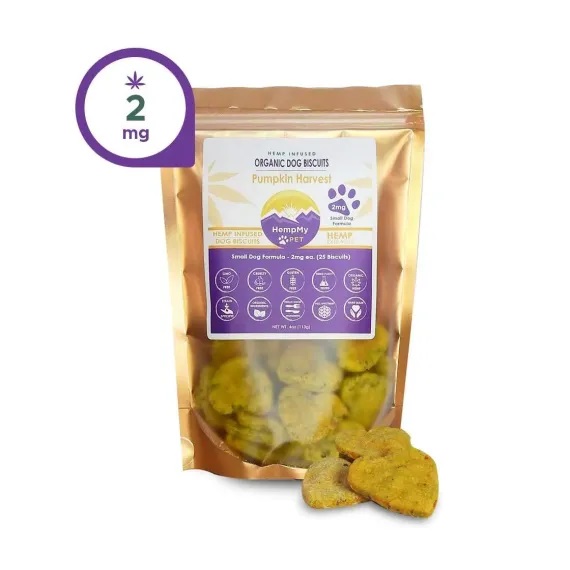 HempMy Pet Hemp Dog Treats
The price of "HempMy Pet Hemp Dog Treats" varies, so check the latest price at
HempMy Pet Dosing Guidelines
The recommended dosage of CBD supplied by HempMy Pet varies based on the product.
It is also important to note that how much CBD a dog needs to see an effect depends on what you're using it for. Dogs with severe pain, bad epilepsy, cancer, and other clinical issues will need higher concentrations of CBD.
You can learn more about general CBD doses for dogs to make informed decisions for your lovely pup.
Oils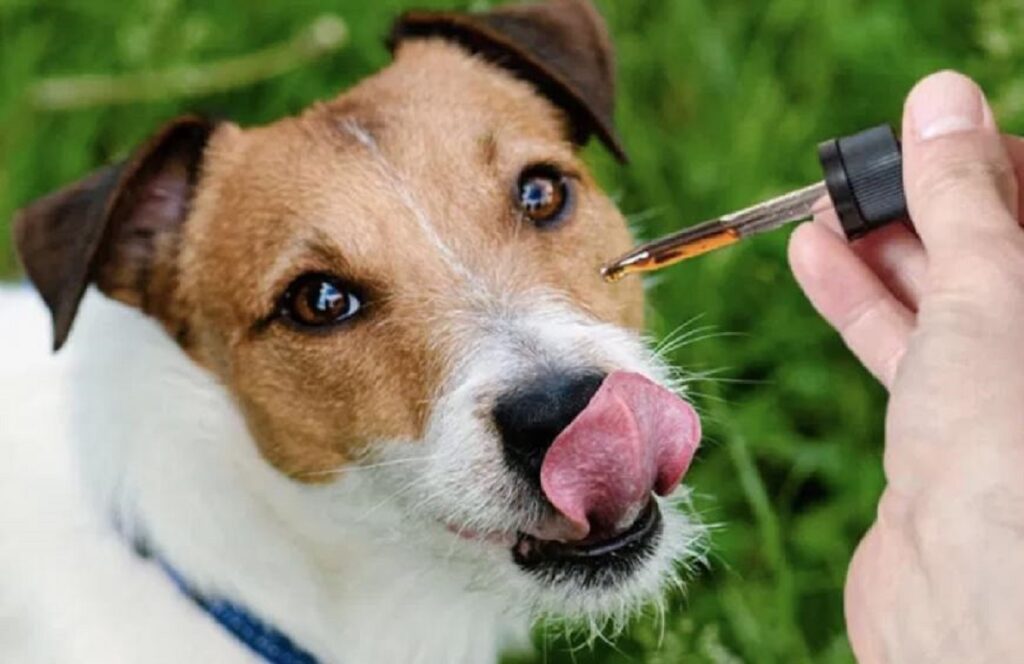 HempMy Pet's CBD oils have a recommended dose of 8 mg of CBD per 30 pounds of body weight. This is about right in the middle of the dose range advised by most veterinarians.
If you are giving CBD for general wellness or to treat minor anxiety, you can get away with dosing 1 mg of CBD per 10 pounds of body weight.
But for dogs with severe pain or health issues, you want to use even a little more than HempMy Pet recommends. Up to 5mg of CBD per 10 pounds of body weight is usually recommended.
When used at the recommended rate, one 30ml bottle of HempMy Pet CBD oil will last between 15 and 120 days, depending on the size of the dog and how often you are dosing the oil.
How to give CBD oil to dogs depends on your dog's needs. Adding the oil to their food is easiest, but dropping it straight into their mouth will provide faster results.
Oil should be given once every 6 to 24 hours, depending on the issue being addressed. Hyper dogs, for instance, will benefit from lower doses more often. Meanwhile, general maintenance doses can be given in higher amounts once or twice daily.
Treats
HempMy Pet's CBD biscuits come with a dosing recommendation of 1 small biscuit for every 10 pounds of body weight. The large dog biscuits should be given at a dose of 1 biscuit for every 50 pounds of body weight.
These treats can be given every 6 to 24 hours as needed.
CBD treats like these make a great option for puppies since they are easy to give and contain relatively low amounts of CBD.
If you're looking for more variety in flavor and texture, we recommend checking out CBDfx for Dogs CBD treats.
Overview of HempMy Pet CBD Products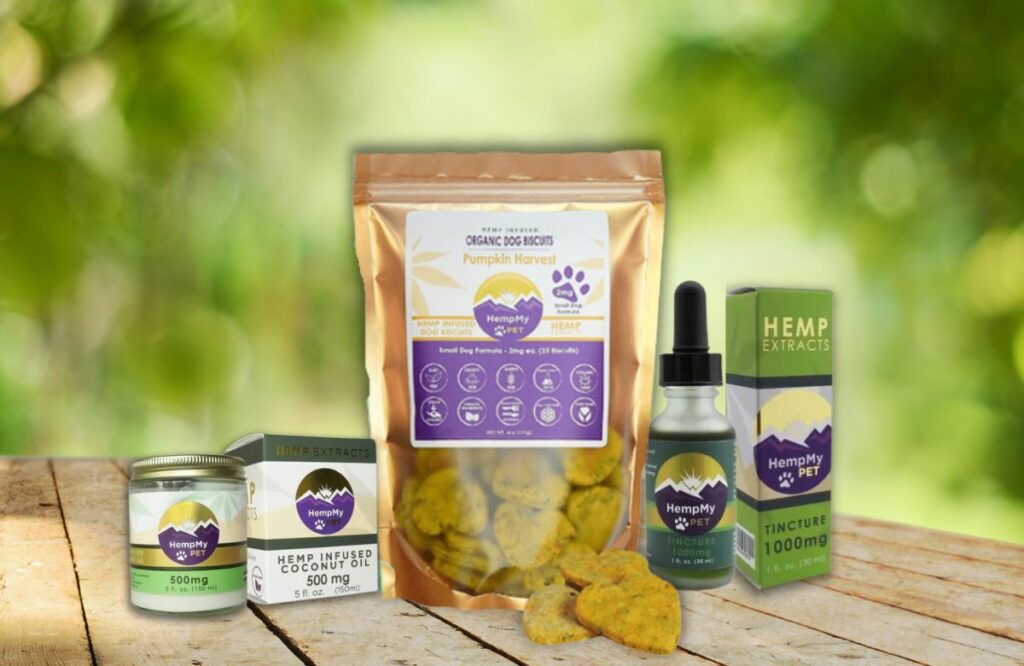 Now, let's delve into the world of HempMy Pet CBD Products, where human-grade ingredients meet cutting-edge science to offer your pets relief and comfort.
Product Cost
HempMy Pet hemp products are a little pricier than other options. But you are paying for quality CBD and organic ingredients. To get the most bang for your buck, we recommend buying their CBD hemp oil products.
Transparency and Quality Standards
HempMyPet is very transparent about their ingredients, extraction methods, and the purity of their products. The certificate of analysis (COA) is available online for every product they sell.
In these third-party lab test results, you'll find each product contains very little THC, if any. The test results also confirm the marketed CBD values of each product.
Sourcing Ingredients
HempMy Pet grows their own specialized strain of hemp that goes into every product they make. This "seed to oil" production method ensures every bottle of hemp oil they release achieves effective, consistent results.
CBD oil is safe for dogs, in general. But this approach provides even more peace of mind for dog owners about the safety of these products.
Customer Reviews
Overall, HempMy Pet has received outstanding reviews from users about their products. Just about every pet CBD product they sell has a 4.5-star rating or higher.
Our Experience of Using HempMy Pet
When my training clients come to me looking for high-quality, organic hemp oil for their dogs, HempMy Pet is always the first product I recommend.
Not only are these products impressively pure, but they are one of the few pet options available that are backed by scientific research.
What makes them so effective is the fact that the hemp extract used is derived from a single strain of hemp. This provides consistency, while the full-spectrum nature of the hemp oil allows for a powerful entourage effect.
All these factors combined are why I choose HempMy Pet products for my own dogs, as well. Their oils have helped both my dogs immensely with anxiety and pain as they've gotten older.
Alternatives to HempMy Pet
If you love the purity and transparency of HempMy Pet but want a CBD brand that offers more variety in their CBD oils and treats, Honest Paws is a great option. This brand offers various oil products geared toward different issues, including anxiety, mobility, and wellness.
If you love how effective HempMy Pet products are but don't love the price tag, Holistapet is a great alternative. Their broad-spectrum CBD products are nearly as effective for pain, anxiety, and stress but are much more affordable.
Plus, they offer oils in a wide range of concentrations, which makes it easier to find the right product for your dog, cat, or horse.
FAQs
How Does CBD Help Your Dog?
CBD has a wide range of benefits for dogs, with more applications being discovered every day. It all has to do with the endocannabinoid system.
CBD can help your dog with:
How Long Does Pet Hemp Oil Take to Work?
Hemp oil begins to have effects within 30 minutes to one hour after dosing. But keep in mind that effects will become more apparent the more consistently you use the product.
Does Hemp Really Calm Dogs?
Yes, hemp oil and CBD extract are highly effective in helping dogs relax and stay calm. But keep in mind hemp seed oil and CBD offer different benefits in this department.
Is HempMy Pet Worth It?
In my experience, HempMy Pet is one of the most effective CBD pet brands out there. Some of their products come with a higher price tag, but that is because they use high-quality, organic hemp oil with certified organic carrier oils, and their additional ingredients are organic, gluten-free, GMO-free, pesticide-free, and cruelty-free
Final Thought
HempMy Pet is one of the few pet CBD brands backed by scientific studies. Not only have their hemp oils been proven effective for reducing pain, but users can't say enough about how much these products have helped their dogs.
If you're looking for the best, organic, full-spectrum hemp oils and treats for your dog, HempMy Pet has you covered.