Traditional dog fences not only trigger aggression & anxiety in your dogs but also feel like an eyesore around your property. For the very same reason, more and more pet parents are moving towards inground dog fences to ensure their pet's utmost safety.
If you are also looking for a reliable inground electric dog fence, it won't take you too long to come across the Extreme dog fence, which we are going to review today.
The Extreme brand has been serving the dog owner community for more than 25 years. Throughout this span, the company earned so much appreciation for making the strongest fences that can handle both your dog's temperament and vigorous testing of time.
But is it really worth this reputation or all these praises are no more than a fuss? Let's figure it out!
Overview of Extreme Dog Fence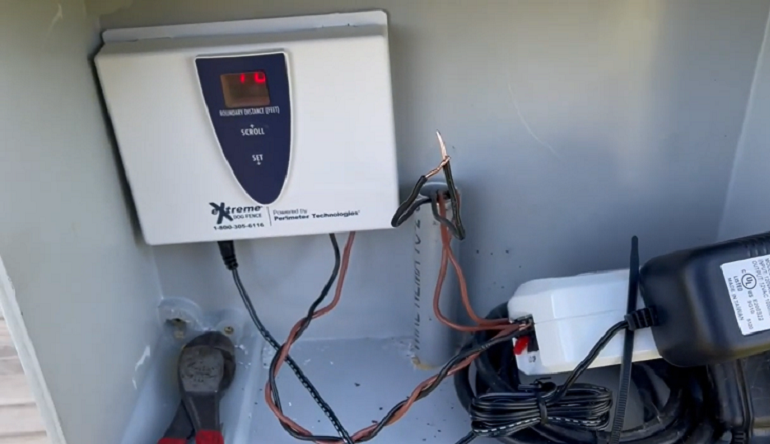 This Extreme dog fence system is an electric inground dog fence that is not only accurate and reliable but also quite affordable.
Also, this containment system is provided in multiple sizes, to establish secure premises for one or multiple dogs. Accessories that come in this Extreme dog fence kit are as follows:
A digital transmitter with a power supply
A waterproof collar receiver
500ft of 20 gauge boundary wire
A pair of short and long contact probes
One pair of conductive rubber comfort covers
A 6V collar receiver battery
50 training flags
Two waterproof splice kits
Since it's an entry-level kit, it doesn't come with twisted wires (as provided in the Extreme dog fence pro-grade kit). However, you can make your own twisted wires by twisting the given wire together.
If you don't know then a twisted wire is used to make the loop area that your dog can cross, without getting shocked. Let's have a deeper look at how this wireless fence works and what features make it better than the rest!
How Does Extreme Dog Fence Work?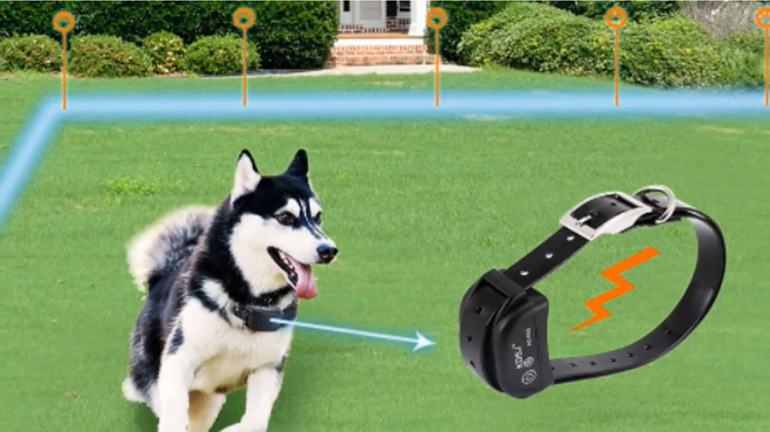 Like all underground fences, this one also works by establishing a connection between the fence wire, transmitter, and collar receiver. The fence system sends radio signals which are then received by the collar, and electric stimulation is induced.
You first need to dig the fence boundary and lay the fence wire from 1-3 ft deep. Once done, it's connected to the transmitter, which in turn is connected to the receiver collar that your dog wears.
Whenever your dog comes close to the boundary wire, this collar detects the signal and emits a beep. If your canine doesn't stop proceeding ahead, he is corrected with an electric shock.
Almost all the functions like boundary field width, on/off modes, correction levels, and intensities are set with the digital transmitter.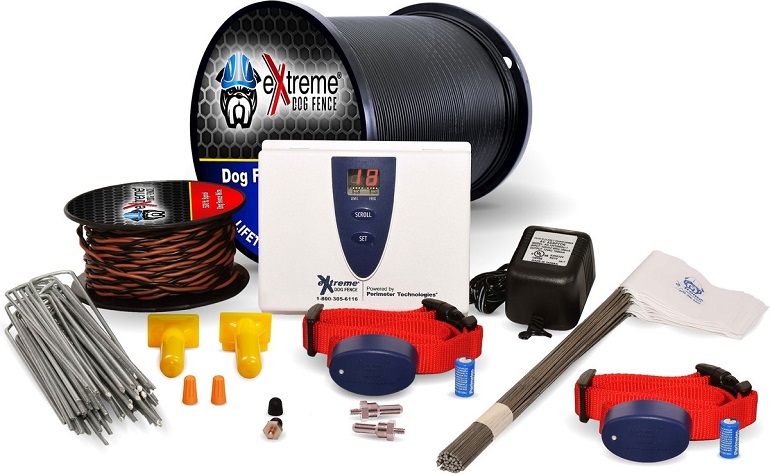 Extreme Dog Fence
The price of "Extreme Dog Fence" varies, so check the latest price at
Extreme Dog Fence Features
So you have read about how this invisible dog fence works to keep your dog safe. Now let's have a look at the features which enhances the overall user experience.
Tech Savvy Collar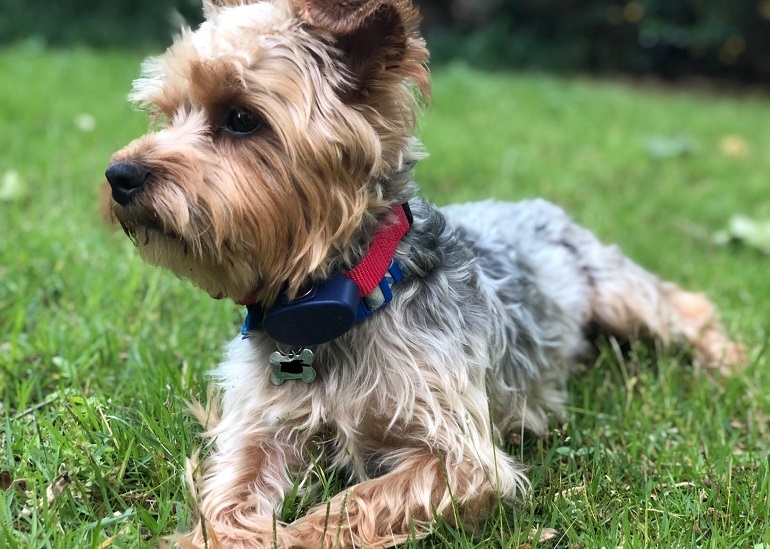 The collar is not only super adjustable to fit dogs of all sizes, but it's also embedded with technology. Unlike those low-grade electric fences, which make accidental corrections by catching the singles of neighboring electronic fences, this one ensures an error-free system.
For this, the collar offers the digital frequency encoding feature. Using this feature, you can select a specific radio frequency, from the multiple frequency selection ranges that are not used by any other systems.
Resultantly, the collar will catch the signals solely from your fence system. In this way, the digital frequency encoding eliminates the risk of accidental corrections, by discarding the risk of stray signal interference.
Comfort
Finding small-sized electric collars is quite difficult since most of these collars are designed for medium to large-sized pooches. However, this Extreme receiver collar is not only offered in the smallest size, to fit a pooch of 8 lbs but also featherlight (weighs only 1.1 ounces).
In addition to this, a pair of comfort contact probes are also provided. Since these rubber contact covers are conductive, they allow the static shock to pass through them. However, due to being soft, they don't rub or itch against your dog's skin harshly, as bare metal contact points do.
Another plus point here is that the manufacturer provides one set of small and large probes. In this way, you can use the collar on your pup, having short hair, with short probes. Whereas for dogs with long and dense hair, you can attach long prongs on the collar.
Covers a Wide Area
You can choose the boundary wire of any length, from 500ft to 200ft, as per your yard size. Even with the shortest wire length, you can cover a whopping area of about 6 acres.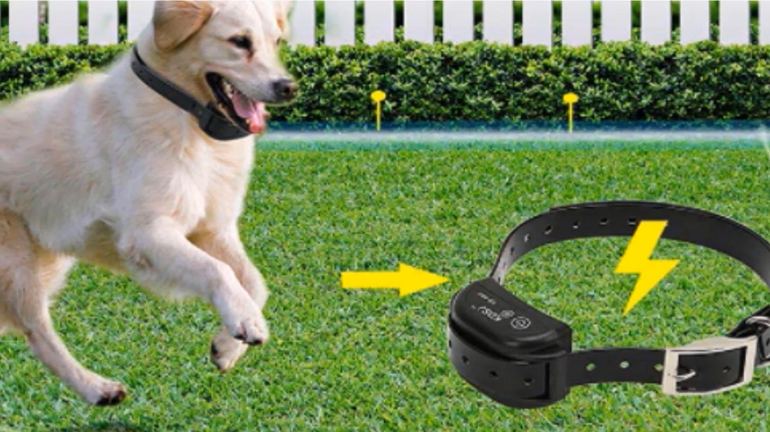 Don't worry if you have a yard smaller than six acres since you can use the extra wire to make a dead zone. Also, the longer wire will enable you to build the fence around trees and other obstacles, without running short of wire or pulling it way too tightly.
Multifunctioning Transmitter
If you are new to invisible fences, you might wonder what the transmitter is for. Well, it's just like a signal-generating device and is mounted indoors, near a power outlet. However, this Extreme digital transmitter serves various other functions, too.
For instance, its standout feature is its multiple frequency selection. It works with the collar's encoding system and generates special radio signals, of distinct frequencies. It ensures that the frequency of your fence doesn't match that of other signal-generating devices.
One transmitter is enough to cover an area of about 10 acres, so if you can buy more wire, you can expand the existing fence coverage. Another remarkable feature of this well-engineered transmitter is its signal field width adjustment.
It enables you to adjust how close your dog could go to the boundary line without getting shocked.
Wire & Temperature Check Feature
Finding a break in the underground fence is super intimidating, but not with this Extreme dog fence. It features a special wire check system that gives you audible notifications about wire breakage.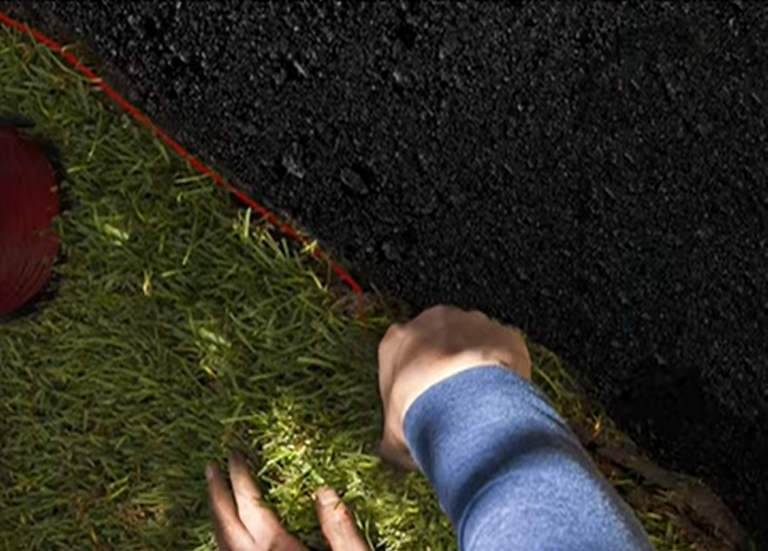 Similarly, to deal with the electric and temperature changes, the transmitter comes with special sensors. These sensors sense the changes automatically, so you don't have to run to make adjustments, every new week.
Waterproof Receiver
If your dog is a diehard lover of water activities, then this Extreme dog fence collar is for you. Being water resistant, it enables your dog to have maximum fun during summers and rainy weather, without escaping or being shocked accidentally.
This receiver collar is not only waterproof to splashes and light rain showers but also submersive. Due to this, it will keep functioning brilliantly even after being submerged to ten feet in the water.
This feature is achieved by the perfect collar design, which doesn't have any button or dial. In this way, this Extreme collar receiver is best for people having lakes, sprinklers, or pools on their properties or those who live in rainy regions.
Battery Life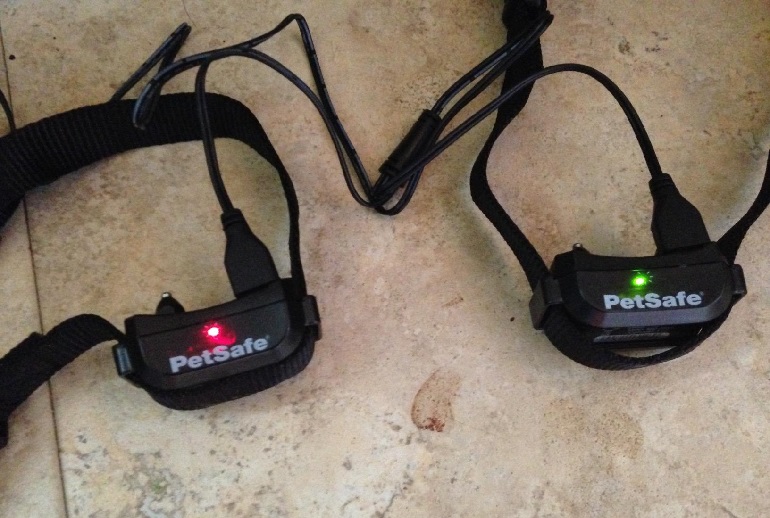 The 6V battery included in the kit can last for up to four months if used constantly. Although many dog owners prefer rechargeable collar fences since they cost less, this non-rechargeable collar comes with its own set of advantages – like no need to recharge the collar every day.
The best part here is that an LED indicator on the collar starts to blink, one week before it needs a replacement. In this way, you can purchase a new battery beforehand and won't have to keep your pet's life and safety at risk, even for a day.
In addition to this, the collar also possesses an in-built battery check feature. It makes sure that you replace one battery after it gets depleted completely. Also, this feature autoactivates after two hours and notify as soon as the battery life begins to drain.
Multiple Correction Modes
The collar comes with seven correction levels, including steady and progressive corrections. When you choose a correction level from 1-5, it induces steady correction (induce stimulations of a fixed strength).
On the other hand, with progressive levels (levels 6 & 7), the system keeps on increasing its strength gradually. Since dogs may grow habitual of a steady stimulation, this progressive correction helps them learn the lesson quickly.
Another important thing to mention here is that these correction levels can't be set on the collar but transmitter. However, the good thing here is that even if you have more than one dog to train, you can set your correction level for each collar, specifically.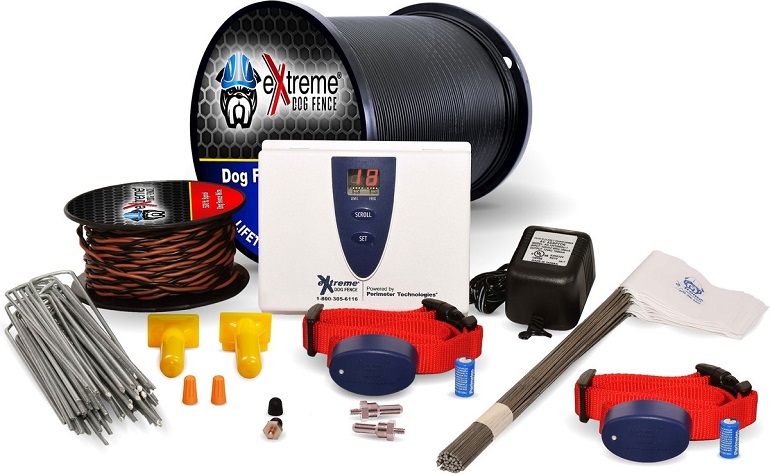 Extreme Dog Fence
The price of "Extreme Dog Fence" varies, so check the latest price at
Pros and Cons of Extreme Dog Fence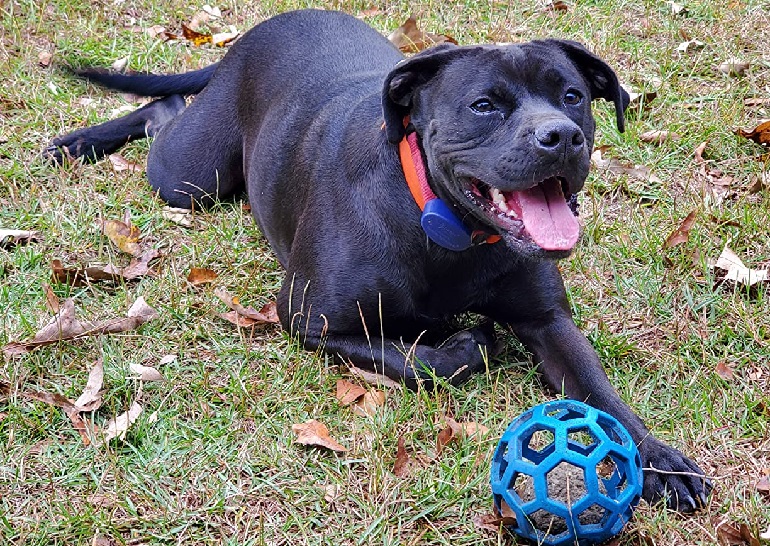 Considering all the features of this Extreme dog fence system, here are some major pros and cons we've found:
Pros
The offered gauge wires are made of copper, which is not only highly conductive but also lightweight. Due to this, installing the invisible fence and working with the wires becomes super easy and less labor intensive.
50 training flags help your dog recognize the boundary line, acting as a positive reinforcement training method.
There's no limit to the number of collars that can be paired with the transmitter. In this way, you can train more dogs just by purchasing additional collars.
This electric fence system eliminates the risks of neighboring signal interference keeping your pets safe from unfair punishments.
From boundary field width to boundary size to correction levels to frequency, this system offers a huge room for customization.
To prevent temperature changes, the gauge wires have 15 ml insulation.
Along with conditional replacements and repairs, the manufacturer provides a long warranty of five years, covering the whole fence system.
Cons
The only drawback of this Extreme electric dog fence is the absence of surge protectors. These protectors come in handy when lightning strikes as they take the brunt. With these protectors, power surges from the system, and your home's electric system won't be affected by lightning jolts.
Final Thoughts
So, the Extreme dog fence reviews have concluded that it's definitely worth the hype. Not only the collar and transmitter are well made, but they are also embedded with advanced technologies.
Considering the features offered, this invisible fence system is priced quite decently than other electric dog fences on the market. Although it comes with one or two setbacks, but they don't seem to be the deal breakers.
We are super satisfied with its performance, build, features, and price range. It suits perfectly all the dogs (of all sizes, ages, skin, and temperaments) and six acres wide properties.
Try it out yourself, and we promise you won't regret your decision.