When my cockapoo was a puppy, he chewed on everything! We had to spray our toes with bitter spray because he kept trying to bite our toes with his razor-sharp puppy teeth. Puppies have insanely sharp teeth!
Even though he was tiny, he managed to chew up a shirt, a book, and some slippers in the tiny amount of time when he was left unsupervised.
While it's best not to give your dog the opportunity to chew on their leash (we keep ours hung up in a room the dogs don't have access to), it's always smart to look for a leash that can withstand some munching if it happens on accident.
Also, some dogs chew their leashes when they go for a walk. You can remedy this with some simple training, but in the meantime, you don't want your pup to chew through the leash and run into the street.
Budget Friendly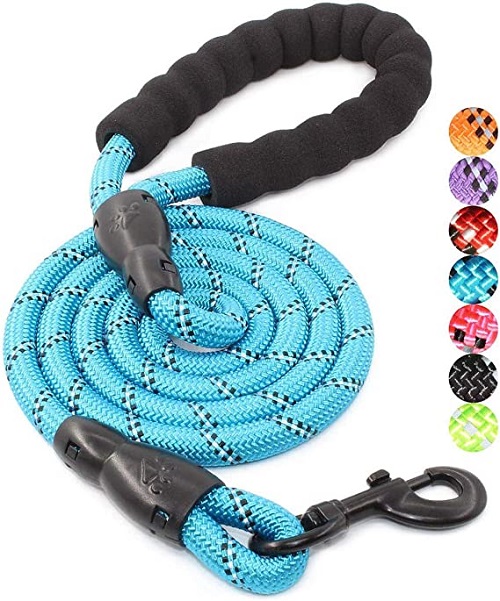 BAAPET Strong Dog Leash
Size: Medium
Material: Nylon
Best Lightweight Leash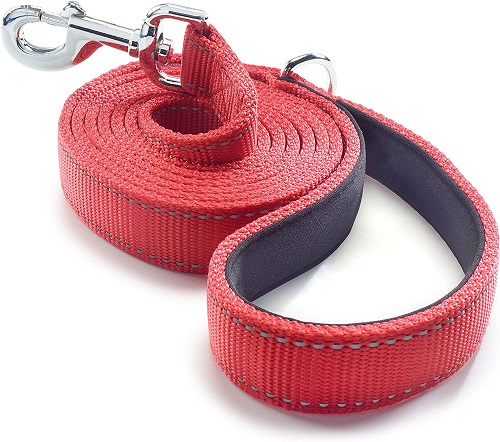 Dutchy Brand Heavy-Duty Dog Leash
Size: All SIZE AVIALABLE
Material: Nylon

Best Steel Cable Leash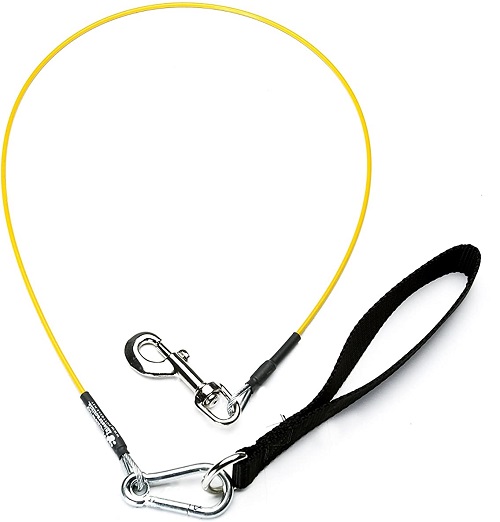 VirChewLy Indestructible Leash for Dogs
Size: Medium
Material: Vinyl, Alloy Steel, Plastic




Ultra-heavy Duty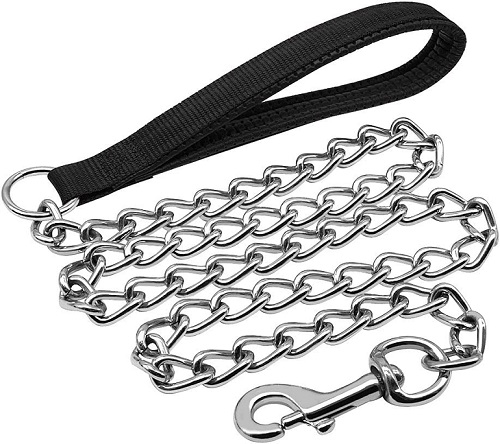 Berry Pet Beirui Chain Leash
Size: Large & Medium
Material: Nylon, Leather, Metal



Best Rhino Dog Leash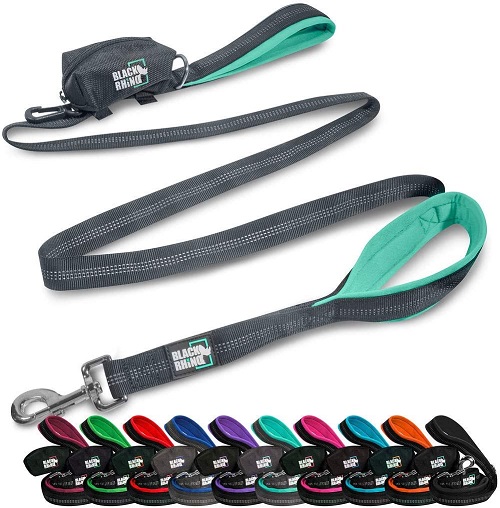 Black Rhino Heavy Duty Dog Leash
Size: MEDIUM & LARGE
Material: Nylon, Neoprene


Most Stylish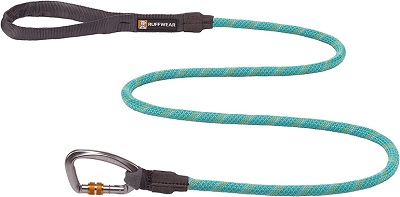 RUFFWEAR, Knot-a-Leash Dog Leash
Size: Large
Material: Nylon

Best Warranty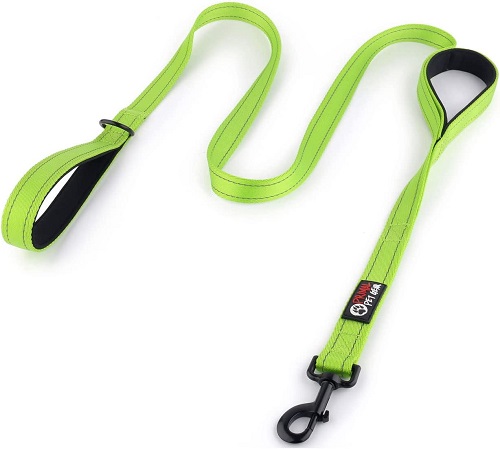 Primal Pet Gea Heavy Duty Dog Leash
Size: LARGE & MEDIUM
Material: Nylon

Little Dog Heavy Duty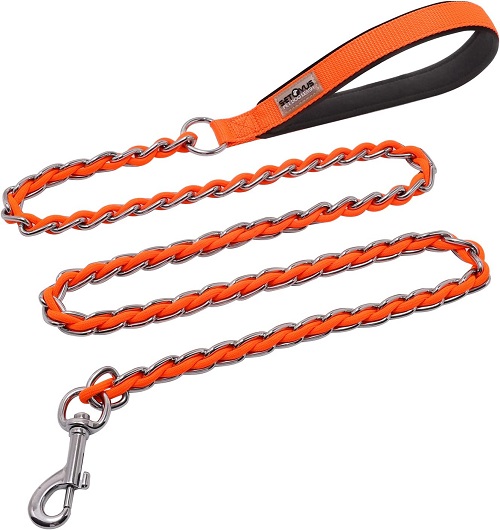 S-ETOVUS Chain Link Leash
Size: Small & Medium
Material: Stainless Steel, Iron, Metal

8 Best Chew Proof Dog Leashes
Below is a list of the most durable, chew-proof dog leashes available right now. I hope these reviews help you choose the best one for you and your pup!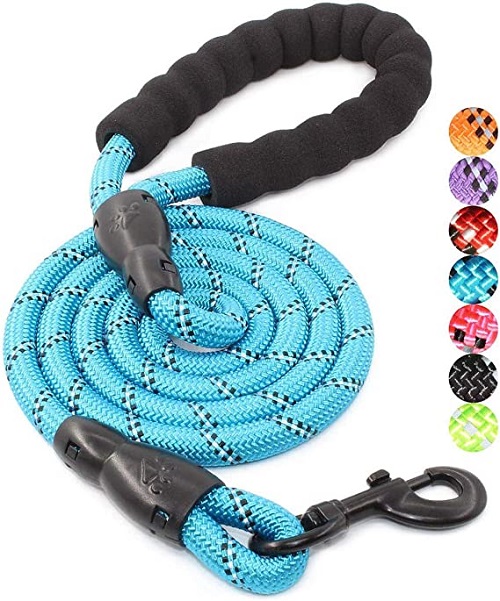 This is a great option for a super low price.
Made of 1/2 inch thick, tough climbing rope, this durable leash also has a padded handle for added comfort. My favorite leash has this kind of foam padding on the handle. Any new leash I buy will definitely have this feature.
There is reflective stitching throughout the climbing rope to help with visibility when you walk in low lighting.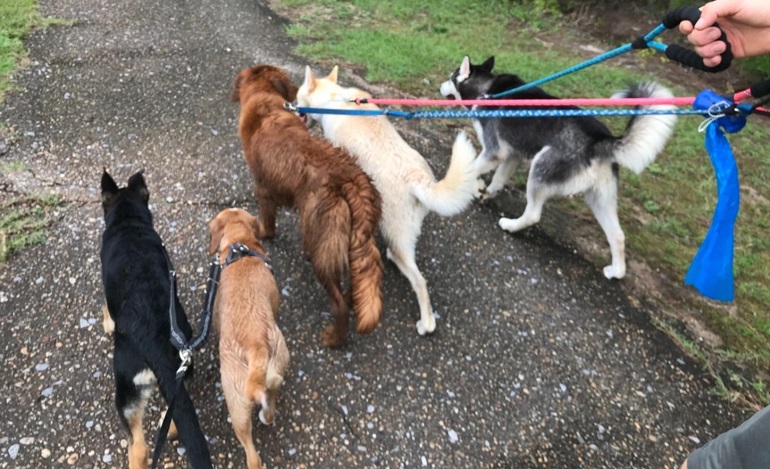 The metal leash clip can swivel 360 degrees so that the it won't get twisted and tangled.
One reviewer said that their St Bernard dog couldn't chew through the leash, which I'd say is a pretty good marker of its durability.
Other Features:
12 vibrant color choices
4 length options
Pros
The cover where the handle meets the leash has been upgraded for better durability. I appreciate a company that is willing to listen to feedback and improve its products!
If you have a dog under 18 pounds, they make a leash with a thinner climbing rope for small dogs.
Baapet offers a 100% money-back guarantee, so if your dog does manage to chew through this heavy-duty dog leash, you can ask for a refund.
Cons
This leash is lacking a traffic handle, which can be a nice feature for keeping your pup close in busy places. However, given the great price, I don't think it's a problem.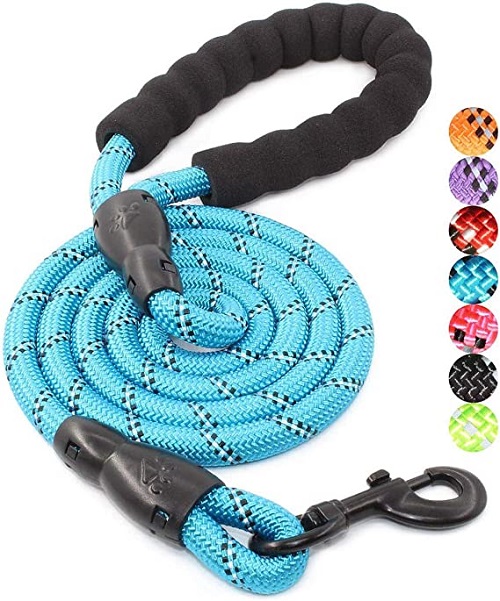 BAAPET Strong Dog Leash
The Price of "BAAPET Strong Dog Leash" varies, so check the latest price at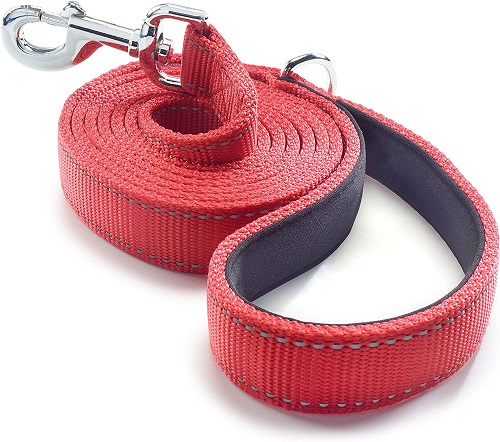 Dutchy makes chew-resistant leashes that use a double layer of nylon webbing.
Nylon is already a favorite dog leash material because it is lightweight and strong. Combining multiple layers of nylon is a smart idea.
It has a padded handle to make it more comfortable to hold onto. If your dog ever pulls on walks because of excess energy, a comfortable handle makes a world of difference.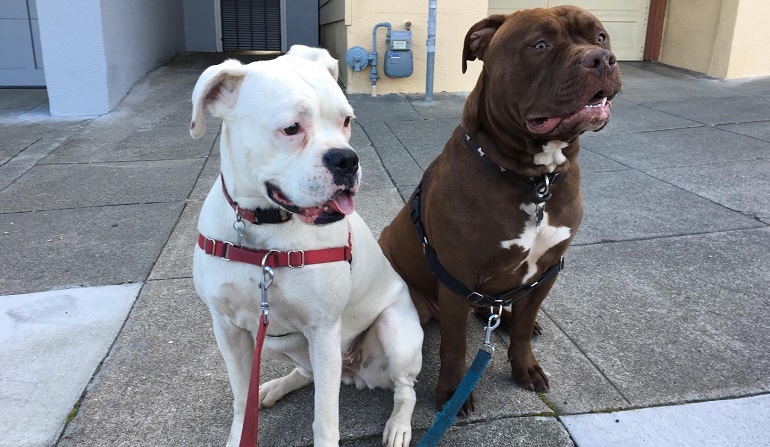 I especially like that this leash has an extra D-ring up near the handle. This is so that you can attach a pouch for dog poop bags or other accessories. Since I never go anywhere without poo bags (dog mom life), this is really convenient.
The leash is six feet long which is a great length according to most trainers.
Other Feature:
Reflective stitching along the nylon
Pros
Lightweight and heavy-duty.
If this were just a basic leash, I would consider it to be a good price. For being a chew-proof leash, it's shockingly affordable.
If you don't like it, you can request a refund for up to 60 days after you purchase it.
Cons
The color options are limited to red, blue, and black. Not a deal breaker, but a bit of a bummer.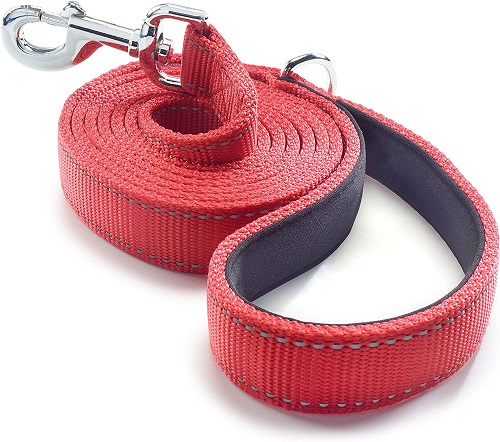 Dutchy Brand Heavy-Duty Dog Leash
The Price of "Dutchy Brand Heavy-Duty Dog Leash" varies, so check the latest price at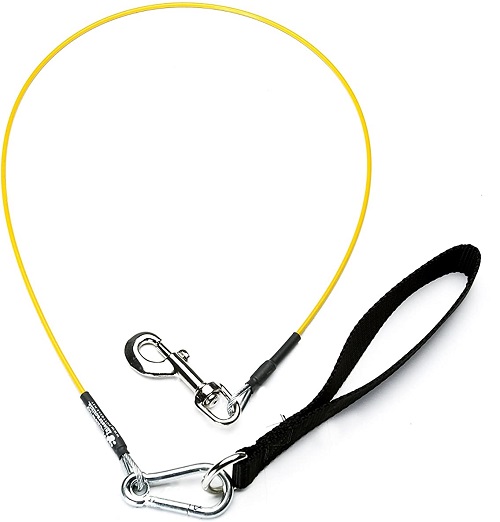 Indestructible is a pretty impressive claim, so we must talk about the VirChewLy indestructible leash.
It is made out of flexible steel cable that has been coated in vinyl which is pretty unique compared to the other nylon of chain leash styles.
The steel cable won't break unless you apply over 900 pounds of force, so I don't think your pup will be munching through it or breaking free.
The handle is detachable. It can be clipped on and off with a carabiner. At first, I wondered why this would be a feature, but it actually allows you to use the leash as a tie-out if necessary. I love multifunctional doggy gear like this.
I could see myself hooking my dog up outside our local coffee shop while I run in to snag a latte before sitting outside with it.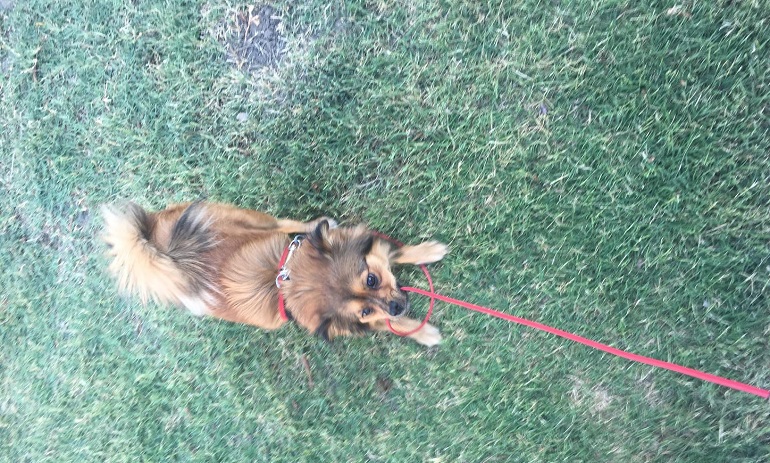 The creator of the VirChewLy indestructible leash has a huge motivation for keeping dogs safe. Her dog chewed through her leash and was hit by a car. When her next puppy started chewing through leashes, she invented this chew-proof dog leash.
I love knowing that the creator of this product truly loves dogs and has their safety as their main motivation.
With the varying leash sizes, the size of the leash clip changes. This is really nice because a lot of heavy-duty leashes are meant for big dogs, but if you wanted to use it for a little dog, the hardware is far too big and heavy.
Pros
Along with being chew-proof, this leash is tangle-proof, rust-resistant, and odor-resistant.
There are size options that can work for dogs ranging from 2 pounds to 220 pounds.
Made in the USA.
Cons
While the leash itself is chew-proof, the handle is made out of simple nylon. If you leave your power chewer alone with the leash, he or she could break the handle.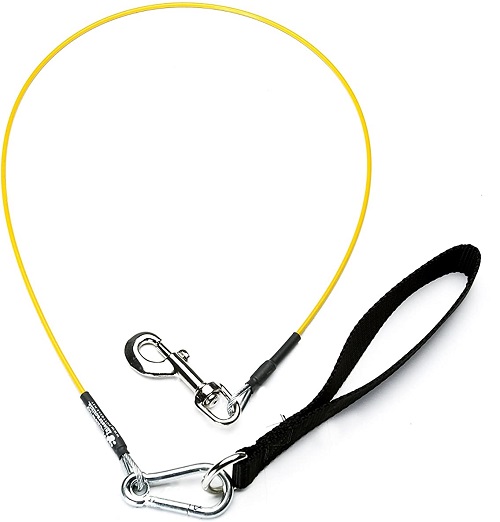 VirChewLy Indestructible Leash for Dogs
The Price of "VirChewLy Indestructible Leash for Dogs" varies, so check the latest price at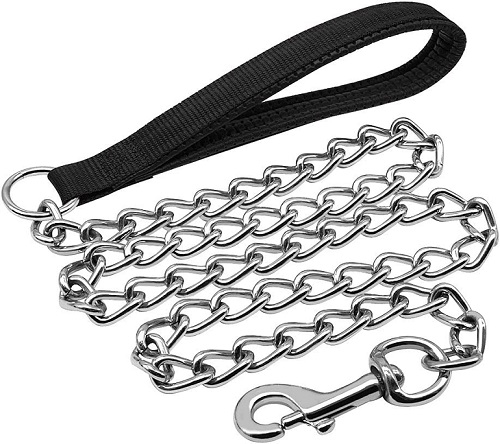 This chain leash is a favorite of the pet parents of chewers. It is literally made out of a metal chain with a padded handle attached.
It comes in two lengths with varying chain sizes. Choosing the correct chain size is important because the chain can be kind of heavy, and you don't want a leash that is too big and heavy for your dog. This can be hard on their neck.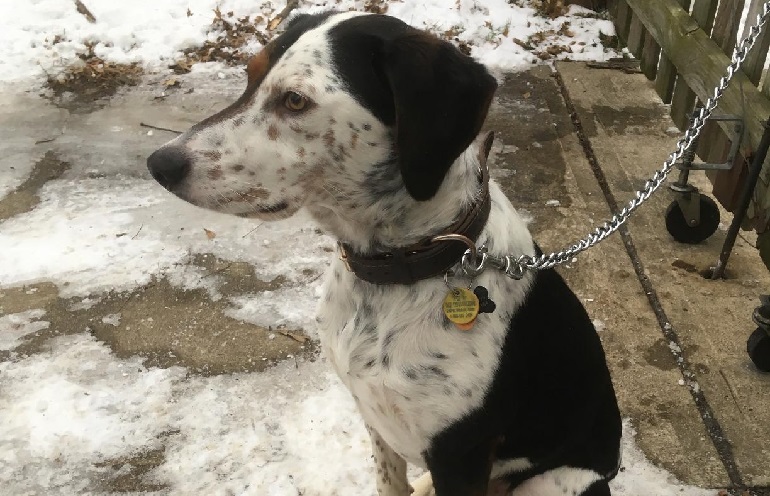 While it is made of metal and you might worry about rust, the company actually guarantees that it won't rust or tarnish.
The reviews on this chew-resistant leash are full of dog owners saying that their dog has chewed through multiple other leashed except for this one. Talk about durability.
Pros
The padded leather handle will keep your hands from being in pain if your dog like to pull on long walks.
You can purchase a matching chain collar from this company if you like the look of the metal chains.
Cons
It is much heavier than the average dog leash. I would only recommend this leash for dogs that are heavy chewers.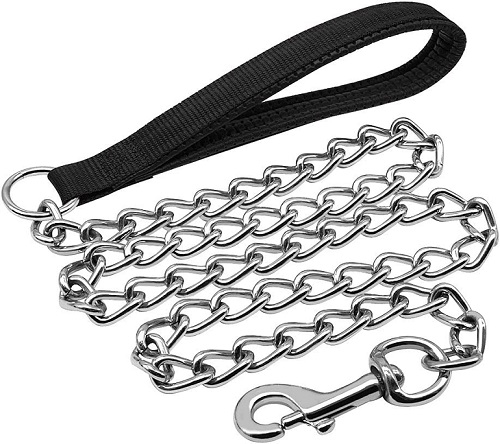 Berry Pet Beirui Chain Leash
The Price of " Berry Pet Beirui Chain Leash" varies, so check the latest price at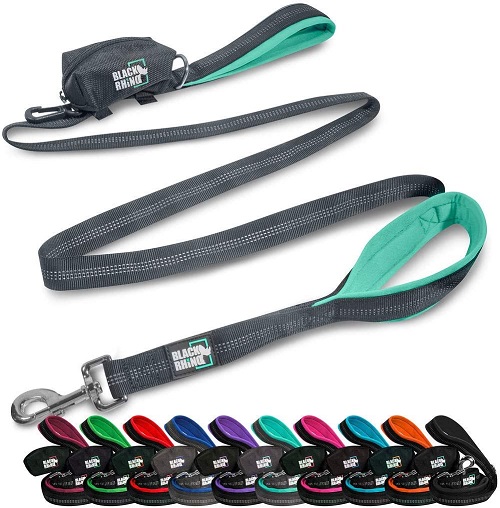 Black Rhino makes dog gear that is ultra-durable and comfortable. This chew-resistant leash from them has some really nice features.
It is six feet in length. It is made out of heavy-duty, weather-resistant nylon.
All of the leashes are black, but they get a pop of color from the neoprene padding inside of the handles.
This leash has a traffic handle up close to the clasp. This extra loop is super handy for keeping control of your pup in busy areas.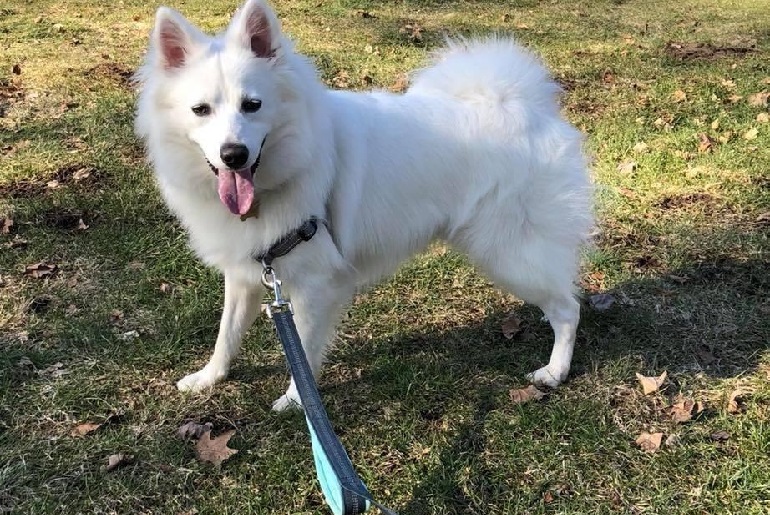 Black Rhino also includes a doggy poo bag pouch that attaches right to the leash.
I'm not sure if this leash could withstand heavy chewing, but if your dog is mouthing their leash or likes to bite it occasionally, it's a great choice.
Other Feature:
Reflective stitching through the leash for safety in low-lighting situations.
Pros
It comes in great colors and you can get a matching comfort collar or harness.
This leash has 4.7 stars out of almost 5,000 reviews.
Cons
This leash is a little pricier than others on the list, but the quality and comfort features just might be worth it.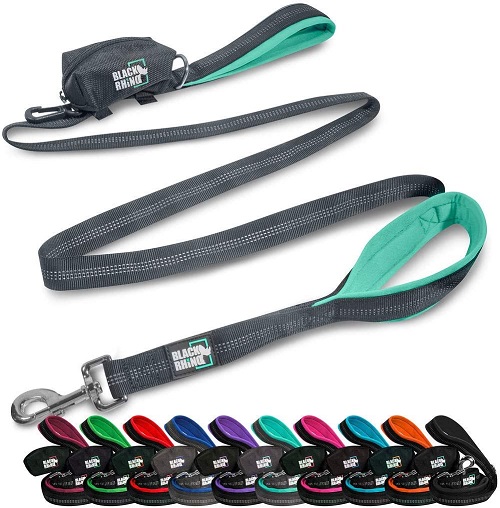 Black Rhino Heavy Duty Dog Leash
The Price of "Black Rhino Heavy Duty Dog Leash" varies, so check the latest price at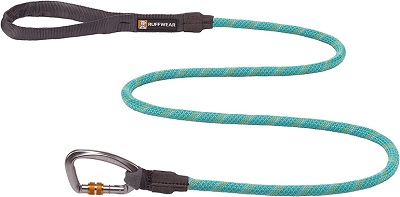 This Ruffwear leash is made out of high-quality materials. It is a climbing-inspired rope leash.
The leash is attached to your dog's harness with a durable locking carabiner, which can prevent escape (and anxiety for any pooch parents of escape artists).
The handle is tube-shaped to make for a more comfortable to hold. There is an accessory loop up near the handle for carrying poo bags or treats on your adventures.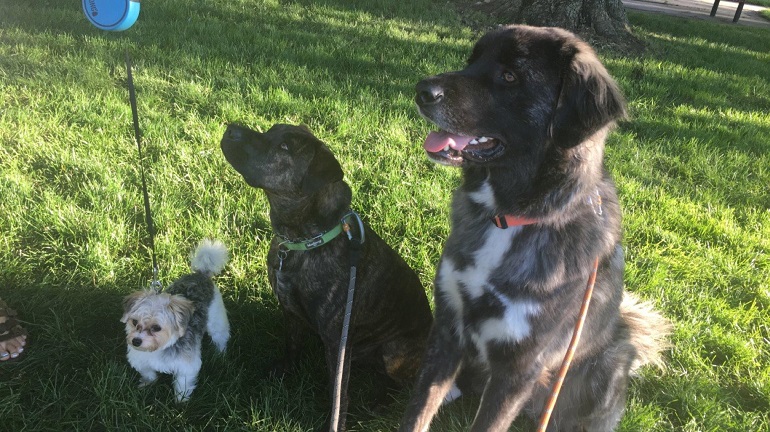 I'm a dog mama living in Colorado, and I hike with my dogs a lot. I have to say, I just love the look of this leash! The colors are gorgeous.
The rock-climbing styling looks so cool. If I took my dogs out on this leash, I just know everyone would be asking me where I got it.
Other Feature:
Two size options: Both are five feet long. The difference is in the thickness of the rope and the size of the carabiner.
Pros
If your dog is a puller, this Ruffwear leash is super strong and won't break.
Ruffwear is a well-established doggy gear maker. Their products are known for being high quality.
While a determined dog could likely chew through this dog leash, it is definitely chew-resistant while still being lightweight.
Cons
Instead of a swiveling leash clip, this leash uses a locking carabiner. This is great for added security but means that the leash could get very twisted while you're on a walk.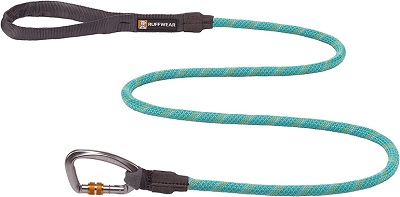 RUFFWEAR, Knot-a-Leash Dog Leash
The Price of "RUFFWEAR, Knot-a-Leash Dog Leash" varies, so check the latest price at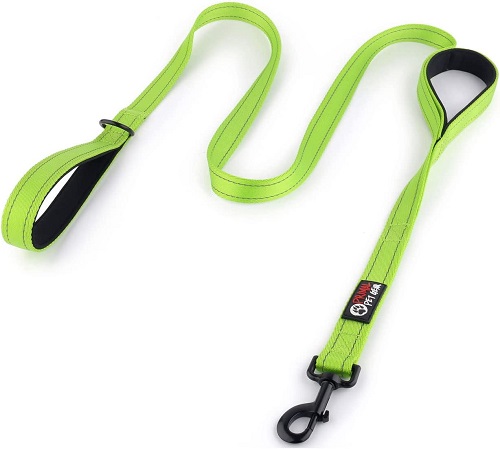 For medium and large breeds (and even giant breeds!), you can get this heavy-duty nylon leash that has another handle up close to the collar clip.
The leash is 1 inch wide and 2.88mm thick. That's thicker than most nylon leashes making it extra durable against chewing.
Both handles are padded with neoprene to keep your hands comfy, even if your dog starts to pull on your walk.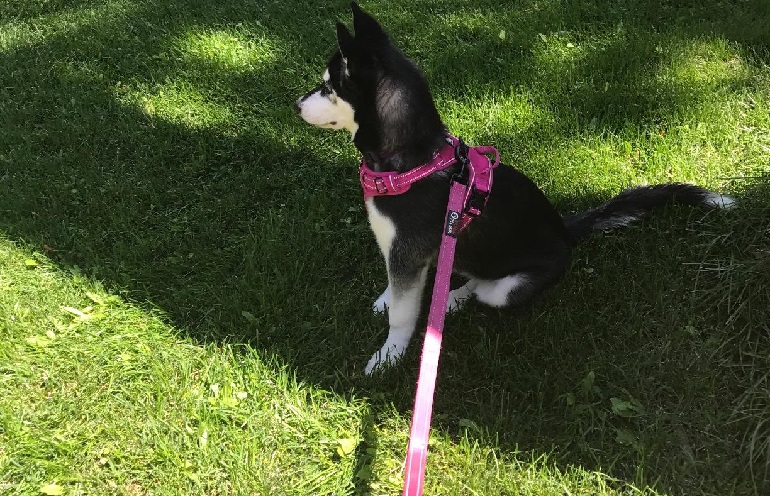 There is an extra D-ring up close to the handle to hang a pouch off of.
If your dog is currently in training, this is a great leash. The price is good, the length is just right for puppy school, and the extra handle allows you to keep your dog close if you're in a busy area or worried about another dog.
Pros
All of the hardware on this leash is made of metal — an important factor if you want a durable leash that will last a long time.
Primal Pet Gear offers a 1-year replacement warranty. If you have any issues, they'll replace it — perfect if your dog chews through it!
Cons
This is for medium or large dogs. There is no option for small dogs.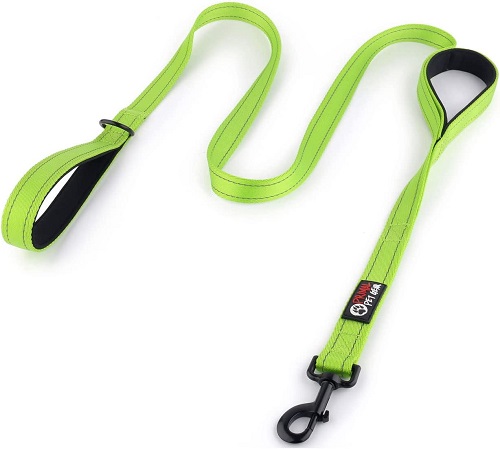 Primal Pet Gea Heavy Duty Dog Leash
The Price of "Primal Pet Gea Heavy Duty Dog Leash" varies, so check the latest price at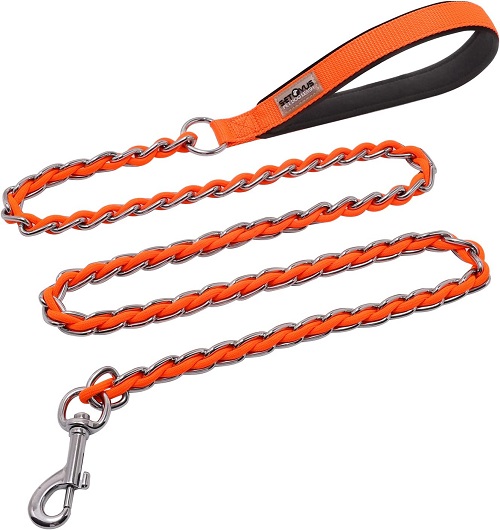 If you link the idea of a chain link leash for your dog but are worried that the links may get knotted or be noisy, this leash solves that problem.
This company has woven nylon rope through each of the chains. This gives it a much less intimidating look and will help keep the leash from making noises.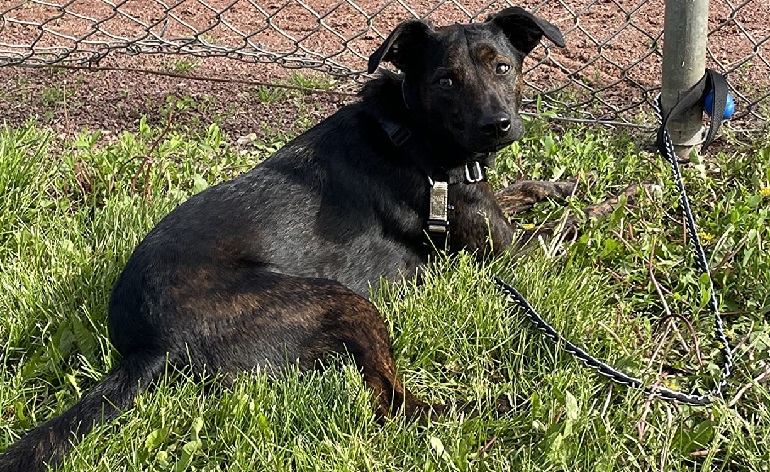 The handle is made of nylon with extra interior padding to protect your hands from rope burn. The metal clasp can rotate 360 degrees which keeps the leash from getting twisted.
If you have a small dog with extra sharp teeth, this leash comes in a smaller size. This is nice because chain leashes can be quite heavy and are usually best for large dogs. I like that this has a little dog option.
Pros
Made of chrome-plated metal that won't tarnish, rust, or break.
This leash has 4.7 stars from over 1,500 reviews. Many of the reviewers state that this leash really is chew-proof. One even said that after 10+ dog leashes, this is the only one their pooch hasn't destroyed.
Cons
It only comes in lengths of 4 feet and 5.2 feet. This is rather short, but because the chains can be a bit heavy, I don't think they could go longer.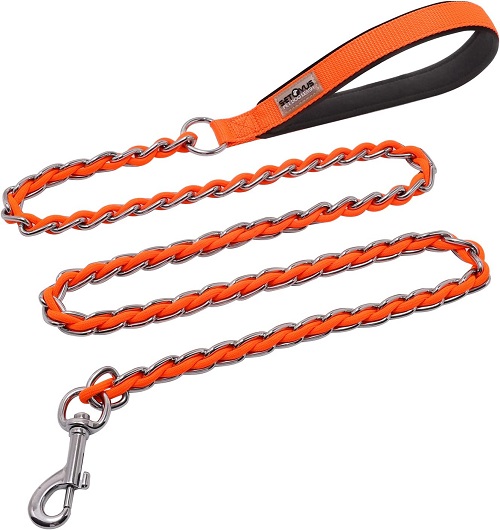 S-ETOVUS Chain Link Leash
The Price of "S-ETOVUS Chain Link Leash" varies, so check the latest price at
Things to Consider Before Purchasing Chew-proof Dog Leash
Let's look at all the factors that are essential in chew-proof leashes.
Dog Leash Materials
While basic, everyday leashes are often made of nylon, rope, or leather, a chew-proof leash can come in a variety of materials.
If it's made of nylon, you'll want to make sure that the nylon is extra thick or double-layer nylon to be durable enough to survive biting.
Metal is also a common material used in heavy-duty leashes. This could be a steel cable or chain leash.
Obviously, metal is super durable, but it can also be heavy.
This can be hard for you to hold when you go for a walk. It can also be too heavy for your pup's neck. You'll want to consider the weight if you end up purchasing a metal leash.
Most leashes that claim to be chew-resistant leashes will have metal hardware, but it's always good to double-check. You want every part of your new leash to be durable.
Handle Padding
Walks are much more comfortable for your hands if the leash that you pick has some sort of padding around the interior of the handle. This is often either foam or neoprene.
Padding will absorb some of the force and keep your hand free from rope burn if your dog decides to lunge or tug while you on a walk.
Reviews
If you're looking for a leash that will not be destroyed by a super-chewer, there's nothing better than reviews from other pup parents who have had a similar experience.
This is where shopping online is really helpful. You can read what other dog owners have tried and more easily determine what will work for you.
You can usually find a review from someone with a dog that is the same size or breed as yours. These people have tried and tested the leash and you can learn from their experience.
FAQs
Why Does My Dog Bite Their Leash?
Usually, when we talk about leash biting, it's when your dog is walking that they bite the leash, tug on it, or wrestle you with it.
However, if your dog is chewing on their leash at home, you'll simply want to make sure that they don't have access to their leash throughout the course of the day.
It can be extremely dangerous for dogs to ingest bits and pieces from their leash if they chomp on it.
We keep our leashes hung up in the laundry room, where the door is always closed.
Most puppies go through a leash-biting phase. It's important to use some training techniques to stop them before they become large dogs that are more destructive.
On walks, a dog might be chewing on their leash because of:
Anxiety: Your dog could be prone to nervousness and feel overwhelmed or worried about a new place.
Excitement: Your dog might just be really excited about going for a walk with you!
Frustration: Your dog could be venting their frustration because they haven't had enough opportunities to burn their excess energy. (I always say: a tired pup is a happy pup.)
How Do I Stop My Dog from Biting Their Leash?
When you're out on a walk and your pup starts chewing or tugging on their leash, it's important not to tug on the leash yourself.
If you do, your dog might think that you're playing a fun game with them, which will make them more likely to chew or yank on their leash in the future.
The best thing to do is to stop walking and get their attention. You can show them a treat (it's always helpful to bring treats when you're out with your pooch), but don't give it to them quite yet.
You want to fully distract them from the leash chewing.
Make sure your dog drops the leash. Then have them do some sort of simple trick, like sitting. Now you can give them the treat and start walking again.
As you walk, you can occasionally give them treats for walking well. This rewards the positive behavior of not chewing the leash.
In Conclusion…
Being a pet parent is expensive enough without having to replace leashes every couple of weeks! Luckily, you don't have to spend a fortune to get a durable, high-quality leash that can handle a bit of tough chewing or biting.
To ensure that your dog's safety, it's always best to get to the root of the problem. Sometimes a retractable leash can help.
Make sure that your dog doesn't have access to their leash while at home so that they can't chew on it.
Do some simple training with your pup so that they don't chew on their leash on walks.
These two things will ensure that your dog doesn't swallow a part of their leash or break their leash while on a walk.
I hope this article has helped you pick out a great chew-proof dog leash for your pooch!