Disclaimer: The information provided in our articles is for educational purposes only and should not be considered a substitute for professional veterinary advice. It is essential to consult with a veterinarian before starting any CBD products for your dog's health and well-being.
When you hear the name 'Charlotte's Web,' you might think of the classic story of Wilbur, the pig. Your mind won't immediately associate it with dogs or CBD oils… but once you've tried Charlotte's Web CBD oil for dogs, that might change.
They didn't start out as specialists in CBD for dogs. In fact, their original aim was to use hemp to treat epilepsy in humans. However, they have since become a reputable brand featured in The New York Times and Forbes – and they've extended their line to include dogs too!
Charlotte's Web Dog CBD Reviews
Charlotte's Web isn't just another company in it for the money. It was founded by the seven Stanley brothers teaming up to use the healing powers of nature and botanicals for a healthier, happier world. But it all started with one girl.
At just three months old, Charlotte Figi developed Dravet syndrome, a rare and debilitating form of epilepsy. By age five, she was in a wheelchair, struggled to speak, and had up to 300 seizures a week.
Fortunately, Charlotte's Web CBD significantly reduced her seizures and gave her a chance to manage her symptoms until she sadly passed away, prompting the Stanley Brothers to name the company after her.
Since dogs also have an endocannabinoid system, they can enjoy the benefits of CBD too. Charlotte's Web knows how important our dogs are to us, which is precisely why they have expanded their line to include products for dogs to support canine wellness too.
They have since helped thousands of dogs across the country with hundreds of reviews from overjoyed pet parents.
Charlotte's Web CBD Pros
Well-established and trusted brand
Full-spectrum CBD products
Quality US-grown hemp without GMOs or pesticides
Plans to use 100% organic hemp in the near future
Flavored and unflavored options
Designed to help dogs with seizures as well as joint health and anxiety
Listens to customer feedback to improve products
Free shipping on orders over $75
Charlotte's Web CBD Cons
Few reviews compared to other CBD brands
Only use 90% organic hemp
Limited flavor options available
New dispenser design received negative feedback
Slow to respond to customer queries
Comparing Charlotte's Web with Other CBD Oils for Dogs
Although Charlotte's Web doesn't specialize in CBD for dogs, they were one of the early pioneers of using CBD for wellbeing. Since Charlotte Figi, they have gone on to improve the lives of millions more. While other brands might be specialists in CBD for dogs with trusted reputations and effective products, they won't all have the special history of Charlotte's Web.
Like Honest Paws, Charlotte's Web also offers bundles with their CBD products at a good value for money. In fact, one of the main advantages of Charlotte's Web is its commitment to selling high-quality products at competitive prices.
Charlotte's Web Dog CBD Products
There's no end to CBD products for humans, and now your pooch can enjoy a range of full-spectrum hemp products too! No matter whether you want to help them relax, ease their aching joints, or improve their skin, Charlotte's Web has a pet product for you.
Full-Spectrum Hemp Extract Drops for Dogs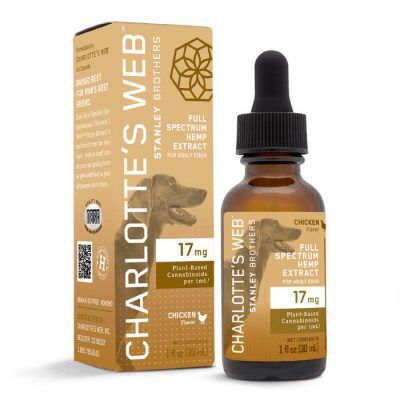 Their primary full-spectrum CBD oil for dogs comes in 30ml and 100ml bottles, offering 17mg of Charlotte's Web CBD for every 1ml. Each drop has a huge range of cannabinoids and terpenes to deliver maximum impact on your dog's quality of life.
In fact, Charlotte's Web includes the same hemp extract used in CBD products for humans, only they blend it with MCT to make it easier for dogs to digest and absorb. And to make sure it's appealing for all pups, they include both unflavored and chicken-flavored options.
This hemp extract has helped dogs with various issues; dogs with arthritis can happily run up the stairs again, while hyper dogs and dogs with anxiety have noticeably calmed down, no matter whether they're huge Great Danes or tiny Chihuahuas.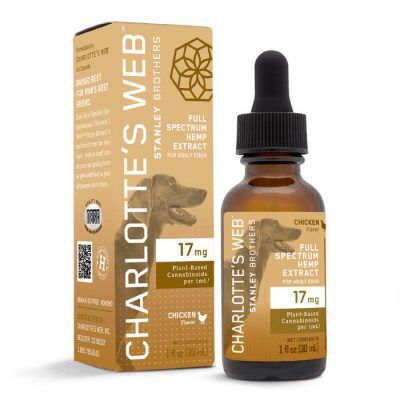 Full-Spectrum Hemp Extract Drops
The price of "Full-Spectrum Hemp Extract Drops" varies, so check the latest price at
Charlotte's Web CBD Oil Drops Unflavored for Dogs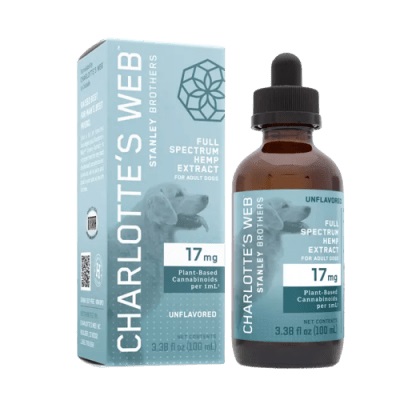 Since this premium cannabidiol is extracted from the highest-quality hemp, it comes at a higher price than others. However, it's worth it for some simply because of the additional health benefits of using olive oil.
While most CBD oils use MCT oil as a carrier oil, olive oil is an upgrade because of the phytonutrients and vitamins working together for healthier skin and a shinier coat.
Since these drops come unflavored, they might not be ideal for picky eaters, but they'll work wonders if you can mix them in with your dog's food. In no time at all, you'll have a happier, healthier dog with a calmer demeanor and shiny coat.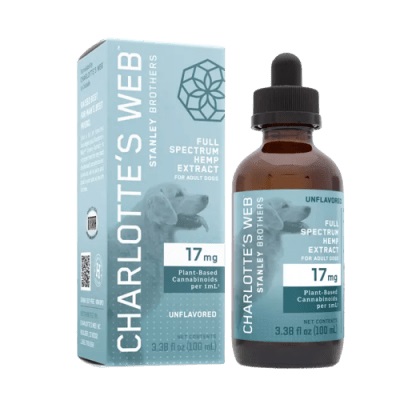 Charlotte's Web CBD Oil Drops Unflavored
The price of "Charlotte's Web CBD Oil Drops Unflavored" varies, so check the latest price at
Hip and Joint Chews for Dogs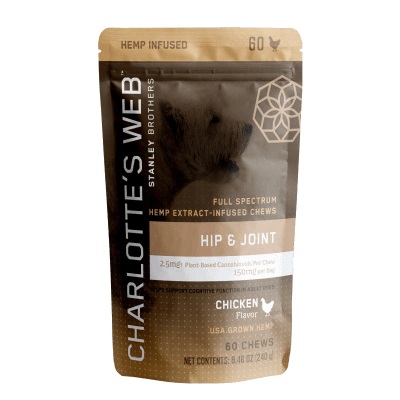 Charlotte's Web may have been founded in order to treat seizures, but they've now created a formula to target hips and joints for older dogs too. These CBD chews are cost-effective and have a tasty chicken flavor so your furry friend can enjoy their daily dose of CBD.
Each 4g chew comes packed with 2.5mg of cannabinoids, along with glucosamine, turmeric, valerian root, and chondroitin. Combined with a full-spectrum extract, this formula focuses on easing stiff joints, supporting their structural integrity, and strengthening connective tissues for the joint health they deserve. After all, we want our dogs to be as playful and mobile as possible!
Plenty of pet parents with bigger dogs, like Rottweilers and German Shepherds, have been delighted with the effects of these CBD chews and the incredible results they have had on their pups.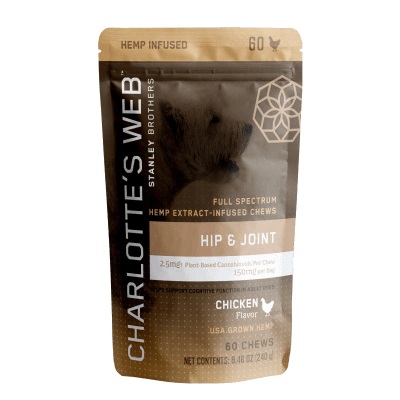 Hip and Joint Chews for Dogs
The price of "Hip and Joint Chews for Dogs" varies, so check the latest price at
Skin Health and Energy Support Chews for Dogs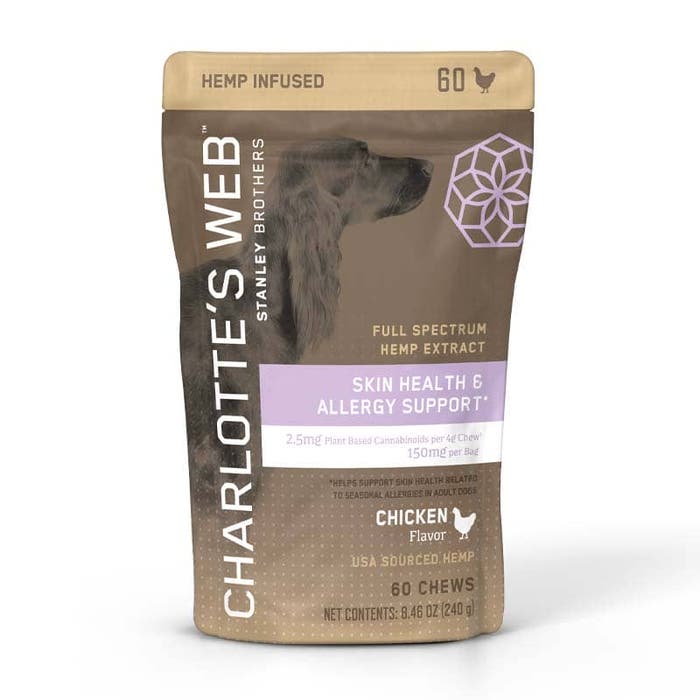 Charlotte's Web doesn't just offer calming chews to help old dogs with joint health. If your pup has allergies that cause non-stop itching, they have chews for that too.
Each batch goes through twenty rounds of rigorous testing to ensure they're up to the same high standards they have for their human products. That means you can count on them to be effective even in the height of allergy season.
In fact, they far exceed the temporary relief you get from balms. They're infused with hemp extract and actively address the root cause of your pup's itchy skin. This maintains normal moisture content in their skin and detoxifies their bodies.
On top of that, they even support their immune system and cleaning processes thanks to biotin, nettle leaf, burdock root, and marshmallow root included in their ingredients.
Thanks to the tasty chicken flavor, dogs enjoy munching on their calming chews while owners breathe a sigh of relief to see them scratching far less often.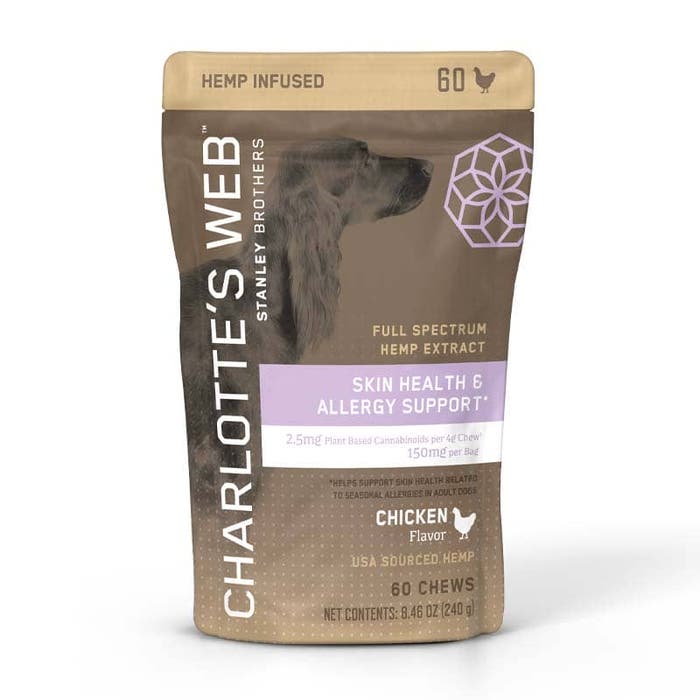 Canine Hemp Balm
The price of "Canine Hemp Balm" varies, so check the latest price at
Senior Dog Chews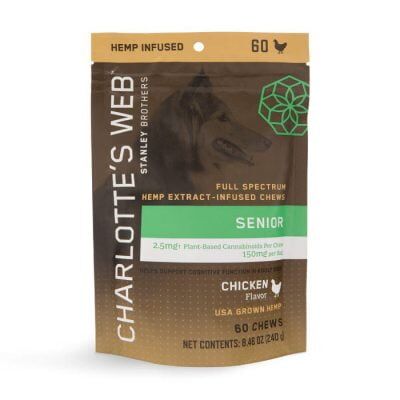 Sadly, dogs don't stay young and fit forever – but with the right support, aging doesn't necessarily have to be a problem for your pup!
Like other hemp chews by Charlotte's Web, these chicken-flavored chews for older dogs contain 2.5mg of cannabinoids in each 4g chew. But what makes these ones stand out most is their formula; elderberry powder, DHA, vitamin E, and more all come together to support your dog through the aging process.
Customers have been thrilled to see their older dogs become more relaxed, more aware, and in less pain, thanks in large part to these calming chews.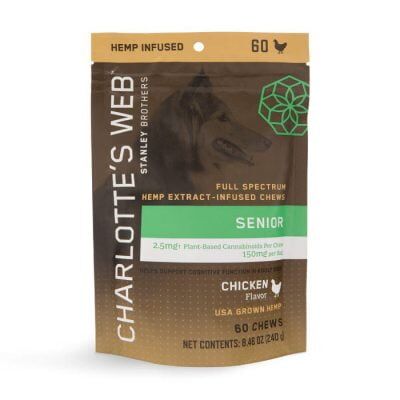 Senior Dog Chews
The price of "Senior Dog Chews " varies, so check the latest price at
Overview of Charlotte's Web Dog CBD Products
While they're not bursting at the seams with reviews, Charlotte's Web's dog products still boast hundreds of happy customers, happy with the quality and cost of their products to address various problems with their dogs.
Quality
The quality of Charlotte's Web CBD oil for dogs is precisely what you'd expect from such a reputable company. After all, they have to be good enough to be certified by the National Animal Supplement Council! This NASC quality seal guarantees a full-spectrum hemp extract with all the cannabinoids, terpenes, and naturally occurring compounds you can get.
Overall Reviews
Of the hundreds of reviews on their website, the overwhelming majority are very positive. Dog owners are delighted with how Charlotte's Web pet products have helped dogs of all breeds and sizes, from Chihuahuas to Great Danes.
Several dog owners report that their pups are feeling much less anxious now. For example, after four days of Charlotte's Web CBD oil, a miniature Australian Shepherd who used to panic with fireworks is now able to sleep throughout the Fourth of July.
Others are delighted to see it improve their dogs' hip and joint health. A 10-year-old Shih Tzu and 13-year-old Chihuahua are now both able to walk up and down stairs after using Charlotte's Web CBD oil daily, while a 15-year-old Labrador with arthritis is now up to chasing deer in the backyard after just three weeks of CBD daily supplementation.
While pet parents have been thrilled with the results, some buying experiences have been tarnished by a few other factors. For example, some find it difficult to get in contact with the company if there are any issues, while others have reportedly had issues with the Charlotte's Web CBD oil pump dispenser not working as intended.
However, the good news is that Charlotte's Web listens to customer feedback. This has led to them changing the dispenser design back to tincture droppers, making it easier to give CBD to dogs.
Cost
While Charlotte's Web offers premium CBD products, they're still very affordable, considering their quality. While there are cheaper options available, you won't easily find many high-quality CBD oils at this price.
As they move to use 100% organic hemp in their products, you would imagine they would increase their prices. However, Charlotte's Web is determined to keep its prices low and competitive, more in line with non-organic hemp products, making them particularly good value for money.
Conditions for Which It's Employed
Hemp extract and CBD oils are very versatile, able not only to improve a dog's overall well-being but also to ease pain from cancer and arthritis, reduce feelings of anxiety, and combat seizures. On top of that, there are various additional side effects that can benefit your dog, such as relieving symptoms of allergy and improving skin and coat health.
Why You Should Choose Charlotte's Web CBD Pet Products
Charlotte's Web may have been an early pioneer in championing the benefits of CBD oil, but many other companies have since started selling CBD products for pets. Nevertheless, there are numerous reasons why you should choose Charlotte's Web.
Reputation
Charlotte's Web is an established CBD brand that was started in order to use hemp supplements to treat epilepsy in humans. They are certified by the US Hemp Authority and are trusted by both humans and pooches alike. On top of that, their storied history as early pioneers of full-spectrum CBD has earned them an enviable reputation in the industry.
Certificate of Analysis
Honesty and transparency are crucial for all CBD products, especially if it's a company with a solid reputation they want to uphold. That's why they offer Certificates of Analysis for each and every batch of Charlotte's Web products.
Sourcing Ingredients
Charlotte's Web sources their hemp from plants specifically grown for this purpose. While they include up to 90% organic hemp, they hope to increase this to 100% organic hemp in the near future. This means that Charlotte's Web CBD oils will only ever grow in quality while promising to keep their prices low and competitive.
Transparency and Quality Standards
As you would hope from such a reputable company, Charlotte's Web is fully transparent with all its customers. In fact, they don't treat their dog products any differently than their human products! They are open and honest with their ingredients and disclose a summary of third-party lab results on their website.
Shipping and Refund Policy
The promise of free shipping makes anybody's ears perk up. But with Charlotte's Web, free shipping is only eligible for orders over $75. Any orders below that incur a charge of $8.99. All orders will arrive within five to seven days, but you could always pay a bit more for faster delivery.
FAQs
Looking for the best CBD oil for your dog can seem like a huge undertaking. Fortunately, you can't go too wrong with Charlotte's Web! But in case you're not convinced, here are a few questions you might still have.
1. Where Can I Buy Charlotte's Web Dog Products?
The best place to buy Charlotte's Web dog products is through their official website. This ensures that you're getting a legitimate product that will be both safe and effective. You can still find products from other third-party websites but only buy from sources you trust.
2. Is Charlotte's Web CBD Good for Dogs?
Yes, CBD from Charlotte's Web is safe for dogs and improves their well-being. It's an established and trusted company that produces effective CBD and hemp products to help you support your dog's health and improve their quality of life.
3. What Is the Best CBD to Use for Dogs?
It's difficult to say with certainty which is the best CBD for dogs. Ultimately, it's up to you and your pup. Still, while there are other brands available, Charlotte's Web is an established brand that offers an excellent strain of hemp products.
We would recommend you do whatever's best for your dog in terms of both brand and product, although we usually find that any full-spectrum CBD oil full of cannabinoids is the most effective. Furthermore, consulting a vet before starting any treatment is always recommended.
Final Thoughts
The CBD oil industry is booming – and not just for humans.
With so many brands eager to produce CBD for dogs, pet parents are spoilt for choice. However, it's always best to go with established and recognizable brands to ensure you get the safest and most effective product – and you can get more established than Charlotte's Web.
With a range of excellent hemp-derived products, Charlotte's Web is an excellent company to help your dog on its road to wellness.