Disclaimer: The information provided in our articles is for educational purposes only and should not be considered a substitute for professional veterinary advice. It is essential to consult with a veterinarian before starting any CBD products for your dog's health and well-being.
Hip dysplasia is a common issue in dogs. In fact, if you have large-breed dogs, they are more likely to suffer from this than any other orthopedic condition. But even small dogs can get hip dysplasia.
Severe hip dysplasia requires surgery to correct. But utilizing the right supplements can reduce inflammation, damage, and pain to help prevent the disease from progressing.
One non-surgical treatment option I highly recommend is CBD oil. But using the right oil—one that is effective and safe—is key to success. Here are my top 8 recommendations for CBD oil products for dogs with hip dysplasia.
Top Pick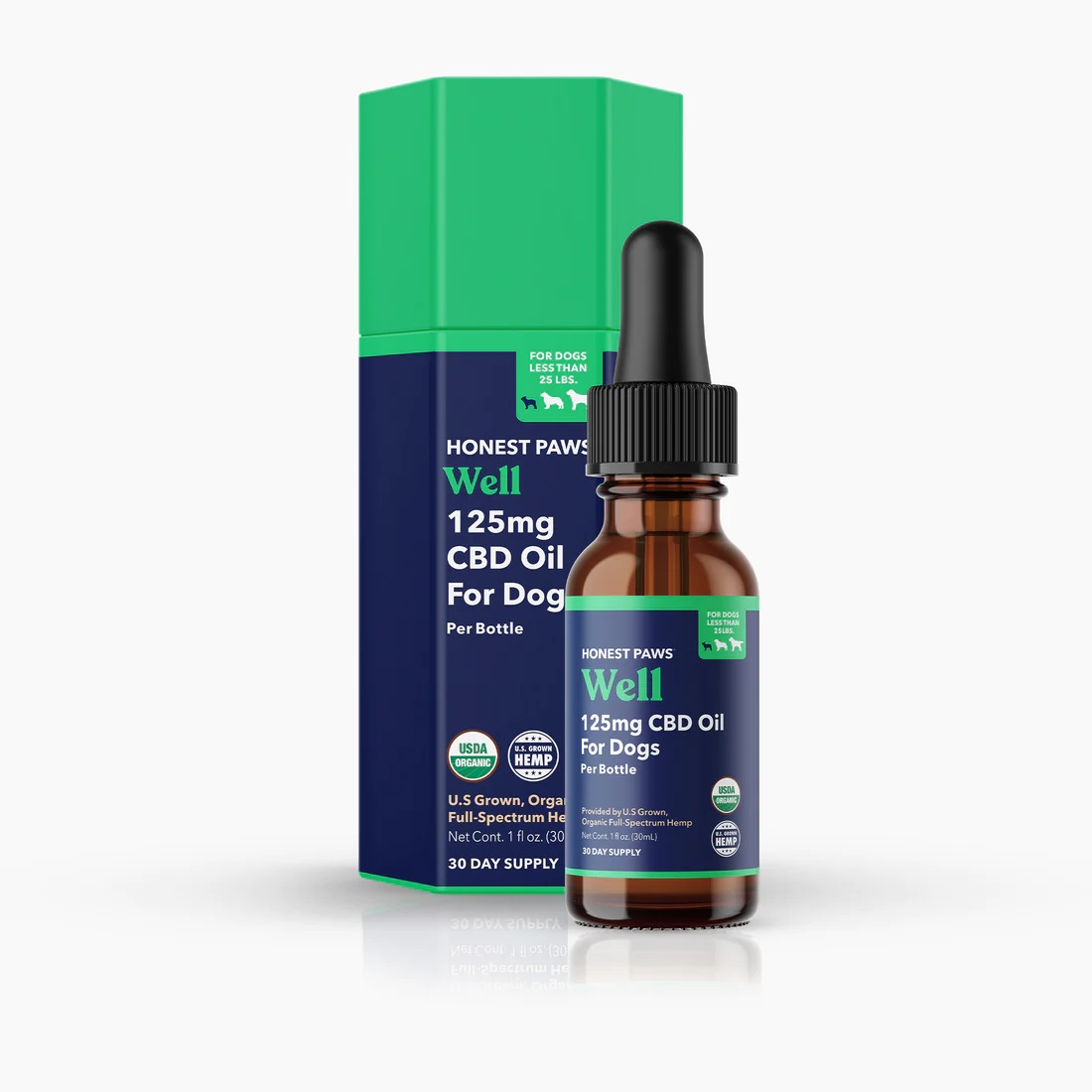 CBD Oil Tincture – Honest Paws
ACTIVE INGREDIENT: CBD from Organic Full-Spectrum Hemp Oil 4.2mg

NET CONTENT: 30 ML
High Strength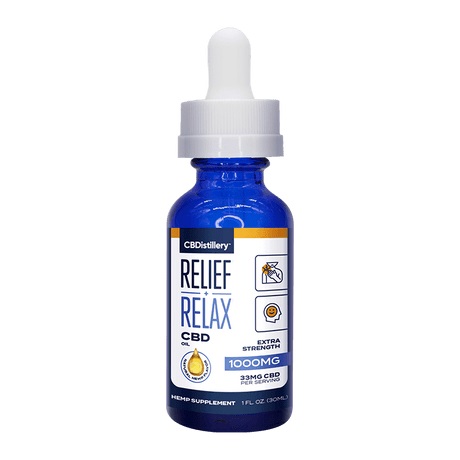 Full Spectrum CBD Oil Tincture – CBDistillery 
ACTIVE INGREDIENT: Fractionated Coconut Oil (MCT) and Full Spectrum CBD Hemp Extract

NET CONTENT: 30 ML
Multiple Concentrations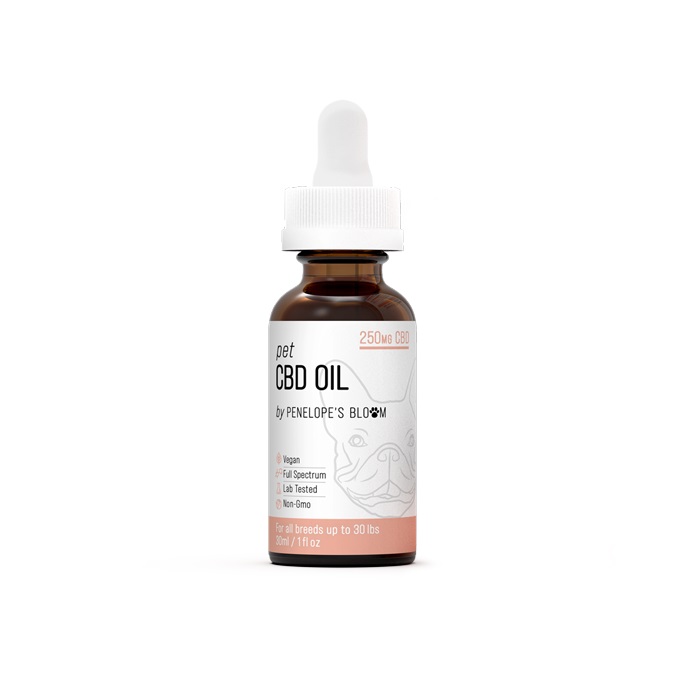 CBD Oil for Dogs – Penelope's Bloom
ACTIVE INGREDIENT: Chamomile Oil – MCT Oil – Full Spectrum Organic Hemp Oil

NET CONTENT: 30 ML
Best Value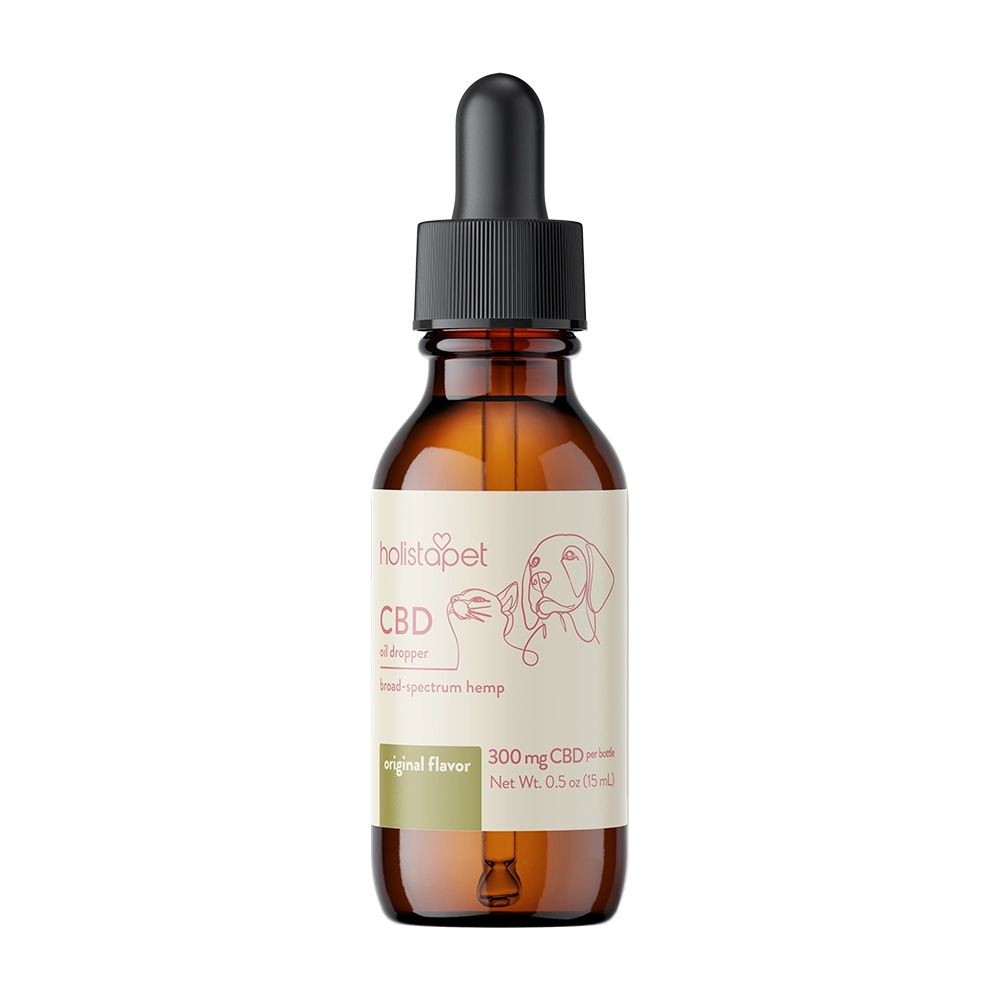 CBD Oil for Dogs – Holistapet
ACTIVE INGREDIENT: BROAD SPECTRUM HEMP 300 MG
NET CONTENT: 15 ML
Premium Choice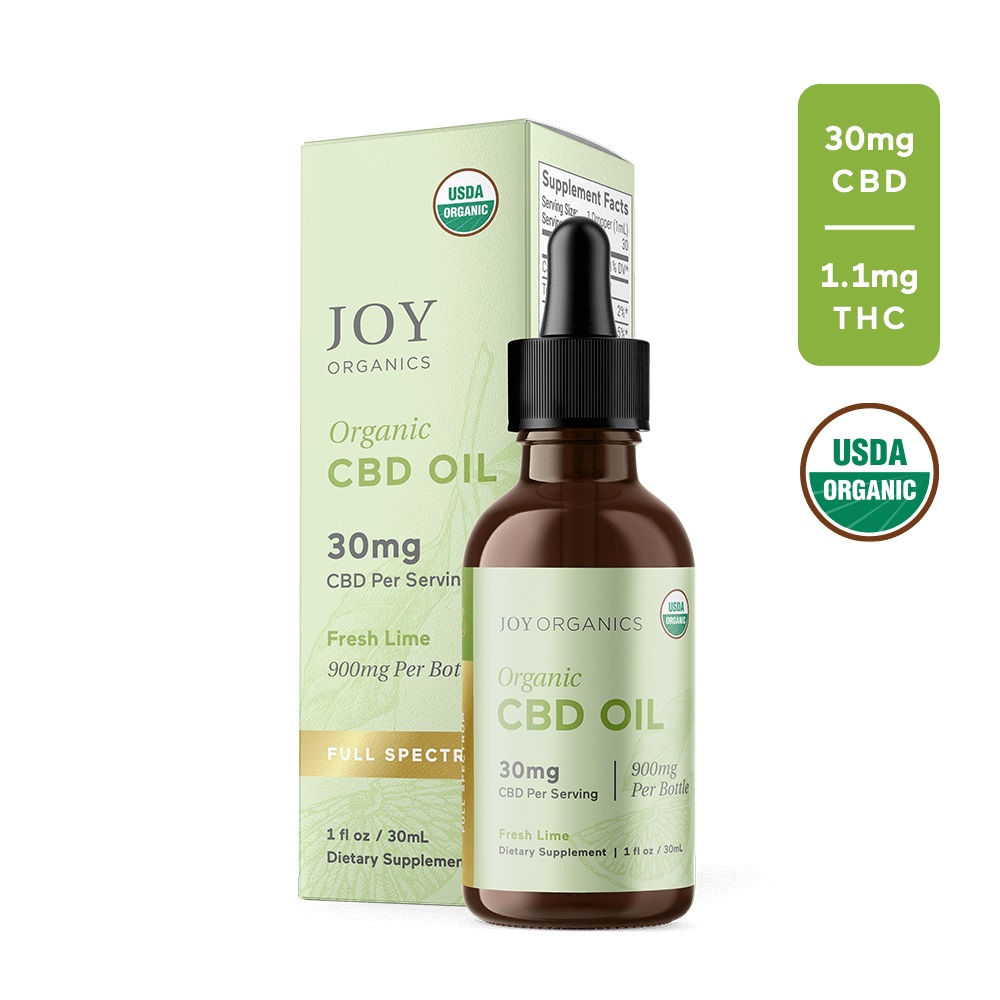 Organic CBD Oil – Joy Organics
ACTIVE INGREDIENT: Organic Extra-Virgin Olive Oil and Organic Phytocannabinoid-Rich Hemp Extract.

NET CONTENT: 30 ML
Range of Flavors

CBD Pet Oil – Medterra
ACTIVE INGREDIENT: Cannabidiol, Organic MCT Oil

NET CONTENT: 15 ML
Best CBD Oils for Dogs With Hip Dysplasia
Hip dysplasia is a chronic condition that will affect your dog their entire life, even after surgery. That means you'll need a safe product you can easily use daily, and that won't cost you a fortune.
When looking for the best CBD oils for dogs, I focused on quality tinctures with a reputation for being safe, effective, and affordable.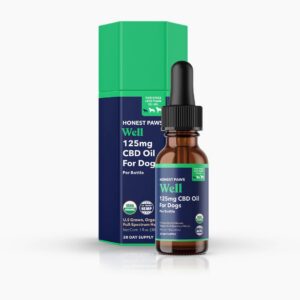 If you're looking for a product to use on your senior dogs with hip dysplasia and joint pain, I highly recommend Honest Paws' CBD Oil Tincture. I have seen this do great things for puppies and young dogs, but it seems to be especially effective for dogs over the age of 12.
Not only does it appear to help with pain and inflammation, but it also seems to help these senior dogs sleep better.
This full-spectrum product has a much lower CBD content than most on this list, making it a great option for frequent dosing over a long period. It's perfect for old dogs who will need it every day for the rest of their lives.
Honest Paws is made with organic hemp oil and contains CBD along with a long list of cofactors and additional cannabidiols. This allows it to have a whole-body, holistic effect.
Not only is it a great choice for easing hip discomfort, but it will help with anxiety, restlessness, and arthritis—all issues for older dogs.
I do recommend starting with a low dose and working up since the MCT carrier oil tends to give dogs the runs if too much is given in the beginning.
Features
Full spectrum
4.2 mg hemp oil per 1 mL
USDA Organic hemp oil
Contains organic MCT oil
Pros
Great for senior dog
Easy to dose
Safe for multiple daily doses
Cons
Can cause oily poop and digestive upset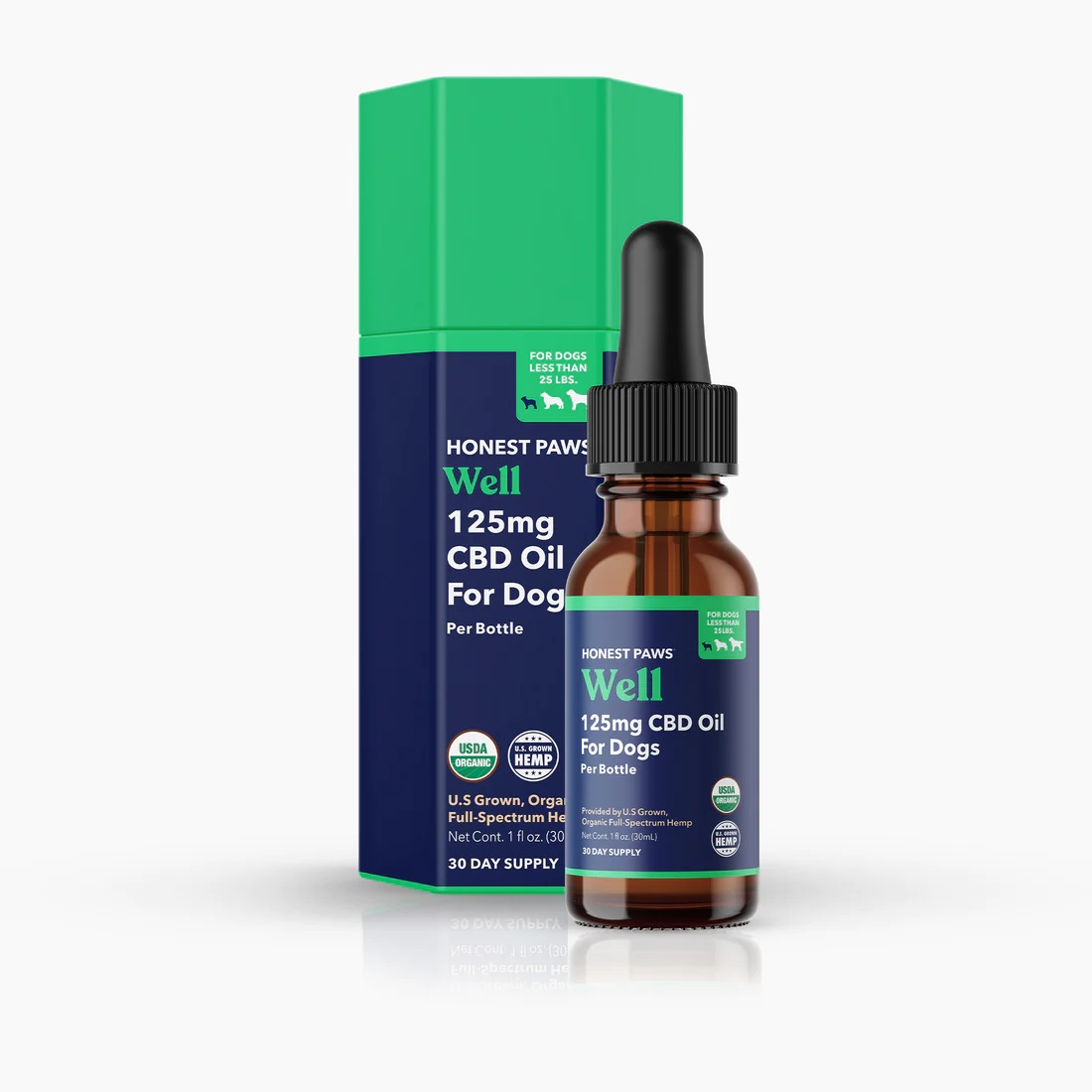 CBD Oil Tincture – Honest Paws
The price of "CBD Oil Tincture " varies, so check the latest price at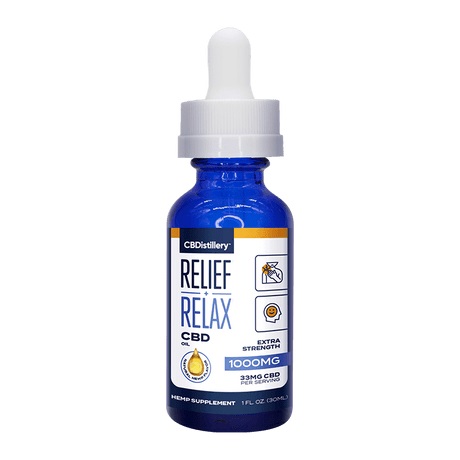 For dogs with severe hip dysplasia, this human-grade oil from CBDistillery is a great choice.
It contains a high dose of CBD, making it effective for severe symptoms. This is my go-to for dogs who are in a lot of pain and struggling with mobility.
In addition to CBD, it contains a full spectrum of cannabidiols that also help with lameness. The CBG in it is great for reducing internal inflammation. And it has plenty of CBC, which helps control pain levels.
When dogs take this supplement, they tend to experience a greater range of motion. The pain-reducing aspects can help severely limited dogs get around better.
I don't recommend CBDistillery's human-grade oil for all dogs. It is too strong for those with minor joint pain and for puppies.
But for pet owners who are desperately searching to provide relief, this full-spectrum, US-grown hemp oil is worth the extra money.
Features
Full spectrum
33 mg CBD per mL
Human grade
US grown hemp
Pros
Helps with severe symptoms
Great for pain relief
Fights inflammation
Cons
Contains some THC
Not a pet-specific product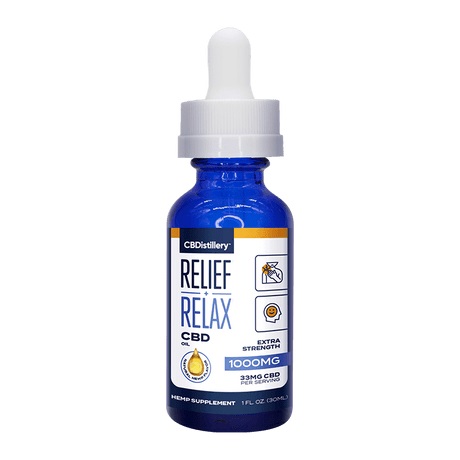 Full Spectrum CBD Oil Tincture – CBDistillery 
The price of "Full Spectrum CBD Oil Tincture " varies, so check the latest price at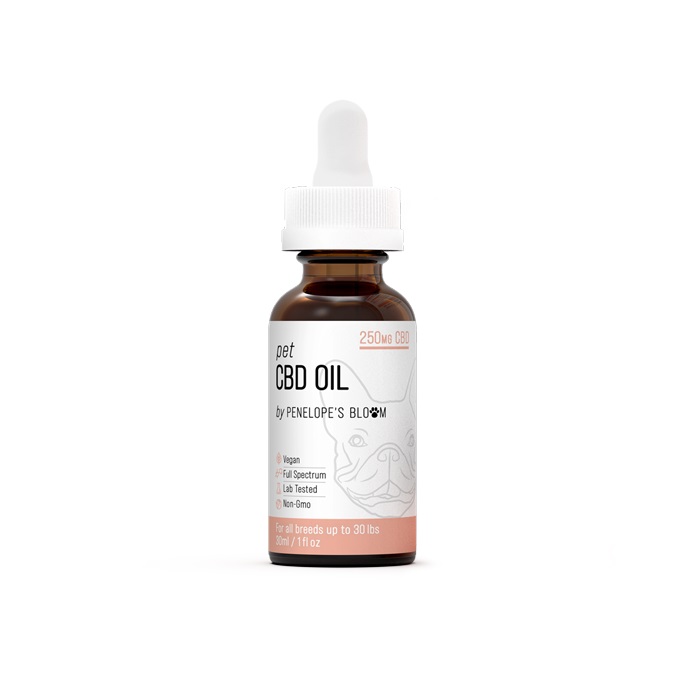 It is bad enough to have a dog that struggles with hip and joint pain. It's even worse when that same dog suffers from anxiety. If this sounds like your pup, Penelope's Bloom has a product you need to try.
This CBD oil is specially formulated for dogs and contains full-spectrum extract infused with chamomile. This combination of all-natural ingredients will help your dog feel better while providing anxiety relief.
Less anxiety means your dog can rest more to give those painful hips a break!
Best of all, this product is available in a range of different concentrations. Whether you have a small anxious dog or a big anxious mess, you can find the exact dosage to provide joint relief.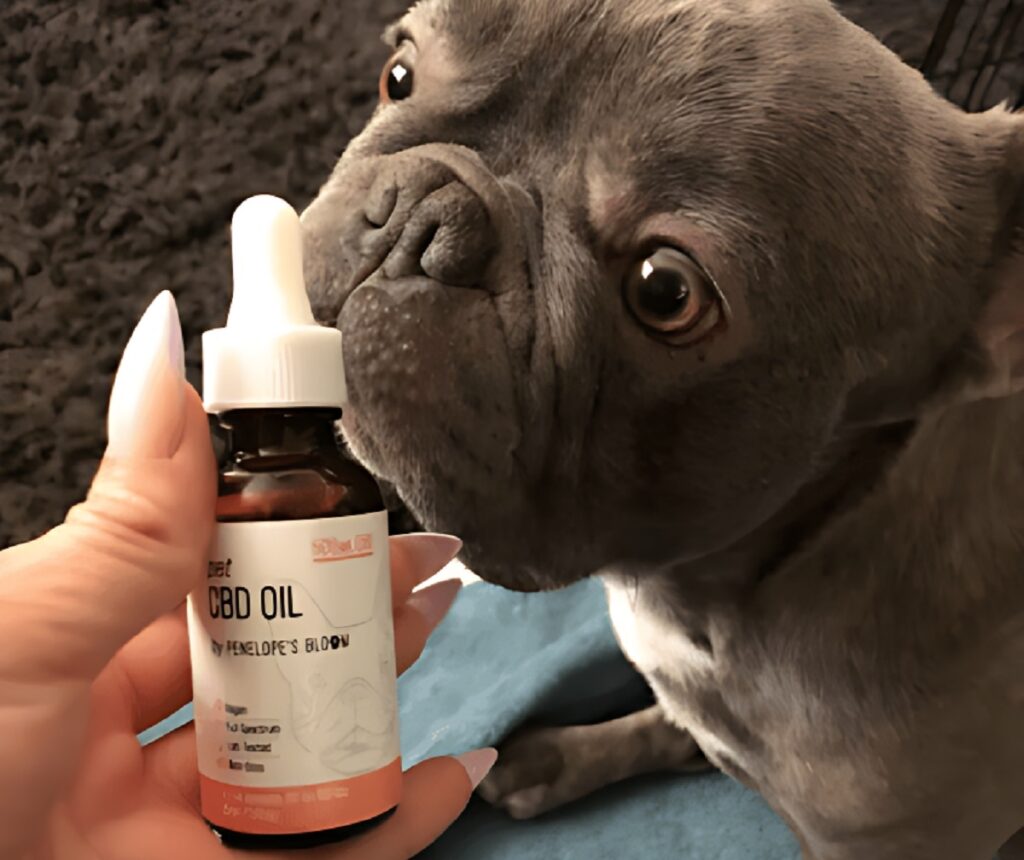 I love that Penelope's Bloom products are safe and easy for dogs to digest. This reputable brand also offers treats to make administering CBD even easier.
The only downside to this product is that the extraction process used appears to limit the amount of cofactors and other cannabinoids present. (This is according to third-party lab tests.) But for targeted CBD therapy, it's still a great option.
Features
Full spectrum
8.3 to 33 mg CBD per mL
No detectable THC
Contains chamomile
Pros
Contains herbs for relaxation
Helps anxious pups
Easy to find the right dose
Cons
Not many cofactors present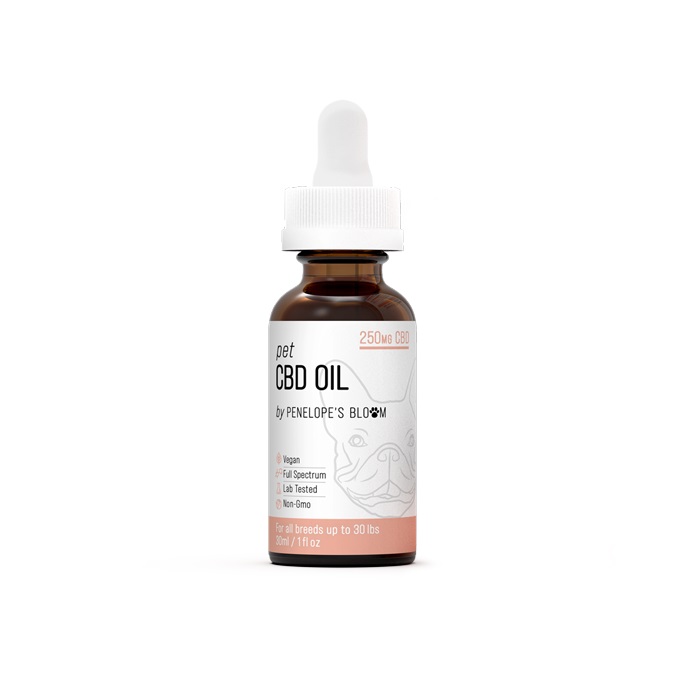 CBD Oil for Dogs – Penelope's Bloom
The price of "CBD Oil for Dogs " varies, so check the latest price at
4. Natural CBD Oil – Penguin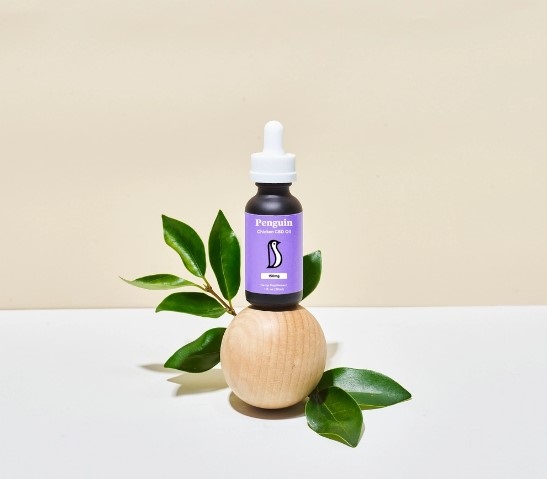 Have you tried CBD products on your dog in the past and been disappointed? Or worse, did your dog have a bad reaction? This natural CBD oil from Penguin is likely the answer you've been looking for.
This dog CBD oil is made a little differently. It contains refined broad-spectrum hemp oil, which contains fewer impurities and extra compounds than other products. It is also free from THC.
With less "stuff" in it, it is less likely to cause unintended reactions or digestive upset. For the sensitive dogs I work with, this is the first product I recommend.
It works wonders for a multitude of issues, including hip dysplasia. And it still has all the CBD your dog needs, as well as many important cofactors. Plus, Penguin adds terpenes back into the tincture to help increase the oil's effectiveness.
Penguin is easy to administer thanks to the great chicken flavor dogs really seem to enjoy. Plus, the concentration is lower than others on this list, making it a great option for dogs in need of a lower dose of CBD.
Features
Refined broad-spectrum CBD
5 to 10 mg CBD per mL
CO2 extraction
Chicken flavored
Pros
Great for sensitive dogs
Highly effective
Dogs love the flavor
Cons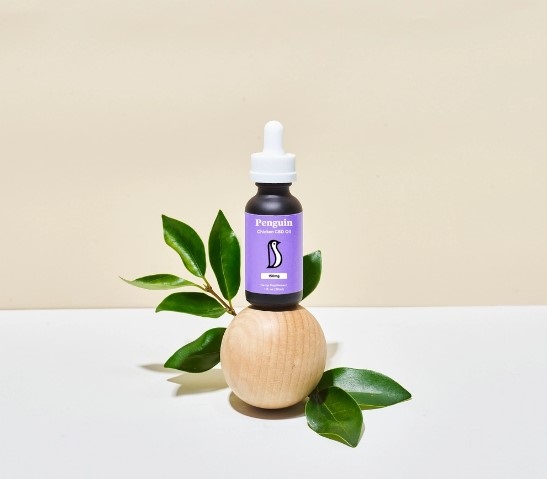 Natural CBD Oil – Penguin
The price of "Natural CBD Oil " varies, so check the latest price at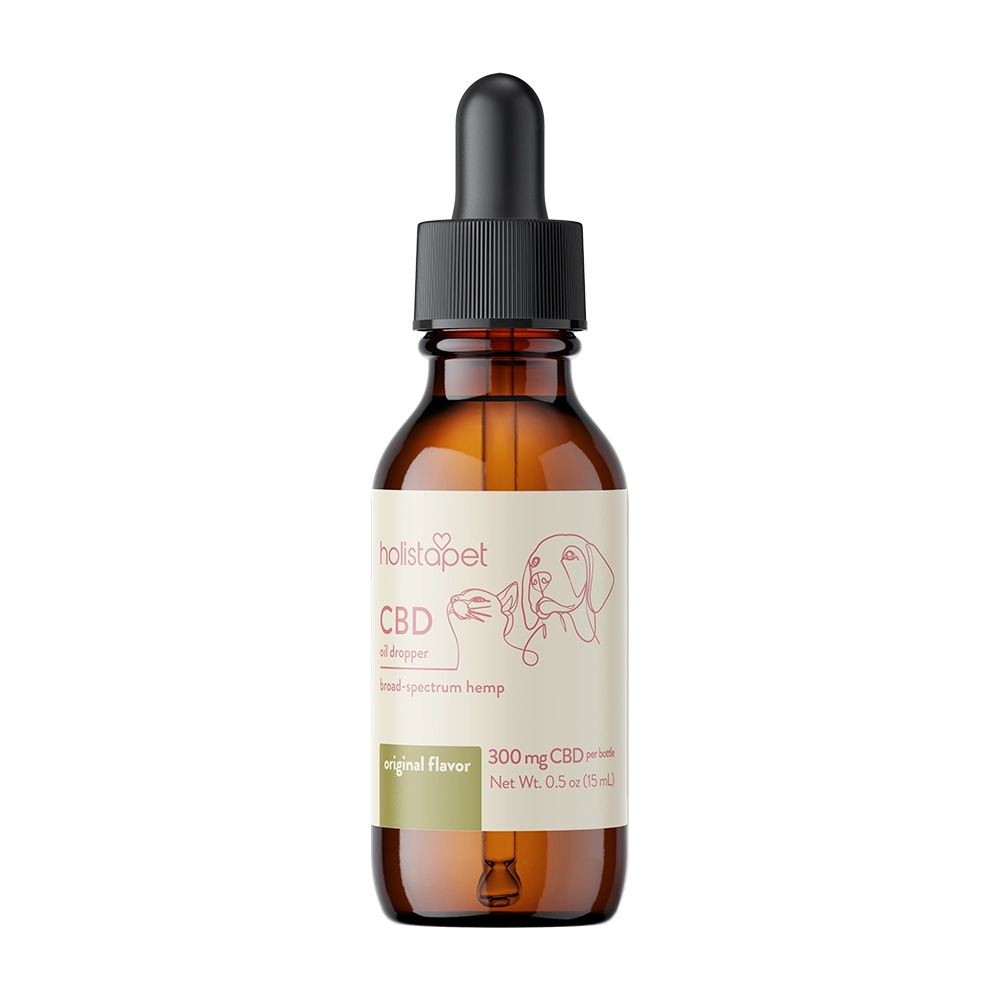 I'm partial to Holistapet since their non-GMO hemp is grown in my home state of Colorado. But this product has proven itself time and time again. If you're after a quality, pure CBD oil you can count on to be safe for your pet, there is no better option.
Every product from Holistapet, from their tinctures to CBD treats to supplements, is third-party lab tested for purity.
These lab-tested products are free from THC and have no psychoactive effects, and won't get your dog high. They contain a broad spectrum of CBD and other cannabinoids that are effective for joint pain and bring a host of other benefits.
You can feel good about giving this product, whether your dog needs a high concentration or a low one. Holistapet makes this easy, too, by offering 5 different concentration options. For the most cost-effective option, go with a high-concentration oil.
My only complaint about this company is that their customer service can be difficult to get a hold of. Luckily, though, I have rarely needed to contact them for help.
Features
Broad spectrum
10 to 50 mg CBD per mL
0% THC
3rd party lab tested
Pros
Pure and safe
Multiple concentration options
Cost-effective high-dose options
Cons
Customer service is lacking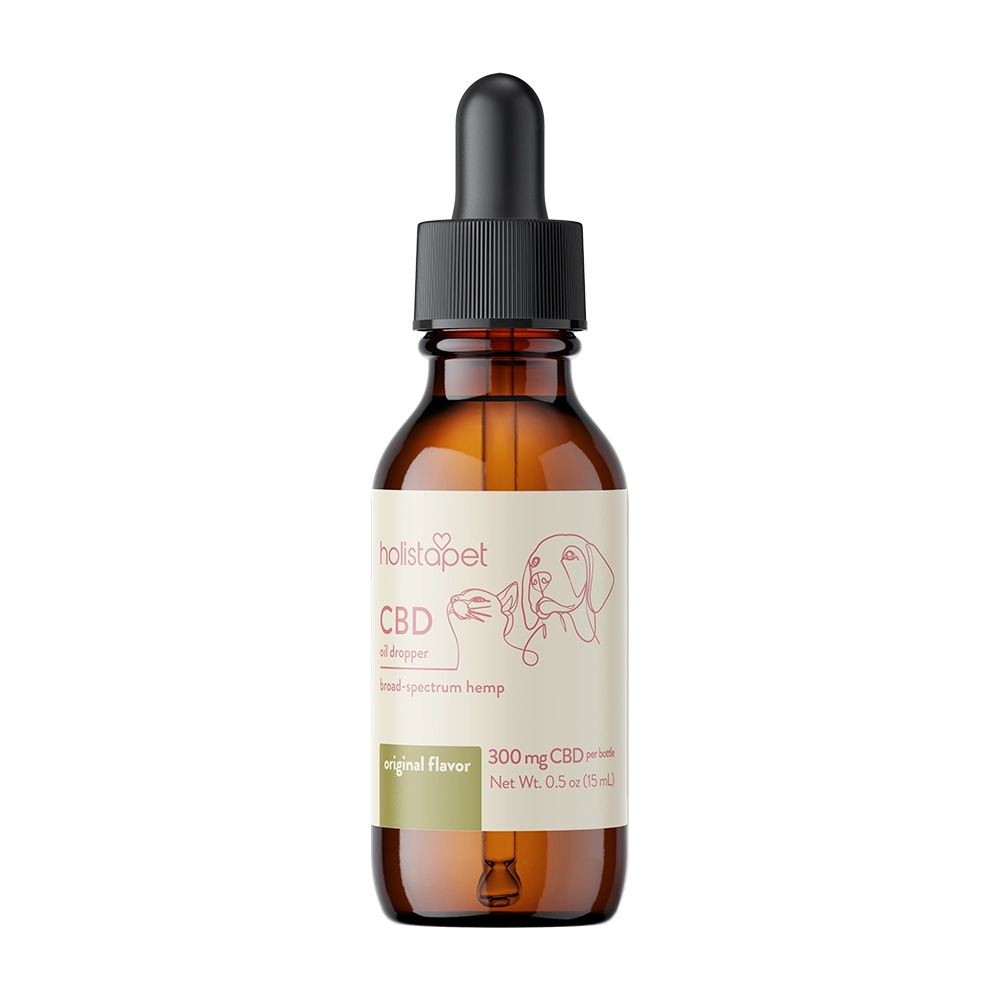 CBD Oil for Dogs – Holistapet
The price of "CBD Oil for Dogs " varies, so check the latest price at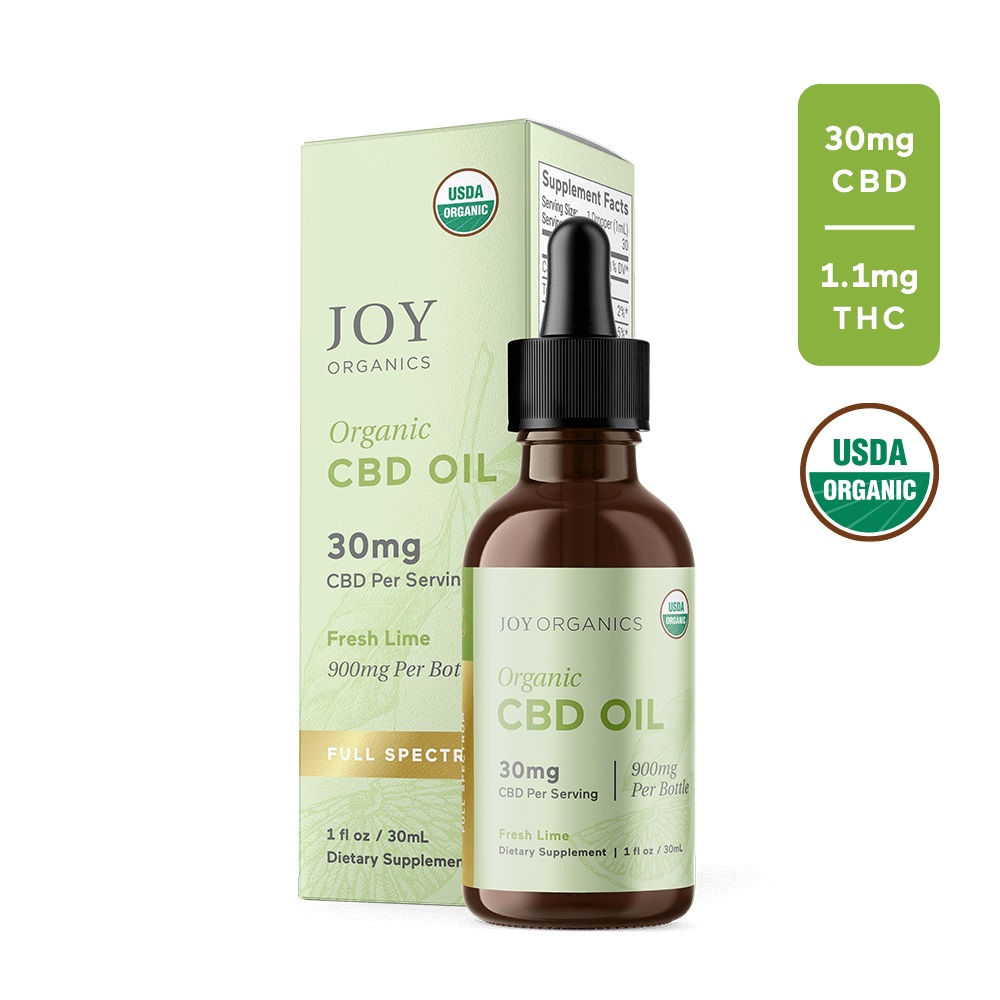 It's difficult to find organic products in the dog CBD world. If buying organic is important to you, I recommend this CBD oil from Joy Organics.
This high-quality CBD oil is made for human consumption and is 100% USDA organic. That means you don't have to worry about contaminants or pesticides getting into the pure CBD extract.
For a dog already battling damage in their hip joints, this feature can be the difference between a waste of money and a miracle cure. By avoiding impurities, you'll also avoid unintentionally adding to your furry friend's inflammation.
One key difference to this product is that it is a true, unrefined full-spectrum oil. That means that it contains all the cannabinoids present in hemp oil.
This is great because it means it has loads of extra anti-inflammatory properties. But it also means it contains some THC.
This amount is less than the maximum recommended 0.3% for dogs' CBD oil. But I still wouldn't recommend this option for long-term dog dosing or high-concentration dosing. And, since it's organic, it is a little pricey.
Features
Full spectrum
30 mg CBD per mL
Less than 0.3% THC
USDA organic
Pros
Organically grown hemp
Human-grade
Highly anti-inflammatory
Cons
Contains trace amounts of THC
A little pricey but worth investing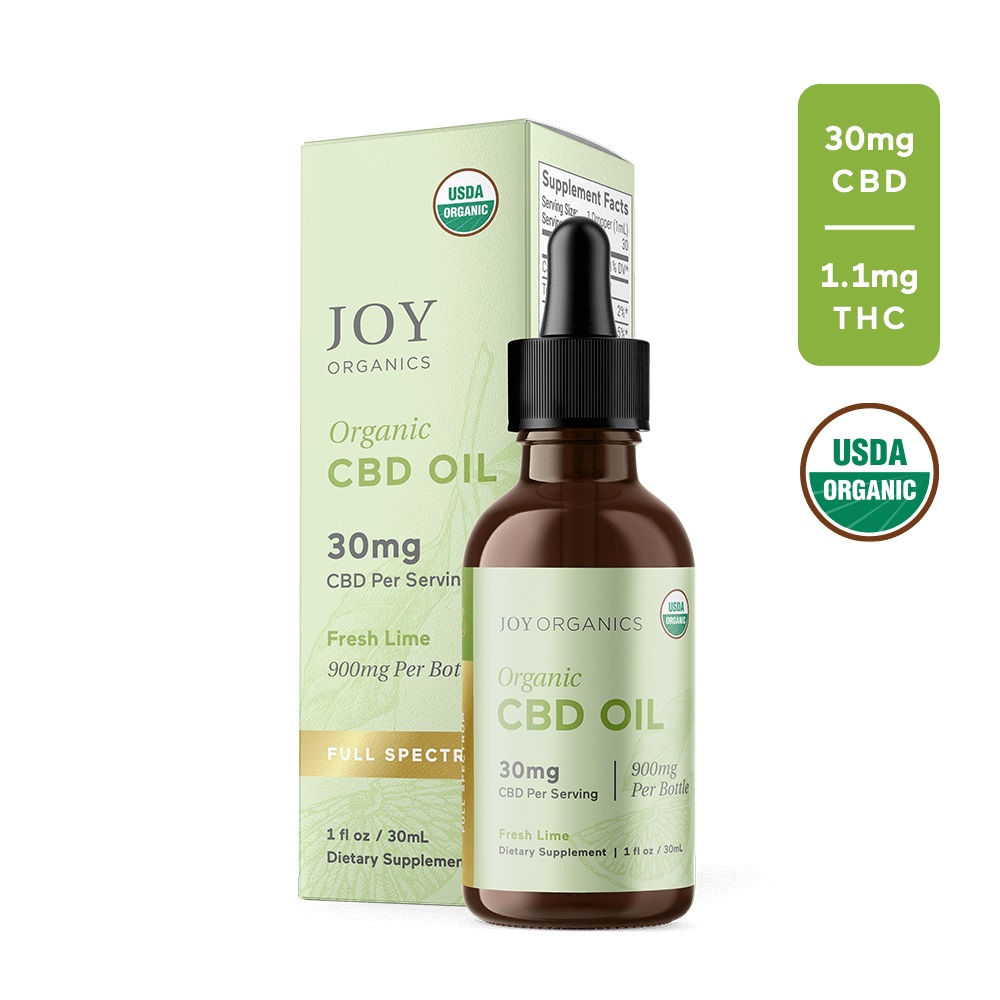 Organic CBD Oil – Joy Organics
The price of "Organic CBD Oil " varies, so check the latest price at


There are many benefits to using a full spectrum product for your dog. But there are also cases where using pure CBD oil without other compounds might be useful.
One of these cases is when dealing with severe hip dysplasia discomfort that requires a higher concentration of CBD to treat. For this, I recommend Medterra's CBD Pet Oil.
This product is different because it contains only human-grade CBD isolate rather than hemp oil.
By isolating CBD cannabidiols, the company can better regulate how much goes into each bottle. This means you can count on this product to deliver the same results time after time.
It also means you can feel safer utilizing the product at higher doses. Since many dogs with advanced hip dysplasia require concentrated CBD every day, this is a great feature to have.
Another thing I love about this product is that it's available in three flavors. My dog clients love both the beef and chicken flavors. And dog owners love how much easier the flavors make it to give the drops to their dogs.
Features
Human-grade CBD isolate
10 to 25 mg CBD per mL
THC-free
Multiple flavors
Pros
Reliable CBD concentrations
Safe for high-dose use
Flavors make it easy to administer
Cons
Contains no other cannabidiols

CBD Pet Oil – Medterra
The price of "CBD Pet Oil " varies, so check the latest price at
8. CBD Pet Drops – FOCL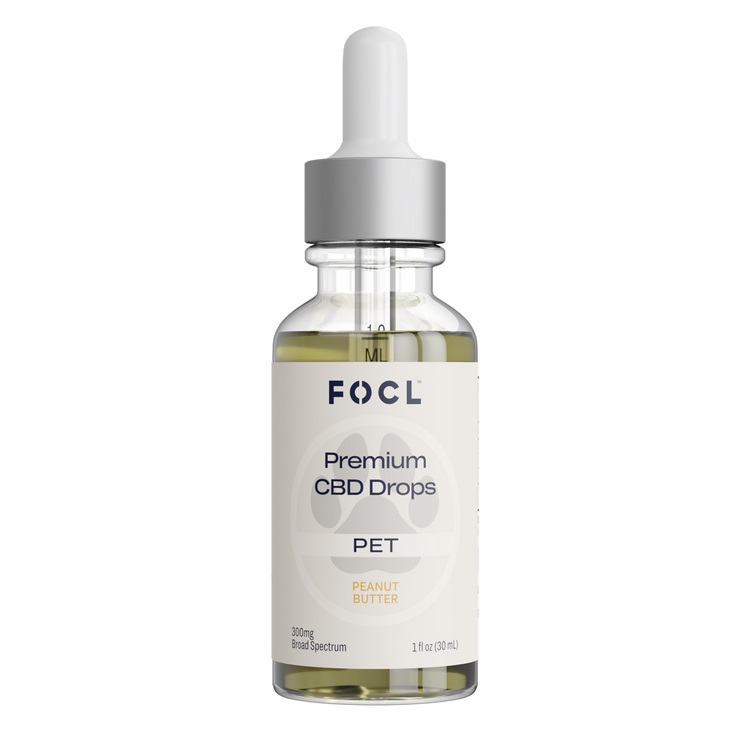 Looking for a super-affordable CBD product that works? You won't find anything better than these CBD Pet Drops from FOCL.
These drops cost less per bottle than most others on the market, yet they are still made with quality ingredients.
Since dogs' hip dysplasia only gets worse as dogs age, it's important to have the best CBD oil product you can count on to use year after year. With a great price point, you can use this product from FOCL for the long term and not break the bank.
Despite that low price, FOCL products utilize organic ingredients and quality full-spectrum hemp oil grown in Colorado.
And the drops are available in multiple unique flavors, including peanut butter and wild salmon. I've used this product on a lot of pickiest eaters and have yet to find one that doesn't happily lick this oil up!
One important downside to this product is that the CBD concentration is not listed. Each bottle contains 10 to 20 mg of hemp oil (depending on the concentration you opt for). But how much of this oil is CBD is not advertised.
Because of this, I recommend this oil for hip and joint support to dogs with hip dysplasia that are in the early stages of the disease.
Features
Broad-spectrum CBD oil
10 to 20 mg hemp extract per mL
Unique flavors
Pros
Affordable prices
Dogs love the taste
Organic ingredients
Cons
No listed CBD concentration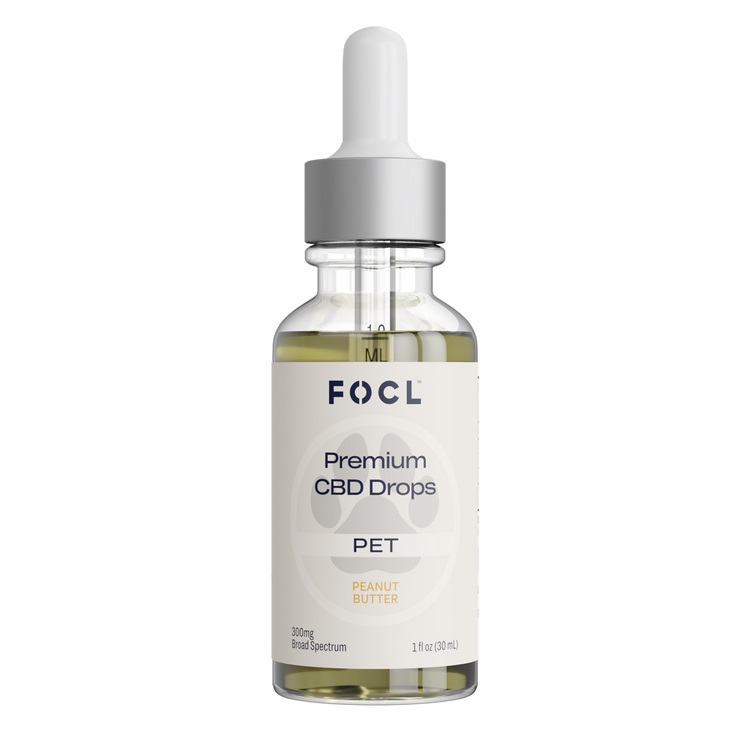 CBD Pet Drops – FOCL
The price of "CBD Pet Drops " varies, so check the latest price at
Benefits of Using CBD Oil for Dogs Suffering from Hip Dysplasia
When it comes to what CBD oil can do for dogs, the list continues to grow. Studies have shown that it can help dogs battle cancer, reduce seizure activity, and more.
CBD oil has also been proven to reduce inflammation and pain in animals and humans.
Dogs suffering from hip dysplasia have an excess of inflammation in their hip joints. This inflammation causes joint damage that can be very painful. In late stages, hip dysplasia can cause severe mobility and quality of life issues.
The best CBD oils can help improve your furry friend's joint health while reducing the pain and inflammation caused by hip dysplasia.
How to Look for the Best CBD Oil for Dogs with Hip Dysplasia – Buyer's Guide
Not all CBD oils are created equal. Before you choose a product for your dog, you need to understand the different options available.
Quality
Low-quality CBD products typically contain hemp extracts of unknown quality and do not list the CBD concentration.
High-quality ingredients are made using CO2 extraction and will list the concentration of any important compounds, including CBD and THC. These products are also third-party lab tested for quality.
Full Spectrum/Broad Spectrum
Many people think that hemp oils and CBD oils are the same thing. When it comes to hemp vs. CBD, the truth is CBD is just one compound found in hemp.
Full-spectrum hemp oil contains CBD as well as all other cannabinoids found in the hemp plant.
This typically includes THC. However, the hemp plant is naturally much lower in THC than marijuana, which is toxic to dogs.
Full-spectrum CBD products are generally safe for use in dogs as long as they contain less than 0.3% THC.
Broad-spectrum CBD products include CBD and many other cannabidiols but are free from THC. These are a better choice for long-term dog CBD dosing.
CBD Pure Isolate
CBD isolate is a crystalline powder extracted from hemp plant oil. It contains only CBD and no other cannabinoids.

These products are safe for high-concentration dosing and long-term use. However, they may have a more limited effect on pain management and inflammation because they do not contain additional cannabidiols.
Third-Party Testing
Determining the quality of a CBD product typically requires looking at third-party tested information.

All quality CBD products will come with a Certificate of Analysis (CoA). This CoA is completed by a third-party laboratory that tests the oil for purity and cannabinoid concentrations.
Reviews
One of the best ways to determine if a product works to help dogs with joint issues and hip dysplasia is to look at user reviews. This anecdotal evidence by dog parents will tell you how well dogs tolerate the product and if it has the intended effects on your dog's health.
FAQs
Can CBD Made for Humans Be Utilized for Dogs?
Yes, dogs can have CBD made for humans as long as it contains less than 0.3% THC and has no added sweeteners. Most quality CBD products made from hemp oil fall into this category.
Is There Any Alternative to CBD Oils for Dogs Suffering from Hip Dysplasia?
CBD oil is a great option for dogs with hip dysplasia, arthritis, and other joint issues. But there are other supplement options, as well, including:
MCT oil
Glucosamine
Chondroitin
Joint support supplements
How to Administer CBD to Dogs with Hip Dysplasia?
How much CBD oil to give your dog depends on the severity of their symptoms, their tolerance, and your dog's weight. In general, the right dosage for dogs is 1 to 5 mg of CBD per pound.
CBD for puppies should be given at the lower dosage recommendation.
Giving CBD oil is as easy as putting it on your dog's food, on a treat, or directly into their mouth. CBD dog treats are another great option that is even easier to administer.
Always talk to your veterinarian before adding CBD to your furry friend's routine. Your vet can also help you find the correct dosage for your pet based on your dog's size and needs.
What Are the Possible Side Effects of CBD for Dogs with Hip Dysplasia?
Many pet parents wonder, is CBD safe for dogs? Research has shown that when given in appropriate doses without excess THC, CBD oil is very safe for dogs with various potential health benefits.
But some dogs will experience minor side effects, including diarrhea, oily poop, and upset stomach.
Dogs that consume an excess of CBD might become lethargic or start vomiting. But, to date, there are no reports of dogs overdosing on CBD oil.
Final Thought
If your dog is suffering from hip dysplasia, there are many great CBD oil products on the market that can help them. Above, you'll find the eight best CBD for dogs with hip dysplasia according to our experience.
Giving CBD oil will help your dog find relief from hip pain while reducing inflammation, helping ease anxiety, improving the pet's health, and allowing them to get better rest.