Disclaimer:The information provided in our articles is for educational purposes only and is not intended as a substitute for professional medical advice. Always consult with a physician or qualified healthcare professional before starting any CBD products for your well-being.
Looking for the right pet CBD product is difficult. It needs to be safe, affordable, and effective – and ideally offer various types of products. After all, dogs are fussy, and it might take a while to find their favorite way of taking CBD.
You've likely stumbled upon Canna-Pet before, either online or in stores. Canna-Pet offers a range of premium CBD products that are safe, effective, and good value for money.
Who Is Canna Pet?
Based in Seattle, Canna-Pet has grown since 2013 to become an established CBD manufacturer for pets, producing all-natural products to support their health and well-being. Their mission is to give pet owners the tools they need to enrich their pets' lives so they can enrich ours in return.
Canna-Pet uses high-quality organic hemp to create products with full-spectrum CBD. This gives pets a huge range of cannabinoids, terpenes, and naturally occurring compounds to improve digestion and mobility, as well as reduce pain, inflammation, and even anxiety.
Canna-Pet Reviews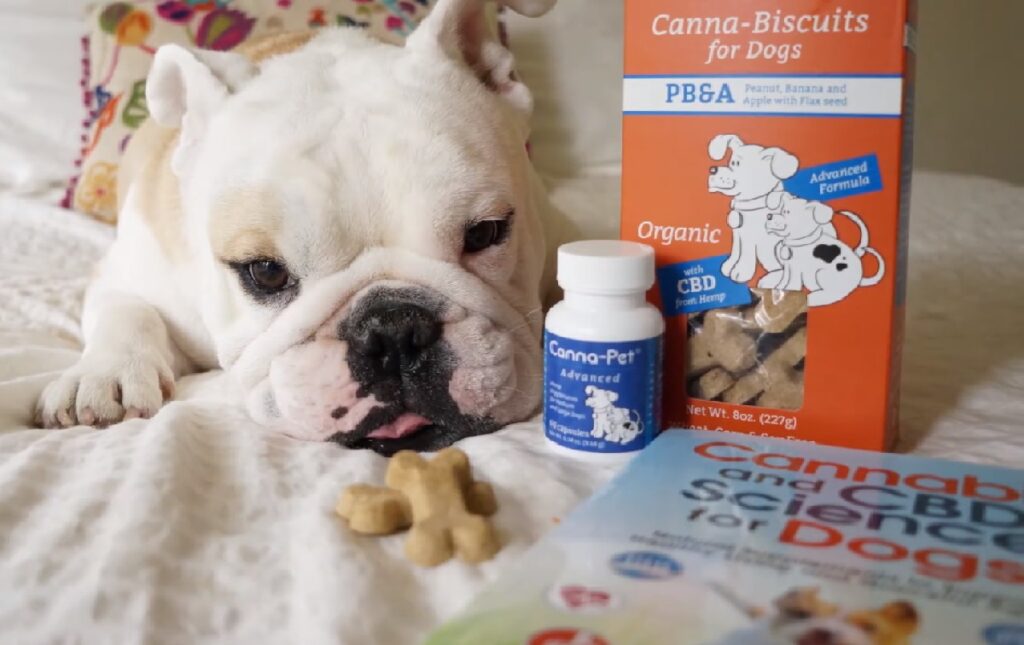 Canna-Pet extract cannabidiol using CO2, the cleanest method available for the highest quality CBD. This is then developed into a full-spectrum oil with a range of cannabinoids, terpenes, and flavonoids that work together to help your pet.
Canna-Pet believes in the power of natural remedies, so keep their products as natural as possible. That's why Canna-Pet's CBD oil and capsules are vegan with no trace of preservatives. Even though Canna-Pet biscuits contain more ingredients, they're still soy-free and organic.
If you commit to the Canna-Pet line of products, auto-shipping can take the hassle out of remembering to order in time. You can arrange to have CBD delivered directly to your door as often as you would like.
Pros
Full-spectrum CBD extract
Made from organic, non-GMO, US-grown hemp
Use CO2 extraction
Variety of products available
Worldwide shipping
30-day money-back guarantee
Cons
Only one strength of Canna-Pet CBD oil
Don't provide Certificate of Analysis
Limited contact options
Canna-Pet CBD Products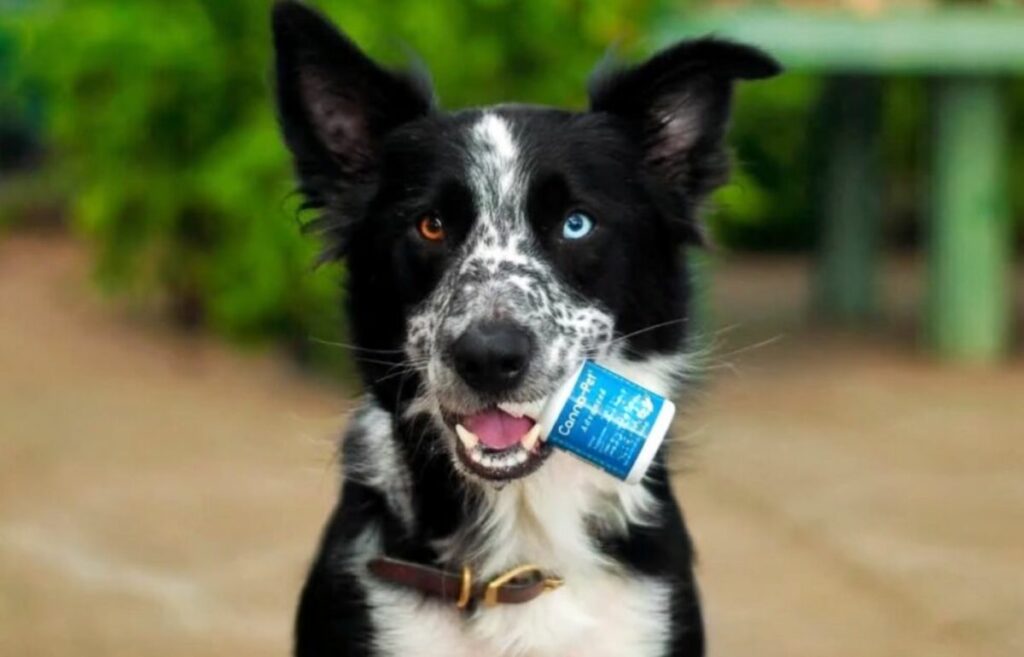 CBD Capsules
Dogs can take supplement pills just like humans. Inside each capsule is a fine powder of hemp, giving pets all the terpenes and flavonoids they could need.
1. Capsules: Canna-Pet Advanced Small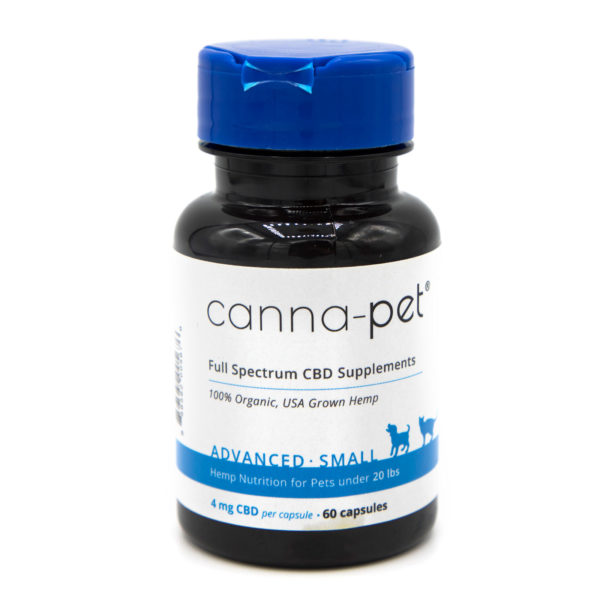 These capsules are all-natural with high-quality hemp. Since they're aimed at smaller pets, they don't contain a high dosage of Canna-Pet CBD but still contain enough to help with most problems.
What We Like
We love how a formulation for smaller pets reduces the risk of giving too much CBD. Plus, there's no risk of allergies since it's vegan; nothing artificial – just pure hemp so your pet can get the full benefit of phytochemicals.
Pet parents love its calming effect on dogs with hyperactivity or anxiety, and it's one of the best CBD products to help cats in pain.
Things to Consider
Make sure you know your dog's weight since you don't want to give them too small a dose.
It's also worth considering how to administer CBD. For eager eaters, you could hide the capsule in food or mix the powder in directly. Otherwise, you might need to hide it in a treat.
Dosage
Bottles contain 60 capsules, each with 170mg of full-spectrum hemp, including 4mg of CBD. Cats should have one capsule daily, while dogs under 20 lbs should take two.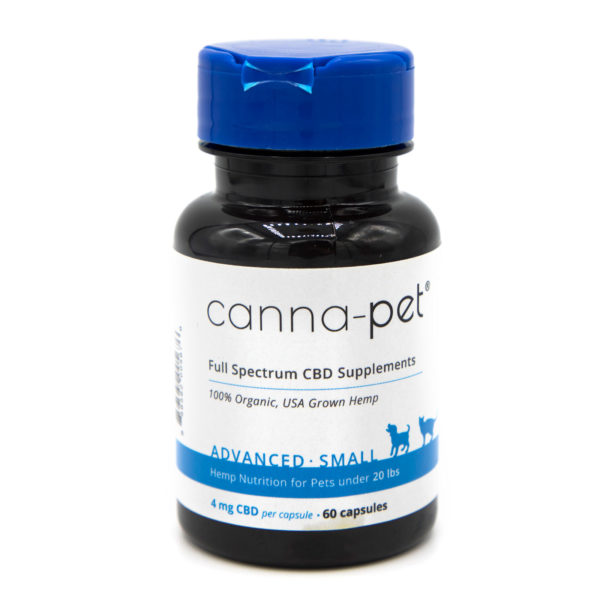 Capsules: Canna-Pet Advanced Small
The price of " Capsules: Canna-Pet Advanced Small" varies, so check the latest price at
2. Capsules: Canna-Pet Advanced Large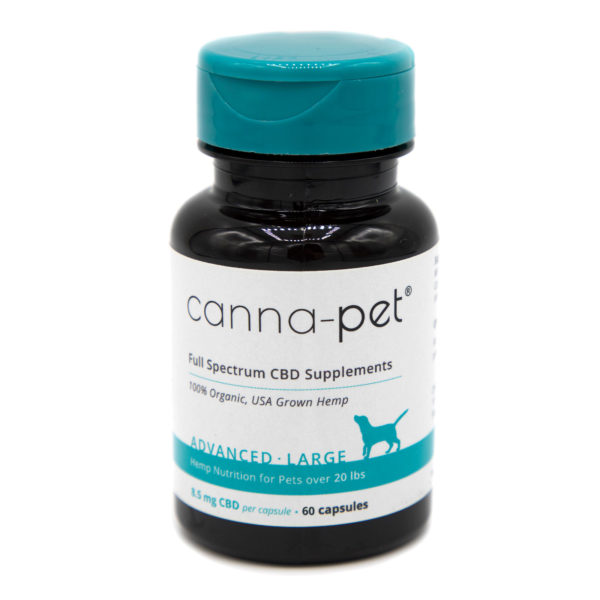 These bottles also come with 60 capsules, each with 170mg of hemp. However, since these are intended for larger dogs, they contain more Canna-Pet CBD.
What We Like
A stronger formulation is easier for larger dogs since you don't need as many capsules to get the right dose. And since it's vegan with nothing but hemp, it won't interfere with any allergies either.
We love to see Canna-Pet testimonials claiming it helps dogs manage anxiety and alleviates back pain.
Things to Consider
It's easier to give capsules to bigger dogs, but you might still need to mix it into their food or hide in a treat. It's also important to check you're giving your dog enough; even though it's meant for dogs over 20lbs, you might need more capsules for particularly large breeds.
Dosage
Each capsule contains 8.5mg of CBD, so is best to give just one to dogs over 20lbs twice daily. However, you might need to give three to dogs over 95lbs.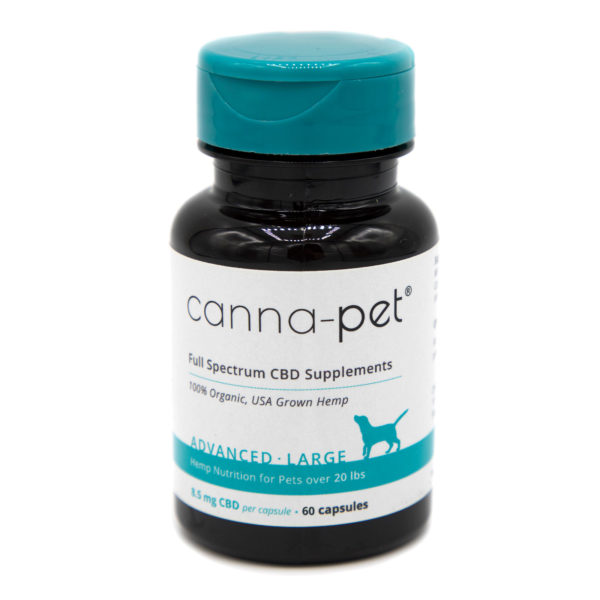 Capsules: Canna-Pet Advanced Large
The price of "Capsules: Canna-Pet Advanced Large" varies, so check the latest price at
3. Capsules: Canna-Pet Advanced maxCBD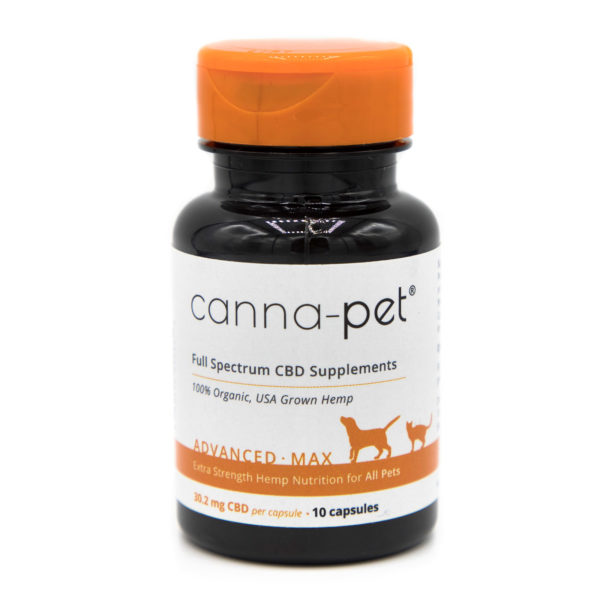 Sometimes you just need something stronger. If you have a large pet or one with a more severe problem, these extra-strong capsules might be better.
What We Like
It's brilliant to have larger doses for those who need it. This Canna-Pet advanced formula comes with 510mg of hemp in each capsule – more than three times the amount of regular capsules. Besides more cannabinoids and terpenes, this formula also improves absorption and bioavailability, making them even more effective.
Pet parents who saw limited results from other capsules have been thrilled to see results from these, their dogs finally experiencing less pain and anxiety.
Things to Consider
While other bottles have 60 capsules, this has just 10, meaning you might have to bulk buy. In fact, this option might only be necessary if your pet has a severe problem and relies on strong doses of CBD.
Dosage
Since there's 30.2mg of CBD in each of the 10 capsules, you should take care when administering to smaller pets. Pets under 20 lbs need one capsule a day split over two servings, while larger ones need one twice a day.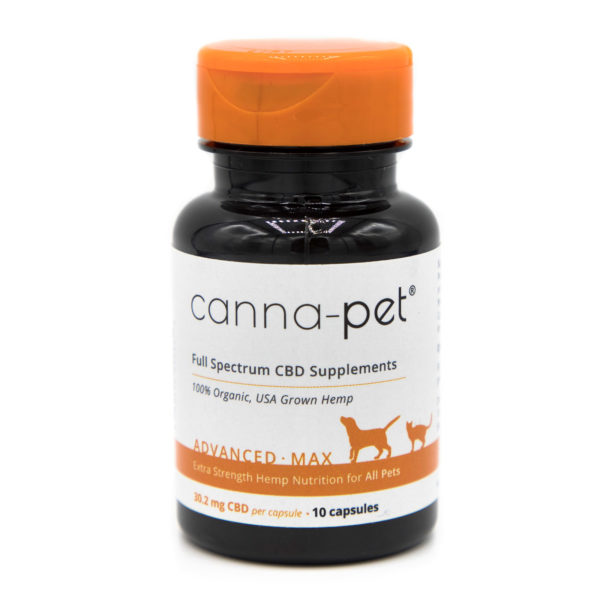 Capsules: Canna-Pet Advanced maxCBD
The price of " Capsules: Canna-Pet Advanced maxCBD " varies, so check the latest price at
CBD Oil
Canna-Pet CBD pills are simple but can be tricky to give to pets, so why not just use CBD oils instead?
1. Canna-Pet Advanced Max CBD Liquid for Dogs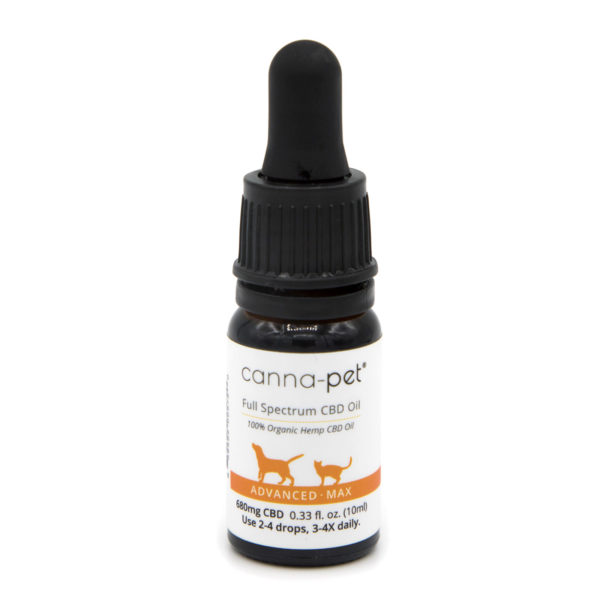 CBD oils are the most popular way to give CBD to pets. They're simple and versatile, allowing you to drop a dose directly into their mouth or hide in their food.
What We Like
Like the capsules, these CBD oils are made from organic hemp CBD oil. Although many CBD oils include a carrier oil like MCT, Canna-Pet uses 100% pure hemp oil for maximum effect. In fact, delivery via CBD oil means better absorption and faster effects too.
It's great how versatile this oil is. It's suitable for all pets and can be administered in whatever way is easiest. And since it has a decent taste, you can easily hide it in your pet's food!
Things to Consider
Considering the price, a 10ml bottle seems small. However, with about 300 drops, each bottle lasts between 20 to 30 days. Besides, Canna-Pet claims to pack an impressive 680mg of CBD into just one bottle.
However, because of both the taste and strength of each drop, Canna-Pet claims this oil is only suitable for dogs; cats would benefit more from the capsules instead.
Dosage
With 680mg of CBD in each bottle, you only need two to four drops, either three or four times a day, depending on the size of the pet and the severity of their problem. For example, pets under 20 lbs need two to three droplets at a time, while larger ones require three to four.
This oil packs a punch, so you won't need to worry about giving too little. Canna-Pet testimonials talk about older dogs who take drops just twice a day and still show a huge improvement in mobility and general behavior.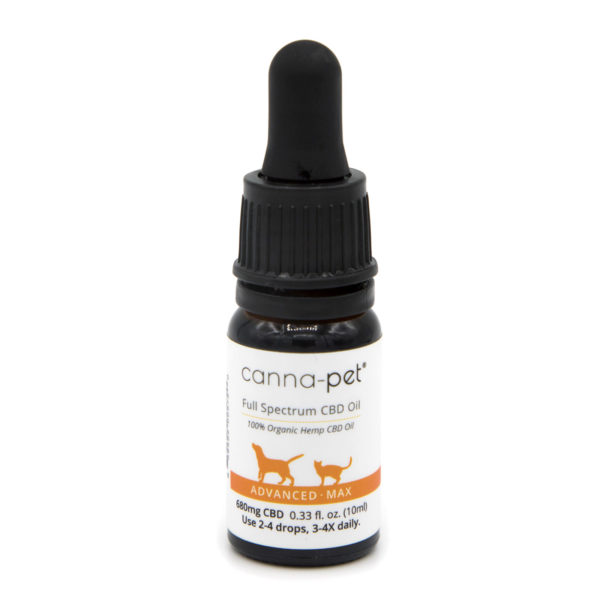 Canna-Pet Advanced Max CBD Liquid for Dogs
The price of "Canna-Pet Advanced Max CBD Liquid for Dogs" varies, so check the latest price at
CBD Biscuits
Capsules and full-spectrum CBD oils work well, but if you want to give your dog CBD as a treat, there's nothing better than the three flavors of Canna-Pet's biscuits.
1. Advanced Formula PB&A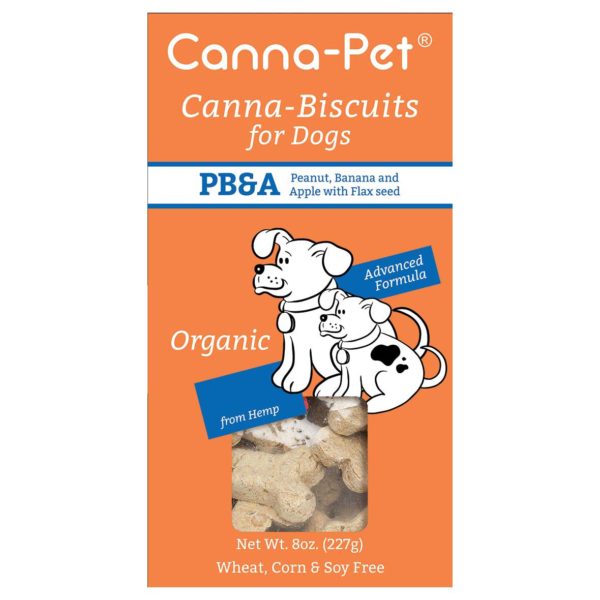 While you enjoy a PB&J sandwich, why not give your dog a PB&A CBD biscuit flavored with peanuts, banana, and apple.
What We Like
Although Canna biscuits for dogs have more ingredients than CBD capsules and oils, we love how they're still healthy. It still delivers a strong dose of hemp with plenty of CBD and terpenes, so your pet can fully benefit from phytochemicals.
But the best part is the flavor. When biscuits taste this good, pets will be eager to get their daily dose of CBD every time you open the packet!
Things to Consider
Each biscuit has 28 calories, so consider your dog's weight as well as the correct CBD dose to administer. It's worth thinking about your dog's preference too: would they like the combination of fruits and peanuts?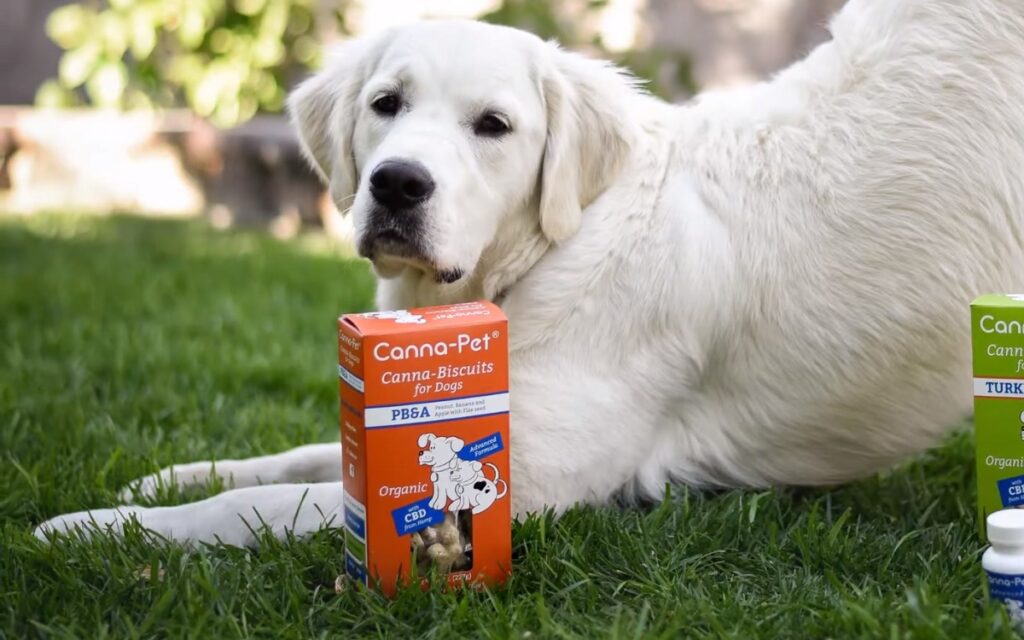 Dosage
Each biscuit has 2.4 mg of CBD with 0% THC. It's recommended to give your pet a biscuit every 12 hours, but the number of biscuits depends on their size: pets under 20 lbs have one biscuit, up to 44 lbs have two, up to 95 lbs have three, and any larger would benefit from four.
Ingredients
These biscuits are made using barley and organic peanut flour, bananas, applesauce, peanuts, flaxseed, and hemp, all of which are healthy, vegan, and organic.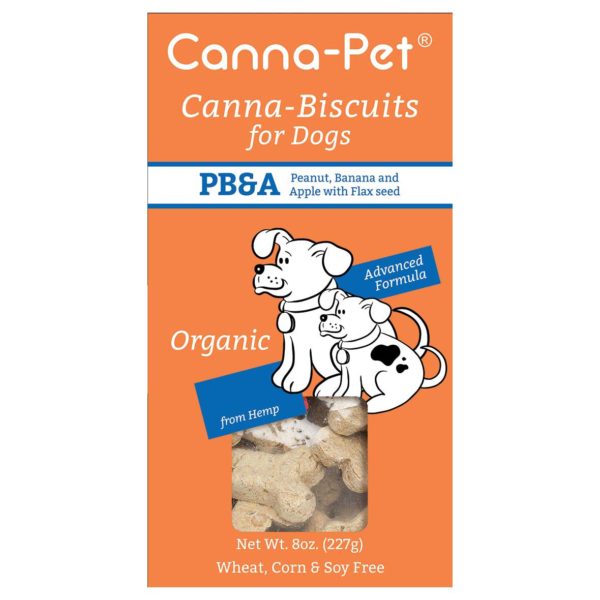 Advanced Formula PB&A
The price of "Advanced Formula PB&A" varies, so check the latest price at
2. Advanced Formula Turkey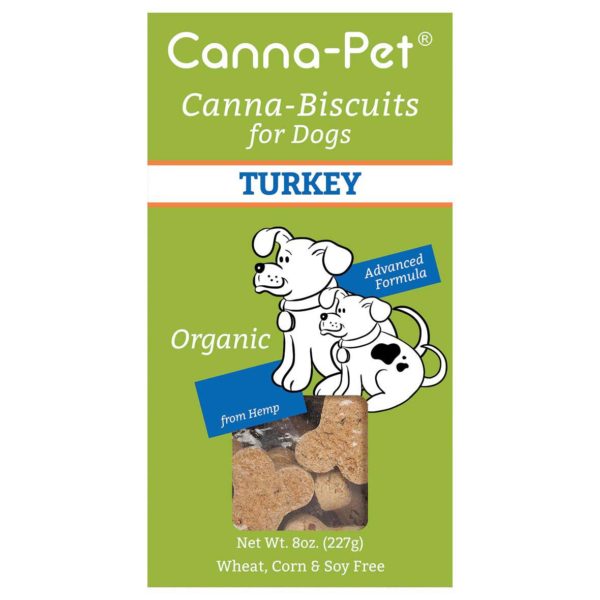 If your pet prefers meaty flavors, these biscuits are a perfect way to give a CBD dose they'll love.
What We Like
Like all Canna-Pet biscuits, these are packed with healthy ingredients and a strong dose of CBD. But even better, we love the meaty flavor. After all, pets are natural carnivores, and turkey is a flavor they're bound to love.
What's more, these biscuits have a versatile effect on pets, reducing anxiety in dogs and alleviating pain caused by cancer and arthritis.
Things to Consider
As with all Canna-Pet CBD treats, you should consider the calories and your dog's weight. While this has fewer calories than the PB&A biscuits at just 27 calories, you should keep this in mind when giving them their everyday food and treats.
Dosage
Since these biscuits contain the same amount of CBD and hemp as PB&A biscuits, the recommended dosage is the same. Depending on size, you should give your pet one to four biscuits every 12 hours.
Ingredients
With all-natural and organic ingredients, these taste like Thanksgiving dinner in a biscuit! Each bite contains organic barley flour and farm-raised turkey, with a blend of cranberries, carrots, cinnamon, and sage, topped off with a strong dose of hemp.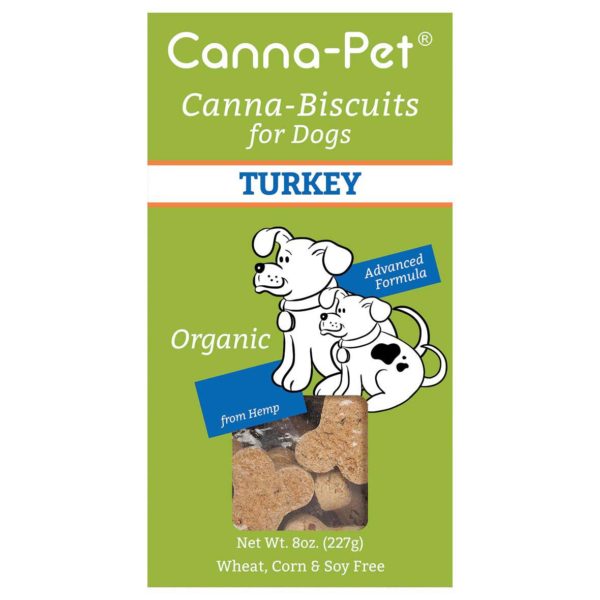 Advanced Formula Turkey
The price of "Advanced Formula Turkey" varies, so check the latest price at
3. Advanced Formula Maple Bacon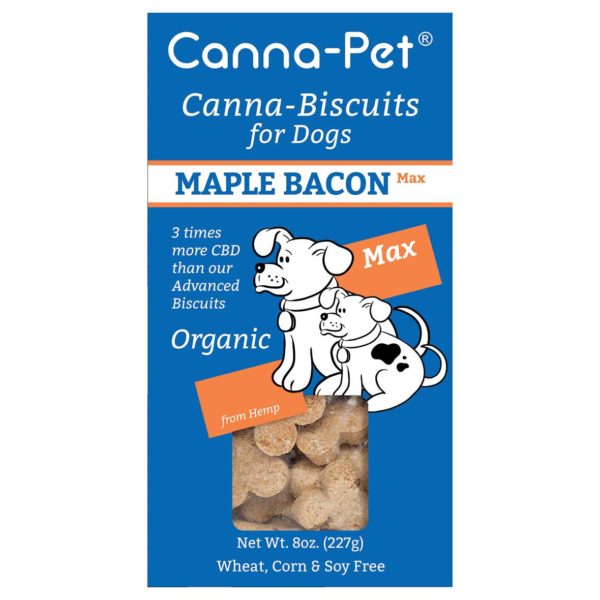 Like their turkey biscuits, this is another meaty flavor your pets will enjoy but with extra CBD for maximum impact.
What We Like
As with their other biscuits, these maple bacon bites are packed with healthy, organic ingredients. But the best part is the stronger dose of CBD. It's ideal for larger pets or those with more severe problems. In fact, these are likely to last longer too, since your pet will require fewer biscuits throughout the day.
Things to Consider
Since this is a more advanced formula with a higher dose of CBD, these biscuits come at a higher price. You should make sure that they're within your budget and that your pet is large enough to have these biscuits safely.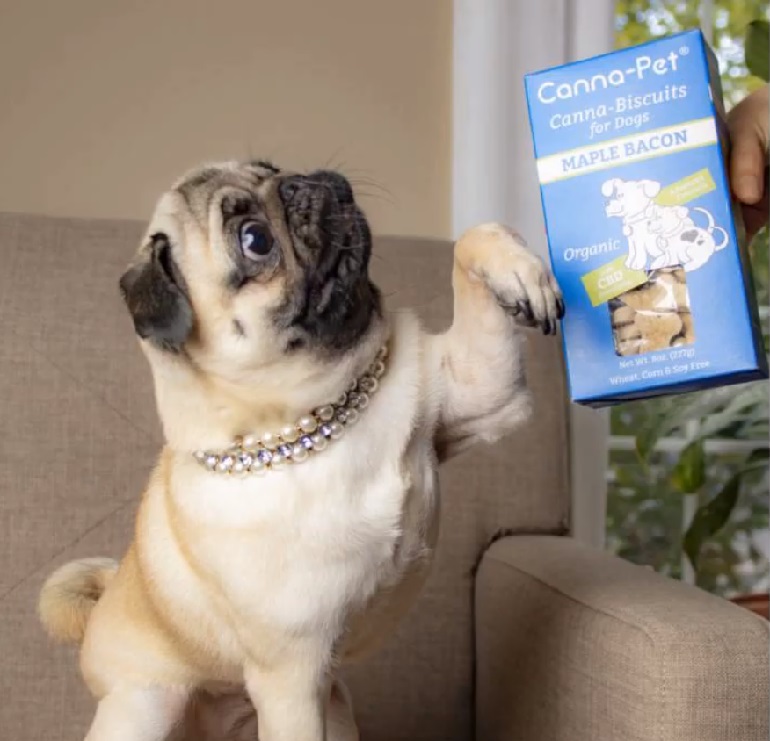 Dosage
These biscuits pack at least 8.4mg of CBD in each biscuit with 0% THC. Because of the stronger dose, fewer biscuits are needed, requiring between half and three biscuits every 12 hours, depending on your pet's size.
Ingredients
All ingredients are healthy and organic, combining hemp with a mix of organic barley flour and cured bacon, as well as maple powder and cinnamon for flavoring.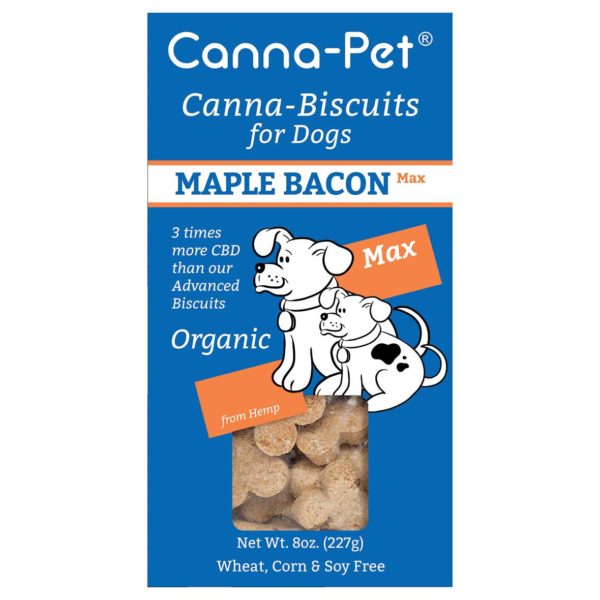 Advanced Formula Maple Bacon
The price of "Advanced Formula Maple Bacon" varies, so check the latest price at
Canna-Pet Features
When buying CBD for your pet, there's more to consider than just the products. You should keep in mind prices, reviews, shipping policies, and customer service.
Pricing and Discount
Although their prices seem expensive, Canna-Pet offers good value for money, considering the quality of hemp and the ingredients they use to make their premium CBD products. Still, it's certainly worth it if it benefits your pet's health.
The good news is that there are plenty of discounts available. Look through their official website, and you'll find various discounts and bundles for even better value for money.
Saving Opportunities
The best saving opportunities come from various discounts on Canna-Pet's website. The simplest savings are found in bundles or by subscribing to regular orders, but there's a 25% discount for writing a Canna-Pet review and a 30% discount for joining the newsletter.
Ratings and Reviews
It's no surprise that an established brand has thousands of positive reviews. And with mostly five-star ratings, Canna-Pet stands as one of the best pet CBD brands.
Dog owners are delighted by how easy it is to use Canna-Pet's products as well as the positive effects they have on dogs, reducing arthritic pain and giving a new lease of life to older dogs. The only issue some people have is the lack of Certificates of Analysis and how difficult it is to get in touch with the company.
Warranty, Shipping & Return Policies
Although their hemp is grown in the US, Canna-Pet still ships products across the world, albeit with some exceptions.
They also offer a 30-day money-back guarantee in case your pet doesn't respond to their CBD, although this only applies to first purchases up to $100.
Canna-Pet Customer Service
If you have questions about shipping, products, or refunds, you can send them a message online, but you might be waiting a while for a reply. Unfortunately, there's no option to phone them if you need a more urgent answer.
Vet Recommendation
Though some might be concerned about not having access to Certificates of Analysis, pet owners can take comfort in the fact that many veterinarians recommend Canna-Pet. In fact, many veterinarian practices even sell Canna-Pet products themselves.
Alternatives to Canna-Pet
Although Canna-Pet is up there with the best CBD manufacturers, they're not alone. Other top choices include HolistaPet, CBDfx for dogs, and Honest Paws. Some of these products address general issues, while some might offer the best CBD for anxiety or a CBD for dog seizures.
As you'd expect, all brands test CBD pet products for safety and quality. However, Canna-Pet isn't as open with its Certificates of Analysis as other CBD brands. While this is unusual, it's not necessarily a bad thing since their products have still been tested and released.
Nevertheless, it's notable that other CBD brands have more transparency. But Canna-Pet still stands out by offering strong doses of CBD and a wide range of products.
Is Canna Pet Worth It?
Canna-Pet uses high-quality ingredients to produce premium products that offer an effective, all-natural treatment for various issues, from pain management to calming anxiety.
Although Canna-Pet products are more expensive than other CBD brands, their money-back guarantee makes it a risk-free purchase. And if their products work well for your dog, it's certainly worth it!
FAQ's
If this is your first foray into CBD, here are some answers you might need about its safety and how it works.
What Is Full-Spectrum CBD?
Full-spectrum CBD is a cannabidiol extracted from a hemp plant which is mixed with a carrier oil, like MCT. As a full-spectrum oil, it contains all cannabinoids and naturally occurring compounds for maximum effect. This is what makes it different from broad-spectrum CBD, which is more selective with its range of cannabinoids.
Are Canna-Pet Products Safe for Pets with Food Allergies?
The good news is that Canna-Pet capsules and oils aren't problematic for pets with allergies. However, if your furry friend has any allergies or sensitivities, you should carefully check the list of ingredients before giving them CBD biscuits.
Do Canna-Pet's Products Cause a High in Pets?
There's no danger of pet CBD causing a high. Cannabidiol extracted from hemp plants contains very low levels of THC, the psychoactive compound that causes a high in humans. Since THC is toxic for dogs, pet CBD has either 0% THC or negligibly small levels that pose no risk.
Can Canna-Pet Products Be Shipped Internationally?
Although Canna-Pet is based in the US, they still ship products internationally. However, this excludes Canada, Australia, New Zealand, China, and Singapore.
How Much Time Does It Usually Take for Canna-Pet to Show Results?
Once your pet has their daily dose of CBD, you can expect to see results within just 45 minutes. Do bear in mind that this isn't guaranteed, and effects can appear sooner or later than this. Remember too, that it might take a few days of regular use for the full benefits of CBD to take effect.
Final Verdict
There's a lot to love about Canna-Pet. They offer various formats to deliver potent full-spectrum CBD to your pet, no matter their preference. On top of that, auto-shipping makes it simpler than ever to ensure your dog never misses their daily dose of CBD. There's no doubt that Canna-Pet is amongst the best CBD for dogs.