Disclaimer: The information provided in our articles is for educational purposes only and should not be considered a substitute for professional veterinary advice. It is essential to consult with a veterinarian before starting any CBD products for your dog's health and well-being.
When I decided to adopt a highly fearful chihuahua, I had no idea I'd be spending the next thirteen-plus years of my life dealing with an ever-anxious dog. In that time, I have tried just about every calming dog treat out there in a bid to help my little Pyro relax.
In my experience, calming supplements can do wonders to help reduce dog anxiety so your pup can chill. But the key to success is finding the right mix of ingredients for your dog's individual makeup.
Considering that calming treats come in a variety of types, including hemp, CBD, chamomile, melatonin, and more, that's a lot of choices!
To help you with your search, I've reviewed the top 7 best calming treats for dogs according to my own experience. Below, you'll find my full review of each of these supplements, along with my helpful calming treat buyer's guide.
Best Overall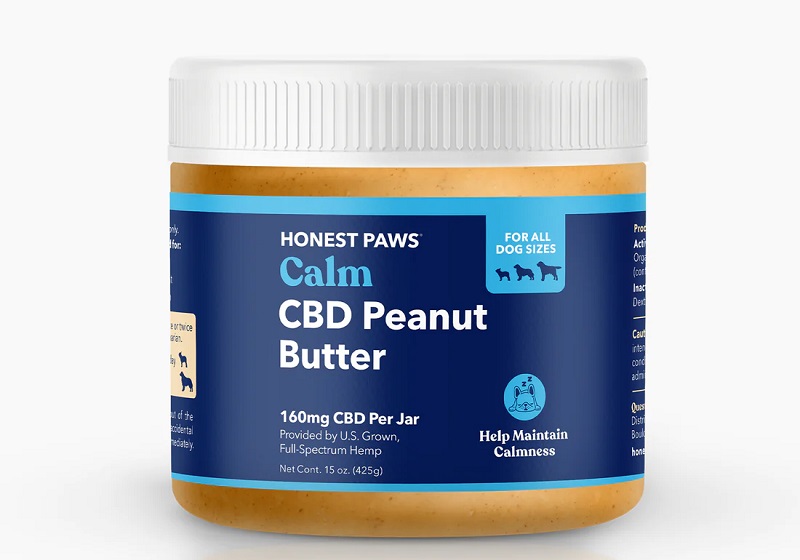 Honest Paws: Calm Peanut Butter Jar
ACTIVE INGREDIENT:
Organic Full-Spectrum Hemp Oil 40mg
NET CONTENT:  425g
Easiest to Dose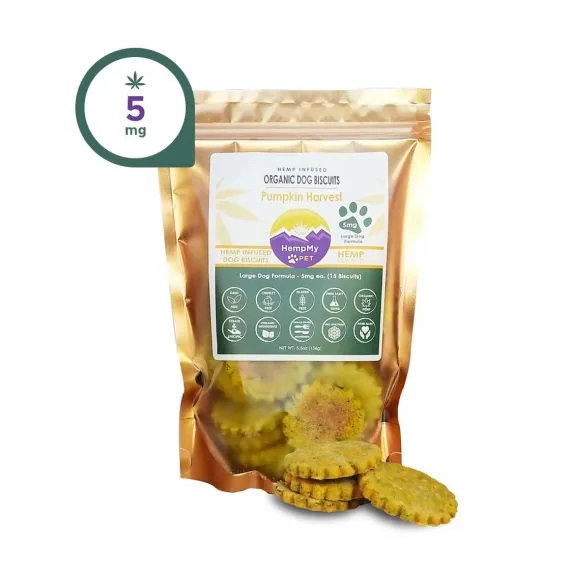 HempMy Pet: ORGANIC HEMP DOG TREATS
ACTIVE INGREDIENT:
Full-Spectrum Hemp Extract
NET CONTENT: 15 biscuits
Best Affordable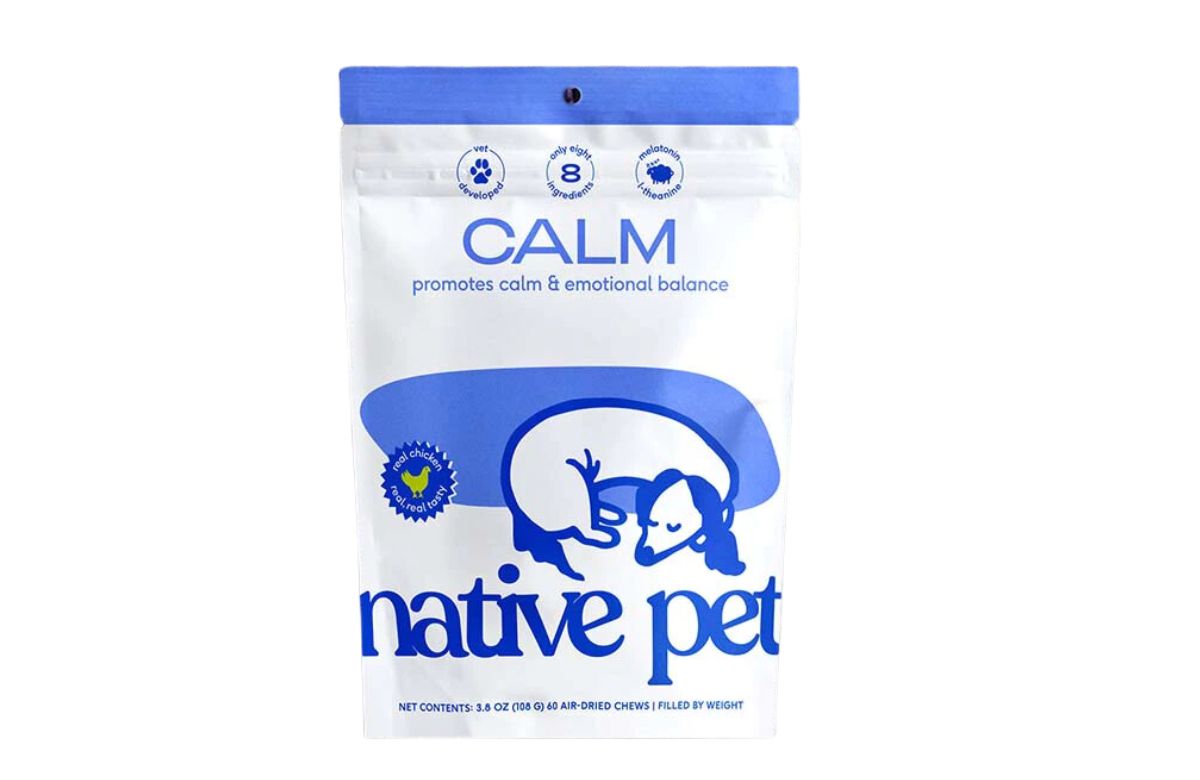 Native Pet: Calming Chews
ACTIVE INGREDIENT:
Chicken, Coconut Glycerin, Bone Broth Gelatin, Citrus Fiber, Mixed Tocopherols
NET CONTENT:
60 AIR-DRIED CHEWS
With Potent Herbs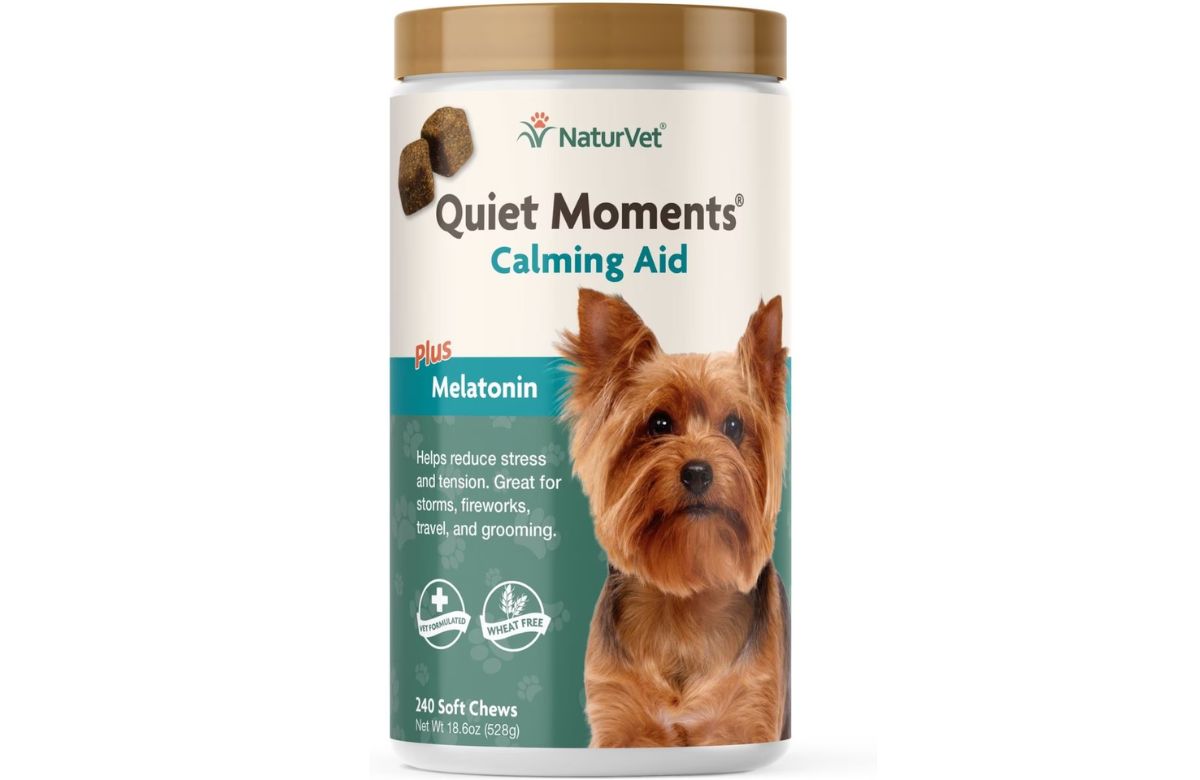 NaturVet : Quiet Moments Soft Chews
ACTIVE INGREDIENT:
Chamomile Passion Flower, Thiamine, Ginger and more
NET CONTENT:
240 Soft Chews
For Picky Eaters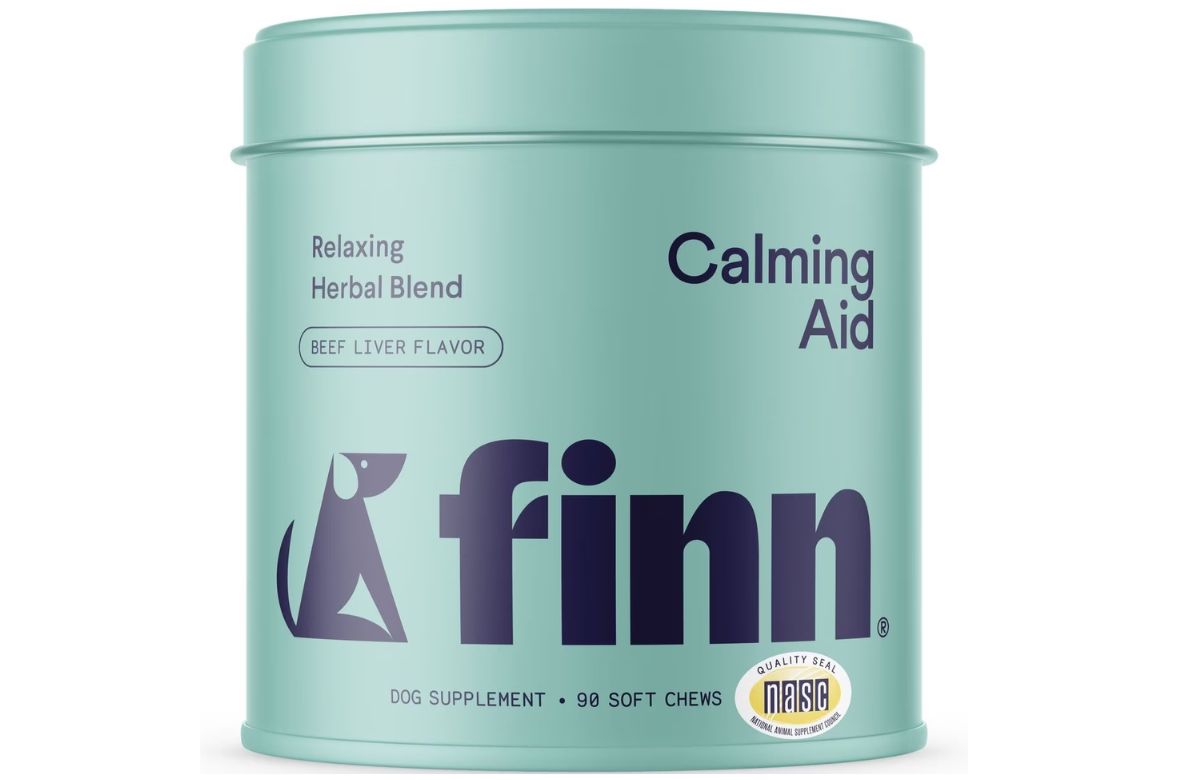 Finn: Calming Aid Soft Chew Dog Supplement
ACTIVE INGREDIENT:
Organic Passion Flower, L-Tryptophan, Valerian Root and more
NET CONTENT:
90 Soft chews
Fast Acting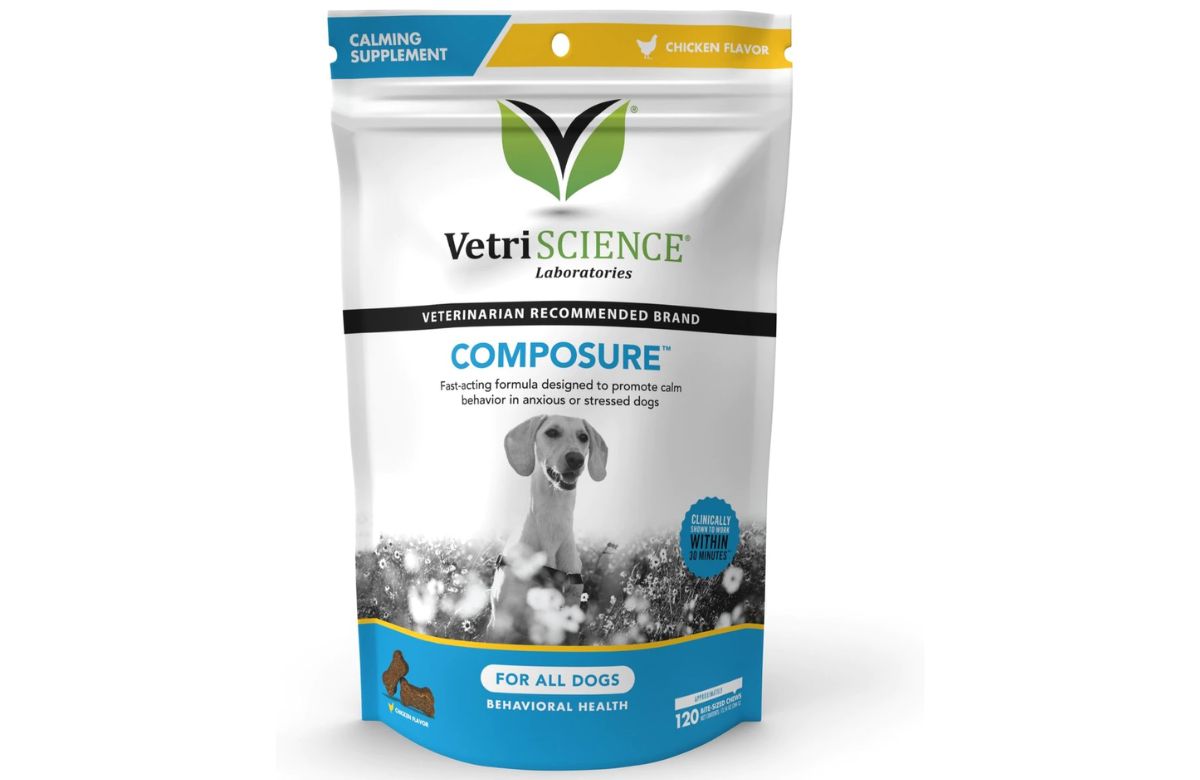 VetriScience: Composure Calming Treats
ACTIVE INGREDIENT:
Thiamine, C3 Colostrum Calming Complex, L-Theanine and more
NET CONTENT:
120 Bite Sized chews
Wholesome Formula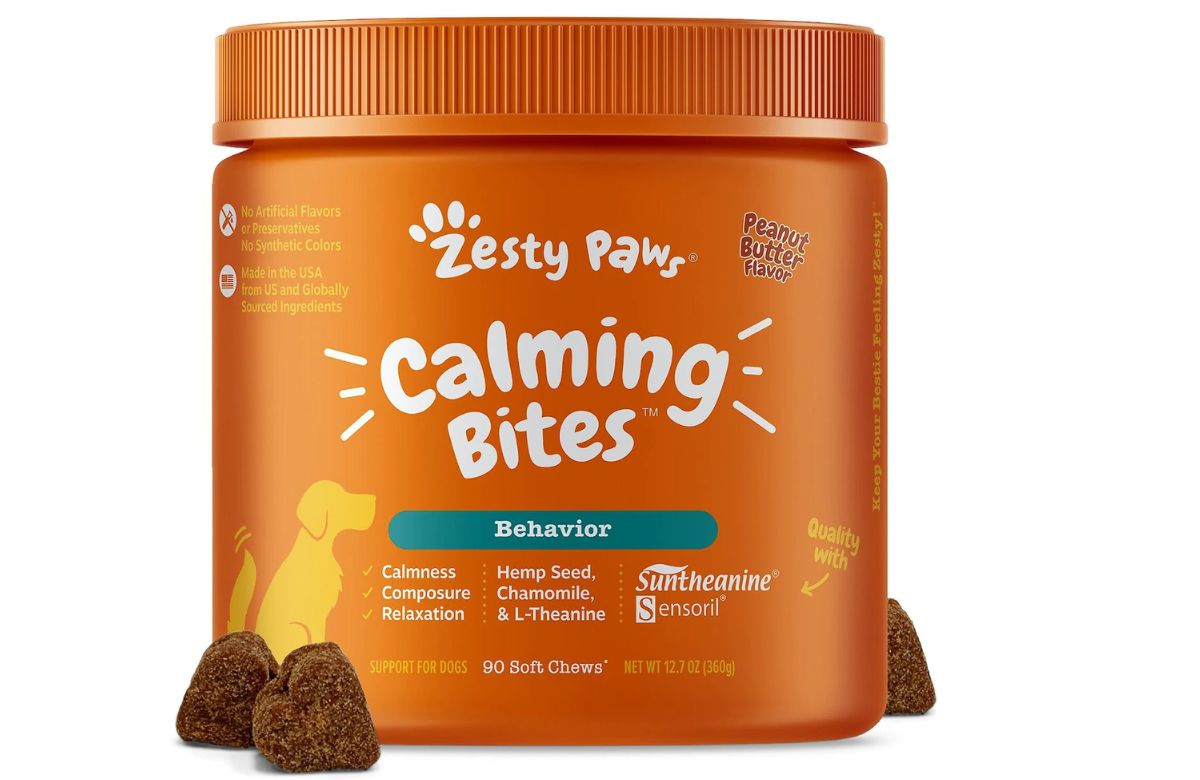 Zesty Paws Calming Bites
ACTIVE INGREDIENT:
Organic Hemp Seed Powder, Organic Chamomile, Valerian Root and more
NET CONTENT:
90 Soft chews
Benefits of Calming Treats for Dogs
Calming treats can be used in a variety of situations, including:
General anxiety
Noise phobia
Training Class
Travel
Boarding
Grooming
Vet appointments
Behavior modification therapy
Rehoming
Some herbs and compounds are better adapted to treat certain kinds of anxiety. Likewise, some formulas are best given every day, while others can be used only when needed.
Best Calming Treats for Dogs
Every dog has its day, but sometimes those days can be a tad overwhelming. Dive into our guide to discover the best calming treats for dogs that offer a soothing touch to your furry friend's jittery moments.
Hands down, my favorite calming treat for separation anxiety and dogs with phobias is Honest Paws Calm Peanut Butter. This wonderful CBD-infused peanut butter not only helps keep your furry friend calm but also keeps them occupied.
For anxious dogs, having something to focus on other than what is scaring them makes all the difference. By putting a tablespoon or two of this in a Kong, you can give your dog a calming activity that helps reduce stress on the inside and outside.
Your dog will get the calming effects of CBD and a wonderful distraction. Plus, the action of licking the peanut butter actually releases endorphins that also help to fight stress.
For super anxious pups or very scary situations, I recommend freezing the peanut butter in a Kong so your dog gets even more time to lick and relax.
Honest Paws also makes some of the best CBD dog treats on the market.
Pros
160 mg CBD per jar
Organic full-spectrum hemp oil
Calms in three ways
Provides a great distraction
Made with only three ingredients
Cons
Takes more work to administer
Can be messy and harder to dose
Contains trace amounts of THC
Price
Considering this product contains full-spectrum hemp oil, it really is fairly well priced. Each jar contains 30 doses (for small dogs, 15 for larger dogs), putting the cost at about one dollar per dose.
But if you subscribe, you'll save 15% on every delivery.
Ingredients
160 mg organic full-spectrum hemp oil
Dry roasted peanuts
MCT oil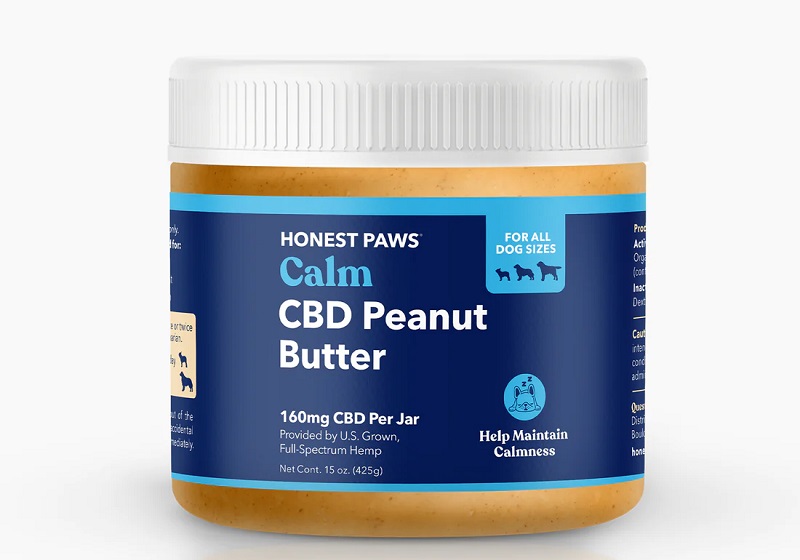 Honest Paws: Calm Peanut Butter Jar
The price of " Honest Paws: Calm Peanut Butter Jar " varies, so check the latest price at
If you're looking for a CBD dog calming treat that is easy to give, these crunchy treats from HempMy Pet are a wonderful option.
Each pumpkin-flavored circular treat contains 5mg of organic full-spectrum hemp oil. This oil contains all the CBD, CBN, terpenes, flavonoids, and other cannabinoids your dog needs to keep their chill in stressful situations.
All these compounds work together to have an entourage effect on the body. This means these treats not only help balance hormones and reduce cortisol, but they promote an overall sense of well-being while protecting the body from the damaging effects of stress.
I also love that these treats are USDA-certified organic and made in the USA, in my home state of Colorado.
These treats work wonders for general anxiety as well as for targeted therapy. For smaller dogs, HempMy Pet also makes a 2 mg dose of small dog treats.
Pros
5 mg organic full-spectrum hemp oil
Wholefood, organic ingredients
Easy to dose
Easy to store
Cons
CBD amount not listed
A little pricey
Not as palatable as others
Price
These treats are a little pricier than other options on this list. But they are handmade with organic ingredients and quality CBD-containing hemp oil, so they are certainly worth it, in my opinion.
Each bag of HempMy Pet Organic Hemp Dog Treats contains 15 cookies. That places the cost per dose at about $2.
Ingredients
Pumpkin
Garbanzo Bean Flour
Rice Flour
Tapioca Starch
Apples
Eggs
Unrefined Coconut Oil Infused with **Hemp Extract
Mint
Parsley
Baking Powder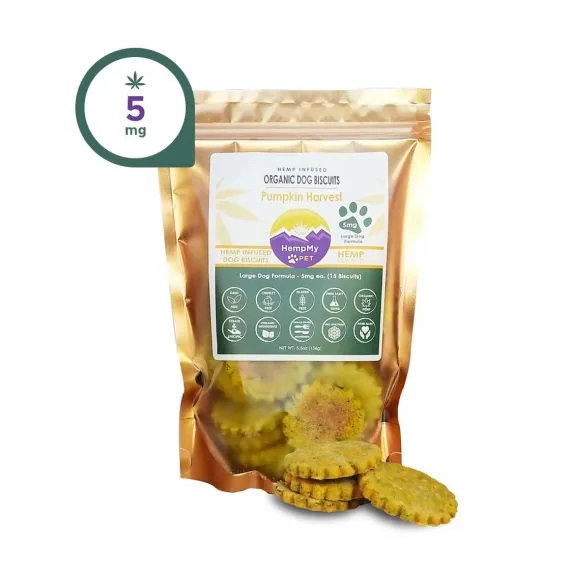 HempMy Pet: ORGANIC HEMP DOG TREATS
The price of " HempMy Pet: ORGANIC HEMP DOG TREATS " varies, so check the latest price at
Looking for an easy-to-give calming treat that you can use when your pup needs some extra support? I highly recommend these Calming Chews from Native Pet.
These soft treats contain a combination of herbs, amino acids, hormones, and hemp seeds to attack anxiety from all angles.
Casein and l-theanine work together to calm the nerves. Meanwhile, melatonin helps balance brain activity, while hemp seed promotes an overall sense of calm.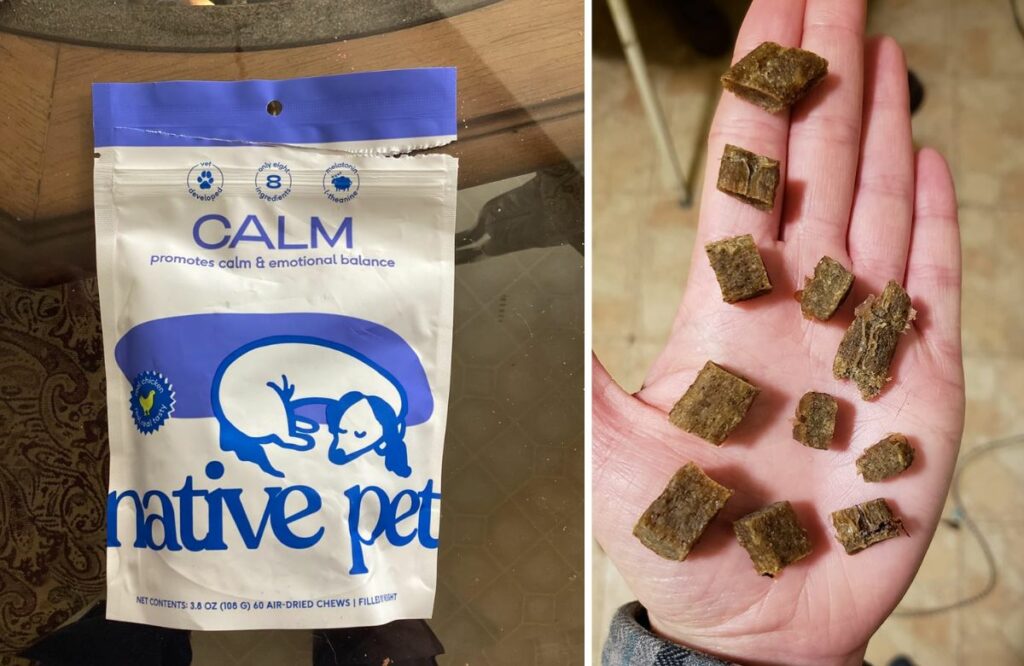 These work quickly to help your dog feel more relaxed and continue working to prevent stress responses to fearful situations.
Best of all, each treat is flavored with natural chicken and bone broth, a winning combination most dogs can't deny. And the soft texture makes these an especially good choice for young puppies and old dogs.
Pros
200 mg of hemp seed powder
Effective combination of herbs, amino acids, and more
Affordable
Only 8 ingredients
Cons
Large dogs need multiple treats
Need to be given before stressful event
Price
These soft and chewy calming treats are pretty well-priced. They are available in bags of 30, 60, or 120. Each treat costs about 34 cents.
But do note that large dogs may need up to 4 treats at a time.
Ingredients
Hemp Seed Powder
Dried Hydrolyzed Casein
L-Theanine
Melatonin
Bone Broth Gelatin
Chicken
Coconut Glycerin
Mixed Tocopherols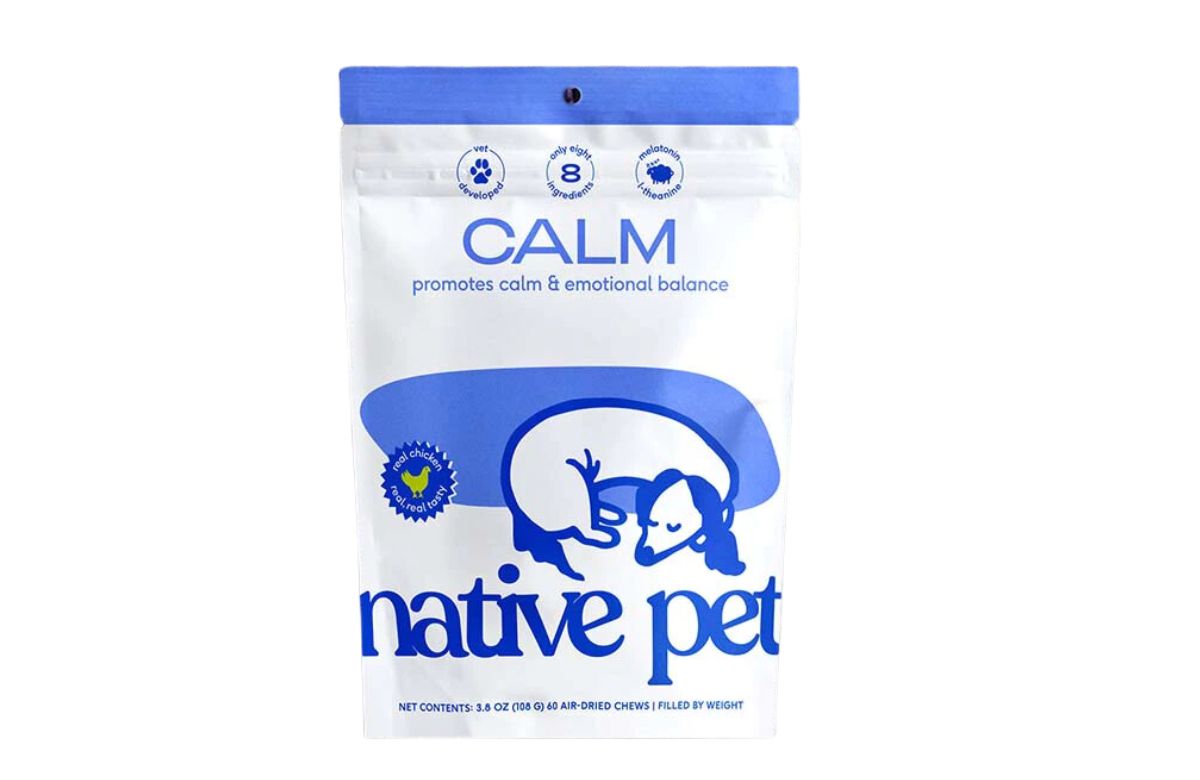 Native Pet: Calming Chews
The price of " Native Pet: Calming Chews " varies, so check the latest price at
Quiet Moments Soft Chews by NaturVet are my go-to calming treat for my anxious Chihuahua. And I highly recommend them for other dogs that suffer from a high degree of generalized anxiety.
I think the reason these work so well for helping dogs overcome constant stress is because they contain passionflower. This herb has been highly studied for its ability to reduce nerve activity in the brain and calm obsessive thought patterns.
In addition to passionflower, this formula also contains chamomile, thiamine, ginger root, L-tryptophan, and melatonin. These powerful herbs, vitamins, and amino acids work together to reduce stress hormones and promote relaxation.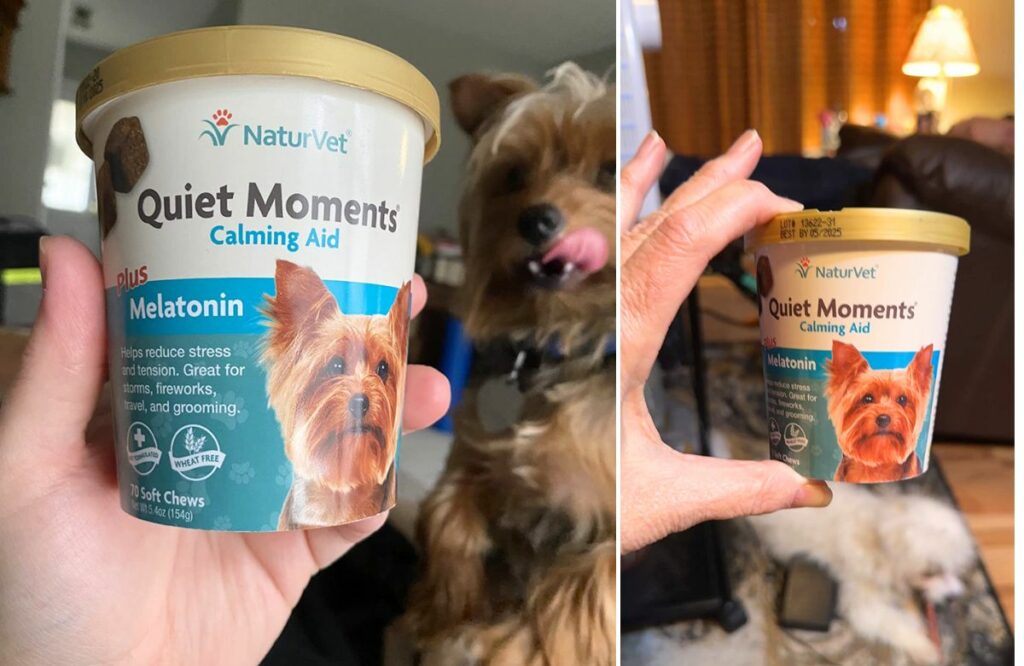 The inactive ingredients in this formula are also pretty good. Flaxseed, brewer's yeast, and fish oil all provide healthy fats and nutrients also known to promote calm.
My only gripe about these treats is that they are not overly flavorful. I know because my other dog will not eat them unless I slather them in peanut butter. But for food-motivated dogs, they tend to go down easy.
Pros
100 mg of passionflower
Potent combination of herbs, amino acids, and nutrients
Full of healthy fats
Very well priced
Cons
No strong flavor enhancers
Large dogs will need multiple chews
Price
Another thing to love about these chews is how well-priced they are. They are available in containers of 70 to 360.
You'll pay between $0.22 and $0.14 per treat, depending on whether you buy in bulk. Even for large dogs who need a larger dose, this is a very cost-effective option.
Ingredients
Chamomile Passion Flower
Thiamine
Ginger
L-Tryptophan
Melatonin
Brewer's Dried Yeast
Fish Oil
Flaxseed Meal
and more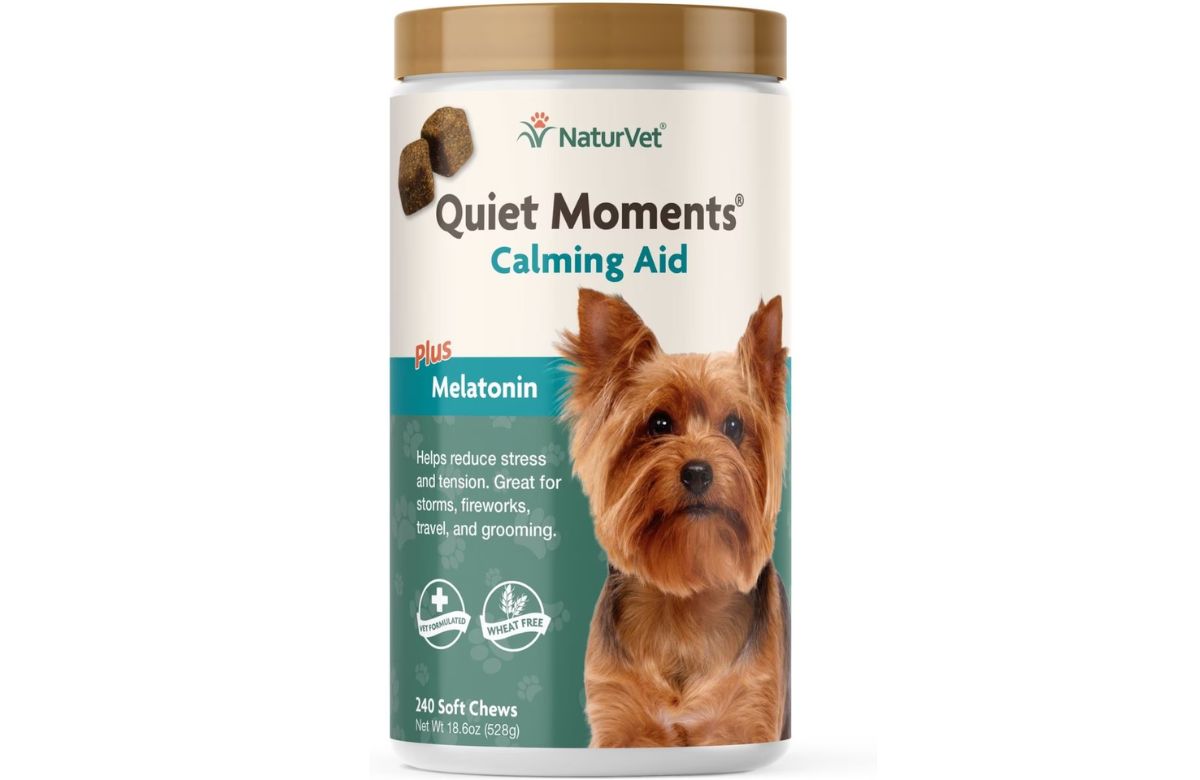 NaturVet : Quiet Moments Soft Chews
The price of " NaturVet : Quiet Moments Soft Chews " varies, so check the latest price at
If you have a picky dog that doesn't like most calming treats, then you may want to give these Finn Calming Aid Soft Chews a try.
These chewy treats have a very similar formula to NaturVet but include a heaping of added natural flavors that most dogs can't resist. It's that lovely combination of beef, cheese, and bacon that seems to get them.
Another thing I love about these treats is that they are loaded with passionflower—125 mg per treat! This high dose makes them especially effective for dogs who perform compulsive behaviors, like paw licking, whining, or chewing when stressed.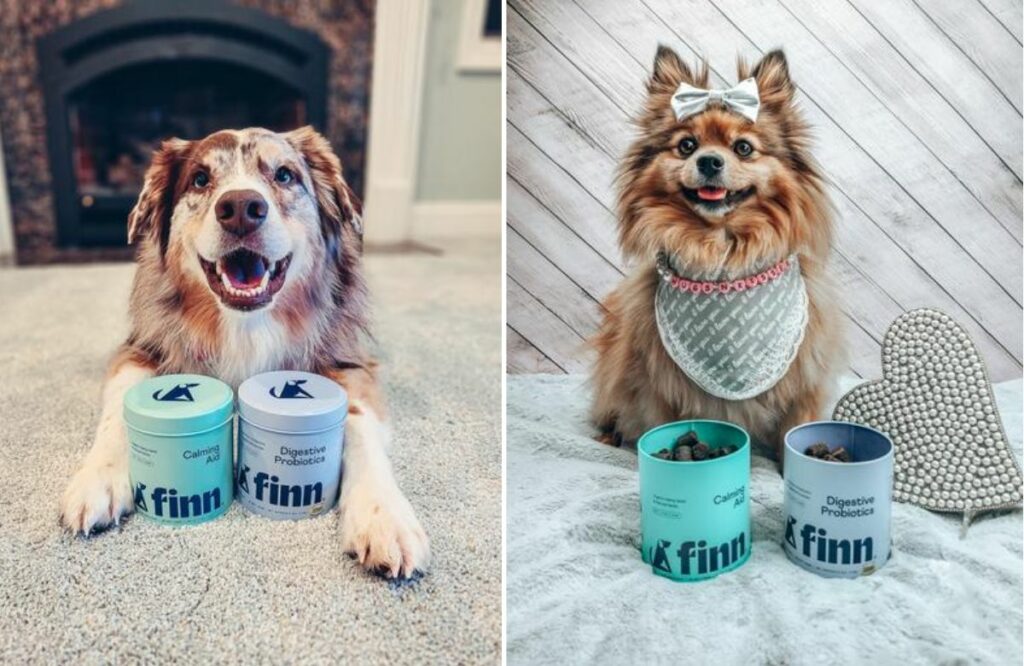 In addition to reducing obsessive thoughts and calming brain activity, they also help to promote overall relaxation. This is thanks to powerful ingredients like L-theanine, L-tryptophan, and valerian root.
These treats used to contain hemp powder as well, but a recent formula change means they no longer do. None of the other ingredients have changed, however, and they still seem to be very effective
These treats are great for targeted therapy and also work well as a daily-dose supplement.
Pros
High in passionflower
Contains multiple amino acids
Flavor dogs love
Certified by NASC
Cons
No longer contains hemp powder
Small treats are hard to break for tiny dog dosing
Price
These are another well-priced calming treat option available in large quantities. You can get a 90-count container for just $0.30 per treat.
Ingredients
Organic Passion Flower
L-Tryptophan
Valerian Root
Organic Ginger Root
L-Theanine
Organic Chamomile
Melatonin
Ascorbic Acid
Brewer's Yeast
Natural Flavors
and more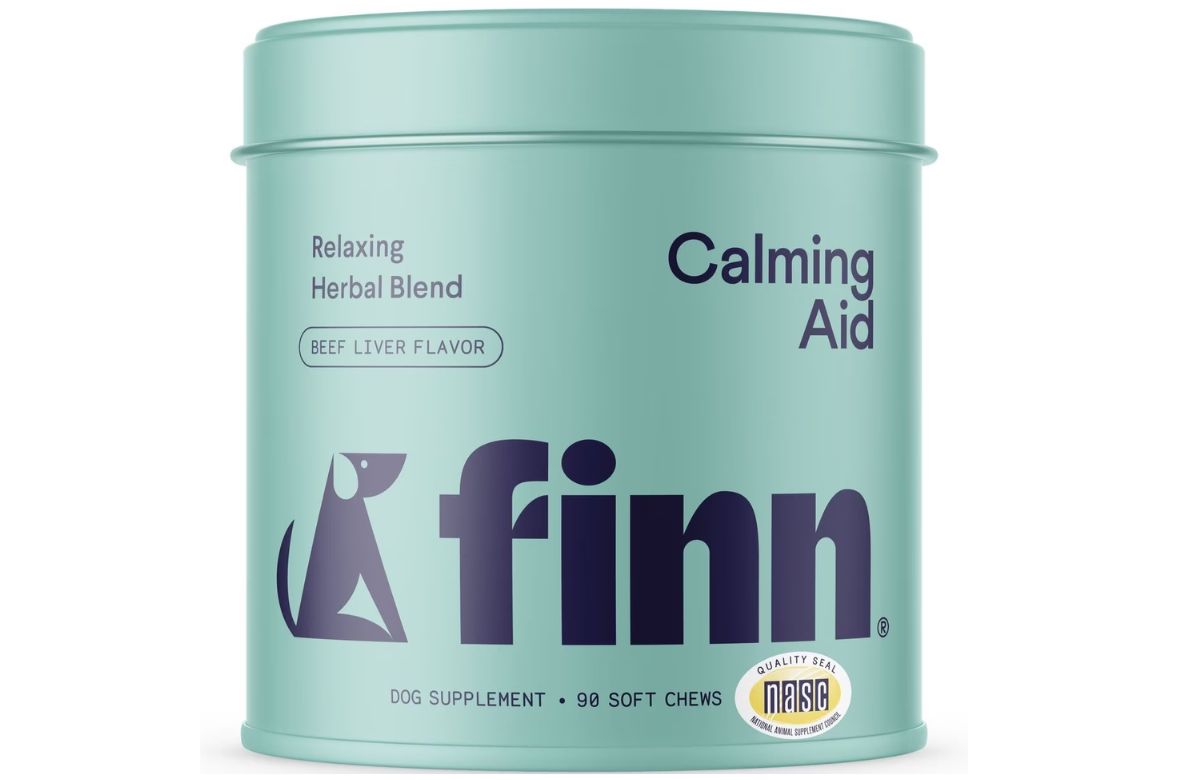 Finn: Calming Aid Soft Chew Dog Supplement
The price of " Finn: Calming Aid Soft Chew Dog Supplement " varies, so check the latest price at
I spent most of my young adulthood working in boarding kennels. And the one brand of calming treats I saw dog owners pack with their pups more than any other was VetriScience's Composure Calming Treats.
The fact that these are so popular and have been around for so long says a lot about how effective they are.
What sets them apart from other treats is the inclusion of colostrum (C3 calming complex) in the formula. This complex contains a range of compounds proven to enhance GABA activity and support relaxation without sedation.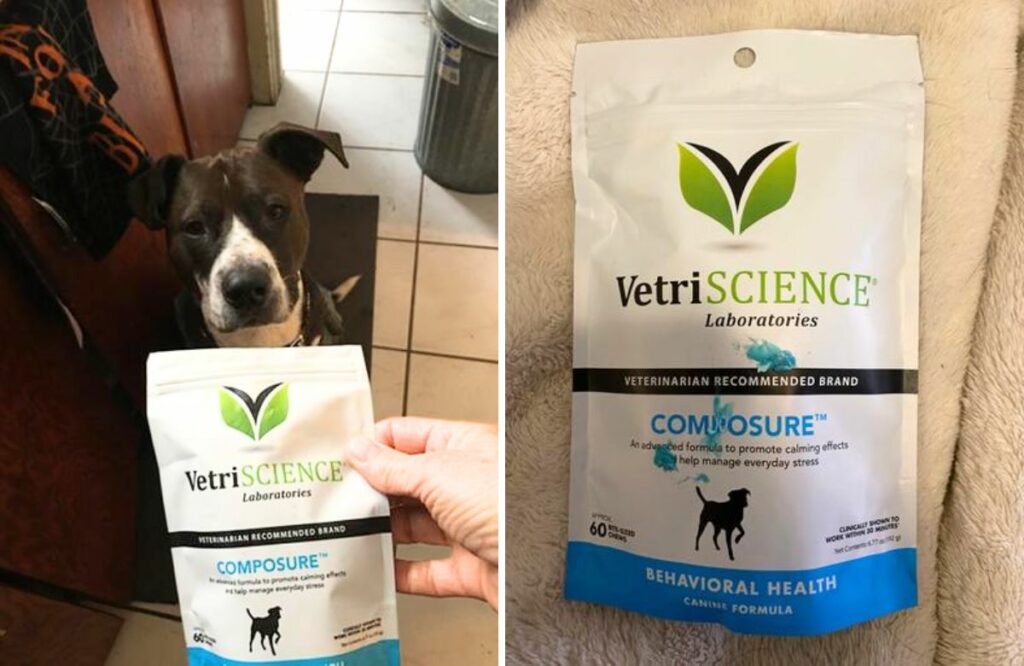 In addition to C3, Composure treats also contain thiamine and L-theanine. These compounds also change brain chemistry and promote calm.
VetriScience Composure treats seem to work wonders to help dogs stay calm in boarding, travel, and other extended stress situations. Plus, most dogs love the taste!
Pros
22 mg C3 colostrum
Great for long-term stressful situations
Easy to break apart
Fewer treats needed for large dogs
Cons
Effects only last 4 hours
A long list of non-active ingredients
Price
Composure chews are a little more expensive than similar soft calming chews. But when purchased in bulk (120 counts), they are still only about $0.40 per treat. And large dogs only need up to 3 treats for a full dose.
Ingredients
Thiamine
C3 Colostrum Calming Complex
L-Theanine
Brewers Yeast
Canola Oil
Chicken Liver Flavor
and more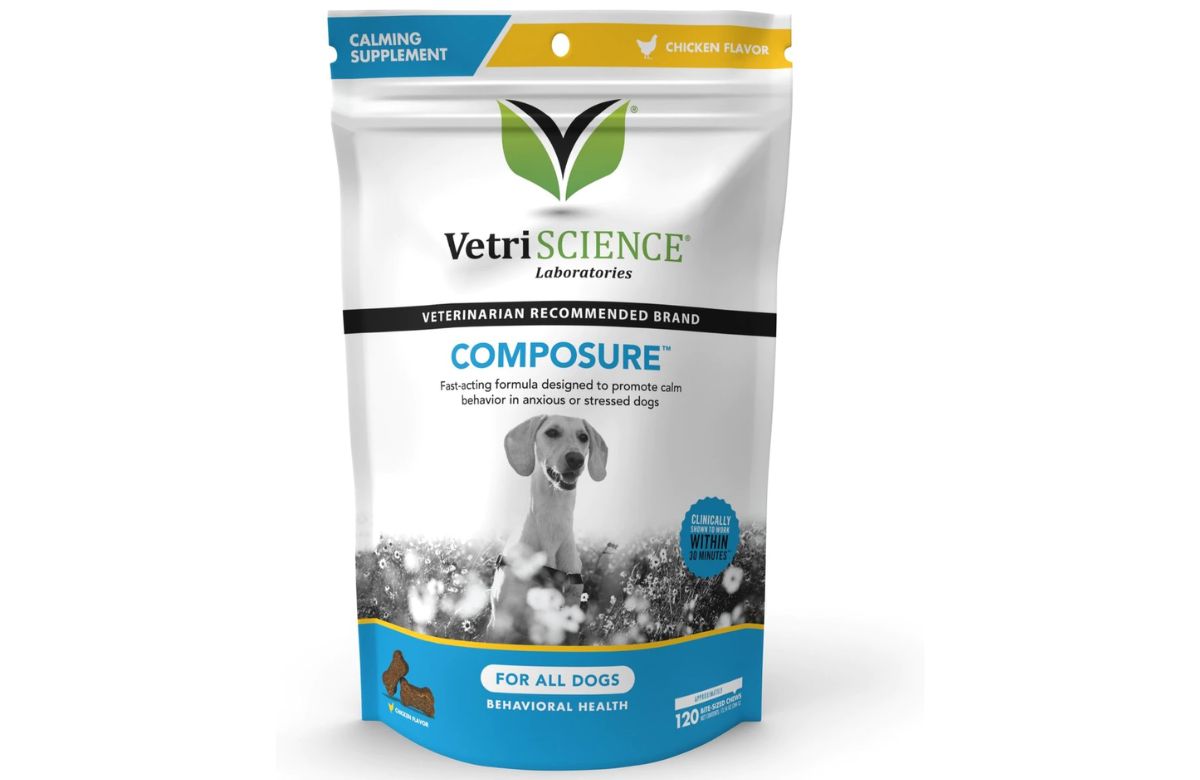 VetriScience: Composure Calming Treats
The price of " VetriScience: Composure Calming Treats " varies, so check the latest price at
Looking for an all-around helpful stress management solution? Zesty Paws Calming Bites has you covered.
These soft chews contain a long list of active ingredients, from hemp seed powder to ashwagandha to magnesium. These potent treats attack anxiety through multiple pathways, making them more effective for more dogs.
One of the most unique ingredients found in these calming cookies is Suntheanine. This patented form of l-theanine is better absorbed and is more effective at promoting calm.
This, along with a patented form of ashwagandha known as Sensoril, gives these calming treats a big bump over other formulas.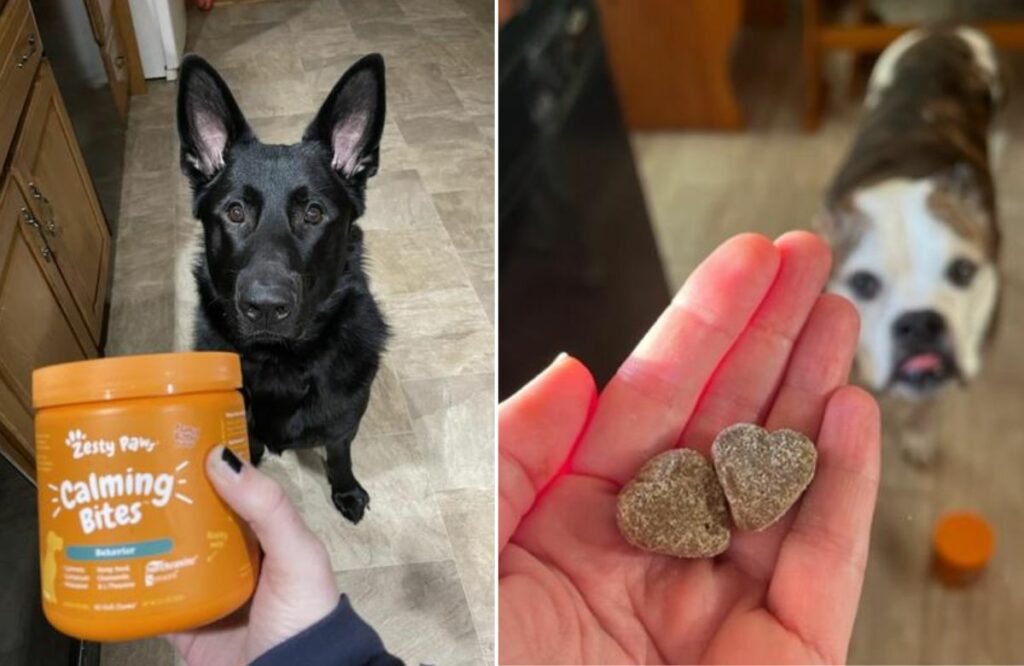 But the reason I like them so much? They have so many different ingredients in different forms that they are more likely to work for your dog. And if you have multiple dogs, this formula is more likely to work for all of them!
Pros
240 mg of hemp seed powder
Long list of active ingredients
Yummy peanut butter flavor
Patented herbs and amino acids
Cons
Can have a sedative effect
Some dogs experience stomach upset
Price
These treats are priced in the same tier as Composure. You will pay a little more for those patented ingredients, but for many dogs, they are well worth it.
For the 90 or 180-treat container, you will pay about $0.33 per treat. Considering the large dog dose is only 3 treats, this isn't too bad.
Ingredients
Organic Hemp Seed Powder
Organic Chamomile
Valerian Root
Organic Passionflower
L-Theanine (Suntheanine®)
Organic Ginger Root
Ashwagandha (Sensoril®),
L-Tryptophan
Magnesium Citrate
Beef Liver
Coconut Glycerin
Flaxseed
and more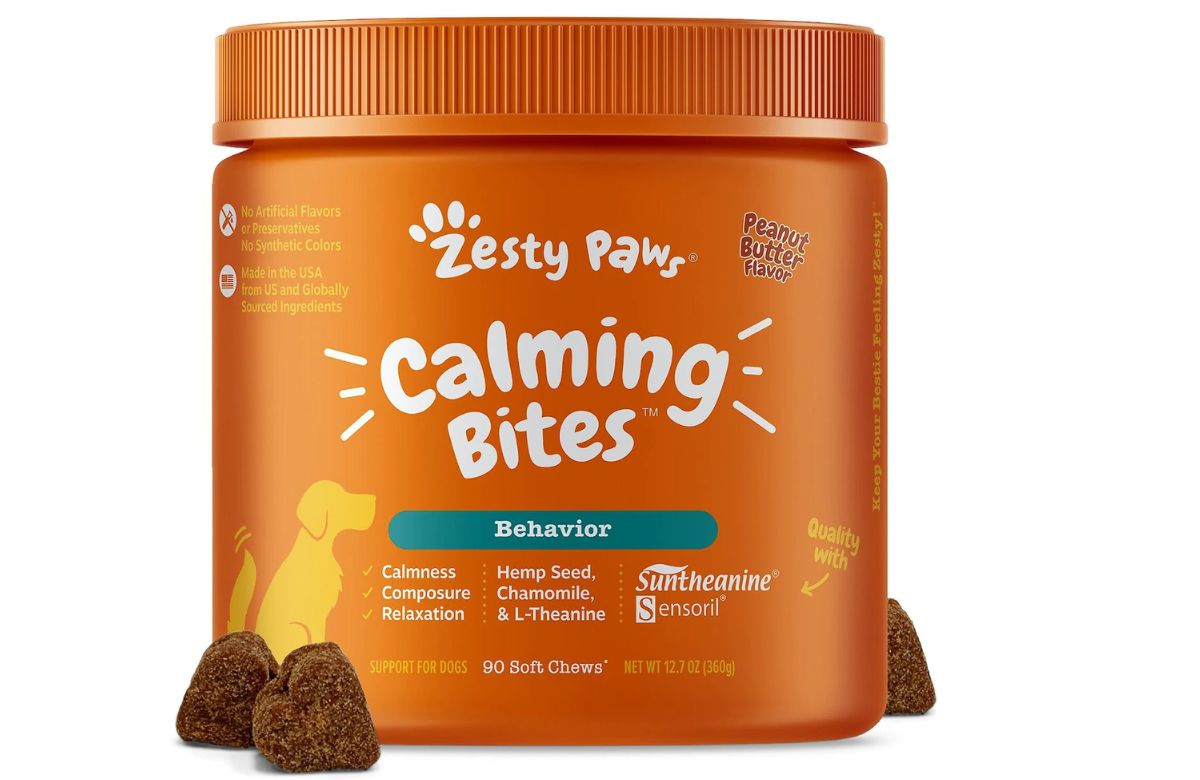 Zesty Paws Calming Bites
The price of " Zesty Paws Calming Bites " varies, so check the latest price at
Buying Guide for Selecting Dog Calming Treats
Finding the right calming treats to help your dog relax or overcome fears means understanding what options are out there. And, more importantly, how to find the best products.
This helpful dog calming treat buying guide can help you with both.
Form
Calming treats come in two main varieties: hard and soft.
Hard or crunchy calming treats are a good option for adult dogs, especially ones who love food. These types of treats are generally easier to store and have a longer shelf life.
Soft calming treats are a good option for all dogs, but they are especially great for puppies and older dogs. They also tend to be a better option for picky dogs since they are generally more palatable.
Another great option in the calming treat department is calming peanut butter. Only a few brands offer this, but it is becoming more common because it offers multiple benefits for anxious dogs.
Active Ingredients
Most calming treats utilize multiple active ingredients. Which blend works best for your dog depends on why they are anxious and their specific body chemistry. Most of these ingredients work within 30 minutes to relieve stress and anxiety.
Herbs
The most common ingredient in calming treats is medicinal herbs. There are many effective options for dogs in this category, including:
Chamomile – General calming effect
Valerian Root – Sedative and GABA enhancer
Passionflower – GABA enhancer and obsessive thought reducer
Ashwagandha – Lowers cortisol levels
Hops – Hormone balancer and sedative
Catnip – Contains magnesium, which helps promote calm in the body and brain
Ginger Root – Increases serotonin and dopamine to increase happiness
If your dog's anxiety involves obsessive behaviors and high stress, a blend of passionflower and ashwagandha is likely to be helpful.
On the other hand, if your dog only gets anxious in certain situations, like travel, you may find that a mix of chamomile, valerian, and ginger root may be the most effective.
Most likely, you'll have to do some experimenting with herbs to find out which one works the best for your dog.
Hemp Oil and Hemp Seed Oil
Hemp oil, hemp seed oil, and hemp seed powder are all common ingredients in today's calming treats.
Hemp seeds are packed with fatty acids and other healthy nutrients that support health and balanced brain function. The omega-3 fatty acids, in particular, appear to have a beneficial effect on severe anxiety, according to the AOCS.
Hemp oil, which is made from the buds and stalks of the hemp plant, contains these healthy fats along with cannabinoids like CBD. The levels of these compounds are much lower in hemp oil than in CBD extract, but they still have a noticeable effect on anxiety.
CBD
Cannabidiol (CBD) is the most common compound in hemp and is highly effective in lowering stress levels in dogs and humans.
This compound works by interacting with the body's endocannabinoid system to balance hormones, reduce cortisol levels, and promote feelings of well-being.
There are many wonderful CBD supplements for dog anxiety on the market.
Amino Acids and Proteins
L-theanine is the most common amino acid used in calming treats. This compound is found naturally in green tea and some mushrooms.
When ingested, this compound increases levels of GABA, dopamine, and serotonin in the body. These hormones help to calm the nervous system and promote relaxation.
Casein is another protein used to calm. Studies show it decreases nervous system activity and severe anxiety symptoms.
Hormones
Hormones like GABA and melatonin are often included in dog-calming treats for their sedative properties.
Melatonin is best known for helping to regulate sleep patterns. In addition to helping Fido get a better rest, this hormone may help reduce activity in the nervous system to reduce anxiety, according to studies.
Minerals
Calcium, zinc, and many other minerals are known to have calming effects on the body. But magnesium is the most effective mineral for producing feelings of relaxation and is often found in calming treats.

This mineral helps physically relax muscles while increasing serotonin and melatonin levels in the brain.
Mushrooms and Nootropics
Functional mushrooms and other nootropics—compounds that affect how the brain works—are just now starting to take off in the dog-calming supplement world.

These powerful adaptogenic ingredients can help balance hormones and ensure the body reacts to stress in a healthy, balanced way.
Inactive Ingredients
While active ingredients are most important to how well a calming treat functions, the treat itself will contain many more inactive ingredients.

These extra ingredients include binders, flavors, and fillers. To ensure your calming treat is healthy and safe for your dog, look for natural, organic, and whole-food ingredients.

Avoid treats with unhealthy and hard-to-digest fillers like corn, soy, and highly processed grains.
How Often to Give
How often pet parents should give calming treats depends on what they are hoping to accomplish with them.

For help with general anxiety, treats should typically be given two to three times every day.

If your dog suffers from separation anxiety or specific fears, such as fireworks, you only need to give the treat before the stressful event. Often, giving one dose about an hour before the event and a second right before can be helpful.
Alternate Methods for Calming Your Dog
Calming treats are a great way to chill your nervous dog out, but they aren't the only method.

Other products, like an anti-anxiety vest and pheromone sprays and collars, can also help anxious dogs during stressful events.

In addition to these products and calming supplements, you should also be using positive reinforcement training and desensitization techniques to help your dog become less fearful.

As a last resort, if these techniques don't work, you should talk to your vet about behavioral medications to help them overcome their anxiety.
FAQs
How Do Calming Treats Work?
Calming treats use medicinal herbs and other compounds to help your furry friend's body and mind relax. These natural chemicals work by stimulating calming hormones and reducing nervous system activity.
Is it possible to give my dog too many calming treats?
All calming treats come with a recommended dose. Exceeding this dose by a little isn't likely to harm your pup. Even overdoing it by a lot isn't likely to have lasting effects, but you should always check with your vet if your dog accidentally takes too many calming treats.
How Can I Properly Store Calming Treats?
Calming treats should generally be kept in their original packing in a cool, dry place. The pantry or cupboard typically works well. This is different from homemade CBD treats, which generally need to be kept in the fridge.
Are Calming Treats Safe for Puppies?
Calming treats are generally safe for puppies. However, many commercial calming products are recommended for dogs over 12 weeks old only. You can usually find this information on the product label. If you have a puppy in need of some behavioral intervention, check out puppy treats for training.
Is It Safe To Give Calming Treats Alongside Other Medications to My Dog?
Most calming herbs and CBD are safe to give with most medications. However, you should always check with your veterinarian before giving your dog any medicinal or nutritional supplements.
Conclusion
Finding the best calming treats for your dog often means experimenting with different formulas that contain a variety of herbs and natural calming compounds.

For a shortlist of highly effective options, check out my favorite calming dog treats and chews in the list above. And if you've found a product that works well for you, let us know in the comments section below.