Disclaimer: The information provided in our articles is for educational purposes only and should not be considered a substitute for professional veterinary advice. It is essential to consult with a veterinarian before starting any CBD products for your dog's health and well-being.
Pet CBD oil isn't new. But although it's been around for quite some time, it's only in recent years we've seen companies making it more mainstream. We usually just see CBD products from big companies with more money to splash on marketing, but sometimes, you need a more homely touch.
That's where Austin & Kat come in. If your pet suffers from aches, pains, or anxiety, then CBD is the perfect way to manage their problem and reduce symptoms. And it's tough to beat the personal touch of Austin & Kat's high-quality CBD products.
Austin and Kat Review
It all started in 2014 when Kat Donatello used natural ingredients to support the health of her two dogs, Austin and Brady. Austin was hyperactive at the best of times, while Brady was beginning to get on with all the aches and pains of a senior dog.
Kat baked homemade hemp biscuits in her kitchen at home, experimenting with herbal ingredients until she arrived at a recipe she was proud of. The dogs loved the tasty treats, and their health massively improved.
In fact, her biscuits worked so well that even Kat's neighbors asked for the CBD treats recipe. Once Kat baked hemp biscuits for dogs in her neighborhood, she saw first-hand the amazing difference they made.
Before long, Kat went from selling biscuits in a farmer's market to stocking Austin and Kat products in over 1,000 stores across the US. Kat and her dedicated team still maintain that personal touch, making the products themselves in their Seattle Makery.
Austin and Kat Brand Overview
Austin and Kat formulate CBD into a broad-spectrum oil with a range of cannabinoids and 0%THC, keeping oils 100% natural with no artificial colors or flavors. Although they focus on CBD, they include other ingredients and superfoods for additional health benefits and natural tasty flavors.
Although Austin and Kat source hemp from elsewhere, their pet products are still handmade by a small group in Seattle, ensuring the highest quality. From chews to oils, they pour their heart and soul into each product, rigorously testing for impurities and contaminants at each step.
All this love and care for their products is really evident in the names of the products too. Each one is named after a real dog Kat's formula has helped, whether Bakko's joint pain or Bailey's anxiety.
Pros
All-natural
Handmade in USA
Employee-owned business with a personal touch
THC-free
High-quality ingredients
Choices of strength
Extra ingredients for additional health benefits
Free shipping on orders over $50
Positive reviews
Money-back guarantee
Cons
Source CBD extract from elsewhere
Limited reviews compared to other brands
Broad-spectrum oil doesn't offer full range of cannabinoids
Austin and Kat CBD Products
Even if you decide on a CBD brand, it's tricky to settle on the best CBD product for your pet. Whether you get CBD chews or oils often depends on your pet's preference and the problem you want to treat, but sometimes it's easier to just look at a list of what's on offer.
Austin and Kat CBD Oils
There is a range of Austin and Kat CBD oils of various strengths to target specific problems.
CBD Hemp Oil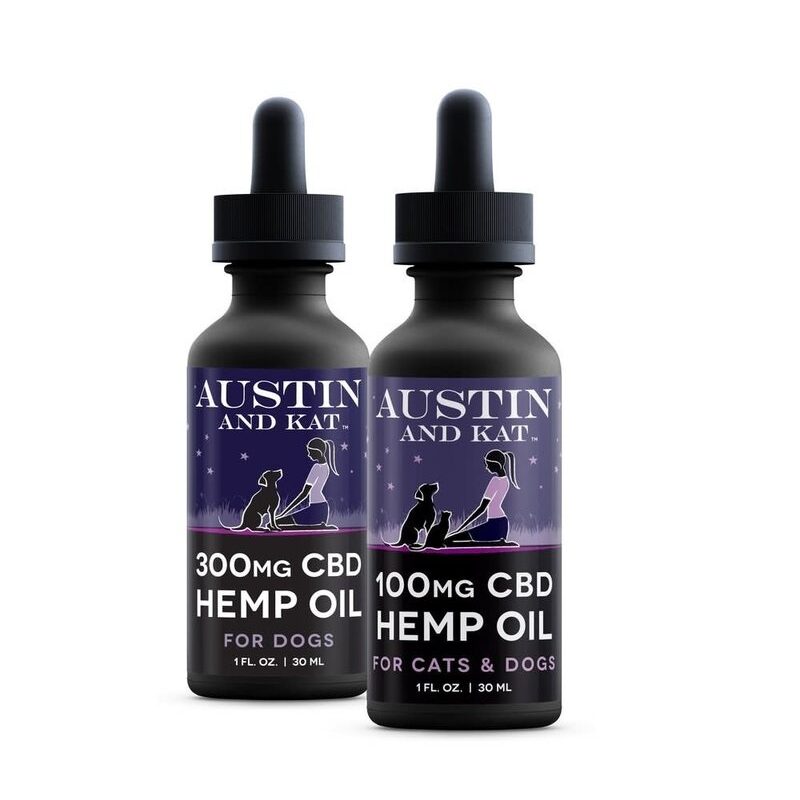 This is Austin and Kat's everyday wellness CBD oil to support pets of all sizes with various issues. They offer two strengths – a 100mg bottle for smaller animals and a 300mg one for medium-sized pets.
The formula is simple but effective. Hemp seed oil is blended with CBD extract and wild Alaskan salmon oil for a taste that pets love. The delicious taste makes it even easier to deliver the CBD oil directly into your pet's mouth with the dropper, although you can still mix it into their food if needed. After their daily dose, it takes just 20 minutes for pain and anxiety relief!
But the best thing about Alaskan salmon oil isn't the taste but the additional health benefits. Salmon oil is crammed with Omega-3 and Omega-6 fatty acids; this gives your dog healthy skin and a beautiful coat, improves their heart health and joint function, and even enhances the immune system and cognitive processes to keep the brain healthy.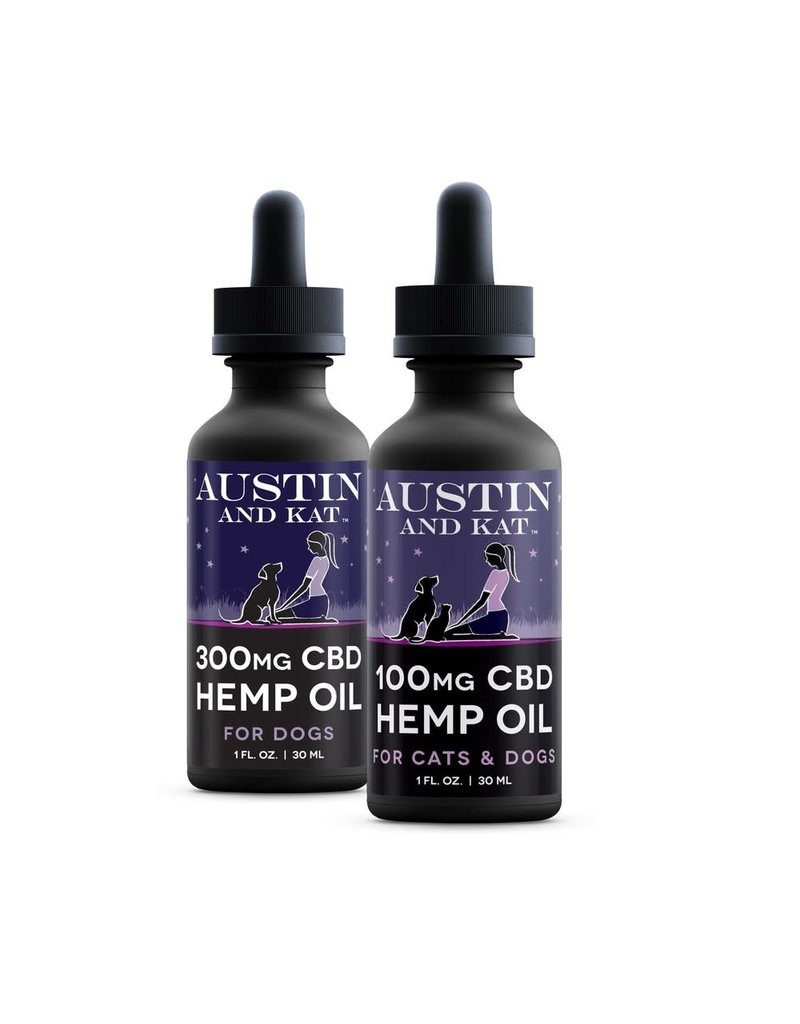 CBD Hemp Oil
The price of "CBD Hemp Oil" varies, so check the latest price at
Extra Strength CBD Oils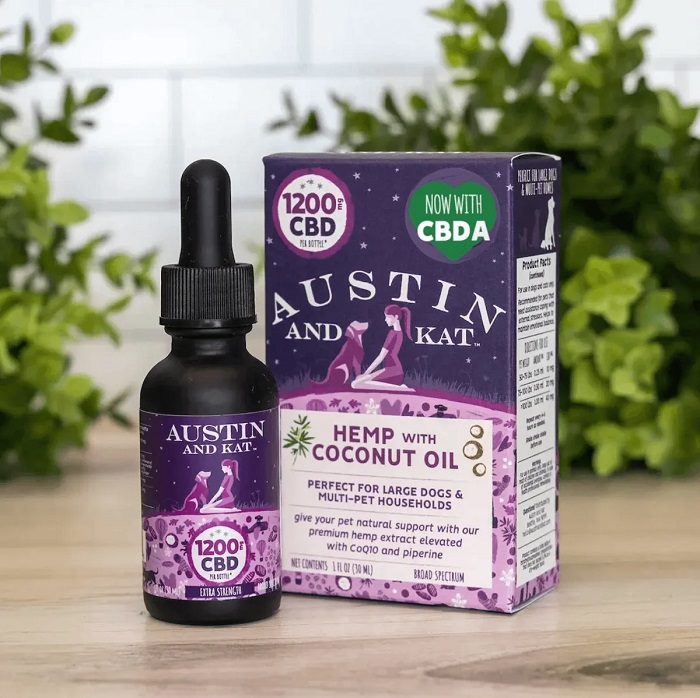 Although Austin and Kat's everyday wellness CBD oil works well, their extra strength formula is ideal for larger dogs. Instead of 100mg or 300mg, this formula offers 600mg and 1200mg.
Like their basic hemp oil, this is also made from high-quality hemp with plenty of cannabinoids and additional ingredients for extra health benefits. These include CoQ10 for a healthy heart and nervous system and black pepper fruit to improve absorption and make the effects last longer.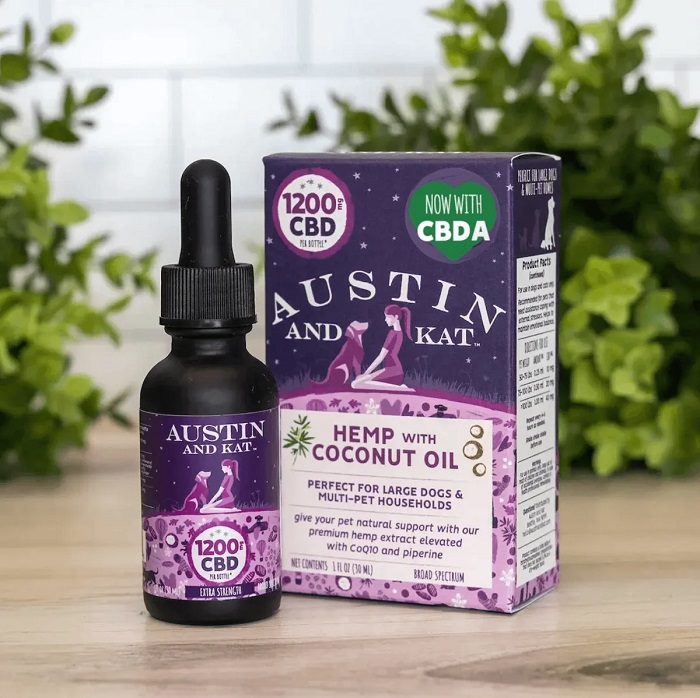 Extra Strength CBD Oils
The price of "Extra Strength CBD Oils" varies, so check the latest price at
Brady's Senior Formula Oil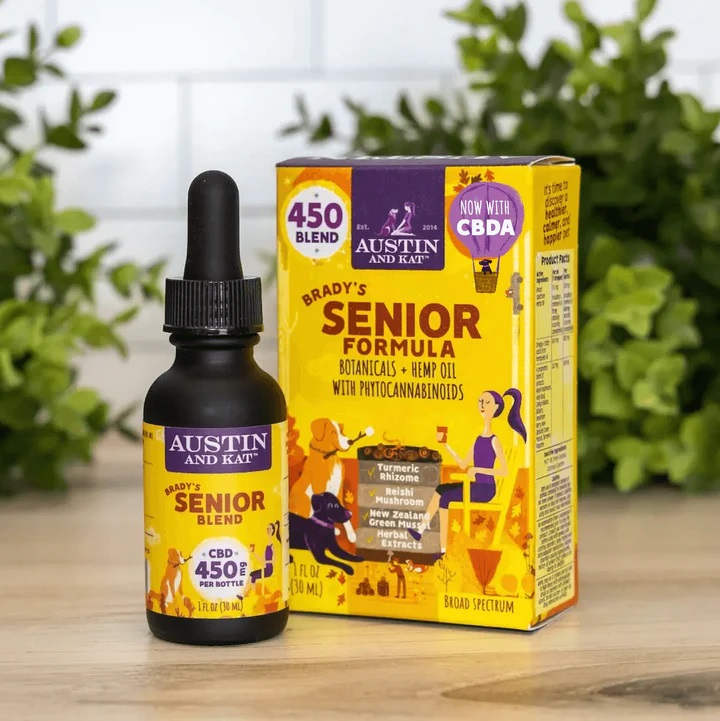 Dogs benefit from CBD oil at any age, but senior dogs benefit the most. Kat developed this oil in memory of her beloved dog Brady in the hopes that it can help other dogs thrive in their old age. This specialized formula helps older dogs over six years old by giving them all the support they need.
With a more complex formula, this oil helps senior dogs by improving brain function, keeping their eyes healthy, and making sure their immune system and circulation work smoothly. Besides broad-spectrum extract and hemp seed oil, it also contains reishi mushroom, ginkgo biloba, hawthorn berry, turmeric, and more.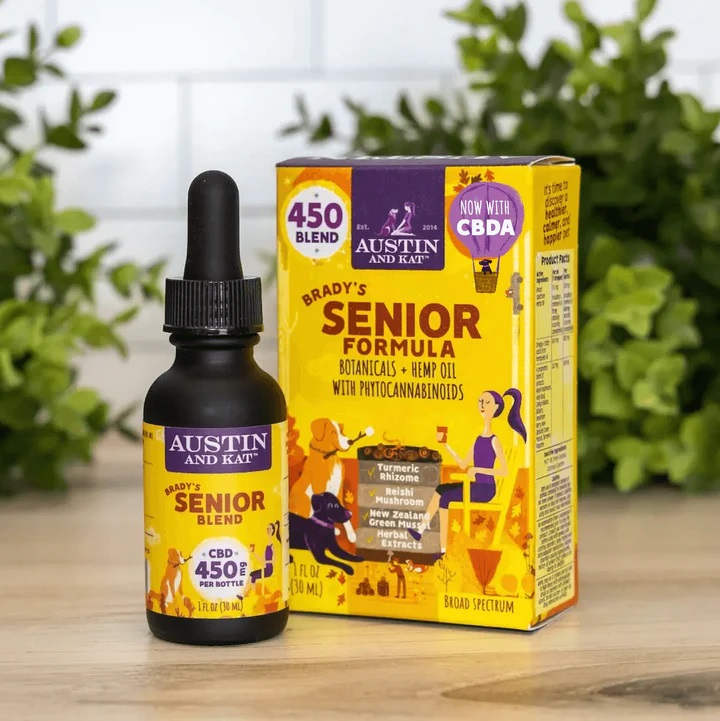 Brady's Senior Formula Oil
The price of "Brady's Senior Formula Oil" varies, so check the latest price at
Bakko's Hip and Joint Oil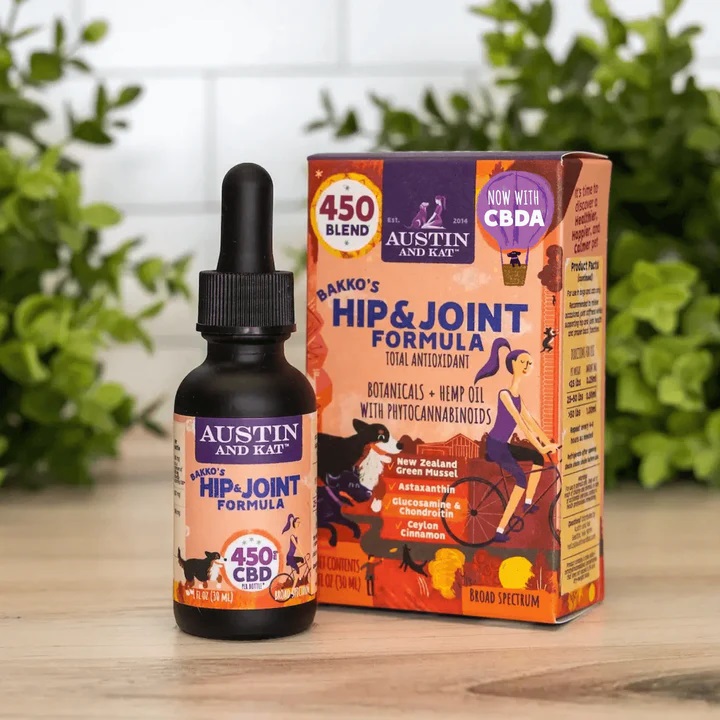 Kat developed this formula for her friend's dog Bakko. Bakko was a large, energetic dog who had a zest for life but developed aches and pains as he got older. With poor joint health, a formula that targeted joint mobility is precisely what he needed.
This hip and joint oil uses natural antioxidants to improve joint mobility and keep them flexible. In fact, compared to all other Austin and Kat products, this is the best CBD oil for dog arthritis and joint pain relief.
As well as broad-spectrum and hemp seed oils, this formula includes cinnamon and New Zealand green-lipped mussel, amongst other ingredients, to ease joint pain and give some vigor to their movements.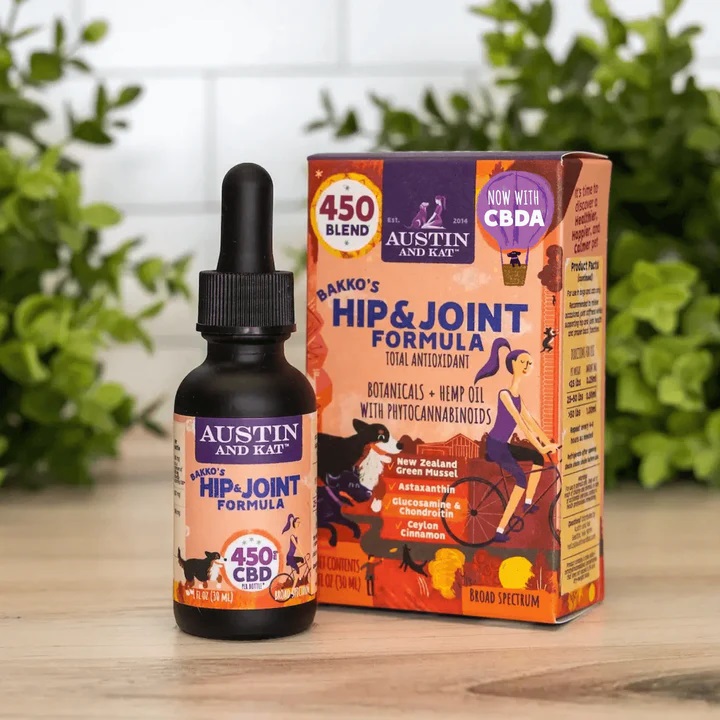 Bakko's Hip and Joint Oil
The price of "Bakko's Hip and Joint Oil" varies, so check the latest price at
Bailey's No More Wiggles Oil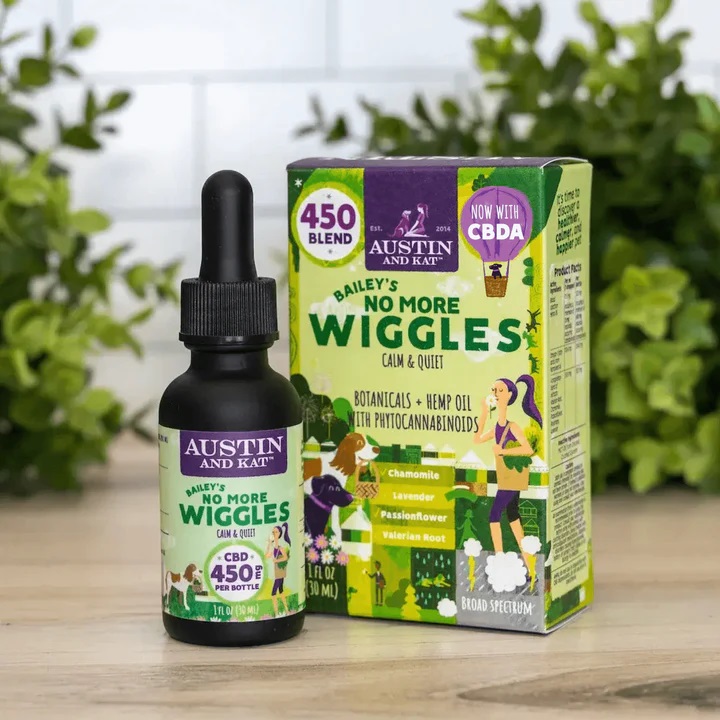 This oil is named after Kat's Springer Spaniel Bailey, an energetic pup who only ever stopped moving to have a cuddle – and when there were thunderstorms or fireworks booming outside, all this bundle of nerves wanted to do was cuddle!
Fortunately, this formula calms dogs who get easily triggered by the stressors of daily life or just can't settle down. It achieves this with broad-spectrum CBD and hemp seed oil blended with chamomile, rosemary, passionflower, and lavender. Even better, it's infused with valerian root, a herb that's well-known to act as a natural sedative, making this their best CBD for dog anxiety.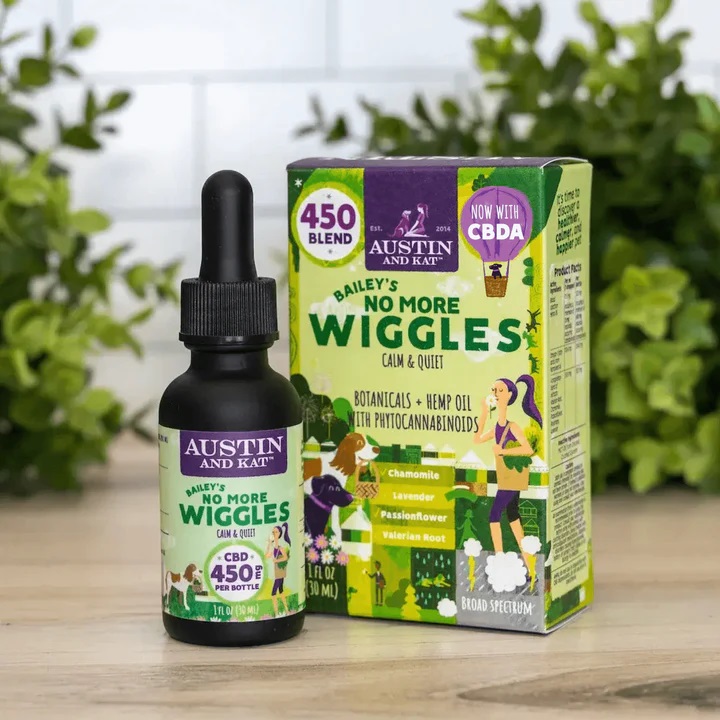 Bailey's No More Wiggles Oil
The price of "Bailey's No More Wiggles Oil" varies, so check the latest price at
Harper's Immunity+ Oil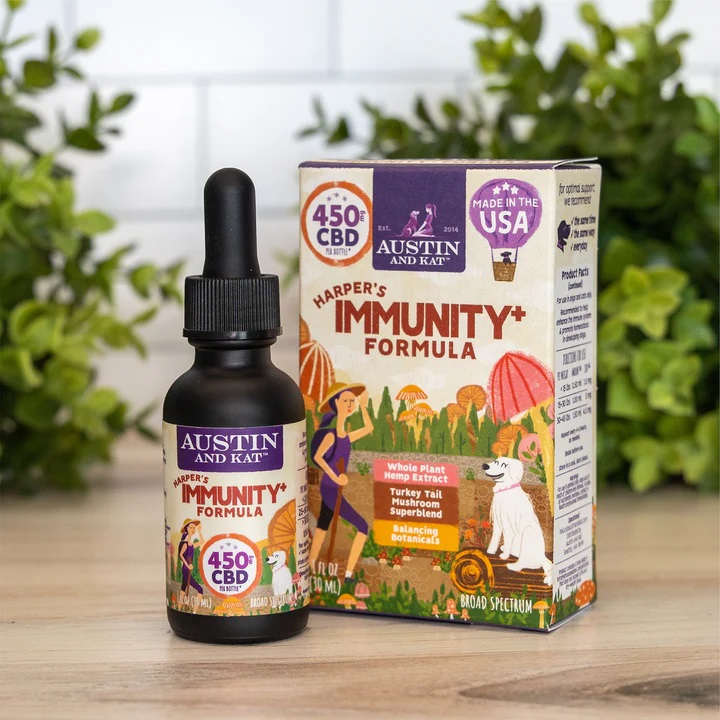 Lady Harper is Kat's youngest dog. Any puppy owner knows how tough it is to raise them, so why not give yourself a helping hand? This formula is devised to help puppies from nine months up develop into adulthood healthily.
This oil blends a broad-spectrum CBD extract with five immune-stimulating herbs and a custom mushroom super blend to give your dog all-natural immune support. Plus, with turkey tail mushroom and ashwagandha, your pup will absorb everything into their system for maximum effect.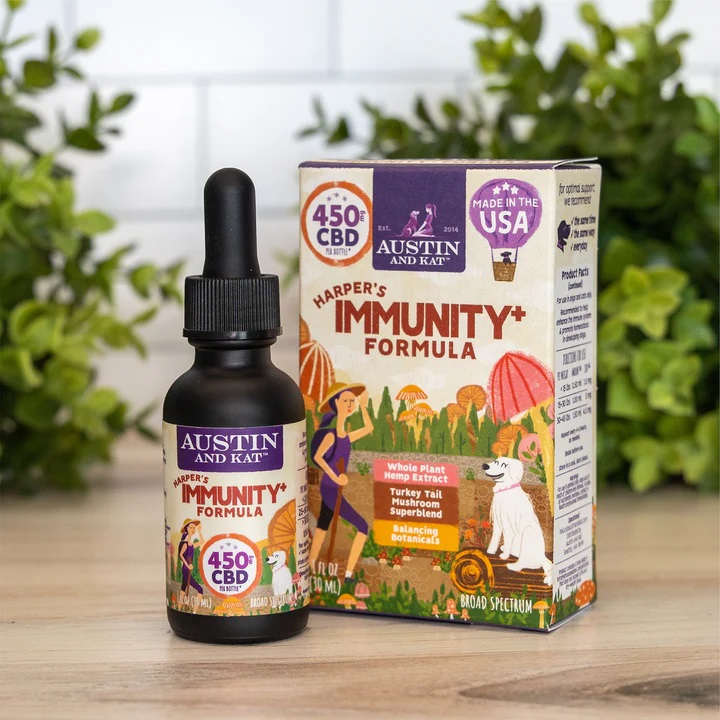 Harper's Immunity+ Oil
The price of "Harper's Immunity+ Oil" varies, so check the latest price at
Austin and Kat Dog Chews
Just look online, and you'll find some of the best CBD dog treats. Austin and Kat, however, prefer to create CBD chews. These are specially made with some superfoods, including coconut oil, apples, oat flour, peanut butter, cinnamon, and turmeric. So, if your dog prefers to slowly munch on their CBD, all their oil formulas are available as chews as well.
Small Batch CBD Soft Chews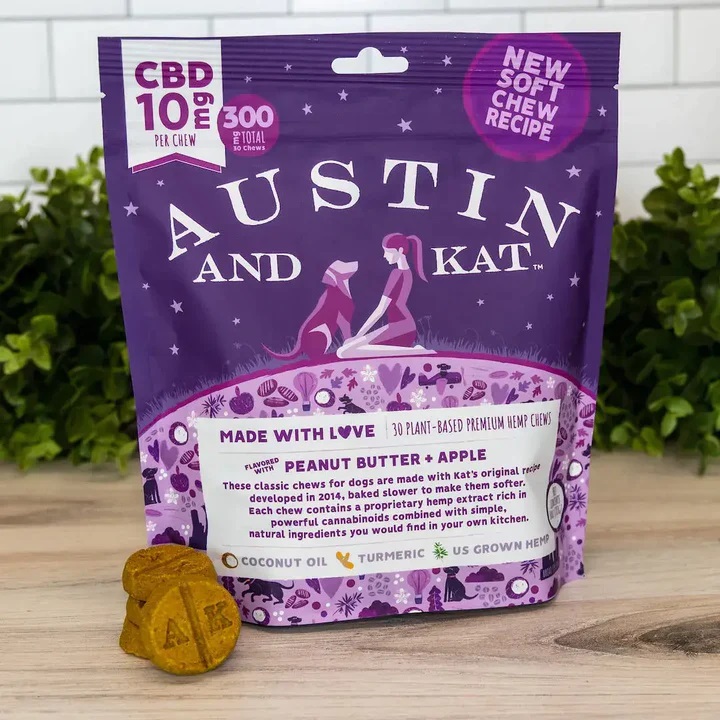 This bag of 30 CBD chews contains the same blend of hemp extract as regular Austin and Kat CBD oil to support general wellness and promote calm. Austin and Kat offer three strengths of chew depending on the size of your dog.
Where it really excels, though, is its taste. Like many of their CBD chews, they use a peanut butter and apple recipe Kat originally created for her own dogs. Each chew is rich in terpenes and cannabinoids, as well as other botanical ingredients to support well-being, such as turmeric, flaxseed, and cinnamon.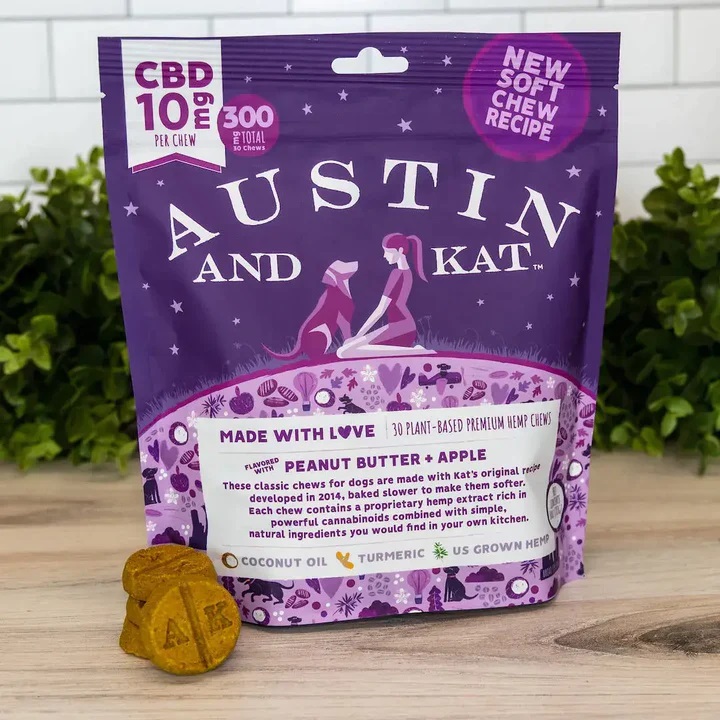 Small Batch CBD Soft Chews
The price of "Small Batch CBD Soft Chews" varies, so check the latest price at
Bailey's No More Wiggles Chew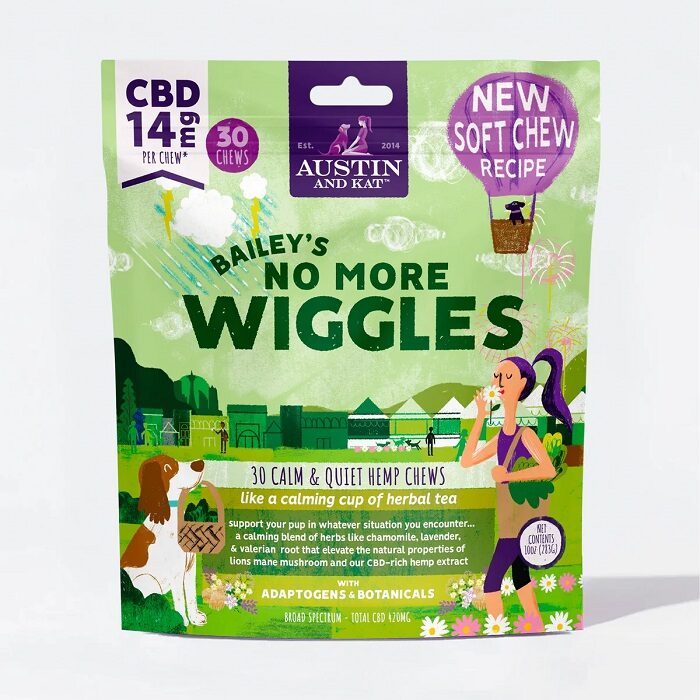 Based on the same oil that helped energetic Bailey with his nerves, these CBD chews calm a dog's mind and nervous system when faced with stress. They blend CBD and CBDA with other cannabinoids, as well as lavender, valerian root, chamomile, and a lion's mane mushroom superblend.
They also include apple, cinnamon, and peanut butter to further promote calm and improve the taste so dogs can enjoy their daily dose of CBD.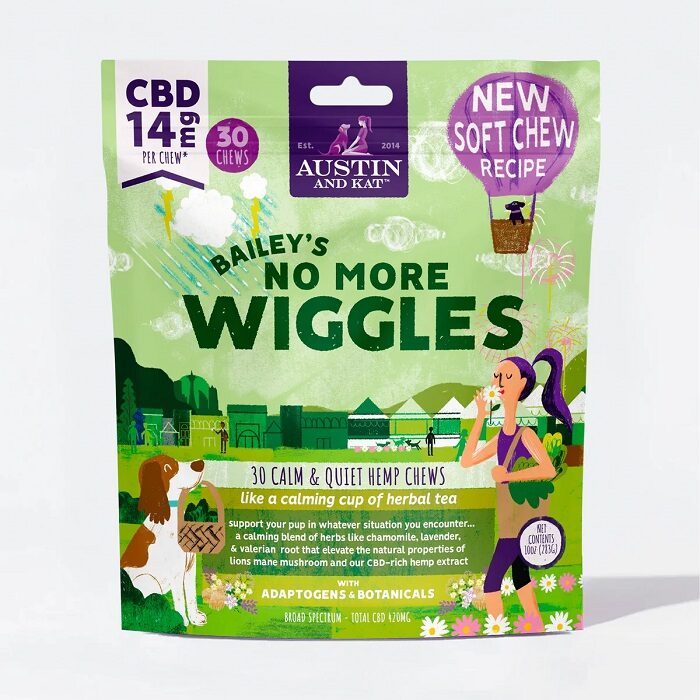 Bailey's No More Wiggles Chew
The price of "Bailey's No More Wiggles Chew" varies, so check the latest price at
Brady's Senior Blend Chew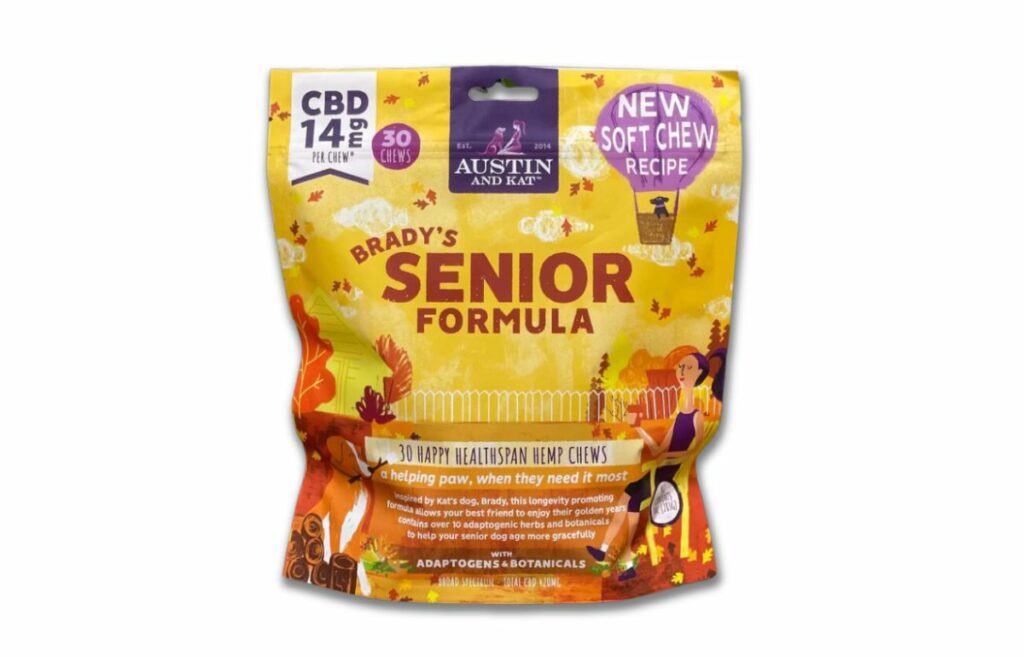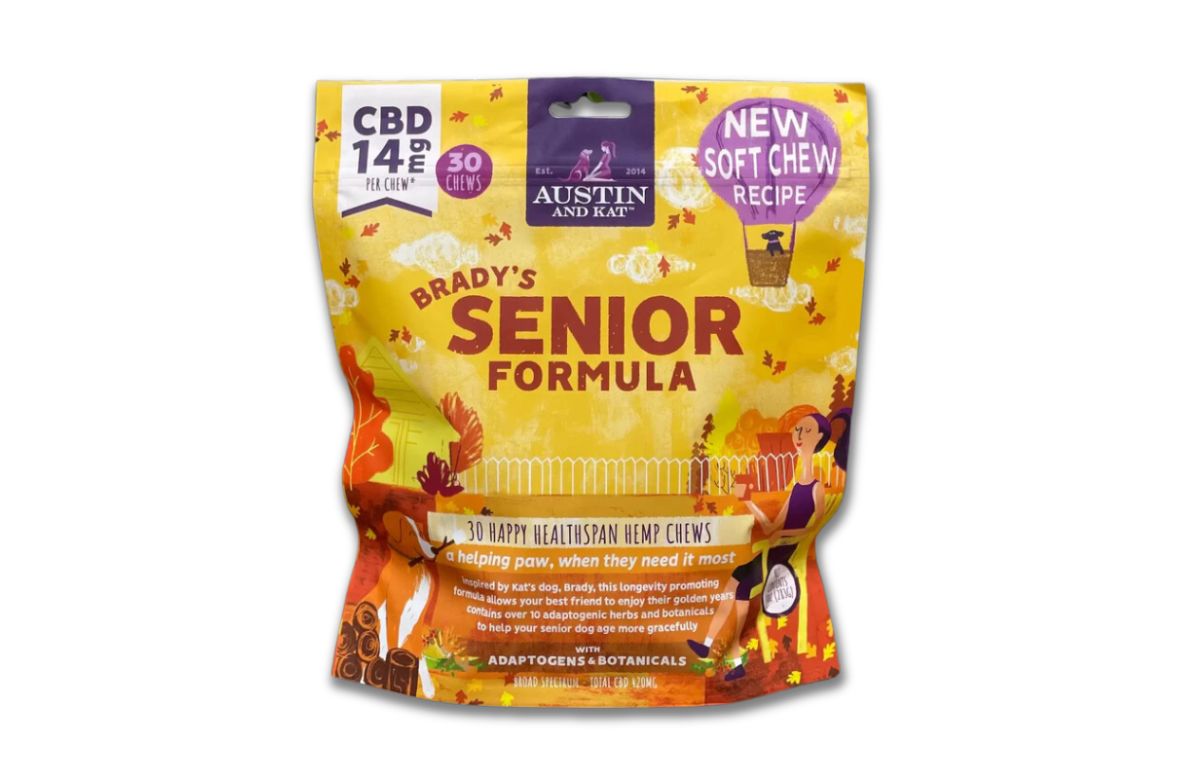 Just like their senior oil, this chew is ideal for senior dogs over the age of six, helping them age gracefully by supporting the immune system, brain health, and circulation.
Its blend of mushrooms includes cordyceps, lion's mane, and reishi, giving their cognitive function a boost and delaying the symptoms of dementia. Meanwhile, turkey tail boosts bioavailability, ensuring all cannabinoids and other nutrients are absorbed into their system effectively.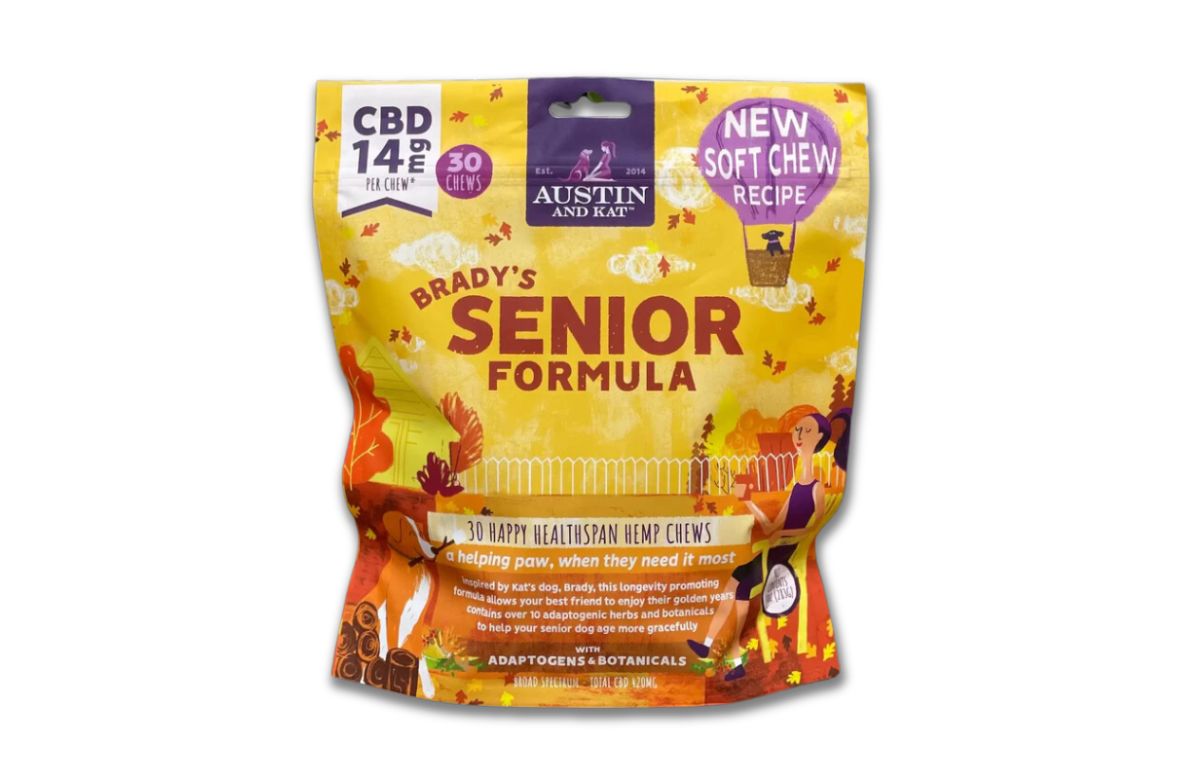 Brady's Senior Blend Chew
The price of "Brady's Senior Blend Chew" varies, so check the latest price at
Bakko's Hip and Joint Chew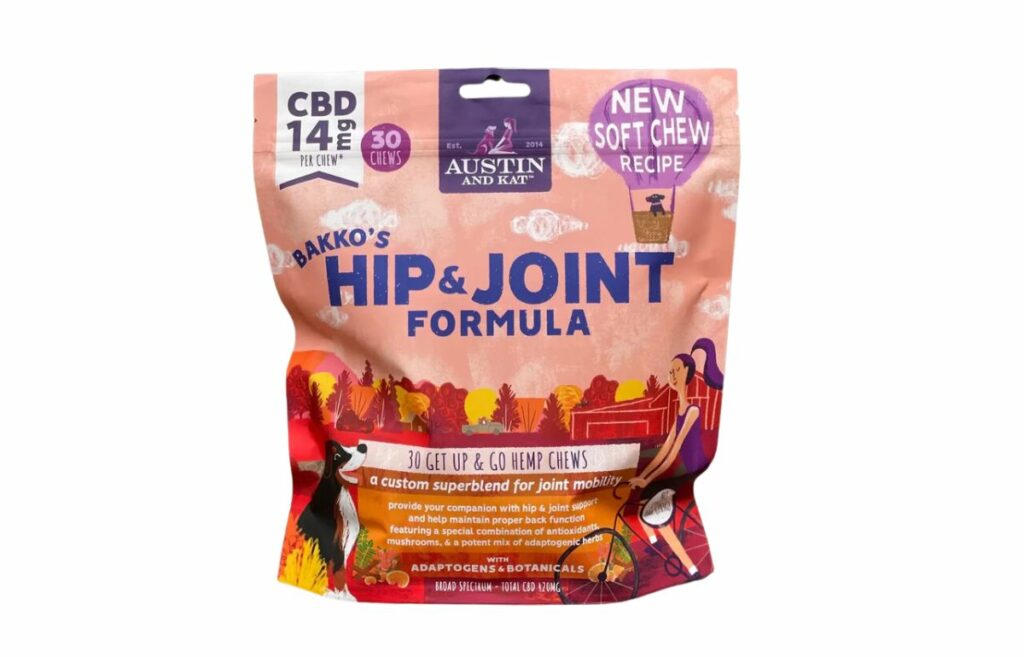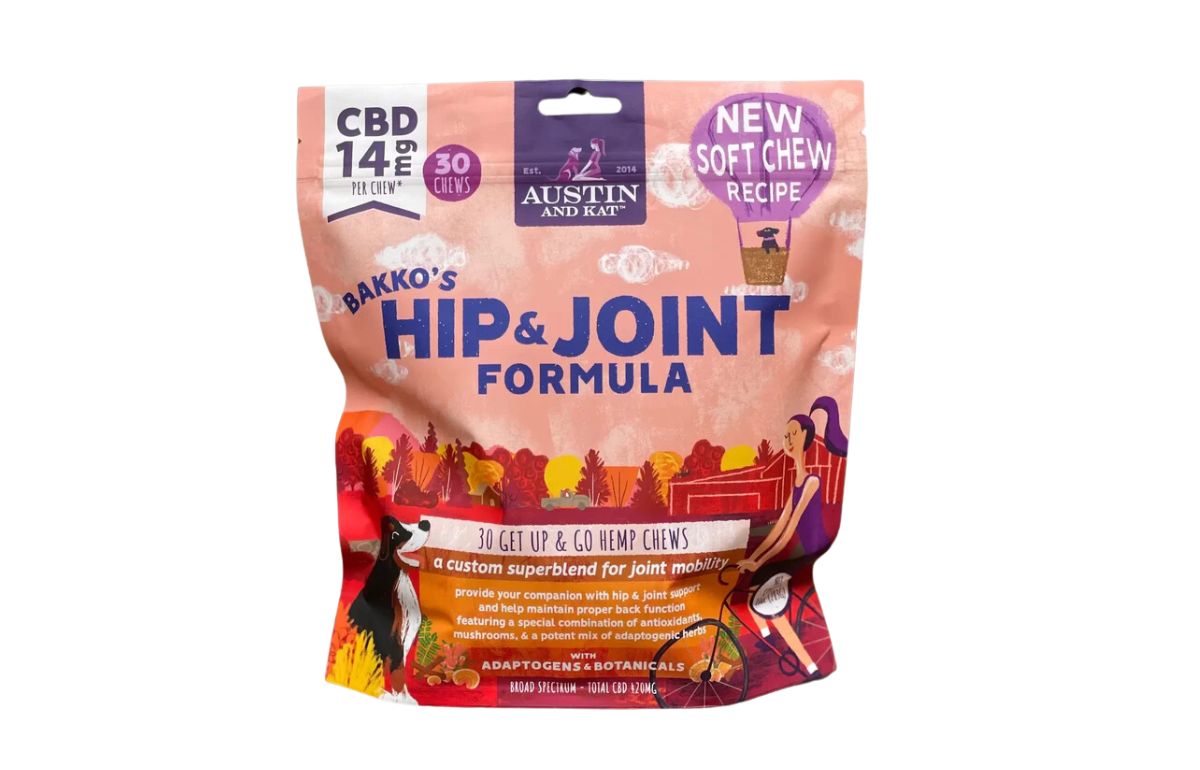 These chews are the perfect CBD for hip dysplasia, especially since your pup can just lie down and enjoy them. This chew's formula helps dogs' hips and joints to let them live life to the full.
Each chew is infused with reishi mushrooms, glucosamine, pomegranate, and botanical antioxidants to bolster the effects of CBD and CBDA on your pup's hips. And like other chews, it includes a special recipe to ensure they taste delicious.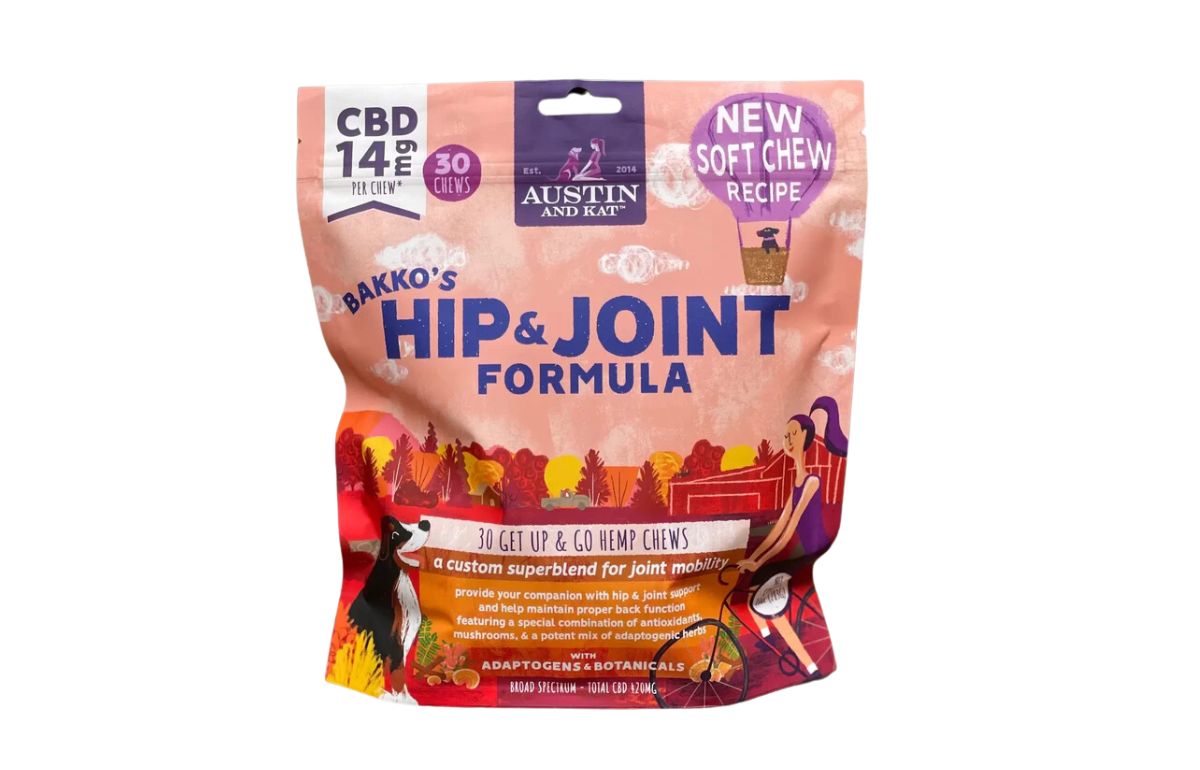 Bakko's Hip and Joint Chew
The price of "Bakko's Hip and Joint Chew" varies, so check the latest price at
Harper's Immunity+ Chew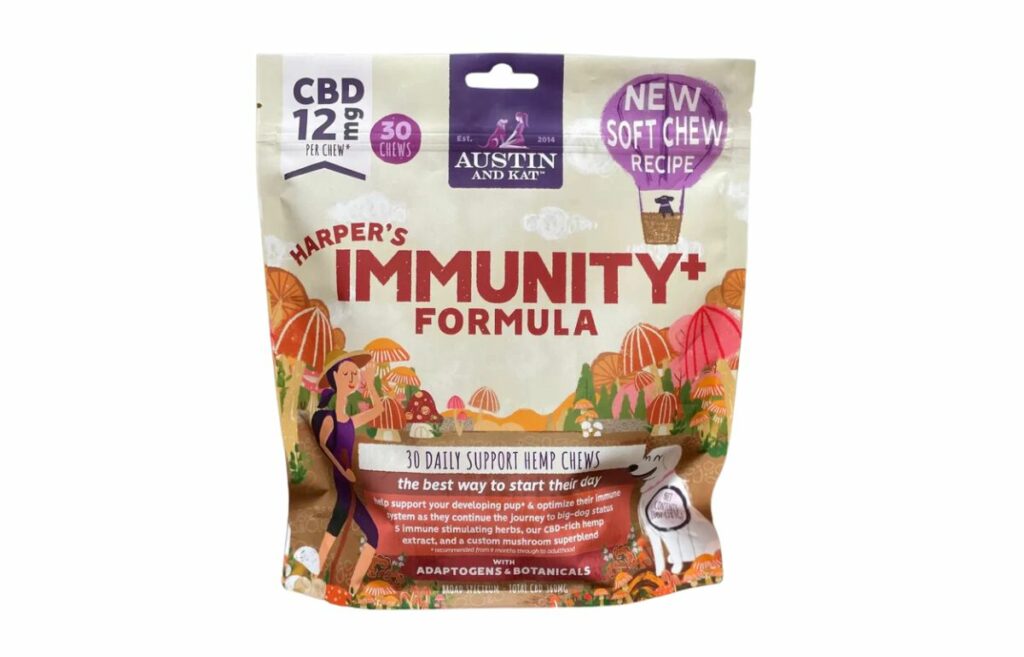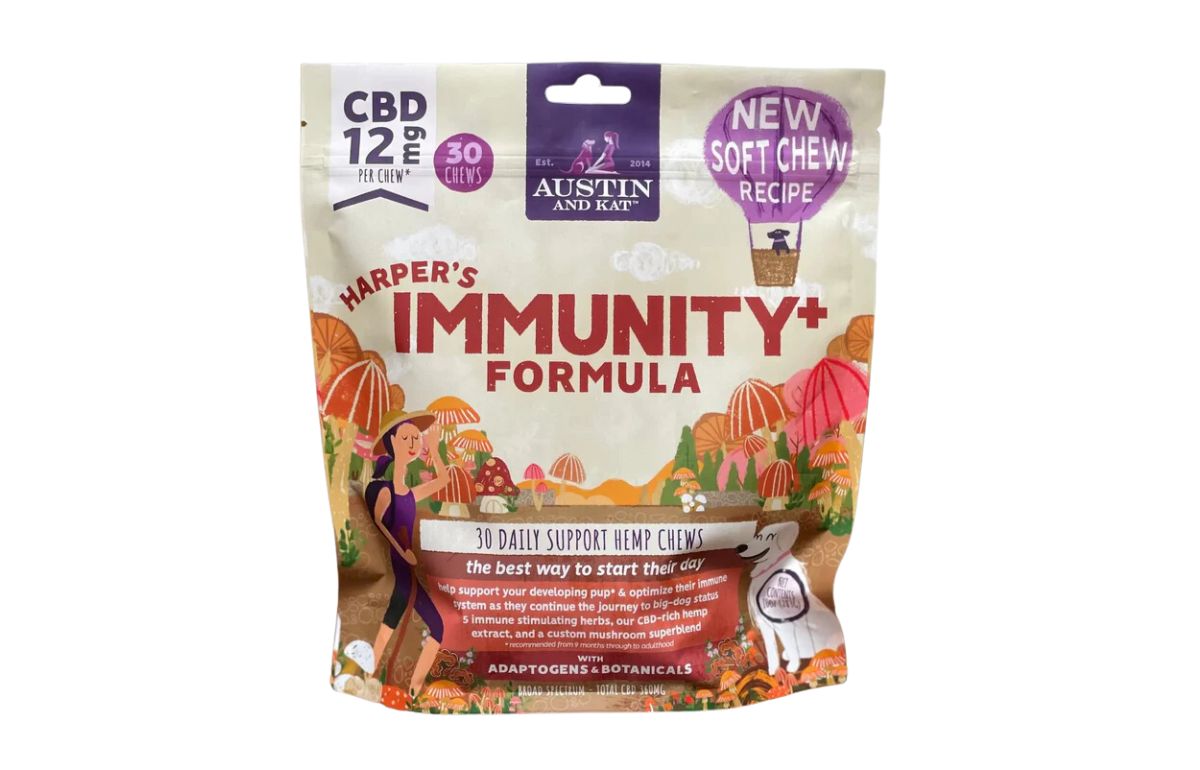 No one uses their mouth more than puppies – so a chew is the best way to give them the support they need to grow up!
Like the oil, this chew also combines immune-stimulating herbs and a CBD extract with botanicals like ashwagandha. There's a blend of several mushrooms too, including cordyceps, reishi, and lion's mane, as well as turkey tail to boost absorption to the max.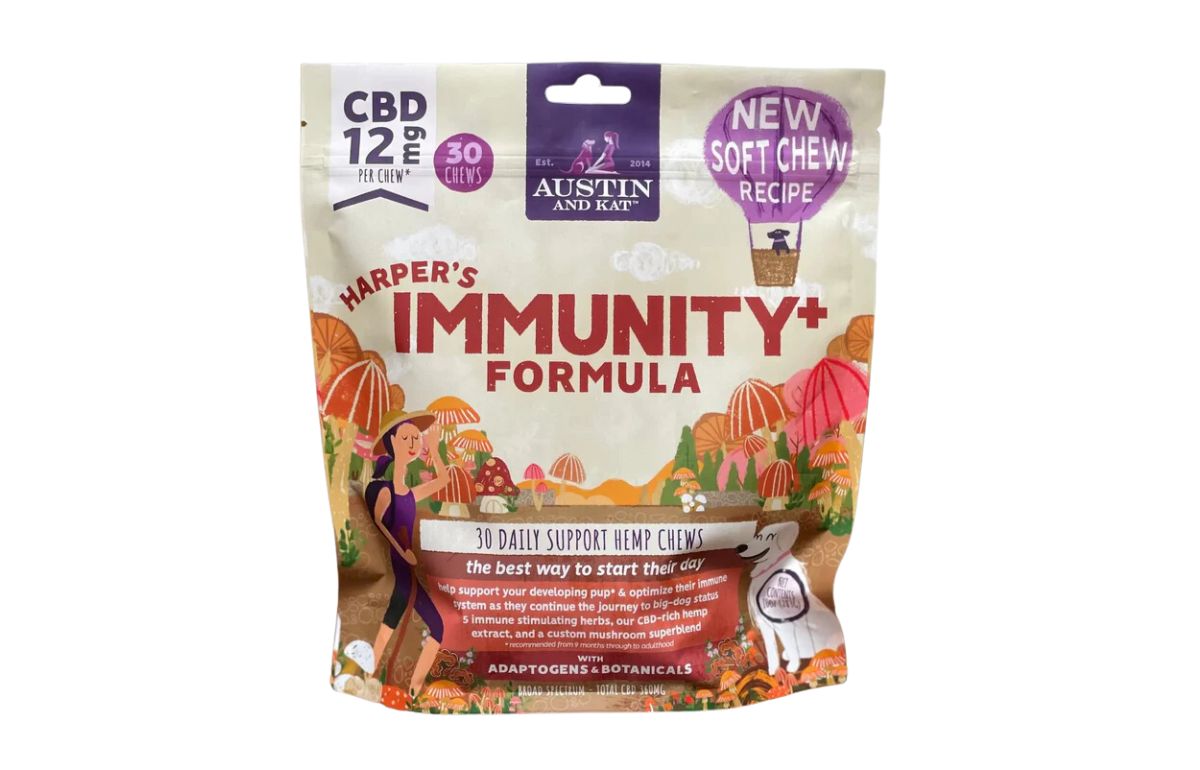 Harper's Immunity+ Chew
The price of "Harper's Immunity+ Chew" varies, so check the latest price at
Important Factors for Evaluating Austin and Kat Products
With lots of CBD brands out there, it's difficult to pick the best. So here are some of the key factors we considered when reviewing Austin and Kat.
Price & Value
Although it's not the most expensive CBD brand, it's still not cheap. However, Austin and Kat offer a subscription that saves 15%.
While basic CBD oils and chews may be reasonably priced at around $25, more specialized formulas cost more. Their chews are nearly double the price, while the oils are closer to $60.
Still, it's worth remembering that these specialized formulas contain more than just hemp seed extract; they include specific ingredients that target particular problems and are worth the extra cost.
Hemp Source and Extraction Process
Although not USDA-certified, all hemp sourced by Austin and Kat for CBD oil is 100% organic.
While they don't grow it themselves, they still source premium NASC-certified hemp from Treehouse Biosciences' Colorado-grown hemp. Unfortunately, it's not clear how Austin and Kat CBD oil is extracted, although it's likely done via CO2.
CBD Quality
Austin and Kat are all about quality control – they even test hemp extracts before they go into formulas! Austin and Kat's CBD quality is so trusted that one study showed they were better than 25% of CBD brands who failed to provide the advertised CBD content.
Although Austin and Kat CBD is just a broad-spectrum oil, tests still indicate high levels of CBC and CBDV, with plenty of cannabinoids acting as antioxidants to reduce inflammation and pain.
Although CBD purists might not approve of powdered superfood in the formula, it's worth it for dogs who would benefit from the additional health benefits they provide.
Third-Party Testing
Any great CBD brand sends products for independent lab tests. Austin and Kat are no different, sparing no expense when testing for safety and hemp quality. They're so proud of their results that they're easy to find on their website. They show a cannabinoid profile with detectable levels of CBD and a range of additional cannabinoids – precisely as advertised!
Shipping & Returns
Austin and Kat work Monday through Friday, shipping orders from Seattle within two business days. Shipping usually costs $7 but is free for orders over $50. Orders come by USPS first-class shipping and arrive within four to seven business days. You might be able to sort out priority shipping if you contact them first though.
You can contact them to discuss returns and refunds too. Austin and Kat have high standards, and if their products don't meet expectations, they offer a 30-day money-back guarantee. So, if Austin and Kat CBD isn't right for your pet, just email or phone them.
Customer Service & Reputation
Austin and Kat might not be a big name in the CBD industry, but they're not unknowns either. Although they don't boast as many reviews as some, the ones they do have are overwhelmingly positive. Since 95% of customers would recommend their products to a friend, their reputation is sure to continue to grow.
Much of this reputation is down to their excellent customer service. If you have issues with shipping or any queries, a friendly voice is always ready to help by email (hello@austinandkat.com) or phone (206-446-4819).
Reviews
Just a glance at their reviews shows how Austin and Kat have helped hundreds of pets with a range of issues. For example, their CBD oils helped a 15-year-old Labrador overcome mobility issues and an anxious Golden Retriever sleep during thunderstorms and car rides.
Meanwhile, their senior formula has improved the quality of life for countless senior dogs, while the hip and joint formulas helped a pit bull with hip dysplasia live symptom-free and swim on a daily basis.
FAQs
Austin and Kat have grown quite a bit since the early days of making hemp biscuits in the kitchen. So, if you're wondering who owns it now and how you can use their products, here are answers to some questions you might have.
Who Owns Austin and Kat?
The founder Kat still owns the company – along with her dogs, of course! Even today, she and her team still make products themselves from their base in Seattle. In fact, Austin and Kat is one of the few employee-owned businesses to sell CBD products packed with premium ingredients.
Can Austin and Kat CBD Oil Be Used on Cats?
Yes! Although the company is named after Kat's dog, Austin, their CBD oil is also suitable for cats. In fact, CBD oil is safe for all animals with an endocannabinoid system – even humans!
Just be aware that while it's usually safe for humans to have pet CBD oil, you should be careful when giving human CBD oil to a dog since these can contain compounds that aren't safe for them. Nevertheless, Austin and Kat CBD oil is safe for both cats and dogs.
How Do You Use Austin and Kat CBD Oil?
While it's easier to give them chews, it's still easy for pet owners to give CBD oil to their pets too. Just use the dropper to administer it directly in their mouth or hide it in their food.
It's important to give the right CBD dose to dogs. Ask a vet for recommendations, but as a general rule, try 2mg to 3mg for every 10 lbs of body weight.
Final Verdict
Pet owners always want the best for their fur babies, so it's important to find the best CBD for dogs and cats. They provide top-tier, organic CBD products in both broad and full spectrum CBD varieties, free from pesticides and non-GMO.
Although Austin and Kat aren't industry leaders, they have an inimitable personal touch to their products and include a range of extra-natural ingredients to give pets the health boost they need.