If you're an animal lover, you want as many pets in your house as possible. And since cats are low maintenance, why settle for just one?
But some kitties can be greedy and steal others' food. Before long, you'll end up with one fat cat and one skinny cat who never gets a chance to eat.
Most cat owners with this problem monitor their mealtimes instead of making or eating their own dinner.
It's not just a problem for households with two cats or more, though.
Whenever I bring my dog to visit my parents, she immediately makes a beeline for their cats' food bowl, seizing every opportunity to wolf down the cat food while the cat sits there and watches, biding her time till she can steal the dog's food as revenge.
Fortunately, cat owners can get an automatic cat feeder to stop their food from being stolen, either from a dog or cat.
Many people jump straight for the Feeder-Robot. And understandably so – it's a brilliant device. It's a quiet, reliable, easy-to-use feeder that tracks your cat's eating habits via an app. In addition, all its components are BPA-free! It also comes with a 90-day in-home trial period, in case you're not sure about whether to make the purchase or not.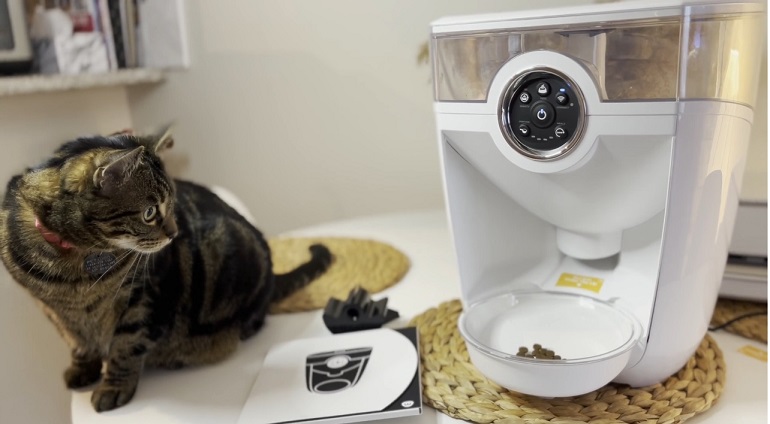 But if you're looking for a more affordable option that keeps food fresh and protected from greedy cats, then the SureFeed Microchip cat feeder is ideal.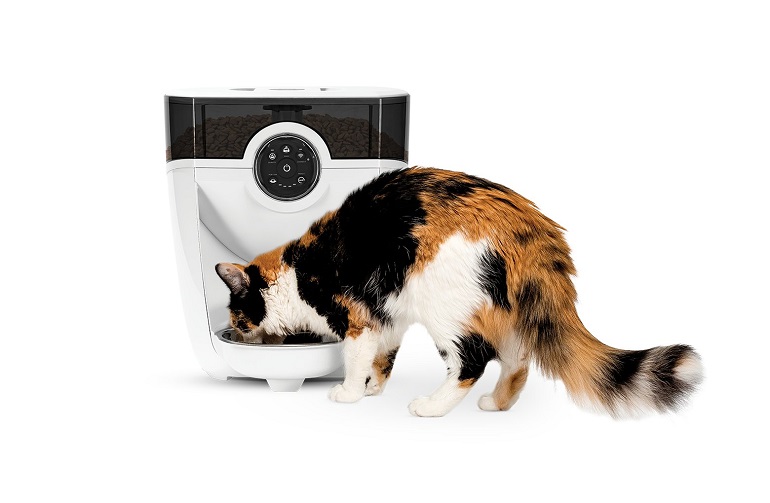 Feeder Robot
The price of "Feeder Robot" varies, so check the latest price at
What Is SureFeed Microchip Cat Feeder?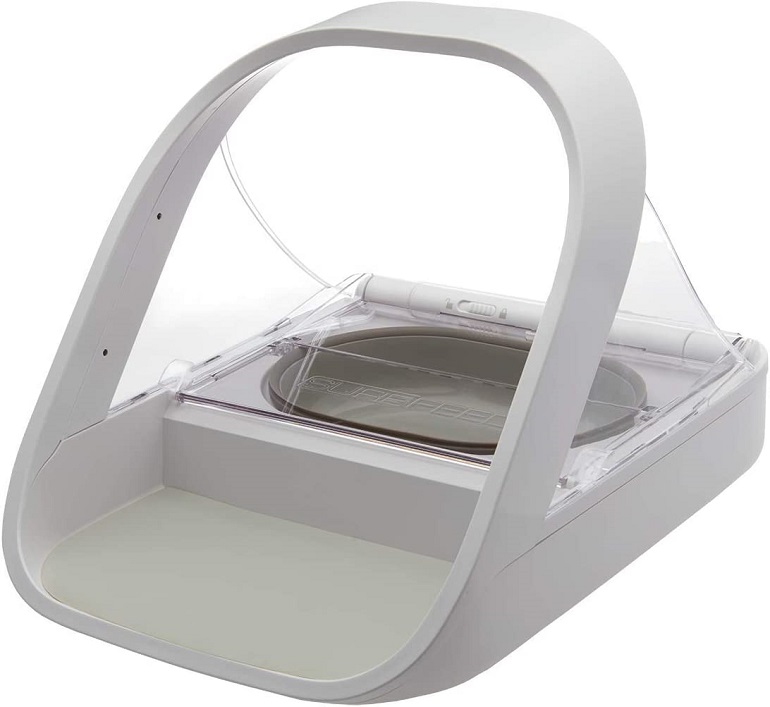 SureFeed Microchip Pet Feeder is an automatic pet feeder that makes mealtimes simpler and stress-free for you and your cats by stopping greedy kitties from stealing food.
It works by communicating with the ID microchip in your cat or a lightweight RFID tag on the collar. Each SureFeed cat feeder comes with one tag ready to use, but you're more than welcome to purchase multiple tags for each cat's feeder.
To get to their food, the cat approaches the feeders and goes beneath the arch with the microchip reader inside. If it's the right cat using the feeder, it recognizes the cat's microchip and opens the lid.
But if the wrong cat tries to access the food, the lid stays firmly closed, keeping the food fresh and safe.
As an added security measure, if a greedy cat ever pushes another out of the way to steal food, the lid automatically closes.
Reasons to Buy SureFeed Pet Feeder?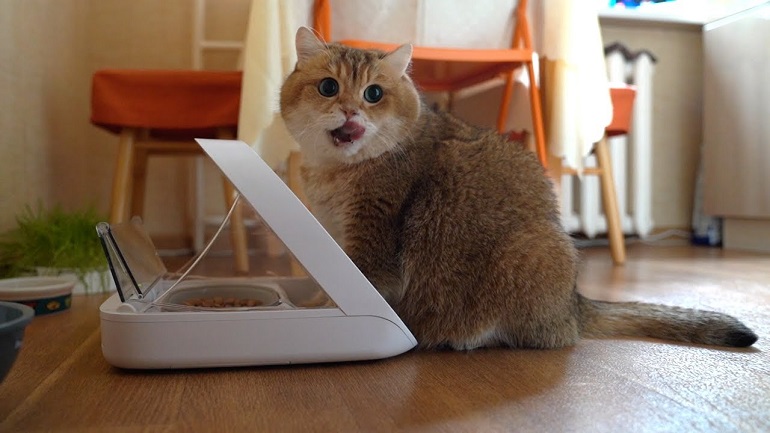 The main reason to get a SureFeed Microchip cat feeder is to stop greedy cats from stealing others' food. This helps all your kitties stay healthy, allowing you to manage their weight and control portion sizes easily.
SureFeed cat feeder lets you separate different cats' diets too, stopping greedy kitties from eating food they shouldn't, like if another cat is on prescription or weight management diets.
It can also save money in the long run. You won't need to buy extra food because one kitty keeps overeating and stealing others', and you avoid health issues from overeating that cause numerous visits to the vet.
Is Feeder Robot A Better Alternative?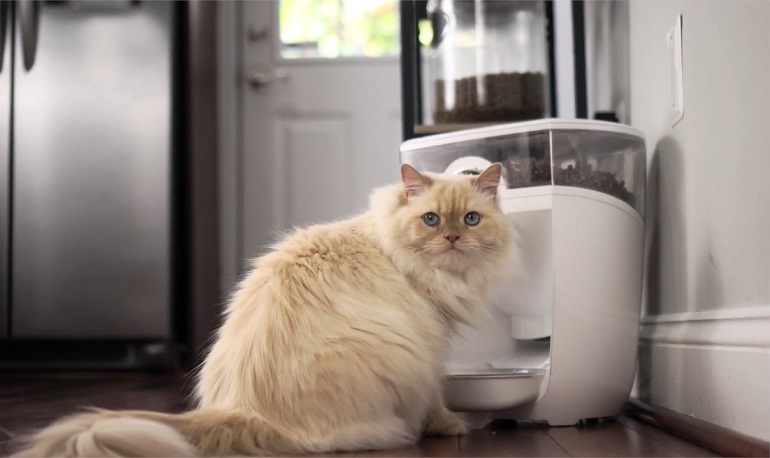 The Whisker Feeder Robot may be a bit too heavy on your pocket, but it's a personal favorite not just for me but most of the pet parents I know as well. The manufacturer made sure that the device gave you your money's worth. Even though SureFeed does the intended work, Feeder Robot is a better option.
With various intuitive feeding options and the most useful app among all feeders, Feeder Robot checks all the right boxes. It is known for its features, efficiency, portion control, and timer accuracy. The design of the Feeder Robot is very Gen Z as well as user-friendly.
It's fairly simple to use. Setting up the Feeder Robot and getting the app ready hardly took me 15 minutes. The Feeder's settings allow you to serve your cat a full cup of food up to eight times in a day. An already-installed dispenser uses 1/4-cup increments, but you can switch it to a 1/8-cup dispenser for more precise portion control.
The handy app and battery backup provide you with the needed peace of mind while you're away. If you're a data nerd when it comes to your cat, Feeder Robot pulls out daily averages, tracks feedings, and other insights. Another great thing is that the device doesn't depend on the app and maintains the schedule even when offline.
The only downsides are that the plastic bowl is not dishwasher safe, and the device is on the larger side. You can get a dishwasher-compatible bowl for an additional price.
SureFeed Pet Feeder: A Solution to Many Problems
Of the many problems Feeder Robot and SureFeed feeders solve, the most obvious is stopping greedy cats from becoming overweight. It happens as both these options dispense a calculated amount of cat food for your pets.
SureFeed enables cat parents to specifically feed a particular cat based on their individual microchip. That's how it also solves the problem of cats stealing others' food and leaving them hungry.
It makes it easier to separate cats' diets too, ensuring that kitties don't swallow prescription food they're not meant to.
And since you won't have to worry about one cat stealing everyone else's food, it gives you the freedom to enjoy a stress-free mealtime yourself.
Forget having to monitor your cats constantly; instead, you can watch TV, chat with your family, or make dinner in peace. Just like Feeder-Robot, SureFeed makes feeding your cat easier and more convenient.
If your cat's a grazer and tends to eat its food slowly over a long period of time, this feeder keeps their food fresh for longer, ensuring it doesn't get stale and protects it from flies in the summer.
Description of SureFeed Cat Feeder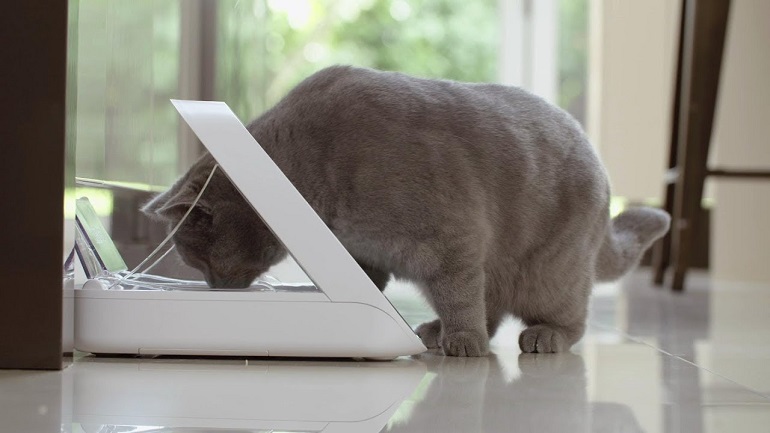 Let's look at the salient features of this smart pet feeder.
Main Features
Bowl and Size
The SureFeed Microchip cat feeder holds a good amount of food in its single bowl, able to store up to 13.5 fl oz of wet or dry food.
However, the feeder only comes with a plastic bowl. These are harder to clean than stainless steel bowls, but those are still available for purchase separately.
Neoprene Lip Keeps Food Fresher
The lid ensures that food is kept fresh at all times thanks to its neoprene lip that forms a tight seal. This keeps moisture in the food, meaning you can rely on it staying fresh for longer.
Microchip Reader Ideal for Multi-pet Homes
Thanks to the microchip reader inside the arch above the bowl, it scans the microchip inside your cat or the SureFlap RFID collar tags, only opening the lid for the cats you've assigned the feeder to.
Once the assigned cat moves away, the lid closes and seals itself automatically. If the other cat who isn't assigned to the feeder approaches it, the lid stays closed.
While this might sound complicated to set up, it only takes a simple press of a button to program everything.
Training Mode
On the off chance your cat might be a new kitten or a bit timid, the SureFeed also includes a training mode in which the lid closes slowly in stages, allowing your cat a chance to get used to the lid moving up and down.
Durable and Small-sized
Since it's made of high-impact plastic, it's a very sturdy feeder, it's much harder for greedy kitties to break it open. It's still a very light feeder, though, weighing just over 2 lbs.
The feeder is designed to fit easily in your kitchen, measuring just 13" high, 9" long, and 8" wide. Although it only comes in white, it's a color and style that suits most kitchen aesthetics.
Reviews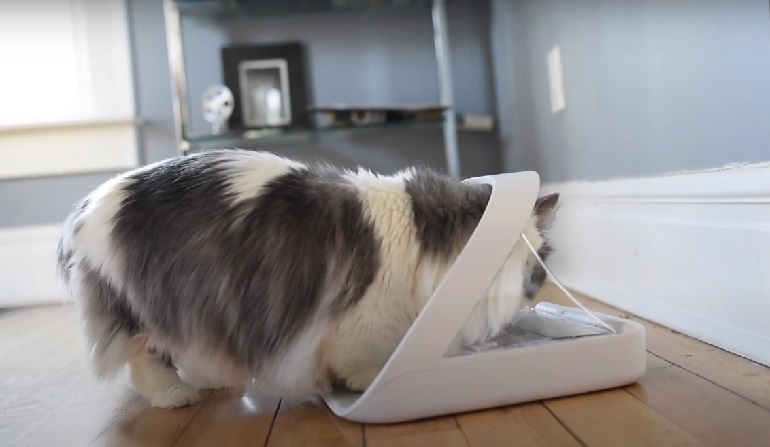 Look online, and you'll see a huge range of customers who leave a happy review.
There are plenty of five-star reviews praising the bowl's generous portion size, how effective it is at stopping greedy cats from stealing food, and how easy it is to set up.
Users frequently comment on how it's perfect for multi-cat homes, effective at keeping food fresh for kitties and makes mealtimes stress-free and more pleasant.
Buying Cost
The price when buying the feeder includes the device itself, as well as a grey bowl, a split grey bowl, and a grey mat.
But you can buy other SureFeed products to go with it. Additional removable bowls and mats are available for purchase in grey, green, pink, and blue, as well as stainless steel bowls.
You'll also need to keep in mind the additional running cost.
Since the SureFeed device doesn't plug into the mains, you'll need four C batteries for it to work.
Still, these last months at a time, so you won't need to replace or recharge them too often.
Nevertheless, it's worth ensuring that there's enough battery life that it won't run out of charge, leaving your cat hungry and unable to access its food.
Is SureFeed Microchip Cat Feeder Worth Buying?
If you have a particularly greedy cat or dog that tends to steal other cats' food, then the SureFeed Microchip cat feeder is absolutely worth buying.
Not only does it ensure that all your cats can access all their food in peace, but it keeps their food fresh and avoids the risk of any cats overeating.
But I believe the Feeder Robot is a better option and is worth the high price. SureFeed does what it is intended for but is limited to certain scenarios. I also don't like the open back that fails to keep persistent moochers out. Not everyone wants to pay an extra $33 for a rear cover that could've been included with the device.
Unlike the Feeder Robot, SureFeed doesn't provide a rechargeable battery and the option of using a power outlet. In case your power goes out, Feeder Robot has you covered with a backup battery.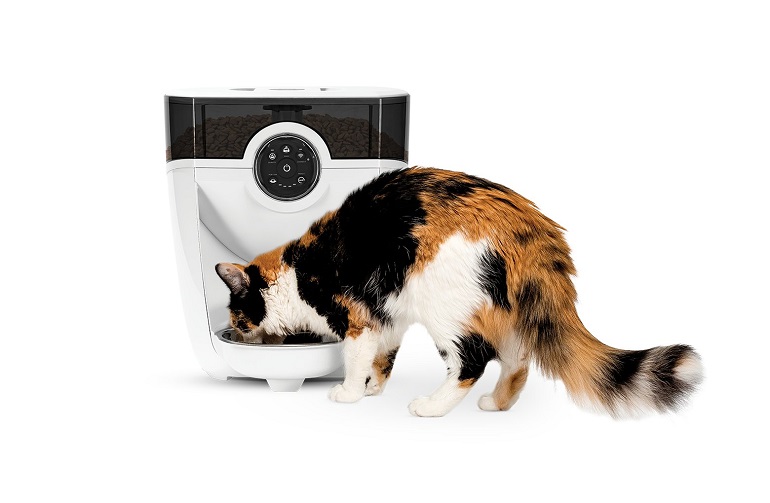 Feeder Robot
The price of "Feeder Robot" varies, so check the latest price at
Pros and Cons of Buying a Surefeed Pet Feeder
Let's find out the benefits and downsides of owning a SureFeed Microchip pet feeder.
Pros
Opens with no problem for programmed cat
Stops greedy cats from overeating or eating food they shouldn't
Able to separate special diets easily
Don't have to constantly monitor cat mealtimes
Keeps food fresh for longer
Portable
Takes just one button to program
Veterinarian recommended
Three-year warranty
Cons
Requires batteries and has no option for plugging in
Risk of battery running out and cat unable to access food
Included plastic bowls aren't dishwasher-safe and hard to clean
Additional accessories are costly
Can't guarantee the most persistent cats won't find a way of breaking in
Arch might be too small for bigger cats
Final Thoughts
No product is 100% perfect, and the SureFeed Microchip feeder is no exception: the small arch can be uncomfortable for bigger cats, you have to rely on batteries, and you'll have to purchase stainless steel bowls separately.
And it's not quite as technologically advanced as Feeder-Robot – although it does solve a problem that Feeder-Robot can't
But these are only minor quibbles and hardly ruin the product.
On the whole, SureFeed is an excellent product that simply and elegantly solves the problem of greedy cats who bully others for extra food.
Finally, mealtimes can be stress-free and enjoyable once more!