Do you get confused about when to change your kitty's litter? Do you love subscription services?
Then the Kitty Poo Club will tickle your whiskers and have you saying, "Why didn't I think of that before?"
There are subscription services for just about everything that supplies products to your doorstep.
What To Expect From Kitty Poo Club?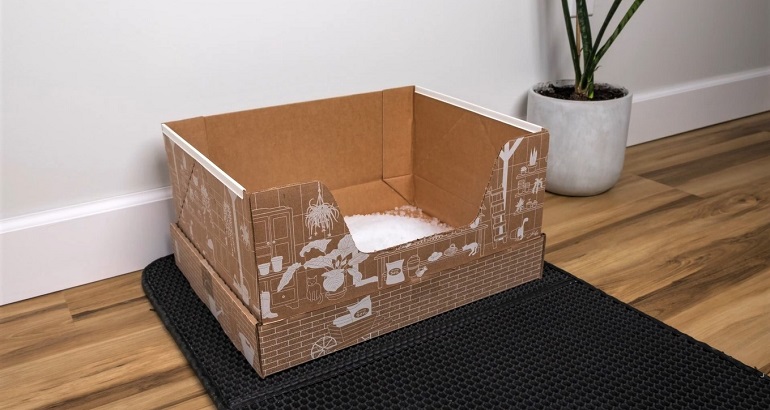 It must be heartening to know that starting a Kitty Poo Club is easy peasy. You simply place an order through the Kitty Poo Club site, then register automatically for automatic delivery for future orders. A litter box may be kept for a minimum of a month and a minimum of one box can be bought for every cat.
For your convenience, the box ships once a week, but it can be adjusted via the online store or a store manager. Kitty Poo Club delivery is free because standard shipping on litter is free. Besides saving you money, you can get a discount if you buy 3 boxes. Memberships offer discounts.
Offer is periodically updated according to what people want or need. There's something for everyone, from makeup to dog toys and wine to books.
We want to provide an authentic Kitty Poo Club review as this service claims to have so many benefits. What's interesting is that they also list their phone number and address at the bottom of their home page. In this day and age of bots and email replacing real people for customer service, I was pleasantly surprised!
The Kitty Poo Club's creator, Chad Kauffman, wanted to make it easier for cats and cat owners regarding litter boxes. So he and his father put their heads together, the lightbulb turned on, and the club materialized. Now let's get into:
… As we discuss why the product makes it easier for cats to… well, poo.
What Is Kitty Poo Club and How Does It Work?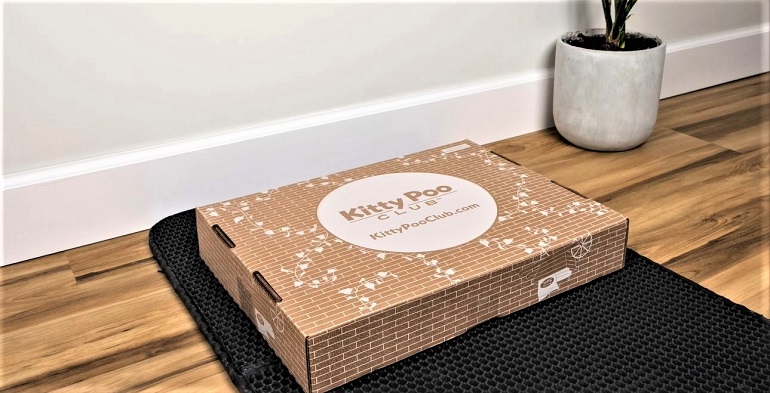 The Kitty Poo Club subscription is a service that delivers the following every month:
A leakproof cardboard box, made by using a new technology that coats the box with plastic, with seasonal decorations on the outside
One bag (or more if you'd like) of premium Kitty Poo Club litter in a heat-sealed bag. Different sizes and types can be purchased.
Two side rails for support
The entire system weighs around 9 lbs. (Except for the clay cat litter which would make it 16 lbs.)
Kitty Poo Club Subscription Information: The Basic Costs
Their most popular subscriptions are organized into three bundles:
Basic Bundle – Includes corn & wheat litter with disposable litter box – $22.39
Purrfect Bundle – $30.37
Super Bundle – $63.36
Corn & wheat litter with box
Standard cat litter box dome
Blue cat litter scoop
XL cat litter black mat
The price of all three bundles includes a 20% discount for first-time buyers.
Each ships every four weeks.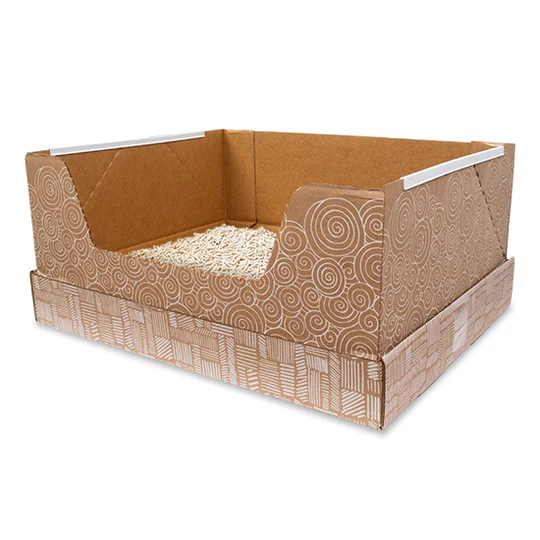 Kitty Poo Club
The Price of "Kitty Poo Club" varies, so check the latest price at
Details of Kitty Poo Club Box Sizing
Standard litter box (which can be purchased with or without a dome):
19"L x 15"W x 10"H
For cats under 20 lbs.
Holds one bag of litter.

XL litter box (which can be purchased with or without a dome):
22"L x 18"W x 10"H
For cats over 20 lbs.
Holds 2-3 bags of litter.
Approximate Pricing
Standard box only with no litter – $13.99
XL box only with no litter – $15.99
Standard cat litter box dome – $5.99
XL cat litter box dome – $7.99
Blue cat litter scoop – $1.99
Note: XL boxes (with any of the following types of litter) are noted online.
NON-CLUMPING LITTER – 1 BAG:
Silica fine grain (Natural minerals – Amorphous silica gel) – Texture (Fine) – 6.1 lbs. – $24.99
With cat litter box – $28.99
Silica larger grain (Natural minerals – Amorphous silica gel) – Texture (Crystals) – 7.2 lbs. – $24.99
With cat litter box – $28.99
Diatomite (Fossilized diatoms) – Texture (Fine) – 7.5 lbs. – $22.99
With cat litter box – $26.99
CLUMPING LITTER – 1 BAG:
Clay (Sodium Bentonite) – Texture (Fine) – 15 lbs. – $22.99
With cat litter box – $26.99
Organic soy (Food-grade soybean) – Texture (Pellets) – 7.5 lbs. – $22.99
With cat litter box – $26.99
Corn & wheat (Corn & wheat) – Texture (Fine) – 8.0 lbs. – $23.99
With cat litter box – $27.99
What Kinds of Litter Does Kitty Poo Club Offer?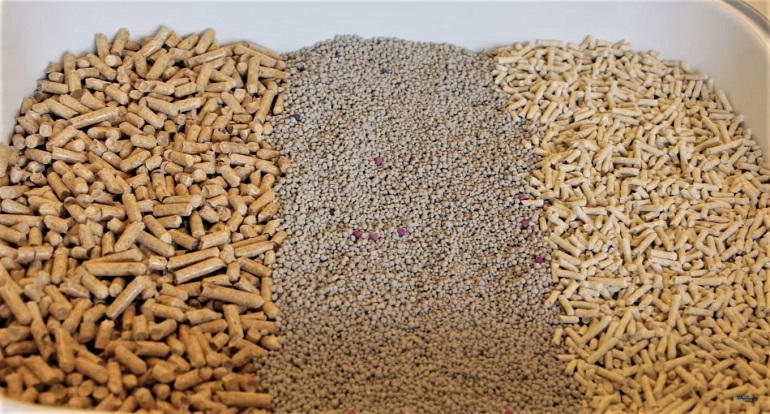 Kitty Poo Club has a thorough diagram on its website that breaks down litter types and how they perform. All six types have maximum odor control and all but the clay are lightweight. Also, except for the corn & wheat, the rest are low-tracking.
All of their kitty litters are scent, dye, and chemical-free. Most importantly, they're safe for pets and homes.
Silica and Diatomite litters
Cat urine is 95% water so when it comes in contact with non-clumping litter, that water evaporates. The waste that remains is trapped by the litter. When you remove poo (and the smell that accompanies it) and stir the litter, no odors will remain.
Organic Soy litter
This clumping litter requires daily maintenance to remove clumps and solid waste. It's 100% natural.
Clay litter
This litter also requires daily maintenance. It's a premium, proprietary blend of minerals and bentonite.
Corn and Wheat litter
It's a clumping litter and blend of two, USA-farmed grains. This litter requires daily maintenance and is all-natural.
Miscellaneous Items Sold by the Kitty Poo Club
They also have other products to make Oreo comfortable, satiated, and entertained. Here are a few:
Drymate Premium Debossed Cat Litter Trapping Mat $25.99
Life is Good Teaser Wand Cat Toy $6.99
Van Ness Cat Scratcher Pad Toy With Catnip (Standard) $7.19; Double wide $12.59
Turbo Scratcher Cat Toy $19.99
KING KALM CBD – 75 mg – Small size dog & cat formula $27.99
KING KOMB MINI – Deshedding brush for cats and small pets $24.99
Safari Deluxe Cat Nail Trimmer $10.49
Safari Self Cleaning Cat Slicker Brush $15.99
I was pleasantly surprised to learn that Kitty Poo Club offers premium cat food like Iams and Blue Buffalo.
All the choices are conveniently organized for you by type (dry, freeze-dried, wet), brand (choose from 19 selections), flavor (choose from 15 selections), unique quality (choose from 6 selections), and dietary needs (choose from 12 selections). If you need quality cat food, they certainly have ample choices for you.
Their treat selection is so varied, they even have specific ones made for dietary/wellness needs like dental issues and hairball control.
For the kitty who likes to walk on the wild side, check out the Meowijuana Crunchie Munchies Chicken (or Salmon) Cat Treats. Each is available for $8.06.
And their selection of 10 collars and harnesses, from demure to fancy, is definitely noteworthy.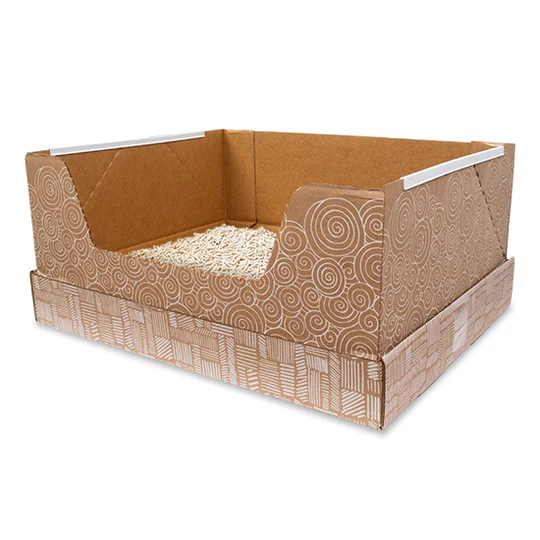 Kitty Poo Club
The Price of "Kitty Poo Club" varies, so check the latest price at
Kitty Poo Club Rewards
This point system is given to the customer so they can receive discounts on future purchases. Referring a friend and Monthly Paw Perks are just two of the programs to participate in and save money.
Points add up from purchasing and completing other tasks that can then be traded for coupons ranging from $5-$100 off.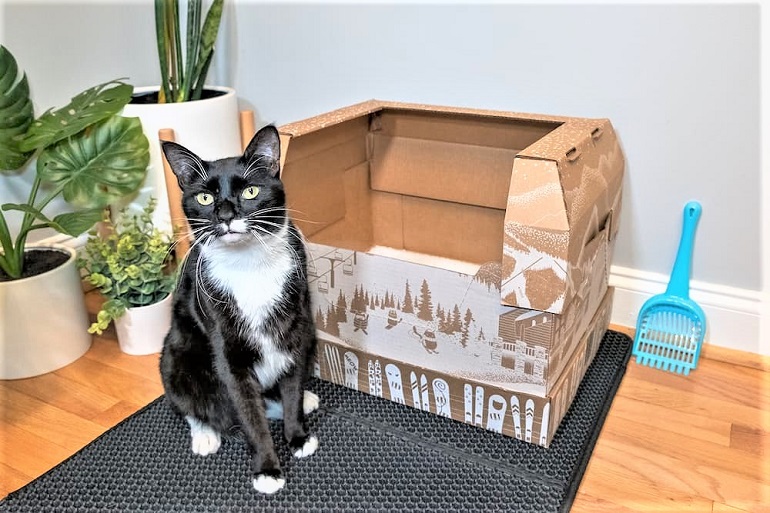 Send a Gift Card
This offer allows the purchaser to select the amount so Kitty Poo Club can then send a gift card image and custom message via email. (The design options are perfectly delightful.)
The "Golden Scoop" giveaway
They also give away a $100 digital Amazon gift card. Members are automatically entered and one is drawn monthly.
Here Are Some Eye-Opening Benefits We Discovered About the Kitty Poo Club: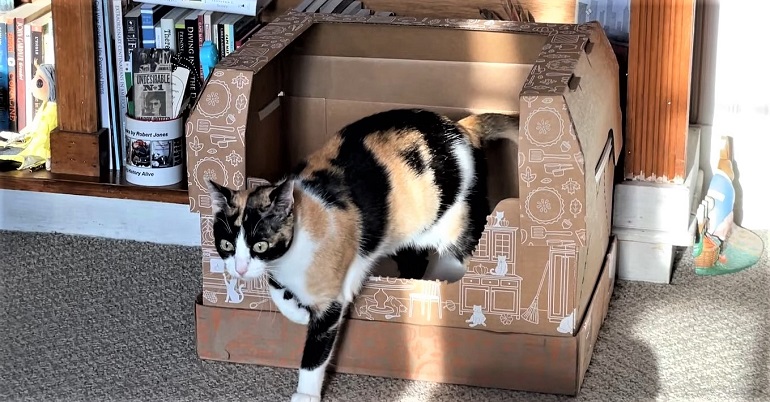 Pros
–Let's get honest here. Plastic is destroying our world so one of the Kitty Poo Clubs' main priorities is to save the planet. Boxes are made from recycled materials, 89% cardboard and 11% plastic, which are both biodegradable.
Being eco-friendly is important to the company. The single Kitty Poo Club box is designed to ship itself and uses no other wasted packaging. With a larger order, the packaging is made from an upcycled box.
To recycle:
Empty the used litter.
Easily fold the box into its original shape.
Place it in a recycling bin.
It's that simple!
– No-risk guarantee – If you're not satisfied with the purchase, the Kitty Poo Club will refund you for one box within three weeks of your first order.
– You can purchase the litter separately from the other products.
– The Kitty Poo Club litter is unscented and controls odors for 30 days.
– Designed to last an entire month for one cat. (They suggest that a multi-cat household purchase one for each kitty.)
– There's no need for cleaning and scrubbing. It's a box.
– They have an adoption directory with their favorite cat shelters and rescues and cat cafes in the US. They're behind cat and kitten adoption and created this resource to honor Adopt-A-Cat Month in June.
– When I called customer service with a question, the call was answered quickly, the representative was professional and kind, and she knew her stuff.
– And the granddaddy of all the benefits – FREE SHIPPING! Not only just for new members but for everyone. Always!
We Also Noticed a Few Undesirables About the Litter Box Service: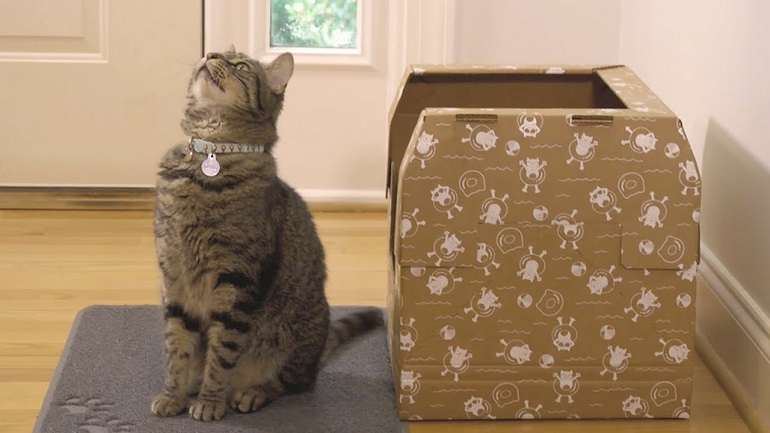 Cons
– Although they claim the box is a "work of art," it very much resembles a basic box with some delightful designs on it.
– Some products need to be purchased separately rather than as a system.
Why Is the Kitty Poo Club Service Better Than Using a Conventional Litter Box?
Traditional kitty litter boxes are 100% plastic which negatively impacts the environment. Plus, you don't need to travel anywhere and pick up heavy litter. With the club, it comes right to your door.
One of the main issues with conventional litter boxes is how, when, and where to clean them. This subscription service gets rid of those concerns. Additionally, some plastics are porous and trap odors as with traditional litter boxes.
To Flush or Not To Flush (Litter)
The exact answer is yes… and no. Experts argue over the effect that cat waste has within public water systems. Here are three times it should NOT be flushed:
In a septic system (no chemical protections)
If it's clay litter
If it's diatomite litter
Kitty Poo Club's litter is made from naturally occurring materials, but cat feces is really the culprit when it comes to flushing. It could contain toxoplasmosis which can be extremely harmful to marine life.
The company's advice? "We recommend that you use your own discretion." The way I interpret that is don't flush either waste or litter, but it's a personal choice.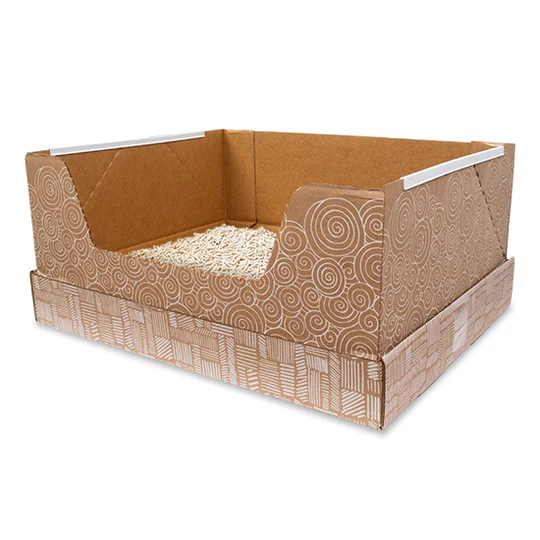 Kitty Poo Club
The Price of "Kitty Poo Club" varies, so check the latest price at
FAQs
My Cats Like To Share The Same Box. What Should I Do?
Since the club's boxes are built to last one month with one normal-sized cat, they recommend ordering two boxes per month. One can be used every two weeks.
How Do I Assemble the Litter Box?
From the Kitty Poo Club website, directions are as follows:
Place the lid underneath the box.
Either:
a) Position the rails on the sides of the box, or
b) Place the dome on the top of the box.
Leave the perforated entrance piece in place to prevent tracking, or simply take it out for kitties that need a lower entrance.
Tear open the bag of litter and pour slowly into the bottom of the box to minimize dust.
At the end of the month, toss the used litter in the trash and recycle the litter box.
Can I Add Deodorizer to the Litter?
The club doesn't recommend adding anything to their litter in case it were to interfere with the purpose of their odor-controlled materials.
How Can a Cardboard Box Work as a Litter Box?
They've directly applied plastic to the inner surface of the box. It is then tested and can hold up to three inches of liquid without leaking. Also, cats don't tear up their own domain so they won't destroy the box. 
Does This Litter Work With an Automatic Litter Box?
Kitty Poo has two litters that will work with one:
– Diatomite
– Clay
What Do I Do To Help My Cat Adjust to the Kitty Poo Litter?
Cats are much smarter than we think and know there are areas to "use the loo" and they're designated to be used as such. If you'll mix the litter – half of his current litter with the new litter – the smells they're accustomed to will remain.
Over time (a few weeks), keep making a new mixture this way by adding more new litter and less of the old. There may be a few "accidents" now and then which is understandable, but this process is the best way to introduce new litter.
Where Is the Best Place To Put a Litter Box?
Cats are comfortable using a litter box that's placed in out-of-the-way areas. If you have a mudroom with a lit corner or an area beside your bedroom dresser, these are good choices.
They wouldn't enjoy a dark garage or a noisy laundry room. It needs to be inviting with low traffic – no kids running through or dogs racing to get to their dog bowl. Think of it this way… they like a bathroom similar to what we enjoy; one that's well-lit, quiet, and temperature-controlled.
Why Is My Cat Eating Litter/Feces?
Pica is a disorder where cats eat non-food items like cloth or plastic. Cats with this malady could begin to eat litter. When cats eat feces, this condition is called coprophagia. Some kittens regularly do this for the microbes found there but generally, grow out of that behavior. 
Since you'll need to figure out whether he's eating the litter or the feces, it's best to visit your veterinarian. Ask if what you're feeding your cat is healthy and well-balanced.
Go ahead and have him checked physically for any health issues that could also be causing the issue. Cats can even have emotional behaviors like this when they're going through changes or stress like moving.
Follow these suggestions and your kitty should be eating what's on the menu in no time.
What Happens if a Cat Eats Litter/Feces?
Consumption of clumping litter can cause respiratory and digestive complications. You know your cat. If you notice it several times, it's best to go see your vet to rule out any health problems.
Salmonella (E.coli) can be contracted from eating feces so it's something you want to pay attention to. If you can, try to bring a sample of your cat's stool with you to the vet for them to examine.
Should My Kitten Use the Litter Box?
Kittens, just like puppies, should be trained early with socialization, behavior, and habits. Having said that, kittens under the age of around four weeks old should usually not be litter box trained. Their mother takes care of their every need, including cleaning them after elimination, so it's not necessary.
If you've adopted an older kitten, begin litter box training right away. Start by putting them in the box several times a day (after eating and waking) and their instincts will take over.
In Conclusion
The Kitty Poo Club officially opened in October 2017 and has been helping its customers serve their cats ever since.
Between the boxes and litter, and the toys and treats, we believe Kauffman when he says "We're an entire litter box solution." And with over 22,000 5-star reviews, they're doing a lot of things right.
Cats deserve to have a pristine, comfortable place to go poo. And this cat club delivers just that.