Cats shed dead hair all over the year to a certain extent, but the shedding becomes excessive twice a year for most cat breeds. Dealing with the shedding of cat hair is a part of life for cat owners, as cat hair is lightweight enough to spread all over the house seamlessly.
However, if excessive shedding of your cat's hair is observed, then understand that something is not right. Cats shed excessive hair due to multiple reasons like bad eating habits, less intake of water, stress, uncleanliness, and sudden change of routine or an addition of a new pet.
Most of these mentioned issues can be dealt with by regular brushing and showering of your cat to ensure cleanliness and a healthy lifestyle for your pet.
To fix the bad eating habits of your kitty, introduce new items in cat food and make sure the updated food has all essential vitamins. The most common reason for excessive shedding in most cats is an imbalanced cat's diet. A balanced diet for your kitty must include food having high protein quantity, amino acids, essential vitamins, omega fatty acids, water, and other essential nutrients for your cat's best health.
Good Flavor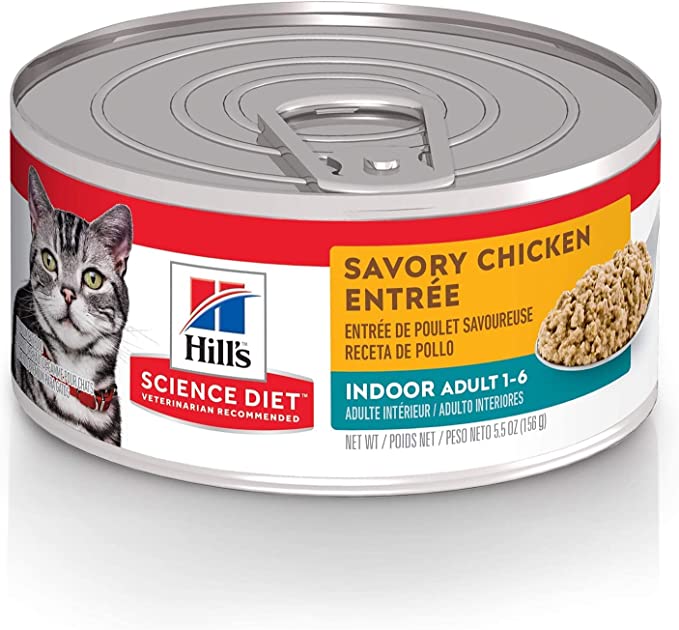 Hill's Science Diet Wet Cat Food
Flavor: Chicken
Item Form: Wet
Good Quality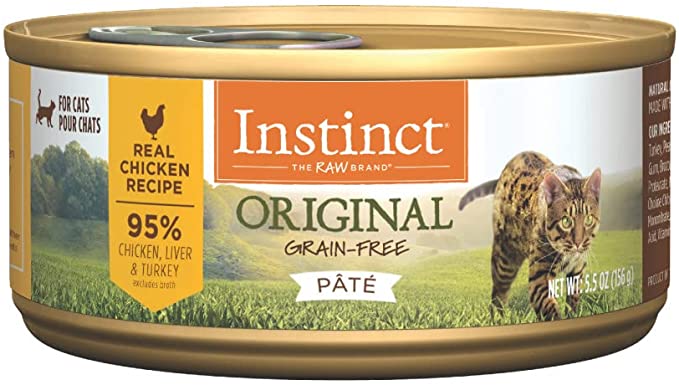 Nature's Variety Instinct Grain-Free
Flavor: Chicken
Item Form: Raw
Value For Money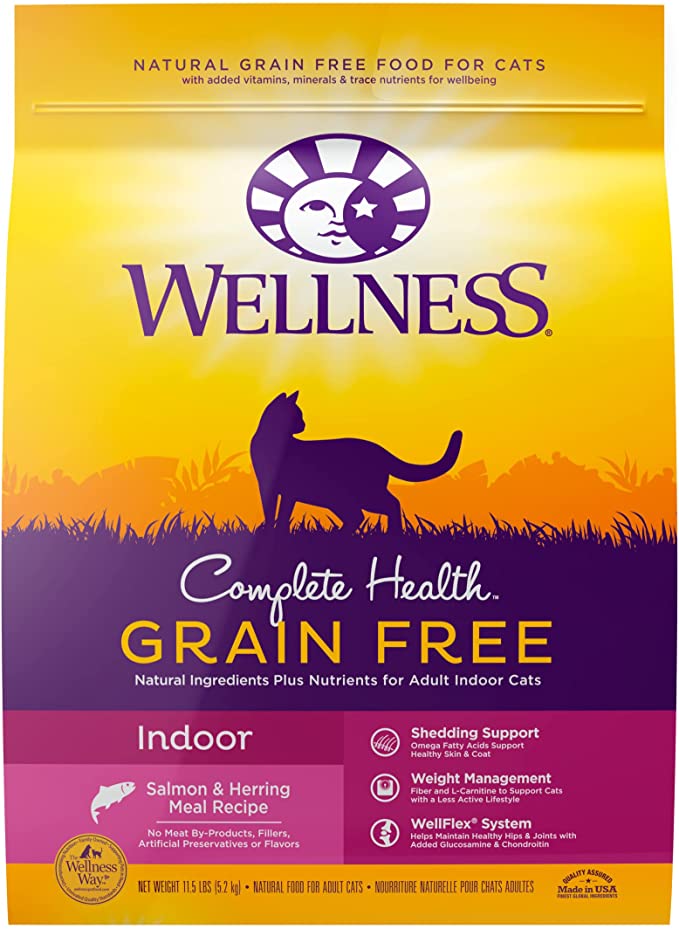 Wellness Complete Health Natural Dry Cat Food
Flavor: Salmon
Item Form: Dry
Beautiful Scent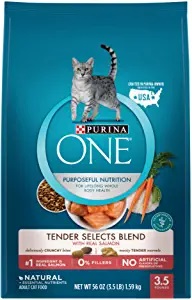 Purina ONE Natural
Flavor:Salmon
Item Form: Kibble, Semi-Moist, Crunchy
Great Stuff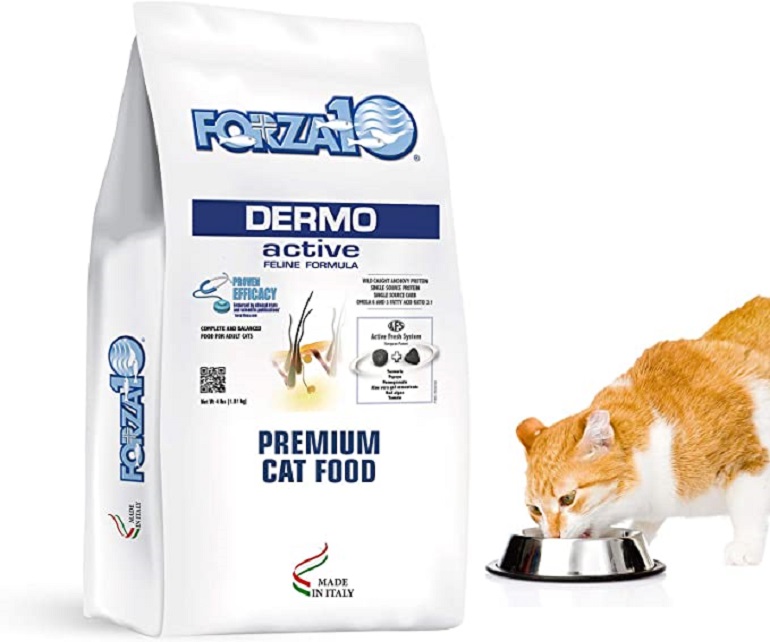 Forza10 Nutraceutic Active Line Dermo Dry Cat Food
Flavor: Seafood
Item Form: Dry
High Quality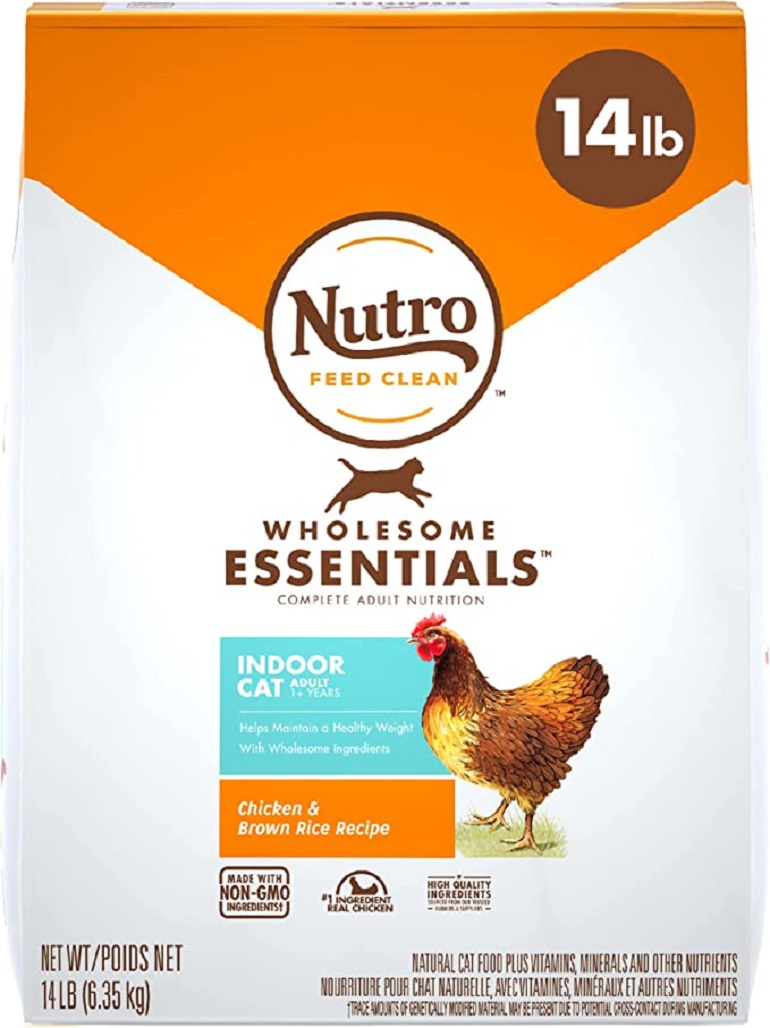 Nutro Wholesome Essentials Dry Cat Food
Flavor: Chicken
Item Form: Dry
Highly Recommend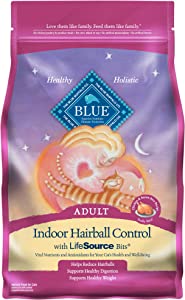 Blue Buffalo Dry Cat Food
Flavor: Chicken & Brown Rice
Item Form: Dry
Grain Free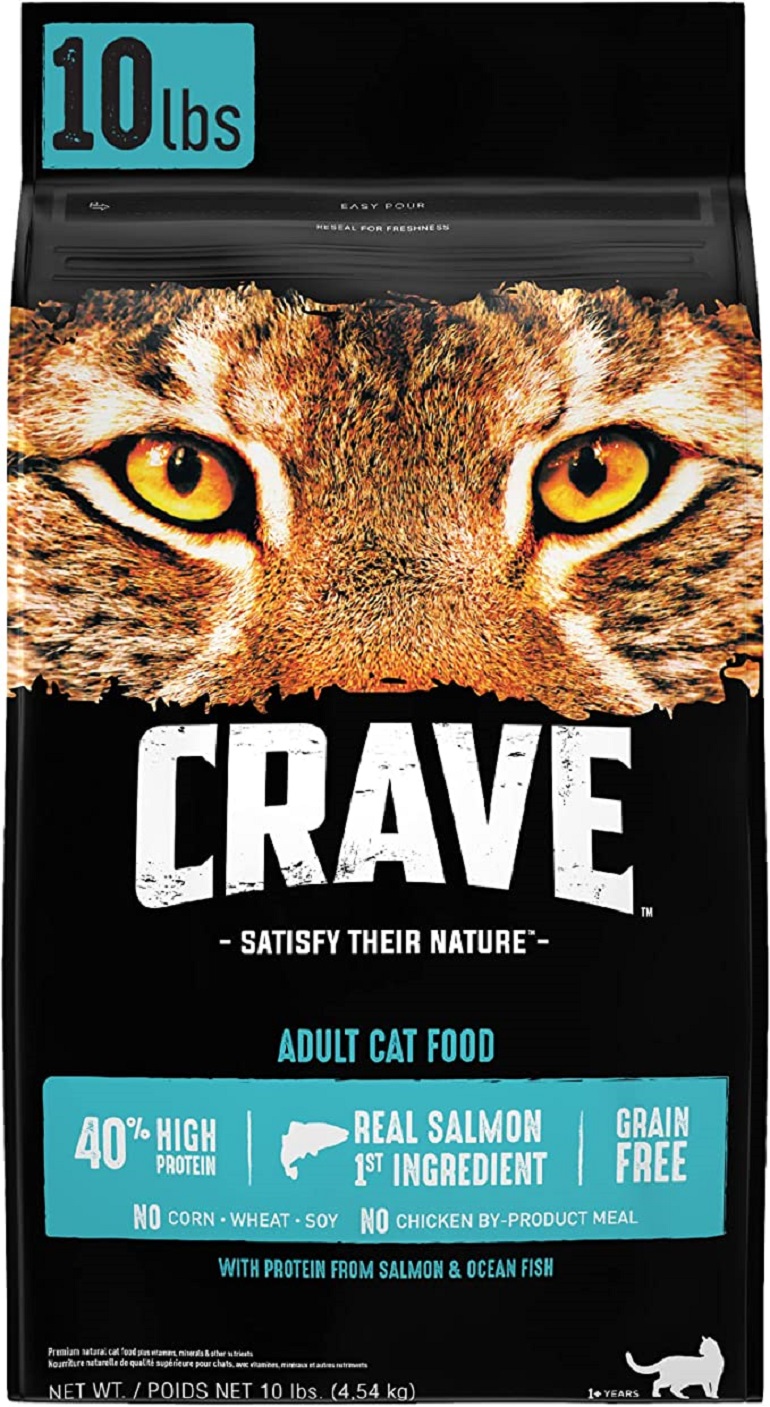 Crave Salmon Protein & Ocean Fish Grain
Flavor: Salmon & Ocean Fish
Item Form: Grain
Real Salmon & Chicken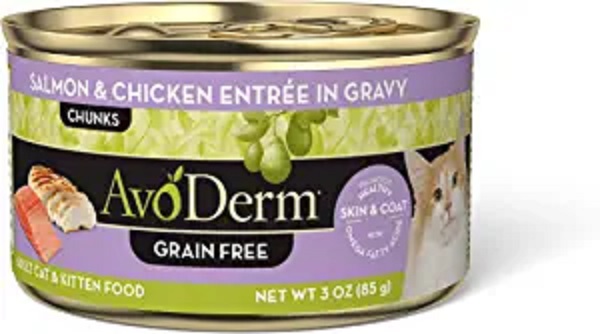 AvoDerm Grain-Free Salmon Canned Cat Food
Flavor: Chicken
Item Form: Wet
9 Best Cat Foods for Shedding
Cat shedding is a universal phenomenon, but the same in excess can be a real hassle and alarming as it indicates that your cat is suffering from health issues.
To avoid the hassle, adding the right cat food to your cat's diet is the best remedy. The market is filled with a huge variety of canned cat food, and each has a different formula, so looking for the right canned cat food can be tricky.
Canned foods are of different kinds, and wet cat food caters to the water requirement of your cat and also includes all required nutrients. Dry cat food covers other nutrient requirements, and specific food types will help in reducing the hair loss of your beloved cat.
So picking the best cat food for shedding can be tricky, and after repeated testing and much deliberation, our experts have finalized a list of the 9 best-canned cat food for shedding as discussed in this article.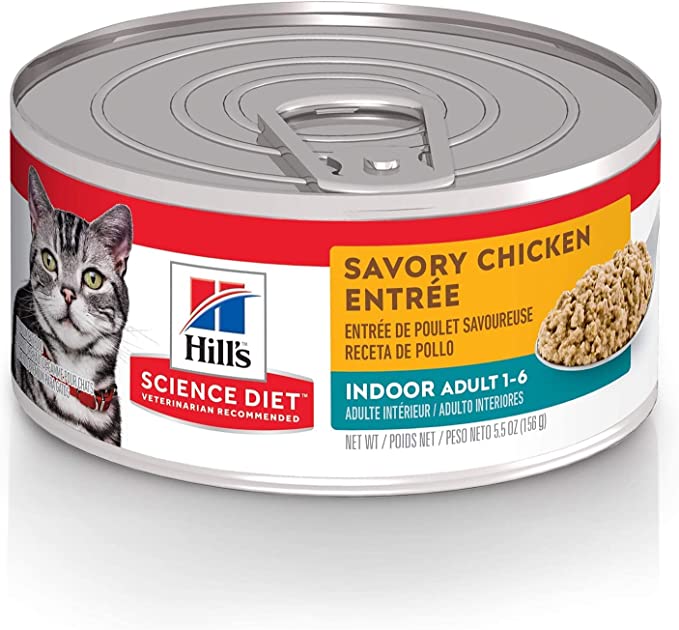 Hill's science diet produces the best canned cat food for adult cats making it our favorite for combating shedding issues. Older cats tend to develop urinary issues owing to the lack of water and other nutrients imbalance that deteriorates their hair coat's health. Cats are known for their allergies towards water and keeping them hydrated can be a real challenge. In this regard, Hill's wet cat food can do wonders for cat shedding control.
This wet food is made with all genuine and required ingredients and is acclaimed to be designed to help older cats maintain healthy kidneys by providing optimal levels of magnesium. This chicken flavored wet cat food has the best formula including antioxidants, vitamin E, proteins, fibers, and much more.
The addition of antioxidants and Vitamin E maintain skin and ensure a healthy immune system. Furthermore, proteins keep your cat's muscular strength and the rightful proportion of calories ensures that your senior cat's energy requirements are fully met. Being a wet food option, it obviously keeps your cat enough hydrated to fully combat all possible health issues.
Hill's science secured the top pick in this article for its best combination of taste, nutrition and calories to keep your adult cat from any possible health issues that seamlessly reduce shedding.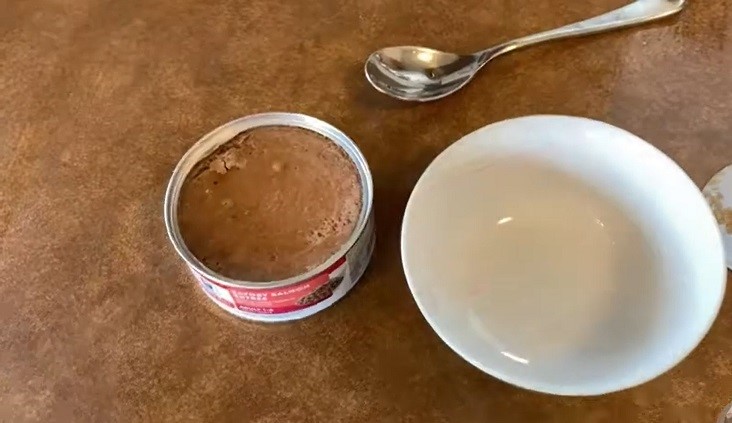 Features
Adult wet food that supports urinary hairball control
Contains a higher level of antioxidants and Vitamin E
High quality animal protein to strengthen muscles
High proportion of fiber to reduce hairballs
Chicken flavored
Omega3 & 6 blend for best skin health
Available sizes: 2.9 & 5.5 oz
#1 veterinary recommended
Pros
One of the best wet foods for adult cats
The formula includes key nutrients to support urinary health
It is among the best cat foods made from absolute natural ingredients
The cat food includes maximum required nutrients to reduce hair loss
Cons
The price is costly for its size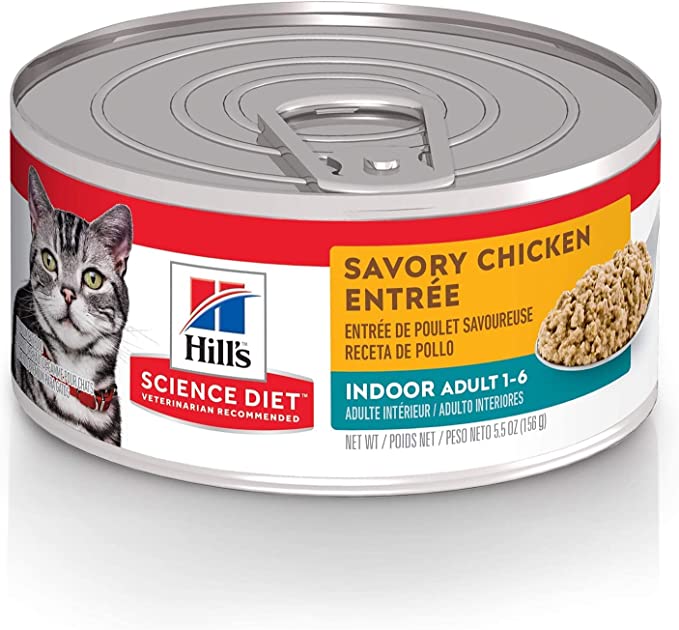 Hill's Science Diet Wet Cat Food
The price of "Hill's Science Diet Wet Cat Food" varies, so check the latest price at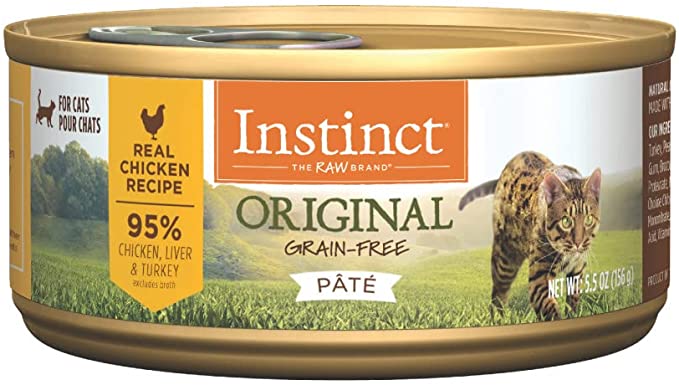 Using pure chicken, chicken liver, & turkey, this amazing grain free canned cat food for shedding can do wonders for your feline friend. You can choose from a variety of taste choices available according to your cat's taste choice. This wet food choice has everything that helps to control shedding in minimum time duration.
As the name implies, the instinct wet food is absolutely grain-free and contains zero fillers. It is made from cage-free animals including chicken and turkey that constitute 95% of the cat food by composition. This implies that the instinct cat food contains high animal proteins and a variety of minerals for strong and lean muscles.
The instinct food is made from completely innate ingredients with no preservative or artificial colors. The instinct raw food brand claims that they use original ingredients that are completely natural as they believe that your cat deserves the best and pure nutrition. The cat food offers complete & balanced nutrition from real ingredients to support your cat's health from kitten to senior. It is most suitable for all age types.
Except for the chicken meal option, the instinct can food is available in multiple tastes of the wild and you can choose from beef, duck, lamb, rabbit, fish and venison flavor for your picky cat. All of these choices contain high protein content. So, all the above mentioned flavors are naturally the most favorite food choices of cats and best served in reducing cat shedding of fur and hair.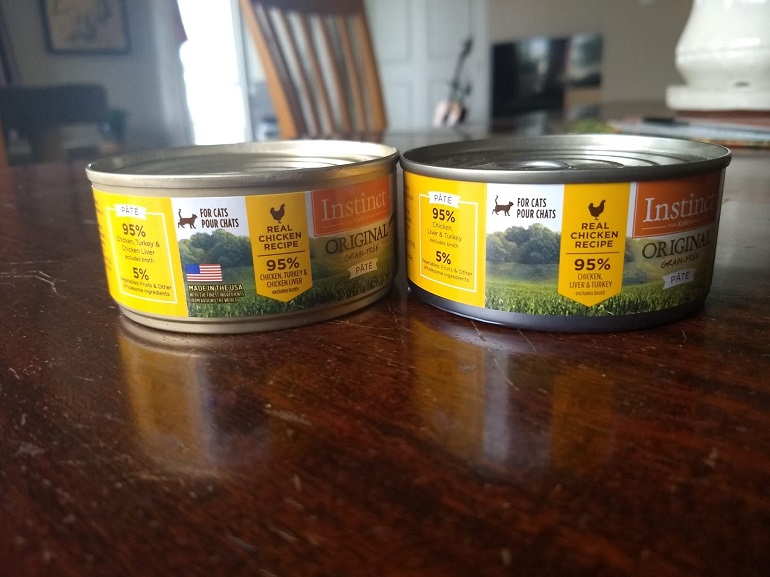 Features
95% composition comprise of meat
5% consists of vegetables
Made from real and good ingredients
Calcium rich : 75%
Grain free canned cat food with cage free chicken
Available in a variety of flavors
Available in 3oz and 5oz sizes
Pros
A variety of flavors to choose from is available
It offers complete & balanced nutrition with real ingredients
It contains 95% real meat and organs that offer high-protein quantity
Cons
When not wrapped in plastic, it gets wasted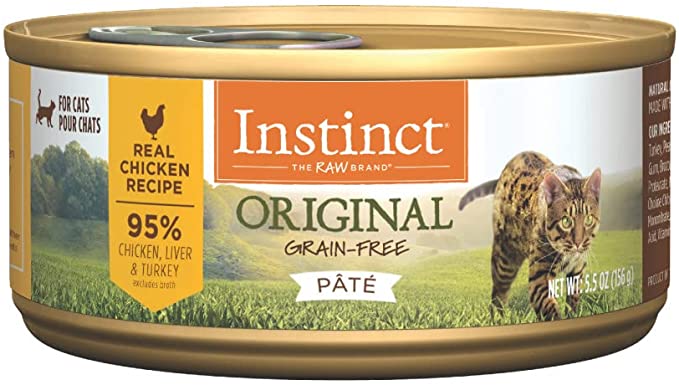 Nature's Variety Instinct Grain-Free
The price of "Nature's Variety Instinct Grain-Free" varies, so check the latest price at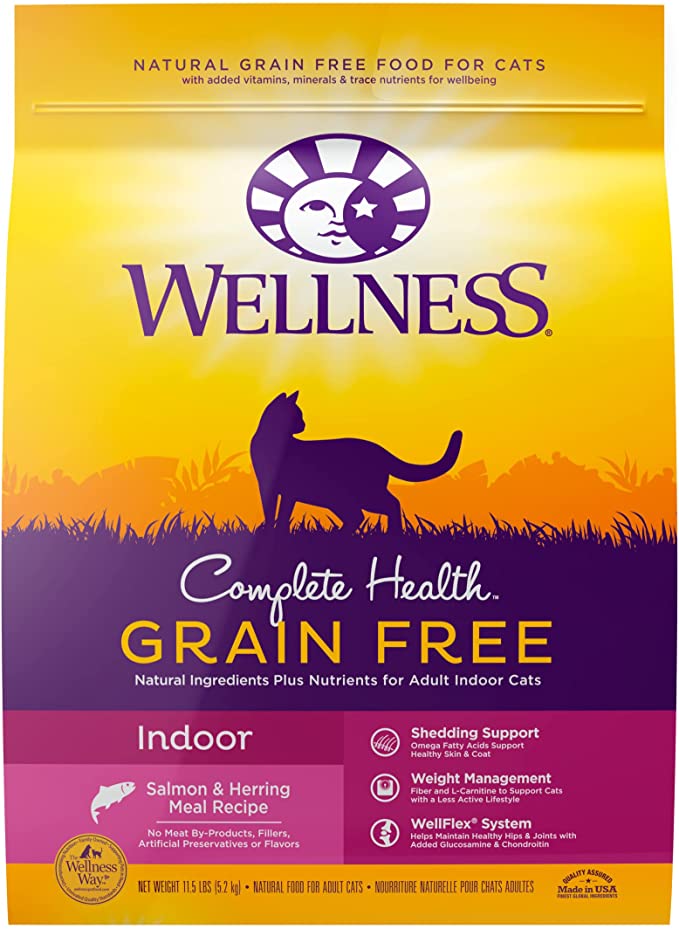 If your cat is a fan of textured dry food and loves munching then this is the best option for your cat. Wellness complete health natural food is the best dry food formula to help snub hair loss issues of your kitty. This protein rich formula includes all the important nutritional requirements of your pet including omega fatty acids, vitamins, minerals, and taurine.
It is yet another grain-free cat food made from complete natural ingredients with no meat by-Products, Artificial Flavors, or Preservatives. This pate-textured food is available in 3 oz. and 5.5 0z. cans. The grain free dry cat food minimizes hairballs production by providing high protein and high fiber formula to keep your cat healthy.
The cat food contains unique nutritional ingredients, each targeting a unique and different cat health issue. If your cat is suffering from urinary issues, then this food contains cranberries to prevent a build-up of harmful bacteria in the urinary tract. To maintain healthy skin and coat, flaxseed and salmon fish oil are included in the formula for omega fatty acids. To improve immunity and ensure sufficient fiber intake, there is carrot.
It seamlessly ensures a healthy diet for your beloved feline including natural fiber that eliminates any issue with your cat's digestive system. It is the best cat food for shedding because cats easily adopt this can food and love the textured feel while munching this dry cat food.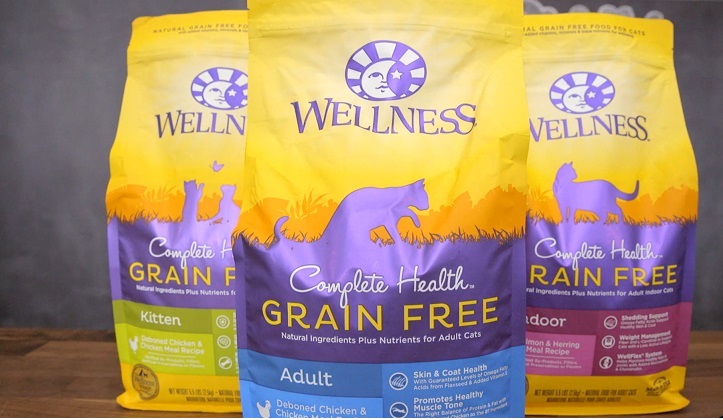 Features
100% grain-free formula
Made from nutritional ingredients: chicken, chicken liver, and turkey
Flaxseed and salmon oil for healthy skin
Carrot for sufficient fiber
3 0z. and 5.5 oz. cans available
Cranberries to keep your cat safe from urinary issues
Pate-textured food
Pros
The cat food has no artificial flavors or preservatives added
It is best for your cat's healthy skin
There is a perfect nutrient balance to reduce cat shedding
Cons
A few picky cats refuse it for its taste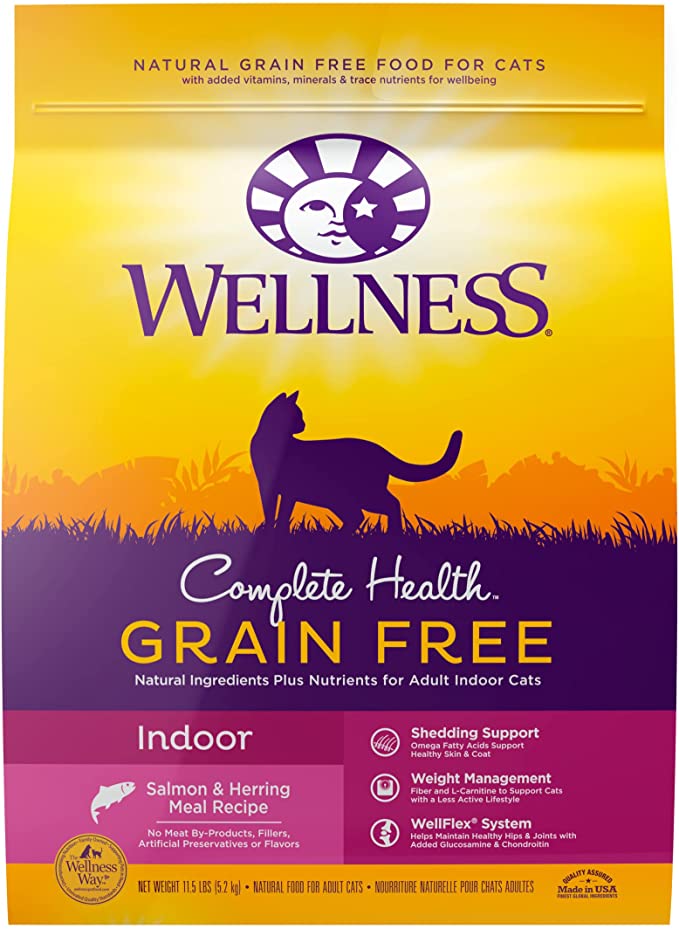 Wellness Complete Health Natural Dry Cat Food
The price of "Wellness Complete Health Natural Dry Cat Food" varies, so check the latest price at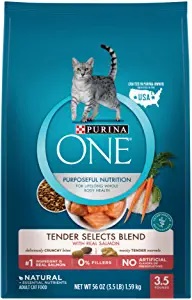 If you are a possessive parent and have a hard time getting 'just any' canned cat food and want to have a guarantee for the food you buy then getting the veterinarian recommended Purina ONE hairball adult formula might be the best choice. This formula includes all essential ingredients that are natural to ensure good health of your kitty. Cherry on top is its taste and reports suggest that maximum cats have really loved the tasty cat food.
The formula involves a blend of real fish and other high-quality ingredients to support balanced nutrition. Also, the moisture-rich formula of this grain-free cat food supports your cat's natural hydration.
The natural meat ensures a high protein proportion that supports strong muscles. Purina ONE hairball adult formula is naturally made with added vitamins, minerals and fibers for best cat health.
The Purina company claims that any cat will love this dry cat food and also claims that within 28 days cat owners will observe a clear and obvious difference in their cats. Over 1.2 million users have taken the 28 days challenge and have observed a clear reduction in cat shedding and a healthy energy, a shiny cat's coat, bright eyes, and healthy teeth and gums.
It is affordable, easily digestible, and full of fiber, which reduces hairballs in the tract. This recipe might not work for every situation, but it's worth looking at when excessive grooming is a problem. Every ingredient used in this recipe serves its purpose and this dry food meets 100% of your adult cat's requirements for a healthy lifestyle.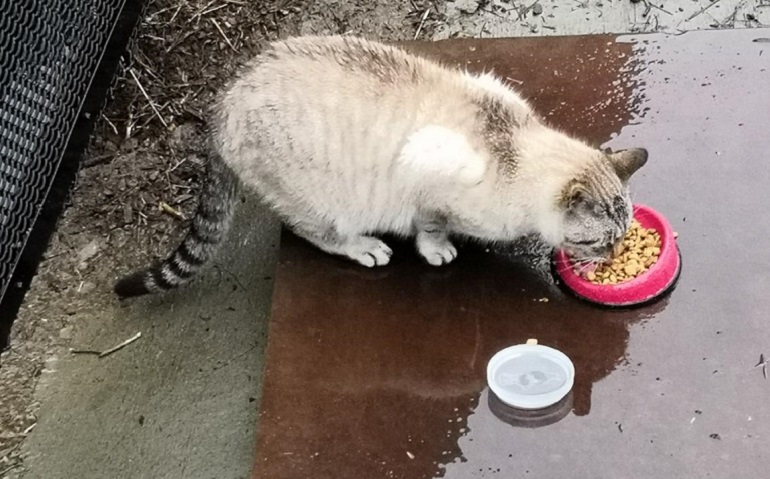 Features
Veterinarian recommended
Available in a range of dry and wet cat foods
Natural fiber blend helps minimize hairballs
High Protein Helps Support Strong Muscles
Natural formula with added vitamins, minerals, and nutrients
100% nutrition and 0% fillers
Pros
The quality of ingredients used is uncompromised
Delicious taste with protein rich and grain-free formula
The first ingredient mentioned is real chicken
It is a low cost affordable cat food
Cons
It is not suitable for sensitive cats
It is very dry to chew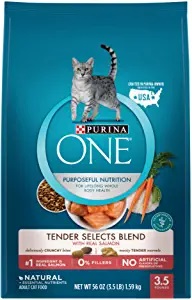 Purina ONE Natural
The price of "Purina ONE Natural" varies, so check the latest price at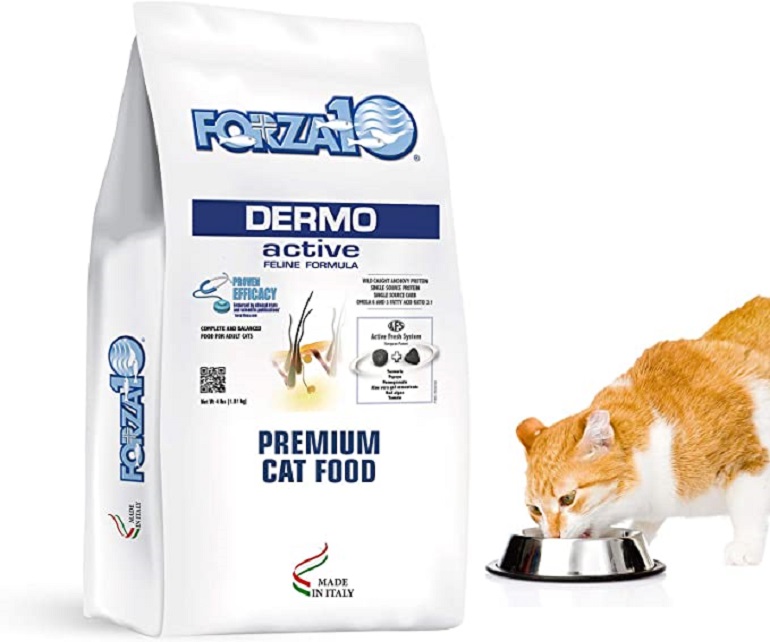 As the name implies, the Forza10 Dermo dry cat food contains the perfect formula to cater all derma related issues in your cat and ensure best skin health for your furry friend. Shedding starts due to skin and coat problems of cats and to avoid this from happening, Forza10 has got just the right dry cat food for you. This dermo care product provides sensitive stomach cat food; specially formulated food for dandruff and shedding and to help cats with itching, crusts, furr loss, dermatitis, and other skin issues.
Furthermore, it prevents skin irritations and the ingredients used are carefully devised for skin and coat health of your cat. This formula is supported by scientific studies along with the help of experts and includes carefully examined nutritional components that best help in the healthy growth of cats that tend to quickly acquire food allergies.
Forza10 cat foods are created by veterinarians themselves making it the best cat food for shedding as their major focus is on formulating a formula that best serves for strengthening skin and coat health of your cat. Hence, it is veterinarian approved cat food.
The ingredients used are natural and provide for huge concentrations of omega-3 and 6 fatty acids using wild caught anchovy to promote healthy cat's coat and skin health. Furthermore, the Icelandic wild-caught anchovy will responsibly satisfy the taste buds of your feline. Further addition of natural extracts of papaya, pomegranate, and turmeric help to enhance taste and skin health. Herbs and fruits are also added to the formula to boost immunity.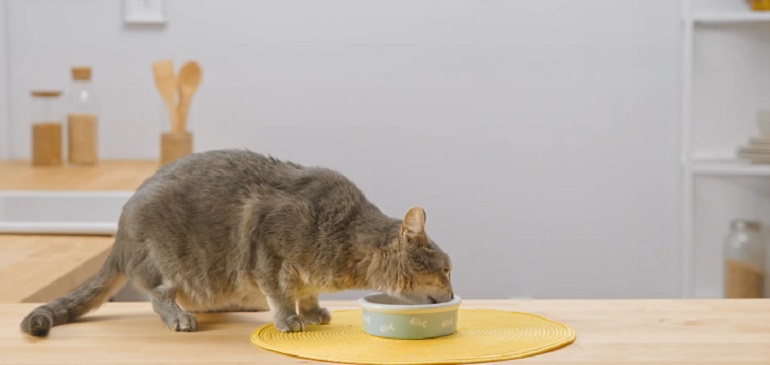 Features
For cats with sensitive stomachs and cat food allergies
Best source of omega-3 & 6
Natural extracts of papaya, pomegranate, and turmeric
Promotes healthy coat
Icelandic wild-caught anchovy for good taste of the wild
Supported by scientific studies and veterinary advice
Pros
This option best helps improve your cat's skin
The cat food for shedding is veterinarian approved
It best helps to keep the skin and coat of your cat healthy
It is undoubtedly the best cat food to ensure healthy skin and coat that best reduces shedding
Cons
A few cat owners have reported that their cats are not happy with the taste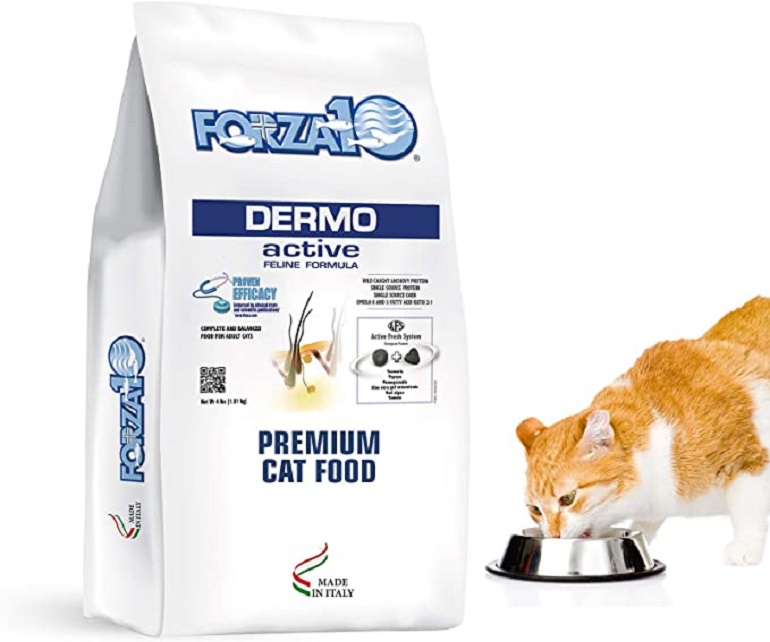 Forza10 Nutraceutic Active Line Dermo Dry Cat Food
The price of "Forza10 Nutraceutic Active Line Dermo Dry Cat Food" varies, so check the latest price at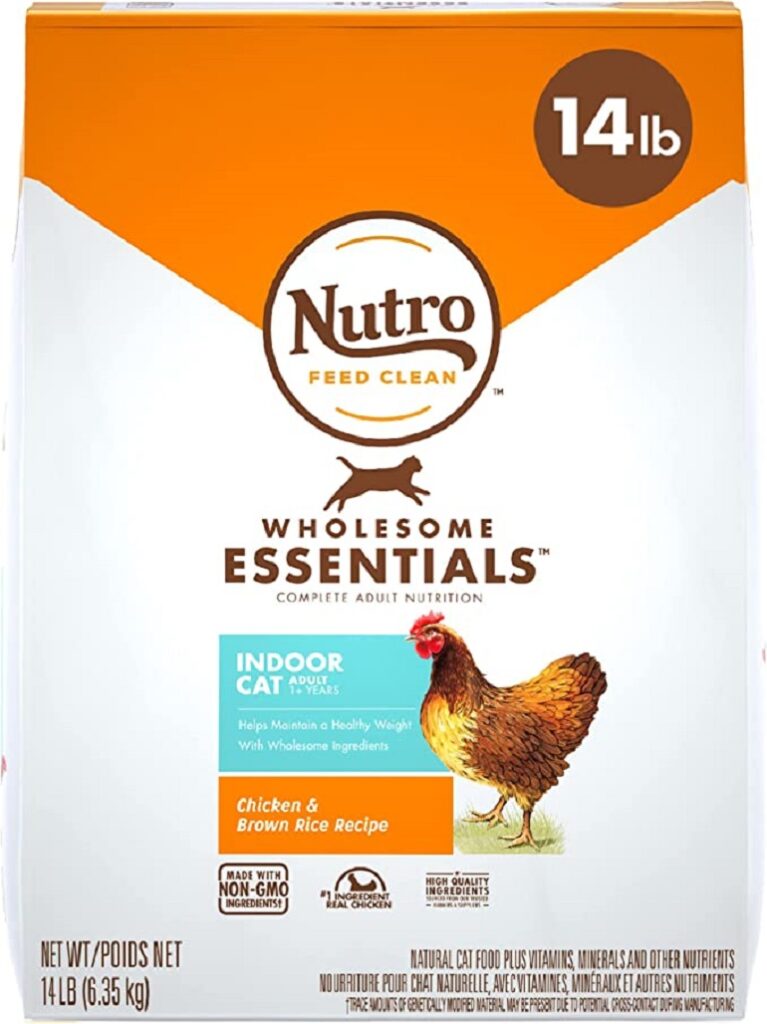 If your cat loves to stay indoors, then this is the best food to keep them from shedding. It is understandable that keeping indoors clean with excessive shedding of your beloved feline can be a real hectic task. Nutro wholesome essentials dry cat food recipe contains all required ingredients for indoor cats suffering from shedding.
The recipe contains an abundance of high quality protein for healthy muscular strength of your cat. Furthermore, this amazing cat food contains a wholesome range of vitamins, minerals, and other essential nutrients to enhance your cat's health.
The recipe also contains healthy fibers and vitamin E for healthy digestion and a healthy immune system. The fiber blend also helps in minimizing the formation of hairballs. The addition of Omega-6 fatty acids helps to promote healthy skin and shiny fur.
Real chicken is the no.1 ingredient for a tasty and divine treat. The adult care formula contains brown rice to assure that antioxidants are also included in the formula for healthy immunity. The best part is that the formula is free of GMO ingredients and doesn't contain any artificial additives. This flawless amalgamation of all desirable nutrients is the most healthy treat for your lethargic indoor cats and will best reduce their laziness and enhance their immune system flawlessly.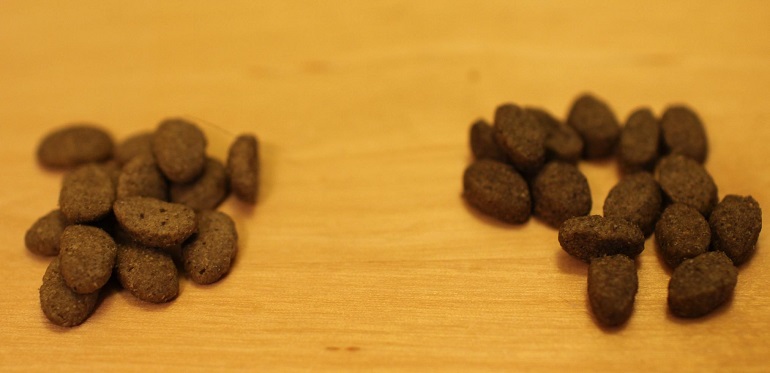 Features
Real chicken is the no. 1 ingredient
Indoor cat food
Natural cat food
Includes vitamins, minerals, and other essential nutrients
Non-GMO
Free of corns, soy proteins, or wheat
No added artificial flavor, chicken by-product, preservatives, or colors
Rich in omega-6 fatty acids
High quality protein source
Natural fibers for healthy digestion
Pros
The cat food contains tasty nutrition in every bowl
It contains all valuable nutrients to ensure healthy digestion and better immunity
It is considerably the best dry food for healthy skin and coat
Cons
The cat owners have observed loose stool in cats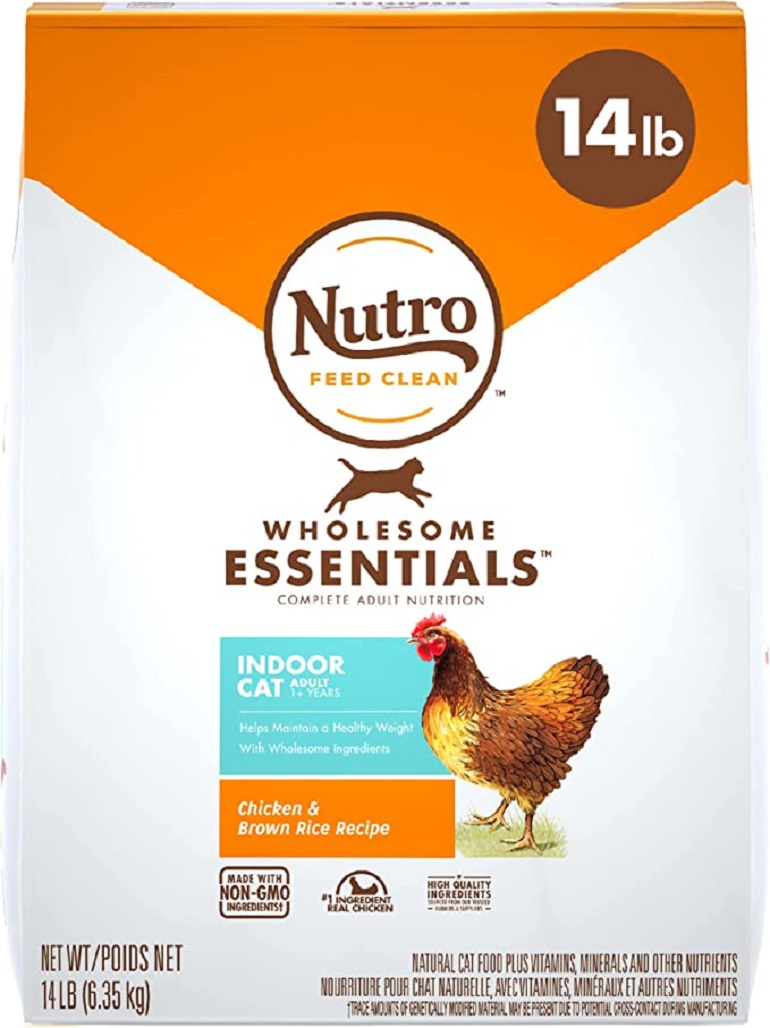 Nutro Wholesome Essentials Dry Cat Food
The price of "Nutro Wholesome Essentials Dry Cat Food" varies, so check the latest price at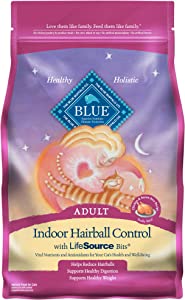 Blue buffalo interacts directly with nutritionists and veterinarians to target specific cat health issues, especially hairballs. Blue buffalo indoor hairball control adult dry cat food is the best pick for indoor cat owners. Formulated with grains like brown rice, chicken, and oats to help your cat get sufficient carbohydrates.
The cat food features real meat as the first ingredient which is responsible for a sufficient proportion of high quality protein to maintain your cat's muscular strength. Blue dry cat food is made with the finest natural ingredients giving equal weightage to minerals and vitamins to ensure healthy skin and coat of your car. It includes fiber sources to support digestive health of the indoor cats.
Additionally, the blue cat food formula contains carefully balanced proteins and fats to reduce weight of your fat cat and helps to maintain an ideal body weight.
The essential vitamins, minerals, and antioxidants ensure immune system health. The most unique attribute is the inclusion of LifeSource Bits for antioxidants like vitamin E for skin health.
It is blended with all natural ingredients that help maintain an ideal weight and will be good for your indoor cat's sensitive stomach since there is no corn, wheat, or soy; and no artificial flavors or fillers added.
This dry cat food is made with the finest innate ingredients enhanced with vitamins and minerals to ensure perfect immune system health of your feline.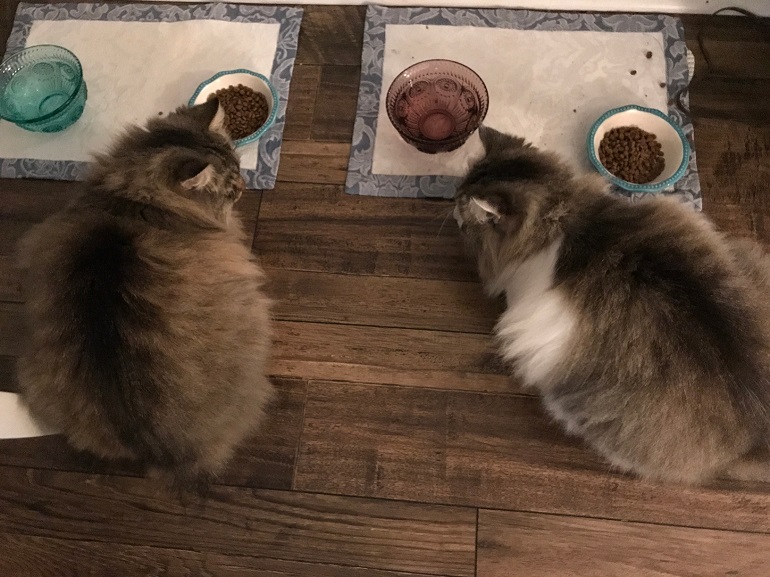 Features
Indoor hairball control cat food
High-quality protein from real chicken
Wholesome whole grains, garden veggies and fruits are included
Omega 3 & 6 fatty acids for healthy skin
Free from any by-product meats
Contains BLUE's exclusive LifeSource Bits for antioxidants
Use finest natural ingredients
Natural source of fiber
Healthy weight management
Pros
It contains a special blend of fibers to reduce hairballs
It helps maintaining body weight making it the best dry cat food for indoor cats
The best formula for sensitive stomachs
High quality protein maintains healthy muscles
Cons
The taste is a bit compromised and might not be tasty for pickier cats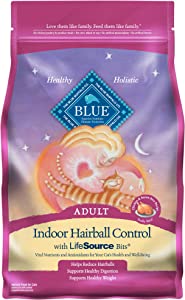 Blue Buffalo Adult Dry Cat Food
The price of "Blue Buffalo Adult Dry Cat Food" varies, so check the latest price at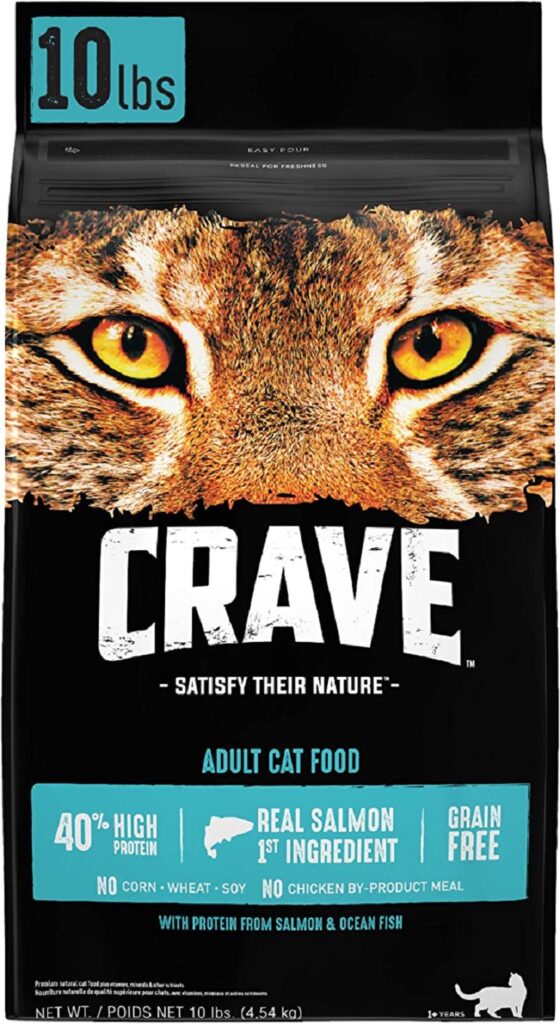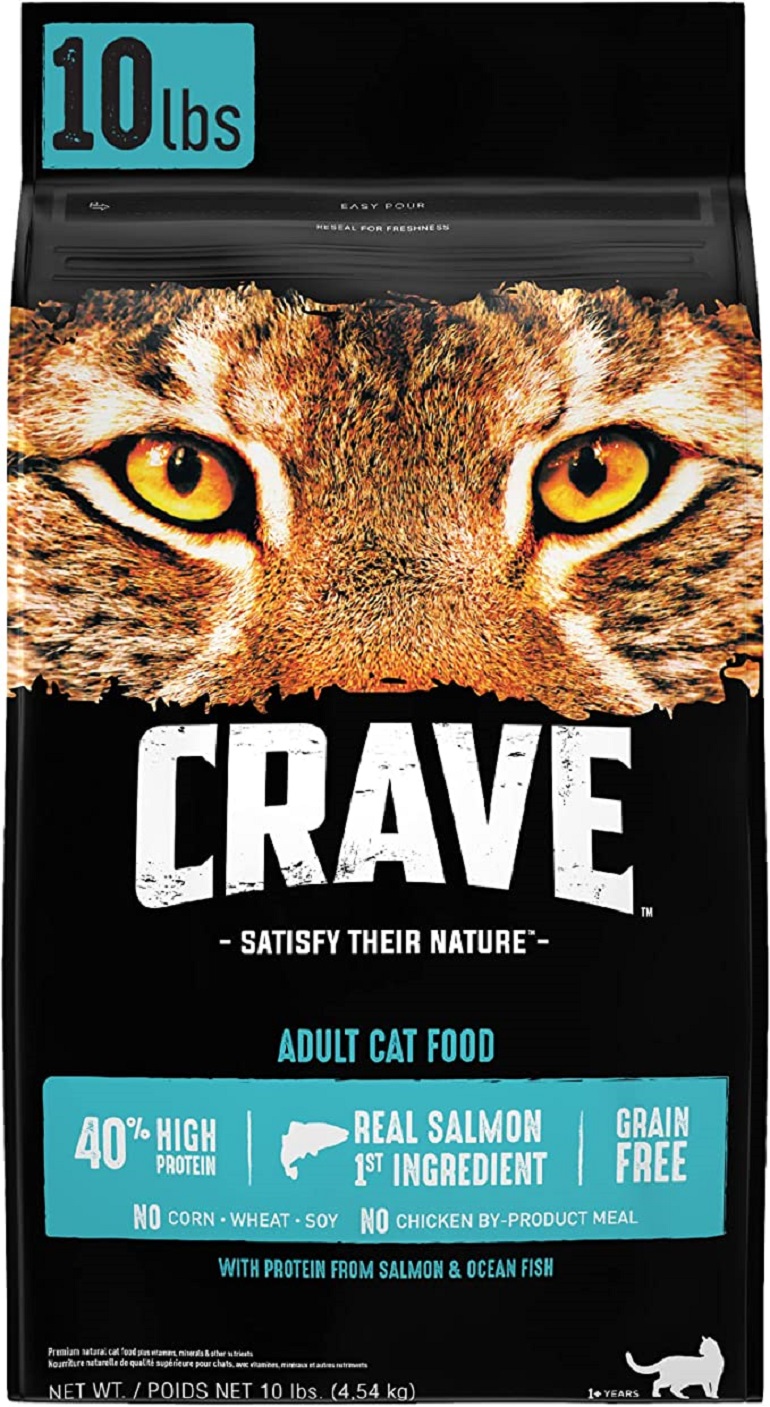 Crave is the most appropriate choice for little kittens with 40% protein proportion to aid in their muscular strength. Made from original ingredients with salmon being the #1 ingredient to give your cat the taste of the wild.
Salmon and chicken are well known for being the most favorite foods of cats. Crave kept in mind the cravings of cats and formulated salmon and chicken flavored treats for your beloved cats without compromising on the quality.
The grain-free dry cat food is not just rich in protein, but also contains an optimal ratio of carbohydrates to boost immunity and provide energy for kittens to grow. The recipe is based on ancestral diets; inspired by wild cats.
Crave carefully designed the formula and produced the cat food with high protein, complete and balanced diet with essential nutrients for developing muscles, aiding in digestion, providing energy, and supporting a healthy immunity system.
The formula is grain-free with no corn, no wheat, and no soy protein. The cat food is made from natural and real ingredients with no chicken by-product meal to ensure that your cats face no allergic reaction by this food.
The best part is its textured nature that will make it fun for cats to eat. Cats love crunchy treats and this amazing protein rich crave dry food will do the magic for your feline.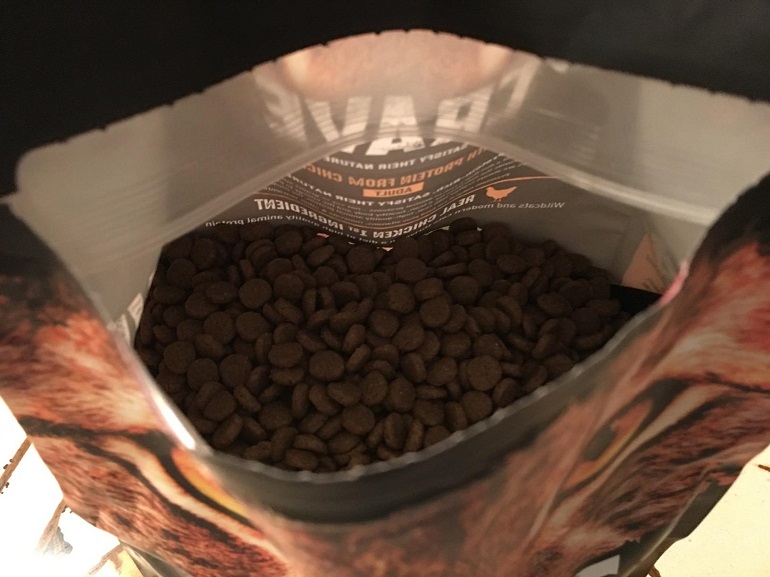 Features
Protein from salmon and ocean fish
Real salmon is the #1 ingredient for cats favorite flavor
Grain free dry cat food with high quality carbohydrates
High protein protein for developing muscles
Fibers to aid in digestion
No chicken by-product meal, no corn, no wheat, and no soy protein
Complete and balanced diet with real ingredients and zero grain
Textured food for crunchy bites
Pros
This formula has protein rich content for muscle strengthening of your feline
It is completely grain free balanced diet for growing kittens
Cons
There is an unnecessary availability of high carbohydrate content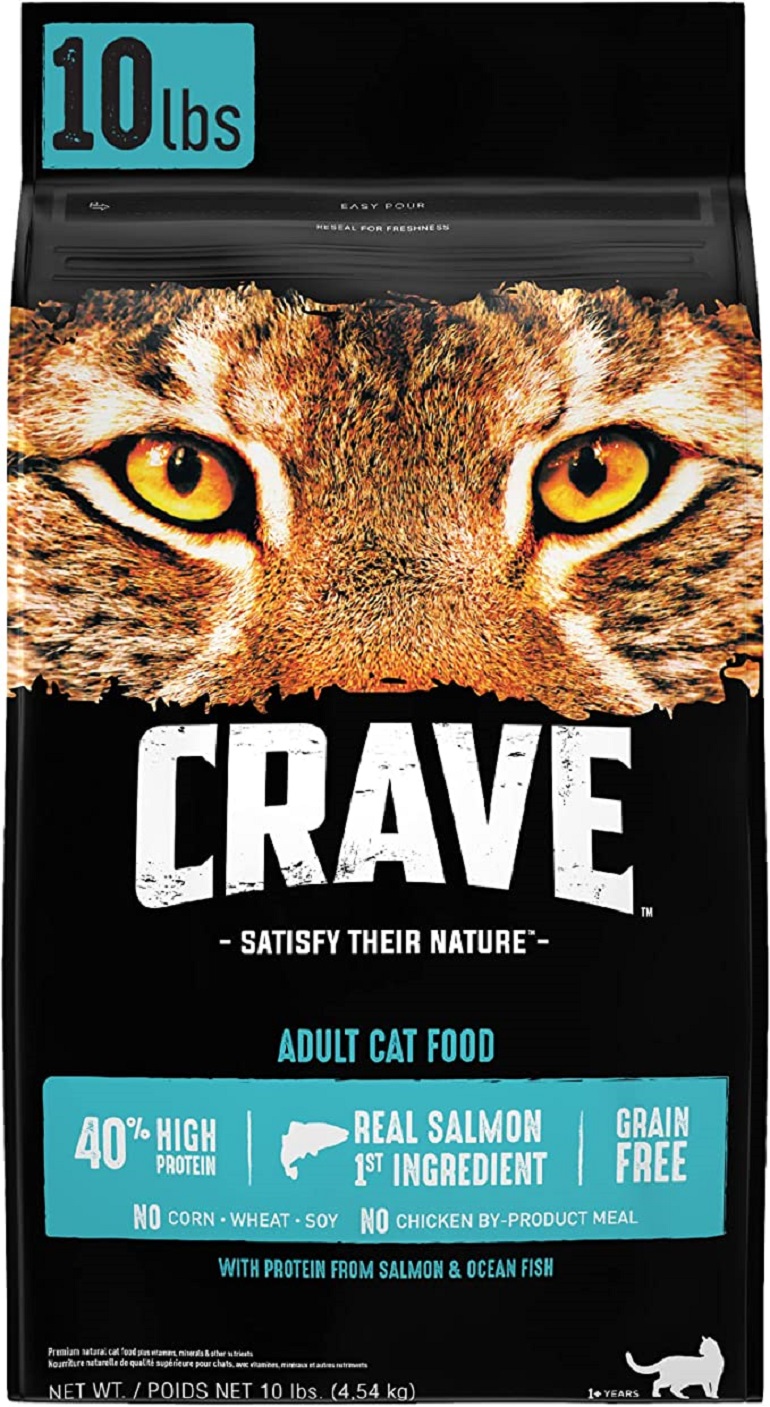 Crave Salmon Protein & Ocean Fish Grain
The price of "Crave Salmon Protein & Ocean Fish Grain" varies, so check the latest price at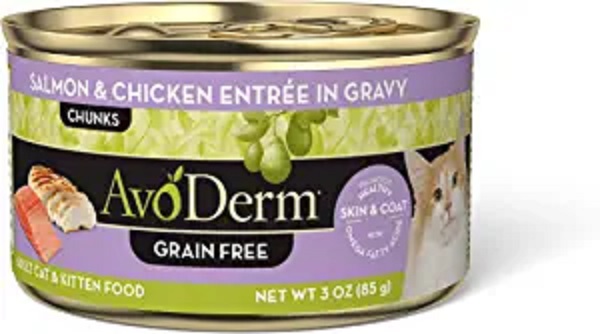 AvoDerm formulates cat foods that always include avocado oil for Omega fatty acids that maintains healthy skin and coat of your cat to reduce shedding and hairballs. The creamy textured food contains natural chicken, as mentioned on the pack. However, there is a lot more in the wonderful formula than just chicken.
The ingredient list begins with chicken being the #1 ingredient, followed by chicken broth and chicken liver; a rich source of vitamin A that supports a healthy immune system and protects the eyes of your cat. Then comes two more unique ingredients; ocean fish and turkey. Both the ingredients are animal protein sources that strengthen your cat's muscle strength. Then comes oat brans and rice flour for carbohydrates. Additionally, there are antioxidants for a healthy immune system.
The formula that the AvoDerm creates is unique owing to the addition of avocado and avocado oil. This source provides for a balanced omega 3 and omega 6 fatty acids ratio that best keep your cat's skin healthy and reduce hair fall and hairballs.
The formula is made from real ingredients with no addition of artificial flavors, preservative, or colors. The ingredients are simple and easy to digest with creamy texture making it best for cats with picky, sensitive stomachs. With all favorable nutrients present in one formula, the AvoDerm Is undoubtedly a great choice to reduce hair fall of your cat as this cat food contains high quality real ingredients to provide all required nutrients for the best health of your cat that will minimize cat shedding.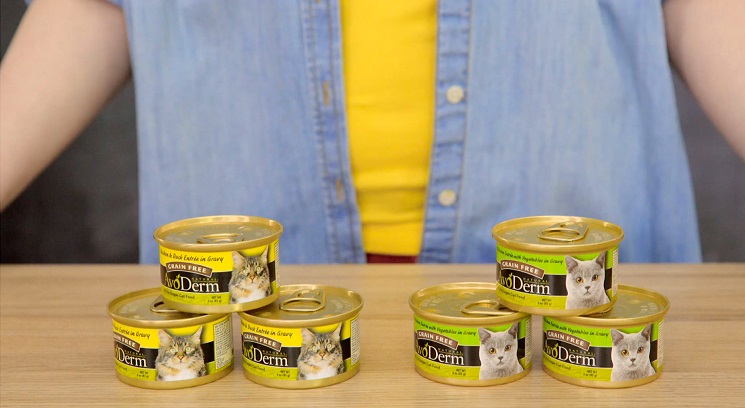 Features
Avocado oil for omega fatty acids
High quality proteins
Omega rich avocados
Antioxidants for a healthy immune system
Creamy texture
Chicken flavored with chicken being the #1 ingredient
Contains ocean fish, liver, turkey for proteins
No corn, no wheat, no soy protein, and no artificial reservations or colors
Highly digestible formula
Best for picky cats with sensitive stomachs
Pros
It is grain free wet cat food
The formula contains ingredients with rich ratio of vitamins and protein
It contains antioxidants for a healthy immune system
Cons
It relies on plant oils rather than animal-sourced fat
The formula contains carrageenan that can cause cat allergies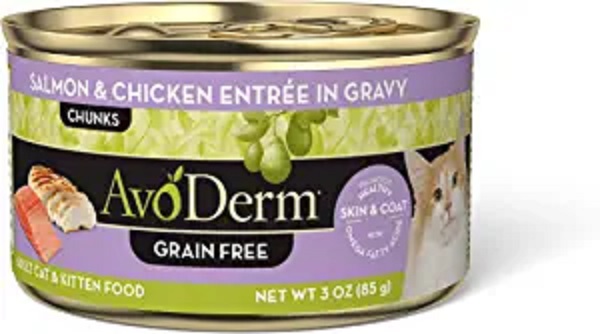 AvoDerm Grain-Free Salmon Canned Cat Food
The price of "AvoDerm Grain-Free Salmon Canned Cat Food" varies, so check the latest price at
Finding The Best Cat Food for Shedding
Market offers a number of high quality cat food and choosing the best cat food and that too, for shedding can require a lot of things to consider. Abnormal hair loss is mostly caused due to less healthy food and must be handled by using good cat foods for shedding and the best choice in this regard is to use canned cat food that uses specific formulas that contain all required nutrients that will ensure best cat health.
To choose the best cat foods, few things must be conspotatidered as mentioned below:
High Protein Quantity
Protein develops muscular strength and is a significant nutrient for keeping your cat's coat and skin healthy. Without protein, cats tend to become lethargic and their immunity system becomes unhealthy.
Protein is available in almost all cat canned foods available on the market but what matters is the quantity. If you have an adult cat, then consider getting the canned food with normal quantity of proteins as excessive proteins might increase hair loss in senior cats instead of reducing it.
Contrarily, If you possess a small kitten, then get cat food with high quantity protein concentration. This will help in strengthening muscles of your growing little furry baby.
Flavor
Flavor matters a lot in food and it is a universal fact. Same is true for cats, but to a greater extent. Cats are the animals known for their picky nature and they instantly refuse foods that their tongue or nose rejects. So, be careful before choosing the flavor of food for your cat.
Several flavors are available on the market including chicken, beef, duck, lamb, rabbit, fish, and venison. The most widely available flavor is chicken as chicken is considered the most favorite food of cats.
Salmon is another most favorite flavor of cats. This flavor is also available in abundance on the market but it is usually costly.
Grain-Free
Cats are prone to develop allergies if they consume foods containing corn, wheat, and other grains. So it is best to consider getting a grain-free formula for your cat's good health.
Grains tend to cause allergies in cats that cause increased hair loss and hairballs in cats. So to avoid increased shedding in cats, abstain from getting grainy cat food.
Original Ingredients
Most canned cat food for shedding are made from original ingredients, free from artificial fillers. However, you will still have to check if the cat food you are buying is also made from natural ingredients.
There are available options on the market that use artificial flavors and colors to enhance taste so make sure the choice you made us free from any artificial fillers.
Artificial flavors may end up causing allergies or other health issues in sensitive cats that may lead to shedding. Also, the taste might be alien to your cat and he may reject it right away.
Texture
The addition of texture referred to the crisp and crunchiness of meals. Cats love to munch and they will adopt such foods easily.
The Dry cat foods when formulated with the help of natural ingredients, are usually crispy to chew. Wet cat foods do not contain this feature so if you possess a crispy food loving cat then consider buying dry cat food from the market.
If your cat does not like crispy food then go for wet canned food for shedding. Another type is the creamy textured food.
Minerals & Vitamins
To ensure the healthy immune system of your cat, minerals and vitamins are a must to consume in small portions daily.
You should consider buying cat foods containing these nutrients in small amounts as excess if it may increase shredding instead of reducing it. Look for ingredients containing vitamins and minerals in the selected cat food formula.
Veterinarian Recommended
If you are a possessive parent then consider looking for the formula that is made with the advice of experts and is veterinarian approved.
Usually those cat foods are marked veterinarian approved that are created through intense scientific studies keeping all possible formulae options in mind to create the most healthy formula.
The formula that is exclusively designed by cat experts and scientists is also marked veterinarian approved. Such research intensive foods for shedding control provide guaranteed healthy outcomes within minimum possible time.
Wet or Dry Cat Food
Market has two types of cat foods: wet and dry cat food. The wet foods are best for junior cats and best serve to keep your kittens hydrated.
The Dry cat foods include natural ingredients and the ingredients are combined to give enhanced taste and texture to allow your cat to enjoy the crispy delicious treat.
Both the types are suitable but according to your cat's liking, go for the one you feel best for your feline buddy.
Omega Fatty Acids
Omega fatty acid is an important nutrient for the best coat health of your cat. Usually, excessive shedding starts when your cat's skin and coat health begin to deteriorate; it is mostly due to the deficiency of omega fatty acids.
The cat foods rich in omega-3 and omega-3 fatty acids can best reduce shedding by strengthening the healthy coat of your cat.
Age of Your Cat
Some cat foods in the market are specially designed for adult cats. The formula is specifically designed to cater for the needs of senior cats.
There are other cat foods that target growing small cats. Such food types include a high quantity of proteins for the strengthening of muscles.
Also, the contents of nutrients are also specific for indoor and outdoor cats. So make sure to first keep your cat's age in mind and its living locations; whether indoor or outdoor. Choose the appropriate cat food accordingly and wisely.
Budget
Budget is of course an important factor to consider before moving towards buying canned cat food. There are numerous options available that include all required nutrients to fix your cat's shedding issue at different rates.
The expensive ones are usually those that are formulated by experts or veterinarians themselves. Such veterinarians approved cat foods might not be for you if you have financial constraints.
Cheaper options are best to consider when you are just starting to buy canned cat foods.
FAQ's
What Are Hairballs?
A hairball is the collection of fur in a cat's stomach that it can't digest. This usually happens during grooming. It can pass through the tract, or your cat might vomit the clump.
Do Cats Shed Seasonally?
Cats shed year-round, especially if they are only indoors. Other than the normal routine shedding, cats shed excessive hair twice a year and it is natural.
Can You Stop Shedding?
No, shedding is a part of a cat's life. Just like human hair shed all over the year, the same is the case with cats and it is unavoidable.
What Conditions Lead to Excessive Shedding?
The following mentioned conditions lead to excessive shedding:
Food allergies
Excessive grooming
Stress
Sudden change in lifestyle or introduction of a new member or a cat
Bad eating habits; unhealthy diet
Fungal infections
Conclusion
Continuous shedding of cats is a normal phenomenon and cannot be fully eliminated. Cats shed hair all over the year but the frequency increases during two specific times of the year and it is expected to happen. However, if continuous excessive shedding is noticed, then this phenomenon is problematic.
Cats suffer from unusually increased shedding owing to a multitude of reasons with the most common reason being an imbalanced diet and unhealthy eating habits of your cat.
This shedding problem can be dangerous for your cat's and fixing it is your only choice. The shedding is also problematic for your already not-so peaceful life as your cleaning chores will multiply with the continuous and excessive hair shedding on your home's floor.
The best solution to this problem is updating your cat's diet. The best way is to introduce canned cat food which is seamlessly available on the market. Canned food is recommended owing to its carefully determined formula including all required natural nutrients to control hair loss in cats.
A variety of wet and dry cat foods are available in the market with different formulas to cater for different issues that can be found in cats.
Wet cat foods will best to fully hydrate your cat as dehydration can lead to hairball formation in the stomach and the same cannot be eliminated without water. Dry cat foods have multiple options to choose from according to the size of your cat.
Furthermore, cats are picky beings and do not compromise on the taste and smell of their food. So consider the options that include cats' most favorite meats like chicken and fish. When naturally included, these ingredients will give their taste and aura so that your cat will rejoice and fully enjoy their treat.