When choosing a cat litter for your beloved paw-pal, it's about more than just convenience. My cat only gets the best, but I don't have time to dash to the shop when his litter is finished, so a cat litter subscription service works great for me (and him).
With a cat litter subscription, I can ensure his litter box stays full and great smelling too. However, a subscription doesn't necessarily mean quality, and I like to be well-informed before I purchase any brands or cat litter subscriptions.
You want the best quality litter for your cat. Various cat litter options are available, like clumping, non-clumping, biodegradable, flushable, and color-changing for health monitoring.
Perhaps throwing away the whole litter box is more convenient instead of cleaning it. If you're a techie, you may prefer a premium litter that won't clog up your automatic litter boxes.
I've done a deep dive into the clumpy world of cat litter to find out what are the best cat litter subscriptions and features the best quality, price, service, and user-friendly sites (for ordering). Time to litter-ally get your paws ready.
Best for Automated Boxes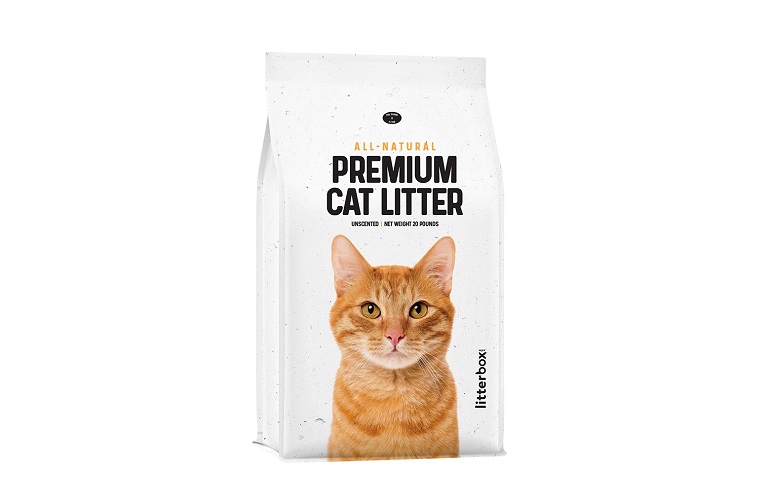 Litter Robot Cat Litter Subscription
Item Weight: 20 pounds
Material:
sodium bentonite
Most Customizable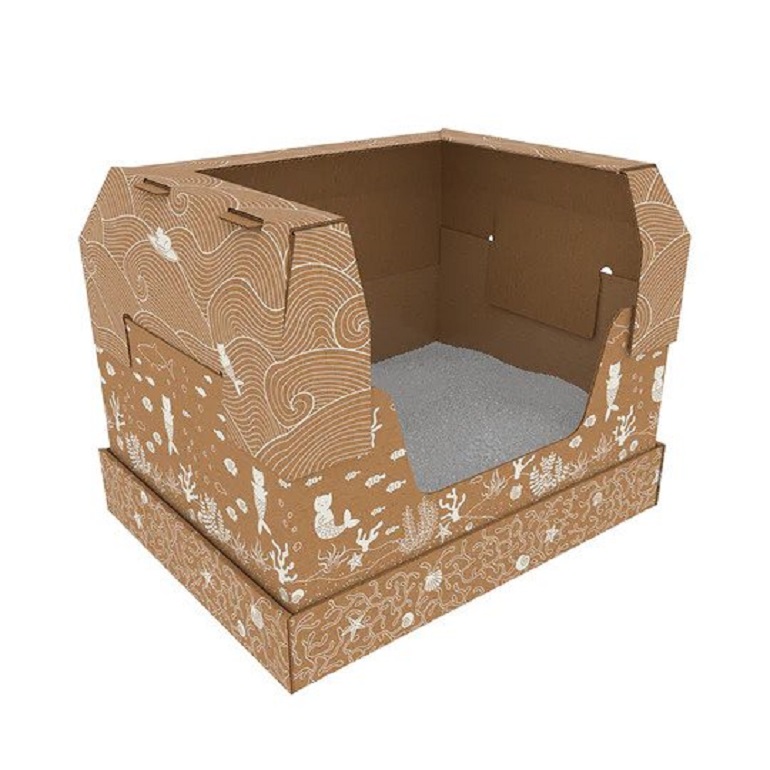 Kitty Poo Club
Item Weight:
20 pounds
Material:
Corn & Wheat
Most Innovative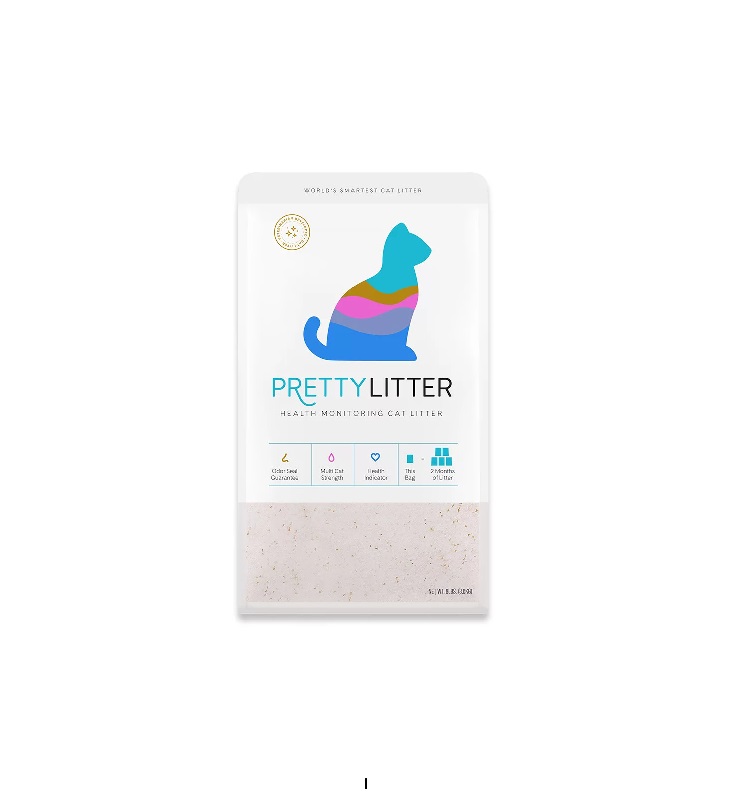 PrettyLitter
Item Weight: 8 Pounds
Material:
Silica Gel Crystal
Soft & Eco-Friendly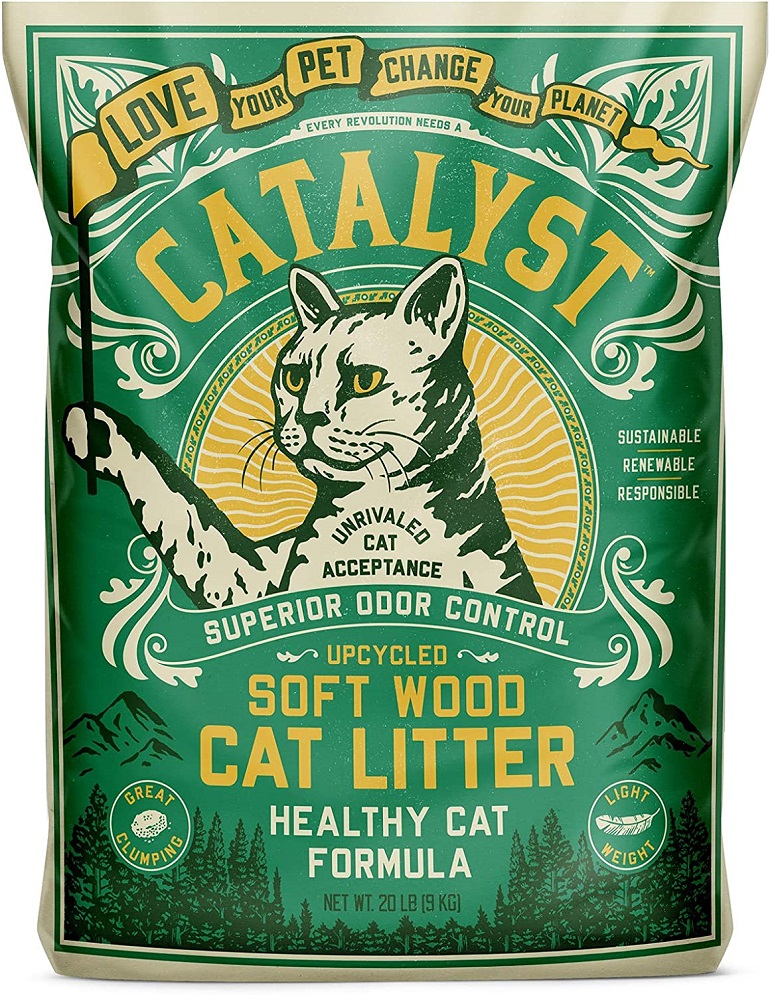 Catalyst Pet
Item Weight: 20 Pounds
Material: Wood
Most Convenient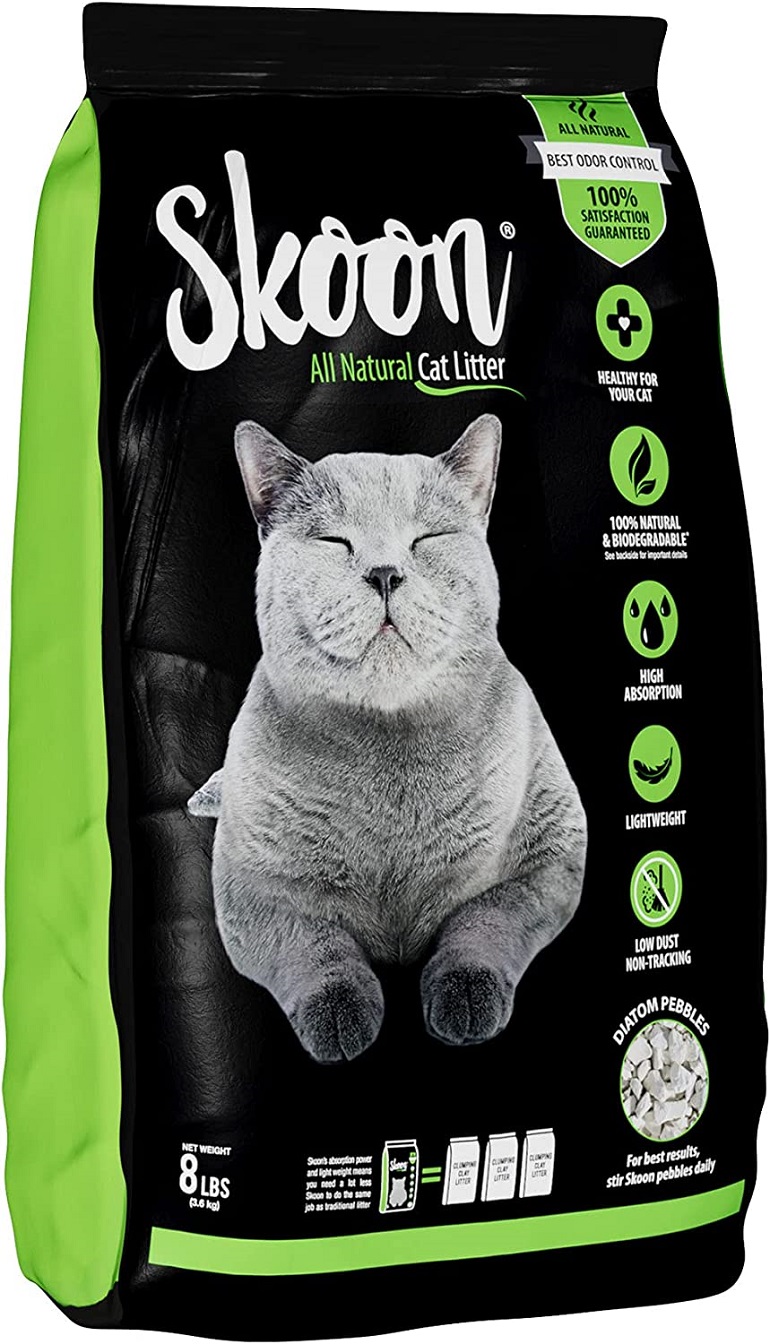 Skoon Cat Litter
Item Weight: 8 Pounds
Material:
Diatom
Best Plant Based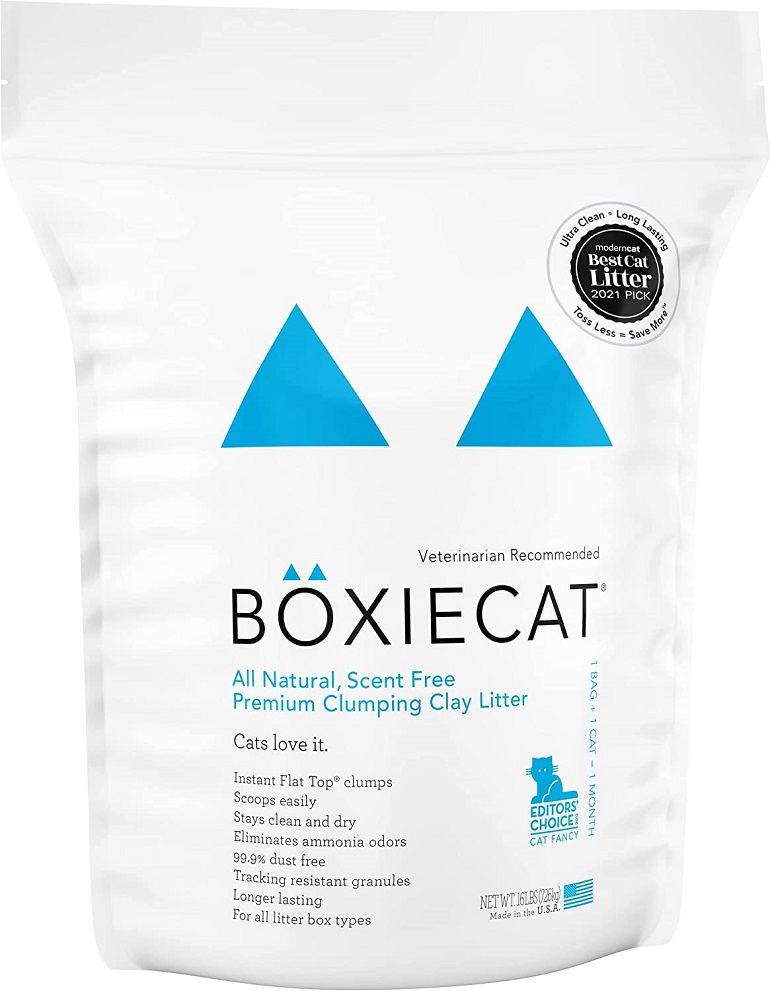 Boxiecat
Item Weight: 16 Pounds
Material: Clay
Easiest to Dispose of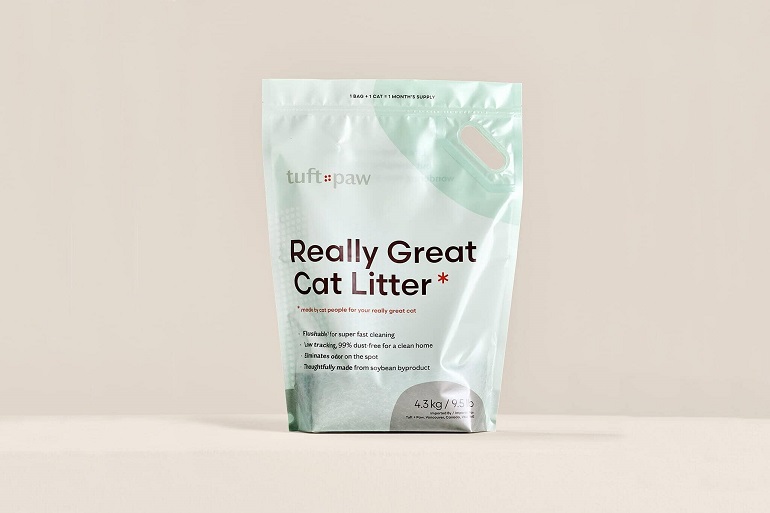 Tuft + Paw
Item Weight: 9.5 pounds
Material: soybeam
Cat Litter Subscription
I found a couple of great cat litter subscription services to consider for your beloved feline friend. These services each offer unique value and diverse litter options, so you can just decide which is best for your fur baby.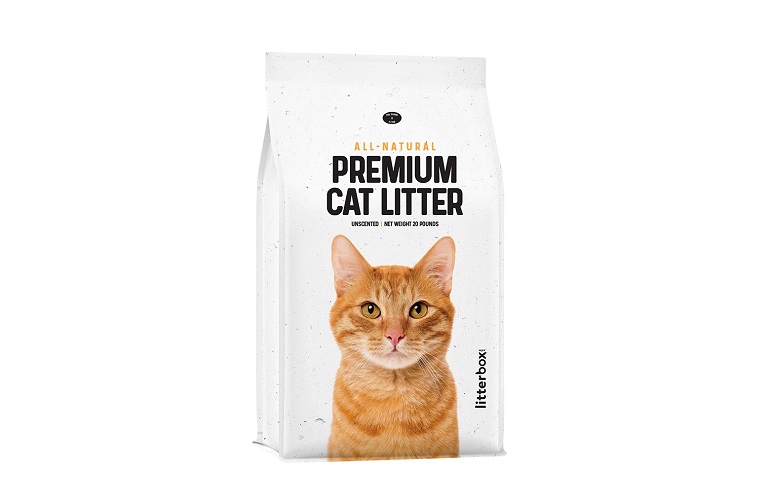 My automated litter boxes are great, saving me time and dirty hands, but it's sometimes challenging to find a litter that works effectively in my automated litter station.
Litter Robot Cat Litter is a must-have for my automated litter station. But I wondered if it would be worth a subscription if you want to use it in a regular litter box.
The Litter Robot cat litter is made from natural clay, which is cat-friendly. My cat enjoyed the soft feel of the clay litter, and while it did clump easily, it also tracked around the house fairly quickly when my cat didn't use the Litter Robot but a traditional litter box.
Litter Robot Pros
Clay-based clumping litter made from sodium bentonite is great to use in the Litter Robot.
One bag fills up a Litter Robot per cat for the month.
Fine grain litter material.
Natural clay litter is eco-friendly.
The site has a nice clean layout, making choosing what you want to order easy.
Free shipping on monthly subscriptions, and I could cancel or skip a subscription anytime with the click of a button.
Litter Robot Cons
While my cat enjoyed this litter, and it's great in the Litter Robot, it's not ideal for regular litter boxes as it does track pawprints.
In regular cat boxes, one bag may not be quite enough as you'd lose more litter when cleaning out litter clumps.
Clay litter comes in heavy bags, but at least you'd only lift it once when filling a Litter Robot; however, regular boxes would turn into a gym session for you.
Slightly more costly per month than other cat litter types at $30 per monthly subscription.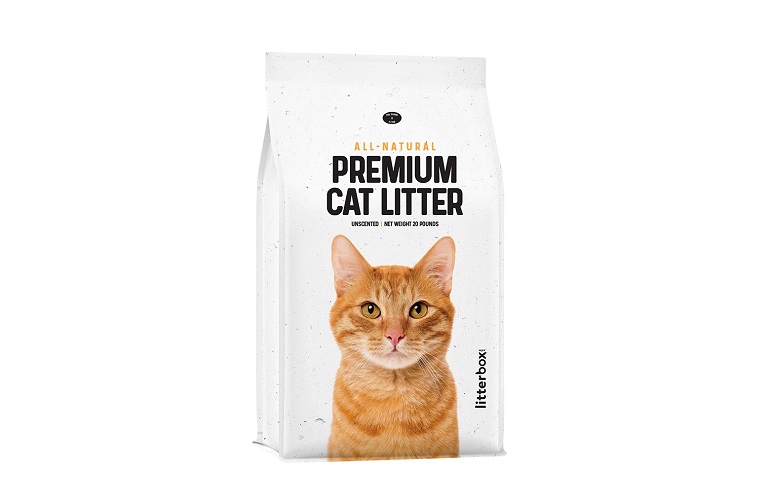 Litter Robot Cat Litter Subscription
The price of "Litter Robot Cat Litter Subscription" varies, so check the latest price at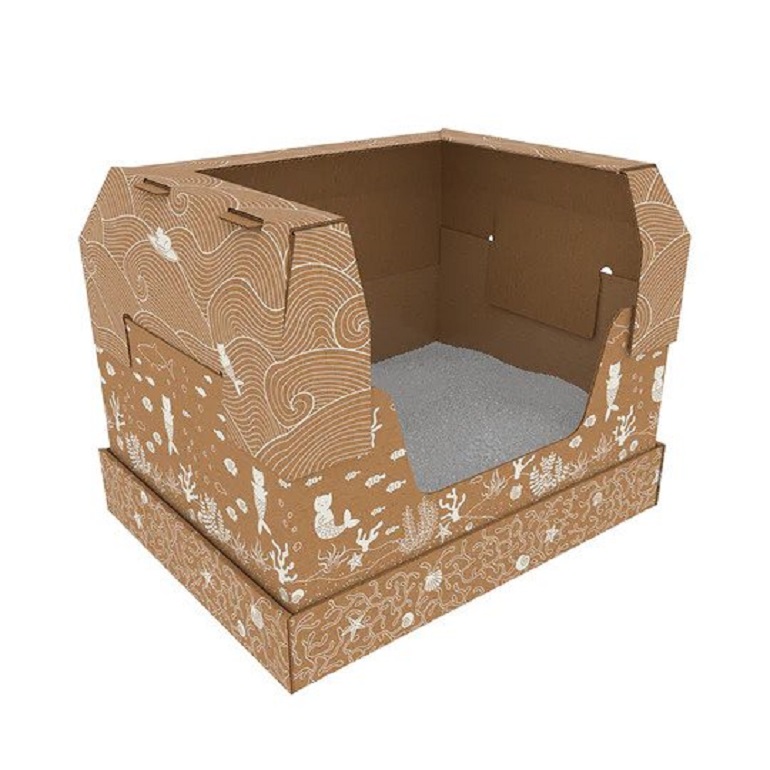 No two kitties have the same cat litter needs, so having a fully customizable litter subscription service that offers six different litter types, two litter boxes, and several order add-ons is a real winner for me and my cat.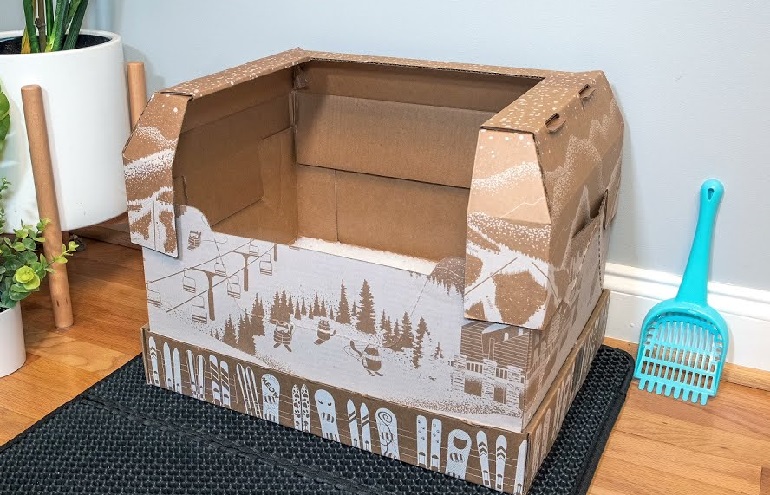 Kitty Poo Club is one of the best cat litter subscriptions available, and while you can order a standard choice from the basic, purrfect, and super bundle, you can also choose one of six premium litter types and a plain or domed litter box with several accessories.
Kitty Poo Club Pros
Delivered monthly with free shipping.
Make changes to your litter subscription as needed, adding accessories like a litter mat, and litter box domes to prevent flicking litter from vigorous cats.
Choose from any of the multiple cat litters available: (clumping) corn and wheat, clay, and organic soy litter, or (non-clumping) diatomite, silica, and fine silica litter type.
Great odor-free properties for 30 days, and each litter type is either dust-free or low dust for a cleaner kitty poo station.
Free of chemicals, dyes, and artificial scents.
Ideally shape your order for multi-cat households.
Subscriptions start at $26.99 per month.
Kitty Poo Club Cons
Litter boxes are fully recyclable, but not all litter types are.
Guarantee is only for single litter boxes, not the double or XL type.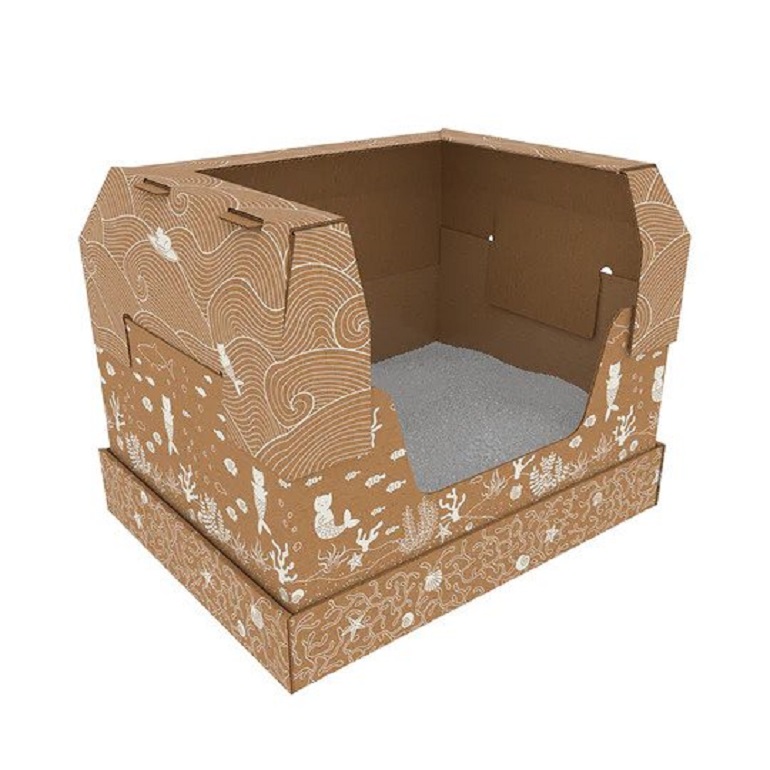 Kitty Poo Club
The price of "Kitty Poo Club" varies, so check the latest price at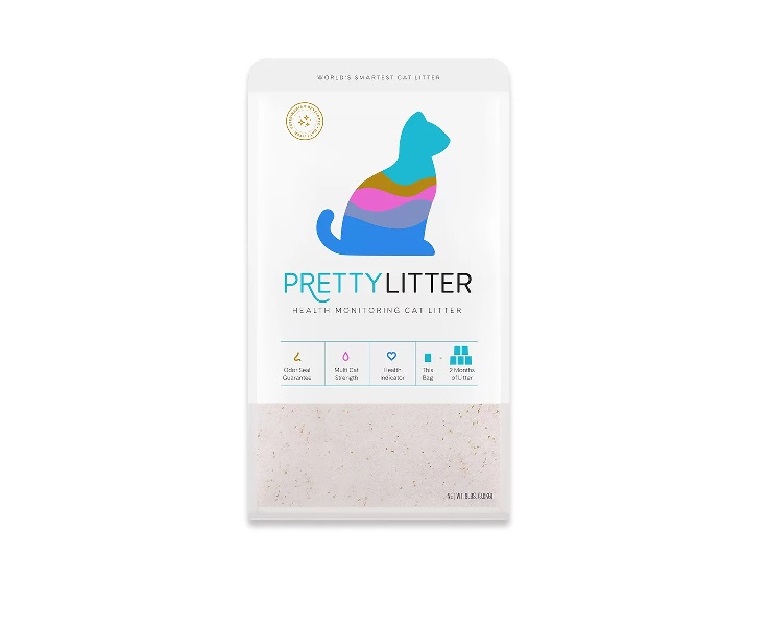 When my sister's cat developed a kidney stone, with the possibility of further complications, the vet recommended she switch to PrettyLitter cat litter subscription services.
What is really unique about PrettyLitter is that the litter changes color when the kitty's urine makes contact with the litter, indicating the cat's health.
Best of all, the litter's color change is great for health monitoring, showing what could possibly be wrong with your fur baby. When the litter is a yellow-olive color, your cat's blood pH is in normal ranges.
Orange litter indicates high acidity, while blue litter was the color my sister had to watch out for as it could indicate the formation of stones due to high alkalinity.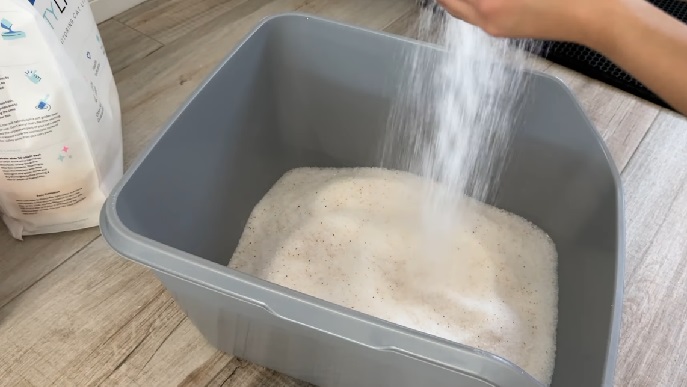 Red litter would be a serious concern as it indicated blood in the urine and possible kidney disease. Bloody urine also indicates bladder crystals, and early detection helps you get your cat to the veterinarian as soon as possible.
Aside from the neat color changes, the PrettyLitter cat litter is a favorite with my sister's cat. The litter is lightweight, so it's easy for her cat to cover up their droppings, and it smells great too.
Pretty Litter Pros
Lightweight litter made from silica gel, which is a non-clumping litter and almost 99% dust free.
Less litter gets wasted when scooping out droppings as the litter doesn't stick to the urine or waste.
Lighter bags are easy to carry (a bonus if you're in high heels).
Super absorbent silica gel remains neat and won't track through the house as much.
Upmarket user-friendly webpage design.
Convenient to have your litter delivered to your door every month.
Budget-friendly at $24 per monthly subscription right to your doorstep, depending on how many cats you have.
Pretty Litter Cons
Silica litter isn't a great choice for environmentally friendly litter.
Cat owners may find litter crystals littered outside the box as the cat enters and leaves their litter box.
Cat toys can become covered in litter particles, which can lead to a mess when moving their toys.
While the silica gel can't absorb in the bowl, if swallowed, it can still cause impaction if enough of the litter is ingested.
The site's FAQs promise a video to learn more about silica gel, but there is no video.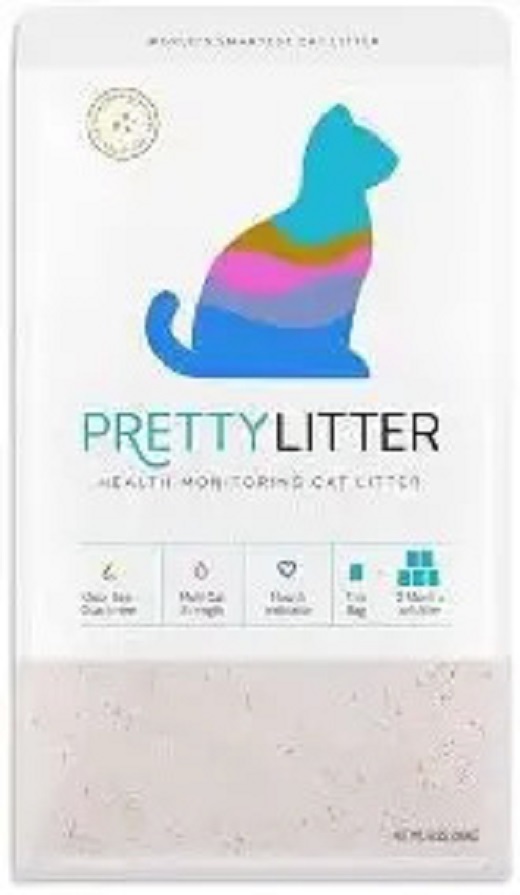 Pretty Litter
The price of "Pretty Litter" varies, so check the latest price at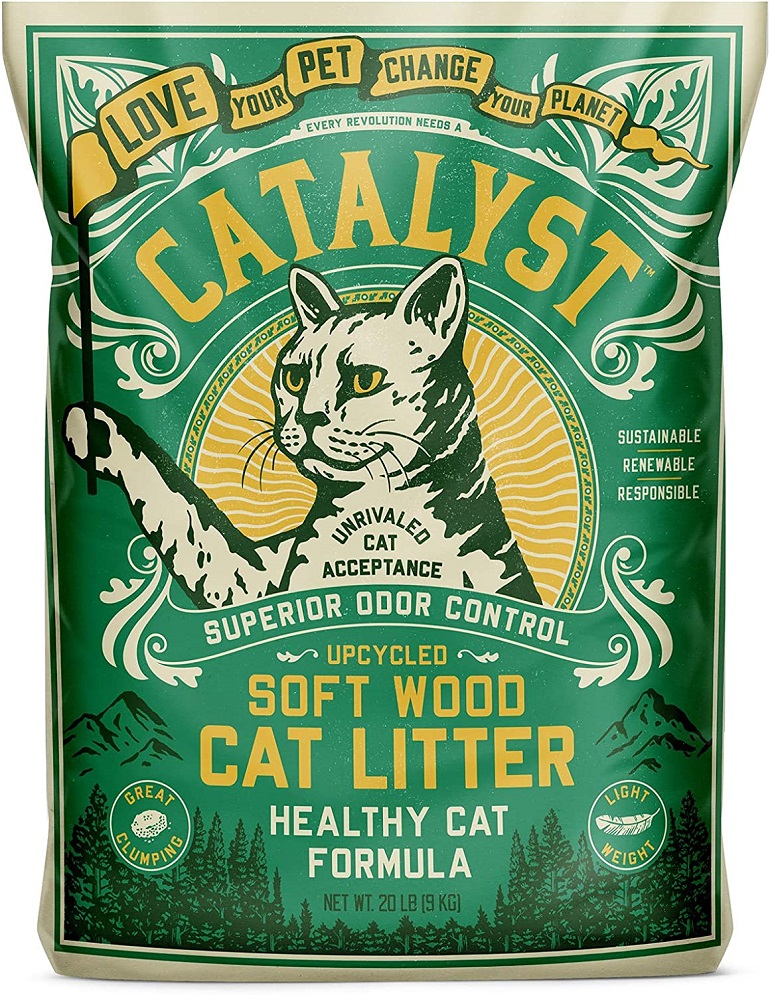 When I travel, it's a little hard to take the automatic litter station with me and my cat, Teddy. So I needed a solution when traveling with my cat for a litter box that would encourage dearest Teddy to go do his business in the box and not in the hotel rooms where we have to stay.
Catalyst Pet Litter subscription service looked like a blessing for when I travel. Made from natural soft wood, it offers Teddy a soft place for answering nature's call.
When you open the homepage for Catalyst cat litter, the company's main selling point is clear—eco-friendly cat litter made from natural and fully upcycled softwood fiber. With three options, I could choose between healthy cat, unscented, and multi-cat.
Of course, I was a bit overwhelmed as the three options don't explicitly state what each entails. Fortunately, I found a bit of fine print that guided me to a comparison chart so I could better decide what Catalyst pet offers and which option would be best for Teddy.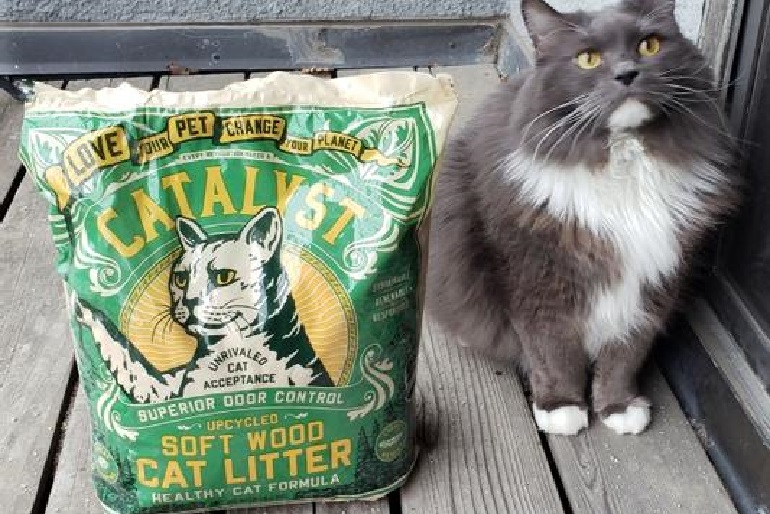 Essentially, all three options are renewable (it's made from trees #duh). All the options are considered clumping, but the multi-cat has extra clumping power, which tells me there's more than just wood in the product. I couldn't find the company's list of ingredients, so it remains a mystery!
The unscented bag is free of pine smells, but the other two options have a pine scent. Again, I wondered if an additive was part of the deal since both types are made of similar natural softwood shavings. My Teddy tends towards allergies, and with additives, his eyes often get weepy and swollen.
Catalyst Pros
My cat easily accepted Catalyst pet products.
The litter absorbs smells for a naturally fresh smell.
Natural and sustainable raw materials.
Longer-lasting and more absorbent than clay litter.
Added scent release helps with multi-cat households for odor control.
Lightweight litter for easy transport.
Very budget-friendly at $19 for a month's supply of the green "healthy cat" pack (enough for one cat).
The subscription service features the hero subscription tier where you save money and the environment by ordering 40 pounds, delivered every four months.
Catalyst Cons
Cats with allergies may suffer irritation of their airways and eyes because of fine dust particles in the wood litter.
The multi-cat version has added odor control, meaning it contains additives to provide that light pine scent, so it's not 100% natural (but it's not the worst thing on the litter aisle).
While the flakes are not overly fine, and the company promotes their product as low dust; it's not dust free, and your cats will end up tracking some litter with them in the house.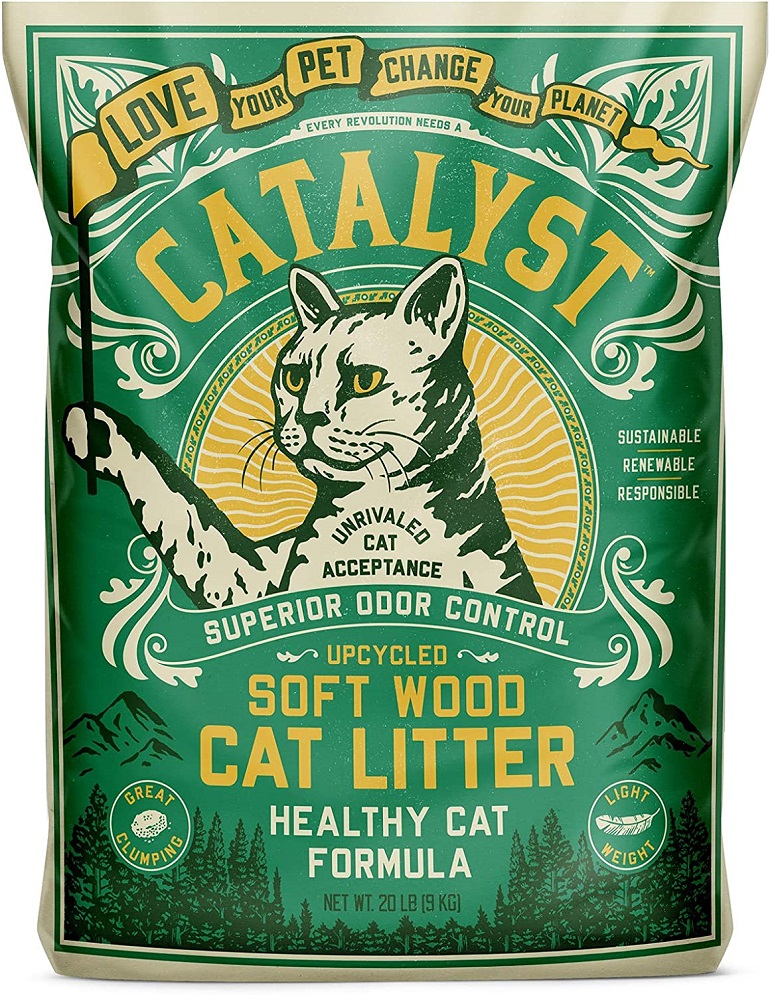 Catalyst Pet
The price of "Catalyst Pet" varies, so check the latest price at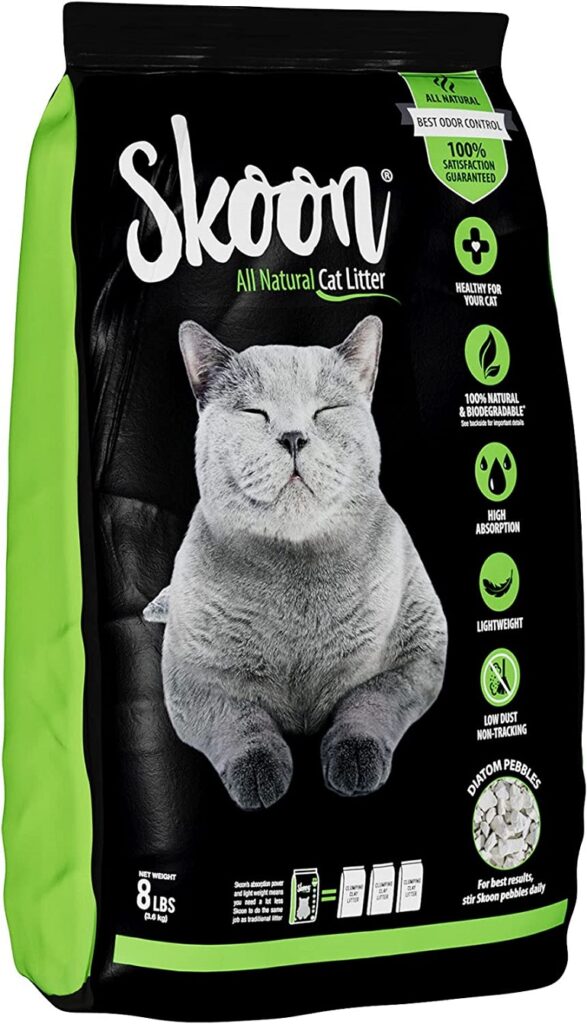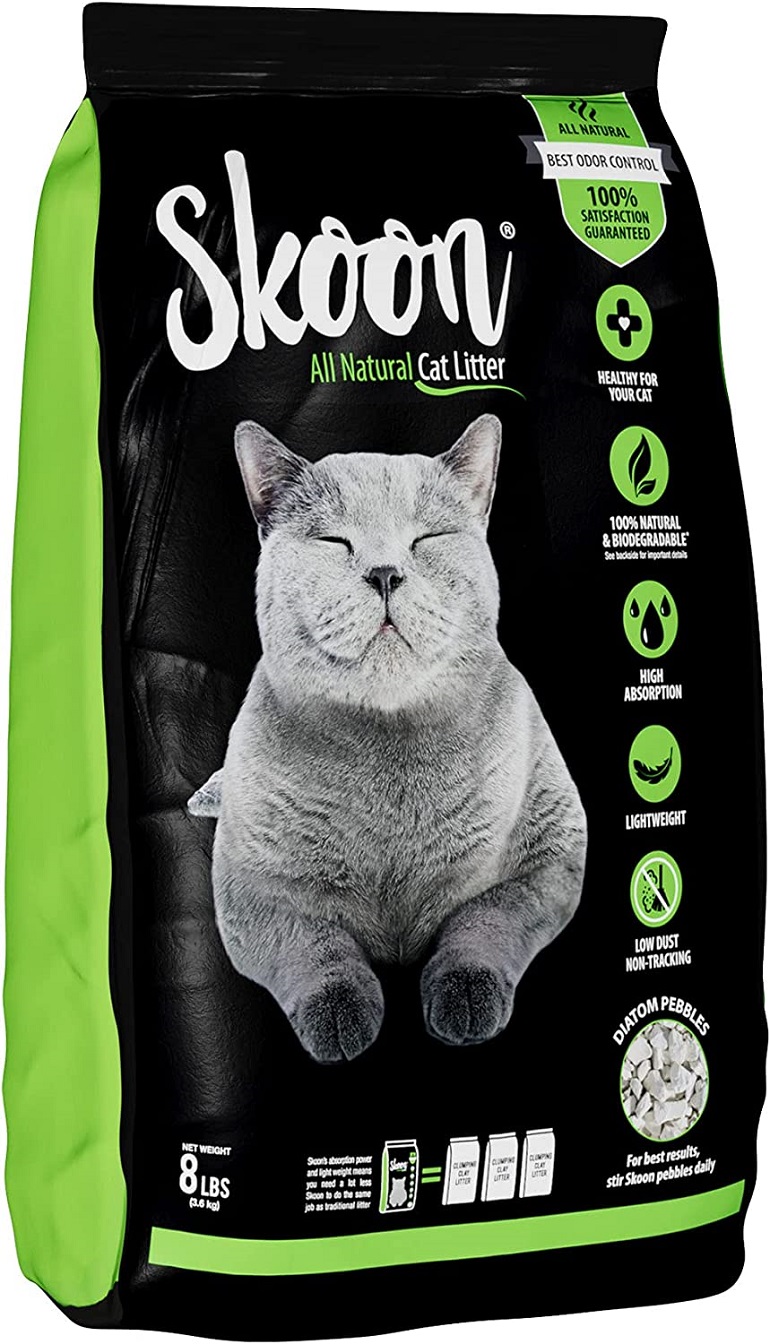 Ever wished you could just throw away the whole litter box, instead of having to wash the box and get rid of those irritating odor residues? My cat, like most cats, prefers to sit in boxes. So the Skoon cat litter subscription service may be for you too.
Skoon cat litter offers a unique product that is made from diatomaceous earth, also known as Fuller's Earth, which is a natural fossilized diatom found in seabed mines around the world.
I love that it's all-natural and great at absorbing liquids and odors. All it leaves behind is… well, nothing. The original scent diatom pebbles smell like absolutely nothing, so no urine or "cat smell" remains.
Best of all, this litter comes with a risk-free guarantee of 30 days and a money-back guarantee. With Skoon cat litter, you can really ensure your cat's life is made all the better as it's an all-natural litter that cats easily accept.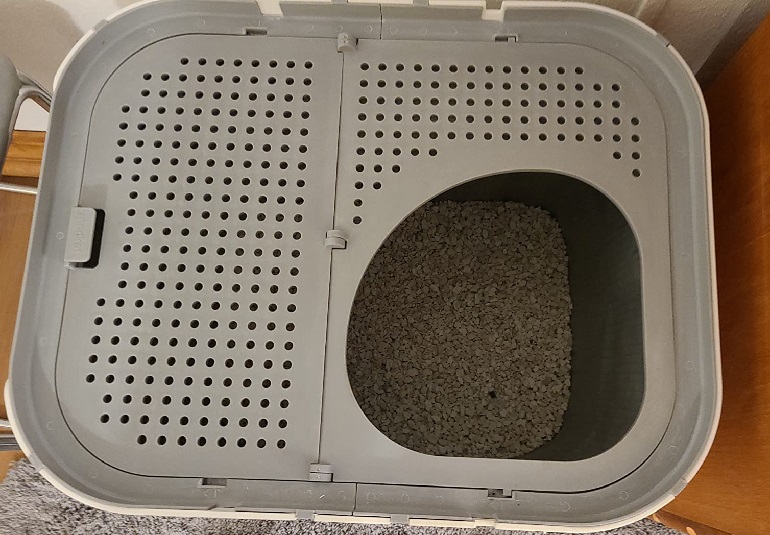 I was amazed that the Skoon cat litter subscription box comes with actually a disposable box, which you can literally close up and throw out with the trash. Best of all, both the recyclable litter box and litter make for great composting without all the extra packaging.
While Skoon is marketed as being non-tracking, there will be a few pebbles scattered about from your cat's litter box, but overall, your and your cat's life will improve when you sign up for one of the customizable Skoon cat litter subscriptions.
Simply note how many cats you have when subscribing, and Skoon will calculate how much litter you will need as a multi-cat version to save your cat's litter.
The risk-free trial meant I could shop with confidence. If you have multiple cats like my sister, it's just so much more convenient to have an easy-to-clean solution to litter box dramas.
Skoon Pros
With all-natural diatom pebbles, Skoon litter is low tracking, non-toxic, and safe if ingested.
Make a one-time purchase to test the product, but I know you will be sold on the simple routine of open, set Skoon cat litter box in position, use, close, and throw away every couple of weeks to remove the need to deal with the old litter.
For my sister's cat that has some incontinence issues, this is a favorite litter that controls odor and doesn't clump onto a tuft paw trying to cover up doodies and more in the soft litter.
Save 10% on subscriptions at $29.95 or choose a once-off order of $32.95 for two four-pound disposable litter boxes in a set.
Ideal if you have more than one cat, the disposable litter box subscription is an excellent multi-cat option.
Skoon Cons
Diatom pebbles can clump together when ingested, which can block the digestive tract or bowels.
Skoon services aren't the cheapest option with the original pebbles pricing at $24.95.
Skoon kitty litter has a slightly powdery texture, which may offend picky cats.
The high absorption rate may also dry out sensitive paws, which can worry cat parents.
Some tracking may occur as the pebbles have a corn flour feel.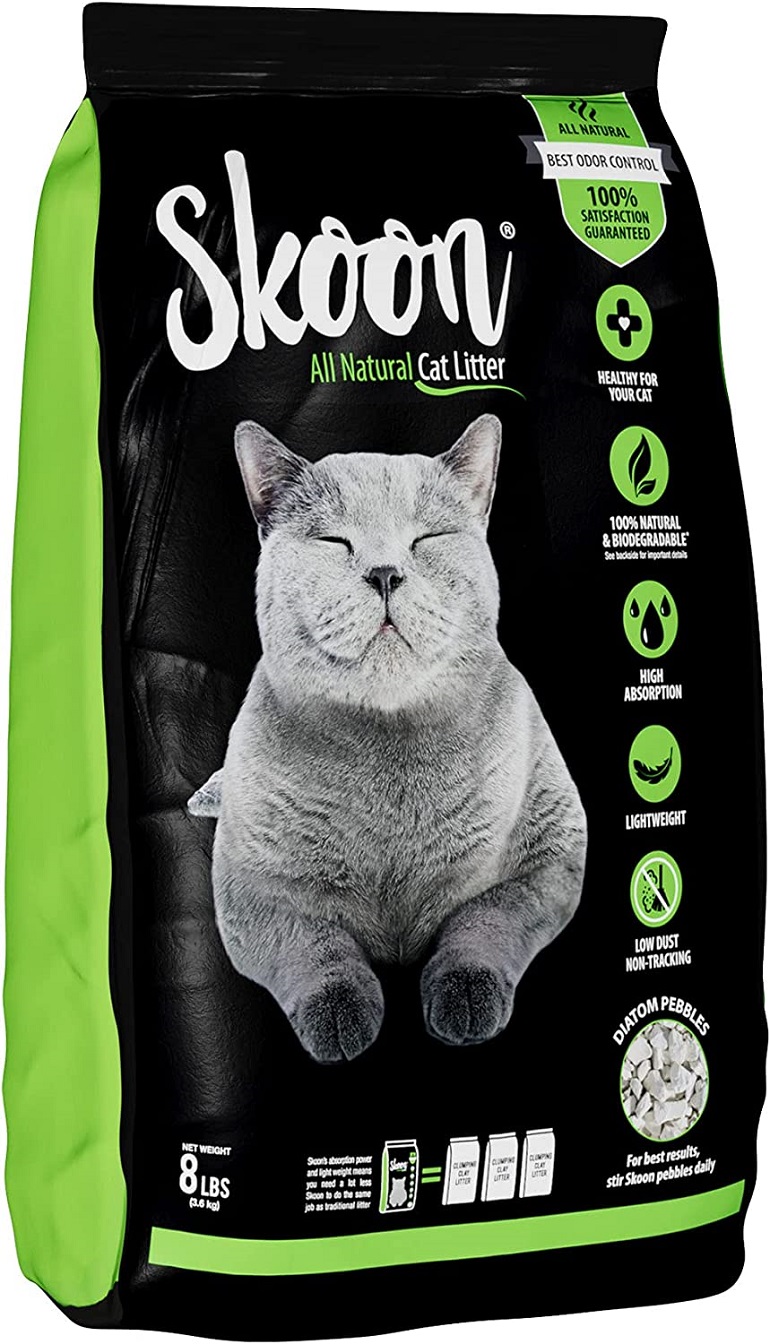 Skoon Cat Litter
The price of "Skoon Cat Litter" varies, so check the latest price at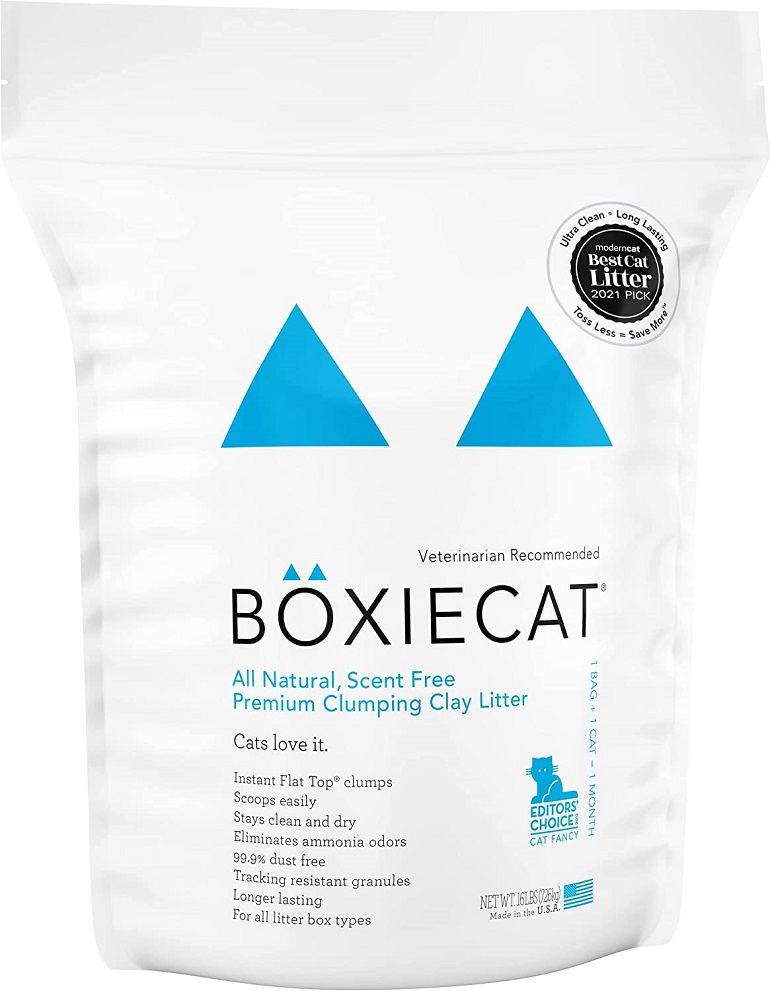 For an all-natural cat litter, Boxiecat Litter is ideal. Choose between clumping clay-based litter or natural plant-based litter delivered to your doorstep.
Every cat owner wants the best for their cat, and I found the Boxiecat air litter a great option for Teddy.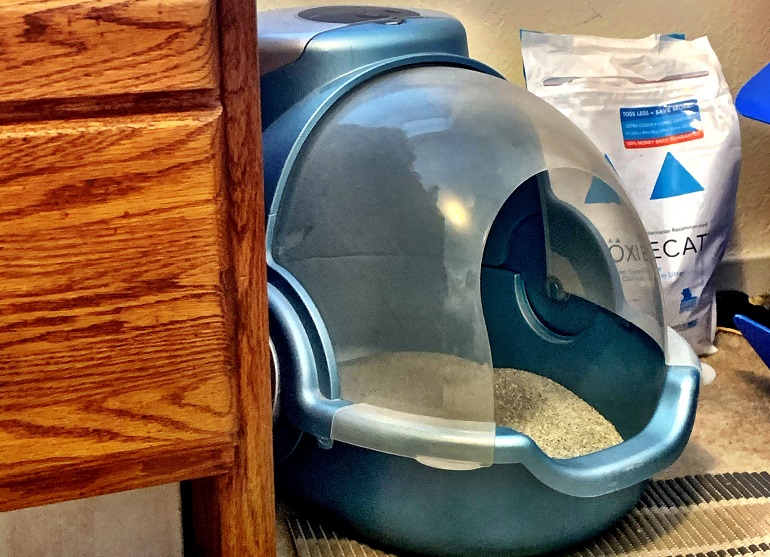 Not only is this litter soft, but I can choose between Boxiecat gentle scented or Boxiecat scent-free, both of which are lightweight and really absorbent.
Boxiecat Litter Pros
Choose between Boxiecat Gently Scented Premium Clumping Clay Cat Litter with prices starting at $20.99 for 16 pounds or Boxiecat Air™ Lightweight, Extra Strength, Premium Clumping Litter.
Easy to clean your kitty poo from the cat box due to the light barley flakes that coat droppings and wet spots for effortless cleanup.
Cat ownership made easy with a frequent buyer rewards program, regardless of whether you order from Boxiecat's site or one of their retail partners.
Packs come with a pouring spout and resealable sticker for convenience.
Boxiecat Litter Cons
The barley flakes tend to track out of the box, but by placing a small cat litter mat under the litter box, I found this greatly reduced any tracking of barley shells.
While the barley flakes are great for cleaning, the lightweight flakes also blew out of my litter box when I had the fan on this summer, so a covered box would be better.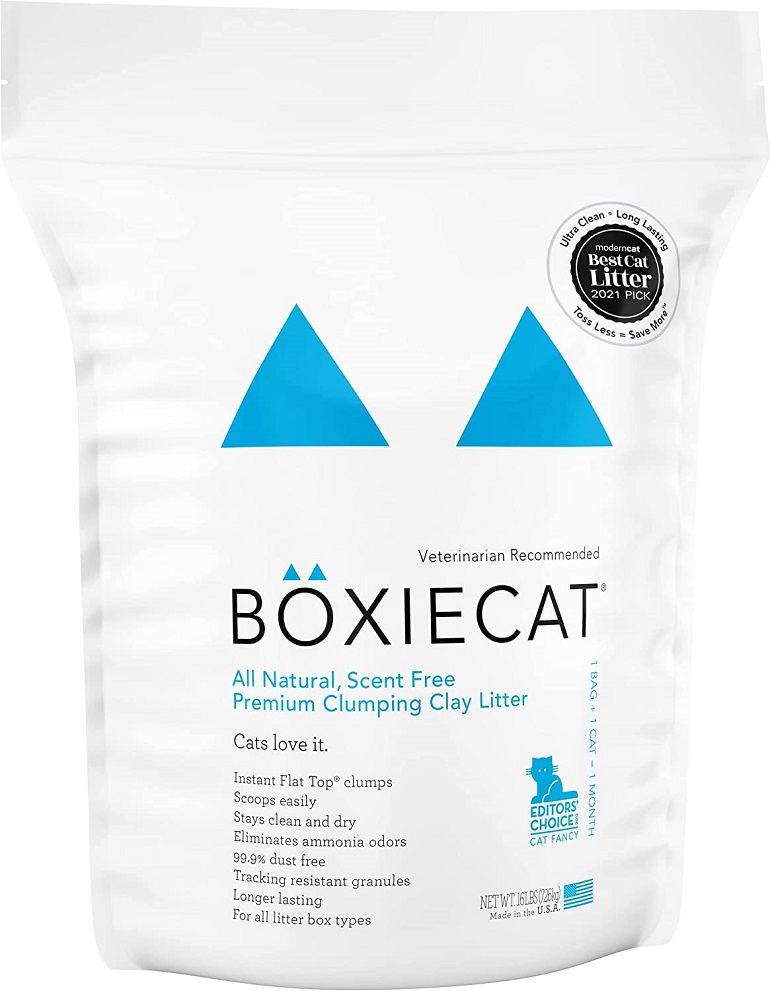 Boxiecat
The price of "Boxiecat" varies, so check the latest price at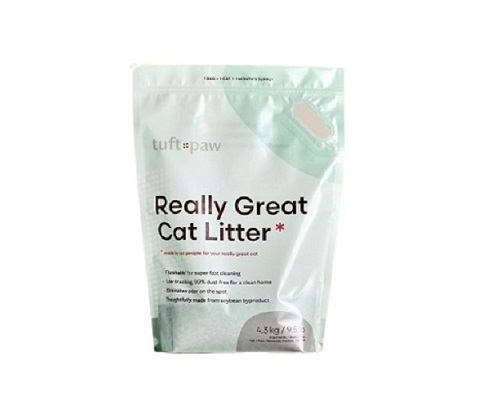 When you live in a high-rise apartment building like my cousin does, it's awkward to dispose of cat litter when there's no garbage chute. So my cousin told me about Tuft and Paw Cat Litter, which she can't stop raving about.
The best thing about this cat litter? When you clean the kitty box, simply flush the soiled litter down the toilet.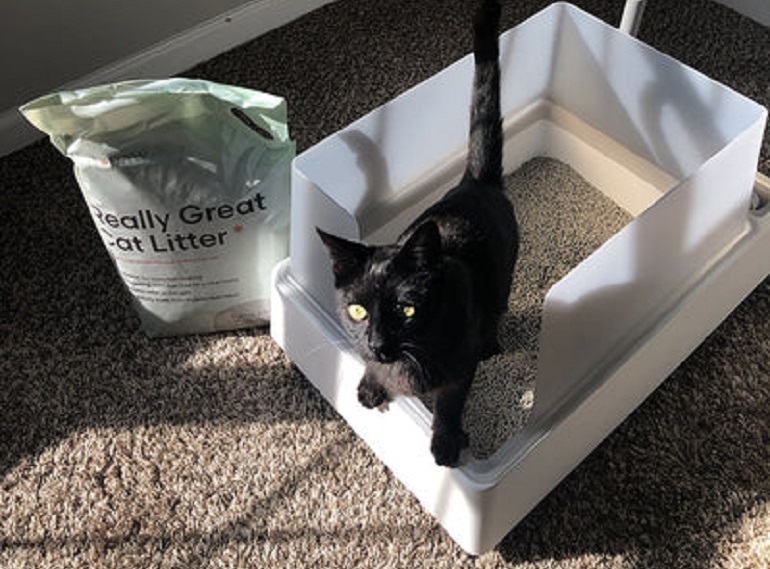 Tuft and Paw litter's subscription service delivers soy-based cat litter to your home, with great value for money if you order three months at a time (less than 10%). Where one month's supply (one bag) of litter costs $29, a three-month subscription costs $79.
My cousin was very happy that she could cancel her order at any time (#NotThatSheWould).
Tuft and Paw Pros
Clean litter easily and flush the waste down the toilet as the litter fully disintegrates in water, so no need for a litter bag.
Highly absorbent for better cat urine binding.
Absorbs and neutralizes odors for a clean cat litter station.
Low tracking for a household-friendly cat box.
Simply order and receive shipping free to your door.
Tuft and Paw Cons
Quite pricey as it's easy to scoop out too much litter and flush.
Bag is quite small compared to other litter brands.
Somewhat more expensive than other brands as the large-size pellets tend to stick to the urine and feces more easily, and once disintegrated, it is a substantial amount that gets removed daily.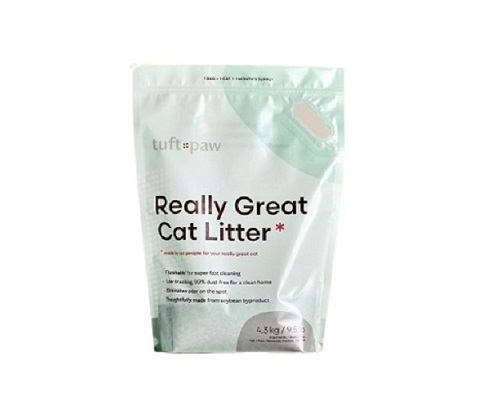 Tuft + Paw
The price of "Tuft + Paw" varies, so check the latest price at
FAQ's
How Many Pounds of Cat Litter Do You Need Every Month?
The weight of cat litter depends on the brand or litter type and material used. Clay-based cat litter is heavier per weight for the month's supply, while natural plant-based litter will weigh much less.
The average is 40 pounds of clay-based litter and between 9 and 16 pounds of plant-based litter per month for one cat.
Is a Cat Litter Subscription More Expensive?
It's usually much cheaper to place a monthly cat litter subscription as manufacturers offer discounts to regular buyers, and some companies even offer a money-back guarantee.
How Often Should You Change Litter?
Scoop wet spots and solid matter daily from your cat box, topping up if needed. A full cleaning should be done once a week, changing out any soiled litter.
How Can You Reduce Cat Litter Odor?
Manufacturers often sell an odor-control sachet or spray that you can treat your cat litter with. Frequent cleaning and freshening up the cat's litter box will help reduce odor.
Verdict
Ultimately, I decided to choose PrettyLitter as I really appreciate the early warning system of color changes that it offers. Being able to see if my cat's urine is alkaline, acidic, or bloody helps with health monitoring so I can take him to the vet earlier rather than later.
Since PrettyLitter is non-clumping, it also protects Teddy if he accidentally swallows any litter, plus cleanups are a breeze. At a great monthly fee, I found PrettyLitter to be the best cat litter subscription service.