Cats are notorious for being discerning when it comes to their toilet habits. And they are not averse to letting you know if they are unhappy with what's in their litter box.
Historically clay litter was the only option for our feline friends to absorb urine and bury their waste. But fortunately, over time, people are becoming more conscious of the environment and the effects of clay litter on the planet.
This has created a demand for more suitable, natural litter alternatives, which has resulted in more eco-friendly products.
But what are the best natural cat litter options to choose from? With the dizzying array of natural litters on the market, you want to make the right choice for your cat and you.
Top Pick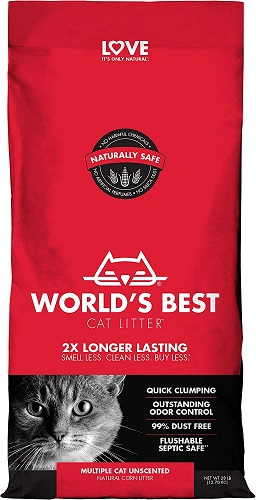 World's Best Multi-Cat Unscented Clumping Corn Cat Litter
Material: Corn
Item Weight: 28 Pounds

For Sensitive Paws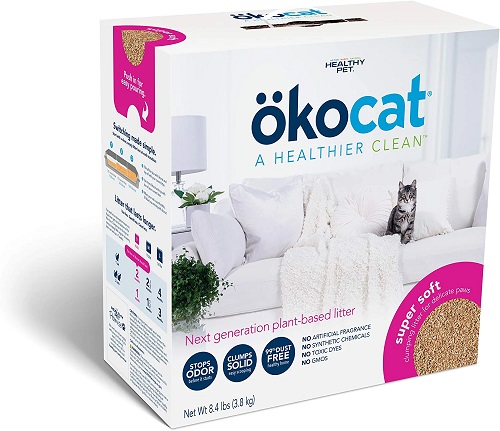 Ökocat Super Soft Clumping Litter
Material: Wood
Item Weight: 8.4 Pounds


Vet Recommended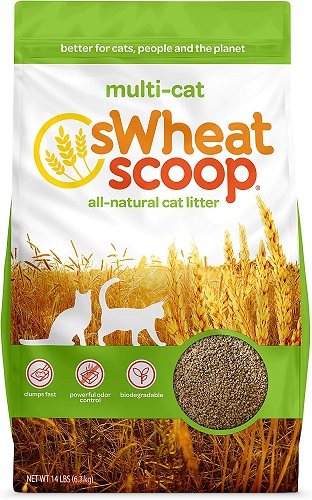 sWheat Scoop Multi-Cat All-Natural
Material: wheat

Item Weight: 14 Pounds


Best Odor Control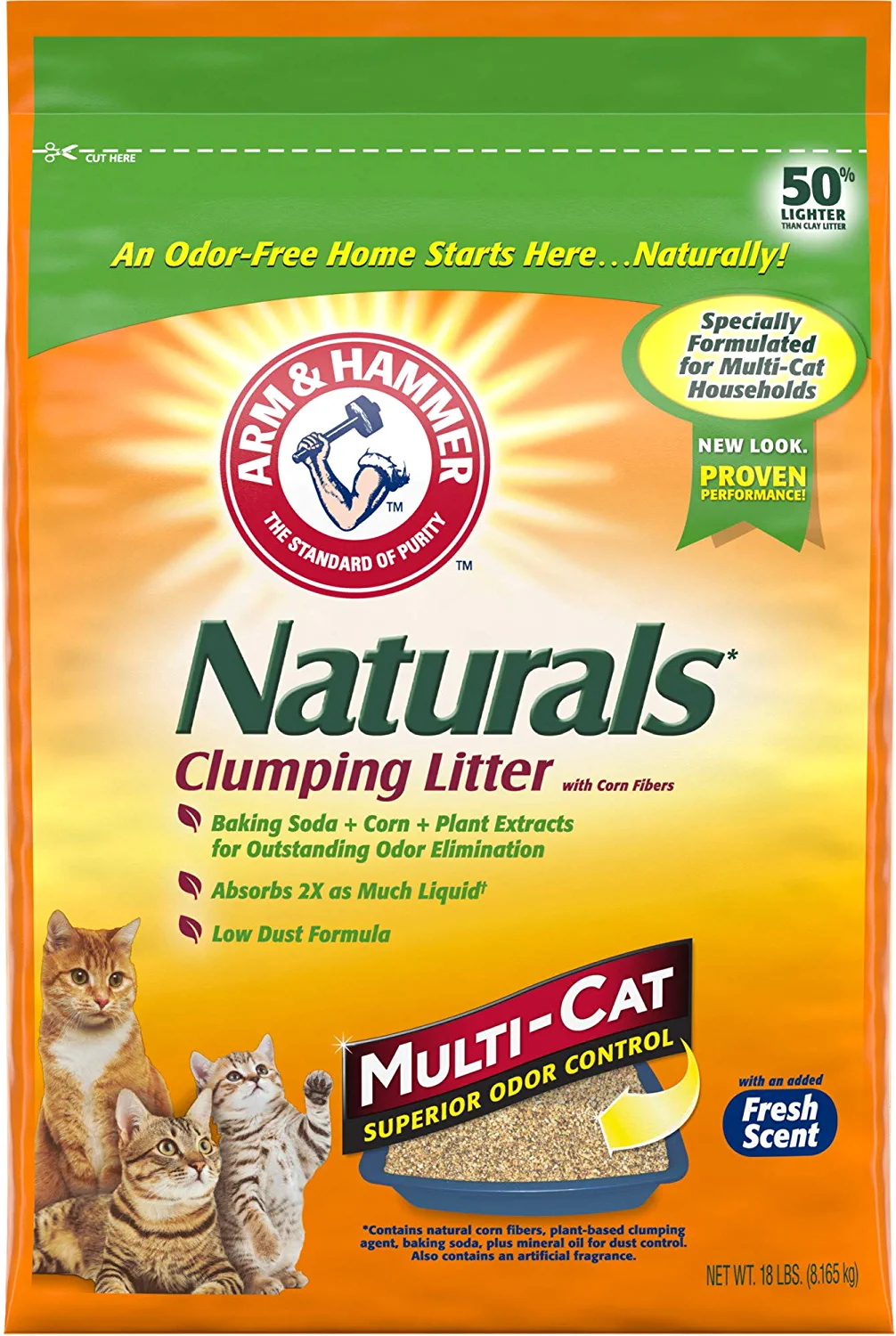 Better Way Clumping Fresh Scent
Material: corn fiber 

Item Weight: 18 Pounds


Best of the Rest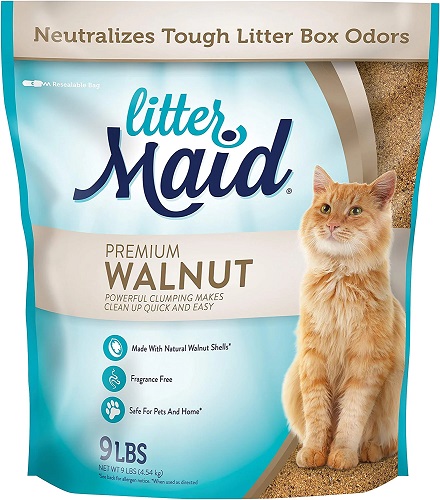 Littermaid Premium Walnut Litter
Material: walnut

Item Weight: 9 Pounds



Best Natural Cat Litter
The joys of owning a cat come with a huge set of responsibilities! You need to make sure that you get the very best for your feline friend while making sure you are also making greener life choices.
Worry not! We're here to help you with that. Let's look at some of the top natural cat litters and weigh the pros and cons of each to make the decision easier for you.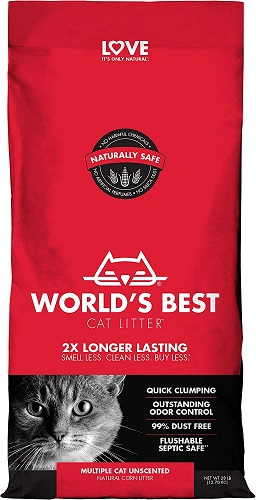 Made from compressed corn kernels and other grains and 100% free from harmful chemicals, synthetic additives, and artificial perfumes, this is a natural cat product that lives up to its name.
The quick clumping all-natural formula is highly absorbable and forms tight-knitted, easy-to-scoop clumps, making it easy to scoop without scraping and a great kitten litter.
Not only is it flushable cat litter and safe for most septic tanks and sewer systems. It also offers good odor control for your cat litter box.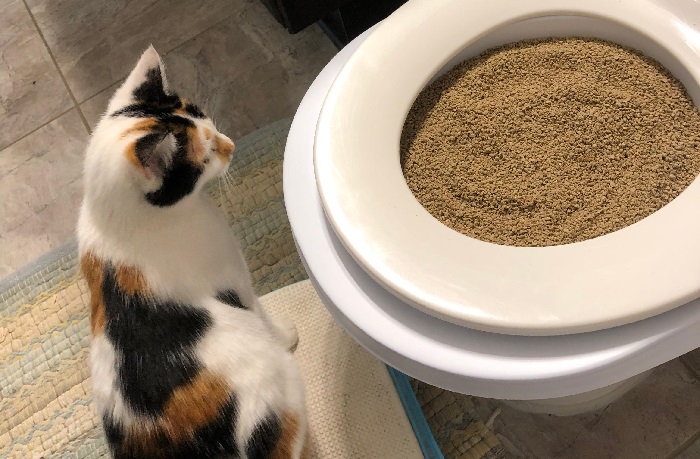 And the best part is that the formula is 99% dust free and free of crystalline silica dust, making it safe for your family and pet. And it's eco-friendly too!
Rated as one of the best products in cat litter reviews, the product is reasonably priced, and a 15-pound bag should last about a month for two cats.
Pros
The soft texture makes it safe for flushing and septic tanks
Biodegradable, which is excellent for the environment
Silica dust free
Clumps quickly
Safe for kittens and cats
Low tracking
Odor control
Cons
More expensive than clay litter
It needs to be kept in a dry environment, and the litter box scooped frequently, so no moisture gathers
Not all cats like the smell or texture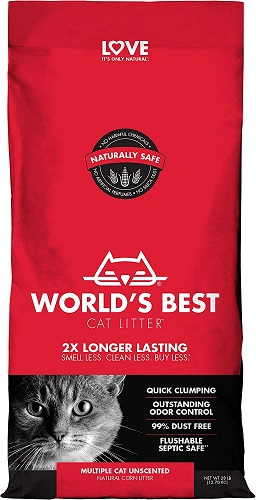 World's Best Multi-Cat Unscented Clumping Corn Cat Litter
The price of "World's Best Multi-Cat Unscented Clumping Corn Cat Litter" varies, so check the latest price at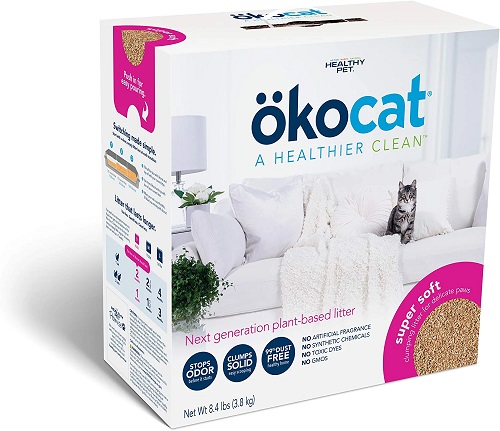 This natural cat wood litter is made from a 100% blend of reclaimed lumber from sustainably managed forests and is the best cat litter for cats and kittens with sensitive paws.
The litter is wood-based, with the wood fiber de-dusted and screened, making it 99% dust free. But the remaining dust particles on pouring the product may irritate you and your pets, and it is recommended that you ventilate the room well.
Protected by patented Odor Shield technology, the soft ground pellets absorb odors and soak up liquid on contact.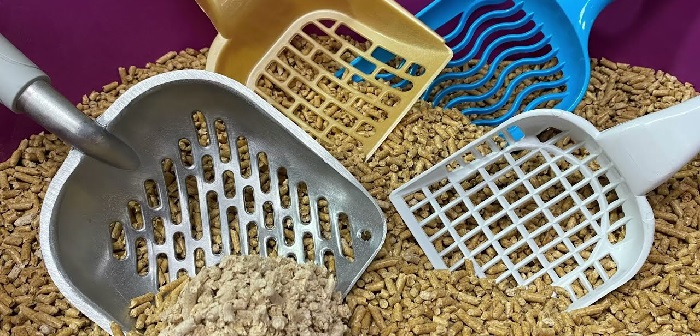 This helps prevent unhygienic litter box conditions, as the natural cat litter absorbs the liquid immediately before it soaks to the bottom, which leads to a lingering odor.
And even better, it leaves behind a fresh, natural pine scent too!
The pellets can absorb up to 500% of their weight in liquid form tight clumps yet are still lightweight making it easier for you to scoop and flush the clump.
Ökocat Super Soft Clumping Litter is well suited to manual type litter machines where it responds like clay litter.
Pros
An all-natural litter
Biodegradable – even the box is recyclable
Odor control
Absorbs liquid quickly
Cons
It does not harden as much as clay litter
Dust particles on pouring may irritate both humans and cats
Cannot be flushed into septic tank systems
More costly than clay litter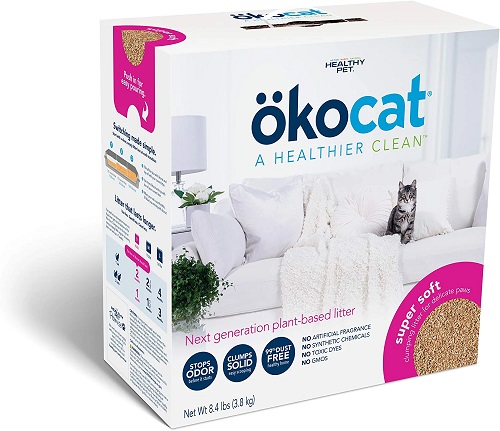 Ökocat Super Soft Clumping Litter
The price of "Ökocat Super Soft Clumping Litter" varies, so check the latest price at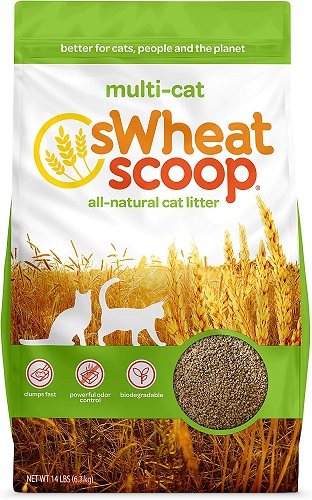 Recommended by veterinarians, sWheat Scoop Multi-Cat All-Natural litter is made from naturally renewable wheat.
Specially formulated for multi-cat households, this natural cat wheat litter contains twice as much odor-busting power and clumping as the original recipe.
The highly absorbent starches and enzymes in this natural cat litter and the brands Noble Ion Technology all help to neutralize and trap urine and ammonia odors on contact.
Although some cat owners have reported a slight natural smell when the urine combines with the wheat in the litter.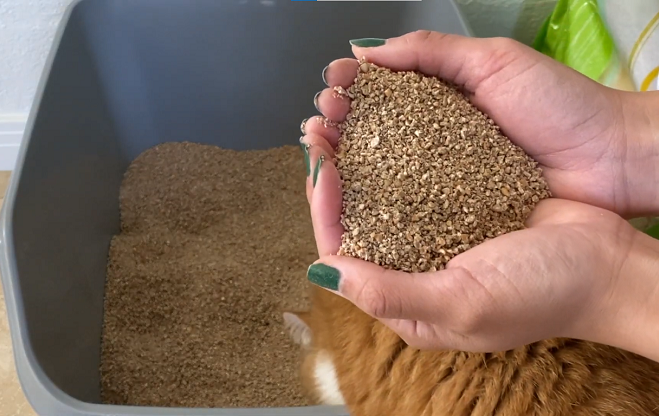 The product is 100% biodegradable and designed to clump quickly and firmly, making it easy for you to scoop and flush the clump.
With no added dyes or perfumes to aggravate allergies and respiratory issues and virtually very little dust, this is among the best kitty litter for kittens.
Pros
Biodegradable
Soaks up liquid quickly to reduce odor
Forms solid clumps
Very little dust
Free from artificial fragrances and dyes
Resists tracking
Cons
It may have an unpleasant smell when urine combines with wheat materials
It doesn't clump as hard as some clay litter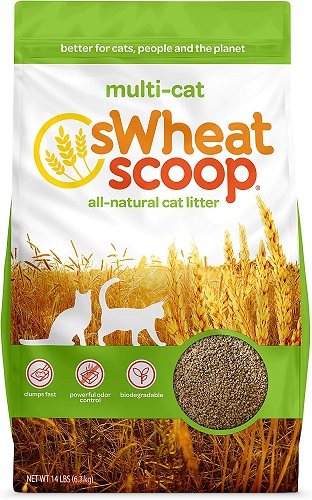 sWheat Scoop Multi-Cat All-Natural
The price of "sWheat Scoop Multi-Cat All-Natural" varies, so check the latest price at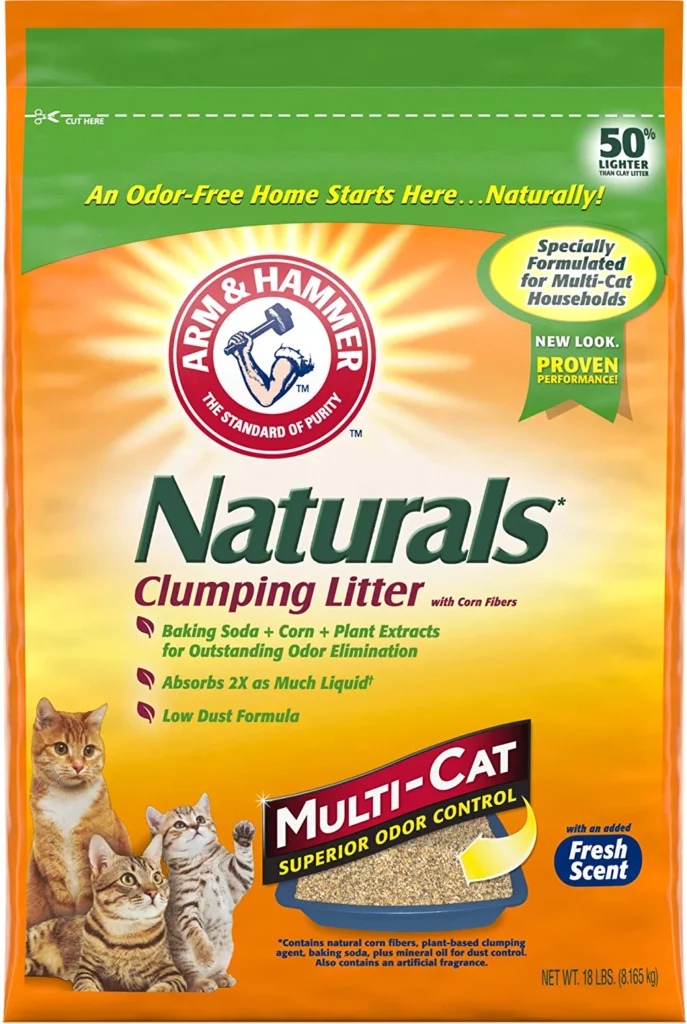 As a trusted baking soda brand that has been around for some 170 years in America, the company is also well known for its line of odor-control cat products.
And their popular Naturals Cat litter for a home with multiple cats is no different.
Made from odor-fighting baking soda, corn fibers, and plant extracts, these natural litters get a huge thumbs up from reviewers for the best odor control.
Specially formulated for multi-cat households, the cat litter is highly absorbent and capable of absorbing twice as much liquid on contact to form solid clumps for an odor-free litter box.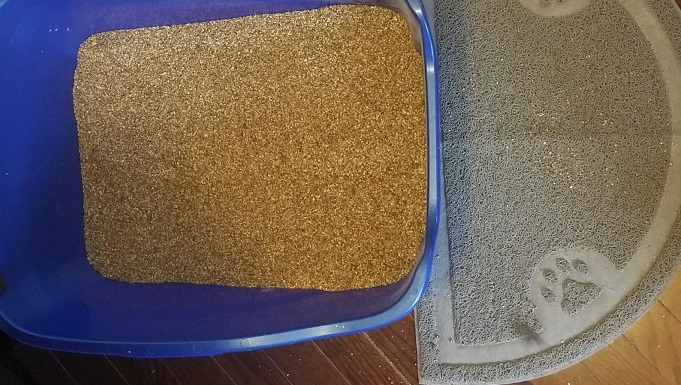 The naturally absorbent material of this corn-based litter produces tight clumping that is easy to scoop and dispose of and doesn't get stuck in a cat's paw pads when the cat leaves the box.
The product produces minimal dust thanks to a mineral oil additive, and there is little tracking or mess.
Some people have complained about the overpowering artificial fragrance of the product, but many cats don't seem to have a problem with this.
Pros
Biodegradable
Produces rock-solid clumps
Very little dust
Excellent odor control
Easy to scoop and dispose of
It can be used with Litter Robot litter boxes
Cons
Overpowering artificial fragrance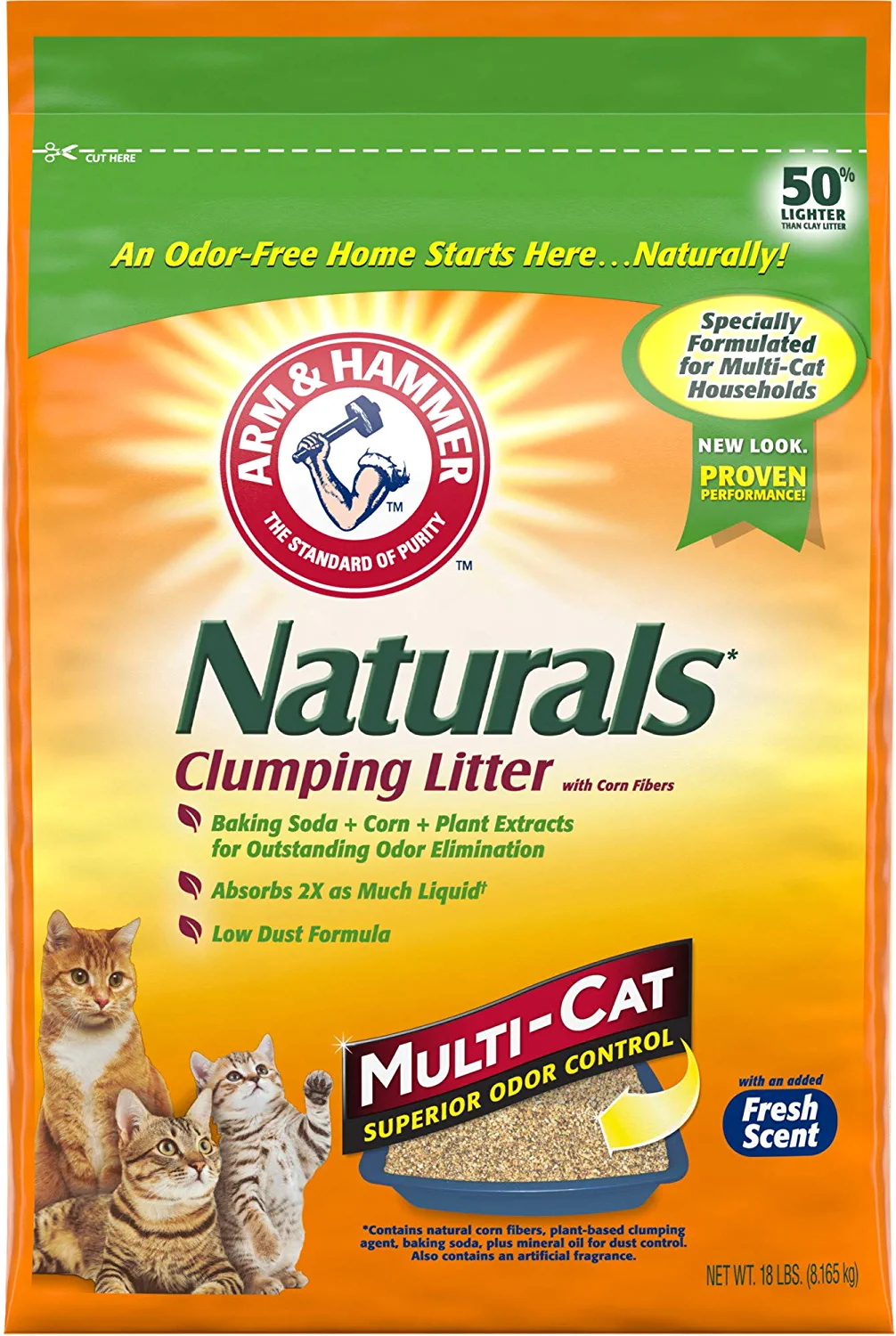 Better Way Clumping Fresh Scent
The price of "Better Way Clumping Fresh Scent" varies, so check the latest price at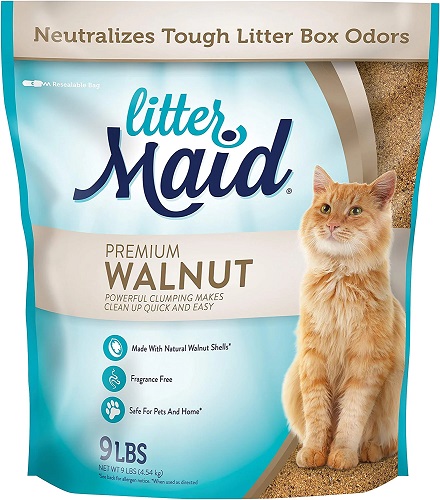 Made from discarded walnut shells, this natural cat litter is not only a great alternative to clay cat litter. It is environmentally friendly too!
Fragrance-free, this walnut cat litter is safe for your pets and home. But be advised walnut shells may contain residual amounts of walnut proteins that can cause an allergic reaction in people with tree nut allergies.
The naturally absorbent walnut shells are ground down into a sandy texture that is quite fine, so you may require a litter mat to catch the excess product off your cat's paws on exiting the litter box.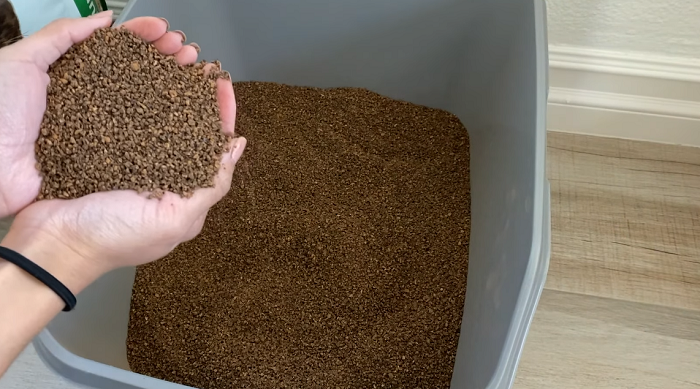 It clumps well, making it easy to scoop and remove. This natural walnut cat litter provides a great alternative to clay litter with no dust to cause respiratory problems in humans and cats.
When cleaned regularly, the walnut litter keeps any trace of ammonia from becoming noticeable and is ideal for self-scooping cat boxes.
Pros
Generates very little dust
Clumps tightly
Absorbs orders
Cons
On the expensive side
Not for people with tree nut allergies
Tracks easily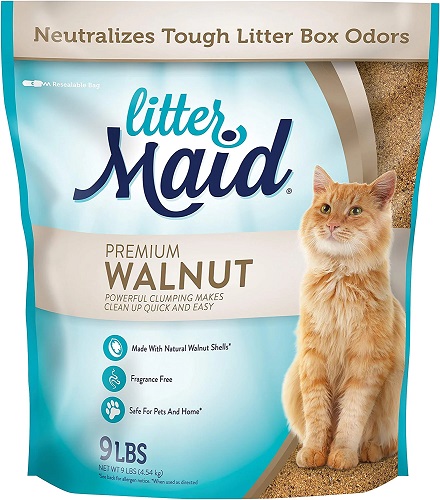 Littermaid Premium Walnut Litter
The price of " Littermaid Premium Walnut Litter" varies, so check the latest price at
Choosing the Best Natural Cat Litter: What to Look For
So, how do you decide on what is the best cat litter that will suit your feline friend, your lifestyle, and, more importantly, your budget?
Here are some important points to consider.
Pick the Right Type of Product
Choosing the best natural cat litters can be confusing, especially with advertisers all vying for your support and purchase of their product.
You can have one of the top litter boxes for cats, but cats being the picky creatures they are, could outright refuse to use it if the texture and smell are not to their liking.
Right off, it's wise to choose the best cat litter that suits your cat and works well for you, too, as you are the cat clean-up crew.
Start by deciding if you want clay-based or more eco-friendly natural kitty litter. Should it be made from plant fibers or absorbent shells? And are you looking for lightweight granules or a more fibrous composition?
While cheaper than natural, clay litters are primarily made with sodium bentonite, whose dust particles are dangerous when inhaled or ingested.
Look for natural litters with excellent liquid absorption and built-in odor control.
The texture is also particularly important to cats as they are sensitive to what the litter feels like with their paws.
Again you can have the best cat litter box, but if they don't like what's in their litter box, you'll find many cats using plant containers, carpets, or even a bed as their bathroom.
And if you are bringing home a new kitten, it might be wise to consult your vet and get their recommendations on the best natural litters for kittens.
Beware of False Claims
Marketing jargon, who hasn't heard 'Best walnut cat litter,' 'cats love it,' 'less dust,' 'less odors?' and the like?
The problem is sometimes advertising claims are a little far-fetched, and it's up to you to sift through the marketing fluff as to the best litters for your cat.
The best advice is to do your homework. Read up on the product on the web and see what reviewers have to say. Alternatively, speak to your vet and ask for their advice.
But more importantly, read the ingredient label on the box or packet to see what goes into the product and if it's a good fit for your cat and household.
Don't Start with a Big Bag
Bigger is not always better. In fact, most cats want a litter box filled with just enough litter, with 2-3 inches generally sufficient.
If you're transitioning your feline friend over to a new cat litter, start by buying a small bag of your chosen product and gradually incorporate it by mixing it with the old litter.
The changeover should typically take place over five days, giving your cat time to adjust, and they will soon let you know if the new litter is not to their liking.
This way, if sensitive cats outright reject the new kitty litter, you won't be stuck with a large bag of the product that has cost you money and is no longer of use.
Buy for the Number of Cats You Have
You can have one of the top-rated litter boxes, but if you have more than one cat, the chances are you are going to have litter box problems.
Generally, cats aren't keen on sharing cat boxes with their furry friends. It is therefore recommended that you will need 1.5 cat boxes per animal.
So, if you have one cat, you need two cat boxes, while two cats require three cat boxes and the corresponding amount of litter in each box.
Generally, as a rule of thumb, if you pour three inches of litter into a cat box and change it every week, a 28-to-40-pound bag should last for the month.
There is no expiration date on cat litter; however, it must be noted that the product needs to be carefully preserved to lock out moisture, especially if you are using clumping litter.
Types of Natural Cat Litter
It's not just about having thebest kitty litter boxfor your cat. It's what you decide to fill it with that counts.
Here we take a brief look at what natural cat litters are available and the ingredients that go into them.
Wood Cat Litter
Also known as pine litter is a popular choice for its natural odor control. Made from sustainable wood sourced from sustainably sourced forests, this wood cat litter is lightweight, absorbent, and low on dust.
With a natural pine scent, this type of cat litter comes in clumping and non-clumping varieties.
The clumping cat litter type typically comes in the form of ground-up litter that looks like sawdust. While the non-clumping cat litter typically comes in pelleted form.
Wheat Cat Litter
Made from processed wheat, this litter is usually ground up so that when your cat urinates on the litter, it turns into a sawdust-like material for easy scooping.
It clumps and helps control odors, and is a flushable litter option. And usually, the product is free from added perfumes or dyes. It is also great as a multiple-cat unscented litter.
Grass Cat Litter
The grass cat litter is made from dried biodegradable grass and plant seed, similar to pine and corn litter.
This natural cat litter is low in dust and typically contains no added chemicals or toxic dyes. It clumps so that waste can be scooped out and is softer and lighter than clay litter, and helps control odors.
Corn Natural Cat Litters
Another natural cat litter option is corn litter made from dried corn that is lightweight and biodegradable.
The product offers a lower level of clumps but absorbs urine and may even come scented.
Mold growth and Aflatoxins have been raised as a concern with corn litter which can be deadly to pets. But most cat owners have never reported an issue with it.
Walnut Shell Natural Litter
This litter is made from upcycled food waste, where walnut shells are ground up to produce cat litter that is granular in appearance.
The low dust, less tracking, natural odor control, and clumping of these natural cat litters make them highly appealing for multi-cat households.
Again there are some concerns with this type of litter if you suffer from a tree nut allergy.
Final Thought
As the world moves to more eco-friendly products, nothing stops you from following suit and contributing to the effort by purchasing natural litter.
While clay litter may prove cheaper, the process involves strip mining, and crystal litter is no better as it is made from quartz which again is mined.
And as for silica gel litters, it takes about a million years to decompose, all adding to our landfills.
However, there will always be debate as to what is the best litter for kittens and cats.
But ultimately, the choice remains yours and, of course, your feline friends, and hopefully, you both choose to go natural!