Keeping cats in or out of a particular area is a challenge people have faced for centuries. Thanks to invisible fence technology, this task has never been easier than before.
Progressing from old-fashioned fences or barbed wire, one of the most popular modern techniques for controlling cats is the invisible electric fence.
Invisible fences come in a range of styles – collars, GPS trackers, wires, FM transmitters, and more.
There are lots of considerations to make when choosing invisible cat fence systems – from the type of "shock" given, to the underlying detection mechanics, maximum range, and budgets.
This guide looks at the best invisible fences for cats and outlines a range of useful tips for helping pet owners and cat parents choose the best type for their needs.
Best for Tracking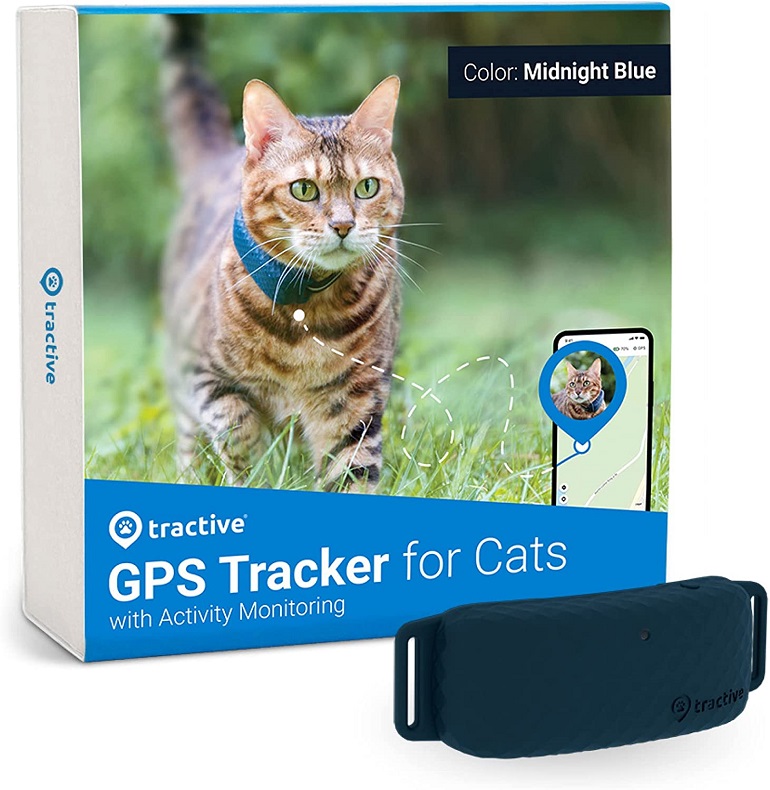 Tractive Cat Collar
Item Dimensions:
2.8 x 1.1 x 0.6 inch
Item Weight:
0.07 Pounds
Ideal for Multiple Pets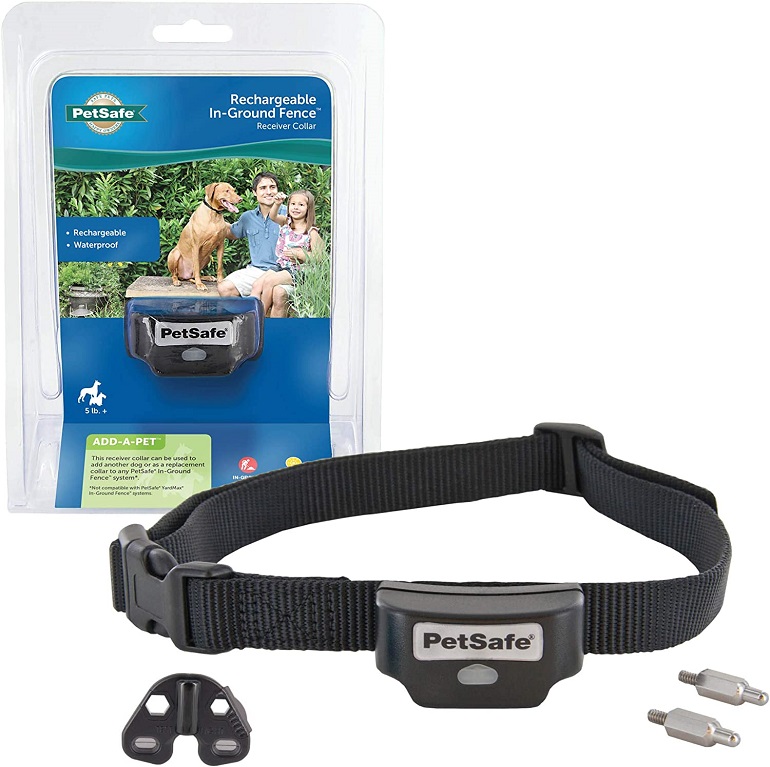 PetSafe Wireless Cat Containment
Item Dimensions:
2.07 x 1.06 x 1.54 inches
Item Weight:
0.17 Pounds
Best for Indoor Situations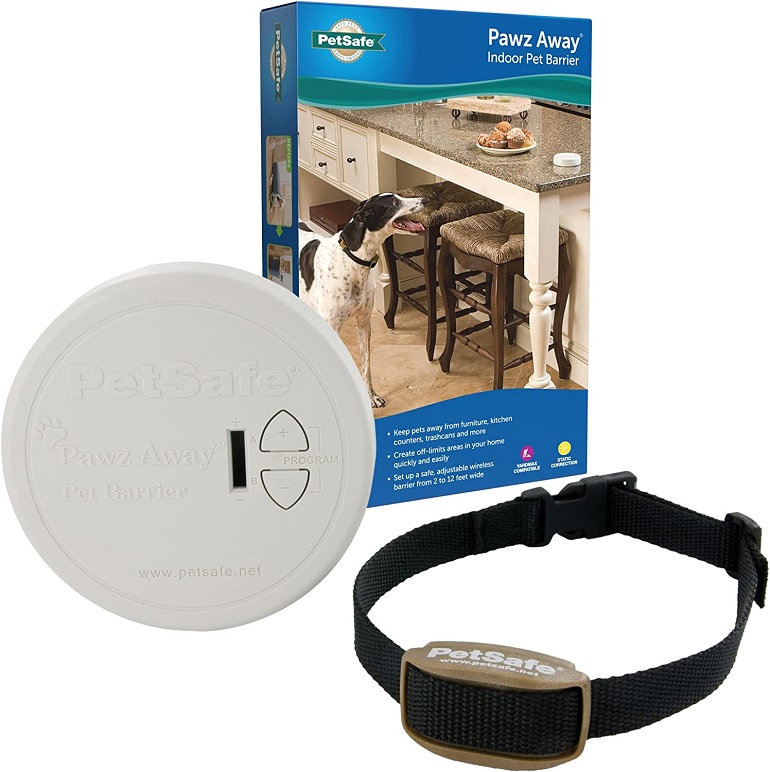 PetSafe Pawz Away Cat Barrier
Item Dimensions:
8.75 x 2 x 2 x 5 inches
Item Weight:
0.87 pounds
Affordable Option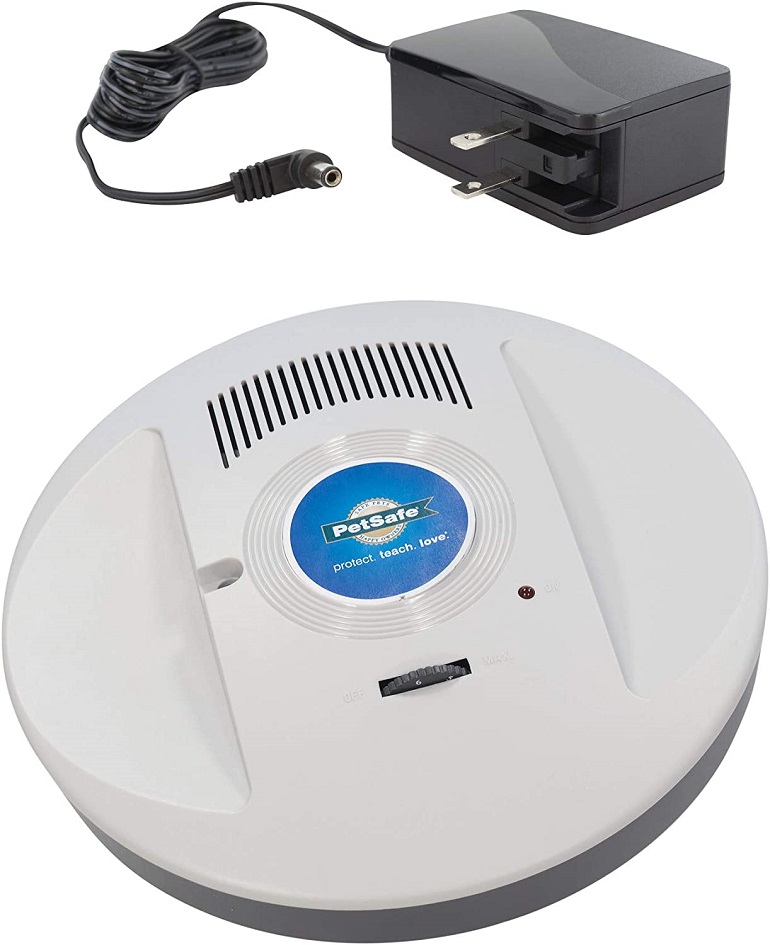 PetSafe Indoor Radio Fence
Item Dimensions:
9.06 x 9.06 x 2.36 inches
Item Weight:
1.39 Pounds
Comprehensive Outdoor Kit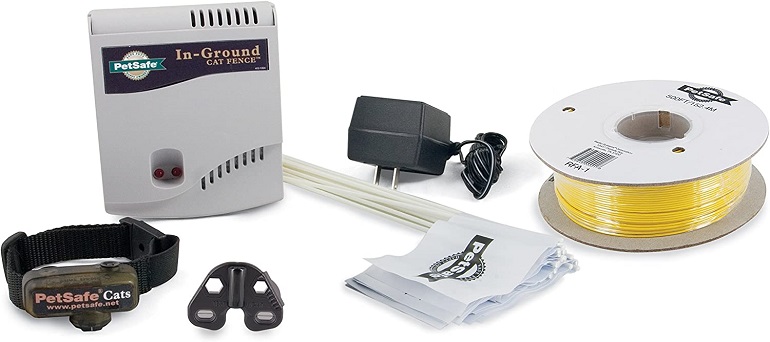 PetSafe Premium In-Ground Cat Fence
Item Dimensions:
5.56 x 3 x 12 inches
Item Weight:
5.55 Pounds
Expand an Existing Fence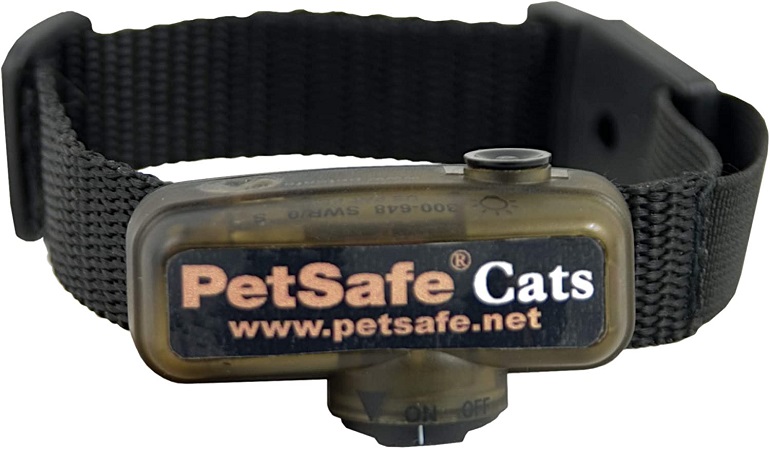 PetSafe's In-Ground Fence Receiver
Item Dimensions:
2.24 x 0.98 x 1.77 inches
Item Weight:
0.11 pounds
The 6 Best Invisible Fences for Cats!
Whether you want to stop your kitty from going into your neighbor's garden and eating their squirrels and other animals, or you want to prevent your cats from running into a busy road or street, here are the 6 best invisible fences for cats.
I've included a range of invisible fence products to ensure all options are covered for any cat parents reading this.
Check out the guide at the end of this article for more tips on how to choose the best wireless cat fence for you!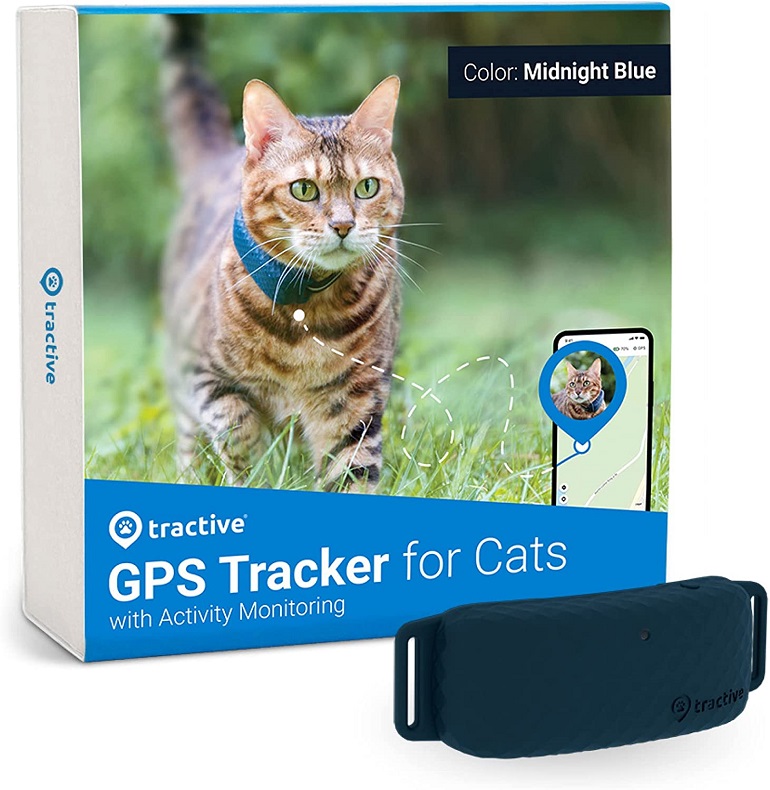 The Tractive Cat Collar is an affordable and easy solution for monitoring your cat's whereabouts. It provides real-time location tracking, so you can see exactly where your cat is at any time. It also has alert features to let you know if your cat has wandered into a territory it shouldn't have.
This is more of a GPS tracker than an invisible fence for cats, as it doesn't have any built-in system for limiting their movement. The Tractive collar works as a precise GPS tracker that works with a powerful and detailed mobile application (iOs and Android).
This system tracks more than movement alone, and also monitors your pet's sleeping schedule and activity. By checking this data, you can make sure your cat is getting enough sleep and exercise – this means you can potentially detect any issues or illnesses before it's too late.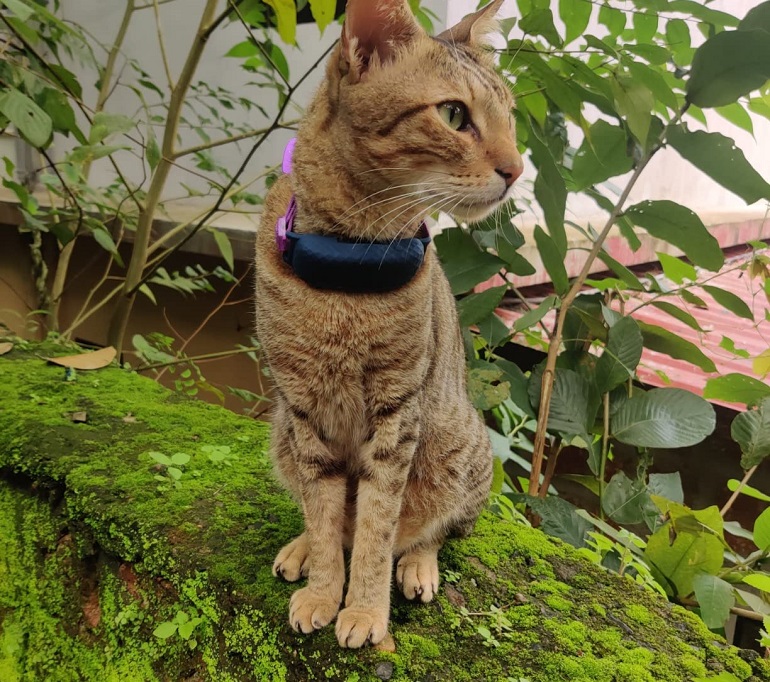 The app also provides a wellness score based on calories, sleep patterns, and exercise data. You can also share all this information with family members and cat sitters for no extra cost – it's super easy to share all this information through the app. 
Lastly, the collar has built-in lights and speakers, which can be activated on demand. This helps when you need to track down your cat, but they might be hiding quietly behind or underneath something.
Activating these features makes it easier to discover their precise location while they roam freely. The entire device is also super lightweight, waterproof, and safe – so you can rest assured that your cat can safely roam in peace.
Pros
Reveals the precise location of your cat
Easily track your cat's location 24/7
Tracks other health-related data to make sure your cat is healthy
Highly durable and convenient collar.
Cons
Requires a monthly subscription for the software
Doesn't have any area protection features – doesn't work like a fence.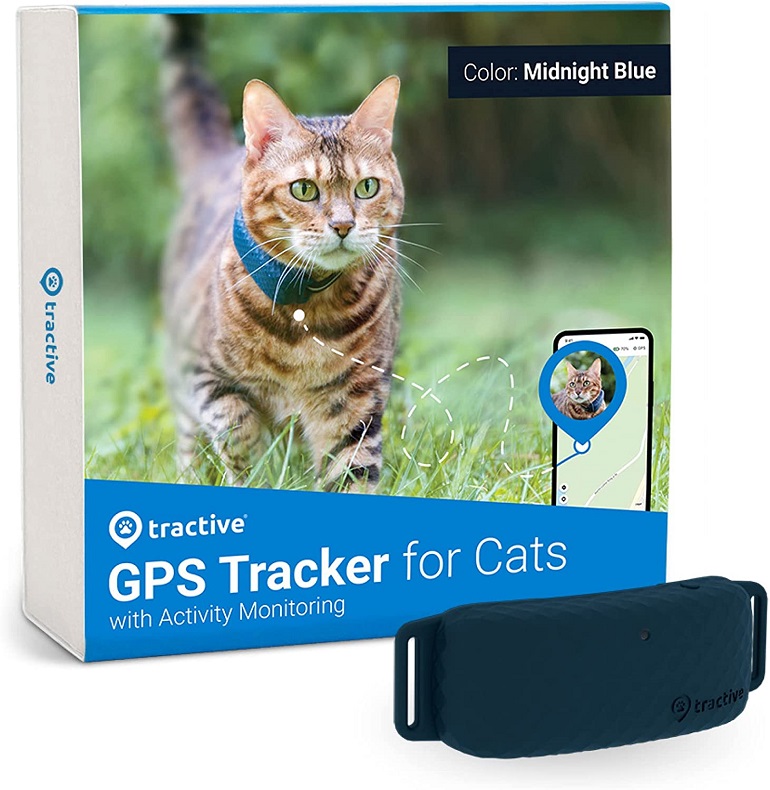 Tractive Cat Collar
The price of "Tractive Cat Collar" varies, so check the latest price at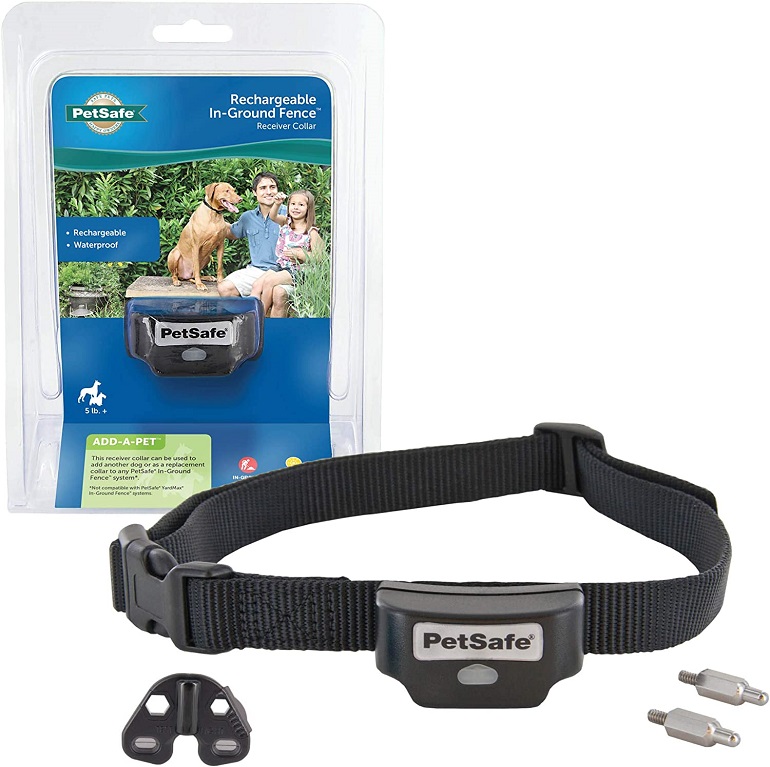 Featuring a choice of either audio or static correction, the PetSafe Wireless containment collar lets you safely set restricted locations for your pets – either cats or dogs. You can link several collars to each fence, so this is a great choice if you need an invisible fence solution for multiple cats.
Boasting over two months of battery life per charge (which only takes a couple of hours), this collar will keep your pets where you want them for a long time with minimum levels of maintenance.
This containment system is based on wires and collars. You place wires around the perimeter you want to restrict your pet to – these wires are connected to a control box where you switch whether the correction is strictly audio-based or a mix of audio and four layers of static.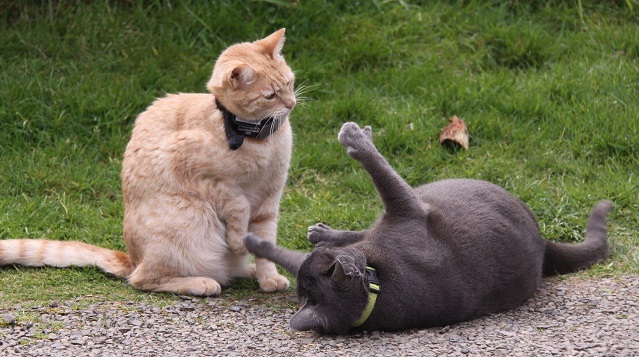 If your pet gets too close to the boundary wire, the collar emits a warning beep. If they continue, they are further irritated by a static correction. This package also includes a bunch of flags that can be useful to visually train your animal to be aware of its restrictive boundaries.
Installation of this invisible cat fence is relatively simple, as you just need to place wires around your desired perimeter, up to a few inches underground. However, it will take a fair amount of effort to manually lay out all this cabling – particularly if you are laying it underground.
It's worth noting that at high speeds, animals can zip through the boundary wires without triggering the correction – this means that slowly training your animal is essential in the early days. It also means you need to be more considerate of where you are placing your wires.
Pros
Easy to set up
Long battery life
Works with cats or dogs
Sonic or static correction.
Cons
Can fail at high movement speeds
No tracking features.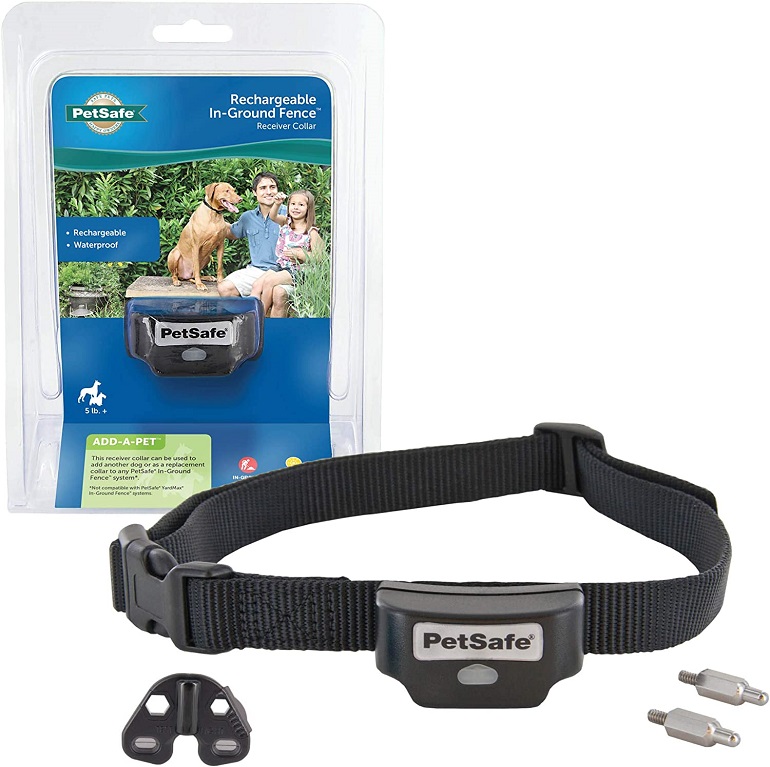 PetSafe Wireless Cat Containment
The price of "PetSafe Wireless Cat Containment" varies, so check the latest price at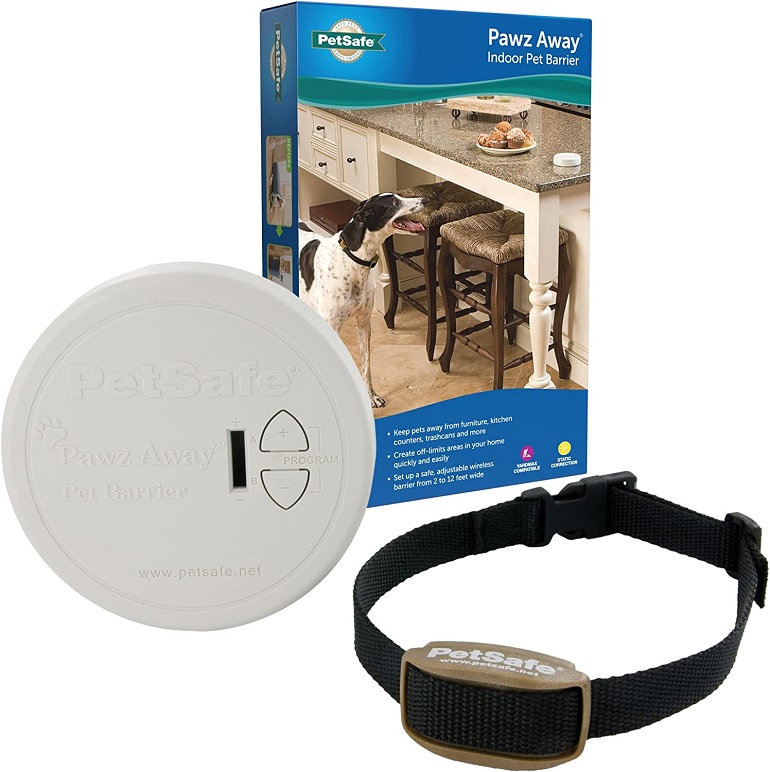 The second product from PetSafe is the Pawz Away Barrier. This is designed for indoor use and prevents pets from accessing specific areas by creating a protective zone. When wearing the collar, if the pet enters the barrier zone, it will trigger either a tone-based or static correction.
These devices can be life savers in many situations, and help to keep your pets away from the kitchen counter, beds, tables, sofas, or any other area you want to keep pet free.
I live in a house with 6 cats, and I always find them crawling all over my laptop when I'm trying to work. It's cute – but it can be a real pain when they accidentally (at least I think it's an accident) delete my work or type gibberish into whatever I'm working on.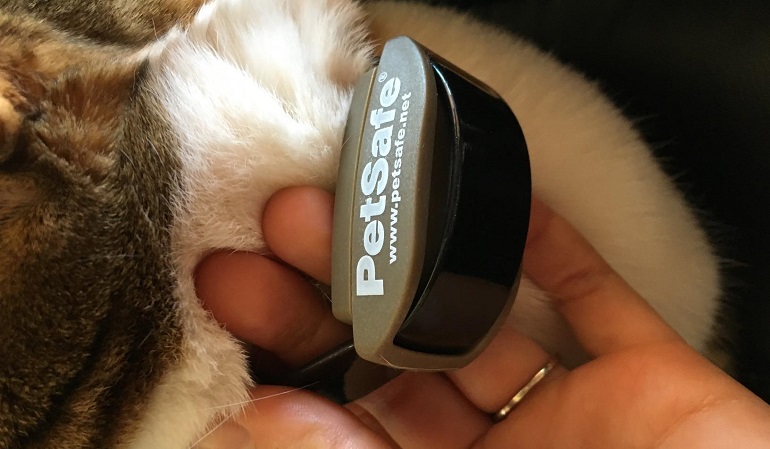 A device like the Pawz Away Cat Barrier would be the ideal solution for this. With an adjustable barrier range, I could place this on my table and automatically stop the cats from coming anywhere near my work desk.
Installation for this is super easy, the batteries last for ages, and the correction is effective yet safe. If you need to protect certain indoor areas, then this invisible fence is one of the best choices.
The transmitter isn't powerful or large enough to protect bigger areas – and definitely isn't enough for outdoors. However, if you need to prevent your pets from entering certain areas of your house, then this is an ideal solution.
Pros
Incredibly easy to set up
Protects specific sections of your house
Built-in rechargeable batteries.
Cons
Not suitable for outdoor use
Maximum 12 ft range for protection transmitter.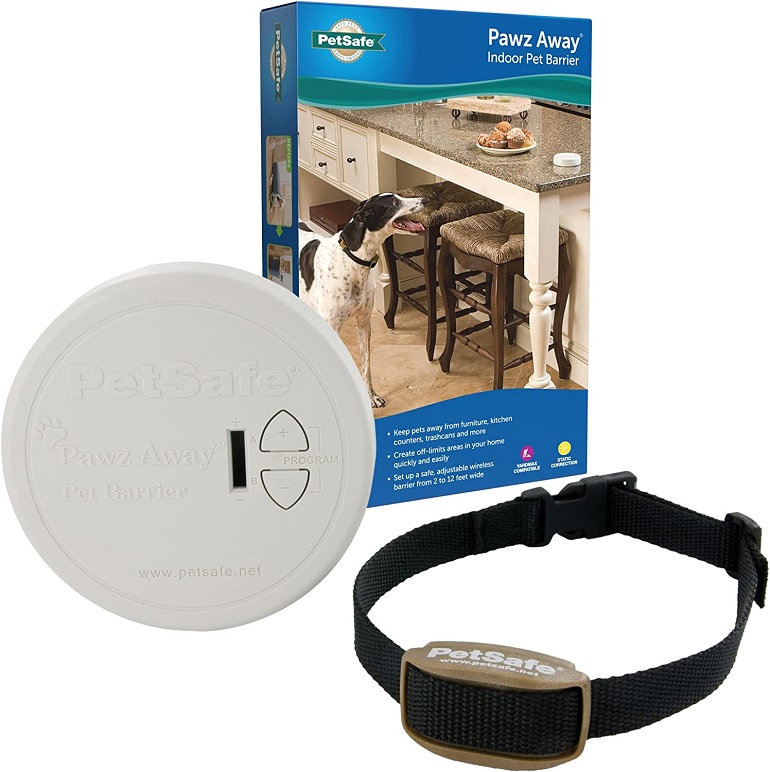 PetSafe Pawz Away Cat Barrier
The price of "PetSafe Pawz Away Cat Barrier" varies, so check the latest price at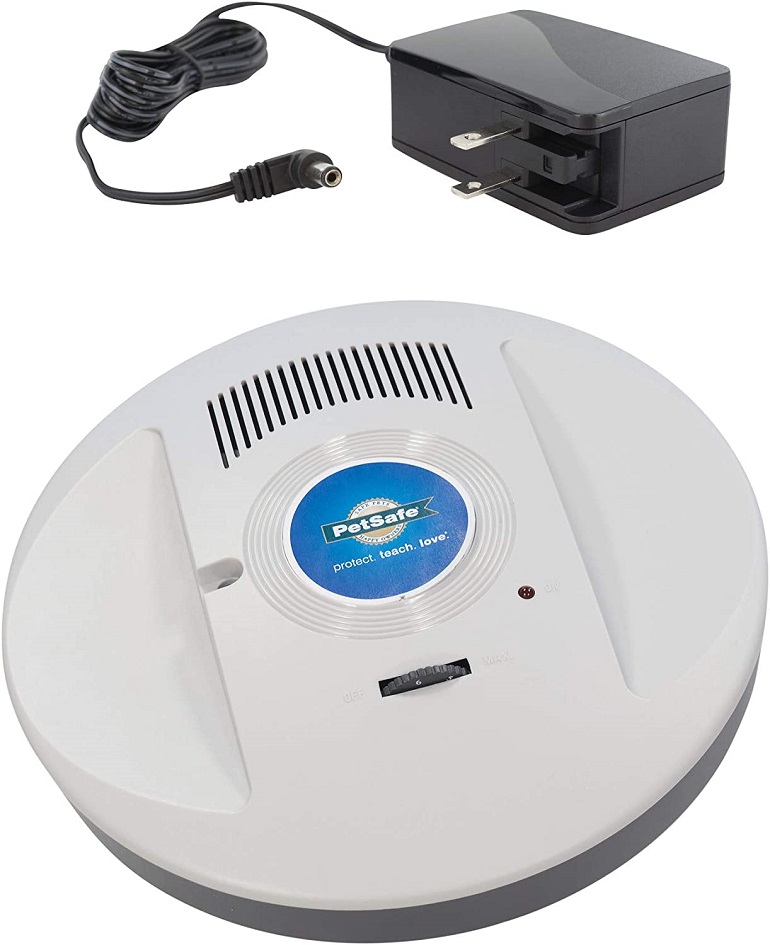 This is another indoor invisible fence for cats. This PetSafe indoor product features a transmitter that prevents animals from entering specific areas in your home by emitting an irritating tone or static correction.
This radio fence features a 10ft maximum radius, which is plenty for indoor scenarios, although won't make the grade for any outdoor areas. This is perfect if you need to defend your bed or kitchen from your animals.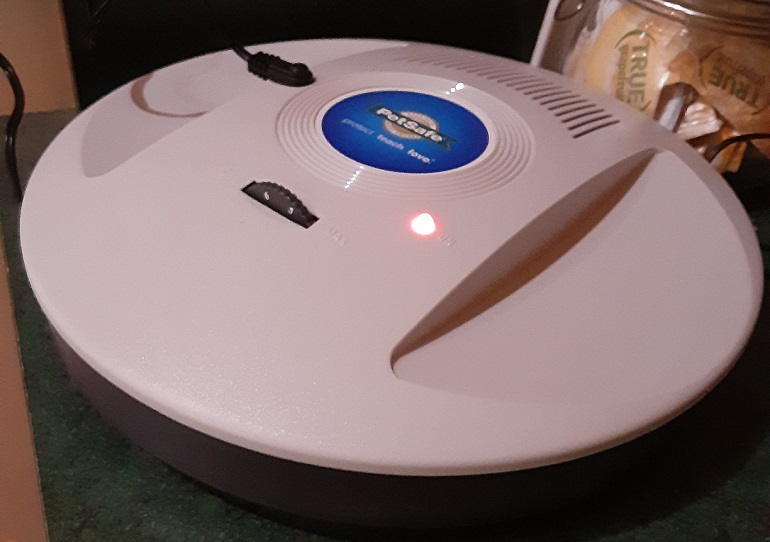 This kit is easy to install and comes with a simple collar and transmitter pair. The transmitter features a variable control for setting the strength of the correction. While it does create a static shock, it is completely safe and won't hurt your animal.
You can combine any number of collars and transmitters – so if you need to protect multiple areas of your home from several pets, this is a top pick.
Pros
Affordable but effective
The transmitter comes with a mains power supply – no batteries are required.
Cons
This purchase link only includes the transmitter – you'll need to buy collars separately
Transmitters can be interrupted by objects and furniture in your house.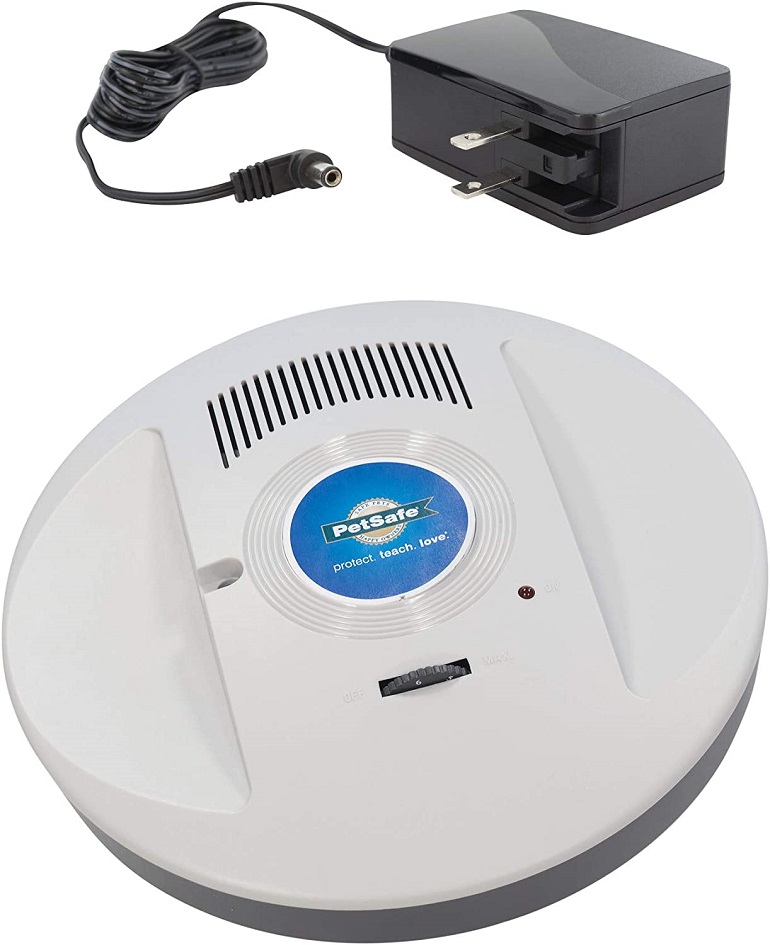 PetSafe Indoor Radio Fence
The price of "PetSafe Indoor Radio Fence" varies, so check the latest price at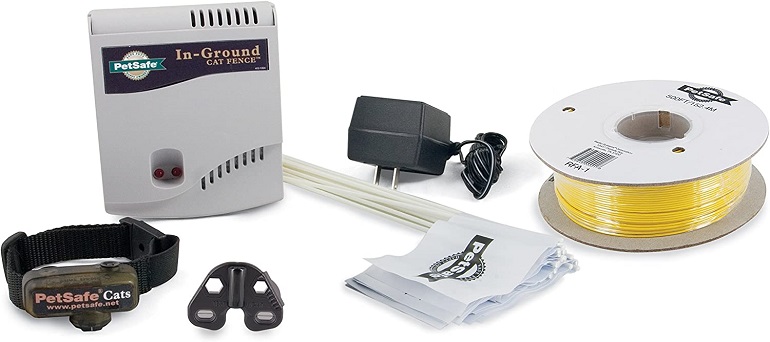 With an impressive max perimeter length of 4000ft, the PetSafe in-ground wire-based fence is a strong solution for outdoor pet control. This system works by pairing collars to a radio fence transmitter. When the animal gets close to or crosses the boundary wire, the collar triggers a sonic or static shock correction.
This in-ground cat fence kit includes a collar, wire, transmission box, a power cable for the transmitter, and a bunch of flags to use for visual training.
Setup couldn't be much easier – simply lay the wire along the boundary you want to prevent your pet from leaving. Connect the wire to the transmitter, set the level of correction with the variable control, then put the collar on your pet. Voila!
No more issues with a pet escaping from your garden and having to spend hours calling them home!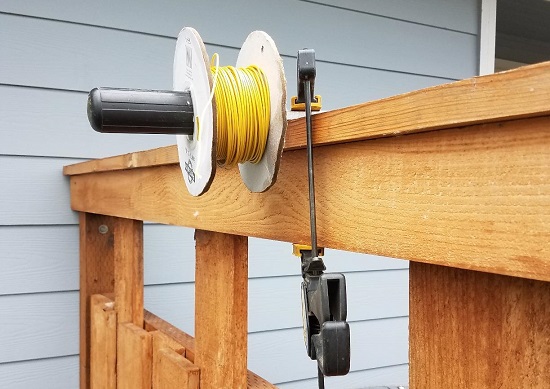 The transmitter has four different levels of correction, with the addition of a training tone. This lets you tune the device's strength to the character of your pet. The collars have a battery indicator to prompt you to charge or replace the batteries.
The collar has stretchy elastic, so your pet will be able to slip it off if it gets caught. This stops your animals from getting choked and keeps them as safe as possible.
Remember, most cats are incredibly intelligent animals, so you will need to do some training to ensure this pet barrier system works effectively. It can take around 3 weeks to train cats to respect this system, otherwise, they will try to find a way through it. (We all know how persistent and cheeky cats can be…)
Pros
Can cover a huge perimeter
Expandable to incorporate more territories or collars
Great value for money.
Cons
Requires training and patience for maximum efficiency
Can cause excessive strength shock at max power.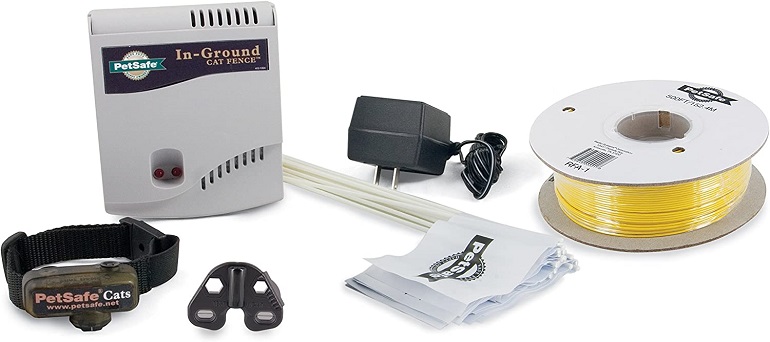 PetSafe Premium In-Ground Cat Fence
The price of "PetSafe Premium In-Ground Cat Fence" varies, so check the latest price at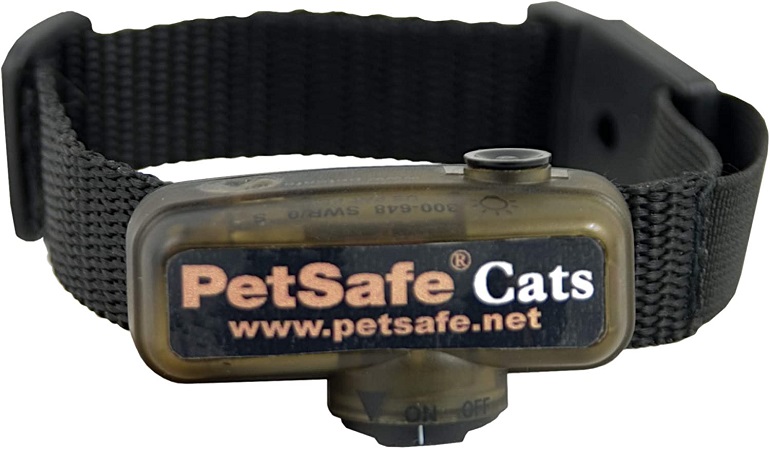 This product is an extra invisible fence cat collar receiver for the PetSafe in-ground fence system. This expands the capacity of your PetSafe invisible fence system by letting you add multiple pets to an existing fence setup.
This invisible fence cat collar works with the wire fence transmitters, although this purchase alone isn't enough to create the entire system alone. You will need to buy the fence wire and transmitter separately for the full setup.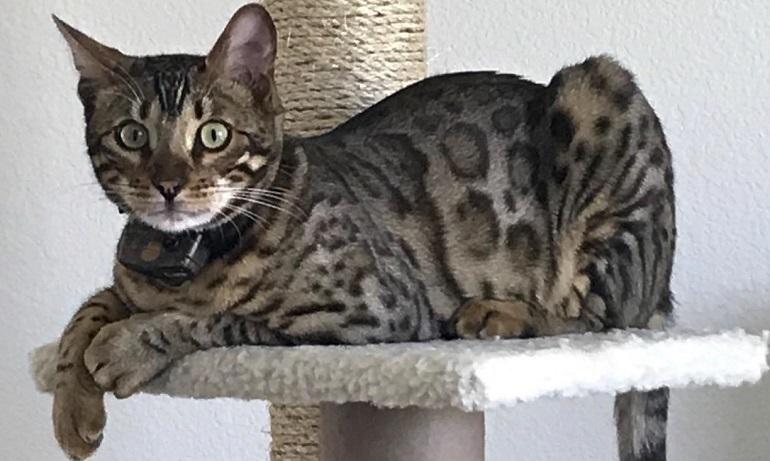 The cat safe collar has a battery indicator, so you will never accidentally leave your cat wearing a de-charged device. Built into the collar is a control to set the strength of the correction at 4 different levels. It uses a static shock, which is enough to irritate your animal, but not enough to cause serious harm or pain.
The material of the collar is soft and safe and features stretchy elastic to prevent any danger of strangulation. These shock collars can also be used in a tone-only mode.
If cat owners need to expand a Petsafe system, this is a great choice, but this is not a full solution itself.
Pros
Expand your PetSafe System with this collar
Safe but effective correction
Lightweight.
Cons
The shocking probes can irritate the cat's skin – make sure the cat only wears the collar for 12 hours at a time
This purchase does not include all the equipment for a working system.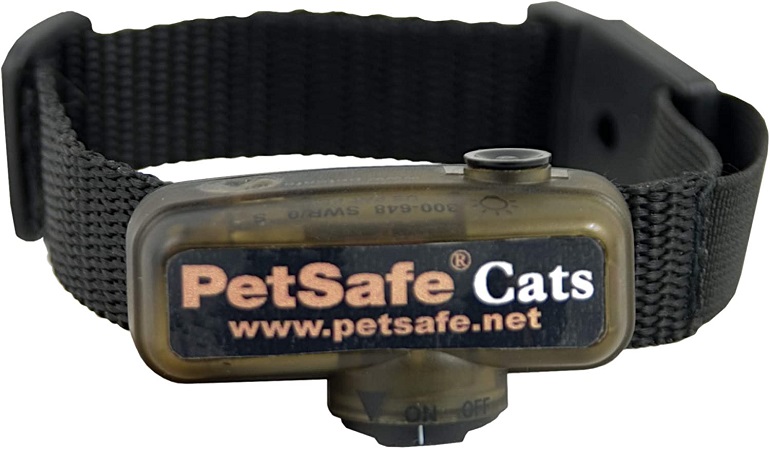 PetSafe's In-Ground Fence Receiver
The price of "PetSafe's In-Ground Fence Receiver" varies, so check the latest price at
What Are Invisible Pet Fences and What Do They Do?
Invisible cat fence systems are a type of technology that prevents animals from entering or exiting designated areas. Imagine how a fence works – it prevents animals from crossing boundaries.
An invisible fence does the exact same thing, although rather than being a physical fence, it uses electronics to prevent animals from crossing boundaries.
They work in a number of different ways (explained below), but essentially, the owner assigns a perimeter (or no-go zones) that trigger a "correction" whenever the animals cross it. This trains the animal to avoid the chosen areas and will keep a cat contained indoors, in a yard, or wherever else you choose.
Corrections can be anything from audio to static, or electric shocks. I'll explain how to choose these in the section below.
How To Choose the Best Invisible Cat Fences: Things To Look For
There are a bunch of different wireless cat fences, so you'll need to make a few choices when choosing your invisible fencing. These are the most important things to think about.
Indoors or Outdoors
Typically wireless fence systems are specifically designed for either indoor or outdoor situations. Indoor boundaries and systems are ideal for preventing your cats from accessing certain parts of your house.
Outdoor systems are useful for defining an external perimeter to keep your pet within your garden or land but aren't suitable for use indoors.
The choice here ultimately comes down to what kind of issues you are having with your cat.
Sometimes it is crucial to implement creative techniques to keep birds safe from cats. While doing so, wireless fences can help.
Inground or Wireless
Inground wireless fence systems use wires which are placed underground. These differ from wireless systems – which often (but not always) use a wireless transmitter or GPS data to control your pet's location.
Inground systems tend to be cheaper, but a wireless fence will often be more flexible – depending on the design used.
Type of Correction Used
Devices can apply corrections via a number of techniques. Typically this is either an audio signal (warning tone) or a static electric shock applied to your cat's neck.
The choice here depends on your cat's temperament and attitude. If your cat is not bothered by audio disturbances, then a safe static correction is the only way forward. Remember, these corrections are designed with the pet's safety in mind, so they won't hurt the animal, but just cause a slight irritation.
If your cat continues to misbehave on audio only, then you might need to change to a vibration or static shock correction.
Cost
Invisible fences come at a wide range of prices. Lower-cost systems can be effective for smaller areas, although to create larger wireless fences you'll typically have to spend more cash. Don't spend more than you need to, but don't scrimp on spending only to buy something that doesn't work as well as you need it to.
FAQ's
How Does an Invisible Cat Fence Work?
Invisible cat fences work by creating an uncomfortable correction whenever the cat leaves a defined safe place.
What Happens if Your Cat Leaves the Containment Area?
When your can leaves the containment area, a correction is triggered. This is either a sonic tone or a static shock. This keeps felines in within your invisible fences – although these shocks are not overwhelming or intense, just enough to keep your pet out of trouble.
What Are the Disadvantages of Electric Pet Fences?
The main disadvantages of electric pet fences are the battery requirements, and also the potential for unpleasant situations for your cat.
While flat batteries aren't the end of the world, sometimes these systems can be set up in a way that can accidentally end stressfully for your cat. For example, they might jump over the fence, then be too scared to cross back in.
Long-term exposure to shocks can irritate your pet's skin too, so watch out for any jumping or frightened behavior which indicates pain.
Conclusion – Enjoy Your New Invisible Fence!
Now you pet parents know the different options available for protecting your kitty from wandering off-limits into a danger zone.
You know the different types of corrections available and have seen how different products manage to designate off-limits areas. So weigh your pros and cons and make an informed decision about your feline friend's safety!