Everyone knows that cats spend all day fast asleep. It's easy for cat owners to assume that they're just lazy little furballs who don't need any exercise… but even the laziest cat needs a good deal of exercise to stay healthy.
After all, it's important for everyone to be sufficiently stimulated both mentally and physically.
While cats look perfectly content when they're asleep, it's also wise for cat owners to keep in mind that an active cat is a happy cat.
Remember – when they're not asleep, they're usually out and about exploring. So, if your cat needs to stay indoors for whatever reason, it's important to give them a fun physical activity.
Exercise wheels are for more than just hamsters. They can be tricky for cats to get used to, especially if they're older or reluctant to exercise. But it's much easier when you get the best cat exercise wheel for them.
Top Pick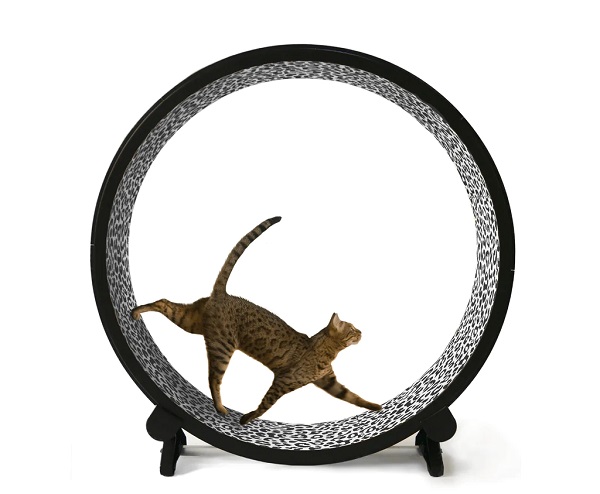 One Fast Cat Exercise Wheel
Material: recycled plastics
Style: Wheel
Ready-to-use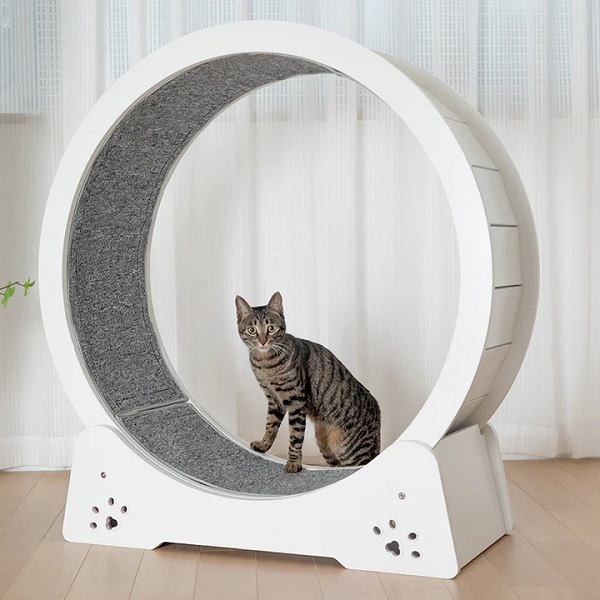 Paws and Fish Cat Wheel
Material: wood
Style: Wheel

Premium Choice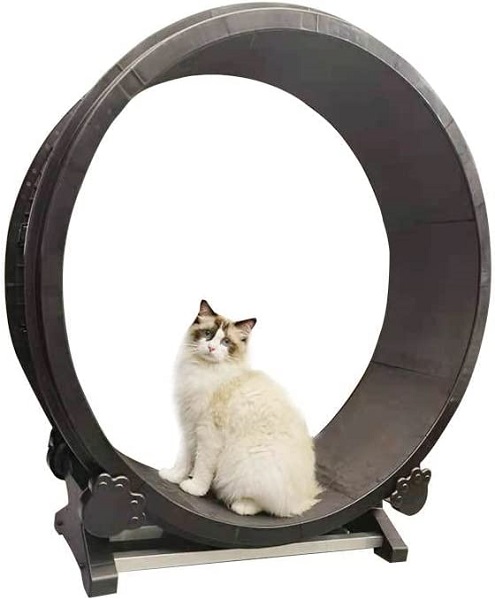 TWW Treadmill Ferris Wheel
Material: Polyvinyl Chloride
Style: Active

Best Multipurpose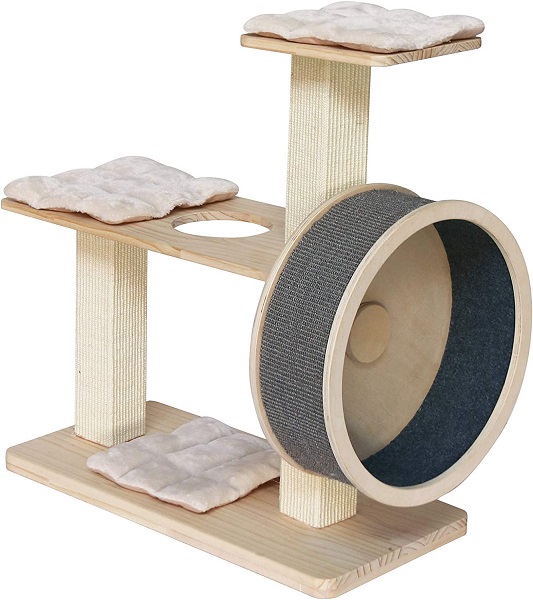 Penn-Plax Wheeled 35-in Sisal Cat Tree
Material: Plush & Sisal

Style: Tree with Built-in Exercise Wheel

Heavy Duty Option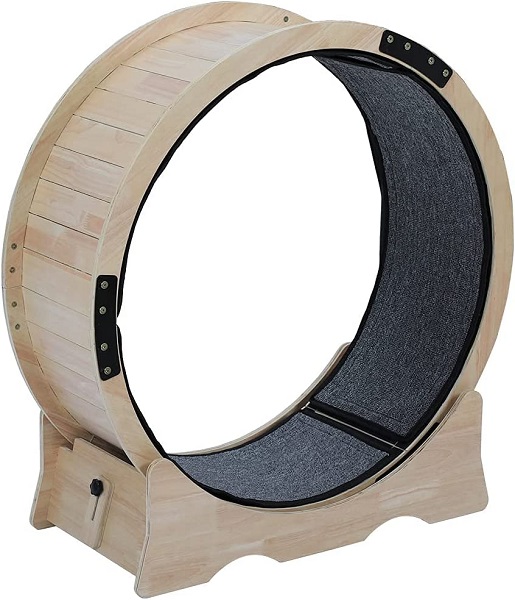 Balemaue Cat Exercise Wheel
Material: wood
Style: active
Best Cat Exercise Wheels
Exercise comes with a whole load of benefits: it keeps them physically healthy, prolonging their life; and it has emotional benefits too, fighting boredom and keeping them happy.
If you've ever wondered why your cat meows so much, it might be because they're bored or frustrated. Simply put, exercise makes for a healthier, calmer, and happier cat.
There are numerous cat exercise wheels out there, each with its own advantages and disadvantages. With so many to choose from, the choice can initially seem overwhelming for cat parents.
So, take a look at some of the top choices available on the market to start off your search.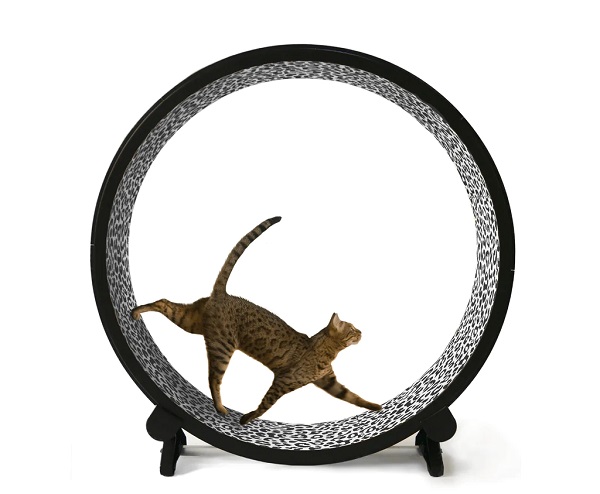 The One Fast cat exercise wheel is certainly one of the top options out there. With a load of great reviews, it's a popular one to treat indoor cats. In fact, the company is so confident you'll love it that they offer a 30-day refund policy.
It boasts a sleek design with black on the outside but various designs available for the interior; you can choose from black, white, and even cheetah or snow leopard print. Since the wheel's interior is made from EVA foam, it's soft and comfortable for your cat to run on.
But it's not all about looks. It's also a sturdy and durable cat exercise wheel that spins well and is unlikely to shake or wobble much. It includes rollerblade wheel covers to ensure your cat's paws are kept safe but isn't a quiet one.
Whereas some wheels spin silently, One Fast makes a fair bit of noise that can be irritating if it's in the main room of the house.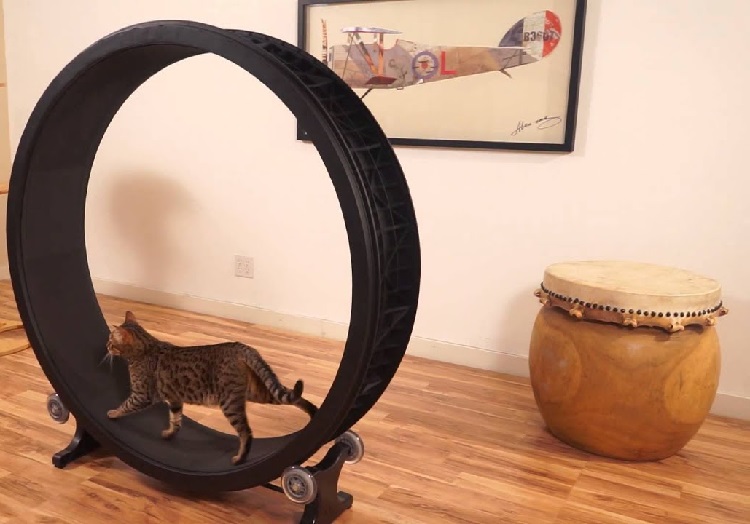 Made from ABS plastic, this cat wheel is composed entirely of recycled plastics, making it a particularly environmentally-friendly option. Still, it's a perfectly safe and reliable one thanks to its strengthened baseboard.
It's also lightweight enough for you to move about; this is ideal since it's a large cat wheel and might take some moving about to find the best place for it.
Fortunately, there are clear step-by-step instructions to help you with assembly. However, it's not quick and easy to set it up; instead, it can be a fairly complicated and time-consuming procedure.
But once it is set up, you might be surprised at how large it is – so we would recommend checking if it fits your room beforehand. Although it only comes in one size, it can accommodate all sorts of breeds and sizes of cats up to 22 lbs. However, once over this weight, the cat exercise wheel can be wobbly and less reliable.
Pros
One size fits all
Sturdy and well-made
Environmentally friendly materials
Lightweight
Smooth spinning
Simple but elegant design
Cons
Expensive
Can't accommodate large cats
Complex installment process
Too large for some rooms
Not silent spinning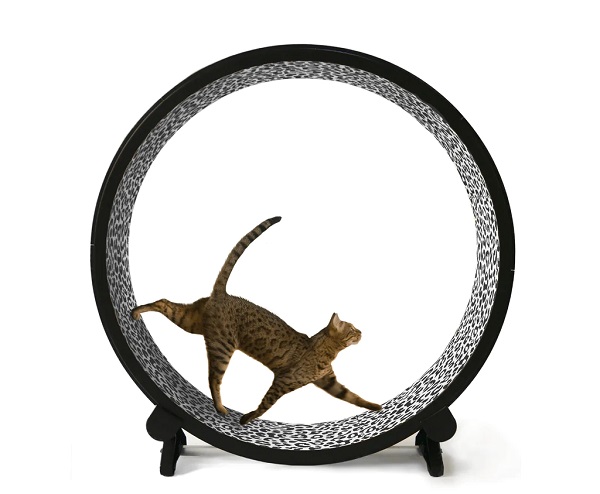 One Fast Cat Exercise Wheel
The price of "One Fast Cat Exercise Wheel " varies, so check the latest price at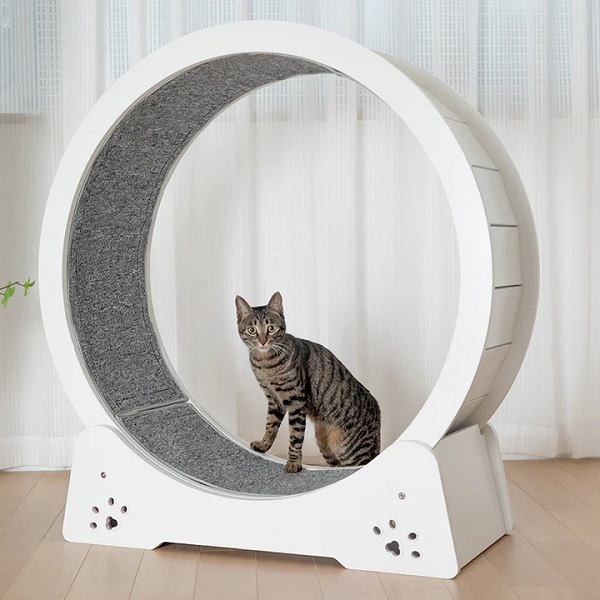 If you opt for the Paws and Fish cat wheel, you'll find that it will quickly become your cat's favorite toy. That's why it's one of the top choices alongside the One Fast cat exercise wheel.
It's likely to be one of your favorite choices too since it comes ready to go. No installation is necessary – just take it out of the box and let your cat enjoy it.
Each cat exercise wheel is handmade, meaning that availability is often scarce and difficult to get your hands on. Still, it boasts a gorgeous design; the paws and fish patterns are cut into the cat wheel, fitting in perfectly with the cat aesthetic, and even comes with a choice of either plain wood or painted white.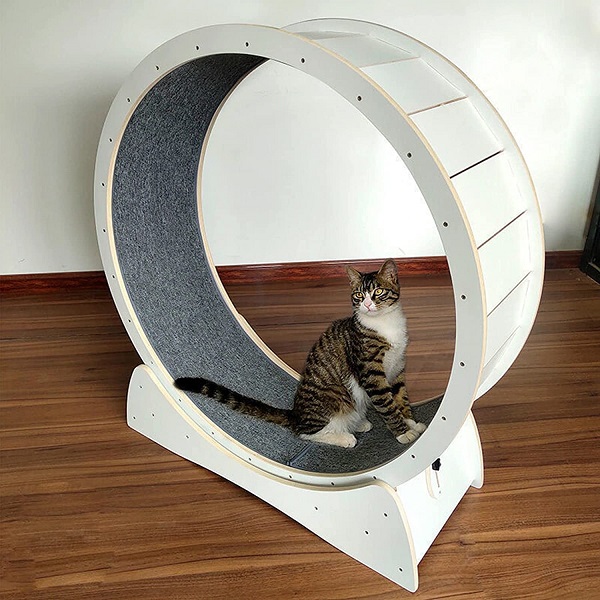 The cat exercise wheel itself is sturdy, meaning it spins well without much shaking at all. It spins particularly quietly too, ensuring your cat's exercise won't disturb you or any other cats in your household.
The wooden material is durable and unlikely to fall apart, making it safe for your cat to use. Elsewhere, the interior and exterior of the cat wheel are covered by sisal carpet. This makes the cat wheel soft to run on, but also allows it to double up as a cat scratcher too.
The cat exercise wheel comes in two different sizes, meaning that you'll find one suitable for whichever breed of cat you have. The medium one will work for cats up to 15 lbs, while the large one accommodates cats up to a maximum of 30 lbs.
Pros
Beautiful design
Doubles as a cat scratcher
Safe and sturdy
Made from durable materials
Various sizes for different breeds
Quiet spinning
No installing required
Cons
Expensive
Handmade so not always available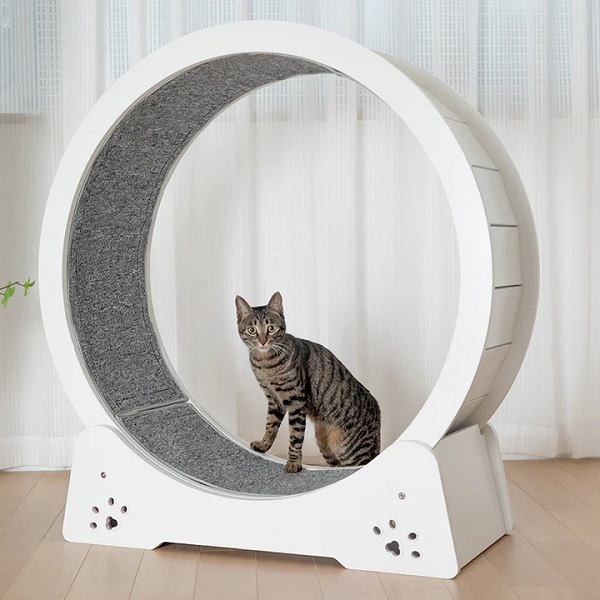 Paws and Fish Cat Wheel
The price of "Paws and Fish Cat Wheel" varies, so check the latest price at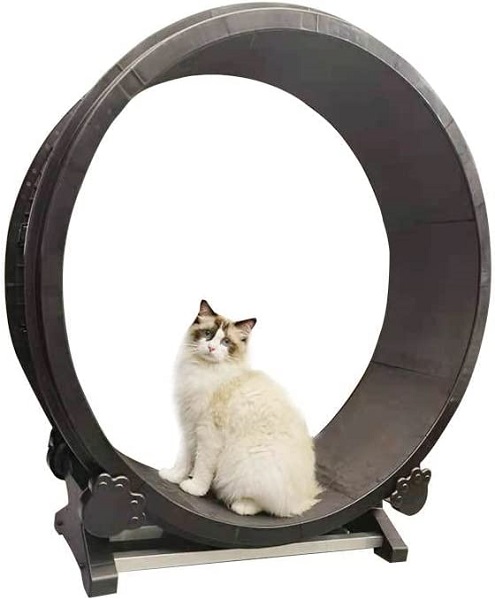 When your kitty is running full-pelt on its exercise wheel, the last thing you want is for it to collapse, potentially injuring them. Though not perfect, the TWW Treadmill Ferris exercise wheel is one of the most stable cat wheels out there.
Its stable base is well-designed and unlikely to come apart while your cat exercises. But the best part is how the base can be enlarged when needed to accommodate larger cats or multiple cats! In fact, the cat exercise wheel can take up to a 176 lbs load.
This means that no matter the size or number of cats using the cat wheel, you can rest assured that it will stay upright and safe. So, if you're a real cat mom and live in a house with multiple cats who might share the wheel – this is the one to go for!
However, this doesn't mean it's immune to wobbling; when heavier cats use it, it may cause it to wobble slightly as they run. It will still stay upright and remain stable, though. Besides, this might even make it more enjoyable for them and can even help them practice their balance.
Although stability is where it thrives, it still stands out as a particularly quiet cat exercise wheel. With eight silent bearings, it's actually one of the quietest on the market. This means it won't disturb you even if you're asleep or busy working from home. However, it can be a particularly tricky cat wheel to assemble.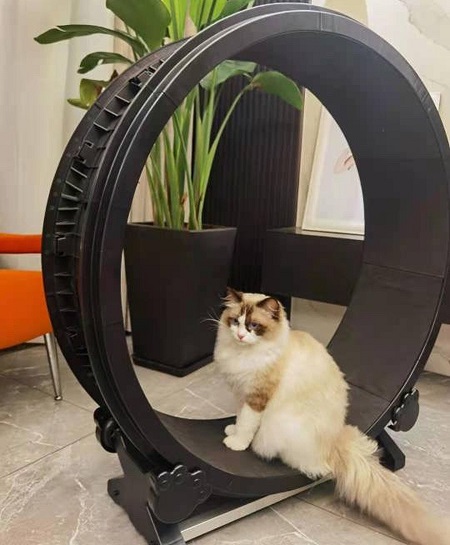 Although it's secure and durable, it's still made from PVC. This isn't necessarily much of an issue, but when you're buying a product at such a premium price, it's not the sort of high-quality material you expect. Still, unlike wheels made from wood, it's unlikely to splinter and is more durable.
The interior has high-quality loop blankets affixed to the cat wheel with Velcro. This is useful and means that it can be easily replaced if it ever gets damaged.
If you can overlook the high price and complex assembly, this is an excellent wheel that will give your cat hours of enjoyable exercise.
Pros
Almost silent
Secure and stable
Easy to change wheel's interior
Suitable for large or multiple cats
Cons
Expensive
Complex assembly
Wobbles with larger cats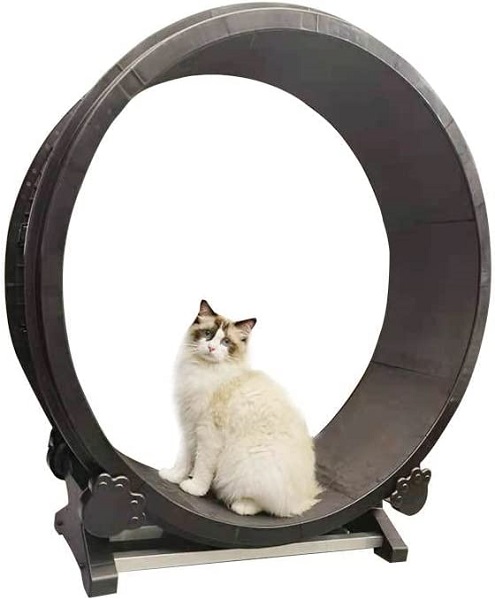 TWW Treadmill Ferris Wheel
The price of "TWW Treadmill Ferris Wheel" varies, so check the latest price at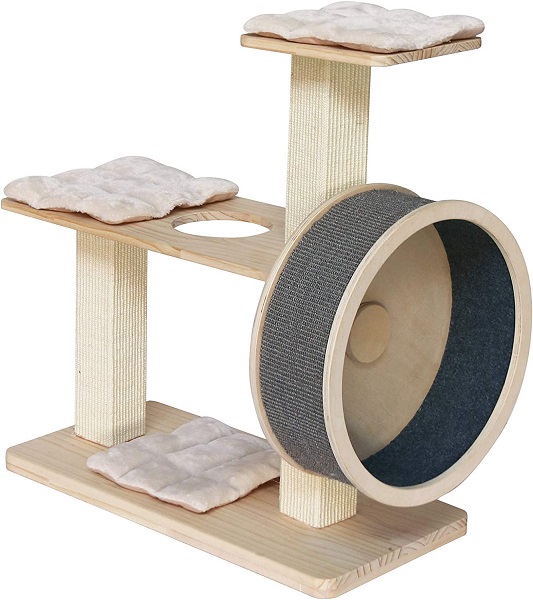 Why choose between a cat tree and a cat exercise wheel when you can have both? The Penn-Plax is a 2-in-1 product, ideal for an indoor cat without much room. It gives them their own space with lots of opportunities for climbing and exercise.
If you don't have room for a cat tree, there's still the option of purchasing the cat exercise wheel alone without the tree. But it's only a few extra dollars to get the cat tree too – you might as well go for it!
The cat wheel is sturdy, but only up to a point. The tree accommodates cats up to a maximum of 15 lbs, but the cat wheel itself can handle a bit more weight, able to support up to 20 lbs.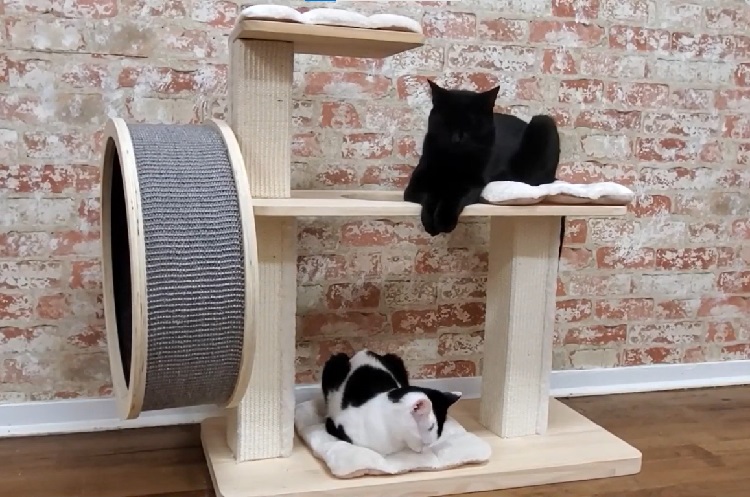 The tree and cat wheel have plenty of sisal carpet too. It's found on both the interior and exterior of the cat wheel, making it smooth to run on and fun to scratch. It also covers the scratching posts of the tree, giving your cat plenty of opportunities to scratch that rather than your furniture.
The tree is two-tiered, with three soft resting pads on each of the wooden platforms on the top, middle, and bottom. However, these can be removed if needed. The tree also has a hole in the middle platform for your cat to climb through, offering a fun alternative to climbing up. Though only a seven-inch hole, it should be wide enough for most cats to fit through.
Pros
2-in-1 product: tree and cat wheel
Offers more entertainment for cats
Sturdy and stable
Easy to clean
Sisal carpet allows scratching
Cons
Tree only suitable for cats up to a max of 15lbs
Cat wheel and hole might be too narrow for larger cats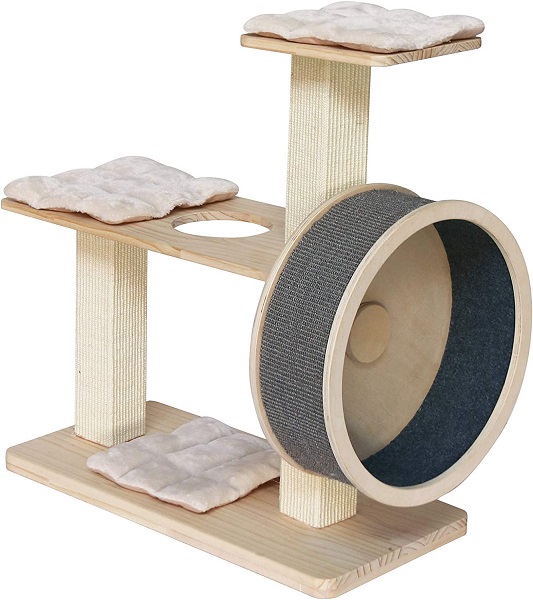 Penn-Plax Wheeled 35-in Sisal Cat Tree
The price of "Penn-Plax Wheeled 35-in Sisal Cat Tree" varies, so check the latest price at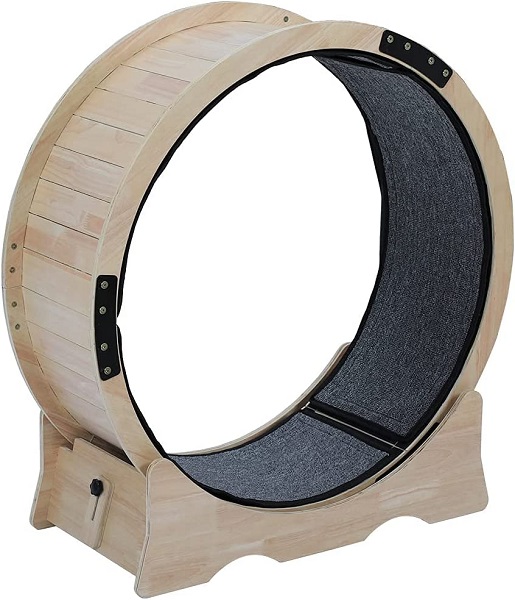 The Balemaue cat exercise wheel is a sturdy and reliable one, made from durable wood to ensure it stays standing. This material makes it look a lot more appealing than the alternate plastic options and is more suited to homes with aesthetic designs.
This cat exercise wheel doesn't come ready to go out of the box though. Instead, you'll need to take your time to complete the assembly which can be fairly difficult.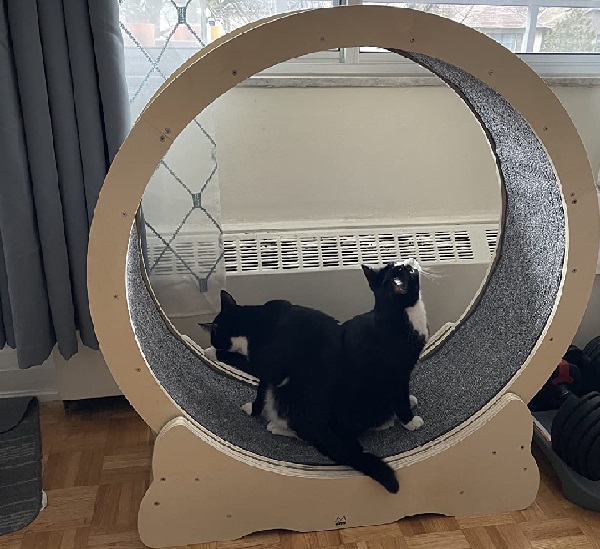 Suitable for both small and medium-sized active cats, the cat wheel is a good size. You'll likely be able to find somewhere in your house to fit it but is still large enough to offer your cat plenty of running room to exercise.
Fortunately, it's a quiet cat exercise wheel too. Thanks to its silent pulley design in the bottom shaft, you can be sure that you won't be disturbed even when your cat is running as fast as it can.
Pros
Aesthetic design
Silent spinning
Sturdy and reliable design
Good size for most sizes of cats
Cons
Costly
More complex assembly
Too small for larger cats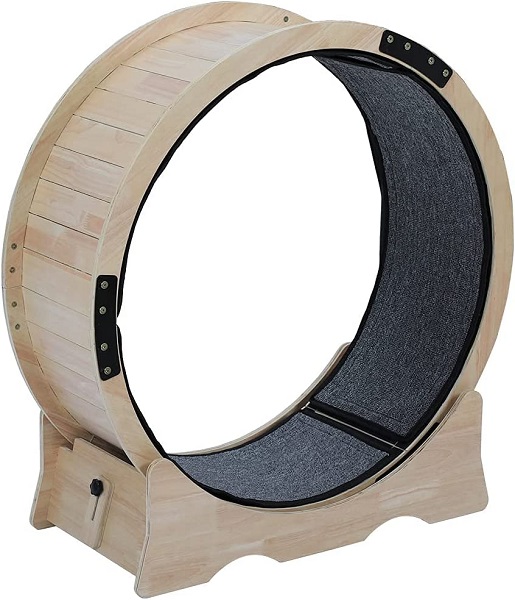 Balemaue Cat Exercise Wheel
The price of "Balemaue Cat Exercise Wheel" varies, so check the latest price at
Cat Exercise Wheel Buyer's Guide
Although cat exercise wheels are relatively simple gadgets that allow your cat to exercise inside, there are still several factors you need to consider.
Noise Level
With a cat exercise wheel going round and round, you'd expect it to make a fair bit of noise. If your cat uses their cat wheel regularly, it can quickly become an irritating noise – especially if you're trying to focus on sleeping, working from home, or even watching TV.
Fortunately, there are wheels out there with different materials that are specifically designed to lessen this noise, sometimes making it almost completely silent.
Size of the Cat Wheel
Not all cats are the same size. If you have a larger cat, the size of the cat wheel is particularly important; if they have a cat exercise wheel that's too small for them, they'll either not use it, or it might end up causing them to arch their back, making exercise an uncomfortable experience.
Size of Cats
It's not just the physical size of the cat you need to consider when picking out the size of the exercise wheel. You should also think about your cat's weight too. Larger cats need larger and more sturdy wheels to avoid any danger of them falling apart.
Included Accessories
While you buy a cat exercise wheel for the wheel itself, some come with extras and are worth considering. For example, some might come with toys as free gifts, while others might include features such as a cat tree to offer them alternate ways of exercising.
Space Requirements
Cat wheels aren't small bits of equipment, so consider the space you have available in your home. Before picking your cat wheel, consider the dimensions to ensure it fits in your home and is easily accessible to your cat.
Cat Personality
All cats come with their own personalities and individual hobbies. So, think about what they enjoy doing; if they enjoy climbing, perhaps pick an exercise wheel that comes with a cat tree too. If they're a bit lazier and won't use the exercise wheel so much, perhaps it's worth selecting a more affordable option.
Style of the Toy
Some wheels are simple ways for your cat to run around, but many offer something a little extra. For example, if your cat loves scratching your furniture, it's ideal to get an exercise wheel with sisal carpet on its interior to offer your cat a place to scratch as well as exercise. It's also worth getting one that spins smoothly and quietly to ensure it doesn't disturb you.
The Benefits of Cat Exercise Wheels
You might associate exercise wheels with hamsters, but they have lots of benefits for cats too, mainly physical, mental, and behavioral ones.
The physical benefits are the most obvious. Wheels give them a good workout, getting the leg muscles working, burning calories, and keeping their cardiovascular system in good condition. This will keep your cat fit and help them avoid over-eating, reducing the need for vet visits and avoiding complications, like diabetes or heart disease.
Besides keeping your cat active, it can also offer your cat mental stimulation since it gives them something to do other than just lying around. And when your cat's mentally stimulated, it results in better behavior, such as less furniture being scratched.
FAQ's
If you suddenly find yourself stuck with a cat who can't go outside for whatever reason, this might all be new to you. If so, here are some questions you might still need answers to.
Are Cat Exercise Wheels Safe?
All cat wheels mentioned here are perfectly safe – but don't immediately assume all cat wheels out there are safe too! It's worth considering how your cat likes to play; are they going to use it properly, or might they fiddle with it, potentially putting themselves in harm's way?
If you're at all concerned, supervise them when they first use their exercise wheel to make sure they're getting on with it well.
How Much Exercise Do Cats Need?
If you've spent much time observing your cat, you might have wondered if perhaps they spend so much time sleeping because they're so exhausted after all the exercise they do. Well, cats do in fact need lots of exercise – but like humans, they don't need to run consistently.
Cat wheels are excellent because they give most active cats the option to run, but cats can still take a leisurely stroll if they prefer, without needing much space to do so. It keeps your cat entertained too, avoiding any emotional problems or strange behaviors, such as your cat laying in their litter box.
How Often Should Cats Use a Cat Running Wheel?
It's entirely up to your cat how often they use their exercise wheel – only they can really know what their body and mind need.
But it's worth listening to expert advice though. Cat experts recommend cats use their exercise wheel for at least four hours each day – so it's worth making sure it's a silent one! This ensures they stay healthy enough to avoid any health issues, as well as mentally stimulated enough to avoid boredom or other behavioral issues.
Final Thoughts
There are lots of equipment cat owners can get for cats – more than just a collar, bed, and litter box. Other products are worth getting, from slow-feeder cat bowls to exercise wheels.
Although not all cats go outside, all cats need exercise – and exercise wheels are an ideal way to ensure they get sufficient exercise while they stay indoors.
When it comes to cat wheels, you should always prioritize the cat's safety, ensuring that their wheel is durable and fits their size and personality. But with so many wheels available, this shouldn't be a problem.
There are various styles for you to choose from: some have various features; some have different sizes and designs – there's always lots on offer to suit you and your kitty.
While cat exercise wheels might be fairly expensive, they are effective in keeping your cat healthy, happy, and entertained at all hours of the day or night.