Introducing the ultimate cat companion – the camera collar. It helps to keep a watchful eye on your feline friend, wherever they roam. With a sleek and durable design, these collars are equipped with a high-definition camera that captures all of your cat's adventures.
From neighborhood strolls to secret napping spots, you'll never miss a moment of your cat's daily life. You can stay connected and ensure their safety with the best cat camera collar on the market.
If you're a cat owner like me, then you'll be fascinated to see your cat's adventures through their own eyes. Cat camera collars let you record your kitty's journeys and experience the life of a cat for yourself.
There are many cameras for cat collars out there, so I've put together this list of the best on the market – and some advice to help you choose one.
Best Overall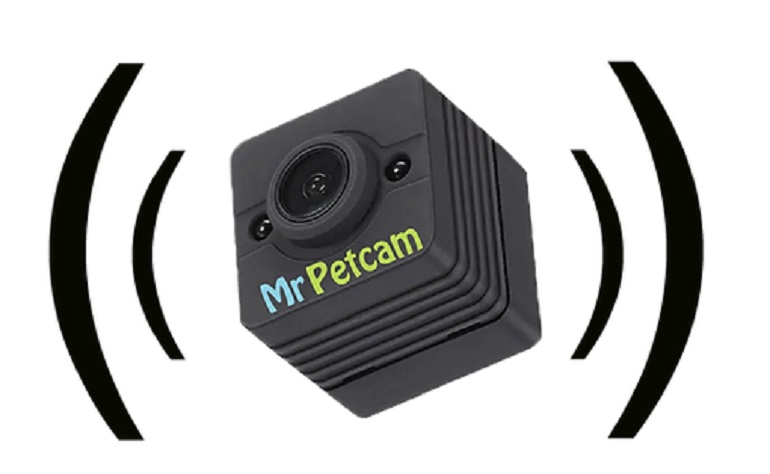 Mr. Petcam Pet Collar Camera for Cats
Product Dimensions: 6 x 8 x 4 inches
Item weight:
0.42 OUNCES
Premium Choice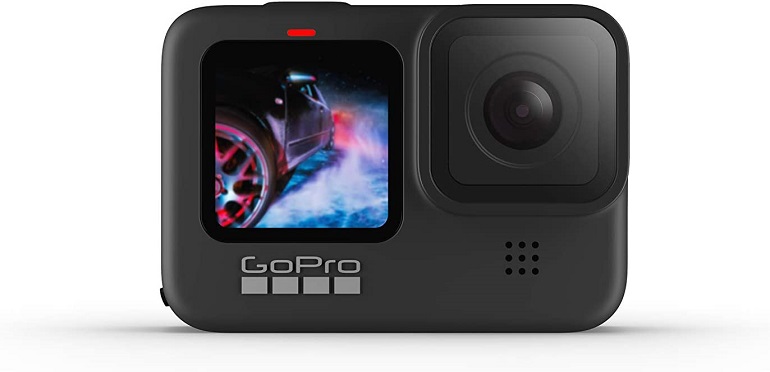 GoPro Hero 9
Product Dimensions:
6 x 4 x 8 inches
Item Weight:
1.28 ounces
Affordable Pick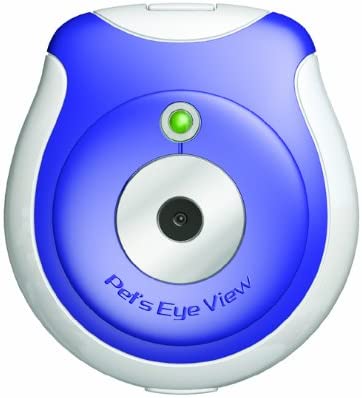 Uncle Milton Pet's Eye View Camera
Product Dimensions:
2 x 1.3 x 2.2 inches
Item Weight:
3.52 ounces
Wireless Features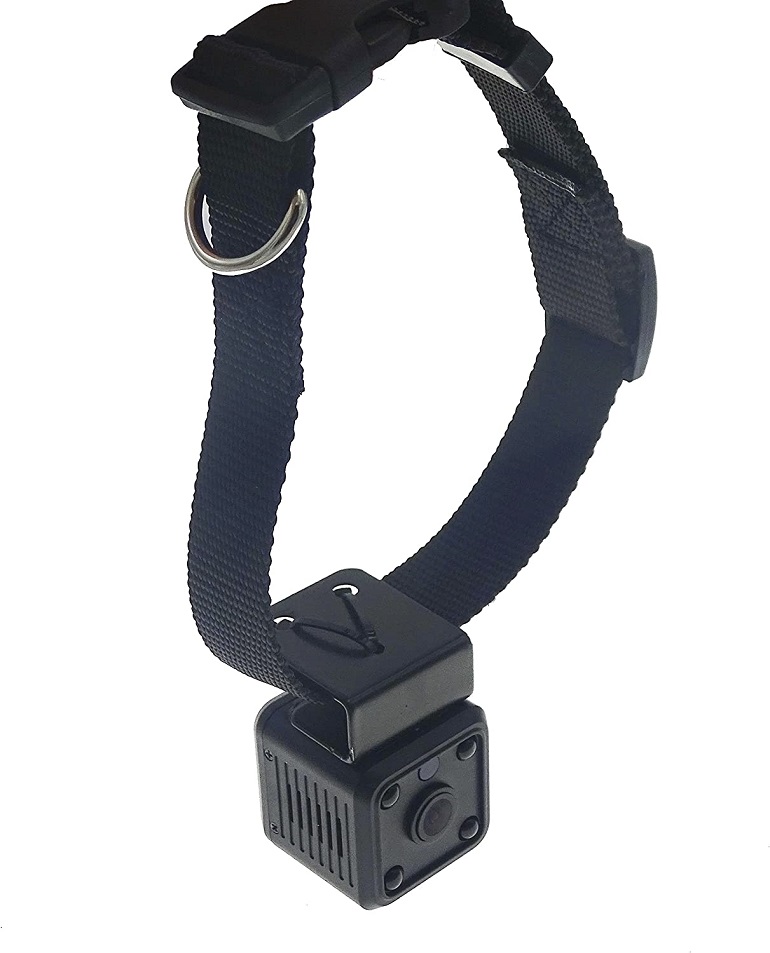 Wireless Cat Collar Camera
Product Dimensions:
1.34 x 1.34 x 1.97 inches
Item Weight:
1.8 ounces
Compact & Lightweight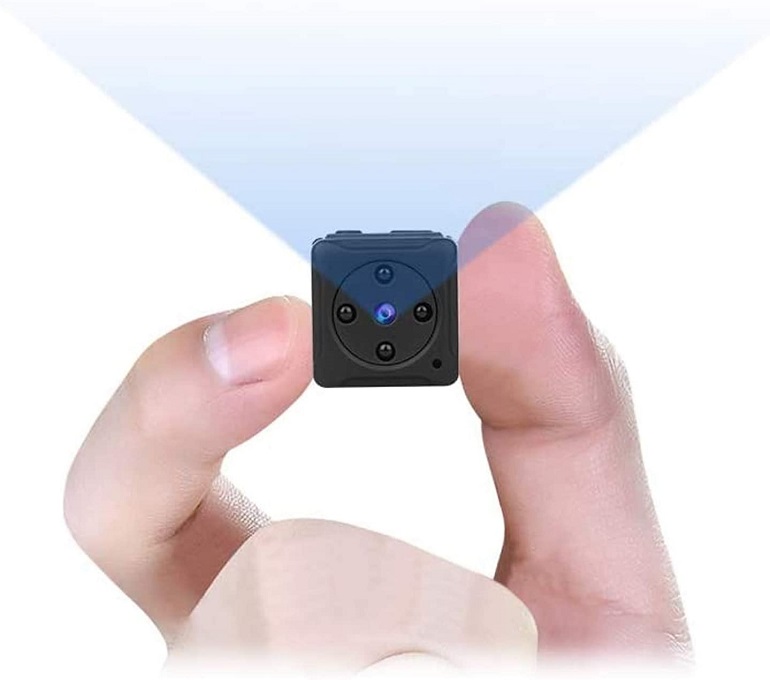 Mini Spy Camera for Cats
Product Dimensions:
0.87 x 0.71 x 0.87 inches
Item Weight:
2.89 ounces
The Best Cat Collar Cameras
Here are the best cat collar cameras I recommend any cat owner to try. Honestly, I couldn't live without this niche pet gadget after trying one – the perspective of my outdoor cat is truly mesmerizing!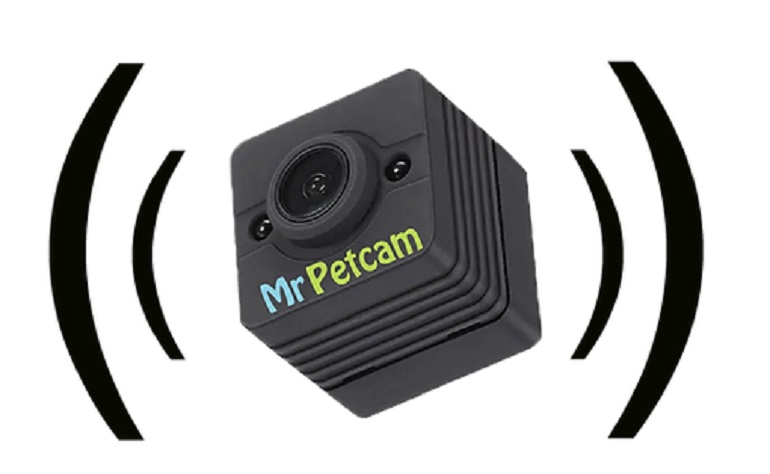 The Mr. Petcam HD cat collar camera is a high-powered and reliable window into the life of your kitty. If you ever wonder what your pet gets up to in its free time, these kinds of high-quality cameras are a perfect solution for video recording.
This particular model from Mr. Petcam is small, waterproof, and easy to set up thanks to the included strap and clip. Within moments you can simply attach this collar camera to any pet collars you already own.
The camera offers a wide field of view so you can see everything your pet sees, and it also has nighttime recording capabilities so you can see the secret life of outdoor cats at night.
The video quality is also very high with this camera, shooting video recordings at 12 megapixels, which is on a level with most modern smartphones.
You can capture your cat's perspective in 1080p HD video, so there is nothing to complain about in terms of video quality here.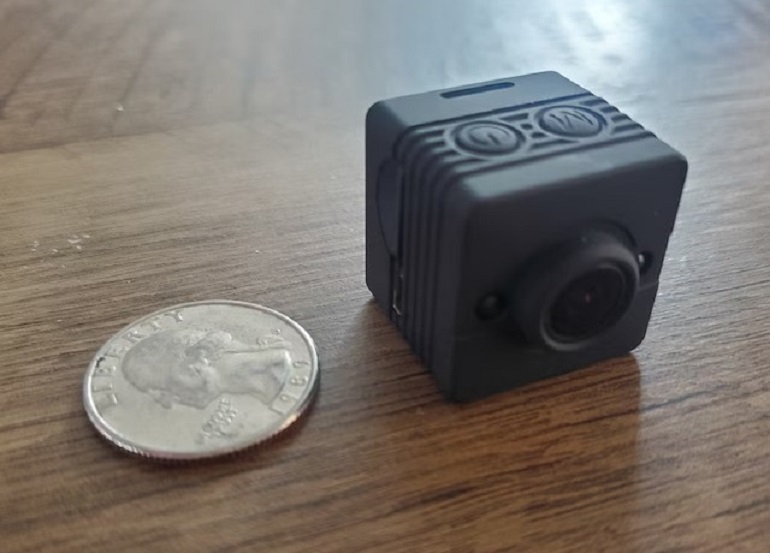 As for controls, while this cat collar camera doesn't have any remote or wireless capabilities, it does have a motion detection mode. This means the camera will begin to record automatically whenever your pet begins to move.
Moreover, Mr. Petcam HD records the built-in microphone directly to the same video file, so you can hear everything your cat does from this collar too!
I find it produces clear, crisp audio, which really immerses you in the adventures of your cat!
Overall, this is one of the better pet collar cameras on the market and has been designed specifically to be suitable for animals. If you're looking for a pet's eye-view camera, then this is a strong choice.
You can find the full instructions and more information on this camera for cats on their website.
Pros
High video quality
Waterproof, small, and durable
Motion detection for automatic recording.
Cons
You can find similar quality products at lower prices
No wireless or remote controls.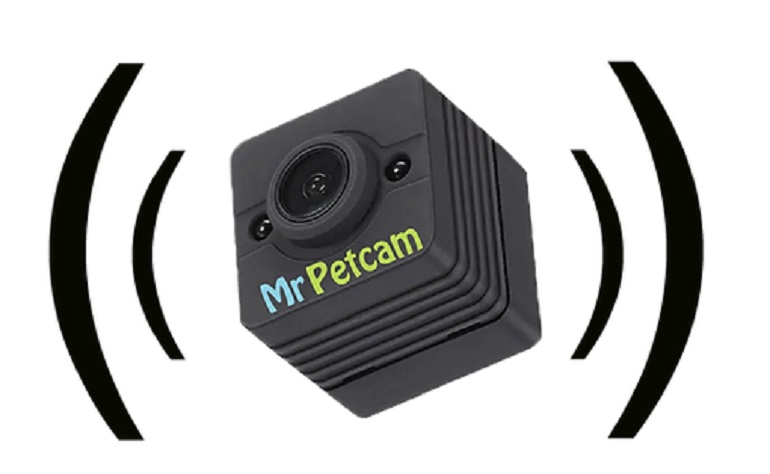 Mr. Petcam Pet Collar Camera for Cats
The price of "Mr. Petcam Pet Collar Camera for Cats" varies, so check the latest price at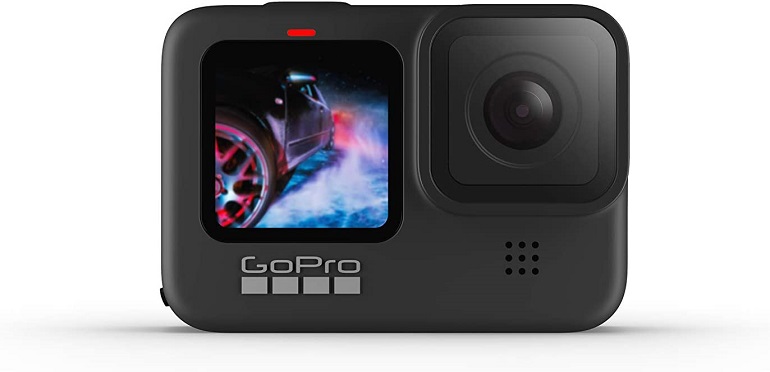 The GoPro Hero 9 isn't strictly a niche pet gadget like other options on this list and is more of a general-purpose action camera. That said, you can still use the GoPro Hero series on animals with the right accessories. Featuring a screen for browsing your pics, you don't even need to use a PC to explore your cat's life.
The main advantages of this camera are its features and quality. This arguably has the best audio and video quality out of all the cameras on this list, however, you'll also need to spend a lot more money if you want this camera.
You could easily say this is a pro-grade camera. It can shoot video in 5K, which offers an incredibly crisp resolution with fantastic detail.
It can capture 20MP images. It also features some of the most cutting-edge image stabilization technology, which counteracts some of the unstable movement cats are prone to.
An innovative feature of this mini camera is the ability for it to live stream in 1080p. You can watch the video recording in real-time from anywhere with a Wi-Fi signal while this camera is active. That means you can keep up to date with your pet whenever it decides to explore the outside world.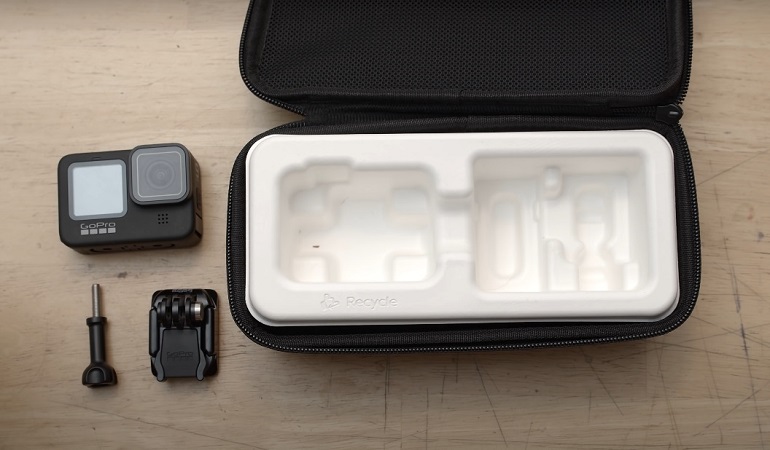 This camera also has the highest storage capacity of any on this list, although you will need to purchase an extra SD card if you want to increase the storage capacity. The battery life also lasts for hours, and you can run it in a low power mode for extending battery life too.
The GoPro is probably the most durable camera on this list too. It can withstand large impacts and most adverse conditions -the new waterproof casing is even rated as waterproof up to 10 meters, which will be fine for any situation (unless your cat is an Olympic swimmer).
The Hero 9 is potentially too large and bulky to be suitable for some cats, although it's fine for medium-sized cats and above. It's also quite expensive to buy just for this purpose, but if you might use it for other adventures, then it could be worth the money.
Pros
Highest video quality
Real-time live streaming in 1080p
Fully waterproof
Huge memory storage and battery life.
Cons
Maybe too expensive to risk trusting your cat with
Not specifically designed for cat collars, you'll need an extra clip/harness.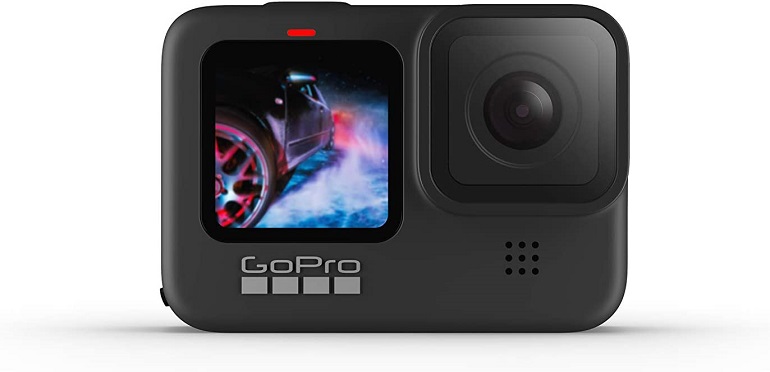 GoPro Hero 9
The price of "GoPro Hero 9" varies, so check the latest price at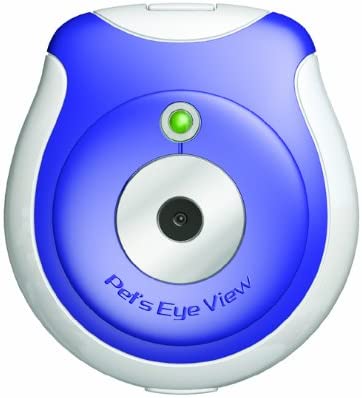 Uncle Milton's Pet's Eye View Camera is the most affordable camera to stick on your cat's collar, although it also has the most limited functionality.
I'd suggest only buying this as a test if you want to try out whether your cat will be happy to use collar cameras. It's fine for small budgets however the quality is quite disappointing.
The first thing to note about this unique camera is that it only takes pictures, not videos. You can set them to take snapshots automatically in intervals of 1, 5, or 10 minutes, so you don't need to press record.
The images are shot in a low resolution of 600×800 – which is acceptable but not crisp or HD by any means. The images are also 0ften blurry and don't come out well in low-light situations.
It's also not as small, durable, or lightweight as other cameras on this list, but it attaches easily to large pet collars.
If you want something affordable, then this can make a good test, but if you want quality, then you should look at other cat collar cameras on this list.
Pros
Affordable
Easy to use
Comfortable collar
Timed picture taking.
Cons
Limited picture quality
No night vision
Only captures pictures, not videos.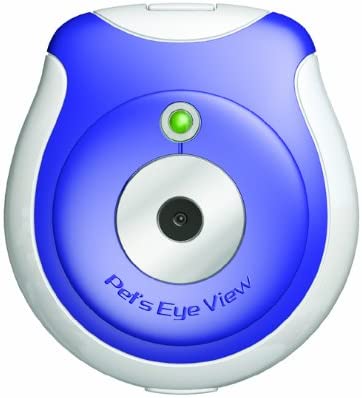 Uncle Milton Pet's Eye View Camera
The price of "Uncle Milton Pet's Eye View Camera" varies, so check the latest price at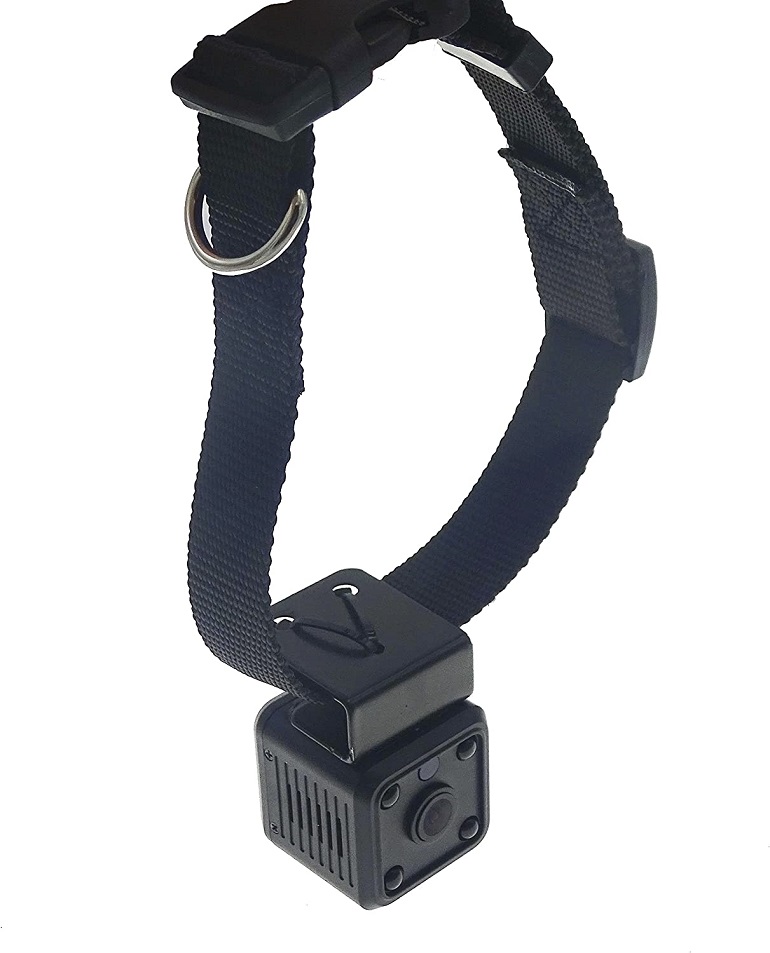 This Wireless cat collar camera records up to 720p, which counts as HD – with a resolution of 1280 x 720.
A distinct feature of this collar camera is the ability to wirelessly connect to your mobile phone. This lets you control all the camera features directly and remotely from a mobile app. You can also watch the camera from your phone in real time, giving you your cat's point of view at any time.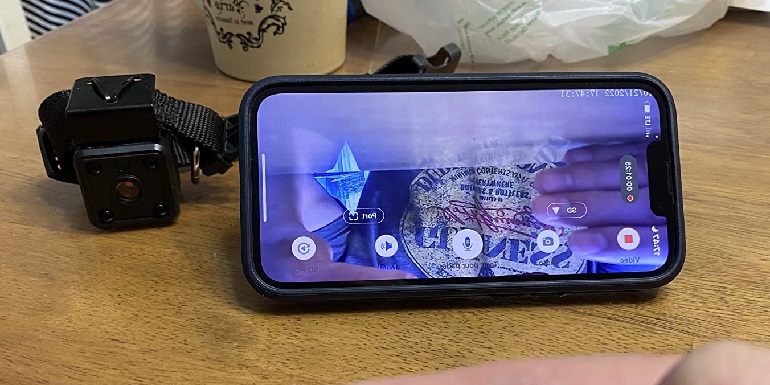 The app has other features that let you activate the recording or night vision modes, take pictures, or on another model of this camera, even talk to your pet (or your pet's neighborhood friends) through a speaker built into the camera.
You can simply attach the camera to your pet's collar thanks to the quick clip provided.
All material is recorded to an internal micro SD card (included) which can easily be copied to your computer via USB.
While it is durable, it isn't waterproof. It's on the larger side so may be too heavy for kittens, although the big clip means you can attach this to large pet collars.
Pros
Powerful wireless features
Comes with a mobile phone control app
Night vision and built-in microphone with crisp audio.
Cons
Slightly too large for smaller cats
Not fully waterproof.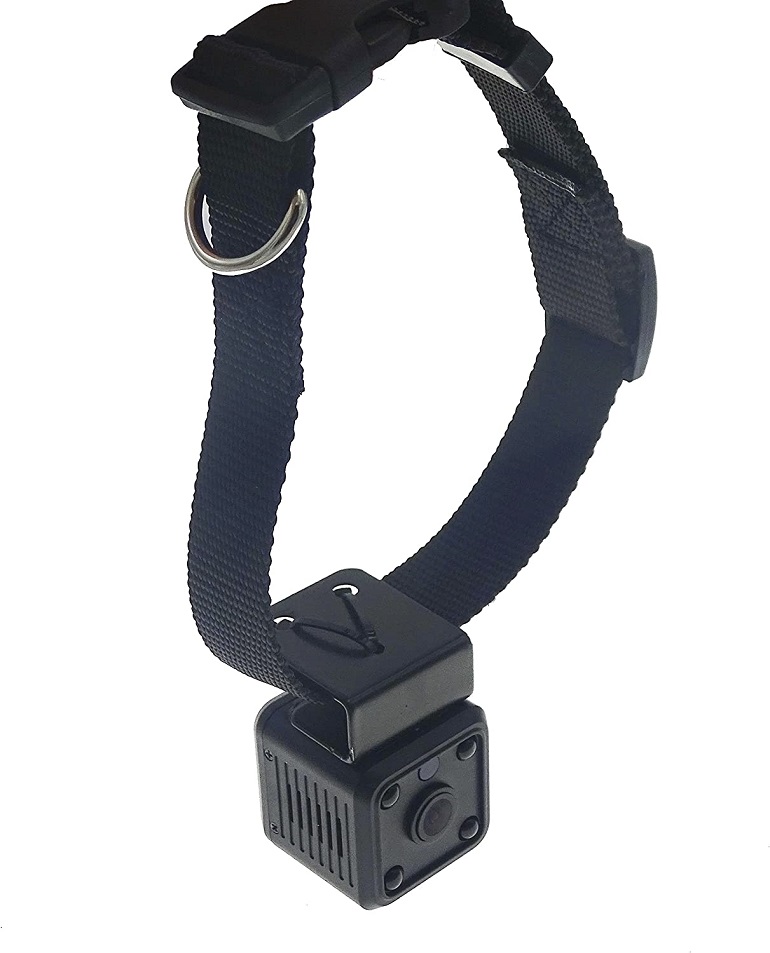 Wireless Cat Collar Camera
The price of "Wireless Cat Collar Camera" varies, so check the latest price at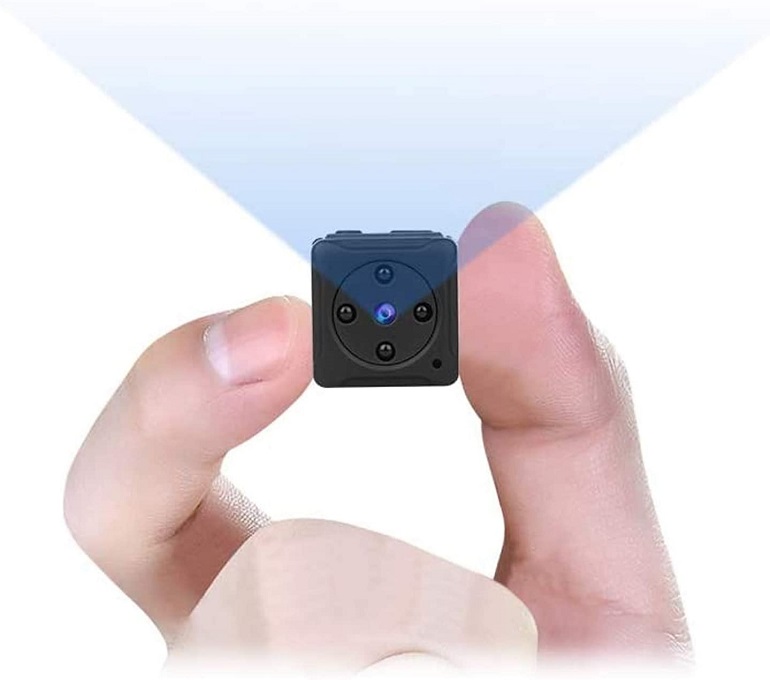 This mini spy camera, while not specifically designed for cats, still works well as a collar camera. Thanks to its quick but secure clip, you can easily attach this to any pet collar you already own.
This little camera records in full 1080p HD quality (1920 x 1080) with pristine and clear image quality and the option for night vision. It has a wide 75-degree field of view so you can enjoy a nice wide view.
The motion detection feature means you can only have the camera records while your pet is active, so no need to worry about unnecessarily draining the battery or filling the SD card.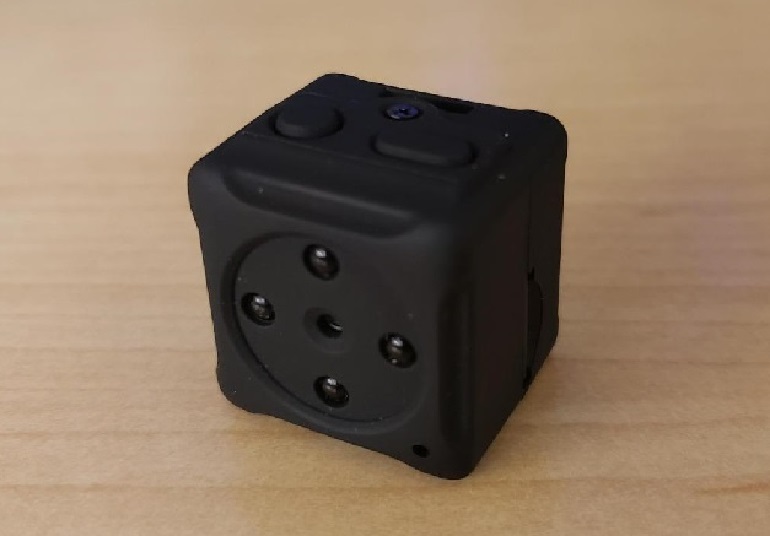 It's super easy to use and also works well in many other settings beyond a collar cam. It weighs barely anything too, so you can be assured your cat won't hurt its neck.
I will mention that while the Amazon title describes it as wireless, it would be more accurate for it to be considered "wire-free" as the camera does not actually have any true wireless interactivity or connection. Remember you'll still need to use a standard USB cable to transfer videos to your pc.
Overall this camera has excellent performance at an affordable price and is a fantastic way to monitor your cat's silly nature and see everything your pet sees.
Pros
Ultra small and lightweight – ideal for a little cat or small dogs
Captures clear videos and photos
Fun and easy to use.
Cons
Limited waterproofing
Need extra accessories for strapping to your cat.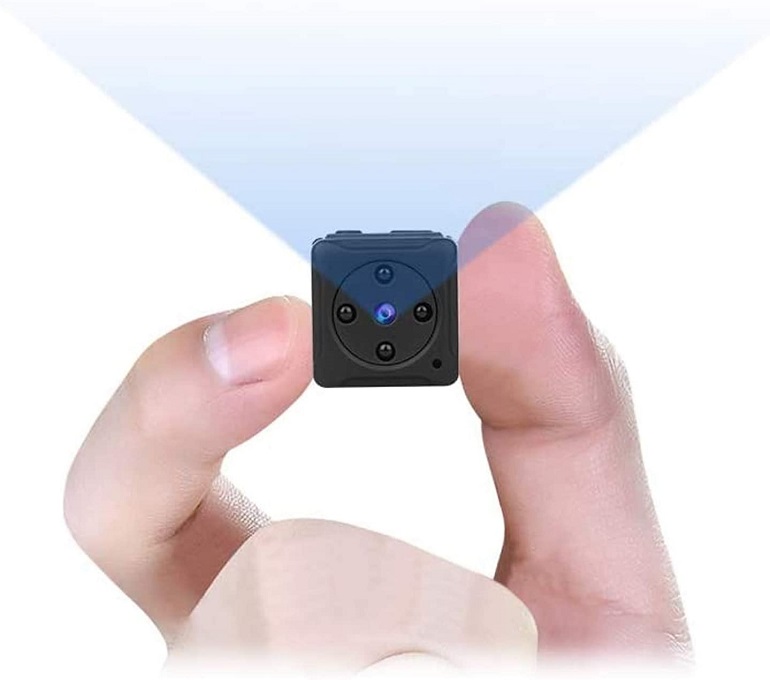 Mini Spy Camera for Cats
The price of " Mini Spy Camera for Cats" varies, so check the latest price at
How To Choose the Best Cat Collar Camera
There are several important considerations when choosing a camera to capture your pets secret life.
Durability
There are various strengths available for these cameras, Some have ratings for dust, weather and water resistance.
The level of durability is mostly linked to the price of the camera. You need to ensure that you pick a camera that goes along with the lifestyle and environment of your cat. If they are more active and adventurous unlike my cat then a stronger camera is a wiser choice.
Ease
Some cameras are designed to be easier and more intuitive to use than others. This typically revolves around how the camera is attached to your pet, and how complex it is to transfer recordings from the memory.
If you are good with technology, then you'll be able to easily use any of the cameras in this list. However, if you struggle with technology then going for a simplified camera, with wireless features will make your life easier.
Weight And Dimensions
Some cats are stronger and larger than others. Cameras also range in weight and size, so you'll need to match the camera for your cat. You want to avoid buying a camera with excessive weight or size that gets in your cat's way.
Since some cameras are also more designed for dogs than cats, you'll also need to be careful if you're looking at other models beyond this list.
Price
You'll also see a pretty large amount of variation between the price tags of best cat cameras. Coming in at around $30 for the most affordable units, and $300+ at the top end.
Only go for what you can afford. Remember that these cameras can fall off your cat's collar during your pet's adventures. Unless you trust your cat not to lose a $300 camera (or you can afford it) I suggest choosing a lower-priced collar camera.
Features
There are many feature options out there to choose from, so make sure you get the ones you need.
Remote controls and wireless connections come in handy if you want to control your camera from a mobile phone app.
Night Vision lets you see what your cat gets up to in the dark. Useful if they go out at night, but some just like to sleep anyway…
Motion detection can be useful for saving battery and making sure that your camera only starts recording when your cat is active.
Image Quality
There are two main image considerations to make – resolution and field of view.
Resolution – determines the overall quality and clarity of video recordings. Lower resolutions create more pixelated and unclear images, whereas larger resolutions offer more detail and realism.
Field of view – determines the width of the images created by the collar camera. A wider field of view lets you see more as your cat travels around.
FAQ'S
Is It Possible To Attach a Camera to a Cat Collar or Harness?
Depending on the type of camera, it's usually pretty easy to attach a camera to a collar or harness. As long as your camera has the right kind of clip attachment.
If you are worried about your cat's collar getting caught and choking it, I suggest you buy something like these Quick Snap cat collars which easily come undone if your cat gets stuck.
Is It Possible To Mount a GoPro Camera on My Cat?
Yes, you can mount most GoPro cameras to a cat's collar or harness using the provided clip.
Final Thoughts on Pet Collar Cameras
Now you can enjoy watching your pet's neighborhood friends, their silly nature and secret life unfold before your eyes, all you have to do is attach your collar camera to your cat's cute little chin, and grab a bag of popcorn for the fun show!
But mind out though… just don't get too annoyed if your pet hunts mice – or your neighbor's food – which is exactly what happened when I used one!